China is the ultimate travel destination to experience a mix of rich culture, exotic nature and mega-cities with impressive architecture. We were warmly welcomed by locals who were excited to add to our experience and it was rare to see Westerners as we travelled through the country.
Since China is the third largest country in the world geographically, it took a lot of planning and research to pick the best spots and to figure out transportation. We were surprised that the transportation system is excellent and taxis are metered. It was stress free and efficient to get around!
Our biggest difficulty was doing prior research on alternative activities to do outside of the traditional sites. We believe this is a result of  the Great Firewall blocking many western websites such as Facebook and Google. Ultimately this limits the ability to access good Chinese recommendations and content, especially when there is barely anything marked on Google maps!
We are excited to share with you our top unique and fun activities we discovered. Our 18 Day itinerary will take you to China's unique areas of nature, the historical capital of Xi'an including the Terracotta Army, the capital city of Beijing where you'll see the The Great China Wall, and lastly Shanghai, the modern metropolis with impressive futuristic architecture.
---
18-Day Itinerary
Day 1 - 2: Guilin
Day 3: Li River Boat Cruise & night in Yangshuo
Day 4 - 5: Relax and hike the rice paddies of remote Longsheng
Day 6 - 8: Explore the historic capital city of Xi'an and visit the Terracotta Army
Day 9 - 12: Explore the iconic city of Beijing and visit the Great Wall of China
Day 13 - 15: See the Zhangjiajie Mountains
Day 16 - 18: Explore the modern metropolis of Shanghai
---
Day 1 & 2: Guilin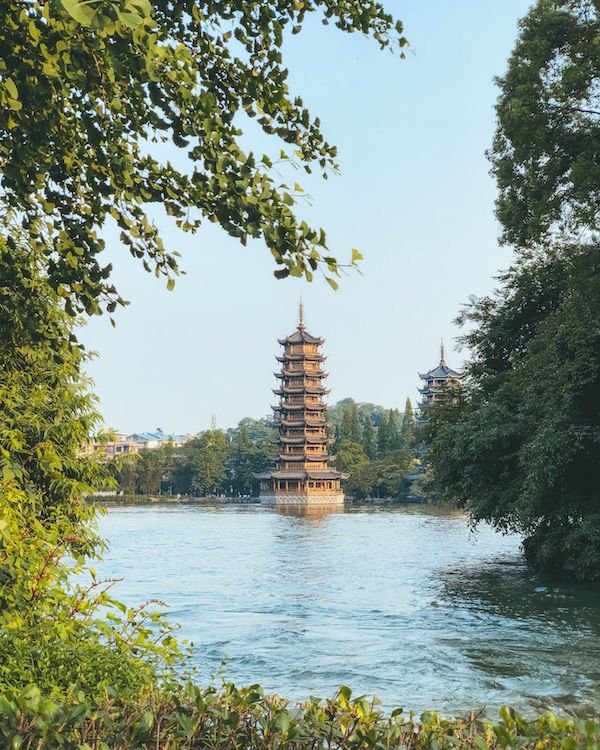 Guilin is a peaceful and scenic city situated along the Li river and is the starting hub for the magnificent Li river cruises. After your long flight, settle into your hotel and take time to adjust to the time change. We stayed at Guilin Central Hostel, which has spacious private rooms for a great price ($24 USD per night) and healthy Western food options (a rarity!). The hostel is located in the centre and is close to the river.
We enjoyed strolling along the river through the Xiangshan Scenic Area. We came across a gem of a cafe situated in the middle of the river (located here). You walk over an ornate glass bridge to get to the seating area. We sat there and enjoyed coffees for a while. That evening we walked through a market that's located on Zhengyang Pedestrian street behind our hostel and tried some local treats.
Note: If you take an overnight layover in another city before arriving, you can stay just one night in Guilin.  
Day 3: Li River Boat Cruise & night in Yangshuo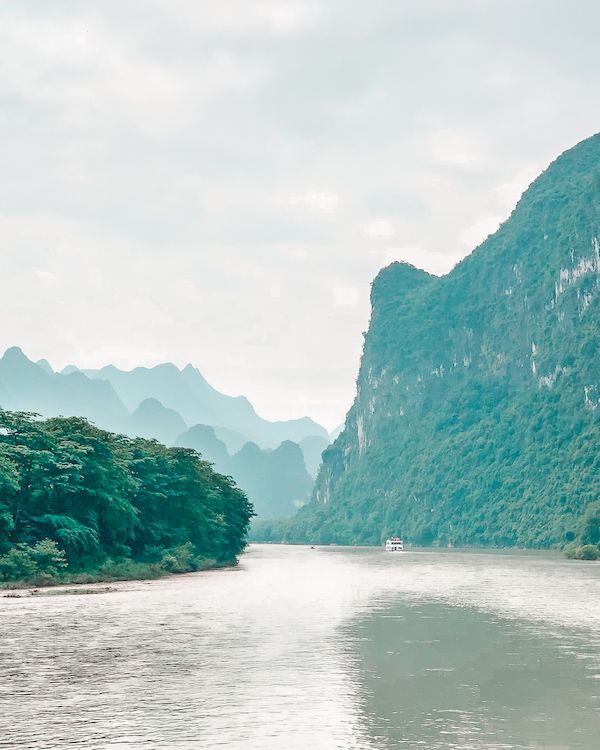 The Li River is one of the most famous and dramatic natural landmarks in China. The river is lined with limestone towers and can be seen on China's 20 Yuan note.
We booked our river cruise tour with Li River Cruises on their 4-star boat. It included pick up from our hostel, a 3.5 hour cruise down the Li River and lunch. There are different tiers of tickets. We chose the VIP section, since it included seats on the top seating deck in the front of the boat, however everyone is allowed to go up to the viewing area at the very top. It was quieter in the VIP section, but it didn't provide significant viewing benefits since you the sights are best viewed from up top rather than at your seat.
We were surprised that we were the only Western tourists on the boat! It was mostly Chinese tourists and we even made a friend. Check out our article on why local places and friendly people make China a hidden travel gem.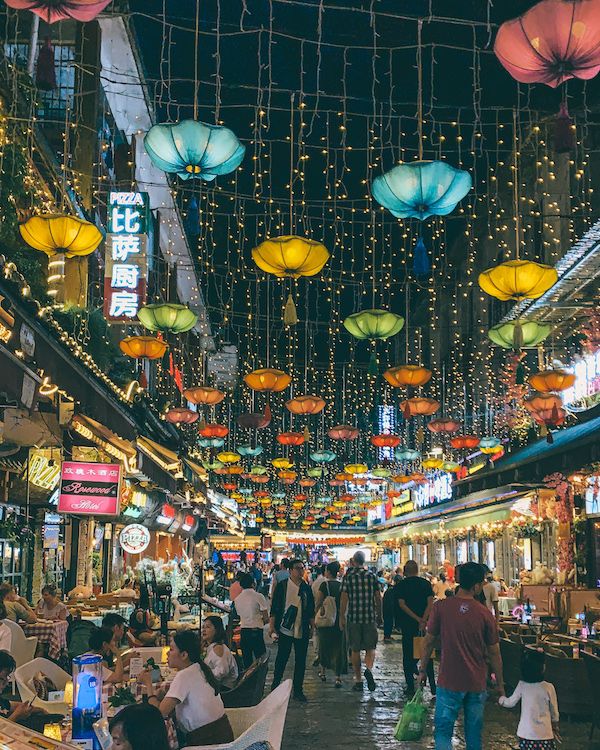 The boat dropped us off in Yangshuo, a small but lively city with markets and tons of small shops and restaurants. We stayed at Yangshuo Sudder Street Guesthouse, which is amazing value for the room and incredible view you get.  It was $23 USD for a private room. It's a few minutes drive to the centre of the city, but they have free bike rentals in the early evening. We biked down to the centre for dinner and explored the city.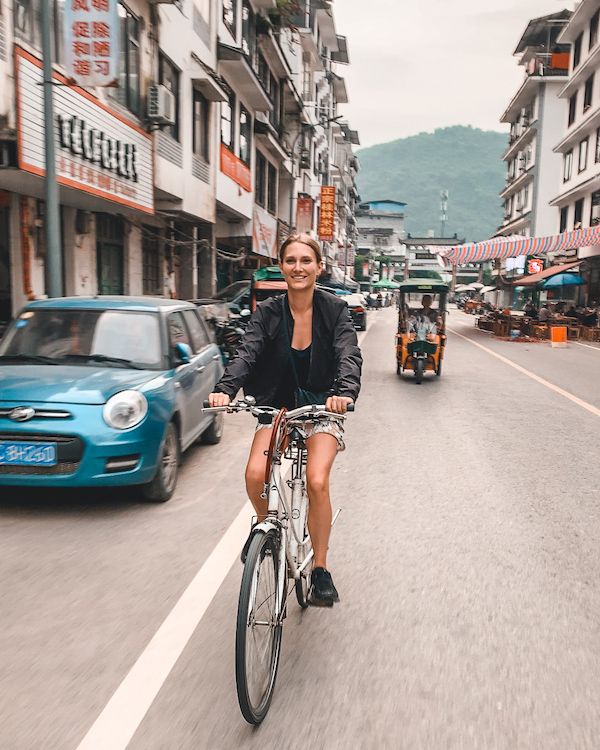 Day 4 & 5: Relax and hike the rice paddies of remote Longsheng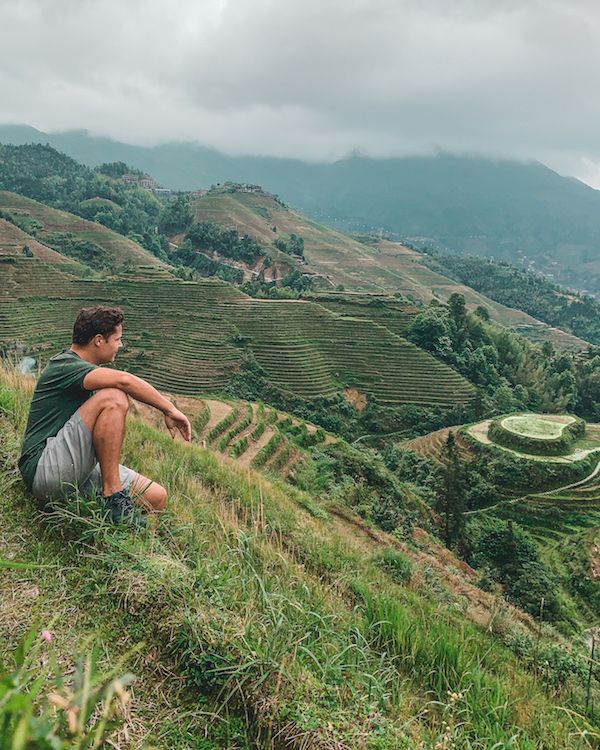 Longsheng takes a bit of a journey to get to, but it's worth it. The remote mountainous region is famous for its rice paddies and ethnic villages.  It's a 3 hour drive from Yangshuo with the last hour up a windy mountain road. We hired a private car transfer for $116 USD, which can be organized with your hotel.  There is an option to take the bus for cheaper, but it will add an extra couple hours to your journey.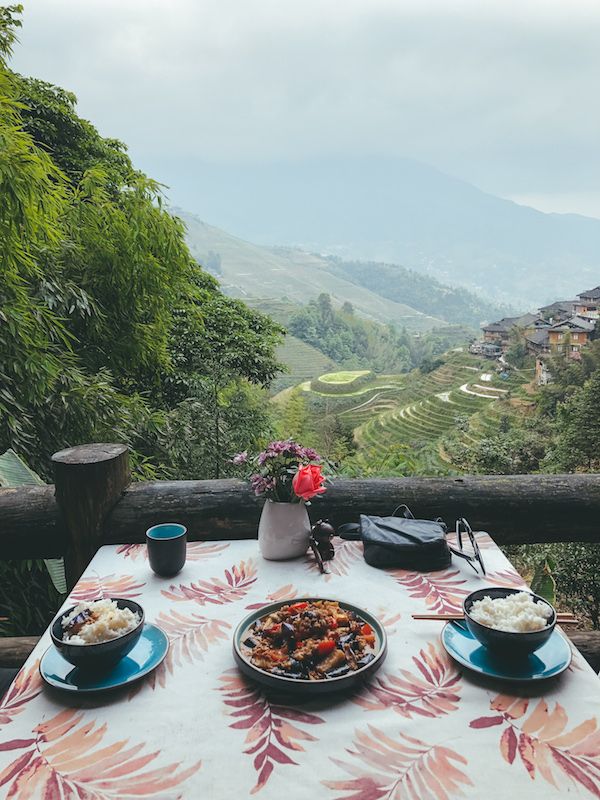 We stayed at Rice View Villa, which made the journey worth it. The boutique guesthouse overlooks the rice paddies and the minute you arrive you feel like you like you have entered a zen oasis. The next day we spent time hiking up the rice paddies to the see the marvellous views. Back at the hotel we relaxed and sipped tea on the outdoor terrace while gazing at the view.
We hired a private car transfer from our hotel to the Guilin International Airport which cost us $88 USD.
Day 6, 7, 8: Explore the historic capital city of Xi'an and visit the Terracotta Army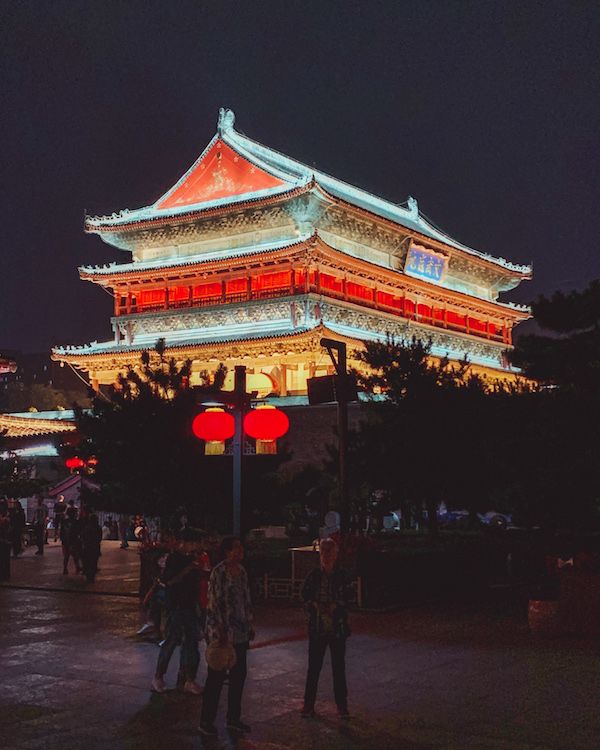 Xi'an was our favourite city we visited in China. It's home to the famous Terracotta Army, but there are many unique things to do in addition to this activity. This is where we got into tea culture, listened to jazz and tasted the infamous Chinese hamburger. Check out our article on 6 Fun Things to do in Xi'an That Aren't Historical Sites.  
The easiest way to travel from Guilin to Xi'an is by air. It cost us each $126 USD for a direct one-way flight.
We stayed at PuSu Jade Boutique hotel, which has the perfect location inside the historic walls, but their service was the worst we experienced on our trip. We were first assigned an occupied room, then a smelly room with a window into the communal kitchen area and lastly, a room under construction!  The value was very good (once you get the correct room), but you may find something better around the same location.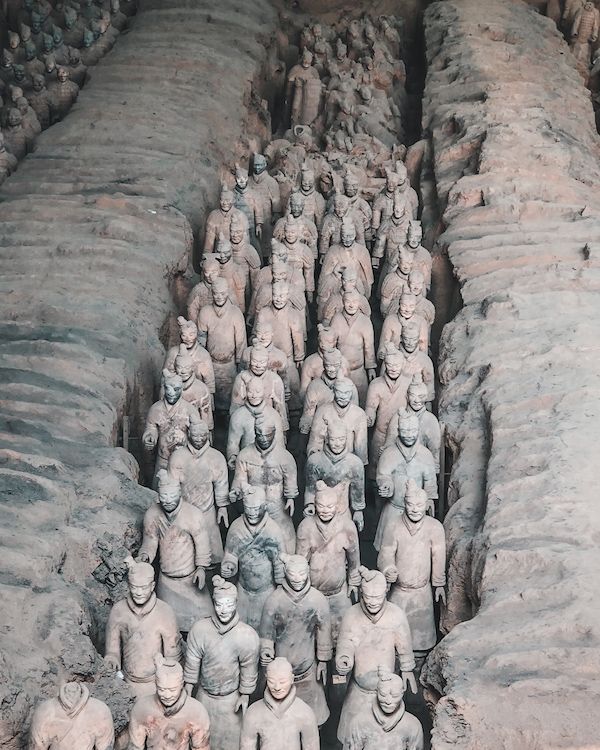 The top attraction in Xi'an is no doubt the Terracotta Army. The estimated 6,000 terracotta sculptures are said to represent the armies of the first emperor of China. Each one is unique down to their facial expression! Since it's so famous, it wasn't a surprise that private tours were going for $260 USD for two people. We didn't want to go on a group tour, so we figured out how to have our own private tour for a third of the price. See our tips on How to Make Your Own Private Tour of the Terracotta Army for a 1/3 the Price.
Day 9, 10, 11, 12: Explore the iconic city of Beijing and visit the Great Wall of China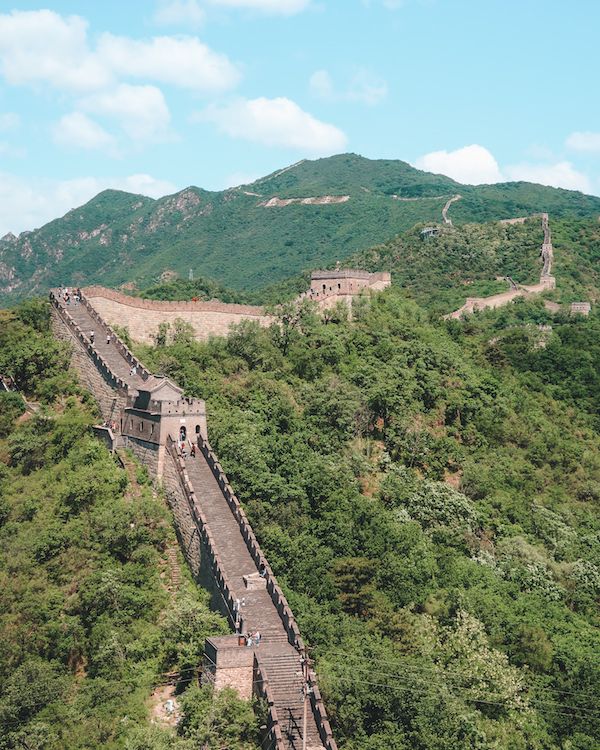 Beijing, China's old money capital, is known for its iconic historic sights such as Tiananmen Square and The Great Wall. These are activities you won't want to miss, but there is much more to this city than the historical sites. Allocate one day for the Great Wall and two full days to explore the rest of the city. The vibe here is certainly more traditional and controlled.
You can travel to Beijing to Xi'an by air or high speed train. Direct one-way flights are around $110 USD and economy train tickets around $75 USD.
Must Do Activities in the Beijing
Best restaurant with a view: Eat tapas and drink cocktails at Migas Mercados, which overlooks the architecturally impressive CCTV building.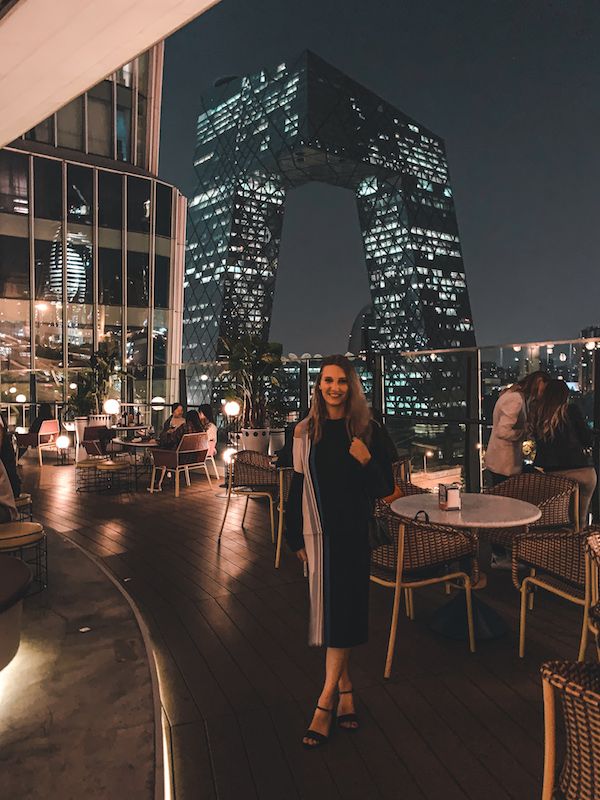 Best afternoon activity: go for afternoon tea at The Peninsula, Beijing's first "Western" luxury hotel.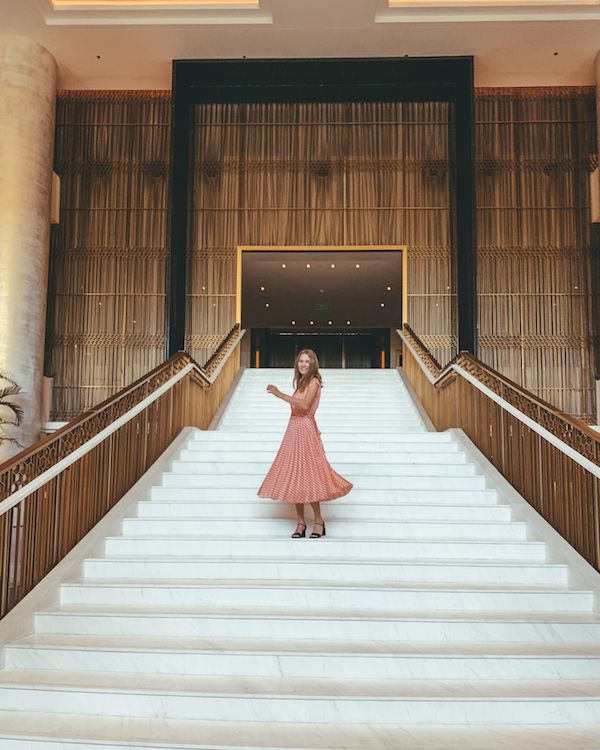 Best alternative experience: Have a cocktail in a DeVinci themed apartment bar (literally a converted apartment unit into a bar). Room 1116 in Tower 1 of the Yongli International Building. An enterprising bartender named David owns the place.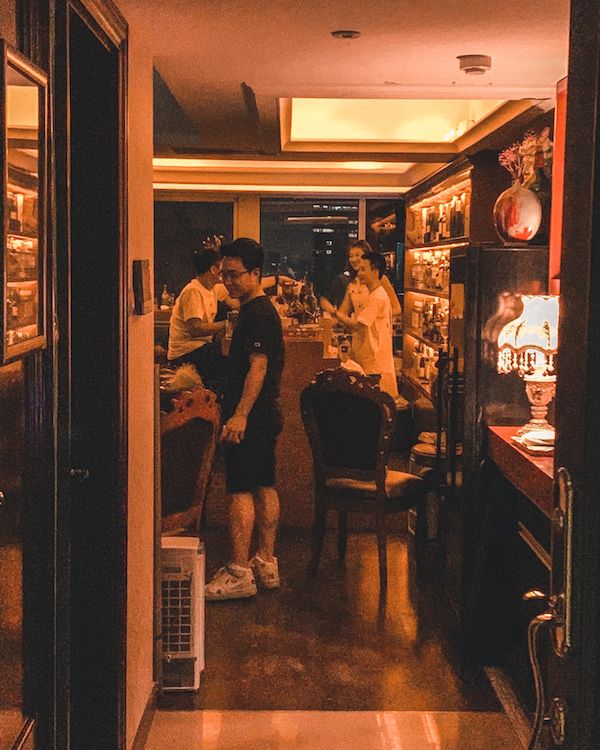 Best foodie experience: Try Beijing's famous dish the Peking Duck, which has been eaten since the Imperial Era. The duck is crispy on the outside, succulent and tender on the inside. It is often served with Chinese pancakes (like a thin flour tortilla), cucumber and a satisfying dark sauce.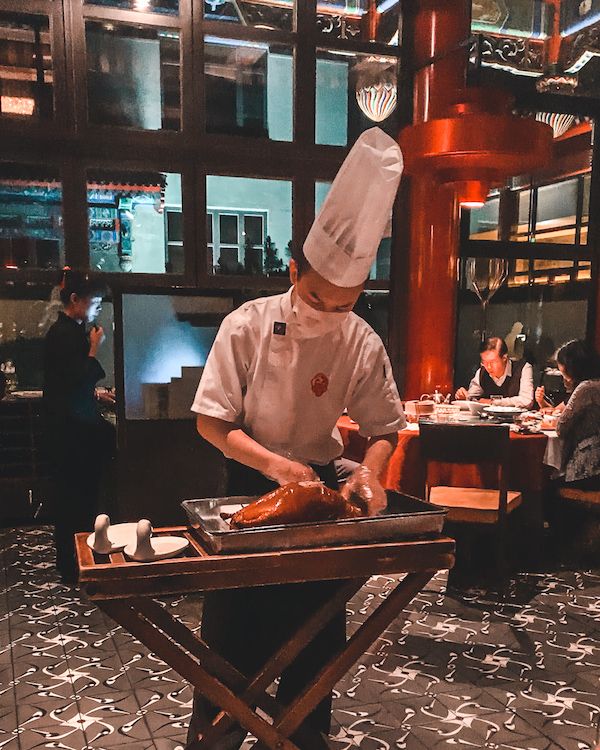 The Great Wall
It's no doubt the longest structure ever built by mankind is one of the New 7 Wonders of the World. We booked a private half-day tour of the Great Wall with Tour-Beijing-Day-Tour. We picked them because of their 5-star rating on TripAdvisor and reasonable prices. Our tour included hotel pick-up/drop-off and a friendly guide who spoke very good English. Once at the top of the wall, our guide let us have some alone time to explore on our own and take pictures.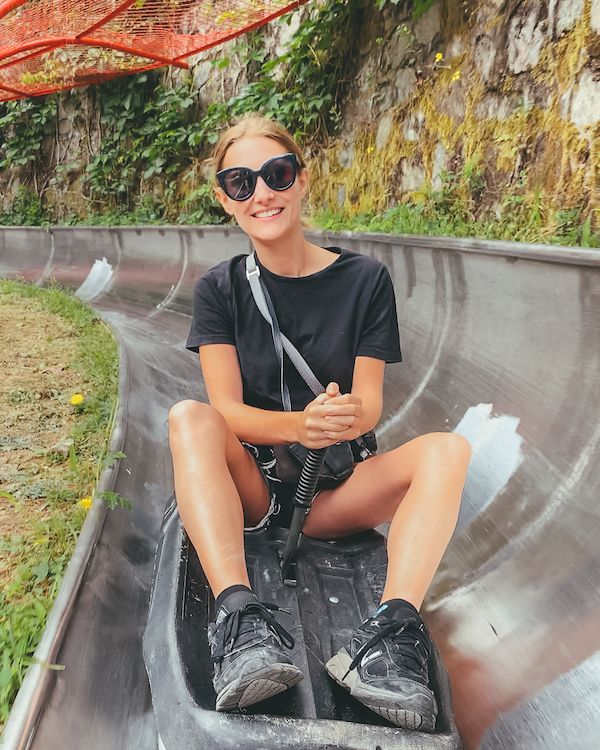 There are different locations of the wall you can choose to visit. We chose the Mutiyani section and were very happy with our choice. It's only an hour drive away from Beijing and is less busy than the Badaling section of the wall. We loved this section, because it is one of the best preserved areas and it's almost completely surrounded by cypress and pine trees. If you hike to the end you will also be able to see the non-restored stretch of the wall, stunning! It's also the only section where you can toboggan down. It's almost a reason in itself to pick this section of the wall!
Day 13, 14, 15: See the Zhangjiajie Mountains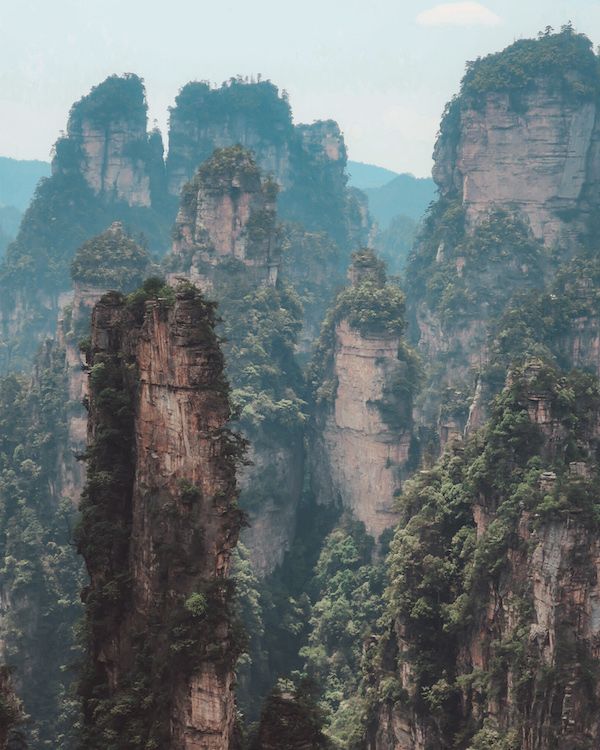 If you've seen Avatar, you may remember the famous floating "Hallelujah mountains" of Pandora. Turns out they are't just a fantasy after all. The quartzite sandstone pillars of Zhangjiajie are what inspired James Cameron to create the floating mountains in the movie.  You can see them with your own eyes - minus the floating part of course ;).
The easiest way to get from Beijing to Zhangjiajie is by air. A one-way flight costs around $150 USD.
Zhangjiajie is home to thousands of towers where erosion by ice and water has left the strongest  standing. This park is one of the most spectacular sights we've ever seen! Allocate three days to this attraction, so you have two full days to explore the park. The name of the park is actually Wulingyuan Scenic and Historic Area, so make sure you stay in the town of Wulingyuan instead of mistakenly staying in the city of Zhangjiajie, which is an hour drive away.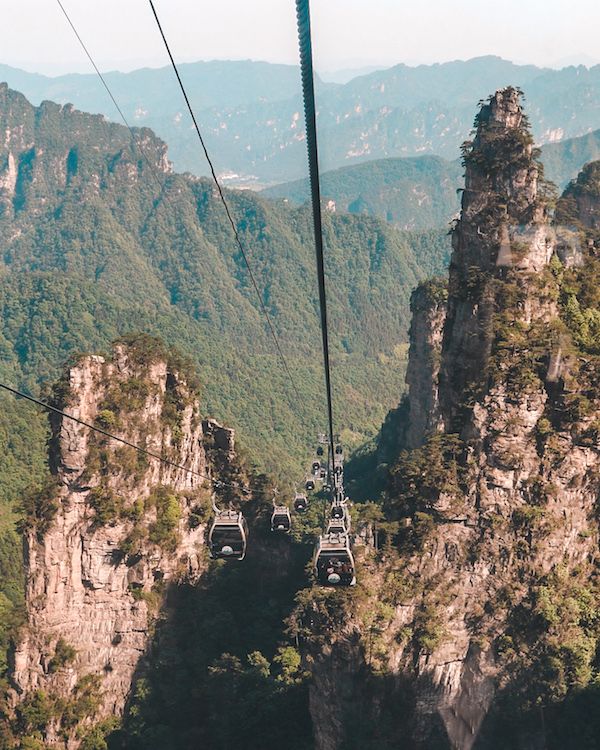 We stayed at Destination Youth Hostel, which is located only a 7-minute walk to the bus station that takes you into the park. A private room with washroom cost us $27 USD per night. The hostel gave us a handy map, which was very helpful for our exploration of the park! In Wulingyuan there are no western food options, but there is a McDonalds and KFC located inside the park if you're craving some burgers or fried chicken. Yes!
There are many different routes you can take once in the park. Check out our: Two Day Itinerary Exploring the Zhangjiajie Mountains for our comprehensive guide to exploring the park including.
Day 16, 17, 18: Explore the modern metropolis of Shanghai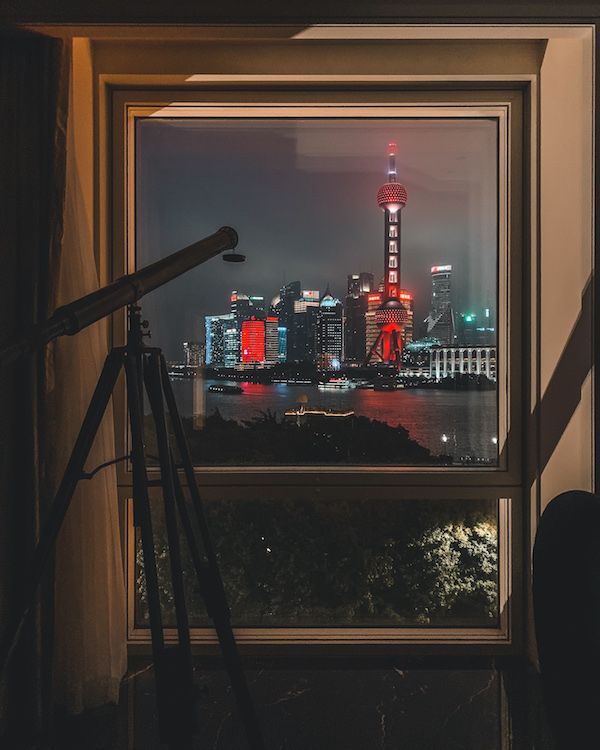 Shanghai felt like the complete opposite of Beijing. This modern metropolis stands out with its amazing and wacky skyscrapers that make you feel like you're in a sci-fi movie. The city is open to Western influence and has a foodie scene leagues apart from Beijing. 34 Michelin-starred restaurants, in fact!
The easiest way to get from Zhangjiajie to Shanghai is by air. A direct one-way flight costs around $115 USD.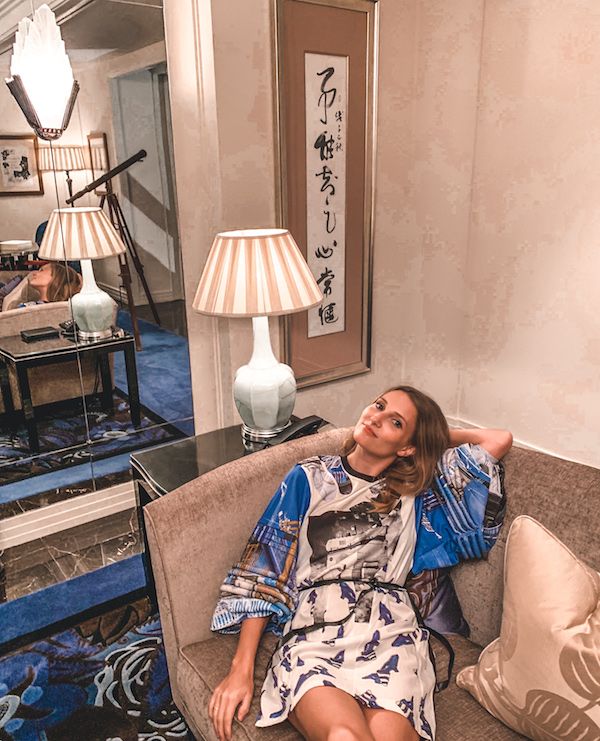 Fully Loaded Experience 🥔✨: Stay at the 5 star luxury hotel, The Peninsula, and take in beautiful views of The Bund. The rooms have been made in a beautiful art deco style.
Burnt Potato 🥔💨: Shanghai Disneyland. It was a huge letdown to say the least. The worst part is that it took away from our time exploring the city.
Read about our Disneyland experience in our article: 10 Things to Avoid when Travelling to China
Must Do Activities in the City
Best afternoon activity: Sample Pu'erh tea in a 1930s mansion at Da Ke Tang. This glamorous location tucked away in the back streets has historically been a hangout spot for Shanghai's elite and intellectuals. While you can purchase Pu-erh tea here for around $20, watch out for the expensive stuff that will set you back a few thousand dollars!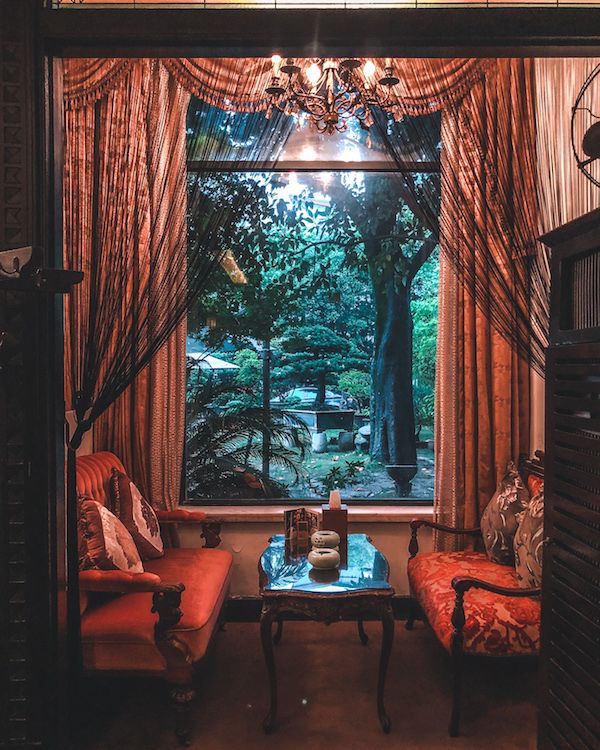 Best rooftop bar: Take in one of the best skylines in the world from Sir Elly's Terrace. It's best at night, but catch it before all the lights go out at 11PM.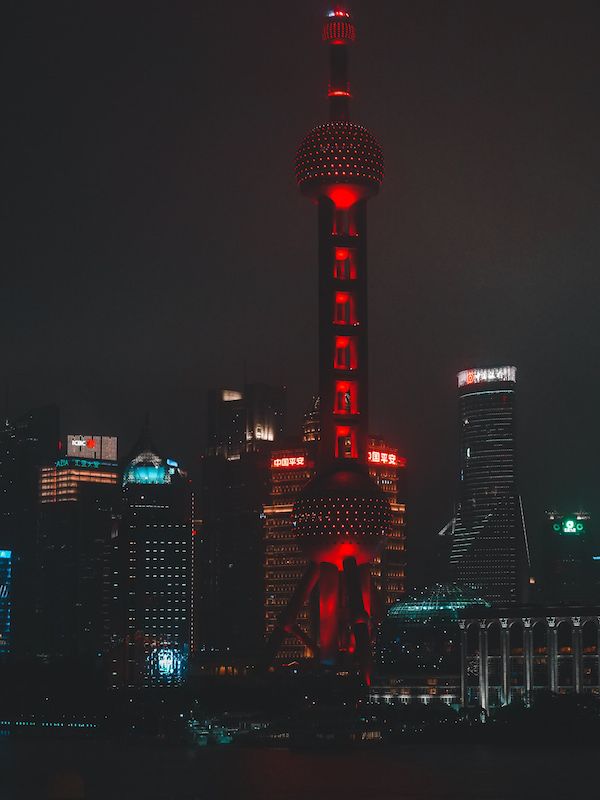 Best fine-dining foodie experience: There are a ton of Michelin star restaurants to choose from. We took a break from Chinese cuisine at the 2 star Michelin Italian restaurant 8 1/2 Otto e Mezzo and it was delicious!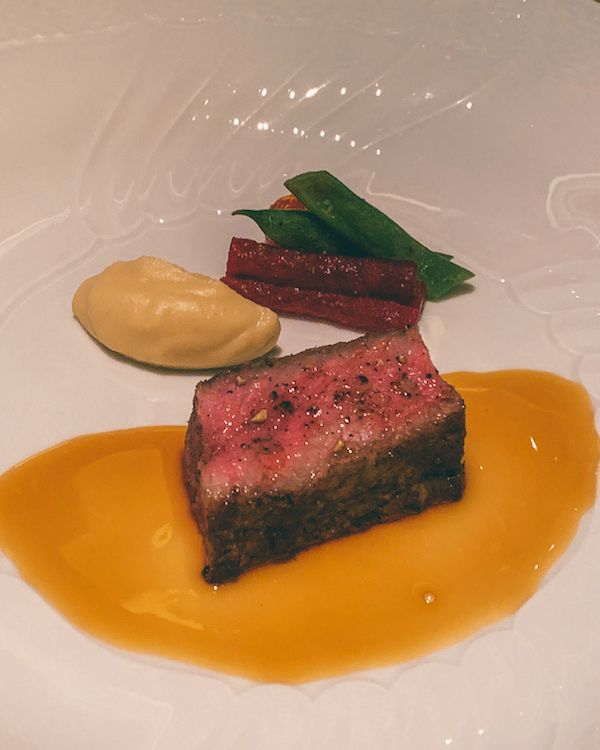 If you feel like pulling out all the stops, Shanghai has a 3-star Michelin restaurant called Ultraviolet. The immersive 20-course dinner will set you back $600 USD! The 6th Best Restaurant in Asia shouldn't disappoint.
Travel Tips for China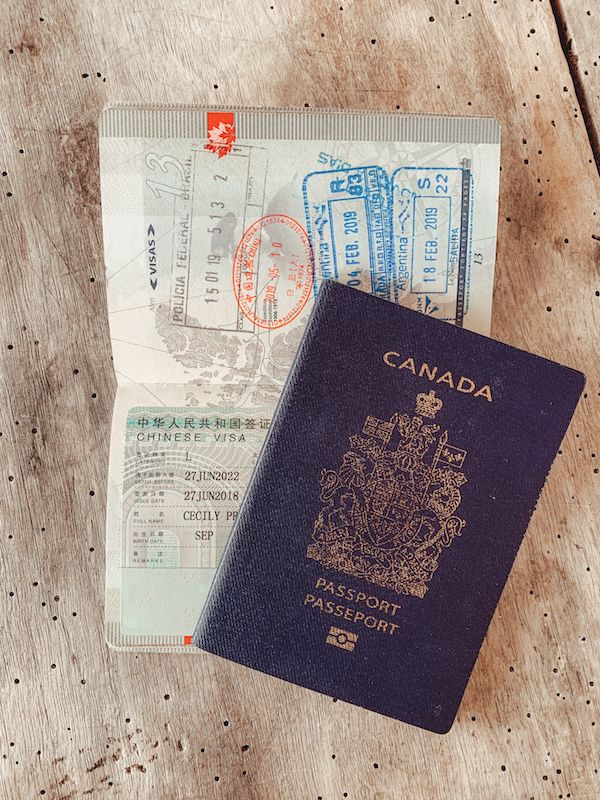 It may take a lot of research, planning and extra steps like obtaining a tourist VISA and setting up VPN and WeChat; however, travelling to China is a rewarding adventure.  It's one of the top countries we've visited on our trip around the world!
Tourist VISAs
Getting a China VISA is a pain since you have to send your passport into the China Embassy. There are long forms to fill out and you need to have flights booked and your itinerary set out beforehand. In Canada we received our passports within one week.  
SIM Cards
Make sure you buy sim cards from China Unicom.  Other networks like China Telecom or China Mobile will not work for foreign devices.
See our top essentials and 10 Things to Avoid When Travelling to China
Cash, credit cards, or WeChat/AliPay?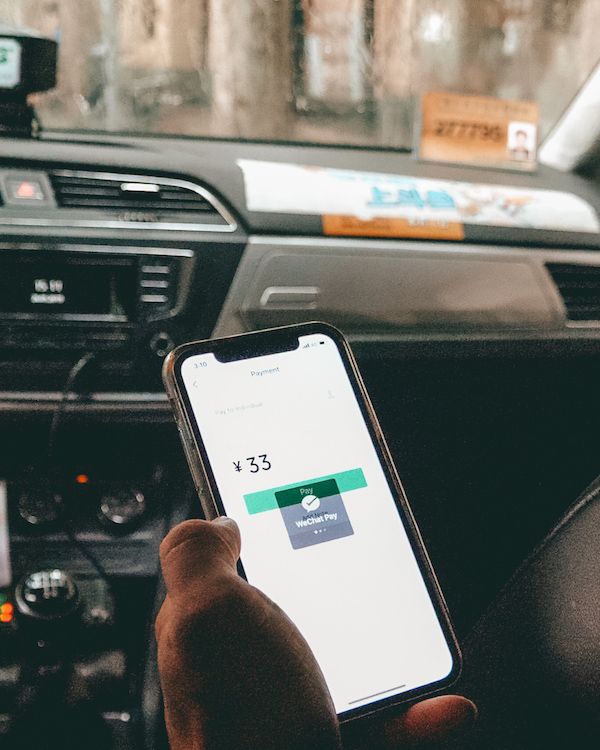 Make sure you arrive in China with cash on hand. The best way to pay for ANYTHING in China is with WeChat Pay. Read our guide on How to set up a WeChat Pay Wallet for Foreigners.
We had issues with several ATMs and banks when we arrived in China. Bank of China was the most reliable ATM for us.  You'll need cash for most of your purchases including taxis. Many stores won't accept credit cards since everyone in China uses WeChat Pay or AliPay.
Great Fire Wall & Blocked Websites
With the Great Fire Wall blocking many Western websites including Google owned sites, China doesn't have much influence from Western applications. Blocked websites include Facebook, Instagram, Whatsapp, Google search, YouTube, Gmail... the list goes on! It's imperative you set up a VPN prior to travelling to China, because we've heard you won't be able to download it through your app store once you've arrived. Download a couple just in case one does work. Check out our article with information on setting up a VPN.
Enjoy your adventure!