Cecily and I landed in Moscow and were quickly met by expressionless border agents carefully examining our passports. The agent inspected the visas we had acquired in Canada under a visual magnification system several times and wrote notes into the computer without giving any indication of how it was going. A few silent minutes later we got our papers and were officially in Russia.
I half expected to be circled by greedy taxi drivers hawking rides to the city center but nothing of the sort happened. I recognized a logo I saw on the airport website and headed to the Gett Taxi booth. This was the cheap taxi company that would take us downtown for 30 Euros when others tried to charge upwards of 100 Euros. We bought fare and were escorted to a driver who knew no English. With a considerable amount of non-verbal communication and digital map fingering we were soon ripping along the highway at 140km/h towards the centre of Moscow. It was 3:00AM on a Saturday and we noticed a lot of activity on the streets. We learned that there are plenty of bars that stay open until 5AM and fancy restaurants that are open 24 hours.
Winding our way down a dark back alley we found the hostel and woke up the innkeeper to check us in. The door to our private room was situated in the main floor hallway outside of the hostel. Our room was nicely designed but very small and only the width of the queen bed. We had a small table and some hangers by the door but not enough room for the both of us to stand and get ready. Cecily and I don't need much and all things considered, we were very pleased with it.  
We awoke the next morning to horrid construction noises pounding away in the unit beside. Oh well. Good to get up and start our day. Our first order of business was to get Russian sim cards and to our surprise we found 14GB of data for $5USD/week! When the young clerk at the phone store asked for our passports he almost fainted. As it happens, he loved Canada so much that his phone background was a Canadian flag and a picture of Moraine Lake in Banff. He was so excited that he took every chance to mention to his colleagues, "Canadian" "Canadian". It turns out that his dream was to visit Canada but when he tried his visa application was denied.  Many people we would meet aspired to work or study in Canada and were generally very curious about us and our lives there. Moments like these make us feel so grateful that we have a passport that allows us to travel so freely.
Later that day at Bosco Cafe I ate the best Beef Stroganoff of my life. The sauce was rich and delicate. Savouring every bite, I just about licked my plate clean and had to sit back for a moment in astonishment. It was there that we learned you typically cannot add tips to the card machine and should always have cash for tipping, we tipped on average 10%. Next, we strolled around the Red Square and people-watched getting to know the lay of the land. Our time spent learning the Cyrillic alphabet was providing us with much entertainment as we eagerly tried to decipher all the signs we passed by. We wound down the day on a nice patio, basking in the setting sun with a few glasses of chardonnay. We thought about how nice it was to have the next 6 days to explore at our own will.  
The following days were filled with urban exploration in the huge city of 12 million. We would travel with ease on Moscow's public transportation system paying less than $1USD per ride. Trains leave every 2 minutes and best of all, the metro stations are gorgeously designed and a delight to be in. On many occasions we would see young couples embracing and kissing on the long escalator rides down to the metro platforms, the woman always standing on the higher step. We discovered that the centre of the city has a trove of beautiful plazas, monuments, parks and buildings. It was also very clean almost everywhere we went with no garbage lying around. I liked that.
Read: 8 Things You Should do in Moscow, Russia
On the fourth day in Moscow I got some bad news from home, my uncle had suddenly passed away from a heart complication at the age of 55. It was difficult for me not to be back home for everyone. Sadly, this has been the 3rd death in 3 years for my family. These powerful experiences push my desire to break away from the status quo and take control of my own life. Time is finite and I am thankful for that lesson and how it guided me to leave everything for this around the world trip.
We had intended to indulge in all the tasty Russian dumplings and soups for the entirety of our stay. However, that dream ended quickly and a few too many soggy dumplings later we both needed other food. One evening as we were walking about, the mighty golden arches sprang into view like an angel descending from the heavens. We were so relieved to eat at McDonalds and order in English that we stuffed our faces like we hadn't eaten in a week. I also tried their fried shrimp, it was great! Direct translations on menus rarely worked out for us so we had difficulties ordering food at many restaurants. Nothing was more draining for me than to have to renegotiate an unexpected item.
Musically speaking, it seemed as though there were three trends: traditional Russian folk music, 90s synth type pop and really modern electronic music. Music seemed to play a large role in people's lives and we saw many young and old solo singers busking on the streets. Every taxi driver and restaurant seemed to have a soundtrack so we took advantage and Shazamed songs for our Groovy Spotify Playlist.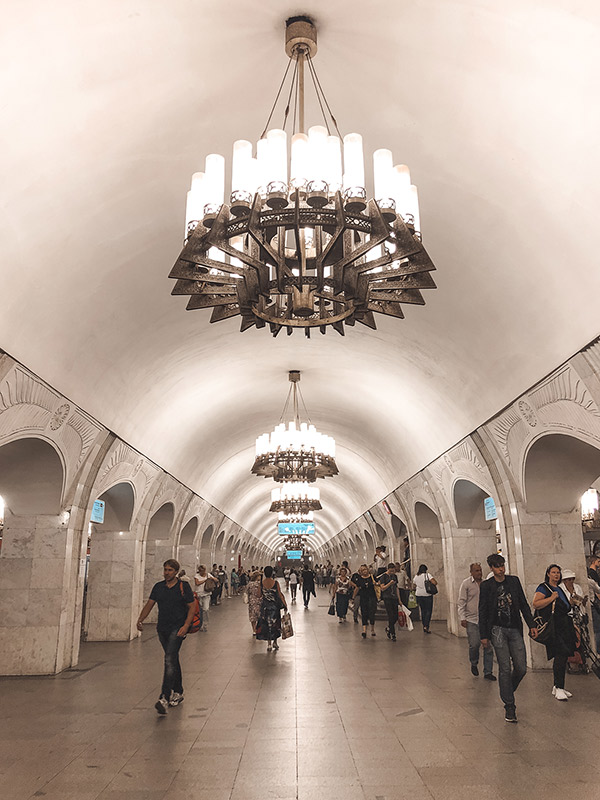 We really wanted to have a proper night out in Moscow and had planned to go to Krysha Mira, an exclusive club that employs the so called "face control" policy. Cecily wondered, question if we were going to be good looking enough to get into the club. All those tall, striking, well-dressed Russian model people compared to us short Canadians wearing our wrinkly outfits were hurting our confidence. We were excited to try our luck.
We had pulled off a similar face controlled club entry in New York at a lounge called the Boom Boom Room. It's a hidden no-sign type of place that only coo people in the know go to so I was feeling confident. We find that the bouncers at these types of places say NOTHING to you and just stare so you have to pretend like you have been there before and engage them.
Doing ourselves up as best we could, we set out for our big night. The Yandex Taxi driver raced along in typical Moscow style and began circling around to the back of the huge complex. I had no idea if we were in the right spot and without much surprise we found ourselves again in a dark back alley. "Alright, that's the door up there", I guessed.
The unmarked and unlit steel door was locked so Cecily quickly had her phone out verifying the location. We found more success if I did the talking, so I took a breath and rang the door bell. A man opened the door quickly with a "What?" look on his face. Great I thought, here we go! "Zdravstvujtye" (formal Hello) I said as I flashed my Canadian passport and looked at him convincingly. Cecily was smiling radiantly beside me. "Why you here?" the bouncer questioned in rough English. "For the music." I replied quickly. Then, looking me in the eyes he replied, "No music."
Oh man, no music for us. It's happening! We're in the process of getting rejected… He took out his phone to start translating after another unsuccessful appeal to come in. Cecily had enough. Refusing to be face controlled, she spoke into the phone and played the guilt card. "No Canadians allowed?" Patiently he went on to translate "Not today."
Throughout the awkward exchange I noticed that the bouncer was wearing a tank top and flip flops. He was quite relaxed and seemed even eager to communicate through the translator app. Something was off but suddenly he succumbed to our stubbornness. "I show you." the machine voice spoke out as he motioned to follow him inside.
We made it. Cecily and I both smirked at each other. We briskly walked up 3 flights of stairs passed empty rooms to the beautiful, but completely empty and silent rooftop patio… There was no music because it was closed! We all laughed and shook hands. The robotic voice called out "Now they believe me!" While seeing us out he asked if we liked Russia and we replied that we loved it very much and that the Vodka was good. He shook my hand again and kissed Cecily's saying goodbye and "Open weekend." Too bad for us, we were off to Kyrgyzstan before it would open again. At least we made it in!
I was in for a treat on our last day, we were heading to the Space Museum. Housed in a building that is a monument to space exploration itself, we enjoyed several hours keenly reading and learning. It was amazing seeing 1:1 scale replicas of early probes and satellites sent out in space in the late 50's and early 60's. It still boggles my mind that we can send things and collect information so far away from us. I dreamt of the time when space exploration ignited a technology race back in those days.
The sun was rising and the reality of the next leg of our adventure dawned on us as we sped along to the airport. We were now going to a truly foreign place and we had no idea what to expect. Half of our trip was booked through Facebook messenger so we had our fingers crossed that things would pan out. We both couldn't believe it had only been 15 days since we left Canada and readily boarded the plane to Kyrgyzstan, part of the former Soviet Republic, a country known for its nomadic peoples and alpine scenery.
Check Out Our Moscow Videos!
Know Before You Go - SVO Visa Free Zone!