Short: We enjoyed the vast beauty and nomadic culture of Kyrgyzstan but had a few surprises with the food and accommodation along the way. Happiness is adventure without expectation.
Clapping and cheering erupted from the passengers as the airplane touched down. Did I just sleep through an emergency landing? The gates were deserted but Cecily's smile confirmed we had just touched down at the Manas airport in Bishkek, Kyrgyzstan. It turns out that clapping after landing on Aeroflot flights is normal.  
Right off the bat, the best part about travelling to Kyrgyzstan was breezing through customs without a need for a visa application. This was such a contrast to the Russian and Chinese visa processes we had to endure back in Canada. We reflected on the freedom that our Canadian passports provide. As we stepped out into the sweaty arrivals hall we immediately got scammed by a persistent cab driver offering private rides downtown for 600 Kyrgyzstani SOM (the going rate we found online). Our bags were thrown into a private car when out of nowhere the man who offered us the ride threw in another person's backpack making up a shared taxi. YANK! We were out of there and found the recommended Manas taxi company back in the terminal. Airport transportation is quite the nuisance!
80s Russian synth pop tunes rang from the tinny car stereo. The driver turned up the volume and smiled, his gold teeth glimmering in the afternoon sun. He was speeding and passing cars,  making his own third middle lane on the two-lane road. Oncoming drivers oddly yielding to our vehicle. The driving here was not much different than in Moscow, a sort of lawless "out of my way" attitude. It didn't take long to notice many of the buildings we passed were in a dilapidated state, half completed or crumbling. There wasn't any attention paid to landscaping either and everything seemed overgrown.
Once checked in to our hotel, we headed to the main shopping center, picked up a bottle of wine, a pair of sim cards and took out some cash. Our evening consisted of mindless Netflix shows with takeout pizza and cheap wine.
Our only goal the next day was to negotiate transportation to the small town of Kotchkor about a two and a half hour drive away. There we would start our 5-day Facebook messenger arranged tour into the mountainous landscape of Kyrgyzstan. That morning I convinced Cecily to eat at the small "Fasty Food" restaurant I had seen the other day. I wanted to eat something as cheap as possible. When we asked for a menu, the owner pointed to a hand drawn piece of paper taped to the wall written in Russian. We communicated by pointing at pictures of hotdogs posted on the outside windows. The restaurant owner seemed enthusiastic to serve us and we got a plate of tomato ketchup with a mayo smile drawn into it to accompany our fries.
The bus station in Bishkek has scores of drivers with either 18-seater vans or regular size 7- seater family vans, all yelling their destinations and waving signs as you enter. It's a free for all passenger grab and total sensory overload. We were intent on traveling privately as the day was running long and the price we researched online seemed fair. The taxi driver taking us to the bus station worked his way through the crowd when finally, a pair of men leaned into the car windows and the negotiation for a price to Kotchkor began. After confirming the price we departed on another hair-raising car ride.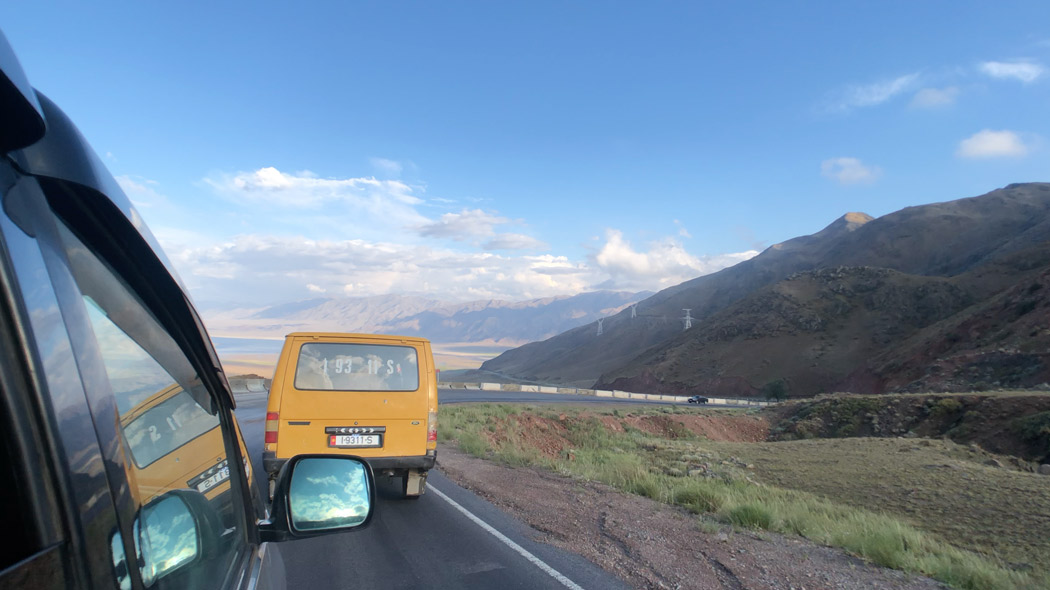 When we arrived at our guest house, the once jolly driver who had let us stop for some pictures on the way demanded double the price before giving us our bags. Unbelievable.  I had a tip waiting for him and we had to now negotiate again to get the fare we had initially agreed to. With great energy we settled on the regular price plus the tip I had prepared. It's so hard to determine who is trustworthy and who isn't when you are in a foreign place. It is easy to be taken advantage of especially when not being accustomed to the ways of doing typical transactions.
I have been scammed several times while traveling and doing business. One particular time, Cecily and I were in Lombok, Indonesia, looking for a boat ride to an adjacent island when a man selling tickets near the marina offered to sell us some. We were wary of dealing with random people, however, he said, "Take a picture of me its ok you could show it to police if I lie," all the while waiving his ticket book. Alright, we paid for the ticket and showed up for the boat. The boat operator told us bluntly that our ticket was not real. We had been scammed $50 and had to buy another. It's these types of experiences that make you a better traveller and it's best not to get caught up in the loss too much.
That evening at the guest house we wondered what we were in for as we separated our gear for the horse trek. Cecily had booked our trek with Kyrgyz Riders 6 months prior in February over Facebook Messenger. We were taking a risk because at the time of booking there were no English reviews and we didn't have to pay a down payment. This was part of the adventure and we knew that as a backup, another tour from Kochkor could be easily organized.
The next day we paid up and were briefly introduced to our guide before heading off on a 2-hour car ride on a bumpy unfinished road. Oddly, the guide said nothing to us the whole way, only occasionally spoke to the overly cautious driver and fell asleep. I also noticed that he only had a small shoulder bag with him while Cecily and I had a 40L pack. Better safe than sorry when it comes to gear, I always say.
On arrival at our destination we ended up sitting alone in the car for 5 minutes because neither the driver nor guide told us where we were. We ended up walking into a house with no sign and sat on some pillows at a low dining table, lunch I guessed.  We tucked into a salad and soup as hundreds of flies buzzed around us. After lunch at the last minute, we had to switch guides since the first one needed to go back to Bishkek. It didn't matter to us, we were excited to get going on our 2-day trek to Song Kol Lake.  
We were thrown on our horses without any instructions and started on our way down a dirt road to the first yurt camp. I have ridden a horse once before in high school. I remember it being very obedient and excited to trot along. Unfortunately, I never got the chance to really ride it as we were all confined to walking our horses in a single file line. This time it was a bit scary. My horse was big and riding was much different than I remember. Thankfully, Cecily who has ridden many horses as a child gave me instructions and some confidence.  
Ermik, our guide, was in no mood to dawdle. After a bit of small talk he asked us if we were up for galloping. Sure! My childhood dreams of breaking through the line and galloping were going to come true this time in a wide-open grassy plane in central Kyrgyzstan. Our guide made the sounds "ch" "ch" and kicked with his heals to get his horse going. Ours followed, first into a bumpy trot, then I gave my horse a whip and yelled "CHOO!" Off we went, the jarring motions of the trot turned into a powerful and surging gallop. My white knuckled hand clenched the horn of the saddle as the wind picked up and blew in my face, whipped my face. Adrenaline pumped as the animal took control and floated over ruts, rocks, and the uneven trail. "DRRRR,"our guide yelled and we slowed back to normal. I really couldn't believe what had just happened and a giant smile came over my face. I had to let go of fear and hand over control to the animal. My only parachute was a few words of wisdom from Cecily to steer the horse into a circle if it takes off on you. What a rush.
We all had a great time galloping and trotting our way to the first yurt camp although Cecily's horse would always lag behind somewhat and seemed more difficult to manage. We were excited for the yurt experience and had booked a lot of it on this trip. We have done so much camping together that we thought it would be a great way to spend our evenings, like the Kyrgyz nomads do. We were shocked to hear that our destination yurt camp was full. We had a choice to stay in the kitchen tent or move on. This was frustrating because we had booked 5 months in advance and now we would have to travel another 30 minutes to the next one. How horribly organized, we thought. We had somehow imagined staying in private yurts, opening the door in the morning to a grand view, sitting outside, contemplating the magnificent scenery, reading and writing. We would shortly learn this could not have been farther from the truth.
The next site also had a large number of travellers and we almost didn't get a place to sleep! It was a free for all scramble to find and claim the beds that were being made up before dinner. We thought we were taken care of so we waited around until everyone settled only to learn that there was no room for us. We were shocked as our guide asked the family to make us another two beds and we ended up packed into a yurt with 7 other people; our mattresses toe to toe and side by side. In the dining yurt excited travellers all chatted about where they were from and where they were going so we finished up quickly hoping the conversation wouldn't follow into the yurts afterwards. A quick game of cards later, we fell into a deep sleep.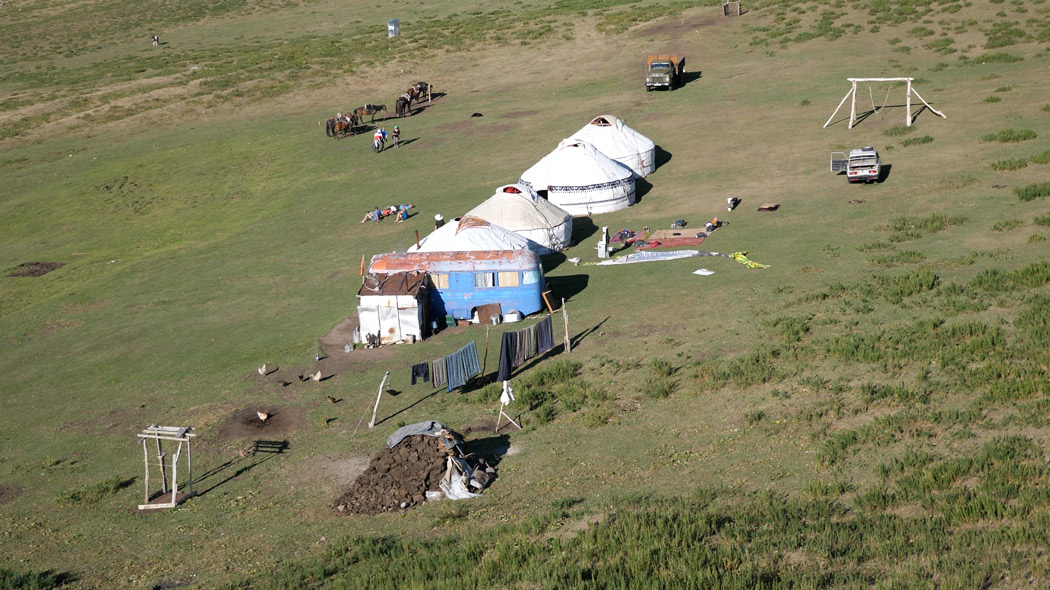 The next day we made it to Song Kol Lake, the second largest lake in Kyrgyzstan. It was huge and a beautiful blue that changed shades in the sun. Our day started with a steep climb to 3500m elevation and galloping through the valley as we descended to the lake. Cecily's horse was acting up, lagging behind and not listening. When she tried to command a gallop it started to buck with rear legs off the ground. The horse earned the name Bucky and would continue to behave badly for her the rest of the trip. We later found out that these horses may receive a 2 day rest every week, maybe the horse was just tired out from the last trip.  
Our yurt camp that evening was not as full as the previous night and we were only 6 to a yurt. Not bad! At this point we were over our dreams and expectations of private yurting. We marvelled at the lake, played in the water, ran around with the camp dog and relaxed our sore muscles. That evening, however, we had finished eating our sixth consecutive meal of the exact same food: cucumber and tomato salad to start, followed by potato soup with mutton, and tea. The problem was that the flavours were all so similar that it was becoming hard for us to eat.
We really couldn't understand what was missing. Back home we batch cook food to have for a whole week. Then we realized we typically always have the option to pick up a snack here or a pizza slice there, go out for a work lunch. We live in a place with so much choice that there is always a place to satisfy a food craving. Here, we had no option. Everything was starting to taste like the camps and horses smelled.
At one lunch break Ermik waved me over to the guides' table and offered me a tea cup of the traditional fermented horse milk called Kumis. I had read about it and was excited to try. He poured me a full glass from a large pitcher saying that if I wanted to be a nomad, I had to drink it all. Down the hatch the slightly effervescent sour metallic tasting white liquid went. Galloping horses and drinking Kumis, Nomad status achieved! Ermik said he would usually drink around 1L a day.
We were pleased that the camps we stayed and ate at were very authentic. The nomadic families that work the camps own the property and set up there all the way from spring until winter. They provide not only for the guests but also for themselves and the guides. We saw their children tend to sheep, cows and horses and observed the family's ways of self-reliance. This was such a foreign landscape to me, high in the alpine away from the plentiful resources of the forest. I tried to take it all in, keenly observing how everything operated.
It was interesting to see how the food and beds were prepared for the guests, when the families took their own time and how everyone lived with the rising and setting sun. Without trees for wood they burned dark black cakes of dry sheep manure to heat water and cook. This gave off a terrible smell not exactly like burning poo but rather a mix of charcoal and burning grass or leaves that hung around the air at all times. Every animal from the cat to the horse had a purpose and the families even baked their own bread. The guides would all get together in the evening and play games on their horses, chat about current events and kick a ball around. I thought, what a slog dealing with all these tourists, but whenever I saw the nomadic families taking their own time and talking with the guides, everyone was jolly and laughing.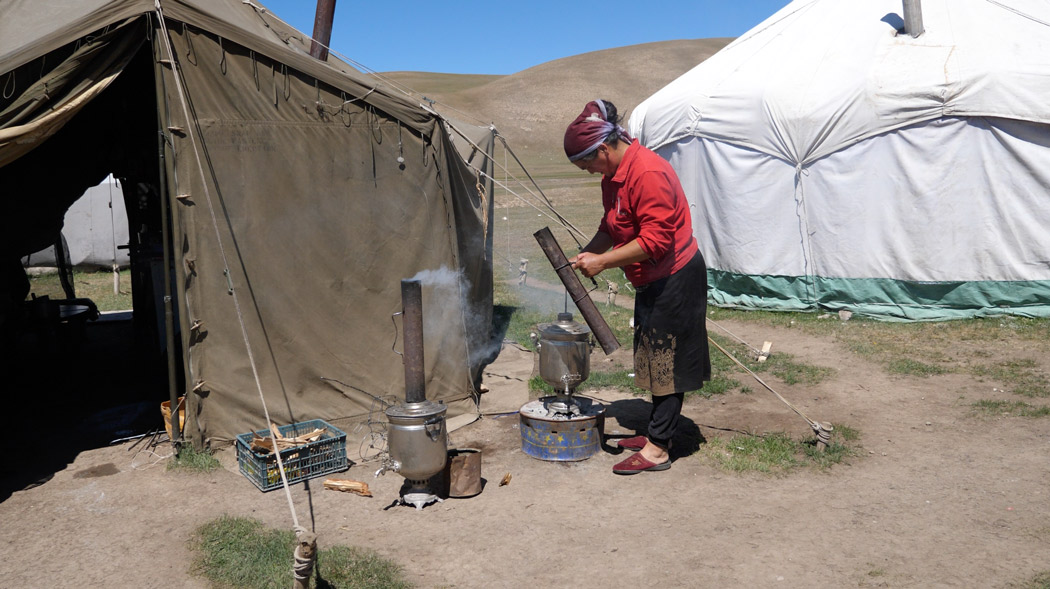 At one point I overheard a tourist loudly complaining about the sleeping situation to their guide. Cecily and I had been doing so between ourselves the whole trip so it was nice to get some validation at least. However, after a frustrating exchange, the guide closed the conversation by saying "Welcome to Kyrgyz life," meaning, this is how we live. That really put it into perspective for me. Traditionally, when nomadic travellers arrive at yurt camps, they all sleep together and eat together. That is just their way. It's so easy to be shocked and disappointed these days when experiences don't match our expectations. With the internet, reviews and pictures we are able to plan and get exactly what we want.
On our last day as we rode eastward, we were astounded to find over 100 yurts packed together like a garden of mushrooms at the far side of the lake. We learned that they belonged to tour companies. We had a moment of embarrassment when reflecting on our previous yurt accommodations and how we had been so disappointed that it wasn't private. We visited such nice authentic camps, it could have been commercial tent city!
The 4-hour car ride to Tash Rabat was bumpy and long. This driver was young and had a pop song repeat 5 times while singing it to himself. After politely enduring this cruel and unusual punishment, we had the music switch out for our own. Tash Rabat is an old caravanserai (inn and trading post) that was operational along the Silk Road in the 15th century. There is a decent road leading right up to it so the yurt camp we arrived in was "luxury". We were offered a spot in the guest house and without a second thought took it. The Banya (sauna) was on and we went for a nice hot wash. There was even cheese at dinner! We were able to briefly see the Tash Rabat structure (restored in the Soviet era) in the morning but were slightly underwhelmed. It would have paid dividends to do research prior to arrival as there are no signs or information posts in English.
That morning we set off to Kel Suu on the border of China and Kyrgyzstan. Special border permits were required for this leg of the trip. We were excited to go to a place that would be less travelled. When we entered the valley near Kel Suu Lake where our yurt camp was located it was like we entered a mountain paradise. The pristine landscape was vast, there were no tourists and we had a private yurt with a stove for warmth. This was what we were expecting at Song Kol Lake, to be alone in a remote part of the country surrounded by natural beauty. Our tour operator had told us that the Kel Suu Lake was nearly empty this summer which was unfortunate because we had fallen in love with pictures of the glacial blue lake that was created by an ancient rockfall between mountains.  
As soon as we arrived, horses were offered to us and without hesitation we jumped on and got moving down the 7km trail to the lake. Regrettably, we had only one night planned here, so time was of the essence. I was excited to gallop the horses again but unfortunately mine was a bad boy and liked to run off on his own. Cecily's rode like a dream, unlike her last horse which we named Bucky for obvious reasons.
Fortunately, because our expectations were managed this time, it didn't feel like a major let down to crest the rockfall to an empty grey lake bottom. Kel Suu is a wild and untamed paradise. We took it all in while sitting on a big rock enduring the cold wind. We were happy to arrive back at our yurt to a warm stove and surprisingly even the salad and soup went down easy (for me). That night we were in for a treat as the moon was absent. The stars were so bright that I was able to take a beautiful picture of the milky way.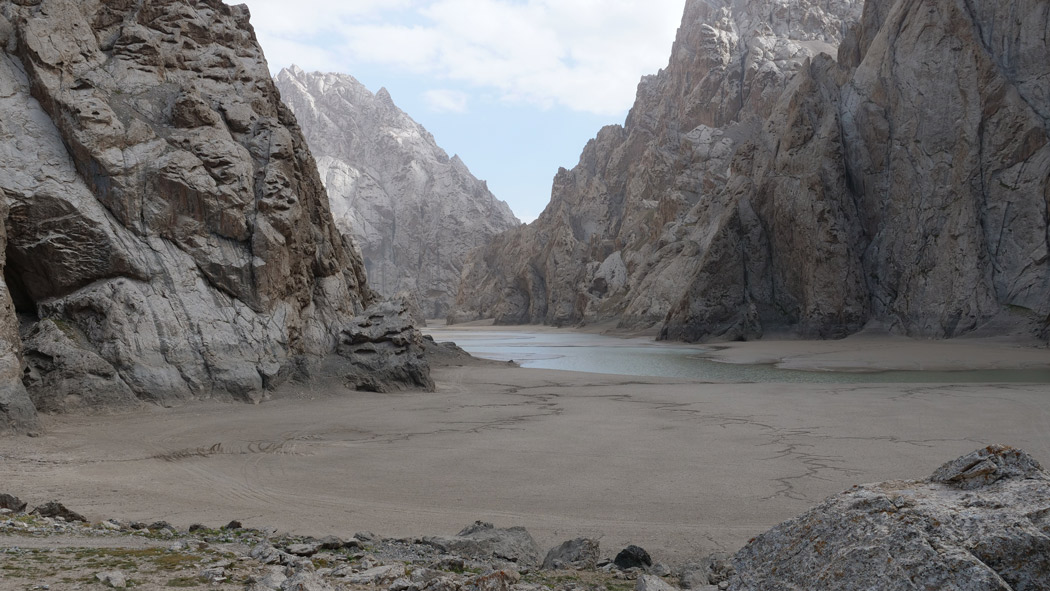 The next morning as we were departing, I had a quick exchange with the man of the camp in broken English and sign language. He was excited to tell me that horse meat was good for fertility and how it had allowed him to have 7 children!
Along the drive to our next destination, we asked our driver to stop in at a grocery store to get some treats. Chips, Snickers bars, some Coca-Cola and a small 200ml bottle of Russian vodka for the next few days. As we sat down that evening to drink, we dove into our feelings about the trip in Kyrgyzstan so far. It had certainly been a culture shock. Over the past 6 days we wrangled horses, endured bone rattling car rides, negotiated travel, ate the same thing every meal and cuddled up with strangers in shared yurts. But, I felt like I had let myself down. How could so few days in a new country wear me out so much? I've spent 7 days hiking 75km alone in the northern Ontario wilderness in zero-degree weather. In Kyrgyzstan we had food, shelter, warmth and each other for company. During dinner in the yurt camps you could hear other intrepid travellers chat about their long duration treks, bizarre countries and other adventures. I shouldn't have compared myself to them, but I did. We were on a 14 month around the world trip and I felt like I had fallen apart on country number three! Our discussion carried long into the night as we munched on Lays Paprika chips and sipped our vodka Cokes.
Two days later we arrived in Karakol, a popular launching point for treks and other adventures. We were to depart the next morning for a 2-night hike through the Jyrgalan valley up to some lakes. At this point I was quite unwell and my stomach had turned on me. I had a flash back of our guide Ermik asking me if I had diarrhea after drinking the fermented horse milk. I didn't that day and he was surprised saying most of the people he gives it to do. Thanks for the warning, man! The scenery on the trek was the same as before and another few days of yurt food was not going to go well for us. We decided that it would be best for us cancel the trek and rest.
As we were browsing potential new destinations to make up the time, I noticed how close we were to Almaty, Kazakhstan. We could use the extra 2 nights to try another country and there could be other food there. Cecily and I began researching how to get there, flights, taxis, shared taxis but it seemed as though it was a bit out of the way to get there. Then, I found a Pizza Hut on the map. We had officially lost our minds at the point when we considered a 6-hour car ride to Bishkek to then fly to Almaty for a 2-night stay so we could go to a Pizza Hut. Common sense prevailed over our lizard brains and we decided to stay in Karakol. The next few days were spent eating roasted chicken, laying low and working on the blog as I continued recovering from the horse milk.
While in Karakol, Cecily had researched what seemed to be every restaurant in Bishkek. There were two American restaurants, KFC and Nathans Hot Dogs. As soon as we arrived we dined like kings on an unreasonable amount of fried chicken, of course, doing no good to my stomach and making me sick again. It was worth it. We had one last day in Bishkek so Cecily had a spa day at the very reasonably priced Mystic Spa while I hunted for Kyrgyz currency. I had come up with an idea to replace the money in my monopoly board game with affordable paper currency from different countries. The notes in Kyrgyzstan are beautifully coloured and 100 SOM and 50 SOM notes could represent $100 and $50 in the game. They also have a nice yellow 200 SOM note that I will add to the set. I set off around town to different banks to get 30 bills of each denomination. A few countries more will be needed to round out the full bank. I am very excited because it will be fun talking about the different countries but also the real exchange rates between them.
We were the only flight that day leaving Bishkek airport and we had a laugh because the duty free store was loudly playing some strange dark electronic music. We landed in Moscow and spent the night in the terminal at a hotel in the transit free zone (no visa required). It was a short 10-minute walk to the gate to board our next flight to Tbilisi, Georgia.
Check Out Our Kyrgyzstan Videos!