---
What's Groovy

⤞ No traffic lights and only one 4-way stop on the island
⤞ Experiencing not just farm-to-table, but backyard-to-table dining
⤞ Shopping the local art and boutique stores
---
1. Start your morning with local coffee at Cafe Talia
Cafe Talia is a cute cafe off the main strip in Ganges where the locals hangout. They offer locally roasted coffee, tea lattes, and delicious baked goods.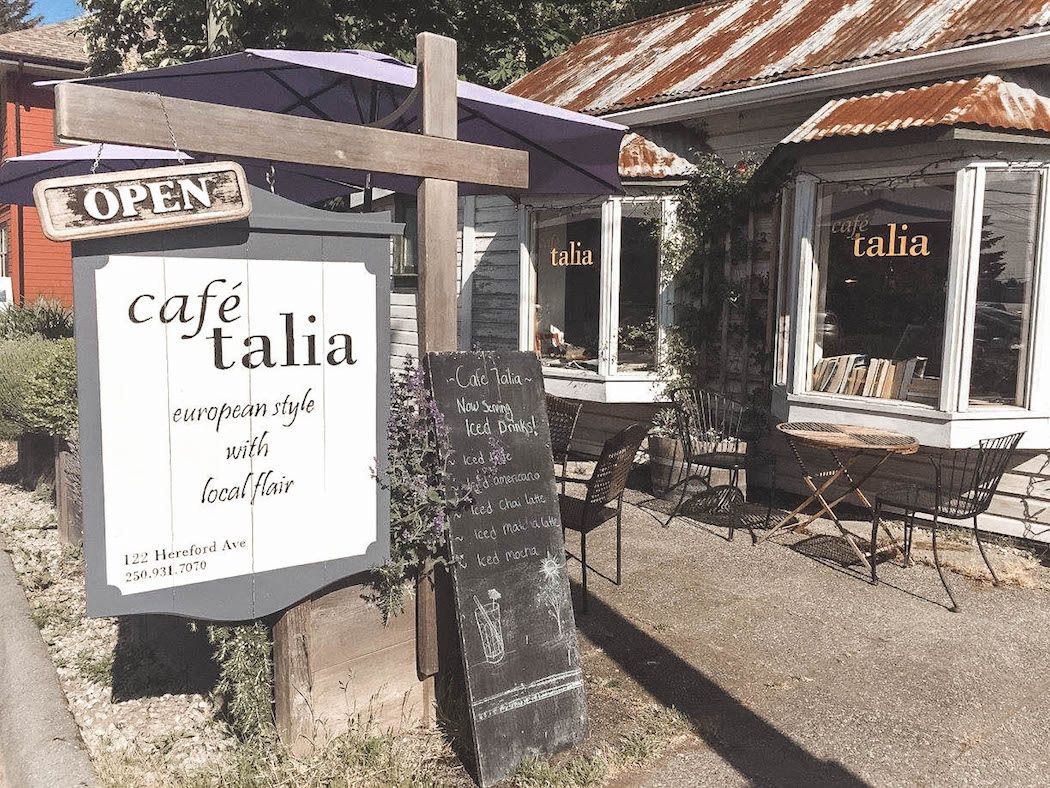 2. Shop for local goodies at the Saturday market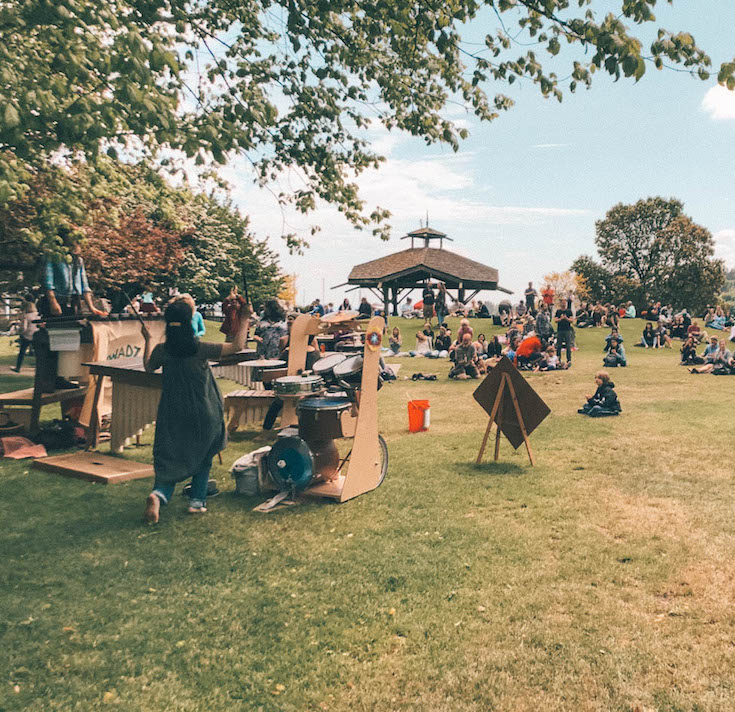 There are so many amazing vendors at the Saturday market, it's hard not to bust open your wallet. I was browsing a local vendor named Bohemian Arts Mixed Media Studio, when a beautiful dark green ring caught my eye. The vendor said it was a tourmaline stone as she pulled out an ancient looking book from the back. She then said she would give me a reading based on the stone I chose.
I was told tourmaline is a stone that may look black with certain lighting, but once the sun shines on it you see all of the different green layers inside. It symbolizes the heart chakra and allowing the right side of your brain to have a stronger connection to the analytical left side of your brain. The stone represents living more in the moment and making deeper decisions to promote self healing and completeness.  I thought it was quite fitting, since I'm definitely on the analytical side, but am taking a big leap to follow my passion and travel around the world!
After all of that we got a deep fried dough dog and listened to the live band on the grass mmm mmm.
3. Sample cheese at the award winning Salt Spring Island Cheese Farm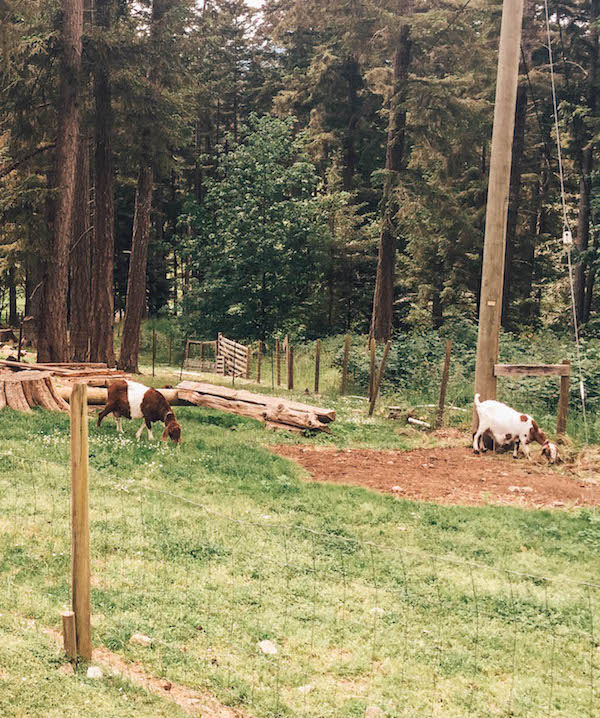 The best way to experience Salt Spring Island is to rent a car and discover all of the local goodies along the quiet roads. One of the top stops is the Salt Spring Island Cheese Farm. Located at the end of a small winding road through the fields lies the farm with tons of cheese to sample! The cheese farm specializes in fresh and flavoured goat cheese, such as basil, garlic, chile, and olive tapenade. Our favourite was the garlic!
4. Taste local wines and have a picnic overlooking the vineyards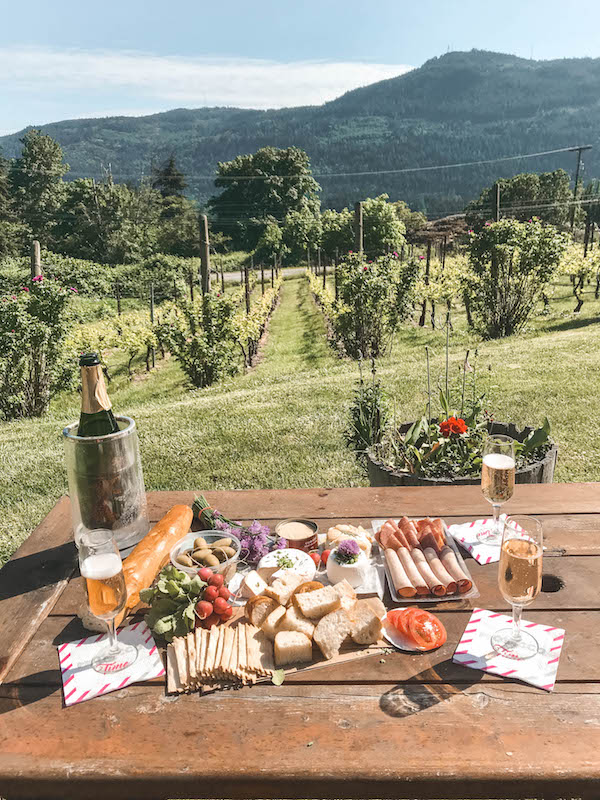 First, make a stop at Garry Oaks Winery for a wine tasting and to sit along their vineyards in coloured cottage chairs.
Next, harvest all of those delicious goodies you bought at the Saturday market and cheese farm and enjoy a picnic at Salt Spring Vineyards. They have picnic tables along their vineyards where you can either bring your own food or purchase some aperitifs on site. Our favourite wine is their Prosecco style sparkling!
5. Stay at an Airbnb and experience the islander way of life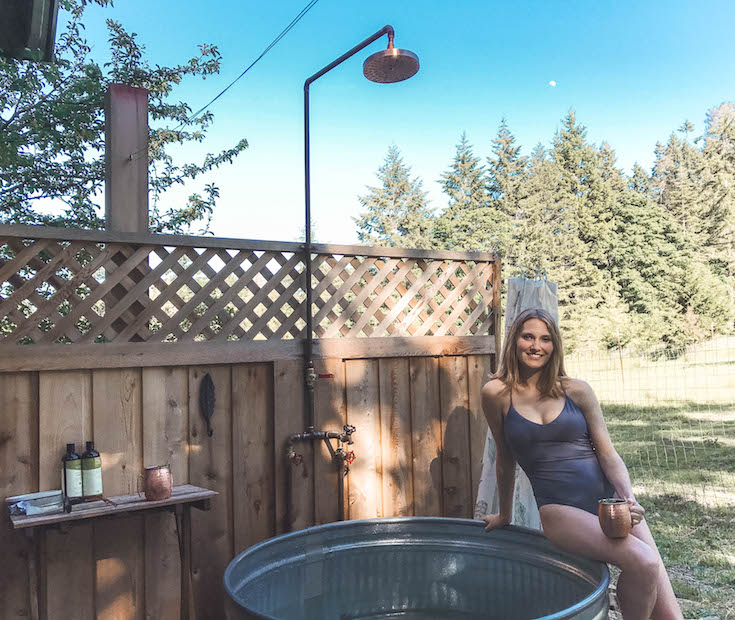 I think our favourite airbnb may be on this island. The 'Salty Pear Camping Casita' is the definition of tiny living - island style. You can sit on your private deck overlooking the fields and trees in the morning, de-stress in the wood-burning barrel sauna, or have a soak outside overlooking the organic farms.
We made our own private outdoor jacuzzi and topped it off with some Moscow Mules.
6. Enjoy a rustic setting in a modern lakeside cottage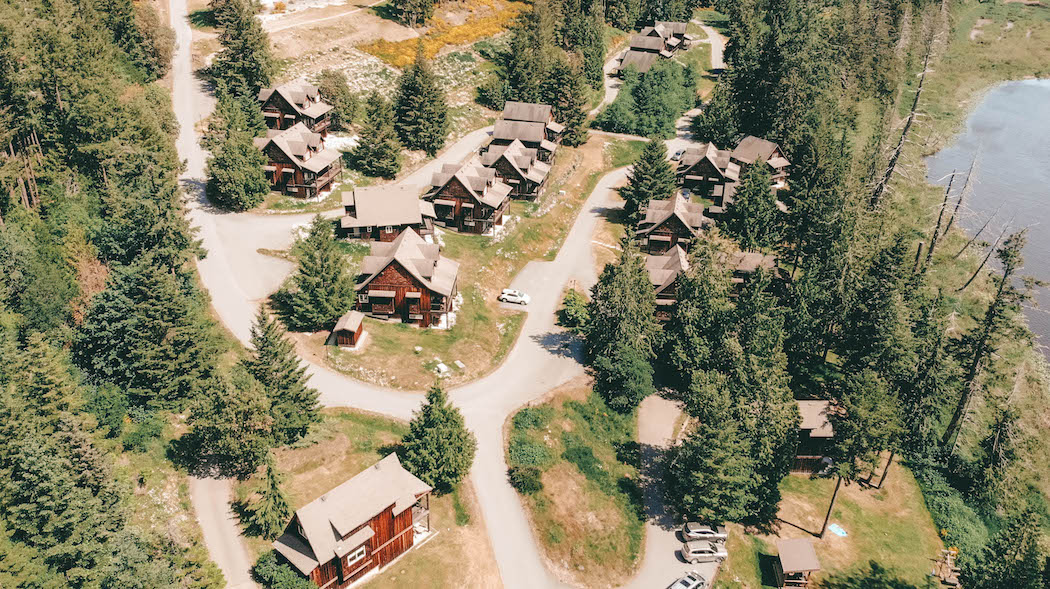 For those of you who want a larger space or have a larger group, Salt Spring Cottages has beautiful modern three-floor two-bedroom cottages beside a private lake. The cottages feature a full kitchen, communal BBQ, and canoes and stand-up-paddle boards free of charge. We made it our daily routine to take the stand-up-paddle boards out on the lake and every night we sat on our outdoor terrace with a glass of our favourite Salt Spring wine.
If you're looking for a more upscale full-service hotel with a spa and restaurant, try Hastings House. We've heard great things about it!
7. Enjoy delicious local cuisine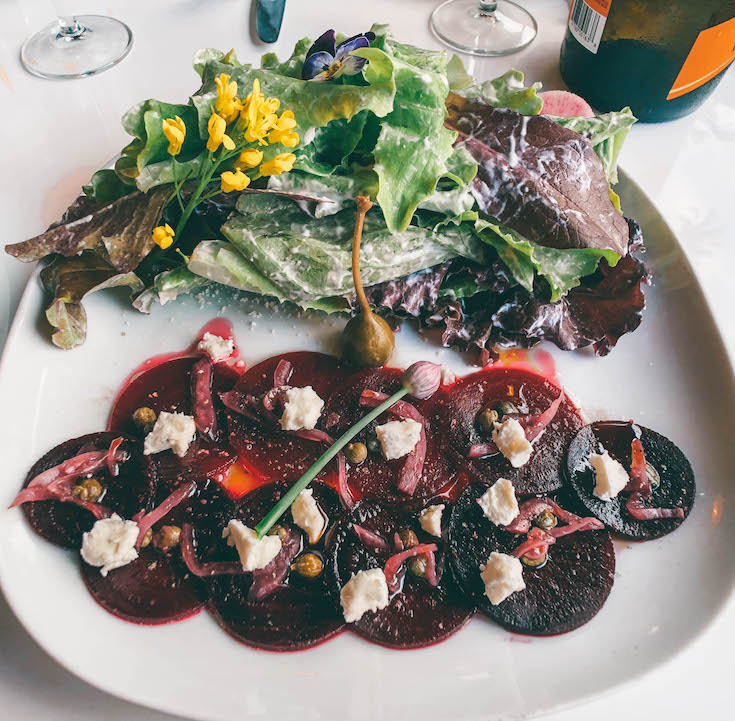 I can't explain in words how good the cuisine is on Salt Spring island. You have to try it to understand how fresh it is. Farm-to-Table is a trendy new type of cuisine I've seen at upscale restaurants in Vancouver and now Toronto, but Salt Spring takes it to the next level → backyard-to-table cuisine.
We arrived at Twig and Buoy the first night, which is about a 10-minute drive from Ganges near the ocean. The restaurant has a garden right in their backyard where they cultivate their veggies and fruits. We ordered three salads (couldn't help ourselves) and had the best beef carpaccio of our lives. Twig and Buoy has very friendly service and is unpretentious considering the high quality of food they serve. We next chose one of their wood-oven fired pizzas. It was delicious! We were stuffed, but somehow Ari managed to have crème brûlée, which was flame seared right beside our table.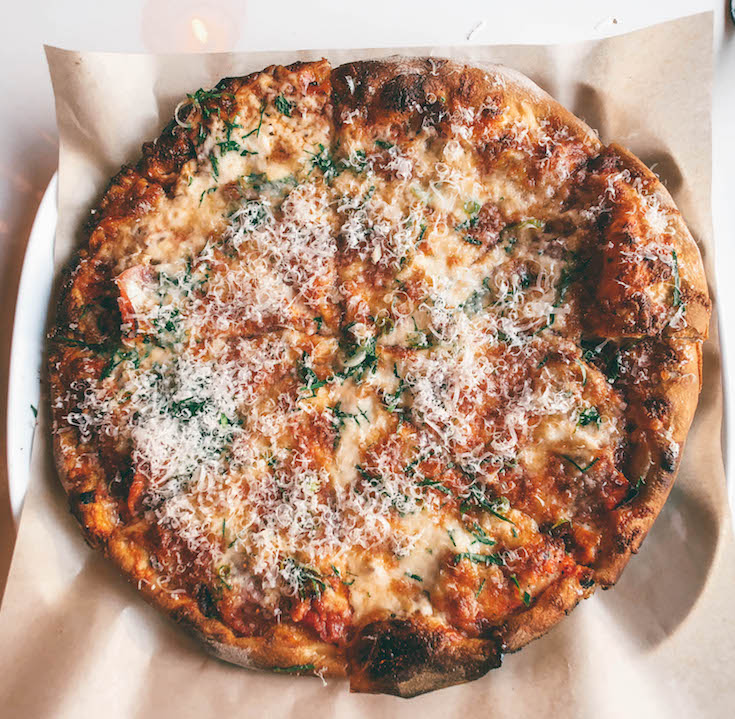 The next night we dined and House Piccolo, which is a Finnish & West Coast style restaurant that's slightly more upscale. It's located in a heritage building right in Ganges and has a cosy atmosphere. If you go, you must try the lamb rib chops. There's something special about the lamb on the West Coast islands and you have taste it to know what I'm talking about!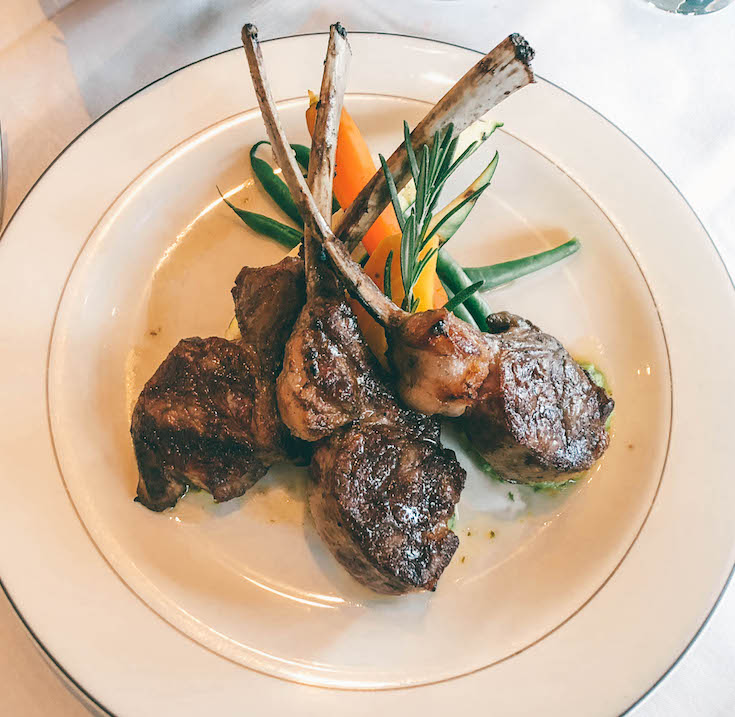 🚌 From Vancouver, give yourself an hour to get to the Tsawwassen Ferry Terminal by car. Depending on which ferry you take, the boat ride to Salt Spring Island is  1.5 - 2.75 hour ride. Reservations are highly recommended during peak summer times.
Watch us in action