Salt Spring Island has a big place in our heart. Before our trip around the world we were living in Vancouver and loved visiting the island for a nature escape. The bohemian island is located in British Columbia, Canada between Vancouver and Vancouver Island.
After travelling for over a year, we fully recognized our passion for nature and how much we needed it in our lives. However, finding remote nature as well as a good culture can be tough. That is what makes Salt Spring Island so special. It has an amazing creative community and a free-spirited vibe. We decided to take the plunge and we moved to the island in December 2019!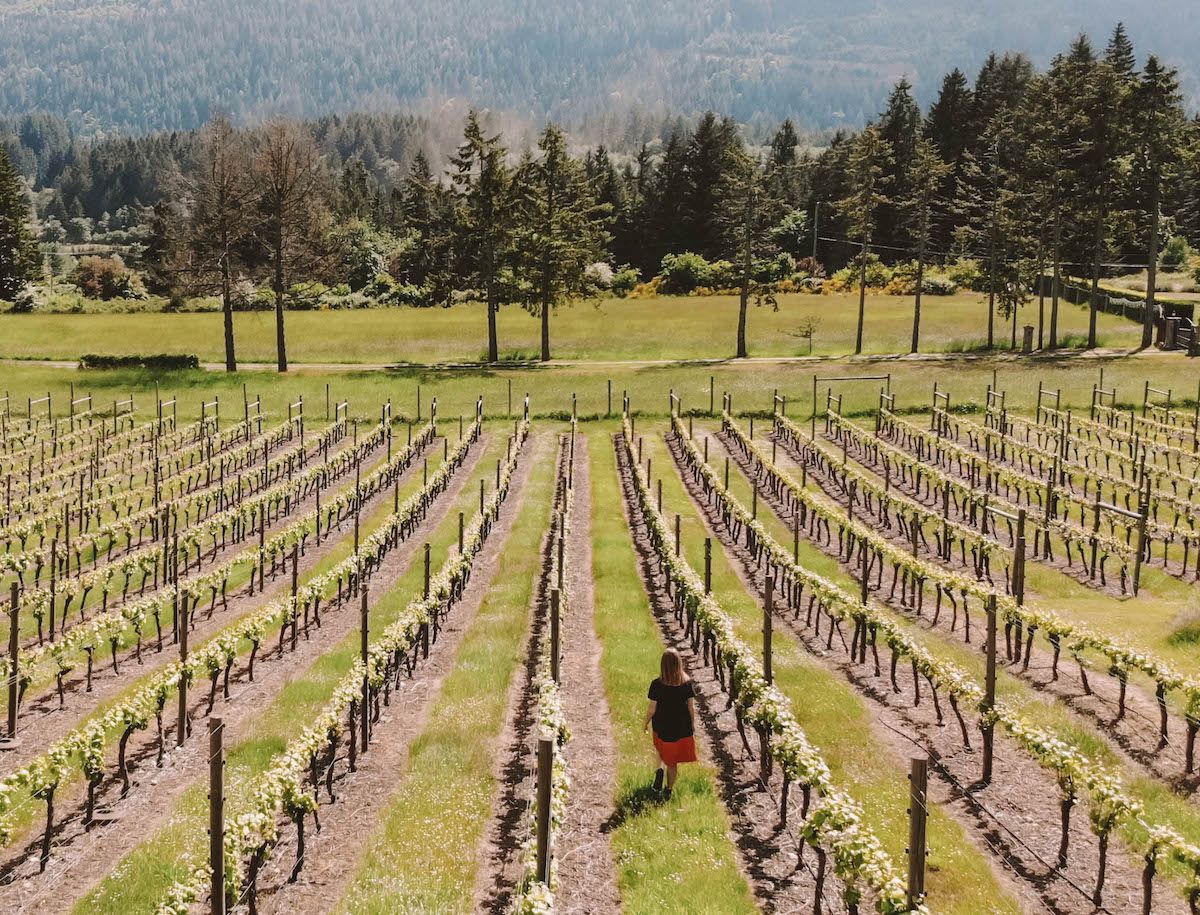 Salt Spring Island has so much to offer the visitor. We list 28 of our favourite things to do in Salt Spring Island as well as the best time to visit, how to get to Salt Spring and the best way to get around the island.
Planning a trip to the island? Also check out our list of unique hotels & Airbnbs and the top 21 restaurants on Salt Spring.
What to do on Salt Spring island
---
Disclosure: Some of the links below are affiliate links, meaning at no additional cost to you, we will earn a commission if you click through and make a purchase. Regardless, we only recommend products or services we have used or that we believe will add value to our readers. Thank you for supporting us!
Best time to visit Salt Spring Island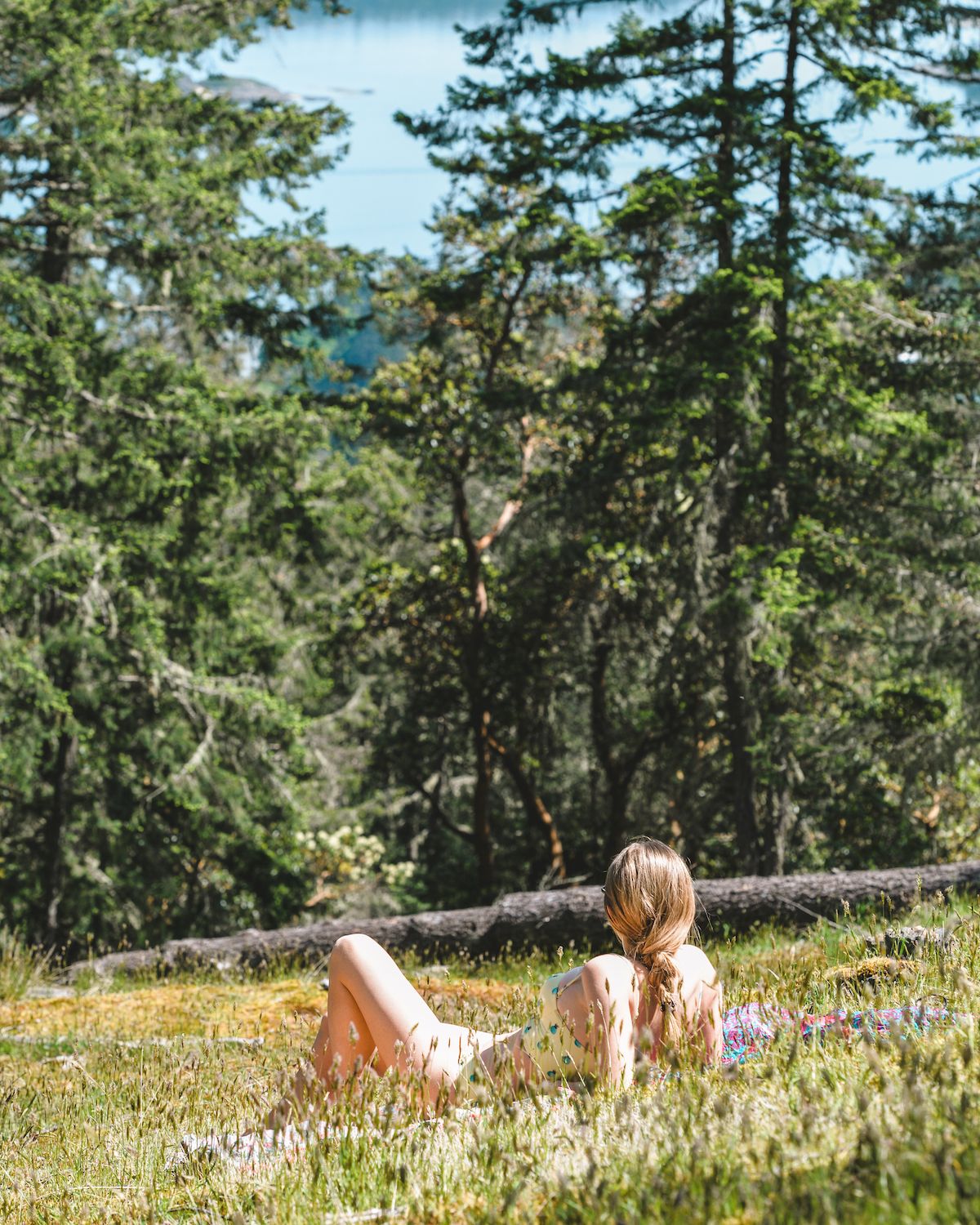 The best time to visit Salt Spring Island is between May-September. These are the warmer and drier months of the year. The Saturday Market is also on during this time, so ensure your visit includes a Saturday!
How to get to Salt Spring Island from Vancouver
Give yourself 45 minutes (60 minutes if rush hour) to get from Vancouver to the Tsawwassen Ferry Terminal by car.
The ferry from Tsawwassen to Salt Spring Island takes 1.5-2.75 hours depending on which ferry you take. Some ferries are non-stop and others include additional stops at islands along the way. Reservations are highly recommended during peak summer times.
If you have a reservation you need to be at the ferry terminal at least 40 minutes prior to your scheduled departure. If you don't have a reservation, you should still arrive early, so you get a spot on the ferry.
⛴ Reserve your ferry with
BC Ferries
Best way to get around Salt Spring Island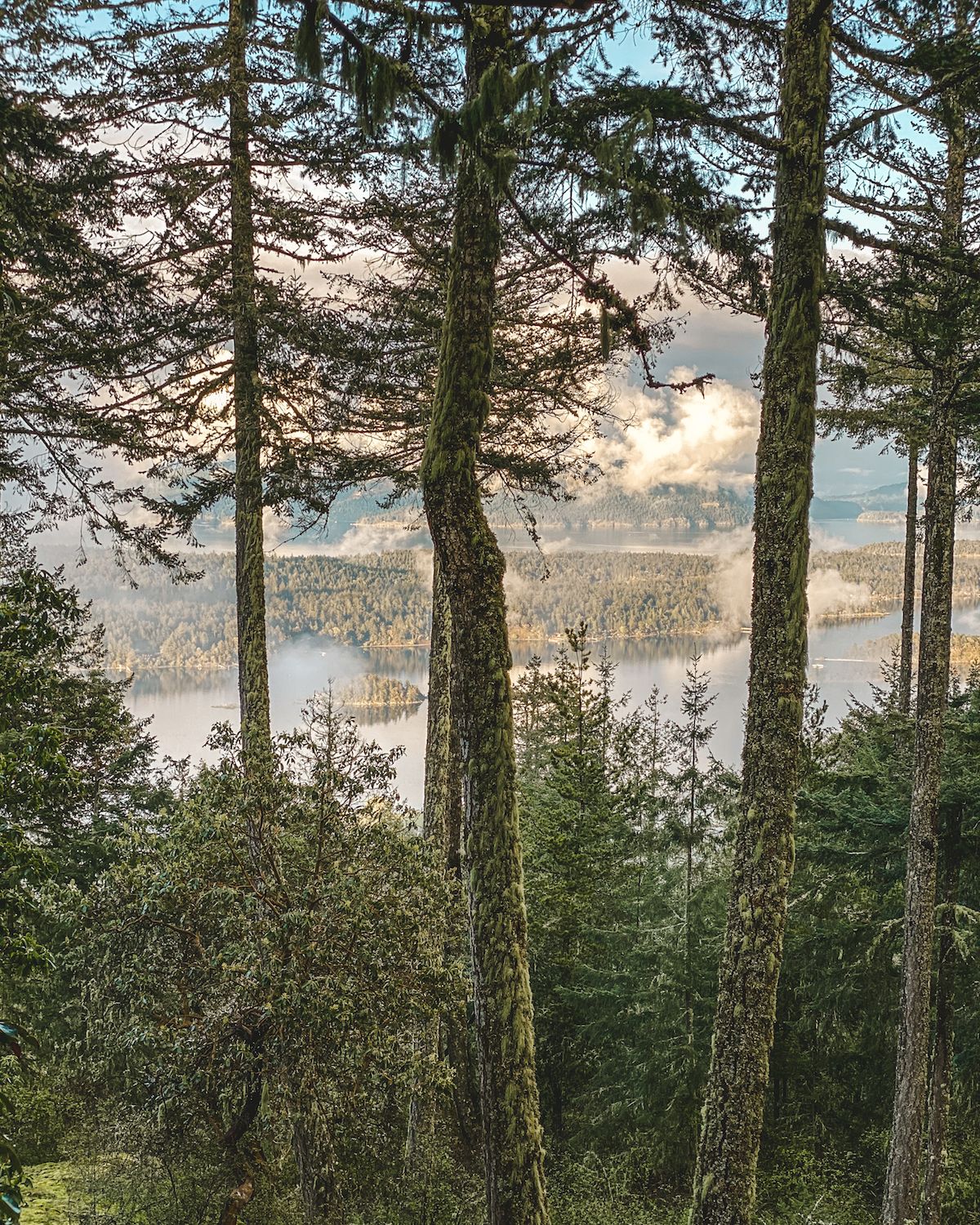 We highly recommend renting a car on the mainland of British Columbia to bring to Salt Spring Island. Taxis and busses are very limited and most of the fun is driving around exploring the island on your own!
🚗 You can easily compare car rental rates across different companies with
Rentalcars.com
.
28 Top Things to do on Salt Spring Island
See our ultimate guide on what to do in Salt Spring Island below.
1. Start off your morning with coffee at a locals cafe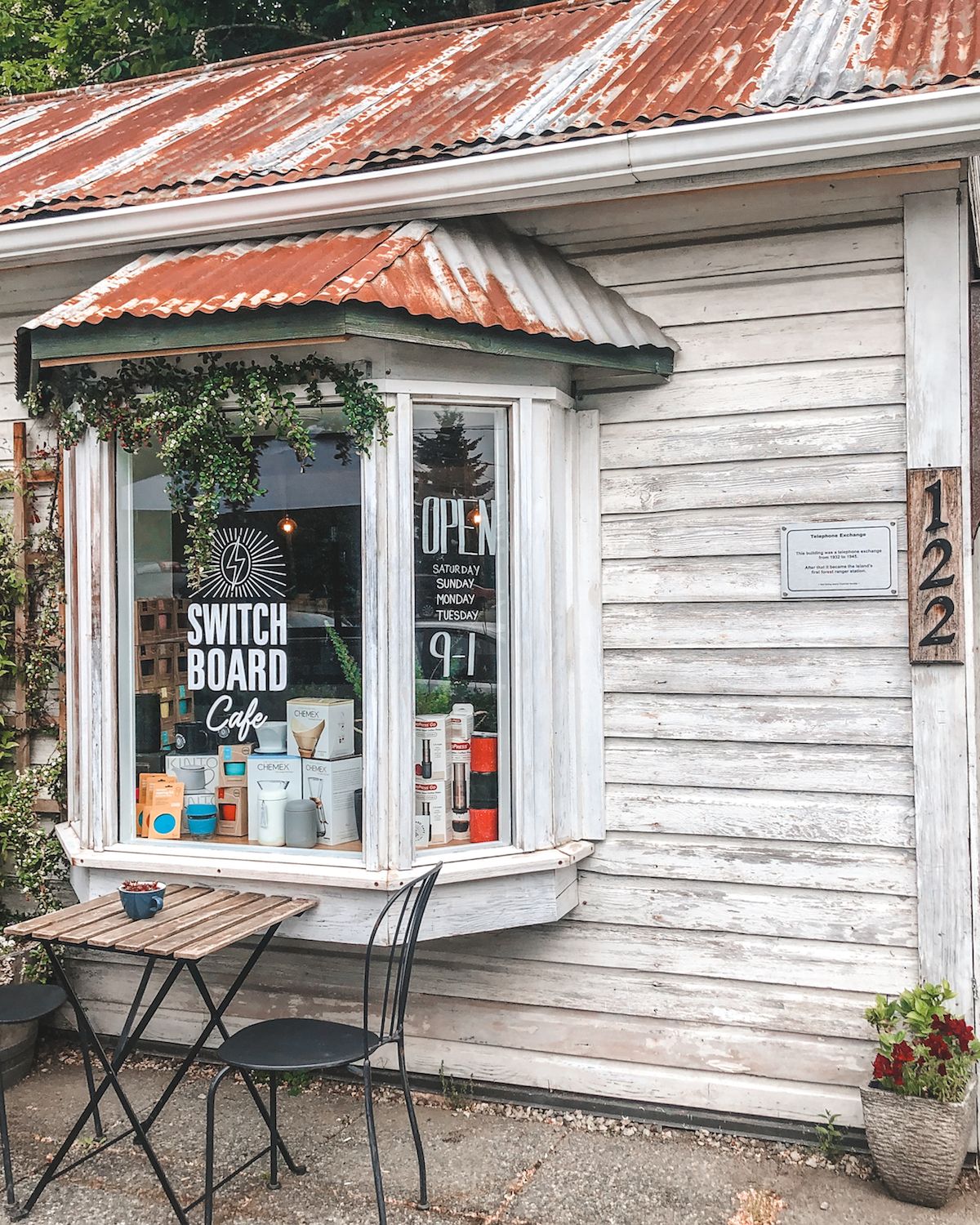 Switch Board Cafe is a cute cafe off the main strip in Ganges where locals like to hangout. They offer great coffee from 49th Parallel and delicious local baked goods. Try one of their unique flavoured lattes like lavender or pumpkin spice.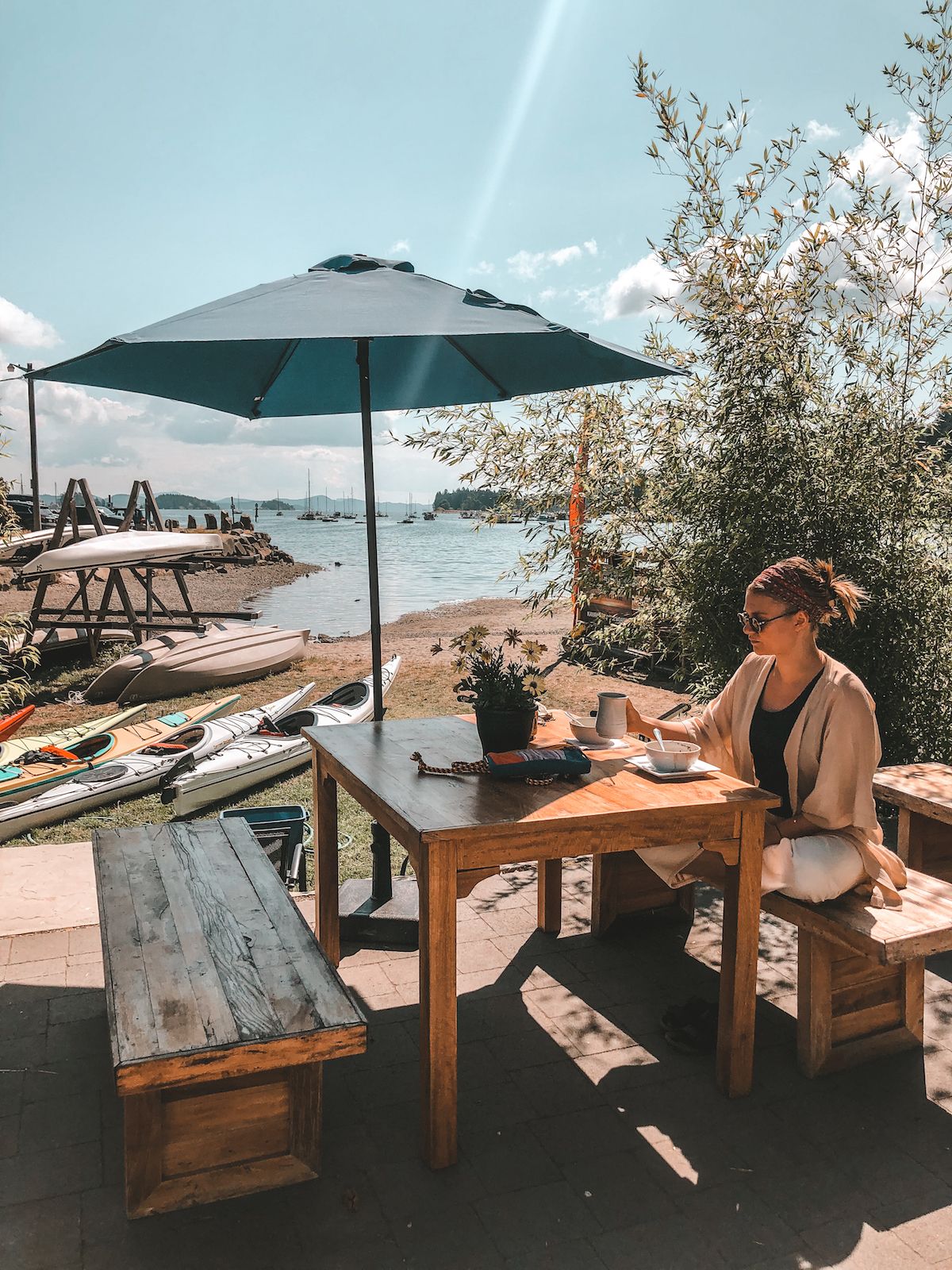 Another awesome breakfast spot is Beachside Cafe. They have a patio in the back of the cafe with beautiful views of the harbour front. Grab a picnic table and one of their delicious smoothie bowls. On Saturdays they feature live music.
2. Shop for local goodies at the Saturday market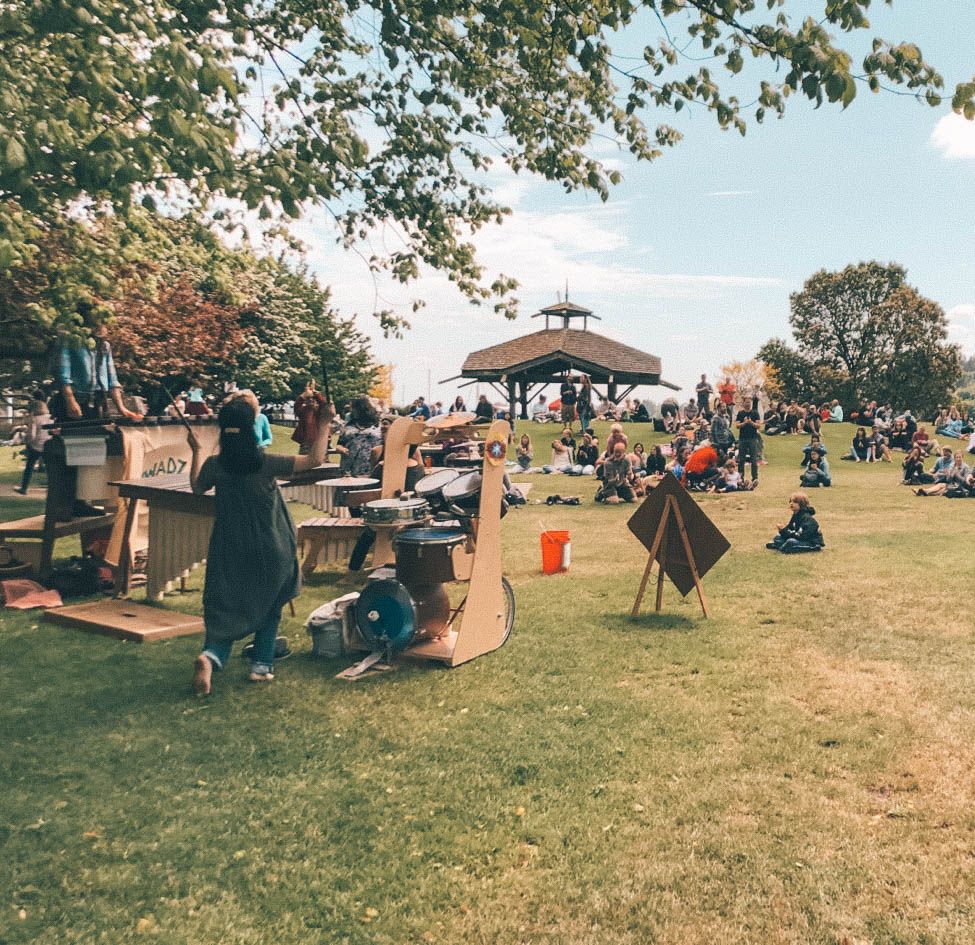 Every Saturday from April - October, the Salt Spring Market features over 100 local vendors. All products must be produced by the vendor selling them. You'll also find delicious food stalls and live music to enjoy!
There are so many amazing vendors at the Saturday market, it's hard not to bust open your wallet. I was browsing a local vendor named Bohemian Arts Mixed Media Studio, when a beautiful dark green ring caught my eye. The vendor said it was a tourmaline stone as she pulled out an ancient looking book from the back. She then said she would give me a reading based on the stone I chose.
I was told tourmaline is a stone that may look black, but once the sun shines on it you see all of the different green layers inside. It symbolizes the heart chakra and allowing the right side of your brain to have a stronger connection to the analytical left side of your brain. The stone represents living more in the moment and making deeper decisions to promote self healing and completeness.  
I discovered this ring before we left on our world trip and brought it with me! I thought it was quite fitting, since I'm definitely on the analytical side, but took a big leap to follow my passion of travel.
3. Sample cheese at the award winning Salt Spring Island Cheese Farm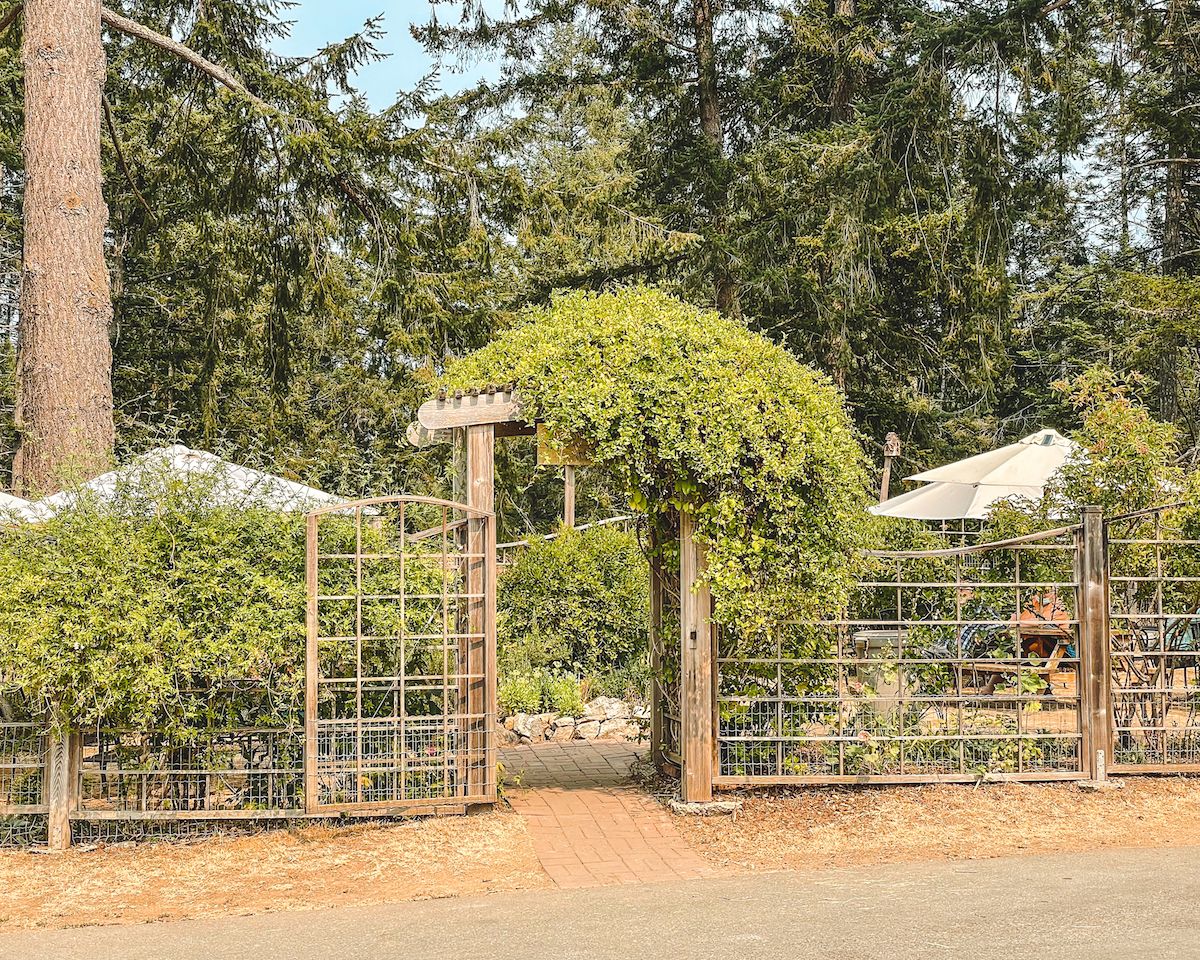 The best way to experience Salt Spring Island is to rent a car and discover all of the local goodies along the quiet roads. One of the best stops is the Salt Spring Island Cheese Farm.
Located at the end of a small winding road through the fields lies the farm with tons of cheese to sample! They specialize in handmade artisan goat cheeses with different flavours to choose from. Basil, garlic, chili, olive tapenade, flower, lemon pepper, truffle... what one would you pick?
After your cheese tasting you can grab lunch at their cafe and sit in the beautiful courtyard. The cafe is open during summertime and serves pizzas, sandwiches and salads.
4. Taste local wines and have a picnic overlooking the vineyards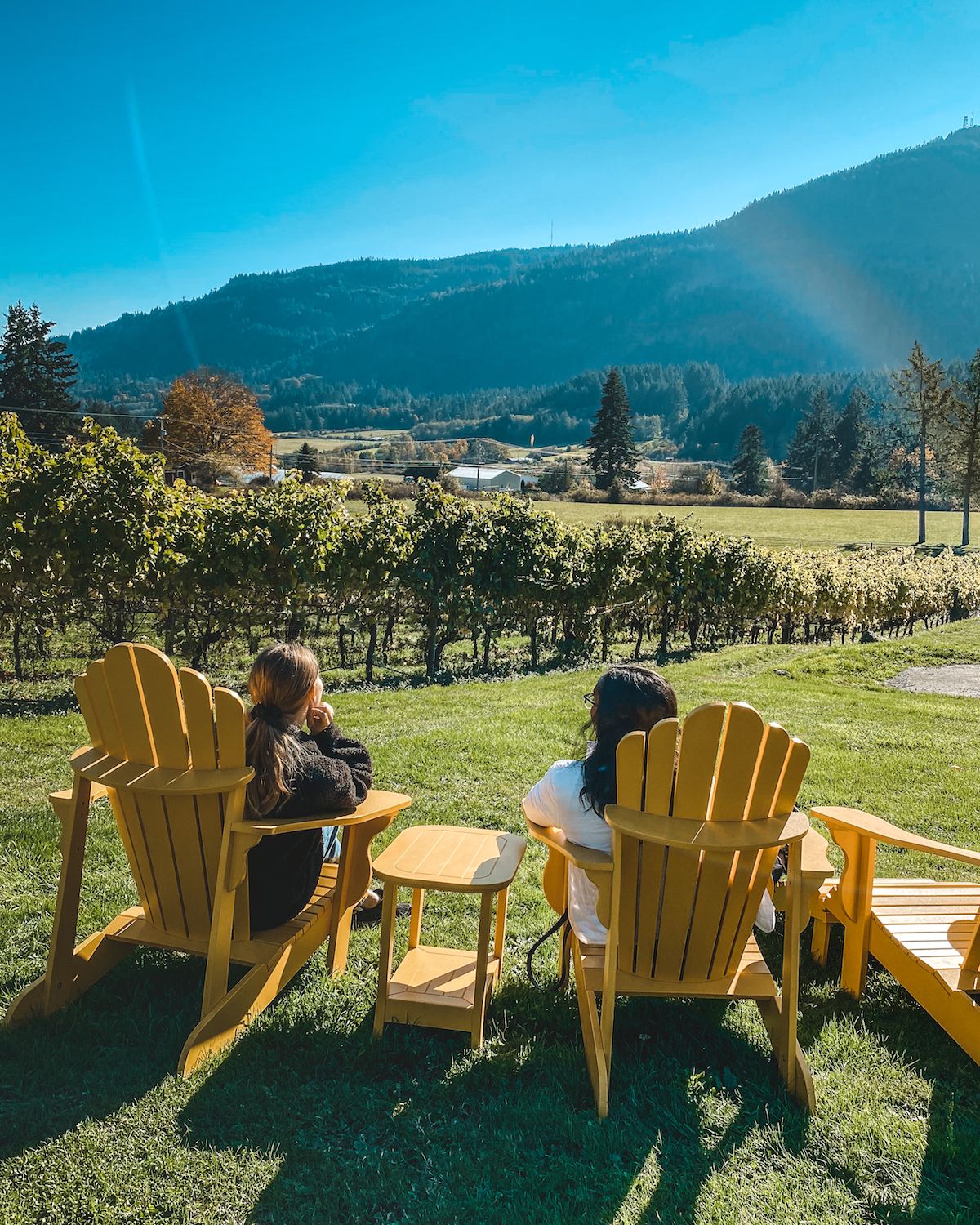 There are three wineries on Salt Spring Island you can stop in at for a tasting. The first is Garry Oaks Winery, one of the oldest farms in Salt Spring. Try their wines and sit along the vineyards in their yellow cottage chairs. Our favourite wine is their Zweigelt.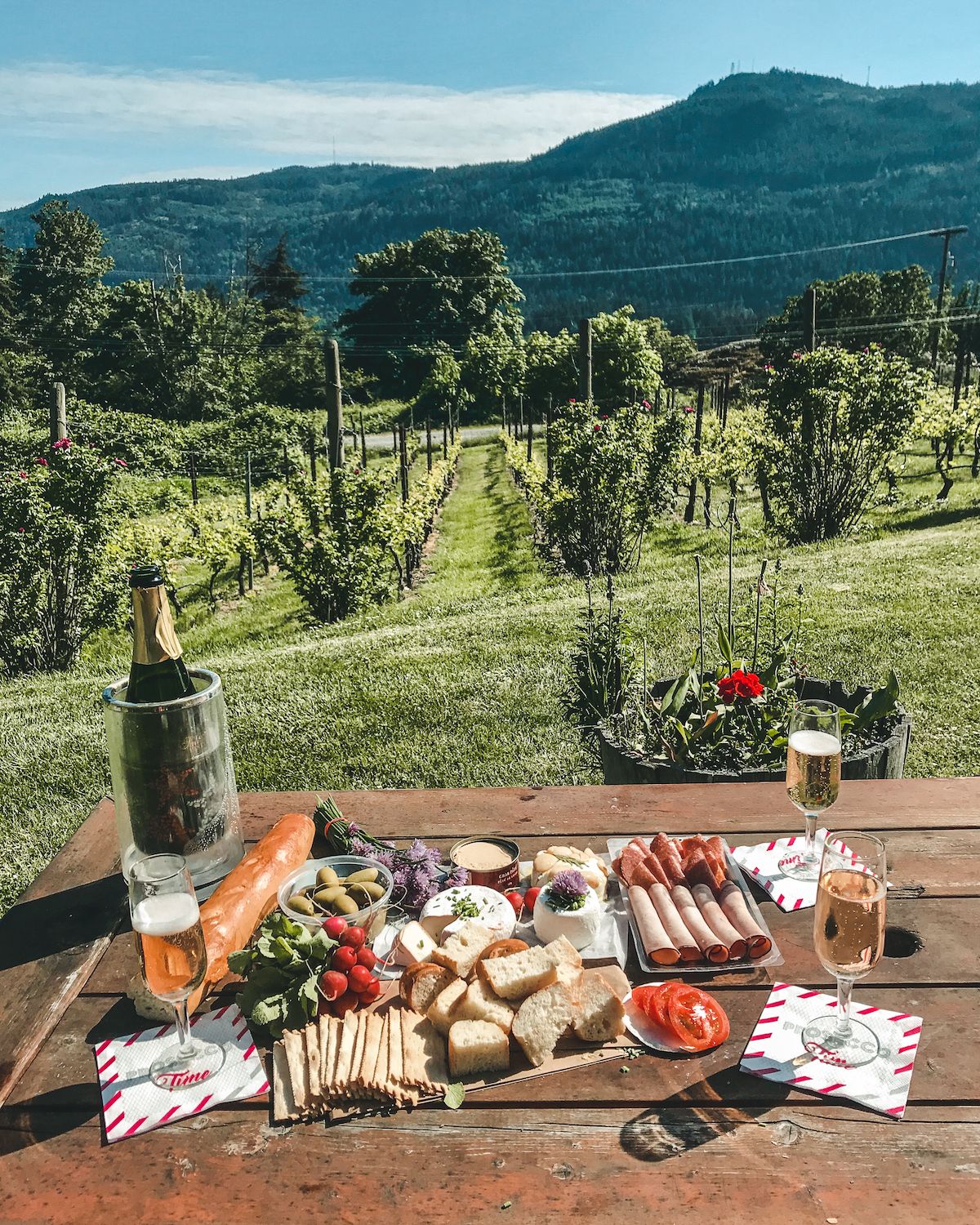 Next, enjoy a picnic next door at Salt Spring Vineyards. They have picnic tables along their vineyard and sell local charcuterie items, like cheese and meat. Their champagne-style wine called Karma pairs perfectly. Look out for the cute duck who lives in the pond.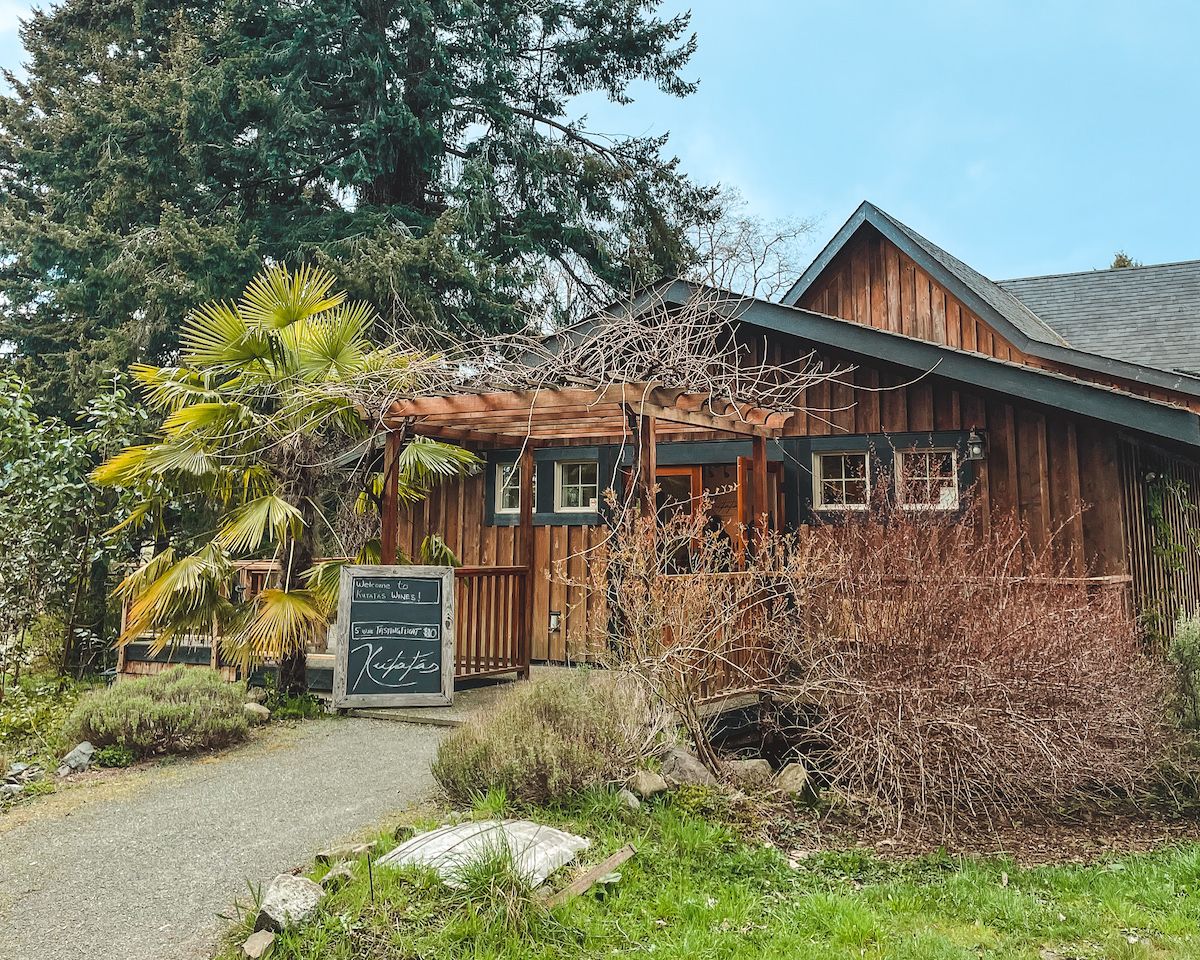 The third winery, Kutatas (pronounced Koo-Tah-Tash), is the newest on the island. For $10 you get to taste 5 wines, and the pours are generous here. The friendly winemaker took good care explaining each wine we tasted. Afterwards, sit on the lovely back patio overlooking the vineyard.
5. Have a flight at Salt Spring Brewing Co.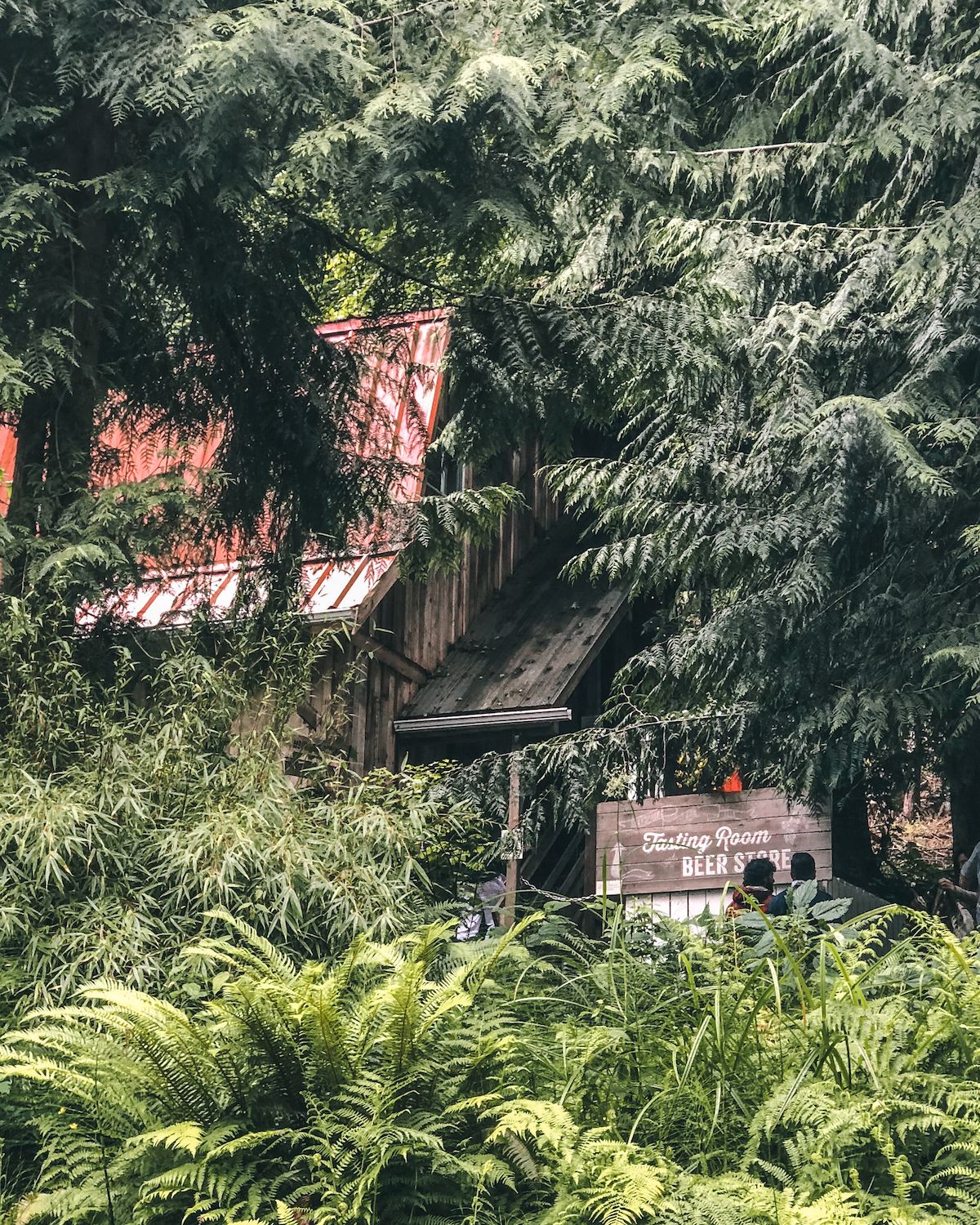 Tucked away in the forest is the rustic Salt Spring Island Ales tasting room. Grab a flight and try their award winning organic craft beers. The setting is lovely with their outdoor picnic tables.
6. Enjoy delicious local cuisine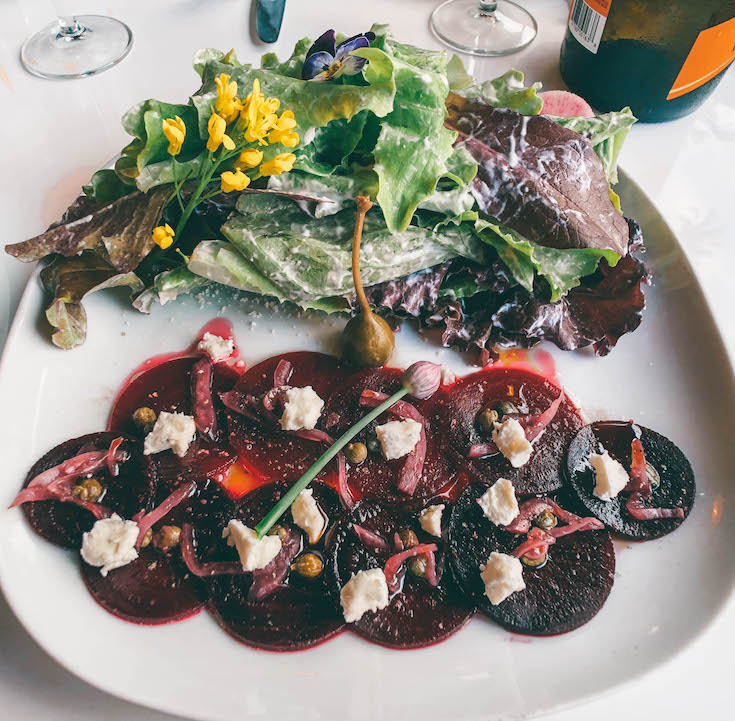 The food on Salt Spring Island is so fresh. Farm-to-table cuisine is a way of life here, where restaurants typically source their ingredients from sustainable, organic farms on the island and locals buy the freshest of produce at the Farmer's Market. You will find many delightful eateries thanks to the island's creative flair and organic farming scene.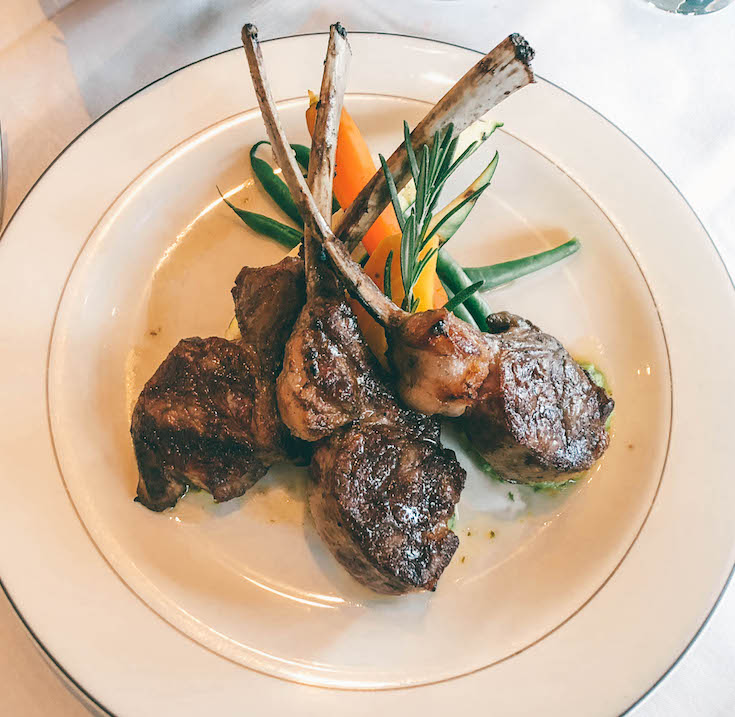 Make sure to check out our list of the 25 best restaurants on Salt Spring Island, each for a unique reason. Best for the harbourfront view, best for daytime drinks, best for breakfast, best for Italian... we cover it all!  
If you can only go to one restaurant, we recommend House Piccolo. It's located in a heritage building in Ganges and serves delicious West Coast-Finnish cuisine. The ambience is perfect for a date night.
7. Drive or hike up Mount Maxwell to see a panoramic view of the island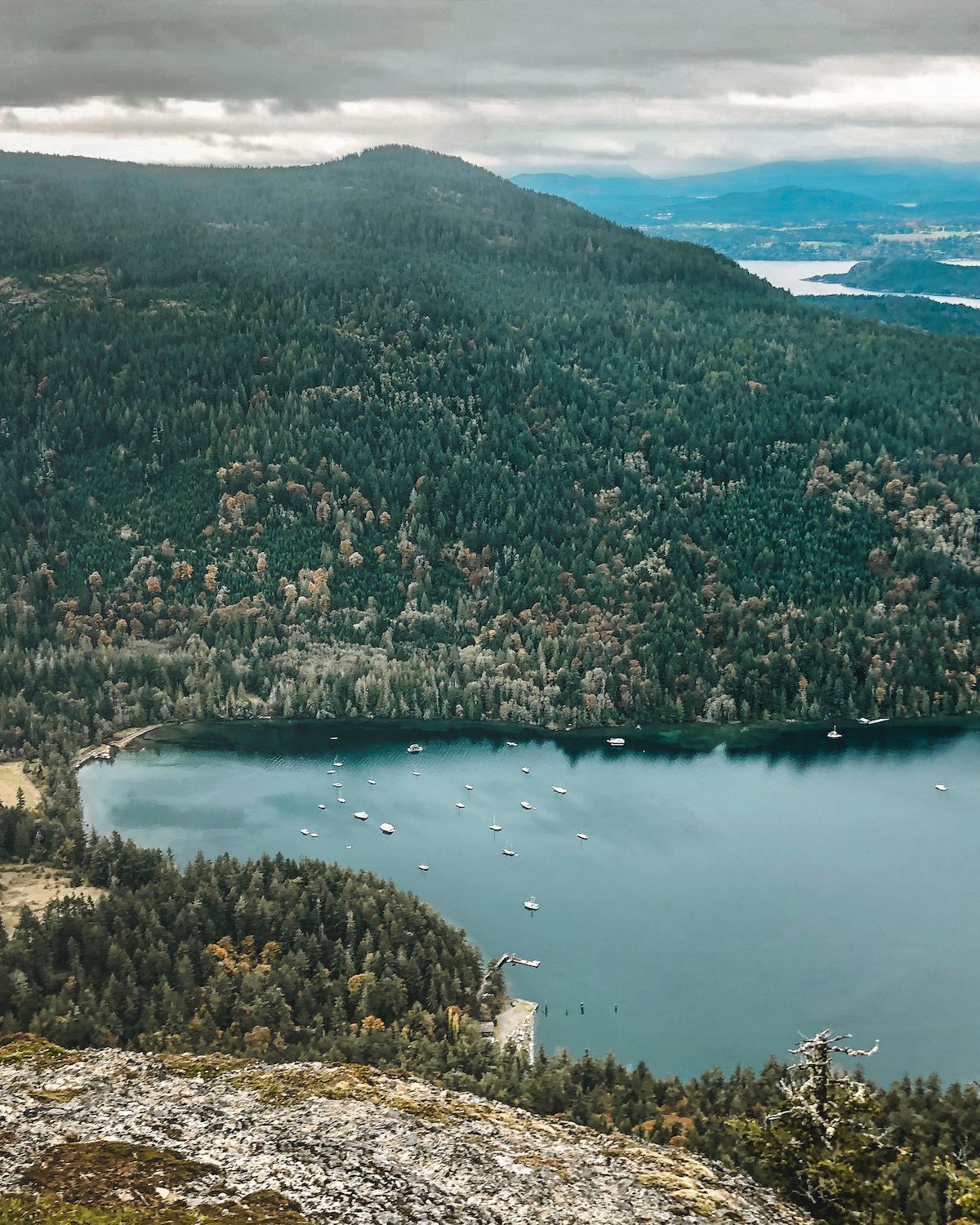 If you drive up Mt. Maxwell road to the very top you will be rewarded with panoramic views of Salt Spring Island and the neighbouring islands. To get to the very top, you need a 4x4 vehicle.
If you don't have a 4x4, you can park your car at the end of Seymour Heights and hike the Mountain Trail to Baynes Peak. It's a 2.3km hike there and back and 166m elevation gain.
8. Go for a cider tasting at the Salt Spring Wild Cider House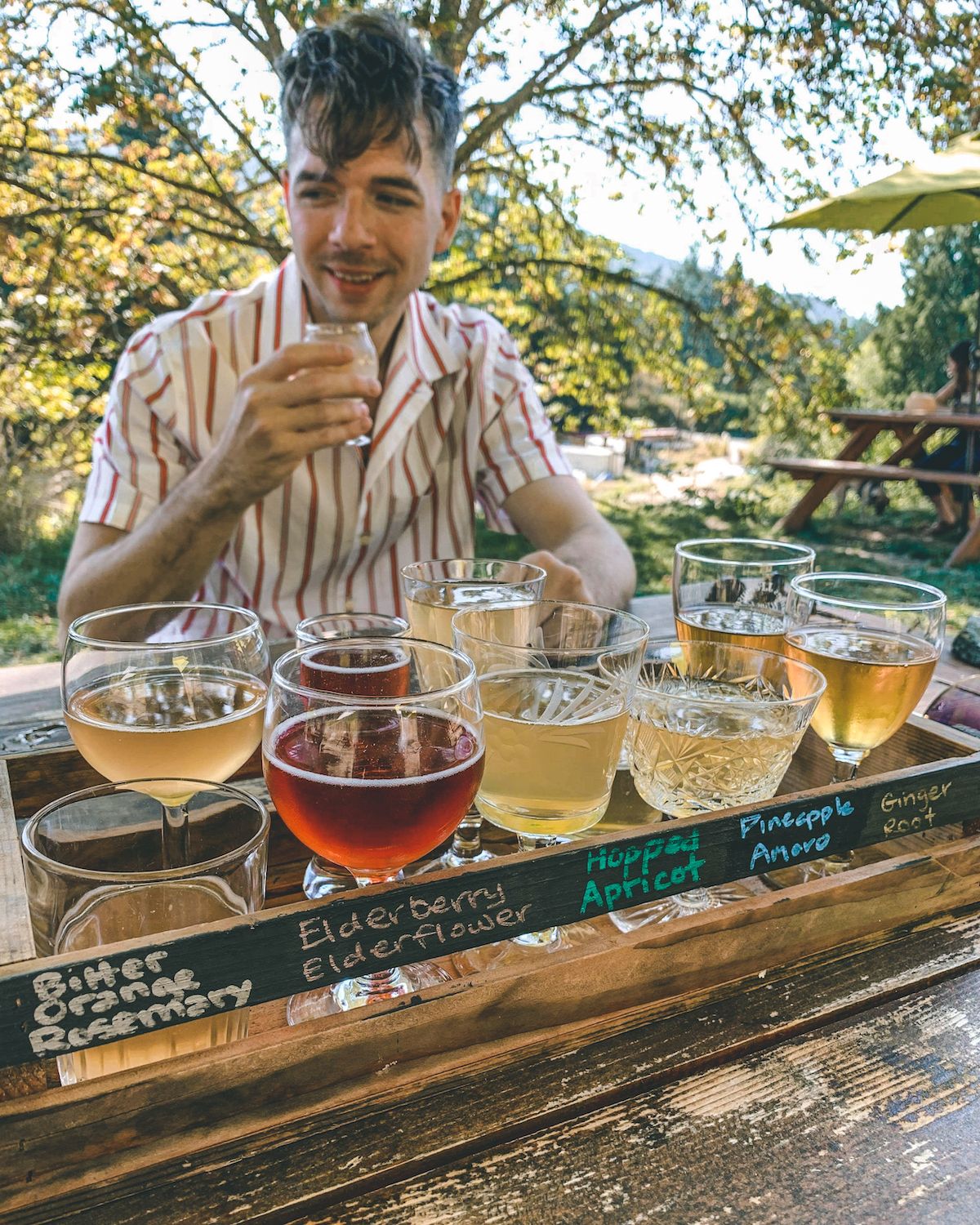 Not only does Salt Spring Island produce wine and beer, it also produces cider. We love ordering a flight of ciders at Salt Spring Wild Cider House and having them on their outdoor patio overlooking the farm.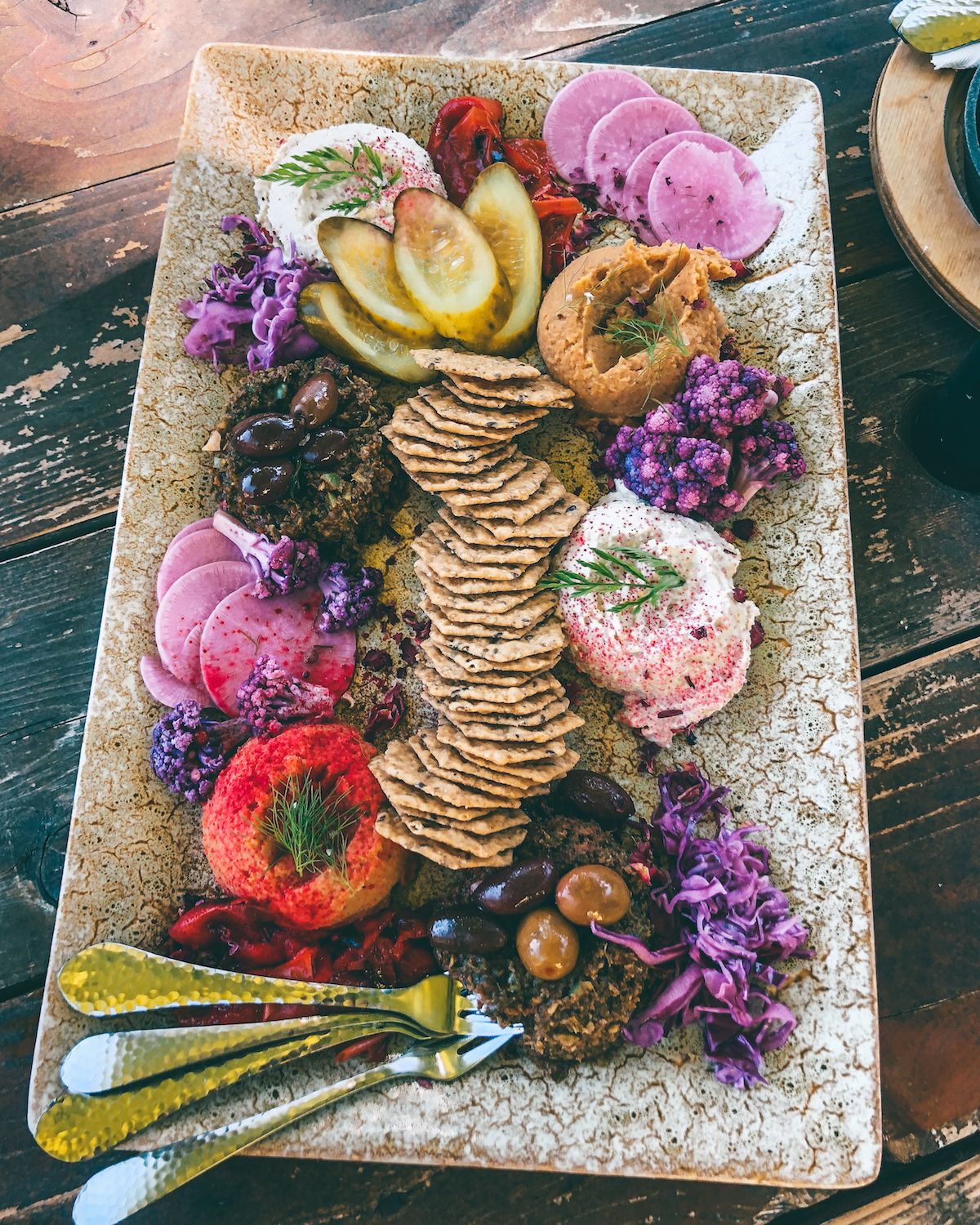 You can also order farm tapas to go along with your cider. Our favourite plates are the mezze platter and jerk chicken. It's one of the best spots on Salt Spring Island for lunch.
9. Stay at a B&B and experience the islander way of life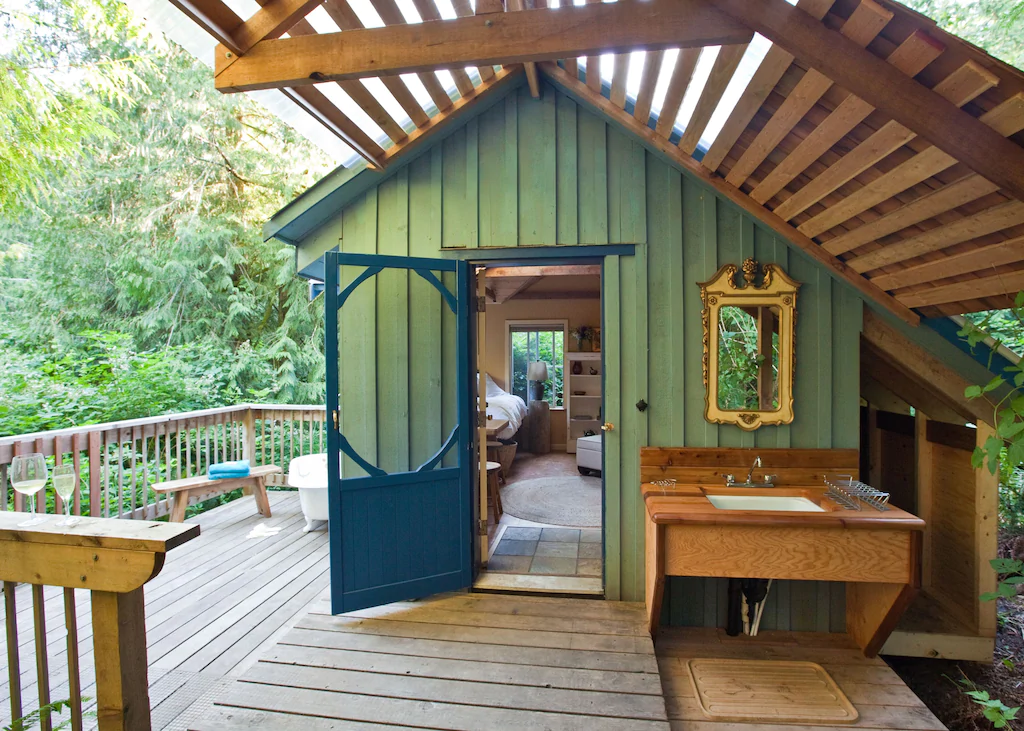 Staying at one of Salt Spring's quirky B&Bs is a great way to experience the islander way of life.
Our top B&B picks:
Salty Pear Camping Casita - is the definition of tiny living - island style. You can sit on your private deck overlooking the fields and trees in the morning, de-stress in the wood-burning barrel sauna, or have a soak outside overlooking the organic farms.
Westover Bed and Breakfast - ticks off all of the boxes for a Salt Springer experience at a great price. The quirky cabin is nestled in a cedar forest and features an outdoor clawfoot bathtub, fireplace, secluded porch and homemade organic breakfast.
The Sanctuary - is an architecture lover's dream and the place to stay if you're looking for luxury. The beautiful wooden house is integrated into its natural setting, making it feel like the house is a part of the nature around you.
10. Have a weekend getaway with your friends at a lakeside cottage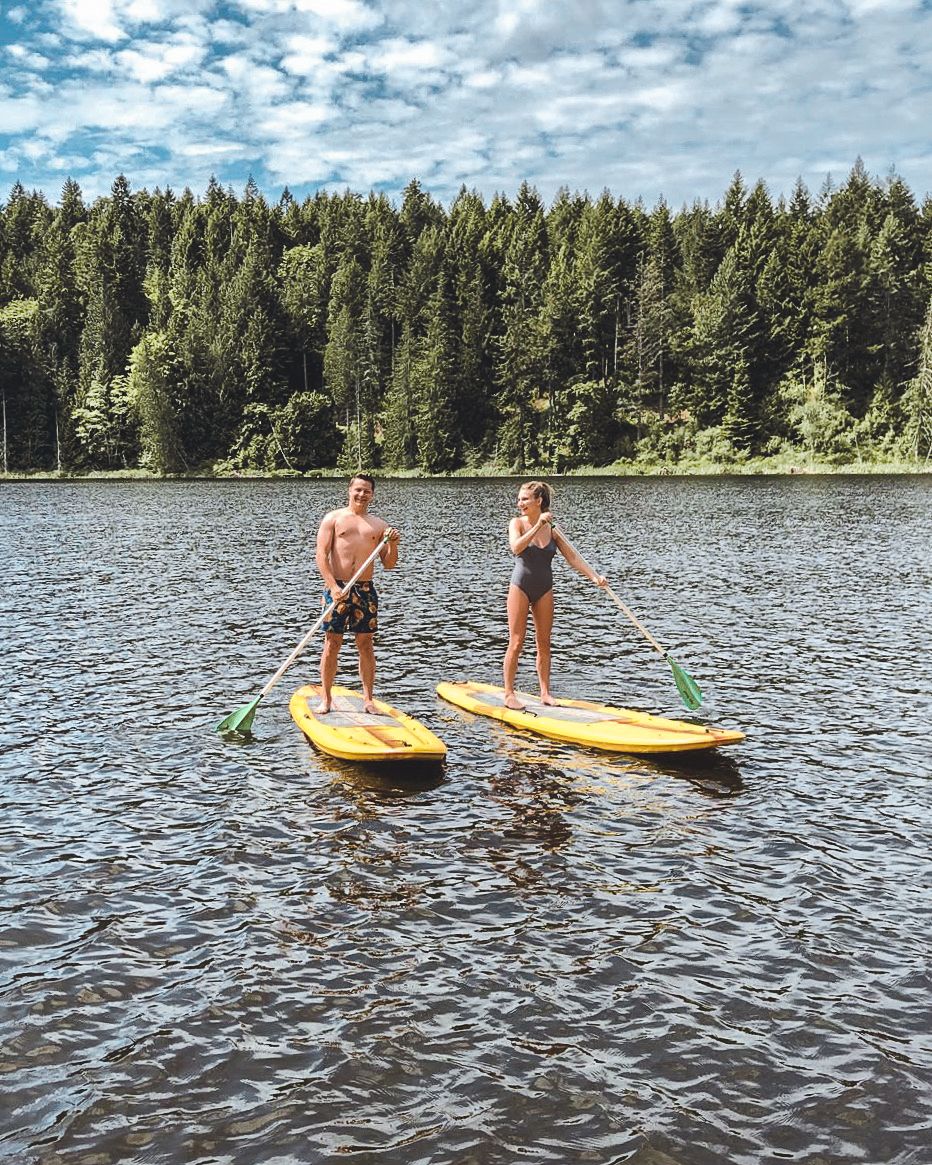 Have a weekend getaway with your friends or celebrate your bachelor/bachelorette party at The Cottages.
The modern three-floor cottages sit right beside a private lake and can accommodate larger groups with its 3 bedrooms and full-size kitchen. If you need more bedrooms, you can easily rent multiple cottages on the lake.
See rates for The Cottages
. During your stay you can use the communal BBQ, canoes and stand-up-paddle boards free of charge. We made it our daily routine to take the stand-up-paddle boards out on the lake and every night we sat on our outdoor terrace with a glass of our favourite Salt Spring wine.
If you want to explore the island with your friends and not worry about driving, you can easily book a private driver with Tour Salt Spring.
The price is $400 per group for 5 hours. You can pick the route of your choice.
Our recommended itinerary with your private driver would be: shop the Saturday Market, have a wine tasting at Salt Spring Vineyards and Garry Oaks, a cheese tasting at the Salt Spring Island Cheese Farm and then finish your day off with a late lunch and flight of ciders at Salt Spring Wild Cider.  
For dinner, pick up prepared gourmet dishes from The Woodshed Shop to make back at the cottage. Browse their selection of seasonally inspired meals at their new shop in Ganges (319-#2 Upper Ganges Road). Their Chicken Marbella and Lasagne Bolognese is delectable!
11. Unwind at Solace Organic Spa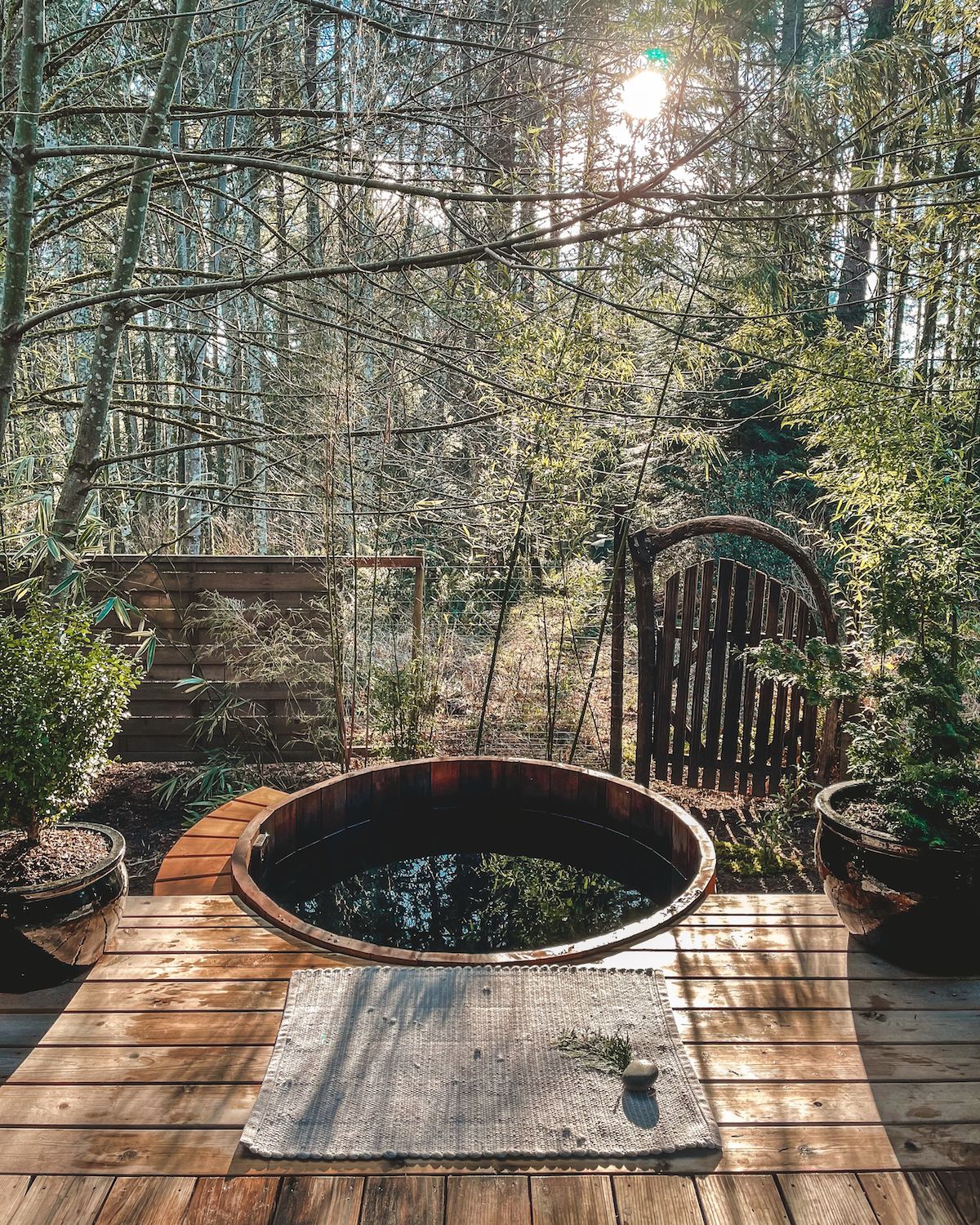 A little slice of heaven! Solace Organic Spa is located in the middle of the forest and offers a private hydrotherapy circuit experience. In your hot, cold, relax & repeat sequence you have access to an outdoor hot tub, infrared sauna, cold cedar plunge pool and outdoor relaxation room where you can read or drink a hot cup of tea. You also have access to your own private bathroom and shower, where you are supplied robes, towels, slippers, facial products and hair products.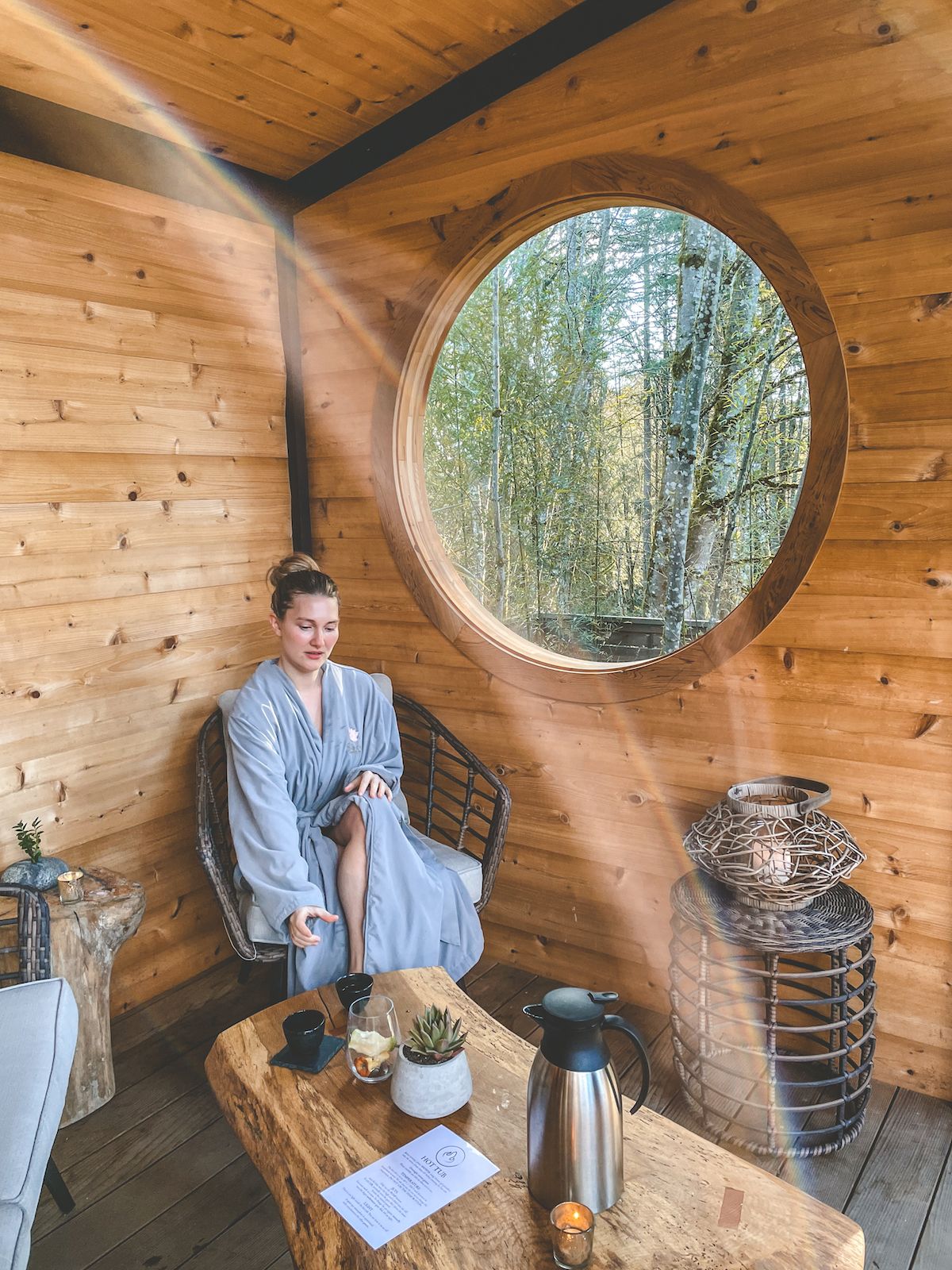 The 90-minute spa ritual can either be done during the day or night. During the daytime watch the sun shine through the trees and at nighttime gaze at the stars.
Solace Organic Spa also has a treatment room and offers facials, massages, body scrubs, body wraps, dry brushing, pedis and manis. We combined the hydrotherapy circuit with a one hour massage and it felt like we were floating in the clouds after!
For $15 off of your treatment, see our referral link here.
Valid for new customers only.
12. Kayak to Chocolate Beach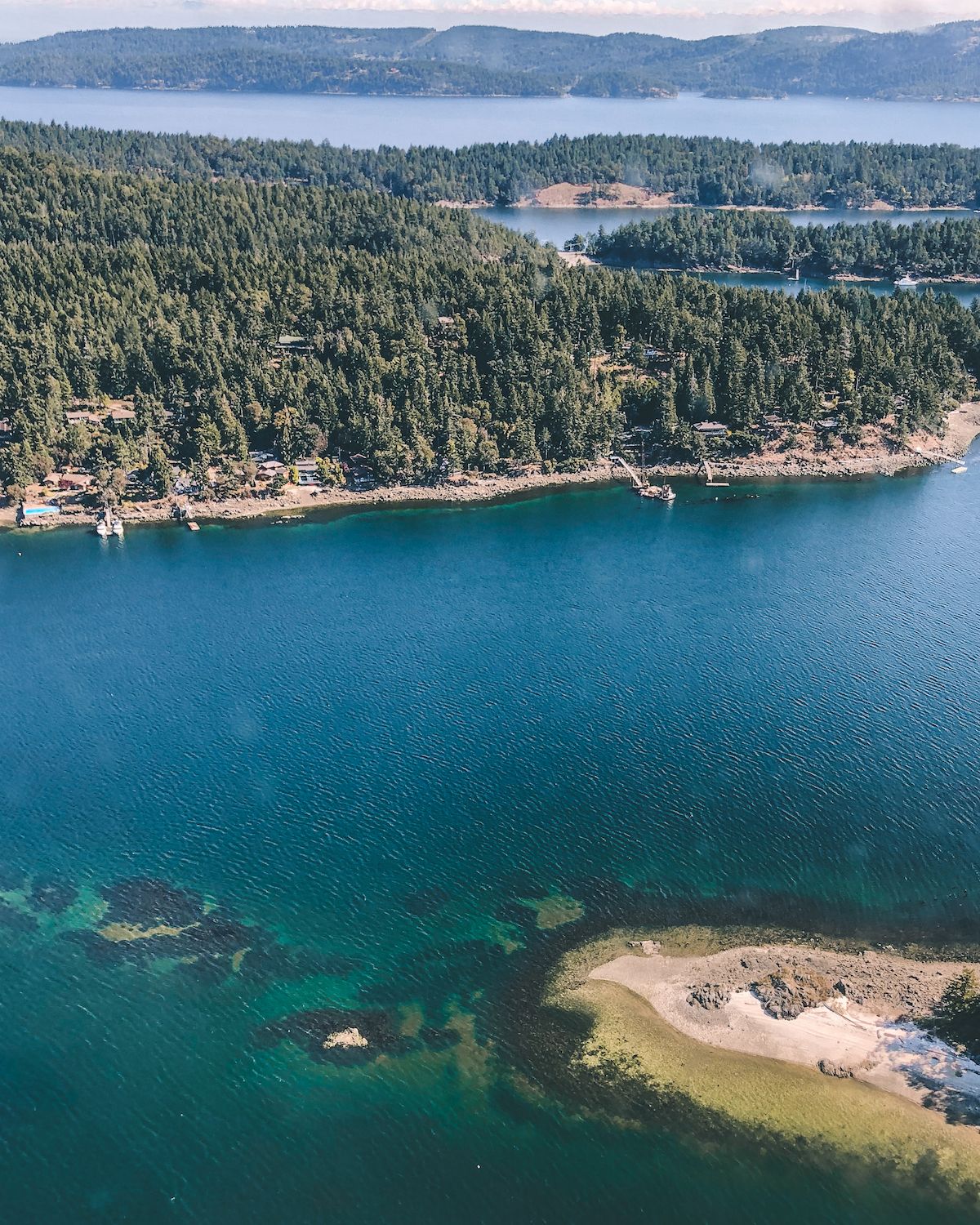 From Ganges Harbour, you can kayak to a white-crushed shell beach called Chocolate Beach on the tiny Third Sister Island. Chocolate Beach got it's name from the chocolate lily that once grew there, which was a staple of the indigenous local Saanich people. On the island there is even a unique wooden outhouse you can use with a carved symbol of the moon on the front.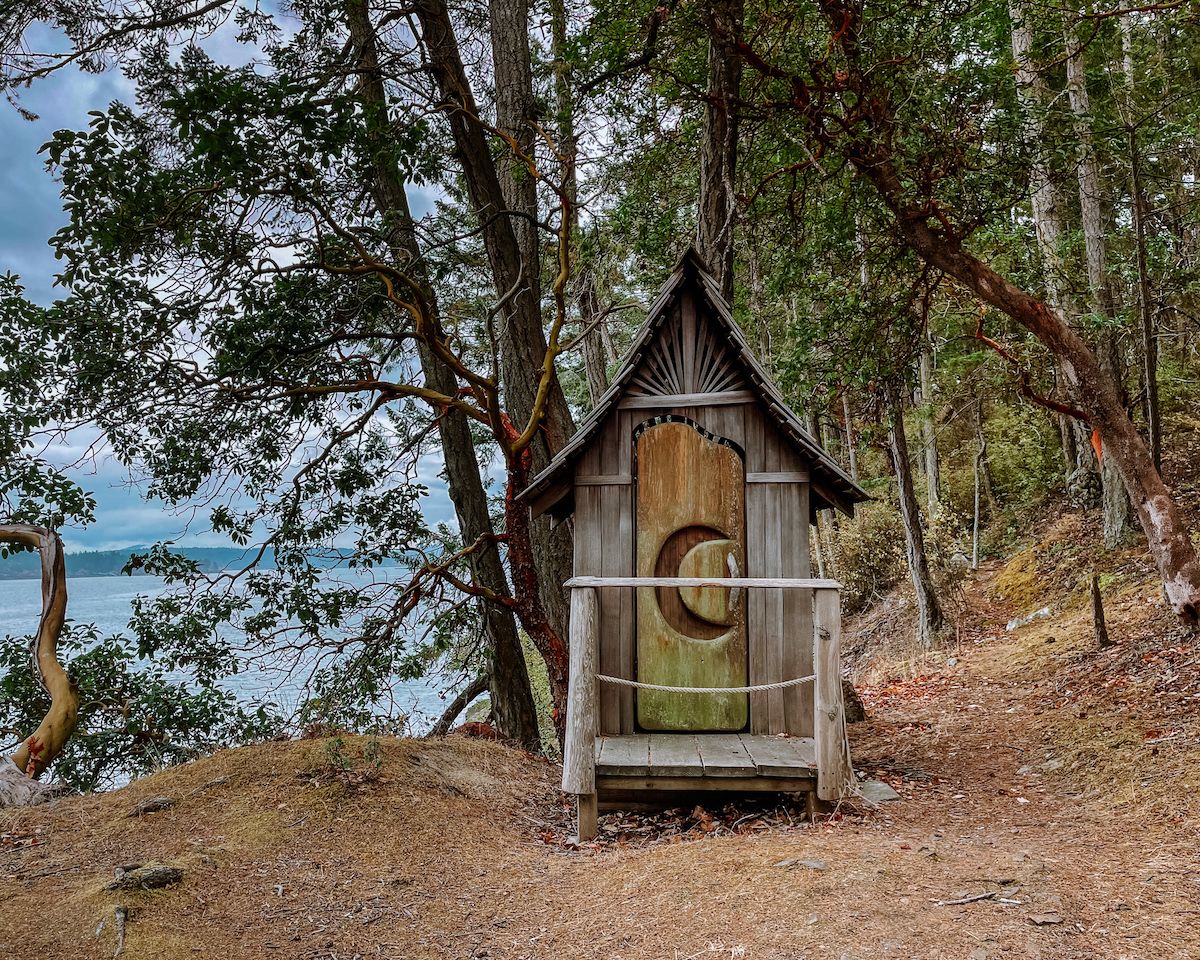 BEACHSiDE offers a 3-hour or 5-hour kayak tour to Chocolate Beach:
3-hour tour: includes beverages and cookies on the shore & time to swim on the beach ($84.95 CAD per person).
5-hour tour: includes everything in the 3-hour tour plus a delectable picnic and more relaxation time on the beach ($155 CAD per person).
13. Have a luxurious nature retreat at Hastings House Country Hotel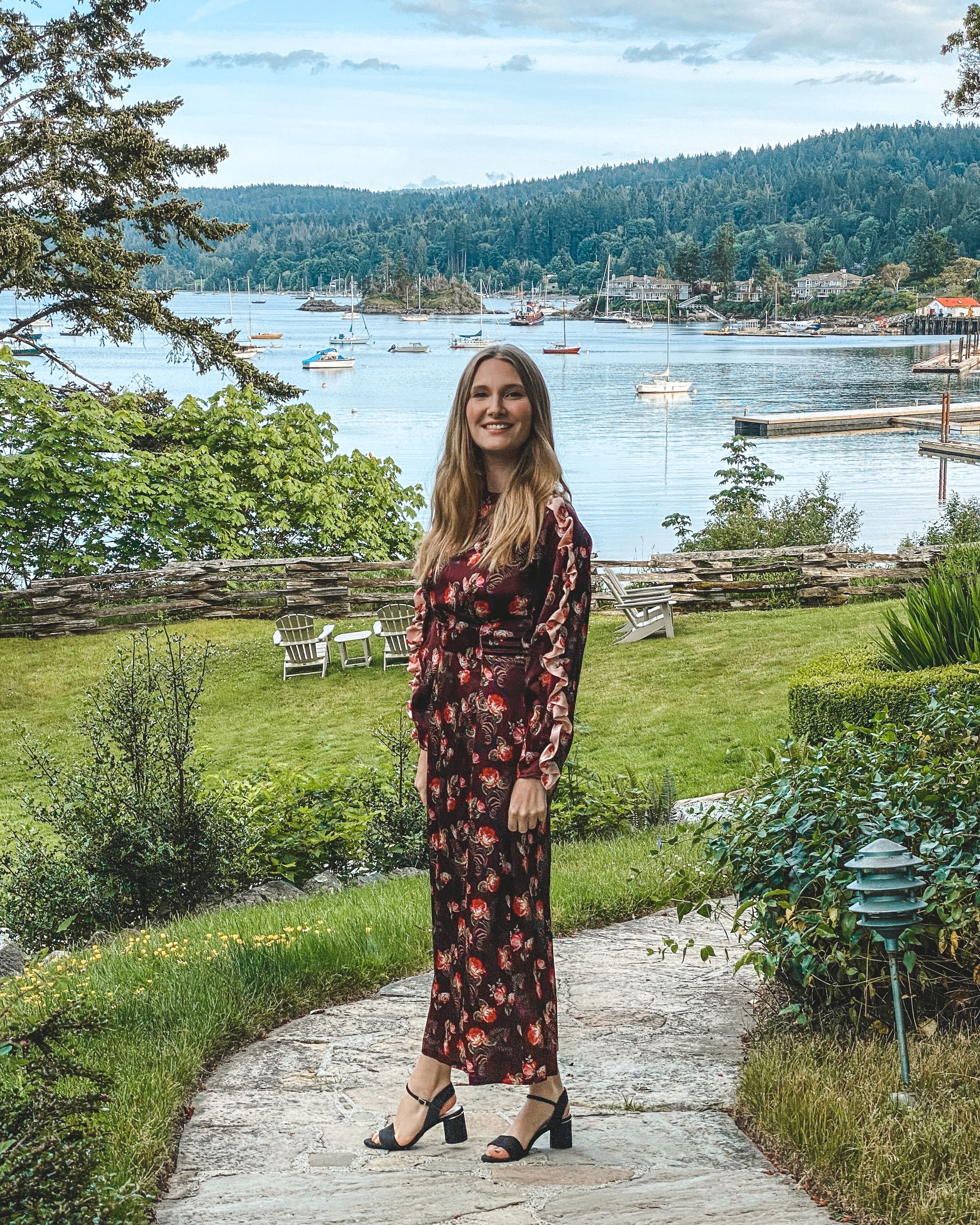 Combine nature and luxury at the Hastings House Country Hotel
. The former 1940s Sussex-style manor overlooks Ganges harbour and features a spa and fine-dining restaurant serving farm-to-table cuisine. The Relais & Chateau has antiques that compliment the original style of the manor, works from local artists, wood fireplaces and immaculate gardens.
See rates for the Hastings House Country Hotel
.
For more amazing places to stay on Salt Spring check out our list of the best hotels and B&Bs on the island.
14. See a live show at Mateada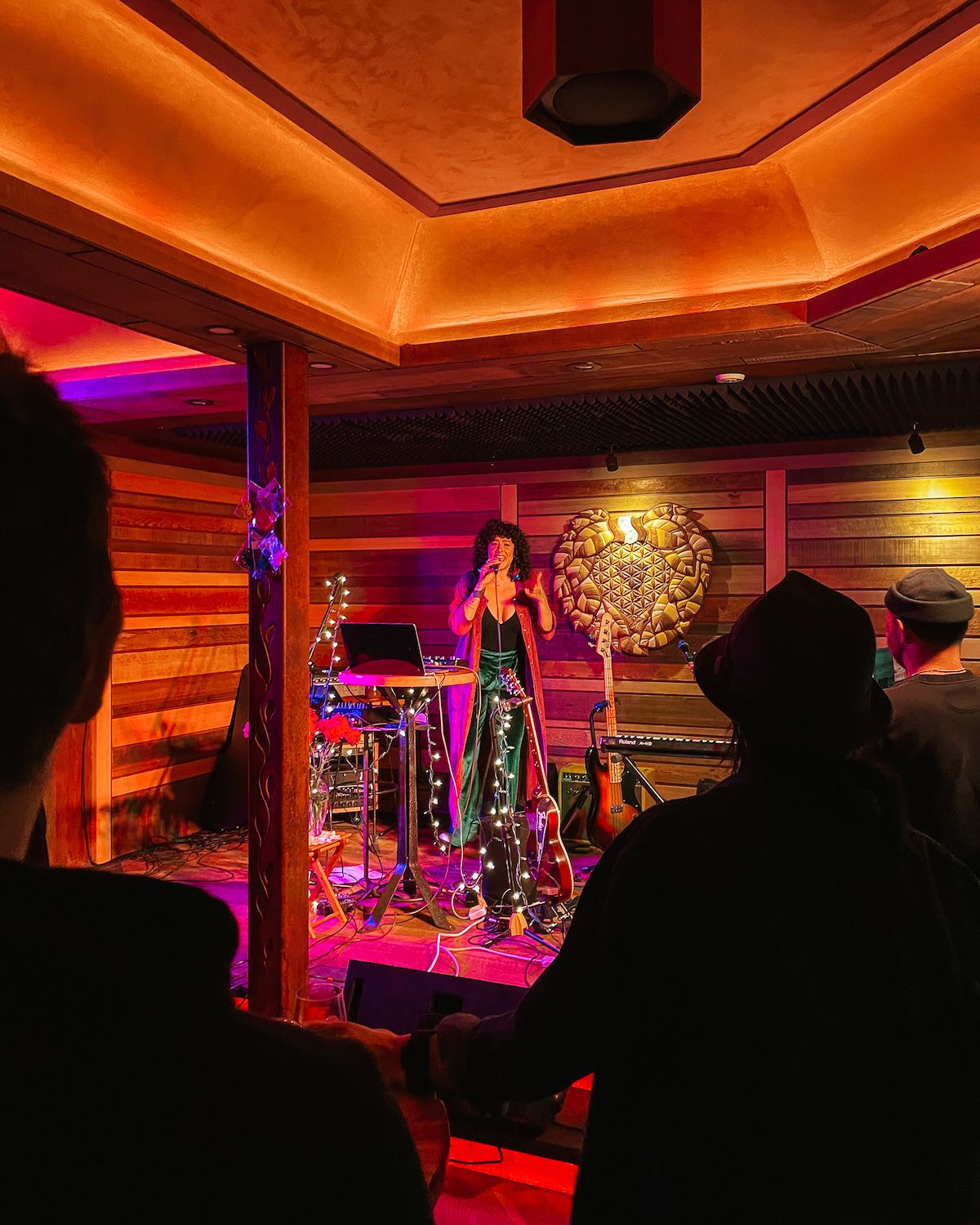 One of the hottest new spots on Salt Spring is Mateada, a lounge featuring live music, creative cocktails and tasty bites. The space has a welcoming ambience with its ornate woodwork, rich textures and coloured lighting.
Outside of their creative cocktail selection, Mateada also serves a unique selection of non-alcoholic drinks, like kombucha, reishi hot cacao and yerba mate served in a traditional gourd. Their food is easy for sharing and includes plant-based and gluten free options.
We saw The Della Kit with David Morin perform a groovy set of jazz-inspired neo-soul songs. The atmosphere was lively and a ton of fun. About half-way through, almost everyone got up to dance on the small dance floor at the front.
Mateada hosts different styles of music from Thursdays-Saturdays, so don't miss checking out their list of events!
Top Tip: Arrive 30 minutes before the show starts to order food before the kitchen closes and to get a good seat. You can purchase your ticket online in advance, but tables are not assigned.
15. Discover Salt Spring's unique farm stands
One of the things that makes Salt Spring so special are its farm stands you will find peppered throughout the island. What makes them so unique is that most of them work on an honour system. That means you pick out what you like and they trust you will place your cash in the money box. The owner of the farm stand won't be there. Many of the farm stands also have an e-transfer option as well.
To find the farm stands, just drive around the island and explore! You will see signs or them appear on the side of the road. It's a great way to support local.
Here are some farm stands to get you started:
Pipe Rabbit Farm for kitchen goods, fresh produce, berries and flower bouquets. Only open on Fridays. This one is not to miss!
Piper's Buns at 740 Walkers Hook for delicious baked goods.
Ambledale Farms for beautiful flower arrangements and fresh produce.
Brigitte's Pastries for homemade French pastries. Open Fridays and Saturdays.
South End Sausage for small-batch, ethically made charcuterie and sausages. Perfect to add to a picnic!
Ruckle Heritage Farm for fresh produce, preserved goods and to see cute farm animals.
Farm stand at Salt Spring Vineyards where you will find a variety of products like kombucha, vegan ice cream sandwiches and essential oils.
As you drive up Furness Road to Salt Spring Island Ales you will see a couple farm stands, Alchemy Farm Stand on the lefthand side and another one up the road on the right which sells the best pepperoni sticks!

16. Go boutique shopping in Ganges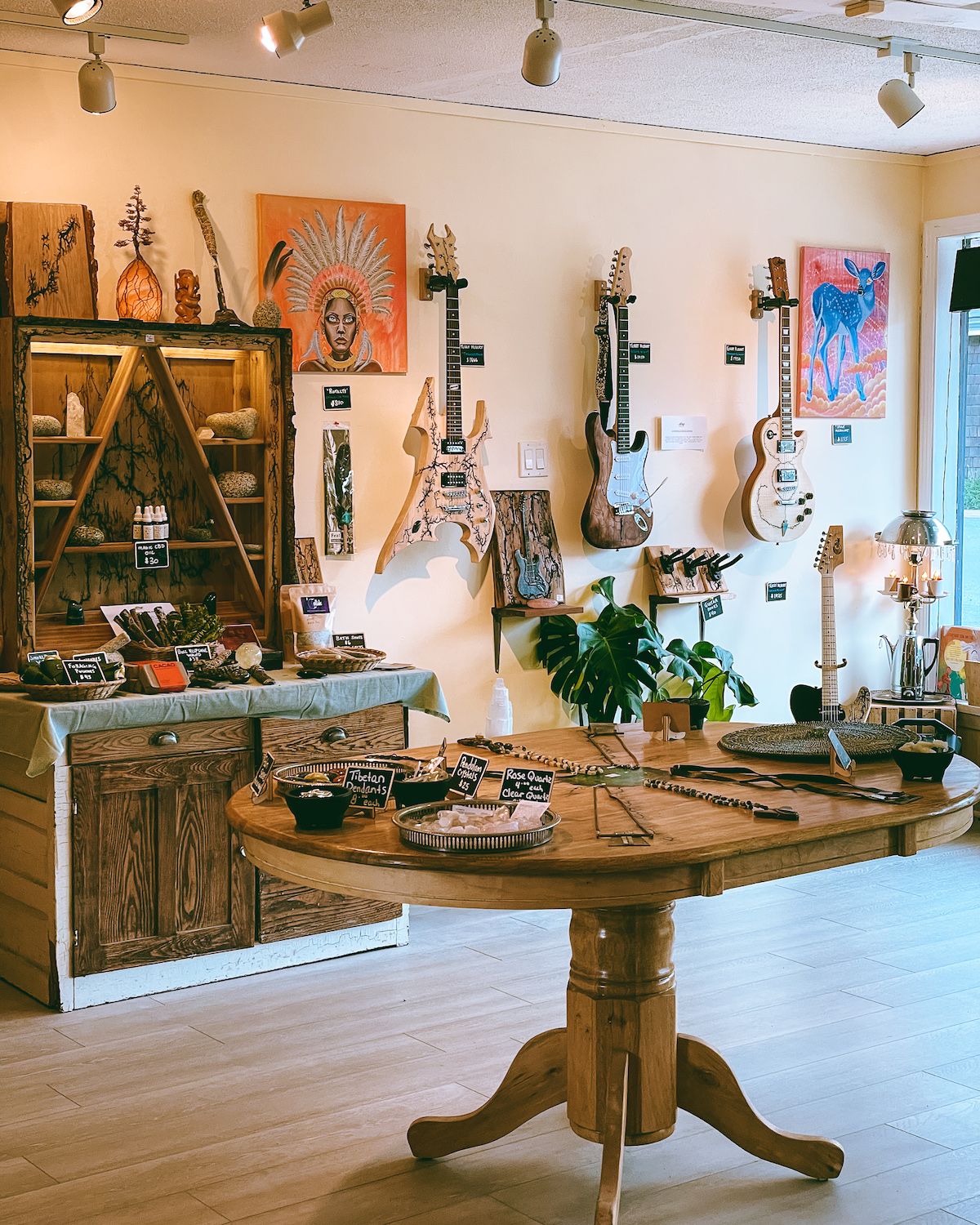 Ganges has a variety of boutique stores where you will find unique goods, vintage pieces and products from local artisans.
Here are some of our favourite boutique stores in Ganges to add to your Salt Spring Island shopping list:
Mondo Trading Company: where you will find handcrafted fair trade products from around the world, like colourful baskets, traditional blankets, unique housewares and jewelry. We love the Palestinian za'atar herb mix.
Collide: shop here for eclectic artisanal products and curated vintage pieces
Bohemia Consignment: a well-curated consignment boutique where you will find clothing and shoes.
Salt Spring Island Soapworks: shop for all-natural body products, like bath bombs, body wash, shampoo, conditioner, body oils and masks. They come in unique scents like lemongrass-coconut, vanilla-frankincense and lavender-eucalyptus. We are obsessed with the mint-rosemary body wash.
Twang & Pearl: where you will find a collection of quirky accessories, housewares, stationary and clothing.
Waterfront Gallery Society: a curated selection of arts and crafts from local artisans on Salt Spring Island
Rhubarb Designs: sells stylish high-quality home decor pieces
nook: the tiny boutique curates a selection of handcrafted products from local artisans and eclectic goods from countries like Japan, Spain and India, that have inspired the owners.

17. Watch a movie at The Fritz Cinema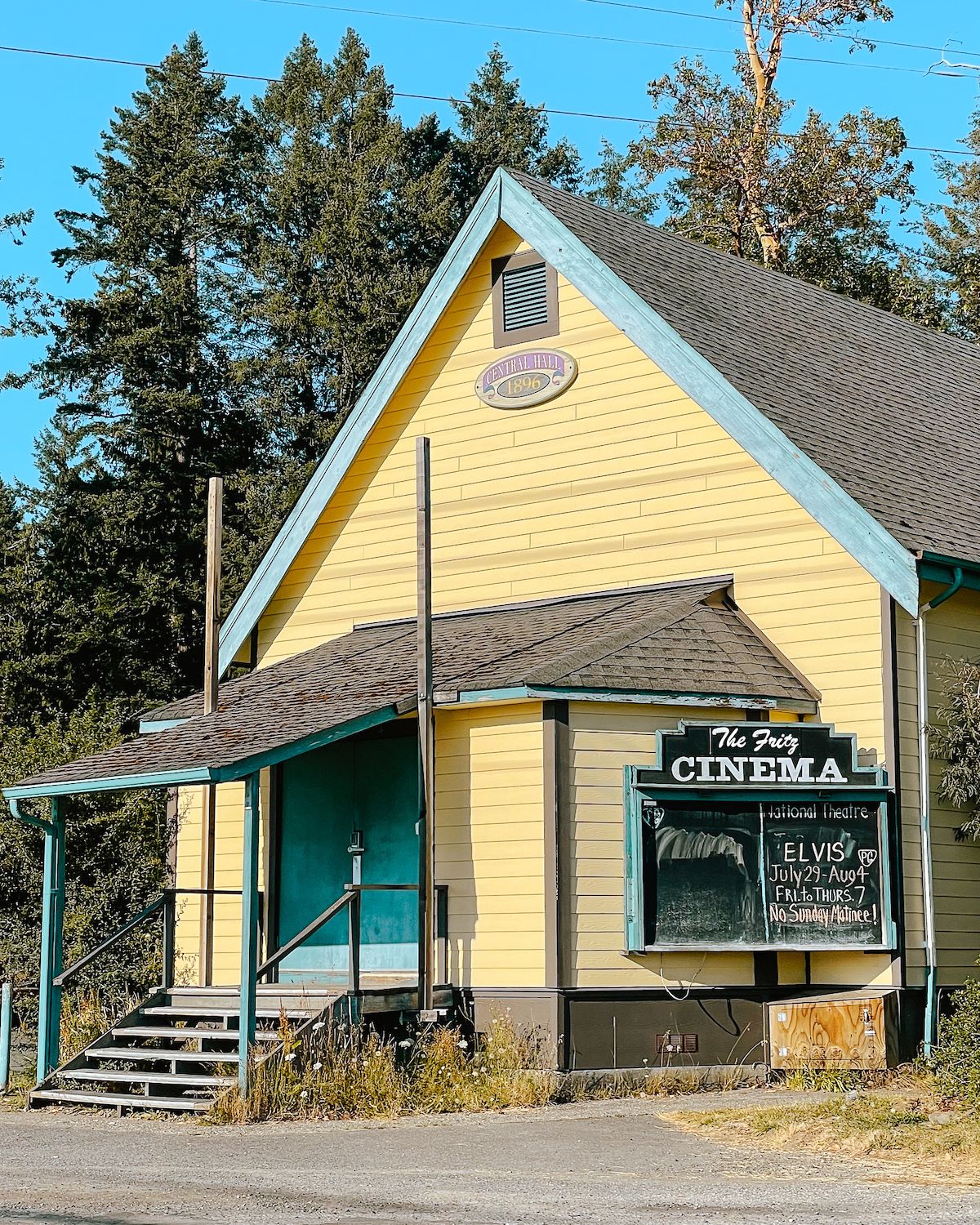 The Fritz Cinema is the cutest old-school movie theatre. See what is playing and go on a date night! They serve all the best snacks, like fresh buttered popcorn, gummies, chocolates and soda pop. See what's on.
18. Have a picnic at Ruckle Provincial Park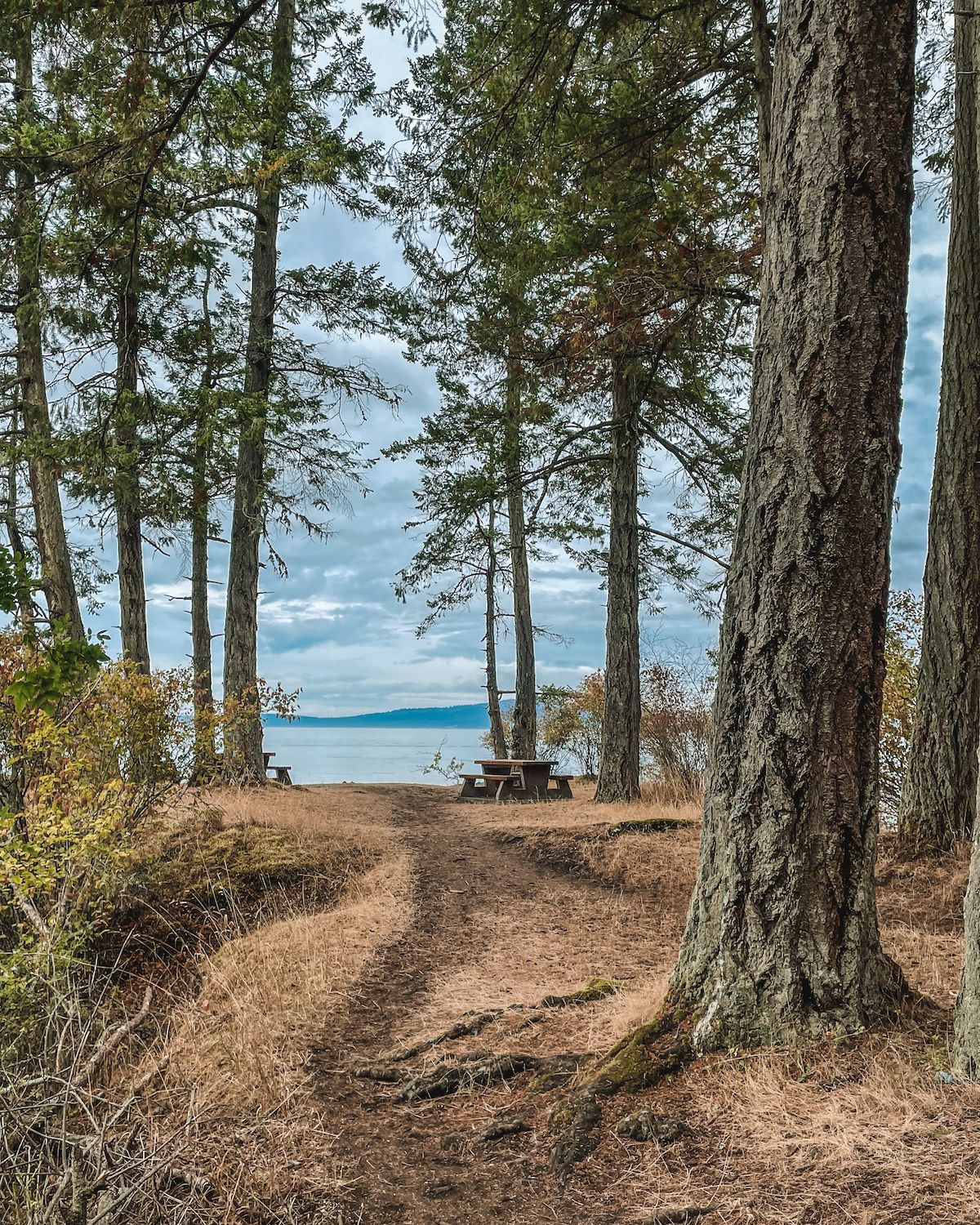 Ruckle Provincial Park is one of the most beautiful parks in the Gulf Islands. You will find picnic tables scattered throughout grassy areas overlooking the ocean. We love picking up a sabich bowl from the Woodshed Provisions food truck in Fulford Harbour and bringing it here. Their Middle Eastern cuisine is absolutely delicious and they use fresh local ingredients.
Once you park your car, walk along the main paved path to find a picnic table. Don't stop at the first one! Keep going and pick out your favourite spot.
19. Relax at Madrona Beach and go for a swim in the ocean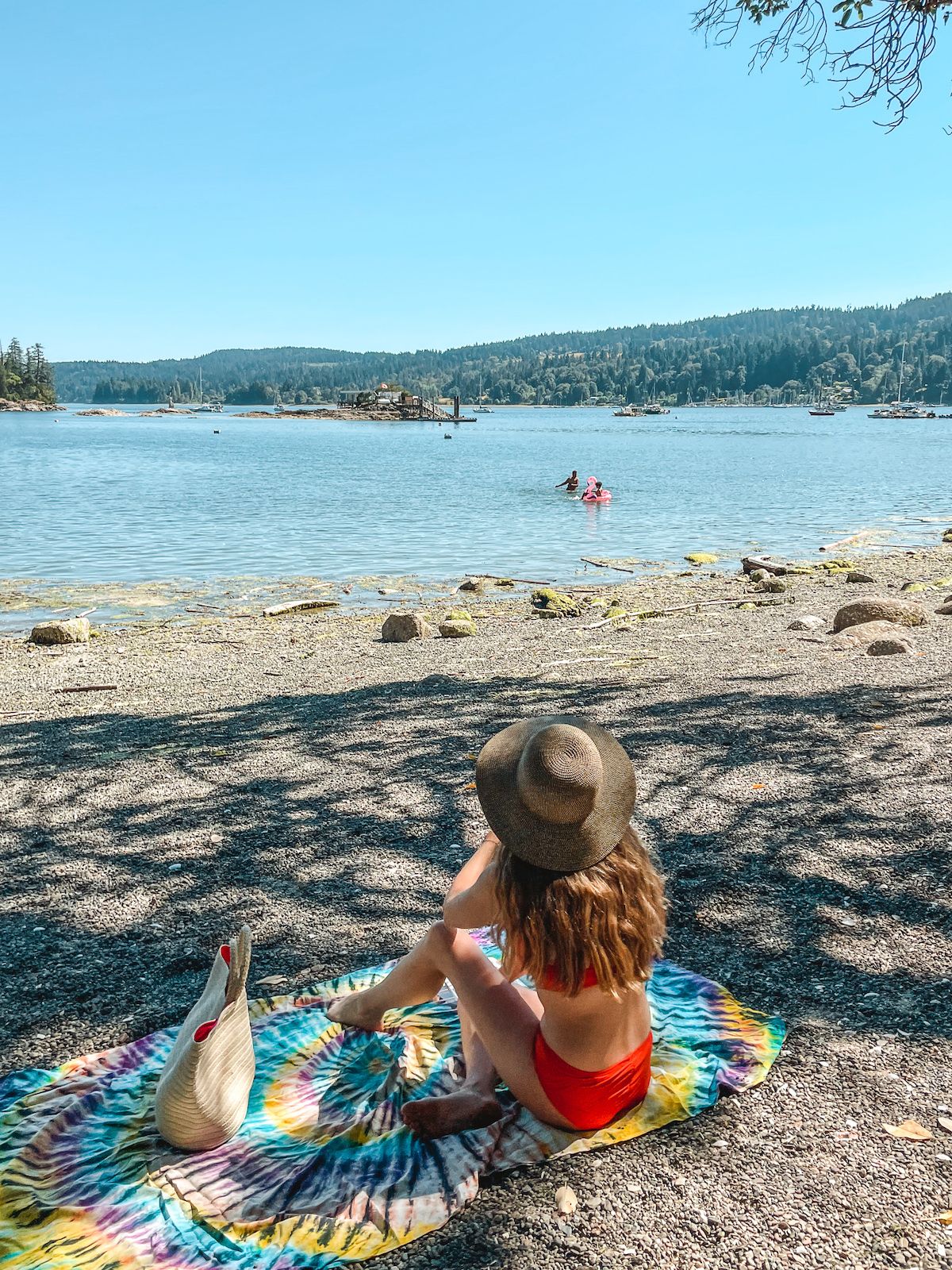 One of our favourite beaches for relaxing is Madrona Beach. It's located about a 4 minute drive from Ganges at the very end of Churchill Road. From the beach you have gorgeous views of Ganges Harbour, which beautifully lights up in the afternoon. Take a ride on the standing swing and watch the float planes take off the in the distance.
You can find lots of shade in the afternoon along the driftwood. The beach has small rocky pebbles, so bring something comfy to sit on. We also recommend wearing water shoes or crocs, since the rocks are a bit sharp on the feet in the water.
20. Buy delicious local goodies at Merchant Mews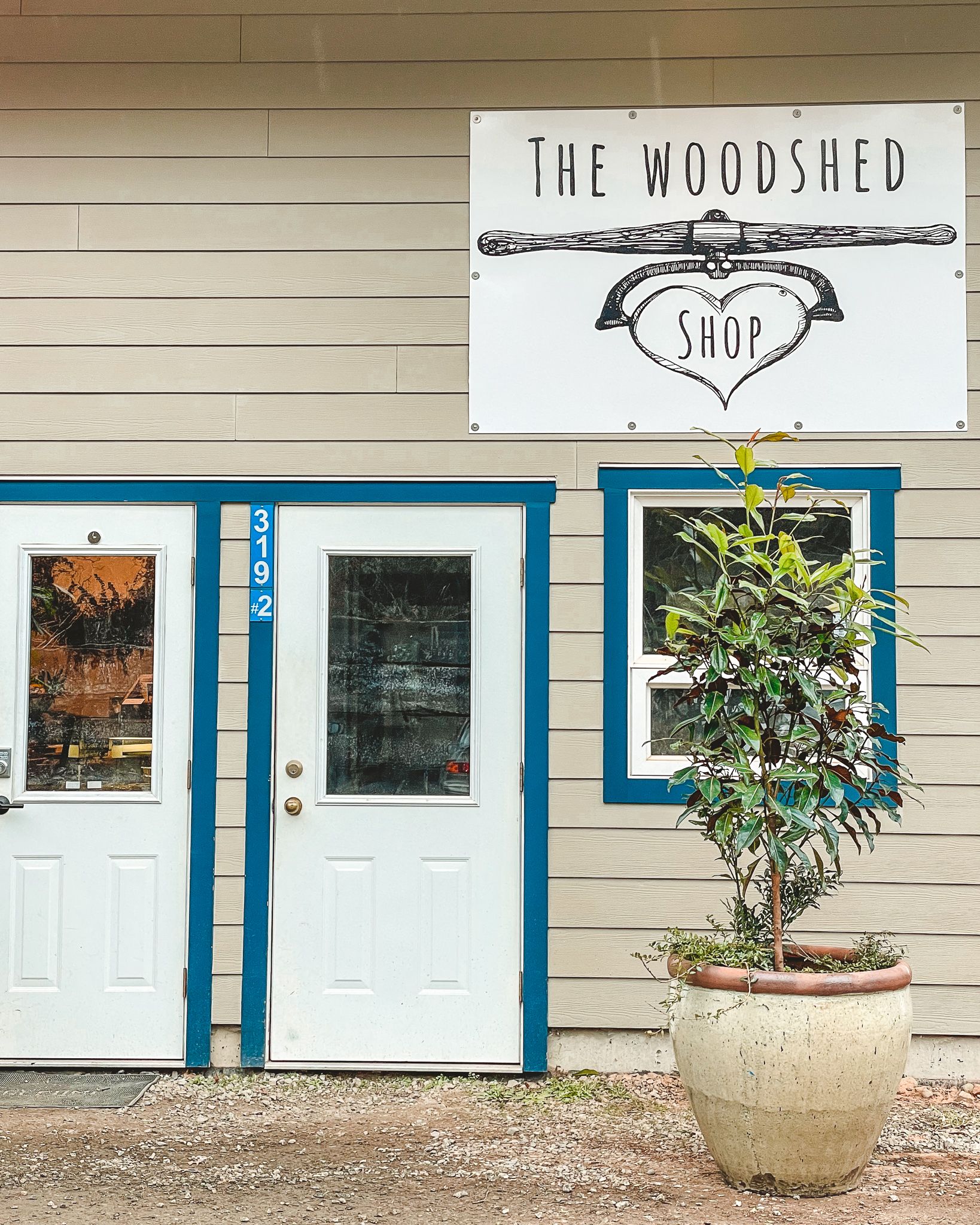 Merchant Mews is located just a 2 minute drive away from the centre of Ganges. This area of Salt Spring Island may look industrial, however there are some amazing shops and eateries that have popped up:  
Salt Spring Kitchen - pick up a couple jars of their savoury, sweet or spicy preserves that go perfectly with a charcuterie board. Our favourites are Hot Mango and Spicy Tomato.
Woodshed Provisions - sells gourmet seasonally-inspired dishes to heat up back at home. This is handy if you're staying at a place with a kitchen and want to eat in. Their Chicken Marbella is fantastic.
Francis Bread - sells freshly baked breads, pastries and sandwiches
Dos Amores Tortilleria - treat yourself to tasty authentic Mexican tacos. The head chef was born and raised in Mexico.
21. Cool off with some tasty gelato and walk along the harbour front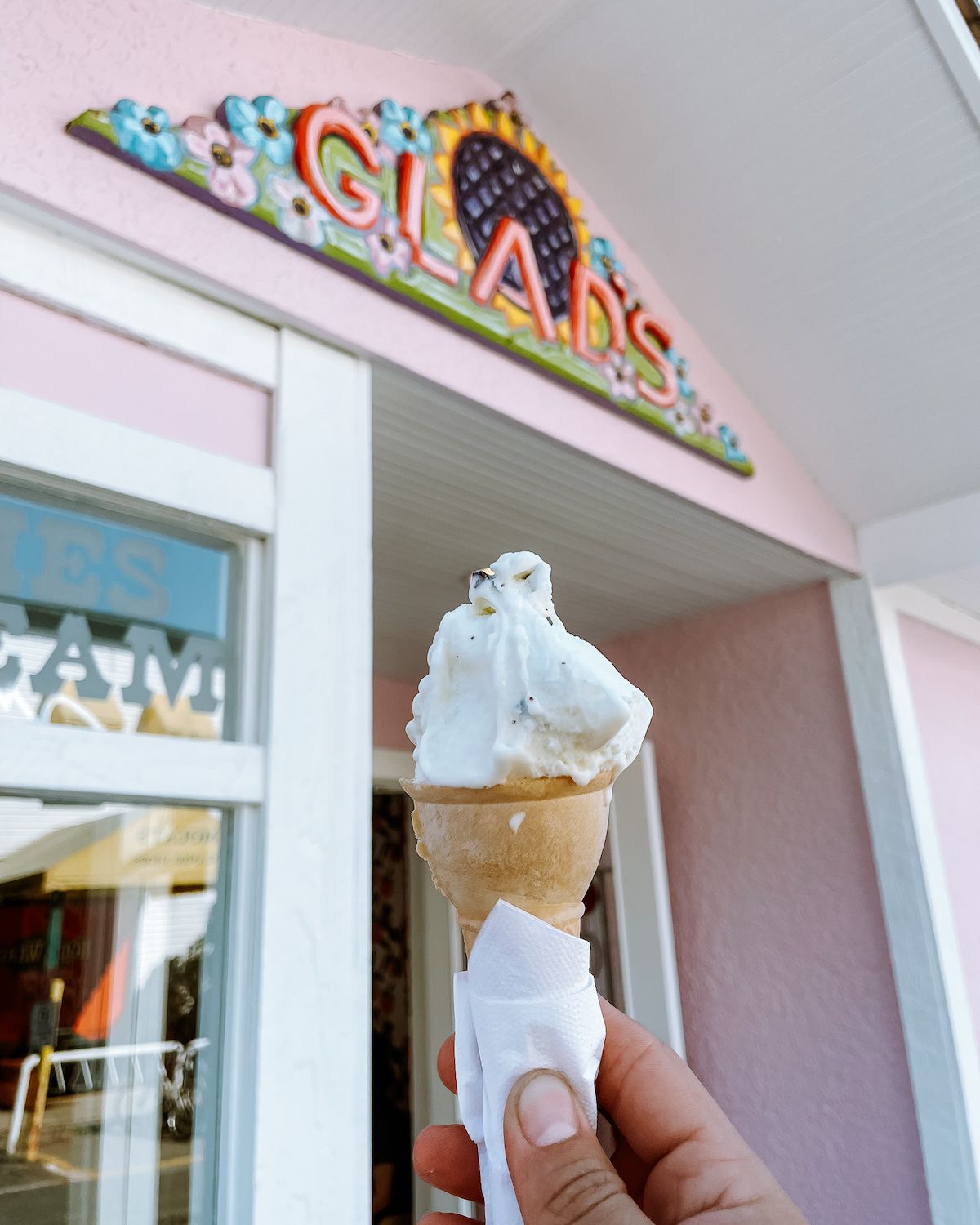 Pop into Glad's Gelateria for a scoop of small-batch gelato and walk along the boardwalk near Ganges harbour.
22. Browse the local Tuesday Market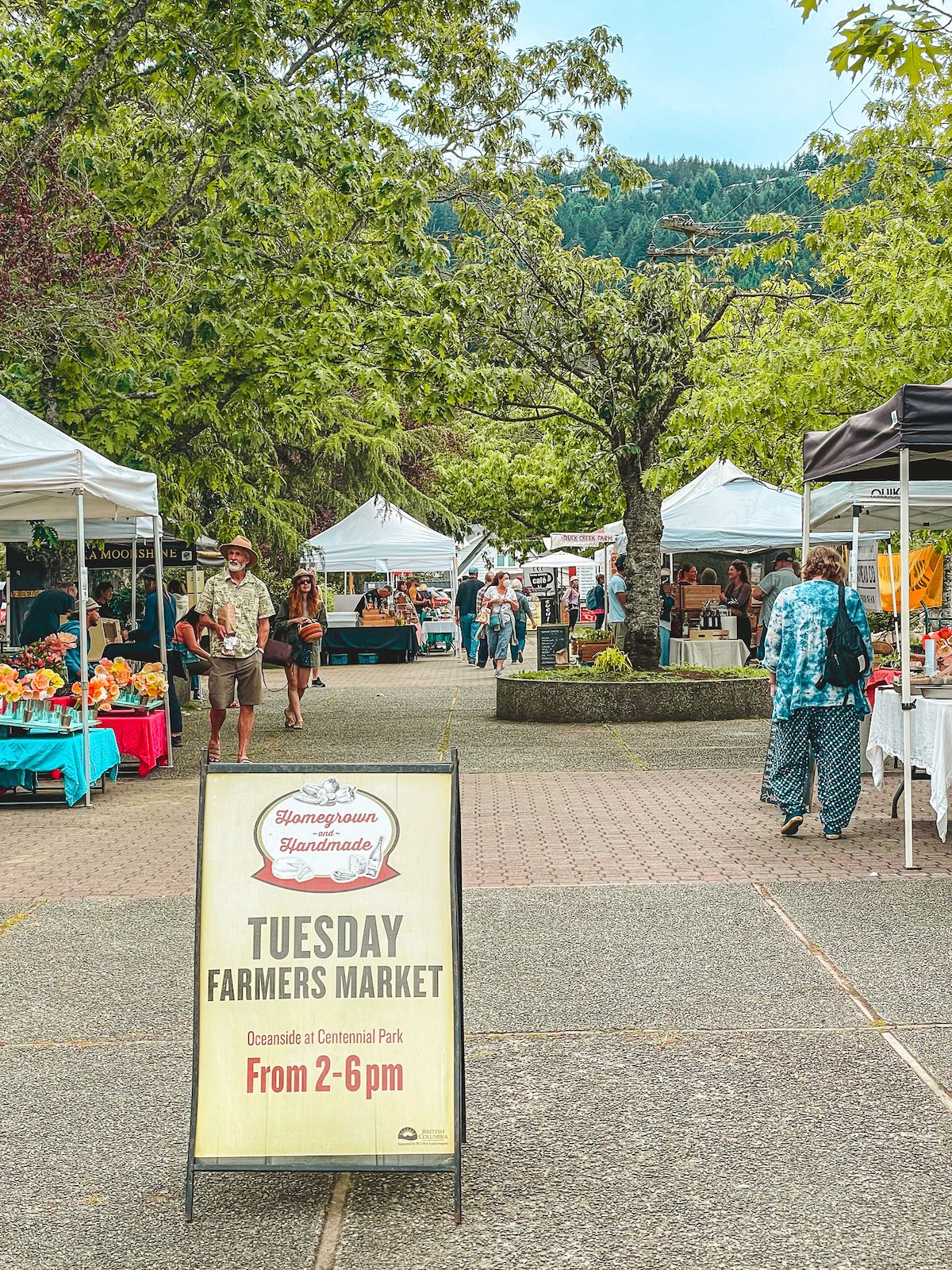 Every Tuesday from June to October local producers from the island gather to sell farm fresh produce and other take away items, like homemade lemonade, artisanal sandwiches, tortillas, cider, mead and flowers.
Visiting the Tuesday market is a very local experience and worth a visit if you can't make the Saturday Market. The Saturday Market is a lot bigger and sells items like handicrafts, jewelry, accessories and housewares, and is more catered towards tourists.
Hours: Tuesdays at 2pm-6pm
23. Explore Fulford Harbour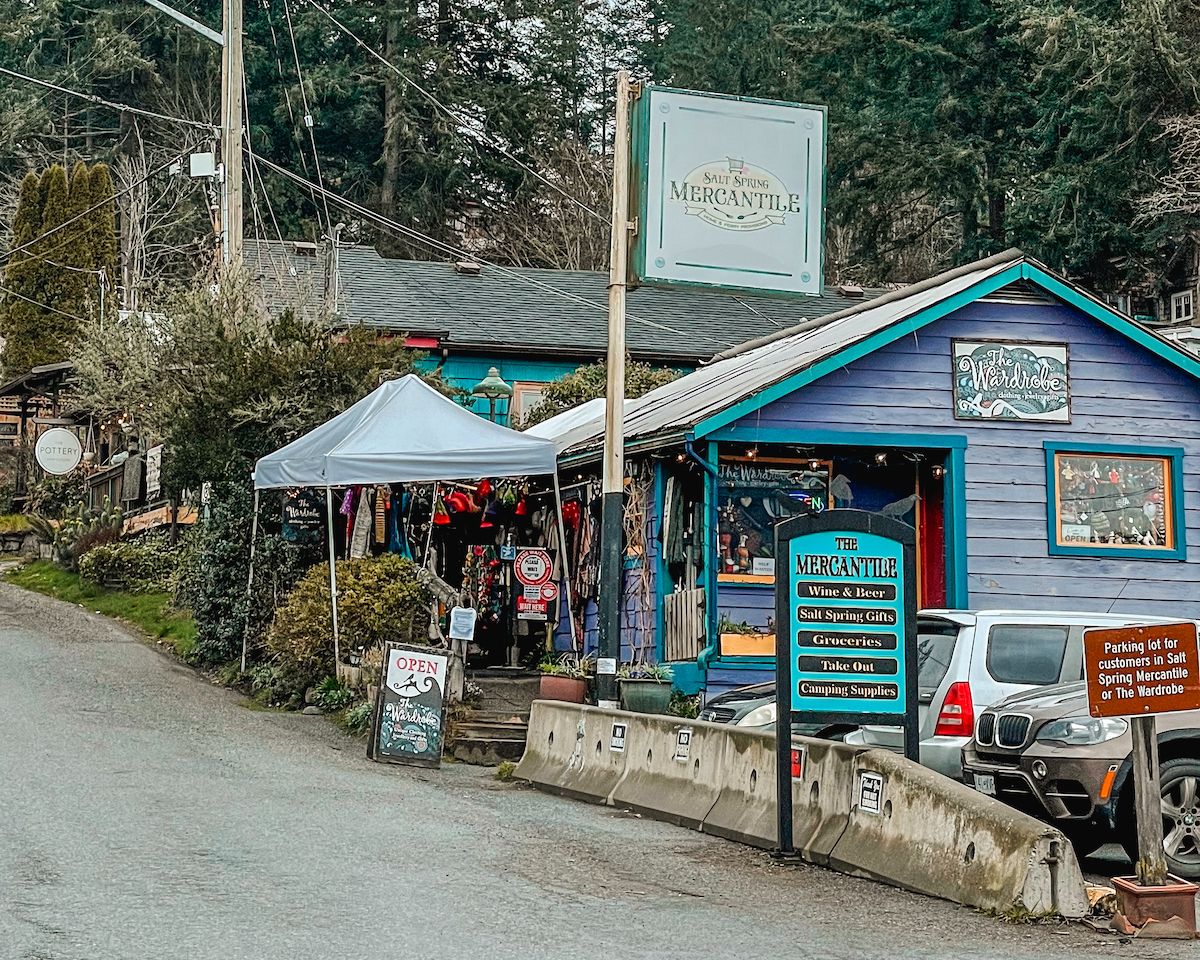 Drive to the south end of the island to explore the the quaint village of Fulford Habour. Pop into Rock Salt Cafe for lunch or grab a coffee and delicious stuffed cheese bun to go.
Make sure to check out our favourite boutique store in Salt Spring Island called The Pottery. They carry beautiful handmade pieces from over 50 artisans on Salt Spring Island and Vancouver Island. We love collecting unique coffee mugs.
Note: As a heads up, Morningside Cafe may appear cute and friendly from the outside, but we highly recommend reading these reviews to see how customers have been treated before you go inside.
24. Visit the Lavender & Black farm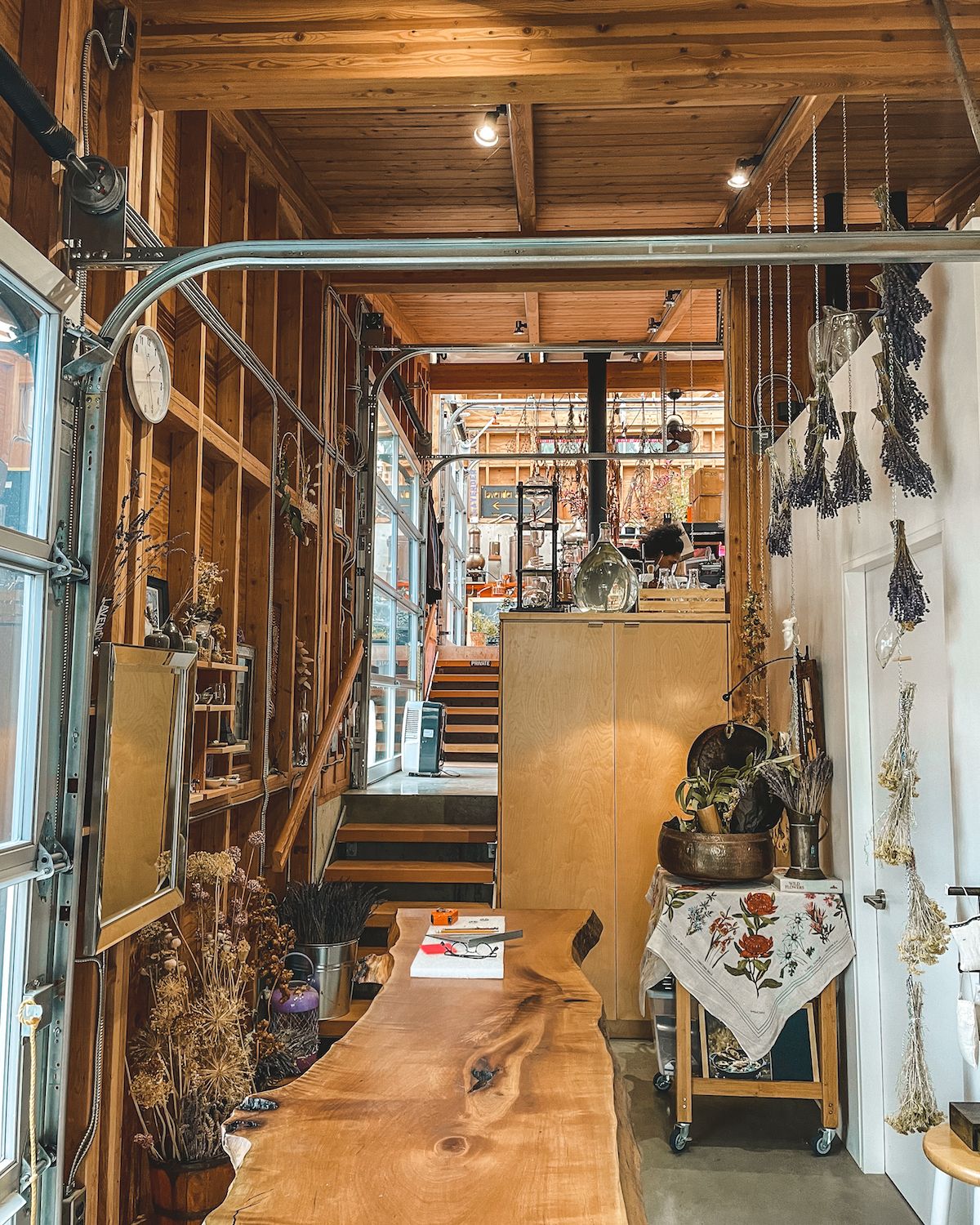 The boutique helichrysum and lavender farm is absolutely stunning. In the beautifully decorated shop, you will find hand-crafted wellness products and culinary products, as well as dried lavender and helichrysum flowers. They are perfect for a vase in your home. The owners are friendly and passionate about what they do. They will gladly answer any questions you have and teach you about their techniques.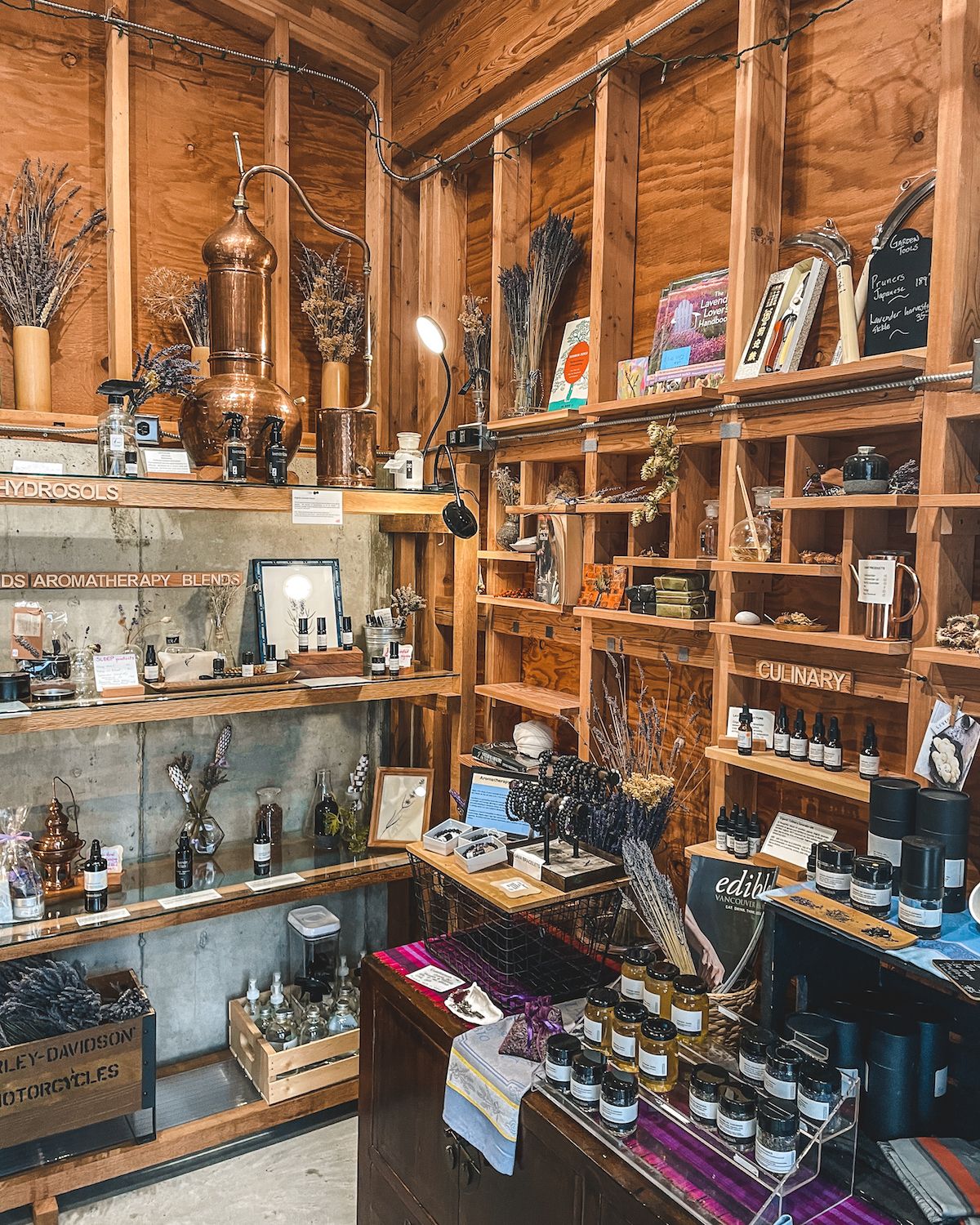 It was the first time I had ever heard of the helichrysum flower, also known as the Everlasting Flower. It has an array of health benefits and looks similar to lavender, except it's yellow in colour.
Once you're done in the farm shop, take the short trail through the lavender fields to the two yellow cottage chairs. You will have a nice view of the ocean and trees along the way.
25. Visit Sunset Farm's studio shop for sheepskins, pottery & vintage items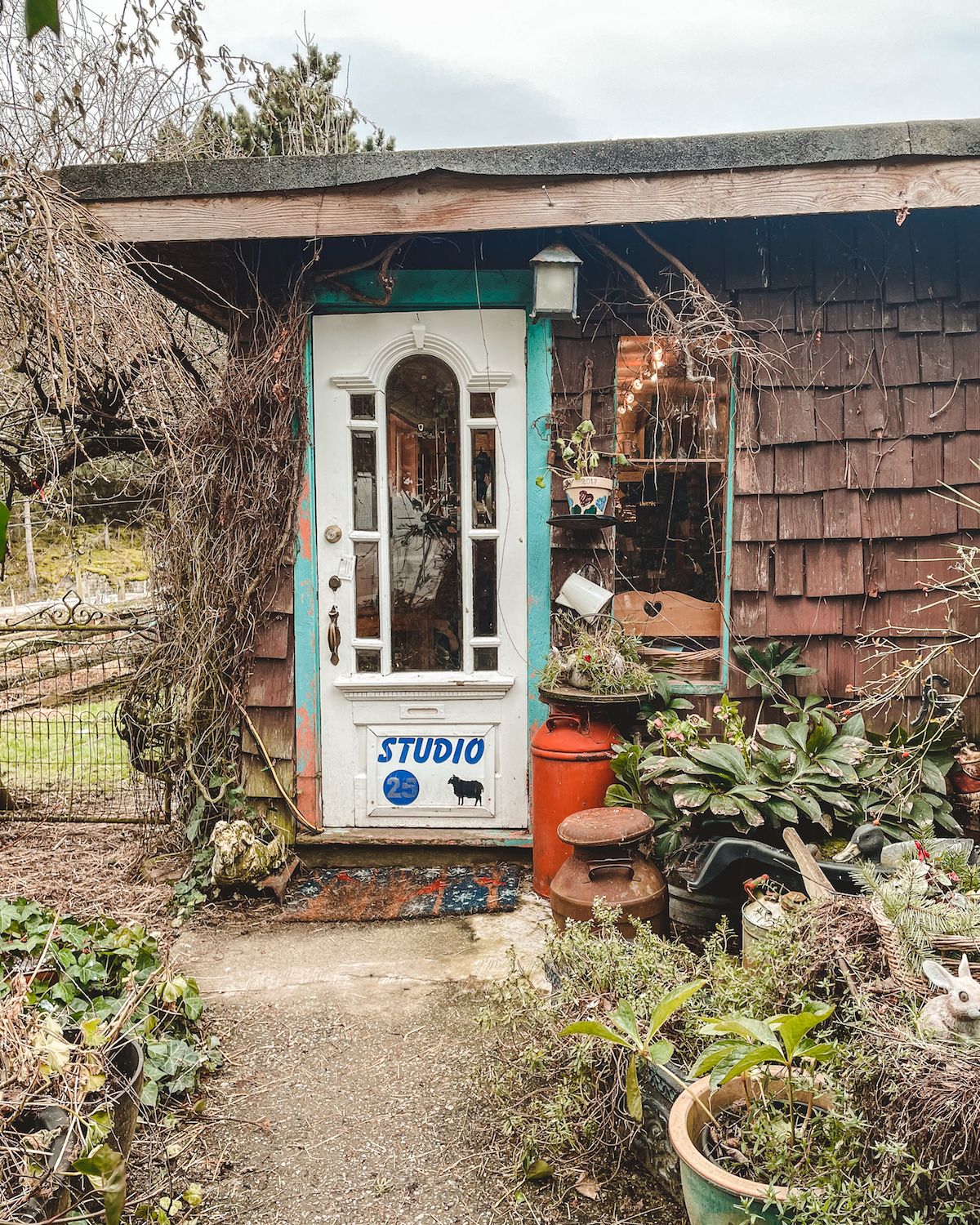 A hidden gem located in the north of Salt Spring Island is Sunset Farm's studio shop. Walk inside and you will find unique pottery, vintage items and sheepskins made right on their farm. They also have farm-raised chicken and lamb available.
26. Walk the dock at Fernwood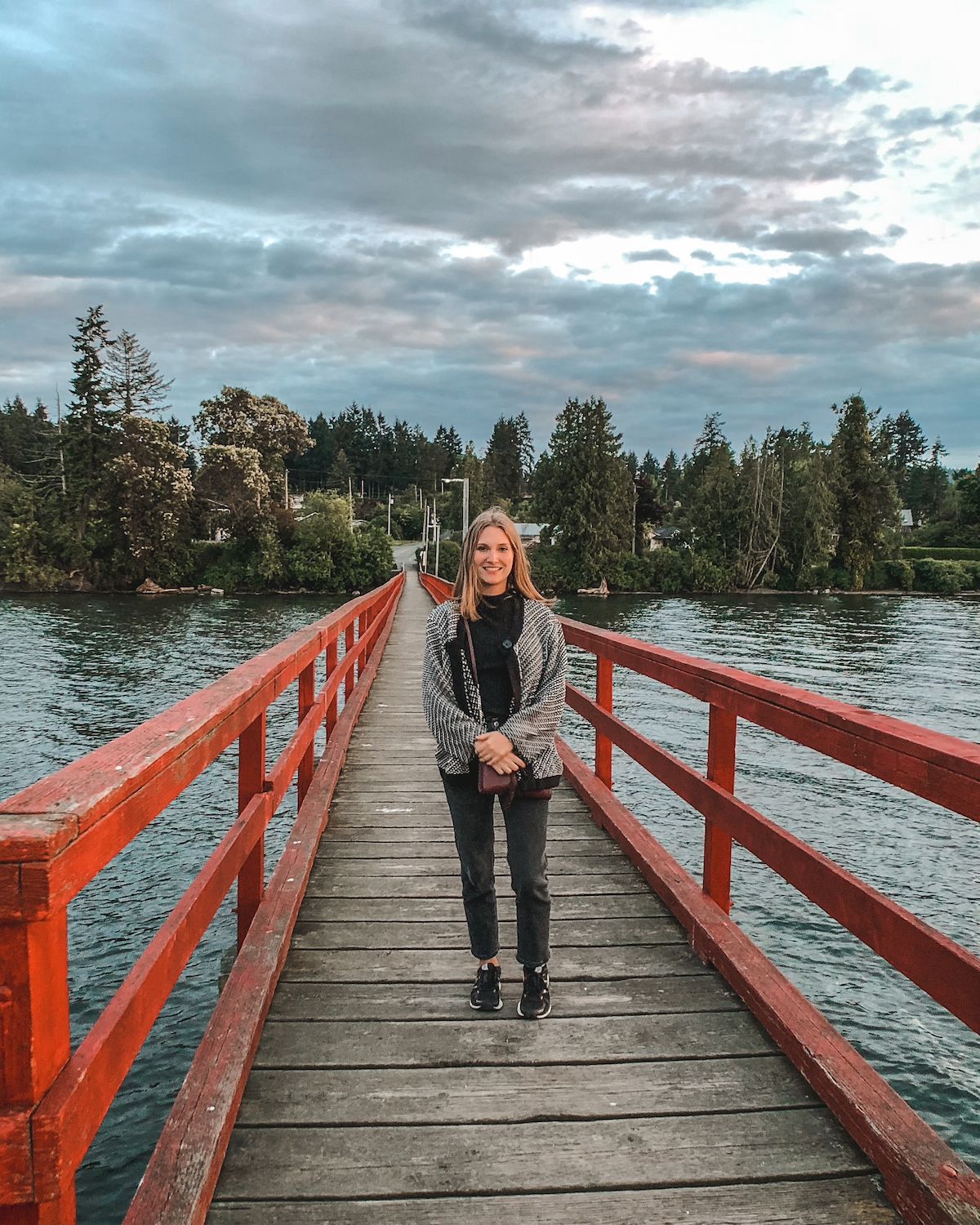 Get some of that ocean breeze and walk the 400 foot dock at Fernwood, a cute little community located on the northeast of the island. There is also a small beach there you can walk along during low tide. Across the street, pop into Fernwood Road Cafe for a coffee or small bite.
27. View contemporary artworks by local artists at the Salt Spring Gallery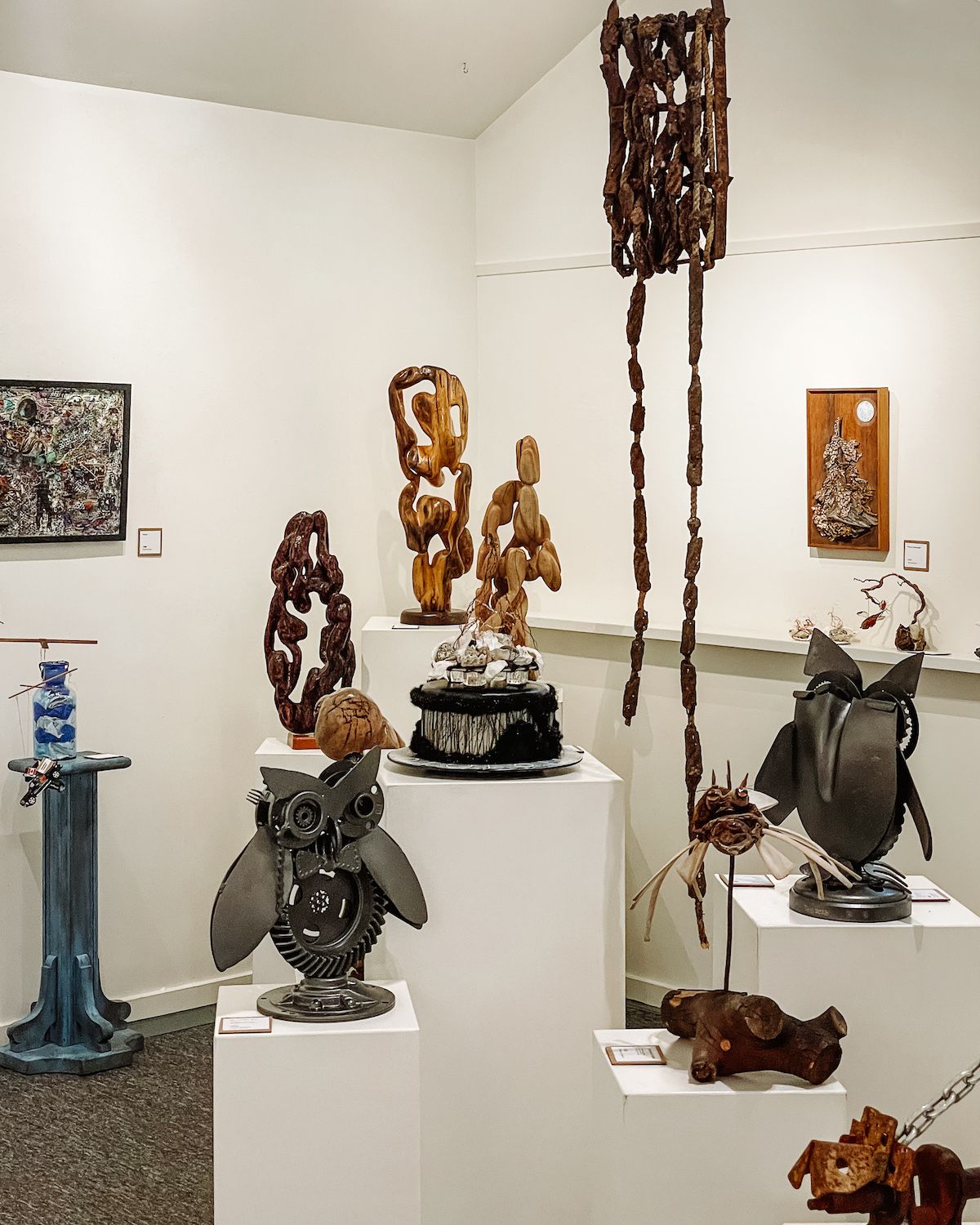 The Salt Spring Gallery showcases contemporary works from local island artists, including textile art, sculptures, ceramics, paintings, photography and jewelry. Check out their website for current exhibitions.
28. Take the float plane instead of the ferry.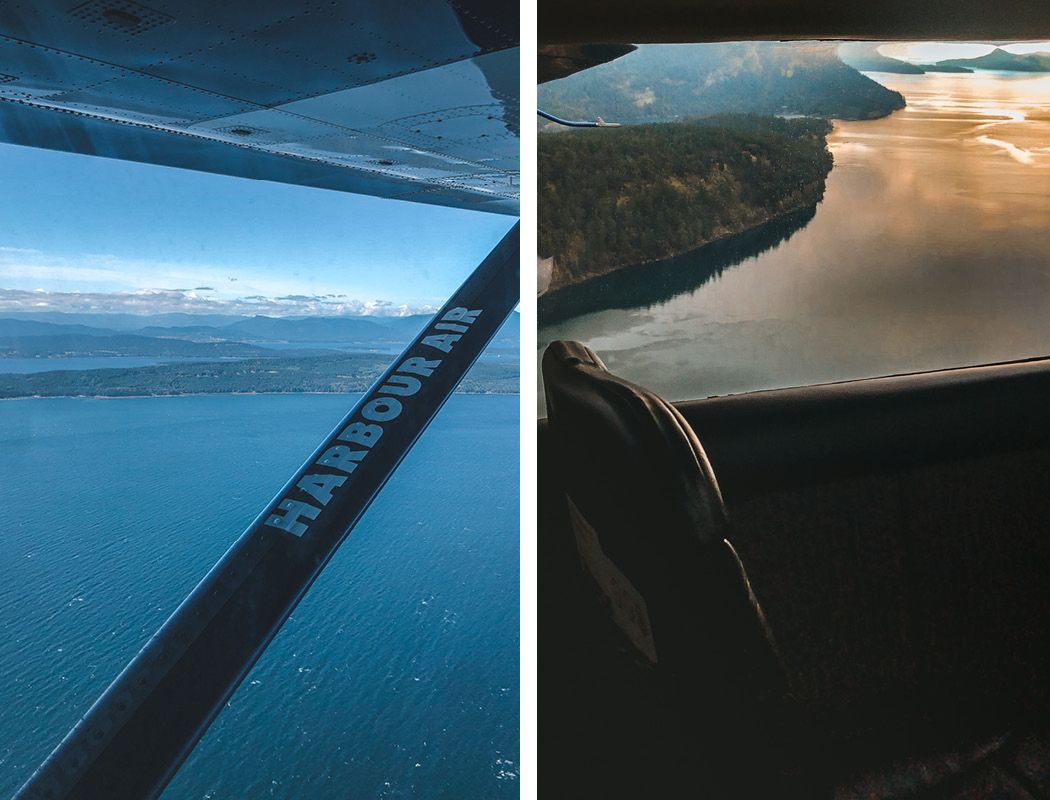 One of the most scenic ways to see the southern gulf islands is by float plane with Harbour Air.
If you are traveling from the Lower Mainland, you may want to consider taking the floatplane over rather than the ferry. You will save a lot of time since the flight is only 35 minutes from Vancouver Harbour or 25 minutes from YVR South.
Compare floatplane rates with Kayak
.
The caveat to this however, is that you will need access to a car to be able to explore the island once you arrive in Ganges. Taking the float plane is great if you're meeting friends who have a car or if you don't mind renting a car or scooter in Salt Spring. Check out the rates for Salt Spring Car & Scooter Rentals.
We hope you enjoyed these fun things to do in Salt Spring Island!
---
Start planning your trip to Salt Spring
---
See what it was like in our Salt Spring Vlog!
---
Explore more of the Gulf Islands:
---
Looking for more travel inspiration? Check out our list of 20 Relaxation Travel Ideas to Clear Your Mind