Short: Georgia was more colourful, vibrant and historic than we had imagined. Cecily and I tried to understand why no one thinks to travel there. We immersed ourselves in the creative culture of Tbilisi and the historic Kakheti wine region to find out.
After almost being ripped off for two times the going rate by the official Tbilisi airport taxis, we ended up jumping into someone's unmarked car in the airport parking lot. Luckily, we sped off to our Airbnb downtown and not into some unknown warehouse.
We were so fortunate to have a private Airbnb for this leg of the trip. As soon as we entered the colourful and inspiringly decorated top floor apartment, we dropped our bags, flopped on the couch and breathed a sigh of relief. We had been away from home for 28 days and had not yet relaxed in a space that felt like our own. We were crammed into hostels, hotels and yurts always missing something from chairs to laundry but, what we missed most was the independence that an apartment with a kitchen provides. It's also the little things like trinkets on shelves and odd kitchen bits that make accommodation feel like home.  
I used the gas stove to fire up the Bavetti espresso maker and carefully brewed a strong espresso to enjoy as I gazed out over the balcony at the city. We wondered what lie in store for us over the next seven days staying in one spot. What if we didn't like it? I thought in the worst case, at least McDonalds was only 600m away.
There was no better way to enjoy our apartment than to pick up groceries for our first home made meal in over a month. We rounded up pasta and breakfast ingredients from the grocer, bakery and the independent produce vendors that littered the streets. There's something satisfying about making your own food, a creative endeavour that is all your own. We spent the evening cooking, drinking our first glasses of Georgian wine and playing boggle. Cecily beat me so badly 5 games in a row that it was embarrassing. I think all her years of scrabble and word games put her at an advantage.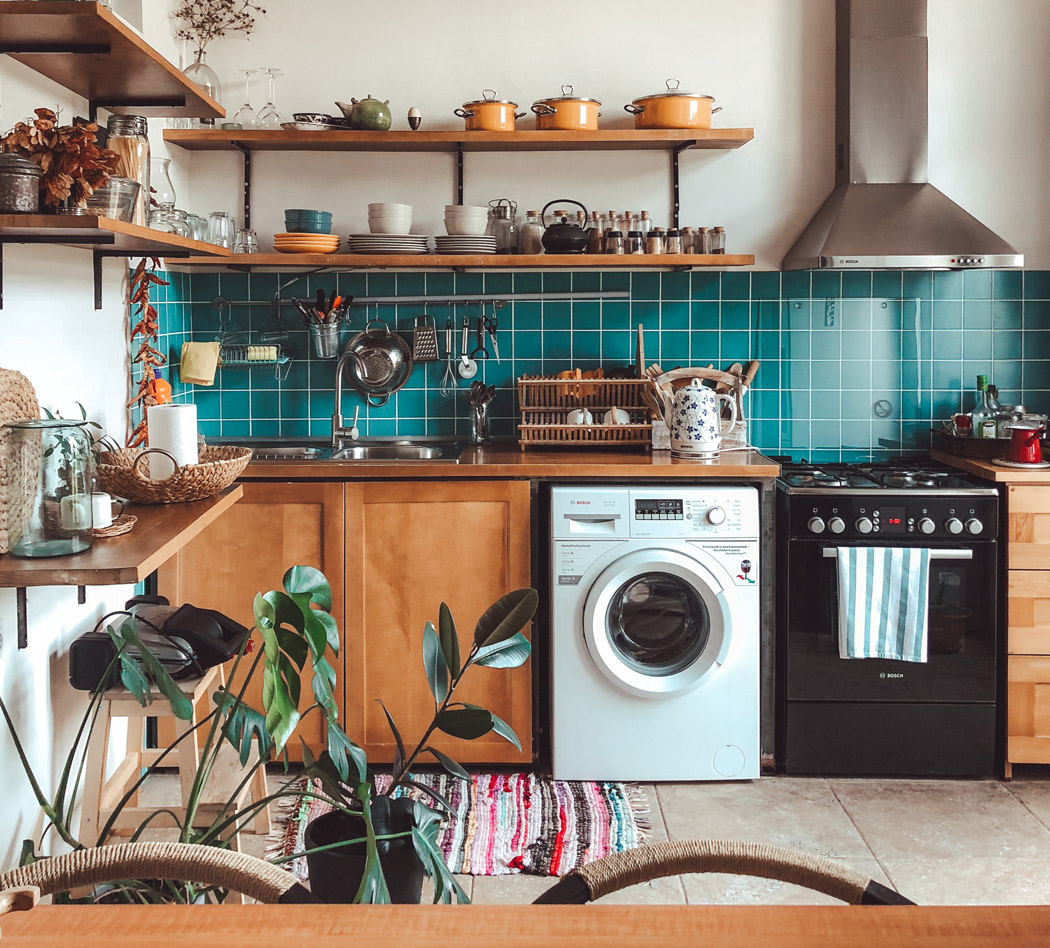 There were no shortages of places to explore in Tbilisi. Cecily had done a fantastic job skillfully picking through all of the fodder for the golden nuggets, and our friend Jamie, who had taken our advice to visit, had sent over his recommendations as well. We discovered and subsequently avoided at all costs several very touristy places in Tbilisi, lined with restaurants and hawkers enticing you to come in. At first, I was mainly looking forward to the food and exploring the traditional sulfur baths.
We both decided that our mission in Tbilisi should be to not only explore but also understand why people don't really know about Georgia. With the exception of news about a 2008 war with Russia, I hadn't really heard of the place. Apparently, Georgia has the oldest known archeological remnants of wine production. But again, why do we only hear about European and South American wines, never Georgian? What happened to that piece of history?
On our first day out, we were off to a very popular hostel and creative space called Fabrika. Our walk took us passed old buildings in various states of repair with lots of ornate wooden balconies barely hanging on to their old concrete structures. The narrow streets and sidewalks herded the cars so that we needed to be cautious where we walked. We did figure out that the cars would yield if you stared at the driver while simultaneously walking into the street when crossing the road.
We reached our destination, a large former soviet sewing factory turned creative space. We were immediately taken aback by the design and overall feeling of the place. Opening the door was like walking into a new world of art, freedom and happiness that was a contrast to the somewhat run-down section of town it was located in. There were interesting details in design that we took note of. The concrete floor was completely covered with old ornate rugs creating warmth, colour and muffling sound. The space was lit by the huge historic windows and the lighting was a mix of eclectic floor lamps and neon lights that gave a warm caste in the evening. Not a single piece of furniture matched, it was all mid-century modernesque and a pair of hammocks lay between sets of couches and tables for working at. In the dining hall there were plants and remnants of beautiful cyan paint on the walls. We sat down for food and cocktails, then worked for several hours while watching all the interesting travelers come by until the pang of hunger hit for dinner.
When we exited through the back we were surprised to find a large courtyard nestled between the Fabrika building and four restaurants filled with young Georgians drinking, chatting away merrily and sitting on stacks of wooden pallets or on the concrete steps. On the other side in the basement of Fabrika there were independent retailers selling handmade fashions, skateboards, housewares and even a metal music themed barber shop and bar (that was starkly empty). We couldn't stay for long as we had planned to have our first Georgian meal at a restaurant called Shavi Lomi.
We set off on our way and ended up walking passed the restaurant two times until we finally realized that it lay in a closed-off courtyard behind a graffiti-laden steel door. We stepped through and stood awkwardly at the entrance for about five minutes as wait staff smiled and walked passed. Not knowing the etiquette, we were not sure what to do. Finally, we asked if they could seat us and we luckily got the last spot between a pair of beautiful small trees. The restaurant was relaxed and the staff friendly and accommodating.
We tried traditional foods filled with new flavours that we have never had before. We drowned ourselves in house wine as the sky darkened and the lights began to glow in the eclectically decorated courtyard restaurant. As we left we were delighted to realize that eating in Georgia was going to be a very good experience as well as affordable. It took a few restaurants to learn the etiquette. First, many restaurants don't have signs! Second, if you do not receive quick attention when entering a restaurant, it's not rude to go up to someone and ask if they have a table.
There seemed to be no end to the creative little restaurants and coffee shops in Tbilisi. One of our favourites was Art Home Café, a three story creative space, bar and restaurant in the old part of Tbilisi. It was creatively refreshing just to spend time there. We zipped around on foot and in the incredibly affordable Yandex taxis (Russian Uber) to all our destinations with ease. Communicating directions to non-English speakers in Georgia is very difficult since the Georgian alphabet is unique to their country. Our Latin lettered Google Maps was completely useless. I later figured out a trick to change the Google Maps language to the local language so that drivers can understand the street names. Data for our phones was affordable as well, only $12USD for 8GB per month. Everything was going great with the exception of only one day when Cecily was recovering from heat exhaustion and we visited a bad jazz bar where the drummer could not play on time. Maybe we'll leave jazz to Chicago and New York.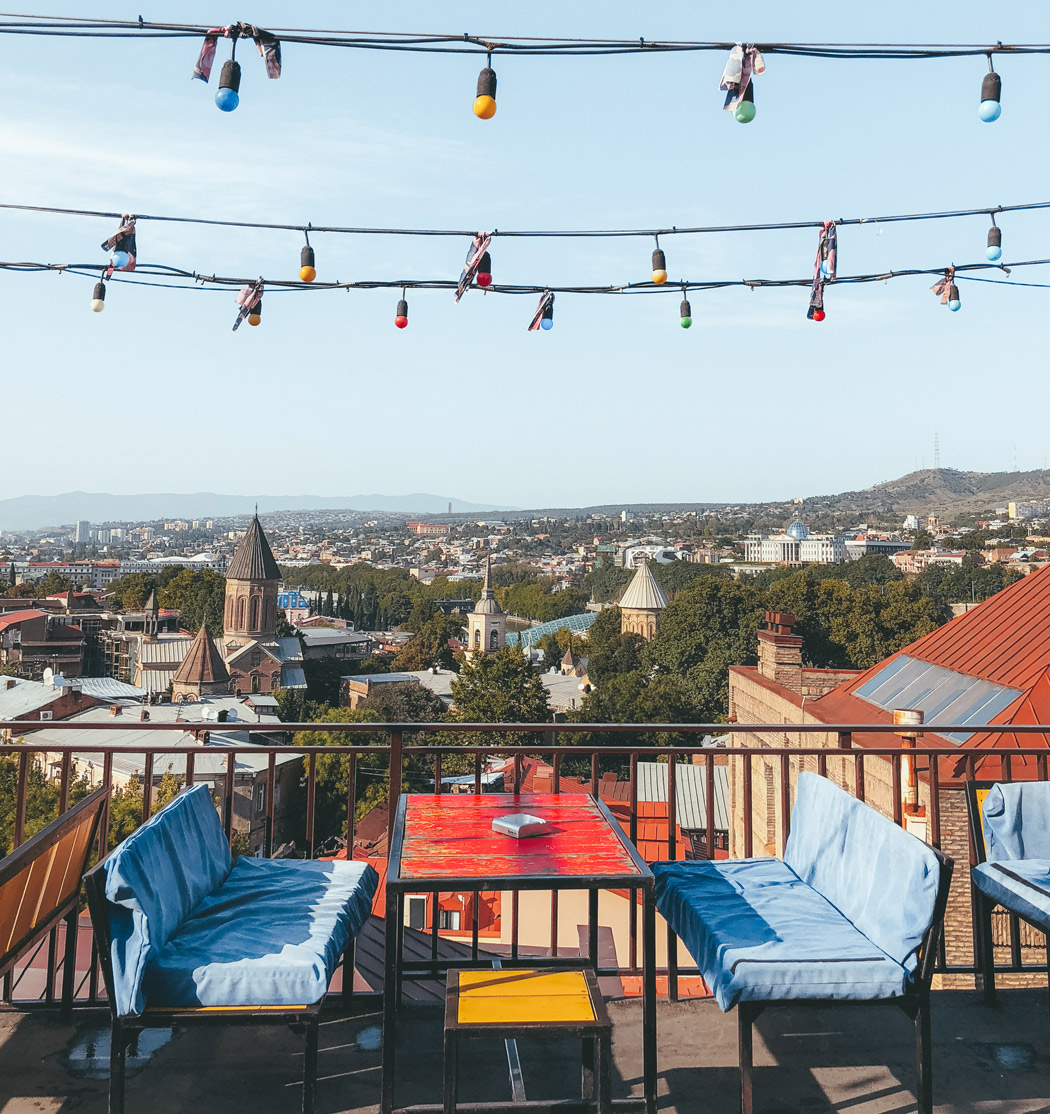 Later on, Cecily and I had just about made up our minds that we would like to buy an apartment downtown in the area where we were staying. We looked up the prices online and were astounded to find 1000sqft apartments for between $75,000-200,000USD depending on their age. We dug through all the real estate sites over the next few days looking for something perfect in our area to no avail. We even visited the local government building for information on buying and it seems as though Canadians can buy property in Georgia as long as you are not buying farm land and the transaction is approved and notarized in the court house. We continue dreaming about this prospect.
There are many reasons why we began thinking about having a place in Tbilisi. We have been hoping to find unique spots around the world to someday buy property in for investment and pleasure. We are very passionate about travel and new cultures and hope to share our love for special places with friends and family. Experiencing new cultures and ways of life leaves a mark on you. Our thoughts are to share beautiful locations with friends and family while also utilizing short term rental to cover carrying costs of the investment when the property would otherwise be vacant.
Cecily and I were curious about how the younger generation were getting on with the strictness of the older far right. We learned about a club located in the bottom of a sports complex called Bassiani that promotes freedom of expression and an open environment for all people. It turns out that tension between the left and the right came to a head at the club in May of 2018 in response to an apparent string of drug-related deaths in the city. The club was raided by armed government forces with machine guns while people were happily dancing inside. The next day thousands of people took to the streets and staged a rally to dance for their rights in front of the parliament building. What a great way to protest! Cecily and I support this movement very much, especially with our backgrounds in music, so it was very exciting to have the possibility of going to see the club since its reopening this year. Unfortunately, Bassiani was only open from 12:00 midnight the night before our 5:30AM flight to France. We would have to wait and see if an all-nighter to see a piece of modern history was going to be in the books.
Tbilisi was filled with so much learning and exploration. Our next leg of the journey was to take us to a completely different experience and into the wine region of Kakheti in eastern Georgia. We arrived on a sweaty marshrutka (shared taxi that only leaves when full) for $2.50USD each to the hilltop medieval town of Signagi. We completely lucked out and for only $40USD per night we had an apartment to ourselves with a living room and a classic ornate wooden balcony overlooking the city.
It was late afternoon and we were starving! Cecily found a restaurant further up the hill we were staying on that was 5 out of 5 on Tripadvisor. We emerged from a forest path after Google Maps led us astray through someone's hillside farm to a completely unassuming house with a large balcony in the back. When we stepped on that balcony and saw the setting sun's orange hew blanketing the medieval town, we fell in love with the Signagi. After a salad, chicken shashlik and pork and broth filled dumplings called Khinkali we wondered again, should we get property here as well? We could see a beautiful small new bungalow next to the restaurant. It was brick with a single sided sloped roof, a fire place in the center and floor to ceiling windows spanning the entire building facing the city. We dreamt if it were our own and sighted the perfect spots for a sauna and hot tub. As we walked the long way home we could see the yellow lights of the city emerging in the dusk and wondered what story each had to tell.
The next day was wine day. I was intent on having the Qvevri wine everyone has been talking about, right from the source region! We picked Okro's winery and restaurant to start because of their magnificent view of the city. At this point I was obsessed with the charcoal barbequed skewered meat shashlik and couldn't get enough of it, so I ordered it for breakfast.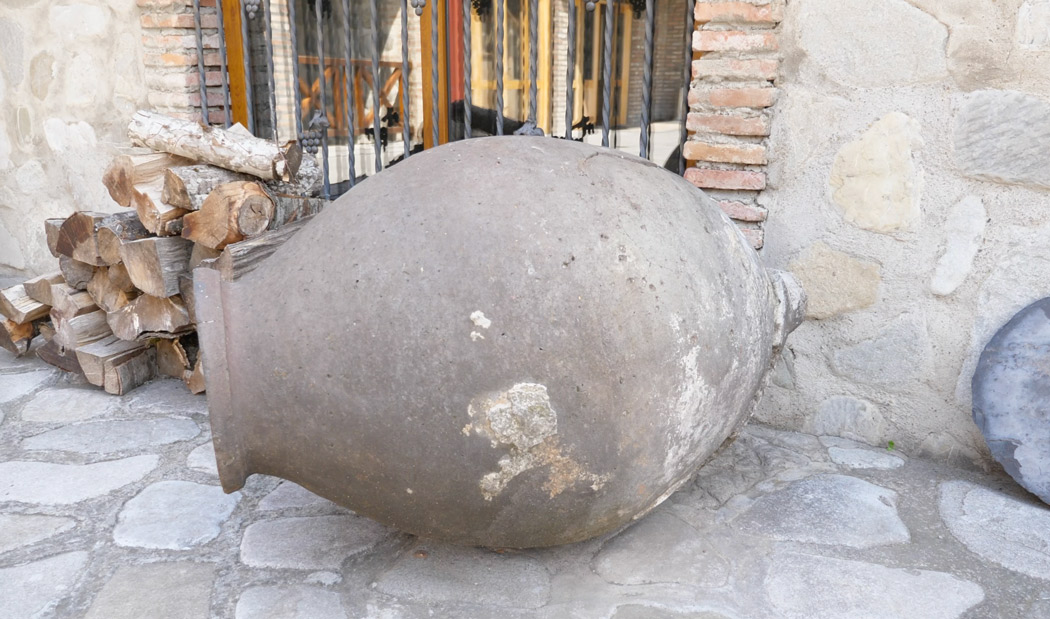 Lucky for us the owner of the winery was giving the tastings on this day and were we in for a learning experience. John, the owner, asked what we knew about the traditional techniques. "Nothing," we embarrassingly responded. Without hesitation he poured us a large glass of white Mitsvane wine and began. The Qvevri technique dates back 8000 years. To this day, Qvevri, the egg-shaped earthenware containers are still being made. They are buried underground providing the natural temperature regulation key for wine making. No AC or humidor required! Because yeast is a living bacteria, it turns out that the porous clay helps to keep it alive but also the egg shape of the pot creates a natural convection that helps in the fermentation process as well. Fascinating in its simplicity! No metal, pumps or machinery required. John's winery takes an organic, no additives approach to wine making. The former telecom industry worker and physics degree holder is fully self-taught. And with that, we drank. After four glasses of different wines, perhaps noting our enthusiasm for the lesson, he also offered us some of his dessert wine. It was much like Canadian ice wine.
Very good, our wine day had turned into Georgian wine university. John then reappeared with a smile on his face and said, "Time for a happy shot!" It was the Chacha that we had been hearing about and were excited for the magic elixir that once consumed… just makes you happy. 3, 2, 1 down the hatch, in slow motion I recognized the taste immediately, like grappa, vile and potent. Cecily gagged and remarkably held back a violent upchuck. John didn't see us, but he asked what we thought. I was ok, Cecily said, "Not for me." He laughed seeing my enthusiasm for his generosity and poured us another to Cecily's chagrin. I took both while he wasn't looking. Feeling quite happy, we said our goodbyes and thanked him after he showed us one of his cellars. It was great to see his passion come to life in a creative endeavour after working in technology.
On to the next winery, Pheasants Tears, the popular kid on the Signagi block. We had our tasting administered by a charming waitress. It was also very good, unique and got us excited to return that evening for dinner. The restaurant is known for its interesting takes on traditional Georgian food. Again, we had flavours that were new to us in both the chicken and vegetable dishes. What a treat! We waddled up the hill to our apartment and slept well that night.
I reflected on the experience we had at Okro's and why we thought the wine was so amazing compared to Pheasant's Tears. We were so fortunate to have had such a hands-on intimate experience that it definitely impacted our lackluster response to the wines later on at Pheasant's Tears. Special treatment sometimes creates a sense of entitlement within me that I carry forward to the next similar experience. I find waiting for the same treatment at another location causes unnecessary distraction from the experience at hand. Naturally I wonder, why didn't we get that here? It's much better to live in the moment and not expect so much as I did  waiting for "more" at Pheasant's Tears. We were thoroughly appreciative of John's time at Okro's.
The next day, our very friendly apartment host arranged transport for us to the Marosheni Hotel and Winery. $15USD for an hour private taxi ride, crazy. What was more crazy, however, was that there were no seat belts in the back of the car. As a matter of fact, they had been cut out! This ended up being the case for every cab we took in the region. It made Cecily and me very uncomfortable. In those situations, I simply nod to the probability gods and leave it at that.
We arrived at the hotel to a group of four staff sitting around a table smoking and just one car in the small parking lot. The place was deserted and in need of some landscaping. We enjoyed our afternoon lazily reading in hammocks and drinking a bottle of Okro's wine on our balcony. When dinner time came, we realized no one at the hotel really knew how to speak English. That was fine, we easily ordered two portions of pork shashlik. They fired up charcoal in a big metal grill just for us and we had the best shashlik of the trip.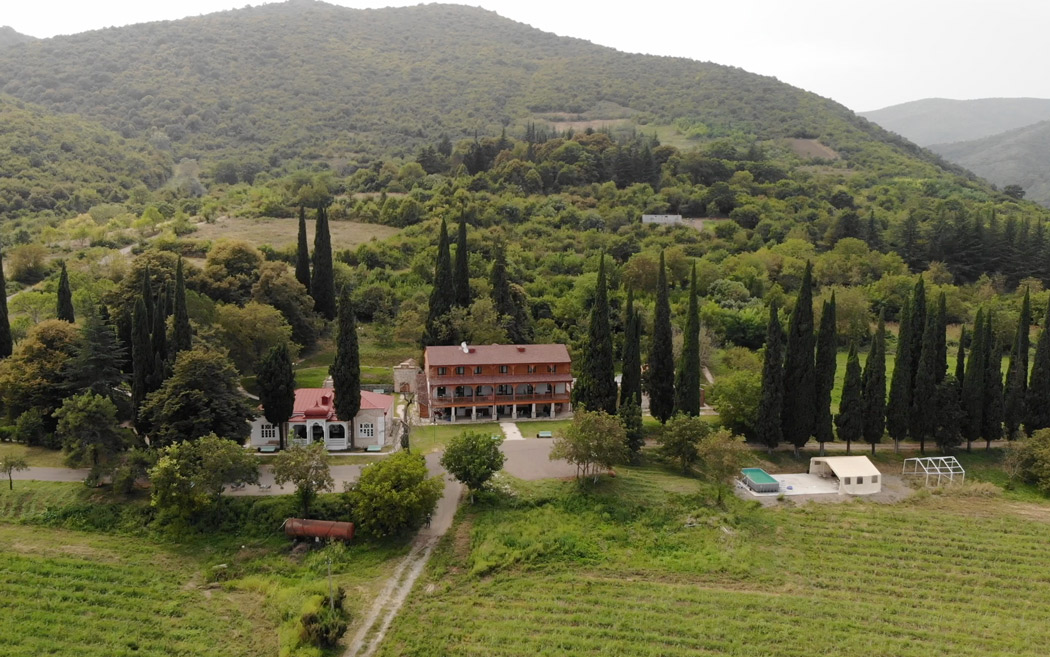 The next day we began to notice the quirks of the place. The menu had no wine list or accompanying wine sales pitch. We had been shown the cellar on the first afternoon and it was filled with unlabeled bottles of white and red. When we ordered glasses of red, they came room temperature the first night and fridge temperature the next. We overheard that the grape vines were too young to produce grapes. Their food was awesome, the staff were nice and we enjoyed that no one was there except the one pair of ladies who we could hear snoring in the room next to us.
The grounds were beautiful and the hotel had so much potential that it was actually frustrating to be there. We thought of an endless list of things that would make it an exceptional destination but, the lack of passion in the staff was wearing on us and we grew excited to get out of there. If we owned that place it would be awesome!
We spent our last two nights in Kakheti at Schuchmann Wine Resort. It was equipped with a restaurant, pool, mini golf, tours, mature grape vines, a gym and more ping pong! We loved our stay there albeit trying at times when the large group of 10 Russians at the pool used a knife to whack off eight sparkling wine bottle tops from the pool deck into the vineyard. Another group fraternising with the manager during dinner time had taken over the music in the large restaurant balcony and started playing pop songs and even Coolio's Ganster's Paradise. As the music mashup continued, more glasses of dryer or fruitier wine were demanded followed by roaring laughter. I then overheard one young woman who was just passed a cigar declare, "This is the best night of my life." I was happy for them, but not happy with their disrespect for the rest of us. Perhaps they were feeling a bit of that entitlement that comes with special treatment.
Our last day in Georgia was upon us and we shared another seatbeltless taxi back to Tbilisi with a nice Swiss couple. We were staying near the airport and had a big decision to make. This was our night, to go or not to go, to Bassiani. The problem was that we needed to leave the hotel by 3AM to catch our 5:30AM flight. Bassiani opened at 12:00 midnight and it was about 20 minutes from our hotel. We went for it, ALL NIGHTER!
First, we went to see our favourite place, Art Home Café, for drinks and some food on their rooftop patio. Next, a quick Yandex Taxi to Bassiani. There was a big line and it was 12:30, but there was movement and everyone was getting in. Close to 1:00AM we were in and quickly made our way down a long hallway into a beautiful concrete bunker of a place. People were dancing away to techno music, the lighting subtle yet effective, no lasers, no CO2 cannons, no LED screens and no bottle service booths. The people were here for music and each other. There was space beside one another to dance, no one was aggressive, it felt like a very pure experience. It seemed like everyone felt truly lucky to have a place like that where they could be free and where they could dance.
We left feeling an even stronger connection to the country and made our way to the airport in time for our flight without even ruffling the sheets at our hotel.
Georgians are proud of their country and it was evident they wanted to share it with us and were grateful and pleased when we told them how much we liked it. We never faced any hostility or discrimination while meeting people or travelling around. In some countries, English speakers have a bad stereotype attached to them. Typically, I notice that locals who see newcomers negatively are opposed to change and hold on to the "how things were" feelings of the past. In Georgia, we experienced the complete opposite. People were generous, kind and many talked about what they loved to get us more excited rather than hiding it.
Why do few people know about Georgia? From discussions we had it seemed as though in the 70 years prior to Georgian independence in 1991, all the Georgian culture, food and wine was exported directly into the Soviet Union. The West and Europe had little exposure and no access to this cultural and historical treasure trove. Following independence, Georgia tumbled through a series of armed conflicts in the 1990s and most recently in 2008 in the Russo-Georgian war in the north leading many to think of Georgia as unsafe. Is Georgia safe? Where we travelled, absolutely. But, you should exercise caution in the border regions of the north.
Our excitement about the country continues to mount as we are already planning a second visit with friends and family. Hopefully that trip will be accompanied by some property viewings.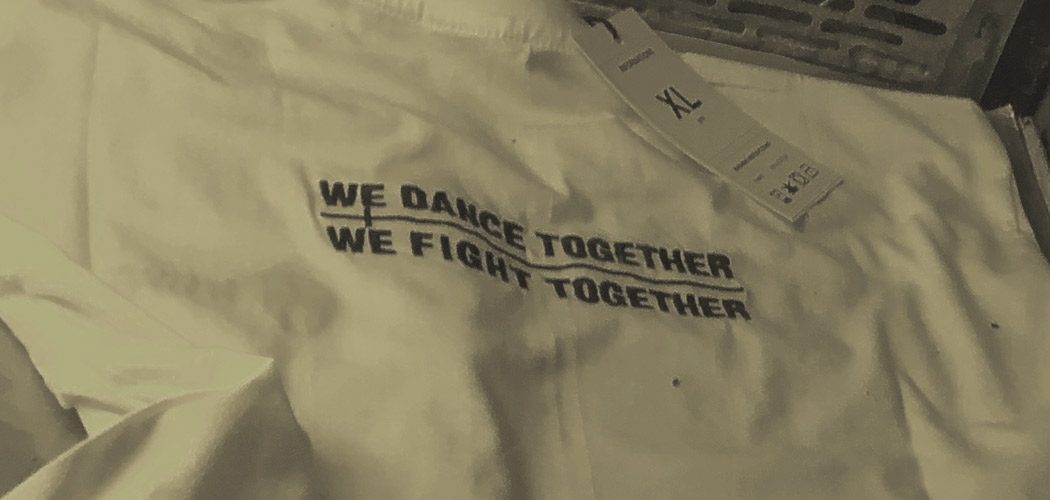 Check Out Our Georgia Video!