The scenic cities of Guilin and Yangshuo were big highlights on our travels in China. We didn't see many Western tourists at these lesser known cities, which made them feel off the beaten path and exciting to visit. They are happening spots where the Chinese love to travel to for holiday.
One of the best things to do in the area is to take the Li River Cruise from Guilin to Yangshuo. As the river meanders, you will see dramatic and stunning views of limestone karsts lined along the river. You will need to book your Li River Cruise in advance since it's a popular attraction. Should you take the luxury boat, deluxe boat or superior boat? Is VIP seating worth the price? Read on, we have got you covered!
We have also included the Longsheng Rice Terraces in the Guilin and Yangshuo itinerary, which is a hidden gem located a couple hours away from Guilin. The views and zen vibes are worth the journey!
Yangshuo and Guilin Itinerary
---
Disclosure: Some of the links below are affiliate links, meaning at no additional cost to you, we will earn a commission if you click through and make a purchase. Regardless, we only recommend products or services we have used or that we believe will add value to our readers. Thank you for supporting us!
How to get to Guilin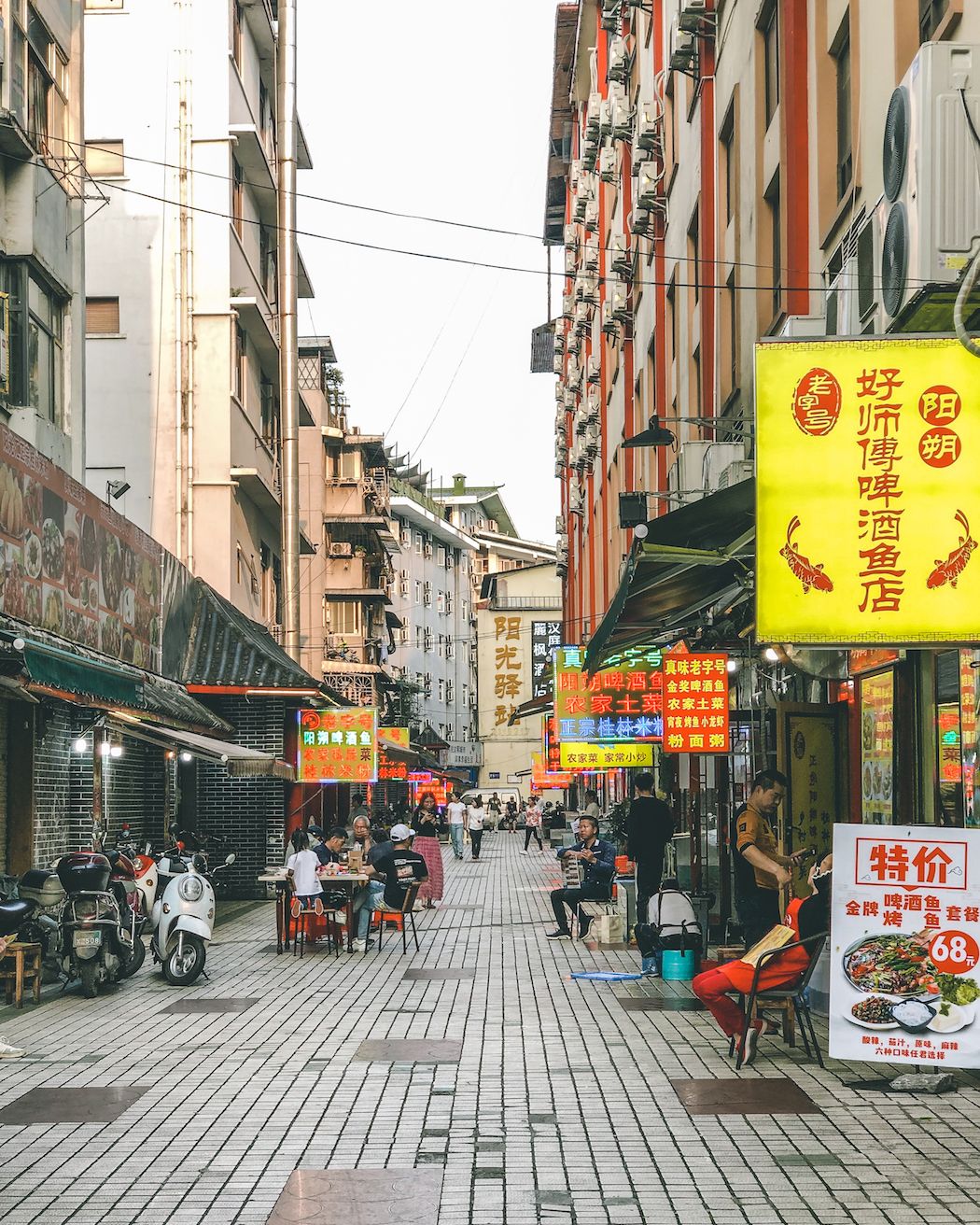 Guilin is easy to add onto your China itinerary, since most major cities in China fly direct or have a high speed train.
Flight from Beijing to to Guilin: 3.25 hours
Flight from Xi'an to Guilin: 2.25 hours
Flight from Shanghai to Guilin: 2.5 hours
Flight from Zhangjiajie: 1.25 hours
🛫 Use Skyscanner to compare flights across different airlines
.
If you fly into Hong Kong or Guangzhou, the best way to get to Guilin is by high-speed train. The train takes around 3 hours. You can easily compare train rates with
12Go
.
Best time to visit Guilin and Yangshuo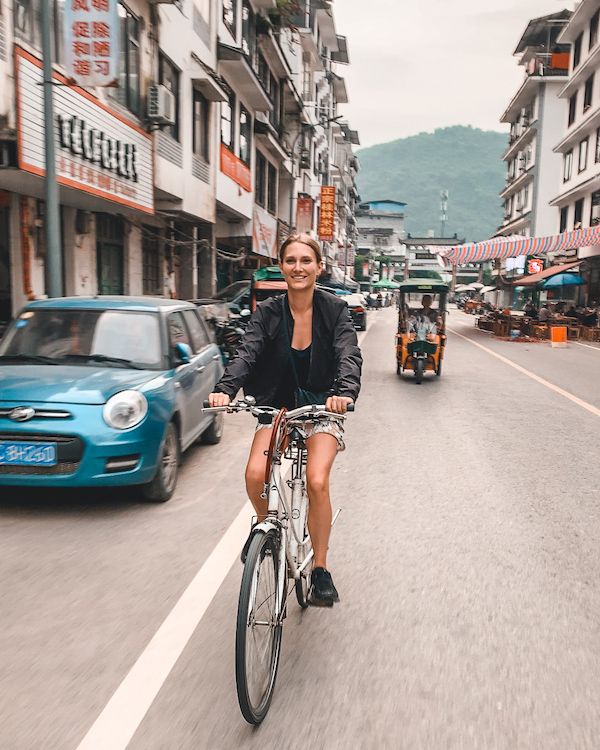 The best time to visit Guilin and Yangshuo is during mid October - mid November. The weather is not too hot or cold and there is less rainfall. You will also avoid any major tourist holidays.
Avoid traveling to Guilin and Yangshuo during monsoon season from May- June when the rain is at its heaviest.
4 Day Guilin and Yangshuo Itinerary
Day 1: Guilin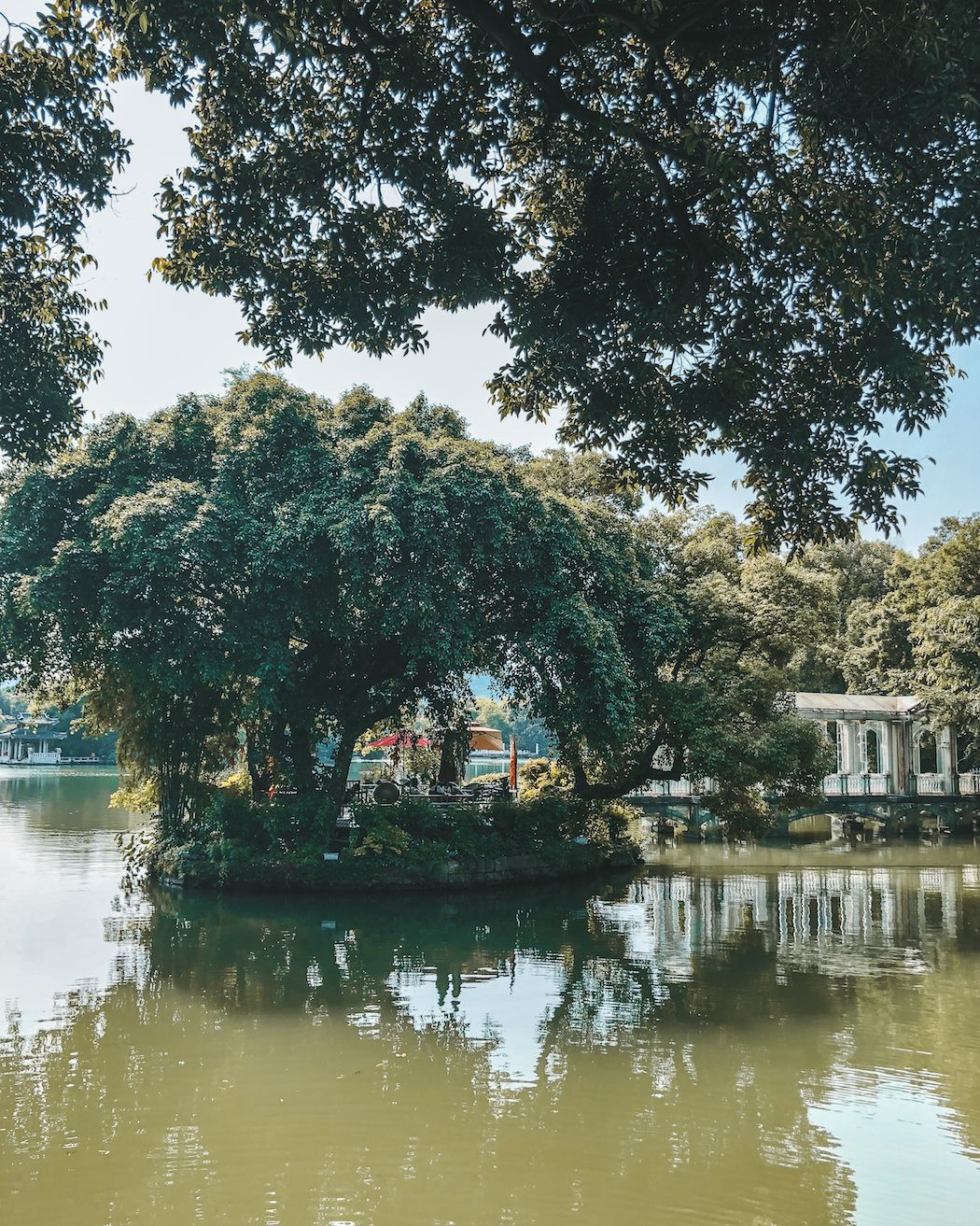 Guilin is a peaceful and scenic city situated along the Li River and is the starting hub for the magnificent Li river cruise.
We enjoyed strolling along the river through the Xiangshan Scenic Area and Riyue Shuangta Cultural Park. They even play spa music along the pathway! We came across a gem of a cafe that sits in the middle of the river (located here). You walk over an ornate glass bridge to get to the seating area. We sat there and enjoyed coffees for a while. That evening we walked through a market that's located on Zhengyang Pedestrian street behind our hostel and tried some local treats.
Where to stay in Guilin
We stayed at Guilin Central Wada Hostel, which has spacious private rooms for a great price
($24 USD per night) and healthy Western food options (a rarity!). The hostel is located in the centre and is close to the river.
If you're looking for a more luxurious stay, check out Li River Hotel Guilin
, which has fantastic views of Shanhu Lake. Its rooms are gorgeous and spacious. It's also located in the centre close to pedestrian streets, shops and the river.
Day 2: Li River Cruise & Yangshuo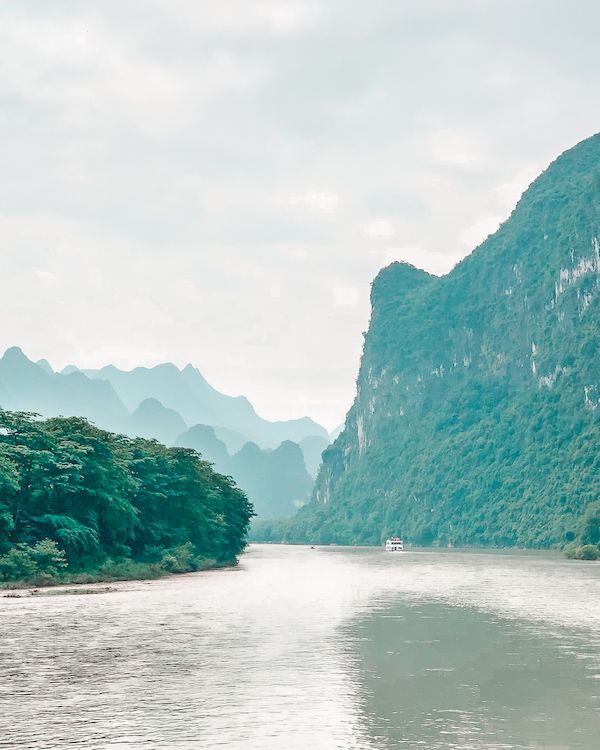 The Li River is one of the most famous and dramatic natural landmarks in China. The river is lined with limestone towers and can be seen on China's 20 Yuan note. It's the perfect way to travel from Guilin to Yangshuo.
We booked our river cruise tour with Li River Cruises on their Deluxe boat. It included pick up from our hostel, a 3.5 hour cruise down the Li River and lunch. There are different tiers of tickets.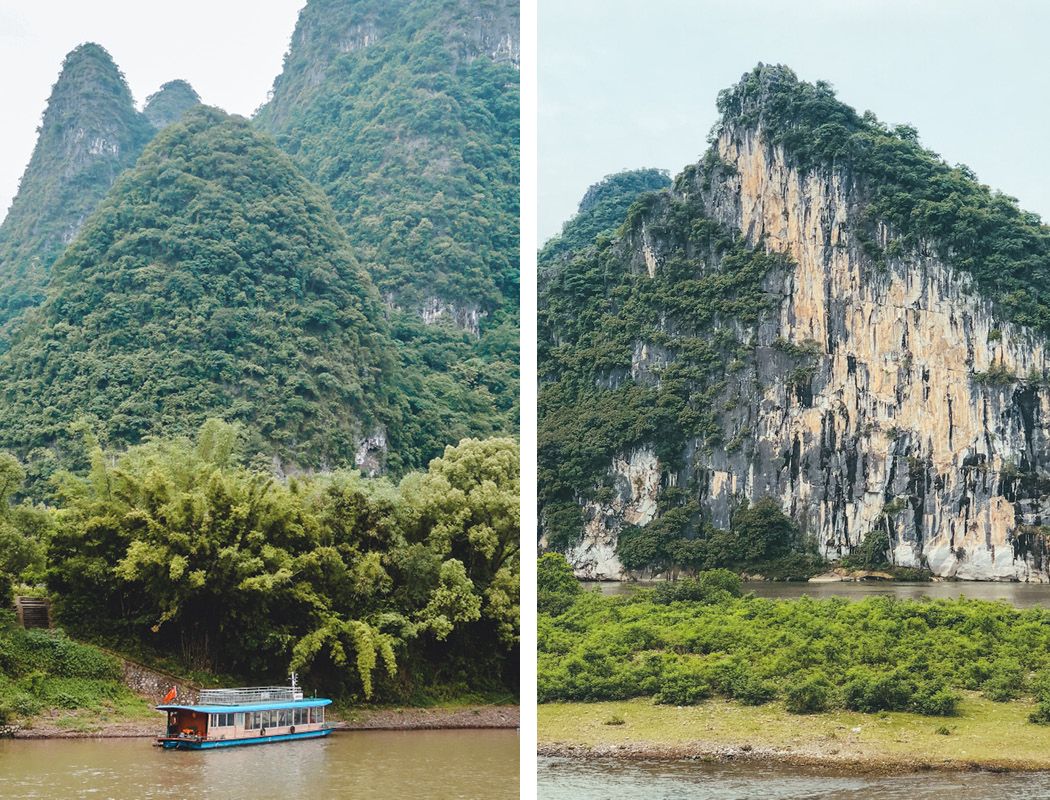 Luxury Cruise vs Deluxe Cruise vs Superior Cruise
When choosing your cruise, there are three different types. The superior cruise is the cheapest, but has over 150 people on board and no reserved seating! The deluxe cruise has about 70 people on board and you can reserve your seats. The luxury cruise is the most expensive boat and has the least amount of people onboard. It only has set dates however, whereas the other cruises operate on a daily basis.
VIP Seating vs Lower Deck Seating
If you choose the luxury cruise or deluxe cruise, you now have to decide on which deck to sit in. The higher the deck, the more expensive the ticket. We chose the VIP section, since it included seats on the top seating deck in the front of the boat, however everyone is allowed to go up to the outside viewing area at the very top. It was quieter in the VIP section, but it didn't provide significant viewing benefits, since the sights are best viewed from up top outside (where everyone on the boat ends up) rather than at your seat.
Li River Cruise Price
Luxury cruise: $177 USD for VIP seating, $139 USD upper deck, $128 USD lower deck.
Deluxe cruise: $139 USD for VIP seating, $115 USD upper deck, $99 USD lower deck.
Superior cruise: $78 USD non-reserved seating
We were surprised that we were the only Western tourists on the boat! It was mostly Chinese tourists, who were very friendly.
Night in Yangshuo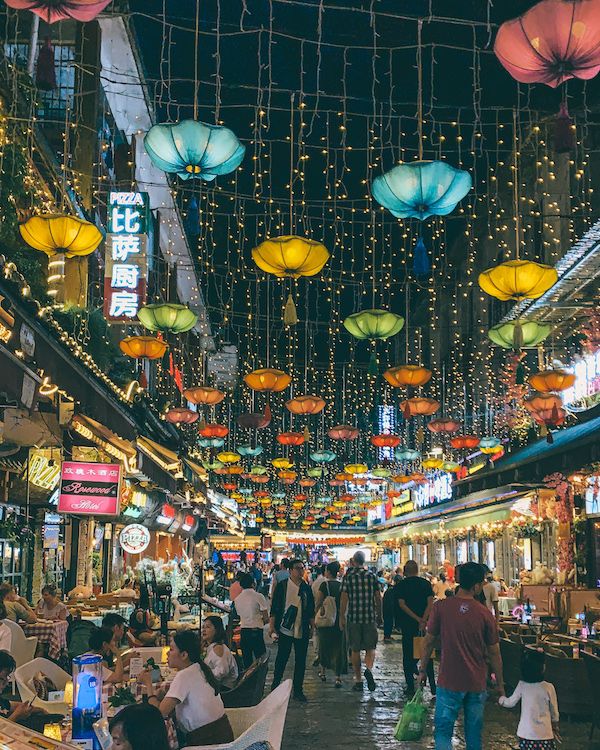 The tour boat dropped us off in Yangshuo, a small but lively city with markets and tons of small shops and restaurants. We recommend eating dinner at Black Pepper (Kali Mirch) Indian Restaurant located in the centre of the city. Their Indian food is delicious and they have a small outdoor patio you can sit at. It was a nice break from Chinese cuisine.
Once you're done dinner, make sure to keep walking through the small streets towards West Street to discover tons of market stalls and shops. At night time the streets light up with all of their hanging lights.
Where to stay in Yangshuo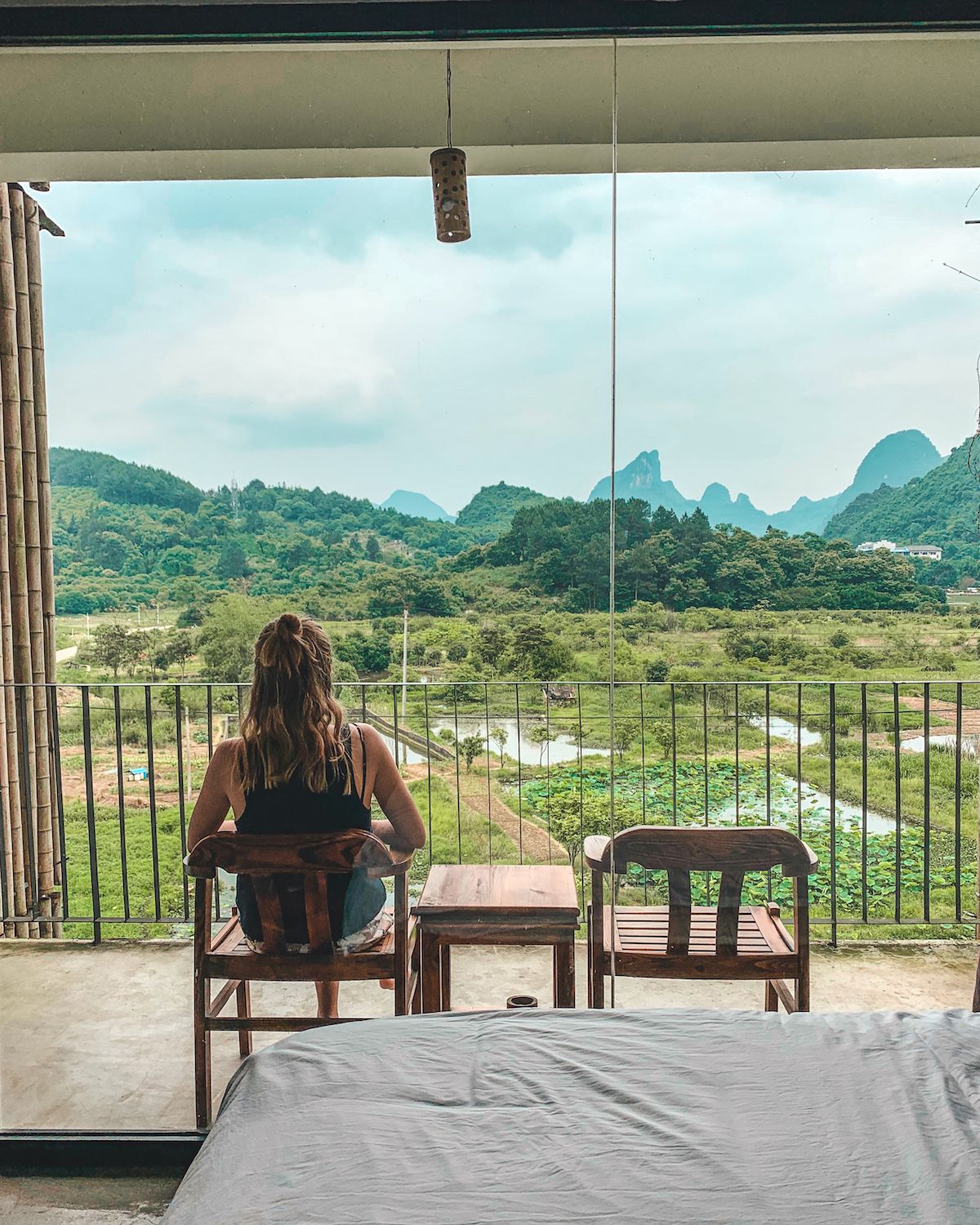 We stayed at Yangshuo Sudder Street Guesthouse, which is amazing value for the room and incredible view you get.
It was $23 USD for a private room. It's a few minutes drive to the centre of the city, but they have free bike rentals in the early evening.
For a more luxurious stay, consider Li River Resort.
The hotel offers breathtaking views of the Li River and Karst mountains and has a large outdoor swimming pool. It's a 7-minute drive away from the centre, but waking up to the view from your room will be worth it.
Days 3-4: Relax and hike in the remote Longsheng rice terraces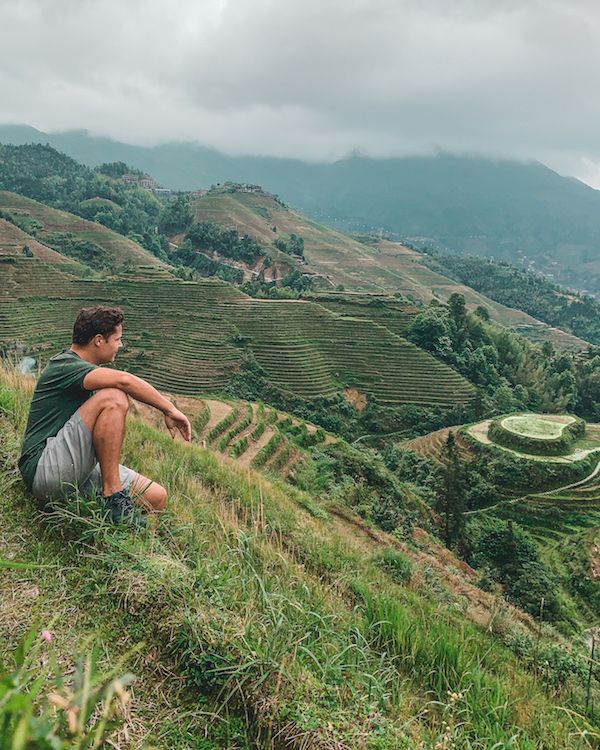 Longsheng (also known as the Longji Rice Terraces) takes a bit of a journey to get to, but it's worth it. The remote and mountainous region is famous for its magnificent landscape, terraced rice paddies and villages.  It's a 3 hour drive from Yangshuo with the last hour up a windy mountain road. We hired a private car transfer for $116 USD, which can be organized with your hotel.  There is an option to take the bus for cheaper, but it will add an extra couple hours to your journey.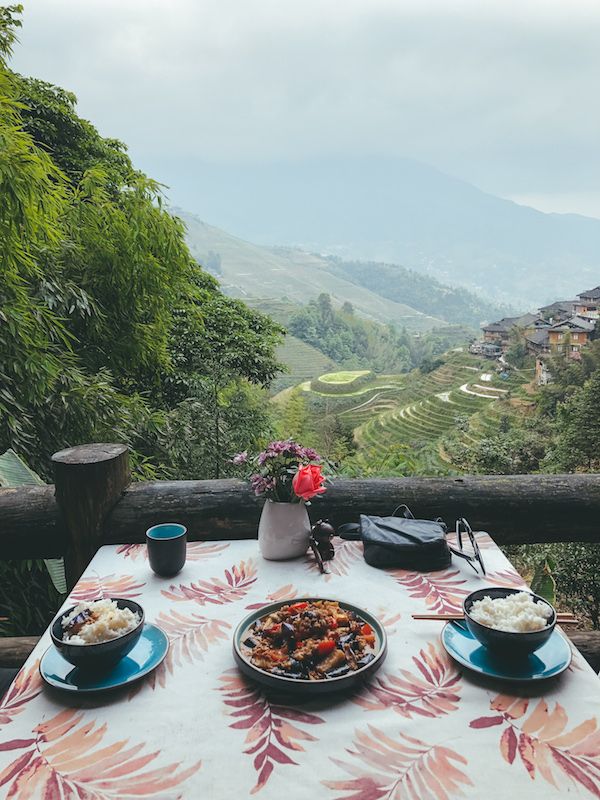 We stayed at
Rice View Villa
, which made the journey worth it.
The boutique guesthouse overlooks the rice paddies and the minute you arrive you feel like you like you have entered a zen oasis
. The next day we spent time hiking up the rice paddies to the see the marvellous views. Back at the hotel we relaxed and sipped tea on the outdoor terrace while gazing at the view.
See rates for Rice View Villa
To get back to the Guilin International Airport from Longsheng, we hired a private car transfer from our hotel, which cost us $88 USD. The drive takes under two hours.
---
Start planning your trip to China
---
Pin and save this Yangshuo and Guilin itinerary for later: