Get the most out of this vibrant and energetic city by reading our travel tips on what to avoid in Rio. We list 15 things to know before going to Rio De Janiero.
15 things to know about Rio De Janeiro
1. Avoid getting ripped off when renting beach umbrellas and chairs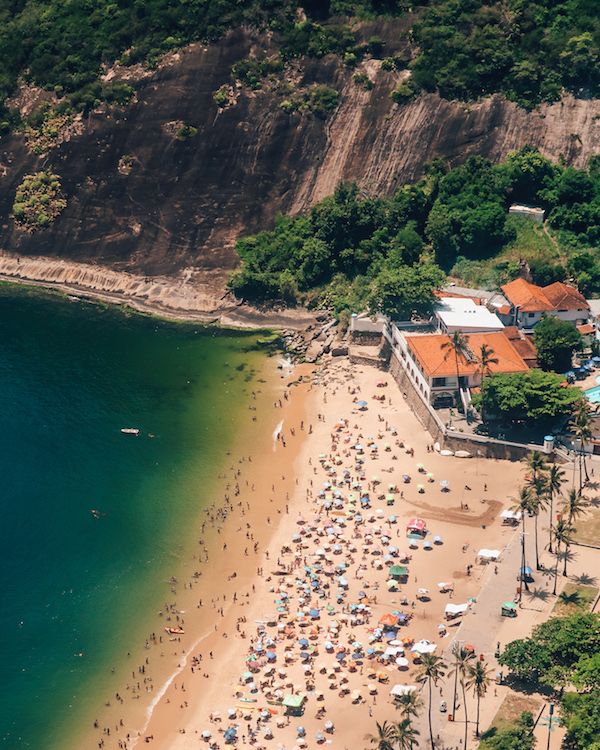 We paid 20 R$ ($5.50 USD) every day for two chairs and an umbrella at Ipanema, Copacabana, and Praia Vermelha. We first had offers of up to 45 R$! There were no problems with 20R$ for us English speakers, so you could probably bargain lower if you're in the mood. Also, watch out for your bar tab, it's easy to lose count.
2. Avoid avoiding the favelas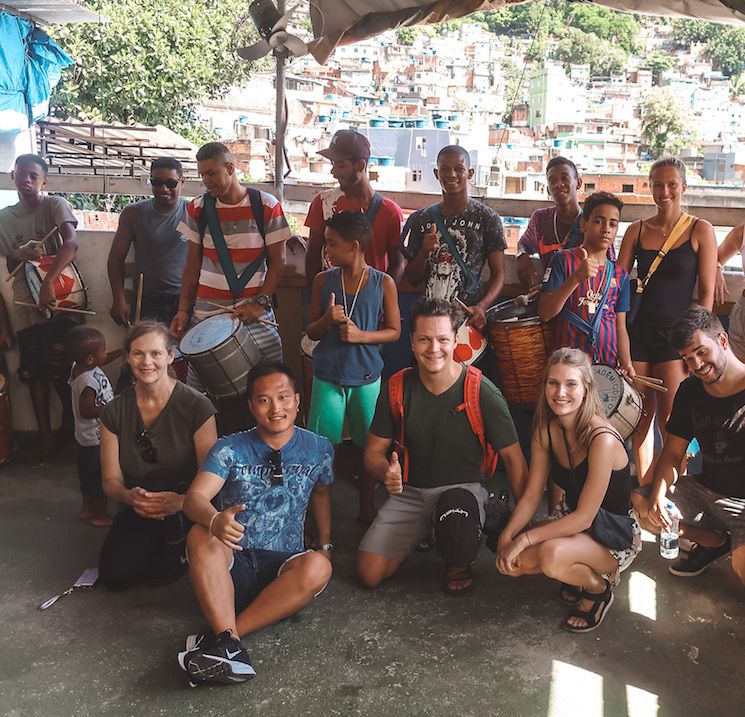 We visited two favelas in Rio. The first, is the largest in Brazil called Rochina. We went on an amazing walking tour put on by a favela resident. They even encourage you to bring your camera. Our favourite part of the tour was visiting the school where the kids put on a musical performance. Everyone was very friendly as we walked through the favela.
We also went to The Maze, the most exciting jazz bar we have ever been to. They put on a great show the first Friday of the month. It's a must visit!
We learned that in the favelas with gang activity, the people living there live in symbiosis with the dealers. Interestingly, we also learned how much everyone there values the children.
3. Avoid thinking there is a celebrity on the beach when you hear people clapping at someone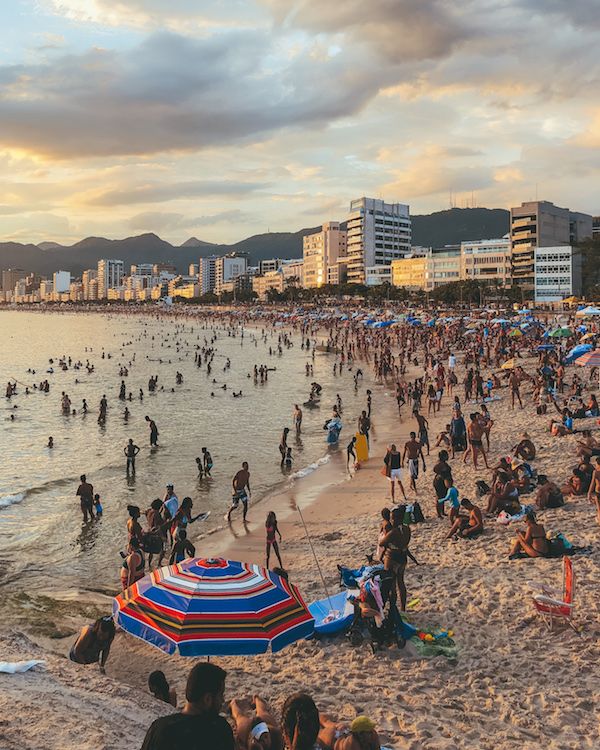 This is actually a genius idea to identify a lost child. If a child gets lost, someone takes them around their shoulders up and down the beach while people clap, that way the parent can listen and find them! Boy were we confused by that one.
4. Avoid taking regular marked taxis in Rio, use Uber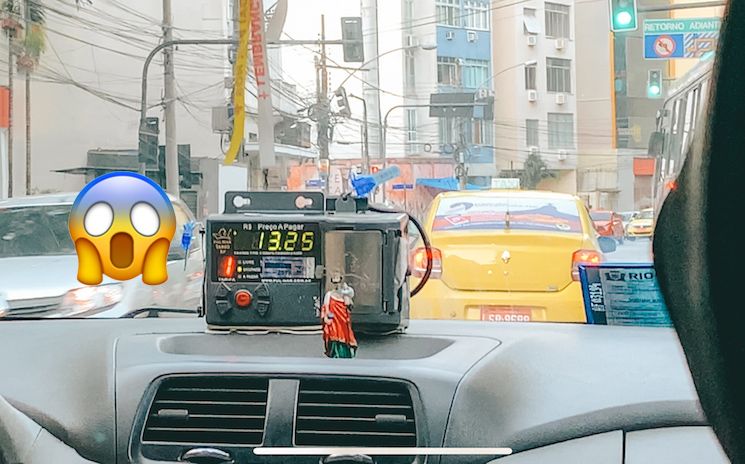 Uber in Rio de Janeiro is awesome! We tried taking a taxi one day and found out that the fare was going to be about 4x the price of an Uber. We jumped out a quarter of the way home and ordered an Uber which was still cheaper than going the full route. Ubers are also air conditioned.
5. Avoid the Brazilian Steakhouse Fogo De Chao
Not only was it identical to the ones in the USA and similar to Brazilian steakhouses in Canada, we realized that we don't like playing the "what cut of meat is this" game. Treat yourself to a proper Brazilian steak cooked how you want at the 2018 Micheline guide restaurant, CT Boucherie. You will pay the same price!
6. Avoid buying the beautiful drinks on the trays at the beach in Rio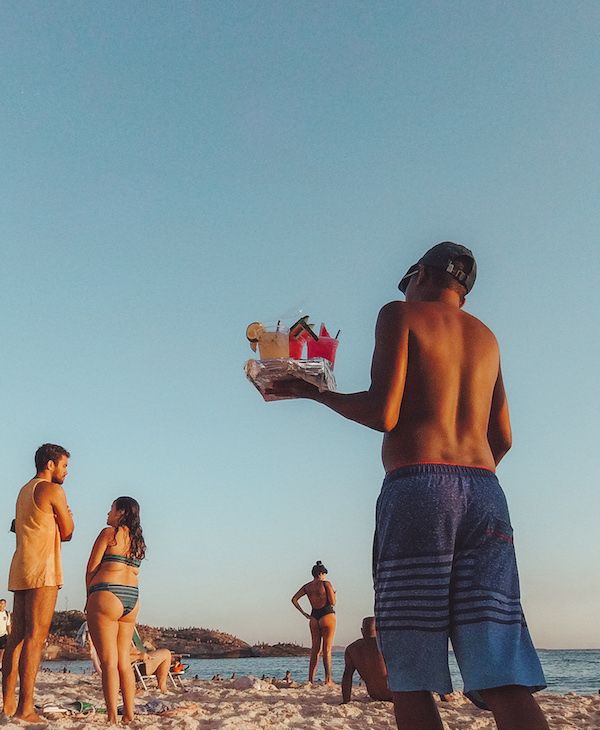 Although they look refreshing and delicious, some are made with an undistinguishable alcohol and have a sickly sweet chemical taste. We were told by locals on the beach not to buy them.
7. Avoid wearing all black
I love a chic all-black outfit, however, you'll stick out like a sore thumb in the colourful city of Rio De Janeiro!
8. Avoid arriving at the Christ The Redeemer tram station without an online ticket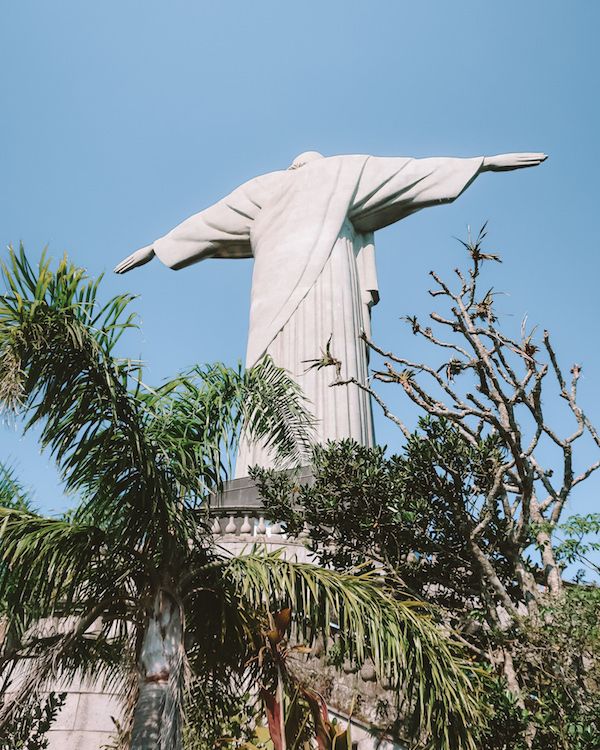 It's cheaper and you can skip a big line. You also don't have to print the ticket, you can show the ticket on your phone. The restaurant is very satisfying up top, so get a bit extra out of your ticket by trying a huge quarter of watermelon or Frango Cubano (Cuban style Chicken) at a great value.
9. Avoid having big cameras, flashy jewellery and luxury purses when you're out and about the city
Rio has a reputation for snatch and grabs. These crimes are made by opportunistic thieves looking for a quick win. A good rule of thumb is to only bring with you the necessities like your phone and cash. On beach days we didn't bring our phones. We had no problems with Cecily's little purse or a backpack when we went to the tourist sites.
10. Avoid bringing anything valuable to the beach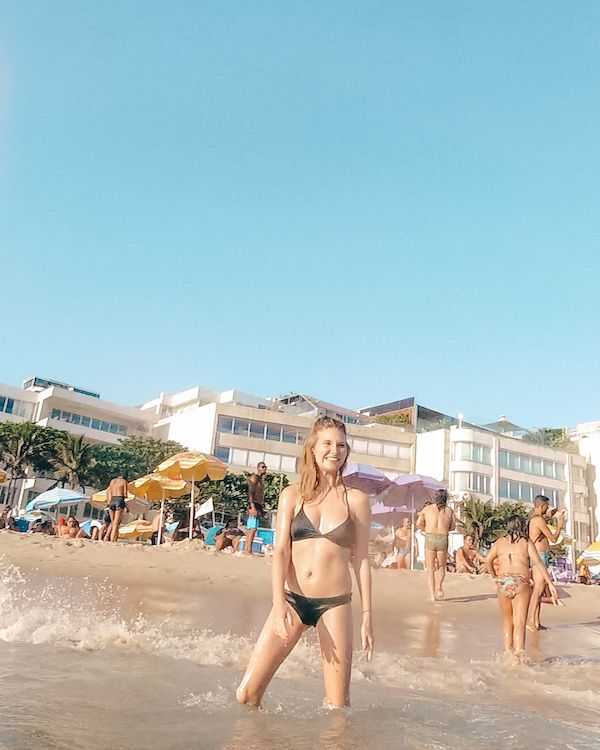 One scam in Rio is a beach cleaner mindlessly going about "cleaning the beach" until you look away and woop your bag is gone. Stay at a hotel or Airbnb close to the beach so you can walk down with just some cash. Also, the beach goers are very friendly. Asking someone to look after your bag while you go for a dip is completely normal. We were once asked twice in 30 minutes, I guess we look trustworthy!
11. Avoid buying Sugarloaf Mountain gondola tickets on arrival – buy online!
As with many attractions, online tickets are cheaper (buy tickets here). As a bonus, to make the most of your day consider heading to the beautiful Praia Vermelha, just a three-minute walk away.
12. Avoid going to Canastra bar later than 6:30PM on a Tuesday if you want to get a table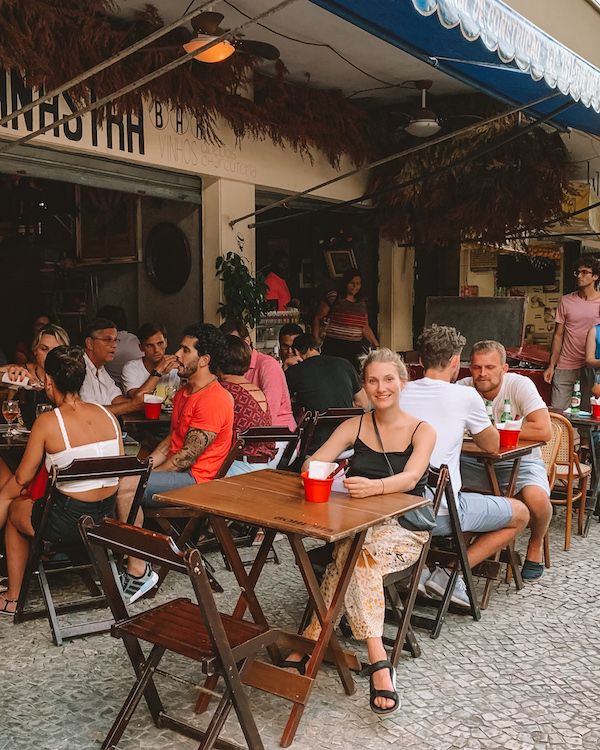 On Tuesdays, the hottest locals bar in Rio fills up not only the venue but the entire street as well. Find a table, sit back and enjoy your caipirinha, cold Stella or Brazilian rose wine while ordering tapas. This is the perfect place for people watching all night. After, take a walk through the crowd and check out all the vendors that pop up to supply the street party through the night.
13. Avoid thinking Rio is a dangerous city where you must watch your back at all times
It's a place where you need to travel smartly, but not in fear. It's easy to get deep into the news about the crazy homicide rate and tourist horror stories. We still felt more sketched out in Naples, Italy than at any point in Rio.
14. Avoid thinking you can breeze through Rio international airport – arrive three hours in advance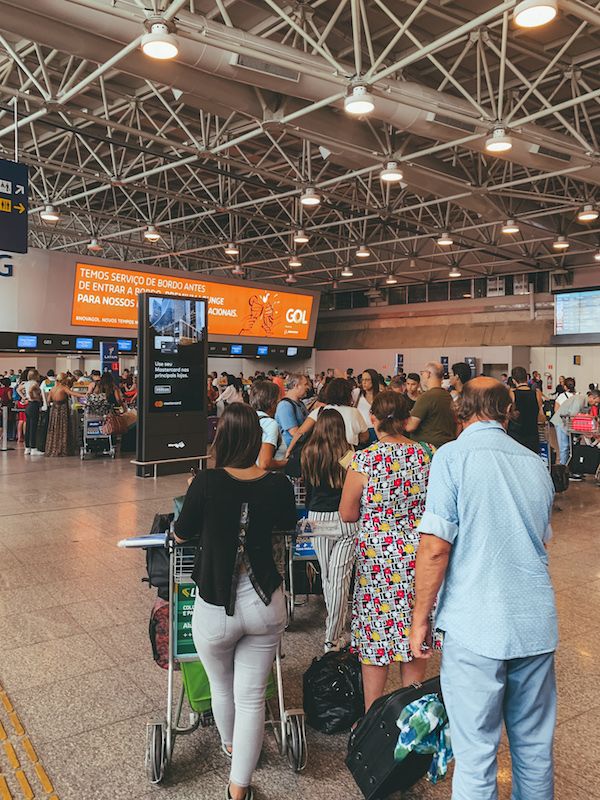 They weren't kidding on that airline check in email. Three hours for an international flight. There is something terribly inefficient about the check in/bag check process that leads to long very long and slow lines.
15. Avoid remote working in Rio
As far as we could tell there was no laptop friendly cafe culture in Rio. Every place we tried had really bad internet or were very noisy places. Starbucks was our best option but only had 2 hours free wifi per purchase. Wifi in our Airbnb was excellent. Try warning your colleagues that the internet is not so great, so you can kick off to the beach and head to Bossa Nova shows instead!
Now that you've read these things to know about Rio De Janeiro, check out our list of 14 Unique Things to do in Rio to help with your trip planning!
Save and pin this Rio travel guide for later: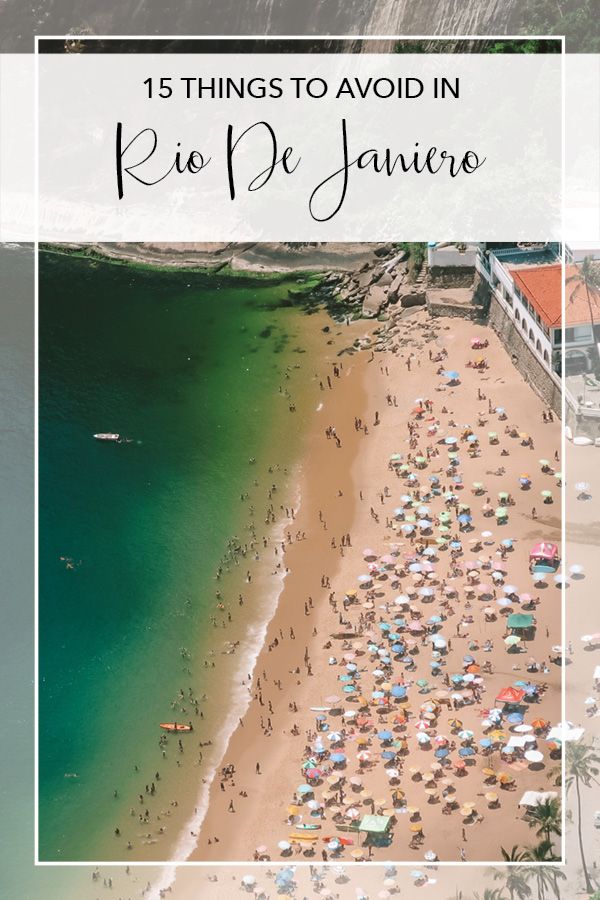 Check out what it was like in our Rio vlog: