Rio is a vibrant city filled with music, beaches and culture. Immerse yourself into the energetic Carioca culture and the explore unique neighbourhoods that the city has to offer. There are many alternative things to do in Rio outside of the typical touristy attractions. From lazy beach days with locals to a night out at a hidden jazz club on top of a hill, we list 10 non touristy things to do in Rio De Janeiro you don't want to miss.
10 Alternative Things to do in Rio De Janeiro
1. Have a beach day at Ipanema Beach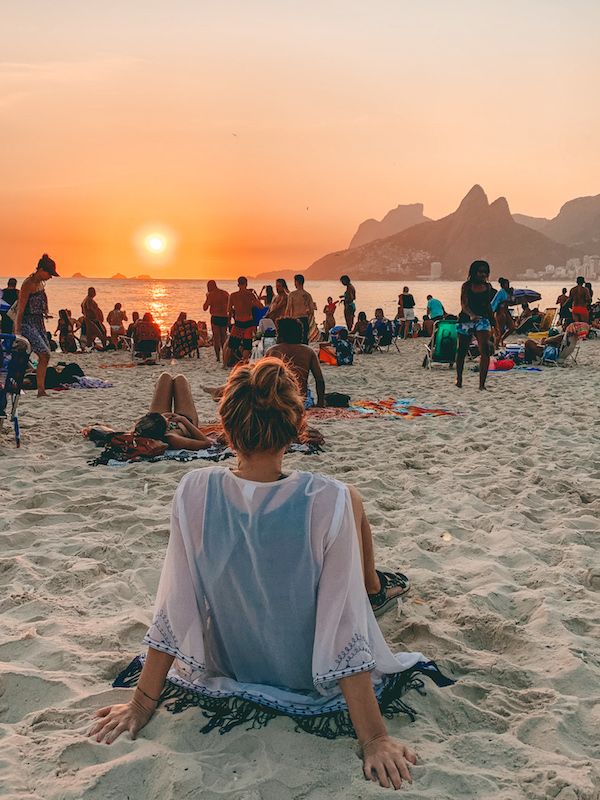 Known from the famous Bossa Nova song, "Girl from Ipanema", Ipanema Beach is Rio's beach to be at and is less touristy than its neighbour Copacabana. We often hung around Postos 7 (lifeguard station and landmark) which is slightly less crowded than Postos 8 and 9. One beach umbrella and two chairs cost 20 Brazilian Reals ($6 USD) for the whole day. The water is surprisingly colder than expected, but refreshing in the blasting heat of the sun.
Top Tip:
Stay at an apartment or hotel close to Ipanema Beach
so you don't have to bring your devices and worry about things getting stolen!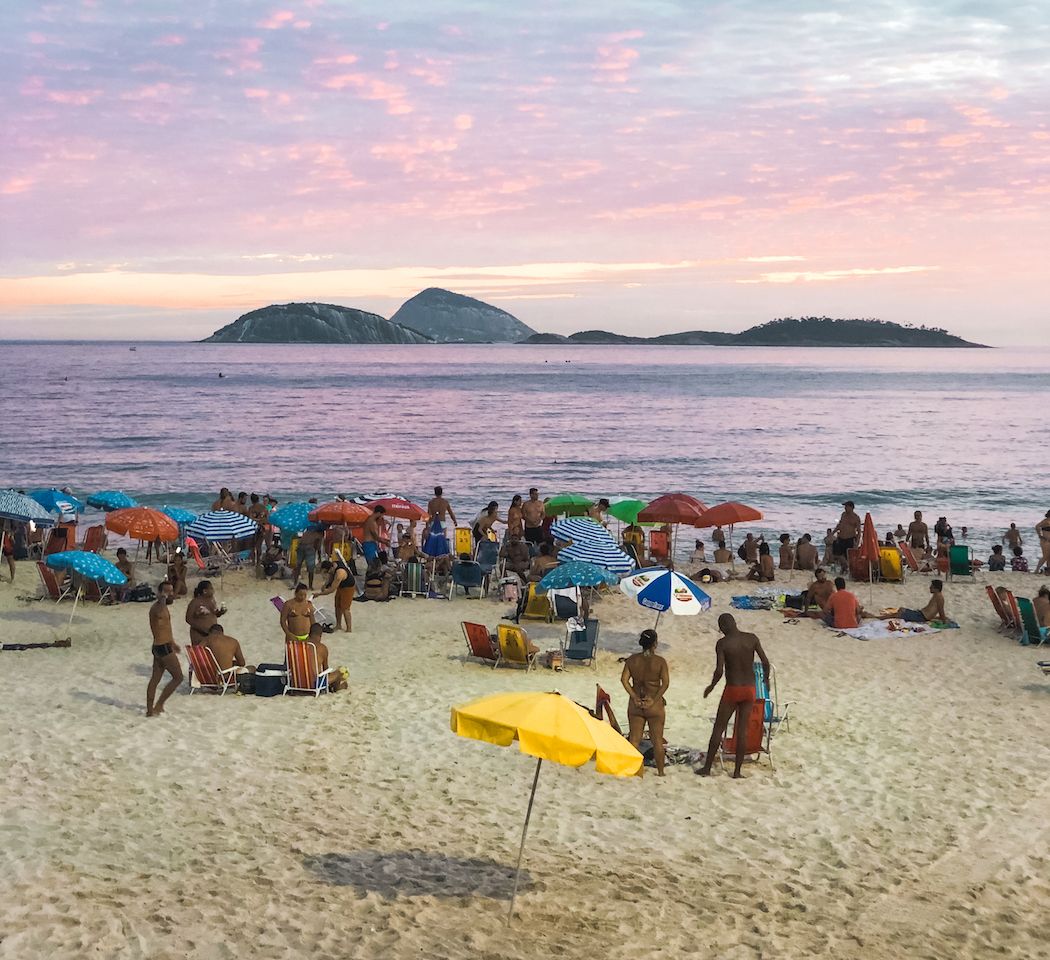 We went for a walk to Postos 9 to find the famous sandwich stand that was featured on Anthony Bourdain: No Reservations. The small food stand on the beach is called Barraca do Uruguai. We ordered a delicious chicken sandwich with chimichurri and should have ordered two!
We saw what we thought was ice cold fruit juice being served by people walking up and down the beach with trays. We bought one, took a sip, and realized it was an alcoholic beverage with a chemical sweet flavour. One of the locals there saw us drinking it and made a gesture to not consume it. After feeling wobbly from two sips, we threw it out. Better safe than sorry!
Read our article on 15 things to avoid in Rio De Janeiro  
2. See a Bossa Nova show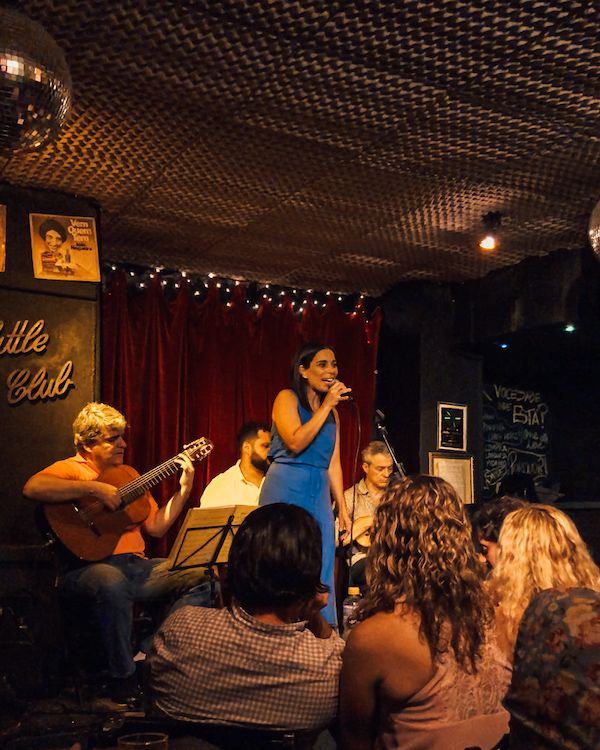 We LOVE Bossa Nova and were excited to see many Bossa Nova shows on while we were in Rio. We saw our first Bossa Nova show at Little Club, which was one of the clubs where Bossa Nova started in the late 1950s. In 1960 Sergio Mendes made his mark here by having gigs on Sundays afternoons. We saw Flavia Dantas and she sounded exactly like you would imagine! The staff was very friendly and the drinks and small bites were good.  
3. Party at The Maze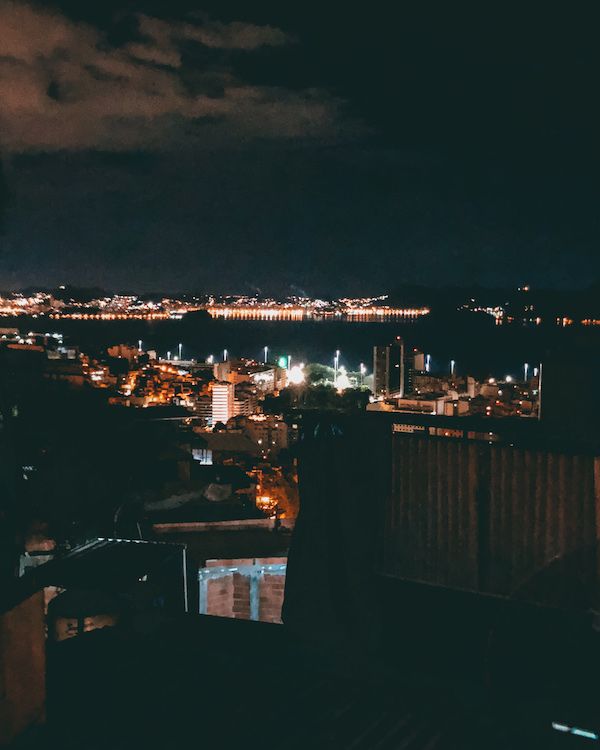 If you're in Rio the first Friday of the month you won't want to miss going to The Maze, which hosts one of the best jazz nights in the city! It is one of the best hidden gems in Rio De Janeiro.
The Maze is a guesthouse perched on the top of a hill overlooking the city and has an excellent outdoor patio. Vans escort people from the bottom to the top of the favela and employees lead people through the literal maze of a street to get to the party.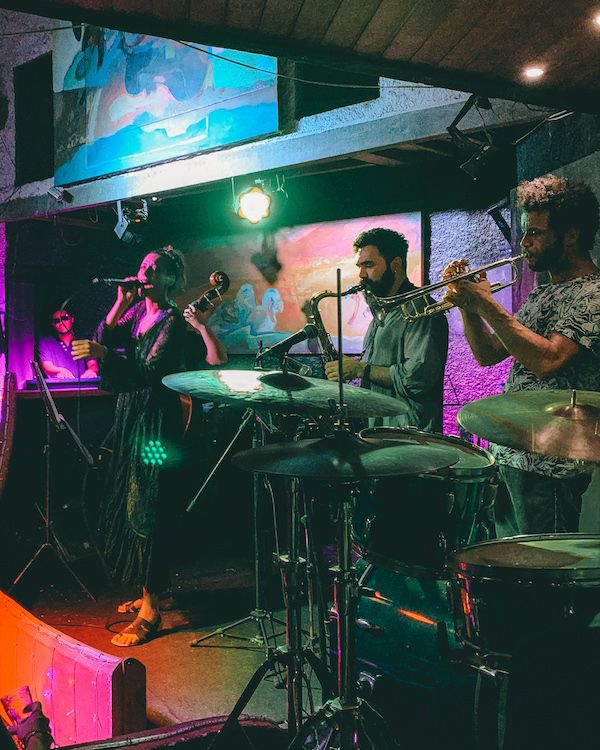 The party was lively and filled with hip looking people young and old. The event went from 10pm-4am and the jazz ensemble included a trumpet, sax, piano, upright bass, jazz guitar, and a vocalist.
See our list of the 9 best bars in Rio for socializing and music.
4. Explore the Bohemian Neighbourhood of Santa Teresa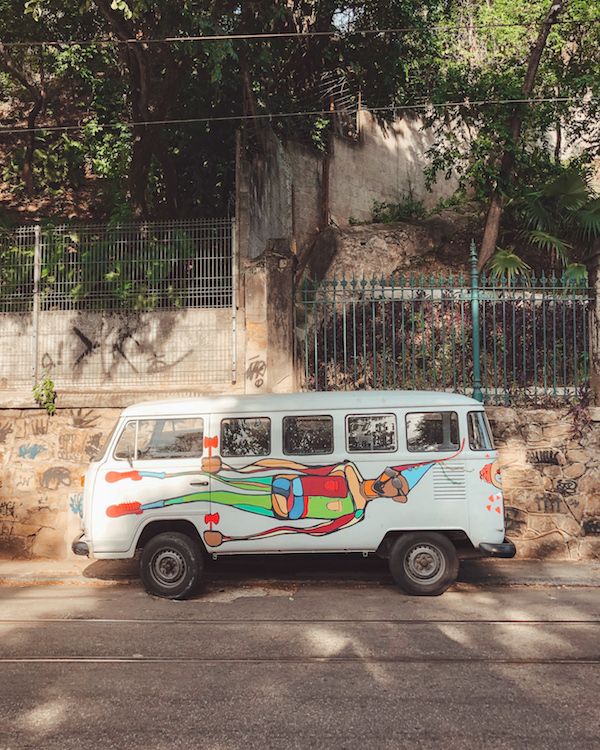 To start your exploring of the Santa Teresa neighbourhood, take the colourful Escardia steps (one of the most instagrammable places in Rio) up to the top.
Once at the top of the stairs take a left to start exploring the bohemian neighbourhood of Santa Teresa. As Anthony Bourdain said, it's "the most magical neighbourhood of Rio De Janeiro." At the top of the road you'll find a quirky bar/convenience store named Bar do Serginho with graffiti, plastic tables and chairs lining the streets. We ordered a couple caipirinhas, cold beer and a satisfying salami pizza. It has that neighbourhood bodega kind of feel and was the perfect spot for lunch.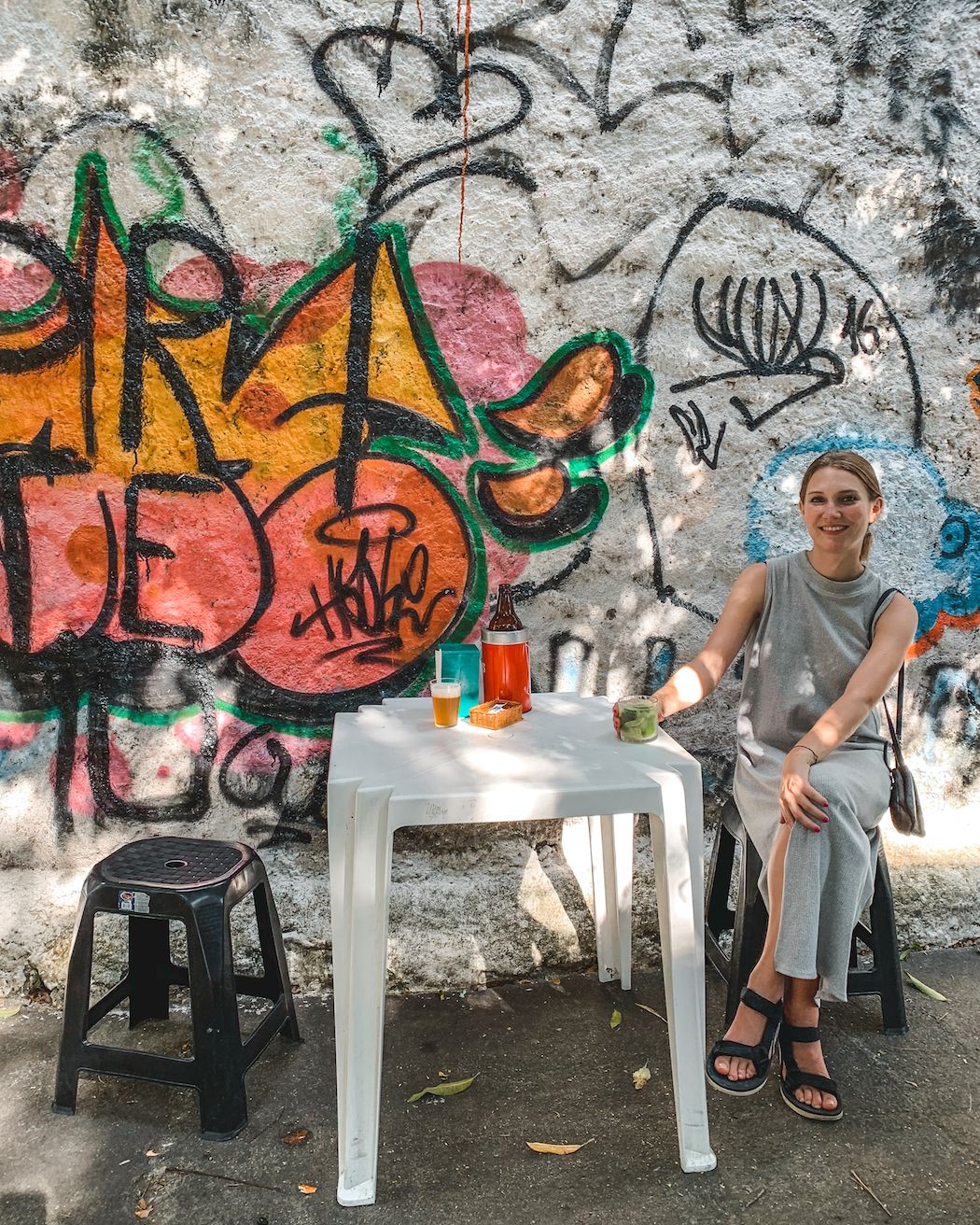 From there, head down the street to explore funky bars and shops along the way. We were lucky to get a seat at Explorer Bar, located on the side of a hill overlooking the main strip. It's in a teal coloured house and serves up delicious cocktails. Make a reservation in advance for this place!
5. Try Brazil's signature drink, the Caipirinha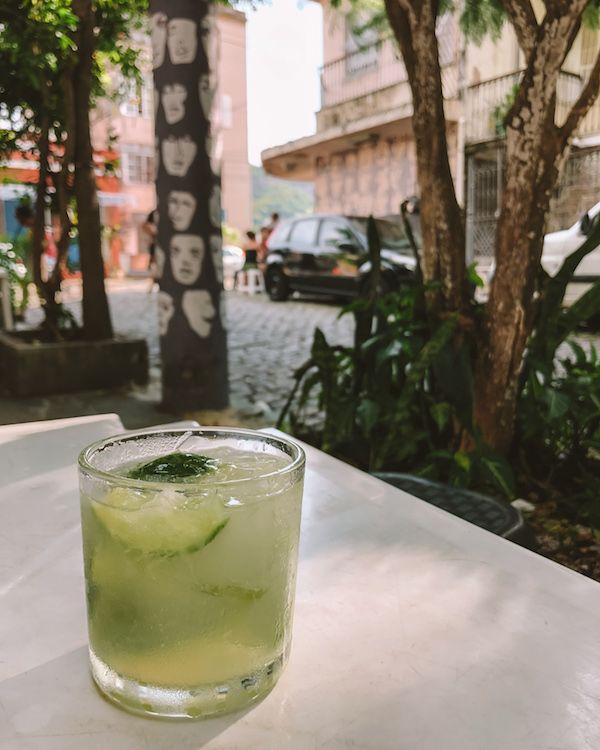 The Caipirinha is a cocktail simply consisting of muddled lime, sugar, and Cachaça, a liquor made from sugarcane. It's the perfect go-to cocktail when you're not in the mood for wine or beer. You find it everywhere!
6. Hang out with locals at Canastra Bar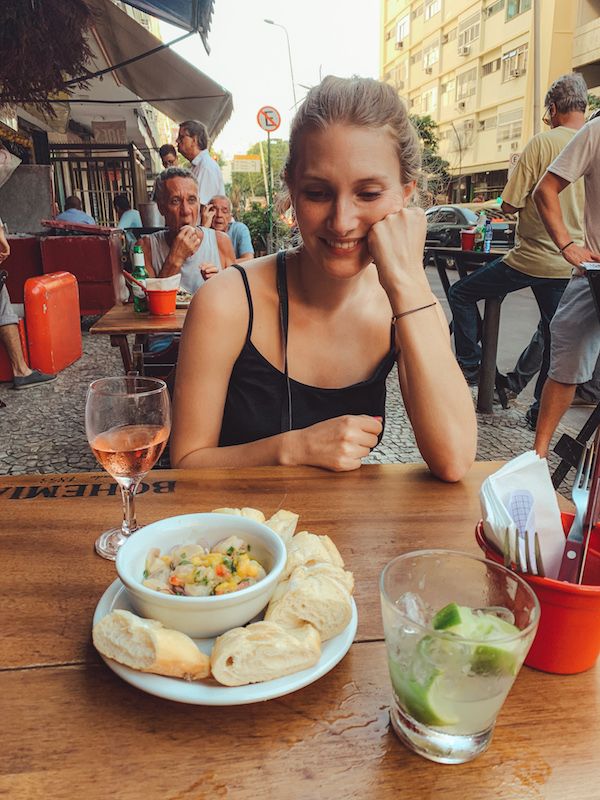 Canastra Bar is a Brazilian wine and cheese bar in the happening Ipanema neighbourhood with outdoor seating that is great for people watching. On Tuesdays it gets very lively with vendors and people filling up on the street beside the bar. Most of the ladies got bottles of Brazilian rose wine and the guys got buckets of Stella.
We sat there for hours and ordered the burrata and ceviche. It felt like we were really part of the local scene. It was excellent!
7. Drink the coldest beer in the world!
Cariocas (people from Rio) love their beer cold, brain freezing cold. It was an amazing fact that often lead to ordering another. The coldest beer we found in the city was at Bar Urca, an award winning seafood restaurant.
8. Explore the Leblon neighbourhood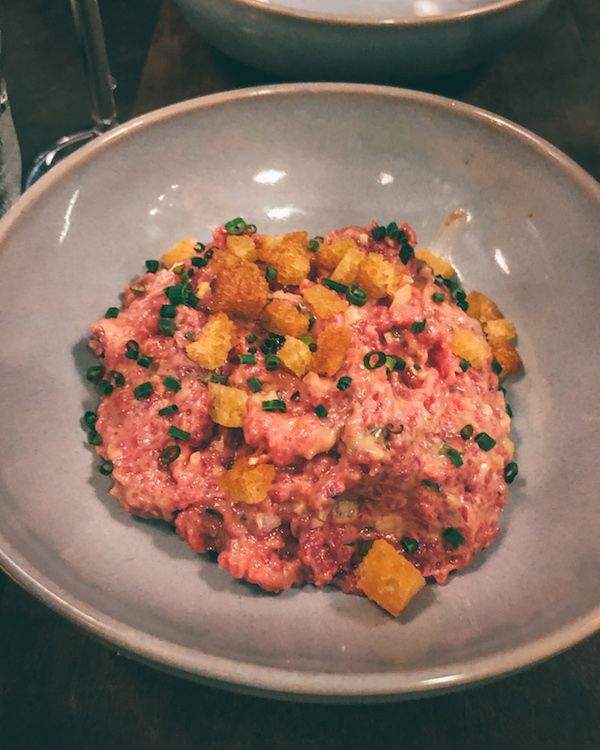 Leblon is the affluent neighbourhood of Rio and has good shopping and restaurants. Walk the street Rua Dias Ferreira to find tons of trendy restaurants and bars.
We ate at CT Boucherie which is a steakhouse in the Michelin guide and was truly one of the best steaks of our lives. Ari ordered the ribeye and I ordered the prime rib. Each tasted fantastically different in a way that whispered, "come try me next time." As we ate, servers would come by offering up different fresh made sides. The Brazilian bubbly rose was excellent, so much so that we had a couple glasses of it for dessert. Leblon gets lively at night so we continued bar hopping down the strip.
9. Go on a walking Favela tour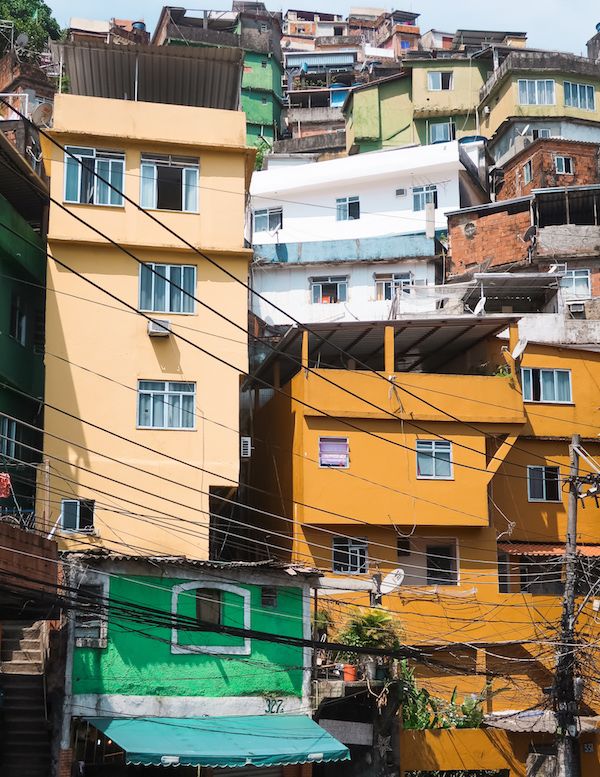 Although you will most likely only see tourists on this tour, this is an alternative thing to do in Rio De Janeiro, as not many tourists will actually do.
Rochina, the largest favela in Rio is an eye-opening place. We were taken on a tour with Favela Walking Tour by a man who lives in the favela. It was very interesting to see inside, how people lived, what the people were like and to hear stories from our guide.
Our guide then took us to a local school where the kids played music for us with drums. It was an amazing experience to see them so happy. One asked Ari if he was making a video for YouTube, then grabbed his friend and danced like crazy for the camera!  
We always felt safe although there were drug dealers around. They are a part of the community just like everyone else and there is a mutual respect between the people. "Don't take photos here" our guide would say as we walked by a few dealers.
We highly recommend going on this tour. Read the reviews here.
10. Bike ride around Rodrigo de Freitas Lagoon and have a picnic
Rent some bikes enjoy cycling around the 7km lake, a natural wonder in the centre of the city. Bring a blanket and some groceries to have a picnic in a grass patch along the way!
We hope you enjoyed these 10 non-touristy things to do in Rio De Janeiro!
Burnt Potato 🥔💨: Fogo De Chao
➡️ a touristy thing to avoid in Rio!
We were so excited to go to a Brazilian steakhouse because we love them back in North America. It turned out to be expensive and underwhelming as it was the exact same experience. You sit there always guessing which one is the best cut of meat, trying to avoid the bad ones. We recommend skipping this and going to CT Boucherie instead, which is in the Michelin guide and around the same price. It was WAY better and one of our favourite restaurants of the trip!
Bonus: Our top hotel picks in Rio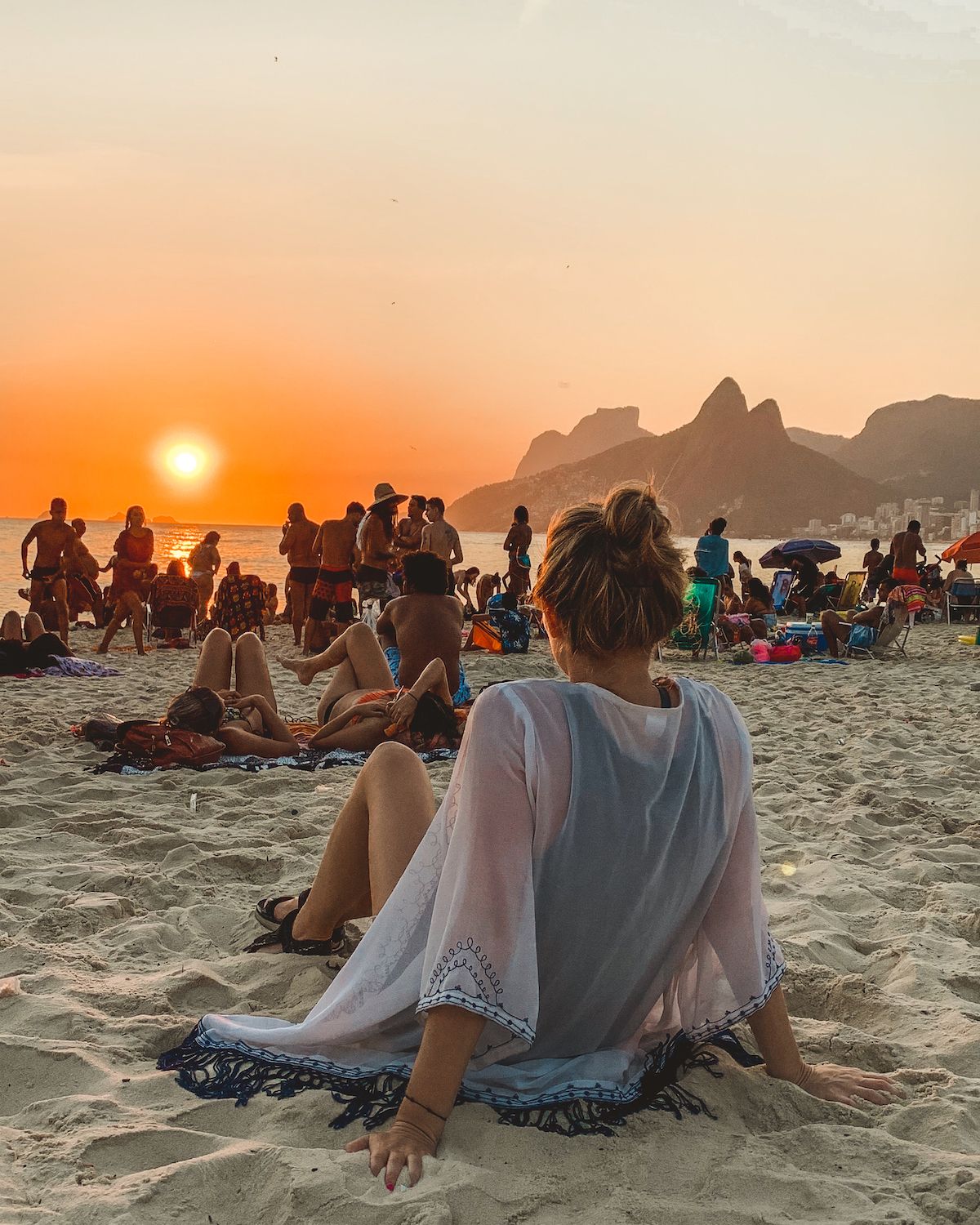 We recommend staying in the Ipanema neighbourhood, since it's less touristy than its neighbour, Copacabana, and has a great local's scene. Ipanema has some of the best beaches, restaurants and bars in the city.
Our top hotel/apartment picks close to Ipanema Beach:
Browse more stays in Ipanema
---
Check out what it was like in our video:
---
Save and pin these alternative things to do in Rio De Janeiro for later: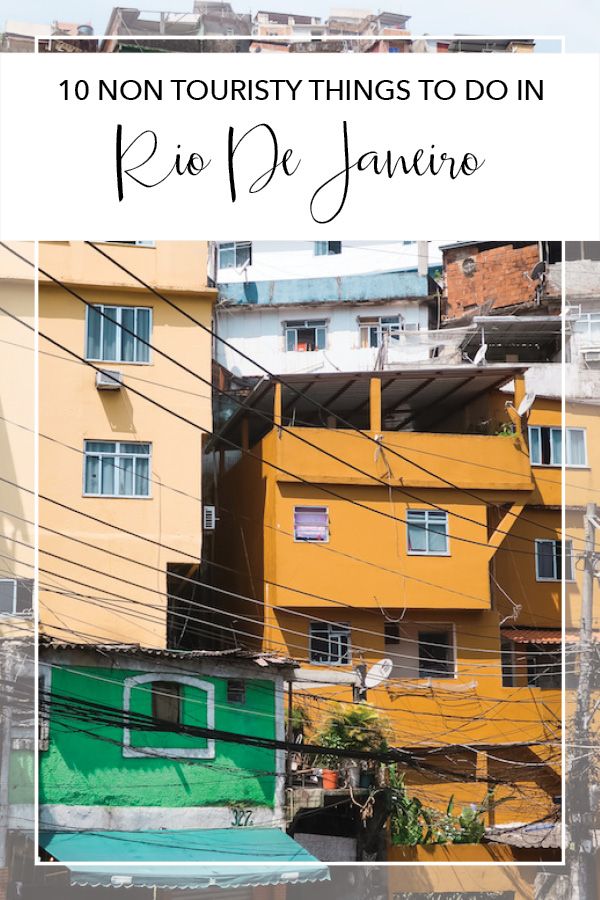 ---
Looking for more travel inspiration? Check out our list of Unique Cultural Experiences to Inspire Your Next Trip and list of 20 Relaxation Travel Ideas to Clear Your Mind
Are you a food lover? Don't miss our list of Outstanding Culinary Experiences Around the World.
Other tropical beach destinations you may like: