The weeks leading to our departure from Vancouver were frenetic. I had just bought a house in Kitchener, Ontario at the end of 2017 and was spending half my time there renovating it to rent out as an income property. Time was running short and I needed to finish the work and find a tenant before we departed to Switzerland on July 27. We had to get all of our travel shots/medications, make sure we got our Chinese visa, pack our backpacks and move our belongings from our Vancouver apartment into storage while winding down work at our jobs.  
Planning our travel vaccines was surprisingly painless thanks to Penny at Travel Safe Clinic. The only problem was that certain vaccines like rabies had to be administered within strict timelines and unfortunately, I had my own with all the travel back and forth to the Kitchener house! Luckily, I had a little bit of flexibility and was able to make it on time for all of our shots. By June 5 we were completely inoculated. In all we received 7 shots each and had our prescriptions filled for anti-malaria and altitude sickness. I also had some good news with the house just in time; the hard work had paid off and I had found a tenant and the rent deposit was in the bank for a July 27 move in, what a relief!
On our first trip to the Chinese visa office we were promptly turned away on the grounds that we filled out the wrong online form, didn't have our flights booked, and our date of travel was over a year away. We should have done more research as I needed my passport to travel to LA for business, so we were forced to leave reapplication until I returned back to Vancouver. On my return to Vancouver our time was beginning to run out, it was June 26 and there were only 11 days left until we began our journey Eastward for Calgary. The night before we were to apply for our Chinese visas again, panic set in.
Of all things, we could not for the life of us find flights to book 11 months in advance! We discovered that most carriers only allow bookings 10 months away. Nothing was showing up on Google flights for those dates. We needed to book our departing flight from Shanghai to Tokyo and if we didn't find it we could kiss our chances at a Chinese visa goodbye. One by one Cecily started going through each airline. Late into a stressful evening and after some casual yelling, Cecily found it, Shanghai to Tokyo direct with Asiana Airlines.
It was a grey day in Vancouver and we set off on our mission to the Chinese visa office. This time we had it all, the paper from the office filled out by hand, our flight tickets and complete itinerary. It was lunch time in between a full day of meetings for Cecily. Her work was piling up, and she could spare no more than an hour. Of course we ended up parking at the wrong consulate office. Time to run 5 blocks in my flip flops and Cecily in her work slacks. The visa office was considerably busier than last time but we finally got in 45 minutes and a bucket of sweat later. The visa agent was getting along with our application; no red flags as she sifted through the paperwork. Just as she was putting in the final paper clip she noticed Cecily's ears were not showing in her passport picture. How could this be, we got them professionally done. That was it I thought, our dreams of China were fading. Thankfully, Cecily was able to go over to a hidden photo booth and get one while the agent finished up.
We had been promised a 4 business day wait time and were on edge waiting for a call saying we had been denied because of some strange omission or complication on our application. Sure enough that call came, turns out that I needed a local 604 phone number. I was able to provide one and she amended the application over the phone. July 2, with five days before departure we went to go pick up our passports; $284 later and we had a 5 year multiple entry visa, Groovy!
In and amongst the commotion of travel preparation we had lined up a bon voyage pool party. What a blast that day was, it was so nice seeing our closest friends and introducing many whom have not met before. The bottomless sangria pitcher had everyone dancing, swimming and laughing. We think it will be friends and family that we miss the most on this trip.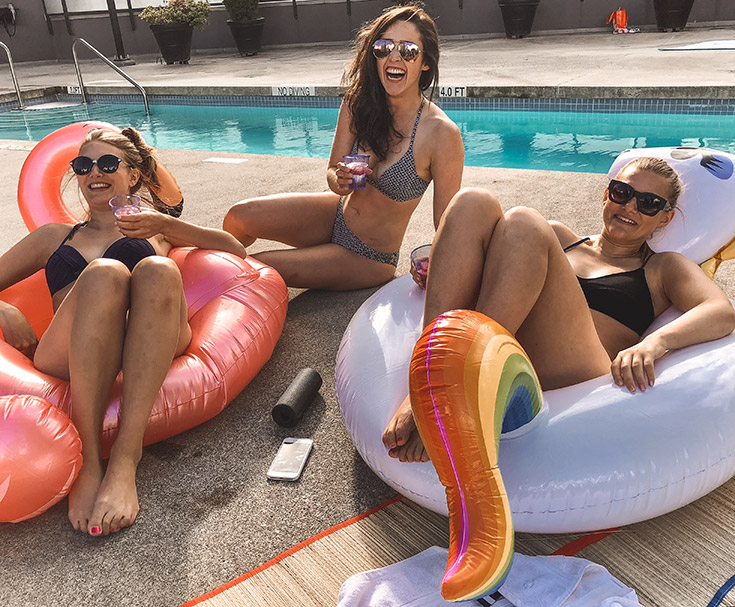 One evening when Cecily and I were just finishing packing up our small 450sqft studio apartment, the phone rang. It was the moving company, two days before our scheduled move day. "Hello, would you be able to change your move time from 1PM to 9AM?" astonished I remarked "Ummm no, we have an elevator booked and it's the end of the month." "Well we don't have a truck for you then." the woman on the phone unapologetically replied. I hung up saying I would call them back. Can you believe it?!
After a futile attempt to find another mover a day before the end of the month, I was able to find a trusty 10 foot U-Haul. I had sworn that after spending 5 years of university moving every other 4 months for my co-op jobs I would save my back and treat myself to movers. They have all the gear to do it quickly and it has worked great for me many times since. However, not this time. We were doing it manually. Fortunately, as it turns out, our friends had come to pick up little bits of furniture so we only had about 10 large boxes and some odds and ends. Looking back, the movers would have probably laughed at us. Nevertheless, move out was painless, everything into storage and our previous life locked up for another day.
Our departure on July 7 came without a hitch, off to Calgary and to the Stampede. What an amazing experience!  After a nice break seeing Cecily's parents in Alberta we were headed to my mom's house in London, Ontario for 2 weeks rest before our July 27 launch day.  
When we arrived in London, my mom was in the thick of preparing for her retirement party, it became the focus of our next few days. She had ordered a giant 900sqft party tent for the back yard and we had just finished decorating when I totally screwed up. I was practicing flying my drone in the front yard and decided since the tent was so big I could get an aerial shot inside! I turned off the safety and headed down the narrow path to the back yard. Once in the tent I got a great shot but then the low battery alarm started ringing. Time to land. As I was landing, the "Return To Home" function took over control of the aircraft. I frantically tried to cancel the procedure but with a mind of its own, ZIP it flew right into the metal bar on top of tent and CRASH 10ft straight to the ground. Droni Mitchell, our affectionately named DJI Mavic Air had died thanks to my poor judgement and piloting with the safeties off. Good thing I had DJI's insurance on it but now we had another problem. We were leaving in 6 days, and there was no way that I would be able to ship the repaired drone abroad since we would be jumping around with no fixed location. I made the decision to buy another Droni Mitchell the second. Need those shots!
The party was a blast and it was nice to see all my mom's friends who knew me from childhood but had never met Cecily. Afterwards we were exhausted, all of the socializing leading up to this point was burning us out. We needed to chill out and do nothing. Luckily in our last days in Ontario we were able to relax enough to build up the energy for our adventure. We had a minor freak out the night before we left when our backpacks finally weighed in much heavier than anticipated, but we got over it quickly. There was no time left for worrying; we were flying out the next morning.
Groovy Mashed Potatoes is a creative outlet for us where you will find, pictures, videos, ideas and thoughts from our journey. In case you're wondering, the name was thought up on a tie-dye blanket during a camping trip when like a lightning bolt Cecily said "why don't we call it Groovy Mashed Potatoes".  The idea flashed through my mind's eye without objection, "That's perfect!"