Visiting the Calgary Stampede is a blast! Dive into the 100-year-old tradition in the heart of cowboy country and experience the wild west. There are many fun things to do, from cheering on the best cowboys and cowgirls at the largest rodeo competition in the world, to testing your skill with the mechanical bull.
Our travel guide covers the best things to do at the Calgary Stampede, where to stay and the easiest way to get there. We also include tips, like what sections have shade at the rodeo, and if we prefer the daytime rodeo or evening show.
Overview: What to do at the Calgary Stampede
---
Disclosure: Some of the links below are affiliate links, meaning at no additional cost to you, we will earn a commission if you click through and make a purchase. We only recommend products or services we have used or that we believe will add value to our readers. Thank you for supporting us!
How to get to the Calgary Stampede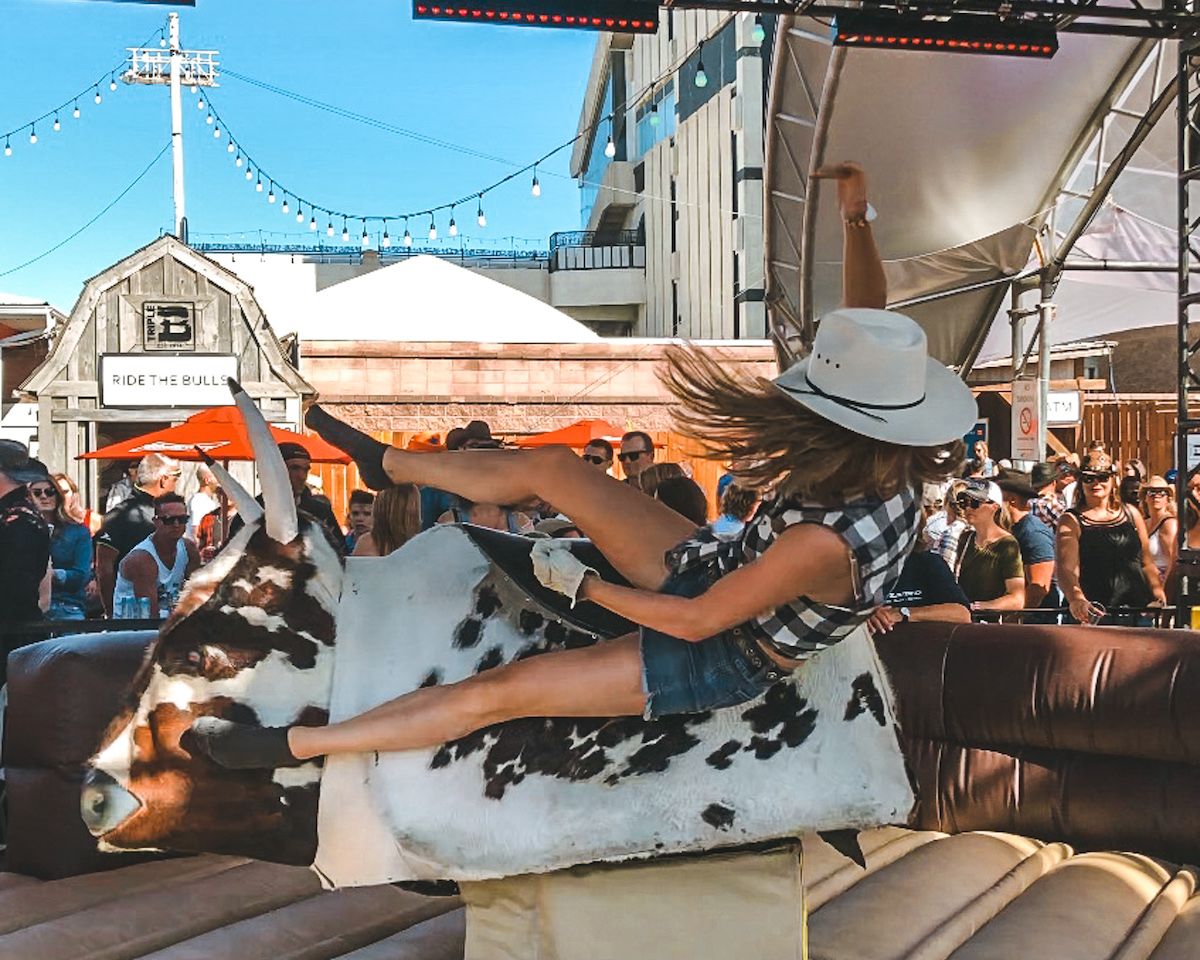 The best way to get to the Calgary Stampede is by C-train. It takes you right to the front door of the stampede grounds and costs $3.10 one way. This way you will avoid parking costs and you can drink freely. The stop you get off at is called VB Victoria/Stampede C-Train Station.
Where to stay for the Calgary Stampede
When looking for a place to stay, look for one that is close to the C-train. A hotel downtown is a good choice, since it only takes around 10 minutes to get to the Calgary Stampede by C-train. We recommend booking far in advance, since hotels go fast during Stampede week, and can increase in price drastically the longer you wait.
Our top hotel picks close to the Stampede
Best things to do at the Calgary Stampede
1. Dress like a cowboy/cowgirl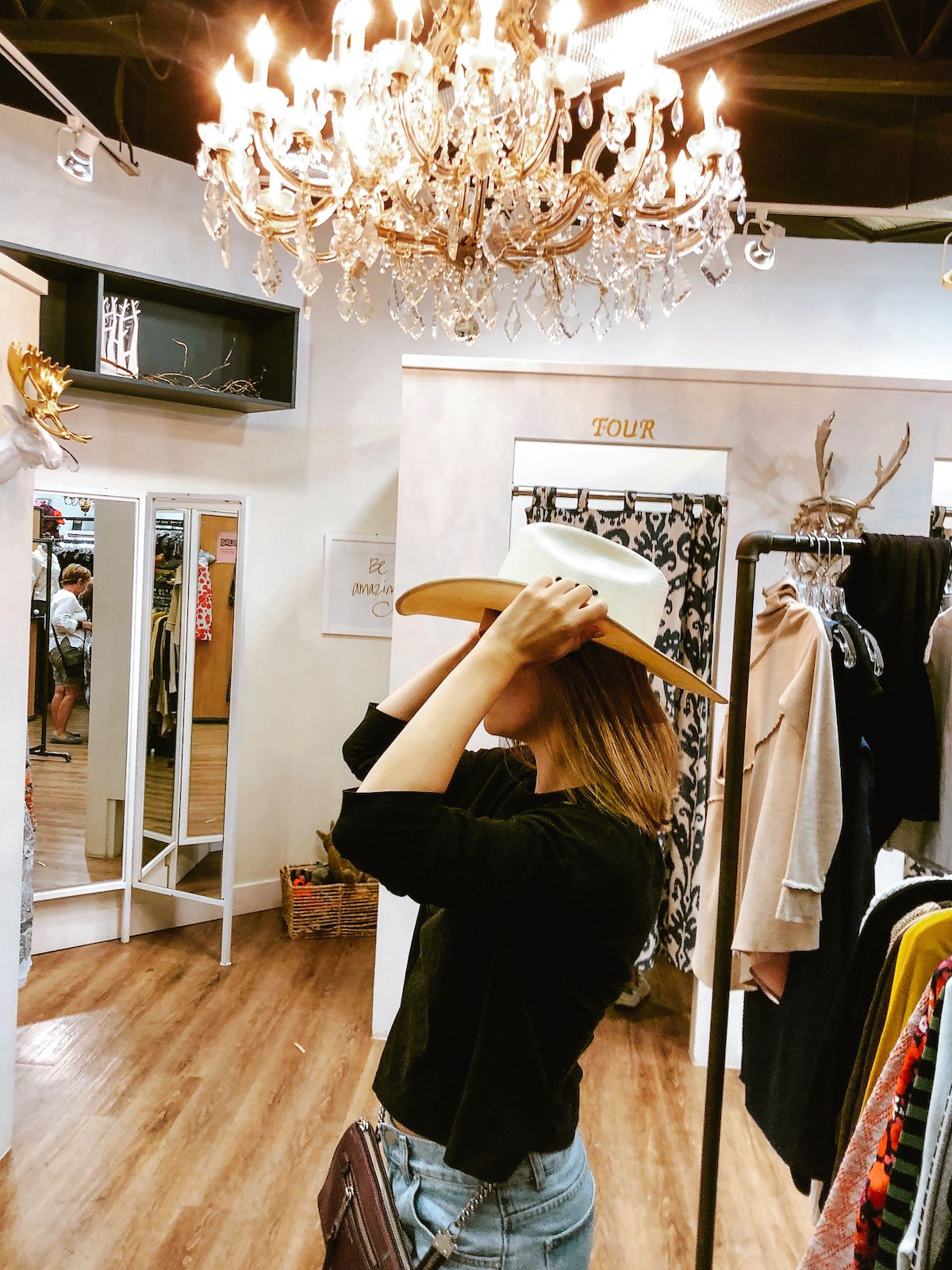 We find a great deal of joy in dressing up for an experience. You can buy all the western gear at the Calgary Stampede you need, but we hit up a couple consignment stores in Calgary to save a few bucks and find unique pieces. Expressions Consignment and Man of Distinction had everything we were looking for.
If you can't make it to a consignment store, there is a full selection of reasonably priced cowboy hats at the Calgary Stampede grounds. It's important to get the right size, put it on and flick up the brim at the front. It's too big if it easily comes off your head. I paid $25 CAD for my hat.
2. Have fun on the Calgary Stampede midway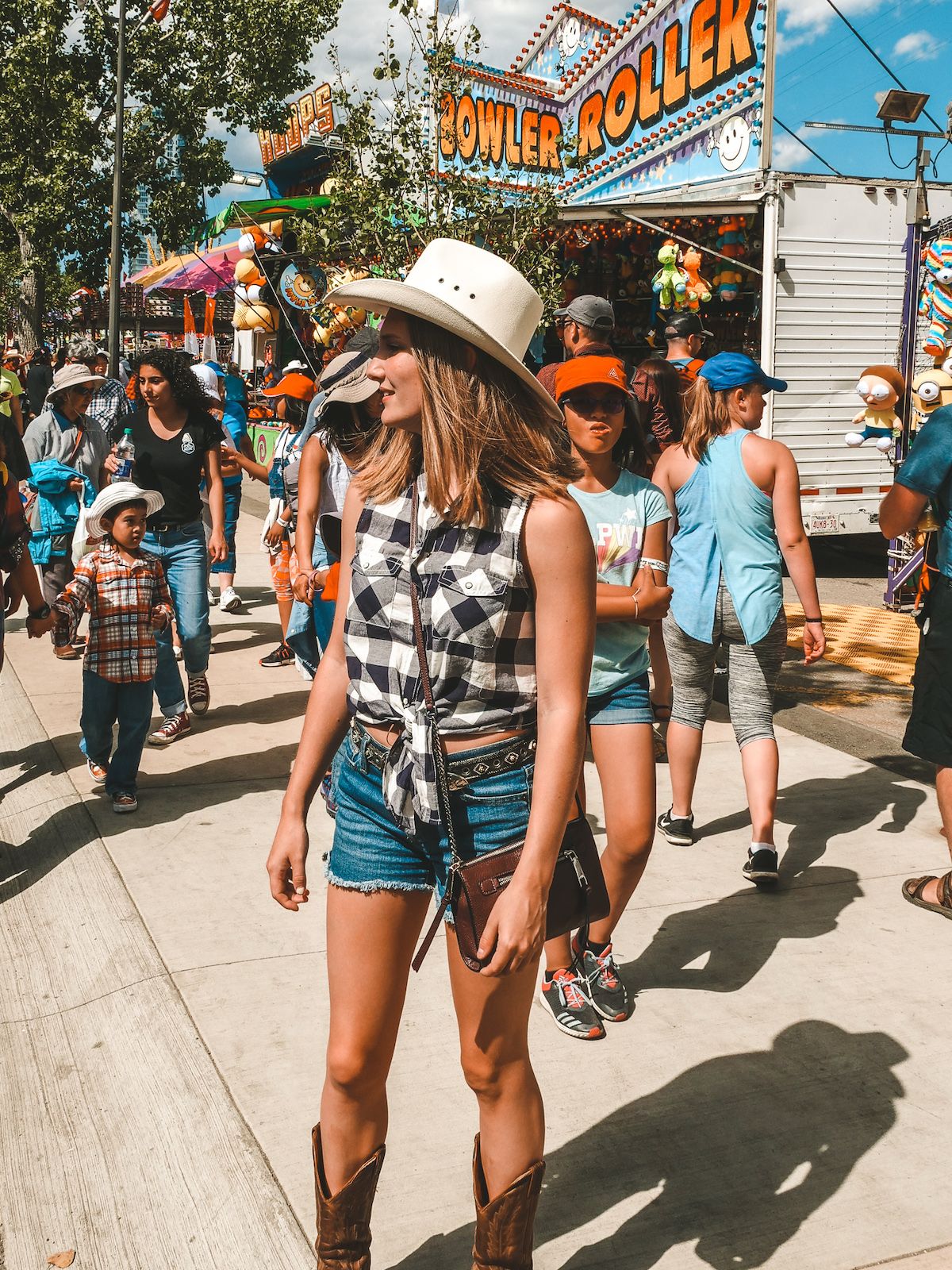 There are tons of activities on the Calgary Stampede midway. We filled up on carnival food and played carnival games, like whack-a-mole, ring toss and the water gun race. There are also casino-style games like roulette, where you can win cash instead of prizes.
If you're really looking forward to the fair rides, we highly recommend going on a weekday rather than a weekend. The lines are verrrry long.
Note: fair rides and carnival games are not included with your general admission ticket
3. Treat yourself to crazy good, and sometimes crazy weird carnival food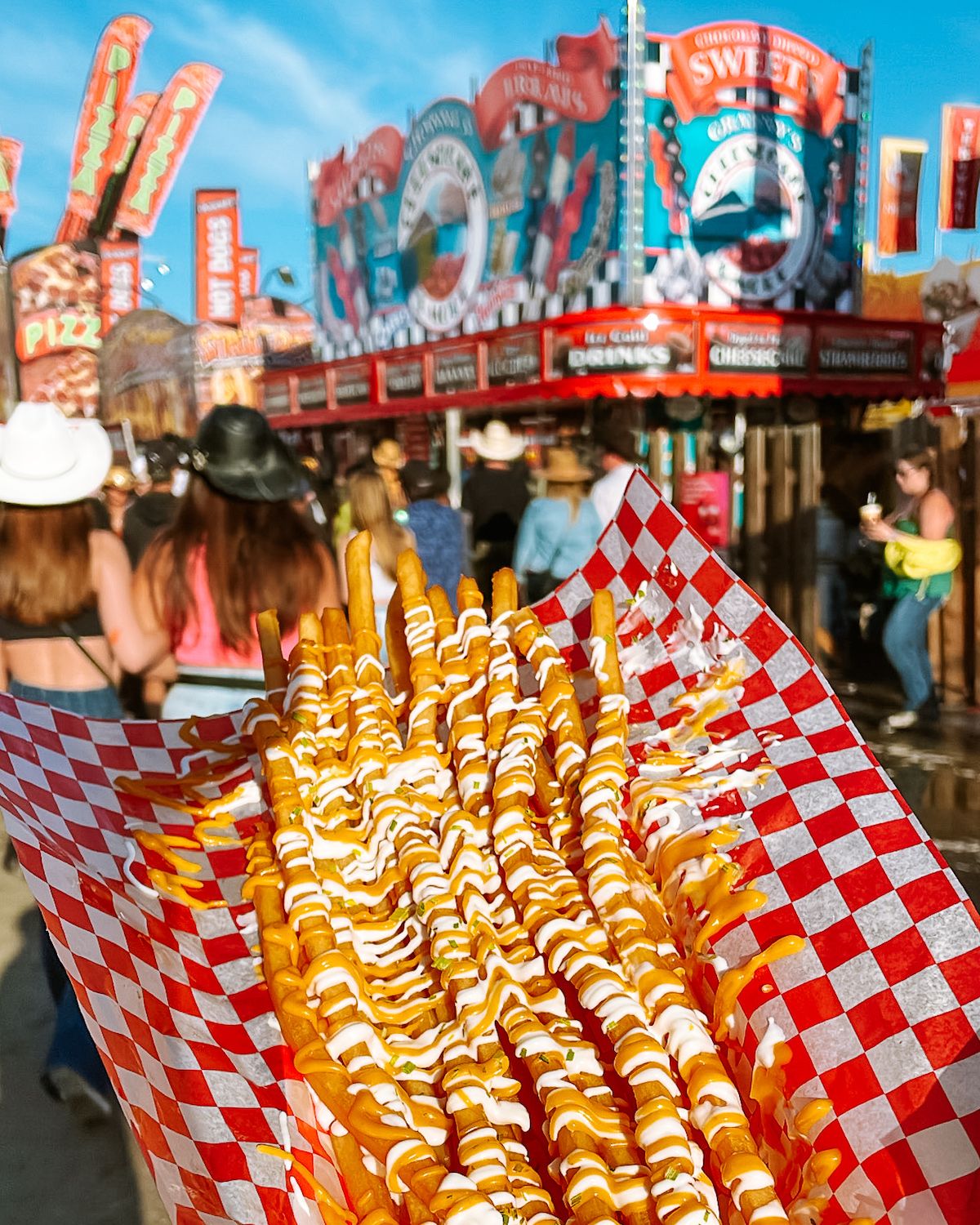 It's hard picking what type of carnival food to get when there are so many options! Tons of food trucks gather on the grounds, striving to stand out among the others. You will see everything from mouthwatering classics to inventive bites, like foot-long fries and deep-fried Oreo mini donuts.
Sometimes the food choices are just plain weird, like the mac 'n' cheese ice cream and meal worm hot dog. How daring will you go?
Must try: deep-fried pickle chips
4. Watch the rowdy Calgary Stampede Rodeo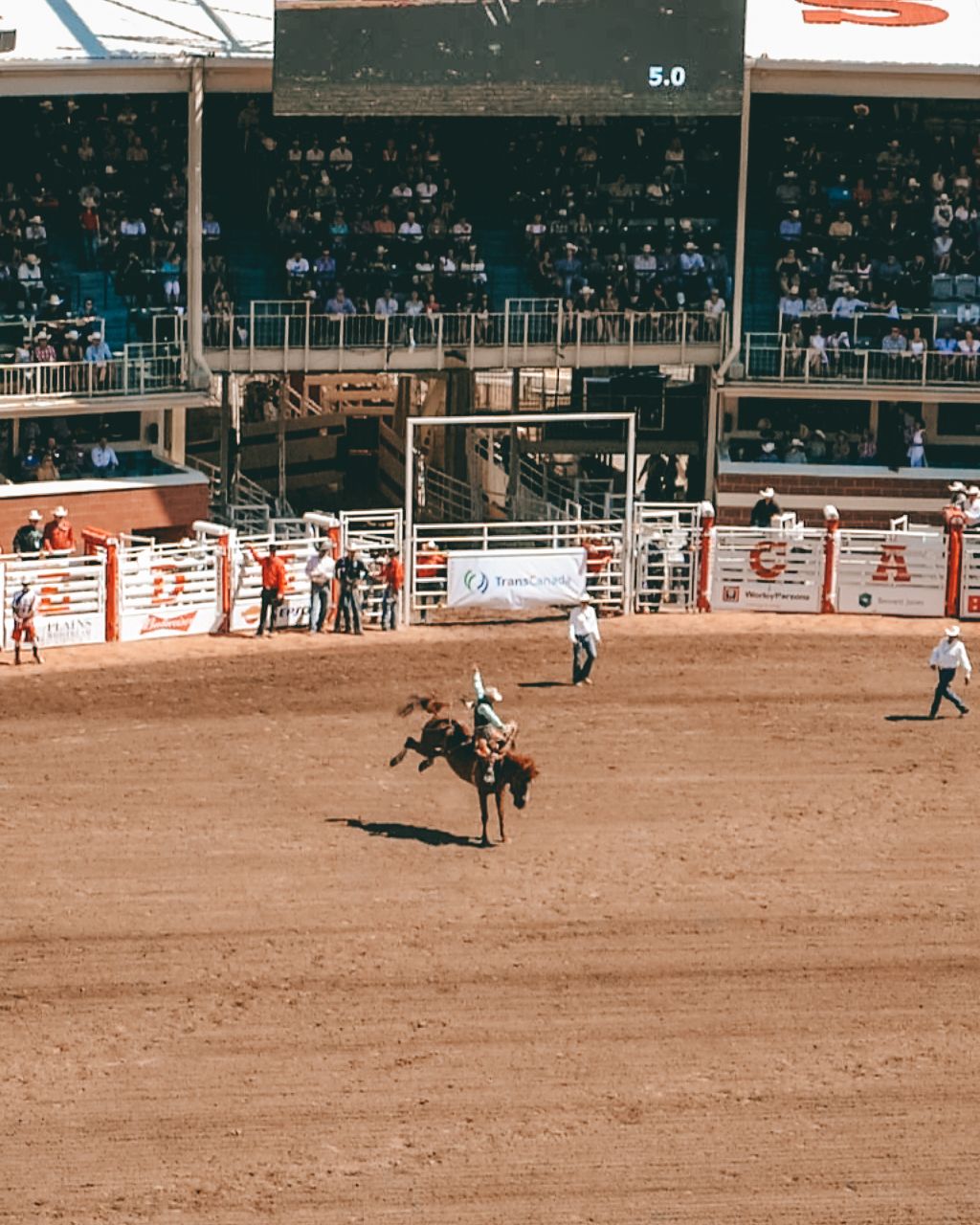 Our favourite part of the Calgary Stampede was the rodeo. It's wild and rowdy! We saw saddle bronc, bareback riding, steer wrestling, tie-down roping, barrel racing, and bull riding competitions. The best riders from all over the world come to the Stampede for this annual event.
We avoided the heat by pre-purchasing rodeo tickets in the shade of the grandstand. The 500 and 700 sections are in the shade (we were section 511).
When you arrive, grab a refreshing caesar from the caesar bar. For those of you not familiar with a caesar, it was created in Calgary and consists of vodka, Worcester sauce, tabasco and a tomato/clam juice mix. It sounds weird but is savoury, delicious and often consumed Sunday mornings at breakfast.
5. Ride the mechanical bull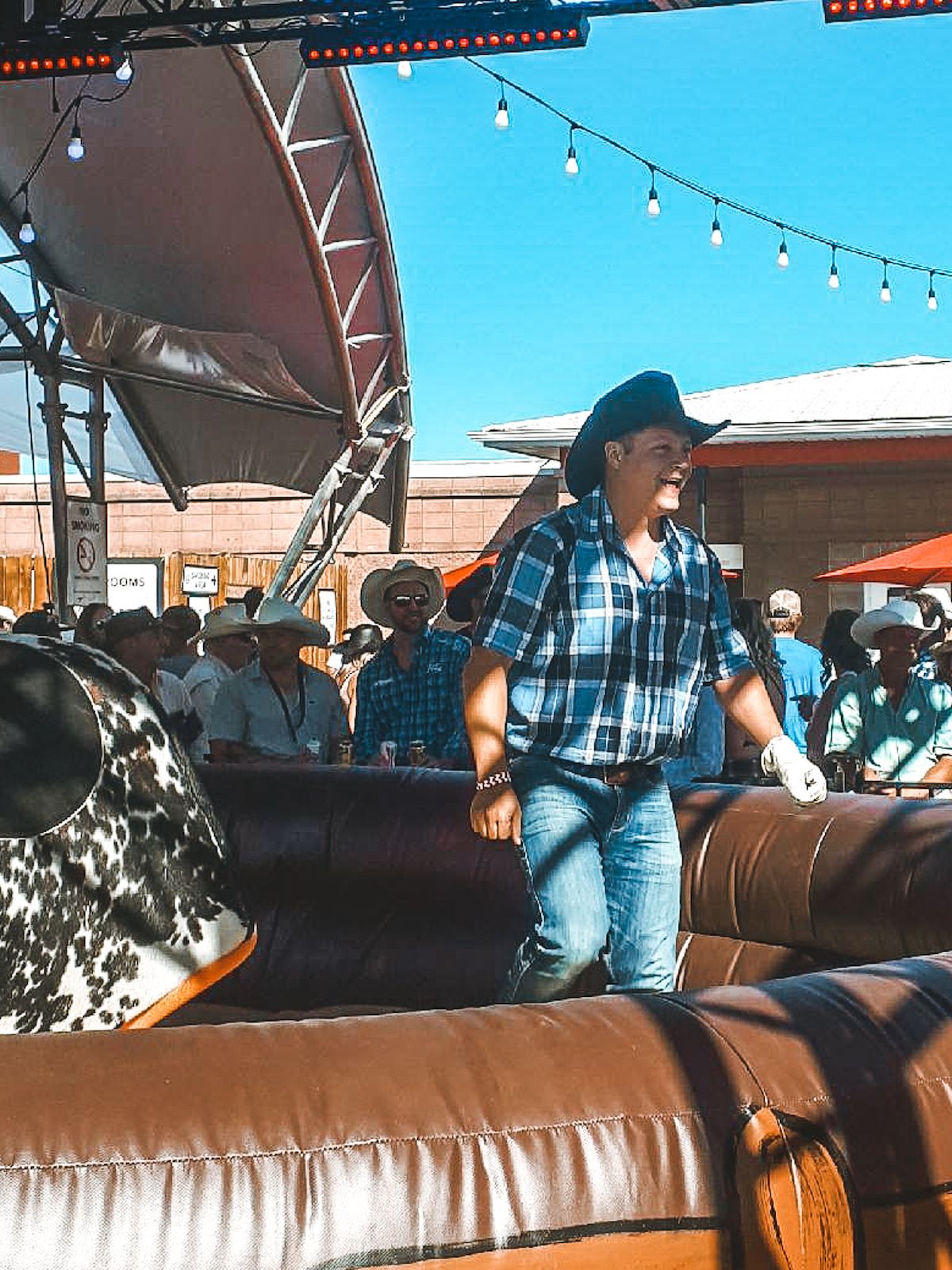 After watching the rodeo, we decided to test our skills on the mechanical bull... in front of an audience. The Calgary Stampede mechanical bull costs $10 CAD each for three tries and each level increases in hardness. Two bulls are conveniently set up side by side so we were able to compete against each other at the same time! Ari won the first round, I won the second, and he came out on top winning the third round. Yeeehaawww!
6. Watch a dog show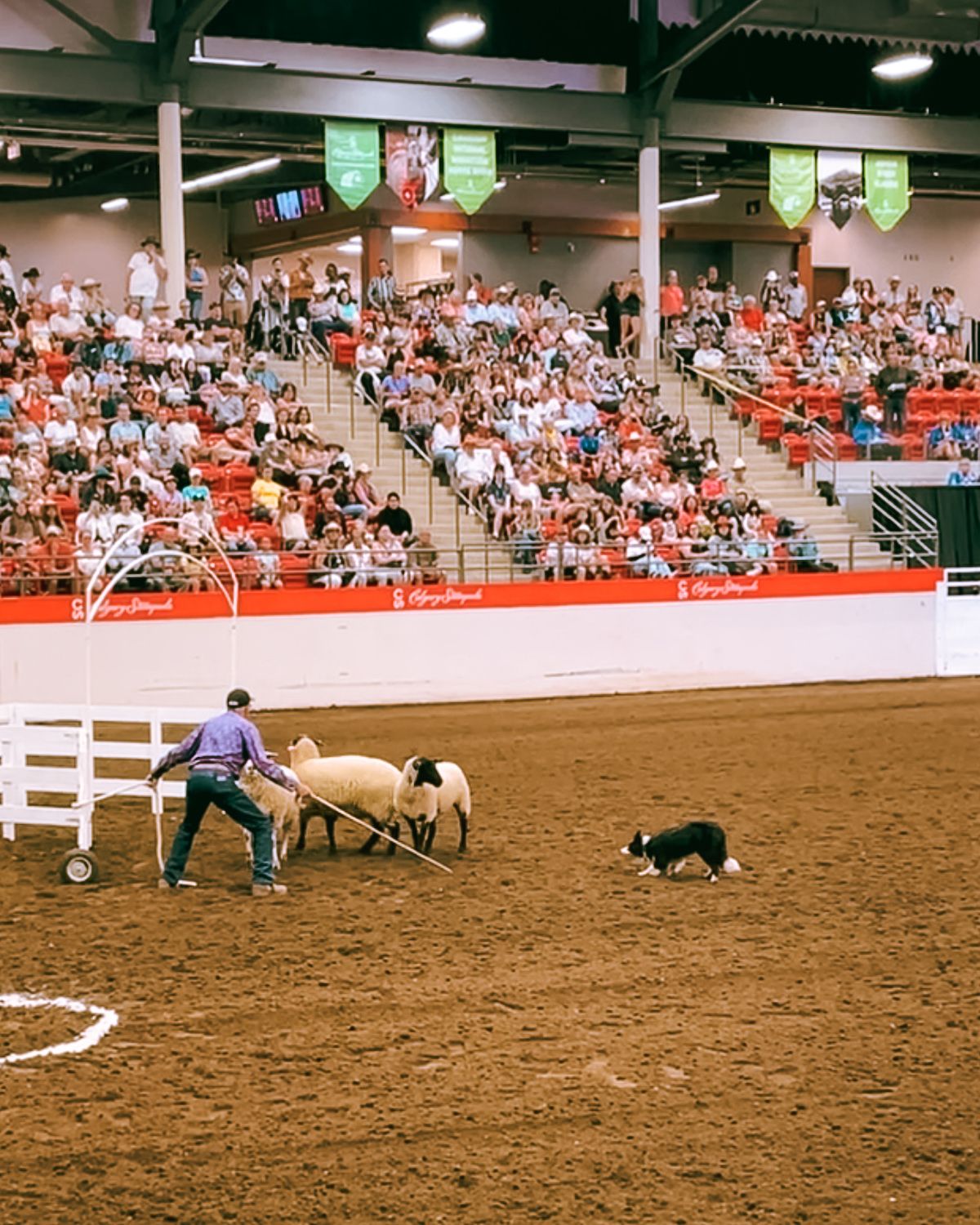 For the dog lovers out there, you don't want to miss seeing cute canines compete and perform.
For a fun performance, check out the daily Dog Bowl show in the BMO centre where stunt dogs entertain you with their tricks.
For an exciting competition, see the World Stock Dog Championships at the Nutrien Western Events Centre. The atmosphere is intense as intelligent dogs compete to move three sheep around an obstacle course into a pen - all in under 4 minutes. It's fascinating to watch!
7. Party at Nashville North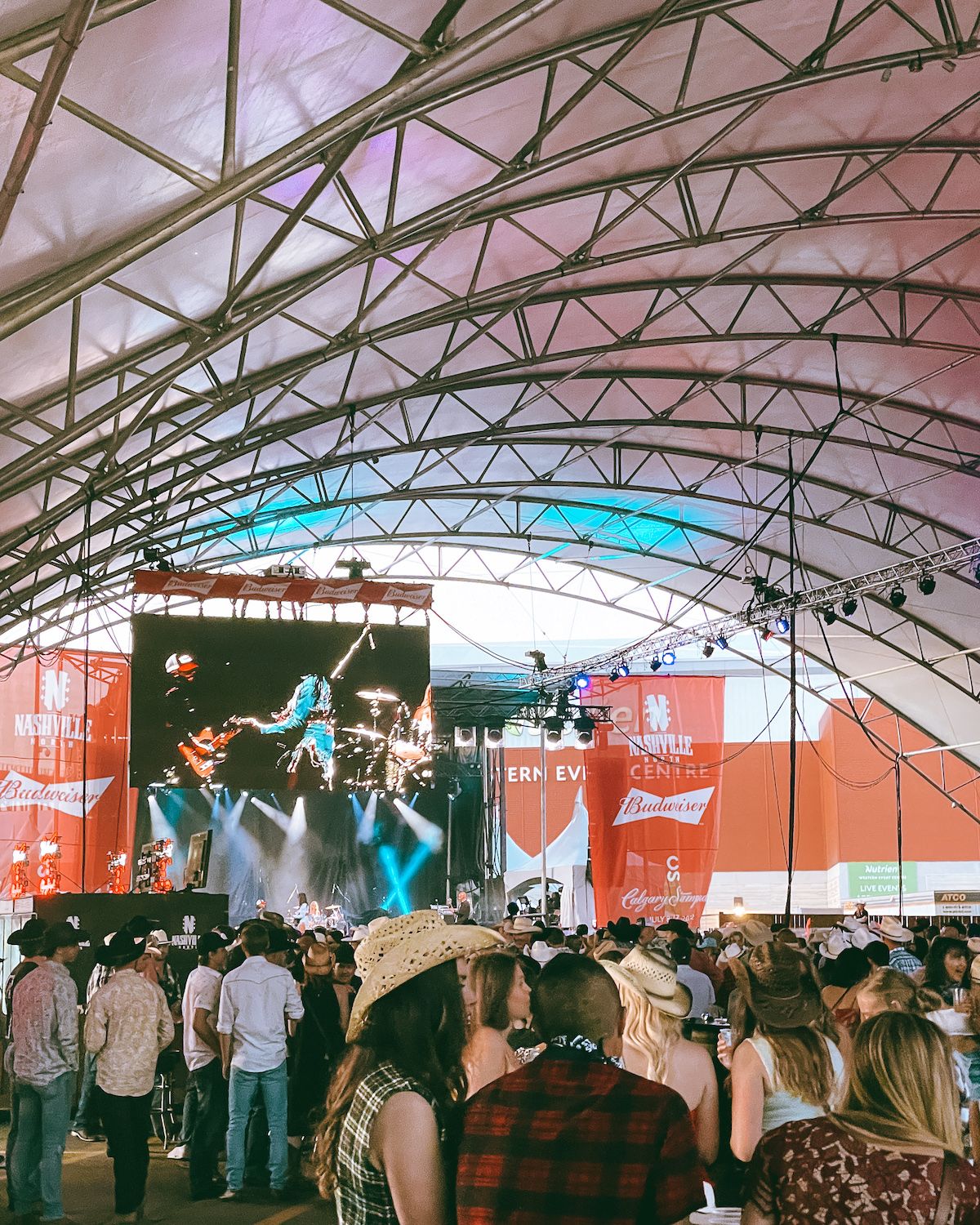 Drinking alcohol is not permitted on the Midway grounds, so Nashville North is where Stampede party-goers usually end up drinking, dancing and listening to live country music.
8. Not a country music fan? See who's playing at the Big Four Roundhouse and Coca-Cola Stage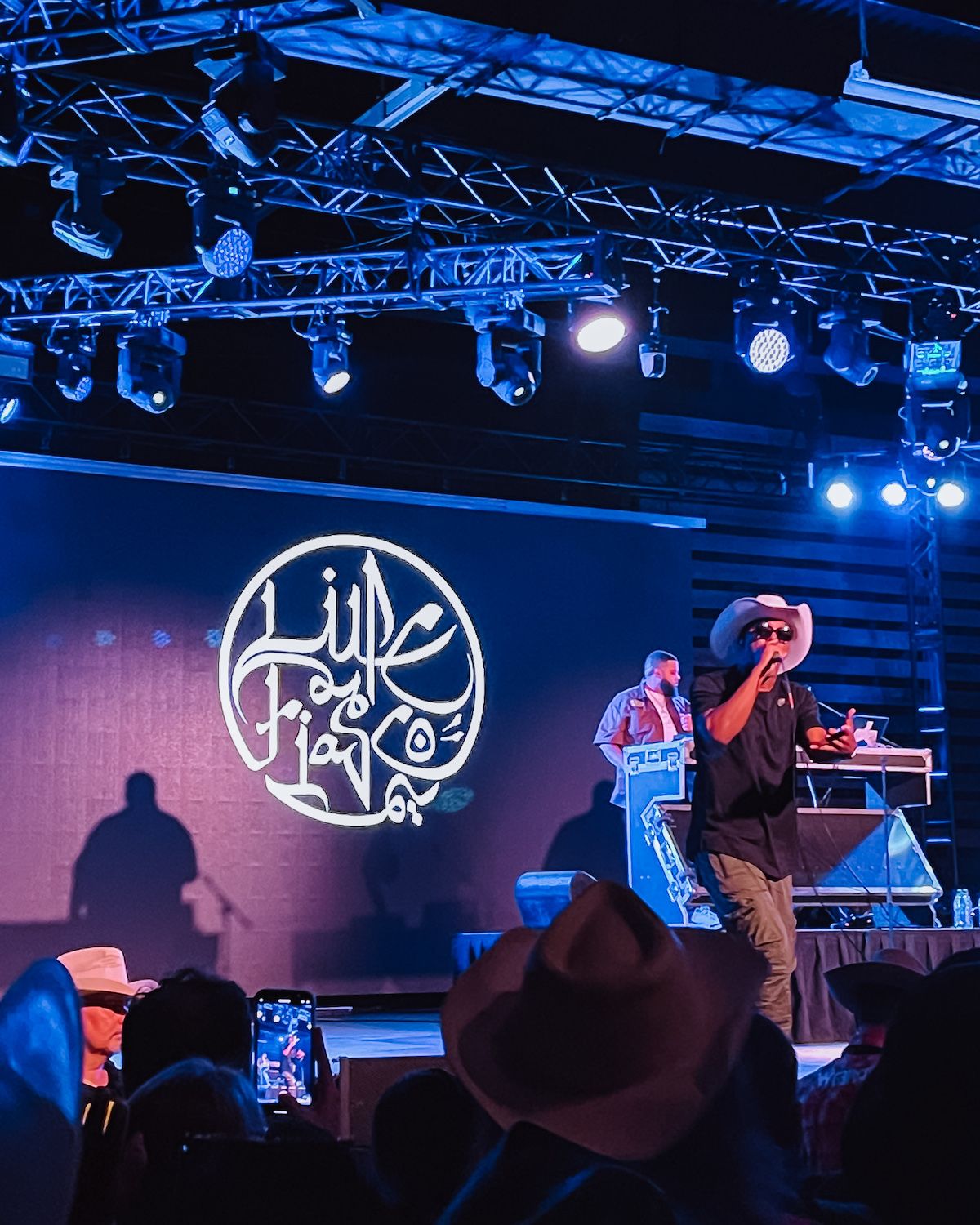 You may be surprised to hear that the Calgary Stampede doesn't play all country music. In fact, they host big names from different music genres like hip hop, R&B, rock, electronic and pop.
We looked at the concert schedule and were ecstatic to see that Lupe Fiasco was playing the night we were there. Some other non-country artists that played over the 2022 Stampede were Aqua, Kaskade, T-Pain, DJ Jazzy Jeff and The Funk Hunters. The best part is that these concerts are free with your general admission ticket.
See who is playing at the Big Four Roundhouse and Coca-Cola Stage.
9. Watch the chuckwagon races and fireworks at the Evening Show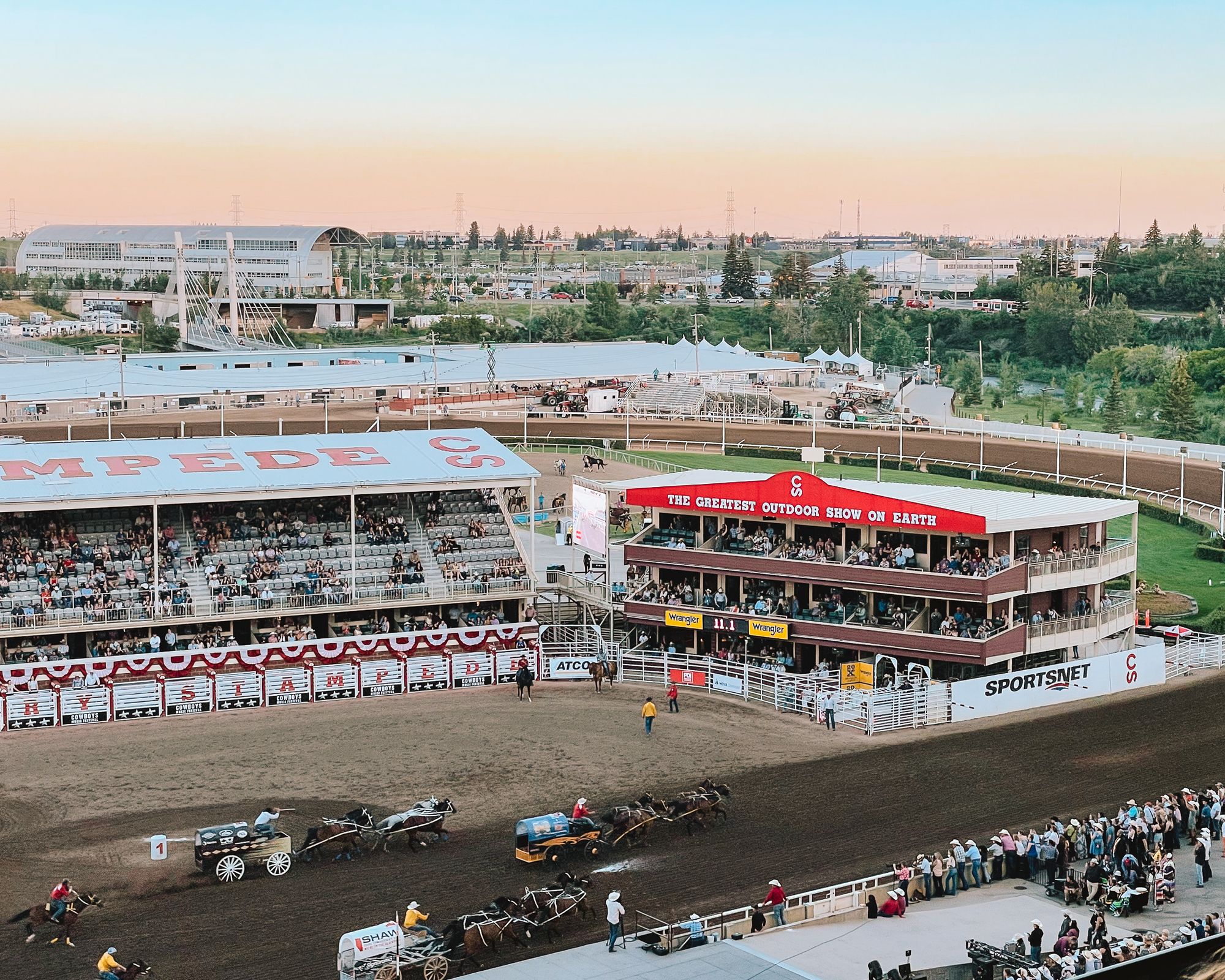 Every evening, the Calgary Stampede hosts "the greatest show on earth" with its famous chuckwagon races, bareback relay races and performances by singers, dancers and acrobats. To cap the night off, an extravagant firework show takes place.
The evening show is not included in your general admission ticket and has to be purchased separately.
Top tip: avoid buying evening show tickets in the 700s section. We sat in this section and part of the firework show was cut off because of the roof.
If you could only pick one: Evening Show vs. Daytime Rodeo
We personally preferred the daytime rodeo show over the evening show. The chuckwagon races and relay races at the evening show were exhilarating, however the performances afterwards felt a bit dragged on and cheesy. The whole show felt quite long, lasting almost 4 hours (7:45pm - 11:30pm). If you want to see the fireworks, you have to wait until the very end.
10. Go line dancing at Ranchman's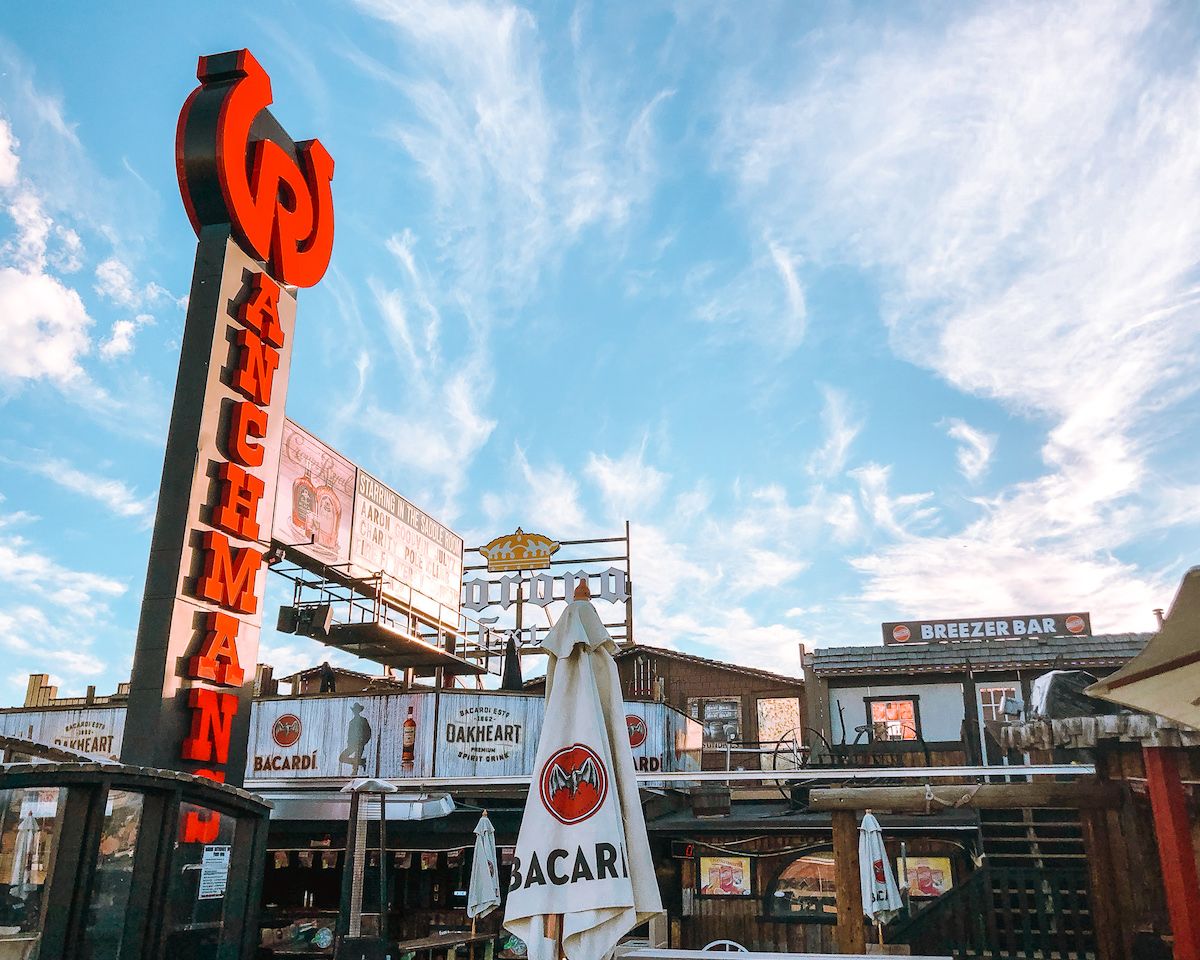 If you're up for some more country music and dancing, visit Calgary's after-Stampede hotspot, Ranchman's. The large bar gets packed and has multiple dance floors where you'll see friendly locals two-stepping and line dancing. Jump right in and try it out. Ari can't dance and he had a great time.
Make sure to eat at the Stampede beforehand, because the food at Ranchman's isn't very good (it's expensive and our food came out cold). You can take the C-Train straight from the Stampede to Southland Station and it's a 15 minute walk from there.
11. Experience premium Alberta beef at Caesar's Steakhouse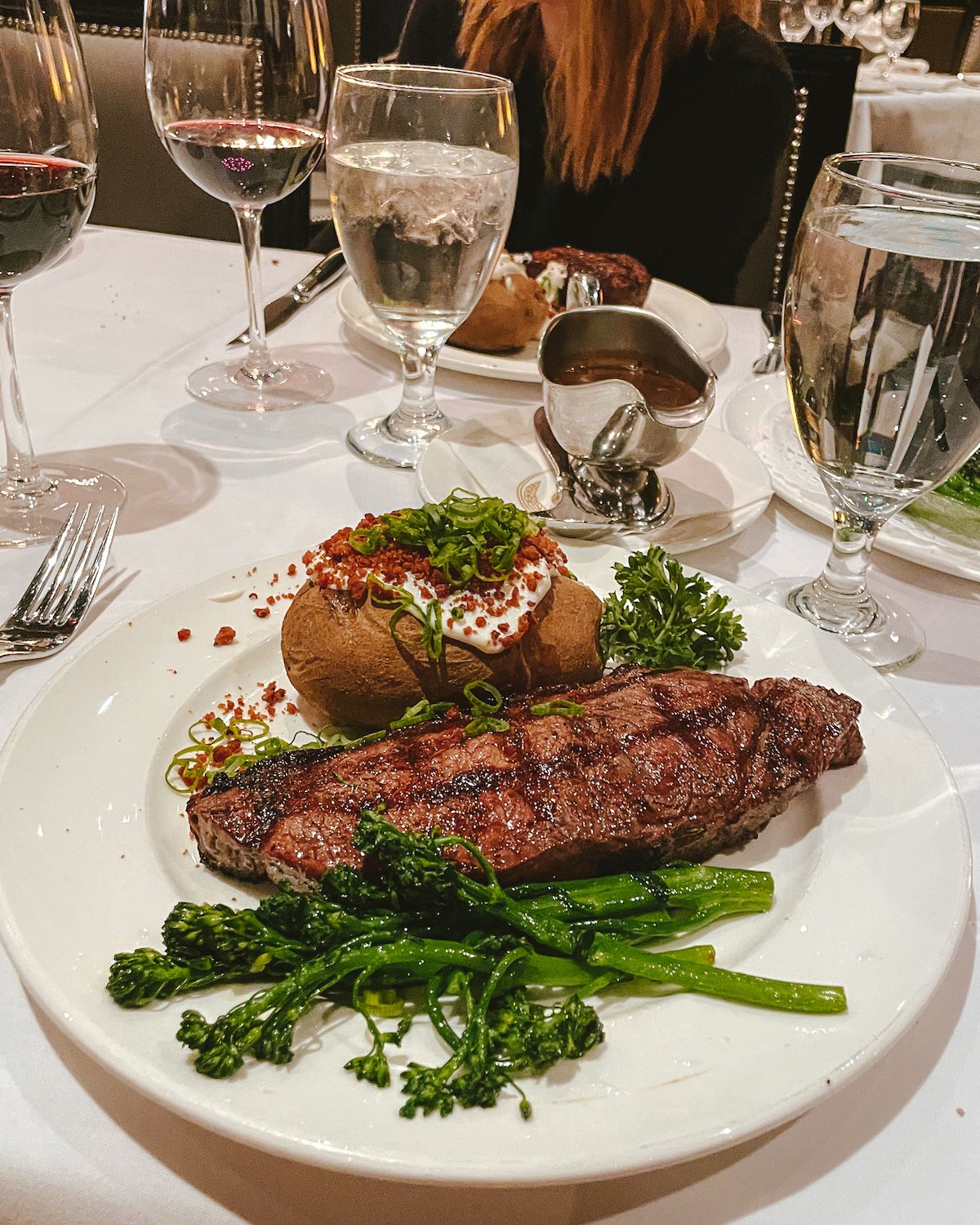 Although this is outside of the Calgary Stampede grounds, if time and budget permits, you have to eat at Caesar's Steakhouse. It's one of the best steakhouses we've ever been to. The Alberta beef steaks are aged a minimum of 28 days and charbroiled on an open-flame, grilling them to perfection.
Start with a cocktail and some appies, like their caramelized French onion soup, escargots or shrimp cocktail, and complement your steak with a table-side made Caesar salad. It's fantastic! Make your reservation online in advance.  
We hope you enjoyed these fun things to do at the Calgary Stampede!
Trip extension options:
Combine the Calgary Stampede with a road trip to the Canadian Rockies. See our
Banff & Lake Louise itinerary.
🚗 Compare car rental rates across different companies with
Rentalcars.com
---
Start planning you trip to Alberta
🤠 Tickets: Purchase your rodeo or evening show tickets for the Calgary Stampede
🌃 Accommodation: Booking.com is our go-to for finding places to stay. Sort by top reviewed.
🛫 Book your flight: use Skyscanner to compare flights across different airlines (we recommend booking direct with the airline however).
---
See what it was like in our Calgary Stampede vlog:
---
Looking for more travel inspiration? Check out our list of Unique Cultural Experiences to Inspire Your Next Trip