Garibaldi Lake is a natural wonder. The massive turquoise-coloured glacial lake sits at 1,450 m and is surrounded by towering mountains, stratovolcanoes and glaciers. The lake was formed when lava flow blocked the valley around 9,000 years ago, creating a natural dam.
The best way to see this spectacular landscape is from atop Panorama ridge, where you will have a birds-eye view of Garibaldi Lake and the surrounding mountains and glaciers.
We have hiked around the world in stunning places like Nepal, Peru, Kyrgyzstan and Patagonia and must say that the view from Panorama Ridge stands out as one of the best we have ever seen. We've been living in BC for 8 years and can't believe it took us this long to do it! It's definitely one of the top sights to see in Canada.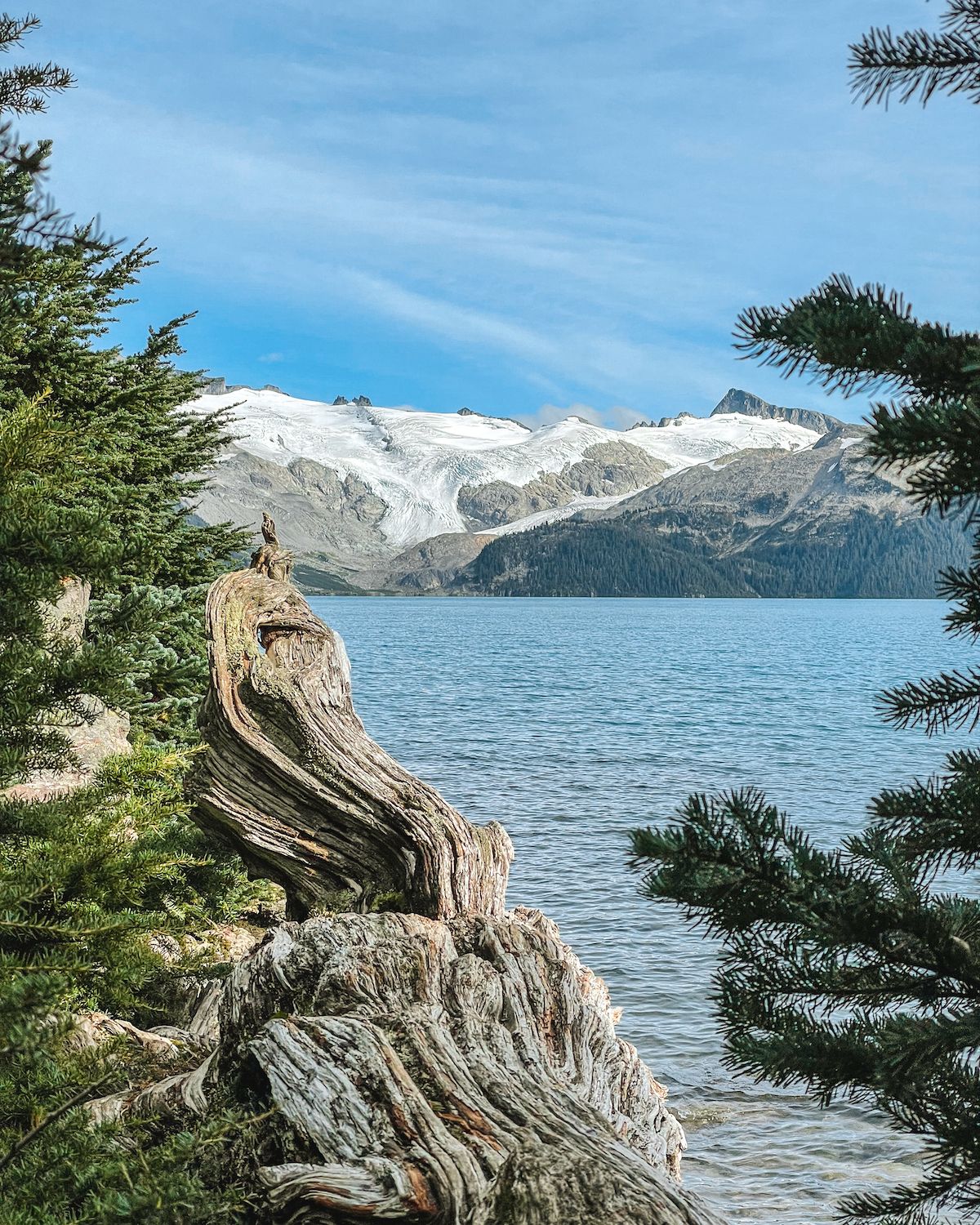 This is a great hike for those who are getting into doing a multi-day hiking/camping trips. Having to take a full pack up the first day to Garibaldi Lake might seem difficult, but the gradual slope and switchbacks made the journey manageable. You don't have to be a fitness junkie to do it! You just need to be well prepared and have the right techniques and gear.
Our Garibaldi Lake and Panorama Ridge camping and hiking guide covers everything you need to know to have a successful trip up into the mountains. We have included a detailed hiking itinerary, what it's like camping at Garibaldi Lake, what to bring and our top 15 hiking/camping tips.
Want to know our favourite camping spot on the lake or how to make hot pulled-pork sandwiches on the ridge? Read on!
Outline: Garibaldi Lake and Panorama Ridge Hiking & Camping Guide
Day 1: Rubble Creek Trailhead

→ Garibaldi Lake

Day 2: Garibaldi Lake

→ Panorama Ridge → Garibaldi Lake

Day 3: Garibaldi Lake

→ Rubble Creek Trailhead
Disclosure: Some of the links below are affiliate links, meaning at no additional cost to you, we will earn a commission if you click through and make a purchase. We only recommend products or services we have used or that we believe will add value to our readers. Thank you for supporting us!
Where is Garibaldi Lake and Panorama Ridge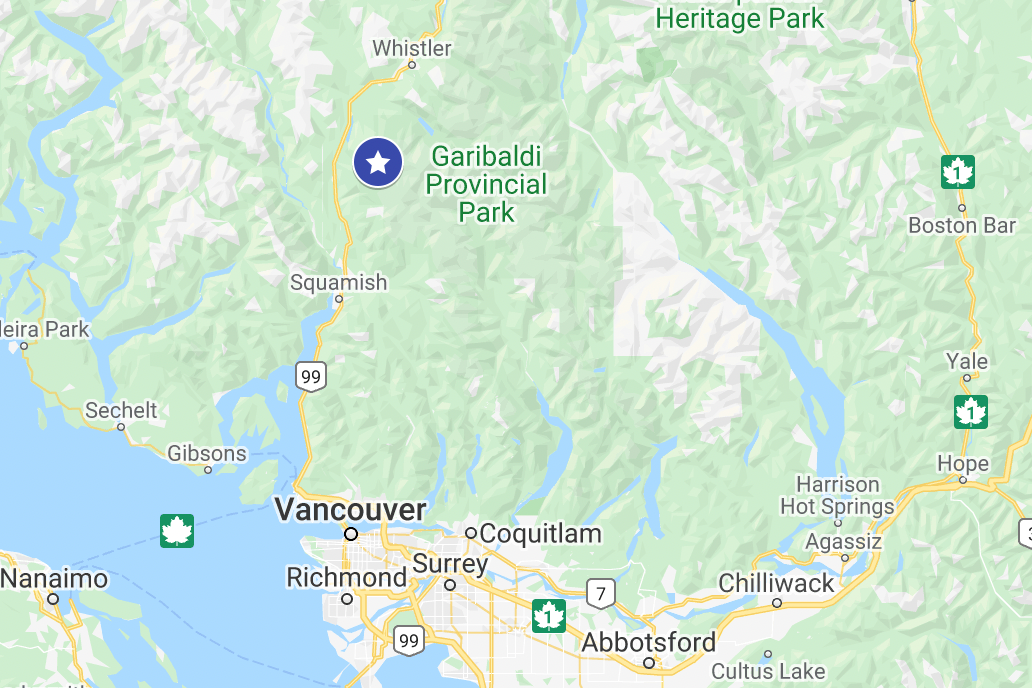 Garibaldi Lake and Panorama Ridge are located in Garibaldi Provincial Park, about halfway between Squamish and Whistler. From Vancouver, the drive to the trailhead is 1.25 - 2 hours depending on traffic.
How to get to the Garibaldi Lake trailhead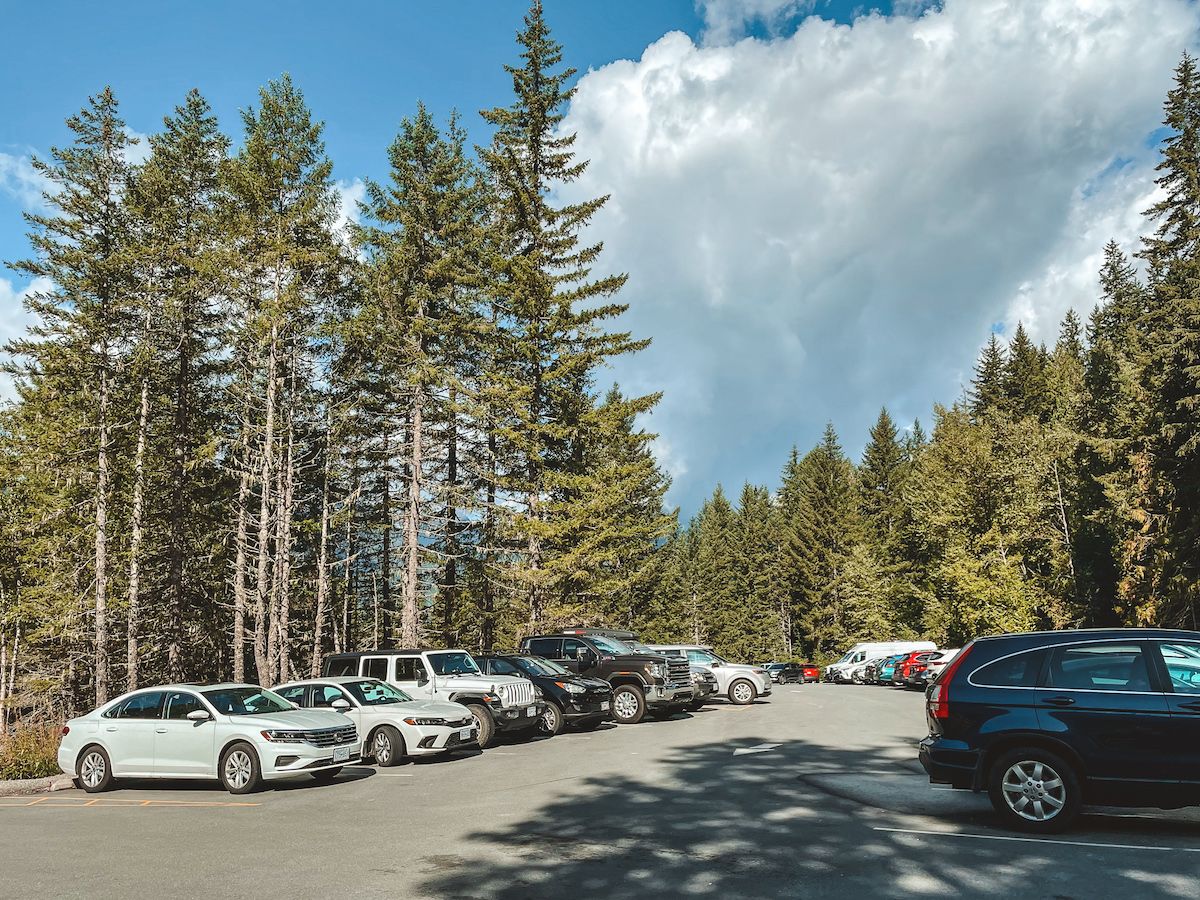 To get to the Garibaldi Lake trailhead from Vancouver, drive north on the Sea to Sky Highway (Hwy 99) and take a right on Daisy Lake Road. Take this road to the end until you reach the parking lot. If you search Rubble Creek Trailhead on Google Maps it's a breeze to find.
Make sure to print out your camping reservation and bring it with you. Once you're on Daisy Lake Road there is usually a checkpoint with an attendant checking people's camping reservations/hiking day passes. After you're through, you will find an upper and lower parking lot at the end of the road. Parking is free.
If you don't have a car, easily compare car rental prices across different companies with
Rentalcars.com
.
Best time to hike Garibaldi Lake and the Panorama Ridge trail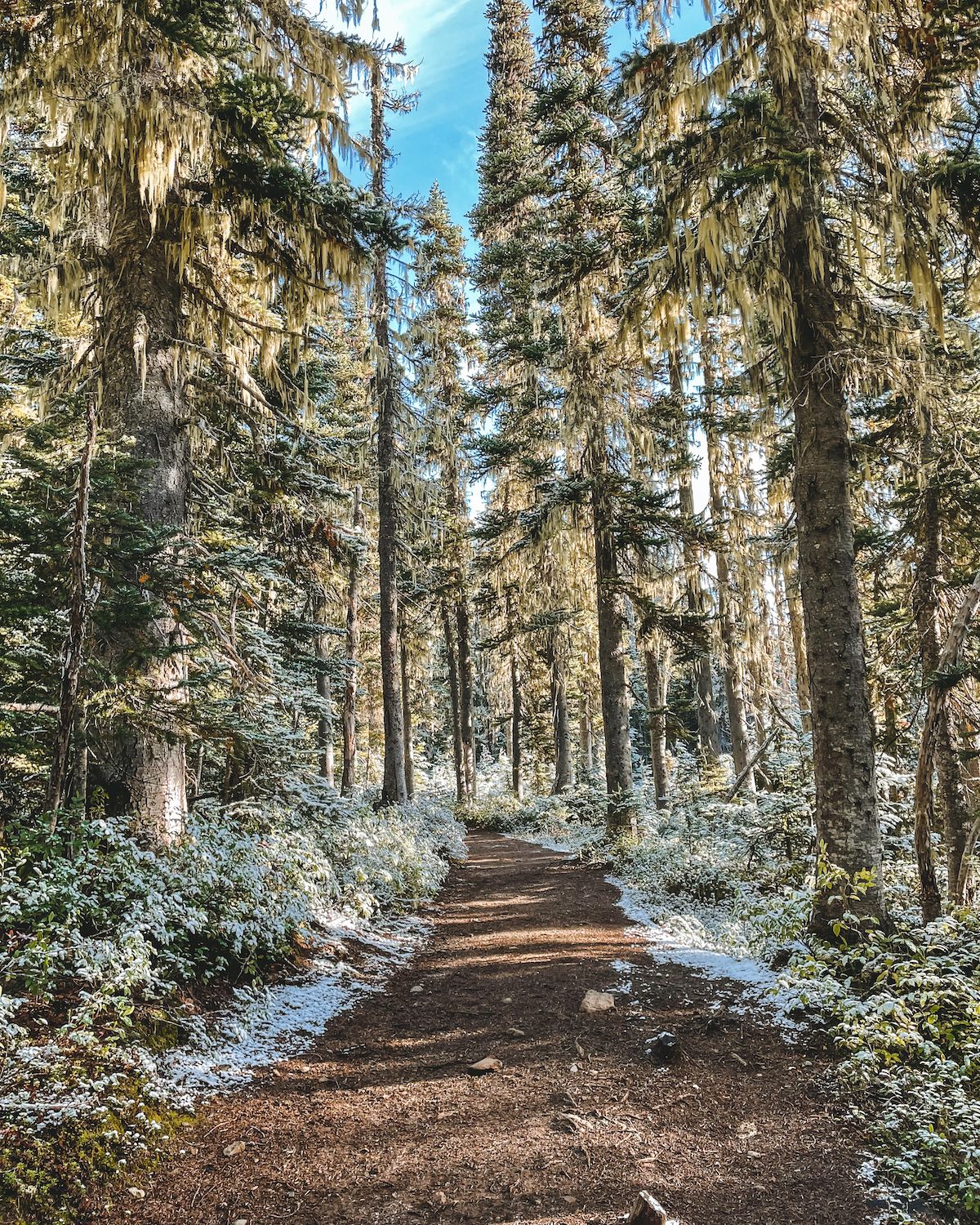 Hiking season for Garibaldi Lake is between June - October, however the hiking season for Panorama Ridge starts one month later from July - October. Outside of this time you can expect a lot of snow. Since Panorama Ridge is at a higher elevation it gets more snow and can be slippery on the final ascent. With mountain conditions you can anticipate snow/frost even in summertime. We did our hike in the middle of September and woke up to frost and some snow that melted by the afternoon.
We believe the best time to hike Garibaldi Lake and Panorama Ridge is the first half of September during the weekday. There are a few reasons for this:
The weather is still pleasant in September and can reach the low 20°Cs.
July and August are the busiest months with tourists
If you go during the weekday you will avoid the weekend rush of hikers.
Another thing to consider is forest fires. Some years the smoky haze can be so bad that it blocks out the blue skies and scenic nature around you. This happens most often between July-August.
Garibaldi Lake and Panorama Ridge hike in a nutshell
Altitude
Rubble creek trailhead elevation: 650 m (2,014 ft)
Garibaldi Lake elevation: 1,484 m (4,868 ft)
Panorama ridge elevation: 2,133 m (6,998 ft)
Hiking distance
The total roundtrip hiking distance to Garibaldi Lake and Panorama Ridge is 32 km.
Breakdown:
Rubble Creek trailhead to Garibaldi Lake: 9km with a 850m ascent
Garibaldi Lake to Panorama Ridge roundtrip: 14km with a 649 m ascent/649 m descent
Garibaldi Lake back to the Rubble creek trailhead: 9km (850m descent)
Difficulty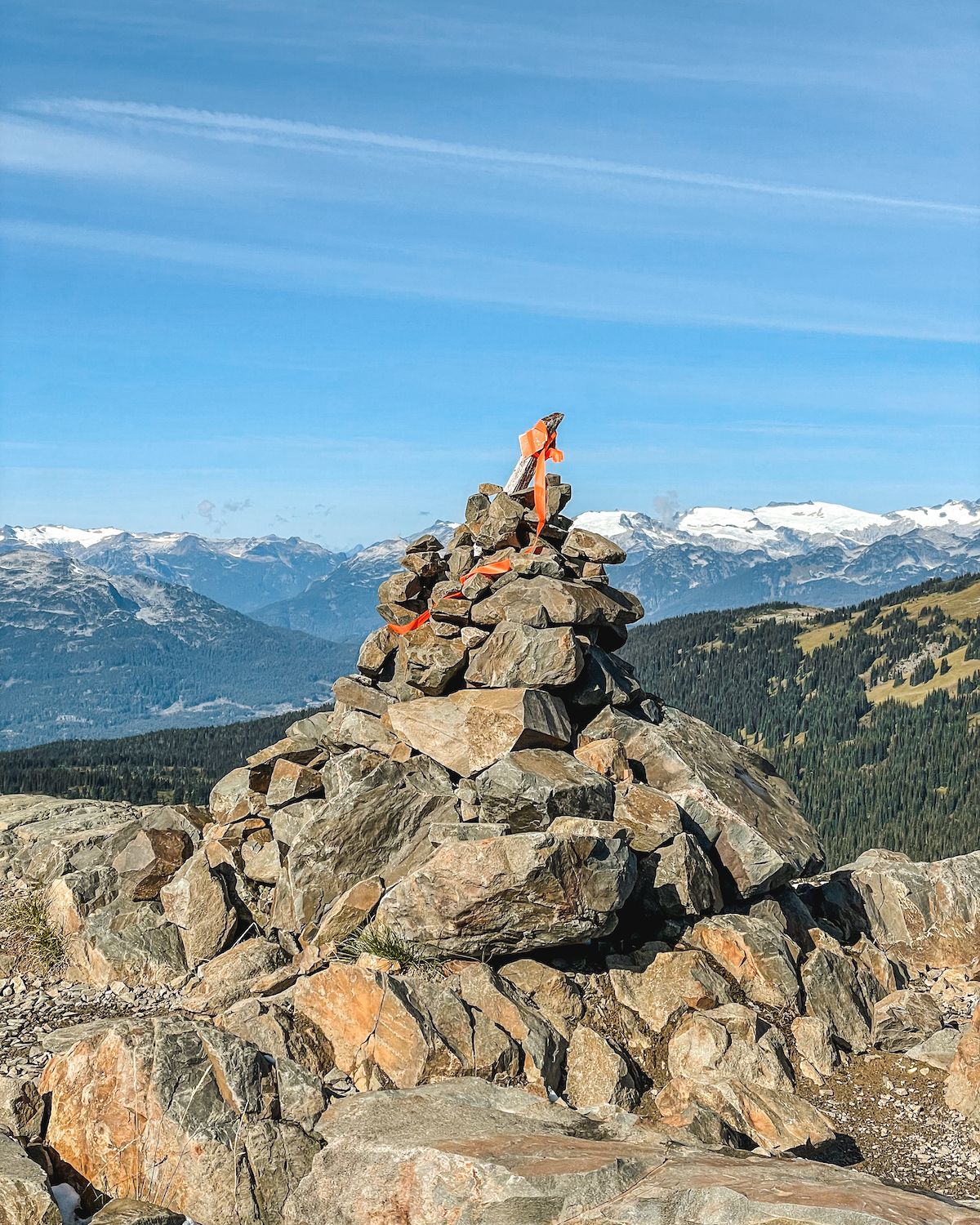 If you were to hike all the way to Garibaldi Lake and Panorama Ridge in one day that would be a very difficult hike. The crazy thing is that some people do it! They are in amazing shape. I always hit a wall at 22 km in one day, that's my max.
With our route, you can break up the hike and enjoy the scenery longer while camping.
The first part of the hike from Rubble Creek trailhead to Garibaldi Lake may have an ascent of 850 m, but it's actually not too bad since the switchbacks are gradual. There are no stairs, yay! This makes it doable with a loaded pack.
The best part about camping is that you can leave your tent and belongings back at the campground and hike the Panorama Ridge trail with just a small day pack. The hike to Panorama Ridge has some steep sections at the end with loose rock scree, so hiking poles are highly recommended.
If you only wanted to camp one night, you could pick up your belongings at Garibaldi Lake after hiking Panorama Ridge and then hike back down to the Rubble Creek trailhead. We loved spending another night at Garibaldi Lake and giving our legs a rest, it's also fun to be out in nature longer.
Recommended Garibaldi Lake and Panorama Ridge itinerary
This is the hiking/camping itinerary we did and we were very happy with it. It allowed us to have some downtime at the campsite to play cards, cook hearty meals and take in the lake's majestic beauty. We also didn't feel rushed during our hikes. We took our time taking pictures and spent a good hour at the top of Panorama Ridge.
Here is what you can expect on the route:
Day 1: Rubble Creek Trailhead → Garibaldi Lake
Distance: 9km | Ascent: 850 m | Time: 3-4 hours with a heavy pack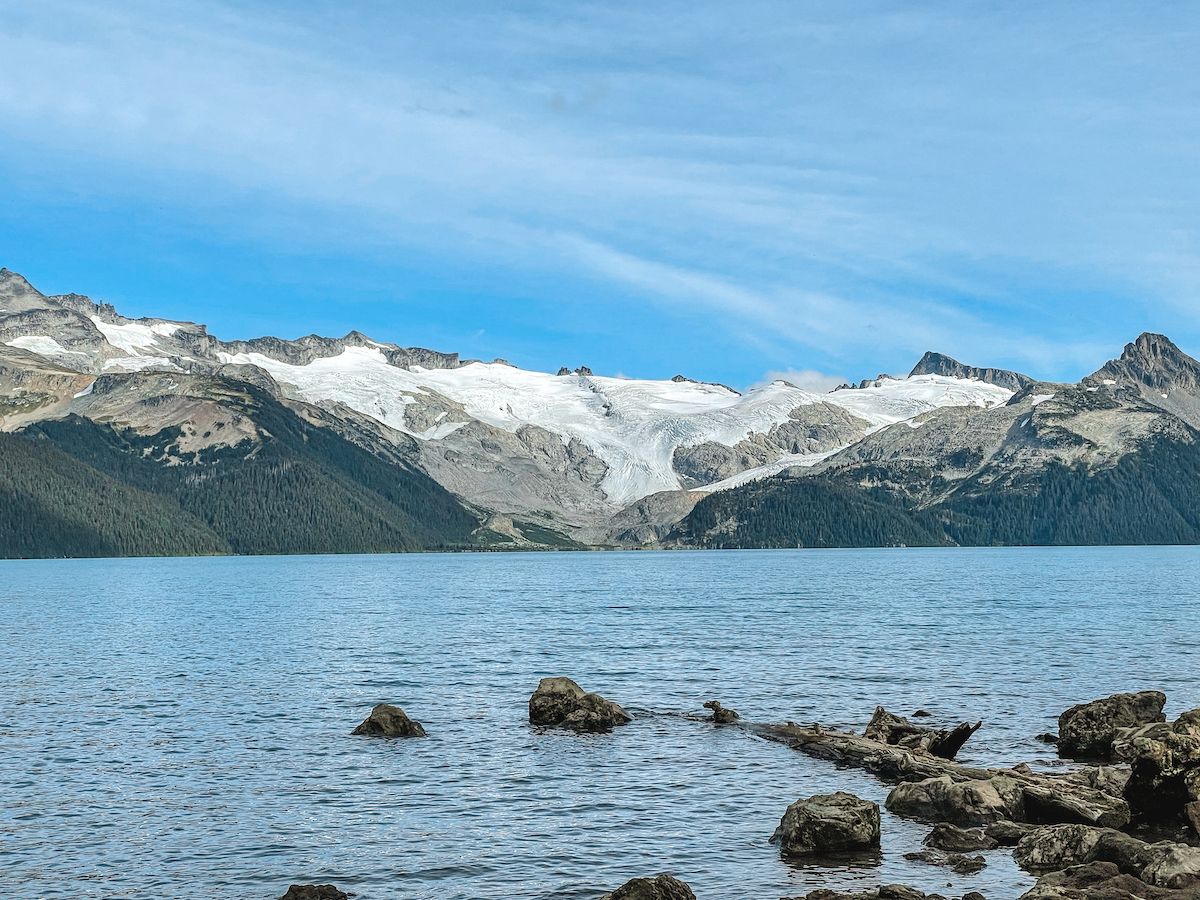 The first 6km is the boring section of the hike, since you go up switch back after switch back in the forest. With a heavy pack though you will be relieved it's not steep steps! You will ascend about 735 m until you reach the Garibaldi Lake/Taylor Meadows Junction. Take a right at the junction towards Garibaldi Lake. Once you reach this point you've gotten over the hump and the last 3 km is a very gradual incline.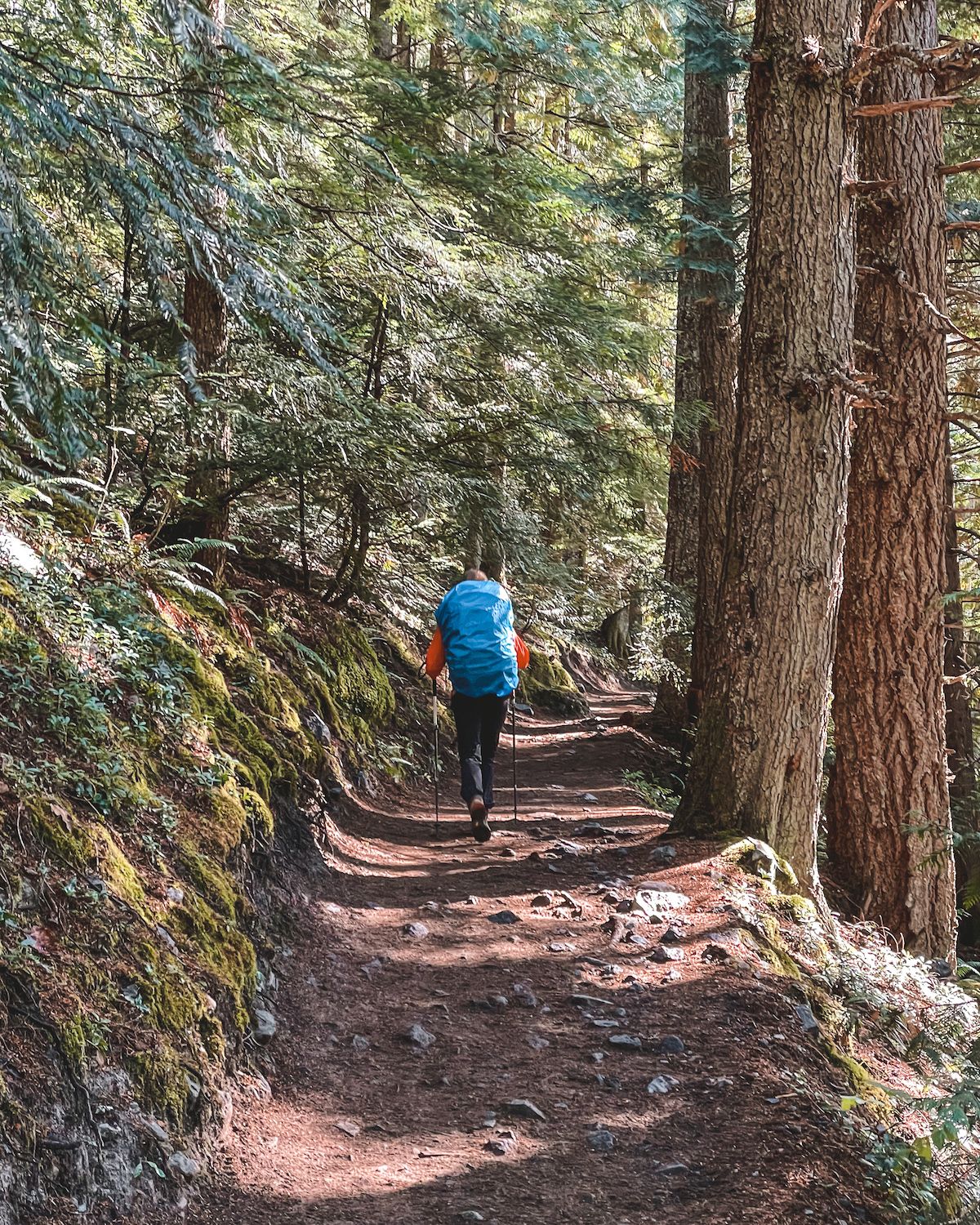 Your last 3 km you will see Barrier Viewpoint, Barrier Lake (a man made reservoir) and Lesser Garibaldi Lake (couldn't they have thought of a better name?!) before you reach the crown jewel, Garibaldi Lake.
Once you arrive, get your tent set up and enjoy your afternoon!
You can even swim in the lake if you can bare the cold.
Just make sure to bring a
quick dry towel
with you.
We cover everything you need to know about camping at Garibaldi Lake Campground later in this post.
Day 2: Garibaldi Lake → Panorama Ridge → Garibaldi Lake
Distance: 14km | Ascent: 649 m | Time: ~ 6 hours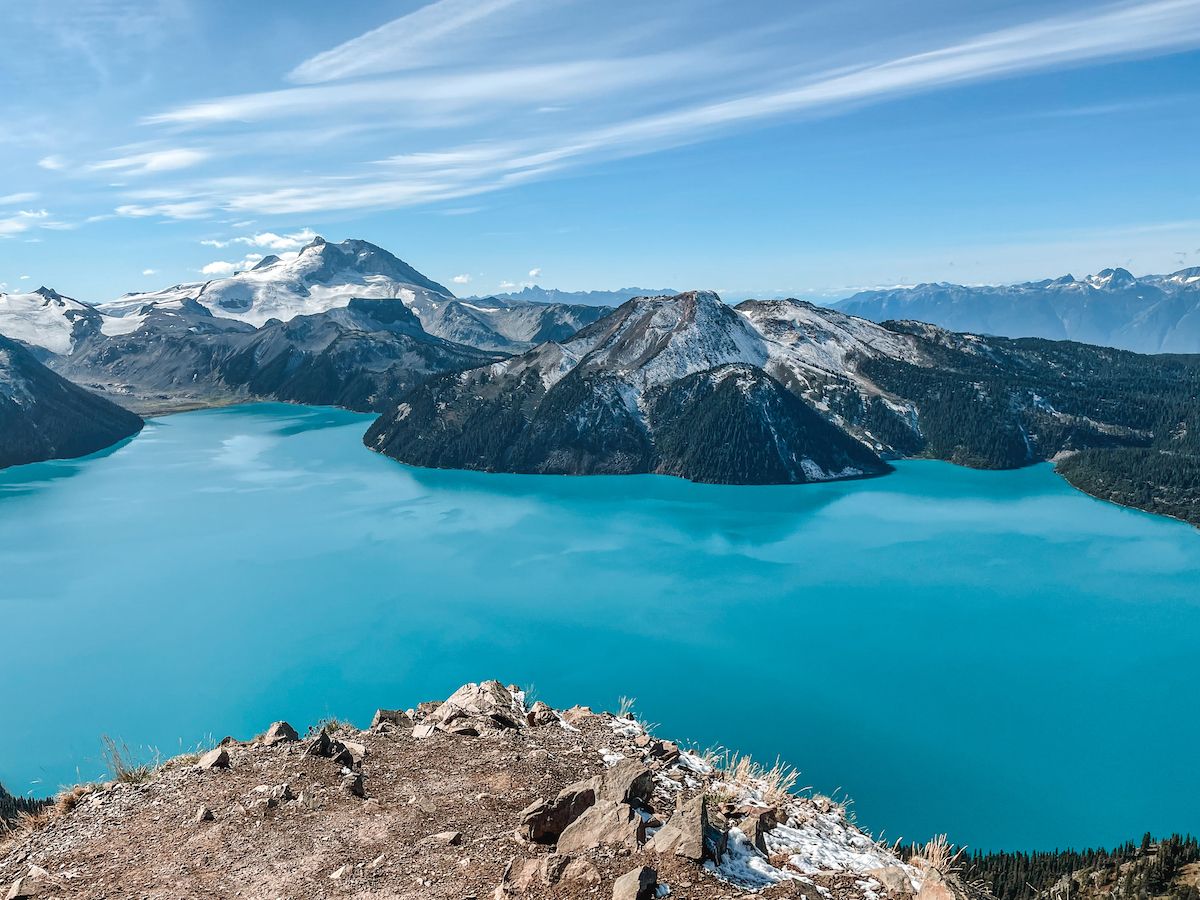 Today is the big day - you get to see one of the most incredible views in the world. What makes the Panorama Ridge hike so special is not just the view at the end, but the stunning sights along the way through the alpine meadows. It's one of the prettiest hikes we have ever done.
From Garibaldi Lake you will exit the same way you came in until you see a junction. At this junction go right towards Panorama Ridge. The first part of your hike you will ascend 130 m by switchbacks until you see little lakes on the lefthand side.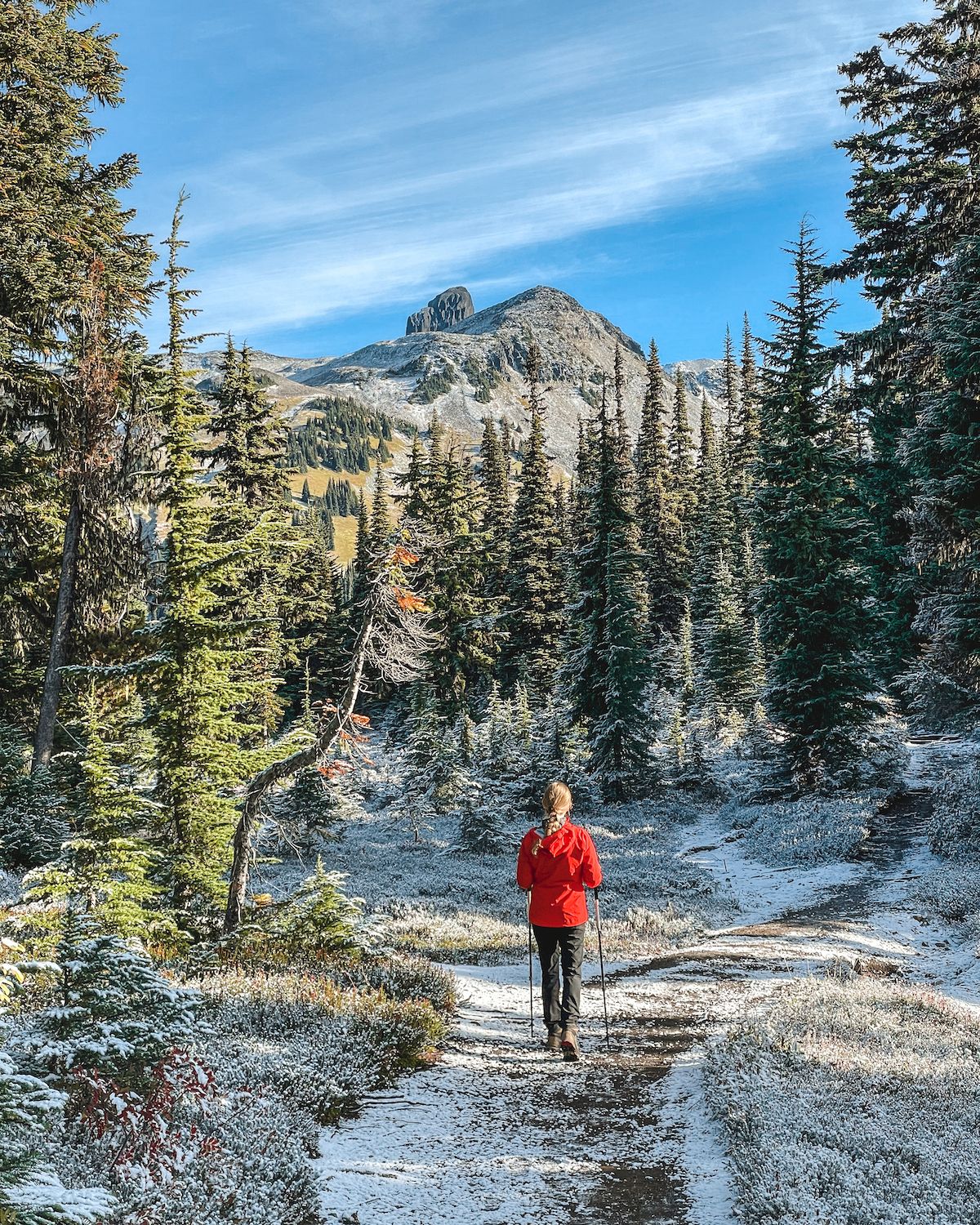 The hike gets absolutely beautiful from there in the alpine meadows. Since we woke up to some snow in the morning, the meadows and trees were beautifully covered in frost. We loved walking on the boardwalks through the open meadows. You will see wildflowers, rushing creeks and wildlife if you're lucky. We saw marmots, grouse and squirrels.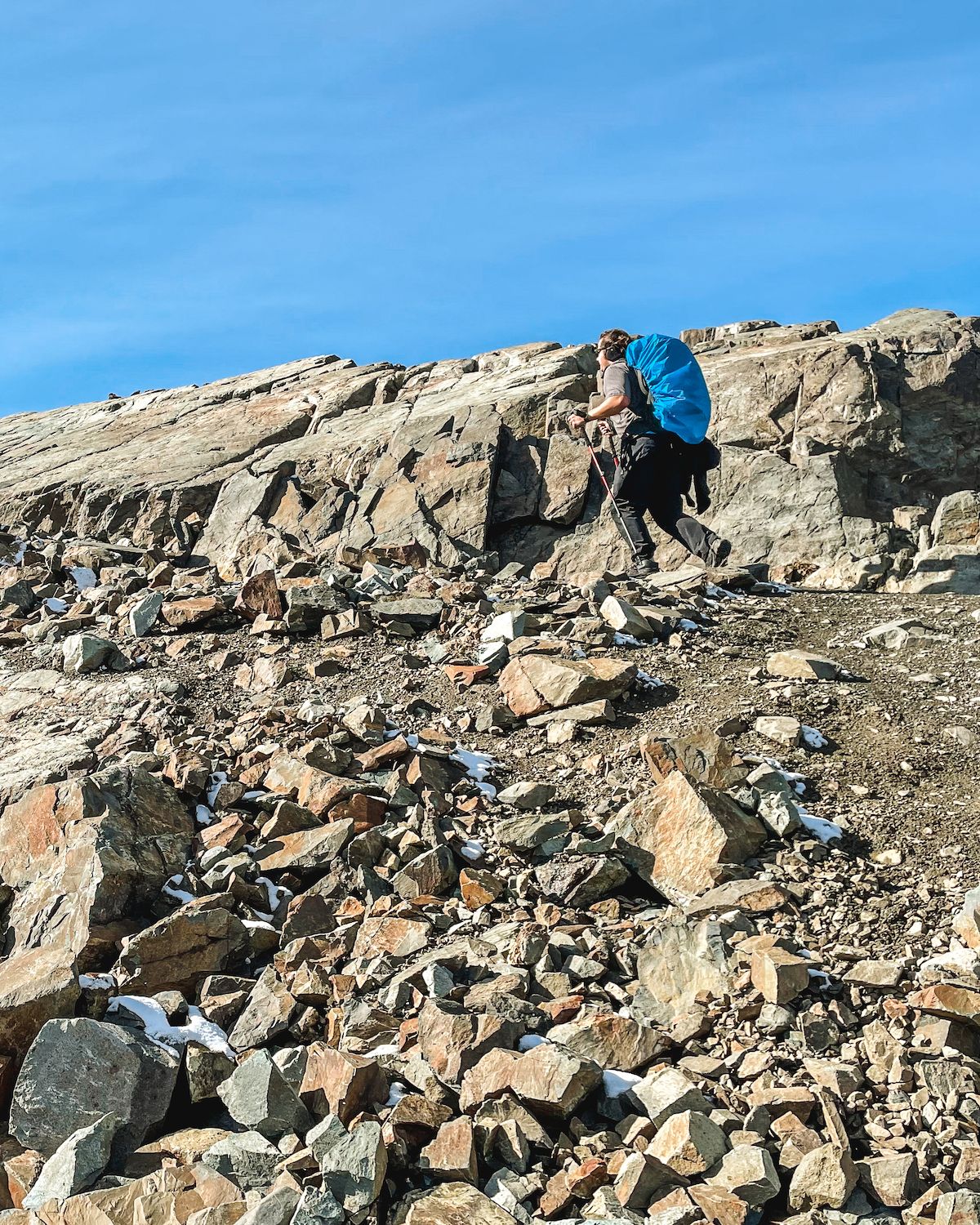 Continue along the trail until you reach Outhouse Junction. From there, turn right towards Panorama Ridge. Keep following the markers along the trail toward Panorama Ridge. The landscape will start to become more rocky and you will have marvellous views of Black Tusk mountain (an extinct stratovolcano!).
Once you've made your way around Black Tusk Lake, you will start a steep 250 m ascent up loose scree to Panorama Ridge. Prepare for snow on this ridge, even in summer. We highly recommend bringing poles, especially for the descent back down.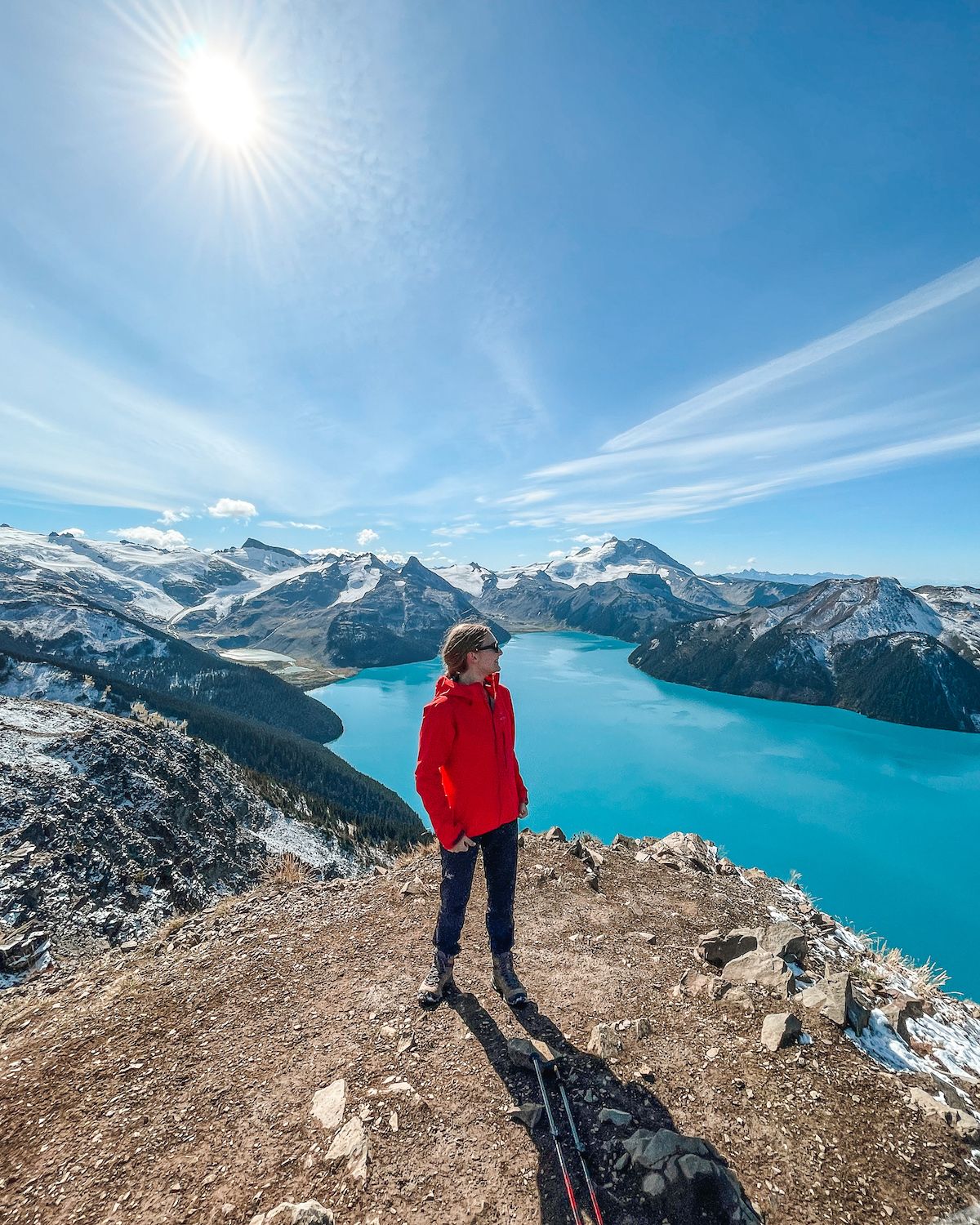 Once you get to the top you will be blown away by the enormous glacial lake and extinct stratovolcanoes, like Mt. Price and Mt. Garibaldi.  
Top tip: bring a small camping stove, some instant coffee and snacks so you spend more time on the ridge. In our camping tips section below, we cover how we made sous vide pulled pork sandwiches at the top!
It's also important to bring warm clothes to the ridge, even on sunny summer's day. It gets windy and chilly up there!
Afterwards, you will have gorgeous views of Black Tusk on your way back down the ridge. Take the same trail back to Garibaldi Lake Campground.
Day 3: Garibaldi Lake → Rubble Creek Trailhead
Distance: 9km | Descent: 850 m | Time: ~ 3 hours with a heavy pack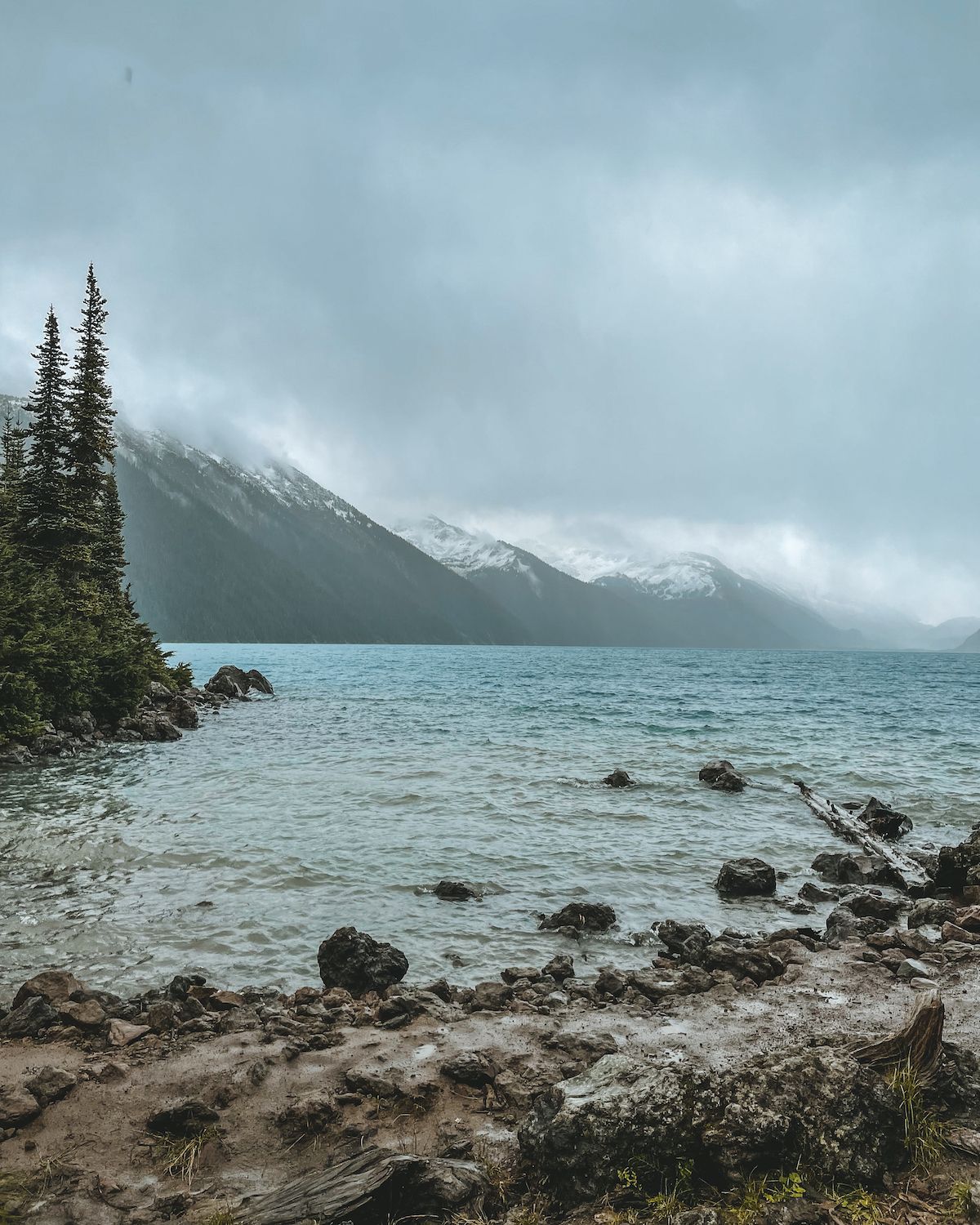 Today is your easy hiking day. Pack up your tent and belongings, have some breakfast and hike back down to the Rubble Creek Trailhead. Reward yourself in Squamish with a satisfying lunch.
Make sure to pack out all of your garbage with you and scan your tent pad for anything you could have missed. There are no garbage facilities at the campground. A habit we have developed is picking up garbage left behind that isn't our own. It's not that people intentionally litter, things just get left behind or fall out of packs. If we all work together, we can keep our parks clean!
Garibaldi Lake Camping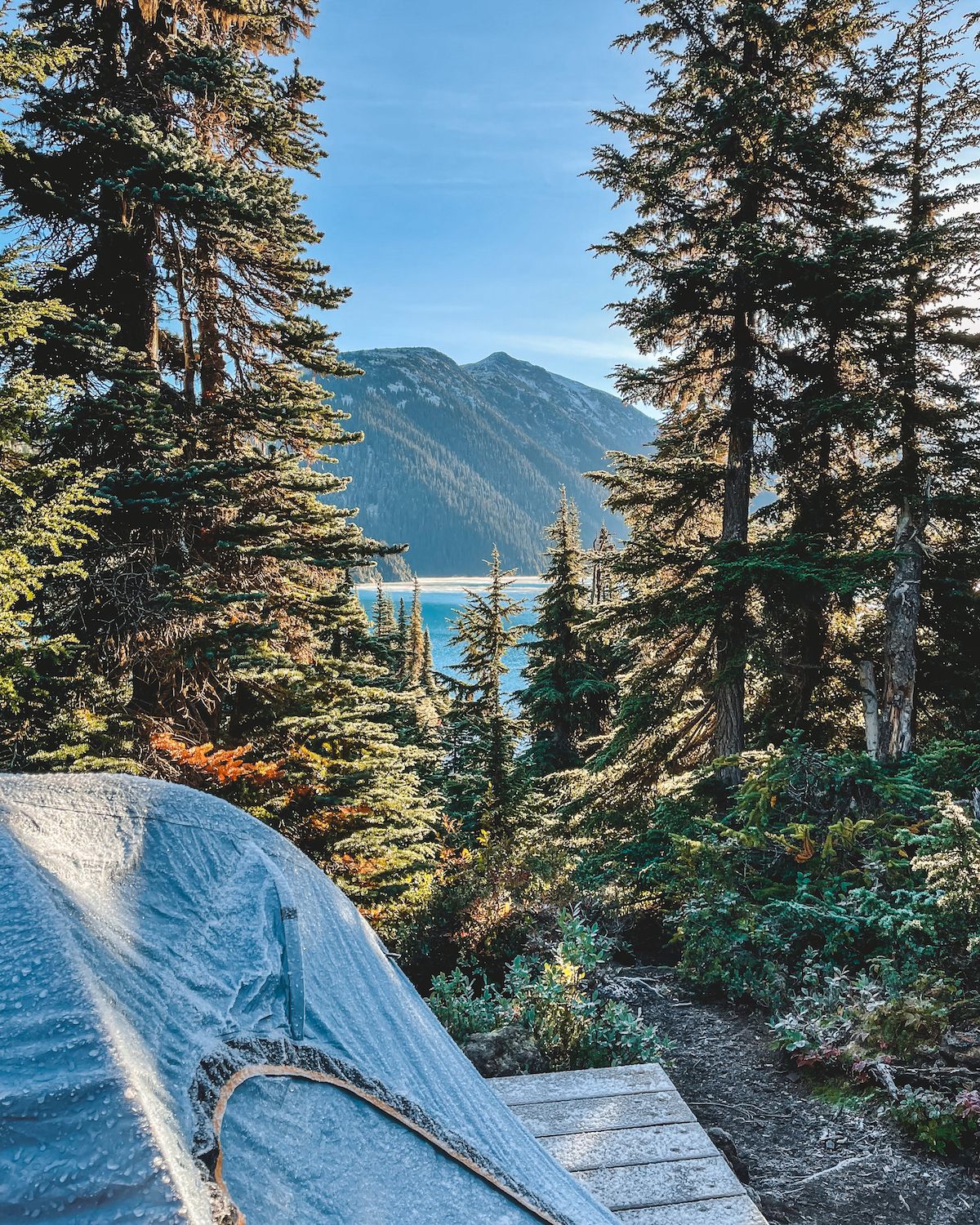 Garibaldi camping reservations
In order to camp in Garibaldi Provincial Park, you must reserve your camping spot online in advance. Your reservation will guarantee you get a tent pad, but you don't get to choose what specific tent pad until you get there.  To make your reservation visit Discover Camping. It costs $12 CAD for the reservation fee + $10 CAD per person per night. You do not need a hiking day pass if you have a camping reservation.
Make sure to print out your camping reservation and bring a small ziplock bag so you can clip it onto the post without it getting wet.
The closest campgrounds to Panorama Ridge are Garibaldi Lake Campground and Taylor Meadows Campground. Garibaldi Lake Campground is right beside the lake, whereas Taylor Meadows is in a meadow above the lake and along a different route. If you stay at Taylor Meadows and go straight to Panorama Ridge, you would cut 2km off your total hiking distance. However, you wouldn't get to see the lake up close. Taylor Meadows had some issues with bears this year and was shut down for September/October reservations.
Garibaldi Lake Campground facilities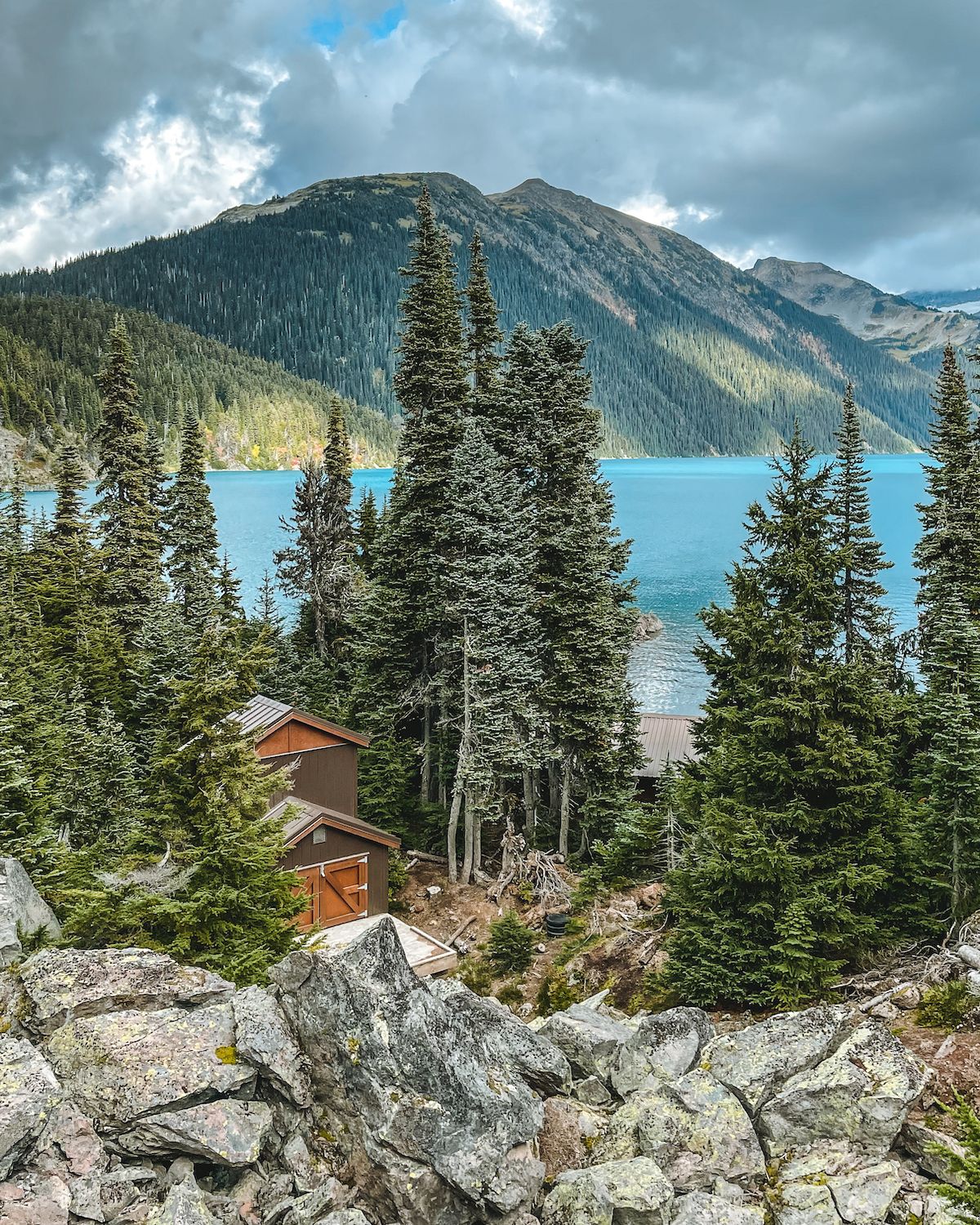 The Garibaldi Lake Campground has outhouses, picnic tables, bear caches and cooking shelters. Bring your own toilet paper and hand sanitizer for the outhouses, they don't supply them.
You must cook all of your food under the cooking shelter. This is for bear safety. When you're done, put all of your food and toiletries inside a dry bag and hang it up in the bear cache.
Our favourite camping spot on Garibaldi Lake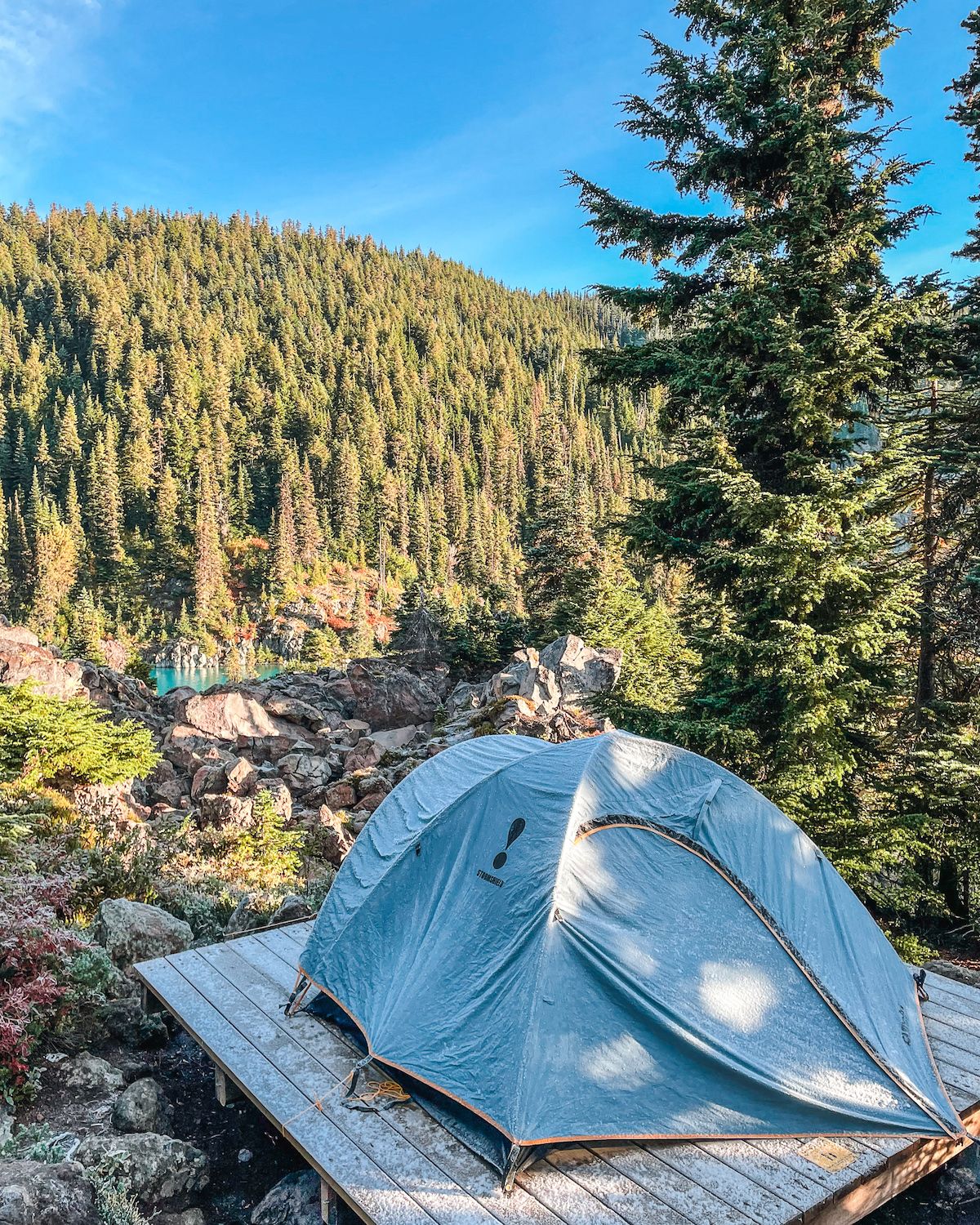 When we arrived we quickly scrambled to find the best tent pad. They are perched on the side of the mountain and some have partial views of the lake. Some were private, and some not so private. We were ecstatic when we came across tent pad #5, which is hard to see from the trail since it's blocked by another tent pad and some trees. The tent pad is in an open space with lots of light, but still felt private. It also has partial lake views from two sides. We even saw martins and chipmunks near our tent!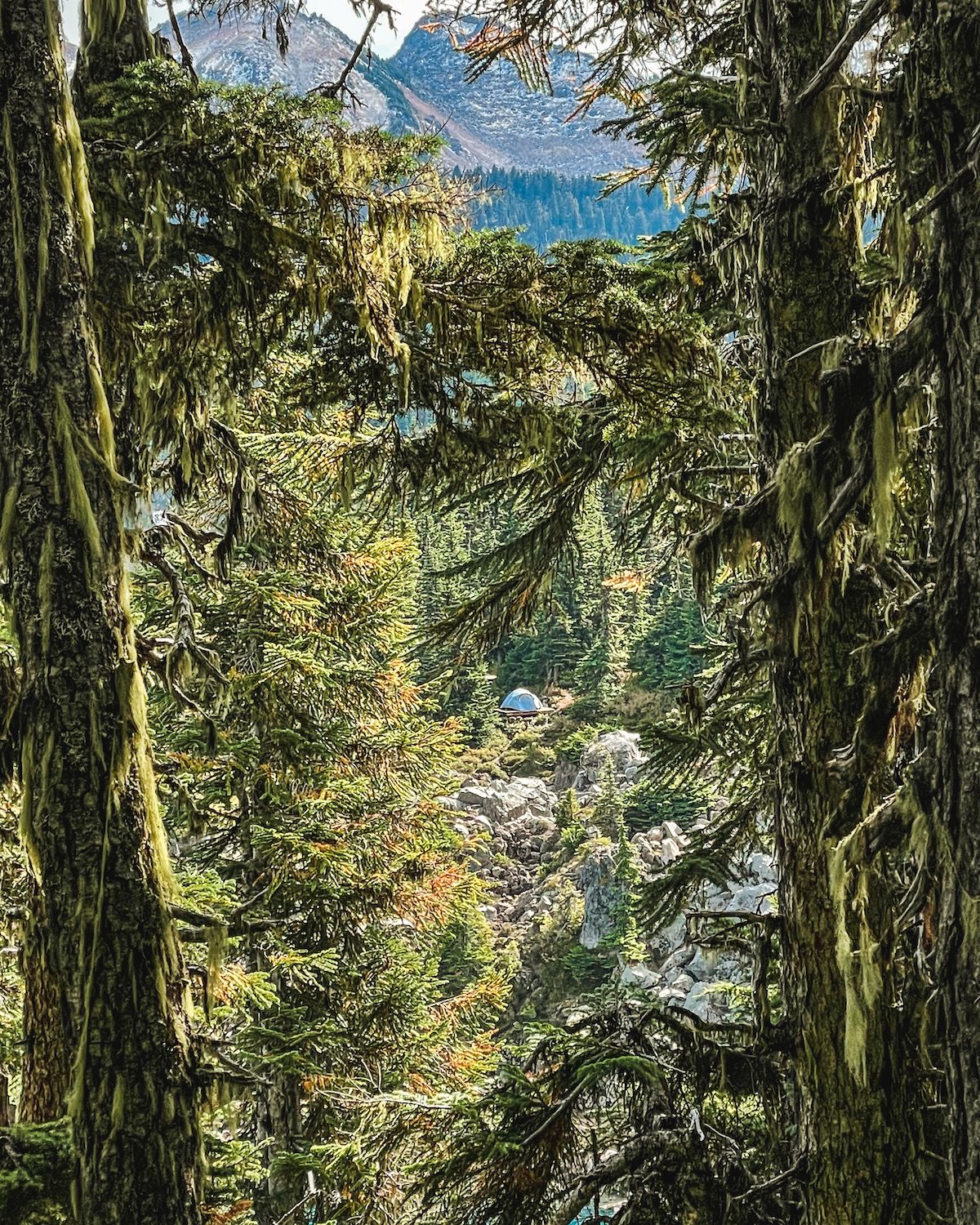 When we were walking back from Panorama Ridge we couldn't believe it when we saw it across the way!
Our Top 15 hiking & camping tips for Garibaldi Lake and Panorama Ridge
1. Bring water purification tablets
You can fill up your water bladder or water bottle at Garibaldi Lake, just make sure use water purification tablets to make it safe for drinking. On your way to Panorama Ridge there are streams can get water from if you need to refill.
2. Leave early for your hike up Panorama Ridge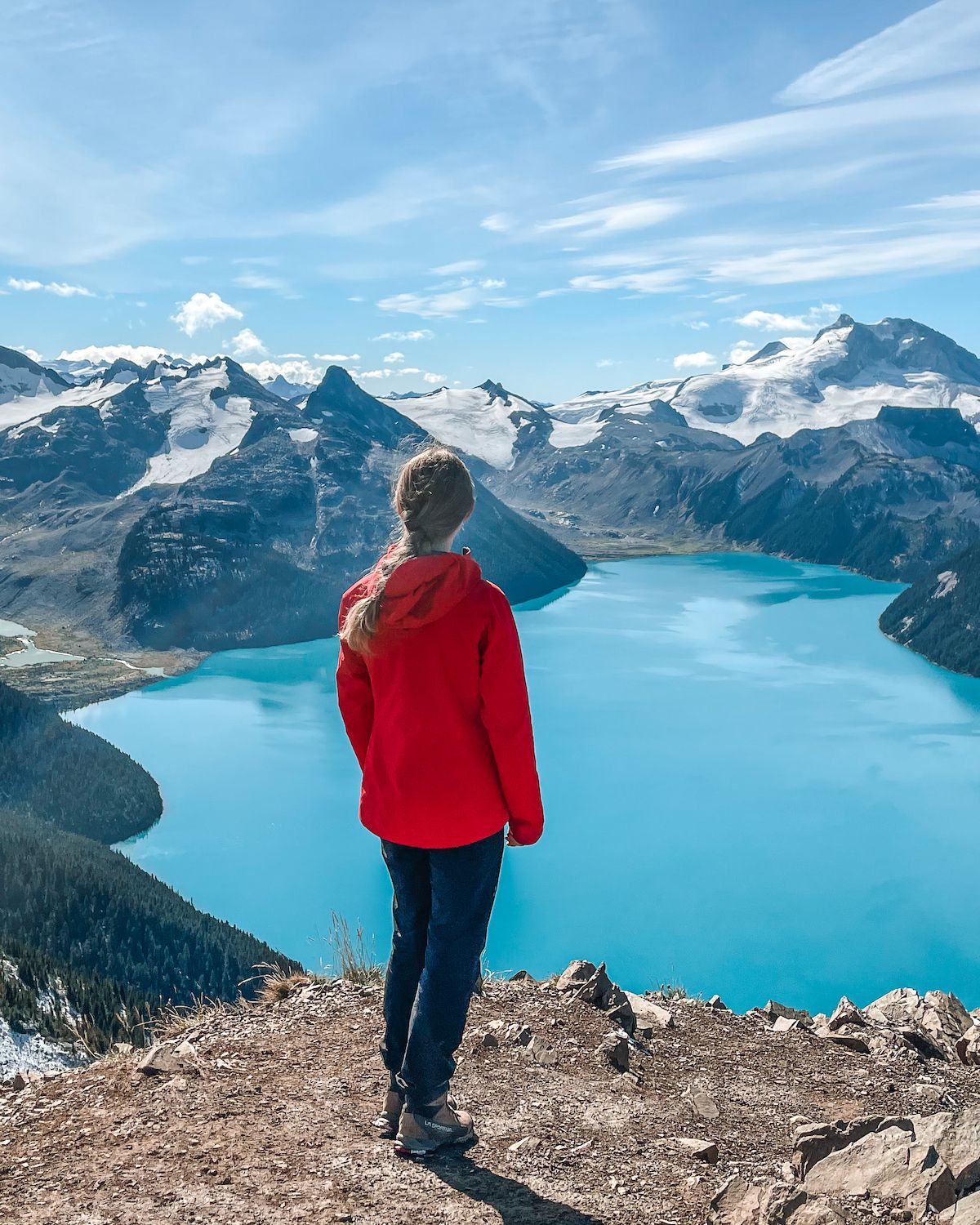 Typically in the mountains you have the clearest sky in the morning before the clouds start rolling in and up. This is true even on clear days.
We left at 8:25 AM and arrived at the peak by 11:00 AM (we were faster without our heavy packs). We recommend leaving even earlier if skies are clear. The earlier you leave, the less people you will see up on the ridge. This is another benefit of camping the night before hiking the Panorama Ridge trail - you will beat the rush of hikers doing a day trip from the carpark. They usually arrive by the afternoon. At 11 AM there were only 3 people on the ridge. By the time we left at 12 PM, there were about 8 groups.
3. Bring a quick dry towel with you if you plan to swim in the lake
It can take a long time for things to dry up in the mountains. You don't want to be stuck carrying a heavy damp towel! A
quick-dry towel
is lightweight, odor resistant and dries fast.
4. Be bear safe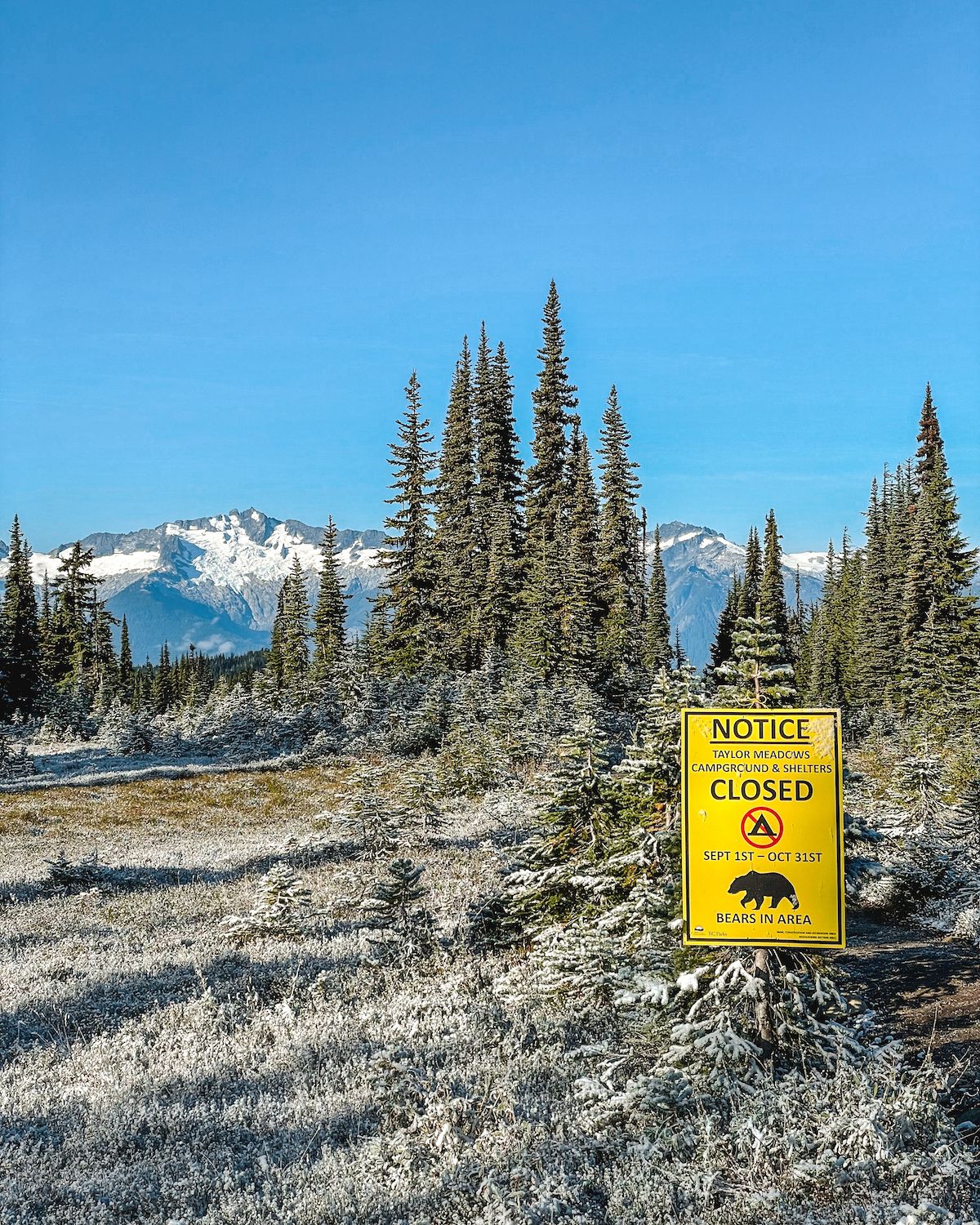 When you're hiking and camping in Garibaldi Provincial Park, keep in mind you are in bear country. There are two reasons why you would run into a bear: you see them on the trail or you left food/dirty dishes in or near your tent. Bears don't like to eat people, the only reason why they would bother you in your tent is if you left something in there that they can smell and want to eat.
If you take these proper steps, you shouldn't run into any issues:
Make your food in the camping shelter
Put all dishes, food and toiletries in a dry bag and hang in bear cache
If you run into a bear on the trail, stop what you are doing, talk in a low calm voice, and slowly back away. Always keep your eye on the bear, but do not make direct eye contact with them or they could see it as a challenge or threat. Never turn your back on the bear or run.
In case a bear became aggressive and charged,
make sure you have bear spray with you in a place you can easily reach it.
Do not pack it in the bottom of your backpack. You can buy it at MEC. This is a good
video
to watch to learn how to use it.
5. Bring cards or board games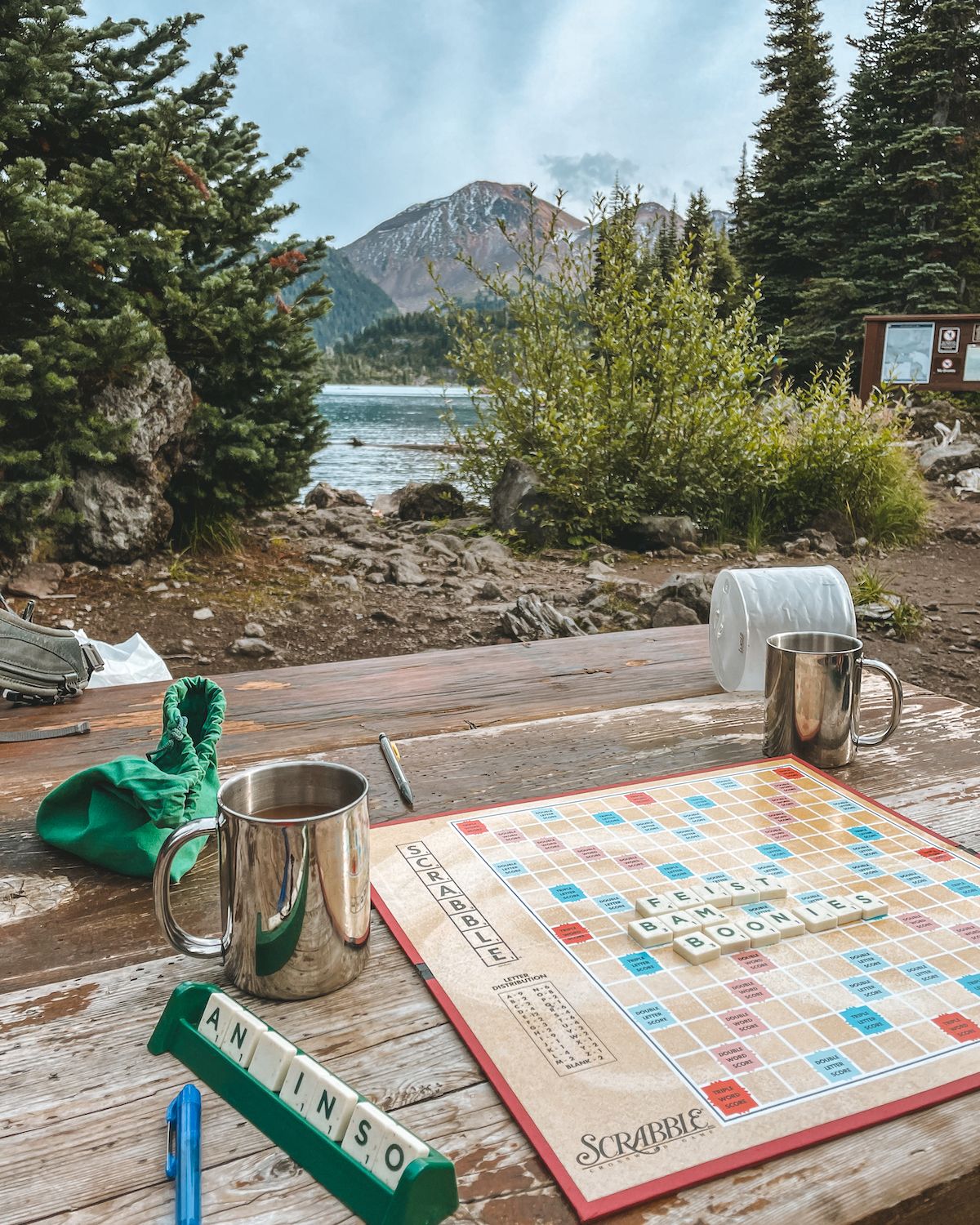 Playing cards or board games is a lot of fun when you have downtime back at your campsite. We always bring a deck of cards to play our favourite Nepali card game,
Dhumbal
, and
Scrabble
. It's a surprisingly lightweight game.
6. Bring instant coffee packets
If you're a coffee drinker, the easiest way to make coffee in the mountains is with instant coffee packets. Each packet is one cup of coffee so it's easy to measure. All you need to do is pour it into your coffee cup and add boiling water. We always use
Starbucks VIA packets
.
If you don't like coffee, don't forget to bring some tea bags or hot chocolate packets.
7. Make lunch at the top of Panorama Ridge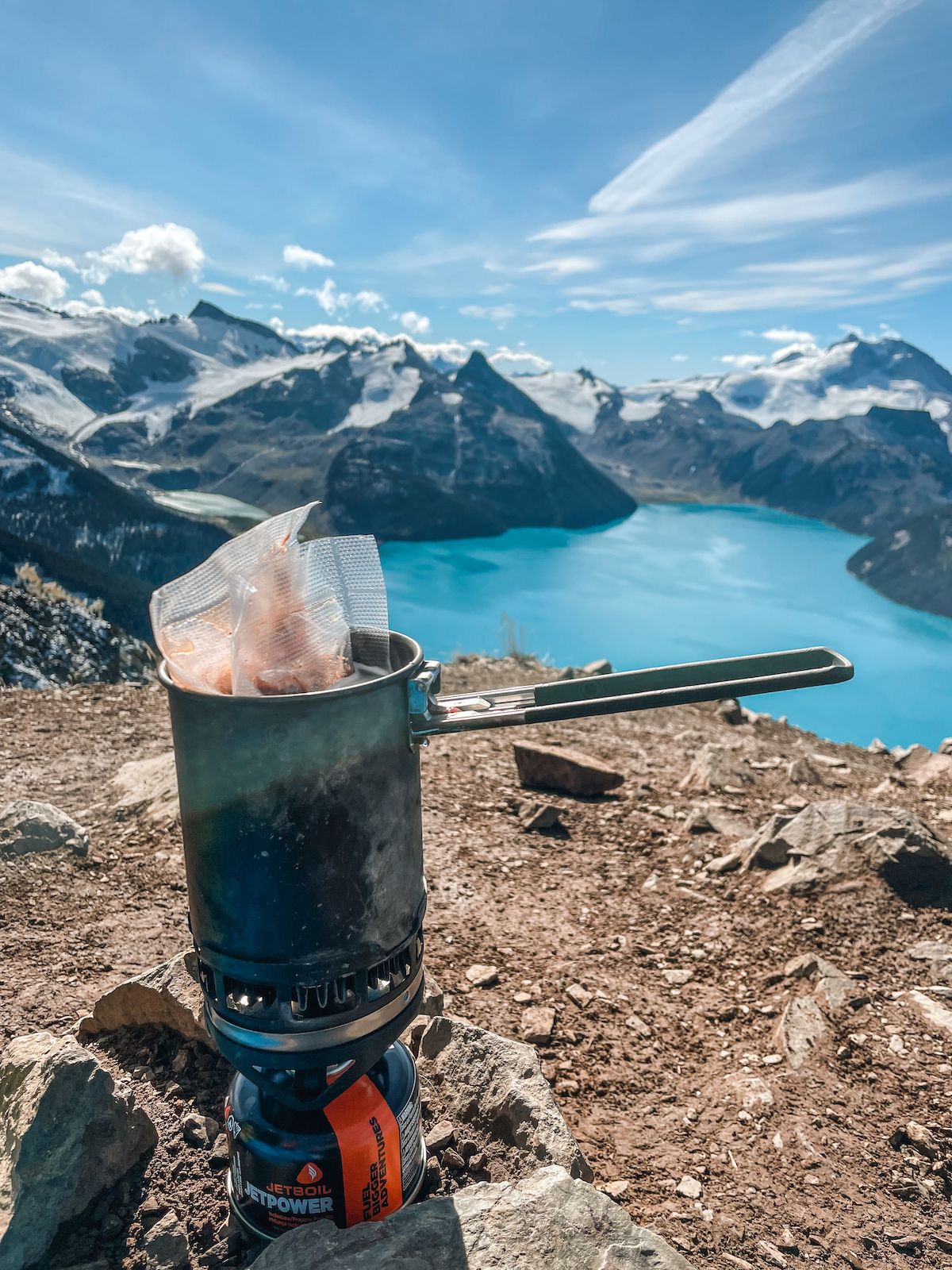 We made sous vide pulled pork sandwiches on the top! So boujie, but delicious. Here is how to do it:
Make pulled pork at home (any juicy meat works too) and vacuum seal it in a bag such that it will fit in your camping pot nicely. This is done by using a vacuum sealer. Consider also adding in a sliced pickle into the bag to top off your sandwich.
Freeze it overnight before heading to your hike. It will be safe to eat for the first couple days of your trip.
Bring a small camp stove, lighter, some water, buns and a knife to open the bag.
Place the bag inside the water and bring to a rolling boil. Once it comes to a rolling boil it should take around 5 minutes extra to heat up. You can tell when it's ready by taking out the bag and feeling how hot the inside contents are.
Use your leftover water to make coffee! Just bring a lightweight camping mug and instant coffee packet.
8. Bring warm gear with you up to Panorama Ridge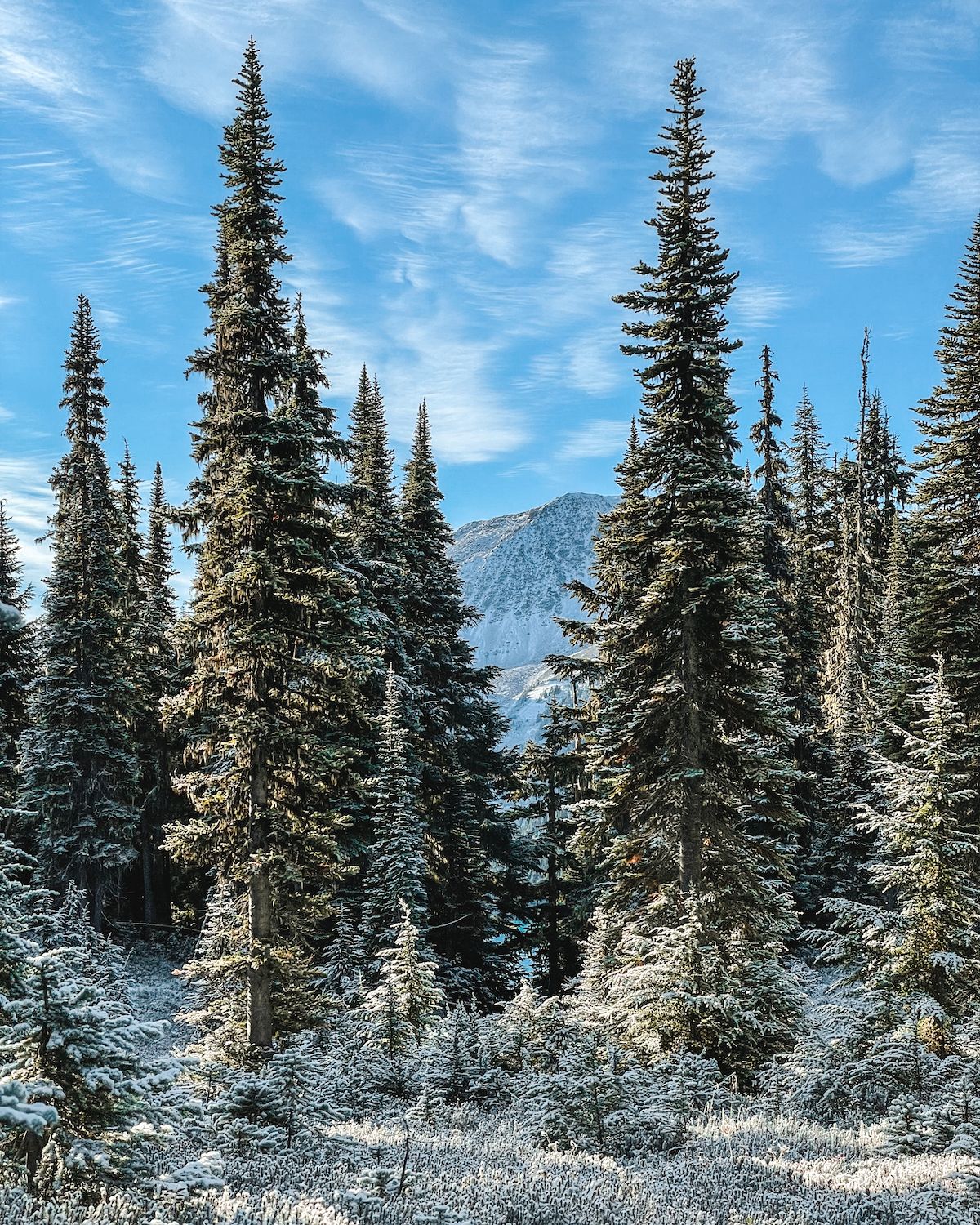 You will want to capitalize on as much time as you can up on the ridge! Even if it's a sunny summer's day, it can get windy and chilly. You never know how conditions will change in the mountains.
Bring
gloves
, a
toque
, a
buff
,
waterproof shell jacket
, a
down jacket
and
waterproof shell pants
- the linked items are what we own personally and love!
9. Make sure the gas canister you buy is a four season blend
It can get cold up in the mountains, so ensure you buy the
four season mix gas canister
.
Top tip: the boiling point at this elevation is actually around 94.5 °C rather than 100°C, so keep the water at a rolling boil for a little while longer to ensure it gets hot enough to heat up/rehydrate your meal.
10. Pack a warm enough sleeping bag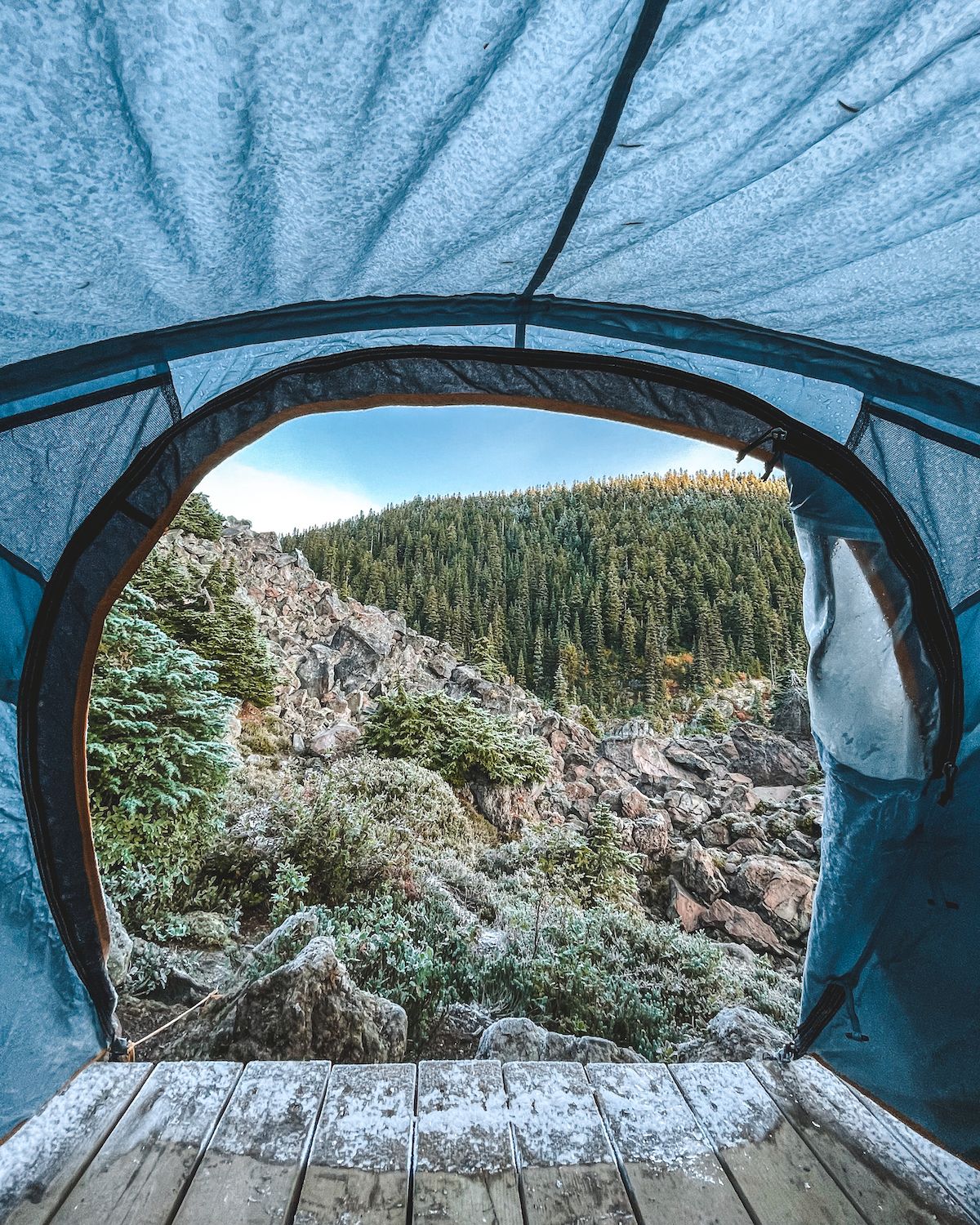 In the middle of September we woke up to some snow and a frost covered tent. I was sure happy to have my -4°C
sleeping bag
!
11. Don't forget toilet paper and garbage bags!
Garibaldi Lake Campground does not supply toilet paper and does not have garbage facilities. Make sure to bring a garbage bag so you can easily carry out all of your garbage.
12. Bring ropes to attach your tent to the pad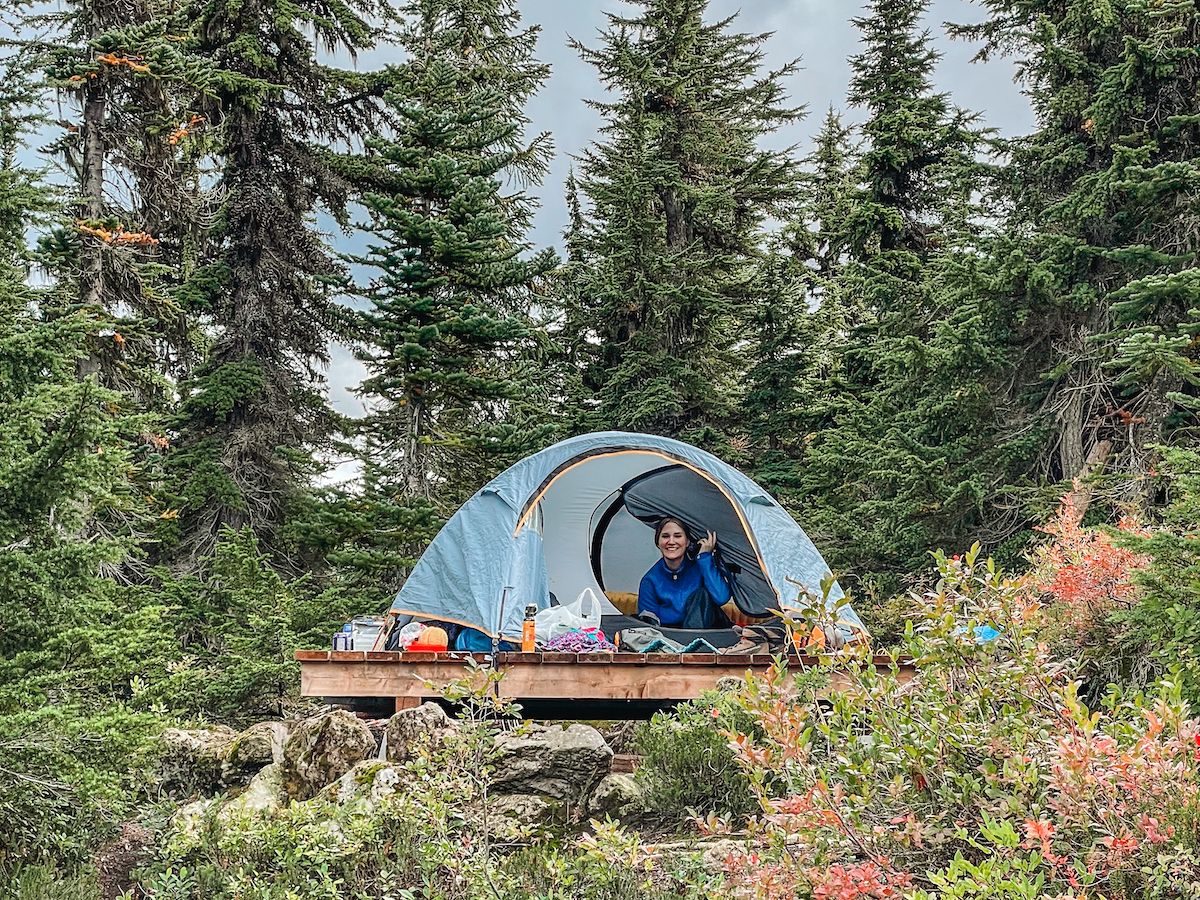 Don't be that camper who chases after their tent when the wind picks up. Garibaldi Lake Campground has wooden tent pads, so you will want ropes to help attach your tent to the pad. You can get custom lengths of  rope at MEC. We got four 7 ft. long ropes with a 2 mm thickness.
13. Make "pot cozies" for your dehydrated camping meals
Dehydrated camping meals
are amazing since they are so lightweight, however sometimes it can be tough to heat them up enough to soften the noodles. This is where DIY pot cozies come in handy.
Just bring a bubble mailer and place the bag of food inside. It will hold more of the heat from the boiled water since it's insulated.
Top tip:
we tried two different brands of dehydrated camping meals (Backpackers Pantry and Mountain House) and
Backpackers Pantry
was by far the best. Their delicious Pad Thai included packets of spices, peanuts and sriracha powder! Crush your peanuts before adding them :)
14. Bring hiking poles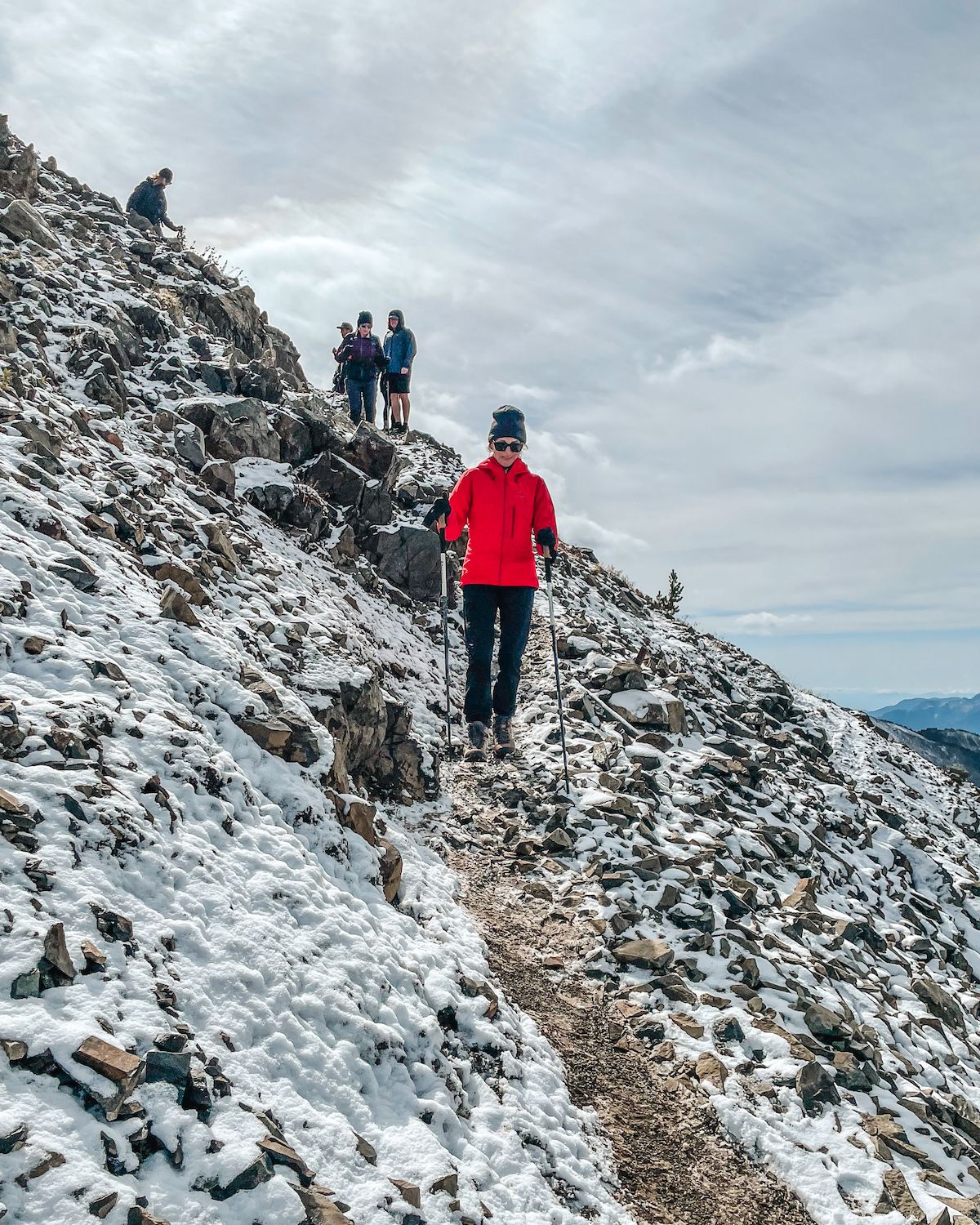 I won't do any long hikes without them. They really save your knees as you go down steep sections and give your arms something to do. They are also very useful on slippery sections and reduce your chances of a fall. I use
Black Diamond carbon cork trekking poles
. Since they are made out of carbon fibre they are lightweight, yet very durable.
15. Bring a piece of tinfoil
If it's super windy, this piece of tinfoil will be your life saver to keep your camping stove lit and going strong. Just wrap it around the burner. It was so windy up there we actually lent a piece to two fellow campers who couldn't keep their gas stove lit.
Camping and hiking packing list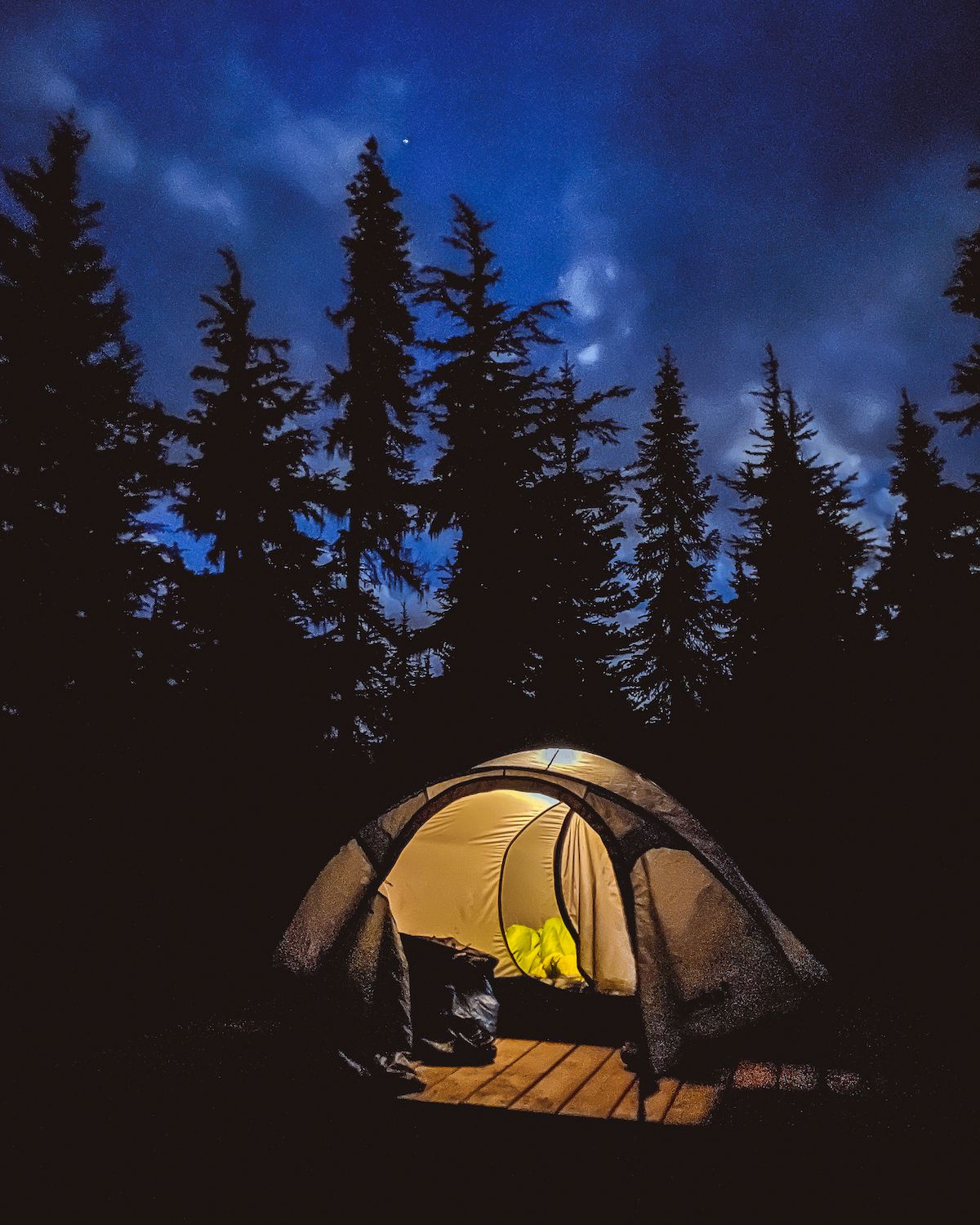 Here is what we brought with us on our multi-day hike. Each item that is linked is what we own and highly recommend. We have used them over the years for numerous hikes and camping trips around the world (Patagonia, Nepal, Peru etc.).
Clothing

Other Essentials

Osprey backpack with hip support . We love how you can zip up the straps on their Fairview bag, making it easy for plane travel.
1 roll toilet paper
Tent (don't forget the poles!)
Ropes for tent to tie it down to pad
Sleeping bag (make sure it's warm enough)
Lightweight pillow
Waterproof compression sacks for clothes and sleeping bag
Dry bag for food (bear cache)
Small dry bag for electronics etc.
Sunscreen
Toiletries (biodegradable soap, hand sanitizer, lotion, chapstick)
Bandaids for blisters
Camera or iPhone for taking pics
2 litre water bottle or water bladder
Kindle or a book
Scrabble or board game
Notepad and pen
Solar powered lantern for tent
Lightweight seat cushion (excellent for the ridge and for picnic table to keep butt warm)
Lighter
Piece of tinfoil
Camping fork, spoon, knife
Lightweight camping mug
Camping plate
Chocolate bars/candies
Garbage bag
Ziploc bag for camping reservation
Printed out camping reservation
Water purification tablets
Sharp knife
Salt and pepper packets from grocery store
Few sheets of paper towel
Instant coffee/hot chocolate/tea bags
DIY pot cozies (bubble mailer)
Bear spray
We hope you enjoyed this Garibaldi Lake and Panorama Ridge camping guide!
Planning a trip around Vancouver? Don't miss our list of the 17 Best Weekend Getaways From Vancouver.