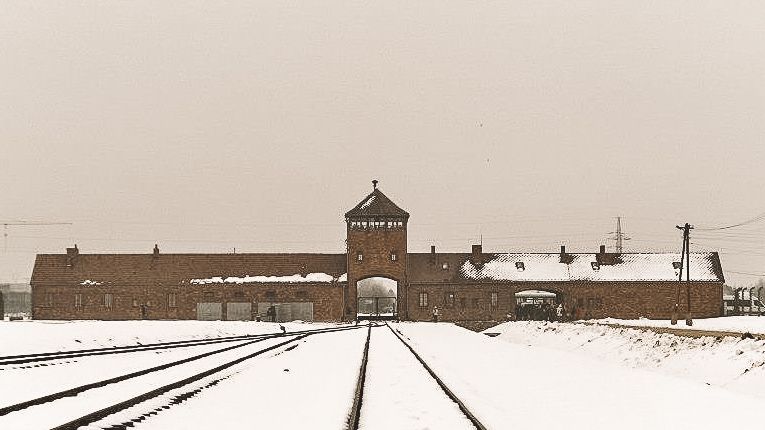 Prices to visit Auschwitz can vary greatly depending on which tour you go on and method of transportation. If you're on a tight budget like we are, see our tips ahead for the cheapest way to visit Auschwitz.
Our travel guide covers how to take a day trip to Auschwitz from Krakow. Don't make the same mistake we did by following Google Maps to the wrong building and missing the first 20 minutes of our tour! 😕
Best time of year to visit Auschwitz
The best time to visit Auschwitz is in Spring from March - May and in Fall from September to November. The weather won't be freezing cold at this time and you will avoid the mass of summer tourists.
The Cheapest Way to Visit Auschwitz from Krakow
1. Buy tickets for Auschwitz from their official organizational website
Admission to the grounds is free and has to be reserved online, but we highly recommend including an educator to better understand the history. Reserve your tour here and pick your language of choice. We found that third parties selling tours and transit cost more than double than what we paid for everything.
The cost of the 3.5 hour guided tour is 75 zl (~$20 USD) per person. For students or seniors over 75, the cost is 65 zl (~$17 USD). There were about 20 people on our tour which seemed a bit large at times, but we each had a headset so we could hear what the tour guide was saying. Our guide was also a very good story teller and spoke good English.
2. Take the bus to Auschwitz from Krakow
The cheapest method of transport to Auschwitz from Krakow is by bus. Taking the bus was reliable and easy. You can purchase bus tickets here. They were only $4.50 USD roundtrip and busses leave from the Krakow Main Bus Station. The only catch is that you have to pre-book your time, so plan accordingly.
3. Get off the bus at Auschwitz I, which is where the tour starts
We made the mistake and walked all the way to the "Auschwitz Historical Gate" labelled on Google maps, which is Birkenau and is visited on the second half of the tour. In a panic, we ran back to where we started because we didn't know there was a free bus that moves back and forth. Doing so we missed 20 minutes of our tour!
4. There is a cheap snack shop outside of Auschwitz I
You will get a 10 minute break between visiting Auschwitz I and Birkenau to grab a snack if you desire.
5. Comfort Tip: Make sure you bring warm clothes if your tour is in Fall, Winter, or Spring!
It gets quite chilly, especially in the evenings.
Cost Summary: How much to visit Auschwitz on a budget
3.5 hour guided tour: $20 USD
Roundtrip bus to Auschwitz from Krakow: $4.50 USD
Total = $24.50 USD per person
We hope you enjoyed our tips on how to visit Auschwitz on a budget!