London is an impressive city with so much to offer that it can feel overwhelming choosing what to do and where to go, especially if it's your first time visiting. As one of the most populous and visited cities in the world, our mission was to cut through the noise and create the perfect mix of quintessential London experiences with unique local experiences.
With the help of Katarina, the London based fashion designer of Blue Nude, we created a 5 Day London itinerary combining classic sights in Central London with local hot spots in East London.
This itinerary doesn't focus on museums and doesn't spend too much time in touristic sites. Instead, during your 5 days in London, you will see classic sights worth the hype, spend time at cool local hangouts, discover hidden gems and engage in fabulous experiences that make the city so special.

Outline: London in 5 Days
Days 1-2: Central London - a mix of classic English sights and fabulous experiences

Days 3-5: East London - a mix of cool local hangouts and hip alternative experiences
Disclosure: Some of the links below are affiliate links, meaning at no additional cost to you, we will earn a commission if you click through and make a purchase. We only recommend products or services we have used or that we believe will add value to our readers. Thank you for supporting us!
Best time to visit London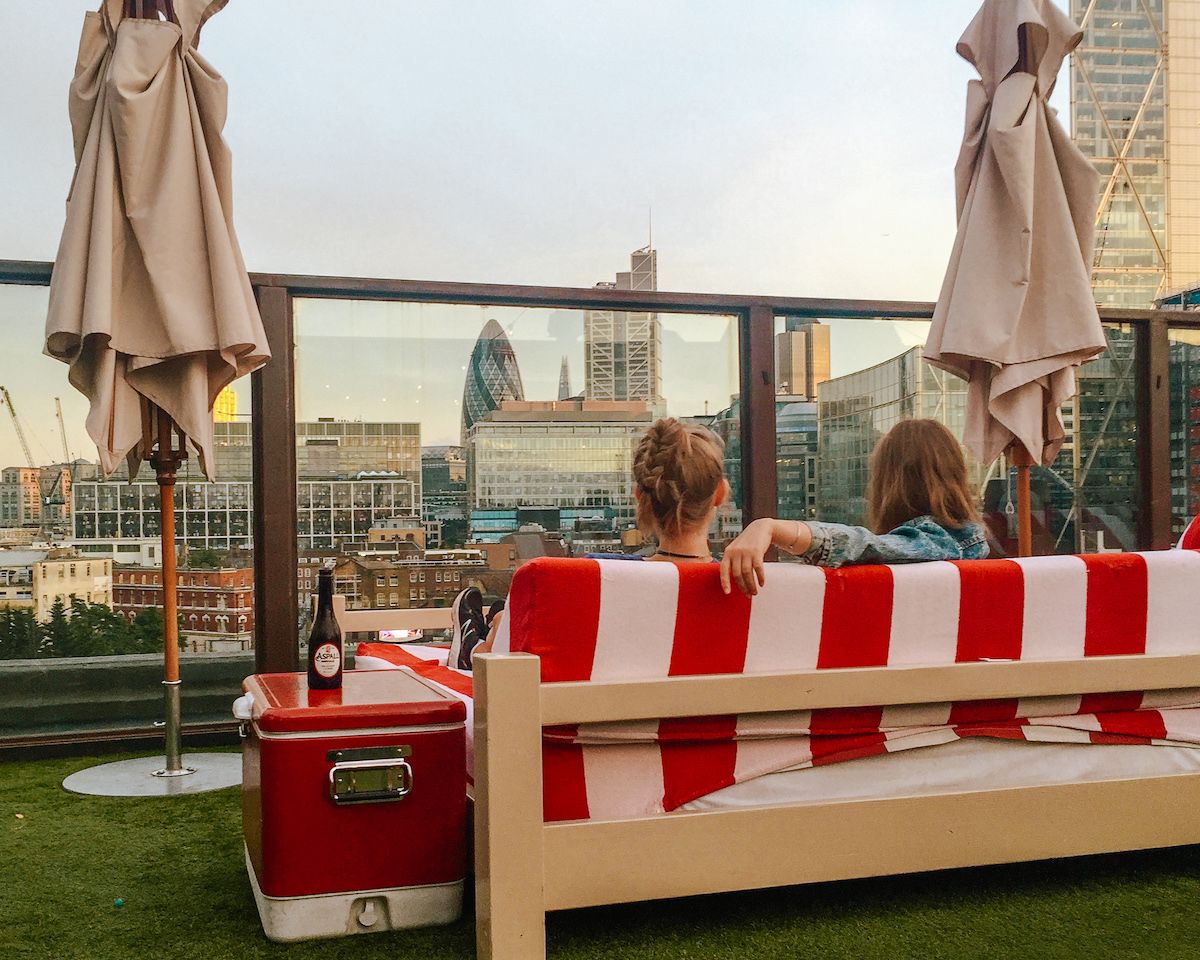 The best time to visit London is between April and September. These months see the most average sun hours and the temperature is warm to mild. November to March sees the coldest temperatures.  
For an "English garden" feel, visit during April for cherry blossom month.
Best way to travel around London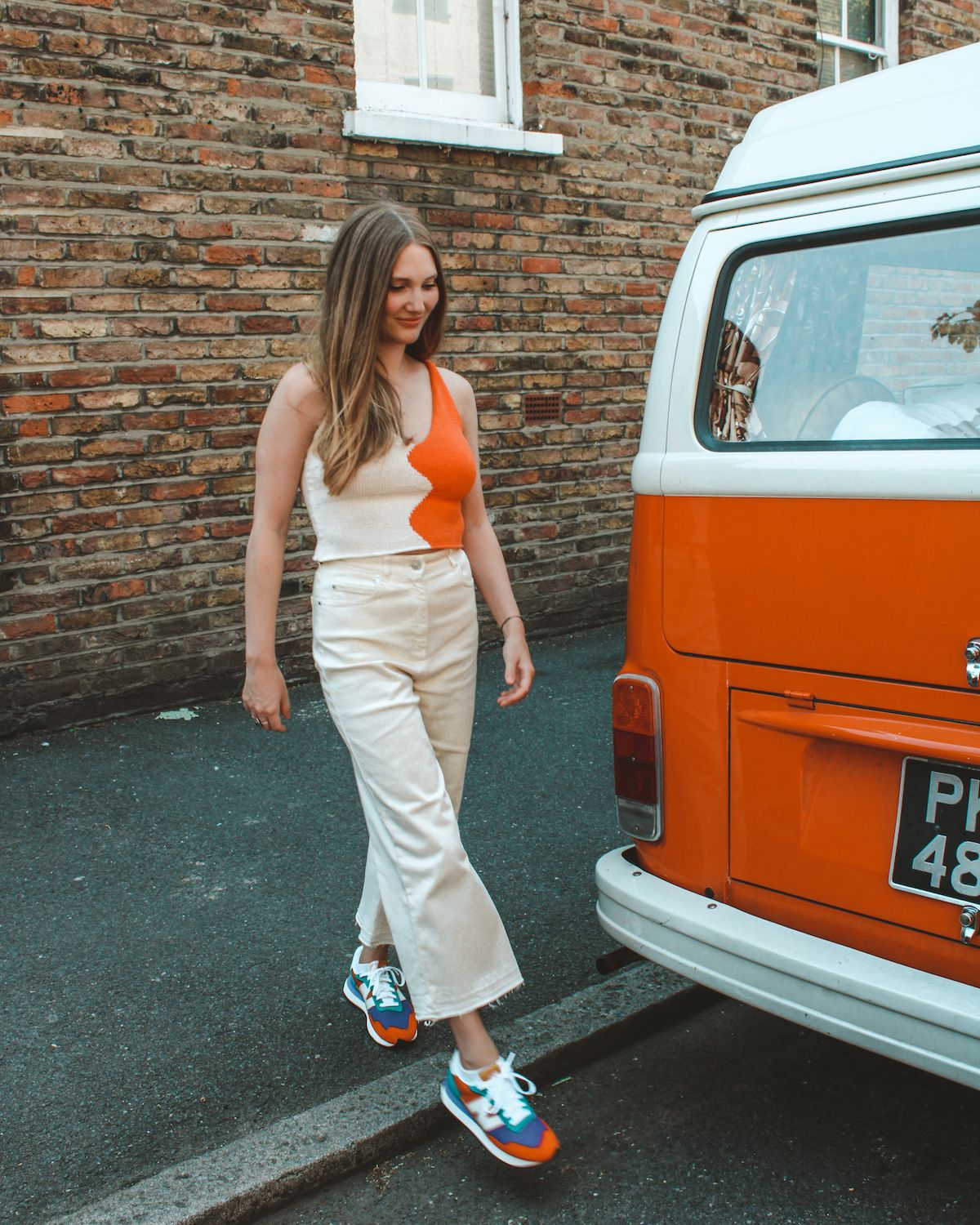 The best way to travel around London is by transit. London has an excellent underground subway (the tube) and overground train system that takes you faster throughout the city than driving usually does. Their bus system is also great. It's cheap, the busses are clean and it's fun to sit at the top of the double decker to sightsee.
You can easily pay for the underground, overground and bus with the tap of your credit card -  no waiting in line to use those pesky ticket machines! Remember to tap out when you leave the underground and overground, so you are only charged for that portion of the route. On the bus, you don't have to tap your credit card once you leave.
Uber is convenient if you're going between areas where the metro route doesn't quite work out logistically. Uber is a lot cheaper than taking cabs.
Where to stay in London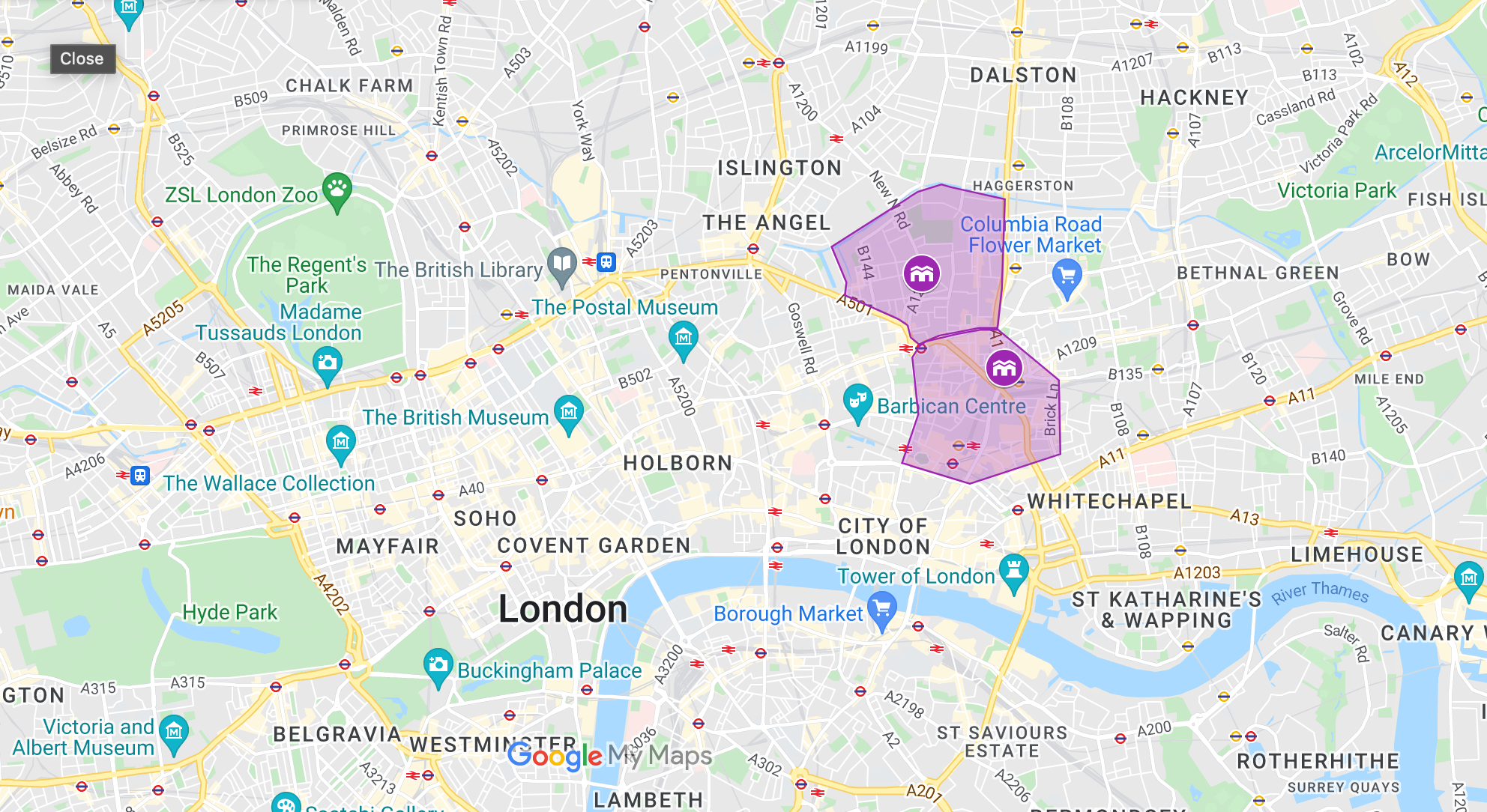 Best area to stay in London
For your 5 days in London, we highly recommend staying in the hip neighbourhoods of Shoreditch or Hoxton for a few reasons:
The buzzing neighbourhoods have a creative atmosphere and trendy crowd. You will find many eclectic eateries, boutique hotels, art galleries and markets. The restored brick warehouses and street art give an edgy feel.
You will be removed from the very touristy areas of central London, all while having easy access to visit these places by transit.
The neighbourhoods are a good home base for exploring East London and having access to the London Fields area and canal.
Our Top 3 accommodation picks: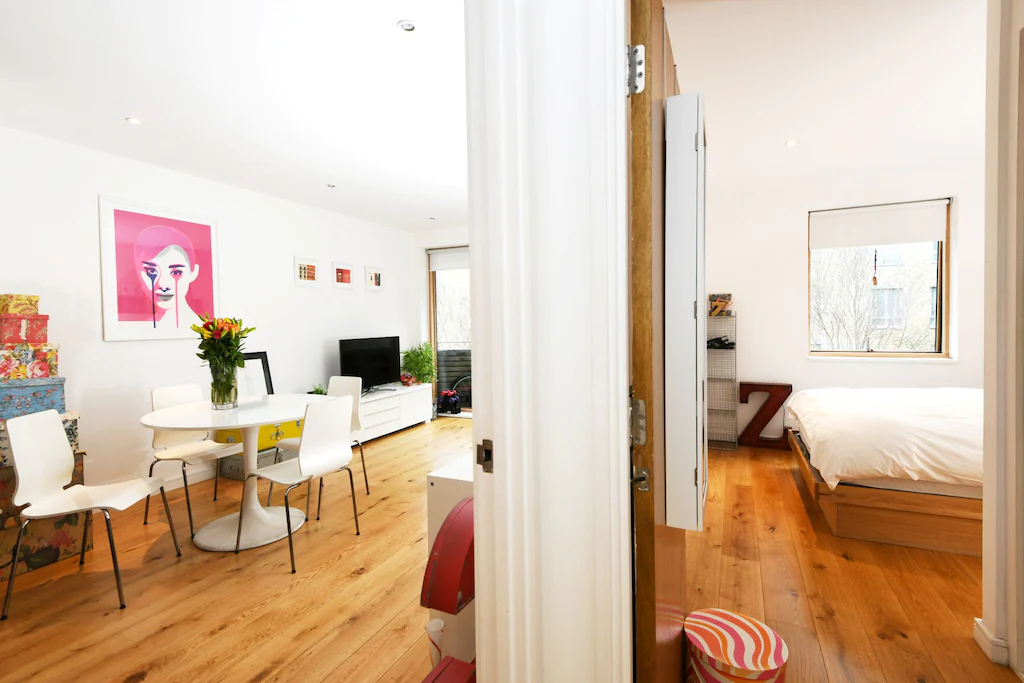 When looking for a place, make sure it's a short walking distance to an underground station. These three places are all within a 5 minute walk:
Boundary London: A stylish hotel in a converted Victorian warehouse. Each one of its rooms were inspired by a design movement or designer. It's located in the heart of Shoreditch and has a happening rooftop bar. A 4 minute walk from the tube.
The Hoxton Shoreditch: An industrial chic boutique hotel in the heart of Shoreditch. Good value and only a 4 minute walk from the tube.
Stylish & Bright Apartment: For a good locals vibe, rent out an apartment in the heart of Hoxton. The apartment is located on a quiet residential street, close to lively restaurants and bars in Shoreditch and Hoxton. It's tastefully decorated with creative touches and is a 5 minute walk to the tube.
5 Day London Itinerary
Days 1-2: Central London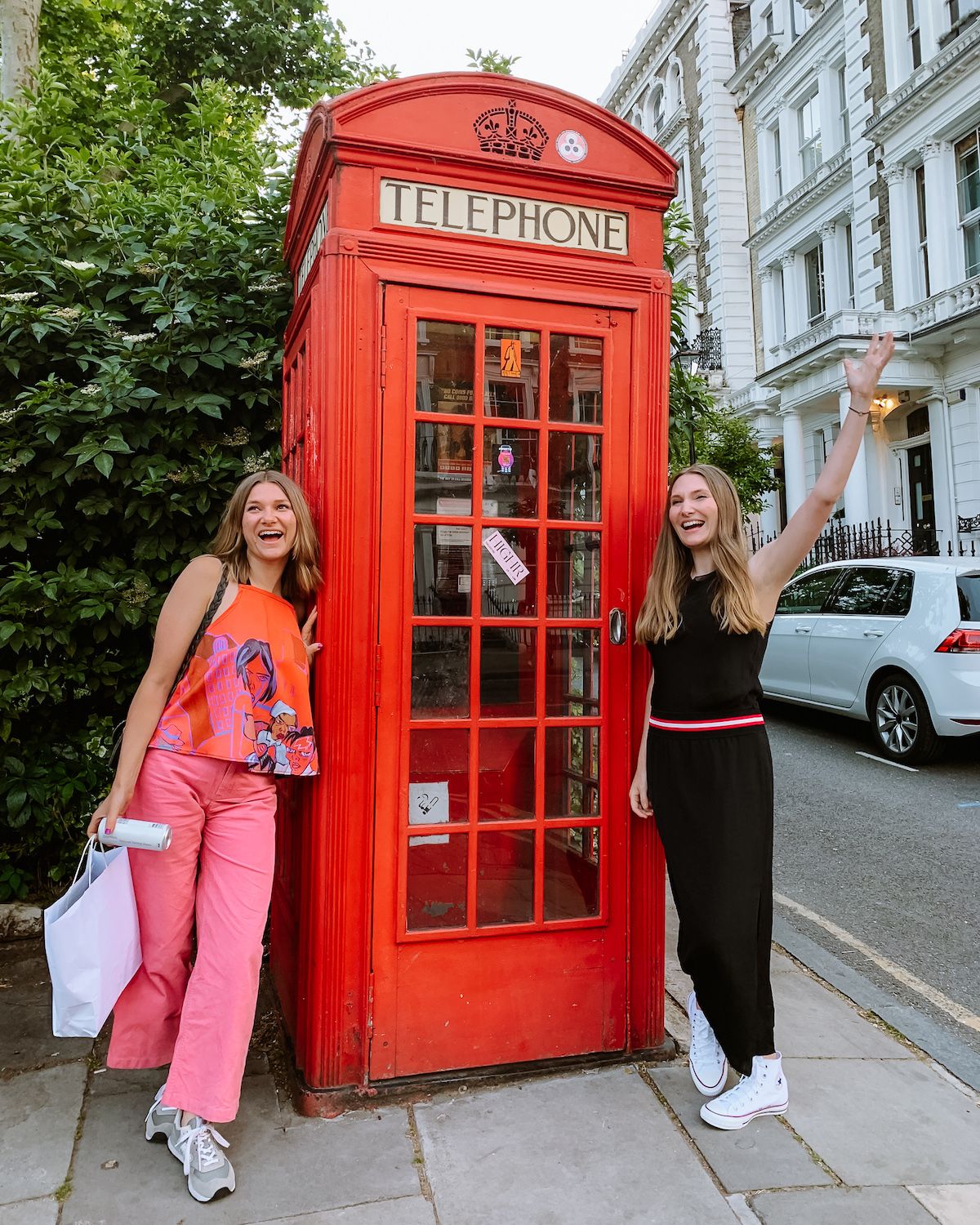 Central London is known for its mix of posh and energetic neighbourhoods and its abundance of upscale restaurants, cocktail bars, luxury hotels, music venues, ritzy department stores and famous sites.
Your first two days include classic sights and fabulous experiences that this part of the city has to offer.
Day 1
A day of classics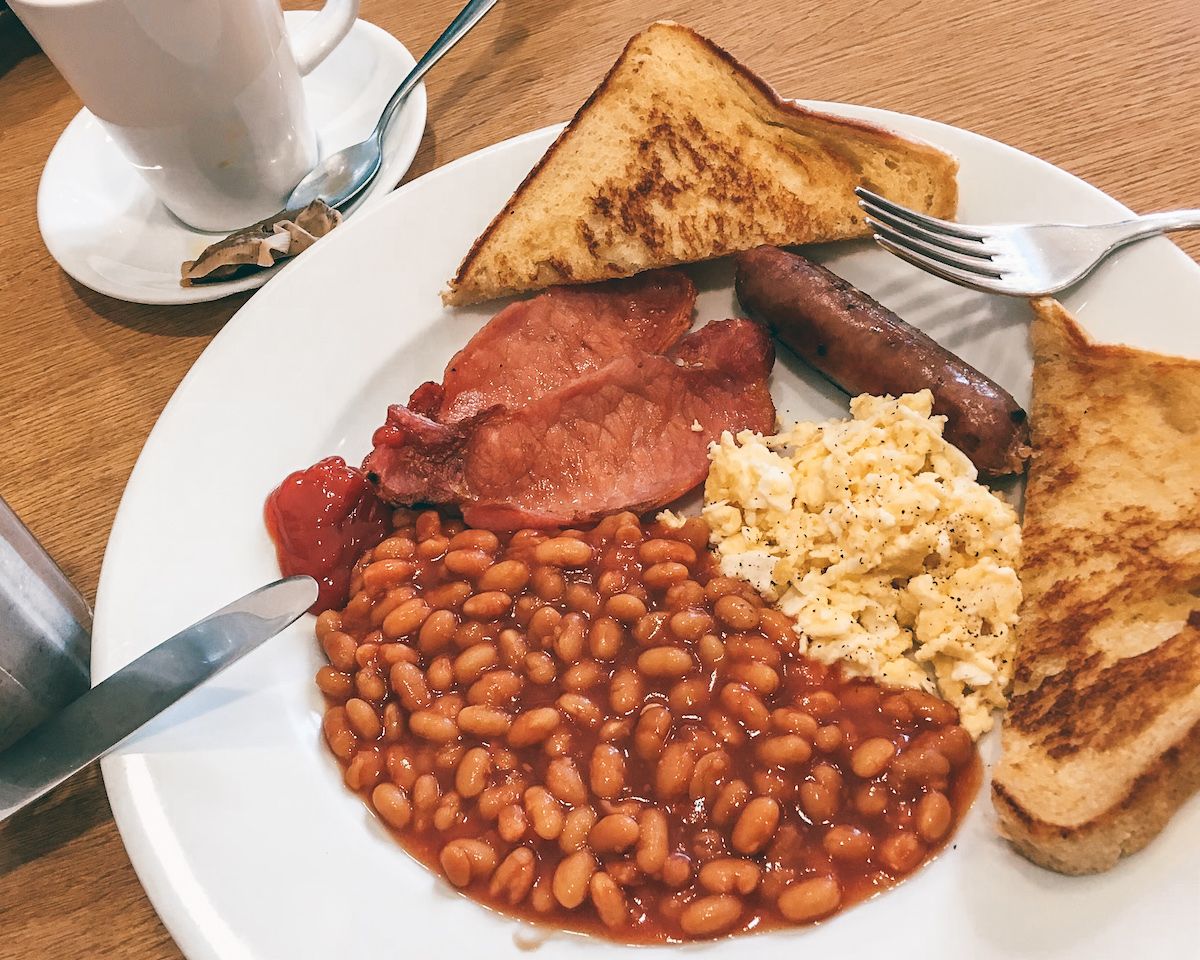 Daytime
Start your day with a full English breakfast
Start your morning off with a hearty English breakfast at your hotel or a cafe nearby. A full English breakfast typically includes fried eggs, sausage, back bacon, baked beans, black pudding, buttered toast, cooked mushrooms and tomatoes. You'll be fuelled up and ready to go!
Take a pretty walk to see famous sites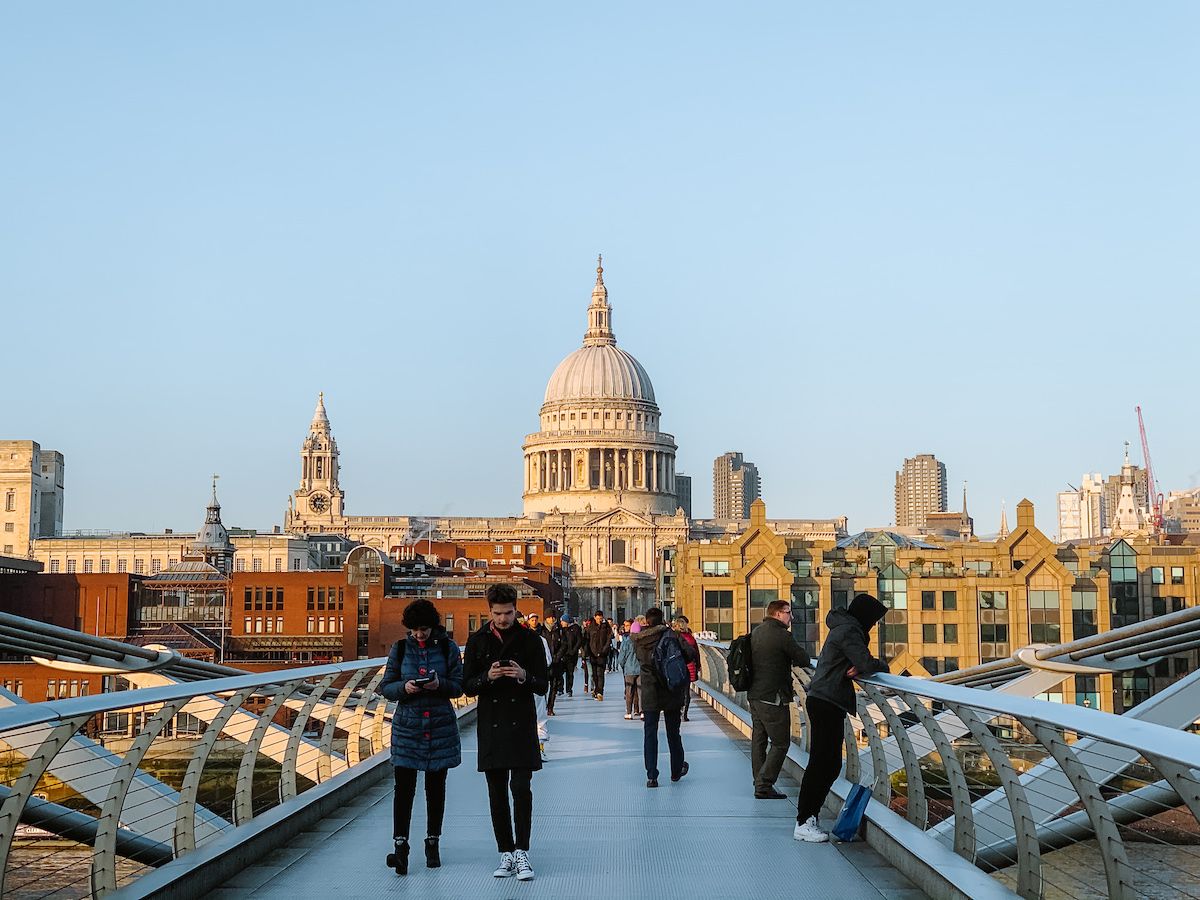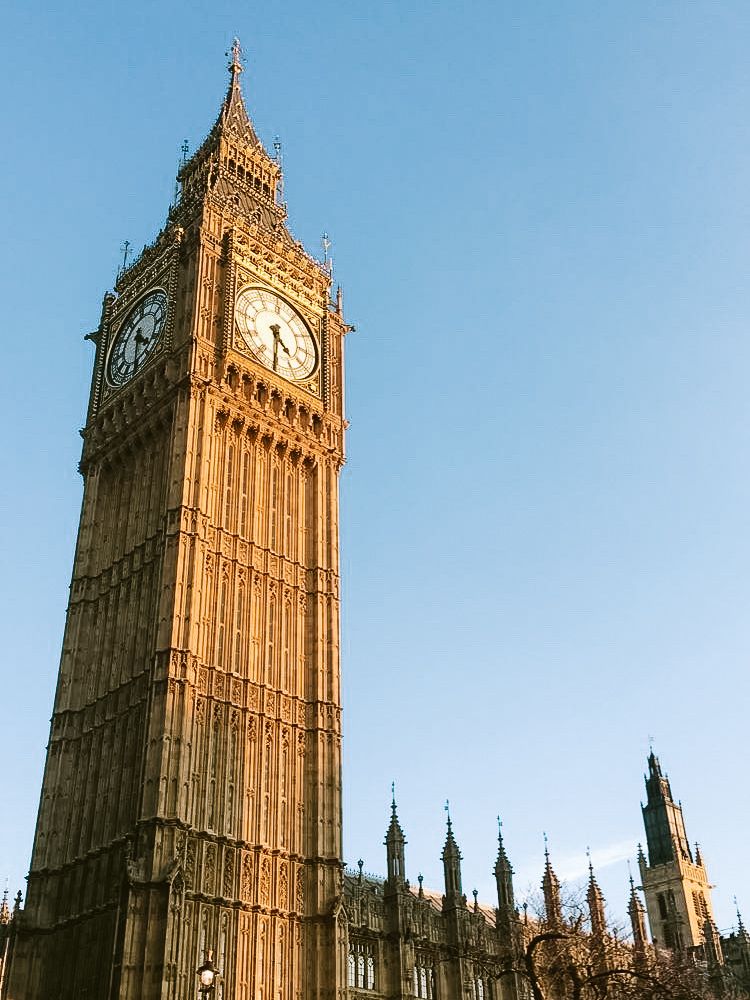 London is world-renowned for its architecture and historic buildings. One of the most enjoyable ways to see these beautiful sites is by going on a pretty walk through the city. We have created a charming two-part route that takes you to some of the most famous spots:
Walking Route Part 1 (15 min): Tate Modern → Millennium Bridge → St. Paul's Cathedral
From contemporary art gallery Tate Modern, walk over the River Thames on the pedestrian-only Millennium Bridge. The steel suspension bridge leads you to St. Paul's Cathedral, a spectacular English-Baroque style church from the 17th Century.  
If you are interested in looking inside the impressive cathedral, you can easily buy entry tickets online
with Get Your Guide. Online tickets include an audio guide and are cheaper than in-person tickets . We like how there is free cancellation up to 24 hours in advance.
Walking Route Part 2 (40 min): Trafalgar Square → Buckingham Palace → Big Ben
After ogling at the cathedral, get on the tube at St. Paul's Station and take the 13 minute ride to Charing Cross station. From there, it's a lovely walk from Trafalgar Square to Buckingham Palace, the headquarters and residence of the Royals. From Buckingham Palace, walk through St. James park towards Big Ben, a neo-gothic style tower clock with a huge bell.
Have glamorous afternoon tea at the Ritz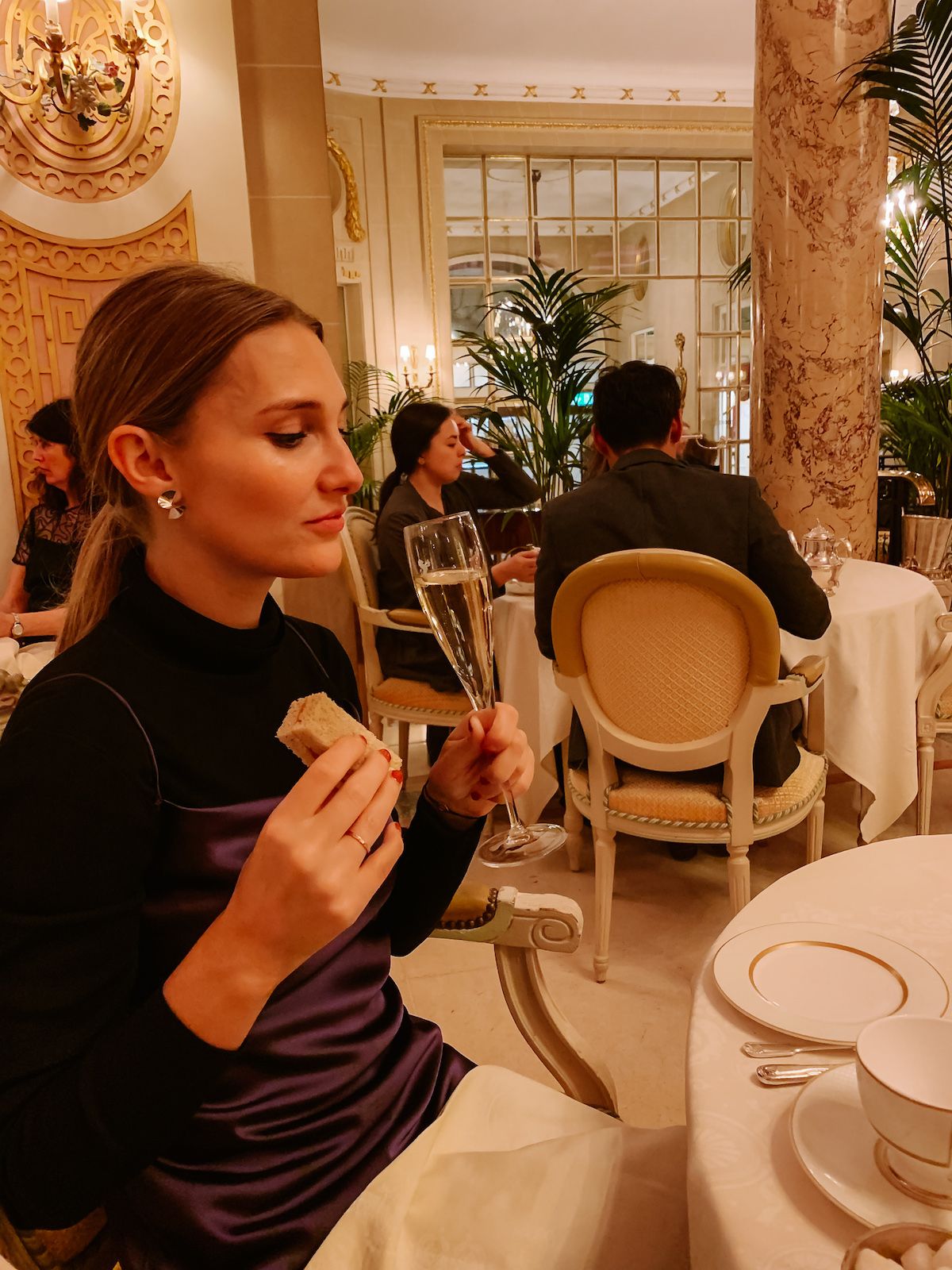 After your scenic walk, put on a nice outfit for afternoon tea at The Ritz, an iconic luxury hotel in London. Opening in 1906, it has become one of the most prestigious hotels in London, attracting celebrities and royal guests. The Ritz has one of the best afternoon teas in the city where you can take part in the posh lifestyle. It may be a bit stuffy, but it's all in the fun.
When we arrived for our afternoon tea reservation, I couldn't believe how elegant and glamorous the hotel was. It felt like I stepped into a movie about high society in the early 1900s. Live piano and harp greeted my ears as we were brought to our table in the striking Palm Court. Sharply dressed people were everywhere and I kind of felt like Jack Dawson showing up to that first-class dinner on the Titanic.
The afternoon tea was delightful. We started off with a glass of champagne and continued onto the elaborate assortment of tea sandwiches, scones, sweets and tea. It doesn't get much more English than this!
Afternoon tea is served daily at 11;30 am, 1:30 pm, 3:30 pm, 5:30 pm and 7:30 pm and starts at £67 per person. Make sure to reserve your table far in advance.
Evening
See a world-class musical or concert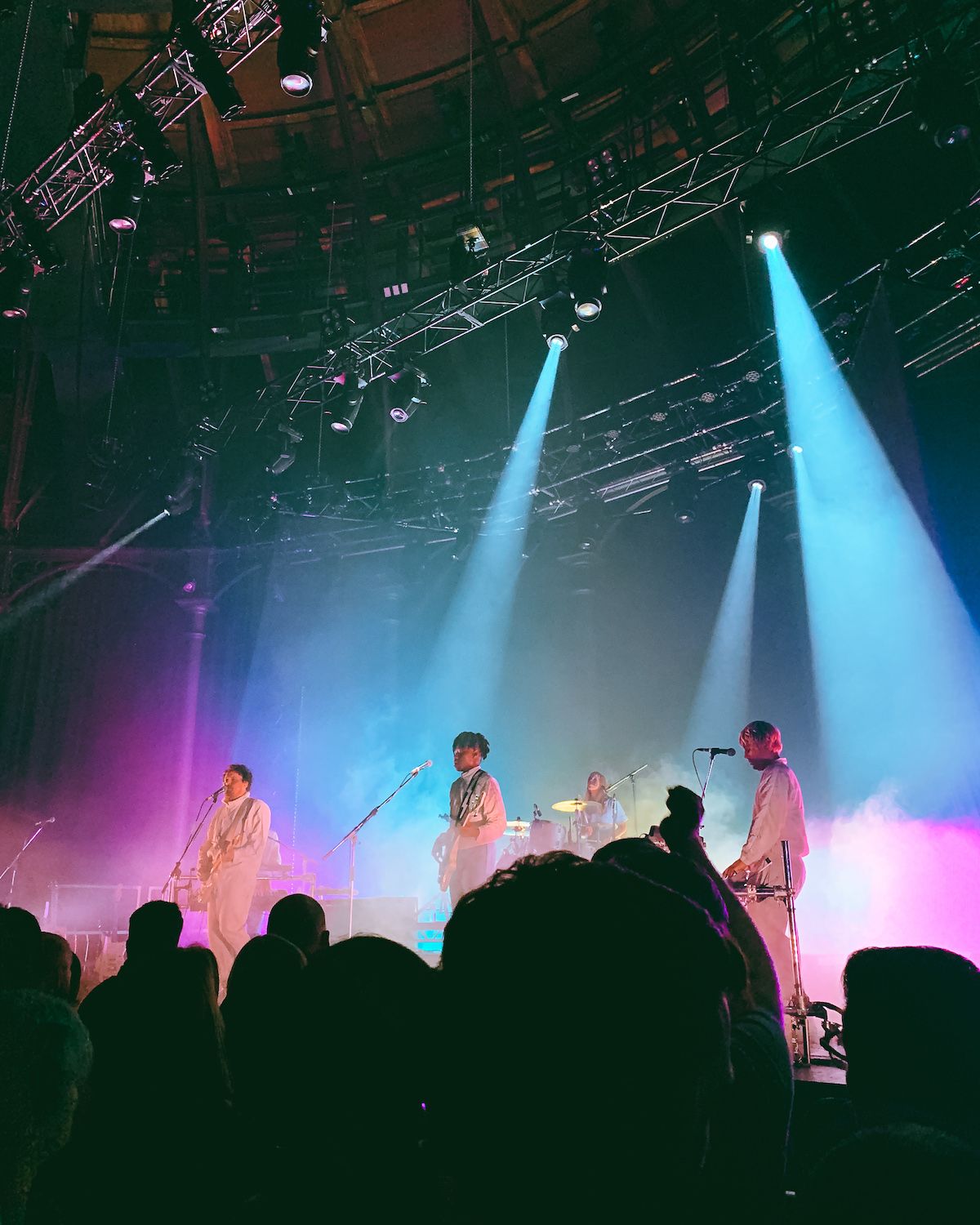 Spend your first night out in London at an energetic show. London has some of the best entertainment in the world. With its great deal of prominent music venues and theatres, there are plenty of concerts and musicals you can choose from.
I did a quick search and saw that one of my favourite indie bands, Metronomy was playing in Camden, the London borough known for its legendary music scene. Even more exciting was that they were playing at Roundhouse, a former railway turntable turned music hub from the 1960s that promoted the arts and counterculture. Pink Floyd played here before they were famous and the music venue hosted huge names like Jimi Hendrix and Fleetwood Mac.
It was exciting going to see an artist I loved in a place filled with so much history. The thrilling atmosphere and thunderous crowd agreed with me!
Check out this link to see the list of live music gigs in Camden.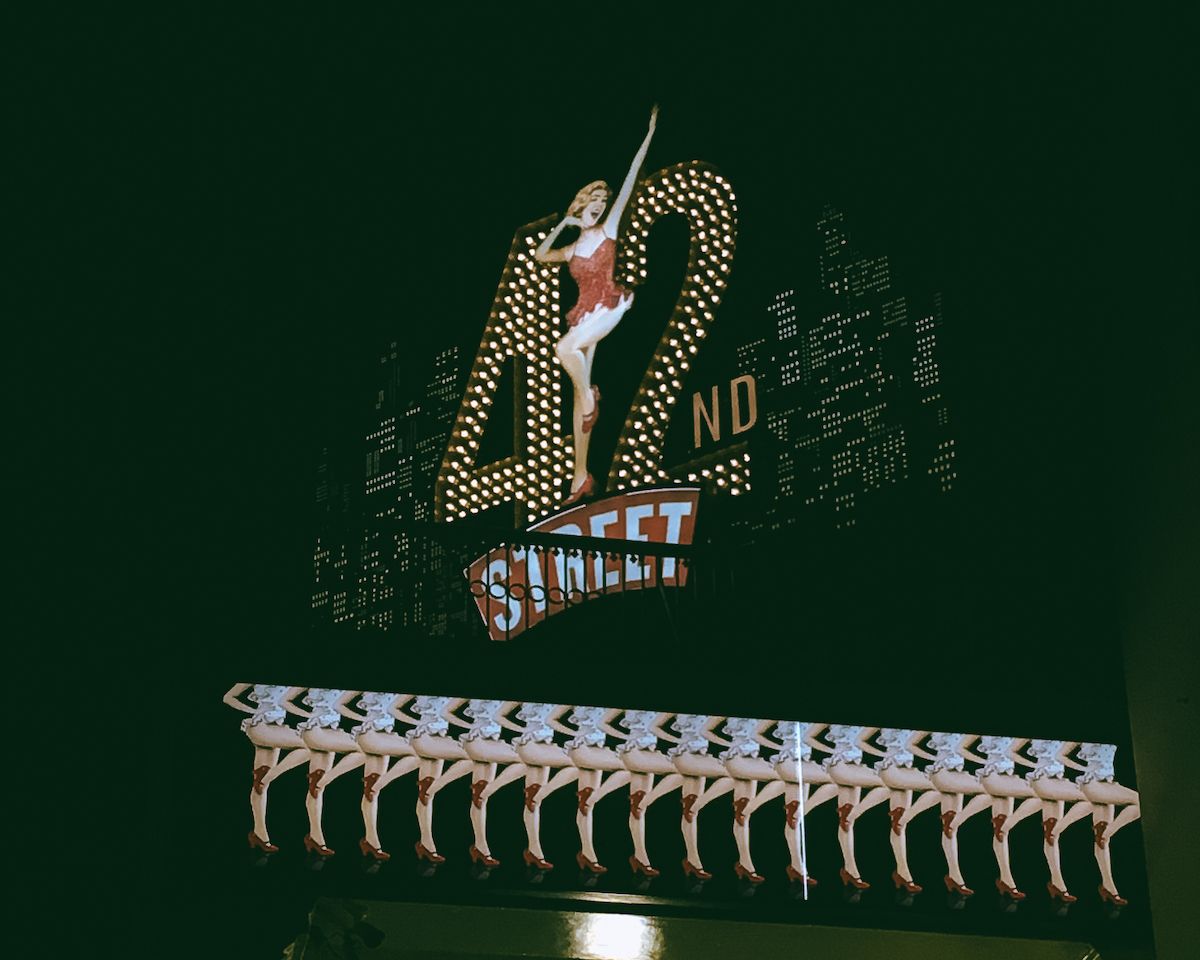 If you love dancing, singing and showy outfits, see a musical in the West End of London, where impressive theatres host famed musicals like Phantom of the Opera, the Book of Mormon and Wicked. Theatre Royal Drury Lane usually has the big blockbusters playing.
Check out the list of musicals currently playing.
Day 2
A day of fabulous experiences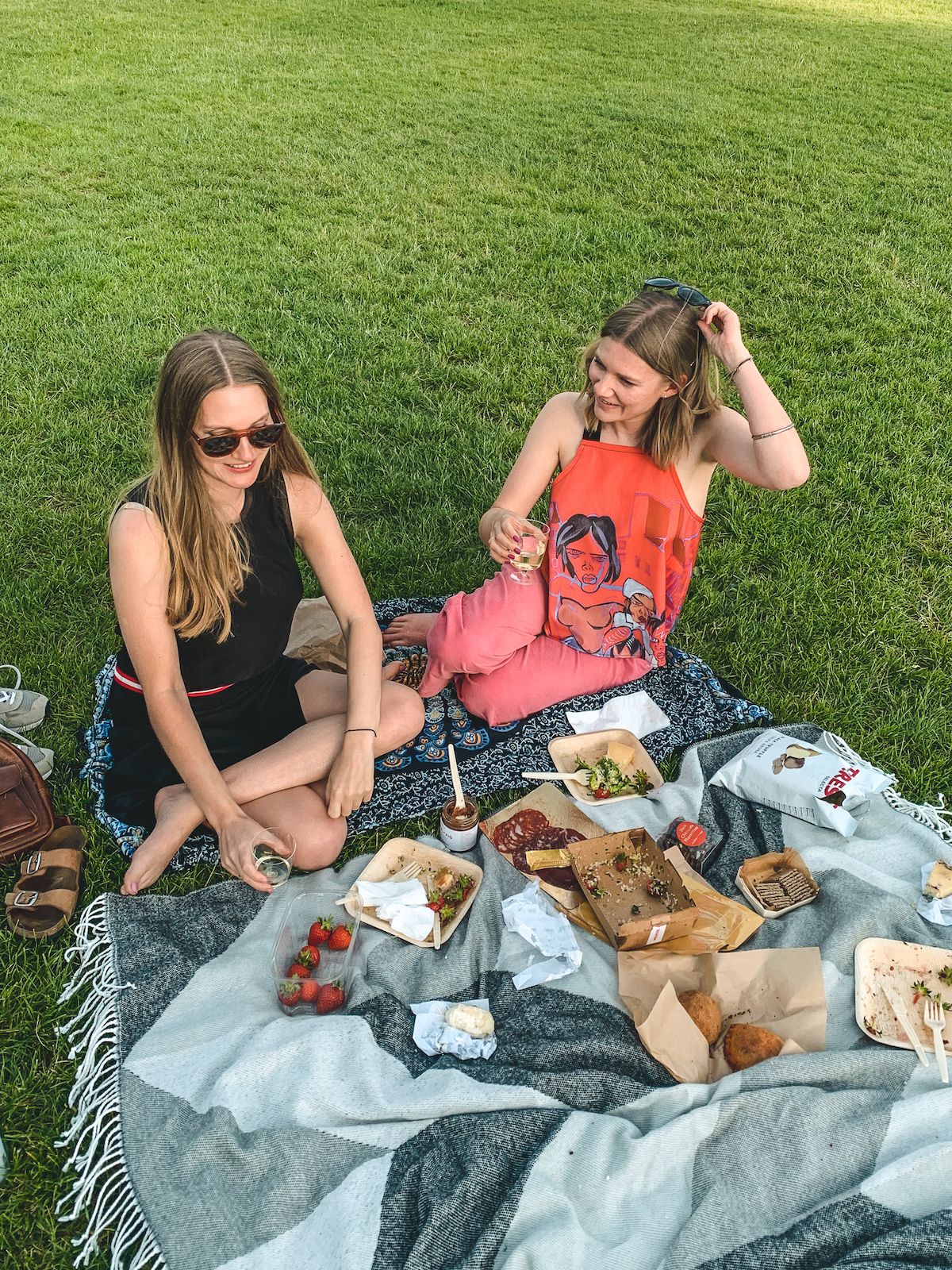 Daytime
Have a gourmet picnic on Primrose Hill
Skip the tourist-filled parks and head for Primrose Hill for a wonderful picnic instead. Located in an upscale area that sees mostly locals, the grassy hilltop park offers pretty views of the city and Regent's Park.
Buy gourmet snacks from Melrose and Morgan, an artisanal grocer nearby, and don't forget to bring a blanket!
Shop for a dazzling outfit in Soho & Convent Garden
After your picnic, shop for a fabulous outfit in Soho and Convent Garden for your night out in the swanky Mayfair neighbourhood. Start at Seven Dials Road in Covent Garden, a circular junction linked to seven streets loaded with shops.
Next, make your way over to Soho and walk down:
Carnaby Street - a colourful pedestrian street
Lexington Street - a cool area of Soho
Regent's Street - a major shopping street with department stores and flagships
Some of my favourite retail stores/department stores in Central London:
Monki ($)
Weekday ($)
& Other Stories ($$)
Liberty London ($$$$)
Evening
Go out for an evening of lavish dining and cocktails
Central London is filled with extraordinary restaurants and bars that aim to impress. I was thrilled to go to sketch, an enchanting art-filled 18th century townhouse with five funky, yet glamorous restaurants and bars, including one with three Michelin stars. I was sold when I heard it had a sexy spaceship bar and space egg toilets. Kylie Jenner and Bella Hadid have even been seen taking snaps here.
We started our evening by dining at The Gallery, a captivating gastro-brasserie with soft pink furnishings and David Shrigley artwork on the wall. Reservations are highly recommended.
Afterwards, we made our way to the sunken spaceship-like bar that serves up tasty cocktails. The groovy space is small and it's first-come-first-served, so you may have to wait to snag a seat.
Days 3-5: East London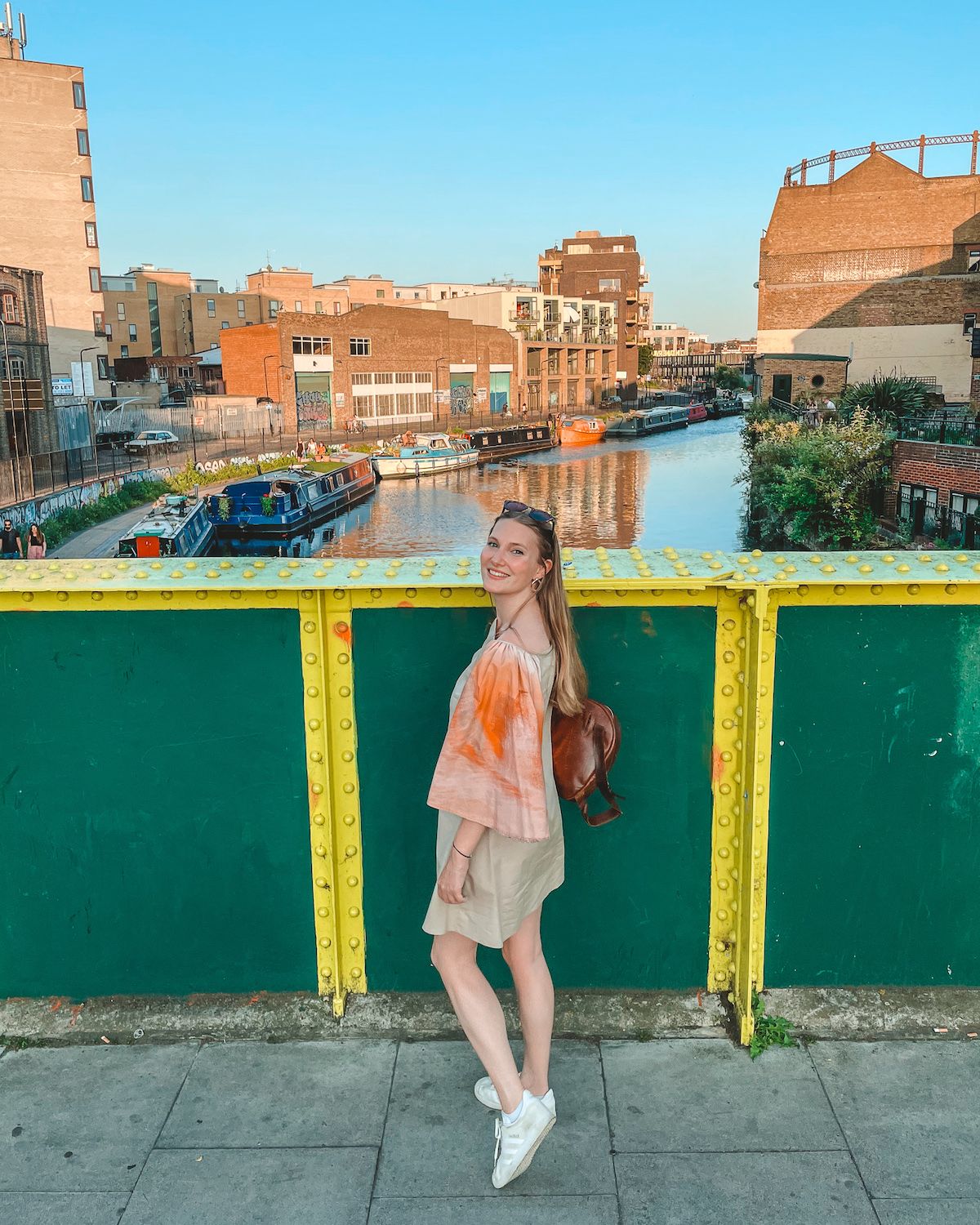 East London has a very different feel to Central London. Here, you get a taste of the alternative side of London, where stylish locals and creatives spend their time. This is my favourite part of London - I spent a whole month here and the time flew by. There are so many unique things to do.  
Your next three days will take you to happening markets, favourite spots among locals, trendy eateries with superb food and in-the-know nighttime spots.
Day 3
A day of cool local hangouts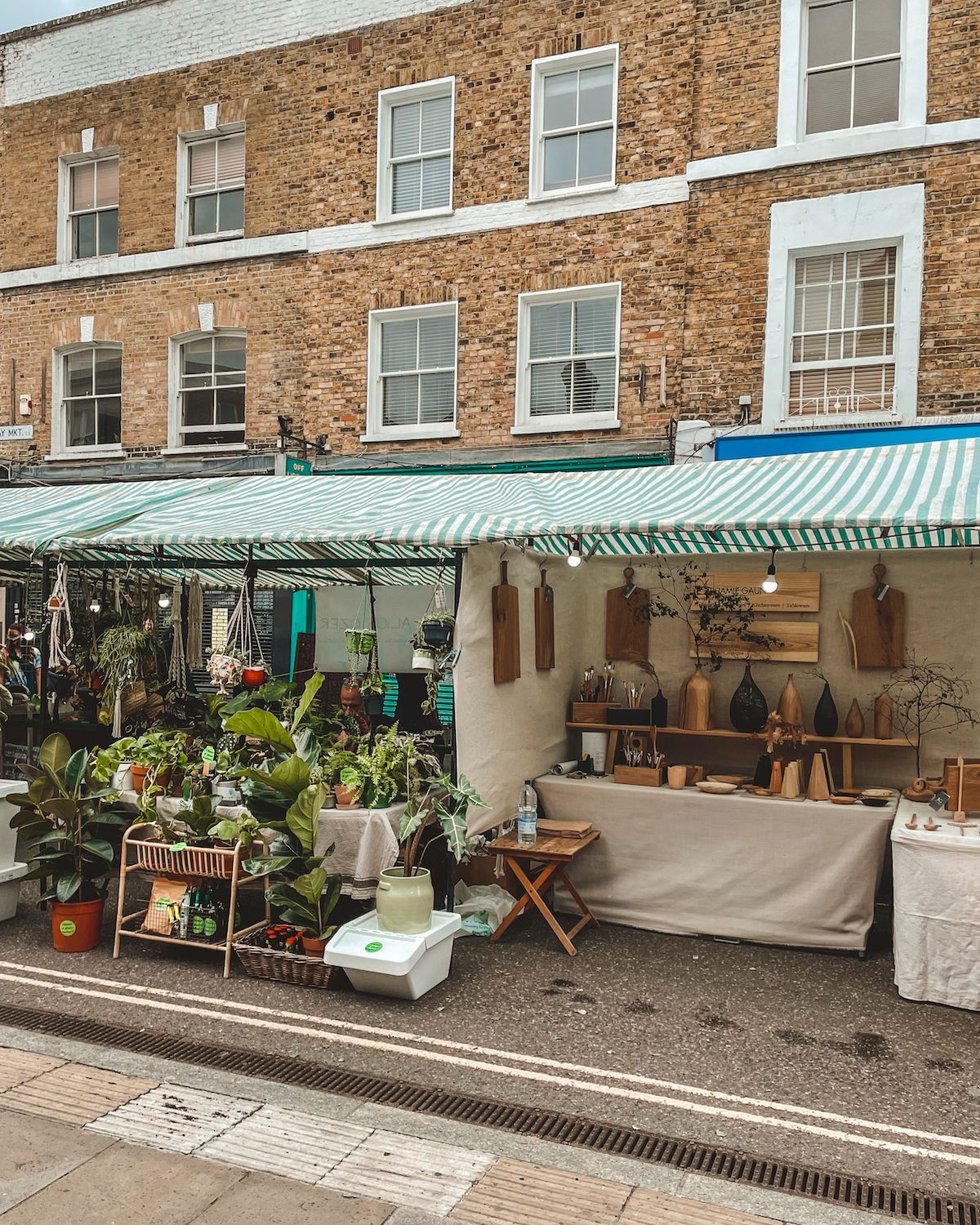 Daytime
Shop for unique items at Broadway Market, a hip locals market
Located east of Shoreditch in Hackney, Broadway Market is a happening pedestrian street with over 70 shops, cafes and trendy eateries. The market attracts an eclectic and stylish crowd who are mostly locals.  Friends like meeting up here on Saturdays when the street is filled with stalls selling artisanal goods and delicious bites.
Grab an outdoor table at French deli-cafe, La Bouche for brunch. It's a great place to people watch and see the street-style. Afterwards, take your time browsing the stores and stalls for unique finds.
Have a leisurely picnic in London Fields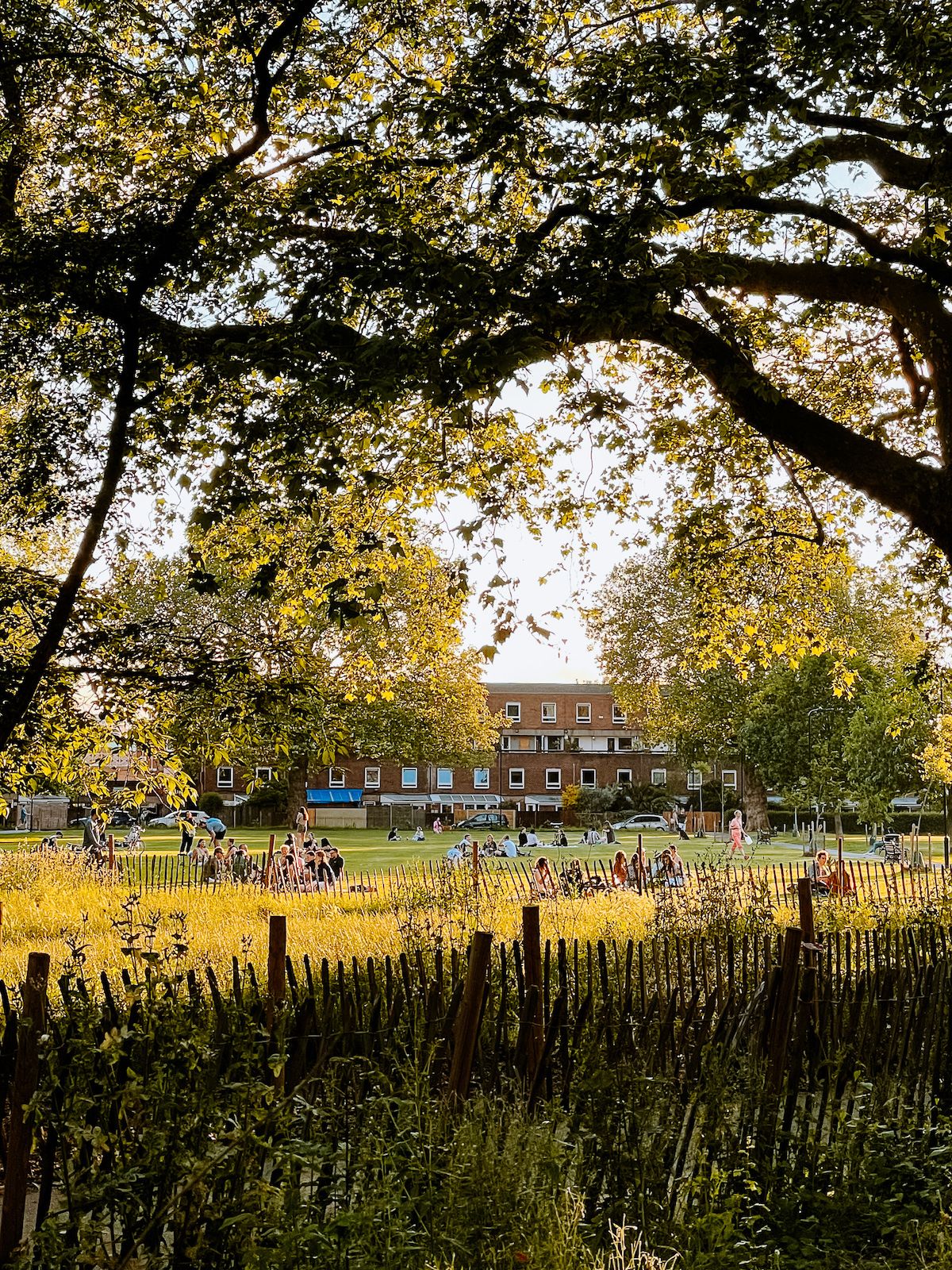 Just up the street from Broadway market is London Fields, where locals like to hang out and have a few drinks with their friends. Pick up some cured meats and cheeses from the market and stop in at Noble Fine Liquor for some natural wine to take with you on your picnic at the park.
Evening
Evening out in Hackney Wick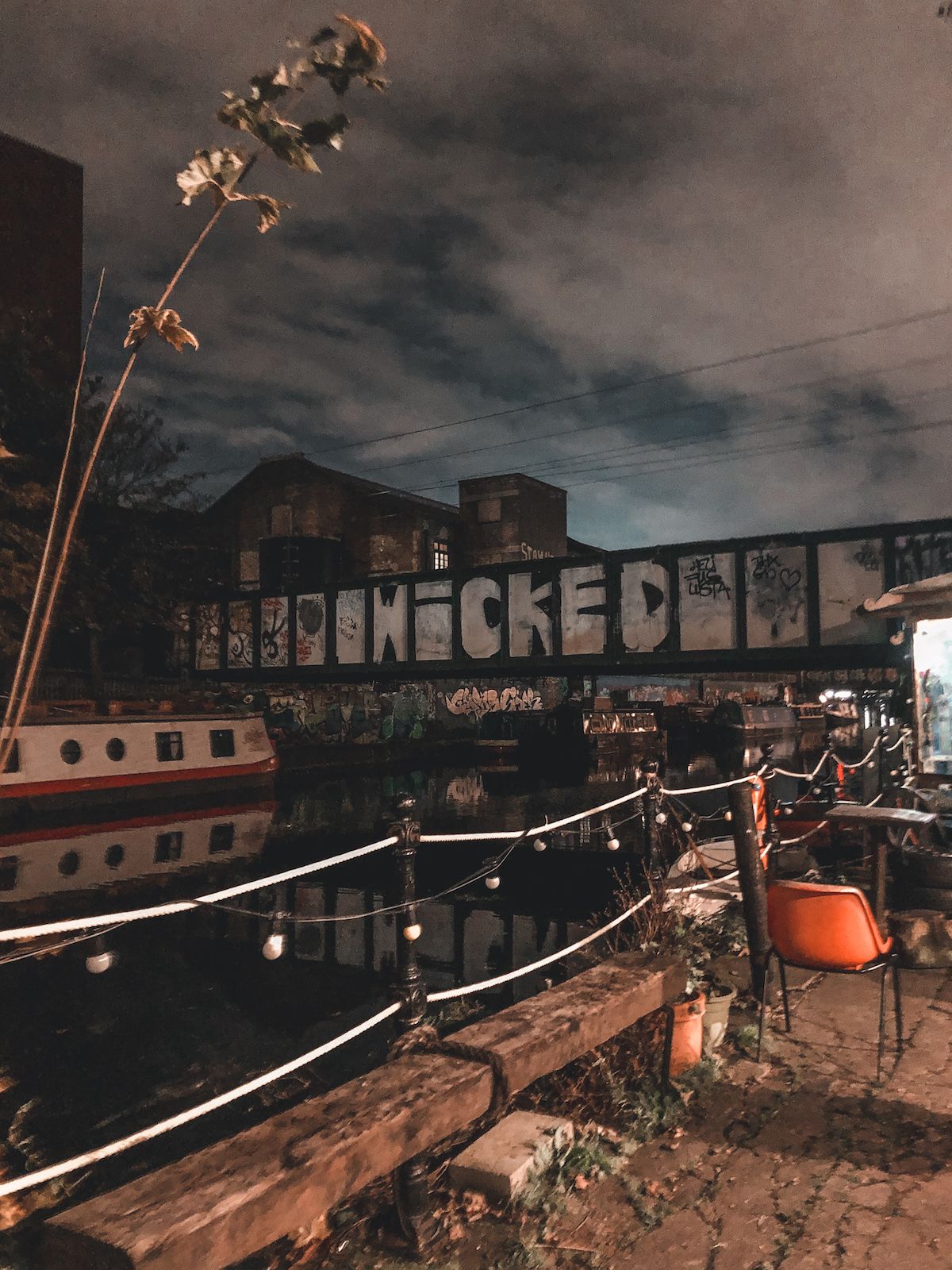 You may be skeptical to travel this far East London, however this is one of London's hottest alternative spots where designers and artists congregate. Old industrial-era buildings and warehouses have been transformed into studios, eateries, craft breweries and nightclubs. People are catching on to this eclectic playground, so it's best to visit sooner rather than later before it becomes more gentrified.
Eat dinner along the canal at Crate, a pizzeria and brewery with a fun atmosphere and DJ sets. Afterwards, check out Grow for live music or The Yard for dancing.
Day 4
A day of unique East London Experiences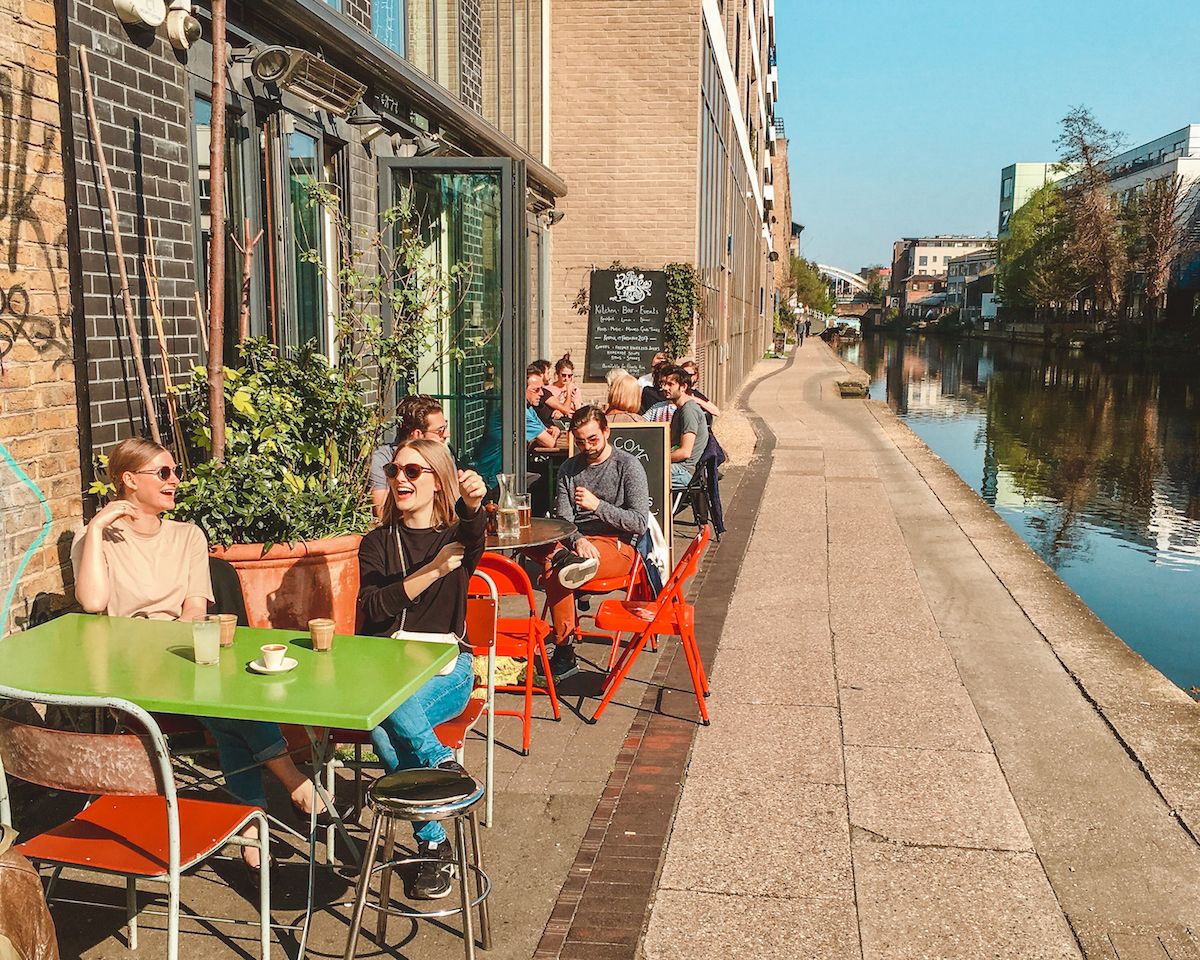 Daytime
Walk Regent's Canal to Towpath cafe for brunch
Walking along Regent's Canal is what I look forward to doing the most in London. The canal is lined with former warehouses turned apartments, restaurants and cafes.
A hidden gem along the canal is Towpath, an outdoor cafe with pretty views of the canal. It's a favourite among creatives, celebrity fashion designers and artists, however has managed to stay under the radar. Sip a coffee and eat a healthy brunch while you watch locals walk, run and bike by.  
Note: Towpath Cafe is not open in the winter.
The walking route:
Start at Broadway Market and make your way along Regent's Canal to Towpath. From Towpath, continue along the canal to Angel station. The whole walk will take you about 45 minutes and is flat.
Shop in Shoreditch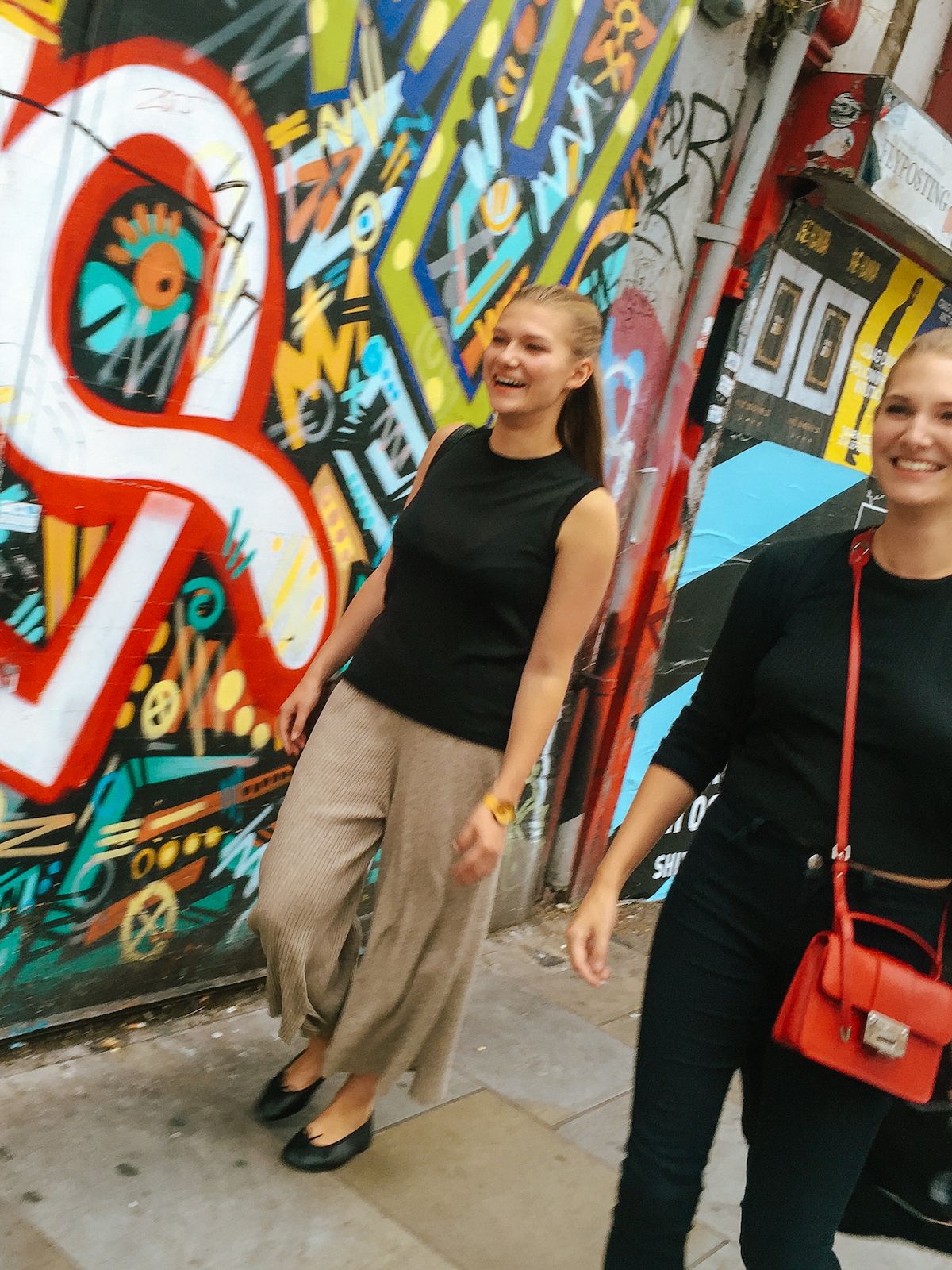 After your relaxed walk along the canal, take the tube to Shoreditch to see its gritty street art and to shop its eclectic boutiques and vintage stores.
The shopping route:
Walk down Redchurch Street and Brick Lane for great shopping and don't miss Spitalifields Market.
Evening
Go on a spooky Jack the ripper tour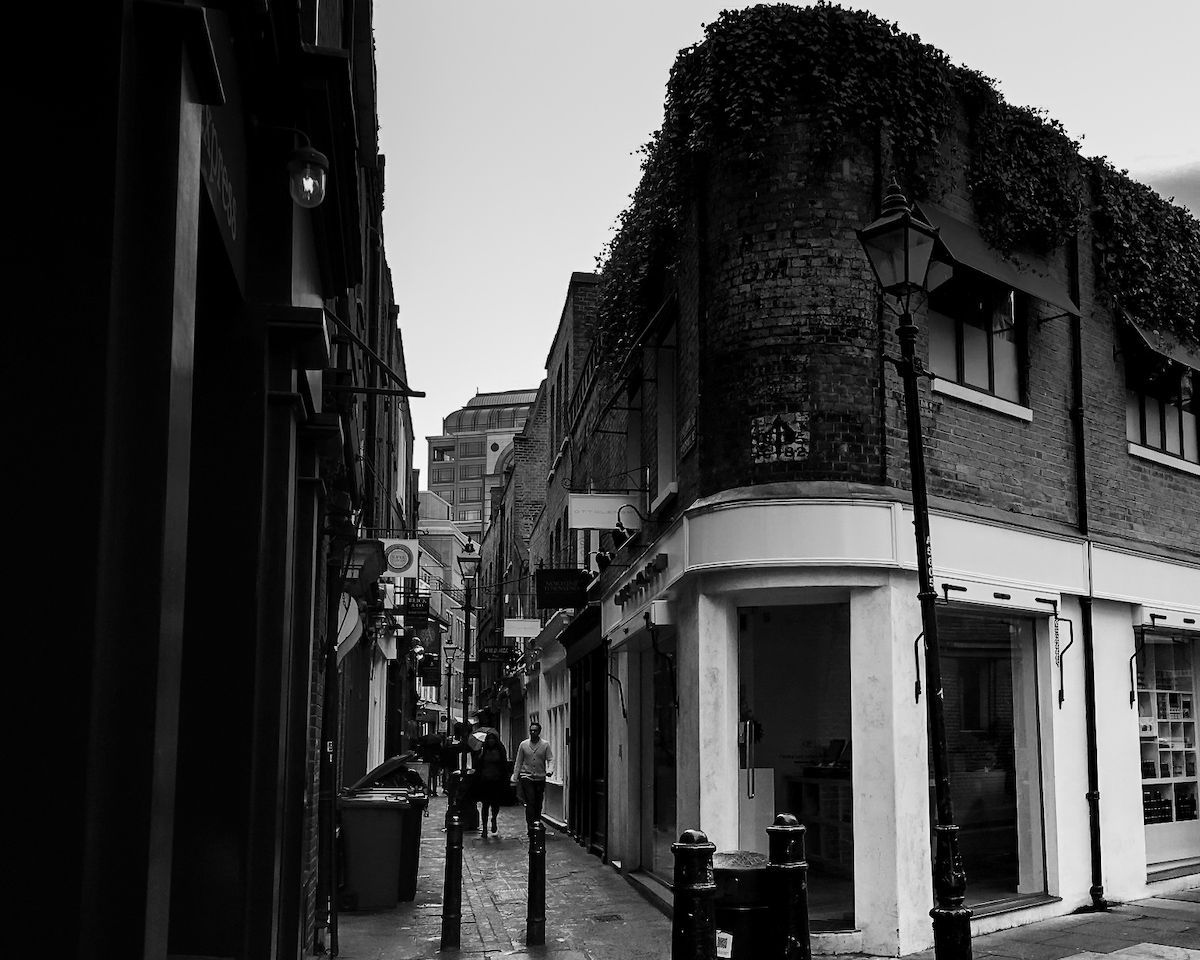 Chances are that you've heard of the infamous serial killer from the late 1800s named Jack the Ripper. Never caught for his horrific crimes in East London, the unsolved murders remain a mystery today. Go on a spine-chilling evening tour around Whitechapel to learn more about the fascinating history, hear true stories and see real-life crime scenes.
You can easily book the Jack the Ripper Guided Walking Tour with Get Your Guide.
We like how there is free cancellation up to 24 hours in advance. The highly rated two-hour tour runs from 7pm - 9pm.
Eat at one of Hackney's neighbourhood restaurants in the Michelin guide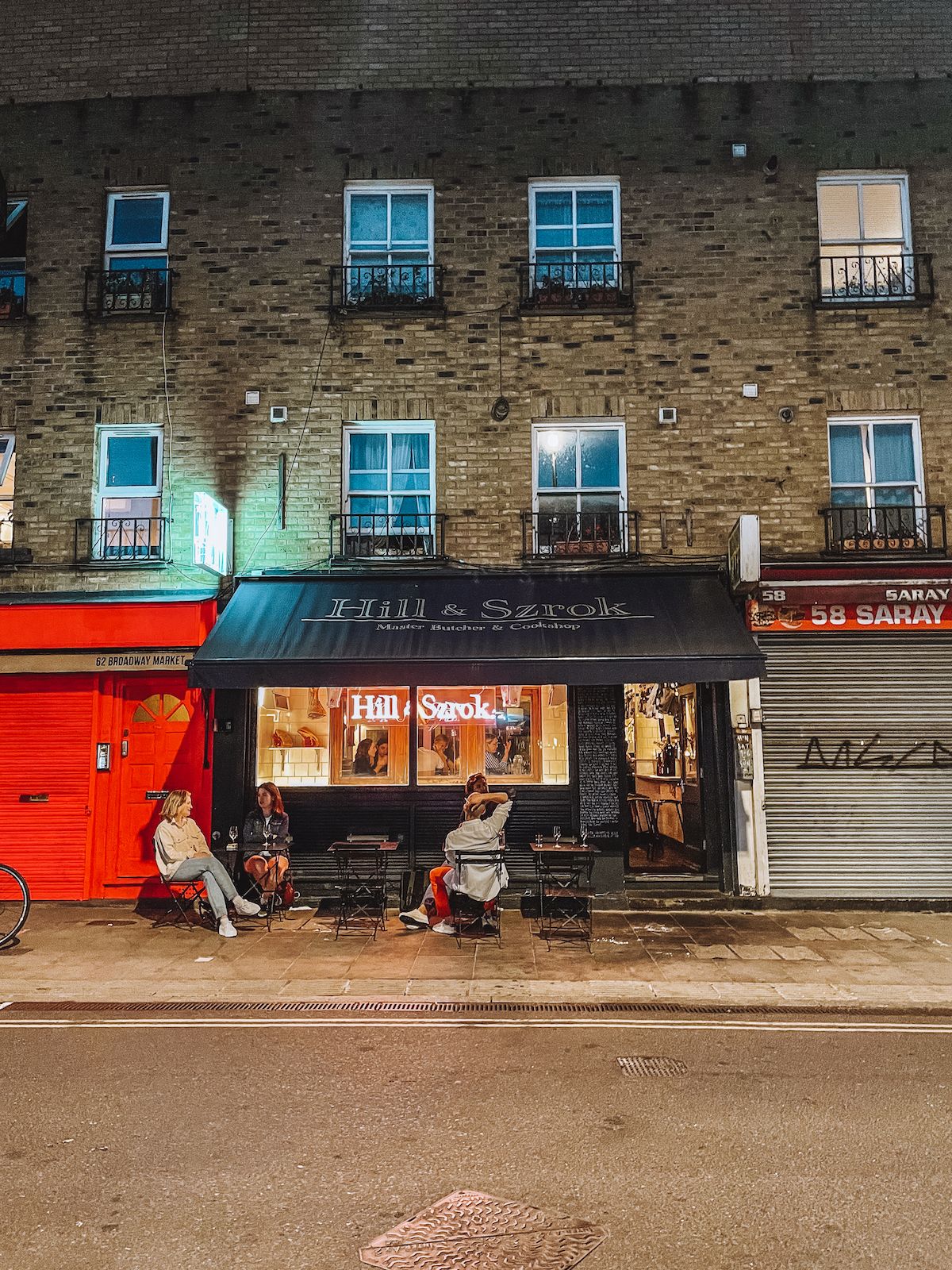 You may associate restaurants in the Michelin guide with high prices, however this isn't always the case. Hackney has many cozy neighbourhood eateries in the Michelin guide with outstanding food at a great value.
Choose from this list of our favourite restaurants in Hackney:
Pidgin - best for creative dishes: The intimate restaurant changes their 9-course menu every week. No repeats. £55 for the full set meal.
Hill & Szrok - best for meat lovers: a free-range butcher shop with a cozy little restaurant on Broadway Market. Pair their juicy steak with some Malbec wine.
Angelina - best for fusion: combines Japanese and Italian flavours to create mouthwatering dishes.
Casa Fofo- best with a star: While all the restaurants mentioned are in the Michelin Guide, Casa Fofo has also earned itself one Michelin star. The restaurant has a cool, intimate vibe and prices its 6-course meal at £45.
Day 5
A day of leisurely fun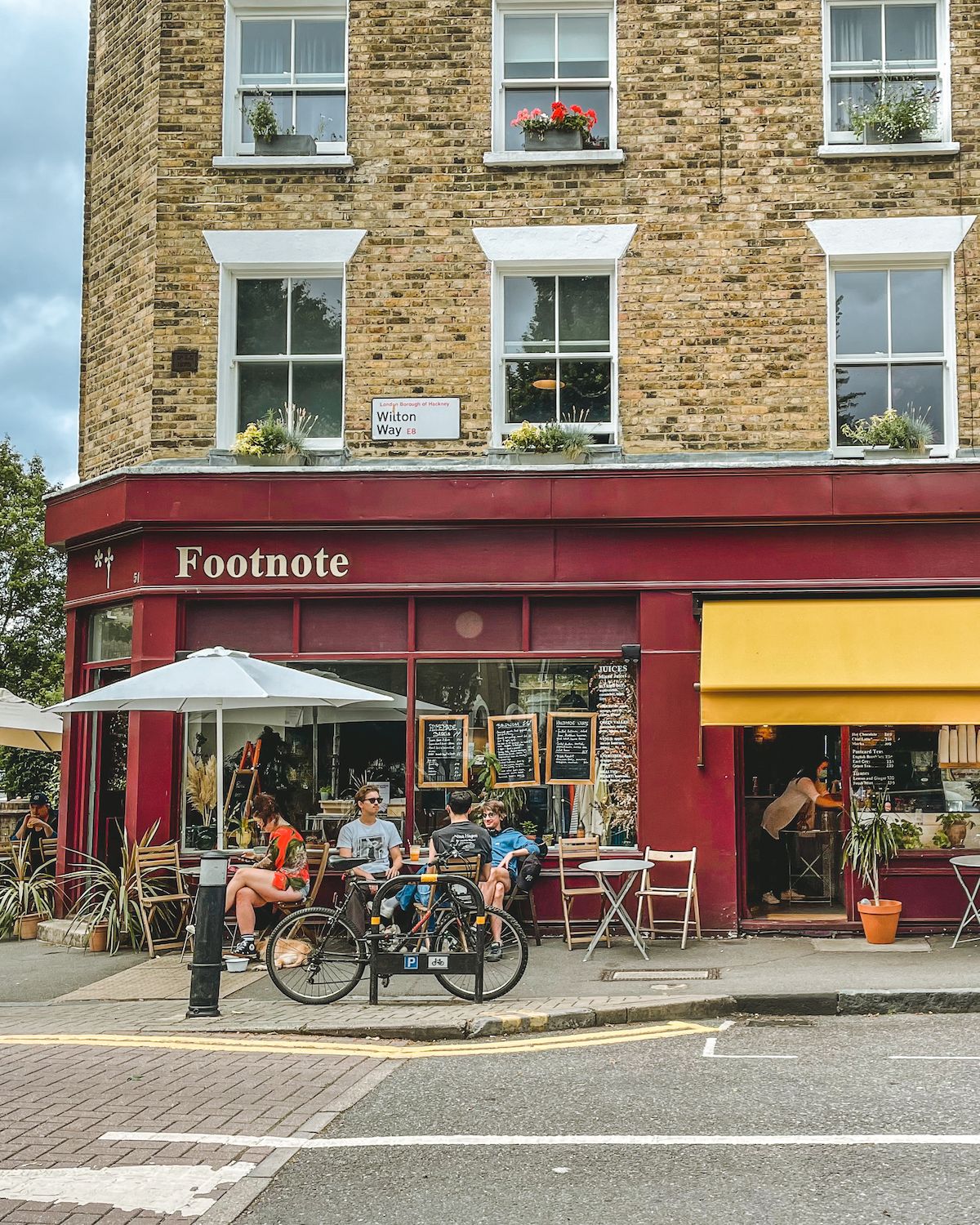 Daytime
Breakfast in on Wilton Way, a cool locals' street.
For your last day in London, take it at a leisurely pace. Start your day with breakfast along Wilton Way, a very local and quaint street with outdoor cafes. You may even see a movie being filmed here. Choose Footnote for vegetarian options and fresh juices, or Violet if you have a sweet tooth. They made cakes for Meghan and Harry's wedding!
Go vintage shopping in Hackney for unique finds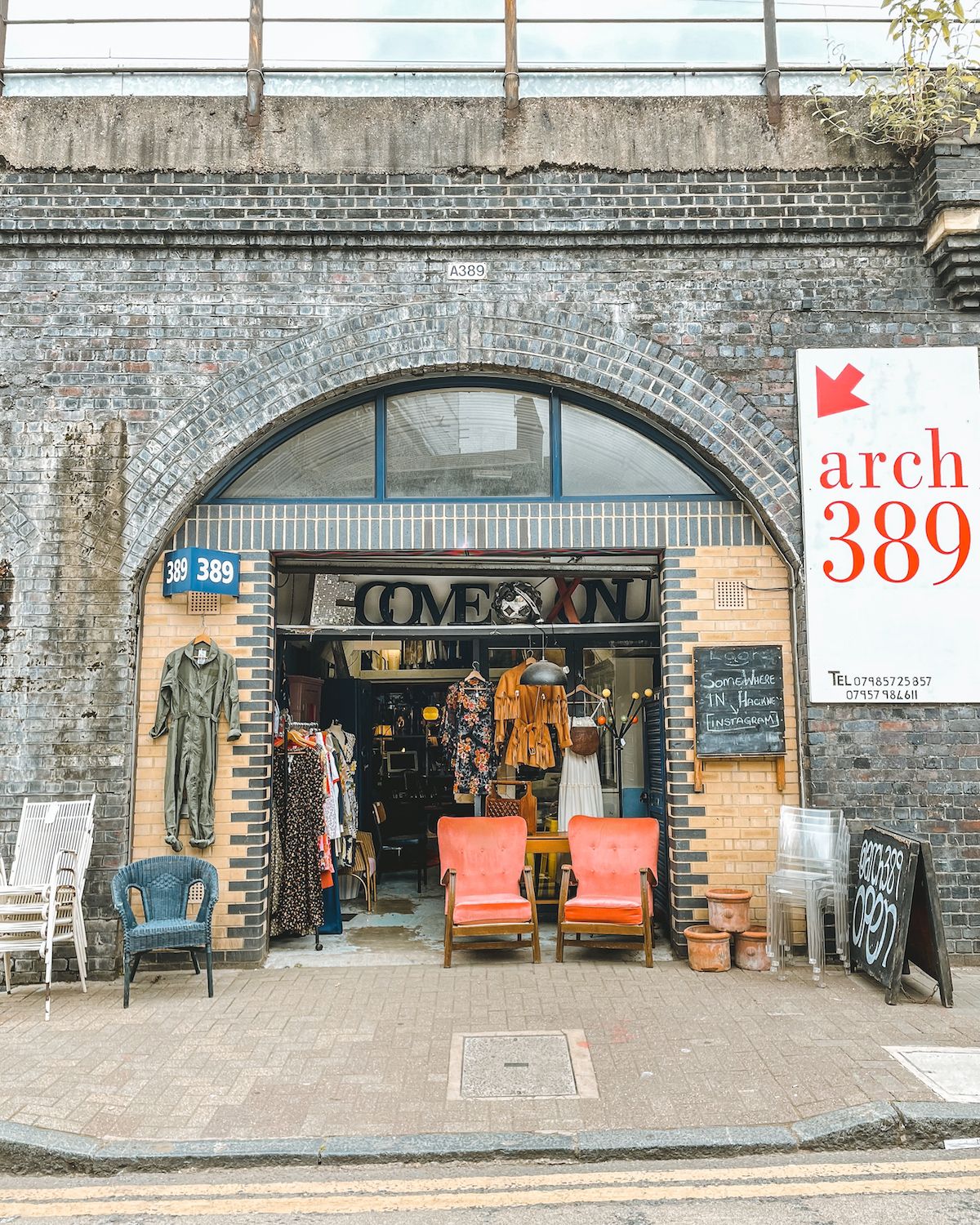 London has tons of vintage shops with many of them overpriced. Check out these well-curated and reasonably priced vintage stores in Hackney:
Mero Retro: sells hand-picked vintage pieces, fair trade and handcrafted goods.
Traid: mix of true vintage, designer and mass market options to suit every taste and budget
House of Vintage (Amhurst Road): a thoughtful selection of casual vintage items.
Arch 394 - Somewhere in Hackney: shop the glamorous selection of clothing and accessories or to have a conversation with the passionate owner about vintage fashion.
Enjoy a relaxed picnic in Hampstead Heath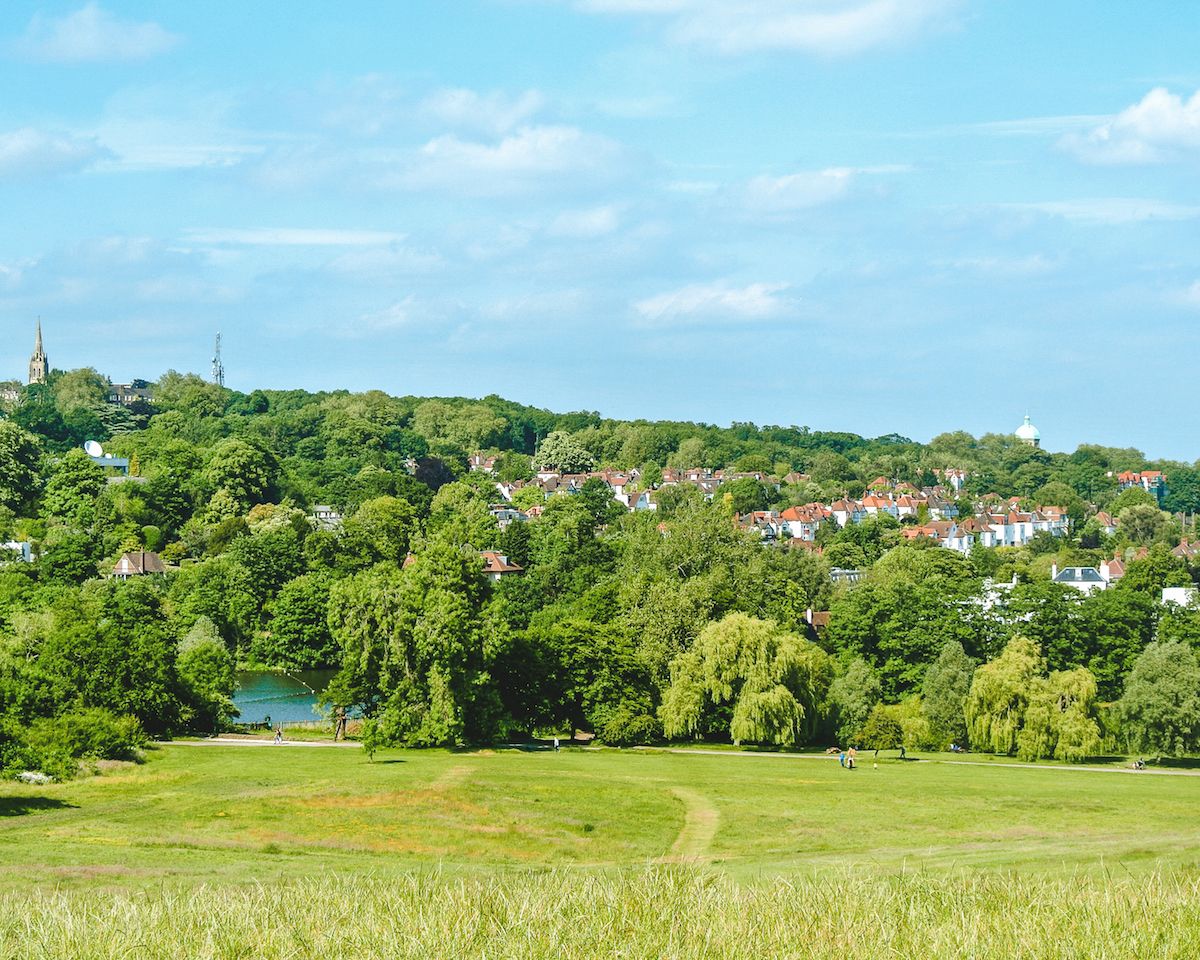 Hampstead Heath is located north of London, but it's worth taking a trip to the hilltop park for a lovely picnic in the long grass. The neighbourhood is beautiful and Kate Moss even has a home here. If you're visiting on a hot summer's day, don't miss taking a refreshing dip in the swimming ponds. There is one for men, one for women and one for mixed genders.
Evening
Eat dinner at a trendy neighbourhood restaurant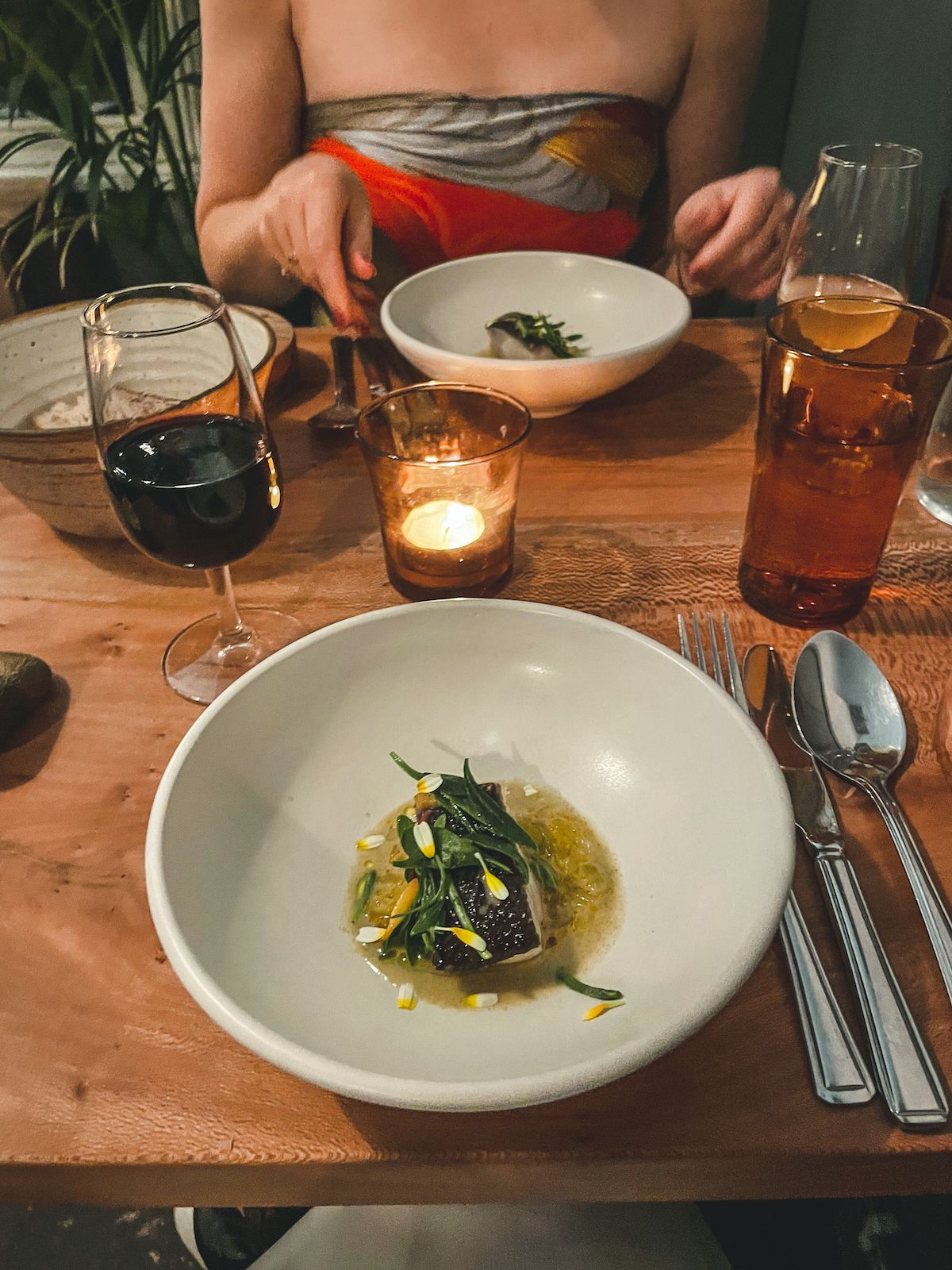 Choose again from this list of excellent restaurants in the Michelin guide with a cozy neighbourhood feel.
Pidgin - best for creative dishes: The intimate restaurant changes their 9-course menu every week. No repeats. £55 for the full set meal.
Hill & Szrok - best for meat lovers: a free-range butcher shop with a cozy little restaurant on Broadway Market.  Pair their juicy steak with some Malbec wine.
Angelina - best for fusion: combines Japanese and Italian flavours to create mouthwatering dishes.
Casa Fofo- best with a star: While all the restaurants mentioned are in the Michelin Guide, Casa Fofo has also earned itself one Michelin star. The restaurant has a cool, intimate vibe and prices its 6-course meal at £45.
Have a couple drinks at East London's top bars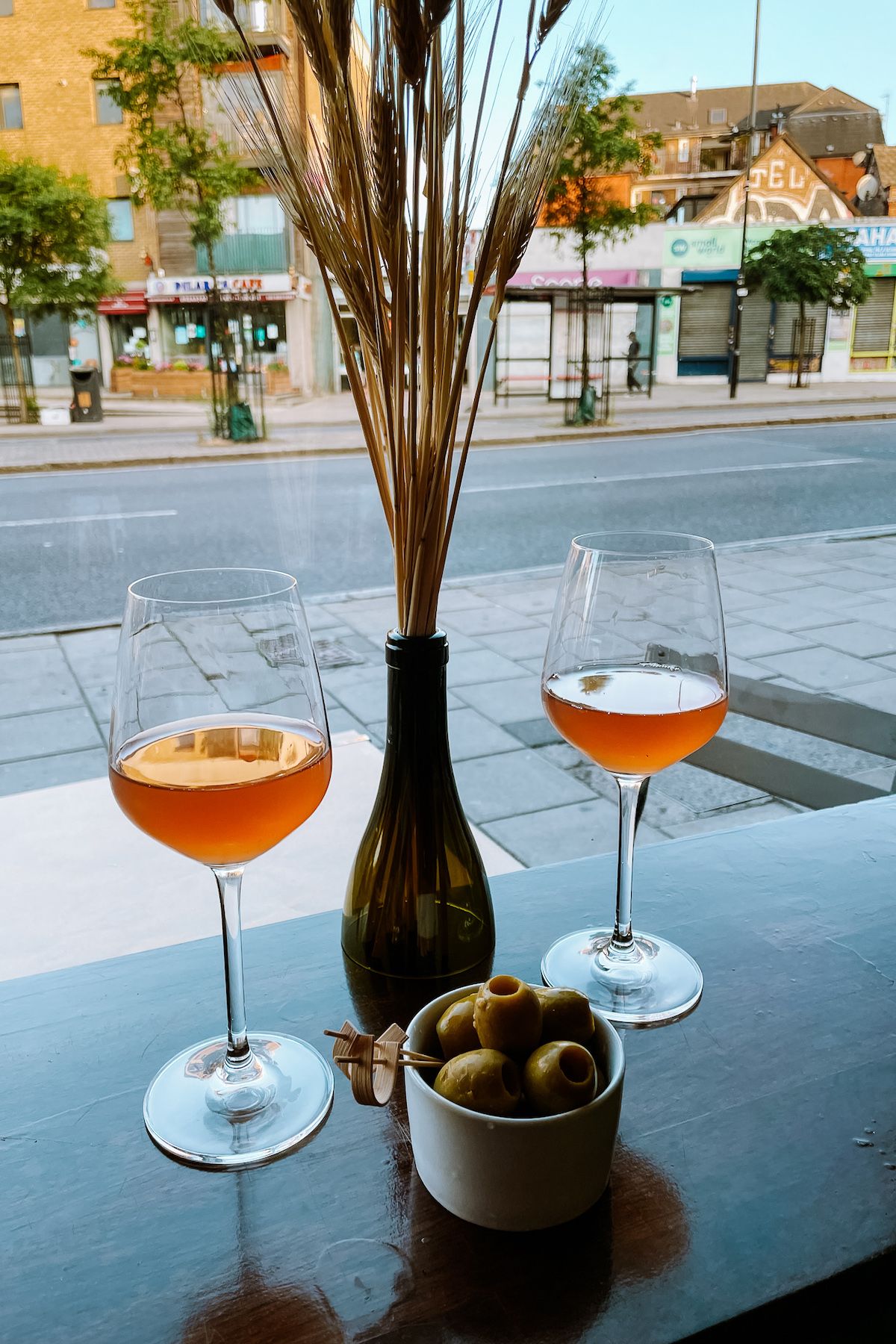 Cap off the night at one of these unique East London bars for some drinks, or if you have time, try both!
Best wine bar: Silver Lining. This quirky bar is listed in the Michelin Guide and specializes in orange wine. It gets its colour from grape skins, which are left on the white grapes during the wine making process.
Best cocktail bar: Three Sheets. The small unassuming bar is listed as #34 in the World's Top 50 Bars list, an amazing feat! If you are a cocktail lover, you are in for a treat. The cocktails are a fair price compared to other cocktail bars in the city on this prestigious list.
We hope you enjoyed this 5 Days in London itinerary!
For more hidden gems in East London, check out our list of non-touristy things to do in London.
Starting planning your trip to London
🌃 Accommodation: Booking.com is our go-to for finding places to stay. Sort by top reviewed.
🛫 Book your flight: use Skyscanner to compare flights across different airlines (we recommend booking direct with the airline however).
🏥 Travel insurance: World Nomads. Already traveling? You can purchase insurance with World Nomads while you're abroad. A 48-hour waiting period just applies for coverage.
Save and pin this 5 day itinerary for London for later: