London is a huge city. With 32 boroughs and a population of over 9 million people, it can feel overwhelming finding cool spots that aren't your typical tourist joints.
We met up with Katarina, a fashion designer based in East London, to experience London off the beaten path. She is the founder of Blue Nude, an earth-positive clothing brand that collaborates with emerging artists. The sustainable label focuses on natural areas of the world for its source of inspiration, so as you can imagine they are fitting pieces to take along on your travels.
We loved each one of these non-touristy things to do in London and can't wait to share them with you! It felt like we were locals living and understanding the creative layers of the city rather than tourists visiting.
Outline: 10 Non-touristy things to do in London
---
10 things to do off the beaten path in London
1. Shop for artisanal goodies at Broadway Market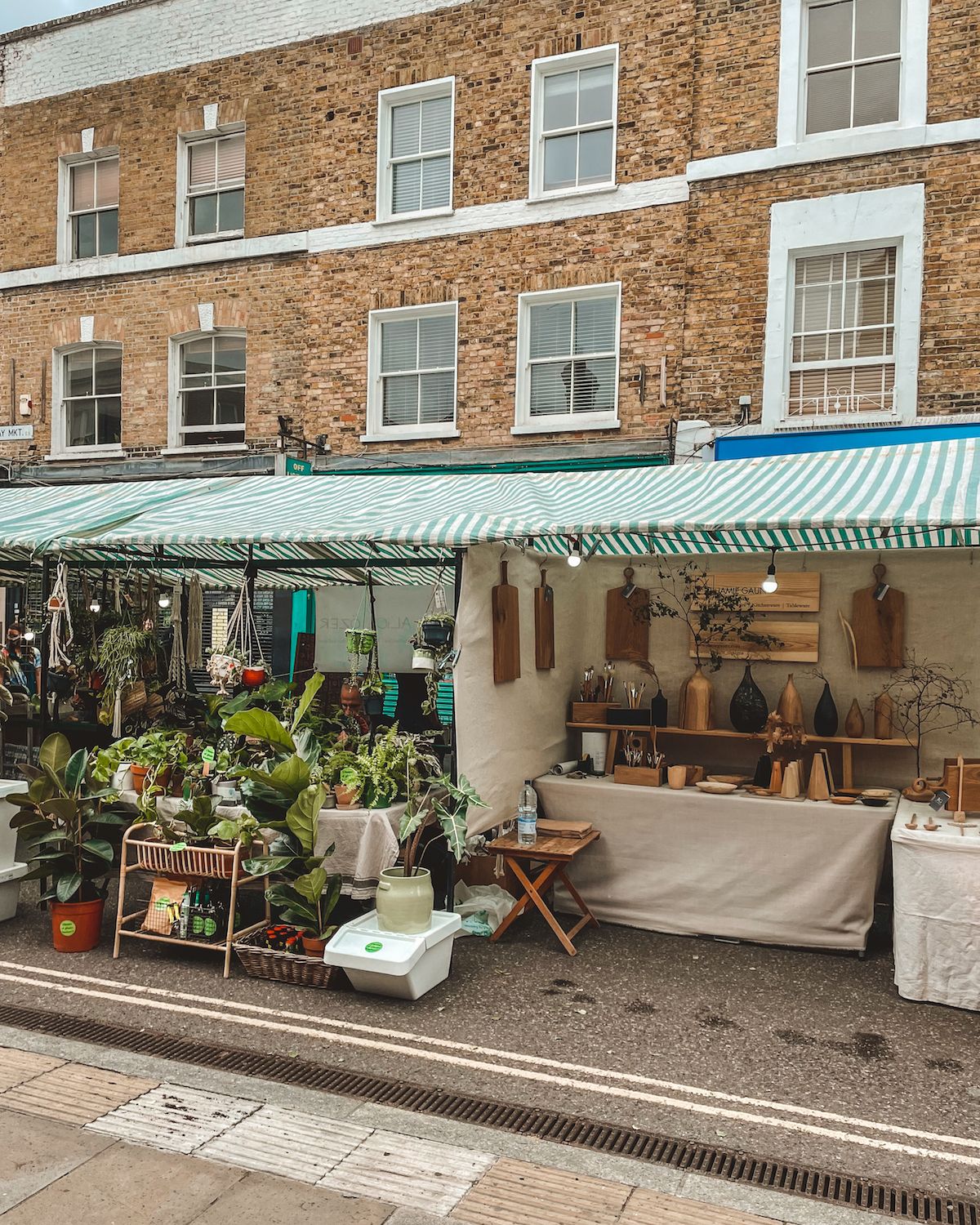 To the east of Shoreditch you will find Broadway Market, a happening pedestrian street with over 70 shops, cafes and trendy eateries. Saturdays are especially lively as the whole street is filled with stalls selling artisanal goods and delicious bites. Browse the street market and sit at one of the outdoor cafes to people watch. The scene here is hip with a neighbourhood feel.
Katarina: "I love going to Broadway Market's Saturday Market. It may be busy, but it's one of the most eclectic and stylish crowds I think you'll ever see at a market. Plus, the vendors are all great, friendly people. After grabbing some cured meats and cheese (I also love Noble Fine Liquor for their natural wine selection), I usually try to nab an outdoor table at La Bouche. It's a French deli/cafe with great coffee and options for lunch. This is one of my favourite spots to people-watch in all of London, and I often use this time to observe the street-style and sketch new designs."
2. Walk along Regent's Canal and have lunch at Towpath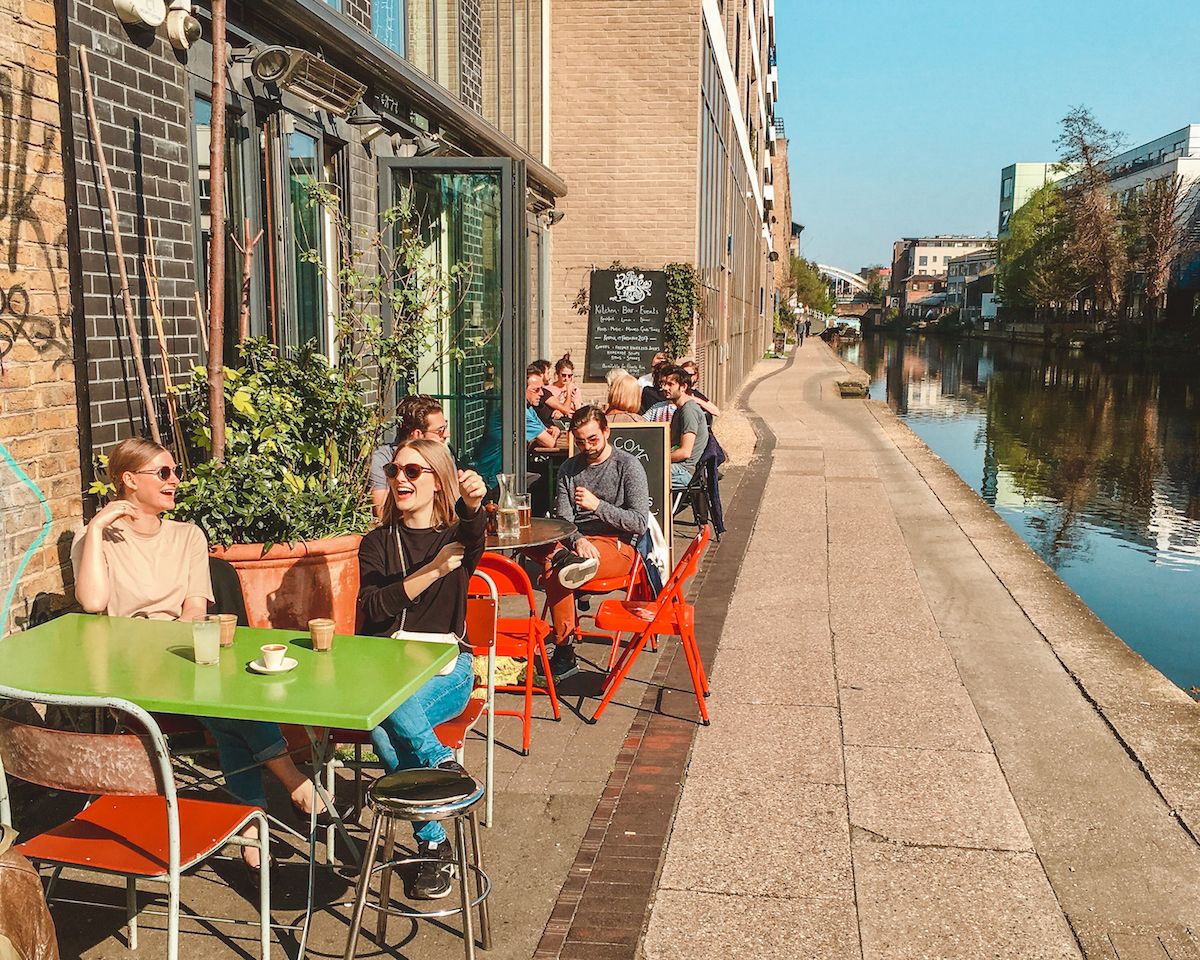 Regent's Canal is a hidden gem in London and a beautiful way to see the city. The canal is lined with former warehouses turned apartments, cafes and restaurants. You will see mostly locals walking, running or biking along the pathway of the canal.  
Stop at Towpath for coffee or a healthy lunch. The outdoor cafe has lovely canal views and is a favourite among locals and creatives. Celebrity fashion designers and artists are regulars here, however the cafe has stayed under the radar and hasn't lost its local appeal. Towpath has tasty food and focuses on using seasonal and locally sourced ingredients. They even have their own cookbook, which was selected as a Best Cookbook of the Year by The Guardian and The Independent.
Katarina: "I walk along Hackney's Regent's Canal almost every weekend. It's especially gorgeous and fun in the spring and summer. People are gathered along the side of the canal drinking wine, while the trees are lush and create beautiful canopies over the sidewalk. I usually end my walk at Towpath Cafe (note - it's not open in the winter). They serve the best flat whites in all of London! This is one of my most relaxing spots in the city, where I go for solace."
The route:
Start at Broadway Market and make your way along the canal to Towpath. From Towpath continue along the canal until you reach Angel station. It's a beautiful and flat 45 minute walk.
3. Visit Hackney Wick, a former industrial area turned creative hotspot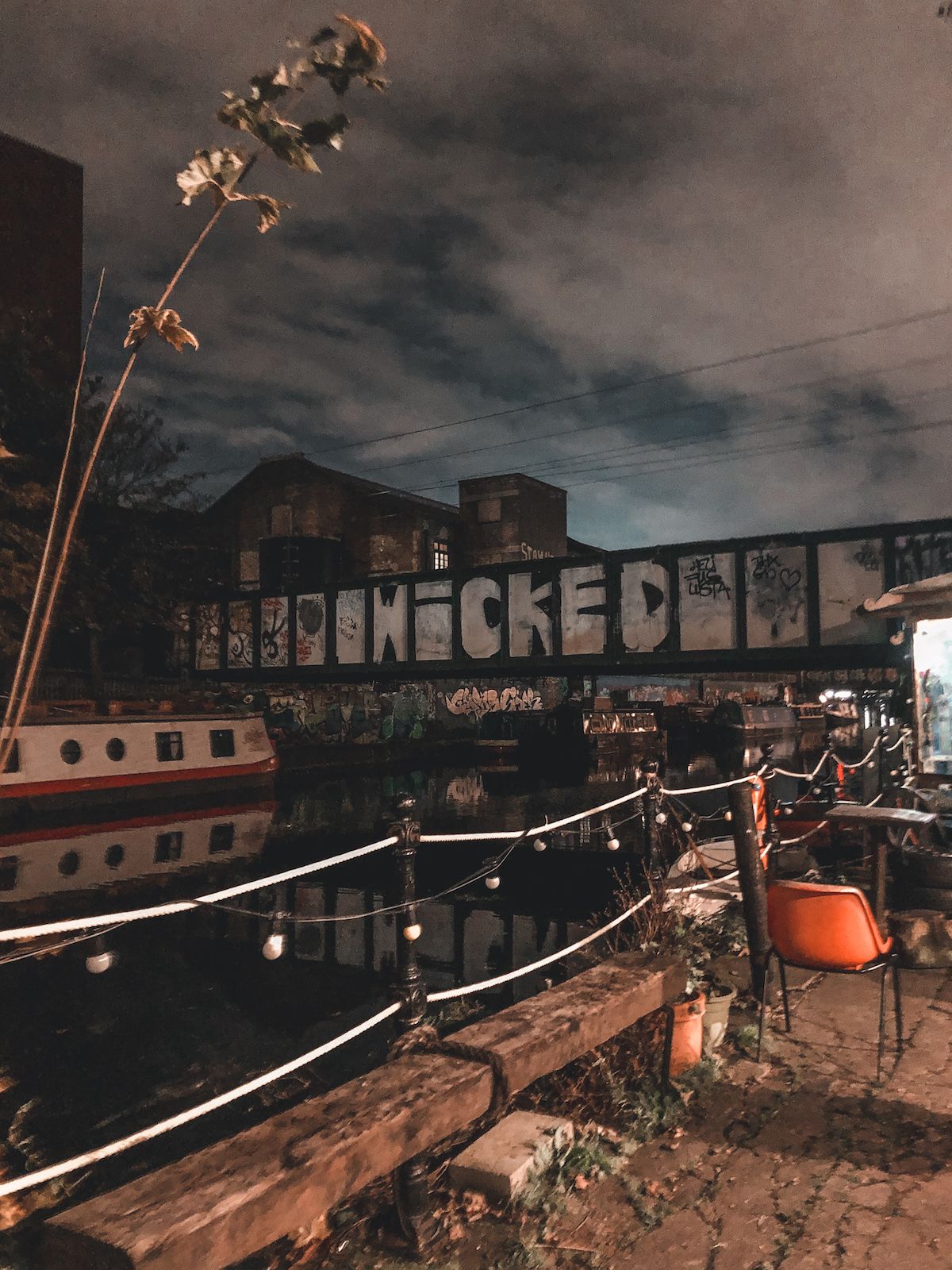 Hackney Wick is London's alternative hotspot where artists and designers congregate. The area still retains a lot of old industrial-era buildings and warehouses (an increasing rarity in London), which have been turned into creative studios. You will find lots of street art, quirky eateries, craft breweries and an excellent nightlife in this vibrant place.
This neighbourhood is becoming increasingly commercialized, so visit sooner rather than later to see it in its true eclectic glory.  
Katarina: "I call Hackney Wick 'Baby Berlin'. Some of the best parties of my life have been here - the clubs are all great and worth visiting. If you want a more low-key visit to Hackney Wick, I'd recommend spending the afternoon at Grow, an organic cafe/bar on the side of the canal. Afterwards head over to Crate for some pizza and a fun atmosphere, also on the canal."
4. Sit at an outdoor cafe on Wilton Way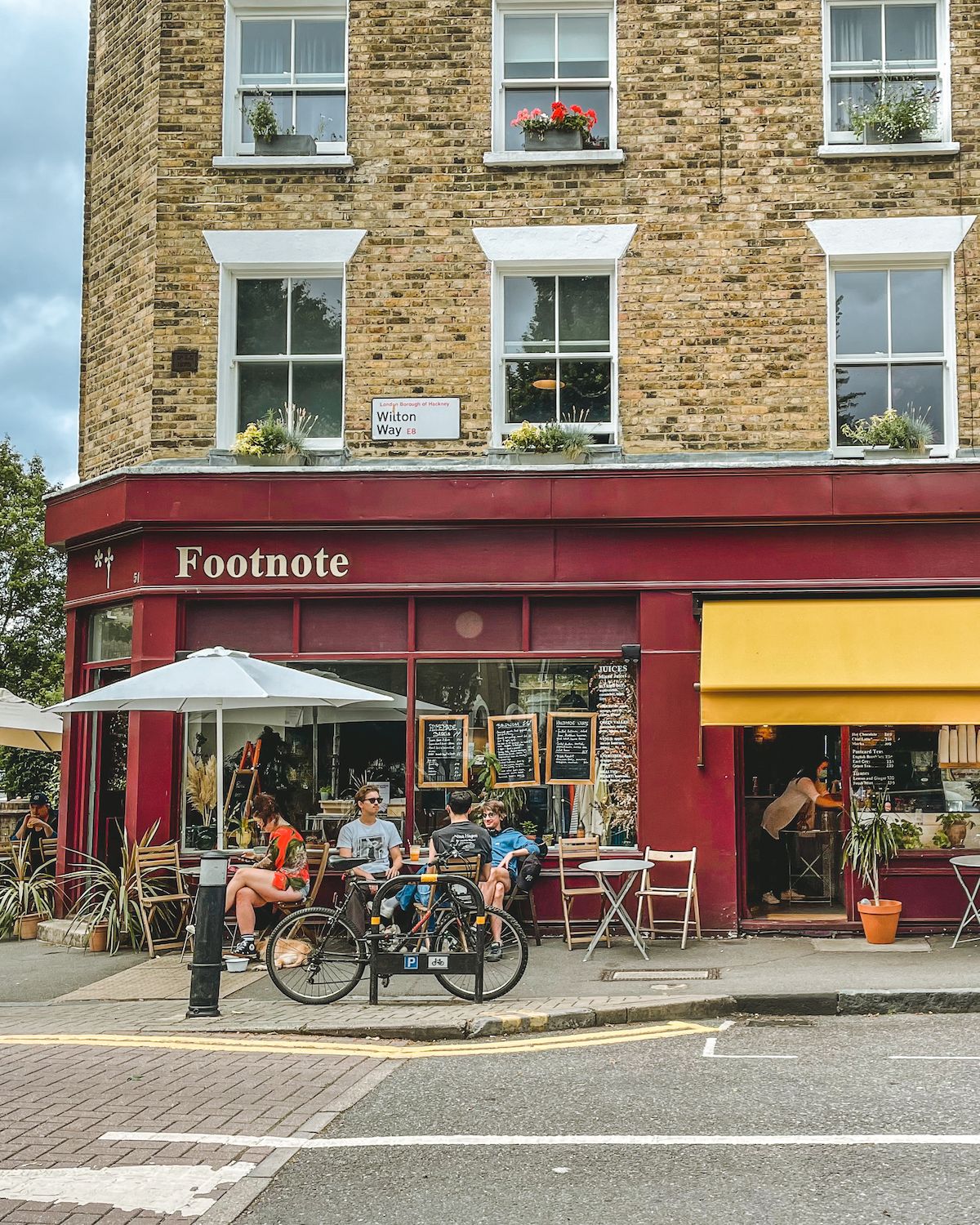 Wilton Way is is where Katarina calls home. It's very local and a hidden gem in London - most Londoners don't even know about this quaint street of cafes and boutiques tucked away in Hackney Central. Locals line the street at outdoor cafes and it's common to see movies being filmed here.
Katarina: "My favourite cafes are Footnote and Violet. Footnote is great for brunch and vegetarian options. I love to sit outside and spend the morning or early afternoon with a book and a fresh juice. Violet is a great option if you have a sweet tooth. Their cakes and baked goods are incredible - word on the street is that they made the cakes for Harry and Meghan's royal wedding."
5. Go vintage shopping in East London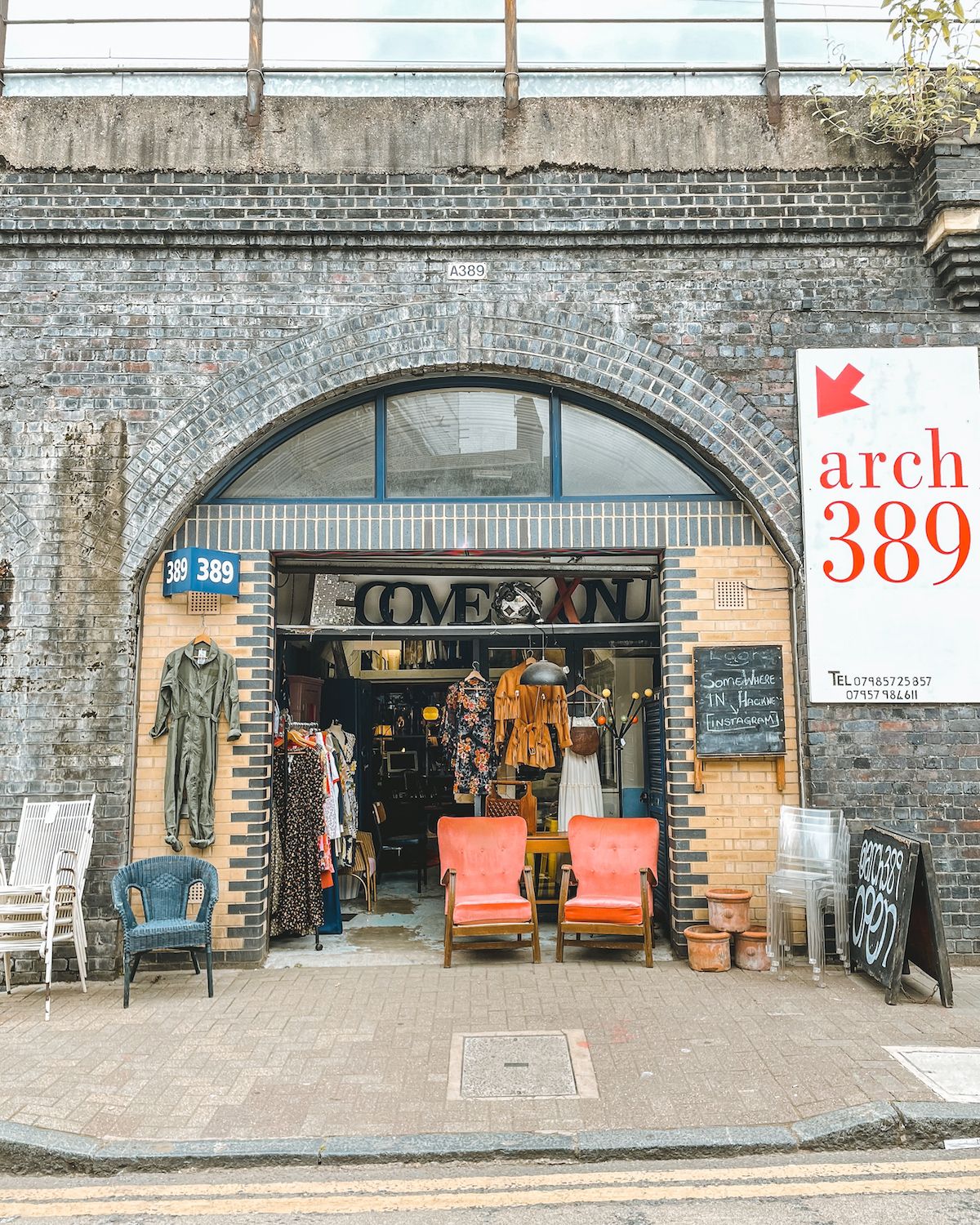 Vintage shopping can be overwhelming in London, and there are a lot of places that are really overpriced. These are Katarina's favourite East London vintage shops that are well-curated and/or at a reasonable price point:
Mero Retro: "really cool vintage pieces and it's fun to see what the other customers are wearing - they have great style!"
Traid: "this place runs on donations and can be a bit overwhelming, though I've found some great buys here for really low prices. They have a mix of true vintage, designer, and mass market options to suit every taste and budget."
House of Vintage (Amhurst Road): "a thoughtful selection of casual vintage pieces."
Arch 394 - Somewhere in Hackney: "shopping here makes you feel like you're selecting clothes from your most glamorous friend's closet. Fair prices, and the owner is truly passionate about vintage fashion."
6. Eat wood-fired pizza in the Dalston Eastern Curve Garden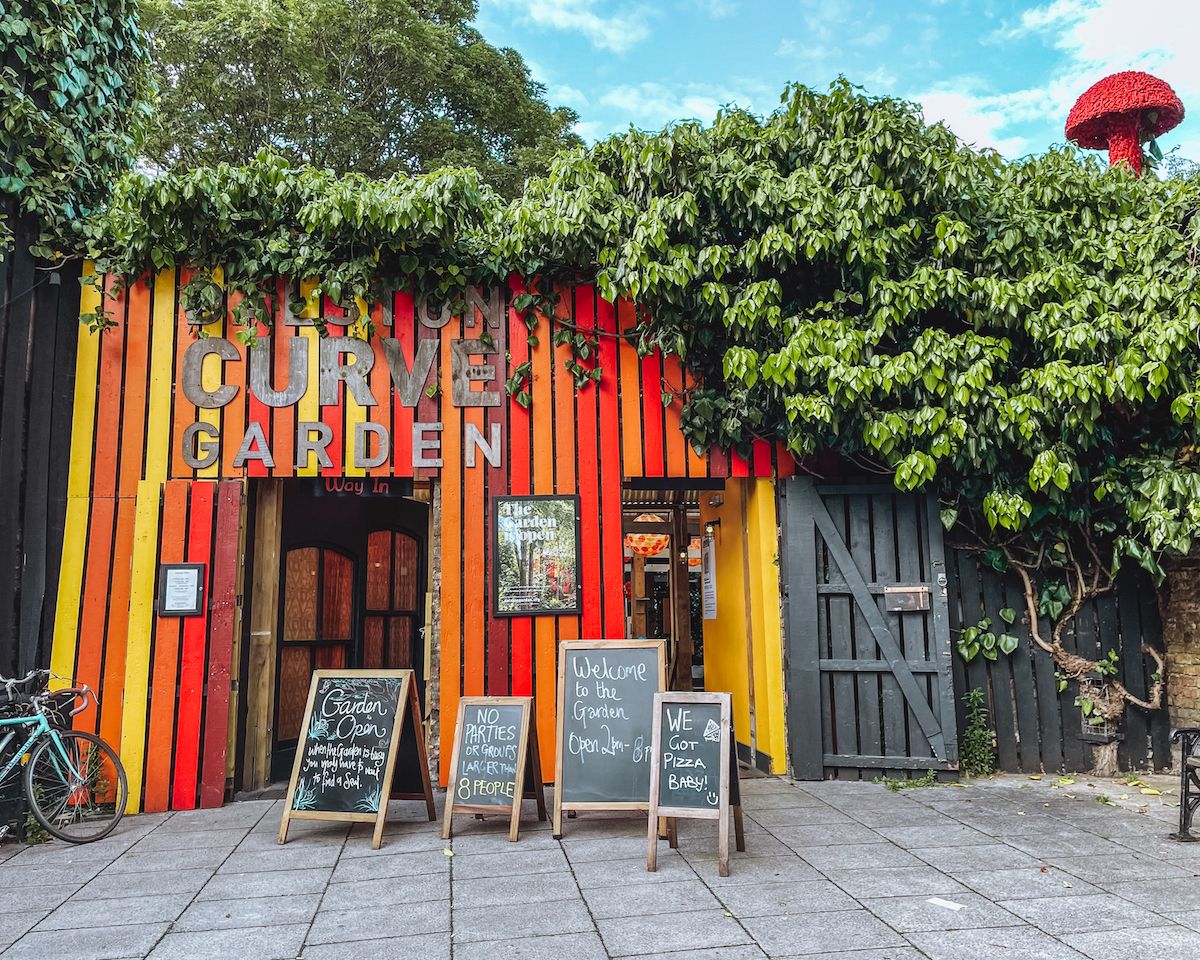 Dalston Eastern Curve Garden is a funky spot. The peaceful garden is on an old railway line and has a cafe. On Saturdays and Sundays they have wood fired pizza.
Katarina: "Another peaceful place of mine in East London, with a real community vibe. I love secret gardens, and this place fits the bill perfectly. Great for a relaxed afternoon with friends, or on your own to read a book and cool off in the shade of the trees."
7. Discover Hackney's neighbourhood restaurants in the Michelin guide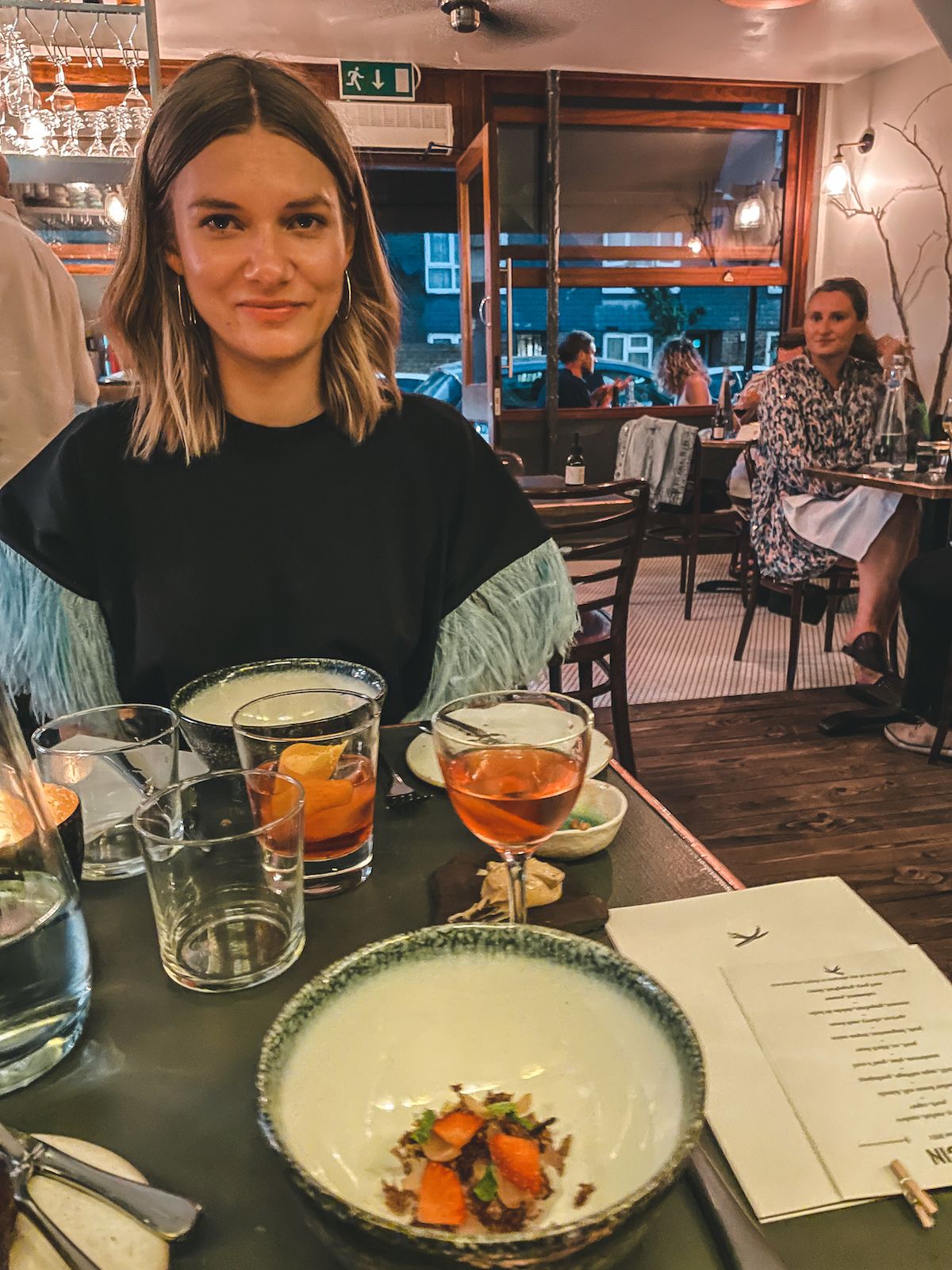 When you think of a restaurant in the Michelin Guide, you don't necessarily think of a cozy neighbourhood eatery. There are many restaurants in Hackney in the Michelin Guide that don't just have excellent food, but are a great value.
Best restaurants in Hackney
Best for creative dishes: Pidgin
Pidgin is tucked away in a residential area on Wilton Way. The intimate restaurant changes their 9-course menu every week. No repeats. Priced at £55 for the full set meal, it's a great value.  
Katarina: "It's only recently that I discovered how many fantastic restaurants there are in the Michelin Guide near me! My first pick is Pidgin - the service is exceptional, and their dishes are really creative. I never used to eat mushrooms, and after trying their mushroom soup, I'm now a fan. I'm hoping these guys get their first star soon!
Best for carnivores: Hill & Szrok
For the meat lovers out there, this one is for you. Hill & Szrok is a free-range butcher shop with a cozy little restaurant on Broadway Market. It's a lively yet personal space and feels like you've stepped into someone's kitchen. Check the menu written daily on the chalkboard, order a juicy steak and pair it with some Malbec wine.
Best for brunch: Angelina
Angelina combines Japanese and Italian flavours to create mouthwatering dishes. Sit on the outdoor patio and enjoy their one of a kind brunch items.
Katarina: "their Japanese fusion breakfast options are really unique. Try their eggs benedict with yuzu hollandaise - it's delicious."
Best for drinks and small bites: Silver Lining
Ever heard of orange wine? This is their specialty. It's made from white wine grapes without removing the grape skins. That's where it gets its orange colour from. Also on the menu are some truly fantastic snacks - you can order a few for a light dinner or aperitif.
Best with a star: Casa Fofo
While all the restaurants mentioned are in the Michelin Guide, Casa Fofo has also earned itself one Michelin star. The small neighbourhood eatery has a cool vibe with its upbeat music and unpretentiousness. It's casual yet feels intimate with its dim lighting. The 6 course set meal is priced at £45 , which is really good value for a one star restaurant.
8. Have a picnic in Hampstead Heath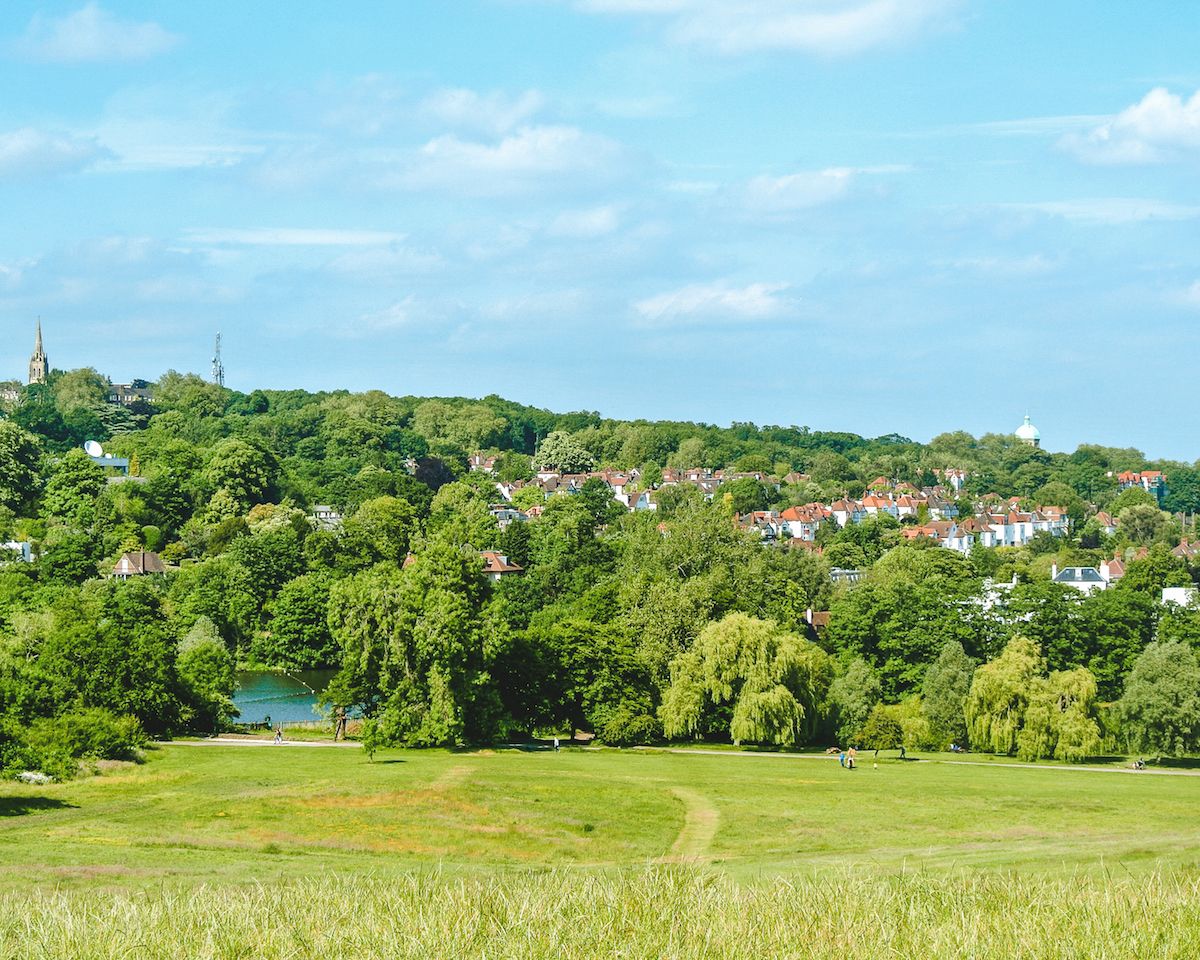 Located on a hill, Hampstead Heath offers views of London, but most importantly fresh air. In the summer the grasses grow long, and it's easy to spend a whole afternoon (and evening, if you have some drinks with you). The surrounding neighbourhood is beautiful as well - Kate Moss has a home here.
Katarina: "The best park in London! There are also swimming ponds here, one for men, one for women, and one for mixed genders. I've only ever visited the mixed pond but it has a fun energy in the summer on a hot day."
9. Have a classic English breakfast at Premises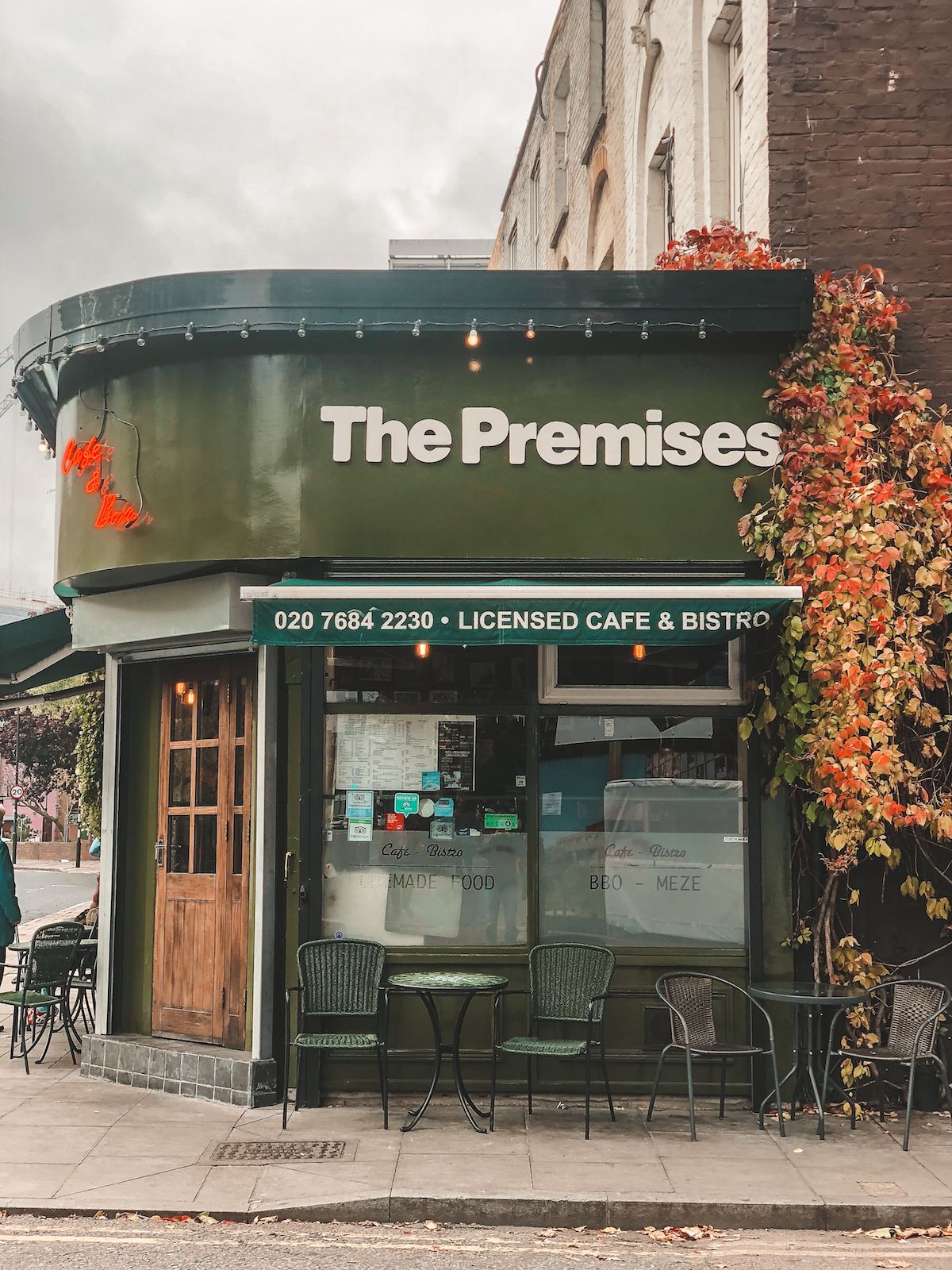 Ah, English Breakfast - the hero of hangovers. Premises does this so well, with the casual touch of an old school east-end London cafe. It's located in the front end of Premises Studio, where many famous jazz musicians have recorded their albums. Grab an eggs benedict and a fresh orange juice and then make your way down to Shoreditch for some shopping.
10. Experience East London's music scene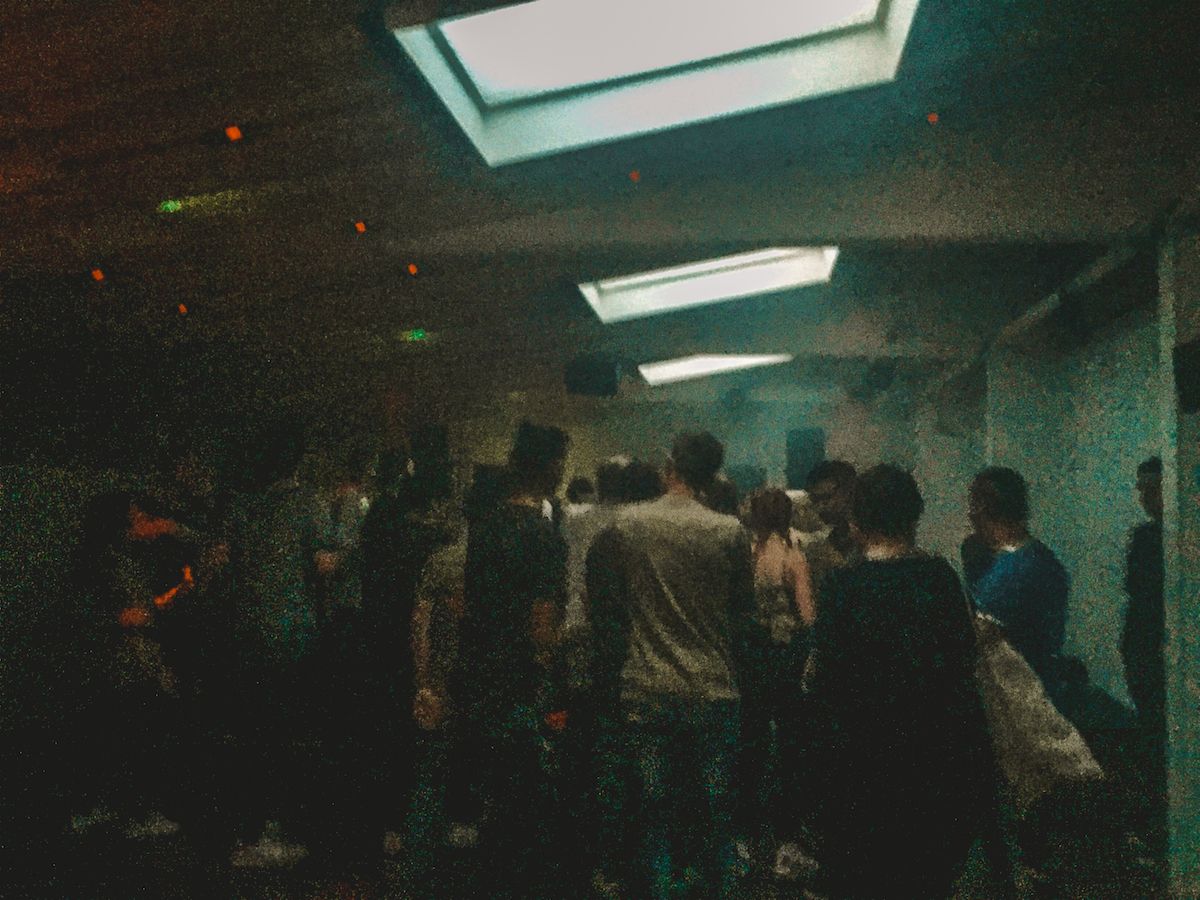 One of the reasons Katarina moved to the UK was for it's incredible music culture. Music is really embedded into life here, and especially in London there are always new sounds bubbling up from the underground to be enjoyed. Hackney Wick has a stronghold on the city's techno scene, though there are a few other options Katarina recommends for varying musical tastes.
East London music venues & nightclubs you should visit:
Pickle Factory: "in my humble opinion, this is the best club in London. In (you guessed it) an old pickle factory, it's an intimate venue that still houses plenty of room for dancing. Things are stripped to the important basics for a night out - the sound quality is fantastic, there's always great music, the staff are friendly, and the crowd is there for the music. I especially love the sunroof - you can watch the sun rise as you dance into the early morning."
Kansas Smitty's: "I love jazz, and it's refreshing to see jazz culture being presented in a casual, youthful way. I've seen great performances here, and the venue has a great speakeasy feel. Plus, there are some awesome cocktails!"
Hackney Carnival: "you may have heard of the wild Notting Hill Carnival, but I prefer my local Hackney Carnival. It takes places in early September every year. It's easier to navigate than the massive Notting Hill Carnival and has great music, with stages set up all over Hackney Central to create one large street party. The Caribbean community has a large presence in Hackney, and it's great to see a festival celebrating their culture. Expect Caribbean reggae and dub reggae to be playing from the massive sound systems."
We discovered so many great new spots during our time in London with a local. We hope you enjoyed these non-touristy things to do in London and that they help inspire your next trip!
Start planning your trip now:
Disclosure: Some of the links below are affiliate links, meaning at no additional cost to you, we will earn a commission if you click through and make a purchase. Regardless, we only recommend products or services we have used or that we believe will add value to our readers. Thank you for supporting us!
Our top hotel picks for East London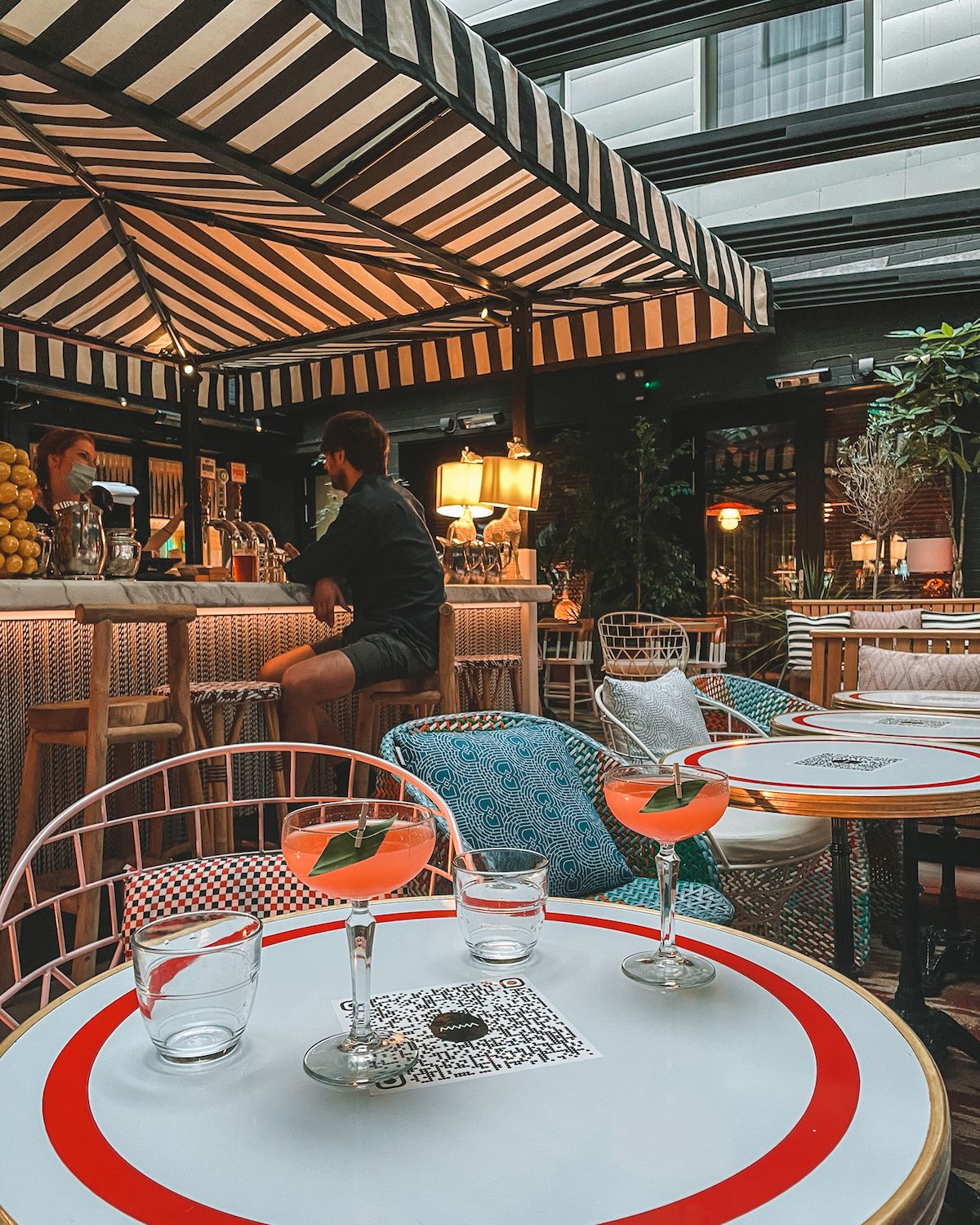 Mama Shelter: A colourful design-led hotel with a trendy restaurant and rooftop. Broadway Market is just a 7 minute walk away.
Boundary London: A stylish hotel in a converted Victorian warehouse. Each one of its rooms were inspired by a design movement or designer. Located in the heart of Shoreditch and has a happening rooftop bar. A 25 minute walk away from Broadway Market.
The Hoxton Shoreditch: An industrial chic boutique hotel in the heart of Shoreditch. Good value. A 29 minute walk from Broadway Market.
🗺 See our Fun Filled 5 Day London itinerary,
including both Central London and East London.
🛫 Find cheap flights with Skyscanner
(a great comparison tool, but we highly recommend booking direct rather than with a third party).
🏥 Travel insurance: Already traveling?
You can purchase insurance with
World Nomads
while you're abroad. A 48-hour waiting period just applies for coverage.
---
You might also like: