Lake Louise, Alberta is one of Canada's most sought after travel destinations. The picture perfect turquoise lake, Rocky Mountains and glacial backdrop are sure to take your breath away.
The famous blue-green water is caused by a suspension of finely ground rock particles called rock flour, that originate from the grinding action of the glacier above. When the sun reflects on these particles, you get that beautiful turquoise colour!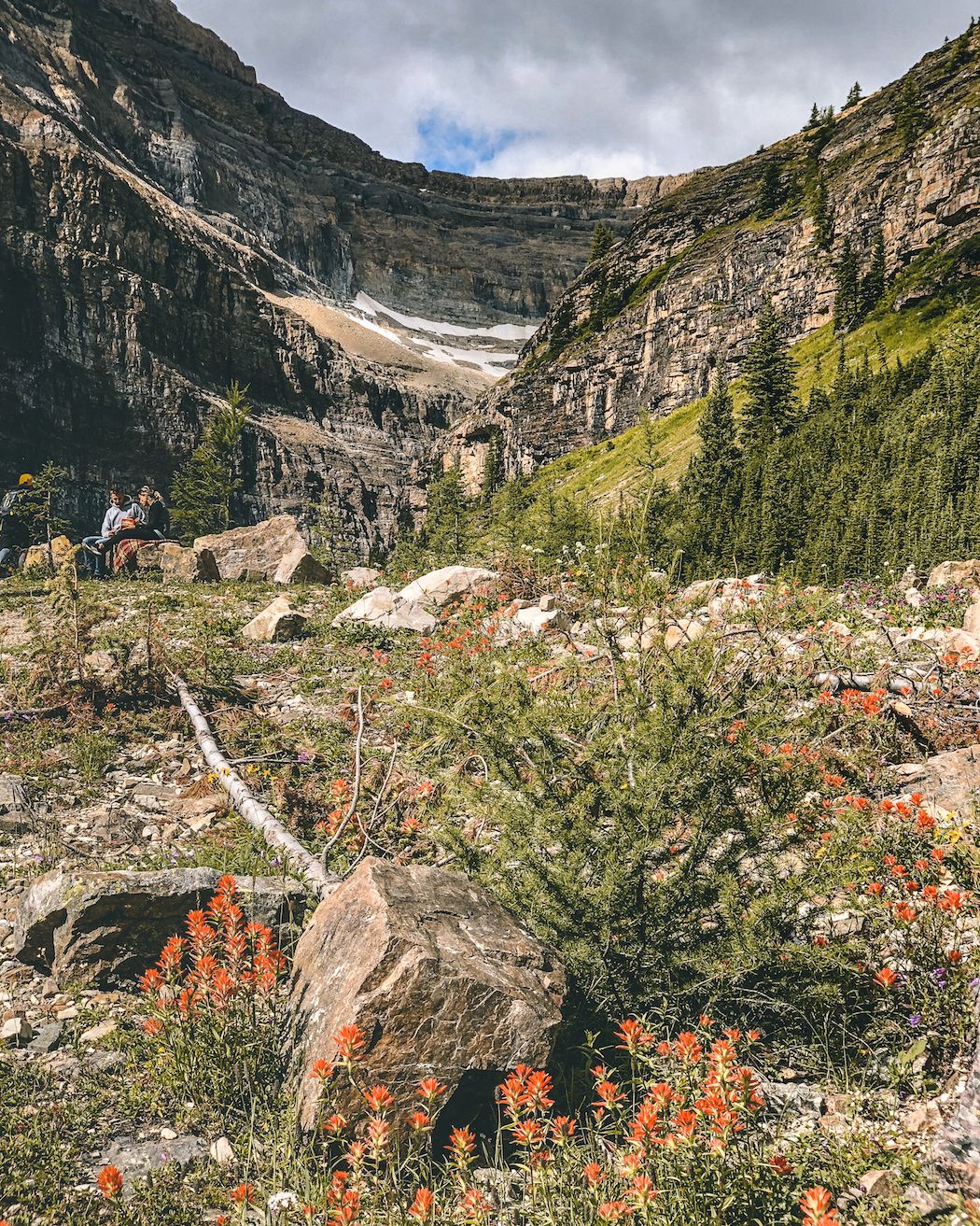 Growing up in Alberta, the Lake Agnes Tea House and Big Beehive hike was one of my favourites. There are so many beautiful viewpoints along the way and it's fun to take a break for breakfast or lunch at the tea house. The higher you climb, the more vibrant Lake Louise looks!
Our Lake Louise hiking guide covers the best time to do the Lake Agnes and Big Beehive hike, the best route and the best way to avoid crowds.
Disclosure: Some of the links below are affiliate links, meaning at no additional cost to you, we will earn a commission if you click through and make a purchase. Regardless, we only recommend products or services we have used or that we believe will add value to our readers.
Guide to Lake Agnes and Big Beehive hike
---
Best time of year to visit Lake Louise for hiking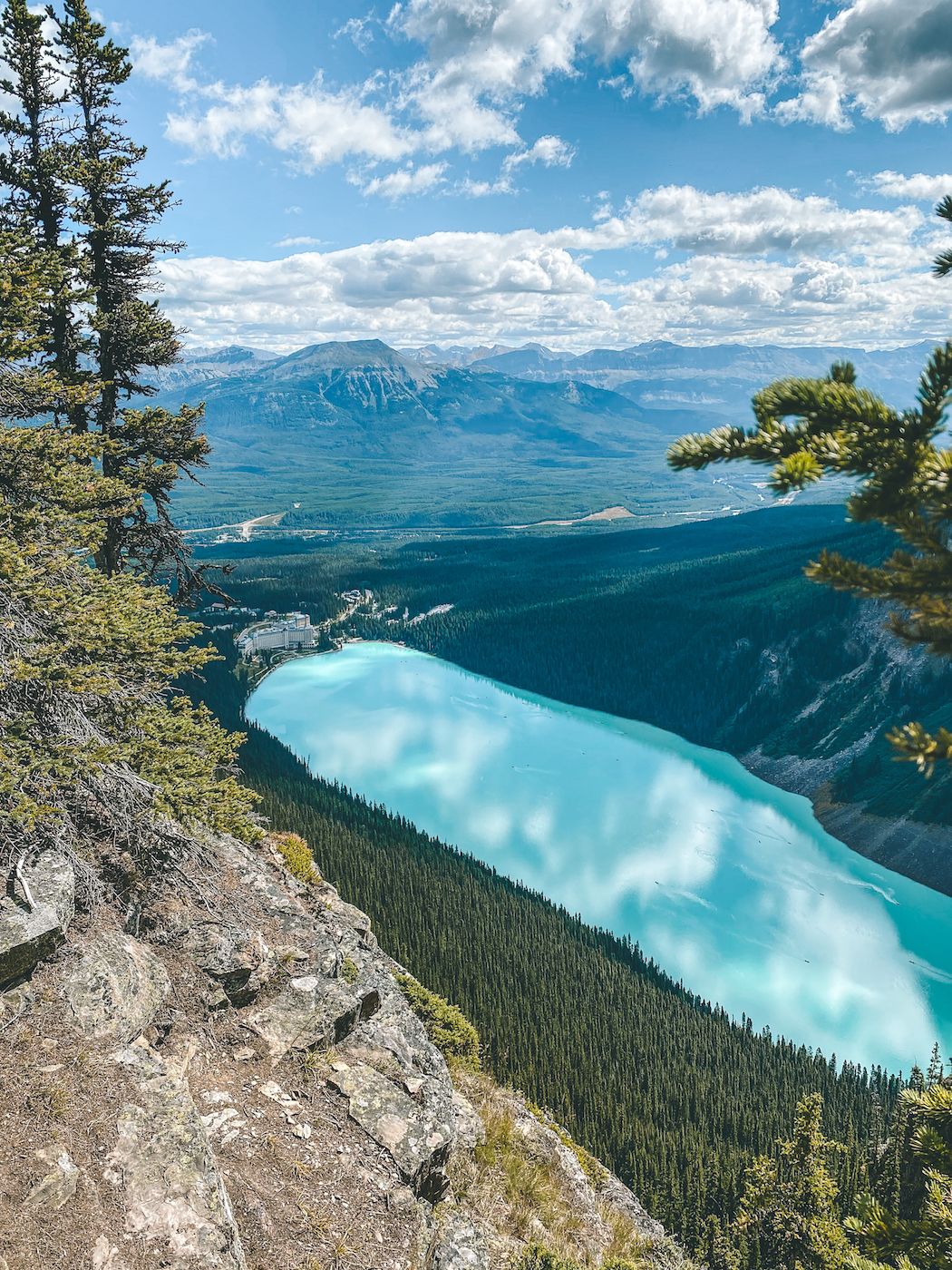 To guarantee a view of the turquoise coloured water at Lake Louise, you will have to visit between late June to early September. Since Lake Louise sits at 1,600 meters above sea level, you can see an ice-covered lake well into June! We visited once in late May and were surprised to see the lake completely frozen over.
The downside of visiting at this time is that it's peak tourist season. We include tips below on how to avoid big crowds during this time. Once students go back to school in September, things slow down a bit. Because of this, we believe the best time to hike in Lake Louise is during a weekday in early September.
Lake Agnes and Big Beehive hike in a nutshell
Hiking distance: 14 km
Estimated hiking time: 4 hours (give yourself an extra hour for pictures and the teahouse)
Starting elevation: 1,750 m
Highest elevation: 2,270 m
Elevation gain: 520 m
3 lakes visited: Mirror Lake, Lake Agnes & Lake Louise
Highlights: the teahouse, glacial lakes, a waterfall, wildflowers, chipmunks, a panoramic view of Lake Louise, wonderful smelling pine forests, the Rocky Mountains and Victoria glacier in the background.
Difficulty: Moderate
If you are short on time and would just like to do the hike to the teahouse, the round trip distance is 7.6km and a 433 meter ascent. However, it's worth it to save time to hike up to Big Beehive, since the trail is less busy and you have an amazing viewpoint. If you don't have the time, we highly recommend walking to the other side of Lake Agnes for a great view.
The Best Route: Lake Agnes & Big Beehive Hike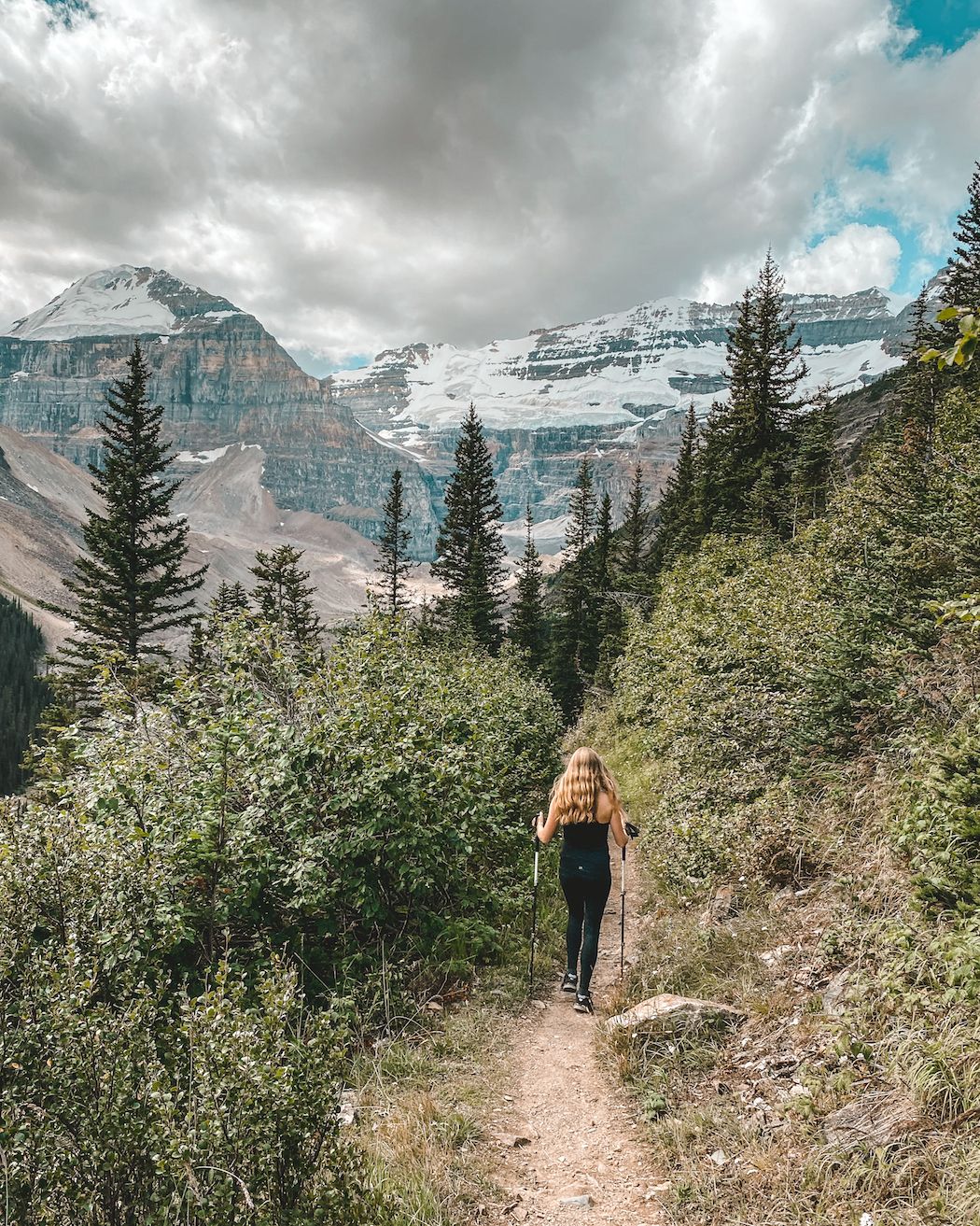 There are a couple ways you can do the Lake Agnes and Big Beehive hike. We highly recommend doing the Lake Agnes Trail to Plain of Six Glaciers Trail loop (see map on AllTrails), so that you have new views along the way. Half of your hike will also be quiet with not many people on the trail.  
The highest trafficked area is the hike from Lake Louise up to Lake Agnes. Do this first, as it gets busier and busier throughout the day.
Lake Agnes Tea House & Big Beehive Hiking Itinerary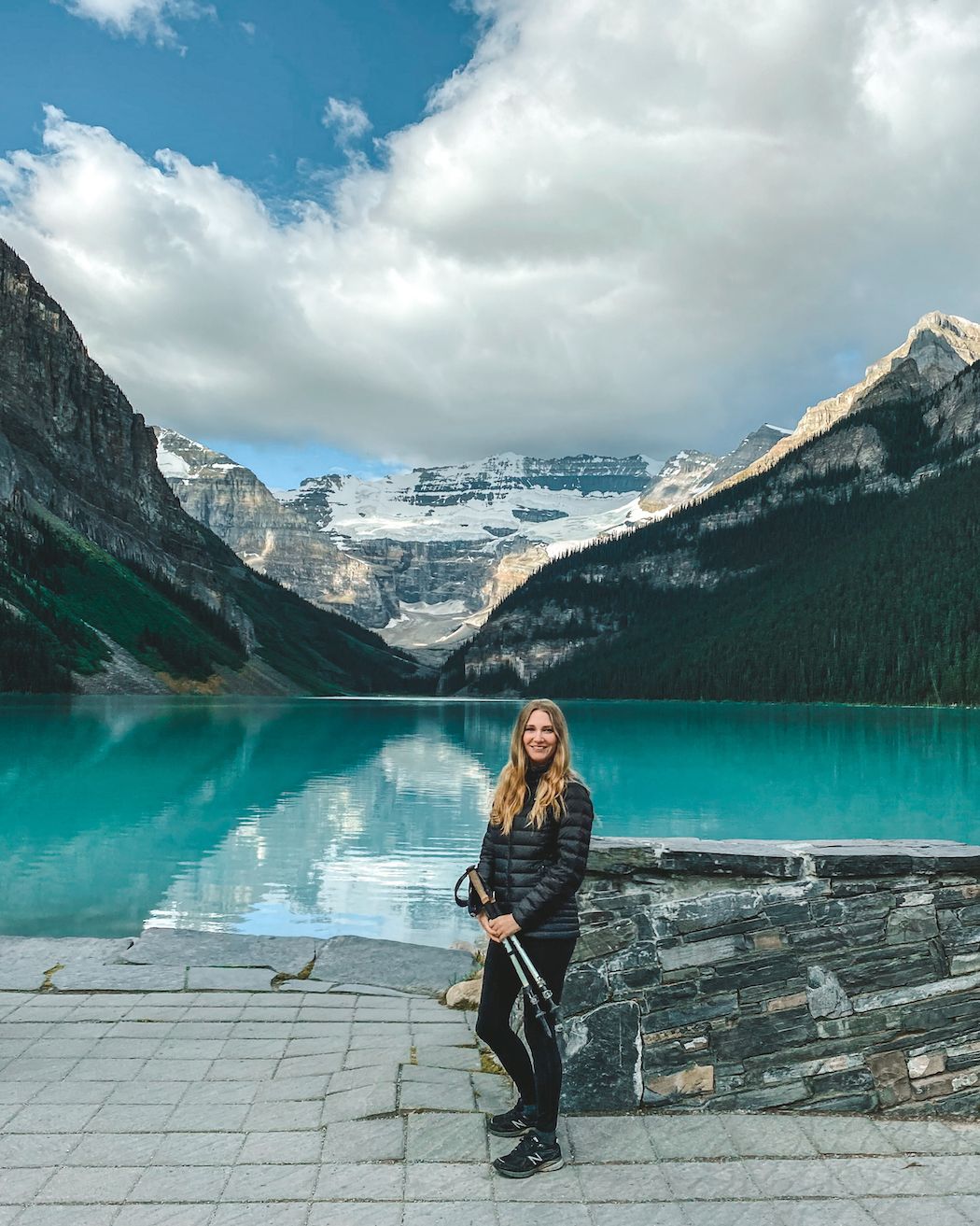 Starting Point: Lake Louise (1,750 m elevation)
Start your hike from the
Fairmont Chateau Lake Louise
and head towards the west side of the lake (righthand side when looking at the lake). You will see a sign that that says Lake Agnes Teahouse. From there you will take a trail that ascends through the forest. There will be a clearing in the trail at one point where you will see the stunning blue Lake Louise below you.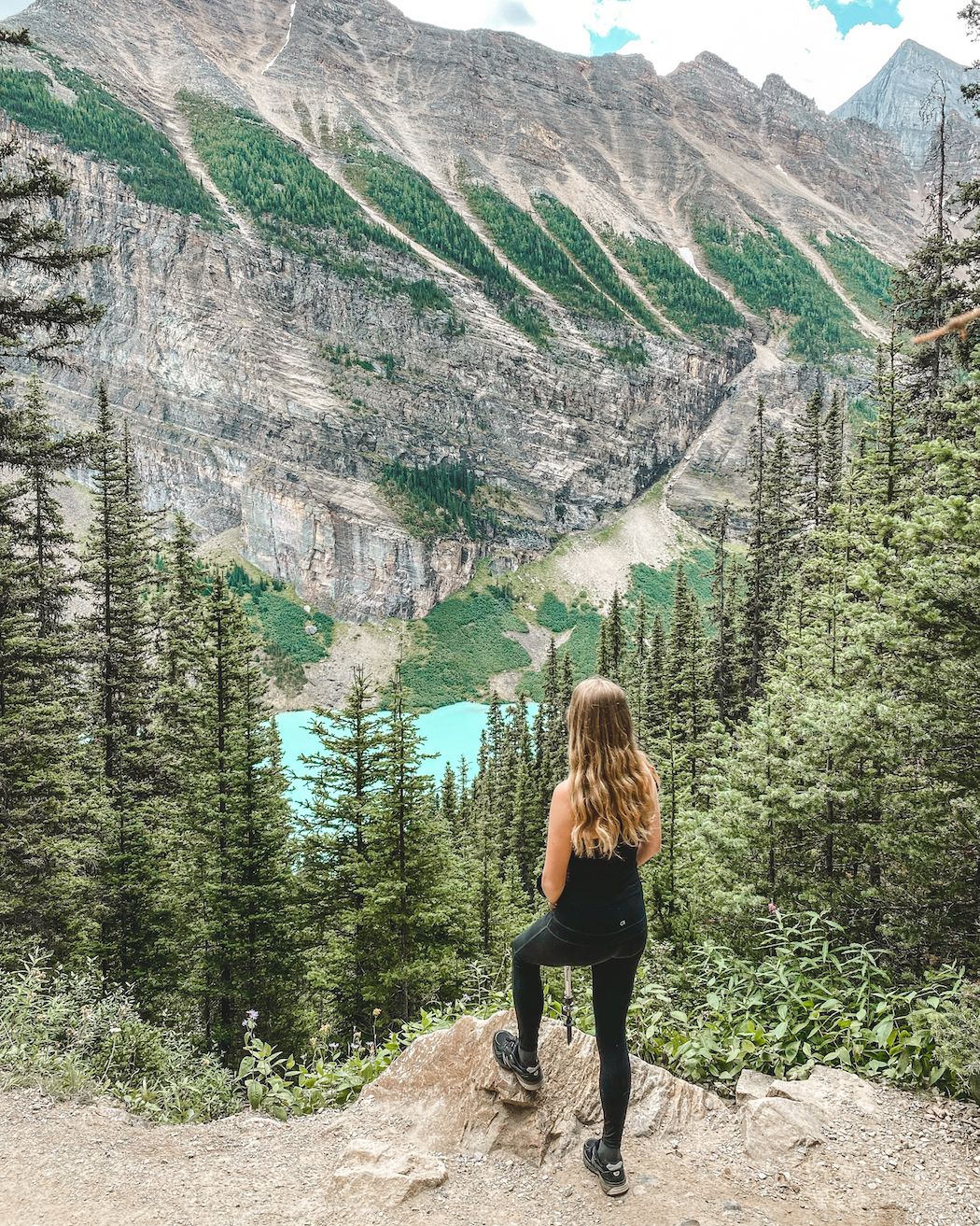 Scenic Stop 1: Mirror Lake (2,030 m elevation)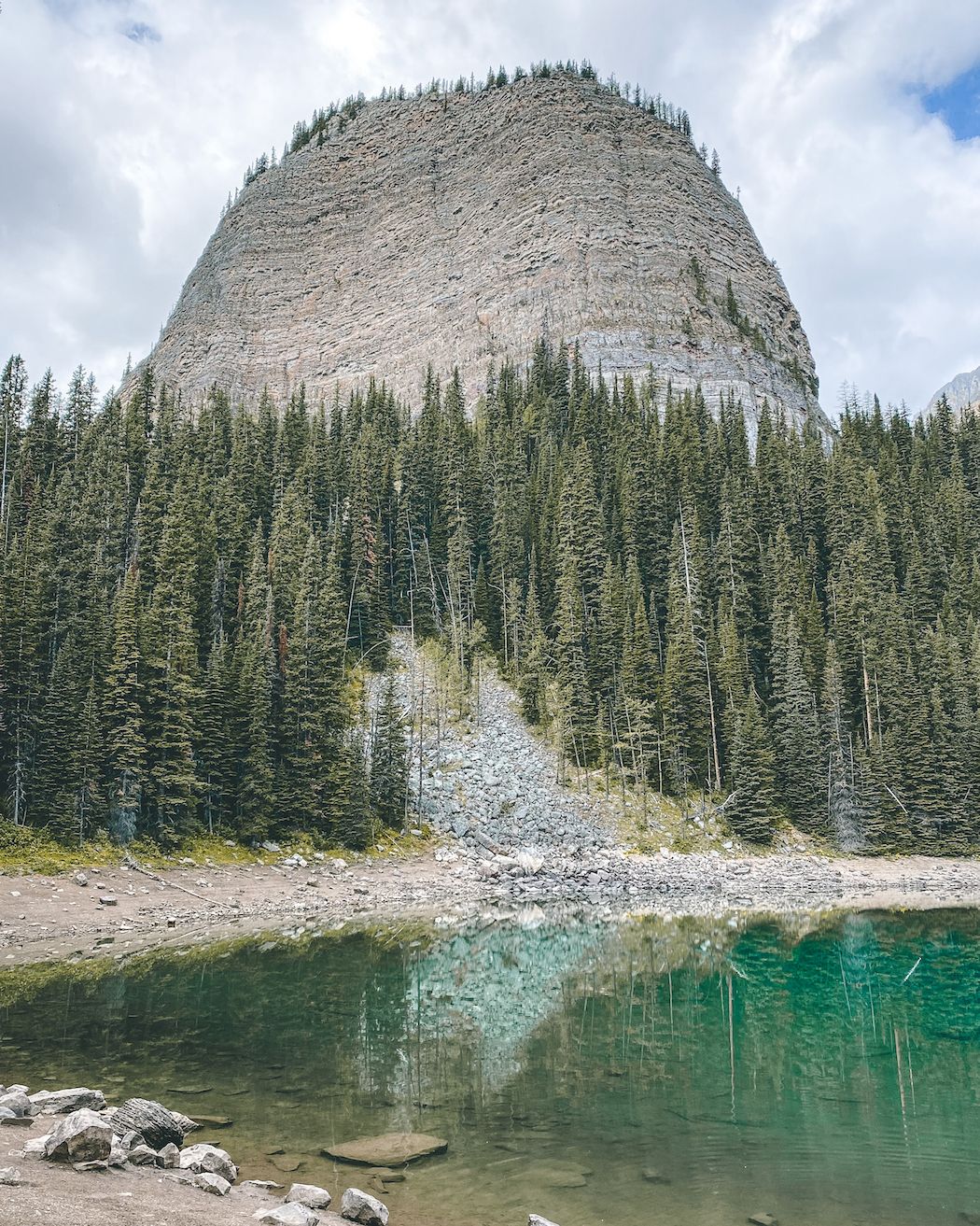 Take a break at the cute emerald coloured lake with a view of Big Beehive.
Scenic Stop 2: Lake Agnes Tea House (2,135 m elevation)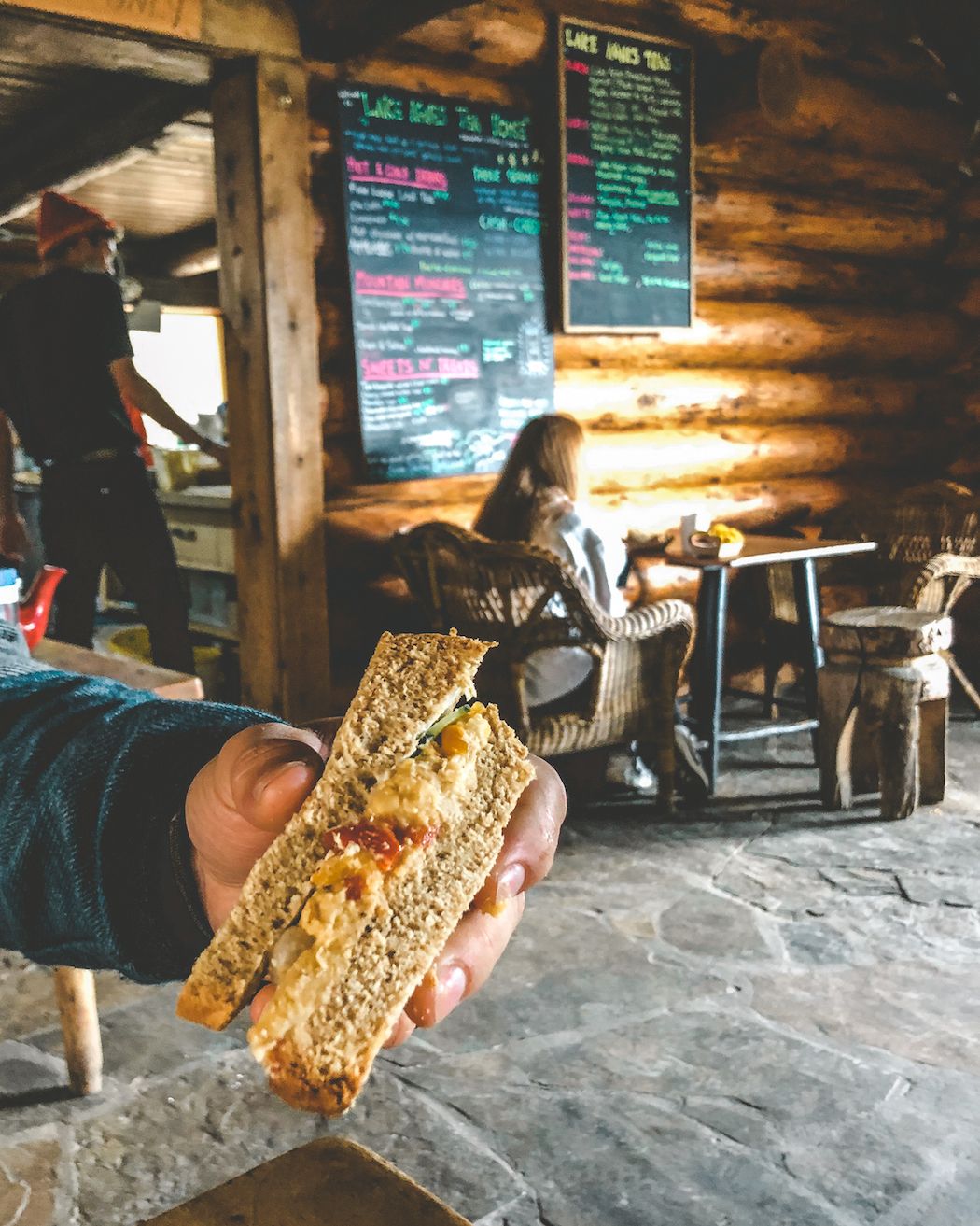 When you hear the sound of a waterfall you know you're getting close to Lake Agnes. After taking a look at the waterfall, it's just one more minute of hiking to the tea house! Lake Agnes Tea House opens at 8 AM and serves sandwiches, soup and tea (no coffee!). It's relaxing having a bite to eat in the wooden cabin overlooking the lake.
Scenic Stop 3: Big Beehive Lookout (2,270 m elevation)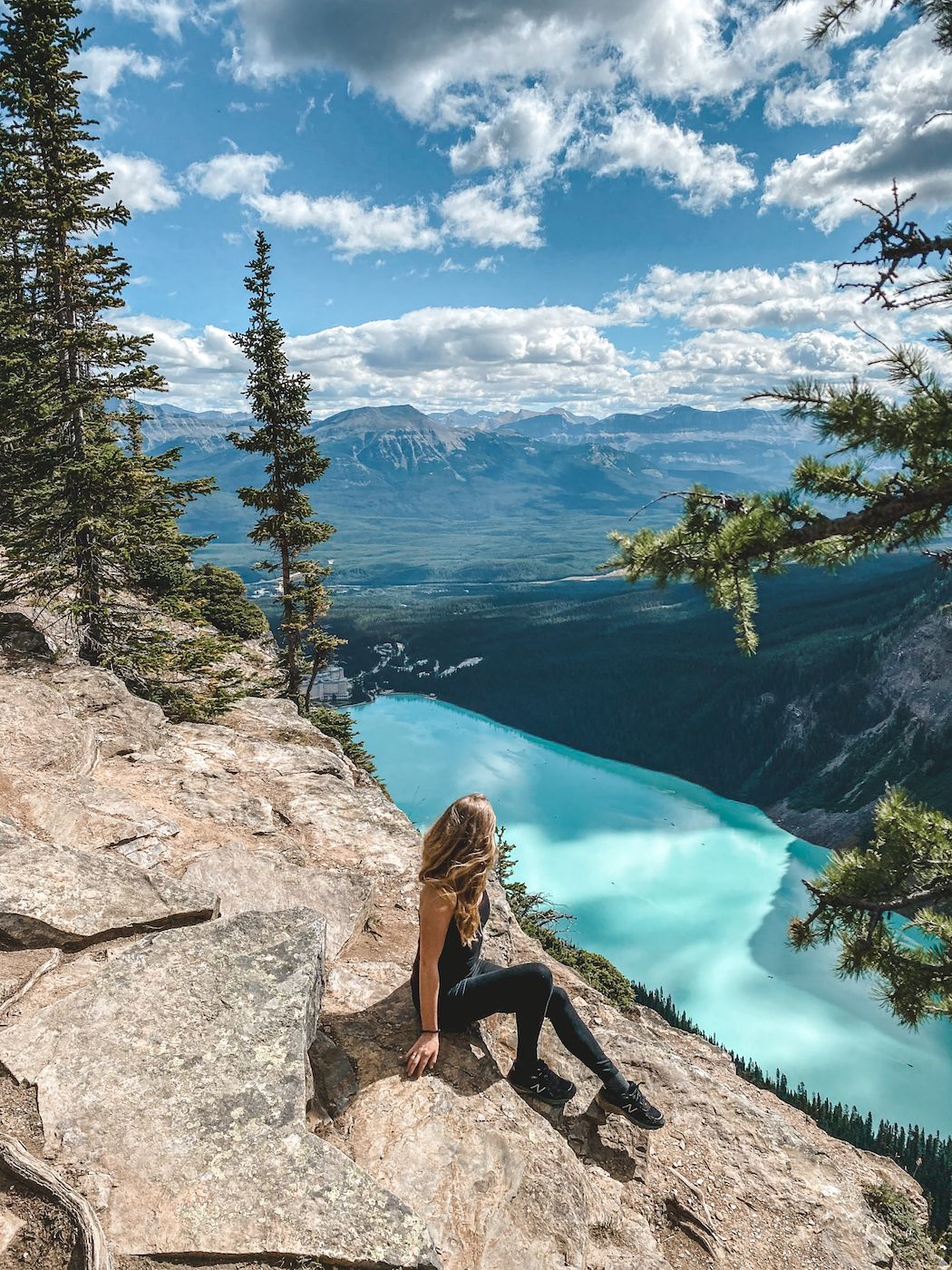 To get to the Big Beehive lookout, take the trail that goes around to the back of Lake Agnes. You will see that the trail will start to ascend and zig zag up to the top of Big Beehive. The views up there are amazing of Lake Louise! The canoes look tiny below.
Next, you will descend down the mountain on the Highline Trail towards the Plain of Six Glaciers trail. Watch for the sign post that show you the way down to the Plain of Six Glaciers trail and back to the Fairmont Chateau Lake Louise. If you take the Highline Trail all the way it will take you to the glacier, which is a longer hike.
Scenic Stop 4: Lake Louise boardwalk (1,750 m elevation)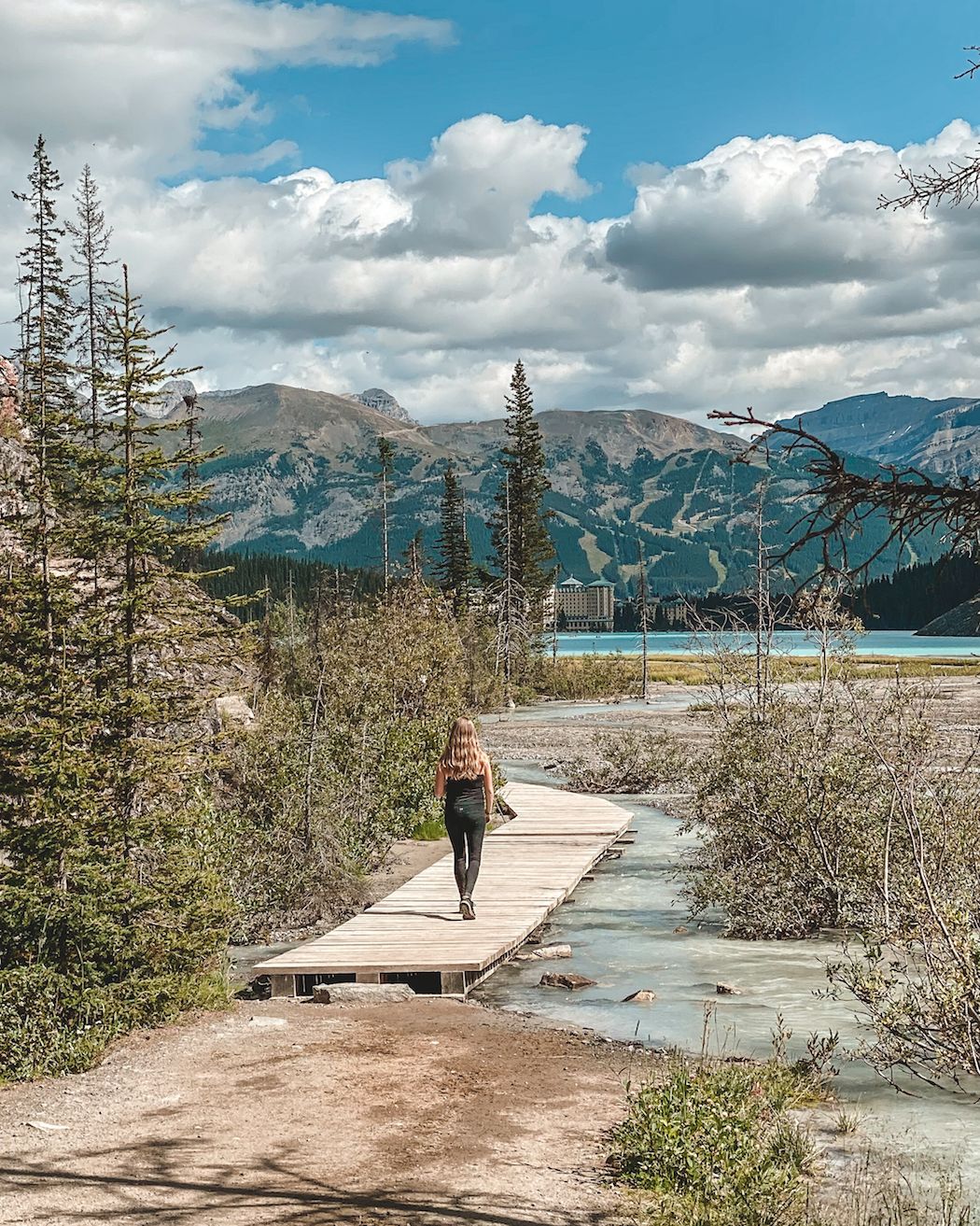 It's not exactly a stop, but walking along the boardwalk through Lake Louise provides stunning views of the hotel. Walking towards the Fairmont Chateau Lake Louise gives a beautiful perspective of the lake.
Reward your sore legs with some lunch and drinks in the gardens of the outdoor terrace at the Fairmont Chateau Lake Louise!
Tips to avoid crowds when hiking to Lake Agnes Teahouse & Big Beehive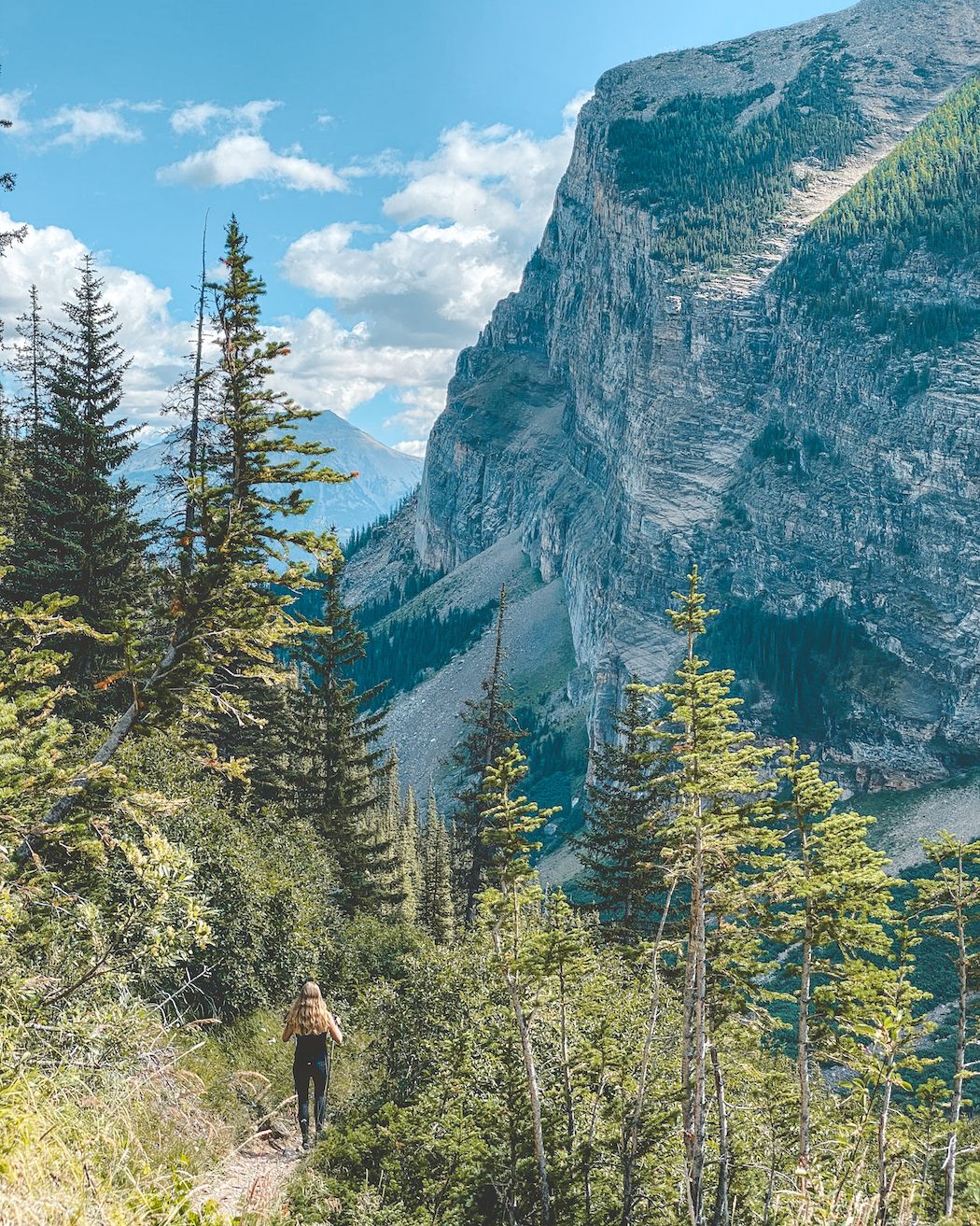 Go on your hike EARLY. Try to leave for 7 AM and be there for when the teahouse opens at 8 AM.
If you're down to splurge, stay at the Fairmont Chateau Lake Louise. It's the only hotel right on the lake so you won't have to deal with finding a parking spot in the morning. The start of the trail is just behind the hotel!
Return via the Lake Agnes Trail to Plain of Six Glaciers Trail loop, rather than going back down the Lake Agnes Trail. The Lake Agnes Trail is a highly trafficked area. Once you start your ascent up Big Beehive you will be surprised by how many less people there are. After your ascent up Big Beehive you will barely see anyone on the descent back down to Lake Louise.
Happy trails!
Save and pin this Big Beehive and Lake Agnes Tea House hiking guide for later: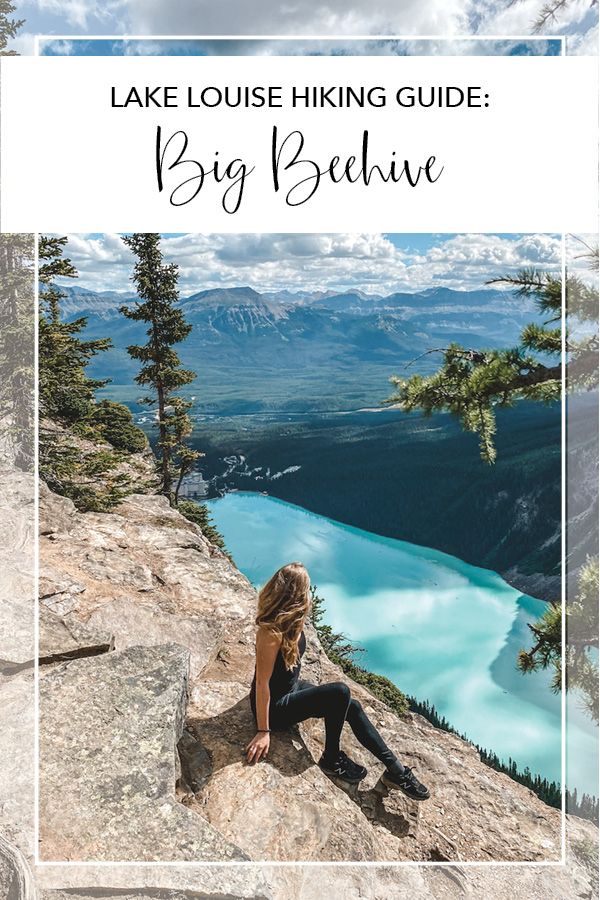 ---
Looking for more travel inspiration? Check out our list of fun adventure ideas for your next trip.