Rio De Janeiro is an energetic city where socializing and dancing to live music is a way of life. Going out to bars is a great way to tap into the social scene and hear music like bossa nova, samba, Brazilian funk and jazz. We list the 9 best bars in Rio De Janeiro, each for a unique reason!
Top Bars in Rio De Janeiro
Best bars to see live music in Rio De Janeiro
---
9 Best Bars in Rio De Janeiro
Best bars to see live music in Rio De Janeiro
1. Best for samba: Saturdays at Mercados Da Pulga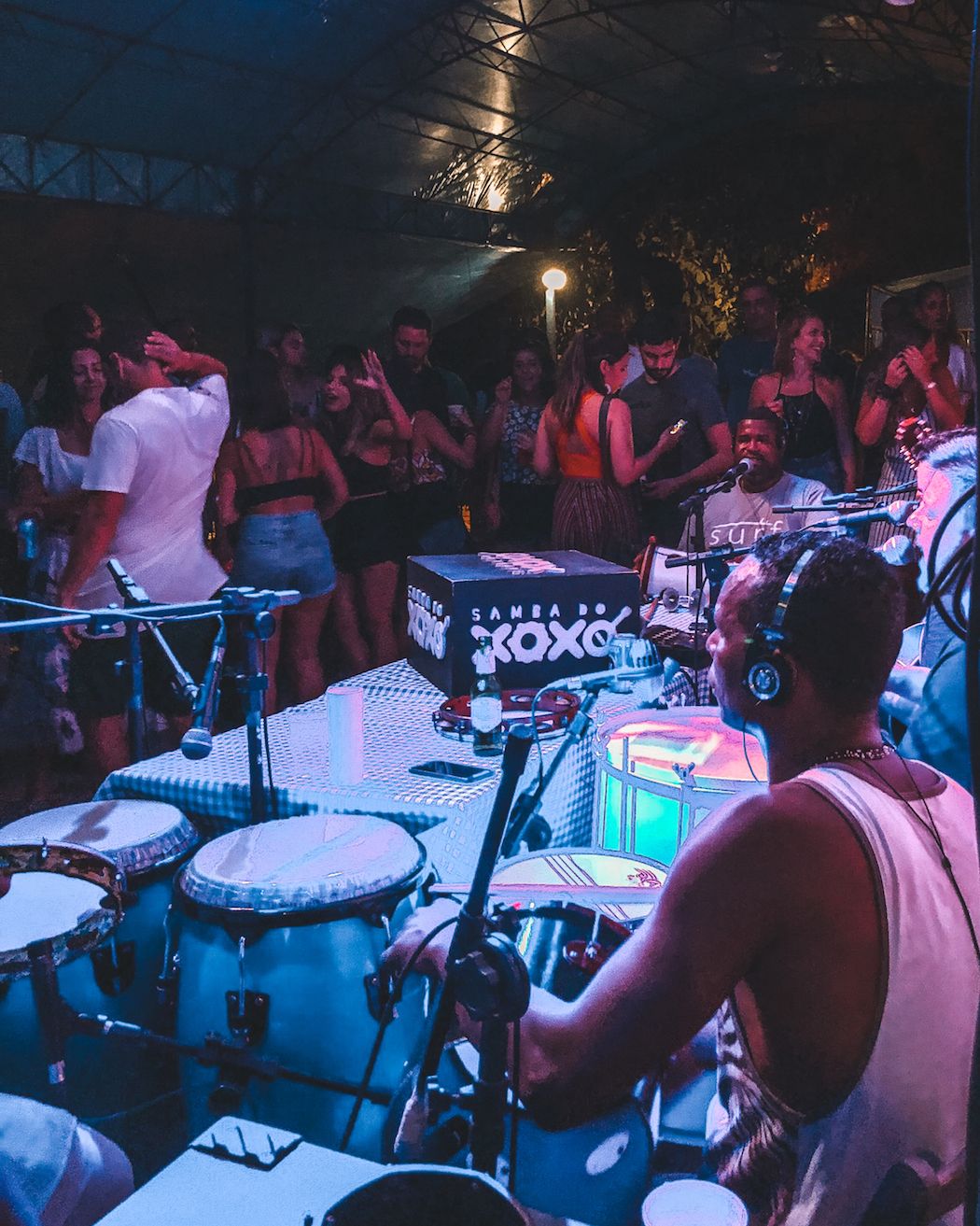 On Saturdays at Mercado Das Pulgas, there is a samba event called Samba dos Guimarães where tons of people gather to dance. Samba is powerful rhythmic music. We noticed that the trend is to place an ice bucket loaded with beers (always Stella) on the ground and to dance with your group around it. Who needs tables when you have drink and song?  
It was a very local's type event, but we felt welcome as tourists. The event is located in the fun bohemian neighbourhood of Santa Teresa, so you can make a whole day trip out of it.
If you're intrigued by samba, have a local teach you a beginner samba lesson and take you out to a samba club.
Check out this highly rated tour through Viator:
Samba Class and Samba Night Tour
.
2. Best for bossa nova: Beco das Garrafas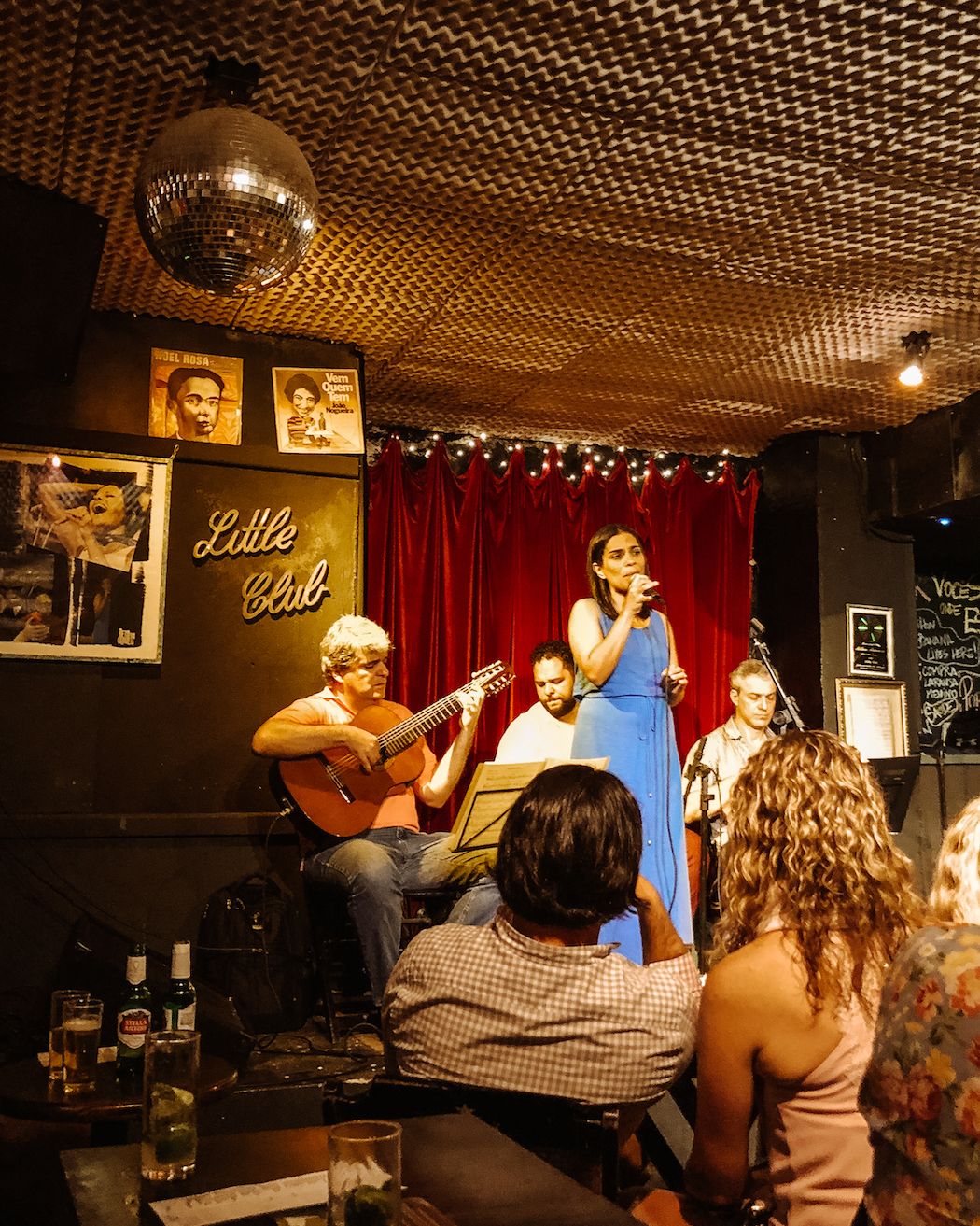 Whenever we hear bossa nova music, we immediately think of glamorous beach days on Ipanema Beach. Bossa nova was created by a group of artists in Rio in the late 1950s and is a blend of samba and jazz. The famous bossa nova song, "Girl from Ipanema", was inspired by a beautiful Carioca girl who walked to the beach each day past the composers Antonio Carlos Jobim and Vinícius de Moraes.
The best place to hear classic Bossa Nova music is at Beco das Garrafas, one of the first clubs where the style originated. In 1960, Sergio Mendes became recognized here for his gigs on Sunday afternoons. Beco das Garrafas is home to two venues, Bottles Bar and Little Club. See what events are on.
If you see Flavia Dantas is performing, you won't be disappointed! She sounds just like the traditional bossa nova tunes you hear.
If you want to learn more about the history of bossa nova and walk the same streets the "Girl from Ipanema" did,
check out this
Bossa Nova tour with a local musician
.
3. Best for jazz: Blue Note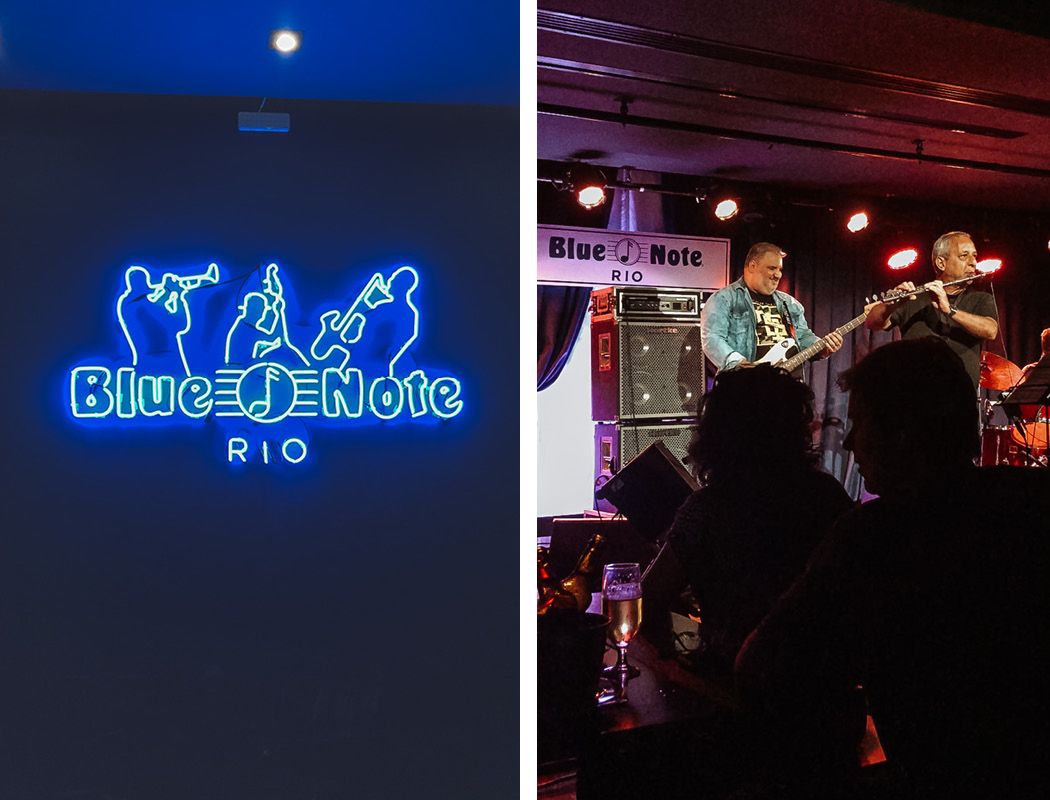 Blue Note has the best sound system we have heard in a jazz club. We saw a tribute to Azymuth, a Brazilian funk jazz band from the 70s and it was just incredible! The food and drinks were decent for a jazz club and service was top notch. Their beer was ice cold.
Blue Note has eight jazz clubs located around the world. If you're not from Brazil and would like to pre-order your ticket for a show in Rio, you must email them for an International Sales Form. See what events are on.
4. Best for a hip and lively scene: The Maze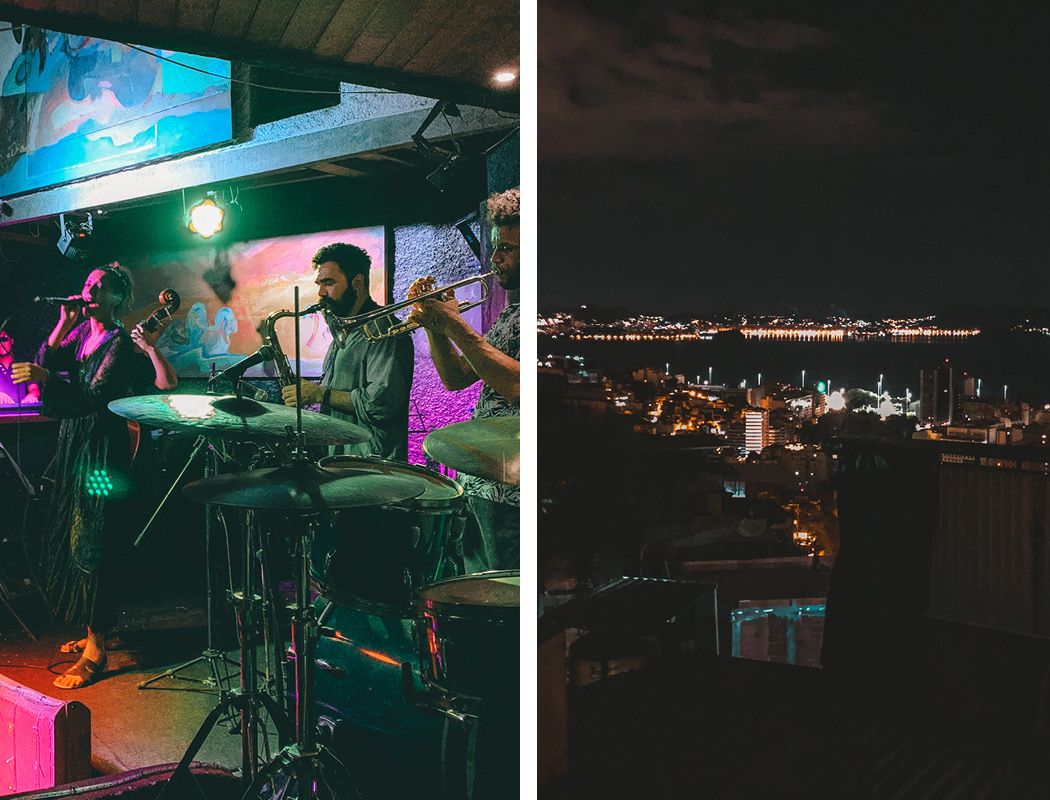 On the first Friday of the month, The Maze hosts incredible jazz nights. Unlike jazz clubs where everyone is quiet, this jazz club is more like a party! You'll see hip locals and in-the-know travellers dancing, socializing, hanging out on the patio and constantly buying drinks at the bar. The event went from 10 PM to 4 AM and the music ensemble had a vocalist, trumpet, sax, piano and upright bass.
What makes this place a hidden gem is that it's located in a guesthouse on top of a hill overlooking Rio. Vans escort people to the the top of the hill and employees take you through the maze-like favela straight to the party.
Best bars for socializing
5. Best for a night out with locals: Tuesdays at Canastra Bar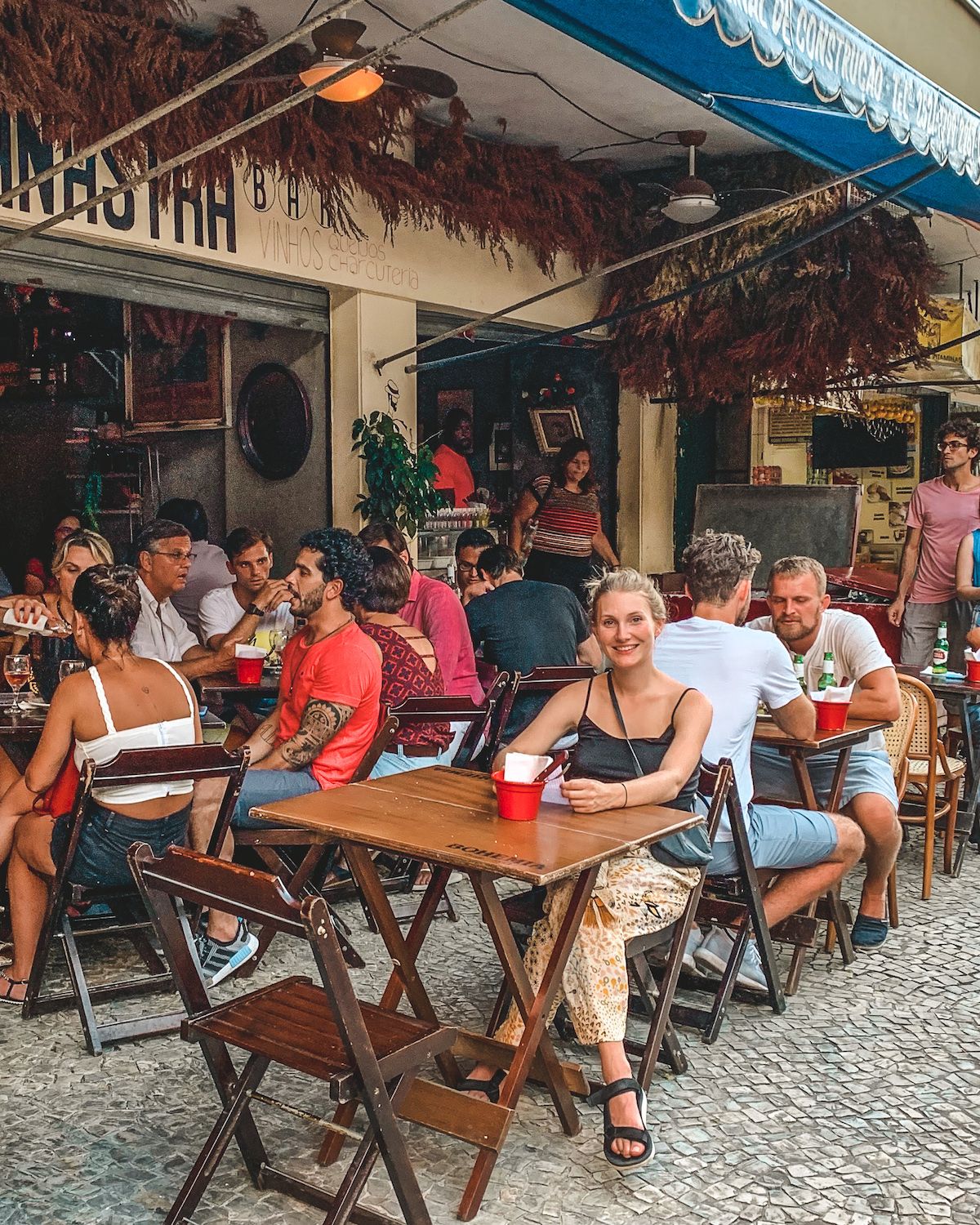 Located in the trendy Ipanema neighbourhood, Canastra Bar is one of the hottest locals spots. The Brazilian wine and cheese bar is where you want to be on a Tuesday. The bar gets so lively that it turns into a street party with vendors and people filling up the street beside it. Make sure to get there before 6:30 PM, so you can get a table on the outdoor patio. It's the perfect place for people watching. We were there all night ordering Brazilian rose wine, burrata and ceviche.
6. Best relaxed bar for people watching: Le Pulê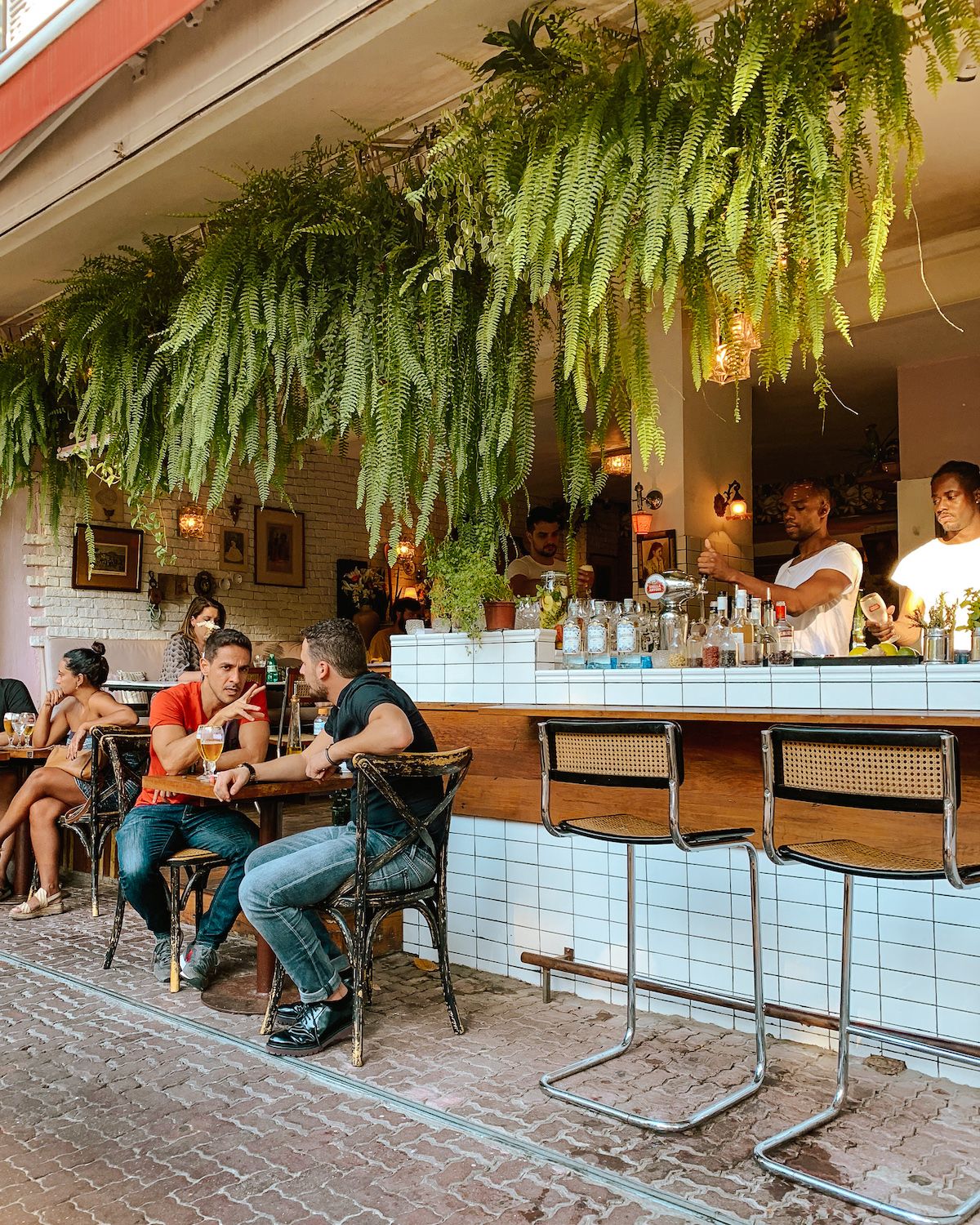 Another bar of interest for a more casual atmosphere is the beautiful Le Pulê filled with greenery and located just down the street from Canastra Bar. Their food menu is more comprehensive and cocktails expertly made. It's great for people watching, since the small bar opens up right onto the sidewalk.
7. Best for daytime drinks: Bar de Serginho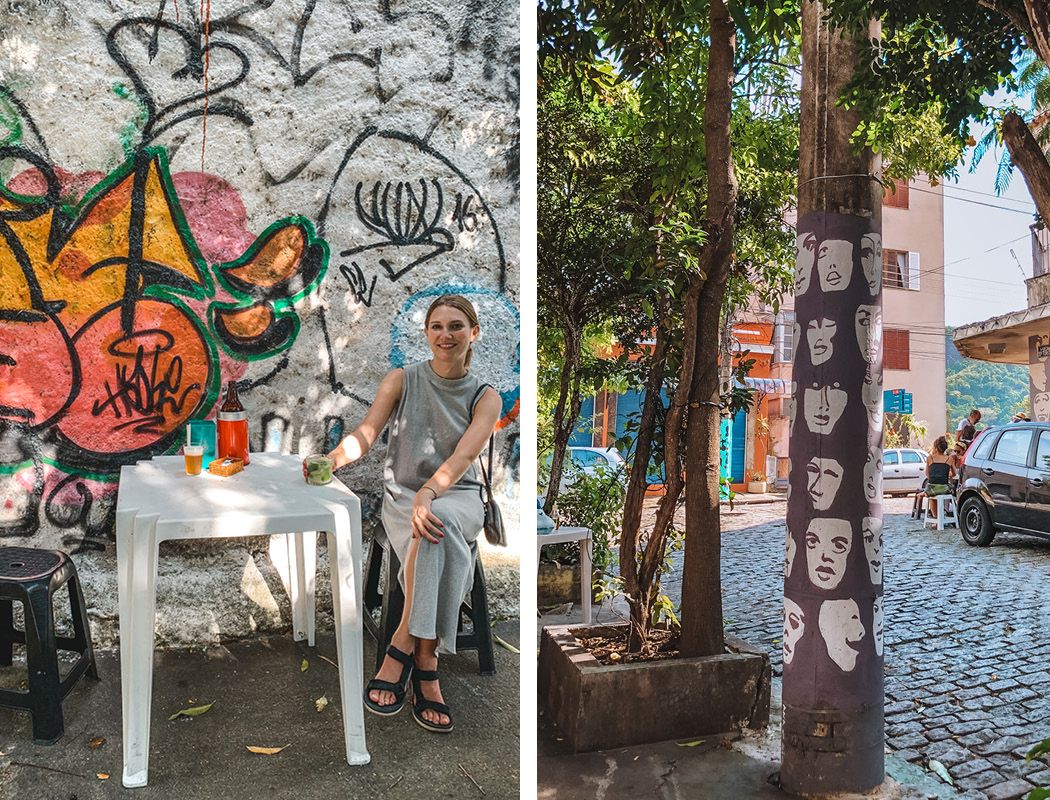 Located on the quiet streets of the boho neighbourhood Santa Teresa, Bar De Serginho is a hidden gem. The quirky convenience store/bar has plastic tables and chairs for seating on the sidewalk and is decorated with colourful graffiti. It's a great spot to grab a cheap lunch and some cold caipirinhas or beers.  
To get there, take the colourful Escadaria Selaron steps up to the top and then take a left down the road. You will see the bar on the righthand side at the end of the street.
8. Best for cocktails: Explorer Bar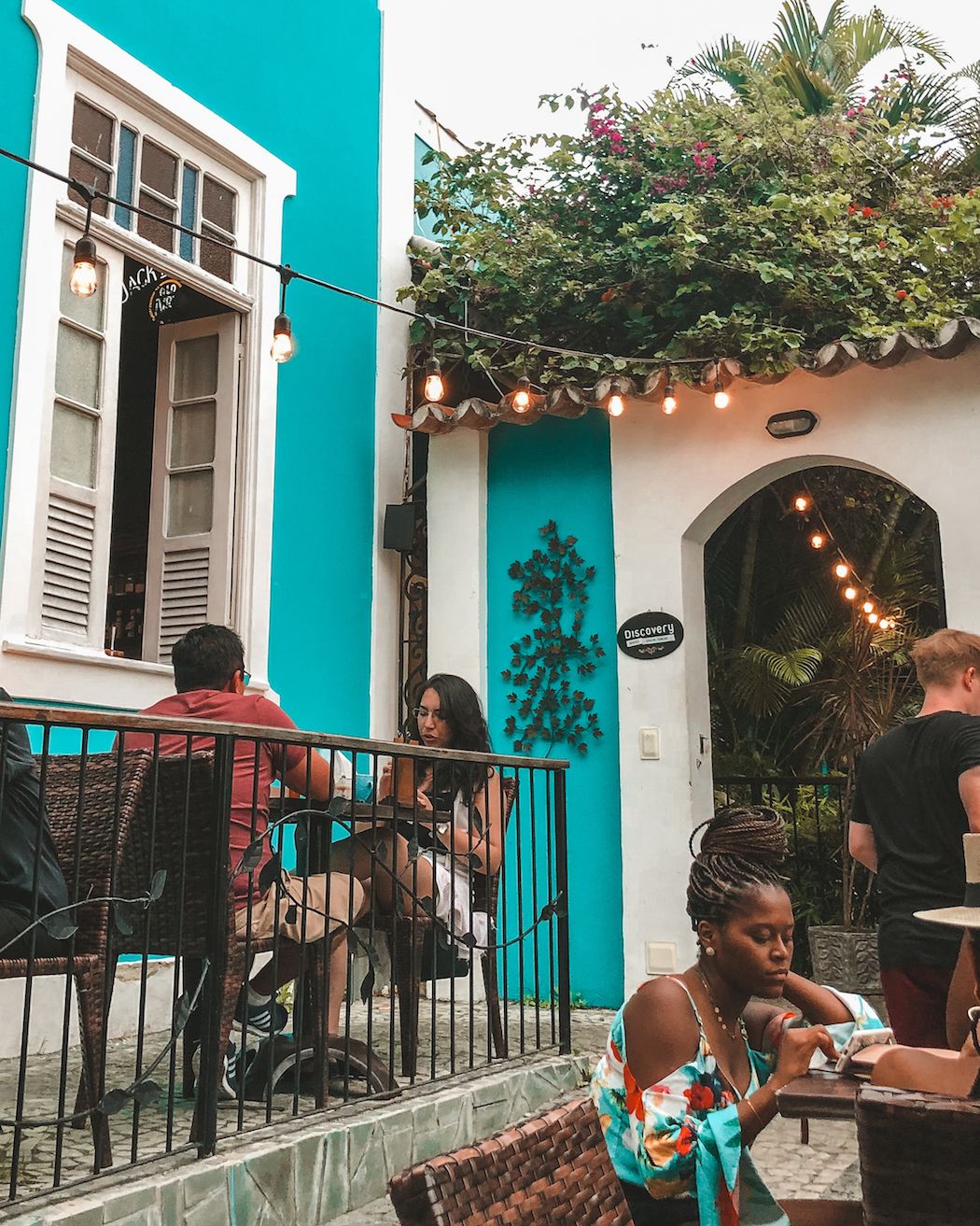 Located slightly up a hill off the main strip of Santa Teresa, you will find Explorer Bar, a former Victoria mansion from the 1920s. The turquoise mansion serves expertly-made cocktails and tapas-style plates. It's a popular spot, so make a reservation in advance. On Tuesdays - Friday from 6 PM - 8PM they have happy hour specials.
9. Best for the view: Classico Sunset Club Urca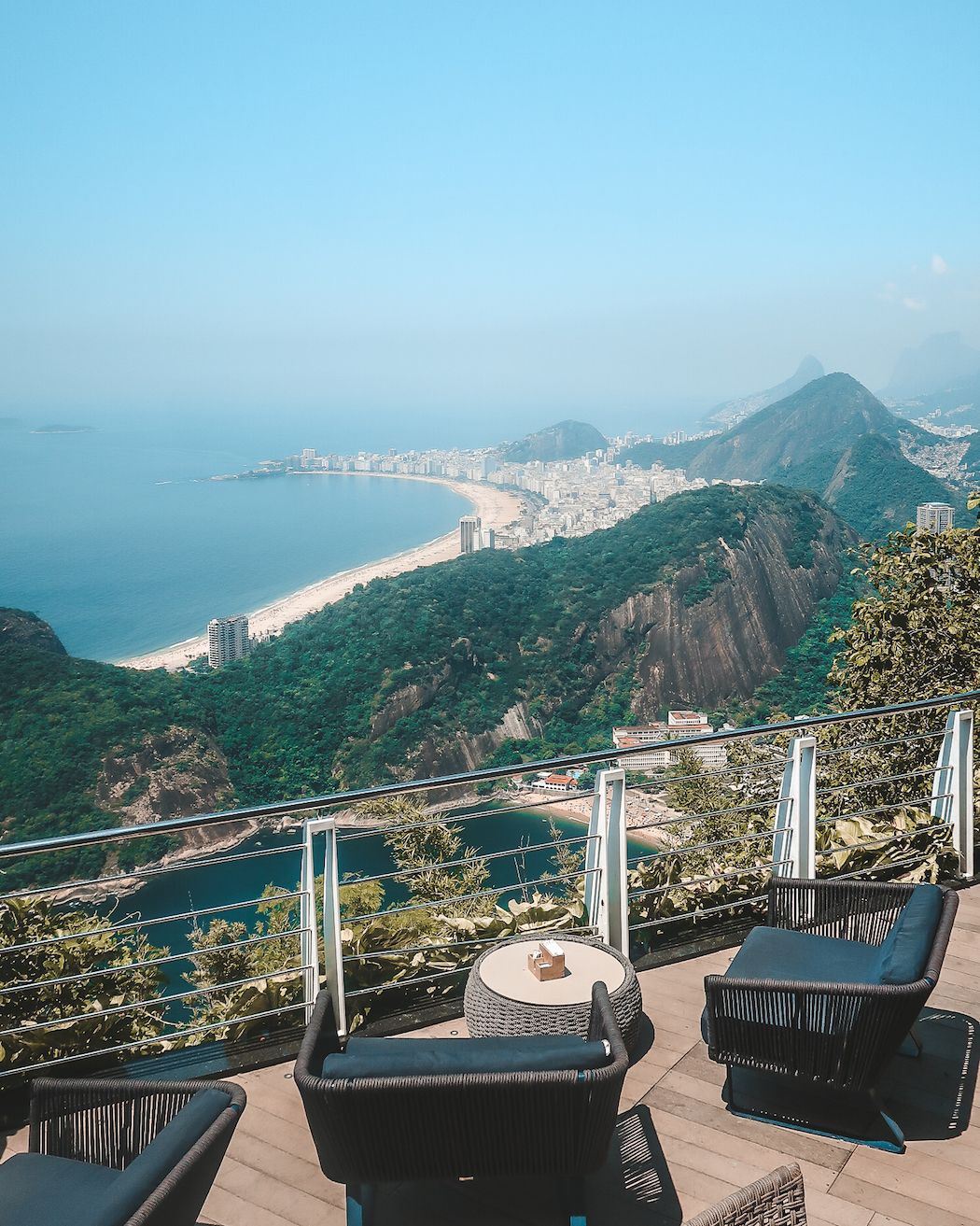 To get to Classico Sunset Club Urca you need to take a cable car up to the top of Sugarloaf Mountain, but you will be rewarded with stunning views of Copacabana Beach and Rio's cityscape surrounded by the mountains.
It's the perfect spot to watch the sunset with a couple drinks.
You can easily purchase cable car tickets for Sugarloaf Mountain with GetYourGuide.
We like how you can cancel up to 24 hours before for a full refund.
We hope you enjoyed our top 9 bars in Rio De Janeiro!
Bonus: Where to stay in Rio De Janeiro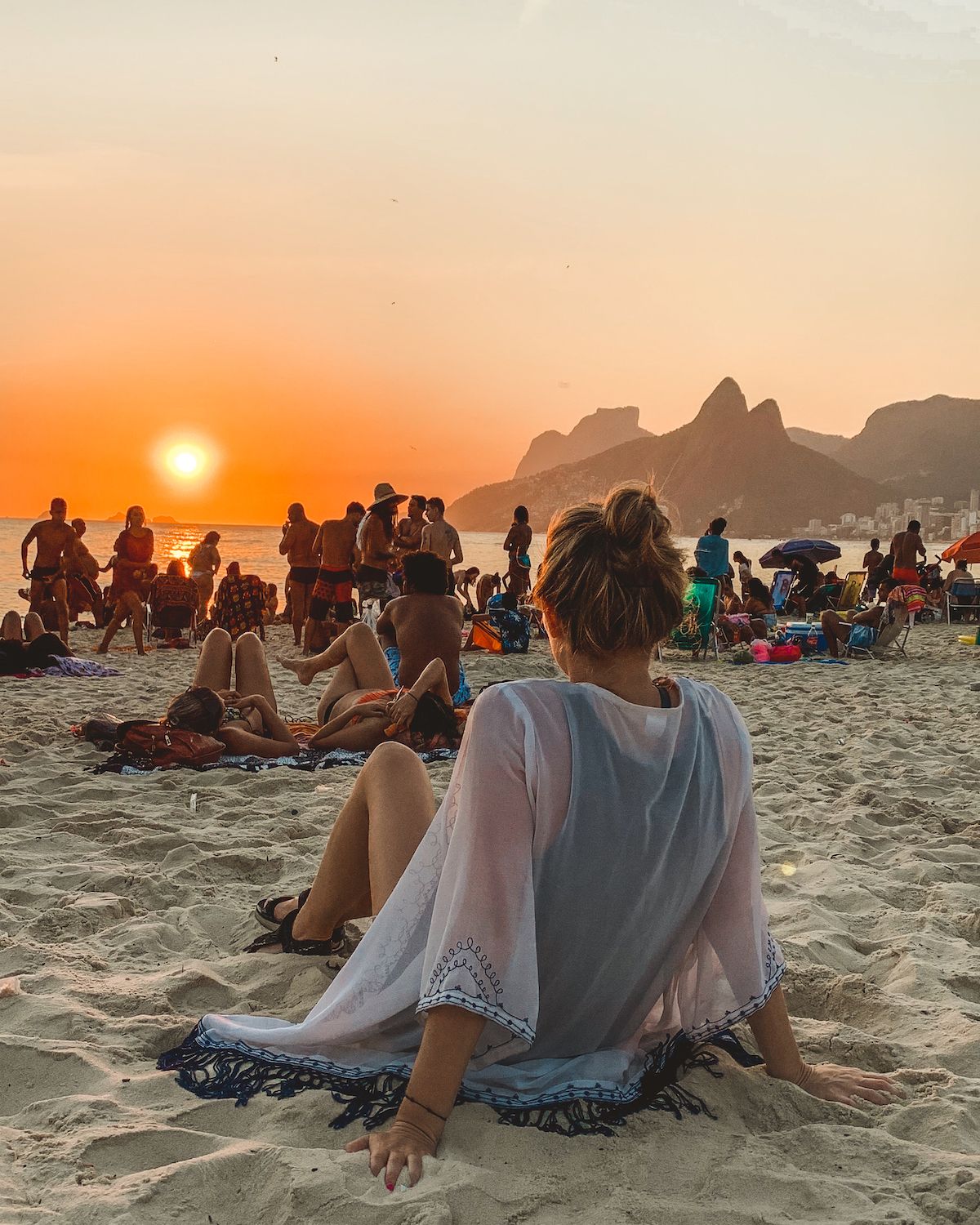 We recommend staying in the Ipanema neighbourhood, since it's less touristy than its neighbour, Copacabana, and has a wonderful local's scene. Ipanema has some of the best beaches, bars and restaurants in the city. Stay in a hotel or apartment close to Ipanema Beach, so you don't have to bring your devices and worry about things getting stolen!
Our top accommodation picks close to Ipanema Beach:
Browse more stays in Ipanema
---
Planning a trip to Rio? See our list of 10 non-touristy things to do and 7 most Instagrammable places in Rio De Janeiro.
Looking for more travel inspiration? Check out our list of Unique Cultural Travel Experiences to inspire your next trip.
---
Save and pin these best bars in Rio De Janeiro for later: