We love camping and making yummy comfort food. These delicious, budget friendly and easy campervan meals should get your imagination going. We have also included a grocery list at the end of the post to help with your planning.
Disclosure: Some of the links below are affiliate links, meaning at no additional cost to you, we will earn a commission if you click through and make a purchase. Regardless, we only recommend products or services we have used or that we believe will add value to our readers.
Campervan Cooking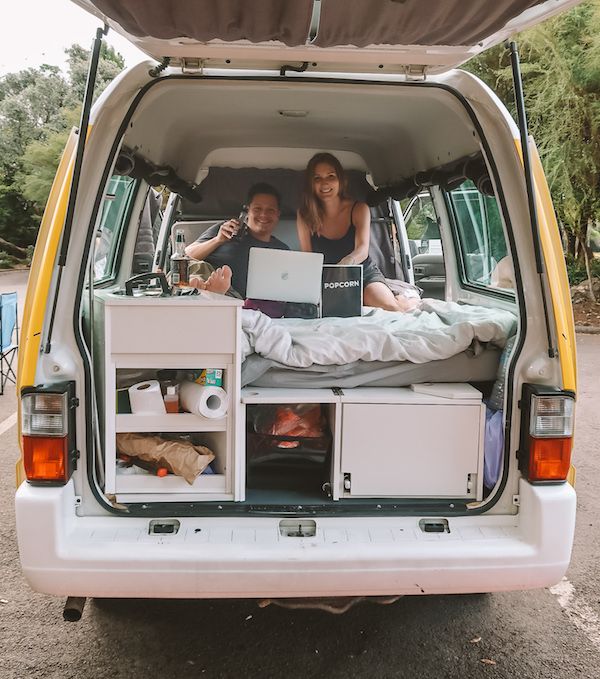 Although our self container campervan (that we named Wendy) had a sink and a kitchen, the sink was small and doing dishes was a pain. You have to be very careful with contaminating the grey water system with animal fats and other food debris so that means wiping everything clean with paper towels first then doing the washing.
Our dual burner LNG range was great with plenty of power to boil up water quickly. We also had a nice camping toaster aparatus that we ended up using every morning for our toasts. We had metal plates which came in handy to cover a frying pan and set up a makeshift oven. The LNG burners are too hot even at their lowest setting for making nachos so use a pair of tongs to raise the pan up a little.
Let's get to it, our small mess, budget friendly, camping comfort food!
Camper Dinner Ideas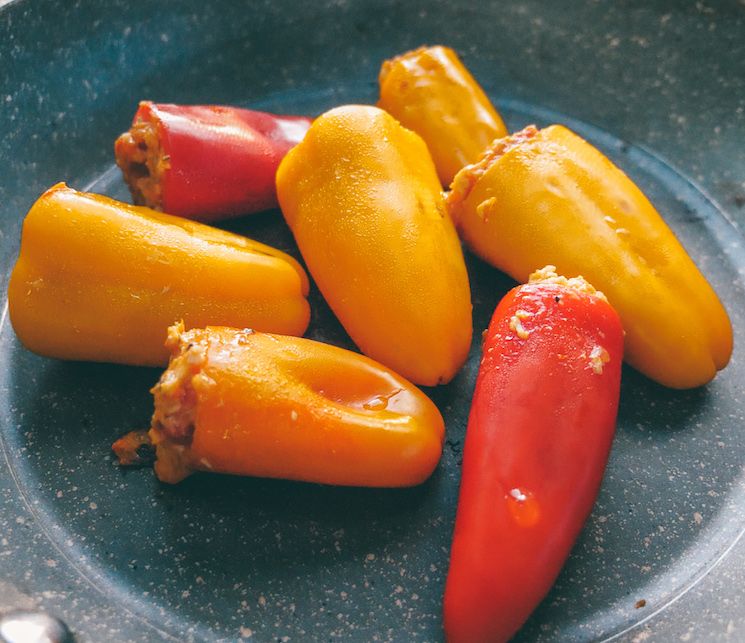 Yum, the big meal of the day! You have just arrived at the most perfect freedom camping spot or an uninspiring and crowded parking lot. Either way, there's no better way than to celebrate your day with a good meal.  
---
Rotisserie Chicken Feast and Chicken & Cheese Stuffed Bell Peppers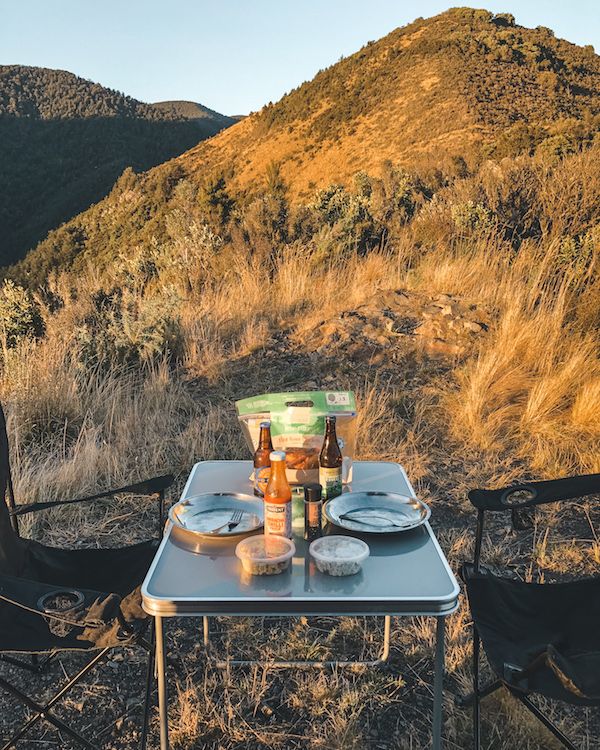 Picking up a full rotisserie chicken is a breeze and by accompanying it with store bought sides like potato or macaroni salad, you have a ready to eat out of the box meal wherever you set up for the night.
A great way to use your leftover chicken is to shred it, add cheese and hot sauce and stuff some fresh bell peppers. Cover your pan and grill em up!
Rib Night
Rib night, how can you cook those in a pan? No problem. We saw pre cooked ribs at many grocery stores from around $8 USD. Another straight out of the box meal. The food scientists have really perfected this one. These ribs aren't strips of a dry leather belt, they are fall off the bone finger licking good. All you need to do is cover your pan and heat them up.  Pair with a cabbage based salad with a creamy dressing.
Tacos and Frying Pan Nachos
Tacos and nachos, two of our favourite meals. Both share the same ingredients so grab yourself a healthy sized block of cheddar cheese, some green onion, sour cream, lettuce, tomato, and ground beef.
The key to a great taco night is getting the Old El Paso taco kit, this comes with the seasoning, salsa and crispy taco shells.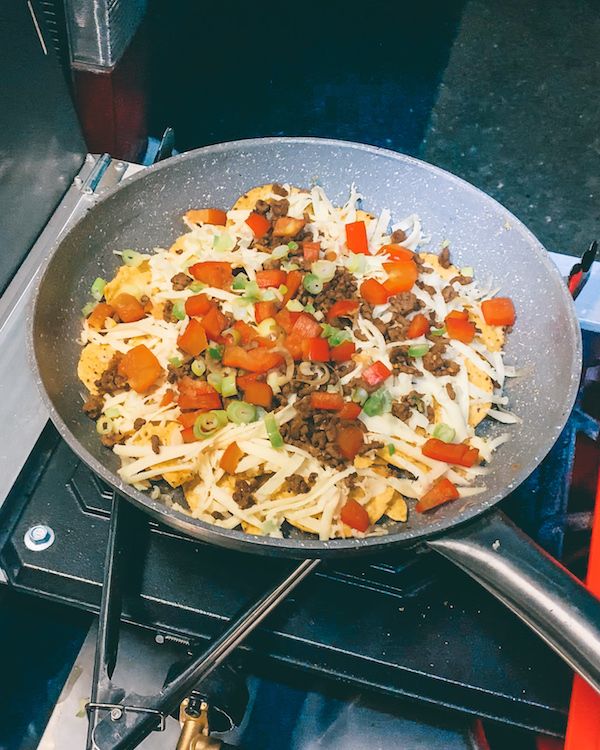 Your seasoned meat will last a few days so when you're ready for nachos it will be time to rig up your camp oven again. Simply make your nachos as you would on a regular baking pan. On a low steady heat cover your pan with the metal plate, prop the pan up with metal tongs and listen closely for the cheese to start sizzling. Once that is happening check often and voila, melty nachos!    
Mini Pizzas
Time to switch it up and go Italian for a night. Pick up a bag of english muffins. These make the perfect base for a mini pizza and can also be used for breakfast. The key to the perfect pizza is tomato paste, not pizza sauce or tomato sauce. For toppings, add your cheese of choice and some of your lunch salami. Have some lunch ham? Pick up a can of pineapple and you've got Hawaiian pizza.
Macaroni & Cheese Pasta
No campout would be complete without a pasta night. Boil up some macaroni pasta and grate up the rest of your cheese. Throw the grated cheese and some butter into the cooked macaroni and stir like crazy. This one is admittedly messy but we dealt with it.  
Camper Breakfast Ideas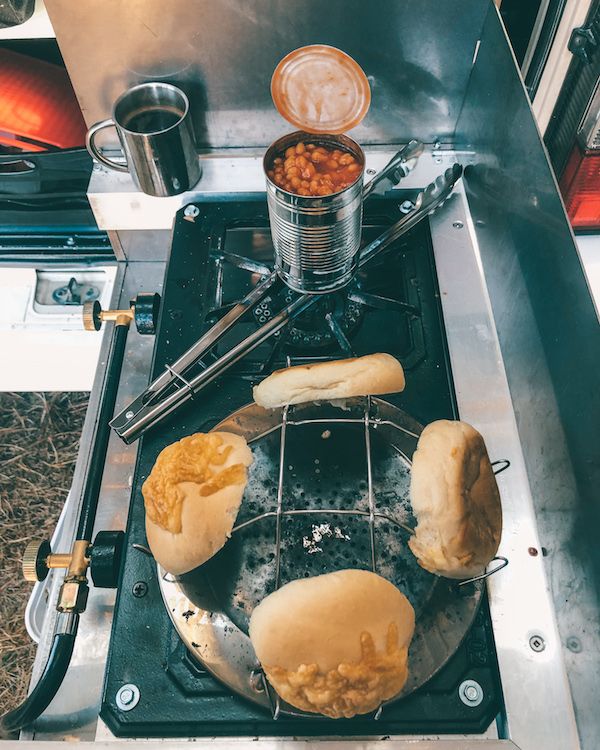 Some call it the most important meal of the day, others call it a hassle. We usually skip breakfast, but cooking up a quick one when you're getting up really early is not so bad. Some mornings we were camped at such a beautiful place that we celebrated with a good old batch of buttermilk pancakes.
---
Beans on Toast
One of the most affordable breakfasts has to be beans on toast. This is just so simple to make and requires very little clean up. If you're careful you can heat the can of beans right on the burner (make sure to take off the label first). Our handy toasting apparatus was great for toasting buns to a perfect golden brown. This was our staple and we must have had it 6 or 8 times.
Avocado Toast
Avocado toast was even easier to make but after blindly buying some in our first major grocery run in New Zealand, we quickly realized that avocados were out of our price range. An avocado set us back $4 USD! Whichever country you're camping out in, double check those avocado prices!
Buttermilk Pancakes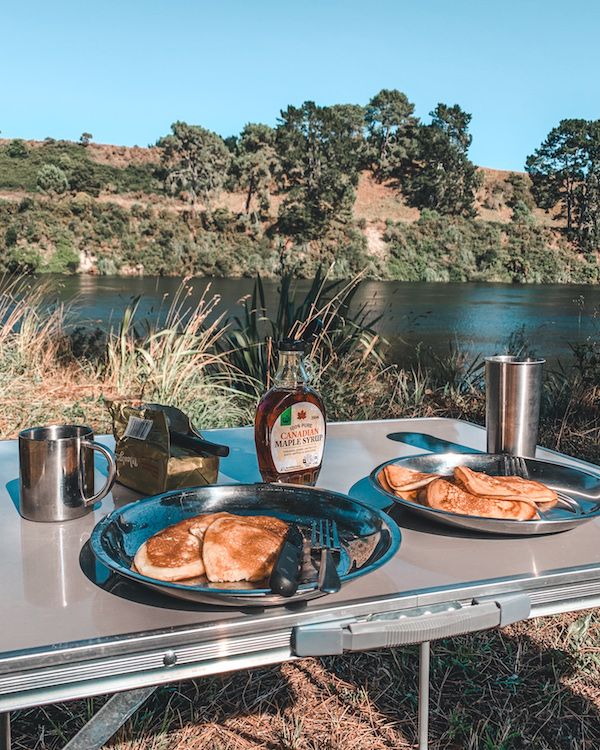 We found the perfect little plastic bottle of buttermilk pancake mix at the store and held on to it for laid back mornings with a view. The key is to buy buttermilk pancake mix; the "original" version produced flat rubber disks we had to choke down. No pancake should ever be consumed without a covering of real maple syrup. As Canadians, we know it well and it's a religion to many during the spring months in Ontario and Quebec. Although quite expensive, this natural sweetener can be used in your baked beans, as well as your tea or coffee!
Breakfast Sandwiches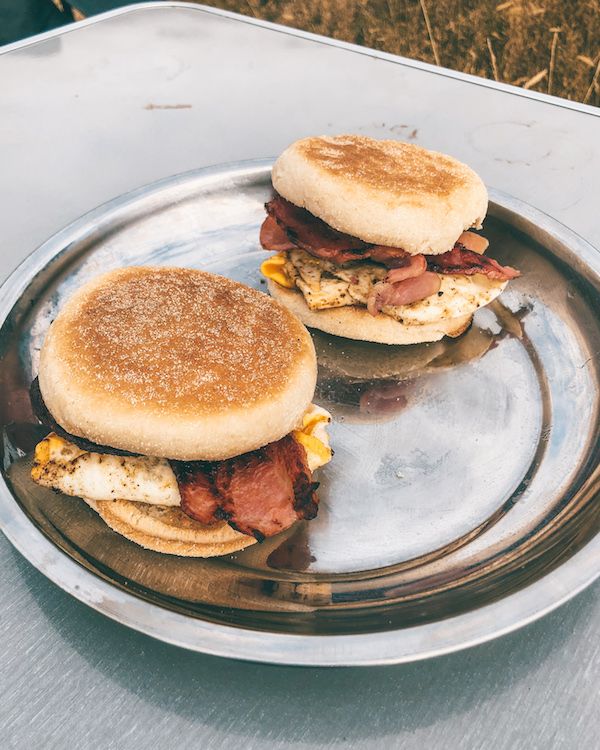 Frying up some eggs is easy. Just crack your eggs into your cold frying pan. You can make a breakfast sandwich with the English muffins and cheese leftover from your pizza night. If you want to be daring, fry up some greasy bacon to make a bacon 'n' egger.
Coffee
No breakfast would be without our daily fuel, coffee. We found  instant coffee easy to use with no mess while making it in the morning. If you're so inclined, keep your coffee cups and lids from a cafe and reuse them an extra day. They still hold water and you can make yourself a nice cuppa to go!
Lunch
We enjoy exploring small towns and eat lunch at restaurants, diners, or cafes on the road. Lunchtime tends to have specials and is a lot cheaper than dinner. This also gave us an opportunity to charge our laptops!
Campervan Snacks
Hummus/Tzatziki with baby carrots and cucumber
Tortilla chips & pico de gallo (cut up tomatoes, onions, cilantro, orange or yellow pepper, squeeze lime, add a pinch of salt, optional: add mango)
Cheese buns (great if you don't want to stop for lunch somewhere)
Popcorn from nearby movie theatre or make on your camping stove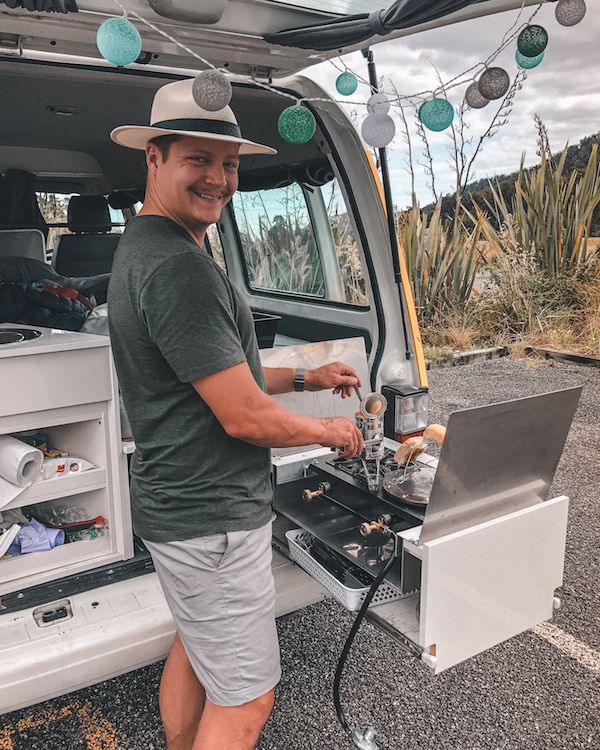 Campervan Grocery List
Dinner Grocery List

Rotisserie chicken + side salads
Pre-cooked ribs
Cabbage based salad w/ creamy dressing
Assorted bell pepper pack
Cheddar cheese block or shredded bag
English muffins
Toppings for mini pizzas (canned pineapple, deli meat ie. salami, ham)
Tomato paste
Old El Passo taco kit
Ground beef
2 tomatoes
1 bunch green onion
1 head lettuce
Large sour cream
Hot Sauce
Macaroni
Butter
Tortilla Chips

Breakfast Grocery List

Baked beans
Buttermilk pancake mix (in plastic bottle)
Buns/bread
Real maple syrup
Instant coffee
Avocados
Eggs
Bacon

Snacks Grocery List

Hummus
Tzatziki
Cucumber
Baby carrots
Pico de gallo: tomatoes, onion, cilantro, orange or yellow pepper, lime, mango

Non Obvious Grocery List

Toilet paper
Paper towel
Garbage bags
Three good quality tupperware containers
Cheese grater
Long tongs (for making camp oven)
We hope you enjoy these delicious, but simple camper cooking recipes!
Are you planning a campervan road trip? Check out our 17 Day New Zealand road trip itinerary including some amazing camping spots!
Save and pin these easy campervan meals for later: