Passport, check, wallet, check, phones, check! Nothing is worse than the fear of forgetting something. We had double checked all our bags and hurried down a quick breakfast of avocado toast and orange juice. Our flight from London Ontario to Toronto was booked last minute on points to avoid the two-hour drive and a car rental.
Since waking up, Cecily was brimming with excitement and disbelief that it was actually happening. All the planning was coming to fruition now, we were actually doing it. For me the feeling was more mixed, stressed about missing something and also apprehensive because this wasn't my normal jet setting goodbye for a few weeks; it was goodbye to my previous life.  
We made it to the airport in good time. Since we had brand new bags and forgot to put name tags on them we made sure to put on the temporary tags that the airlines provide and set our bags off on the belt. We were excited to have a layover in Toronto airport to work on our computers and finish a few last-minute things. A sunny day with thick billowing clouds at low altitude made for big bumps on the short 30 minute flight. We had crammed into the back of the plane and a bump was so big that for a moment I think I experienced weightlessness while simultaneously watching someone's cup hit the ceiling! It was the first time that we actually felt the seatbelt hold us in while flying.
We were looking forward to meeting Cecily's sister Katarina and boyfriend Joel in Montreal. The trip had been planned such that we would meet there and take the same flight to Geneva. We were excited to drink sparkling wine together as we set off on our vacation in Switzerland. I have a jet lag avoidance strategy that works ever time when flying to Europe and it's quite simple. Don't sleep on the plane making sure to skip one night's sleep in total and only allowing yourself to go to bed at a normal hour two days after departure. That way your rest is solid and you feel fresh the next day… Cecily disagrees with me completely on this matter.
The four of us arrived in Switzerland in high spirits only about 20 minutes late. We were to catch the train to meet with Cecily's parents on the way when I had one of those moments at the baggage carousel. One by one the bags start coming out, Cecily got hers first then the rest. Patiently I was waiting, there were still a few people hanging around that I recognized from the flight, so I figured there was a delay for the second set of bags. Waiting for what seemed an eternity, holding up the group I anxiously stared at the rubber flaps at the mouth of the baggage carousel for any sign of movement. Finally, the next set of bags came, one after another after another dropping onto the conveyor. Mine wasn't there, how was this possible on the first real leg of our voyage! I had spent hours upon hours procuring the right gear, clothing and footwear for our long journey that to have it all disappear was terrifying.
I ran to the lost baggage counter and to my dismay they had no information on the bag. It was truly lost. It seemed to me as though my bag had been sucked into a black hole to never emerge again. All calamity aside, all I could do at this point was wait and check the online system. No point fussing when something is out of your control. So, I kept calm and moved on. I had all of my major electronics with me except my travel chargers and my drone. I just needed to borrow a bathing suit and a nice shirt for dinners.
I knew the sooner we left the sooner I would be able to knock back some wine and melted cheese. So off we went to our favourite spot in Switzerland, Zermatt!! During the train ride I was surprisingly calm. In a past life this type of incident would have driven me into a negative energy that would have affected others around me. Not now, I was with great people going to a very special place and that was more important to me than the thought of a lost bag.
Speeding comfortably passed Lake Geneva on the IR90 train made Cecily and I feel at ease. This was our fourth year in a row traveling to Switzerland and we loved it. There has been no other country we have visited that makes us feel so at home. There is something magical about the landscape, food, and lifestyle that makes us dream of buying a house in the hills and living there. We appreciate that the Swiss pay a great deal of attention to detail to live life well without tremendous excess. We see people in Switzerland living contently, respecting the environment and supporting a thriving economy of local goods. All these thoughts whirled in our minds as we eagerly scouted mountainside properties through the train windows.
A train change later and we had arrived in the town of Zermatt. We all took in a big breath of the mountain air and felt refreshed. There are no cars in Zermatt, only little electric vans that look like 0.5L milk cartons on wheels. The Coeur des Alpes hotel vehicle was waiting and we set off whirring past the idyllic alpine buildings through the cobblestone streets to our destination. We were in for a treat, there were 6 of us staying and it so happened that our group size was the perfect fit for the Sky Loft, a three-bedroom loft with full kitchen and the best view of the Matterhorn the hotel has to offer. The entire hotel is uniquely furnished and designed by Heinz Julen. The meticulous attention to detail is visible throughout the entire facility and constantly provides the eye with a treat to gaze at.
As soon as we arrived we were offered a drink while our bags were being brought to the room. Prosecco for everyone! Leni and Thomas the hotel owners were delighted to see us and greeted us on the patio while we sat in the plush sheepskin covered chairs. We sipped away eagerly waiting for the clouds to part so we could see the magnificent Matterhorn. As we were chatting and laughing away, bottle after bottle emerged. We all became quite tipsy and we hadn't even been to the room yet!
We burst through the private elevator door into the Sky Loft and eagerly explored our new home for the next 5 nights. It was beautiful and surpassed all expectations. Cecily's dad had graciously taken the small room at the back to be far away from our "noise". Suddenly, as I was admiring the scenery from the balcony, an intense game of rock paper scissors broke out between Cecily and Katarina. It was high stakes for choice of room. Rock, paper, scissors…. Rock, paper, scissors. After several tie games Cecily emerged victorious and we had won the loft room.
We were all exhausted and it was late but there were wheels of Swiss cheese calling out to us waiting to be melted in one of the many Swiss restaurants, so we set off for dinner. We made it to our steadfast all you can eat Raclette joint. It's cheap and the waitress is a bit crabby but we managed to knock back 4 plates of melted cheese garnished with baby potatoes and small pickled onions. We accompanied it with the house white which is a fantastic white wine from the Valais region. With our bellies content it was time for bed but not after I checked on my bag… "status unchanged".
Cecily and I slept well in the plush bed with the windows open to let the cool mountain air in overnight. It was beautiful when we woke; I was first up and threw open the balcony blinds. There it was the mighty Matterhorn towering over the valley, splendidly lit with the morning sun. Today was a hiking day and we were all excited to get on the hill and get some exercise in the sun. Unfortunately for me I only had my converse shoes so after breakfast we were off to the store to get a new pair. Again, I felt like I was holding up the group as a result of my lost bag. It was not a comfortable feeling but luckily, we had time and this was a trip of relaxation. I had high top boots in by bag but a light hiker I thought, would be a good addition. I learned that to properly measure a shoe for hiking the insole must be longer than your foot by the width of your index finger. This is important for going downhill when your foot slides forward so the shoes do not jam your toes. If you're ever in need of gear Zermatt has it all, from tennis to mountaineering. Just be prepared to pay the mountain side premium.
Good to go, we were off on a gorgeous light hike to the village of Zmutt. Beautiful views of the Matterhorn and surrounding countryside greeted us in the afternoon sunlight. We enjoyed an Aperol Spritz with homemade carrot cake at the Eidelweiss restaurant, perched on a cliff overlooking Zermatt. Then 45 minutes of hiking later we came to Zmutt and indulged with ice cold beer and spätzle. On our return to the hotel I eagerly checked for my bag status. It was now over 24 hours since we had arrived. YES! It had been found and it was forwarding to Geneva airport, I was to get my bag the following day by around 8PM!! Cecily and I celebrated as a huge wave of relief rolled over us.
Another night of Swiss melted cheese awaited us at Schäferstube. I started with cheese fondue and had the local beef for my main while Cecily and Katarina shared Fondue Chinoise (meat fondue with broth).
The next days were filled with relaxation, sport, food and drink. We spotted some beautiful tennis courts, rented rackets and played for hours on two separate occasions. The girls indulged in relaxation massages at the hotel and each evening we would swim, sit in the stainless steel outdoor hot tub and sauna. Our mornings started with the decadent breakfast served at the hotel consisting of beautiful breads, meats, cheeses, fruits, made to order bacon and coffees. In the evenings we would sip Aperol Spritz, champagne, French wine and Cecily's new found favourite drink the Hugo. We ordered in pizza one night and had champagne, boy was it satisfying. One afternoon in between massages we used the hotel's Hammam, a Turkish ritual with steam rooms, and various body scrubs. We hiked the 5 lakes trail and all debated hiking a third day but elected to relax and read instead and eat at Walliserstube.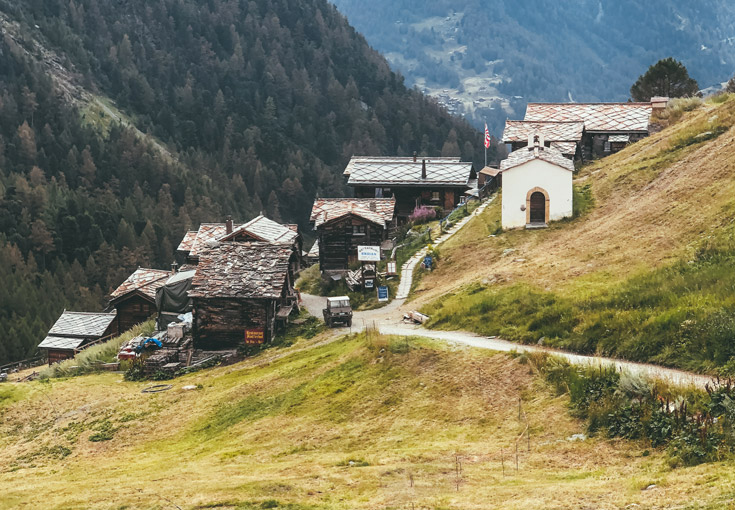 When our time in Zermatt came to an end we said our goodbyes. We were truly departing on our own now and we were headed straight to the White Pod Eco-Luxury Resort on a mountain side about 2 hours away from Geneva. Swiss transit is amazing and we had no troubles hopping on trains and taking the bus to the Restaurant Les Cerniers (owned by White Pod). We had splurged for this one and got a package including a dinner and massage. We were excited to see the pods that were manufactured by Pacific Domes since Cecily and I have been considering making our own resort with them in the mountains of BC or on Saltspring Island. It was a hotel we had wanted to visit for a few years now.
The check in was nice and we were given the briefing on the facilities. This was an eco resort and the pods were actually located a 15 minute walk along the road. There we would find the pod house which serves breakfast, has spa facilities and wifi. They gave us a map and set us on our way. Even at 1500m elevation the sun was sweltering. We were baking while carrying our full bags weighing 38 and 30 lbs and our extra bag of groceries and wine. What we didn't realize was that we were climbing up to the pods through a residential road and then along a dirt path through a field to the clearing. After cursing our way through it Cecily collapsed on the grass at the pod house. Just a little further up the hill and we would make it to Pod 10, our oasis for the next 2 nights.
It was 6:00PM and we opened the pod's flap to a wave of heat, it must have been 35 degrees in there. A modest fan was humming along making the pod more like a convection oven than anything else. To get air conditioning you would have to be in the pod suite. Realizing there was air conditioning put into question how eco the place really was. We were delighted with our view and being off to the far side of the compound, but then we quickly realized we were not in a "deluxe pod", we didn't have wifi. That quickly shattered our dreams of working on the deck and enjoying the mountainside. We had been looking forward to writing the blog and doing some Moscow planning, for this, we would now have to go to the pod house.
We hiked back down to the restaurant for dinner, sat on a wonderful patio and enjoyed a three-course meal as part of our hotel package. Unfortunately, the service at the restaurant was terrible. We waited over 40 minutes between the starter and main course and the place wasn't even close to full. The children had eventually also followed us running about out front of the restaurant while parents ate inside. At least we were entertained while waiting.
Without surprise, the next morning we awoke to scores of screaming children playing about the property. This was a family resort and we had not realized it. That morning as I was taking a look at the construction of the domes I noticed that they had installed no trim pieces to cover gaps in the wood work and the bathroom structure in the pod was made out of a plywood with the pencil marks and screw heads still sticking out. I understood that this was an eco-resort but I don't believe that the Eco stamp should be an excuse for shoddy craftsmanship. The furniture was very nice and the wood pellet stove had a touchscreen! However, since the domes were insulated there were two layers of clear vinyl for the window, so it was not clear to see outside. I'm sure the pod would be fantastically cozy in winter time but in summer, we were forced to evacuate by 10AM due to the heat.
We enjoyed a day of writing and organizing at the pod house sipping a bottle of prosecco we had brought from Zermatt. We were excited as always for the massages that were included in our package and went to the pod house for our pampering. I enjoyed my treatment, but Cecily said hers was mediocre for the price.
That evening we brought the bottle of French Chasse-Spleen Bordeaux wine also from Zermatt. The waitress came to our table, put the corkscrew into the cork, and then used the first stage of its lever to get the cork up two thirds of the way. She then gripped the corkscrew and cork in her hand and proceeded to rotate it like a joystick, one, two, three, SNAP goes the cork! She then tried 4 times in silence to get the screw back into the cork pushing it down further each time. At this point Cecily and I are giggling to ourselves. I remember breaking the cork on my first bottle of wine in university. The waitress runs off to tell the manager and he came over, pushed the cork in and decanted the wine. We enjoyed a wonderful cheese fondue, with the same slow service, and a nice Bordeaux with only a few bits of cork in it. I later saw the waitress use the same joystick technique at another table successfully. The corks on the restaurant's bottles must be more robust.
In the end we were terribly disappointed with our stay at the White Pod hotel. We got taken by the hype marketing of the trendy eco domes, lesson learned. It seems that from the cumulation of our eco experiences that one must set the expectation for the place to be somewhat "rustic" even if its billed as "luxury".
The trip to Switzerland was a perfect soft landing for Cecily and me because it allowed us to get into the travel mode in a familiar place. Had I lost my bag in any other country I would have been much more frantic. Now, the anticipation was building as we were off to Moscow Russia, a country constantly in the world's headlines. We were hoping that all of our hard work getting the visas would pay off so we could see inside.
Check Out Our Switzerland Video!
Groovy Mashed Potatoes is a creative outlet for us where you will find, pictures, videos, ideas and thoughts from our journey. In case you're wondering, the name was thought up on a tie-dye blanket during a camping trip when like a lightning bolt Cecily said "why don't we call it Groovy Mashed Potatoes".  The idea flashed through my mind's eye without objection, "That's perfect!"