Switzerland is one of our favourite countries in the world. Staying in the idyllic alpine town of Zermatt with the Matterhorn as your centrepiece is a magical experience.
In summertime, Zermatt turns beautifully green with many scenic hikes to do. But, there is more to do than just hiking. After having a day of adventure you can spoil yourself at the spa, relax at your boutique hotel with some wine or enjoy Swiss cuisine (the cheese!) around every corner. We list 7 fun things to do in Zermatt in summer that are sure to delight!
What to do in Zermatt in summer
---
How to get to Zermatt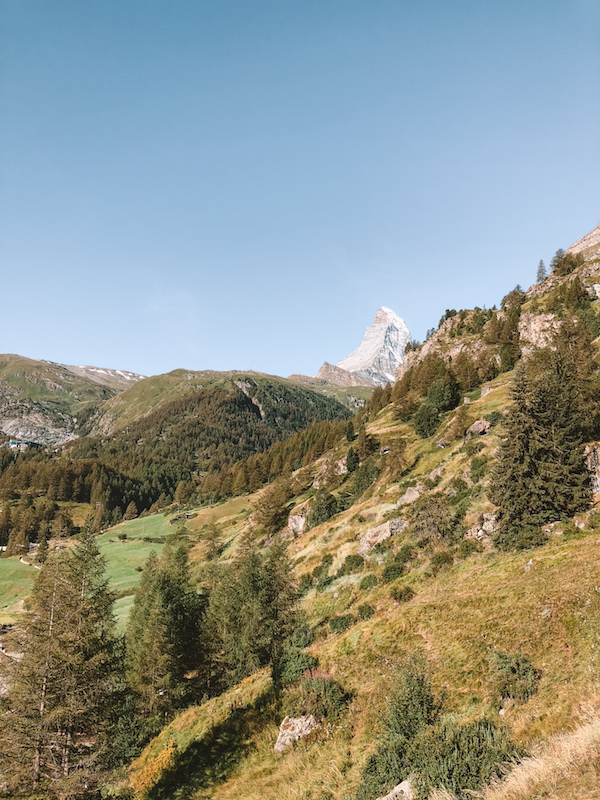 How to get to Zermatt from Geneva
The easiest way to get to Zermatt from Geneva is by train. It takes just under 4 hours from the Geneva Airport. You will need switch trains at Visp to get to Zermatt.
You can also rent a car if you love to drive and want to test out the beautiful Swiss roads! From Geneva Airport it takes 2 hours and 45 minute to drive to Täsch. From there you will need to park your car and take the 15-minute train to Zermatt.
How to get to Zermatt from Zurich
The easiest way to get to Zermatt from Zurich is by train. It takes 3.5 hours from the Zurich airport. If you take the train with direction to Brig, you will only need to switch trains once in Visp. If you take the train with direction to Bern, you will have to switch trains twice: once it Bern and once in Visp.
If you rent a car, it takes 3.5 hours to drive to Täsch, where you will have to park the car and take the 15-minute train to Zermatt.
You can buy your tickets for the train online here.
7 Fun things to do in Zermatt in summer
1. Stay at a boutique hotel with a view of the Matterhorn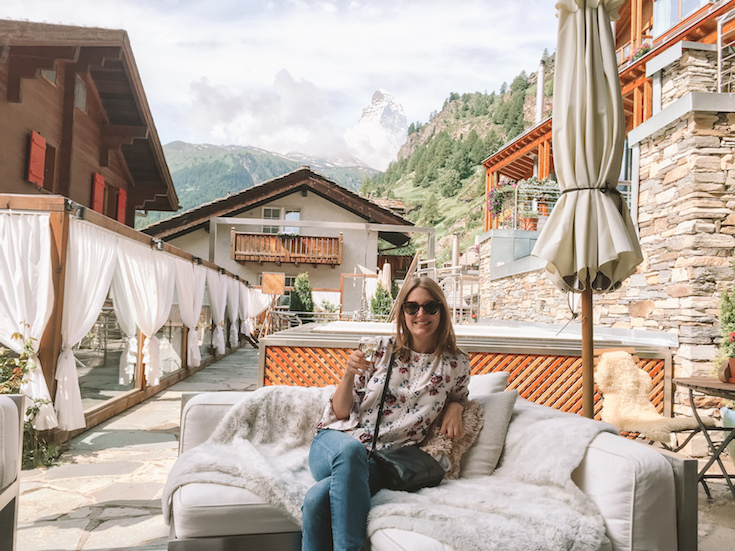 Boutique hotel with best view of Matterhorn
Hotel Couers Des Alpes is the best hotel we have ever stayed in. Everything about it is inspiring - the location, decor, spa and most of all the hosts Leni and Thomas.
Once you arrive you're greeted and offered a drink. We asked for a glass of prosecco and sipped it outside alongside the Matterhorn as our bags were taken upstairs.
The hotel and rooms are beautifully designed. We have stayed at the hotel three times, once in the least expensive double room, once in the two-story loft, and the other time in the Sky Suite with some family. All rooms didn't disappoint! If you're travelling as two, we recommend staying in a loft. It has the best design with its two stories, soaker tub, fireplace and large terrace you can walk out of to see the Matterhorn. If you're with a group of 5-6 people, the Sky Suite is perfect. It has three separate bedrooms, each with their own bathroom.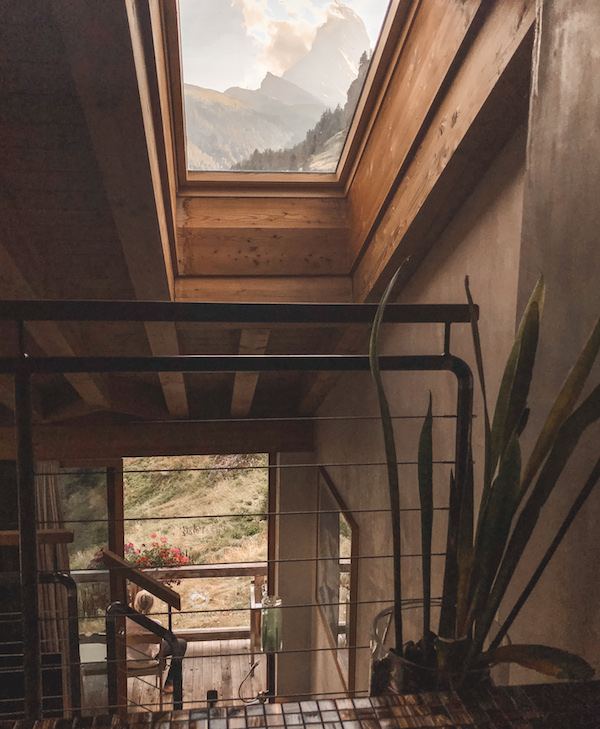 Couers Des Alpes also has luxurious hotel amenities: a stainless steel outdoor hot tub with a stellar view of the Matterhorn, a hammam, indoor plunge pool, sauna, and a steam room!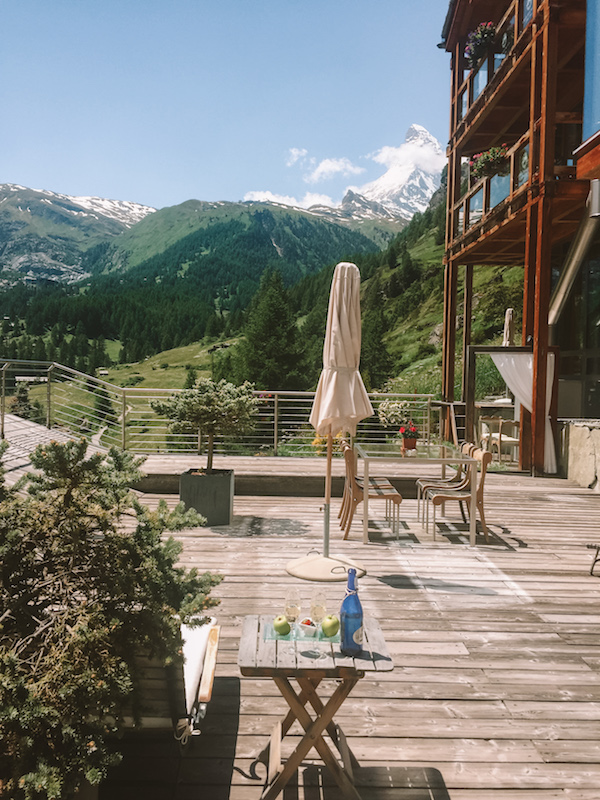 Breakfast is included in the room rate and has a buffet of options. We loved the bacon and cafe macchiatos. You can even make yourself a mimosa with their Prosecco and fresh squeezed orange juice!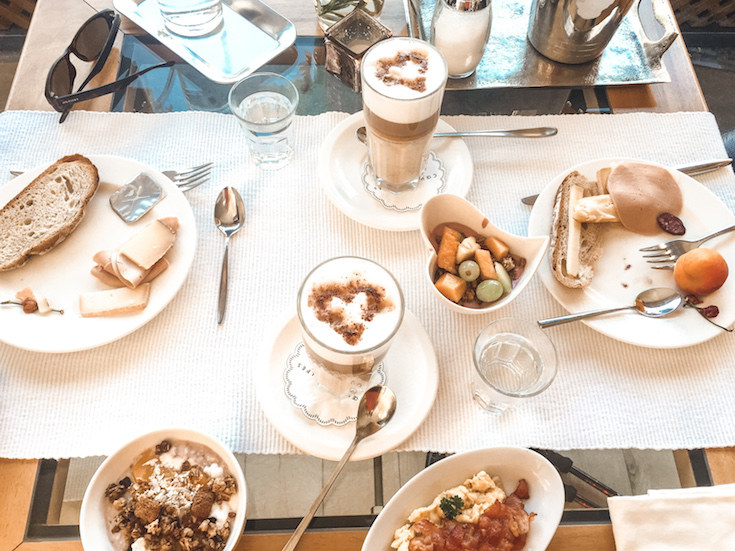 2. Hike to Zmutt and stop in for a delectable lunch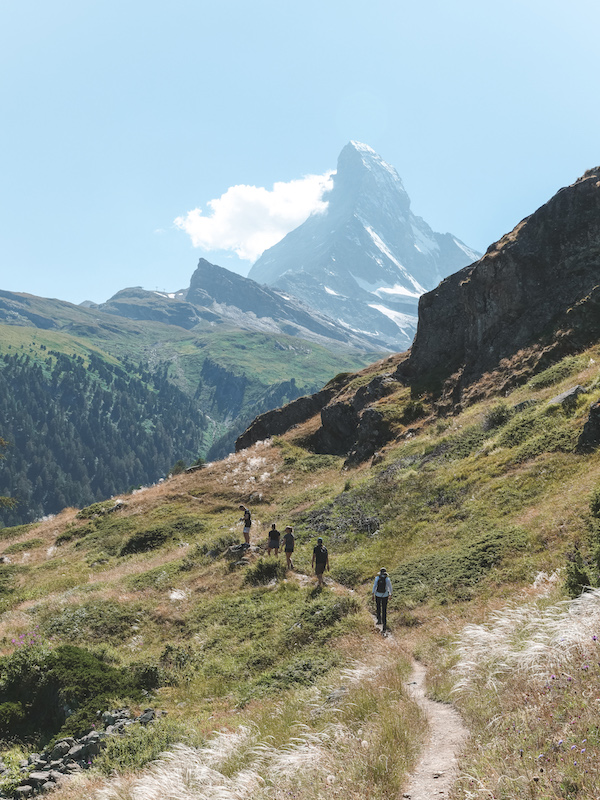 There is a wonderful loop you can hike along from the center of Zermatt that stops at two delightful locations. Make sure to take a map and hiking shoes.
First, find your way to the Hotel Omnia in Zermatt and from there hike upwards! You will snake through buildings until getting into the forest. Your first stop is Pension Edelweiss, a restaurant that is beautifully perched on a cliff overlooking Zermatt and the valley. Try the homemade carrot cake - you won't be disappointed!
From there travel towards Z'mutt. As you crest the cliff, beautiful views of the Matterhorn emerge. Once in the small village of 20 buildings, find Restaurant Z'mutt and reward yourself with a meal. The cheese spaetzle was to die for and the beer was ice cold.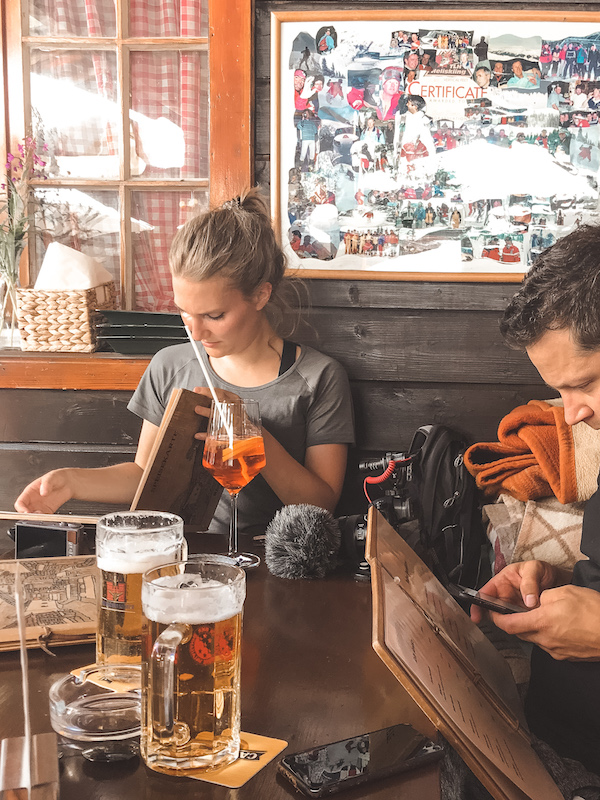 3. Take a rest day and pamper yourself at the spa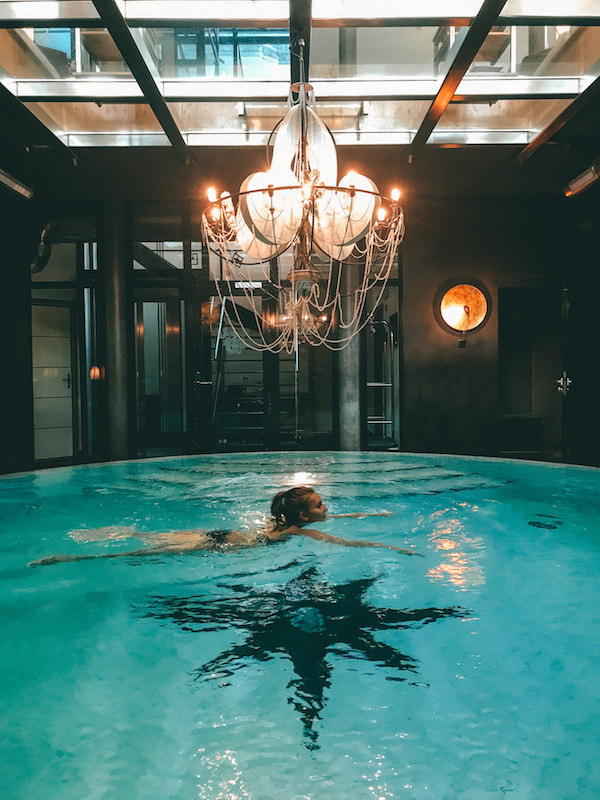 After a long day's hike, there's nothing more relaxing than a spa day! We started off with an excellent one-hour 'relaxing massage' at our hotel and then continued to the hammam.
In the hammam we were given a traditional Turkish towel to wear and had to remove our swimsuit.  We first sat in the steam room to open our pores and then used an exfoliating mitt with almond scrub to cleanse ourselves in the next room. Before taking a dip in the small plunge pool, we laid down for a few minutes on the warm stone slab.
If you want to take the hammam to the next level, you can order a mud body mask for 20 euros that you apply to yourself in the rhassouel. It conditions your skin with valuable mineral salts. We felt squeaky clean after!
4. Hike the Five-Lakes Trail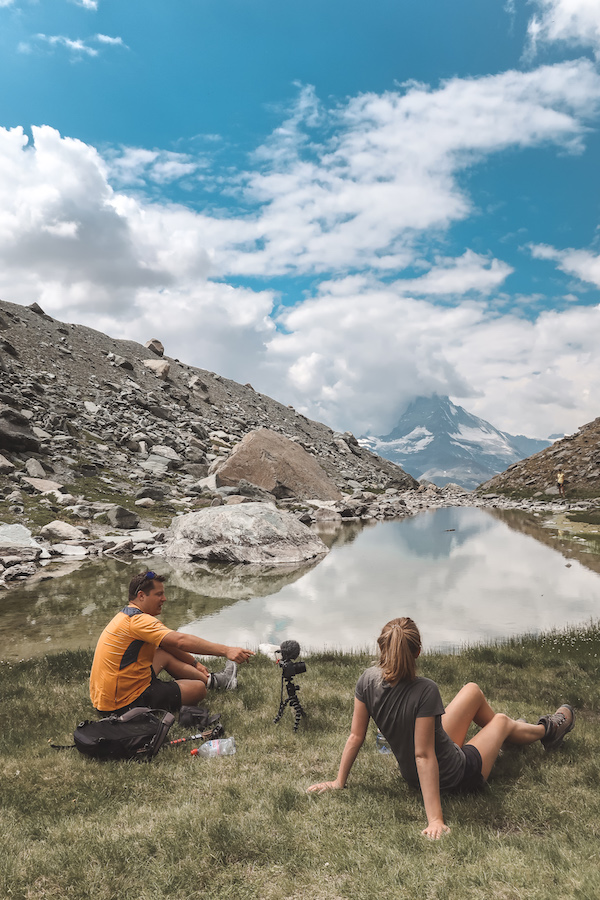 The 5-Seeweg (5 Lakes Walk) is a must do if you're looking to get out and about in the the Alps.  The 9.8km, two and a half hour hike is mostly downhill and offers picture perfect views of the Matterhorn. The mountain can even be seen as a reflection in 3 of the 5 lakes. If you're up for more hiking, you can take a side route off the beaten path to Fluealp, which is a quiet stop with two small lakes and a picturesque view of the Matterhorn. It's the perfect place to have a picnic!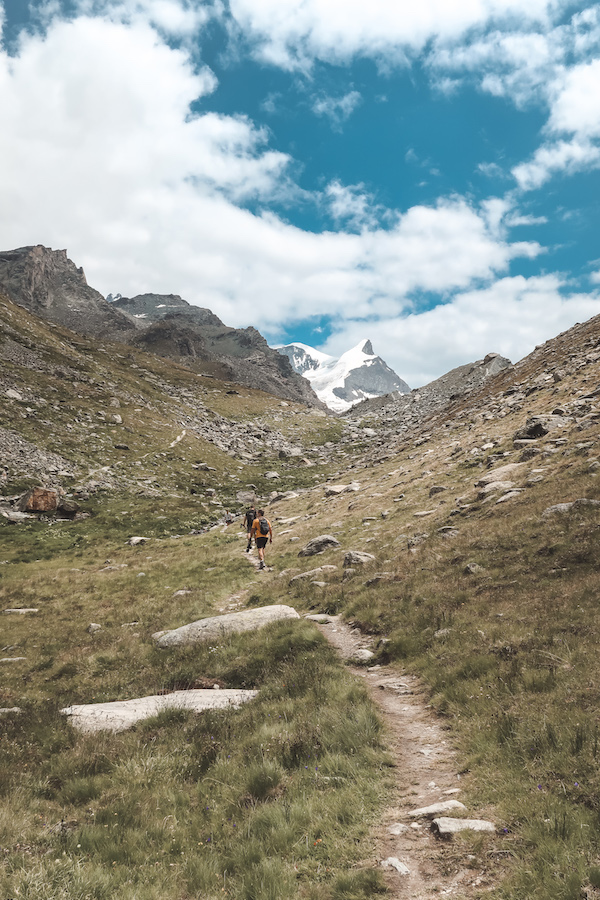 After descending save yourself for a stop at Chez Vrony, a fantastic restaurant with great food, design, and atmosphere.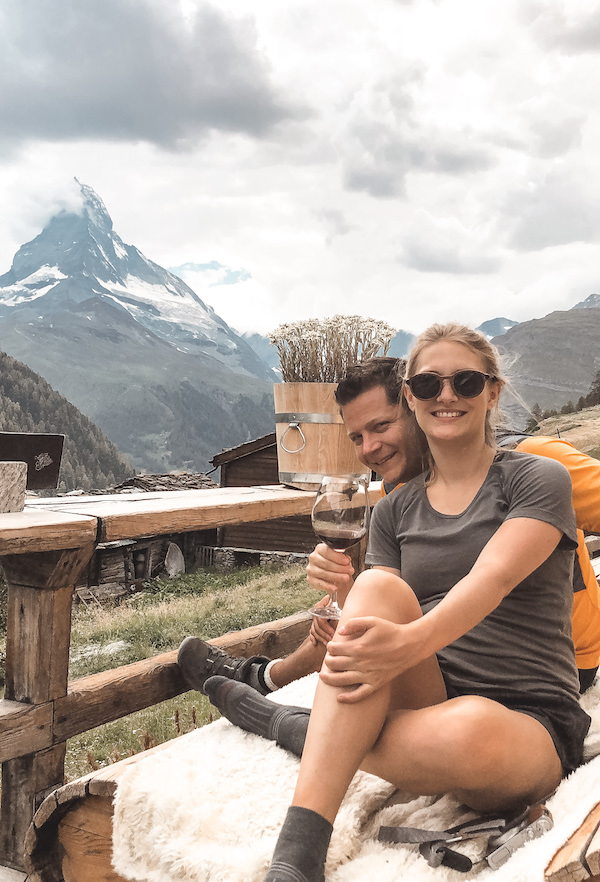 5. Eat Swiss cuisine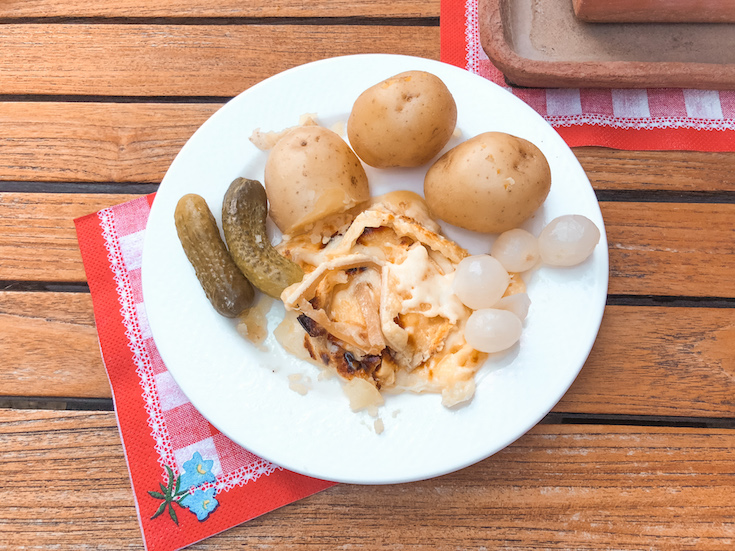 Swiss cuisine you must try
Raclette
Swiss cuisine is heavily characterized by local ingredients such as cheese, dried meats, garden veggies and wines.  Our favourite Swiss dish is Raclette. The dish is traditionally prepared by cutting a big wheel of Raclette cheese in half, sticking the cut side under a heating element and waiting until the cheese is golden and bubbling. Cheese lovers rejoice! The bubbling melted cheese is then scraped off onto a plate and served with boiled baby potatoes, pickles and baby onions. YUM!!! Look out for "Raclette a discression" (all you can eat) and pig out to your heart's content, plate after plate.
Fondue
Our next favourite dish is cheese fondue and fondue chinoise (meat fondue with broth). We usually have a starter cheese fondue before our fondue chinoise, which typically consists of slices of pork, beef and veal and an assortment of dipping sauces. Be careful, prices are usually listed per serving with a 2 serving minimum, so it can become a bit more expensive than it leads on.
Best restaurants in Zermatt
There are many excellent restaurants in Zermatt. We list our favourites below.
Best for fondue chinoise: Schäferstube. They are one of the only restaurants that let you do a single portion, rather than needing a 2 person minimum.
Best for cheese fondue: Whymper Stube. Your classic wooden Swiss chalet type of restaurant serving Swiss comfort food.
Best for raclette: Hotel Couers Des Alpes. You don't want to miss their raclette nights on Tuesdays.
Best for wiener schnitzel: Sonnmatten. They serve schnitzel during lunch time. It is delicious!
Best for fine dining: After Seven. A 2-star Michelin restaurant!
Best for seafood: Walliserstube. The chefs speciality. The fish soup was uniquely flavoured and very satisfying.
Best for the view and atmosphere: Chez Vrony. The perfect lunch spot overlooking the Matterhorn.
6. Play tennis in the beautiful Zermatt courts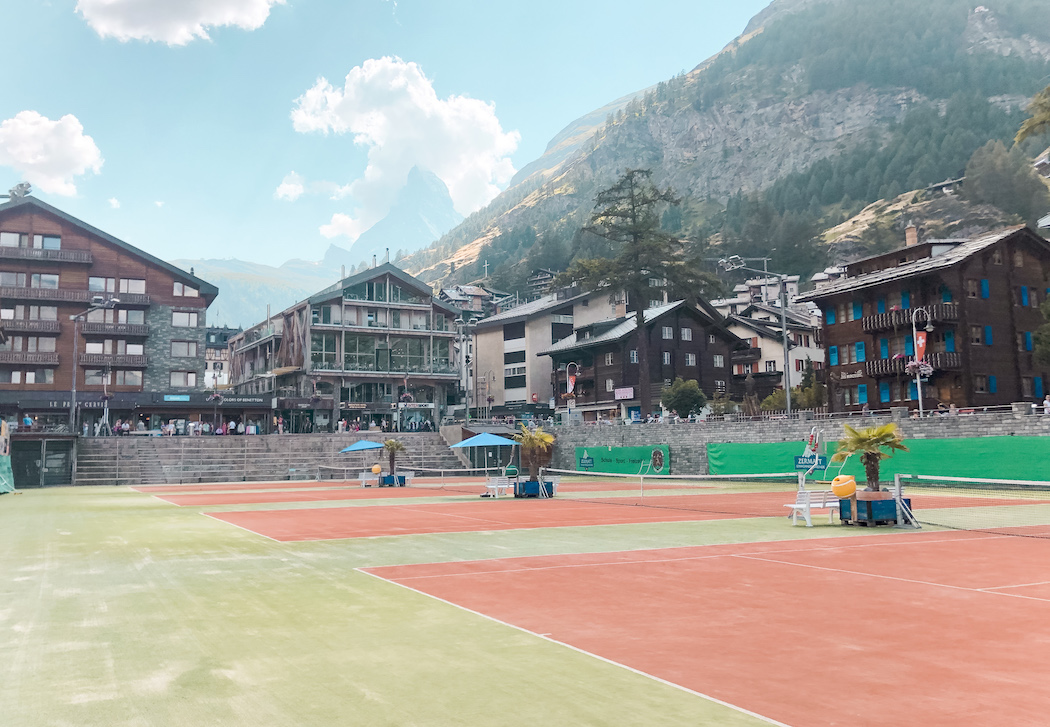 Don't feel like hiking? One of the best kept secrets in Zermatt is the public tennis court. Court rentals are 22CHF per hour and racket rentals for the day are 5 CHF each. We found the courts to be mostly empty and had to pay for an extra hour since we were having so much fun. Courts and rentals can be booked at Sportspavilion.
7. 🥔✨ Fully Loaded Experience:  Take a helicopter ride through the Swiss Alps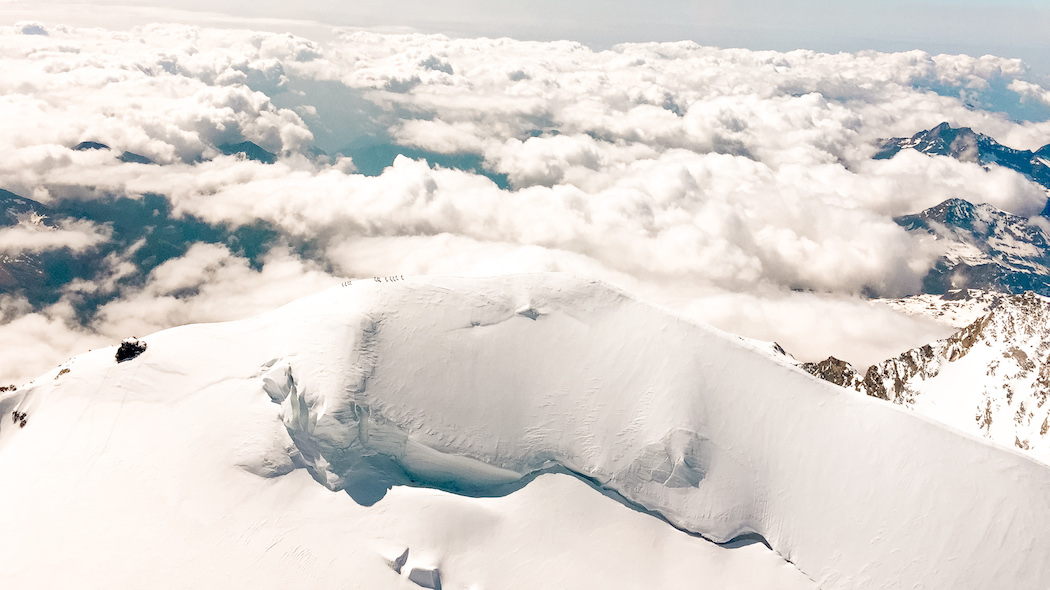 We were in one of those moods, willing to do whatever it took to get more out of our Zermatt experience. A flyer for Air Zermatt was tucked into our hotel welcome book and after seeing their Valais branded red and white helicopters, we were sold. What better way to experience the mountains than with a helicopter tour?
It was our first time on one of these strange flying machines and liftoff was exhilarating. Try not to view the whole ride through your phone. Take in the sights and wave to the brave mountaineers summiting the Matterhorn!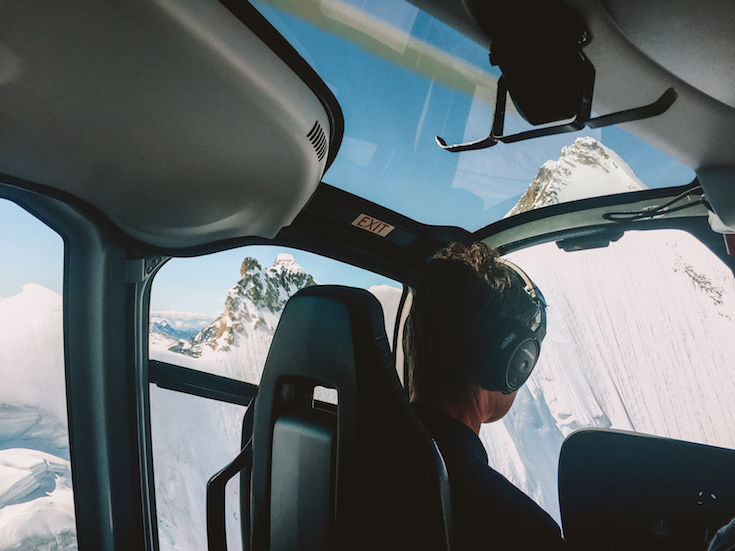 See what it was like in our Switzerland vlog:
Save and pin this Zermatt summer travel guide for later: