Switzerland is one of our favourite countries in the world. Staying in the idyllic alpine town of Zermatt with the Matterhorn as your centrepiece is a magical experience.
In summertime, Zermatt turns beautifully green with many scenic hikes to do. But, there is more to do than just hiking. After having a day of adventure you can spoil yourself at the spa, relax at your boutique hotel with some wine or enjoy Swiss cuisine (the cheese!) around every corner. We list 12 fun things to do in Zermatt in summer that are sure to delight!
Interested in visiting Zermatt in winter instead? Don't miss our list of the top things to do in Zermatt in Winter.
What to do in Zermatt in summer
How to get to Zermatt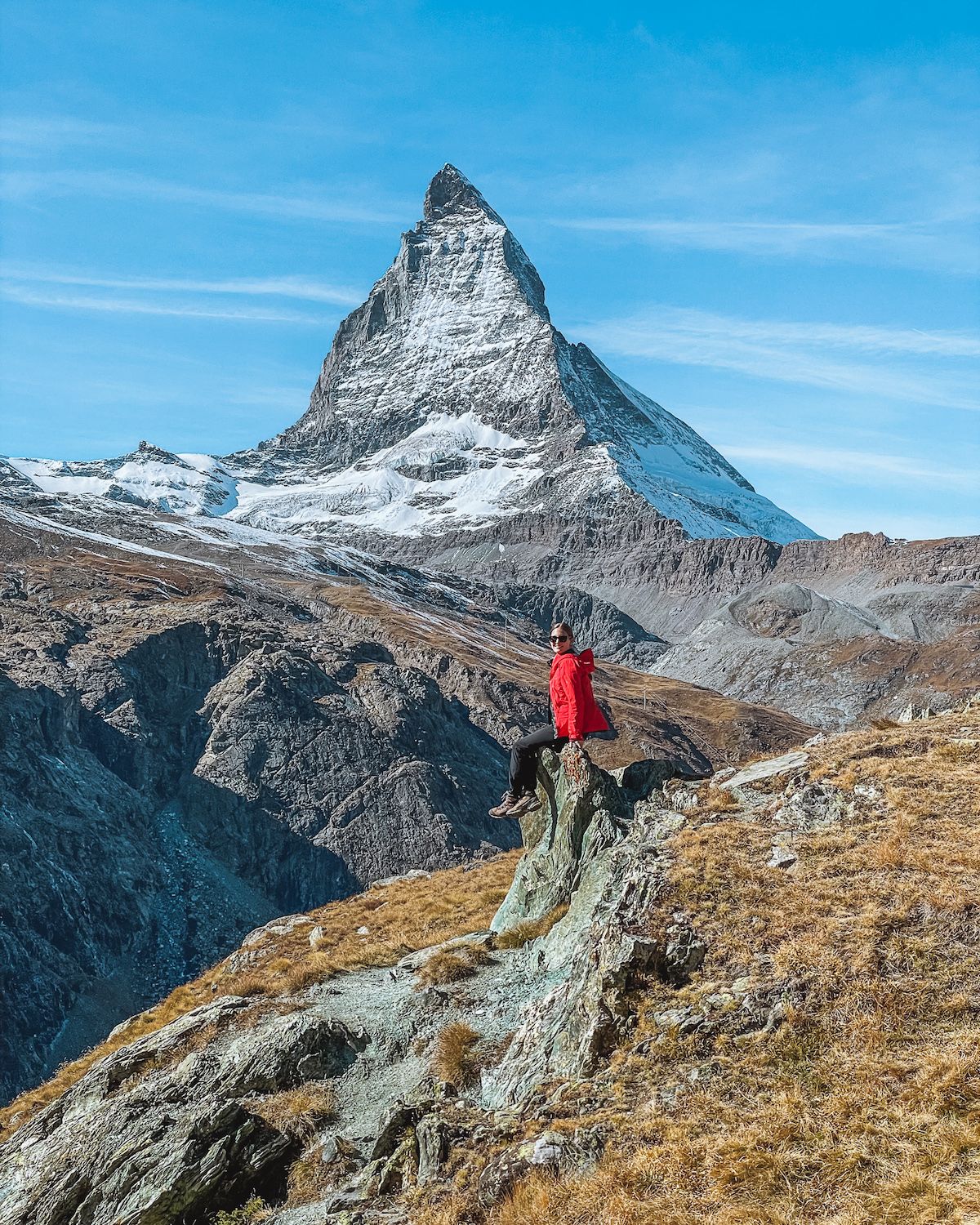 How to get to Zermatt from Geneva
By Train
The easiest way to get to Zermatt from Geneva is by train. It takes just under 4 hours from the Geneva Airport. You will need switch trains at Visp to get to Zermatt.
🚆 You can easily buy your
train tickets from the Geneva Airport to Zermatt
online.
By Car
You can also rent a car if you like to drive and want to test out the beautiful Swiss roads! From Geneva Airport it takes 2 hours and 45 minute to drive to Täsch. From there you will need to park your car and take a 15-minute shuttle train to Zermatt. Parking costs CHF 16 per day and the shuttle train is CHF 16.40 roundtrip.
🚗 Compare rates across different car rental companies with
Rentalcars.com
How to get to Zermatt from Zurich
By Train
The easiest way to get to Zermatt from Zurich is by train. It takes 3.5 hours from the Zurich airport. If you take the train with direction to Brig, you will only need to switch trains once in Visp. If you take the train with direction to Bern, you will have to switch trains twice: once in Bern and once in Visp.
🚆 You can easily buy your
train tickets from the Zurich Airport to Zermatt
online.
By Car
If you rent a car, it takes 3.5 hours to drive to Täsch, where you will have to park your car and take a 15-minute shuttle train to Zermatt. Parking costs CHF 16 per day and the shuttle train is CHF 16.40 roundtrip.
🚗 Compare rates across different car rental companies with
Rentalcars.com
12 Fun Things to do in Summer in Zermatt
Disclosure: Some of the links below are affiliate links, meaning at no additional cost to you, we will earn a commission if you click through and make a purchase. We only recommend products or services we have used or that we believe will add value to our readers. Thank you for supporting us!
1. Stay at a boutique hotel with a view of the Matterhorn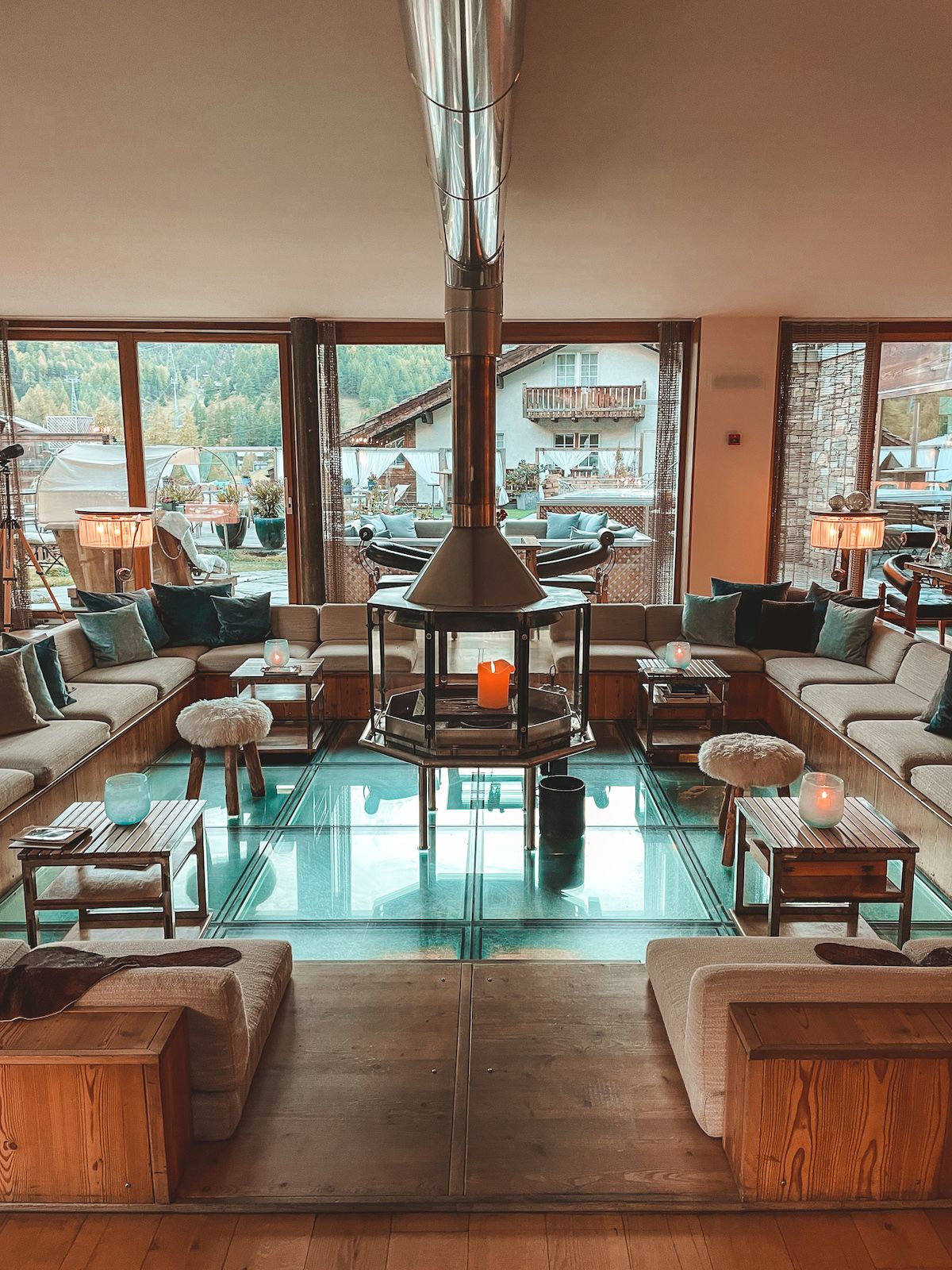 Hotel Coeurs Des Alpes is our favourite hotel in the world.
Everything about it is inspiring - the location, decor, spa and most of all the hosts Leni and Thomas.
Once you arrive, you're greeted and offered a drink. We always ask for a glass of Prosecco and sit outside to take in the views of the Matterhorn. Your bags will be taken upstairs and once you are ready, you are shown to your room.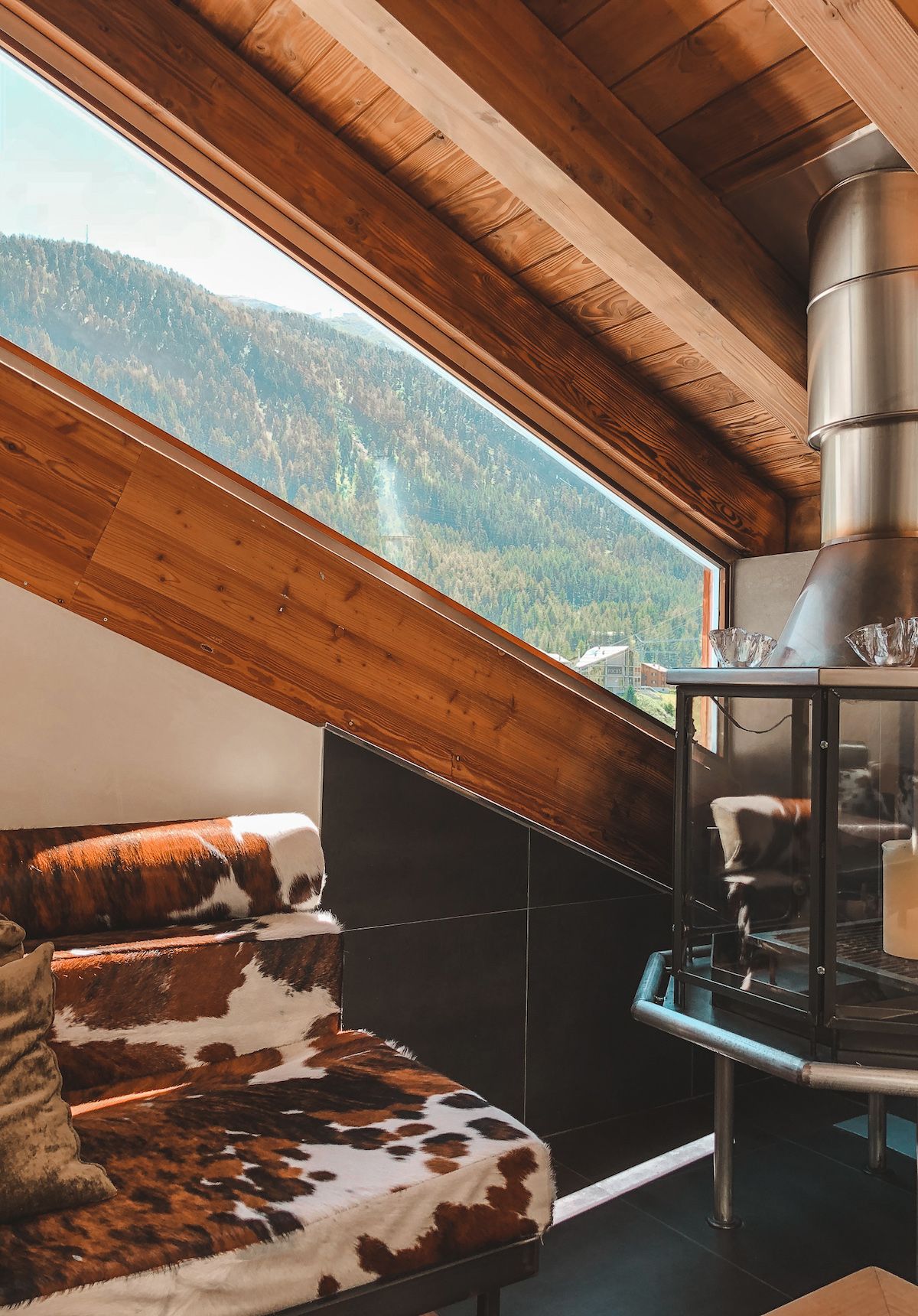 The hotel and rooms are beautifully designed with chic furnishings by artist Heinz Julen. We have stayed here four times - once in the least expensive double room, once in a two-story loft, once in the Gallery Suite and once in the Sky Suite with family. All rooms exceeded our expectations.
If you're travelling as two, we recommend staying in a loft. It has the best design with its two stories, soaker tub, fireplace and large terrace with views of the Matterhorn. If you're with a group of 5-6 people, the Sky Suite is perfect. It has three separate bedrooms, each with their own bathroom.
Hotel Coeurs Des Alpes
recently expanded their outdoor terrace, giving even more opportunities to hang out and relax alongside the Matterhorn.
Our favourite thing to do is soak in the outdoor hot tub as the sun sets behind the Matterhorn.
The elegant hotel also has a luxurious spa with a hammam, sauna, infrared sauna, and plunge pool. A Swiss breakfast (frühstück) buffet is included in the room rate. You can even make yourself a mimosa with their Prosecco and fresh squeezed orange juice!
Browse other stays in Zermatt with Booking.com.
We always sort by top reviewed and recommend double checking that the location score is 9+.
2. Hike to Z'mutt for a delectable lunch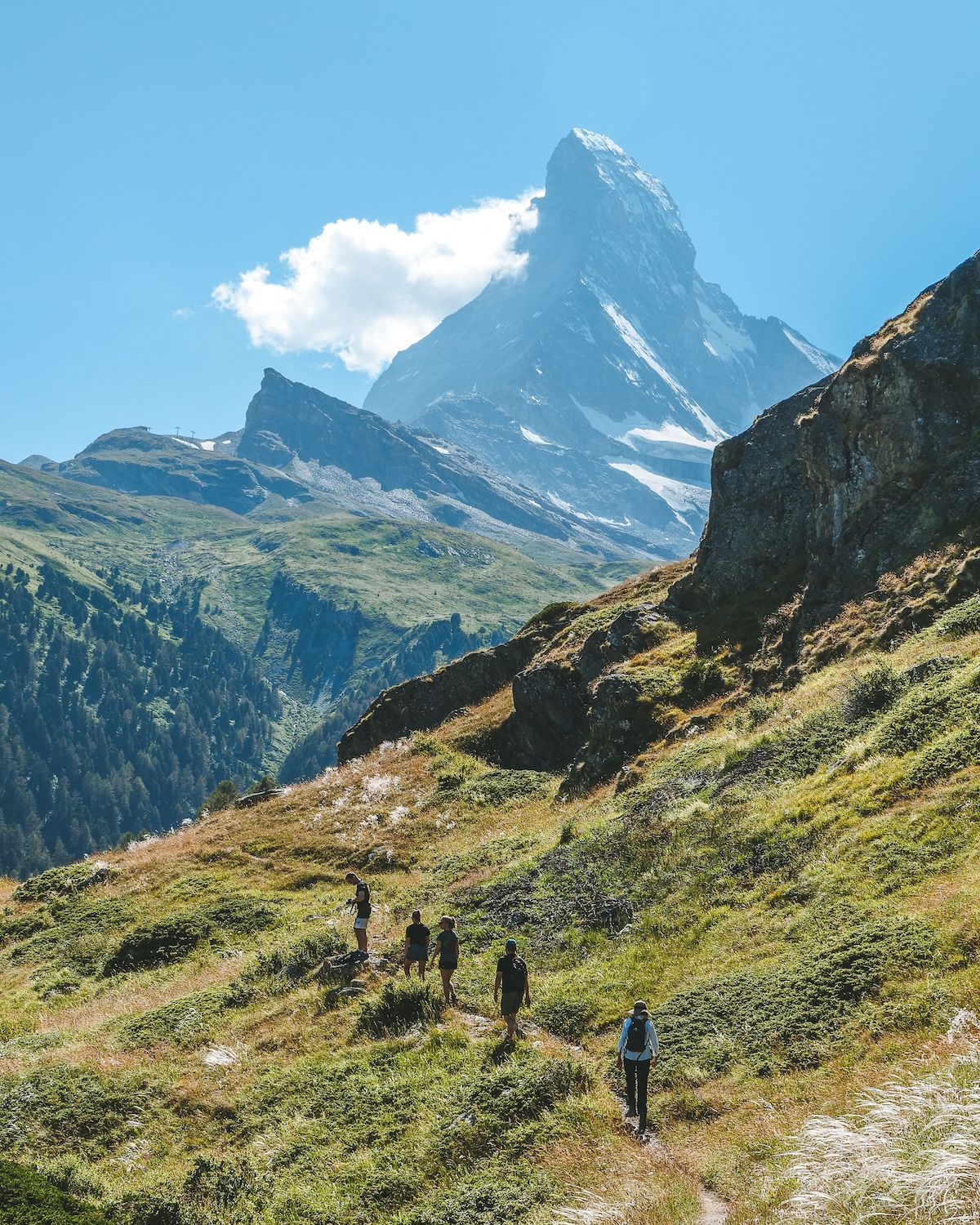 There is a wonderful loop you can hike from the centre of Zermatt that stops at two delightful locations. Don't forget to save this map and bring hiking shoes! It's free since you don't need to take any lifts.
First, find your way to the Hotel Omnia in Zermatt and from there hike upwards. You will snake through buildings until getting into the forest. Your first stop is Edelweiss Zermatt, a restaurant and hotel that is beautifully perched on a cliff overlooking Zermatt and the valley. Try their homemade carrot cake - you won't be disappointed!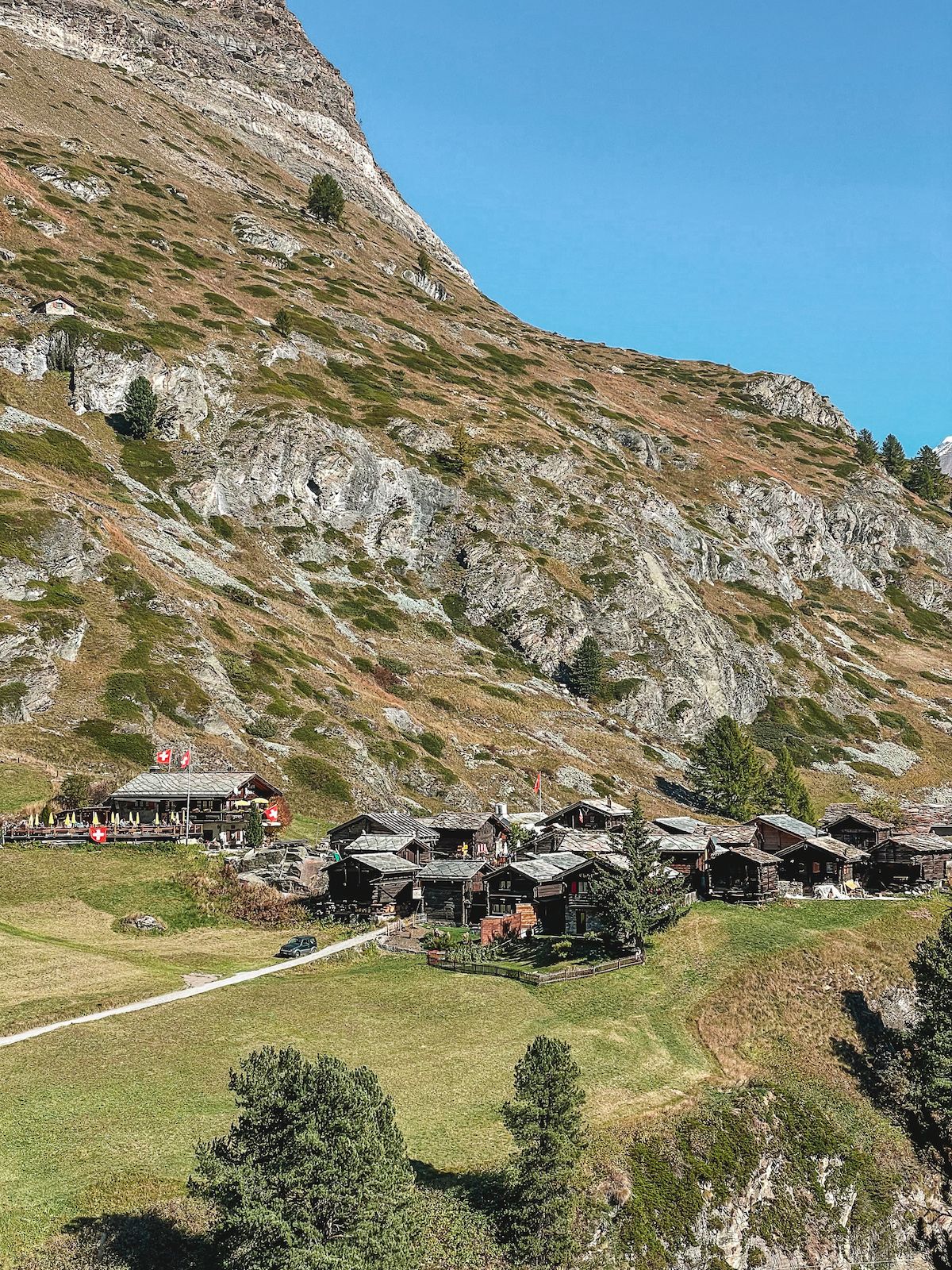 From there, take the trail southwest towards Z'mutt. As you crest the cliff, beautiful views of the Matterhorn emerge. Once in the small hamlet of about 20 buildings, find Restaurant Z'mutt and reward yourself with a meal. The cheese spatzle was to die for and the beer ice cold.
3. Pamper yourself at the spa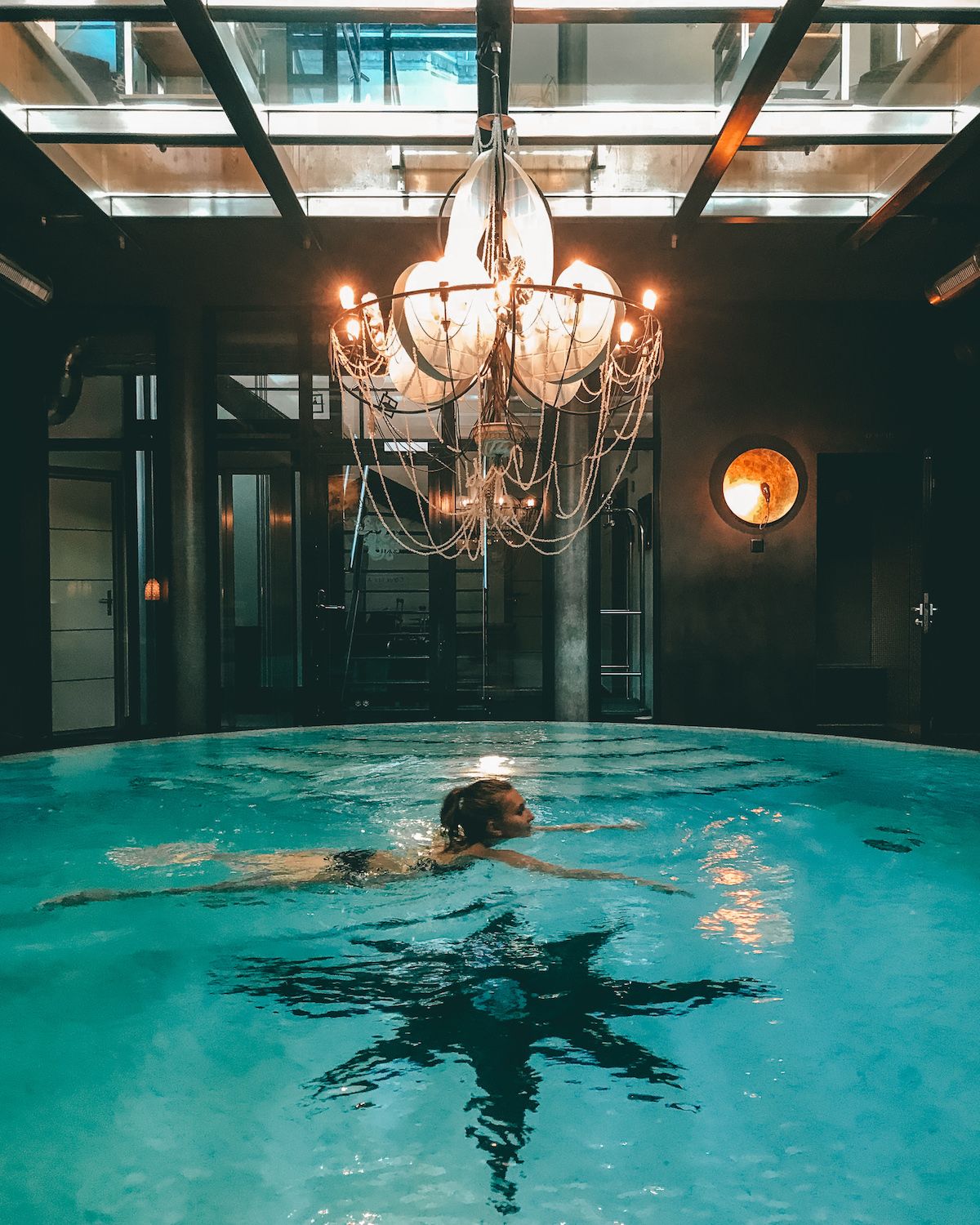 After a long day's hike, there's nothing more relaxing than a spa day! We started off with an excellent one-hour relaxation massage at our hotel, Coeur Des Alpes, and then continued to the hammam.
In the hammam we were given a traditional Turkish towel to wear and had to remove our swimsuit. We first sat in the steam room to open our pores and then used an exfoliating mitt with almond scrub to cleanse ourselves in the next room. We ended with a dip in the plunge pool and relaxed for a few minutes on the heated black naval stone bed.
If you want to take the hammam to the next level, you can order a nutrient-rich mud body mask for 20 euros that you apply to yourself in the rhassoul. We felt squeaky clean after!
If you stay at a hotel without a spa, Hotel Coeur Des Alpes offers spa passes to non-hotel guests for CHF 50.
Bathrobes and towels are included.
Another hotel with an amazing spa is CERVO Mountain Resort
, which offers a pass to its Mountain Ashram Spa for CHF 85.
4. Hike the Five-Lakes Trail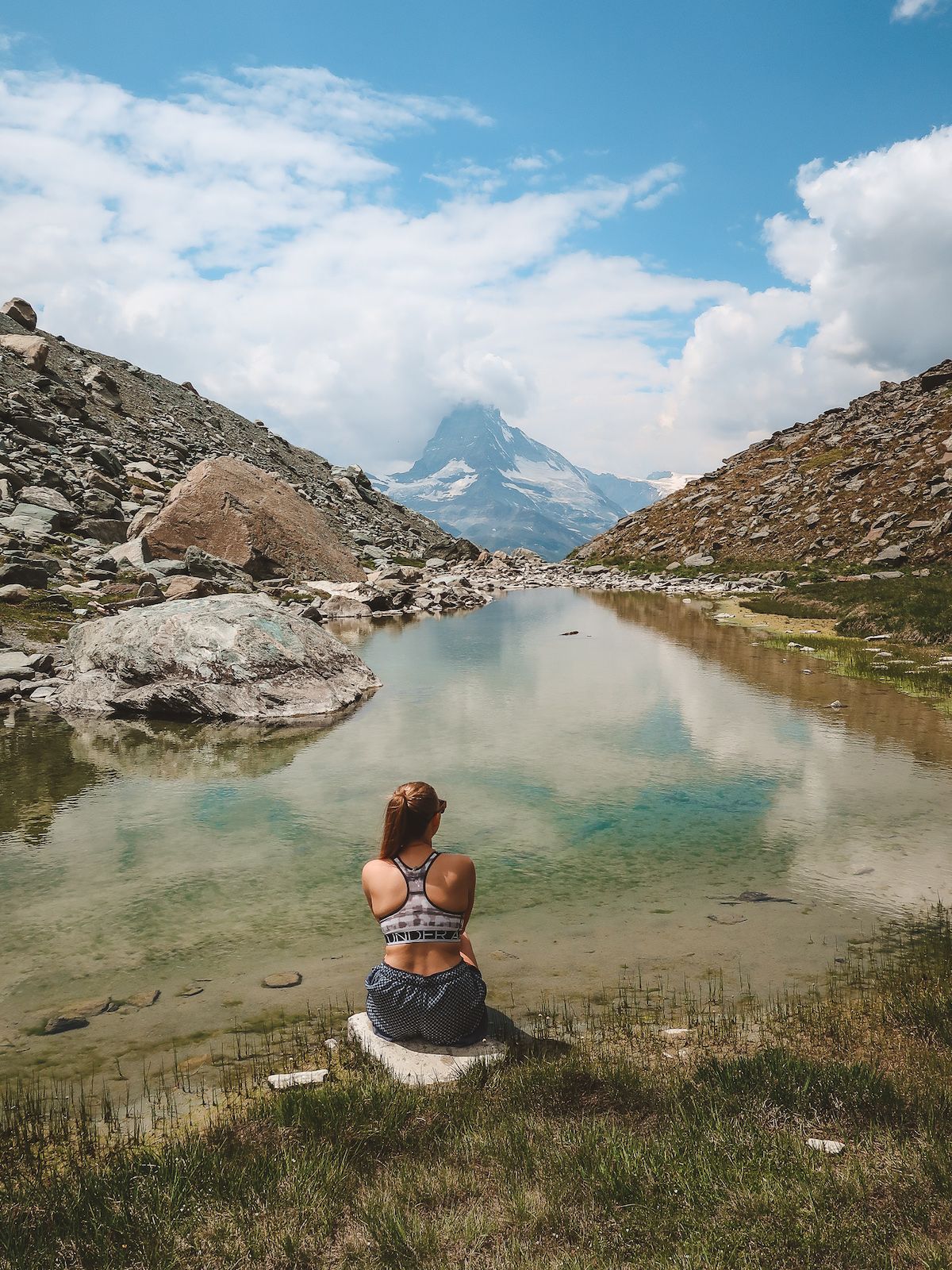 The 5-Seenweg (5 Lakes Walk) is a must do if you're looking to get out and about in the the Swiss alpine. The 2.5 hour hike takes you past five scenic lakes and offers stunning views of the rugged, mountainous landscape. The Matterhorn can even be seen as a reflection in three of the lakes. Don't forget to bring a swimsuit, because you can take a refreshing swim in Lake Leisee, the last lake on the hike.
The 9.8km hike is rated as a moderate difficulty but is mostly downhill. The trailhead starts at Blauherd Station and ends at Sunnegga Station.
If you're up for more hiking, consider adding the side route to Fluealp ("C" on the map above), a quiet stop with two small lakes and a pretty view of the Matterhorn. It's the perfect place to have a picnic.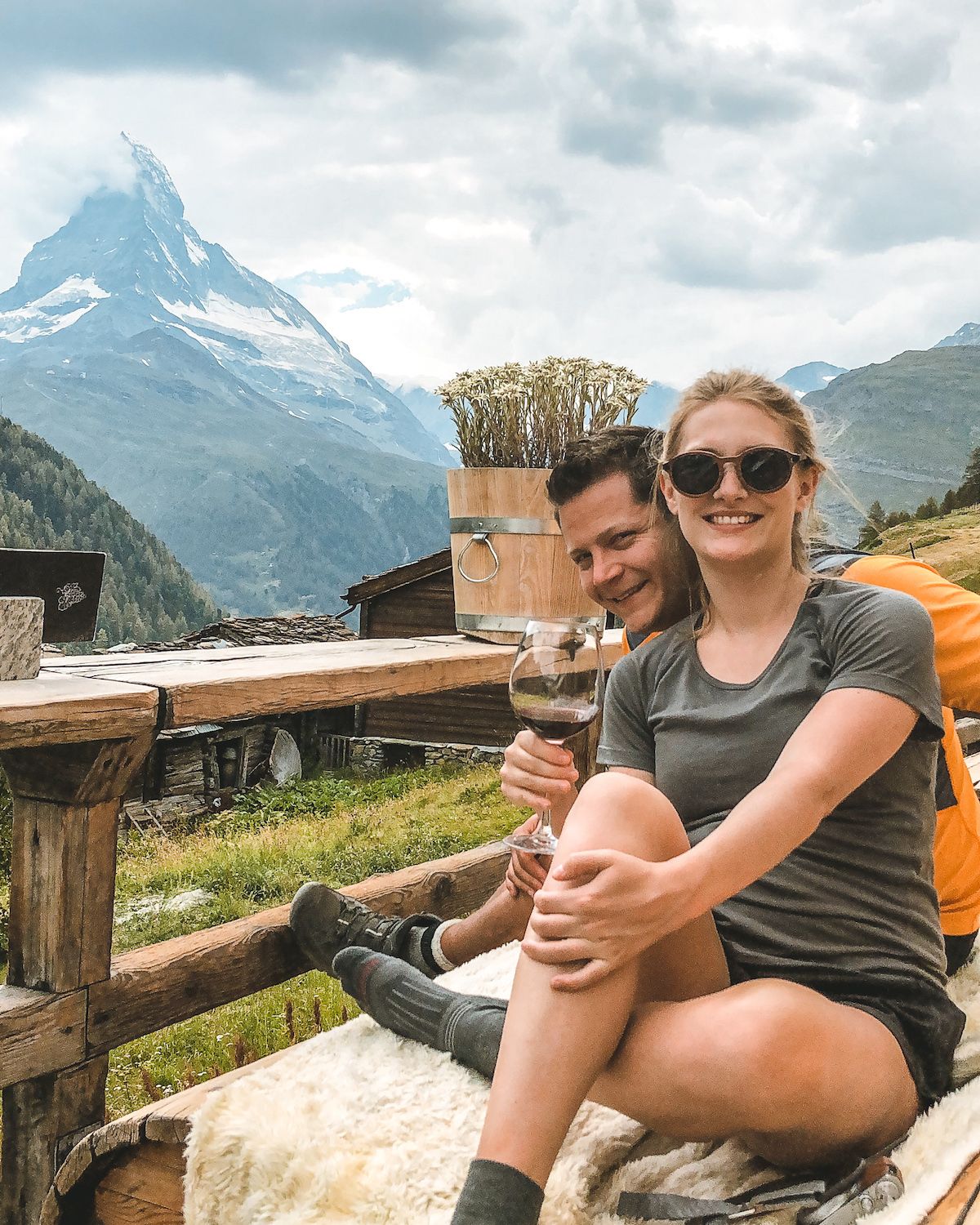 Before reaching Lake Leisee, we advise taking a quick detour to Chez Vrony for lunch ("G" on the map above). The restaurant is listed in the Michelin Guide and has fantastic food. Its atmosphere is unique and lively as it sits at a 2,130m elevation on the slopes. Enjoy a refreshing apres-hike lunch on their large terrace overlooking the Matterhorn,
5. Indulge in mouthwatering Swiss cuisine
Swiss cuisine you must try:
Raclette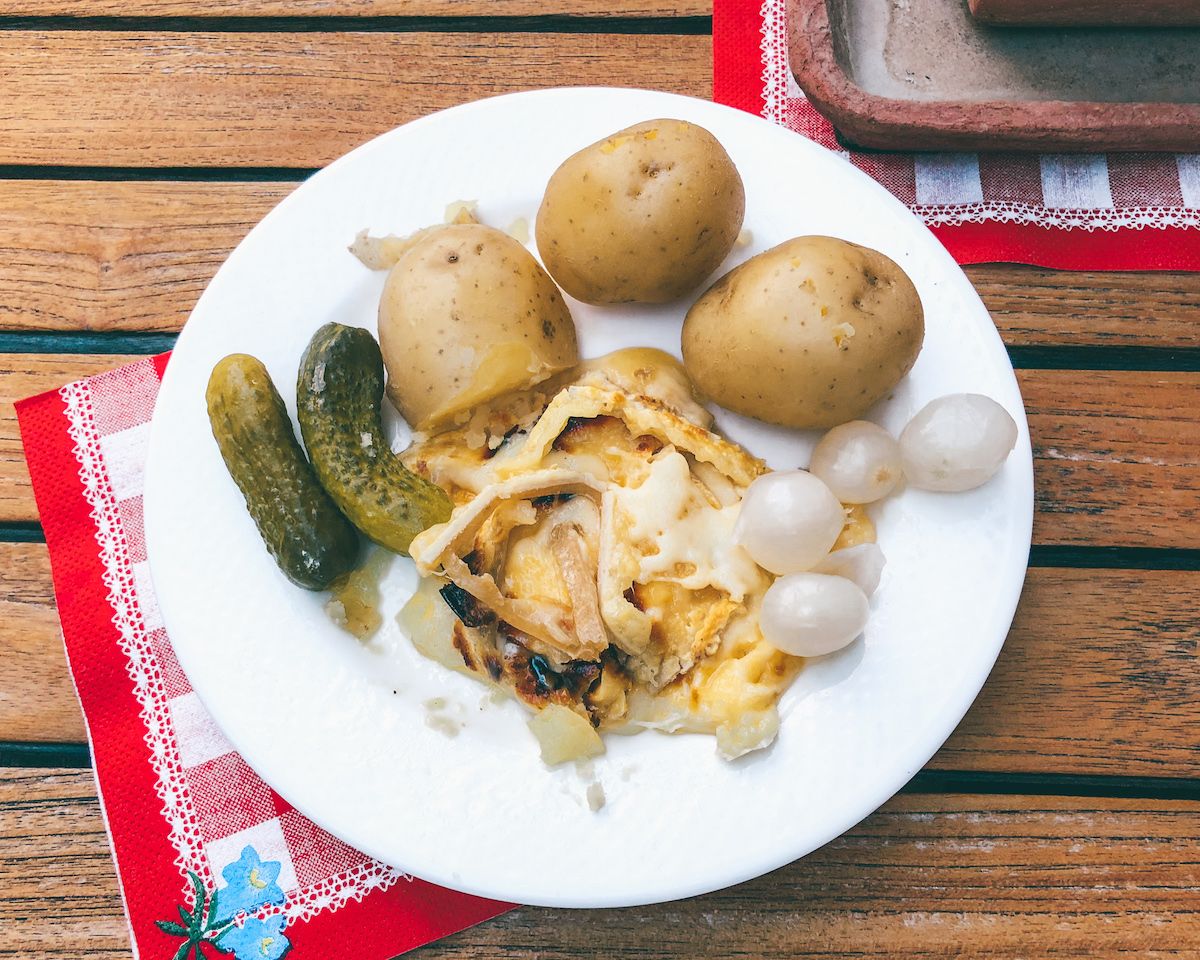 Swiss cuisine is heavily characterized by local alpine ingredients such as cheese, dried meats, garden veggies and wines.  Our favourite Swiss dish is Raclette. The dish is prepared by heating a half wheel of cheese under a big heating element and scraping off the top layer that crisps up and bubbles. It's served straight up, accompanied only with baby potatoes, cornichons and pickled onions. YUM!!! Look out for "Raclette a discression" (all you can eat) and pig out to your heart's content, plate after plate.
Fondue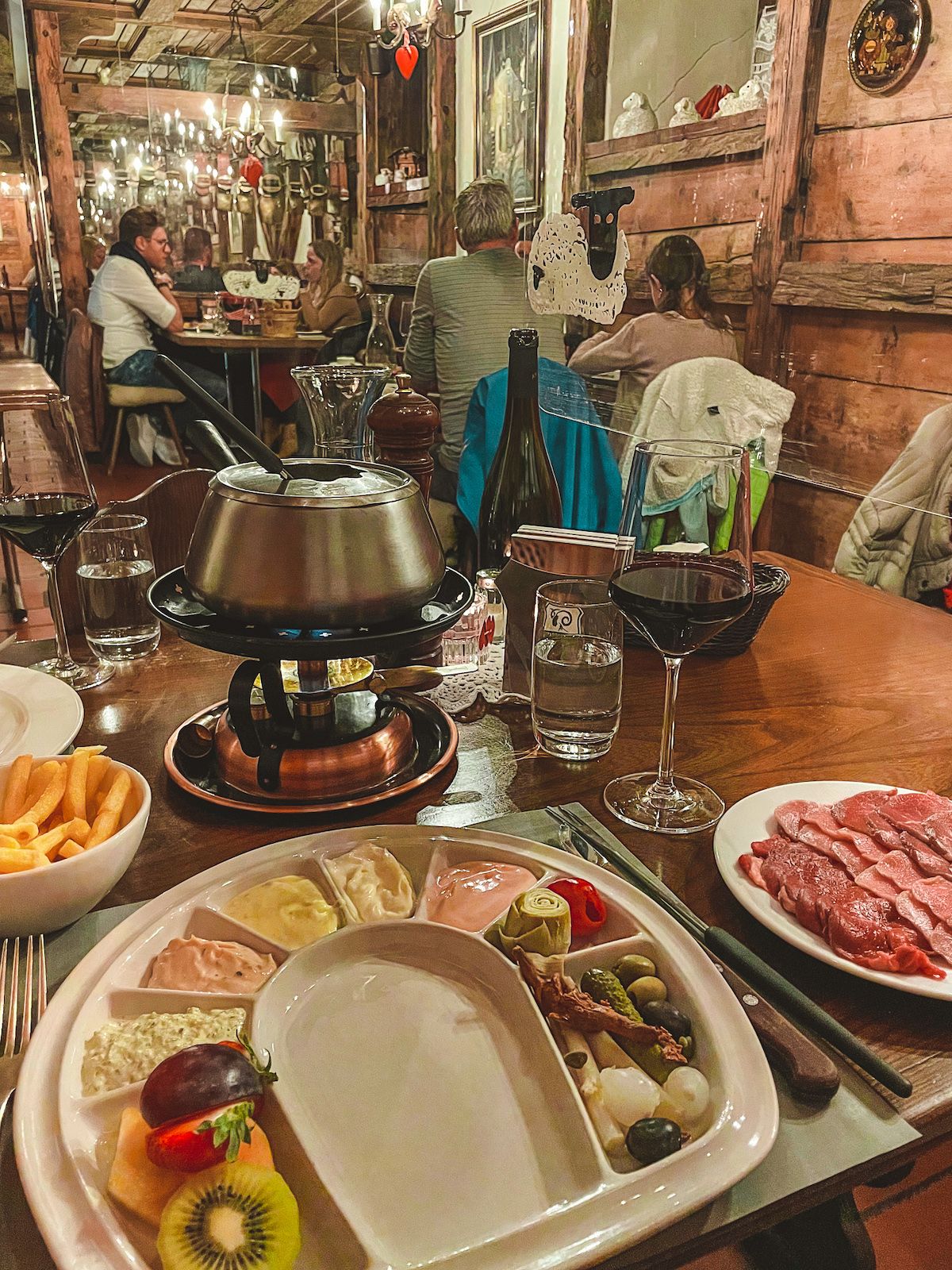 Our next favourite dish is cheese fondue and fondue chinoise (meat fondue with broth). We usually have a starter cheese fondue before our fondue chinoise, which usually consists of slices of pork, beef and veal and an assortment of dipping sauces. Be careful, prices are usually listed per serving with a 2 serving minimum, so it can become a bit more expensive than it leads on.
After you're finished with the fondue chinoise you can ask for the broth as a soup. Perfect for those who prefer a savoury dessert!
6. Take the cog railway up to Gornergrat at 3,100m elevation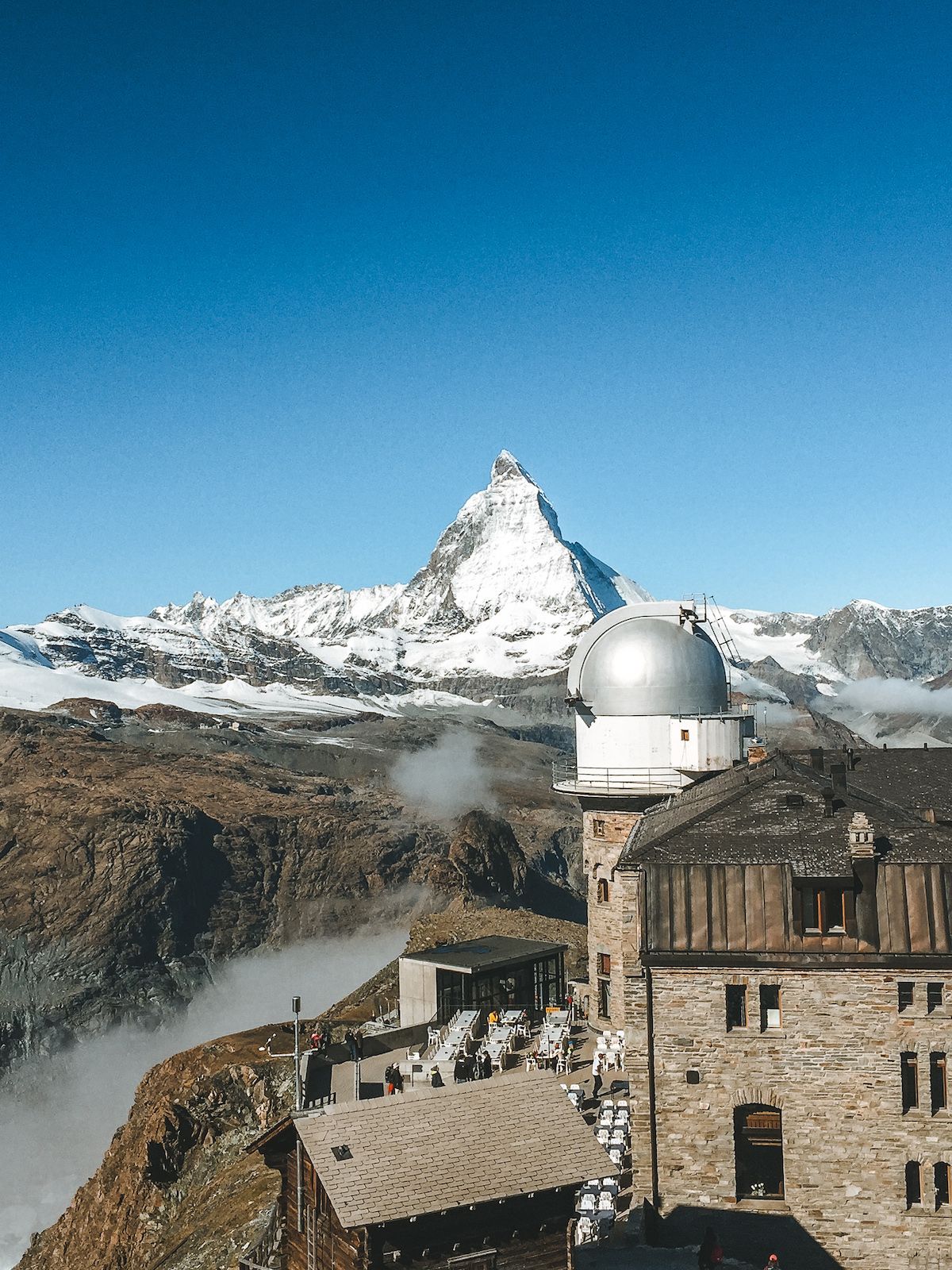 At 3,100 m elevation, Gornergrat offers a viewpoint that is out of this world. From the summit you are surrounded by snow covered peaks and the Matterhorn sits perfectly in your view. If you are not an avid hiker, you will be happy to know that there is no hiking involved here, just a scenic ride to the top. Once you arrive, take your time and have a hot coffee or drink on the restaurant terrace.
The Gornergrat bahn leaves from Zermatt and is about a 30 minute journey. Tickets are a bit pricey, but it's especially worth it if you don't plan on doing any hiking in Zermatt.
Top Tip: We recommend only travelling up to Gornergrat if it's a clear day. In the mountains your best bet for clear skies is in the morning before the clouds rise from the valleys below.
You can easily purchase tickets for the cog railway to Gornergrat with GetYourGuide.
We like how you can cancel up to 24 hours before for a full refund.
7. Go on a restaurant crawl through mountainside hamlets around Zermatt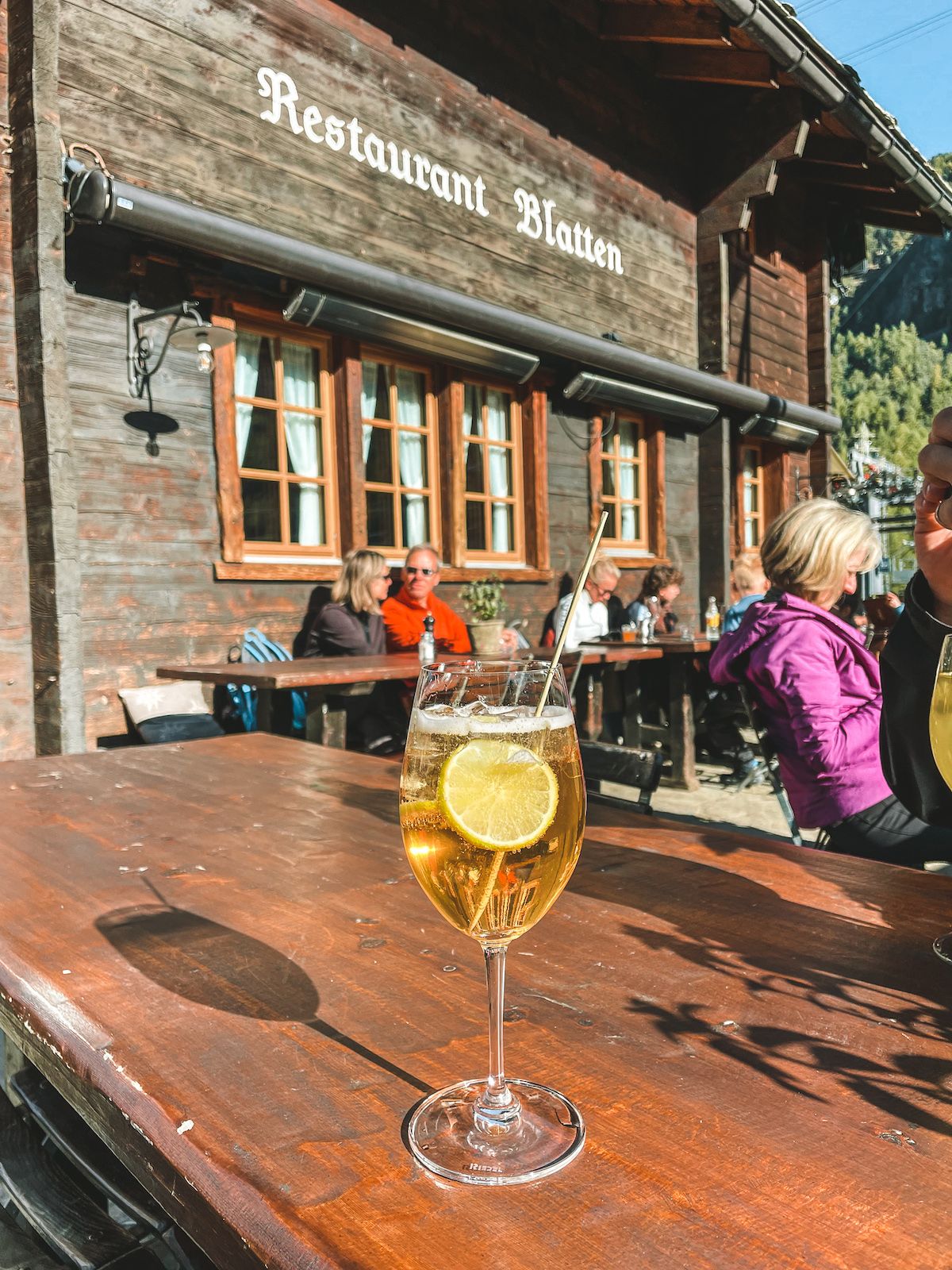 There are many hamlets to discover in the valleys and mountainsides around Zermatt. These tiny villages typically have 10-20 traditional wooden alpine huts and include a couple restaurants that are open seasonally.
We found an easy hike that takes you on a scenic stroll through the quaint hamlets of Furi, Z'mutt, Zum See and Blatten. Take your time in each of them and prepare for a mountain restaurant crawl. We loved soaking in the surrounding fresh air and sun on the outdoor patios with good food and a drink in hand.
The route:
1.5 hours | 5.5 km | 144 m ascent | 372 m descent
From Zermatt, first take the gondola up to Furi. From there you will begin your hike. The cost of the cable car is 10.50 CHF. You only need a one-way ticket for this hike. 🚡
From Furi, make your way over to Z'mutt on the quiet paved road. You will eventually branch off on a trail that takes you over a bridge to the other side of the valley. Across the way is the cute village of Z'mutt. Stop in at Z'mutt Restaurant for a coffee. ☕ ⛰️
Continue from Z'mutt along the stunning green mountainside to Zum See for lunch. The traditional wooden-chalet is listed in the Michelin Guide and has a lovely terrace. Enjoy a refreshing salad or one of their Mediterranean specialities. 🥗 ⛰️
Under a 10 minute walk away is the hamlet of Blatten, where Restaurant Blatten serves up some tasty cocktails on their large outdoor terrace. Finish your hamlet crawl with a satisfying cold beverage. They had unique variations of the Aperol Spritz - Ari ordered the ginger version and I ordered the strawberry version.🍹⛰️
From Blatten, it's an easy 22 minute walk downhill to the centre of Zermatt
8. Discover Zermatt's culinary scene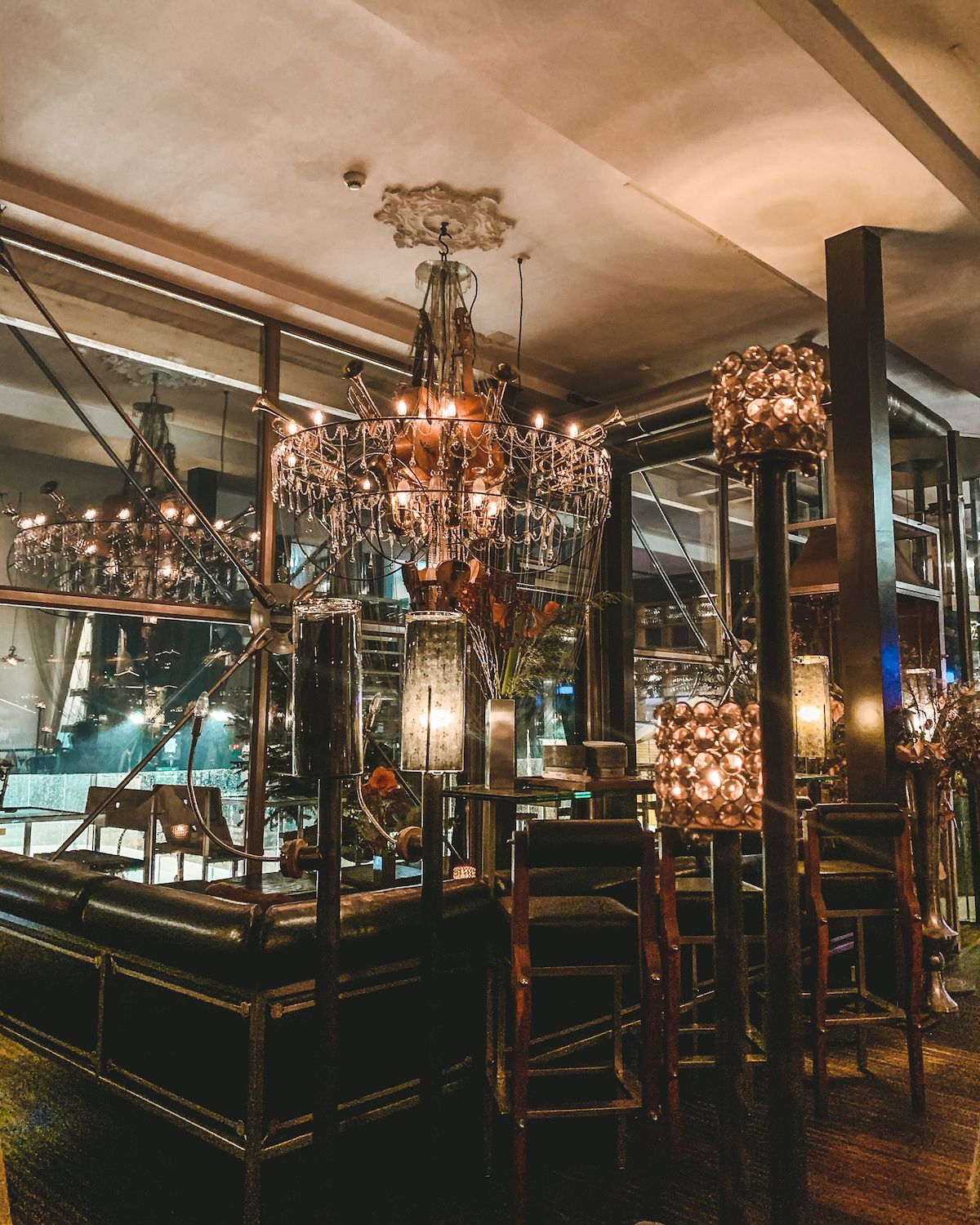 Zermatt is a culinary hot spot with 6 of its restaurants listed in the Michelin Guide and 20 of them awarded Gault & Millau points. The mountain town offers an eclectic mix of cuisines, from Italian to Japanese.
Best restaurants in Zermatt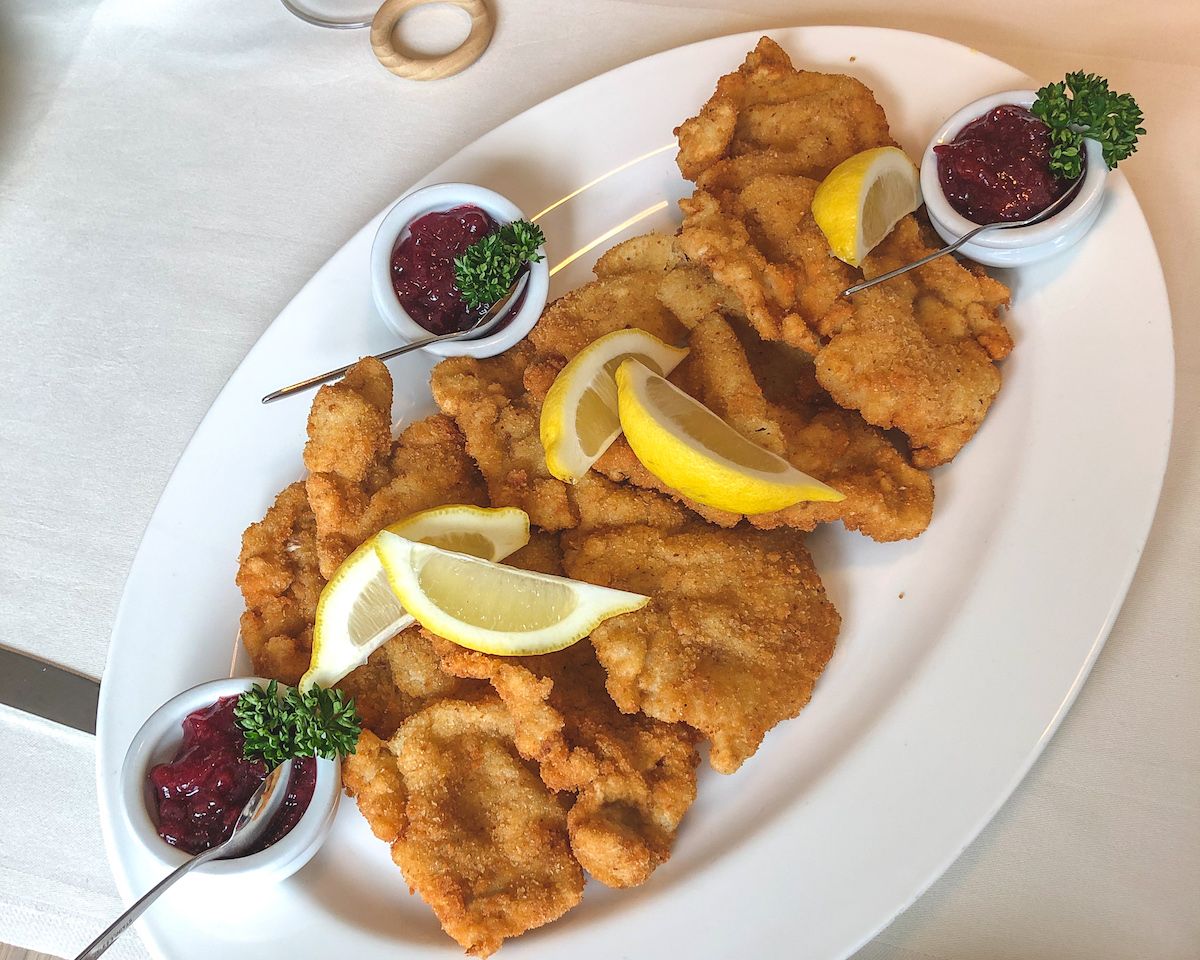 These are our favourite restaurants in Zermatt, each for a unique reason:
Best cafe: Manud. A trendy cafe serving coffee, kombucha, regional wines and tasty bites. Go for their Manud Hot Dog for lunch, or see which guest chef is featured for dinner. This winter 2022 it's Roberto Catra who specializes in Kaiseki cuisine.
Best for the view and atmosphere: Chez Vrony. The perfect lunch spot on the mountainside overlooking the Matterhorn.
Best for fine dining: After Seven. The impressively-designed restaurant has earned itself a Michelin star and takes you on a culinary adventure.
Best for innovative cuisine in a casual atmosphere: Brassiere Uno. New on the scene, the hip restaurant offers a changing 5-course pre-fixe menu focussing on high-quality and organic ingredients.
Best for meat fondue: Schäferstube. The rustic and woodsy restaurant is known for serving high-quality Swiss dishes made from local ingredients. They are one of the only restaurants that let you do a single portion of meat fondue, rather than requiring a 2 person minimum.
Best for cheese fondue: Whymper Stube. Your classic wooden Swiss chalet serving Swiss comfort food.
Best for raclette: Schäferstube. The cozy restaurant serves some of the best raclette.
Best for wiener schnitzel: Sonnmatten. The quaint restaurant serves authentic veal schnitzel during lunch time. It's delicious! If you want schnitzel for dinner, Pinte is also a great spot.
We highly recommend making your dinner reservations at least one week in advance since these places book up.
9. Play tennis on the beautiful Zermatt courts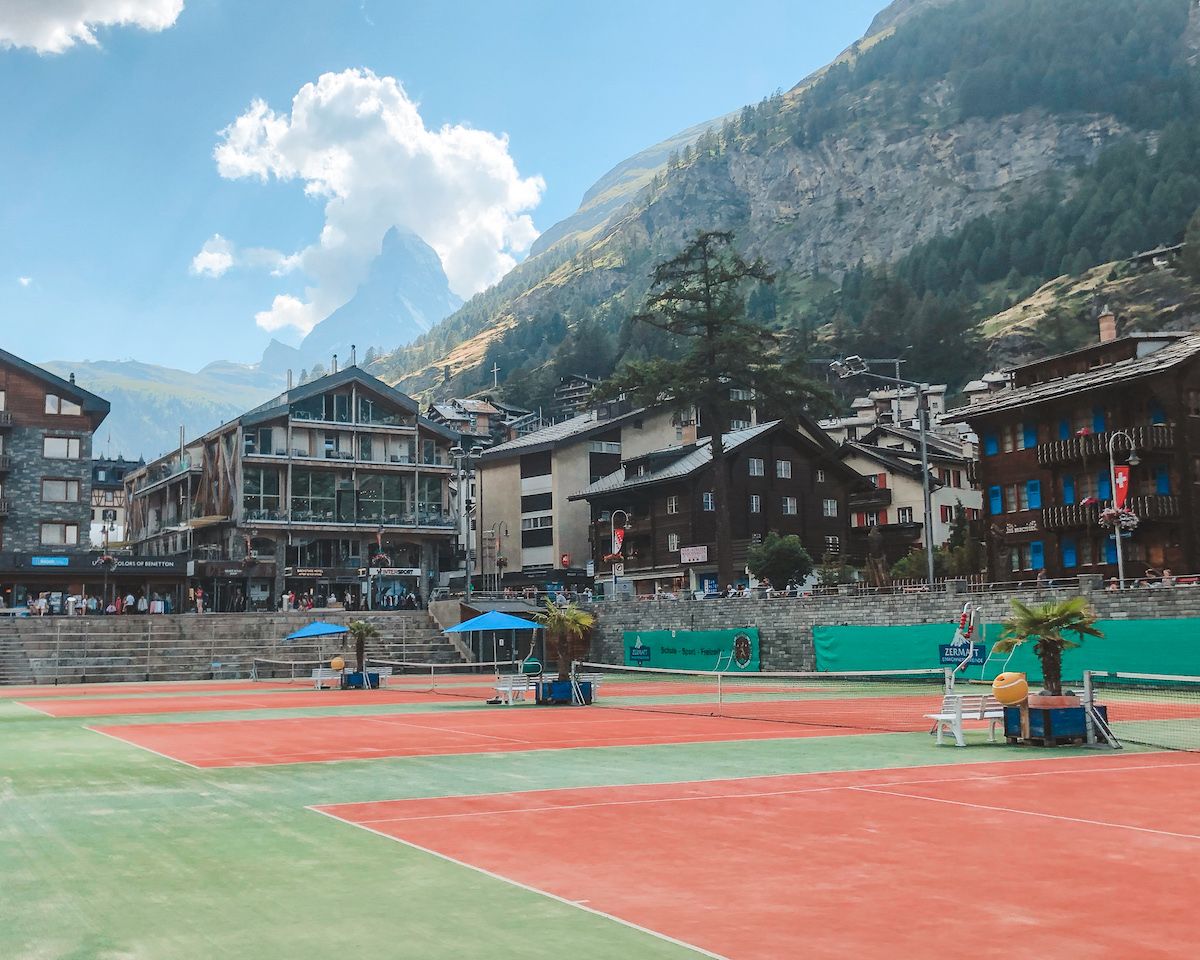 One of the best kept secrets in Zermatt is the public tennis court. Court rentals are 22 CHF per hour and racket rentals for the day are 5 CHF each. We found the courts to be mostly empty and paid for an extra hour since we were having so much fun. Courts and rentals can be booked at Sportspavilion.
10. Try Swiss Wines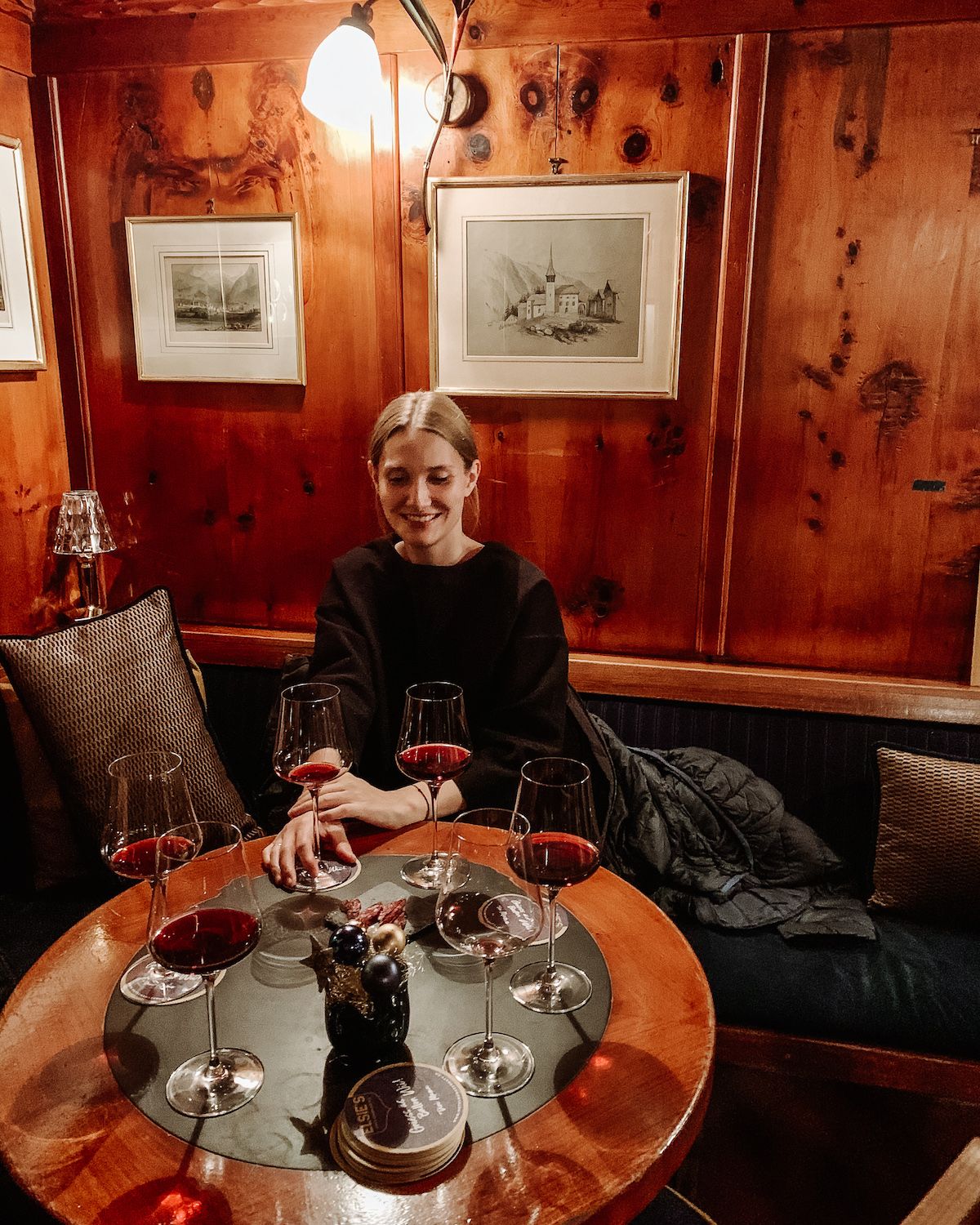 With over 200 grape varieties in Switzerland, there is a whole wine scene to explore. Swiss wines are hard to find outside of the country since they only export 2% of them! Zermatt is located in the canton of Valais, which is the largest wine region of six. Our favourite Valais wines are the Heida, which pairs perfectly with raclette and cheese fondue and the Cornalin, which is goes well with cured meats.
There are two places we recommend visiting to try Swiss Wines: Elsie's Wine & Champagne Bar, a cozy locals' spot, and L' Atelier Grandsire, a patisserie and wine boutique.
11. Go on a panoramic alpine hike to Riffelsee Lake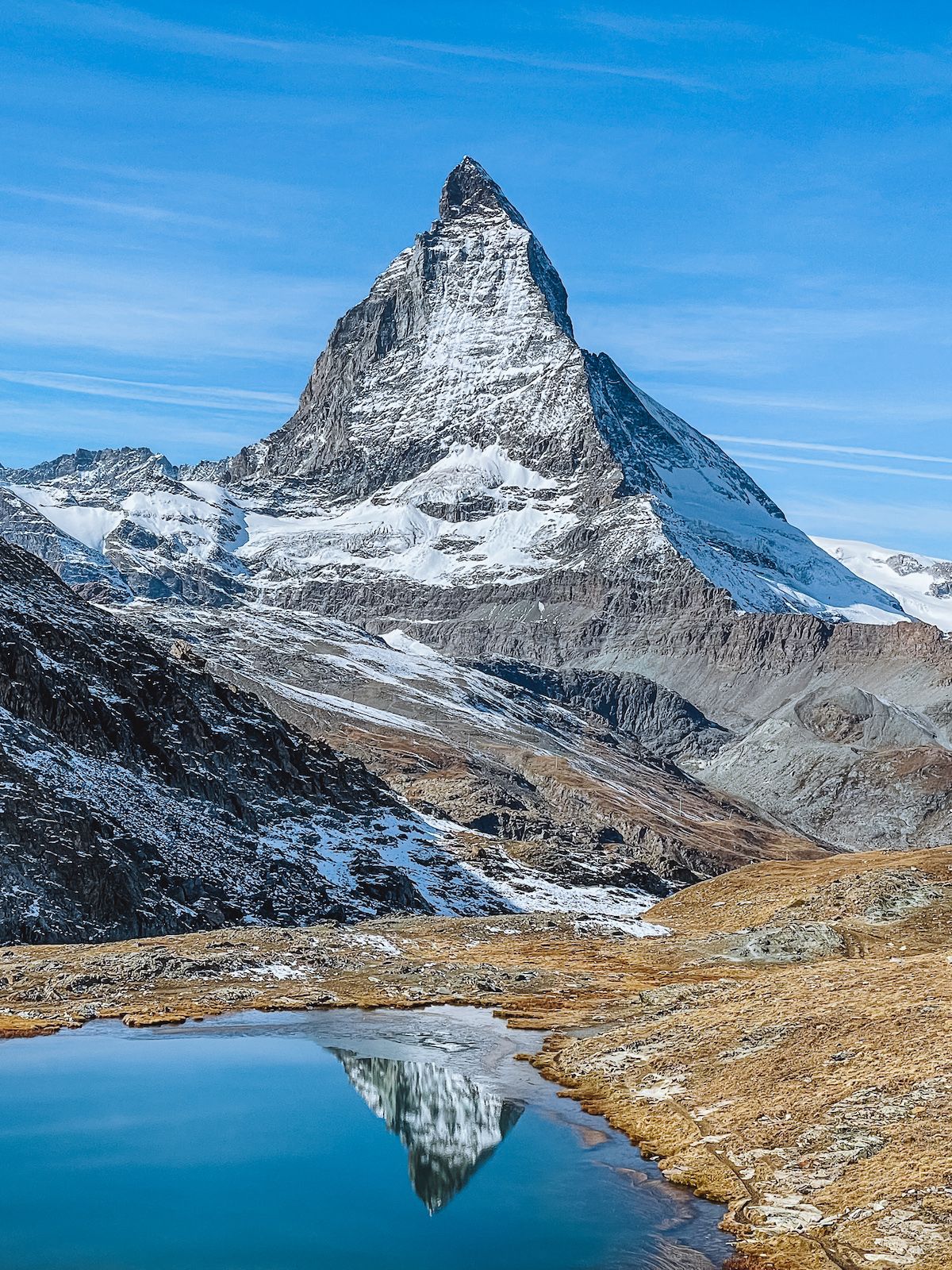 Starting at 2,815 m elevation, this panoramic hike feels the wildest out of the hikes we have listed. The rugged trek takes you on a descent past Riffelsee Lake and along a ridge with marvellous views of the surrounding peaks and Zermatt below. The highlight is seeing the unparalleled reflection of the Matterhorn over Riffelsee Lake.
Your hike ends in Riffelalp, a hamlet famed for the former Riffelalp Grand Hotel that hosted celebrity and high-society guests. The lavish hotel was built in 1884, but sadly burnt down in 1964. Today it has been transformed into a hotel called Riffelalp Resort 2222 m.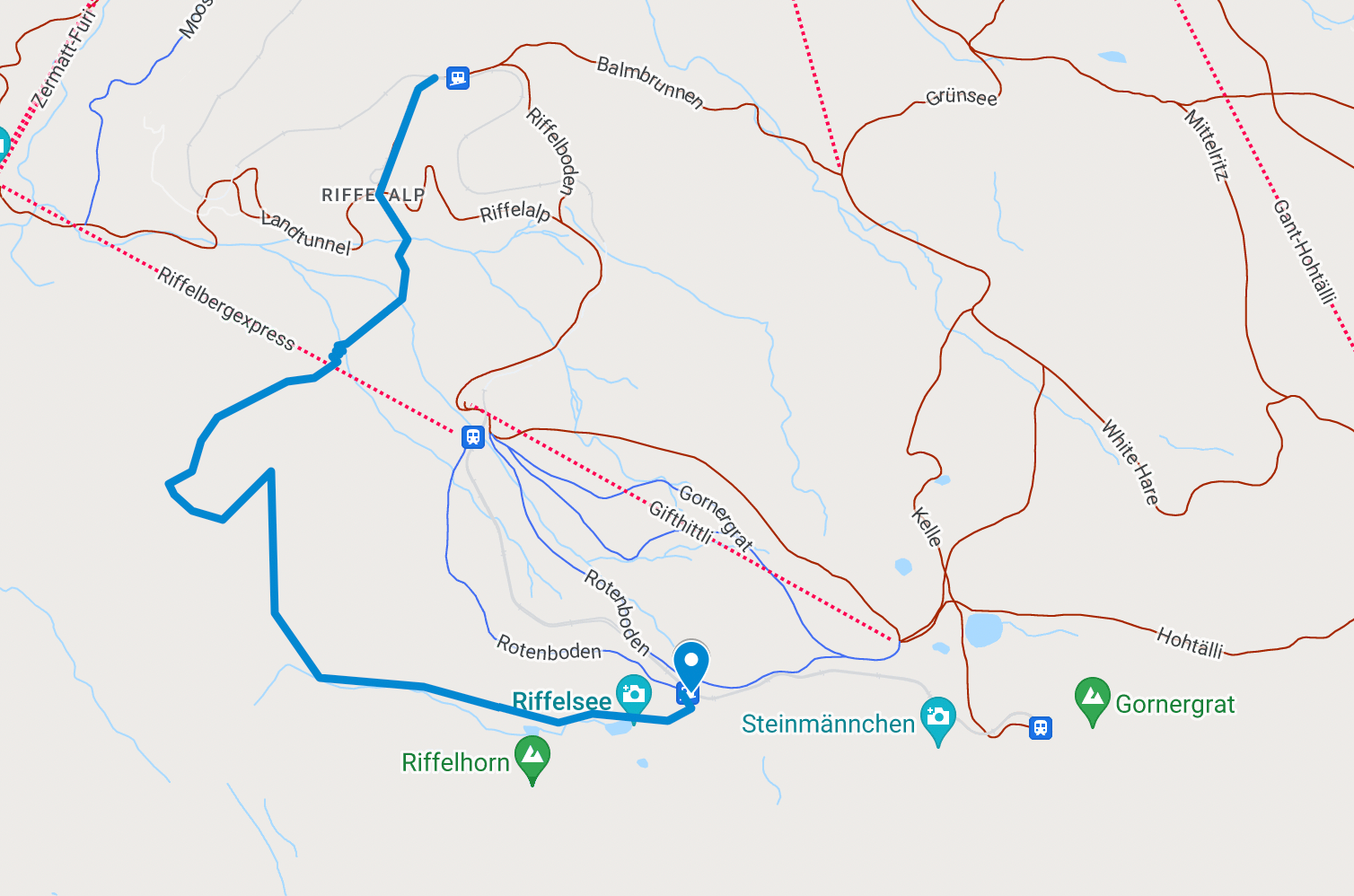 How to get to the trailhead: take the cog railway to the Rotenboden railway station. From there, you will descend about 15 minutes until you reach the scenic Riffelsee Lake. From Riselsee Lake the hike continues downwards towards Riffelalp. From the Riffelalp railway station take the cog railway back down to Zermatt.
The 5.9 km hike is rated as a moderate difficulty and has a total descent of 607 m. Google Maps does not have the full trail, so make sure to follow this trail map instead.  
12. Fully Loaded Experience 🥔✨:  Take a helicopter ride through the Swiss Alps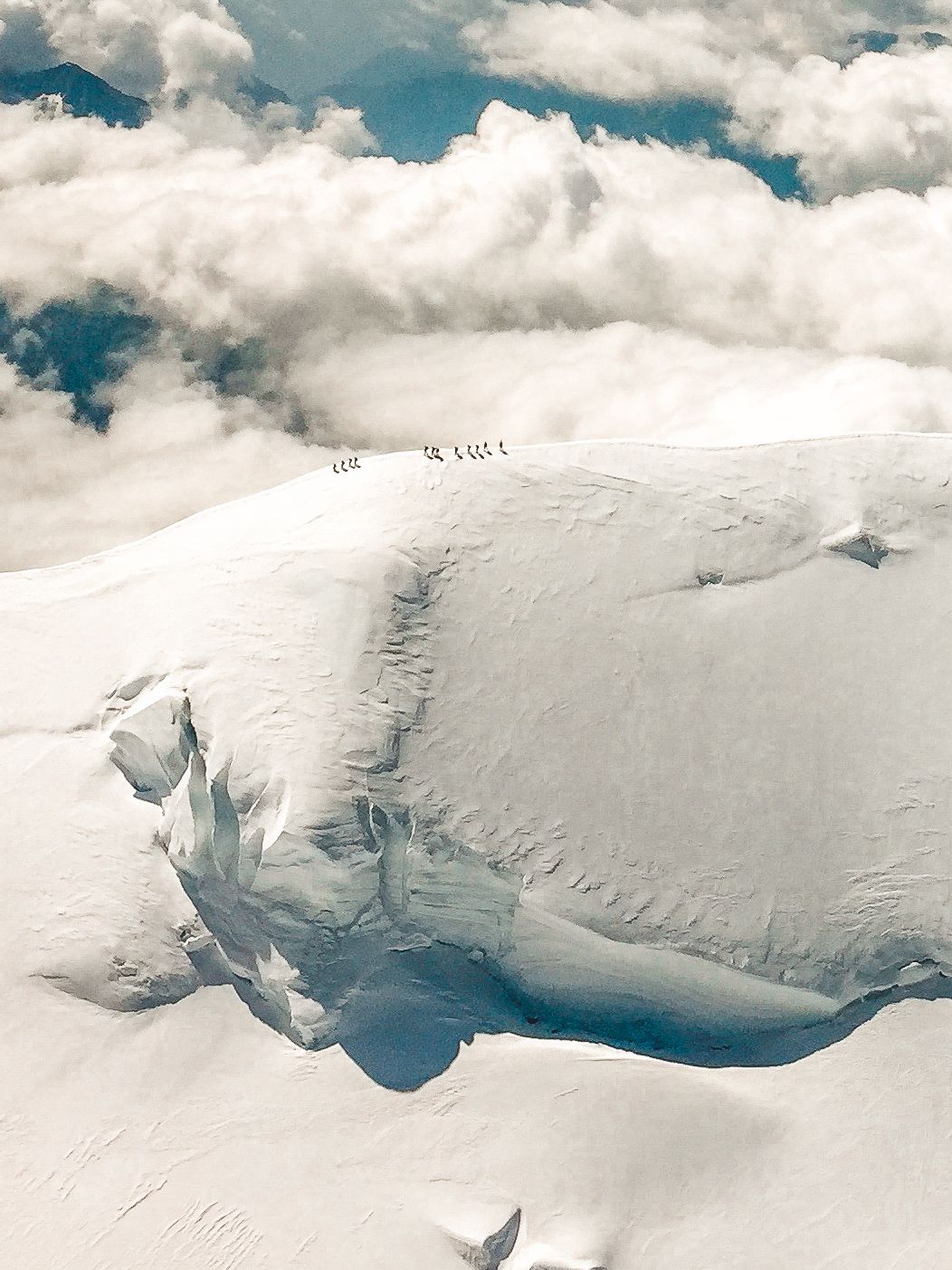 We were in one of those moods, willing to do whatever it took to get more out of our Zermatt experience. A flyer for Air Zermatt was tucked into our hotel welcome book, and after seeing their Valais branded red and white helicopters, we were sold. What better way to experience the mountains than with a helicopter tour?
It was our first time on one of these strange flying machines and liftoff was exhilarating. Try not to view the whole ride through your phone, especially takeoff which you such an amazing feeling. Take in the sights and wave to the brave mountaineers summiting the Matterhorn!
⛰ Browse more adventurous tours in Zermatt through Viator.
---
Start planning your trip to Zermatt
---
Save and pin this Zermatt summer travel guide for later: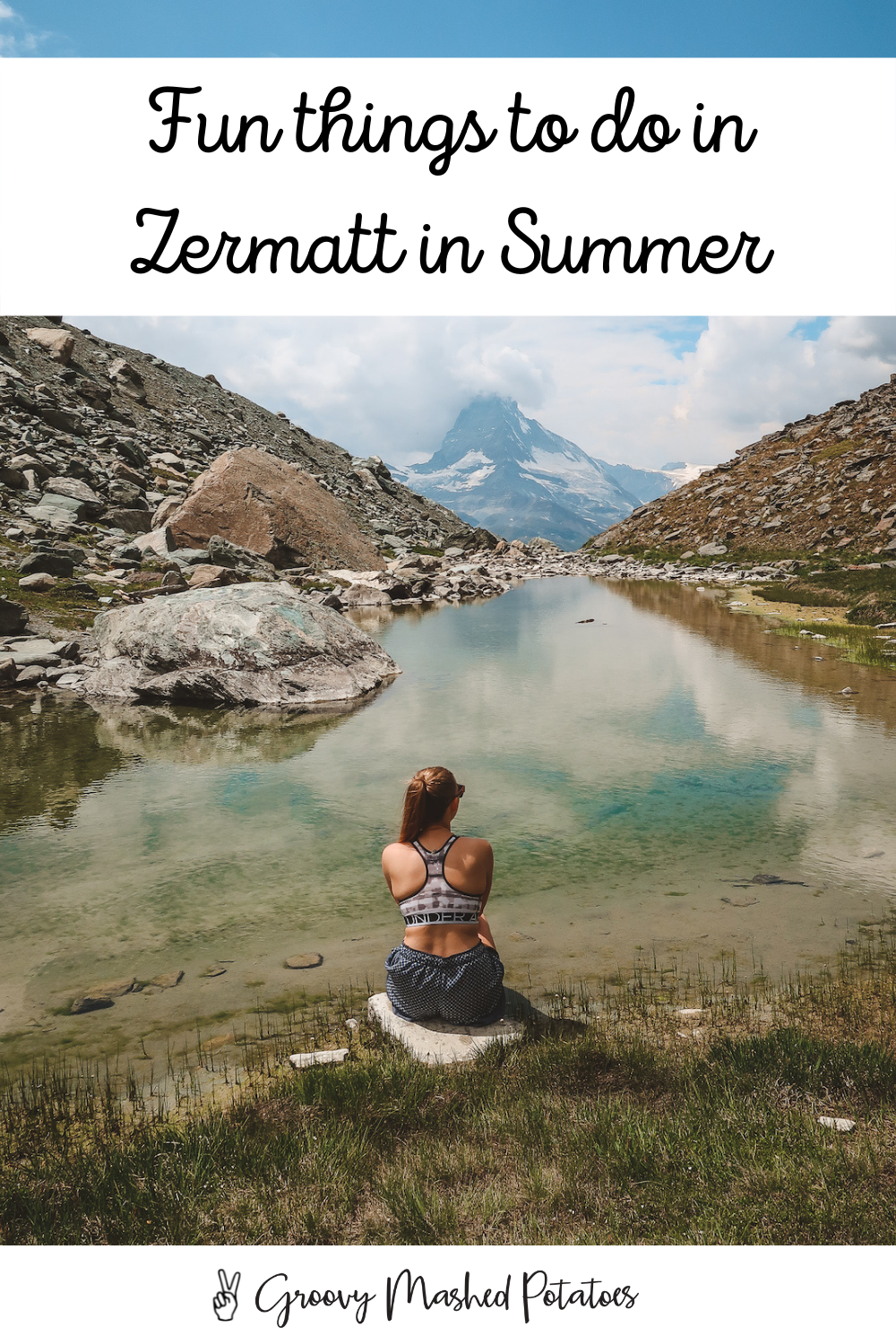 ---
Looking for more travel inspiration? Check out our list of Dreamy Relaxation Trip Ideas and list of Fun Adventure Ideas For Your Next Trip.
Love food? Don't miss our list of Unique Culinary Experiences Around the World.