Horse riding in Kyrgyzstan is an experience we'll never forget. Viewing the gorgeous scenery as we galloped through the mountains and valleys was a highlight. However, at 3500m in altitude, there are some comforts you'll have to give up.
You can trek to Song Kol Lake, also known as Song Kul Lake, by horse or by foot. We list 10 things we wish we knew before our trek.
Song Kol Lake - 10 things to know before you go
1. Shepard yurt camps near Song Kol Lake have no cell reception or power.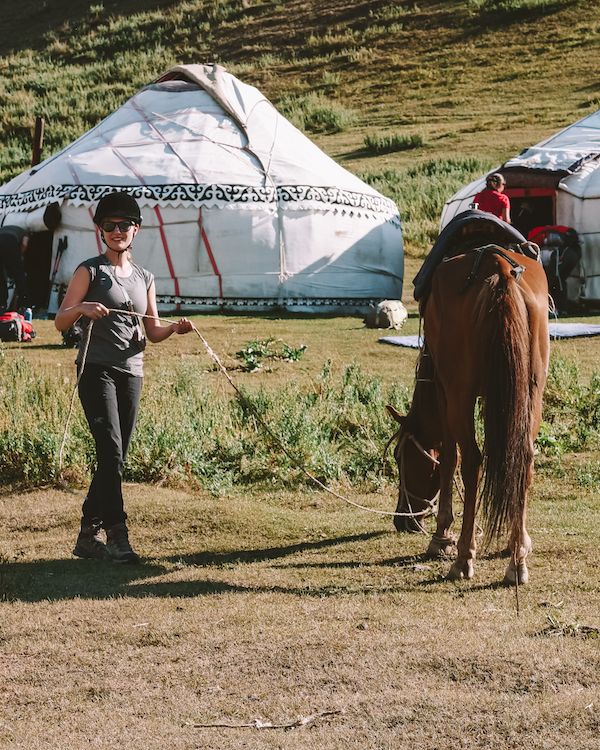 This may seem like a no brainer, but without cell reception and only word of mouth communication from the Kyrgyz guides, tour companies are unable to make reservations for yurts in advance. Yurt camps operate on a first come first served basis. Certain tour companies are loyal to certain camps, but if the first yurt camp is full you'll have to try another along the way.
Make sure to charge all of your items beforehand and consider bringing a power bank. You may be able to charge in the car on the way to the starting point so consider bringing along a car charger and asking your driver for some juice.
2. Prepare to share a yurt with other people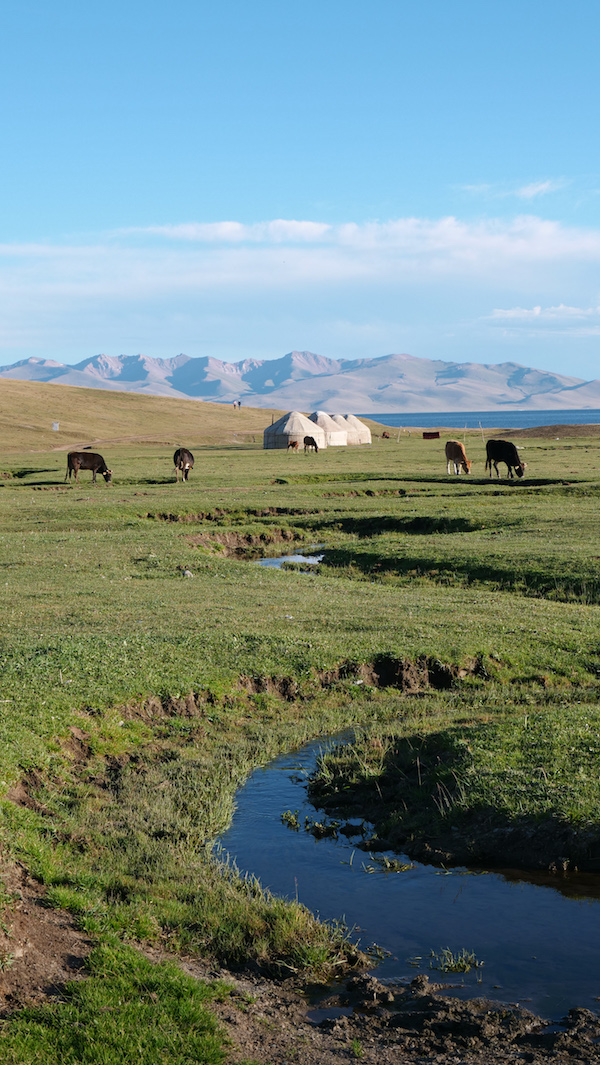 As nomadic Kyrgyzstan yurt camps are limited in size, during high season they'll fit as many people as possible into a yurt. We were 9 to a yurt the first night and 5 to a yurt the second night. Sleeping arrangements are toe to toe, so bring earplugs! They worked like a charm. There are two different types of yurts, commercial yurt setups and authentic shepherd yurt camps. The tour group CBT tend to take you to the Eastern side of the lake with many commercial yurts, whereas the tour company we booked, Kyrgyz Riders, takes you to the authentic shepherd yurt camps that have more open surroundings.
3. 70% of Kyrgystan is 3000m in altitude or above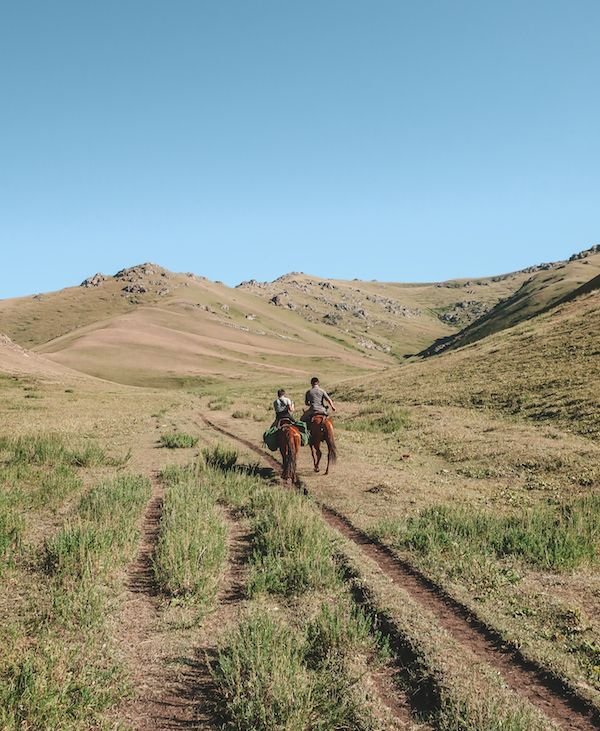 Be careful as you may experience altitude sickness above 2500m. Symptoms include headache, feeling tired, trouble sleeping, and dizziness. Consider asking your travel doctor for altitude sickness pills called Diamox that you can start taking on your trip. They have worked liked a charm for us on our treks in Nepal and Peru. Song Kol lake is at 3016m.
4. If you're not accustomed to riding a horse, you'll likely get super sore.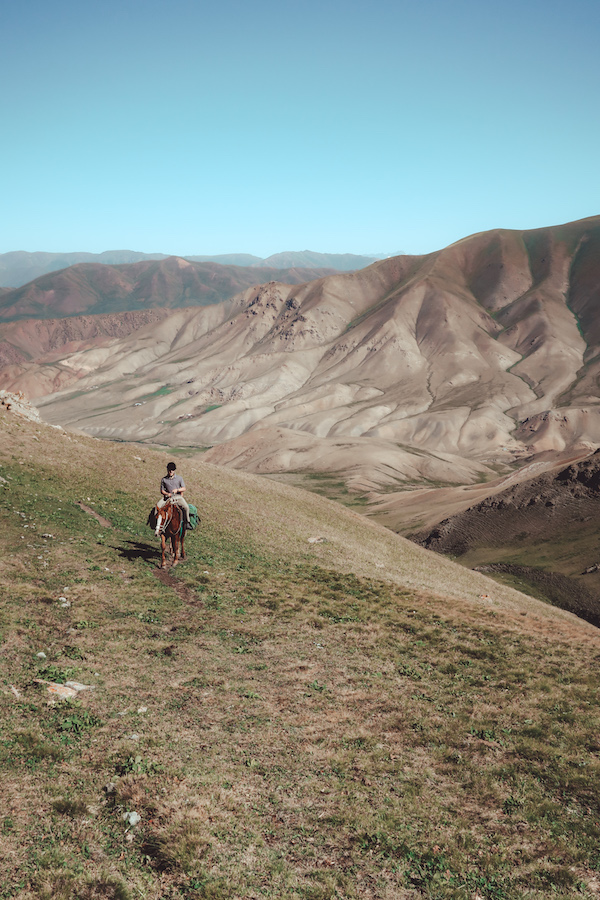 The 3 days of our Kyrgyzstan horse trek was the max our bodies could take! Depending on your riding skill and guide, you may be able to trot or even gallop. We were thrown on our horses in great haste without any instruction. Don't worry, the horse knows where it's going and even a first time horse rider can do this route. Don't hesitate to ask your guide for tips and pointers.
5. Since the yurt camps make all of their own food, you will be eating a lot of the same flavours and dishes.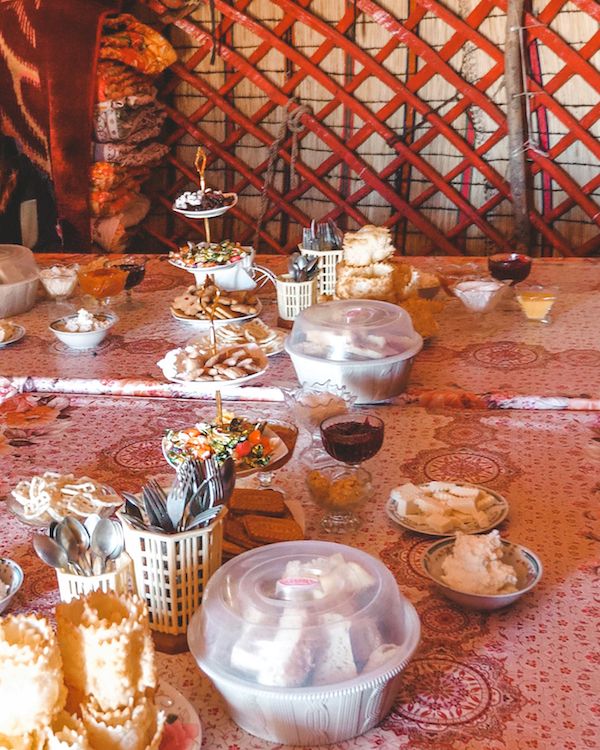 In Kyrgyz culture, eating is a way to spend time together and share stories.
Kyrgyz Food
With all meals there is tea, fresh bread, a selection of jams, and a tray of sweets. Breakfast consisted of either crepes, or porridge (cream of wheat) and occasionally eggs.
Lunch and dinner is usually the same, with a tomato and cucumber salad as the starter followed by a soup for the main course. The soup usually contains a starch such as noodles or potatoes, a few veggies and pieces of beef or sheep.
Dinner is held communally inside a yurt with floor seating and veggie options were available. During dinner people typically speak English and share stories of their travels. If you are offered the fermented horse milk called Kumis, beware. Our guide said every tourist he gave it to got diarrhea from it. He told us that after Ari had a big glass... luckily he didn't.
6. Water is not served with meals, only black tea.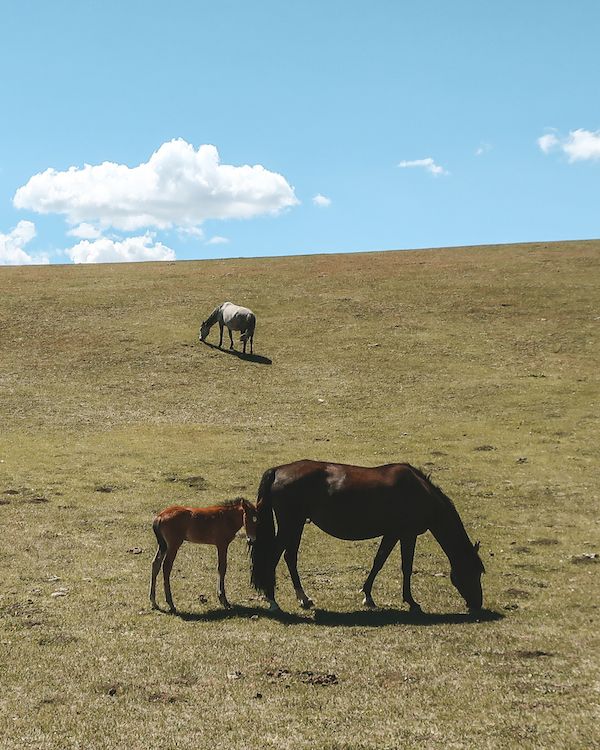 Bring a water bottle and some water purification tablets or a water filter. You can fill up your water bottle at the yurt camp water source. Make sure to ask your guide or host where to fill up. Some obvious points were not safe to drink from so we were glad we asked. Remember black tea has caffeine so if you get to talking at dinner and have a few cups you may be up all night!
7. The outhouses are holes in the ground where you have to squat.
All yurt camps we stayed at in Kyrgyzstan had toilet paper. Make sure to bring a headlamp for your middle of the night visits. Squat down and let 'er rip!
8. Be prepared to hangout around the camp outside of the yurt when you arrive.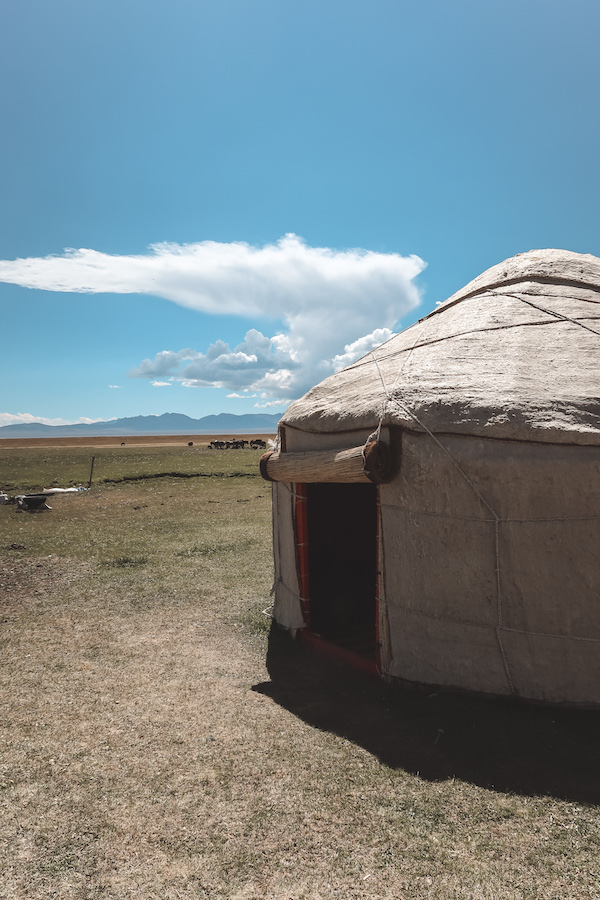 At busy times especially when arriving between 5-7PM when dinner is being prepared don't expect to be shown to a yurt immediately. Beds are set up during dinner time and you will be assigned your yurt for the night. If the camp is particularly busy, make sure to pronounce yourself and group size to avoid confusion when the bed space is being dealt out. We were sent to 2 different yurts on one occasion. When you find your bed, put some article of clothing or a bag on it to "claim it". If you have a guide they should also be able to help you with this process.
9. When being driven around, don't be concerned if your driver pulls off to the side of the road.
It's part of Kyrgyz culture to stop for various reasons, such as helping people out on the side of the road, asking for directions or stopping for a bathroom break. In recent years there as been a crack down on speeding, but in some instances our drivers were winding all over the road and passing in spots where we thought there was no room. Kyrgyz people also do not typically wear seatbelts, you may have to hunt for the belt clip in between the seat. The roads are also not the best in Kyrgyzstan so prepare for a bumpy ride.  
10. In summertime bring your bathing suit to take a swim in the beautiful Song Kol Lake.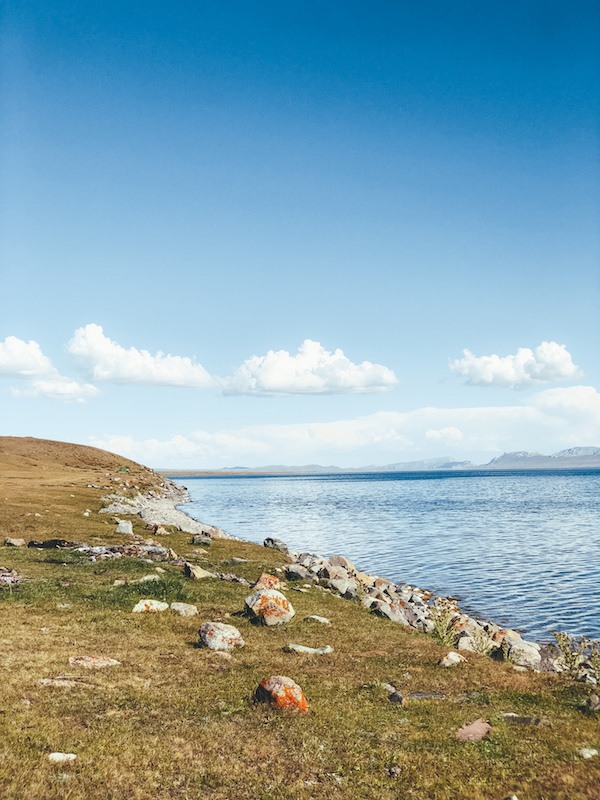 The lake was refreshing and not even that cold!
Check out our 10 Day Kyrgyzstan itinerary and start planning your trip now!
Save and pin this Song Kol Lake Kyrgyzstan guide for later: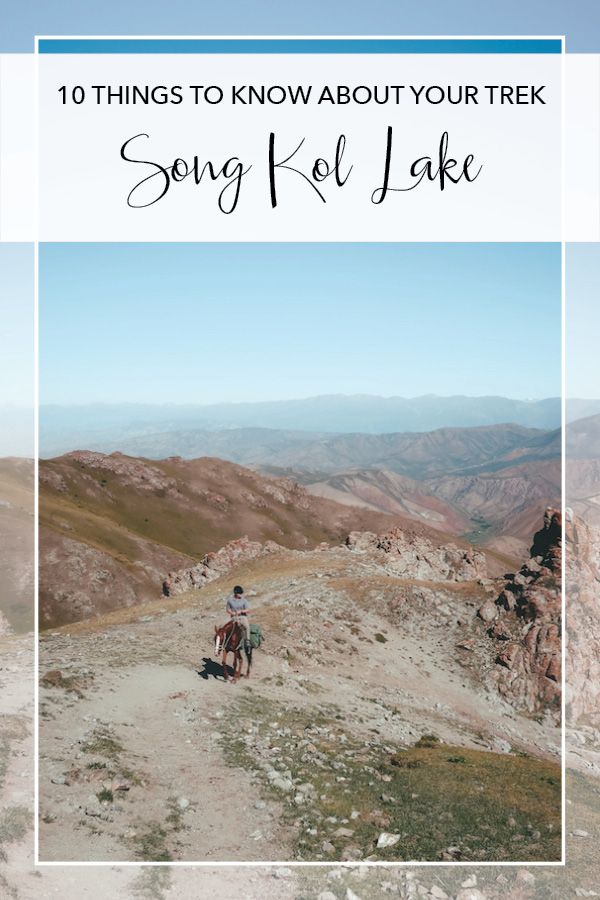 See what it was like in our Song Kol Lake vlog: