When we were planning our around the world trip, we read a Lonely Planet travel book that lists all countries from A-Z and Kyrgyzstan caught our eye. It may be the smallest of the "stan" countries, but the warmth and hospitality of its people and striking natural beauty intrigued us.
After travelling there we can attest to the fact that Kyrgyzstan is an outstandingly beautiful country and its people are incredibly kind. It's a country for the adventure seekers out there. Hiking, horse trekking, 4x4ing in the Tian Shan mountains…there are plenty of outdoor activities to choose from.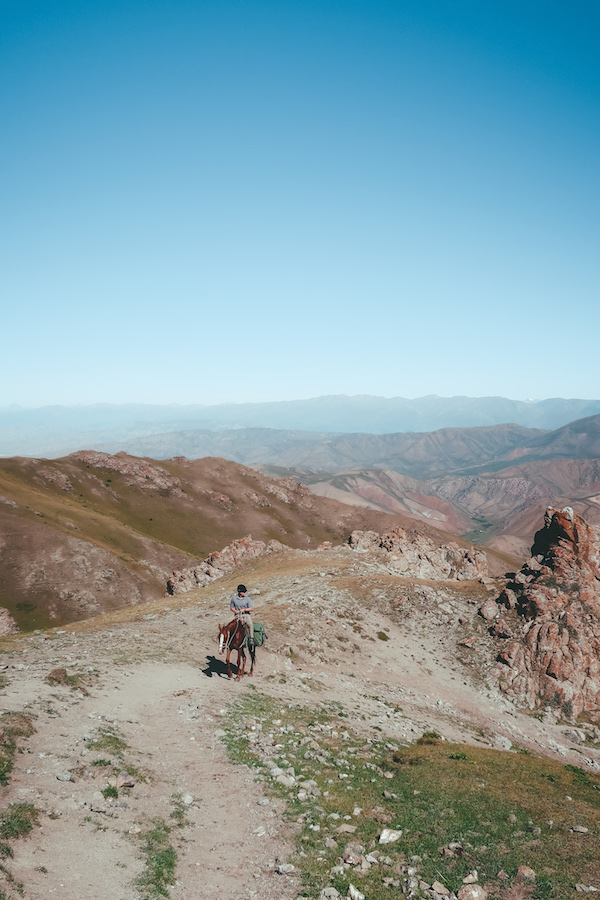 Our 10-Day Kyrgyzstan itinerary will take you on a trek (by horse or foot) to an alpine lake above 3000m, on a 4x4 excursion through the isolated Tian Shan mountains, to a historical inn along the Silk Road and to authentic yurt camps in valleys. Your 10 days in Kyrgyzstan will be filled with once-in-a-lifetime experiences.
Disclosure: Some of the links below are affiliate links, meaning at no additional cost to you, we will earn a commission if you click through and make a purchase. Regardless, we only recommend products or services we have used or that we believe will add value to our readers.
Kyrgyzstan travel guide
---
Best time to visit Kyrgyzstan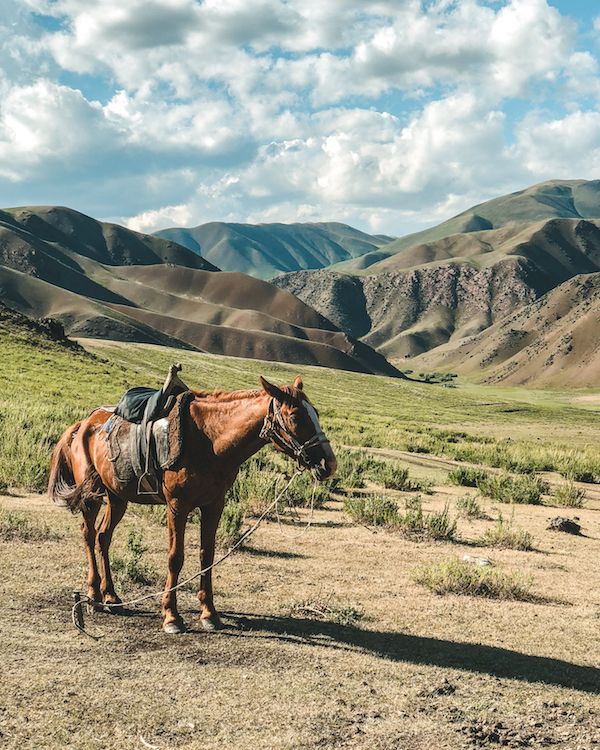 The best time to visit Kyrgyzstan is during summer between June - September. These are the warmest months of the year. Visiting during summer time makes hiking and staying in yurt camps more comfortable, since 70% of Kyrgyzstan is above 3000m elevation. It can get chilly at night!
Traveling to Kyrgyzstan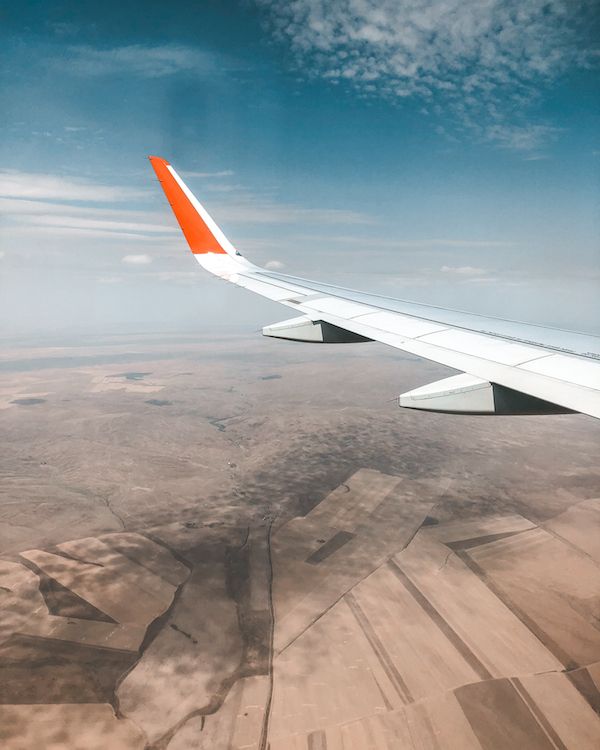 Kyrgyzstan Visa
Kyrgyzstan is visa-free for many countries such as Canada, USA, UK, Japan, South Korea, Singapore and most countries in the EU. This was a bonus, since it was hassle free when arriving at the airport.
Flying to Kyrgyzstan
There are four major airports that fly direct to Bishkek, Kyrgyzstan:
Istanbul International Airport with Turkish Airlines
Sabiha Gokcen International Airport in Istanbul with Pegasus Airlines
Dubai International Airport with flydubai
Sheremetyevo International Airport in Moscow with Aeroflot Airlines
Travel Tip:
if you have a long layover at Sheremetyevo airport in Moscow, you can skip having to apply for a transit VISA by staying at a hotel inside the terminal. We stayed at
Air Express Sheremetyevo TRANSIT ZONE
, which was very convenient. You can book stays from 4 hours to 24 hours.
Getting around Kyrgyzstan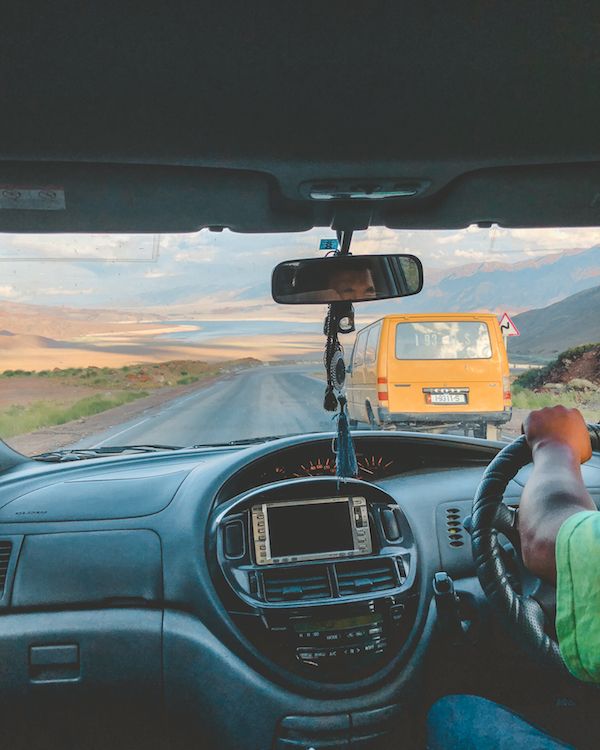 For short distance travel, ask your hotel to call you a metered taxi. Ensure you ask the price up front once your driver arrives, since they usually don't use their meter.
There are different ways to organize long-distance transportation around Kyrgyzstan. The first is through your tour company. If you are not interested in booking a full tour, there are other options:
Booking a private driver through your hotel
This is the most convenient, but most expensive option. We needed to organize transport from Bishkek to Kochor for the starting point of our tour. Our hotel quoted us the price of $80 CAD for the 2.75 hour drive, but we decided to go to the bus station to barter a better price.
Shared taxi or private taxi from the bus station
If you go to the bus station you can barter with the drivers there. There are shared taxis, which you can buy a seat and wait for it to fill up with other passengers, or you can buy out the whole taxi. We were able to negotiate to buy out the whole taxi for 2,500 SOM (~$39 USD) for our 2.75 drive to Kochkor.
Taking a Marshrutka (shared minivan)
The cheapest way to travel around Kyrgyzstan is by grabbing a Marshrutka, However this is the least convenient option, since you have to wait for the van to fill up with people and it makes many stops along the way dropping and picking people up. The van also felt very crammed and hot since there was no air conditioning. It costs around 150 SOM ($2 USD) for a 2-hour ride.
Kyrgyzstan sim card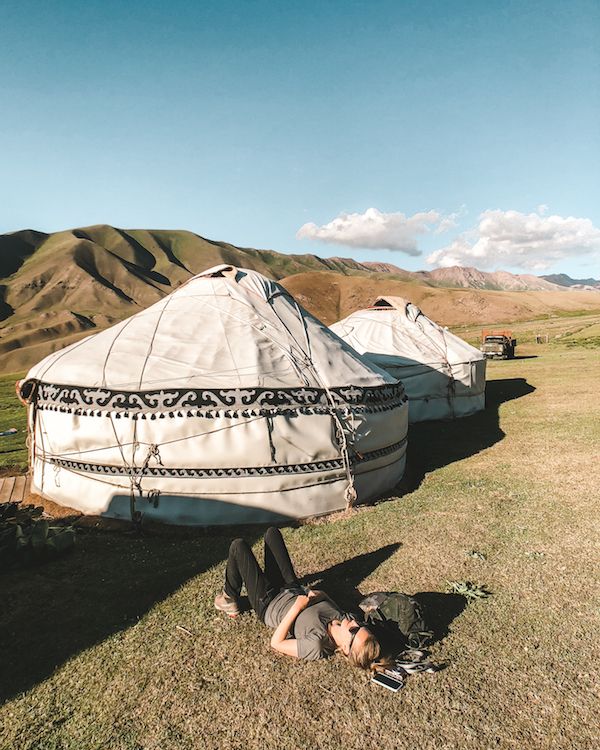 We purchased our SIM cards in the capital city of Bishkek. We were between the companies O! and Beeline. We decided on O! since it was close by, but later regretted it as our SIM cards stopped working after one week even though we paid for two weeks. We also later realized that O! has 3G whereas Beeline has 4G. About halfway through our trip we changed to Beeline SIM cards.
The Kyrgyzstan tour company we chose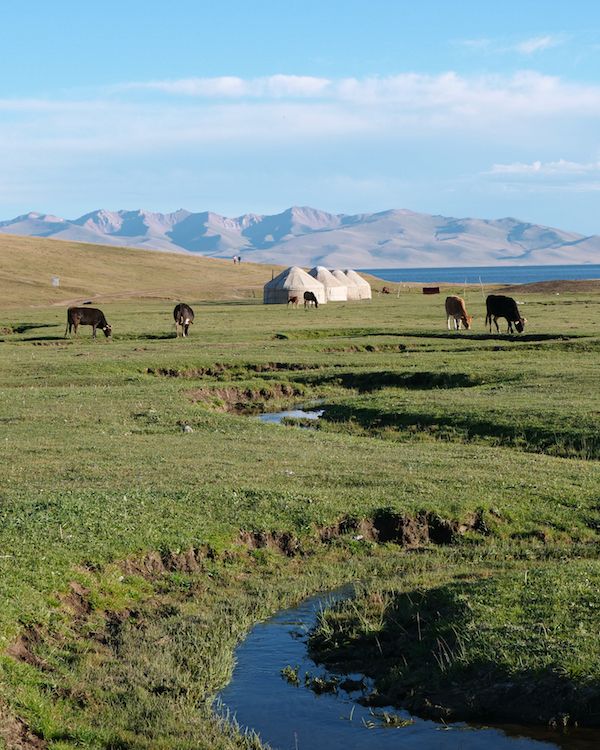 We booked our tour with Kyrgz Riders, since they take you to authentic nomadic yurt camps, rather than the more commercialized yurts. They are also a local company and have great reviews on TripAdvisor. The owner of the company, Aman, is very friendly and speaks good English. We were able to combine our Song Kol Lake horse trek, visit to Tash Rabat, and 4x4 to Kel-Suu into one package. We paid $400 USD per person for a 5-day tour which included all meals. Bring cash!
10 Days in Kyrgyzstan
Day 1: Bishkek
Bishkek, is the capital city of Kyrgyzstan and home to the Manas International Airport. We stayed here for our first night to organize all of our belongings before setting off into the wild.  You should also purchase your SIM card here.  
Best hotel in Bishkek
We stayed in two different hotels in Bishkek and by far our favourite was
Bugu Hotel Bishkek.
It was exactly what we needed after our flight. The central hotel has a modern interior and excellent amenities, such as air conditioning, a rain shower, flat screen tv with HDMI cord, and free breakfast. It's also great value for what you get. We paid $60 USD for one night.
Next door to Bugu is a cute trendy café, Mocco Coffee Bar, where we drank lattes and did some writing. We finished off our night with Netflix, a bottle of wine, and some snacks.
Best spa in Bishkek
We enjoyed getting spa treatments at Mystic Spa, which has good reviews on TripAdvisor. The massages were an excellent price and started from $17 USD for a one-hour classic massage. We booked the 90-minute honey massage and were satisfied with our treatment.
Day 2: Kochkor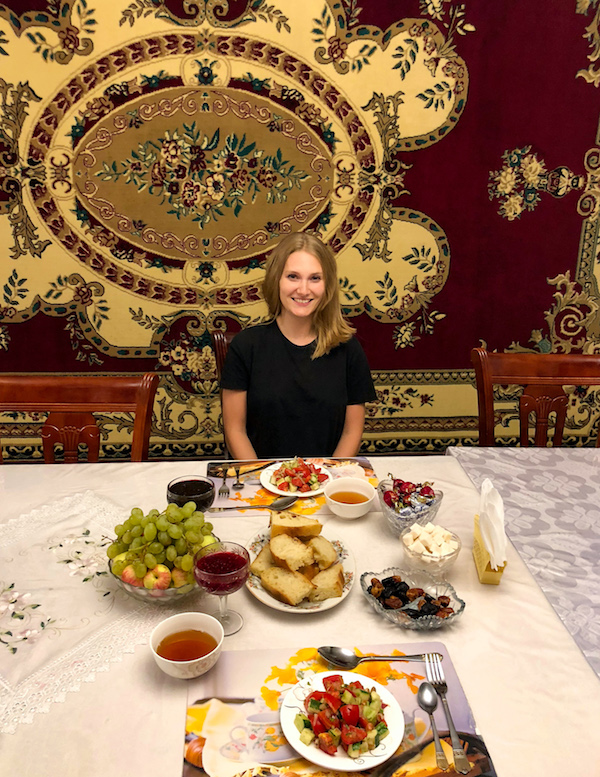 Kochor was the starting point of our 3-day horse trek to Song Kol Lake. We hired a private driver from the bus station to take us there from Bishkek. We stayed one night in a guesthouse before being picked up by our tour company the next morning. We enjoyed spending a night in the town and getting a glimpse of Kygyz culture.
Where to stay in Kochkor
We stayed at
Guesthouse Nur
, which is a lovely homestay in Kochkor. We had a home-cooked Kyrgz meal and a good night's rest. The price was $22 USD for a private room for two people.
Day 3 & 4: Trek to Song Kol Lake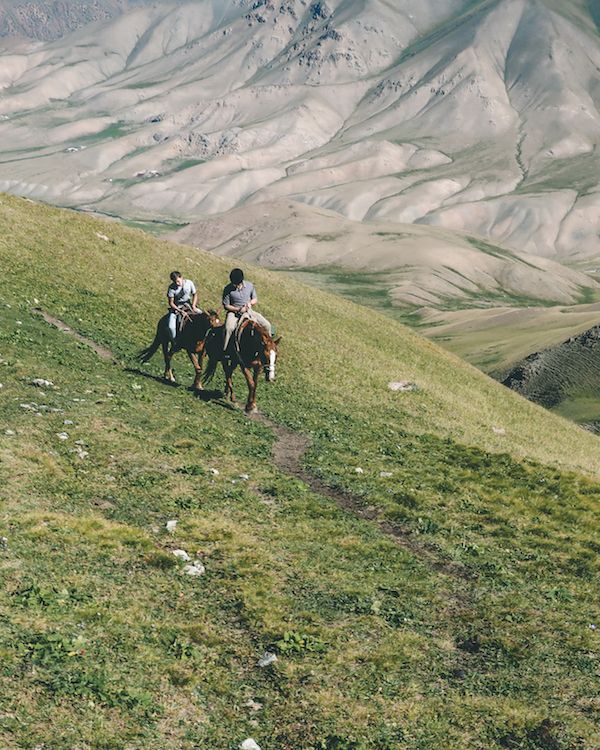 Song Kol Lake (or Song Kul Lake) is an alpine lake surrounded by high mountain pastures where shepherds graze their livestock and live in yurts. It's situated at 3016m and can be reached by either hiking or horse trekking. We chose to ride horses and had so much fun!
The scenery as we rode our horses through the mountains and valleys is something we'll never forget. Once we saw our first glimpse of Song Kol Lake at the top of a mountain, we couldn't believe its striking beauty. If you've never ridden a horse before, have no fear. The horses are friendly and are well trained. If you're a more experienced rider, your guide will let you trot and gallop through the meadows! We saw herds of horses, cows, and sheep running through the hills. Each yurt camp we stayed at also had a friendly dog and kitten to play with.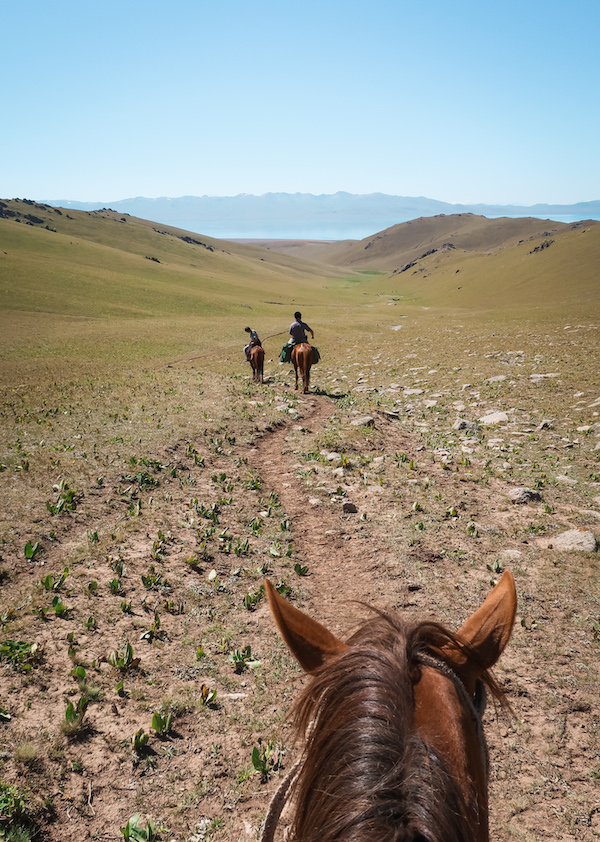 Since most of the trek is around 3000m in altitude there are some comforts you'll have to give up. For example, the yurts are shared rather than private accommodation.  Make sure to check out our article on 10 things to know before your trek to Song Kol Lake to see if this trek is right for you.
Check out what it was like in our Kyrzgystan vlog of Song Kol Lake!
Day 5. Visit Tash Rabat along the Old Silk Road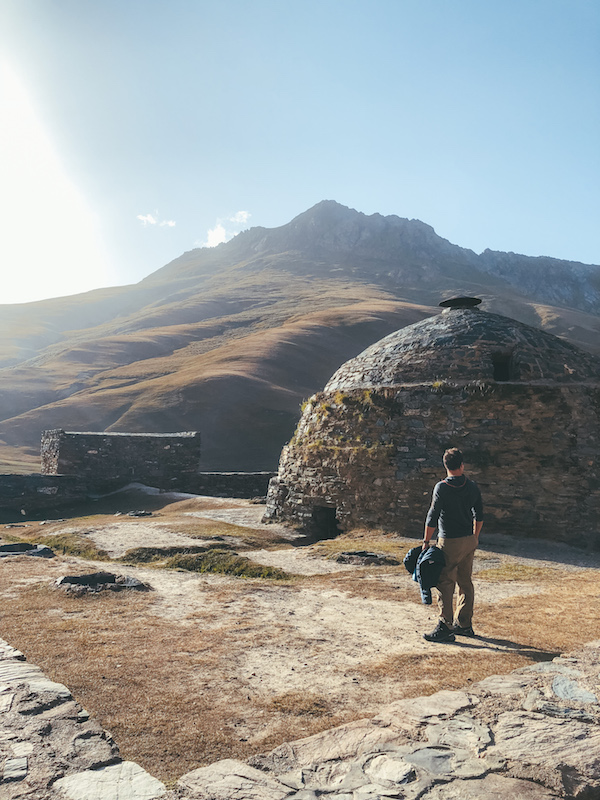 On the third day we dropped our horses off at a yurt camp along the lake where a 4x4 vehicle and driver were waiting for us. Our next destination was Tash Rabat, a 15th century stone historical inn along the Old Silk Road, an ancient network that connected the East to the West. After staying the last two nights in shared yurts, we were delighted to have our own private room at the yurt camp nearby.
Day 6 & 7: 4x4 through the Tian-Shan mountains to Kel-Suu Lake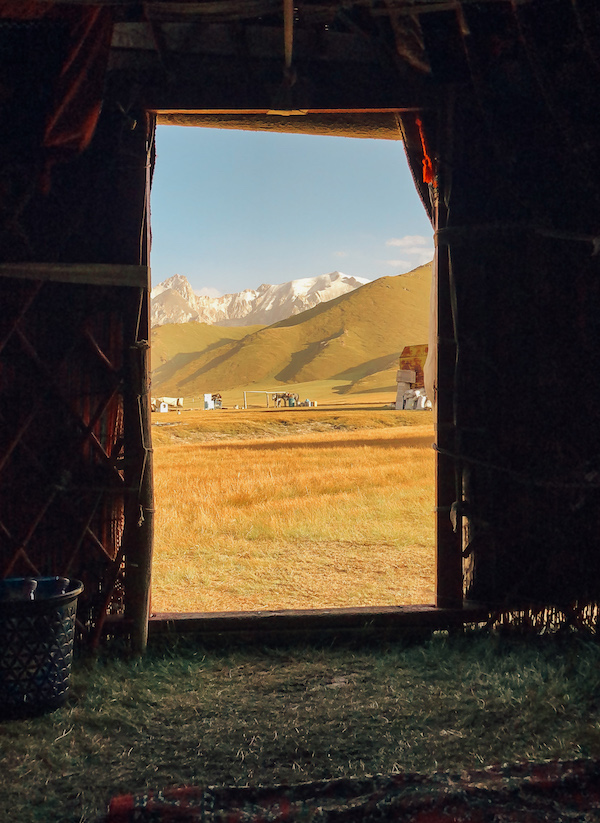 The next morning, we had a long 7-hour drive ahead of us. To our surprise it went by quickly as we were excited to discover the Tian-Shan mountain range. Kel-Suu Lake is on the border zone between China and Krygyzstan, so you need a permit to be able to drive through the area. Kyrgyz Riders organized the permits and we just needed to have our passports ready at the two border crossings.
Kel Suu is a bright blue glacial lake located inside a canyon, however we were unlucky as the lake had a rare dry spell during August and was almost completely dried up! Our tour agency let us know of this beforehand, but we were happy we chose to go anyway. It was completely stunning in the region and one of the best parts of our stay in Kyrgyzstan. Once we arrived at our yurt camp, we decided to rent horses for the trek up to the lake. We recommend going to the lake in the morning to have the best light.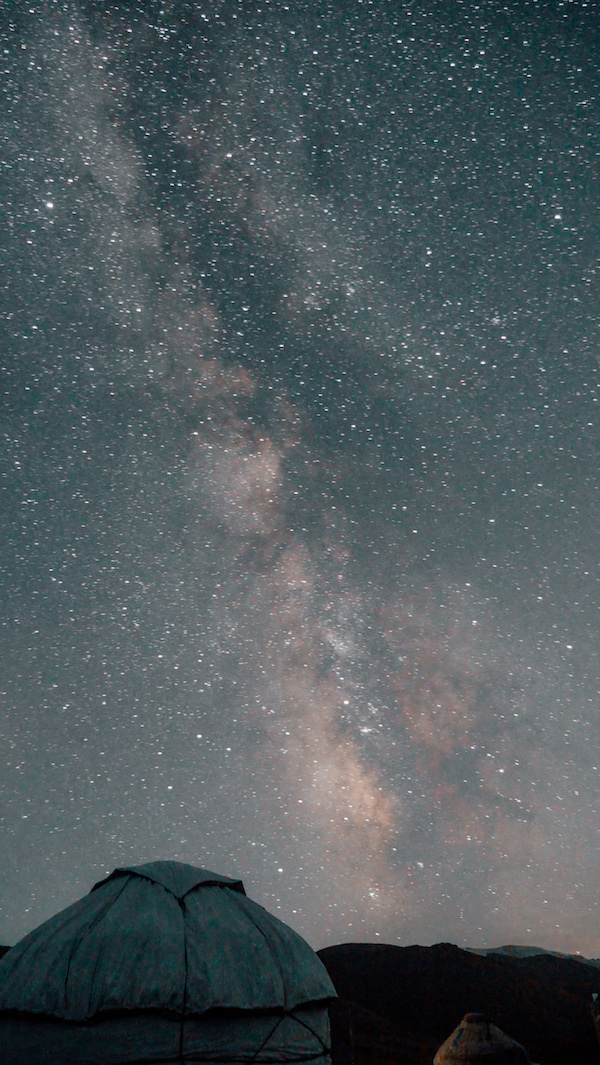 Jyrgal's Yurt Camp is set in a remote area and offers private yurts. At night time it gets a bit chilly, so the owners light up the stove inside to keep you toasty warm. Once it got dark, we stepped outside and saw the brightest stars we've ever seen in our life. The arid conditions, high altitude, and remoteness make for great star gazing.
We only stayed one night in Kel-Suu, but wished we stayed an additional night.
Check out what it was like in our Kyrzgystan vlog of Kel-Suu Lake!
Day 8 & 9: Relax at Issyk-Kul Lake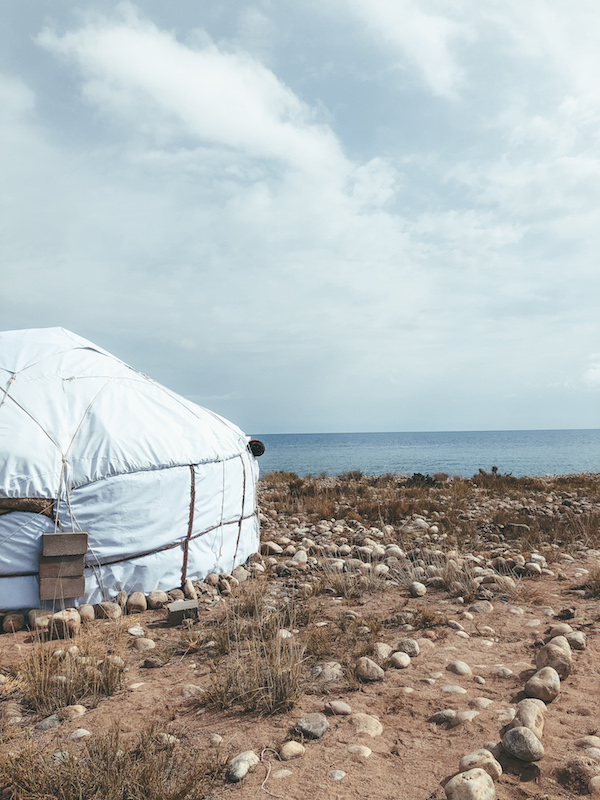 On the last day of our tour we were dropped off at
Bel-Tam Yurt Camp
in Bokonbeyo. We chose this yurt camp as it was situated right along Issyk Kul Lake, the second largest alpine lake in the world. However,
by this point we were ready to stay in a guesthouse or hotel, since we had spent the last 4 nights in yurts
. The lake is a must see, but you may want to consider staying at a place with more amenities. You'll likely want a hot shower after a physically demanding tour!
Day 10: Bishkek
After 8 days of Kyrgz cuisine, we couldn't stop day dreaming about North American fast food. We were ecstatic when we found out Bishkek had a KFC. Once we arrived at our hotel we ran out the door as fast we could. We stuffed our faces with tons of fried chicken and it felt as satisfying as dining at a Michelin Star restaurant.
I went a little overboard and organized a 5-hour spa package at Mystic Spa. I got a 2-hour massage, facial, and shellac manicure & pedicure. Each treatment was excellent and a great close to our eventful trip.
You could also choose to fly out this day rather than stay in Bishkek, if your flight leaves in the evening.
If you want to know more about what it was like to visit Kyrgyzstan, read our Kyrgyzstan travel blog article about our travels through the country.
Save and pin this Kyrgyzstan itinerary for later: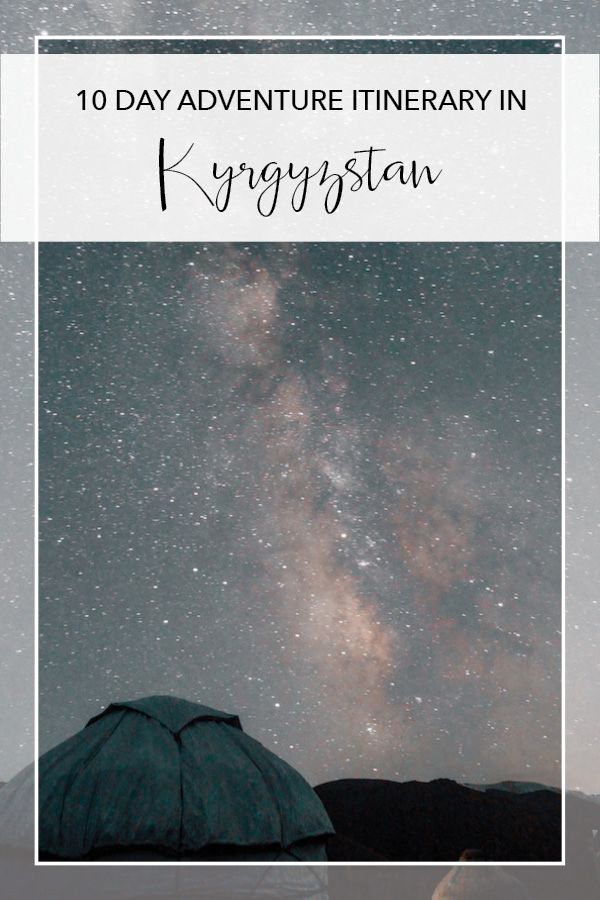 ---
Looking for more travel inspiration? Check out our list of Unique Adventure Ideas and Unique Cultural Experiences to inspire your next trip.
If you liked this itinerary, you may also like our One Week Morocco Itinerary for Adventure, Culture & Nature.