The W Trek in Patagonia is one of the most beautiful hikes in the world, but it also happens to be one of the most confusing to book. We trekked the 5-day W Circuit in Torres del Paine without a tour and learned a lot along the way. We list our top tips for hiking the W Trek without a guide and what you should know before you go.
If you're planning your W Trek, don't miss our comprehensive guide and itinerary with the best route.  
17 Tips for Hiking the W Trek in Patagonia Without a Guide
1. Book campsites in advance to make sure you get what you want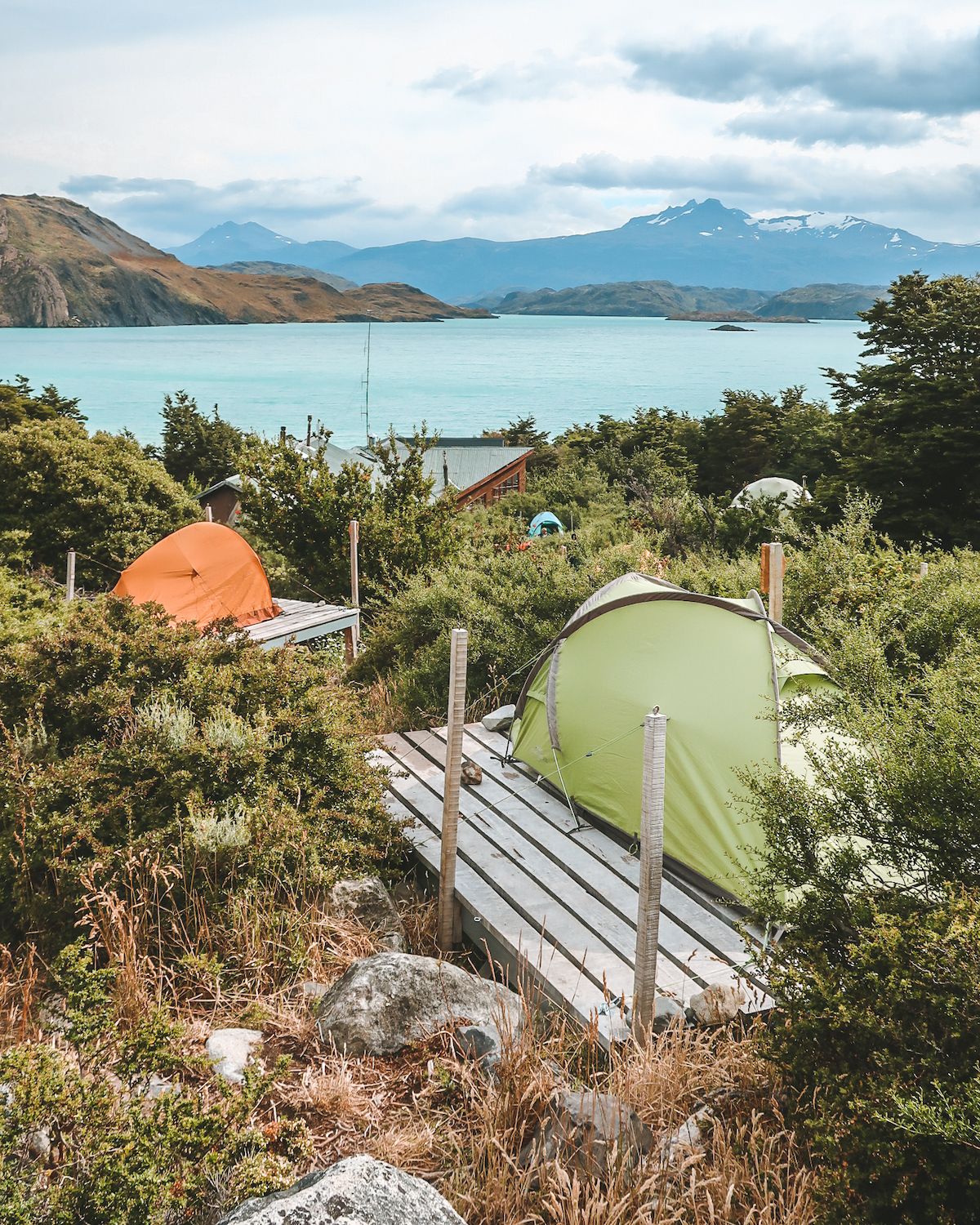 Beautiful and strategic sites (refugios) like Glacier Grey and Chileno book up fast. Bookings for next year's season open around the middle of May. For example, bookings open in May 2020 for the November 2020 - April 2021 season.
Message the camping companies, Vertice and Fantasticosur, directly in advance and ask if they can email you once it opens up.
Booking directly and planning your own route is the most cost efficient way to go! If you're really late and in a rush, contact
local tour operators
in Puerto Natales and they may be able to book sites for you even as late as 2 months out.
2. Book your camping gear in advance
Erratic Rock doesn't take advanced reservations and has become very popular so don't count on getting your gear the night before your trek like we did. There were no tents. Panic! We ran over to
Rental Natales
and luckily found a two-person tent that arrived just moments before we got there.
Rentals Natales has online reservations and they wash their sleeping bags after every use.
Rental Natales Address: Bernardo O'Higgins 662-A, Puerto Natales
3. Bring waterproof dry bags for all of your belongings in your backpack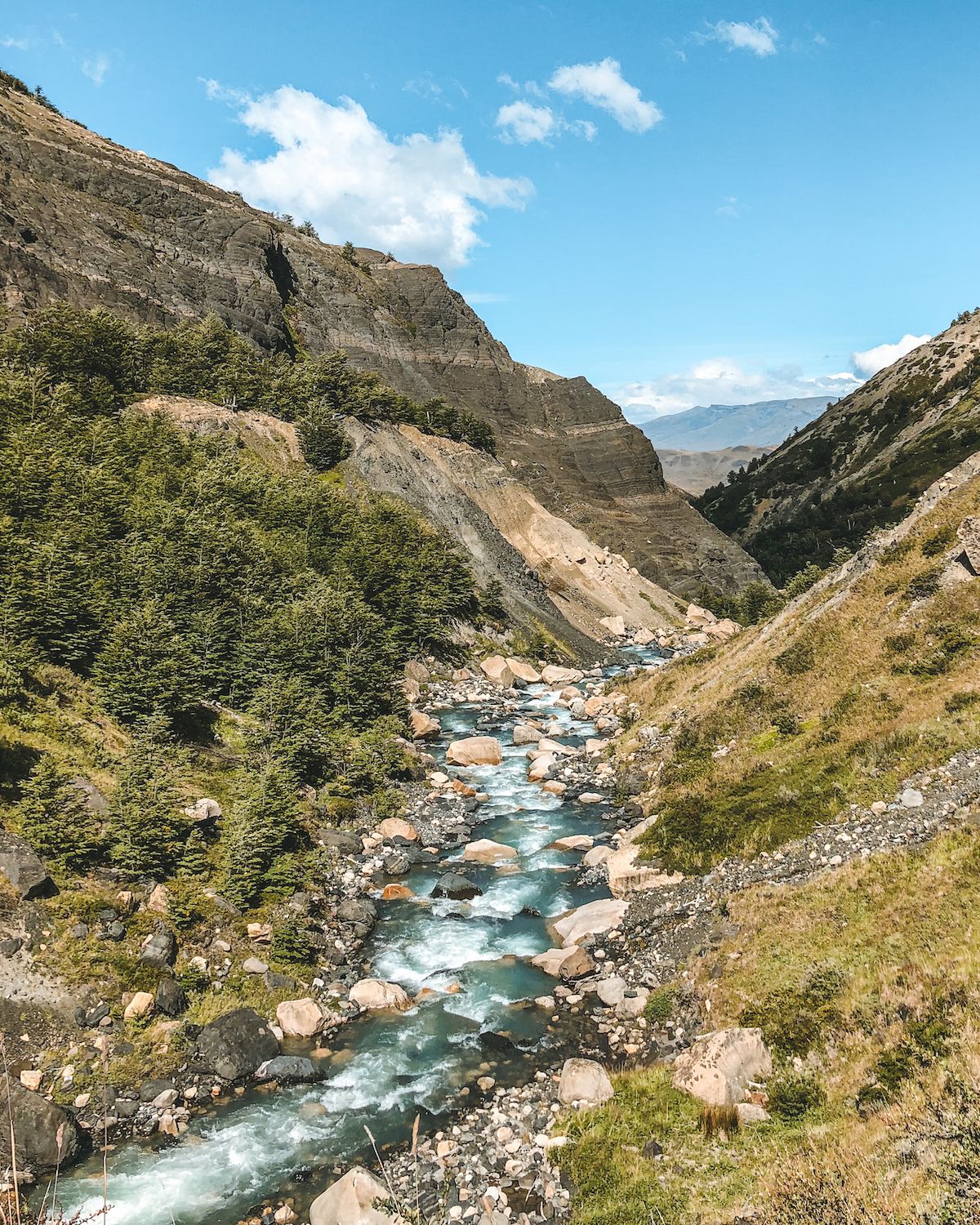 The weather in Torres Del Paine National Park is crazy and can change at any second. We were going to buy rain covers for our backpacks but were advised against it since the wind is so strong they act as parachutes and blow off.
Instead use Dry Bags to keep all your gear inside your backpack dry.
Sea to Summit
is our favourite brand.
If you arrive and need a quick fix dry bag - garbage bags will do the trick! We needed to cover up our bulky foam mattresses and the garbage bags worked perfectly. Take an extra in case one rips and for garbage.
4. You can charge your devices at most lodges, but there are limited plug ins
We found we could charge our camera batteries and phones in the refugios while we ate dinner, however it's good to have a
power bank
as a back up.
See our article on W-Trek Camps and Refugios: Ranked and Rated
5. Get a direct flight from Santiago to Puerto Natales
Many people fly to Puntas Arenas, but it is a four hour drive to Torres Del Paine compared to two hours from Puerto Natales.
Taking a taxi from Puerto Natales airport into town is also easy. The fare is a flat rate of 7000 CLP (~$9 USD) for the whole car, not per person. The drivers know all the hostels.
6. Stay at Treehouse Hostel when you arrive in Puerto Natales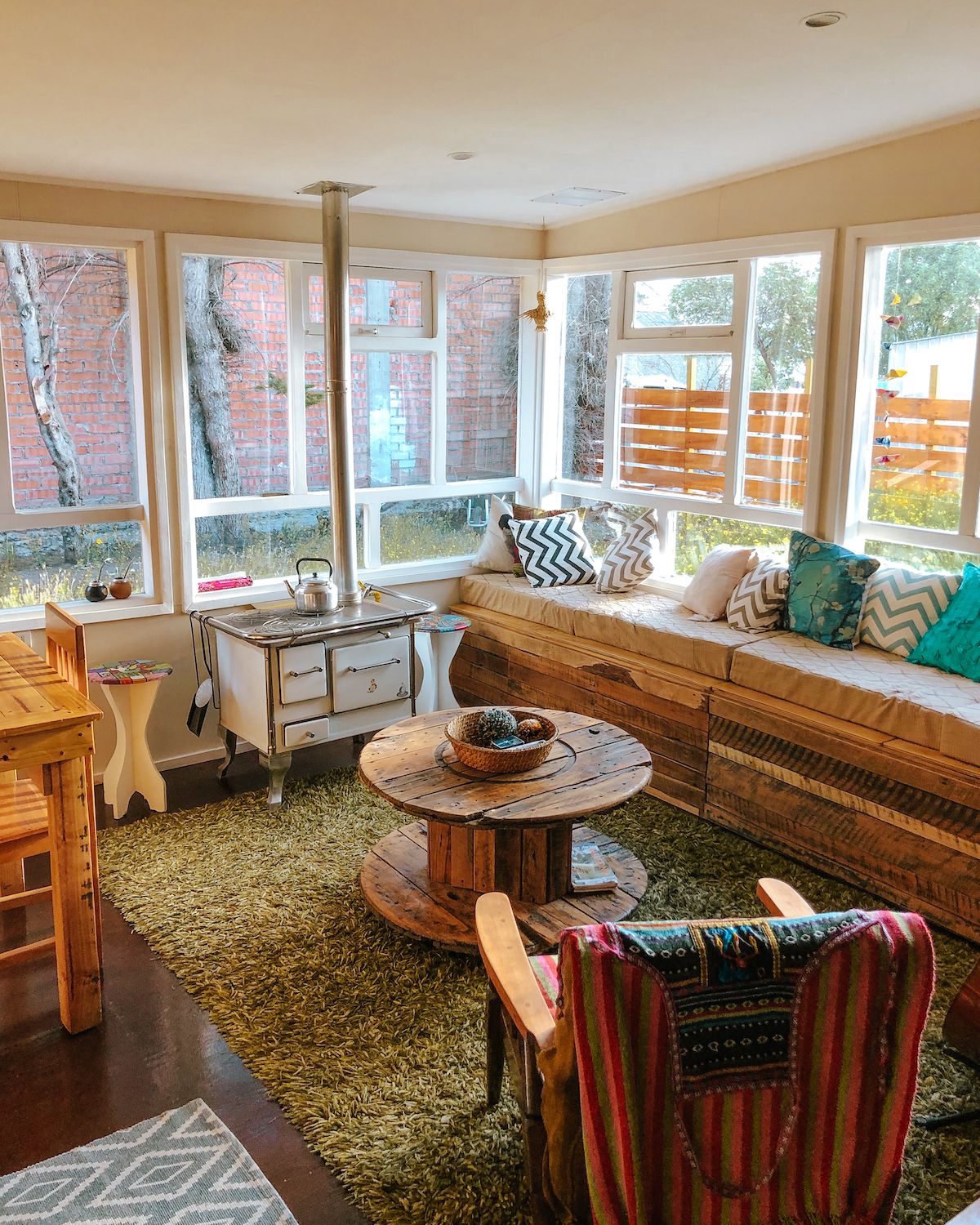 Treehouse Hostel
is a nice place where you can keep your bags for free in big wooden lockers. All you need is your own lock. A free self-serve breakfast is set up early for people taking the 7 AM bus.
Browse more stays in Puerto Natales
7. You can purchase full board meals for each campsite that includes dinner, breakfast, and a lunch bag
The lunch bag usually consisted of a sandwich, Nature Valley bar, juice box, nuts with dried fruit, chocolate bar and a piece of fruit. You can also buy a-la-carte meals. At our favourite Refugio, Los Cuernos, they even had lasagna, burgers and a charcuterie board!
Dinners were hearty and all came with a big piece of meat. Breakfasts were all served with eggs and toast. Make sure to state if you are vegetarian.
8. Most lodges take credit card for snacks, food, and drinks but the Catamaran is cash only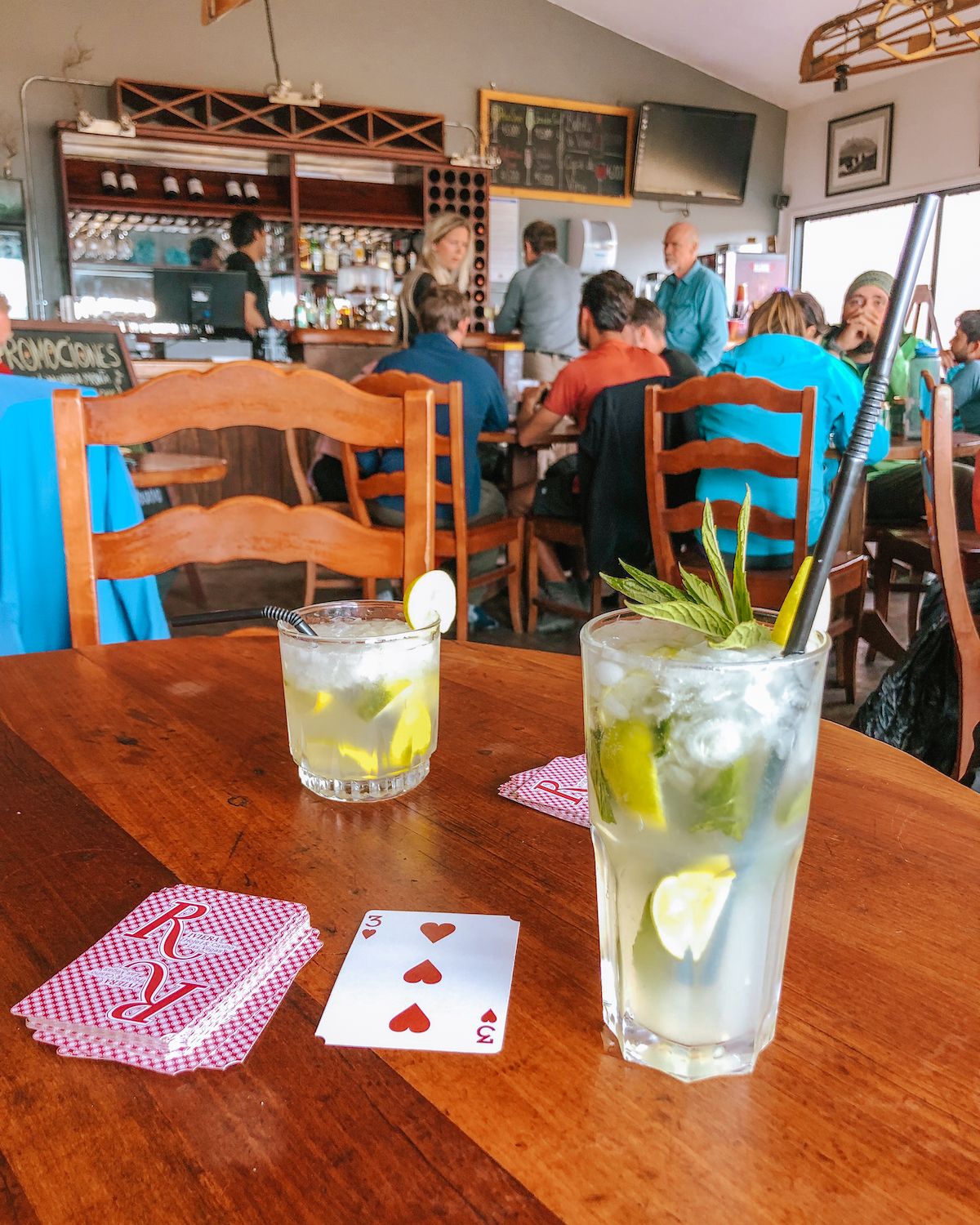 Although all the refugios along the way take credit cards, the catamaran is cash only. Sometimes the credit machine is down at the refugios as well, so it's better to have a few Pesos Chilenos with you. There are reliable ATMs in Puerto Natales to pull out cash.
9. Grab snacks before the W Trek at a grocery store
We bought almonds, dried fruit, dark chocolate, and gummy worms. Check out Supermercado Unimarc, there is a dried goods stand at the front door. Full board won't leave you hungry, but it's nice to have a few of your favourite snacks after a long day of hiking. Bonus: inside the supermarket, there is a snack store that sells very tasty pizza cones! Just try one.
Also consider bringing a roll of toilet paper and make sure to keep it in a plastic bag to keep it dry. All the toilets at the refugios had toilet paper, but some do not replenish it fast enough so by the end of the day you're... shit out of luck.
10. Buy bus tickets early and consider taking Bus Sur to the park entrance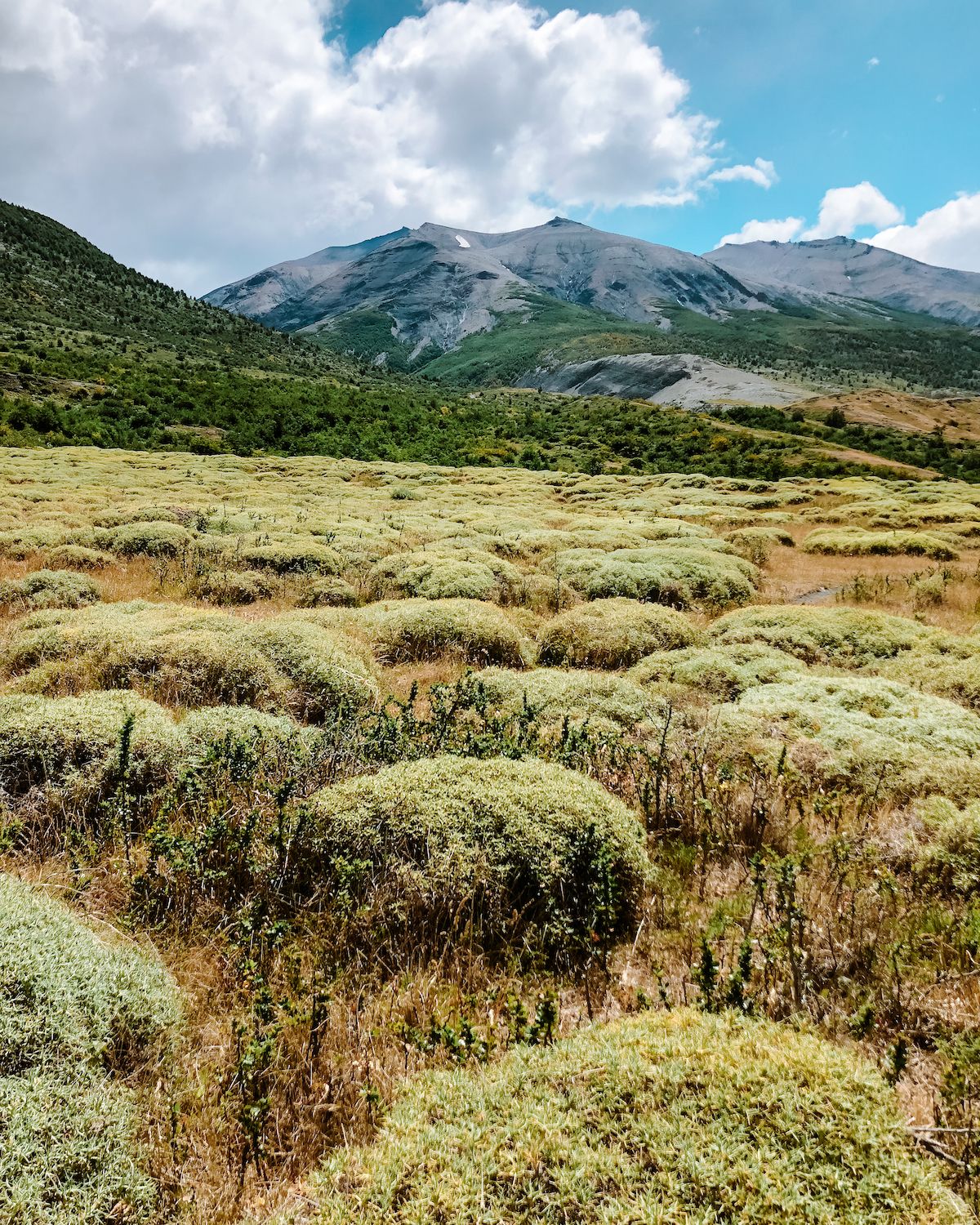 You can buy bus tickets at the bus station in Puerto Natales the day before you leave or online in advance through
Busbud
.
There is a 7 AM bus and an 11 AM bus, but it's recommended to take the early bus because the catamaran from Pudeto to Paine Grande fills up.
BJ buses were very slow and many buses passed us on the way to the park. It was stressful, since we didn't want to miss the catamaran sailing from Pudeto to Paine Grande. The lineup to the catamaran was long and we almost didn't make it on. Unfortunately, those left behind had to choose to either wait a few hours for the next boat or hike an additional 5 hours.
11. Arrive 15 minutes early for your bus from Puerto Natales to Torres Del Paine.
Some people didn't get on and had to wait for the 11 AM bus, this late departure could ruin a plan to hike to Glacier Grey that day.
🚌
Book your bus ticket in advance
.
12. Sit on the left side of the bus from Puerto Natales to Torres Central for the best views.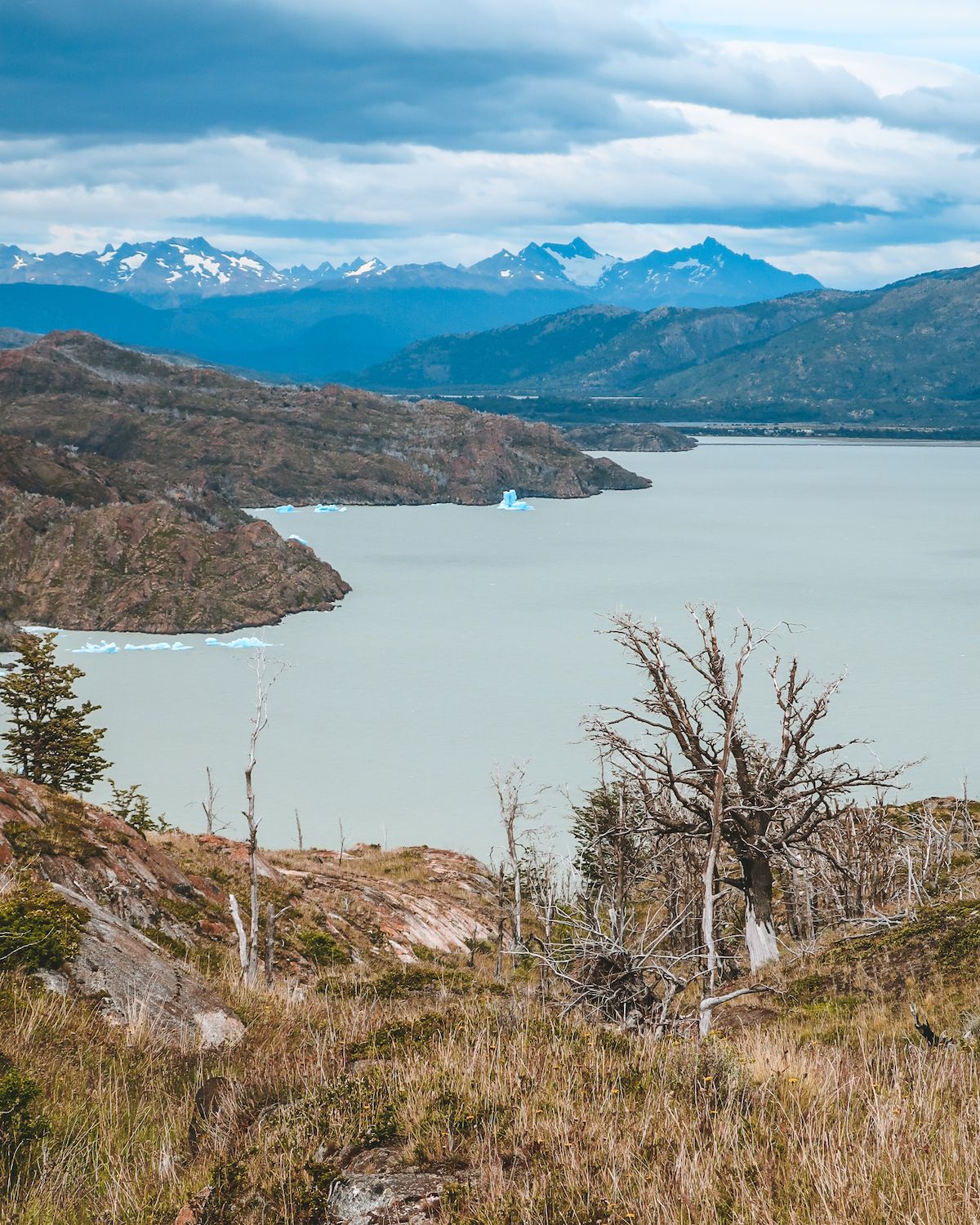 You will see a magnificent scene as you enter Torres Del Paine National Park. The bus first stops at Torres Central where everyone gets off to purchase their park pass (cash only). If you're taking the bus for the second leg from Torres Central to Pudeto, sit on the right side to get the best views.
It's a bit confusing when you arrive, but an English speaking park ranger will come on the bus to explain the park pass process.
Top tip: if you want to buy your park pass by credit card, you have to purchase it online at least 24 hours in advance through aspticket.cl.
13. You can't make reservations for the catamaran that travels from Pudeto to Paine Grande.
The catamaran is first come first serve so arrive early to ensure a seat. The ferry times change depending on the time of year, but the last ferry from Paine Grande to Pudeto will take multiple trips to ensure everyone waiting gets across. You pay for your ticket with cash inside the boat.
14. Make sure you pitch your tent correctly.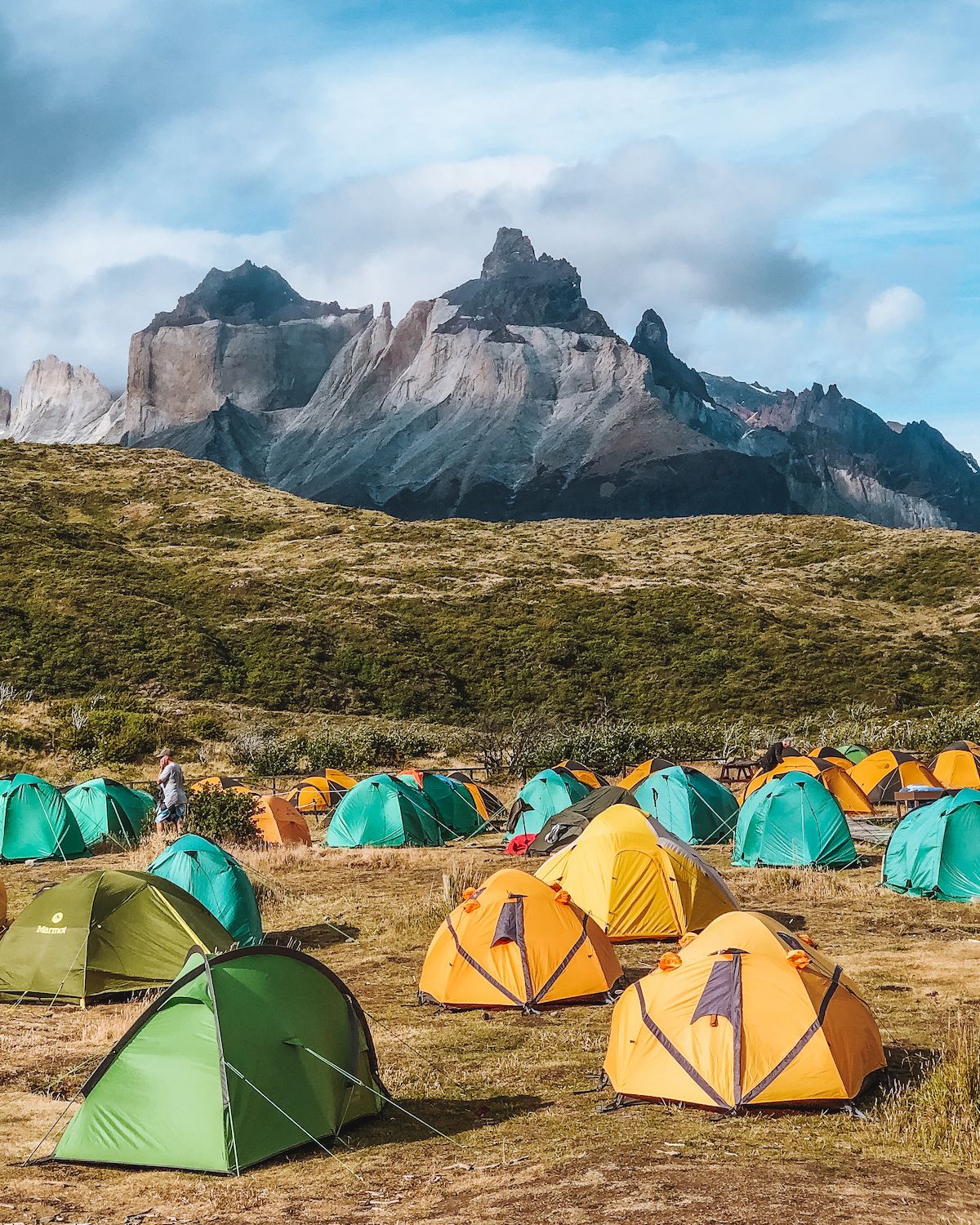 The high winds of Torres Del Paine are no joke. Pitch your tent with the door facing away from the wind so when you open it, it doesn't fly away like a parachute! We saw this happen to an unlucky camper.
15. Wake up early for breakfast so you don't have to wait in line.
Lines lines, everywhere a line. We waited for 30 minutes to get a breakfast seat in Paine Grande, which got us out later on the trek than we had planned. At other refugios, waiting meant colder food.
16. Don't miss the glacier lookout at Grey Glacier lodge.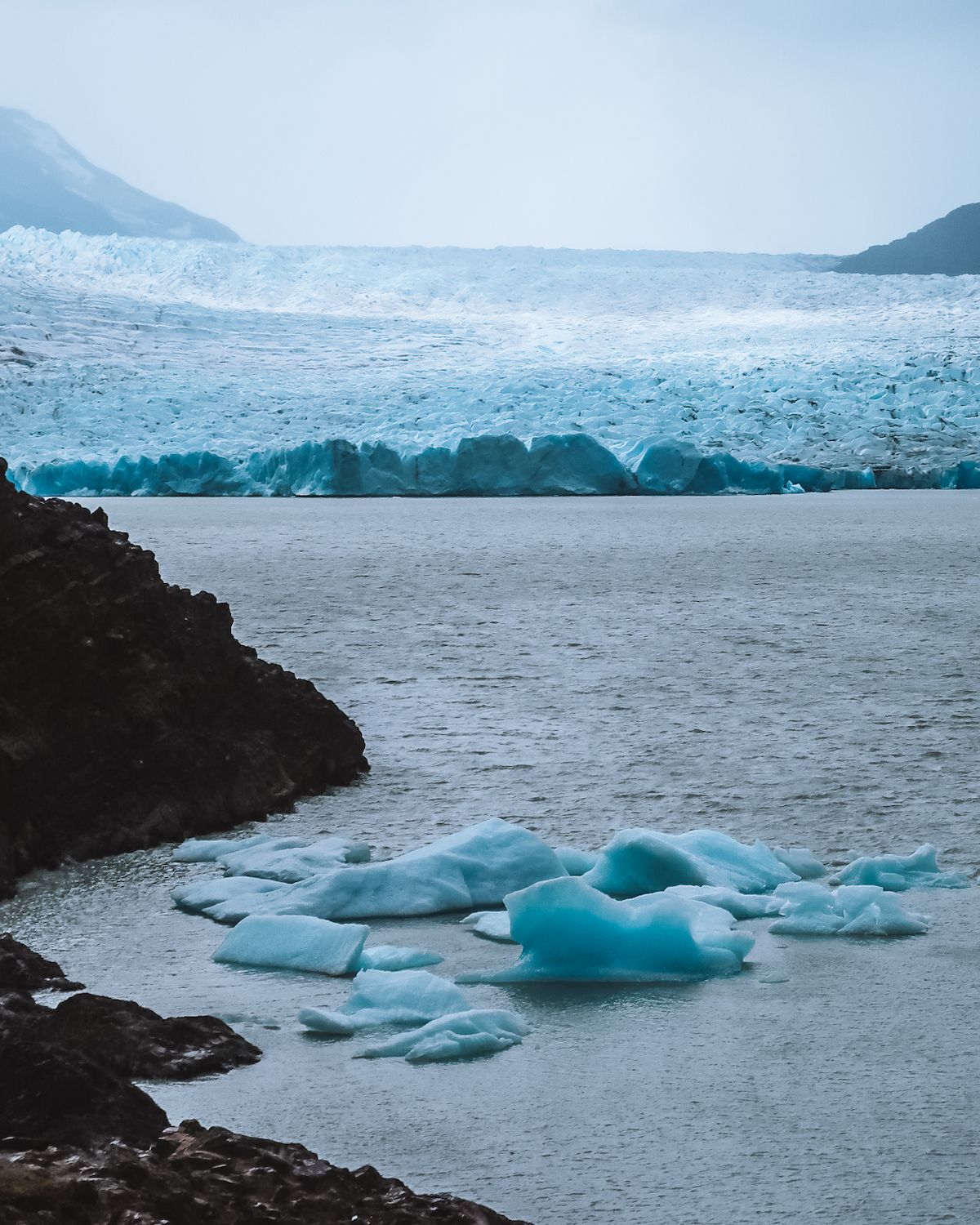 Walk past the lodge and campsite about 5 minutes up the trail until you see the sign "Mirador". Turn left and follow the path through the woods to see an amazing view of Grey Glacier and icebergs! This is a much shorter journey than going to the lookout listed on the map.
17. Don't be afraid of the hiking distances!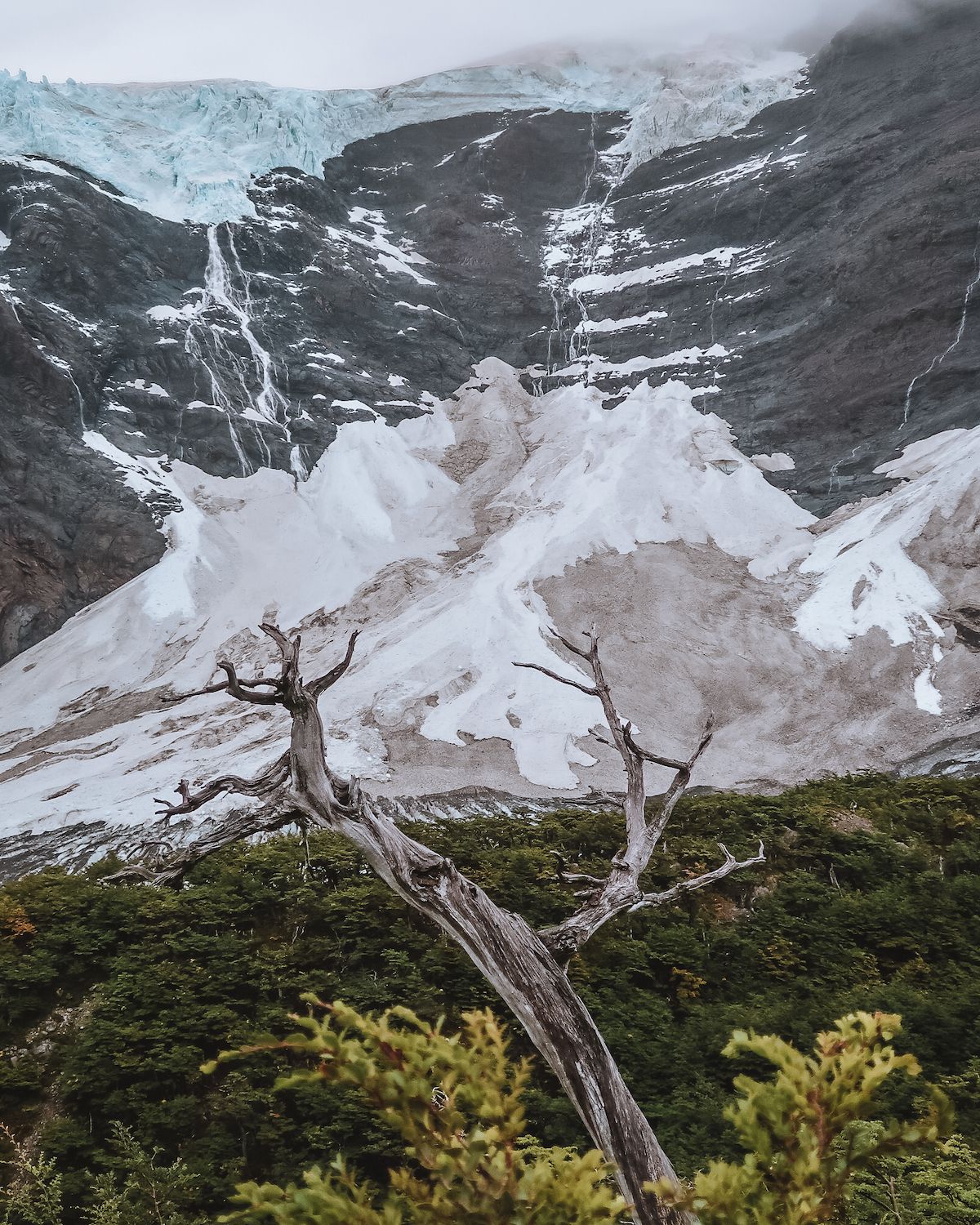 The W Circuit in Torres Del Paine has a nice path that is easy to hike on. If you spend 5 days hiking the W Trek, you will have less than 20km days. During the climb up Francis Valley and the one to the Towers, you are able to drop off your heavy items so you can do those ascents with just water in your pack!
We met two other couples that had never trekked overnight before, and they did the longer O-Trek.
We hope you found these tips helpful for hiking the W Trek without a guide!
W Trek Packing List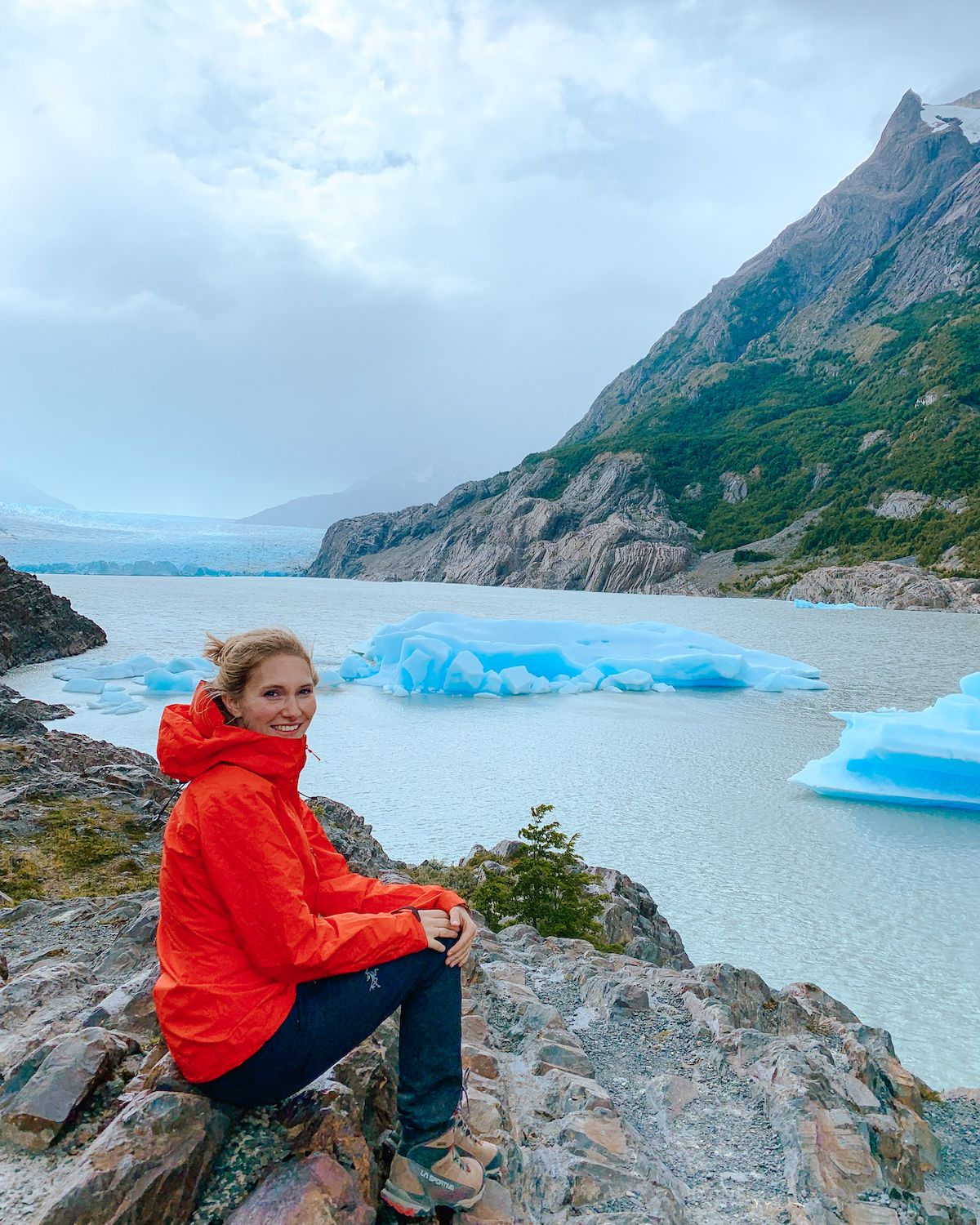 This is what we brought with us on our trek. Each item that is linked is what we own and highly recommend. We have used them over the years for numerous hikes and camping trips around the world (Peru, Nepal etc.).
Note: we ate half board/full board at the lodges, so this packing list does not include gear to make your own food.
Clothing

3 pairs Icebreaker socks. This brand doesn't itch your feet! (two medium cushioning and one light cushioning)
2 long hiking pants that can turn into capris or shorts
Hiking boots - I love La Sportiva (they feel like clouds for my feet), however I highly recommend trying on diffrent brands to see what works for your feet
Sunglasses
Underwear (quick drying/odor resistant)
100% Merino wool long base layer long sleeved shirt and leggings (for sleeping and hanging out at camp)
$2 rain poncho to cover you and your bag if it pours
Crocs for camping (lightweight and comfy!)

Other Essentials

Osprey backpack with hip support. We love how you can zip up the straps on their Fairview bag, making it easy for plane travel.
Roll of toilet paper
Tent and air mattress (can be rented)
Sleeping bag (can be rented)
Waterproof dry bag for electronics/accessories
Waterproof compression sack for clothes
Solar powered lantern for tent
Sunscreen
Toiletries (shampoo, soap, conditioner, lotion, chapstick)
Bandaids for blisters
Numbing cream for knees/sore parts of body
Camera
2 litre water bottle or water bladder
Kindle or Books
Notepad and pen
Start planning your trip to Torres Del Paine National Park
---
Check out what the W Trek was like in our Chile Vlog!
Save and pin these W Trek Patagonia tips for later: