The nice thing about the W Trek is you have a variety of ways to hike it. The challenge is picking your route and finding all the information on the camps! We decided to stop in at each Refugio along the way and checked out their facilities. Camps and refugios along the W Trek are operated either by Fantastico Sur or Vertice Patagonia so you will have to book them independently using two websites.
We completed the W Trek from West to East, tenting and with full board so we did not see the beds/dorms or spend much time in the camp kitchens. Overall the food was better than expected with some Refugios serving burgers and pizza for an extra fee.
All sites except Italiano had a place to charge your batteries and a bar to order cocktails :)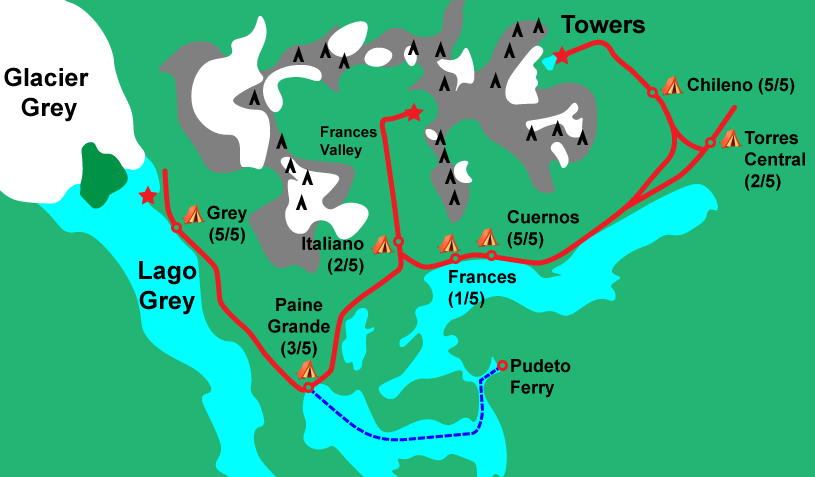 ---
Overview
1. Los Cuernos (5/5) - quiet, beautiful, perfect
2. Glacier Grey (5/5) - great lodge, well run, close to Grey glacier
3. Chileno (4/5) - the most wild feeling but in a high traffic area
4. Paine Grande (3/5) - nice facilities but crowded and long breakfast wait times
5. Torres Central (2/5) - great food but brutal service and poor location
6. Italiano (2/5) - free camping trades off with stinky toilets and no full board
7. Frances (1/5) - inconvenient site plan, absent staff, stay at Los Cuernos
8. Food & Facilities
---
1. Los Cuernos (5/5)
It was love at first tent pad. Through the shrub emerged a beautiful lodge and storied tent pads leading up the hill as we approached Cuernos from the West. Each tent pad was spaced well apart with views of both the mountains and the lake. The lodge was intimate and cozy and our meal well put together. Cold Austral Lager beer flowed from a tap. Behind the camping pads near the waterfall were small private cabins with wood burning stoves that looked worth staying a full week in.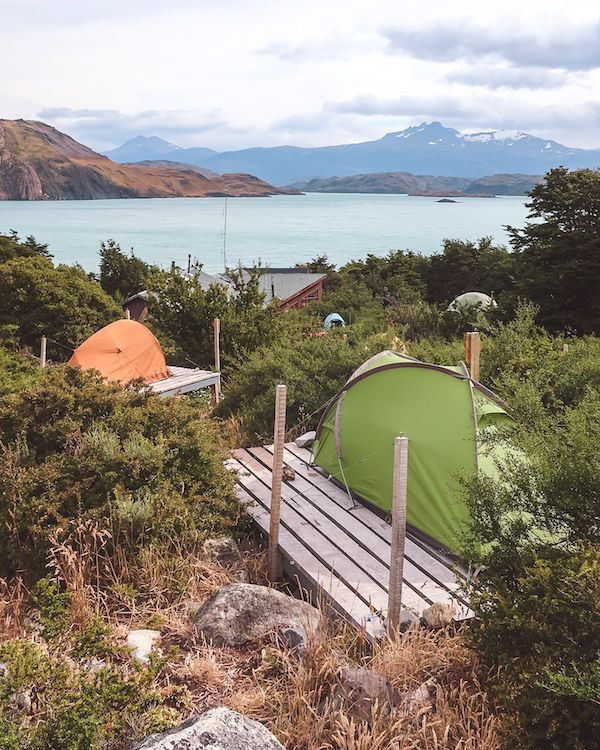 + Most beautiful site
 + Not crowded and peaceful
 + Not as windy even though open with big views
 − Location on route not ideal
 − Music too loud at the bar sometimes
 − No camp store
Los Cuernos is located 2 hours hike (3km) East of Frances and it seemed as though most hikers we met stayed at Frances because it has a better strategic location on the route to go up the valley. Staying at Los Cuernos may be inconvenient depending on your route but we highly recommend it. The facilities at Cuernos were great and we saw someone order an immense looking charcuterie board. The camp store was almost non existent and did not have much to purchase.
2. Glacier Grey (5/5)
Glacier grey lodge has a smooth running operation with both dinner and breakfast being swift and efficient. All the people at the site eat together and there are no shifts which is nice. The tenting area is not very big but there are sites available under trees and also in the open. The smaller size of the campground made it feel less crowded and wild.
The highlight of staying at this camp was seeing the blue ice of glacier Grey and the icebergs. There is a camp store here that is well stocked. The camping staff have a fun attitude and people enjoy congregating around the registration and kitchen area.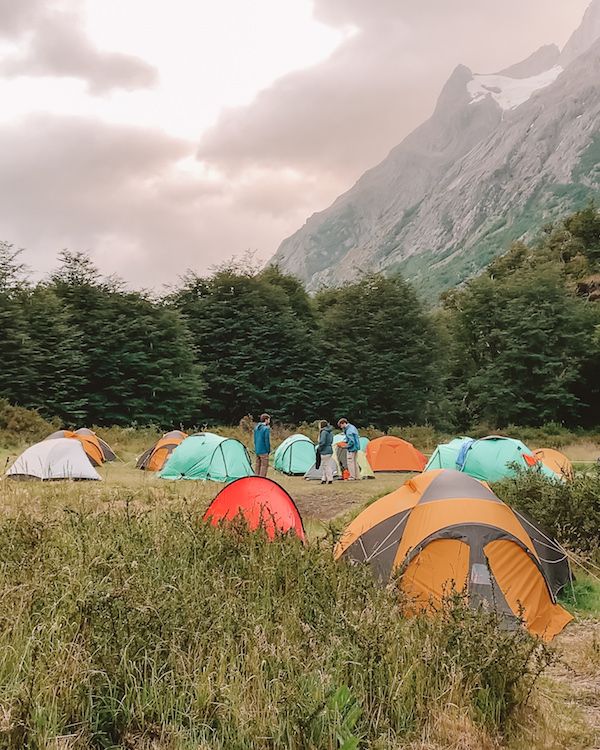 + Fast and efficient food service
 + Well stocked camp store
 + Easy Glacier Grey access
 − Seems to be a place where locals party
 − Books up quickly
3. Chileno (4/5)
Chileno is your last stop before hiking up to see the towers. This beautiful but windswept location is right in the valley beside the river. Chileno is the most rugged of all the camps and you can really feel the power of the mountains there. Tent pads are located in the trees on a hillside but the lodge is very busy as this is a stop for both circuit trekkers and day trekkers going to the towers.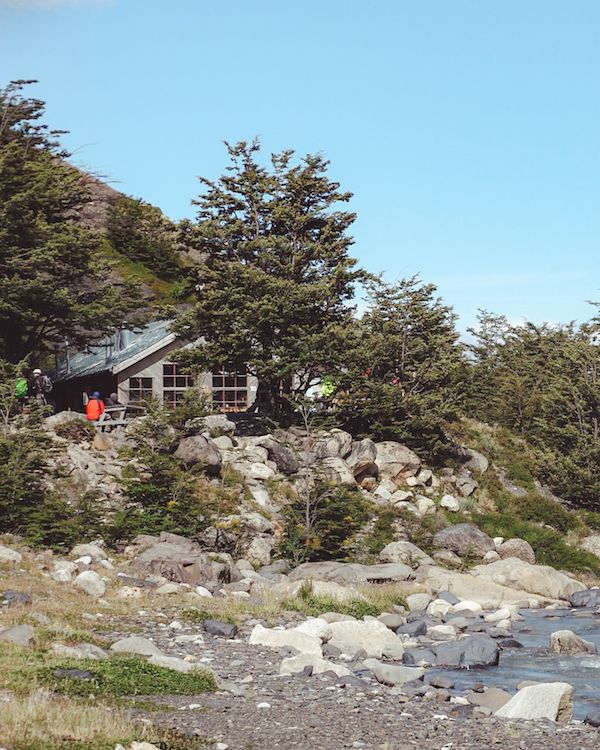 + Great location for heading to the Towers
 + Remote and rugged feeling
 + Best launch point for sunrise hike
 − Very busy as it is a transit camp
 − Must reserve full board, no camp kitchen
 − Unpredictable weather, very windy
It may look like a good idea on the map to stay at Torres Central instead of Chileno but there are several drawbacks of doing so. Torres Central is actually quite a bit off of the trail and may add significantly to your trek. There is a short cut between Chileno and Los Cuernos that saves elevation gain and a few kms. Torres Central is also located on a road, we didn't feel like we were on in the W Trek anymore when staying there because of all the machinery and got quite frustrated about that.
4. Paine Grande (3/5)
Located right next to the Pudeto ferry landing, this will either be your first or last sight on the W Trek. There is a huge lodge and massive camping area for lots of trekkers and was the most populated of them all. The facilities are great and well stocked because of the easy access to supplies with the ferry. Meal times get busy. Plan to arrive at breakfast early, a line begins to form and we waited 30 minutes before eating and were late out onto the trail in the morning. There is a power plug in the camp store, we hung out there and played cards at a table while our gear charged.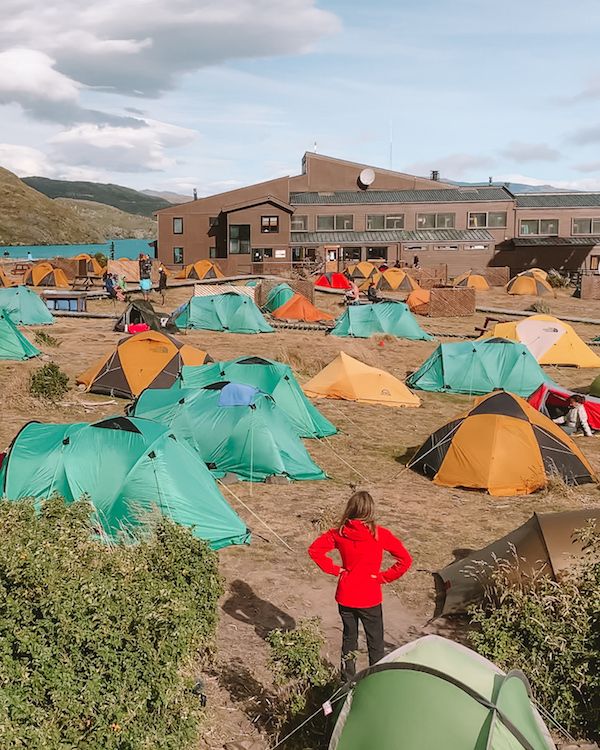 + Good meal portions
 + Lots of camping room
 + Great clean facilities
 − Very busy and crowded
 − Lines and wait times for meals
 − Proximity to other neighbouring tents
5. Torres Central (2/5)
The most important thing to note about Torres Central is that when you arrive it feels as if you are not actually on the trek. The camp and refugio is located on a road with tour busses and other vehicles driving by. The benefits of this are a large campground, very good food and a beautiful lodge. The drawbacks are frustrating, mainly the terrible service, dirty camping facilities and 1km trek to the main trail on a gravel road. Avoid this site and try to book Chileno!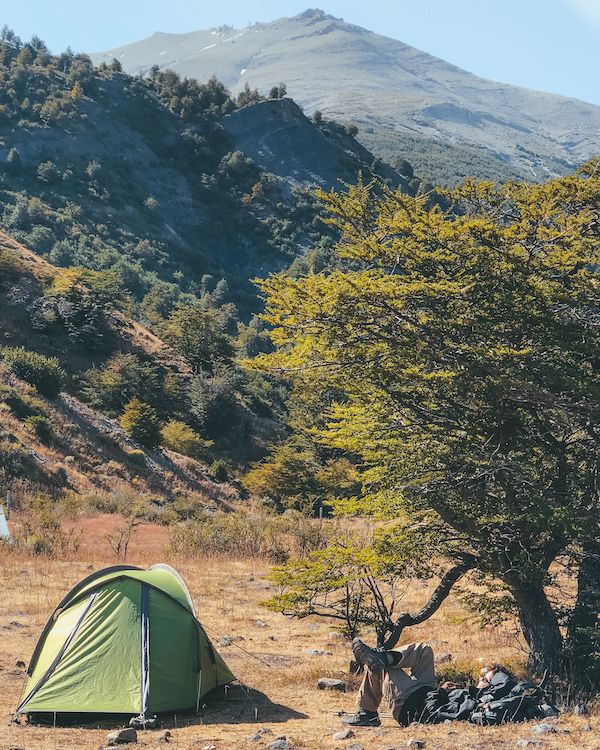 + Tasty meals
 + Lots of camping room
 + Nice view of the towers (when not cloudy)
 − Camping facilities small and dirty
 − Feels like you're at a drive up camground
 − Mind blowing bad service at refugio
We stayed here two nights. For some reason, the meal time operations are very inefficient at this refugio resulting in long lines and under served hikers. The people staying in the dorms at the refugio get served in the first seating. During breakfast this means they get the warmest food and the earliest hike times. By the time we got seated for breakfast, there were no plates left on both days and I ate off of a napkin. One morning there was no coffee left... disaster! At dinner time, the second seating got delayed main courses and sometimes no desert. One group ended up finishing at 10PM after starting at 7.  
After we hiked to the Towers we celebrated with a few drinks. I watched the bartender make up a Pisco sour, walk to the fridge to grab a half full plastic 2L bottle and pour out the excess from the shaker into it! Jungle juice for the staff I guess. Crazy to think an operation as bad as this can exist right next to the main road.
6. Italiano (2/5)
Italiano is the only site on the W that is free and run by the park commission itself. The other sites are run by private companies. What we discovered was that the toilets were dirty and smelly. Hikers going up the Frances Valley walk through the campsite and there was no option for full board. This site is great if you're on a budget, but hike on and head for a delightful stay at Los Cuernos.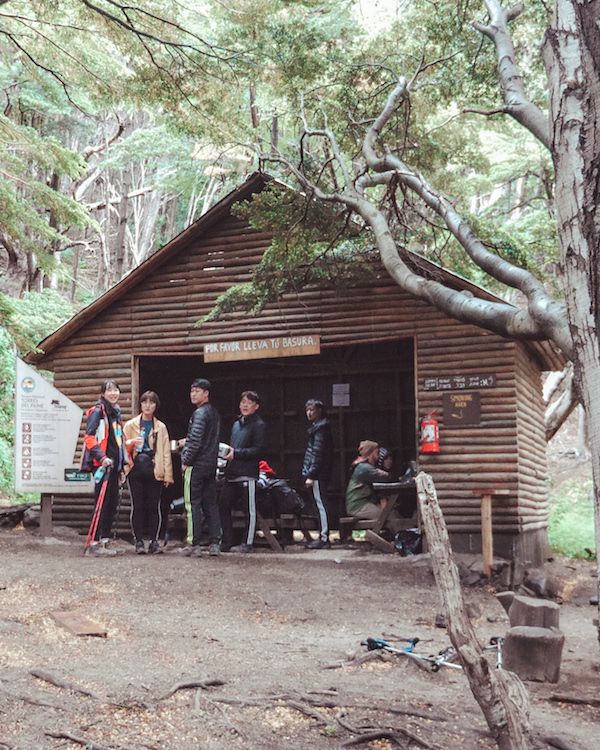 + Free to book
 + Great location
 + Headstart up the valley in the morning
 − Camping facilities lacking and dirty
 − Extremely busy through route
 − Dark campsite
7. Frances (1/5)
We stopped in briefly to Frances to rest before our last leg to Los Cuernos and came up to a deserted checkin station next to tent pads under the trees on the hillside. We walked down a large hill to the bathroom/shower facilities which looked great and new but could not find the refugio and were unwilling to walk further down the hill to come back up again. We spoke to a few hikers who had stayed there and the walk is long between the refugio and tent sites. Also, the employees from the registration station often close up for 15 minutes or more to go hang out elsewhere.
The whole place seemed poorly organized and was uninspiring without views. There are shared domes you can rent here that look cool but we have stayed in domes on our trip and they are very hot during the day and the sound travels very well inside them, great if you love the sound of snoring! Try to book Los Cuernos instead if you can fit it into your route.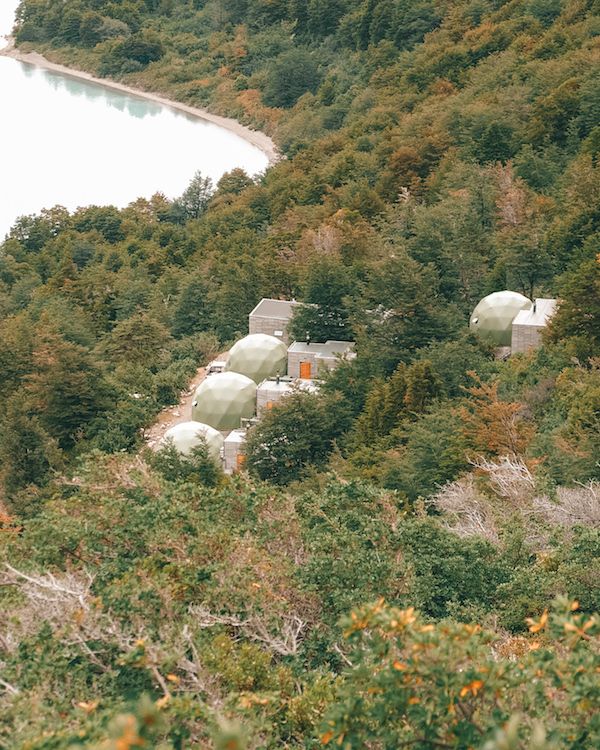 + Newer facilities
 + Good location
 − Poorly layed out facility locations
 − Unattentive staff
 − No great views
8. Food and Facilities
We never had a bad meal, only bad service. Full board was plenty of food for us and the lunches were filling. The only thing about the bathrooms was that by the end of the evening sometimes toilet paper runs out and hot water gets cold. A major bonus about hiking here is that the water from the streams is drinkable, truly an amazing gift.
Check out what the refugios were like in our video!
Here are a few candid shots from the camps: