Helsinki is a destination for architecture enthusiasts, design lovers and eaters. Known as a World Design Capital, the city exudes style and colour, and has an identity completely its own.
When walking down cobblestone streets you are surrounded by contemporary, art nouveau, neo-classical, and even avant-garde architecture. Peering into street level windows often reveals modern Scandinavian interiors inspired by the great designer Alvar Aalto.
However, beneath all the design, there is still a remarkable simplicity to Helsinki that is no doubt a by-product of the Finnish way of life. From the communal saunas on the sea to the coffee shops where Finns sip one of their average four cups a day, a quick visit can highlight what makes Helsinki one of the most livable cities in the world.
Knowing what to see in Helsinki in 2 days can be overwhelming. Ari is a Finnish-Canadian and both of his parents were born in Finland, so he has visited the country many times throughout his life. He says that every traveller to Finland should spend at least 2 nights in Helsinki as a starting point before heading off to explore more of Finland.  
We have picked out what we think are the best experiences and spots for your two days in Helsinki!
Overview: 2 Days in Helsinki
Day 1: Walk through Market Square, shop Finnish-based brands in the Design District and dine on New Nordic cuisine

Day 2: Go for a sauna on the sea and explore Helsinki's alternative district and art scene
Disclosure: Some of the links below are affiliate links, meaning at no additional cost to you, we will earn a commission if you click through and make a purchase. We only recommend products or services we have used or that we believe will add value to our readers. Thank you for supporting us!
Best time to visit Helsinki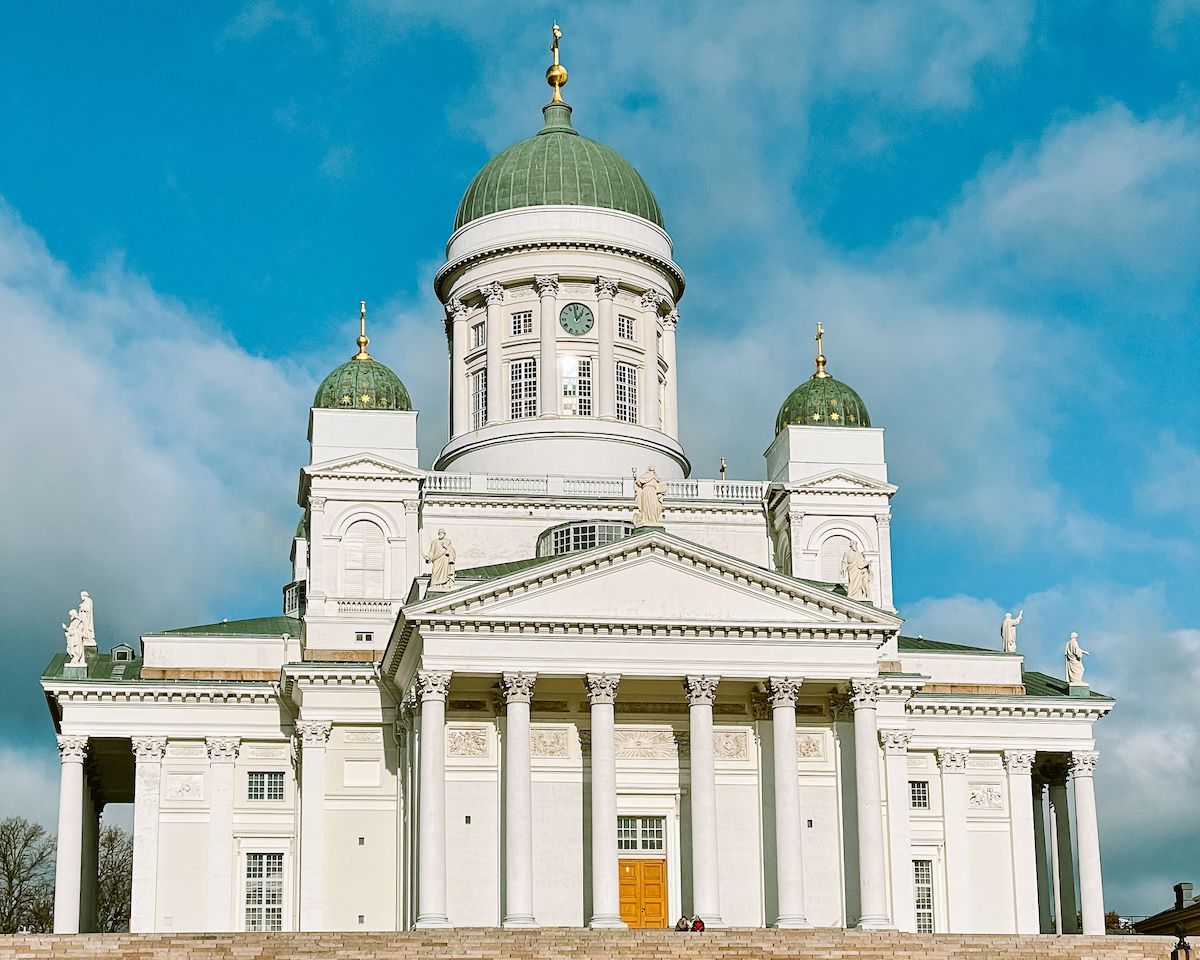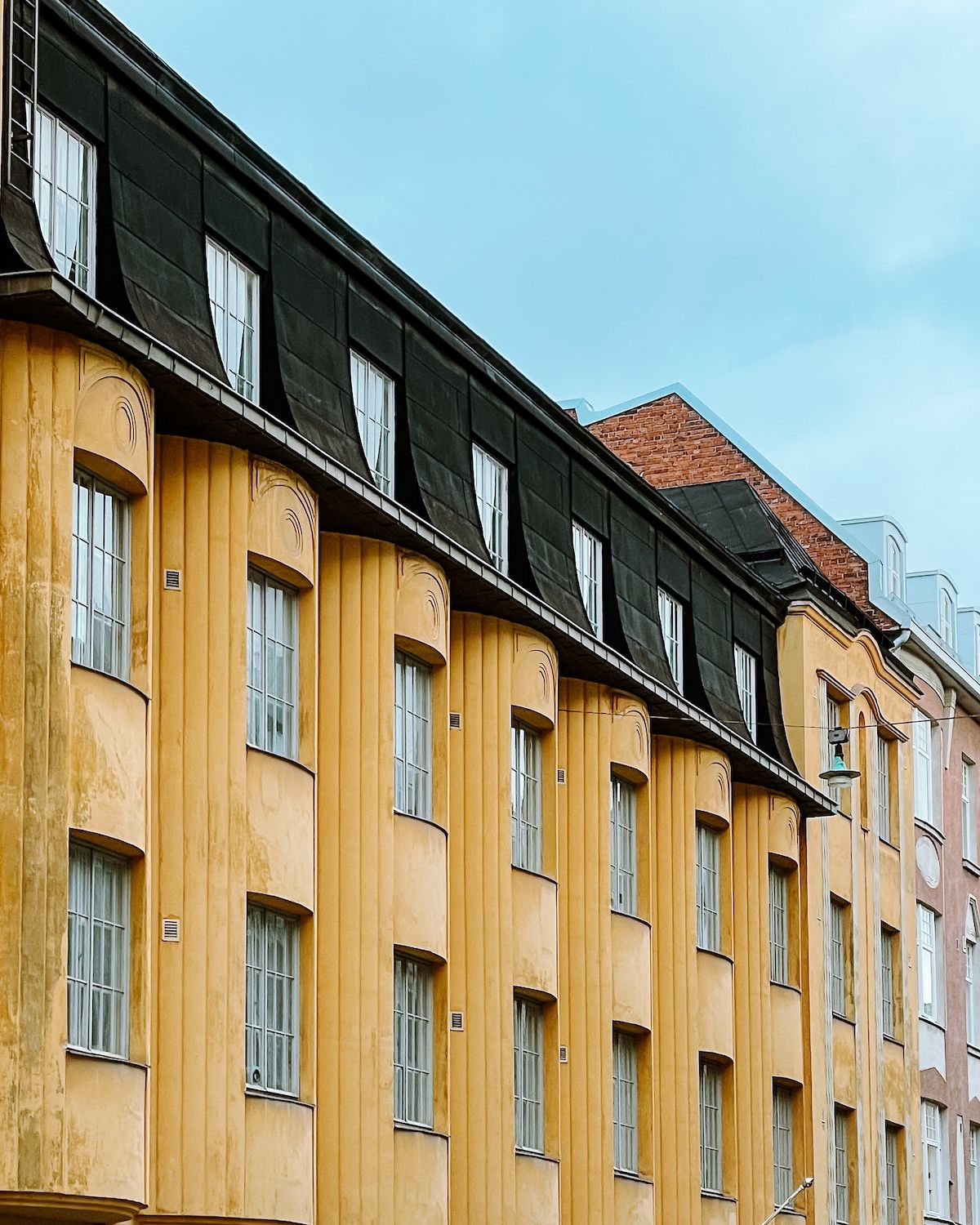 Although Helsinki sits on the sea, it gets quite chilly during winter months. Since it's near the Arctic circle, temperatures reach below freezing from November - March.
For pleasant weather, the best time to visit Helsinki is during the summer months of June - September. These months have long sunlight hours and temperatures reach highs of around 17-21°C.
If you're considering visiting public saunas on the small islands around Helsinki, some aren't open until the summer months.
Getting around Helsinki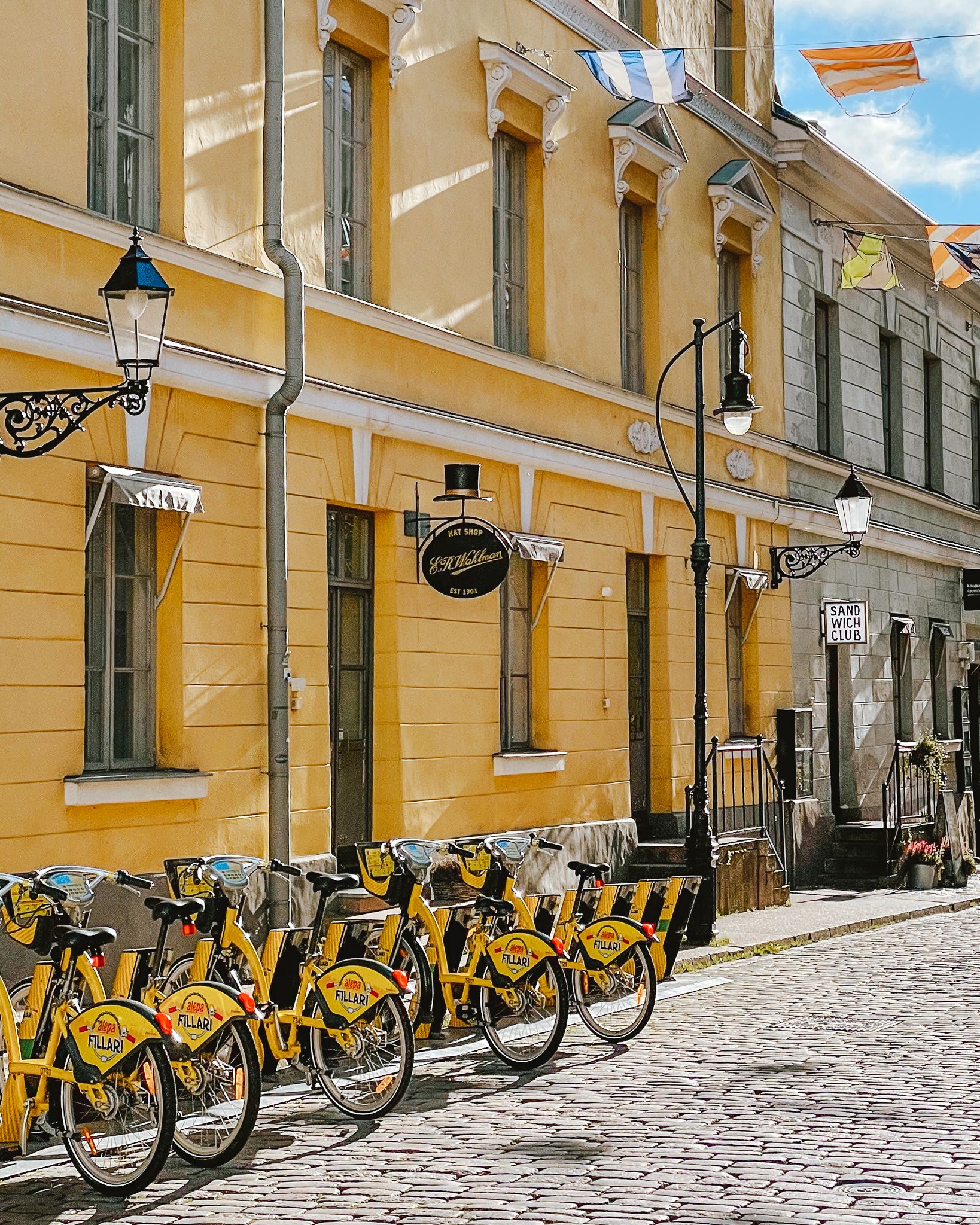 Since Helsinki is a compact city, it's easy to get around to different districts. The city has a neighbourhood feel almost everywhere you go with with trendy shops, cafes and eateries around just every corner.
The best way to get around Helsinki is by walking, riding city bikes or renting electric scooters. e-scooters are allover the city and available through the Lime, TIER, Voi or Bird app.
If you don't want to cycle or take an e-scooter, Uber is also an easy way to get around.
Where to stay in Helsinki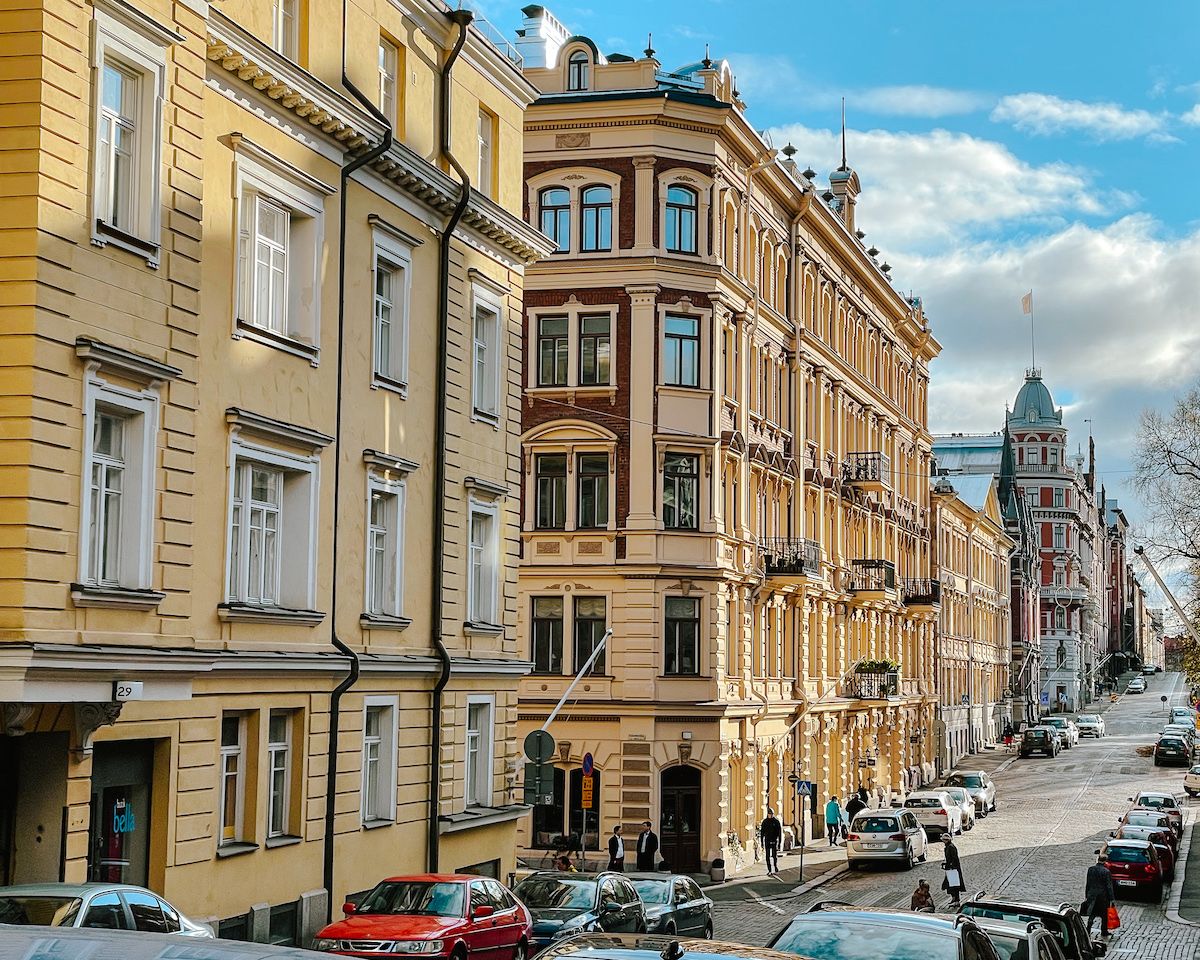 Best area to stay in Helsinki
When looking for a place to stay in Helsinki, look for one that is walking distance to the Design District and the central Kaampi/Kluuvi neighbourhoods.
We highly recommend staying in the neighborhoods of Kaartinkaupunki (southeastern) or Punavuori (southwestern downtown), since you are close to fashionable shops, galleries, cafes and restaurants, but still have a local neighbourhood feel. The architecture is stunning as well.
We don't recommend staying in the Kluuvi or Kaampi neighbourhoods, since they feel more commercial with department stores and larger hotels. Kallio is a hip district worth visiting, however we don't recommend staying here since it's across the bridge from the downtown core.
Best place to stay in Helsinki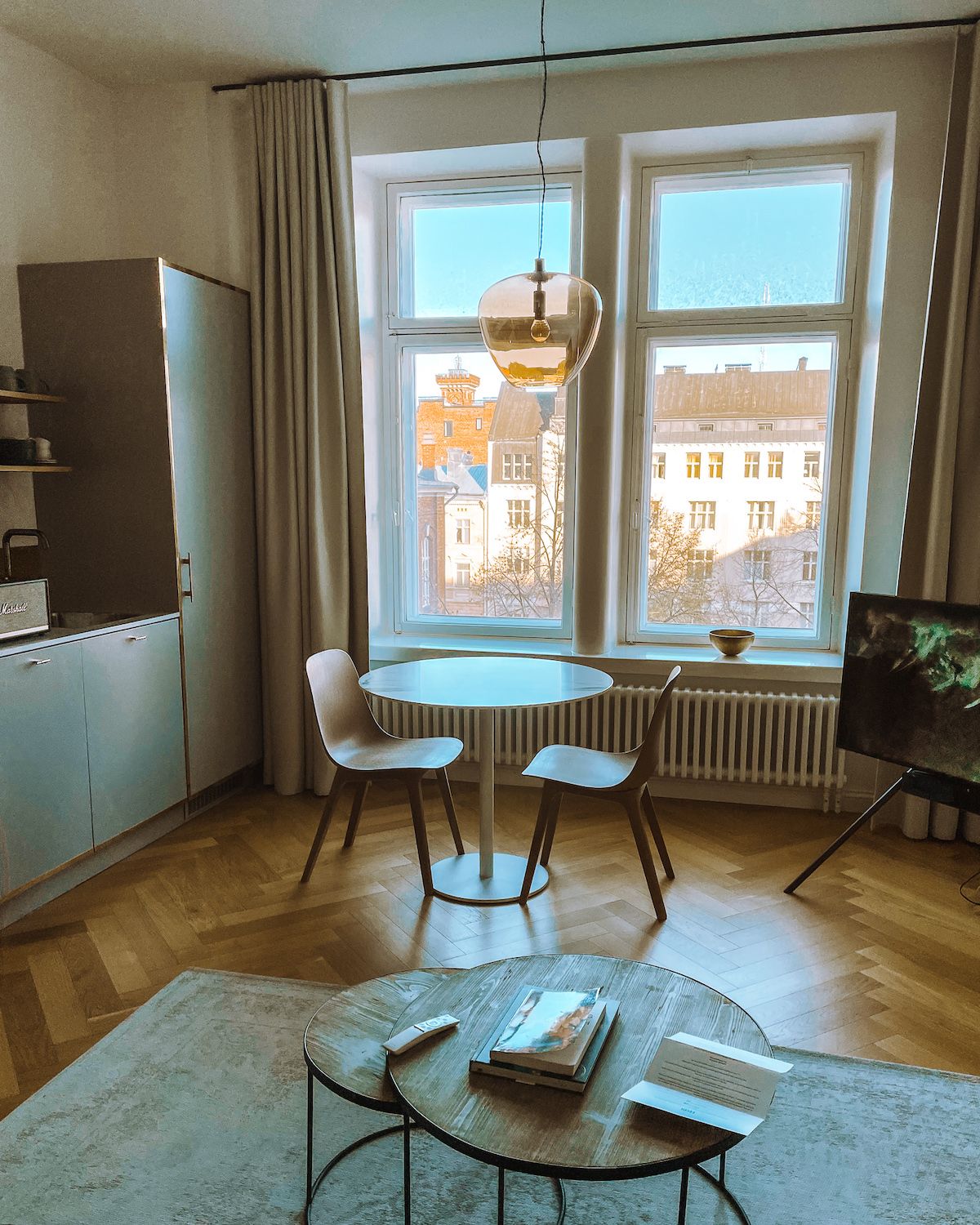 We stayed in both an apartment and a hotel in Helsinki, and highly recommend going the apartment route. The design capital has many impeccably decorated apartments available for a great value.
We first stayed at Koti Boutique Apartments
on the border of the Kaartinkaupunki neighbourhood. The stylish apartments have a Scandinavian design with contemporary furnishings, a fully equipped kitchen and luxurious bathroom. We stayed in the "Classic Plus" apartment which had lovely details with its herringbone parquet floors, classic Finnish fireplace and tall, original windows. The Marshall speaker, Nespresso machine and coffee from a local roaster were the cherry on top!
The location of Koti Apartments is perfect - it's next door to the Design District and under a 10 minute walk to the centre of downtown.
The second place we stayed was Hotel St. George
, a new luxurious art & design hotel with a lot of hype.
But honestly, it wasn't worth the price when you can stay in spacious and stylish apartments for half the price.
We would stay at
Koti Apartments
again in a heartbeat!
Browse the apartments available in Helsinki on Booking.com.
We like to sort by top reviewed.
2 Day Helsinki itinerary
Day 1
Walk through the centre of Helsinki to see architecturally impressive buildings, shop unique Finnish-based brands, and to experience the city's burgeoning New Nordic dining scene.
Morning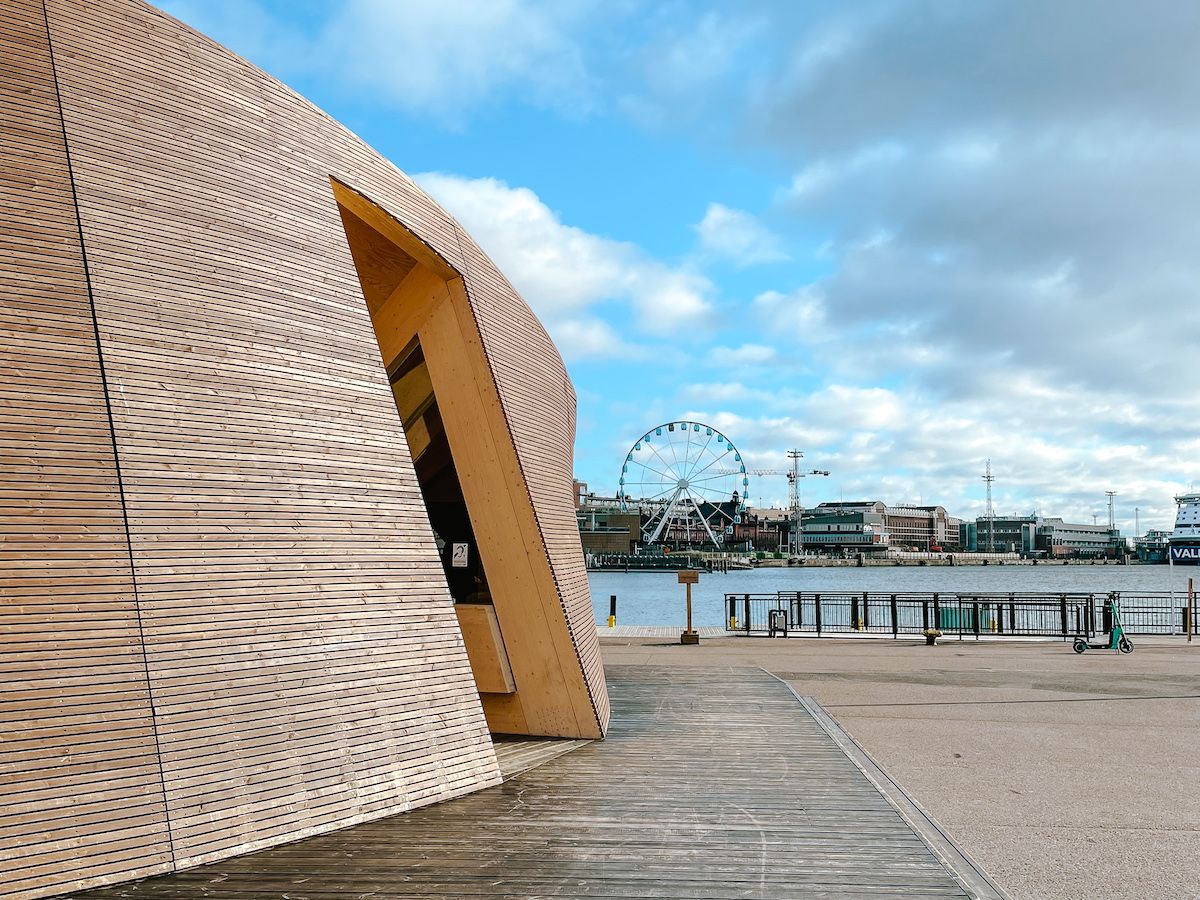 Browse Market Square and Old Market Hall
Take a morning walk over to Helsinki's central square on the sea, where vendors sell traditional products and Finnish treats. Look for the venders from Lapland. We bought a reindeer rug and reindeer antler coat hooks for our cabin back in Canada.
Don't miss ordering a lihapiirakka (meat pie) and hot coffee in the orange tent. The Finnish lihapiirakka is a bit different than your ordinary meat pie. The meat and rice filling is wrapped in a blanket of donut dough that is then deep fried to golden perfection. It makes for a hearty (not sweet) snack especially when you add a frankfurter and cover with mustard!
Just south of Market Square you will also find Old Market Hall (Vanha Kauppahalli), a historic indoor market from the 19th century selling Finnish specialities. Browse the stalls for baked goods, coffee, deli items, local produce and seafood. There are also a few shops selling houseware items. Ari bought canned reindeer meat which is still sitting in our cupboard today.
Next, take a walk around the Helsinki Biennial Pavilion, an architecturally impressive wooden pavilion inspired by Vallisaari Island. It's right beside Old Market Hall.
Hours:
Market Square: Everyday from 8 AM to 5 PM.
Old Market Hall: Monday - Saturday 10 AM - 6 PM; Sunday 10 AM - 5 PM
Daytime
Eat lunch at St. George Bakery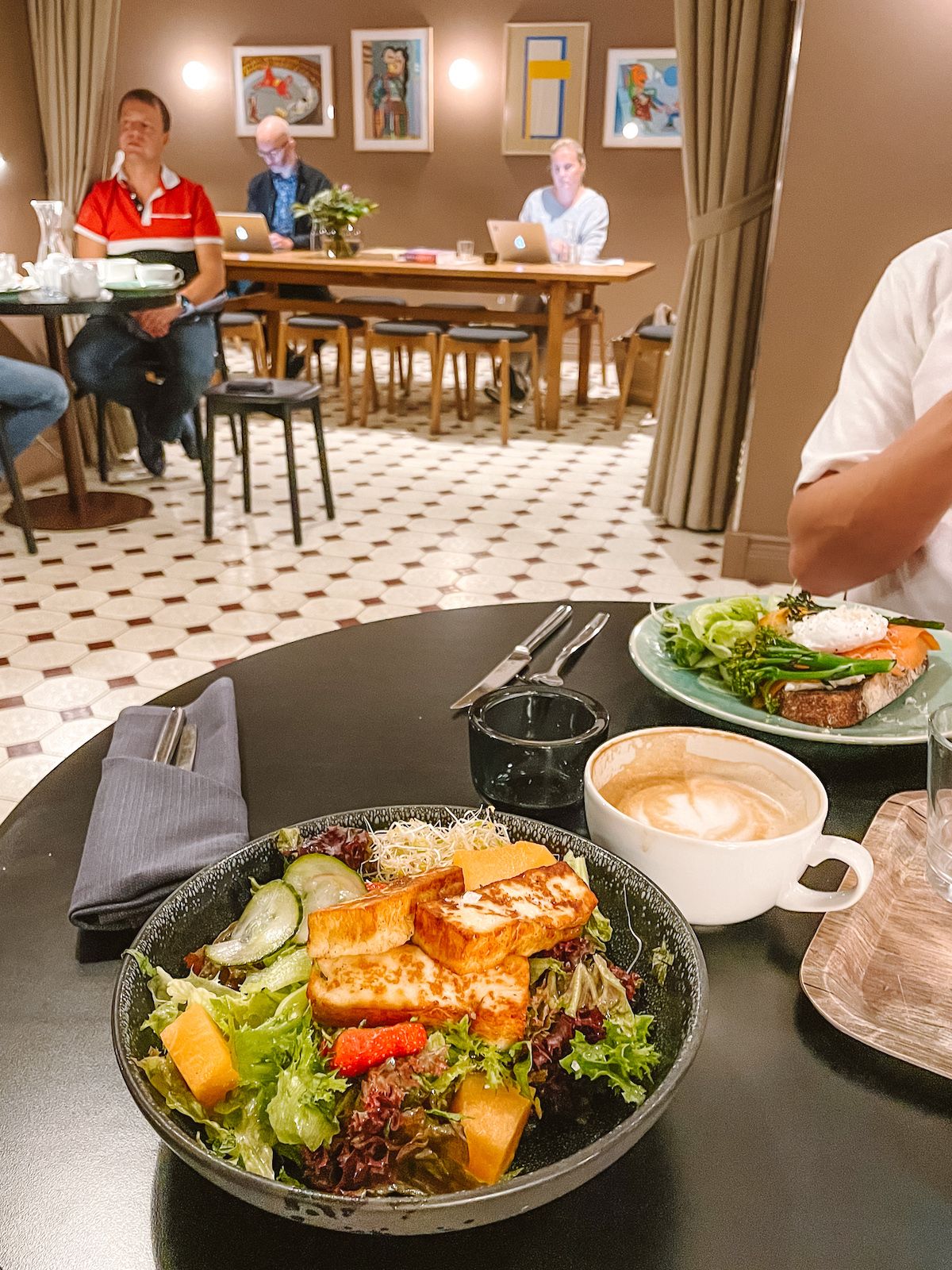 If you didn't eat too much at the market, pop into St. George Bakery for a bite before you start shopping in the Design District. Located on the street level of beautiful Hotel St. George, you will see trendy locals and hotel guests fuelling up on coffee, freshly baked pastries, sandwiches and salads. Throughout the room, colourful contemporary Finnish artworks adorn the walls.
Shop 'til you drop in the Design District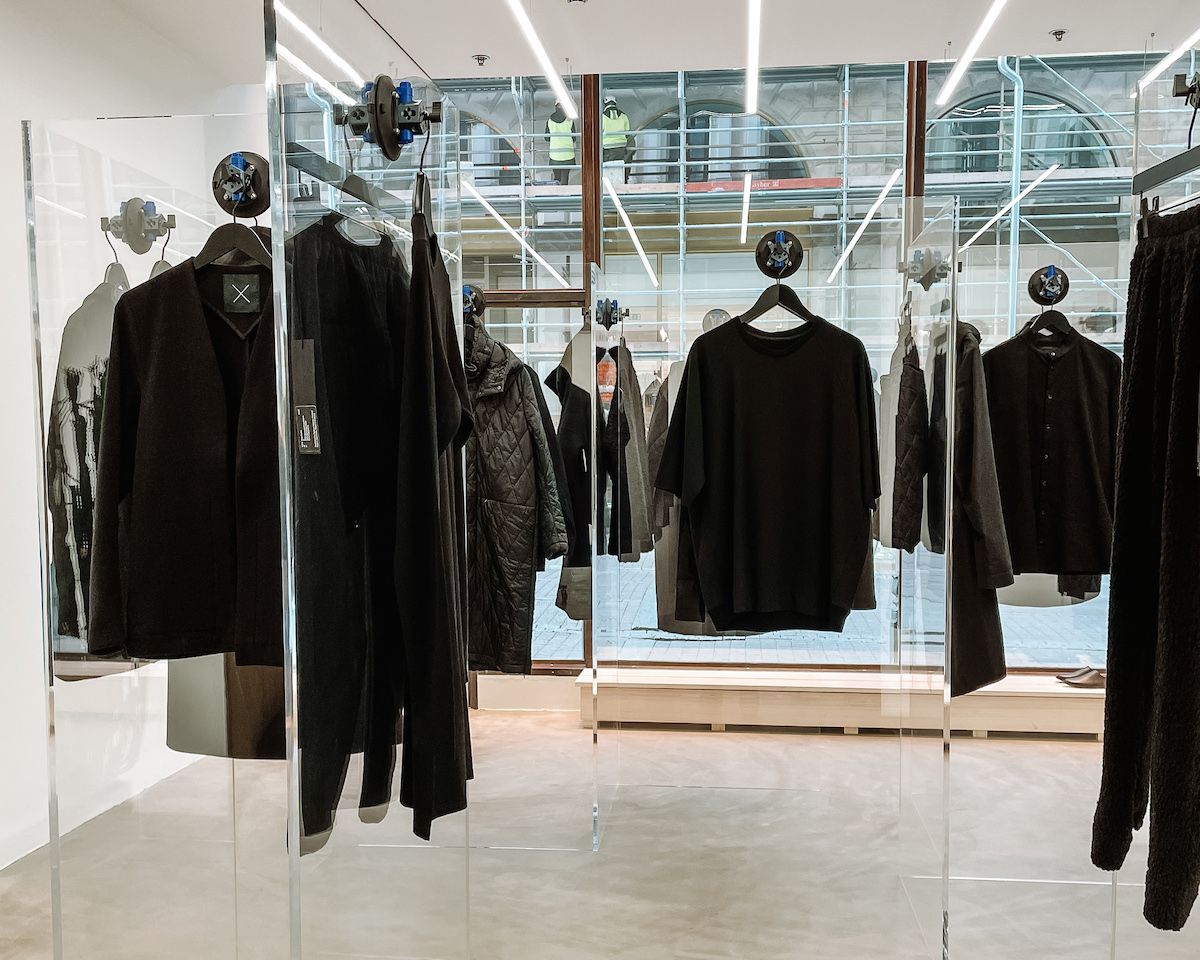 Helsinki is called a World Design Capital for a reason. This is the first time it really felt like we "shopped 'til we dropped". There are so many unique stores to see and the fear of missing out on something special is real.
These were our favourite shops in Helsinki. They are all Finnish-based brands:
Lapuan Kankurit: sells sustainably made linen and wool textiles inspired by nature and Nordic design. We bought dish towels, a cozy blanket and sauna bathrobes.
Nomen Nescio: a gender-neutral brand selling minimalistic, alternative clothing all in black. There is a strong attention to detail on the quality and cut of each piece.
Artek: designer furniture brand founded in the 1930s by Finland's famous architects, Aino and Alvar Aalto, and their associates. The company helped introduce modern Scandinavian design to the world with its light-birch aesthetic.
Iittala: very chic glassware and tableware brand that started as a glass factory back in the late 1800s in Finland. The pieces are exquisitely made and bring elegance to the room.
Sauso: makes the softest leather gloves. My hands are abnormally small and vary from each other, so I never fit any gloves. I picked out a style I liked, they look my measurements and I got a custom-made pair shipped to my home in Canada.
Glasshouse Helsinki: a concept store with a mix of sustainable fashion/design brands and art exhibitions selling artworks and sculptures.
Momono: curates an amazing selection of new and vintage housewares/ glassware from Finnish designers.
marimekko: arguably Finland's most famous clothing brand - you may recognize its distinctive flower prints and patterns. You can find marimekko stores worldwide, however it's worth seeing the flagship store in Helsinki.
Stop for a mid-shopping snack at Fazer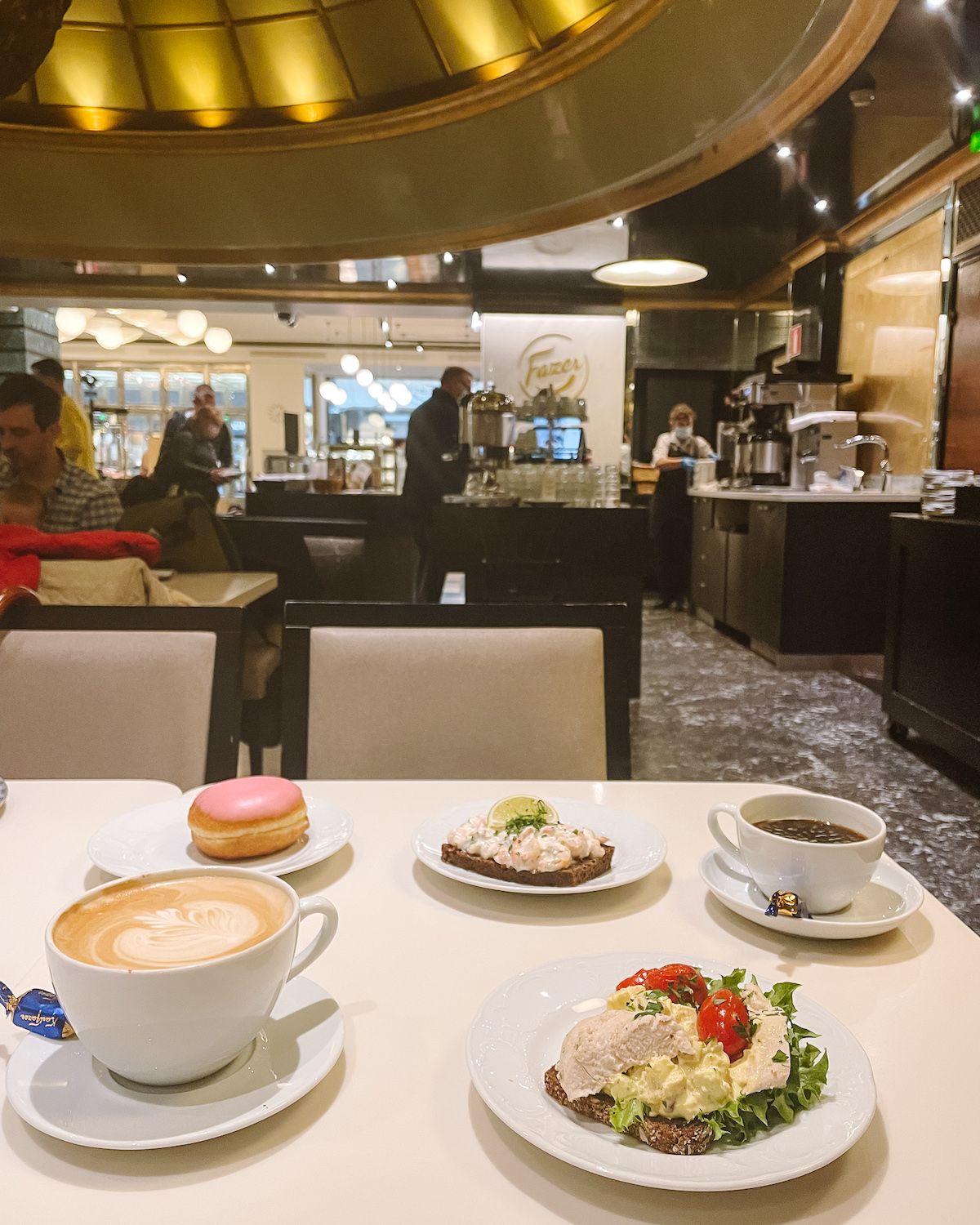 Stop for a shopping break at Fazer, Finland's famous confectionary company founded in 1891. Fazer Café Kluuvikatu is the original location that's been open ever since.
The fancy cafe and delicacy shop offers a variety of savoury and sweet treats ready to eat. Our favourite is the open-face shrimp salad sandwich on rye. It's a must! Afterwards, don't forget to buy some tasty chocolates to bring back home.
Evening
Dine on New Nordic cuisine at one of Helsinki's top restaurants
New Nordic Cuisine is a buzzworthy term where old-world cooking techniques from Scandinavian countries are combined with the use of seasonal, locally-sourced ingredients in a sustainable way.
In Helsinki we saw traditional Finnish techniques like salting, curing, smoking and pickling being used with pure, local ingredients, like forest mushrooms, wild berries, fish and game. It was a treat finding so many quality restaurants offering this innovative type of cuisine.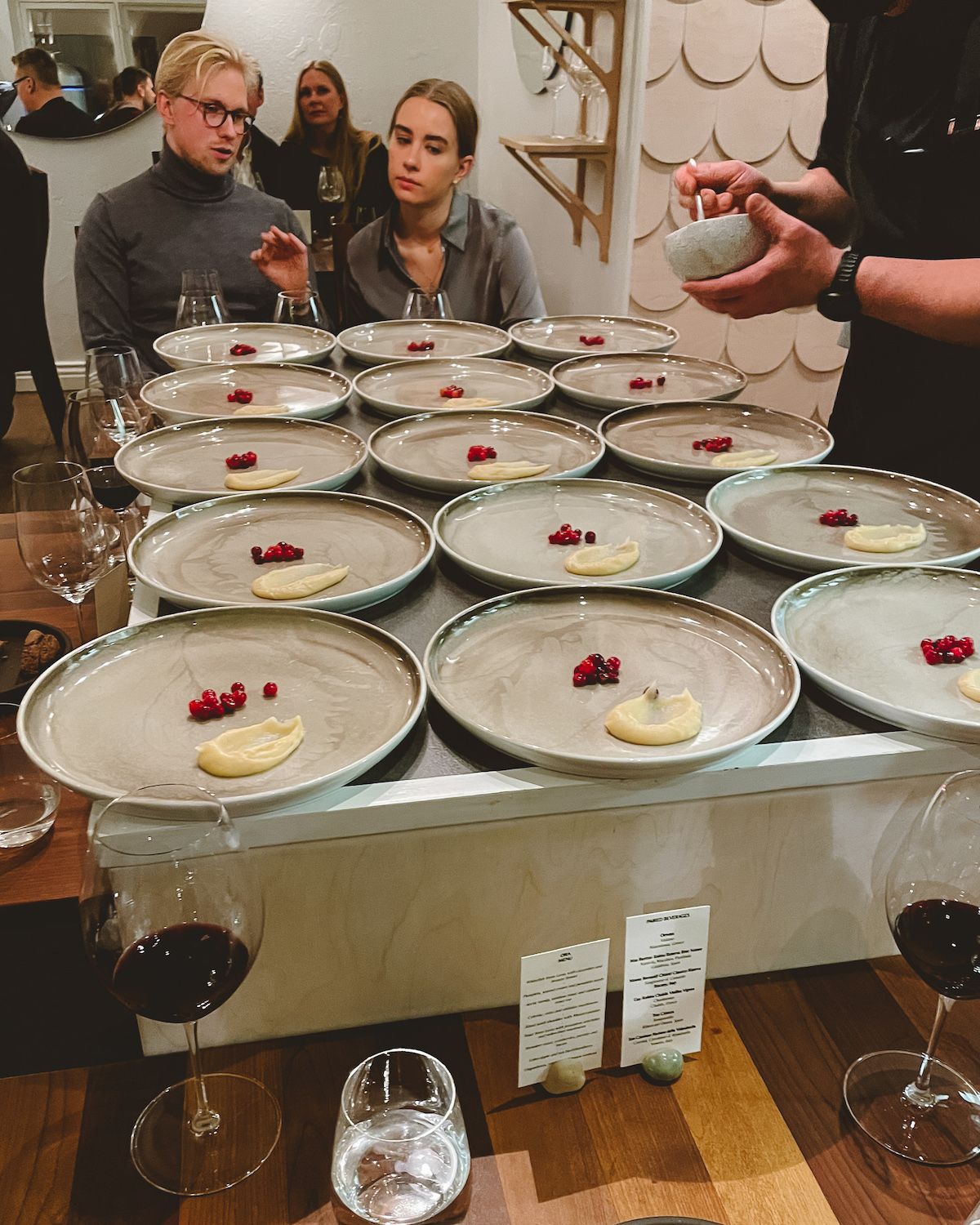 For your first evening, choose from these happening restaurants in Helsinki. We ate at them all and highly recommend going to at least one on your trip!
Best for innovative fine dining: Ora. If you're looking for a culinary adventure, this is the place to go. The Michelin-starred restaurant is an intimate experience where the chef plates each dish with his team in front of you and passionately describes what you will be eating. It was a fantastic and light-hearted experience. With only eight tables, make a reservation far in advance to snag a spot.
Best for the ambience: Muru. This quirky bistro has a cozy atmosphere with its dim lighting, wine bottle chandelier and bar made from wine boxes. It's a great spot for a date night or if you love wine. The blackboard is where you will find the dishes of the day.
Best for sustainability and a neighbourhood feel: Nolla. Nolla, meaning "zero" in Finnish, sets the tone for the restaurant's sustainability efforts. They have a zero waste ideology from how their food and drinks are sourced to how they compost it afterwards. They even go beyond food, with monitoring their energy consumption and how their uniforms are made.
Best for art & food lovers: Atelje Finne. Located in 20th century sculptor, Gunnar Finne's former studio of 30 years, the restaurant is one of Helsinki's hottest dining spots. Dine on the fresh, regional dishes alongside Finne's artworks that are placed throughout the three levels.
Drink artisanal cocktails at one of Helsinki's coolest bars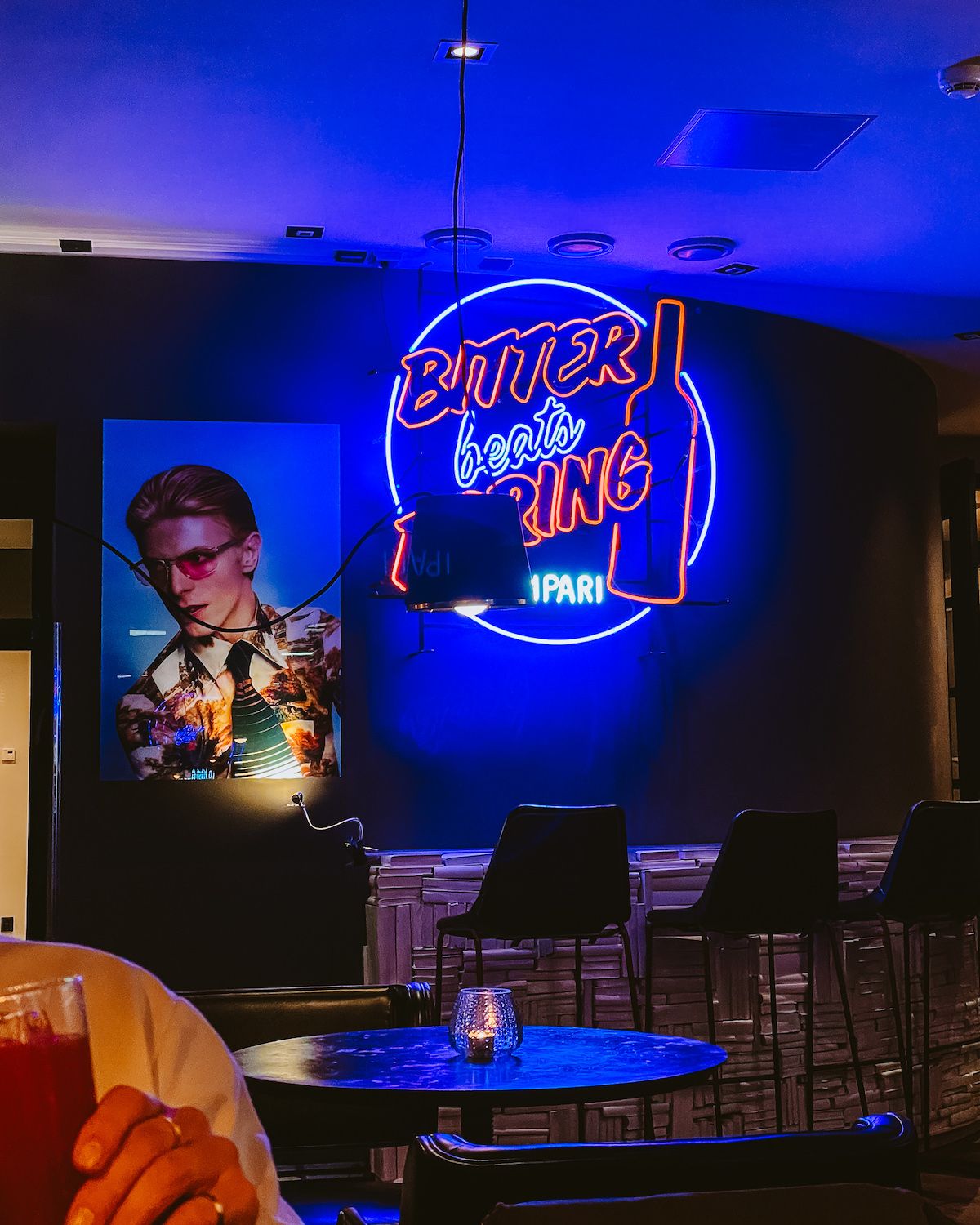 Enjoy a night cap at one of these snazzy bars:
Trillby & Chadwick:
This eccentric, prohibition-style speakeasy doesn't allow any pictures and its patrons have to exit out a back door, adding to its elusiveness. Every cocktail has an interesting backstory and the ambience and furnishings are everything you could want in a speakeasy. To get inside, find the nondescript blacked-out door to enter the foyer. Once inside the foyer, you will see an old-school telephone - pick it up and ask to come inside.  
Runar:
Runar may be a located in a hotel, but this funky bar has an identity of its own with its innovative cocktails, awesome music selection and large neon-lit "bitter beats boring" sign. It's a great spot to hang out.
Day 2
Discover Helsinki's alternative side by visiting off-the-beaten path places and cool spots where creatives congregate.
Morning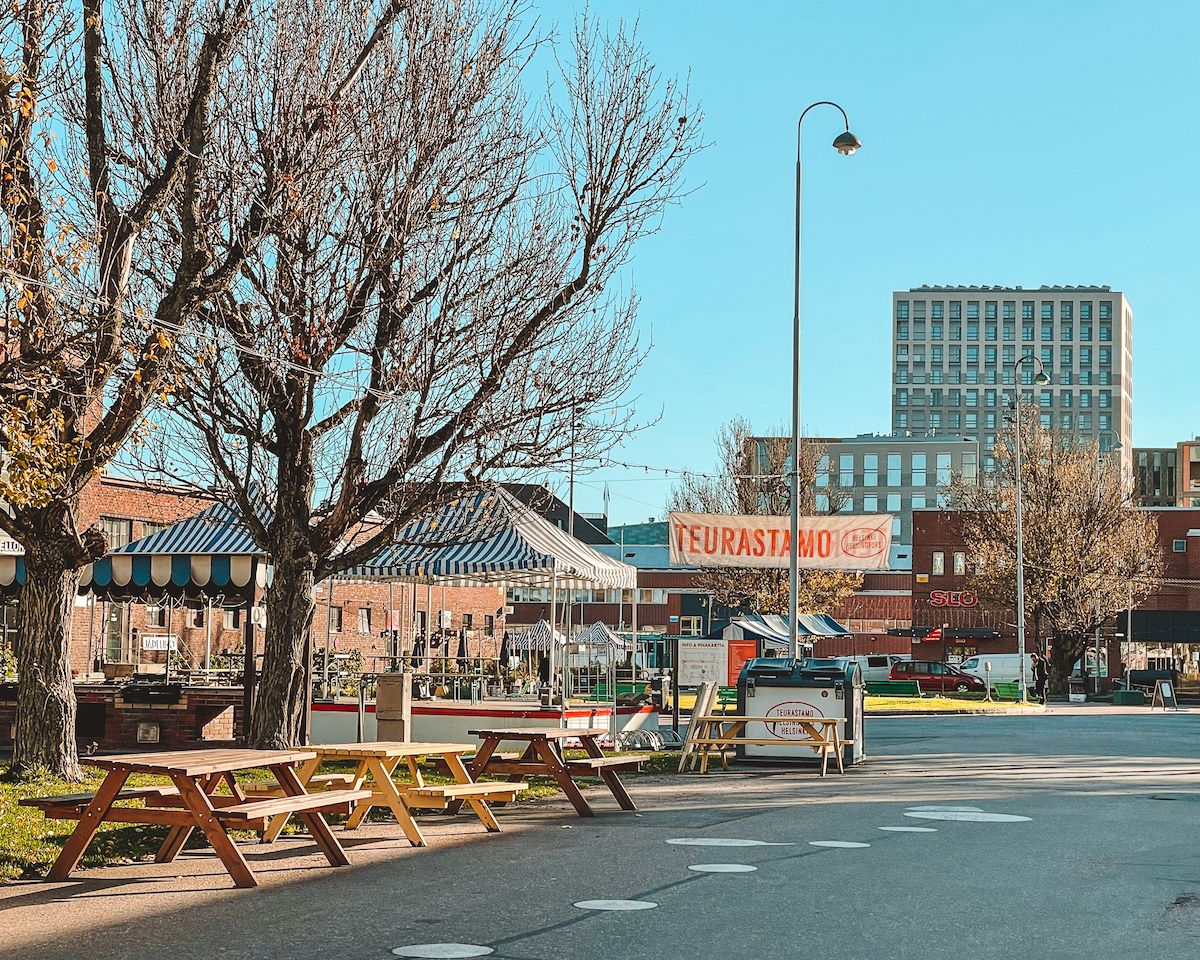 Have breakfast at Teurastamo, a former meat factory turned cultural hub
Today you will be exploring Helsinki's alternative side outside of its downtown core. Start your morning with breakfast at Teurastamo, a former 1930s abattoir turned cultural space where hip locals gather to eat, drink, listen to music and hang out with friends. The brick industrial complex also hosts events in its huge yard.
Walk around the complex and stop into the roastery and cafe, Helsingin Kahvipaahtimo for breakfast. It has a relaxed atmosphere with its exposed brick walls and concrete floors.
Daytime
Go for a sauna on the sea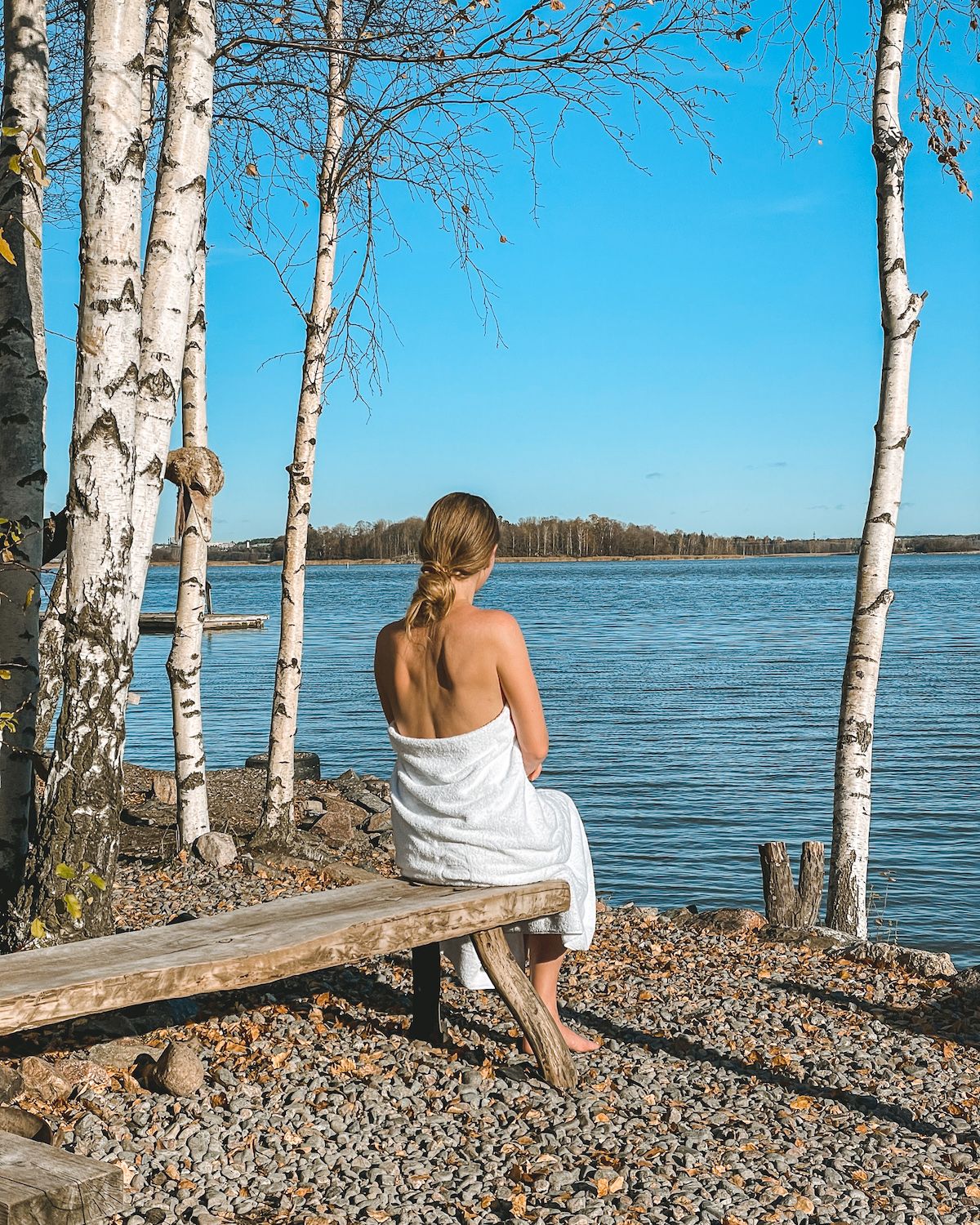 Just a 13 minute walk away from Teurastamo is one of Helsinki's best hidden gems, Sompasauna. The self-service public sauna is as authentic as it gets with its wood-burning saunas and birch trees overlooking the sea. They are free to use and maintained by local volunteers. Have a steam and take a refreshing dip in the sea!
Some important things to note:
The saunas are mixed-gender (a rarity in Finland) and swimsuit-optional.
Make sure to bring a towel.
Don't throw seawater on the stove. You can however throw spring water on the stove (there is a gas station on the way you can buy water at).
There is usually firewood and water for the stove on site.
The locals usually start firing up the saunas in the morning, so for a hot sauna early afternoon onwards is the best time to go.
Familiarize yourself with Sompasaunas safety tips and rules.
If you arrive and the sauna hasn't been heated up, you could also check out Kotiharjun Sauna. The traditional wood-heated public sauna has been open since 1928. Entry is 15 € per person. You can rent towels here and the saunas are separated by gender. Kotiharjun Sauna is in the Kallio district, which is your next stop.
Explore the hip Kallio district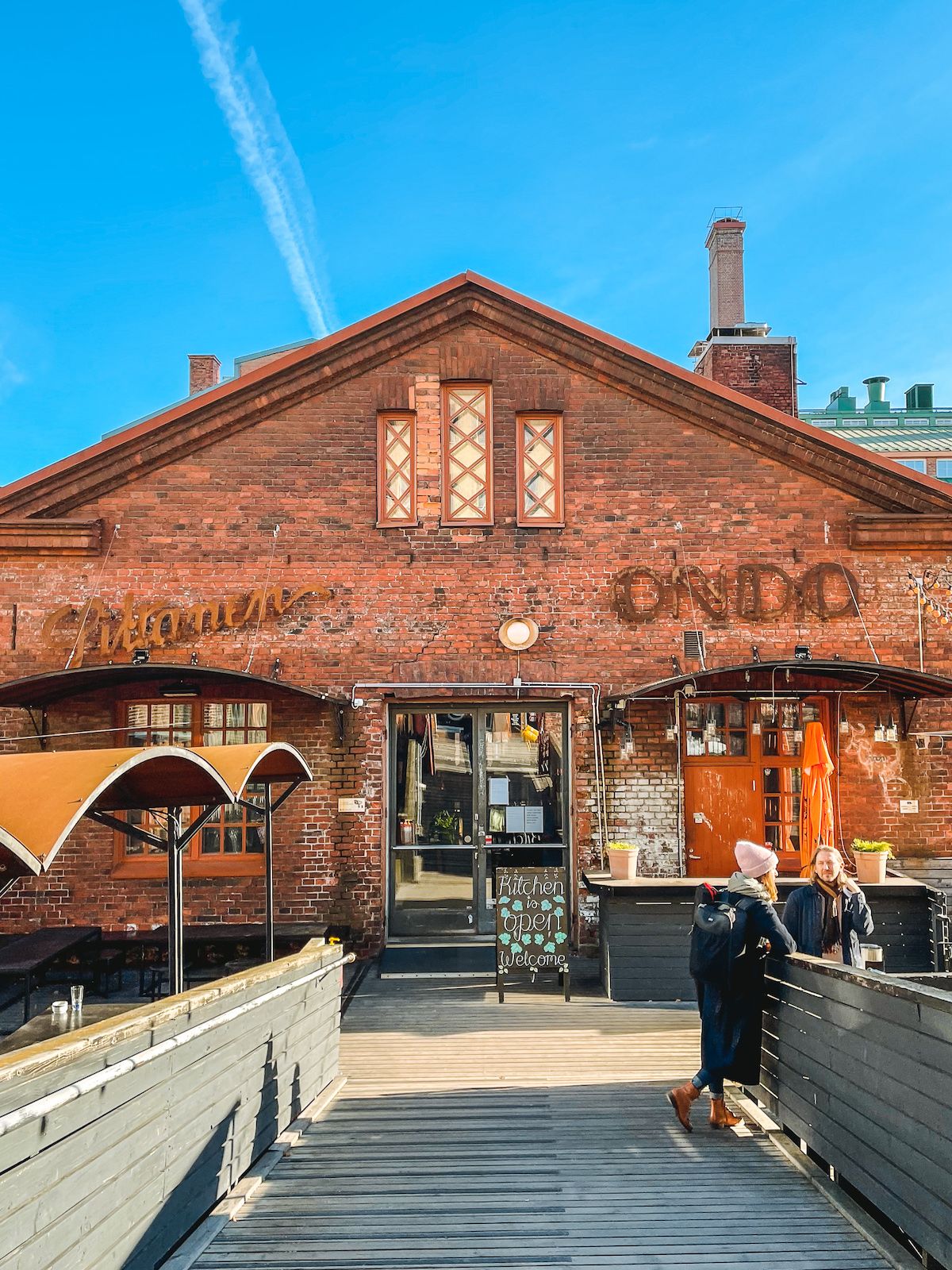 Kallio is known as Helsinki's bohemian neighbourhood, where young creatives and unconventional types live and hang out. You'll find cheap bars, trendy bars, quirky cafes, record stores, vintages shops and nightclubs playing underground music.
Stop for lunch at Siltanen, part of the Siltanen/Kaiku/Kuudes Linja complex that turns into one of Europe's best nightclubs (according to Resident Advisor) by night. There is a really cool scene here and the people watching is great. They offer a great value buffet-style brunch.
Afterwards walk down the streets of Kallio and browse the vintage shops and record stores, like Hippie Shake and Levykauppa Ax.
See a contemporary art exhibition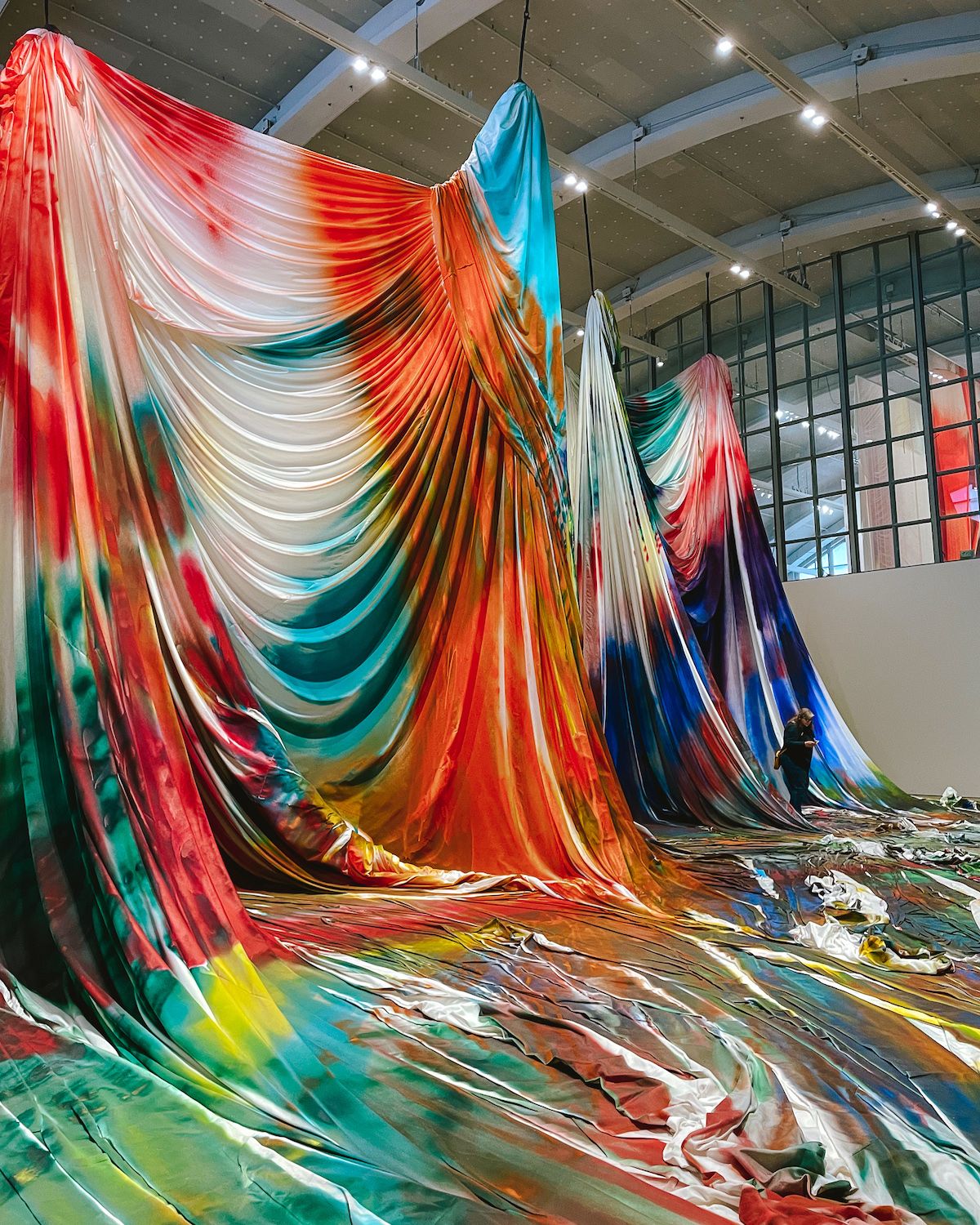 Helsinki has a thriving contemporary art scene. Head back to the downtown core and visit one of these prominent art museums, or both if you have time!
Helsinki Art Museum (HAM)
HAM has a collection of over 9,000 works of art throughout the city and at the museum itself. The art museum also supports emerging artists and hosts contemporary and modern art exhibitions throughout the year. See what exhibitions are on.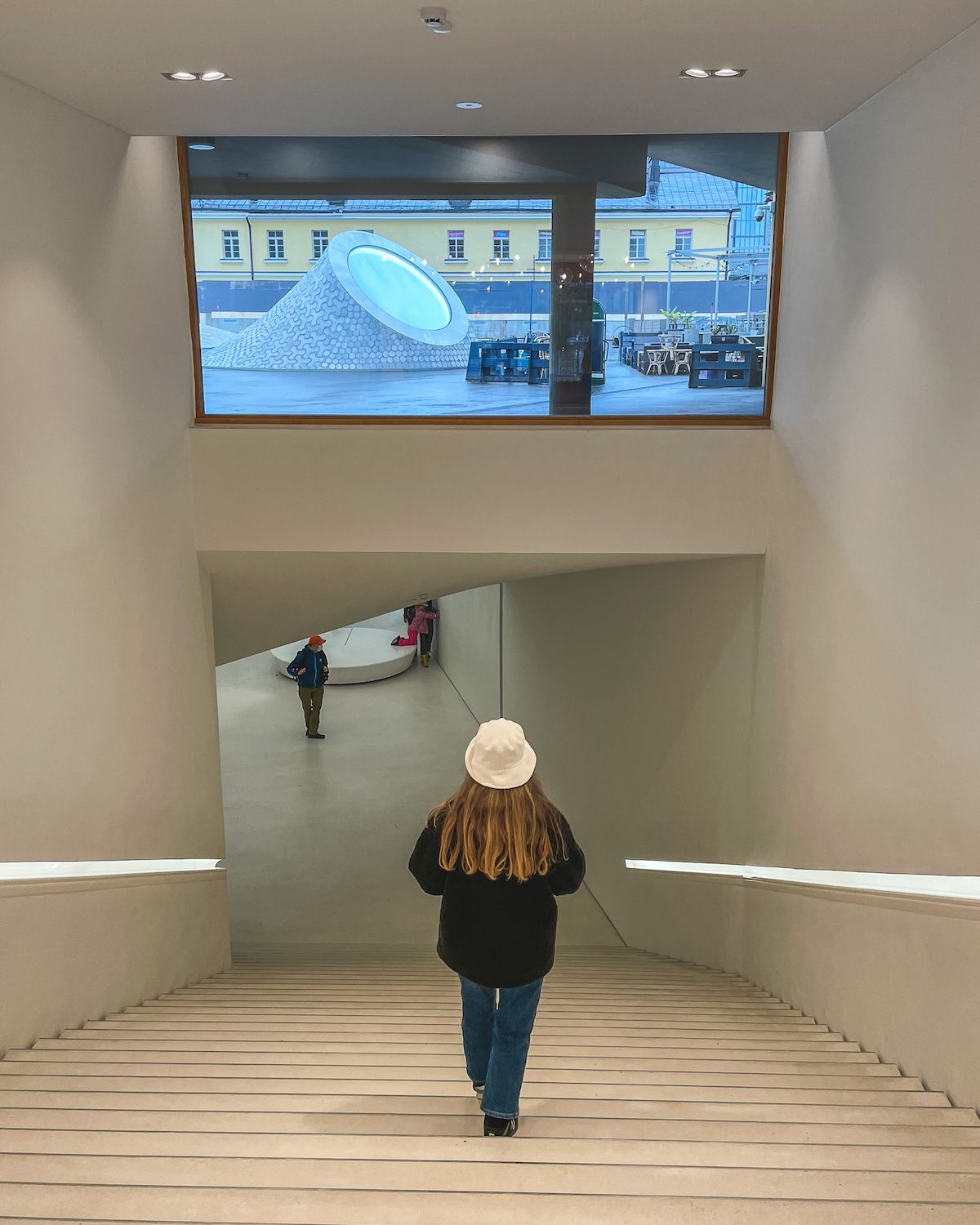 Amos Rex
The building of Amos Rex is a sight to see in itself. They recently expanded by renovating a former bus station into a two-story underground art exhibition space. The roof of the building serves as a futuristic looking public square with angled skylights poking out like alien mole hills. See what exhibitions are coming up.
Evening
Dine out at another Helsinki hot spot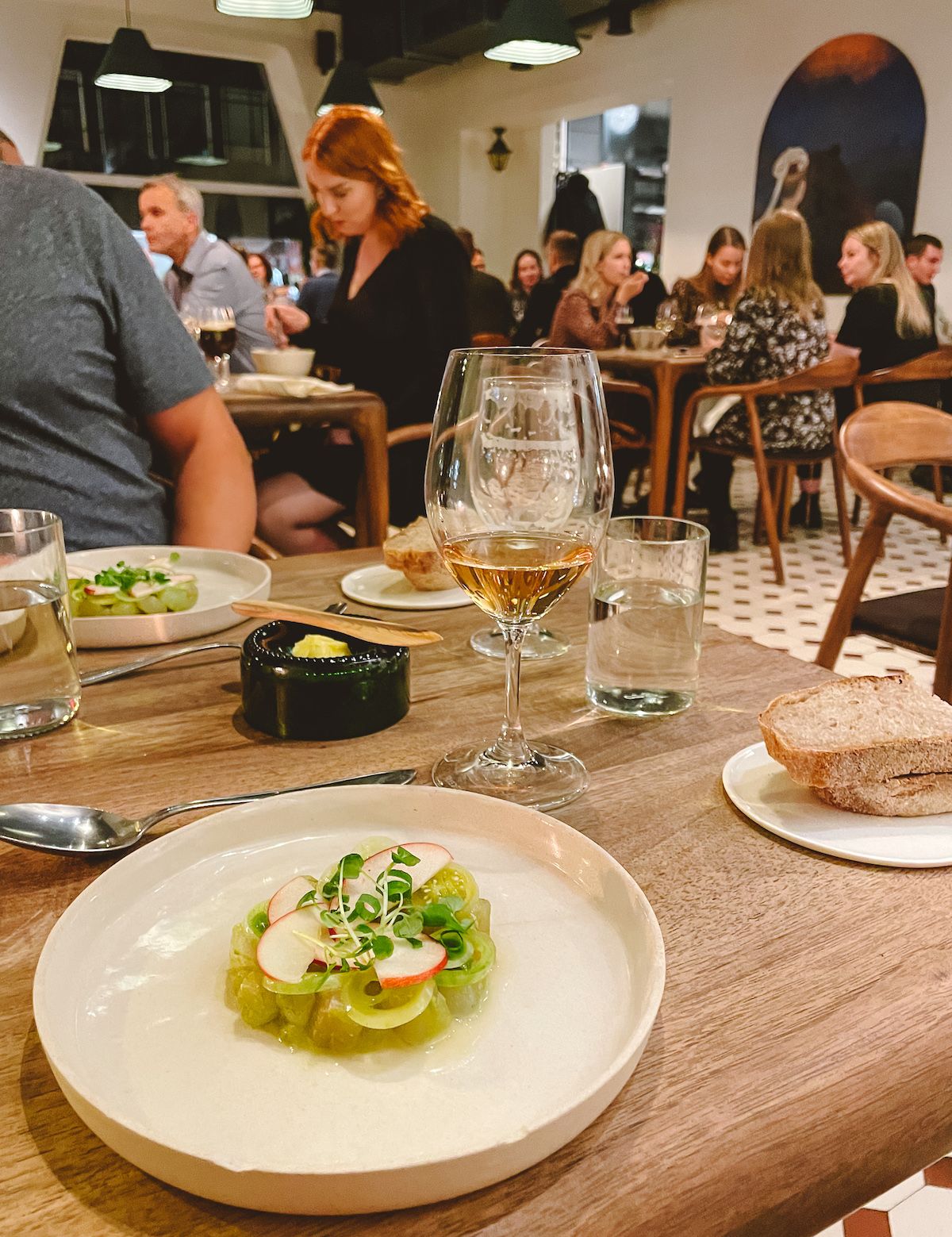 Pick from one of these delicious New Nordic cuisine dining spots you didn't get to your first night:
Ora - best for innovative fine dining
Muru - best for the ambience
Nolla - best for sustainability and a neighbourhood feel
Atelje Finne - best for art & food lovers
Or, dine on Finnish classics in a casual, yet rowdy atmosphere at Zetor. The rustic "tractor restaurant" is where you will find hearty Finnish specialities and Finnish music playing. It's a fun spot that can get wild by nighttime with Finns partying and dancing.
Go dancing at an alternative nightclub in Kallio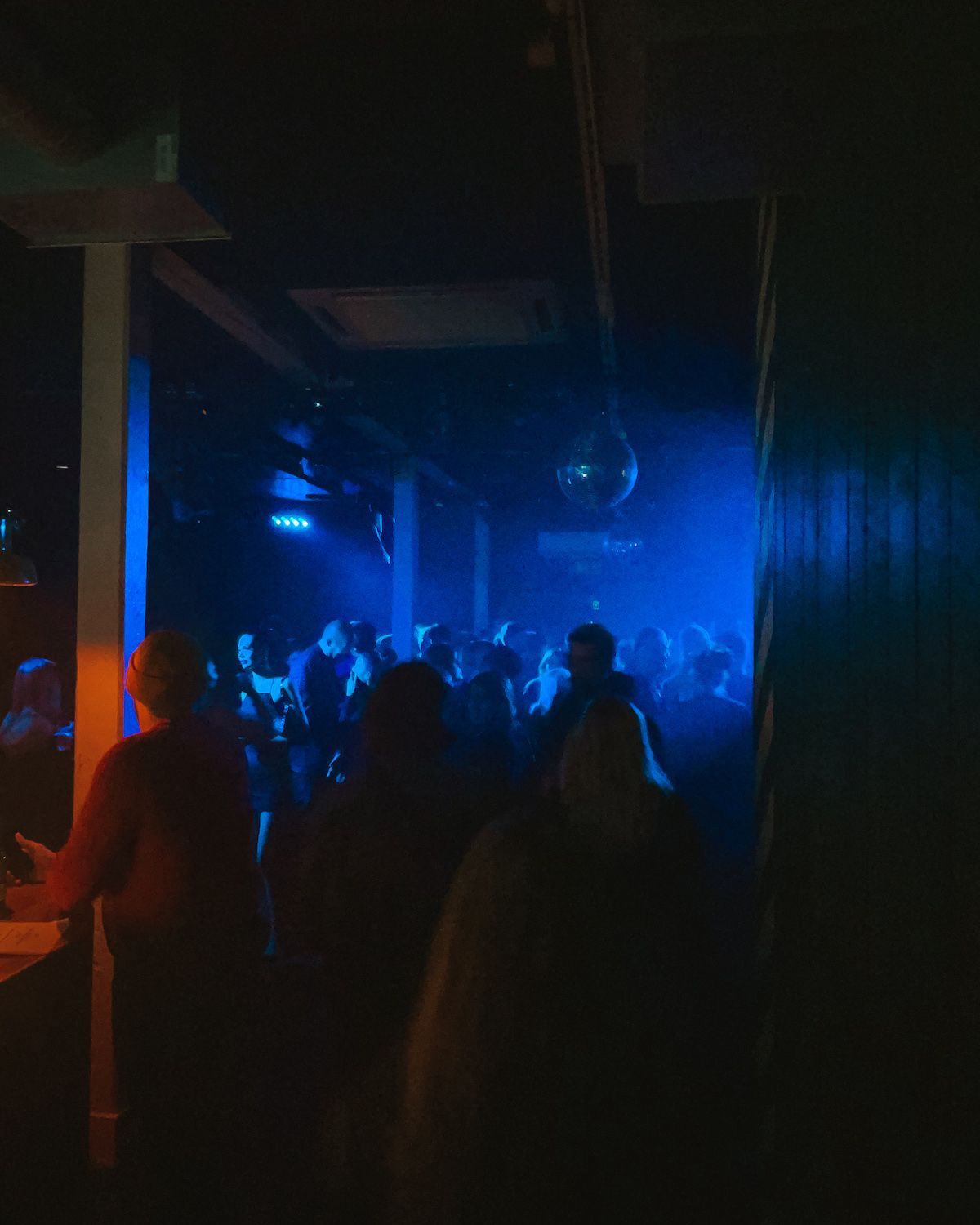 Head back to the Kallio district to dance the night away at Siltanen, Kaiku or Kuudes Linja, known as some of the top nightclubs in Europe. They are all in the same complex. We partied at Kaiku and loved the darker underground electronic music that played. The crowd was a mix of edgy locals and Europeans. They were very welcoming and sociable.
Look up what DJ is playing at each club to see what kind of vibe you're going for (you can typically listen to their sets on Soundcloud).
See who's playing at:
5 Tips for having an authentic Finnish Experience
Take some steam with locals in a wood-fired sauna on the sea
Try reindeer meat
Stay in an apartment
Drink a moderately weak cup of filter coffee like a local. Finns drink more coffee per capita than any other country in the world.
Shop unique Finnish brands in the design capital
Enjoy your 2 days in Helsinki!
---
Starting planning your trip to Helsinki
🌃 Accommodation: Booking.com is our go-to for finding places to stay. Sort by top reviewed.
🛫 Book your flight: use Skyscanner to compare flights across different airlines (we recommend booking direct with the airline however).
---
Save and pin this 2 day Helsinki itinerary for later: