Tokyo is an immense city crammed with hidden gems and amazing one-of-a-kind places. Experience the city's wondrous culture by visiting its fascinating neighbourhoods, unique eateries and local hot spots in our list of 20 alternative things to do in Tokyo.
20 Alternative Things To Do in Tokyo
Map thanks to
Wanderlog
, the best trip planner app
1. Explore the trendy neighbourhood of Daikanyama and walk the canal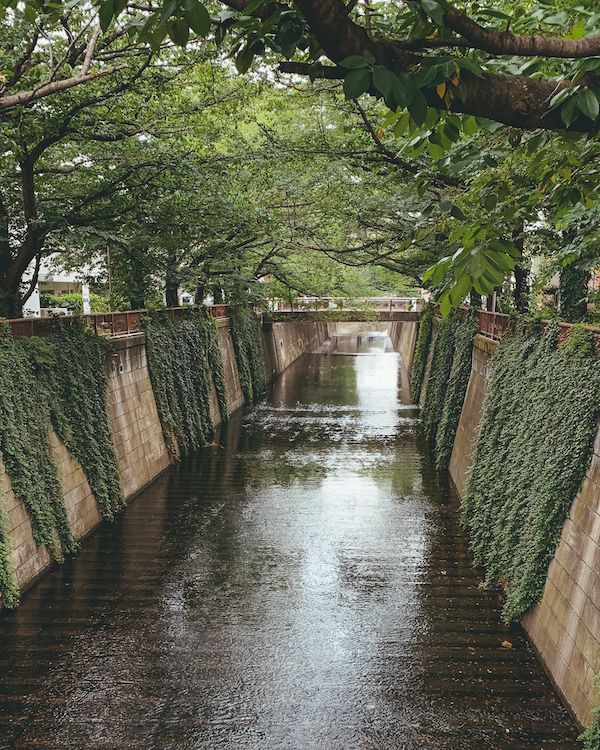 Daikanyama is one of our favourite neighbourhoods in Tokyo. It's hip and stylish, but not rammed with tourists. To start your tour, head over to Bonjour Records for a coffee and to hear what's playing. Then, walk your way around streets filled with unique boutique stores. Don't miss walking the the pretty Aoibadai canal starting at Naka-Meguro station. It's a wealthy area where you'll see fancy old cars driving about and is also where the art crowd congregates.
Another major hot spot in Daikanyama is the modern T-Site complex (aka Tsutaya Books).  Physical objects such as books, paper crafts and CDs are still very prominent in Japanese culture. Print is not dead here.
Address: Bonjour Records (24-1, Sarugaku-cho, Shibuya-ku); T-Site Complex (17-5 Sarugakucho, Shibuya-ku)
2. Grab picnic goodies at the Mitsukoshi department store in Ginza and enjoy in the park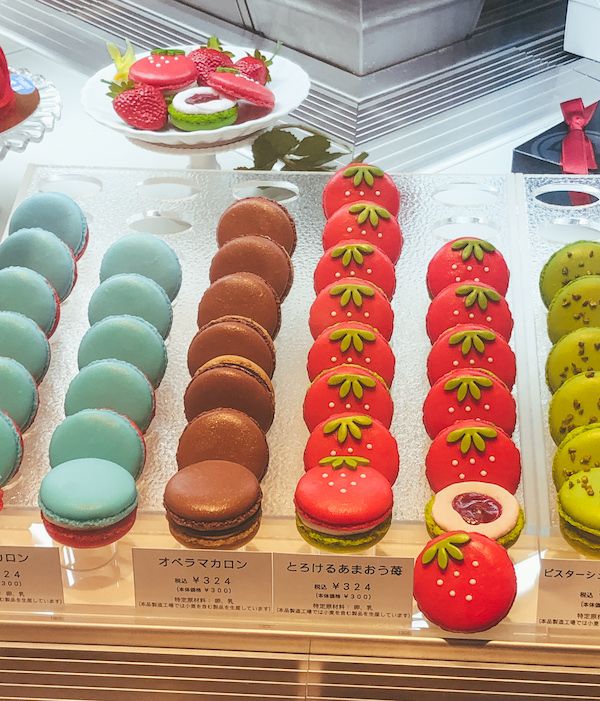 The moment you step off of the escalator, you enter a foodies paradise. A whole two basement floors are filled with a cornucopia of food stalls selling everything from sweets to deep fried tempura. It may take you a lap or two before you can start picking for your picnic, but that's the fun! After you're loaded up head to a nearby park to enjoy the fruits of your labour.
Top Tip: When collecting your items, try to minimize plastic/garbage waste since there are no garbage cans in the city except at the metro station. Also, don't forget that the fresh food section is on the lower of the two floors.    
3. Go vintage shopping in the alternative neighbourhood of Koenji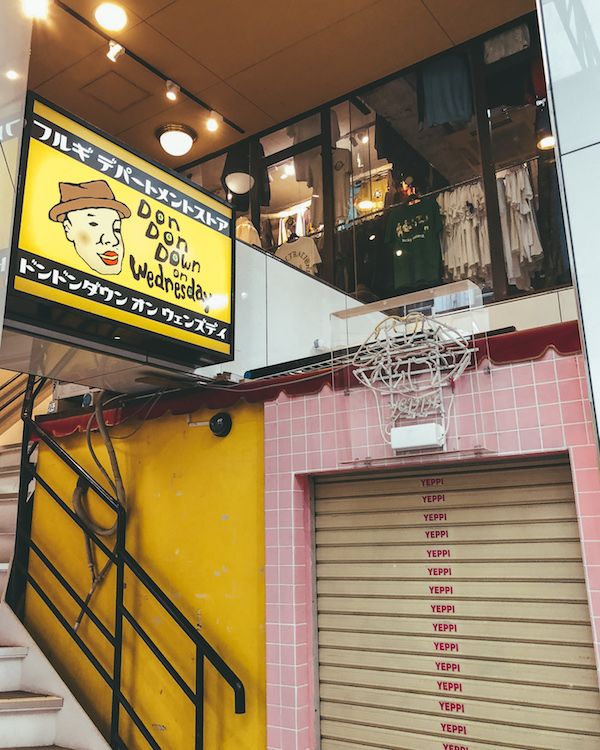 Koenji, located in the west, is known as the underground capital of Tokyo. Here you'll find tons of vintage stores, quirky bars, artist studios and shops. The vintage scene is incredible and like nothing we have ever seen. Don Don Down on Wednesday was our favourite store with luxury vintage finds such as YSL, Burberry, Issey Miyake, and Balenciaga between $50- $100! On Wednesdays look out for their discounts.
Address: Don Don Down on Wednesday (2nd & 3rd floor 4 Chome−24−9 Koenjiminami)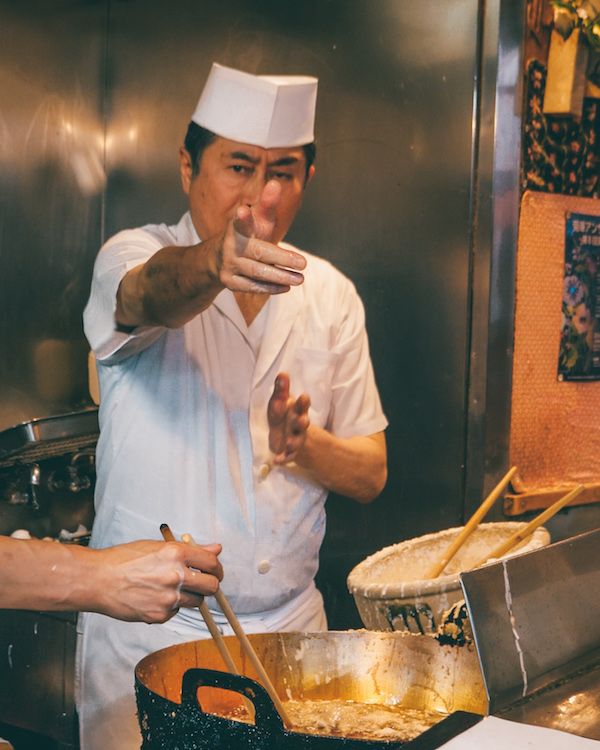 Have you tried a tempura restaurant? Grab lunch at Tensuke - it was tasty and very affordable! You sit down at a bar as friendly chefs fry up beautiful pieces for you to eat one by one.
Address: Tensuke (3 Chome-22-7 Koenjikita)
4. Try Japanese Wagyu Beef
You may have seen Wagyu on a menu before, but chances are it was USA or Australian. In our opinion, nothing can beat the deliciousness of Japanese Wagyu beef. What makes it more desirable is that most of it stays within Japan.  There are a few prefectures that raise the cattle, with the most notable being Kobe and Mastusaka.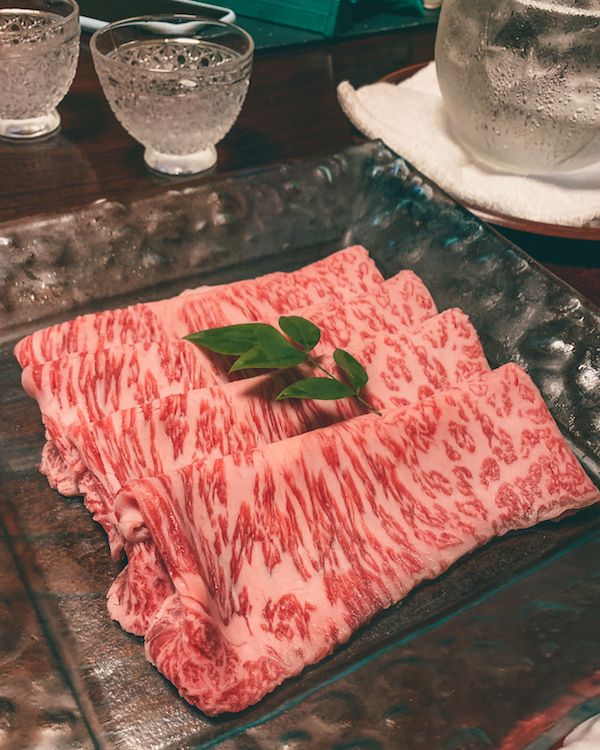 Wagyu is an incredibly well marbled piece of meat. It's fatty, but not in a way that makes it rubbery. Rather, when it's cooked, the meat becomes soft, full of flavour and melts in your mouth. A knife's own weight can cut through it.
Top Tip: The Wagyu industry is highly regulated and along with small production levels means this cut isn't cheap. The cheapest way to get Japanese Wagyu is at a reputable Shabu-Shabu (Japanese hot pot) restaurant.  
5. Explore around Cat Street in Harajuku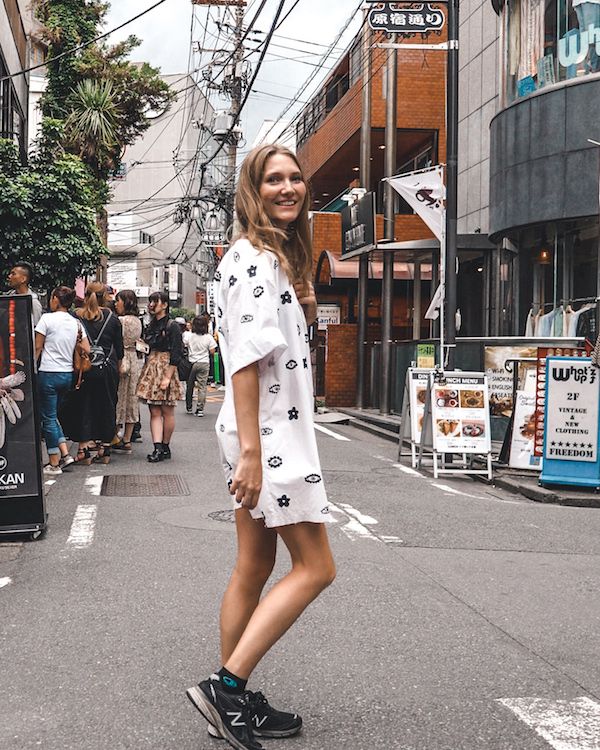 Most guides of Harajuku will point you through the main drag of Takeshita Street. There you will see tourist trap after tourist trap catering to people who have fantasized of seeing whacky Japanese people dressed in strange outfits. Street hustlers will try to get you into their stores to buy t-shirts and other items. It's a place to walk through, not a destination.
Instead, we were fortunately tipped off that Cat Street, to the South of Takeshita is the alternative place to explore. Wander the streets heading into vintage shops and you will find more eclectic Japanese fashions. The east portion of Takeshita street (East of Meji-Dori street) is also really hip.
6. Shop for Japanese kitchenware on Kappabashi Street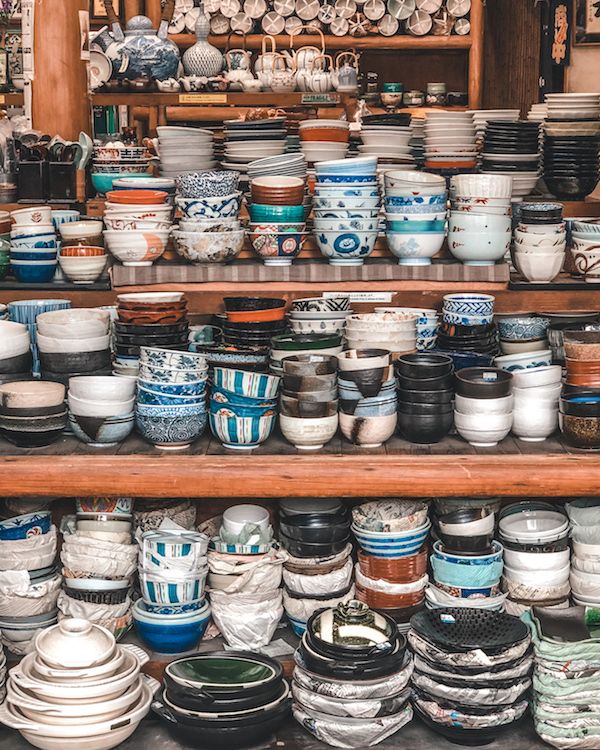 After spending some time in Japan you will no doubt get a little hooked on their exceptionally fascinating kitchenware. Restaurants take great pride in their choices of tableware such as sake glasses, chopsticks, plates and glasses. Kappabashidogugai Street is the authentic street where you'll see tons of kitchenware shops. Take get there, take the metro to Tawaramachi Station and start shopping at Kappabashi/Asakusa-dori intersection.
We set out to find a sake set and ended up piecing together a melange of unique cups from different stores to make it our own. We also found some amazing 1mm thick beer glasses that we had tried out at our #1 favourite restaurant in Tokyo, Shirosaka. They are so elegant and somehow make that beer disappear faster than normal 🍻
7. Drink world class cocktails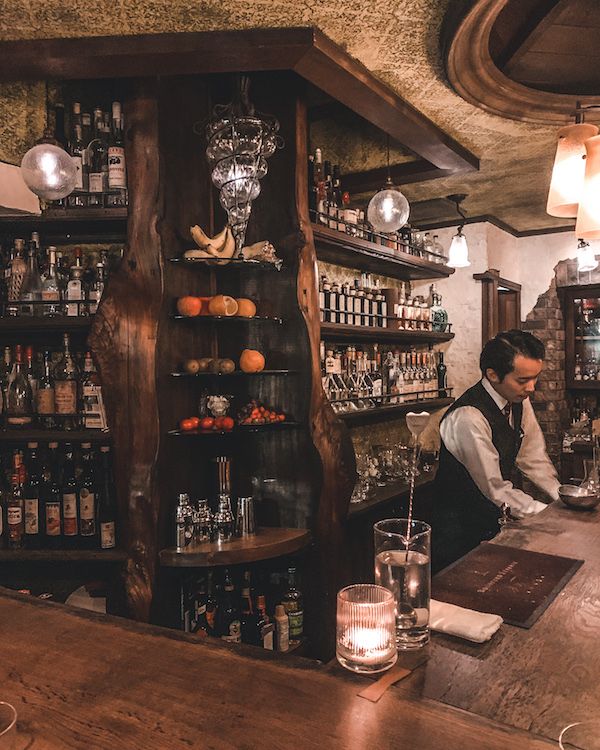 Exceptional craftsmanship doesn't only apply to sushi in Japan. We found two great cocktail bars where professional bartenders serve up unique and delicious drinks.  
Bar Benfiddich (Yamatoya Building 9F, 1 Chome-13-7 Nishishinjuku): Head to this small Shinjuku spot for unique cocktails made with their homemade infusions. Ari had a Bloody Mary made with porcini mushroom infused vodka and fresh tomato.  
Bar Mimi (6 Chome-6-19 Ginza): This basement cocktail bar has a casual upbeat atmosphere and the perfect energy for a small group. Friendly bartenders make well-crafted drinks to order and we were lucky enough to be introduced to Yomogi, the "Japanese absinthe". Muddle a teaspoon of sugar and some cucumber in a glass, add ice and 1:1 of Yomogi and soda water.  
Burnt Potato 🥔💨: Bar High Five. Our waiter was condescending and belittled a member of our party when they had a hard time explaining what kind of cocktail they like. For a cocktail bar with no menu, this was appalling. On top of that, we did not enjoy the cocktails like we have at other Top 50 World Bars. Too pretentious, very disappointing.
8. Eat the freshest sushi at Tsukiji Fish Market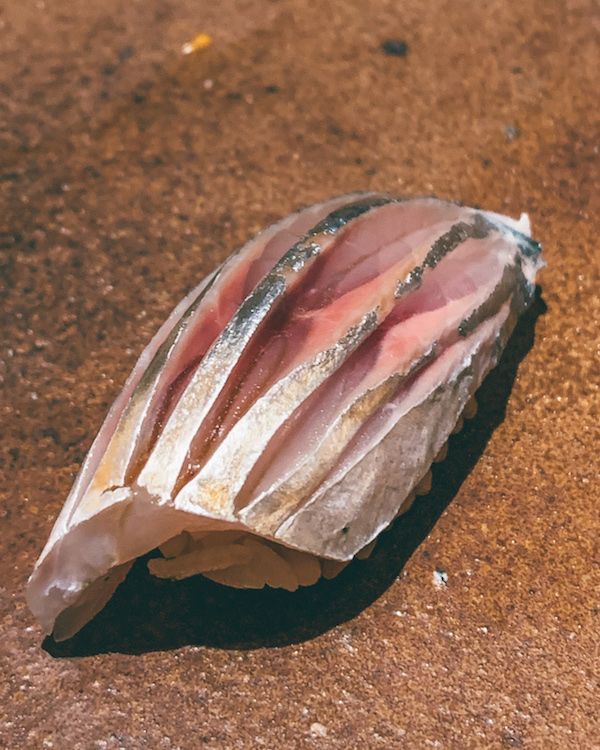 If you like it fresh, head to the Tsukiji fish market for lunch. Although the actual fish auction has moved to Toyosu market, you won't have trouble finding incredible sushi in this sprawling complex. Crowds ogling fresh fish and sushi joints pack small streets.
Some must try pieces are the range of tunas: lean (maguro), medium fatty (chūtoro) and fatty (toro). Our favourite by far is chūtoro. It melts in your mouth! Ari loves horse mackerel because it comes with a little dot of diced green onion on top.
Top Tip: There's an old surfer's adage, never take the first wave. When looking for a sushi joint to have lunch in, skip the long lines and try to find a more nondescript location without foreigners lined up in front. If you love what you order, don't be afraid to ask the sushi chef politely for more. Try to remember the Japanese name for the piece, the chef will be impressed. "2 chutoro onegaishimasu" (Two medium fatty please).
9. Experience Tokyo's jazz scene at Alfie Jazz Club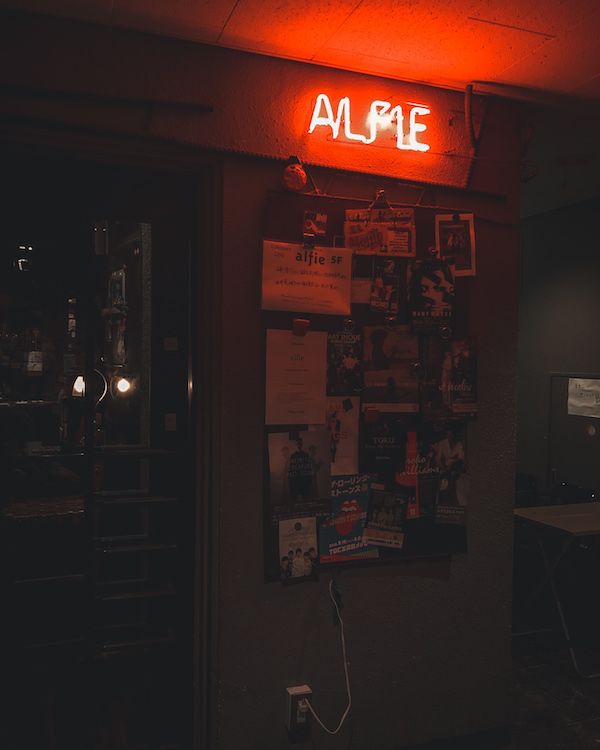 Alfie Jazz Club is a locals joint in Roppongi. We heard an amazing Tokyo based quintet with three saxophonists. Three saxophonists are you crazy?! Yes, we were worried that we were in for a blaring hoe down but ended up completely surprised with their set and skill level. Perfect melodies, a few originals and mesmerizing solos made for a perfect evening.
The historic Blue Note also has a Tokyo location, but Alfie was right for us on this occasion.    
Address: Alfie Jazz Club (Hama Roppongi Building 5F, 6 Chome-2-35 Roppongi); Blue Note (6 Chome-3-16 Minamiaoyama)
10. Walk the electric and neon streets of Kabukichō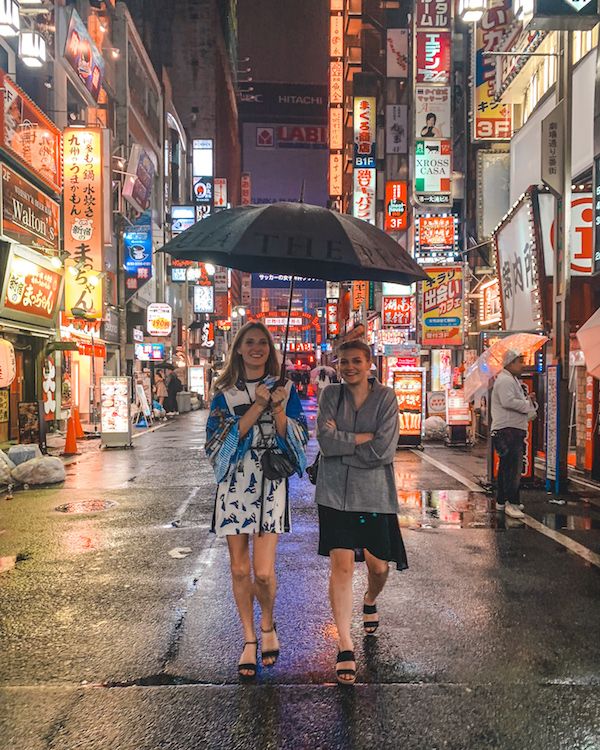 Have you ever seen the movie Enter The Void? The psychedelic and experiential film shows dreamlike visuals of Tokyo's neon lights and was shot mostly in the entertainment and red light district of Kabukichō. It's a sleepless area of Tokyo where you'll find the infamous love hotels.
Walk passed the promoters hawking sketchy night clubs and head towards the more welcoming area of Golden Gai. As you walk through the narrow streets with plenty of bars, listen for music you like and dive into one.
11. Eat sushi Omakase style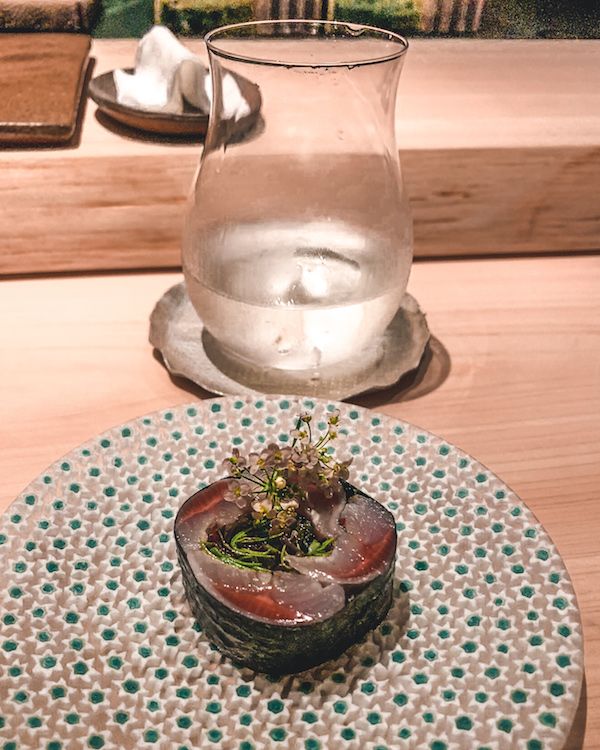 Omakase means chefs choice and is a must do experience in Tokyo. You sit at a bar table where a sushi chef prepares nigiri sushi (rice with fish on top) for you piece by piece depending on what's in season and available at the markets. If you haven't watched Jiro Dreams of Sushi, we highly recommend doing so before trying omakase. It's crazy the work that goes into preparation for your experience.
One thing to note is that you will probably have some weird looking things so prepare for an adventure. Try it! You never know until you do and every piece is made with such care that it's all very good. If you know you don't like something, you must state that before you start.  
Our favourite Omakase spots:
Sushi Shin (4 Chome-18-20 Nishiazabu): It's best to head to Sushi Shin for lunch. Its much easier to get a reservation and is less expensive. This is a more traditional omakase experience.
Udatsu Sushi (2 Chome-48-10 Kamimeguro): A new sushi restaurant that takes a more modern approach to omakase. It's relaxed and not as formal and even has an vegetarian option.
Top Tip: Eat Japanese style, with your hands. Just pick up the piece with two fingers and put it in your mouth!
12. Try food other than Japanese cuisine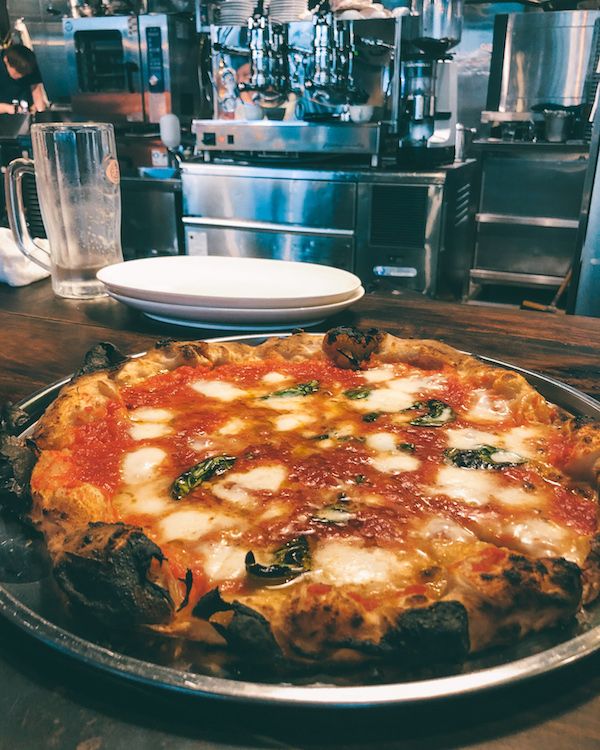 It's easy to get caught up in noodles, fish and fried stuff while you're in Tokyo. But there is more! We never thought we would have a Top 5 pizza in Japan. We were wrong and once again. Japanese perfectionism works to the foodie's advantage.
Try Napoli style pizza from Pizza Studio Tamaki in Roppongi, French macarons from the Mitsukoshi department store basement food hall, and did we mention the egg salad sandwich from Lawson or 7-Eleven? You'll see why!  
Address: Pizza Studio Tamaki (MK Art Residence 1F, 7 Chome-6-2 Roppongi)
13. Be Charolette or Bob from Lost in Translation for the night at New York Bar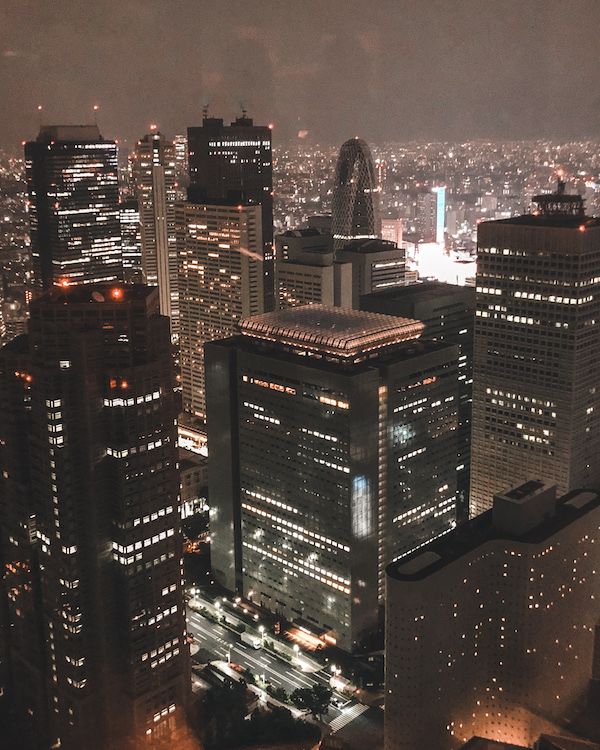 It's a great movie to watch pre-Tokyo for the iconic scenes of the city and the amazing encounter at the New York Bar in the Park Hyatt. Not only can you pretend to be one of the main characters and have great cocktails, you can enjoy one of the best views of the city from the 52nd floor while listening to great live jazz.
Top Tip: New York Grill, also on the 52nd floor, has a fantastic more westernized menu. We recommend getting steak here, make sure it's Japanese not the USDA.  
Address: New York Bar (Park Hyatt Tokyo 52F , 3 Chome-7-1-2, Nishishinjuku)
14. Eat at Shirosaka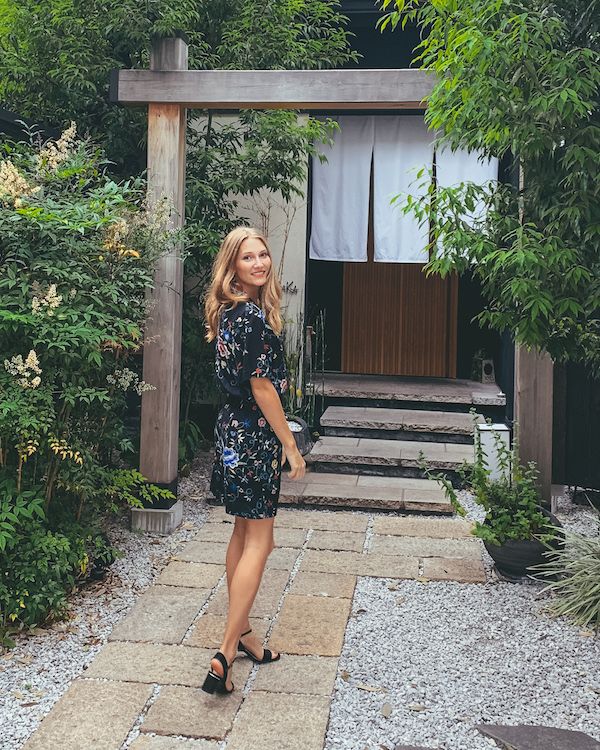 This restaurant deserves its very own point because it is, hands down, the best we have ever dined at! We've had the pleasure of eating at both 1 and 2-star michelin restaurants all over the world and this place stood out on many levels. We knew this was a the one when we couldn't complain about a single dish we had that night.
Shirosaka is kaiseki (Japanese multi-course meal) done more relaxed. You wont find a sushi chef with a stick up his bottom staring you down as you chomp his sushi. This experience is fun, open and welcoming.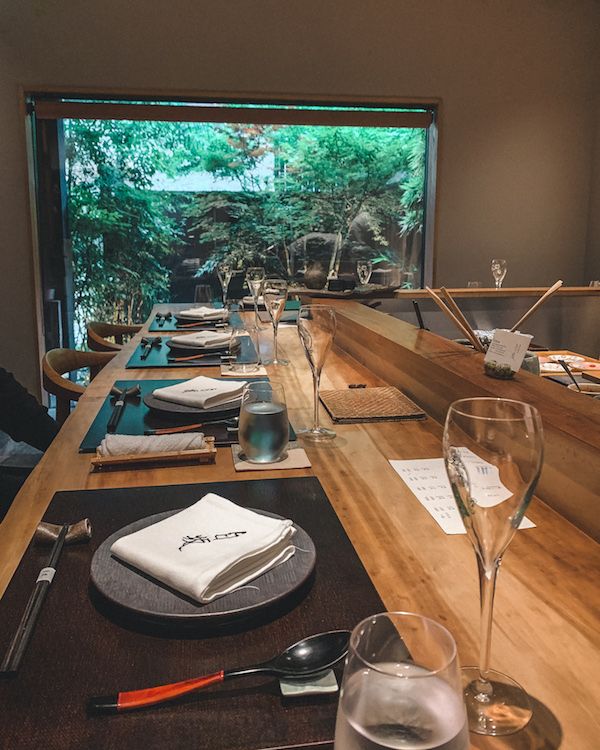 Fish many ways, Wagyu beef, noodles, vegetables. The food is traditional with a slight western fusion, approachable and not bizarre. Dishes were put together with a satisfying sophistication that embraced simplicity over complexity.
With some French flair, the sake pairing starts with a perfectly chilled glass of Laurent-Perrier champagne (hits the spot). Each course is served with a different sake and sake set that somehow, not only tastes incredible with the dish, but also aesthetically matched the dish as well.
Address: Shirosaka (6 Chome-3-9 Akasaka)
15. Dance until sunrise at Oath nightclub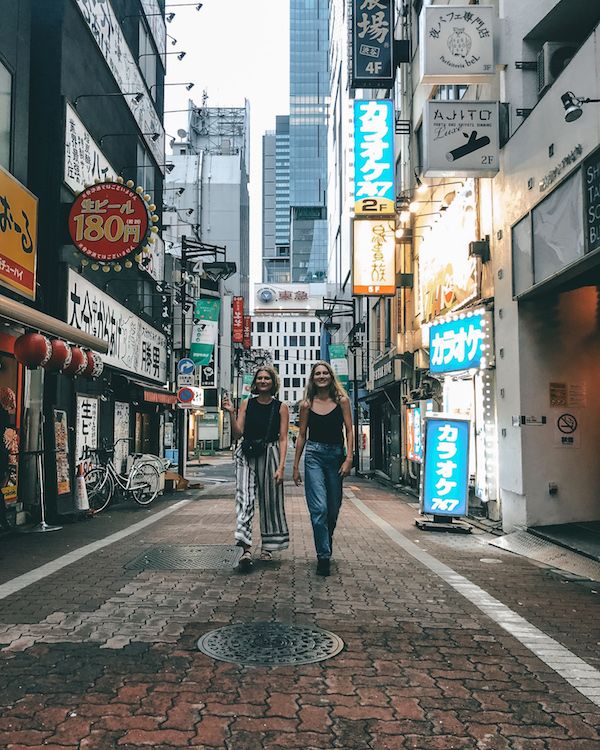 Skip the bottle clubs and Top 40 joints and head to Oath nightclub. Lots of locals DJ here and they play really great house, disco, funk and energetic music that keeps you moving. The people are really friendly and not standoffish. There is also a comfortable seating area that makes the club feel intimate.
Address: Oath (B1F East Shizu Building, 1 Chome-6-5, Dogenzaka)
16. Go for a run or walk around Imperial Palace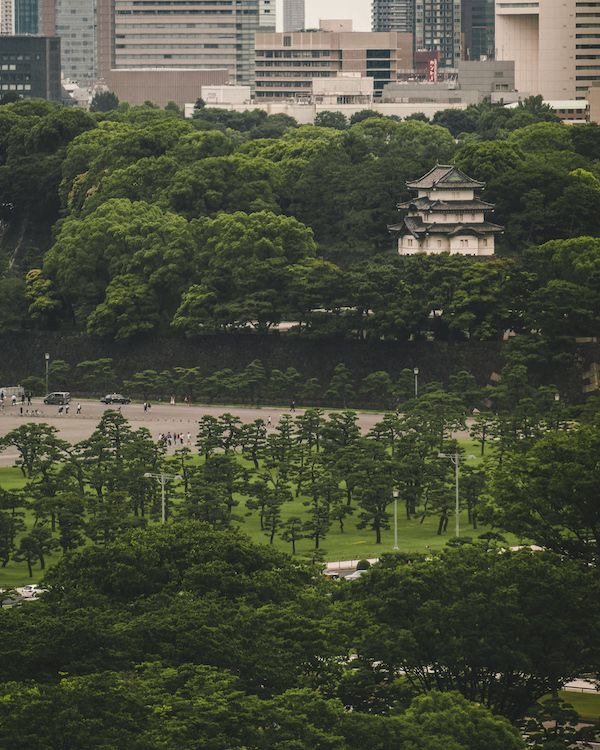 If you have been in Tokyo for some number of days, there is a high probability that you'll have eaten loads of food. Work off some of those calories by walking or running the ~5km loop around the Imperial Palace. Marvel at the picturesque trees, stone fortress walls and lush green grass as you loop around.
17. Try food at Lawson or 7-Eleven... seriously!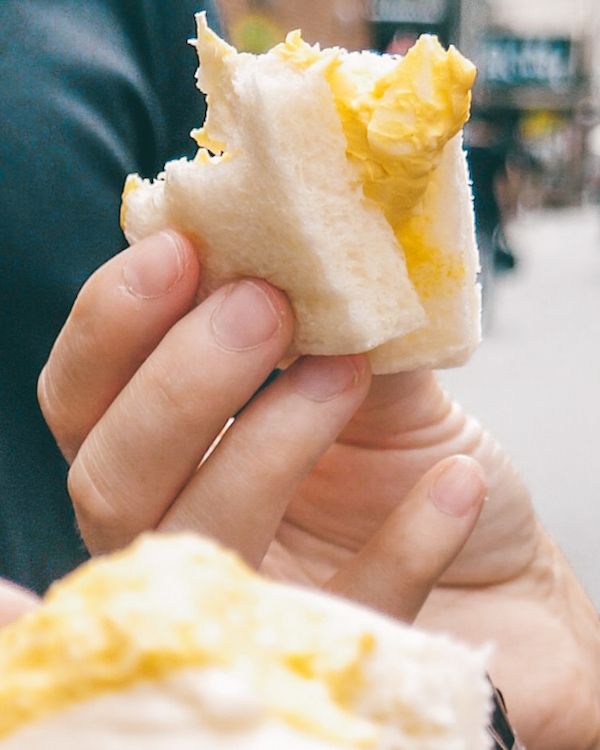 The 7-Eleven scene in Tokyo is hot. It's a surefire place to get a quick tasty bite or a cheap drink, especially late at night. We pretty much stopped into these convenience stores once a day to grab something. Anthony Bourdain raved about the egg salad sandwiches at Lawson and he is sure onto something. The egg salad is incredible and just enough to satisfy you. The soft white bread encapsulates a well chopped not too salty and not too wet egg salad. Nothing fancy, just perfection.  
Try a Japanese hangover cure. These vitamin enriched small drinks are to be taken before you go on a night out. I think they work, but the one night I ended up having three.
18. See the world's first digital art museum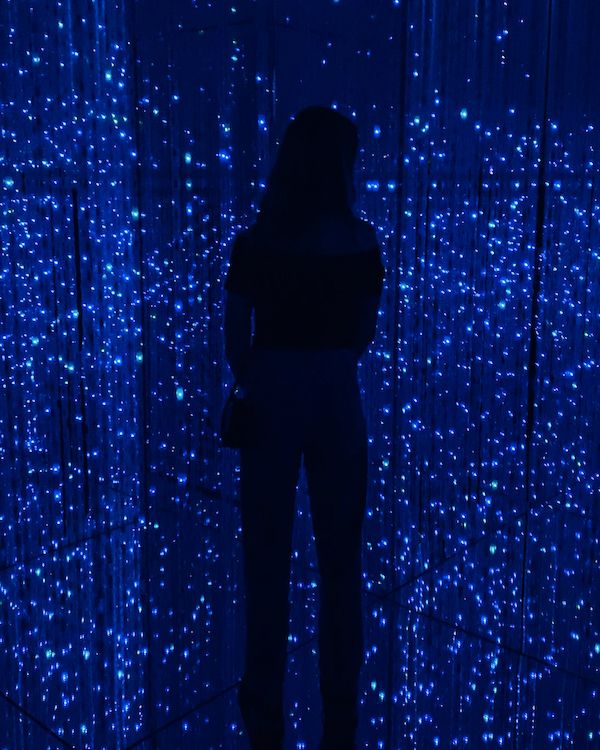 teamLab Borderless is an immersive three-dimensional complex where artworks move in and out of rooms and can change based on their interactions with people. It feels like you're in another world once you step into the digital art space. It's colourful, trippy and at times a sensory overload! There are different installations you wander into. One of our favourites was the tea room where your tea looks like it comes to life.  The museum is a great place to bring kids, since there are a lot of unique activities they can do. Make sure you book your tickets in advance.
Warning: this stop will take up most of your day because of the lineup and travel time, so skip it if your time is limited.
Address: teamLab Borderless (1 Chome−3−8 Odaiba Palette Town, Aomi)
19. Try a Tonkatsu sandwich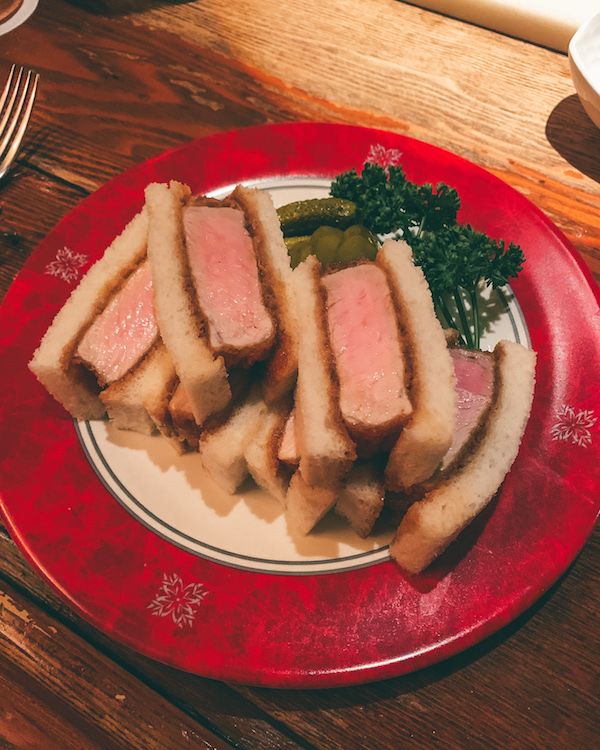 Do I still think about it? Yes. Do I wish I could have one right now? Yes. The mighty Tonkatsu sandwich (breaded pork sandwich).
Imagine warm, thin, soft white bread with no crust covering a juicy piece of panko breaded pork loin in the middle. Oh and the pork has a dark sauce called Tonkatsu, which was made just for breaded pork. It's slightly sweet yet savoury, and when applied properly, it's just enough to have you ordering a second round.
20. Drink coffee out of a vending machine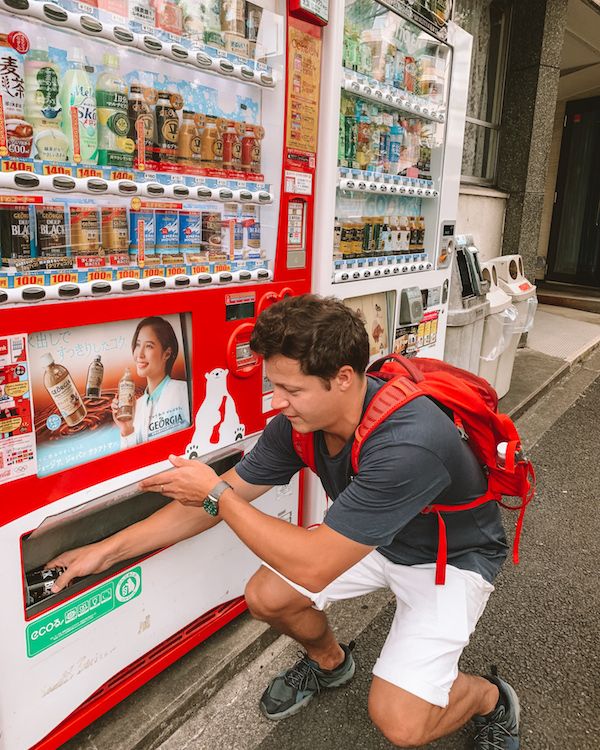 With an overworked population, there seems to be an endless supply of caffeine based drinks available at all times. Grab a can of tasty cold brew coffee from your nearest vending machine. Ari needed to go on a coffee detox after his time in Japan!
We hope you enjoyed these alternative things to do in Tokyo!
Start planning your trip now and read our ultimate two week itinerary in Japan for food, art & relaxation.
---
Looking for more travel inspiration? Check out our list of Gastronomic Experiences Around the World to inspire your next trip.
---
Save and pin these alternative things to do in Tokyo for later: