Japan is the land of outstanding cuisine, fashion, art, nature, and architecture. There is so much to discover but, most unique of all, you will find a culture that is sure to inspire.
Our itinerary takes you through some must-do activities in Tokyo, an electric city packed with hidden gems. After rigorous exploring in the capital, you head for a relaxing nature retreat in the volcanic hot springs of Hakone. Next, you'll visit Osaka, an underrated city with a thriving street food scene and some eccentric neighbourhoods. Your last stop is the breathtaking Naoshima Island. It is an island dedicated to art where you will see contemporary art exhibitions that will blow your mind.  
This 2 week Japan itinerary focuses on alternative things to do and does not explore the historic and cultural sites the country has to offer.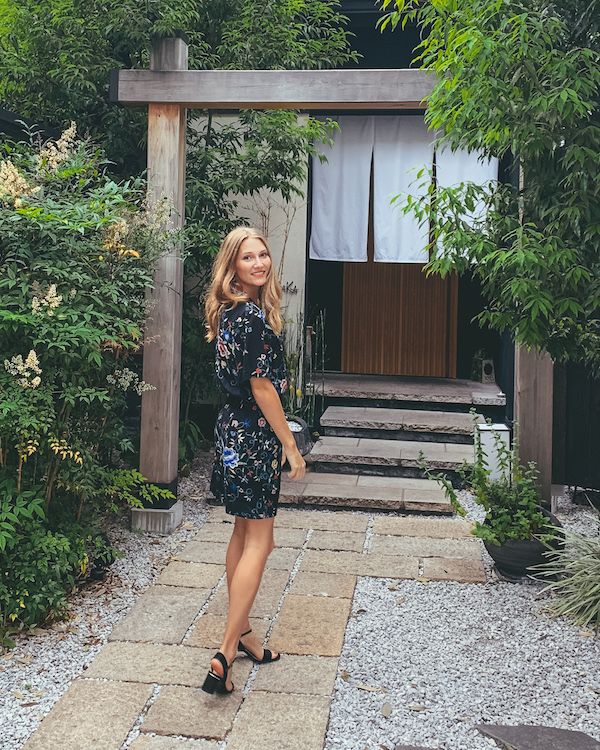 Overview: Japan 2 Week Itinerary
---
2 Week Japan Itinerary
Days 1-6: Tokyo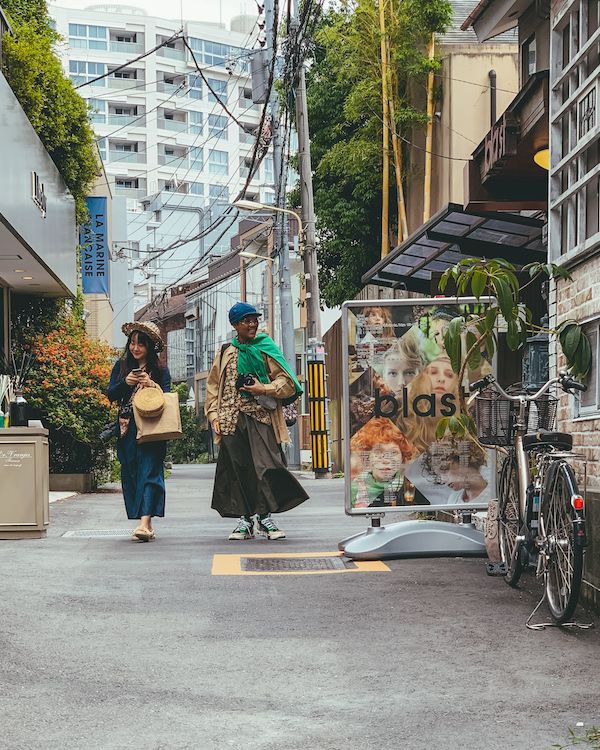 The vibrant and electric city of Tokyo has so much to offer in terms of gastronomy, nightlife, art, culture, and fashion. You will just scratch the surface in six days! With 47 neighbourhoods to choose from, it can be overwhelming researching what to do. Tokyo is also a city that requires reservations in advance for restaurants, events, shows and art galleries, so prior research is essential.
Where to stay in Tokyo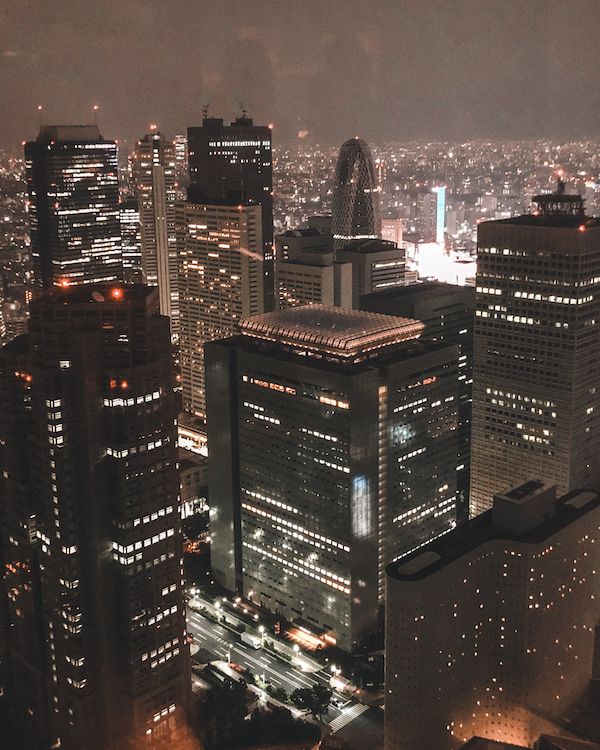 Disclosure: Some of the links below are affiliate links, meaning at no additional cost to you, we will earn a commission if you click through and make a purchase. Regardless, we only recommend products or services we have used or that we believe will add value to our readers.
With a city so large to explore, the most important thing to look for in a hotel is walking distance to a subway line. Also consider that specific subway station's access to different subway lines. Shinjuku is a great area for easily getting around to most neighbourhoods. We also stayed in Ginza but found it a bit too corporate feeling, busy and commercial.
Accommodation is not cheap! In Shinjuku we stayed at Sotetsu Fresa Inn Higashi Shinjuku, which was under the $150 USD mark and next door to the subway. This was a good price for Tokyo standards since it had a private washroom, but our room was the size of a shoebox! The hotel is in a quieter area of Shinjuku and it was very easy to get around to explore the city.
In Ginza we splurged on the Millennium Mitsui Garden Hotel, which was under the $250 USD mark. It was a nice regular sized modern room and only a walk away from the subway station. The streets in the area however were very busy and packed with people.
Our friends we met up with in Tokyo stayed in a lesser-known neighbourhood called Akasaka for under the $100 USD mark. The hotel, Super Hotel Lohas Akasaka, is close to two large subway stations making it easy to get around the city. Though their room was small, it had a private bathroom, with nice facilities in the hotel. It is extremely good value for Tokyo! There are a variety of cheap eateries and upscale restaurants in the area to choose from.
Coolest neighborhoods in Tokyo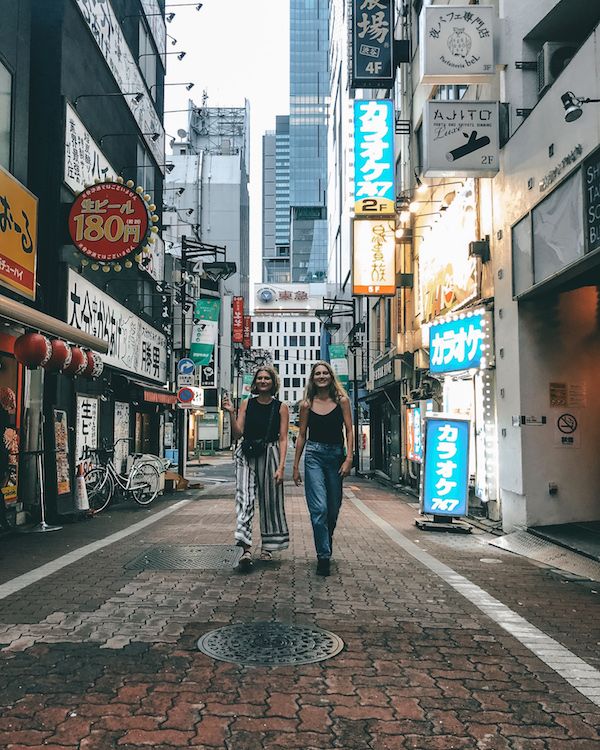 Daikanyama & Aoibadai Canal
Hip and stylish area with tons of boutique stores. You won't see a lot of tourists or hotels here. Make sure to walk the peaceful Aoibadai canal starting at Naka Meguro station, where the art crowd congregates. Don't miss the amazing vintage store, CARBOOTS, which is hidden on a back street. The store has an excellent selection of high end fashion brands at great prices. Also make sure to pop into the expansive Tsutaya book and music store.
Koenji
Known as the capital of underground culture, here you'll find tons of unique vintage shops and quirky artist boutiques. Don't miss the vintage store Don Don Down on Wednesday for a great variety of mens and womens' clothing. High end fashion brands there are a steal!
Ginza
Although the central area can feel a bit commercial with mainstream shops, there are places you don't want to miss seeing. Visit the Tsukiji Fish Market for the freshest sushi in Tokyo. Be amazed at the lower food level of the Mitsukoshi department store for an array of take away delights. Try the upbeat basement bar, Mimi Bar, where friendly bartenders make you masterfully-crafted cocktails.
Around Cat street in Harajuku
Walk past the main tourist drag of Takeshita Street and explore the back streets around Cat Street. Here you'll find eclectic Japanese fashions, vintage stores and quirky cafes. A bonus is that the streets are a lot quieter and not filled with tourists.
Kabukichō
Walk the neon and electric streets at night in Tokyo's red light district. This is where you'll see plenty of the iconic love hotels. Walk past the sketchy nightclubs and the hawkers offering you free drinks to the welcoming Golden Gai neighbourhood and grab a drink at one of the many tiny bars tucked away in the narrow streets.
Kappabashi
One thing you may notice while in Japan is how serious they take their kitchenware. Each dish always has its own unique plate, chopstick holder and cup. Kappabashi street is where you'll find tons of authentic stores filled with fascinating kitchenware. Pick up some chopsticks, chopstick holders, or even a sake set! Start shopping at the Kappabashi/Asakusa-dori intersection and work your way north.
Best Restaurants in Tokyo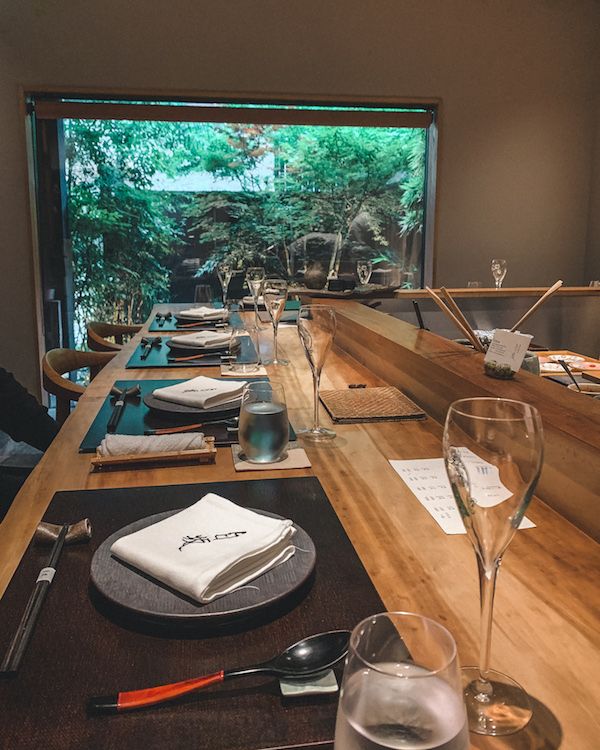 There are tons of amazing restaurants to choose from! Below are our favourite spots we ate at. Don't forget to make reservations in advance.
Best for the view: New York Bar and Grill
This is the famous location where the movie Lost in Translation was filmed and has incredible 52nd floor view. At the New York Grill, try a delicious wagyu steak dinner or grab a cocktail at the New York Bar where live jazz plays. Both the restaurant and bar are very expensive, but the view and ambience are worth it.
Address: Park Hyatt Tokyo 52F , 3 Chome-7-1-2, Nishishinjuku
Best for omakase: Sushi Shin
Omakase, meaning chef's choice, is your chance to try out sushi you may been scared to try or have never heard of. The chef places one piece of nigiri (small ball of rice with fish on top) on your plate at a time. Close your eyes and let it melt in your mouth. We recommend going for lunch, which is less expensive and better value.  You will likely need your hotel to call to get you a reservation.
Address: Chome-18-20 Nishiazabu
Best for omakase with vegetarian option: Udatsu Sushi
Tucked away in the backstreets of Daikanyama, Udatsu takes a modern approach to omakase and includes a vegetarian option. Ring the doorbell to get inside the unassuming restaurant.
Address: 2 Chome-48-10 Kamimeguro
Best for tempura: Tensuke
In the artist neighbourhood of Koenji, the chefs serve up perfectly cooked pieces to eat one by one. If there is a line, it's worth the wait!
Address: 3 Chome-22-7 Koenjikita
Best for modern kaiseki: Shirosaka
Dinner is served Kaiseki style (Japanese multi-course dinner) with a modern twist. Here you'll have Michelin quality plates without the stuffiness. The atmosphere was fun and dishes were some of the best we've ever had in our lives! It was by far our best meal in Japan.
Address: 6 Chome-3-9 Akasaka
Best for casual and fresh sushi: Tsukiji Fish market
Head to the market for lunch and choose one of the many sushi restaurants that line the streets. The sushi here was oh so fresh. No reservations needed.
Address: 5 Chome-2-1 Tsukiji
Best for delicious & cheap eats: 7-Eleven or Lawson
This is no joke! Grab one of their perfectly made egg salad sandwiches. The sandwich at Lawson was featured on Anthony Bourdain's Parts Unknown. We may have had about 10 of these during our trip in Japan.
Best for pizza: Pizza Studio Tamaki Roppongi
The Japanese are not only perfectionists at Japanese cuisine, but also international cuisines. Try PST for pizza that rivals the pizza joints in Naples, Italy.
Address: MK Art Residence 1F, 7 Chome-6-2 Roppongi
Best for a picnic: Mitsukoshi Department Store
Step onto the basement floor and you won't believe your eyes when you see vendors and vendors selling a variety of food items. Tempura, sushi, pasta salads, French macarons... it has everything you need for the perfect picnic. Trying to find a garbage can after your picnic will be your biggest challenge!
Address: 4 Chome-6-16 Ginza
Fun things to do in Tokyo
Don't miss our list of 20 Unique Things You Should Do in Tokyo.
Days 7-9: Hakone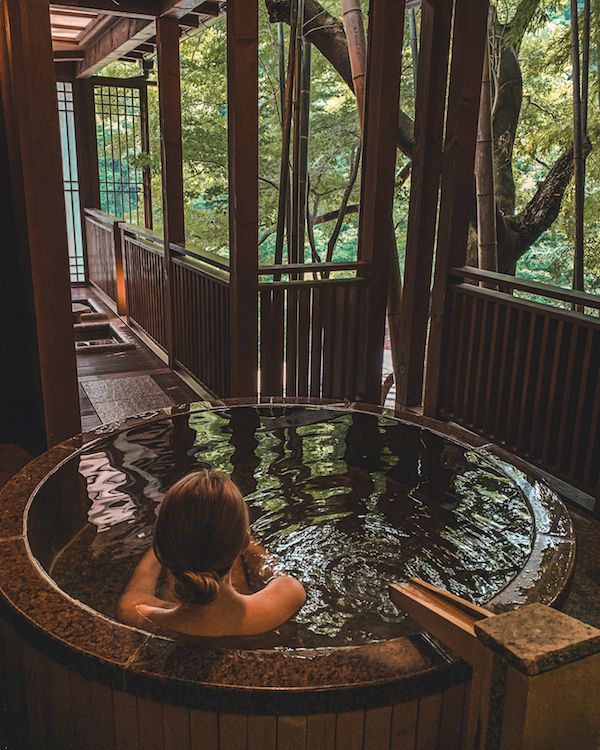 Hakone is the perfect place to relax after exploring the capital. Just hop on a 1.5 hour express train and you're suddenly in the magical, lush countryside of Japan. The region is special because of the volcanic hot spring baths called onsen. Fresh, hot, mineral rich water is piped directly into the baths at each one of the ryokans (a traditional Japanese inn).  
The best way to get to Hakone from Tokyo is by taking the Limited Express "Romancecar" train. You can reserve your seats online, but you will still have to pay the train fare once you arrive at the station. The total price per person each way was about $21.50 USD one way. The departing station is Shinjuku Station and arriving station is Hakone-Yumoto, which takes you right into the town.
Where to stay in Hakone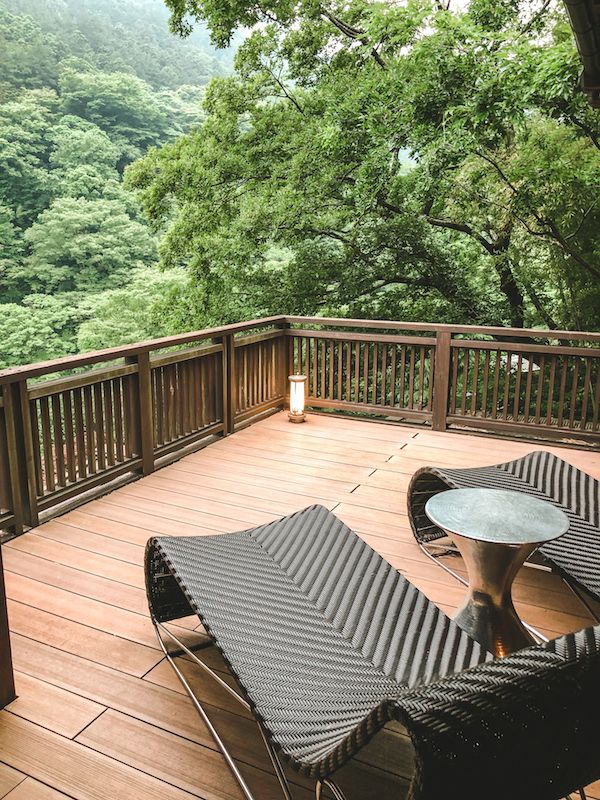 To get the fully authentic experience, you'll want to stay at a ryokan. A ryokan is a Japanese inn with traditionally styled rooms and public onsens. Rooms feature comfortable tatami mat floors (woven rice straw) and simple furnishings. You will have an assigned room attendant that serves you multi-course dinners right in your room. If you splurge on your room, you can even get your own private onsen!
At traditional ryokans there are usually multiple public onsens and a private onsen, which can be reserved in advance. Men and women bathe separately in the public onsens, since it's a nude experience. There are time schedules for when men and women can enter each bath. It's rare to find mixed-gender onsens.
Dinner is served kaieski style (multi-course Japanese cuisine). The staff sets up the dining table in your room and brings around 7-14 small courses over a couple hours. It's best enjoyed with some sake or shōchū.  Our favourite course was the wagyu beef shabu-shabu (meat in a hot pot). The best part about dinner was wearing our traditional Yukata robes, playing jazz music and chatting with the room attendant. It was a very unique experience.
For breakfast we had the choice of either Japanese or Western.
We stayed at two different ryokans and loved both of them for different reasons:
Yamanochaya: best luxury ryokan in Hakone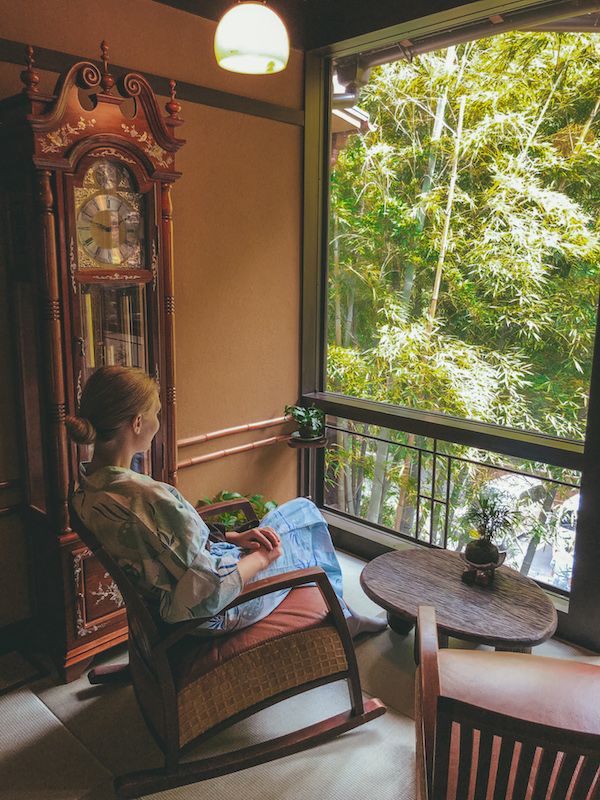 This ryokan is luxury, from the moment you arrive to when you leave. The room design, amenities, food, and onsens were all top notch. Most rooms have their own private onsen and it's amazing to hop into the satisfyingly hot bath whenever you desire.
Top Tip: Enjoy a pre dinner drink in the hotel bar and try to find their custom kaleidoscopes, the patterns are simply incredible!
Fukuzumiro: best traditional ryokan in Hakone with a lot of character.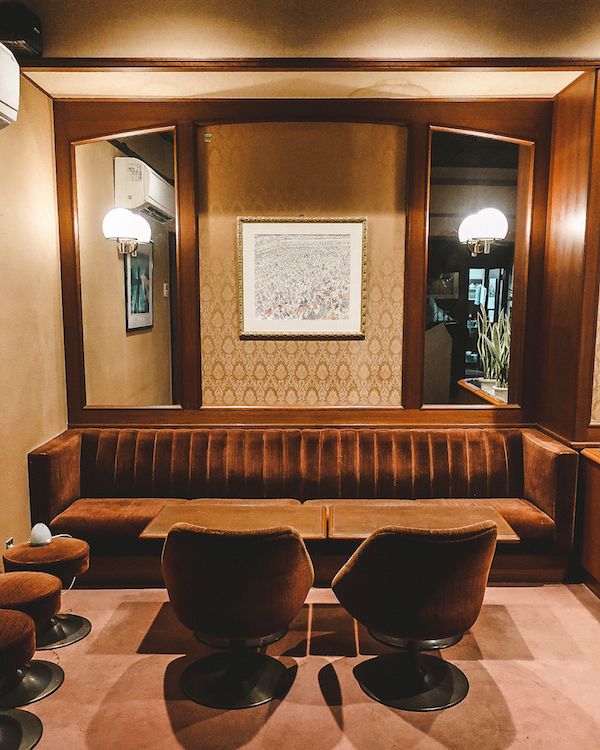 This ryokan is not pristine and modern feeling like Yamanochaya, however it has a lot of character and is less expensive. It was established in 1890 and is a registered cultural property of Japan. The onsens here may feel and look older, but its prime location on the river is what makes Fukuzumiro stand out. Try to get a room river side and don't miss hanging out in their amazing midcentury modern lounge. They had a tape machine, so we listened to Japanese classics and drank sake all night!
Best things to do in Hakone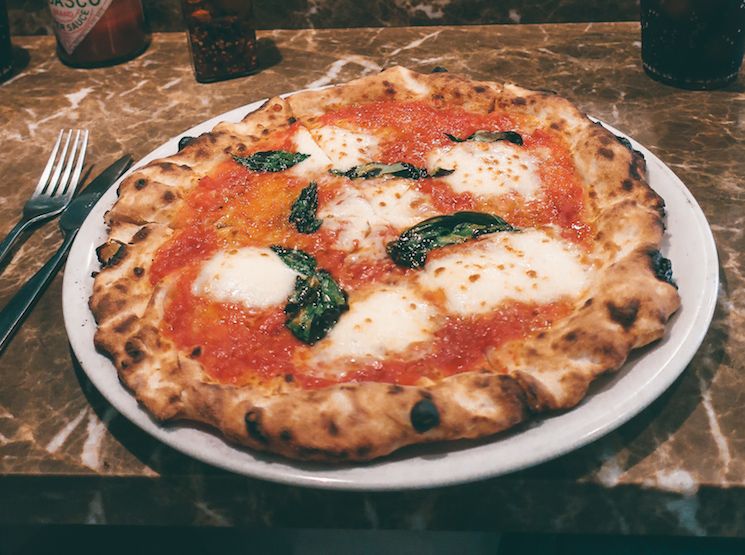 Explore the town: Hakone is a cute town with plenty of small boutiques to shop and tasty delights to try. Spend part of your day walking the streets to explore.
See Mount Fuji: To see Mount Fuji, it requires a day trip and you'll need to take a bus. We opted just to relax in our hotel and explore the town, but we've heard the scenic areas are beautiful. Ask your ryokan for directions.
Eat pizza at 808 Monsmare: the Neapolitan style pizza is incredible and ranks with the top pizza joints in Naples, Italy!
Play mini golf: After grabbing a bite of pizza, walk up to Hakone Putter Golf and have a fun game of nine-hole mini golf.
Days 10-11: Osaka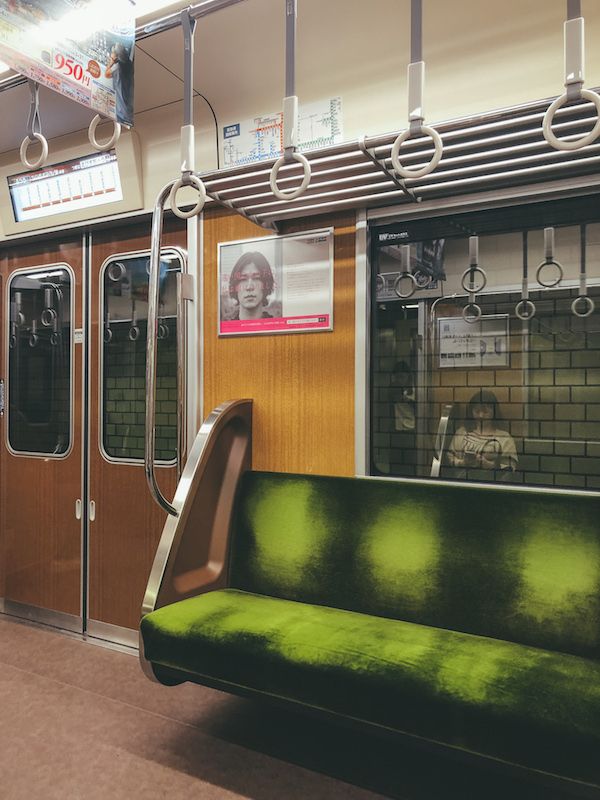 Osaka is an underrated city that is often overlooked by Western tourists. You don't want to miss Japan's third largest city with its incredible food culture and and eccentric neighbourhoods. With plenty of fun activities and shops to discover, its no wonder its a hot spot for tourists from other Asian countries.
To best way to get to Osaka from Hakone is by train. From Hakone-Yumoto station, take the Hakonetozan Line to Odawara Station (~15 min). From Odawara Station, take the shinkansen (high-speed train) to Shin-Osaka Station (2 hr and 20 min). A one way trip costs around $124 USD.
Best area to stay in Osaka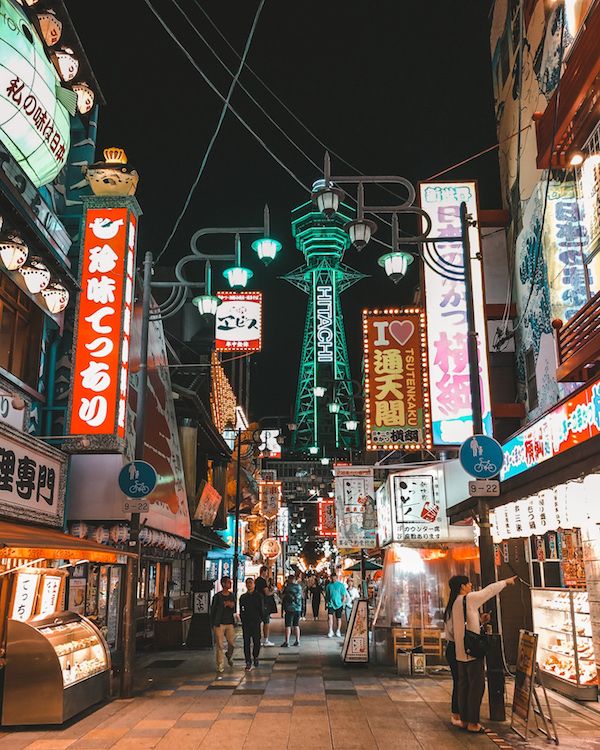 Our favourite district was Shinsekai, a lively and old neighbourhood developed before the war and untouched thereafter. The area is filled with locals and plenty of cheap eateries, dive bars and attractions like arcades. We didn't see many tourists here and it felt like an authentic Japanese experience walking down the streets.
We stayed at Home Hostel Osaka in a very small private room with shared washroom. The hostel was good value at $68 USD per night for a private room. We loved the communal spaces, such as the rooftop terrace where we drank cheap sake from 7-Eleven. It's located in the Shinsekai district close to the metro, so you can't beat its location!
Unique things to do in Osaka
Walk the canal in the Dotonbori district and try the street food:
Dotonbori is one of the busiest and most touristy districts in Osaka, but it's where you'll find exciting lit up streets and neon signs offering tons of street food.  Make sure you walk the canal at night to admire the lights.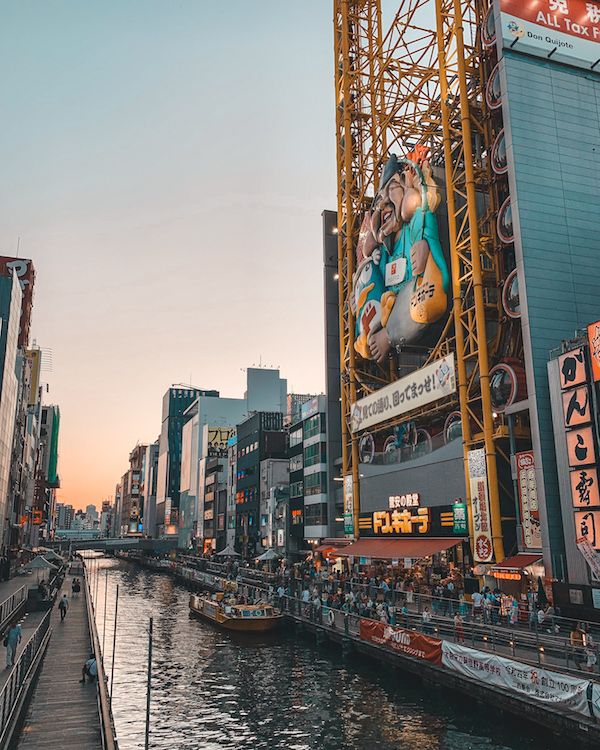 Sing karaoke at Moonshine:
When you arrive at Moonshine you may at first be confused, since the small alternative bar with bar-only seating doesn't look like a karaoke place. When we first got there, techno music was playing and no one was singing. We decided to feel it out and ordered a few drinks and a few of their delicious hot dogs. The person working there and locals were friendly and fun to talk with.
About an hour in, a couple of fearless tourists came in and requested to sing karaoke. A couple hours more we had all sung about 4 songs each, including a 50 Cent song with a shameful dance performance. Moonshine was very unique and was one of our favourite places we visited in Japan!
Address: 2-chōme-12-8 Nishishinsaibashi
Play classic Nintendo games at the Space Station bar:
A retro video game bar with video game themed cocktails. What more could you ask for?!
Address: 2-chōme-13-3 Nishishinsaibashi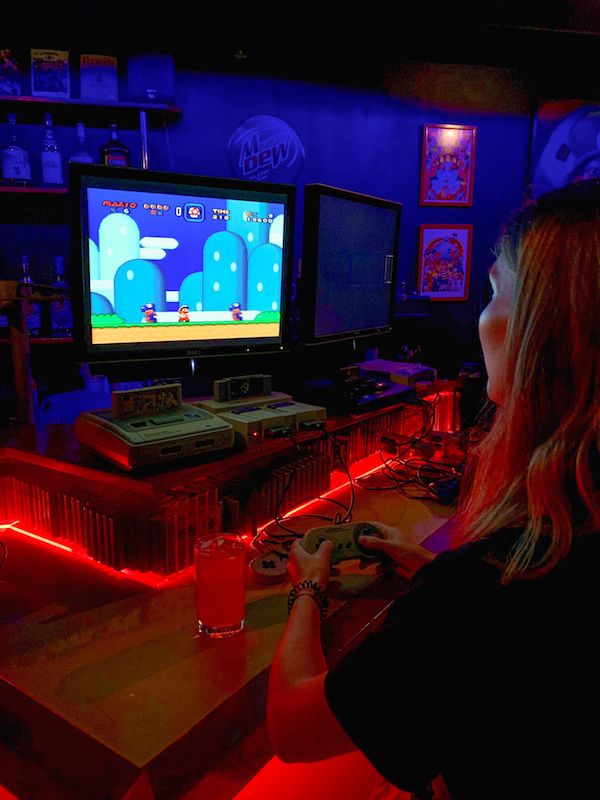 Explore the Nakazakicho district:
Walk through the tiny streets of Osaka's "hipster" district, where you'll find artistic communities and tons of cafes and vintage shops. Don't miss the retro cafe, Salon de AManTo, that is said to have pioneered the 'Nakazakicho Retro Movement'. It was the first cafe in the area to be converted from an old Japanese house. The food there was also awesome!
Address: 1 Chome-7-26 Nakazakinishi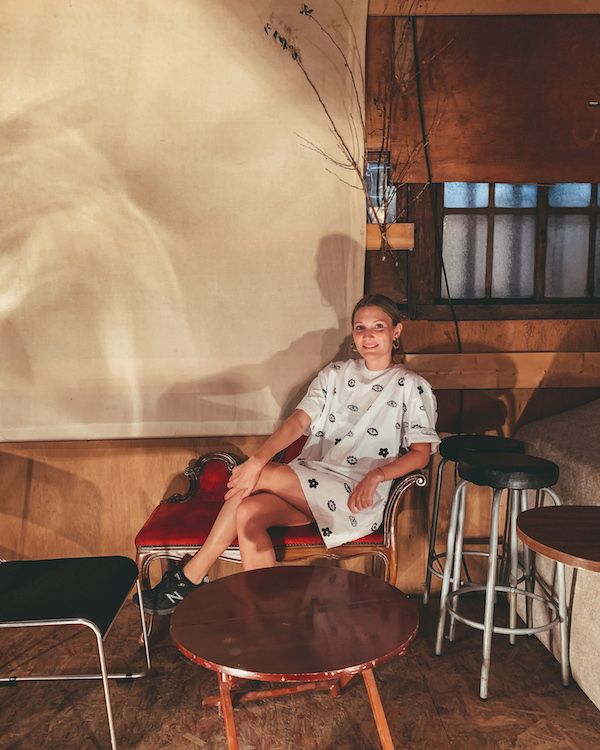 Find a watering hole at one of the hidden bars in the Misono Building:
The Misono Building may look closed in the evening, but go up the outside escalator to the second floor and you'll see a grungy looking hallway to your right lined with tons of unique and intimate bars. Walk down the hallway and have a listen to the different types of music playing at each of them and pick your favourite!
Address: 2-chōme-3-9 Sennichimae
Eat Kushikatsu:
Enjoy endless deep fried skewered meat or vegetables on a stick. Absolutely delicious and fun discovering your favourites from the menu! Kushikatsu is different from tempura, since the batter is darker and crispier.
Days 12-13: Naoshima Art Island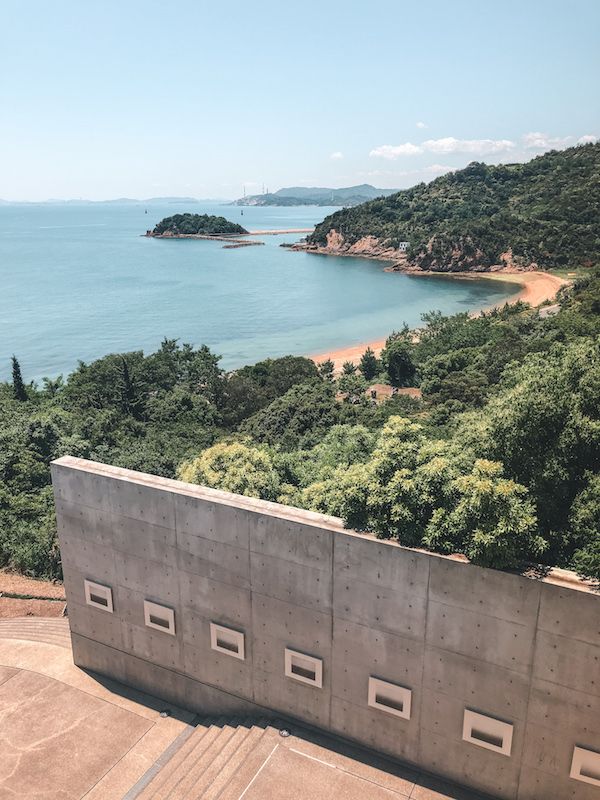 Visiting the art island of Naoshima was one of the highlights of our entire trip. The contemporary art was like nothing we had seen before and it blew us away.
It is certainly worth staying on the laidback island for a couple of nights. You can rent e-bikes to explore, visit exhibitions, chill at quirky cafes and admire the beautiful sand beaches. Our biggest regret was not spending two nights there.
If you're an art lover or are looking to be inspired, you don't want to miss this place!
How to get to Naoshima Island from Osaka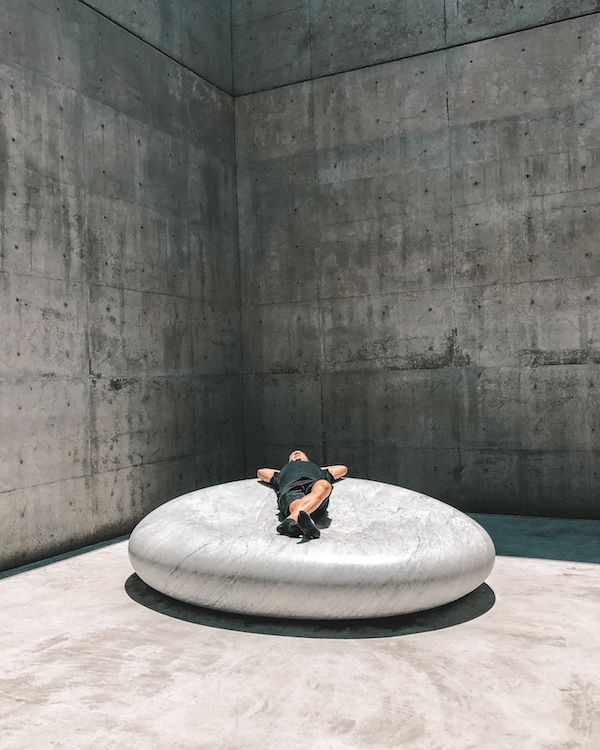 To get to Naoshima Island from Osaka may sound like a hassle, but it's easier than it sounds. You will need to take two trains and a ferry to get to the island:
From Shin-Osaka Station, take the shinkansen (high speed train) to Okayama Station.
From Okayama Station, take the JR line to Uno Station (you may have to transfer trains at Chayamachi Station).
Once you arrive at Uno Station, it's about a 5 minute walk across the street to the Uno Ferry Port.  The 20-minute ferry operates various times per day. Make sure to check the ferry schedule and plan accordingly. You don't need a ticket in advance.
The total trip from Osaka to Naoshima Island will take you about 3 hours and costs about $71.50 USD one way.
Where to stay in Naoshima Island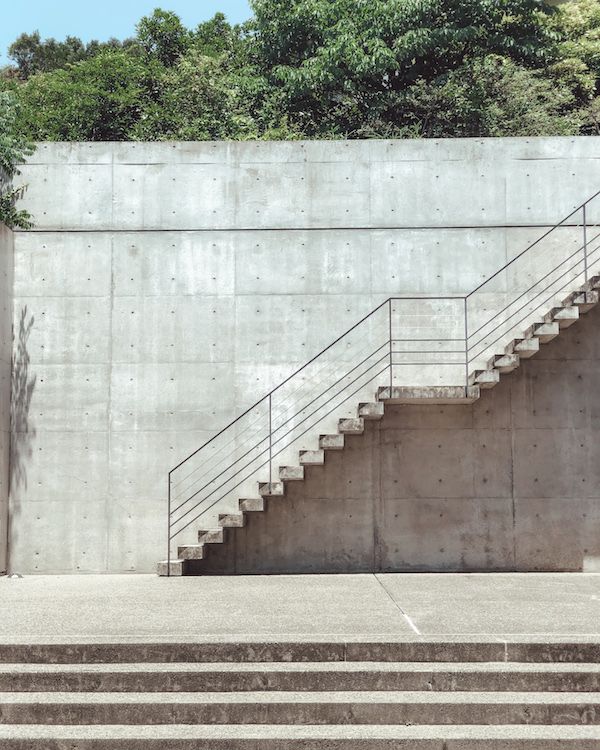 If you're willing to splurge, the ultimate place to stay is at one of the main art exhibitions called Benesse House. The hotel and gallery focuses on architecture, nature, and contemporary art. Staying here will be an extraordinary experience since you get to experience the gallery not only during the daytime, but at nighttime as well. Some of the art pieces are influenced by the time of day.
If you're on a budget, stay at a
guesthouse
in the cute village near Honmura Port. This area of Naoshima has many cute cafes and art exhibits to visit.
Getting around Naoshima Island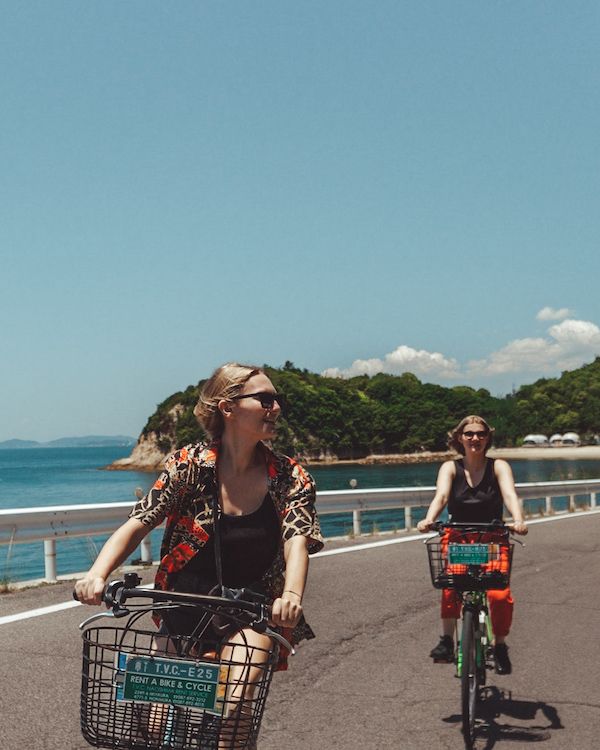 Rent e-bikes! Trust us, you'll want to rent e-bikes instead of regular bikes since there are lots of hills on the island. We rented our bikes from TVC, which had a handy map attached to the basket of the bike. We loved zipping around the island!
Best things to do in Naoshima Island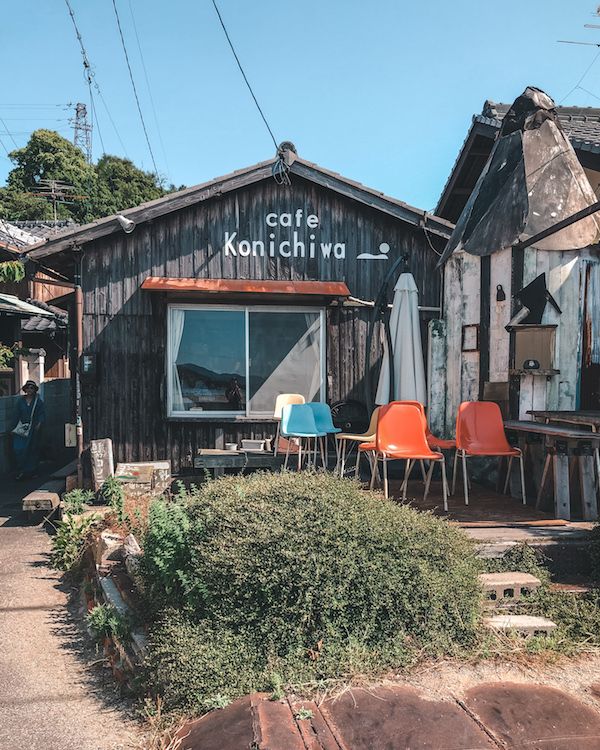 Chichu Art Museum:
Walk through a wall of colour, see the sky as a painting and feel the power of a spherical monolith. This was by far the most breathtaking contemporary art gallery we've visited in our lives. The museum showcases permanent exhibitions from James Turrell, Walter de Maria, and Claude Monet. The building was designed by the award winning architect, Tadao Ando, and is integrated within its natural environment with most of it being built underground. The building emits natural light throughout the day, changing the look and feel of the art pieces over time. There are no pictures allowed inside. See their website for a sneak peek at their installations.
Benesse House:
This museum was also built by the famous architect, Tadao Ando, and overlooks the vivid blue Setouchi Inland Sea. You'll see many contemporary artworks, such as installations, sculptures and paintings from Japanese and international artists.
Art House Project:
Located in the Honmura area district, there are seven locations where you'll find art houses. These are empty traditional homes that artists have turned into art installations, incorporating the history of the house into a contemporary art piece.
Stop for lunch at Cafe Konichiwa:
We loved taking a break in this refurnished house turned cafe. It overlooks the sea and felt cozy and welcoming.
Explore the island by e-bike:
Bike around and find giant outdoor art installations, like Yayoi Kusama's giant yellow pumpkin.
Day 14: Osaka & Fly
Catch your next flight out of Osaka, one of the largest international airports in Japan, rather than making the long journey back to Tokyo!
Enjoy your two weeks in Japan!
---
Looking for more travel inspiration? Check out our list of Dreamy Relaxation Travel Ideas and list of Unique Cultural Experiences to inspire your next trip.
Love food? Don't miss our list of Unique Culinary Experiences Around the World.