Food is one of the best ways to learn about a country's culture. Local ingredients, preparation techniques and how people eat together are all expressions of a country's identity. When exploring food culture, you are almost guaranteed to experience new flavours and ways of eating.
We have rounded up 32 outstanding culinary experiences we've had during our world travels that define a country's way of life. From discovering unique dishes to exploring distinguished wine regions around the world, you're in for a treat!
Each one of these gastronomic experiences link to a travel guide or itinerary that will help you plan your next trip.
32 Unique Culinary Experiences Around the World
Food
Jump to:
Argentina
|
Canada
|
China
|
Finland
|
France
|
Georgia
|
Israel
|
Italy
|
Japan
|
Mexico
|
New Zealand
|
Singapore
|
South Korea
|
Spain
|
Switzerland
Argentina
1. Eat at a traditional Argentine steakhouse for an asado experience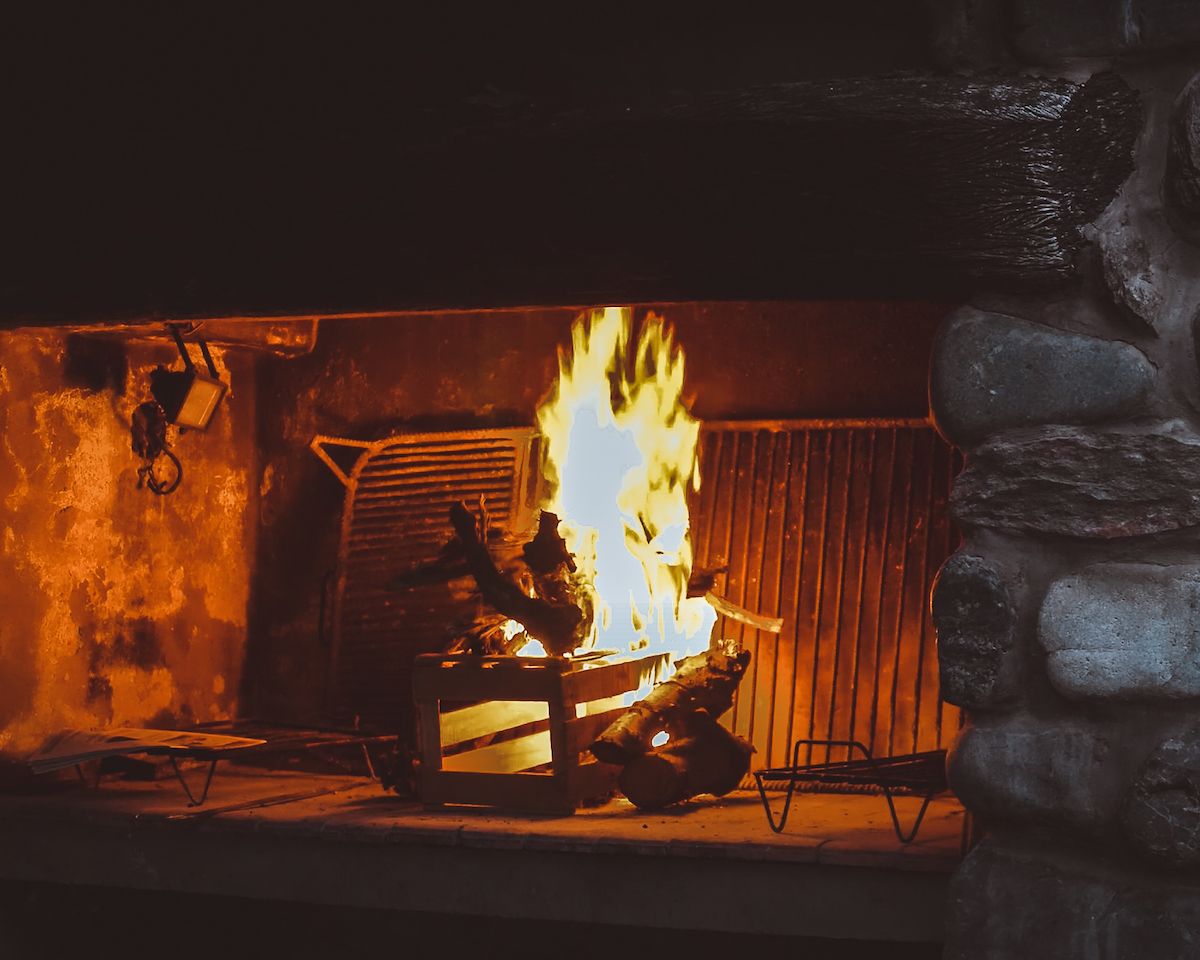 In Argentina, asado means to grill (BBQ). Asado is somewhat of a religion to Argentines and encompasses more than just a meal. It's a social event with friends or family where different types of meats are prepared outside over charcoal.
One of the best ways to experience Argentina's meat-forward culinary scene is by visiting a traditional steakhouse. In Buenos Aires, the best of the best is Don Julio. The beef is grass-fed and the juicy steaks are grilled to absolute perfection on the traditional v-shaped iron grill. It pairs perfectly with some Malbec wine. The restaurant also ranks #34 on the World's 50 Best Restaurants list and #1 on Latin America's 50 Best Restaurants list.
Reservations book up in advance, so make a reservation online to ensure you get a spot! We were luckily able to get a walk in reservation for lunch.
See our Buenos Aires travel guide for more unique things to do.
Canada
2. Discover Pacific-Northwest cuisine on the wild west coast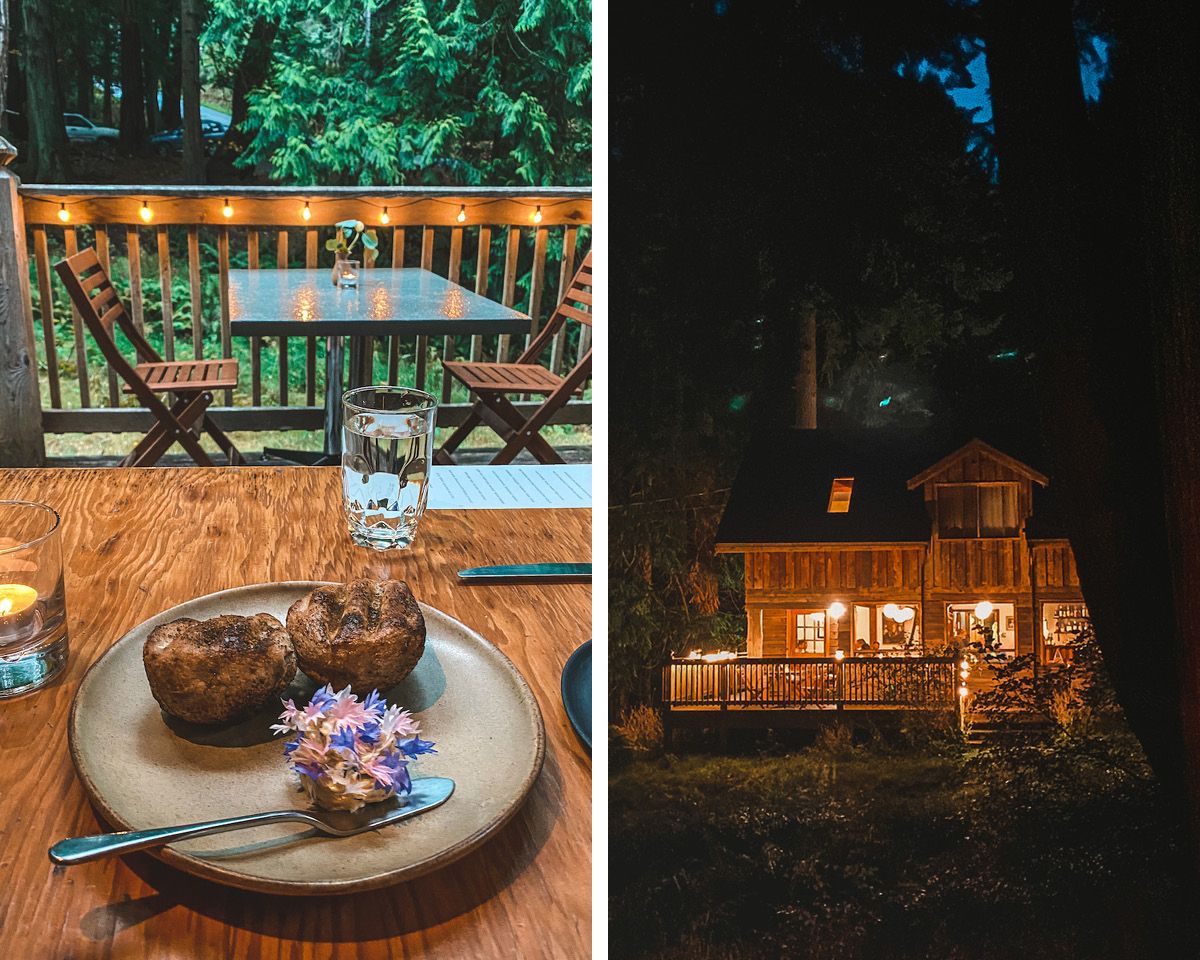 On the west coast of Canada you will find the Pacific-Northwest culinary scene where fresh seafood and veggie dishes are foraged from the land and coast. One of the most magical ways to experience this food scene is by visiting the remote Gulf Islands between Vancouver and Vancouver Island. Galiano Island in particular has one of the best restaurants in Canada called Pilgrimme. It's listed in Canada's 100 Best Restaurants 2020 list and enchantedly sits in the middle of the forest. It's quite the culinary adventure.
Head chef McCleery spent a season in the kitchen of world renowned Noma, a 2 Michelin-star restaurant where he advanced his cooking techniques and brought back new ideas to creatively combine ingredients.
Reservations book up far in advance, so make sure to book online.
See our list of the top 10 things to do on Galiano Island and start planning your trip.
China
3. Try Peking duck, Beijing's famous dish that has been eaten since the Imperial Era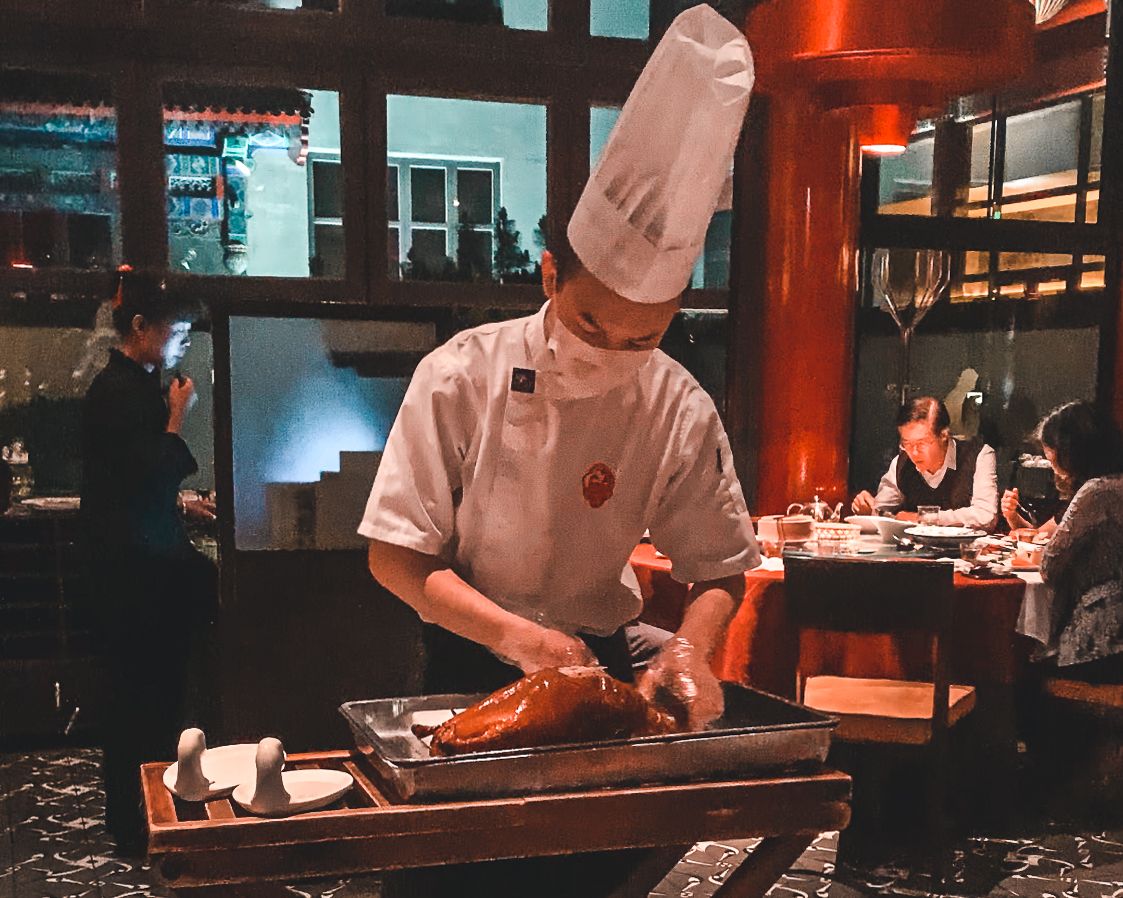 A delightful combination that is equally as sweet as it is savoury, Peking duck is a famous Beijing dish that has been eaten since the Imperial Era. During the Qing Dynasty it was considered a dish that only nobles could afford. The succulent duck has a perfectly crispy outside and is carved by the chef right beside your table.
It gets its crispiness from being glazed in sugar before it's roasted. Peking duck is usually served with pancakes (thin flour tortillas), cucumber and a hoisin or plum sauce.
See our ultimate 10 day China itinerary, which includes a stop in Beijing.
4. Devour a Roujiamo, a hamburger believed to be the world's first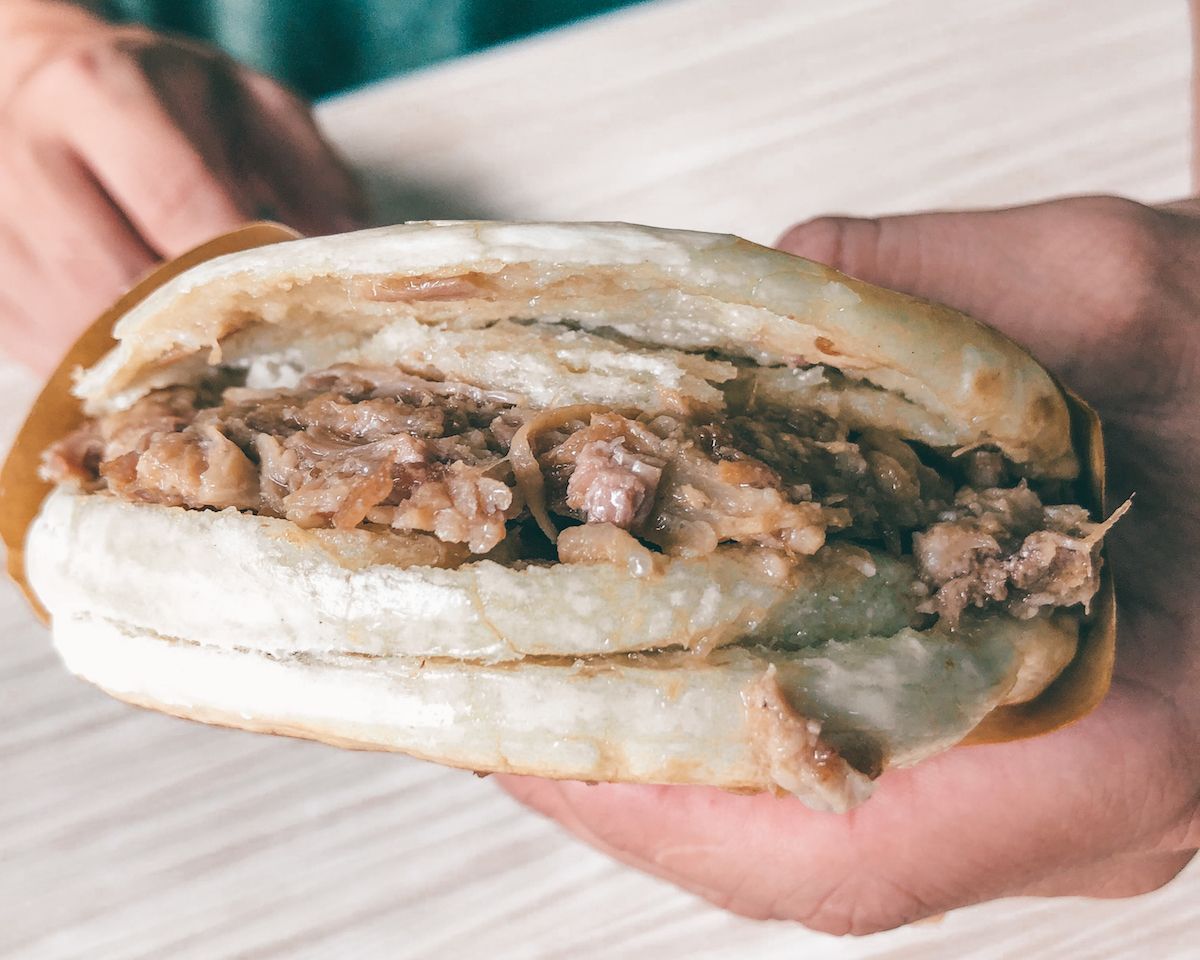 Roujiamo is considered by many as the first hamburger in the world. Its dense bun dates back to the Qin Dynasty (221 to 207 BC) and the meat to the Zhou Dynasty (1046–256 BC). The pan-fried bun is crispy on the outside, soft on the inside and is filled with mouthwatering slow-cooked pork. It's a popular street food in China that is sure to satisfy.
Our favourite roujiamo was from Fanji Braised Meat (樊记腊汁肉) in Xi'an. See our Xi'an travel guide for more info.
Finland
5. Dine on New Nordic cuisine at one of Helsinki's top restaurants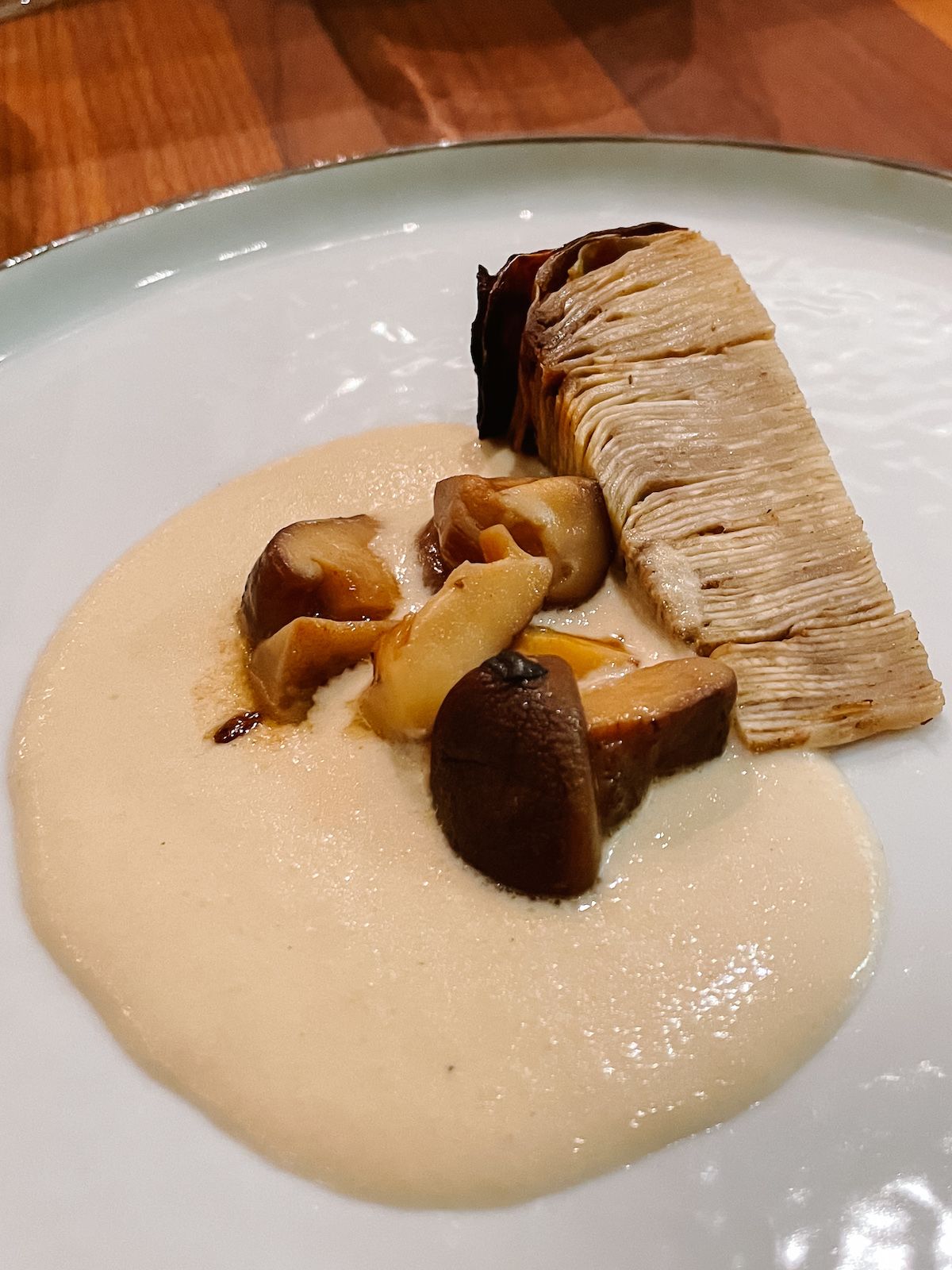 New Nordic Cuisine is an innovative culinary movement where old-world cooking techniques from Scandinavian countries are combined with the use of seasonal, locally-sourced ingredients in a sustainable way.
In Helsinki we saw traditional Finnish techniques like curing, salting, pickling and smoking being used with pure, local ingredients, like wild berries, forest mushrooms, fish and game. It was a treat finding so many quality restaurants offering this inventive type of cuisine.
You can also dine on New Nordic Cuisine in other Nordic countries like Denmark, Sweden, and Norway.
See our Helsinki itinerary, which includes a list of buzz-worthy restaurants serving New Nordic cuisine.
France
6. Knock back oysters in Cap Ferret, known as the oyster capital of France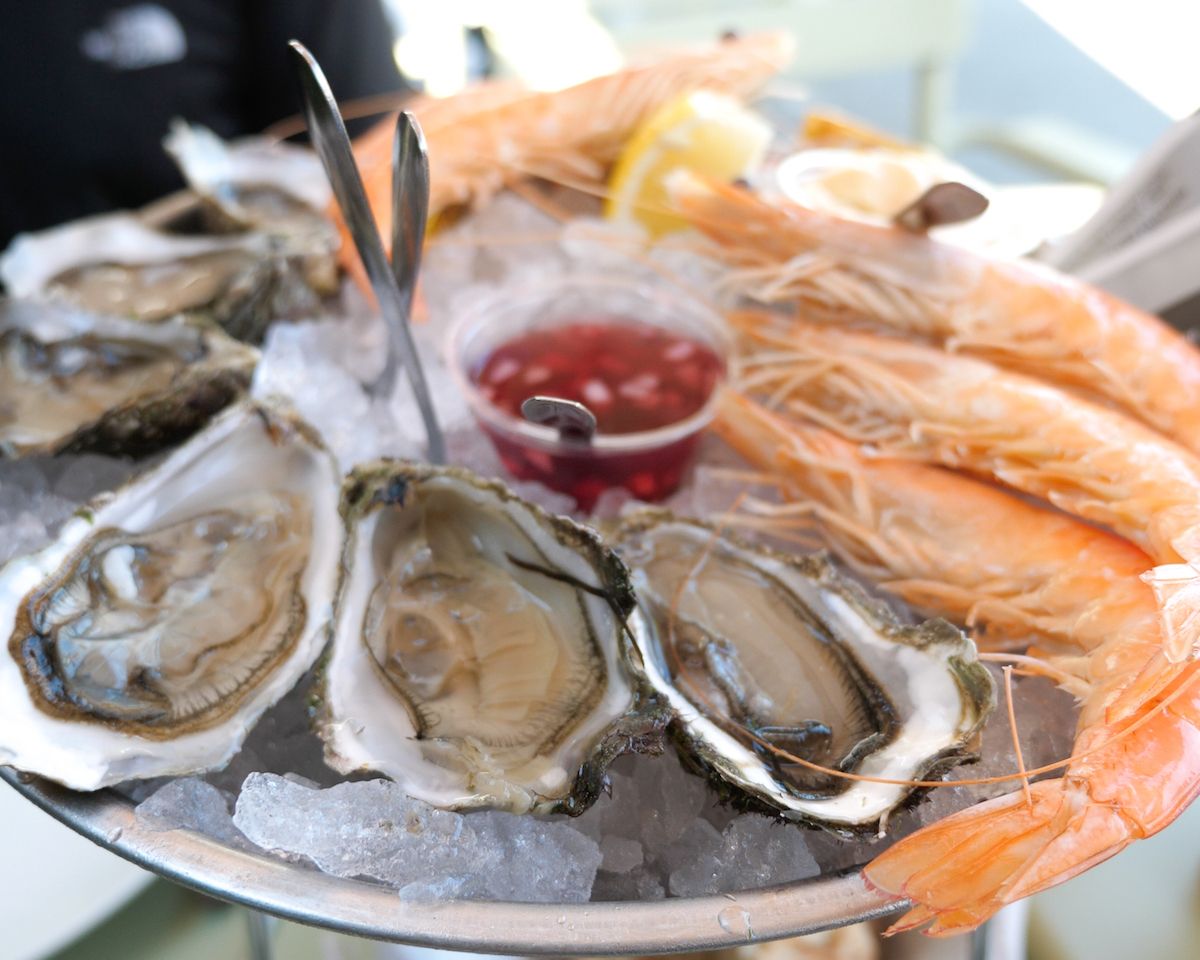 Cap-Ferret is a chic beach town in the southwest of France known for its wild Atlantic beaches and freshly shucked oysters. It's called the oyster capital of France since it supplies the whole country with oysters. Walk along the peninsula and choose from one of the many seaside restaurants for fresh seafood and cold white wine to match.
See our Cap-Ferret travel guide and start planning your trip to this relaxing seaside town.
Georgia
7. Feast on delicious Georgian cuisine in Tbilisi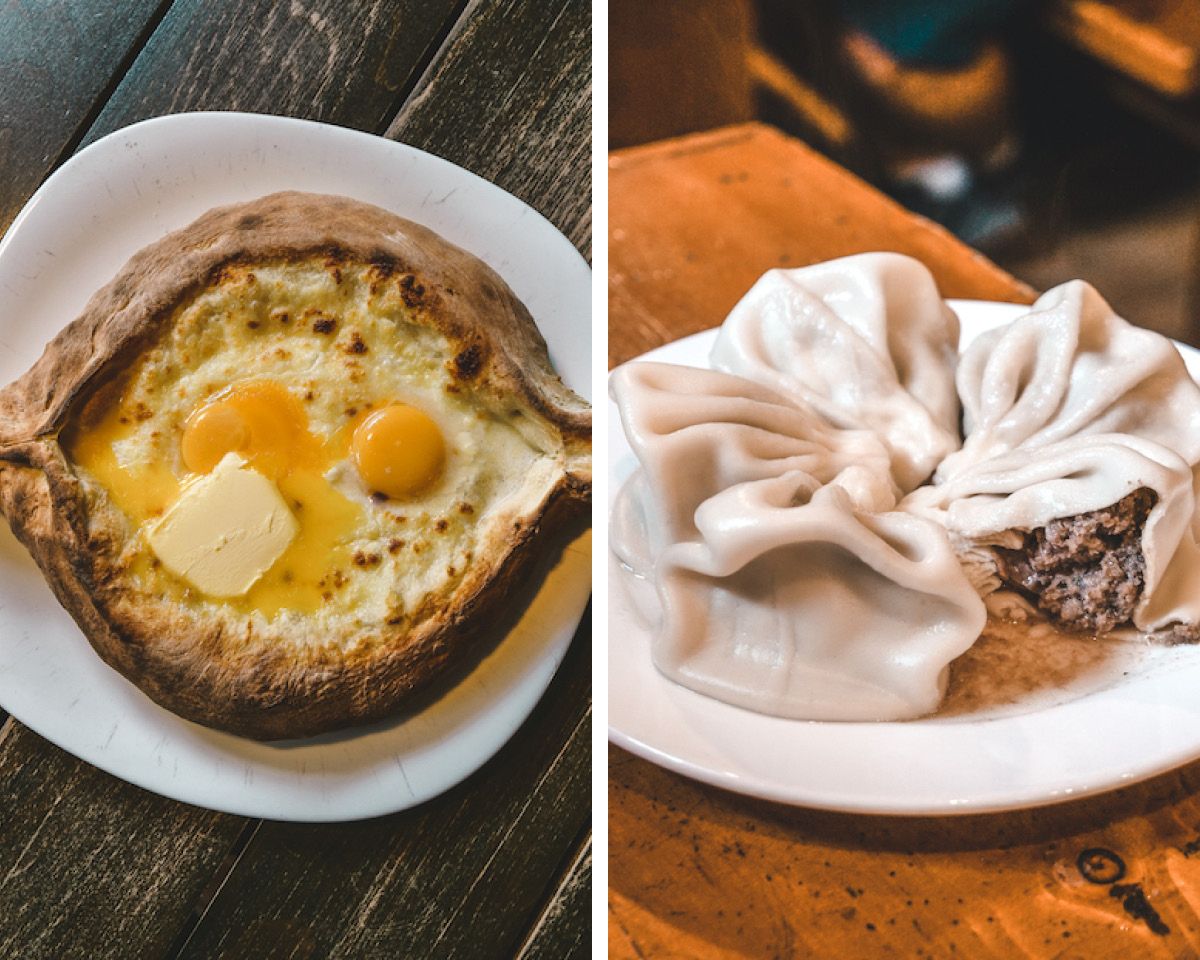 Georgia has an incredible food scene waiting to be discovered. In the capital city of Tbilisi you will find tons of traditional Georgian restaurants with delicious dishes that represent the country's rich culture and influence from the Mediterranean and Middle East. Georgians are very passionate about their food and like to source local, fresh ingredients. There are so many dishes and new flavours to try.
Must try specialities are meat filled dumplings called Khinkali that you eat with your hands and Katchapuri Adjaruli, a bread boat filled with cheese and topped with an egg. We also love Shashlik, skewered charcoal roasted meat, and Pkhali, a plate of vegetable pâtés with beans, beets and walnut sauce. Georgian spices can be found at most local markets, make sure to bring some home!
See our 1 week Georgia itinerary for the food and wine lover.
Israel
8. Go on a food tour through Machane Yehuda, the largest market in Jerusalem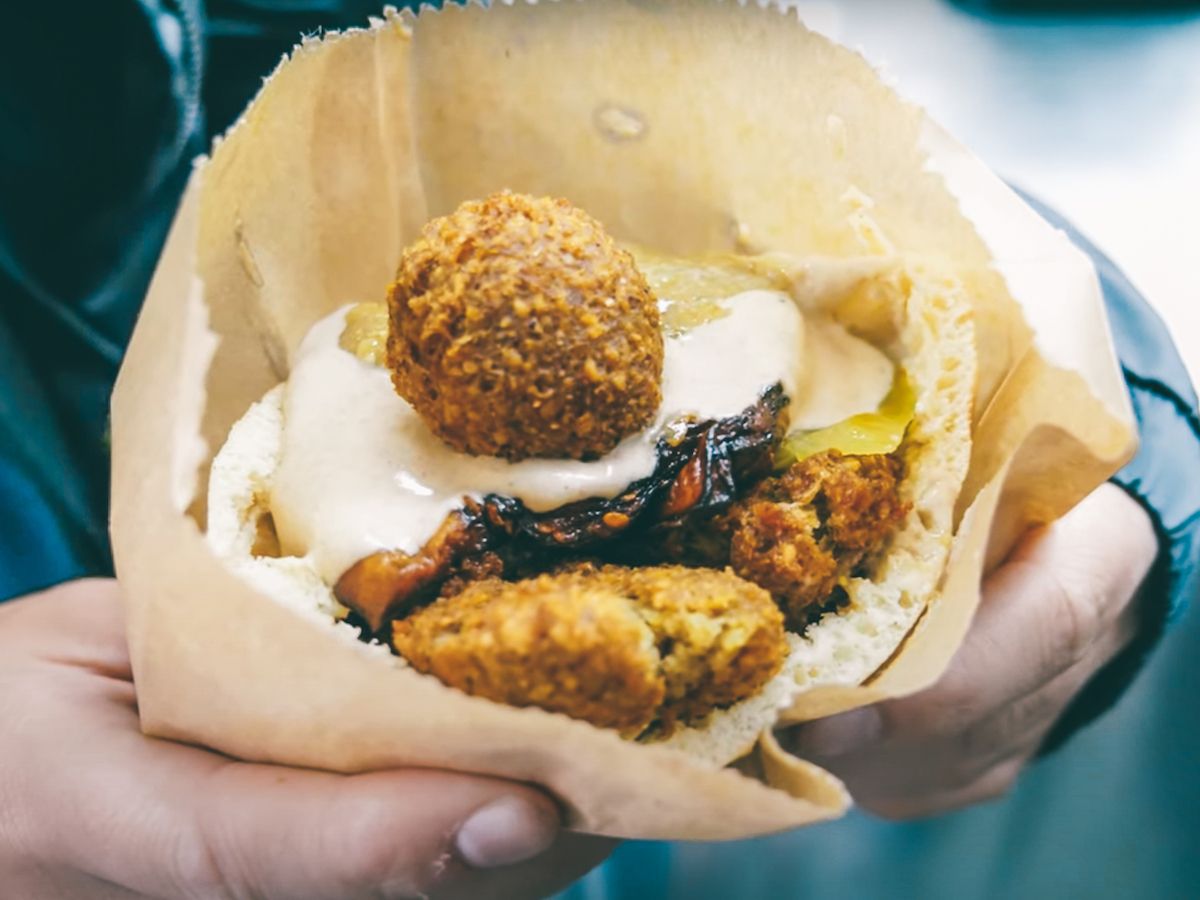 In Jerusalem, one of the oldest cities in the world, you will find Machane Yehuda, an open-air market filled with over 250 vendors selling spices, fresh produce and culinary delights. Walk through the market on your own or go on a food tour to learn more about the local delicacies. Look out for falafel, bourekas, sachlav and arais mmm!
The market is open every day of the week except Saturday. On Fridays it closes early for Shabbat.
See our Israel itinerary for more foodie spots.
Italy
9. Get blown away by Neapolitan pizza in Naples, the birthplace of pizza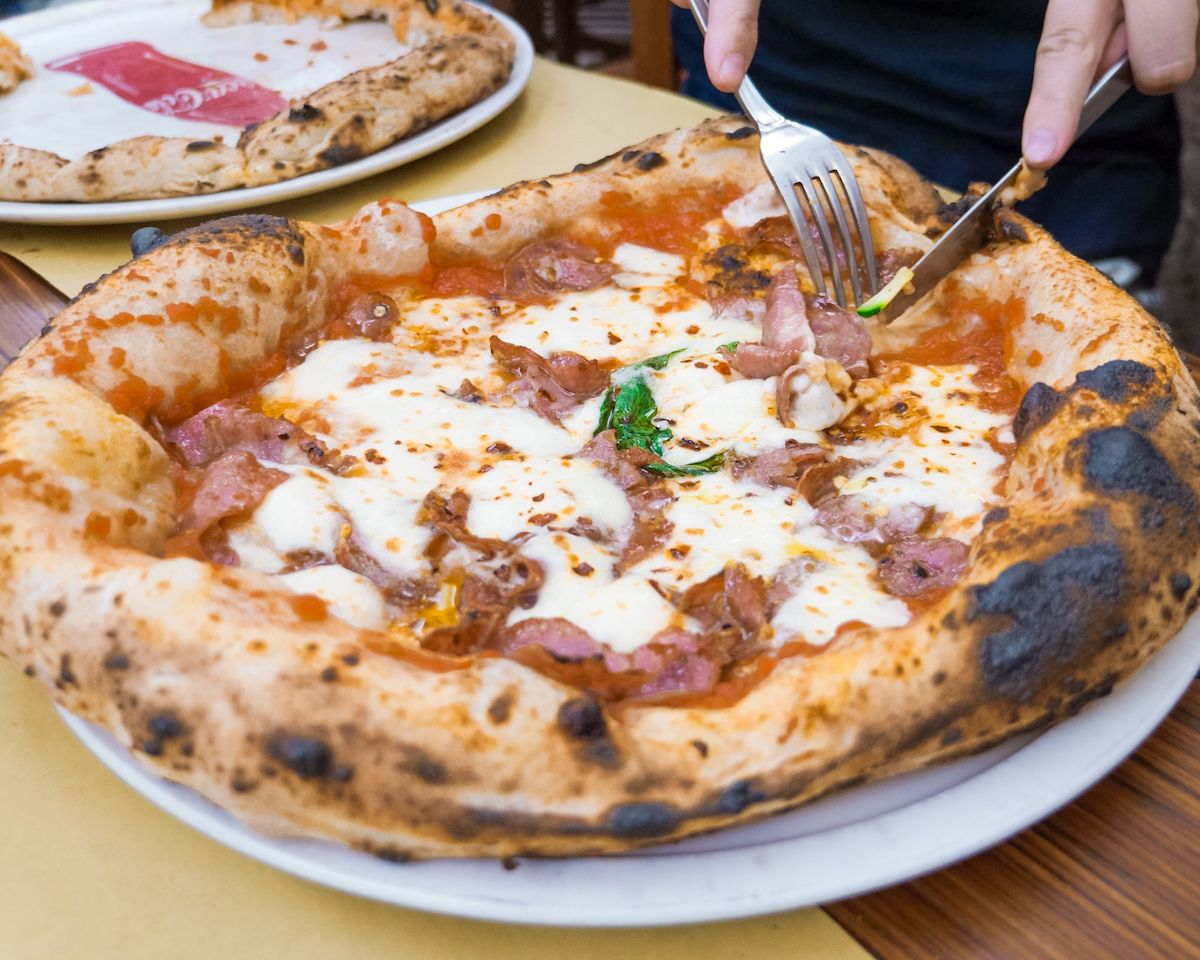 Naples is not a first pick for tourists traveling to Italy, but it's the ultimate foodie destination if you're a die-hard pizza fan. Although you will have to look past the city's shabbiness and crime issue with the local mafia, there is an interesting charm to it. Let me tell you, it was worth visiting to have the best pizza of our lives at Sorbillo. Ari is a pizza fanatic and nothing can touch this outstanding pizza in his opinion.
The pizzeria and its pizza maker, Gino Sorbillo, is the most famous in Naples and possibly the world. It's no surprise the pizza joint is featured in the Michelin guide.
Naples is a great hub for trips to Capri or the Amalfi Coast. See our ultimate 2 week Italy itinerary and start planning your trip.
10. Fill up on fresh pasta and meat ragout in Bologna, Italy's culinary capital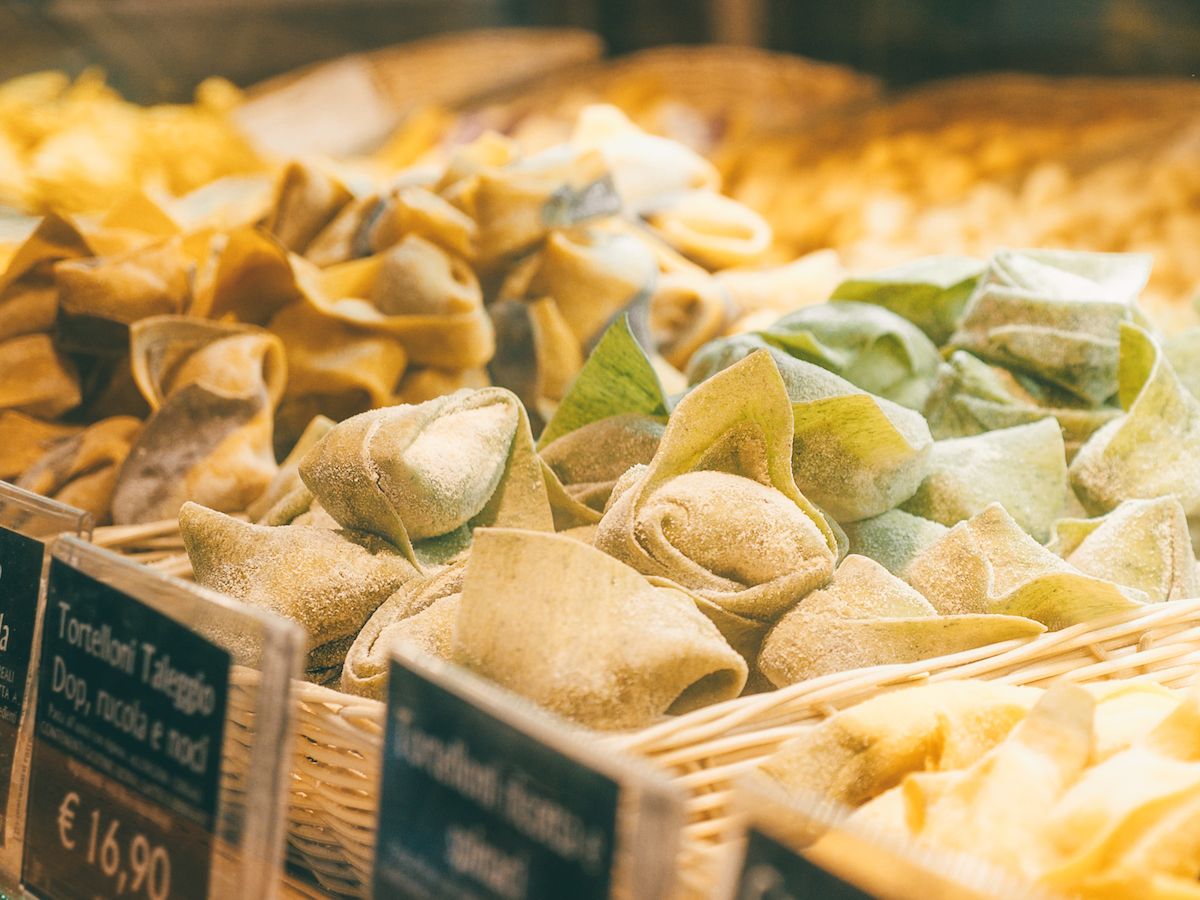 If you love pasta, you will be ecstatic about Bologna, the culinary capital of Italy known for its hand-rolled fresh pasta and meat ragout (internationally known as Bolognese sauce). Bologna is often overlooked by tourists for Italy's more popular cities like Florence, Pisa and Venice, meaning that you will see a more local side to the city and less tourist traps!
See our 2 day Bologna itinerary for our top local foodie spots.
Japan
11. Enjoy the freshest sushi at the Tsukiji Fish Market in Tokyo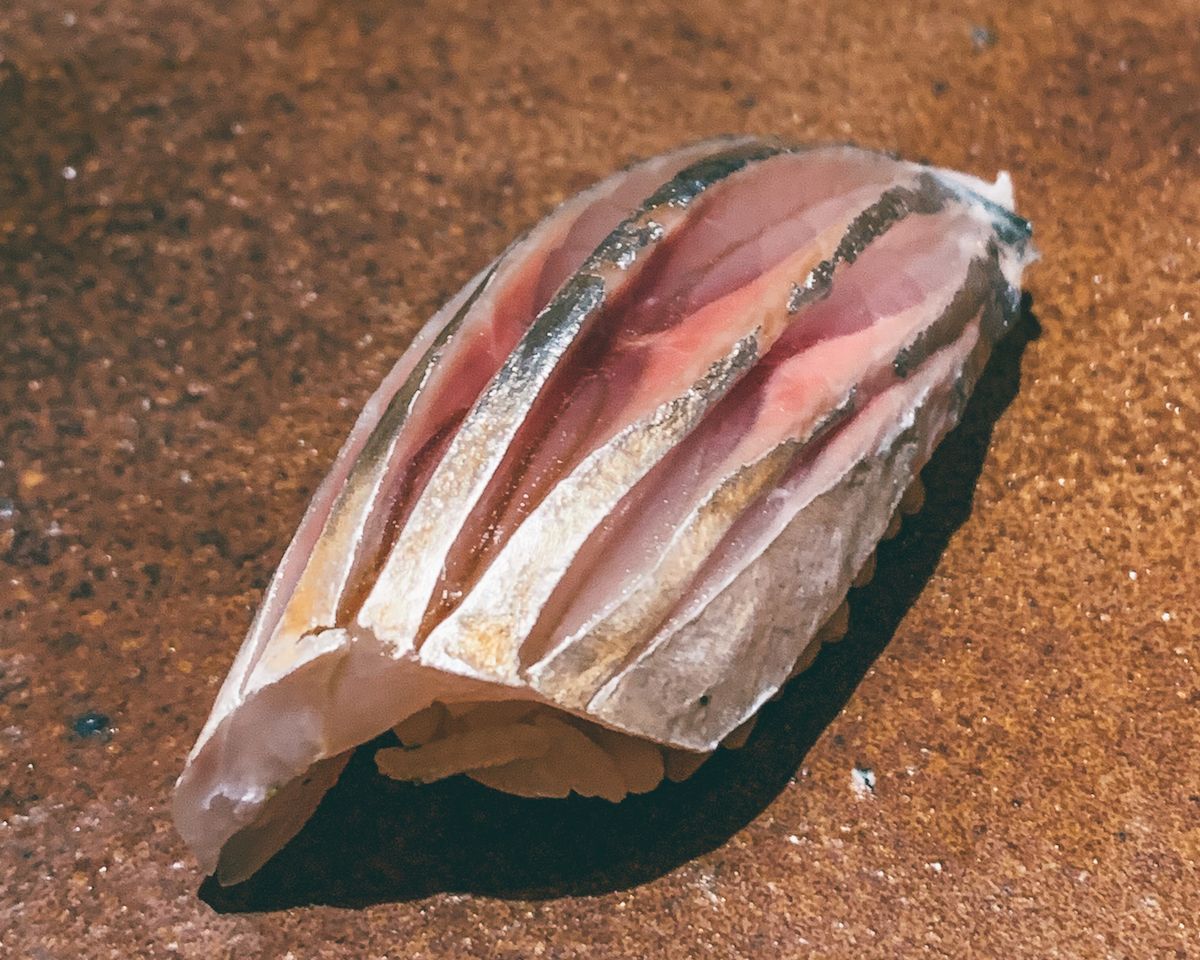 Sushi is a top reason we travelled to Japan. Nothing can beat the freshness of the sushi you'll find at the Tsukiji fish market in Tokyo. The market used to be for wholesalers only, selling the freshest of fish. However, it became so famous with the public that it is now a hotspot with vendors and sushi joints packed along the small adjoining streets.
Head to the market for lunch and pick one of the many sushi restaurants that line the streets. Some must try pieces are the range of tunas: lean (maguro), medium fatty (chūtoro) and fatty (toro). Start with the lean tuna first and work your way up to the fattiest, so you don't ruin the flavour profiles of the fish.
See our list of 20 alternative things to do in Tokyo for more unique gastronomic experiences.
12. Eat Japanese cuisine omakase style for an element of surprise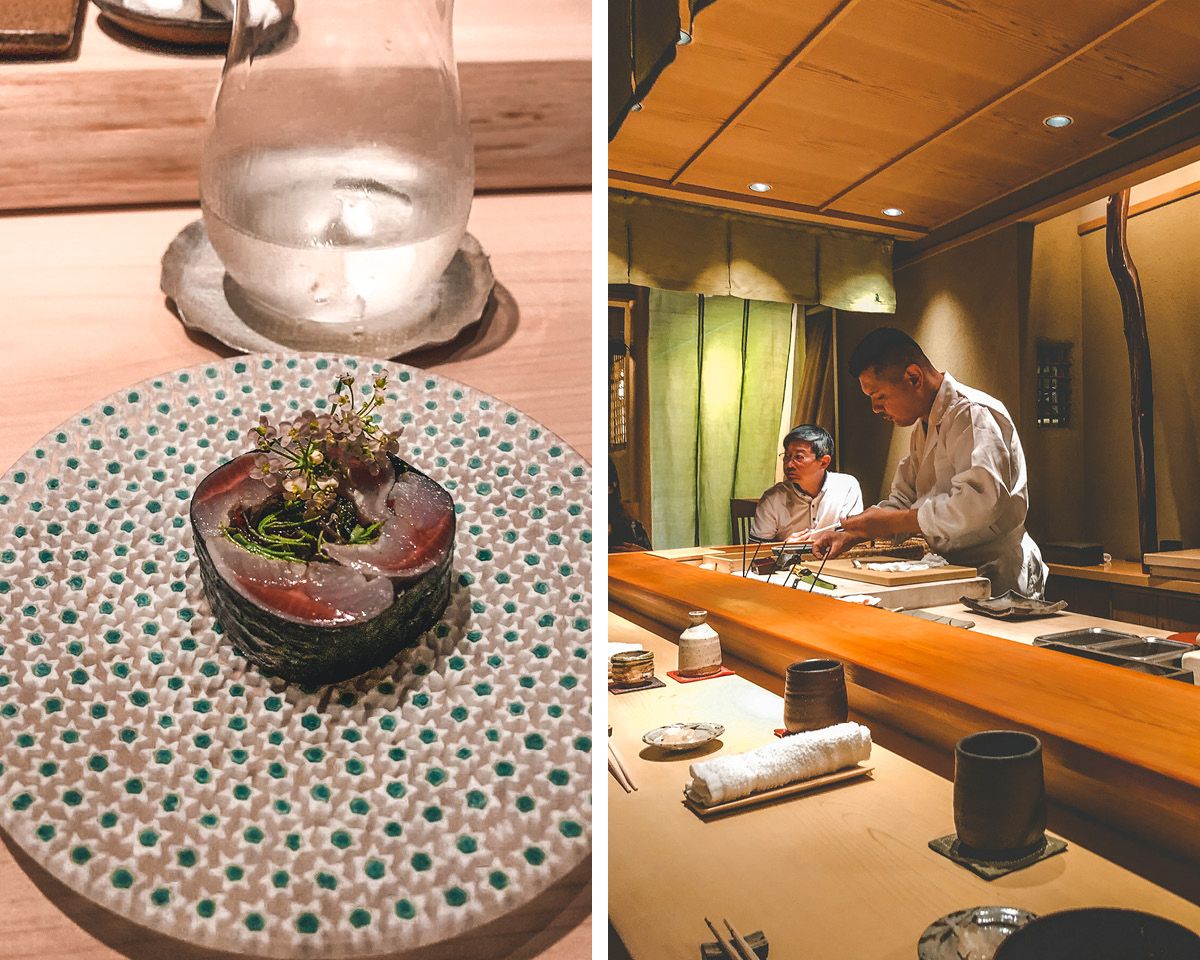 Omakase translates to "I leave it up to you" in Japanese. In other words you entrust the chef to choose what you will be eating. This can be intimidating since there is no menu and you never know what kind of sea creatures you will be eating, however it's an amazing way to try new flavours. Let the chef surprise you!
Omakase is typically a nigiri sushi experience where you are served piece after piece of fresh fish on top of rice until you're full. However there are different omakase experiences in Japan, like tempura and even some vegetarian options.
See our Japan itinerary to see our top omakase picks.
13. Treat yourself to melt-in-your-mouth Japanese Wagyu beef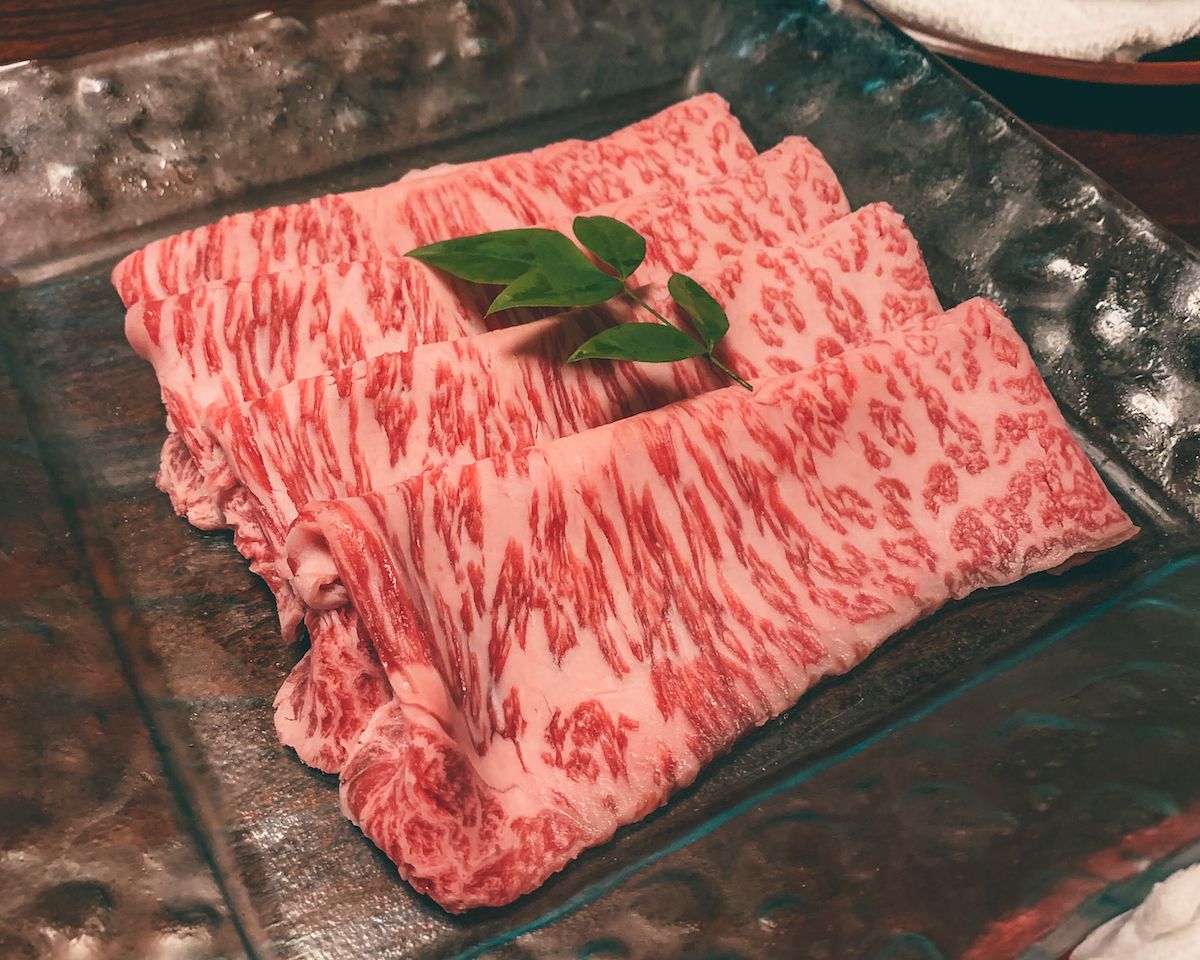 If you are a steak lover, this is the experience you've been waiting for. Imagine a heavily marbled piece of meat, so soft and full of flavour that it melts in your mouth. You may have seen different kind of wagyu cuts on the menu from USA or Australia, however in our opinion nothing beats Japanese A5 wagyu.
Kobe is one of the most famous and exclusive prefectures where rumour has it that farmers massage their cattle and feed them beer. Like the best French wines stay in France, it's hard to get great Japanese wagyu since most of it stays in Japan. It's worth the splurge once once you visit!
See our 2 week Japan itinerary for more info.
14. Enjoy a kaiseki multi-course meal at a ryokan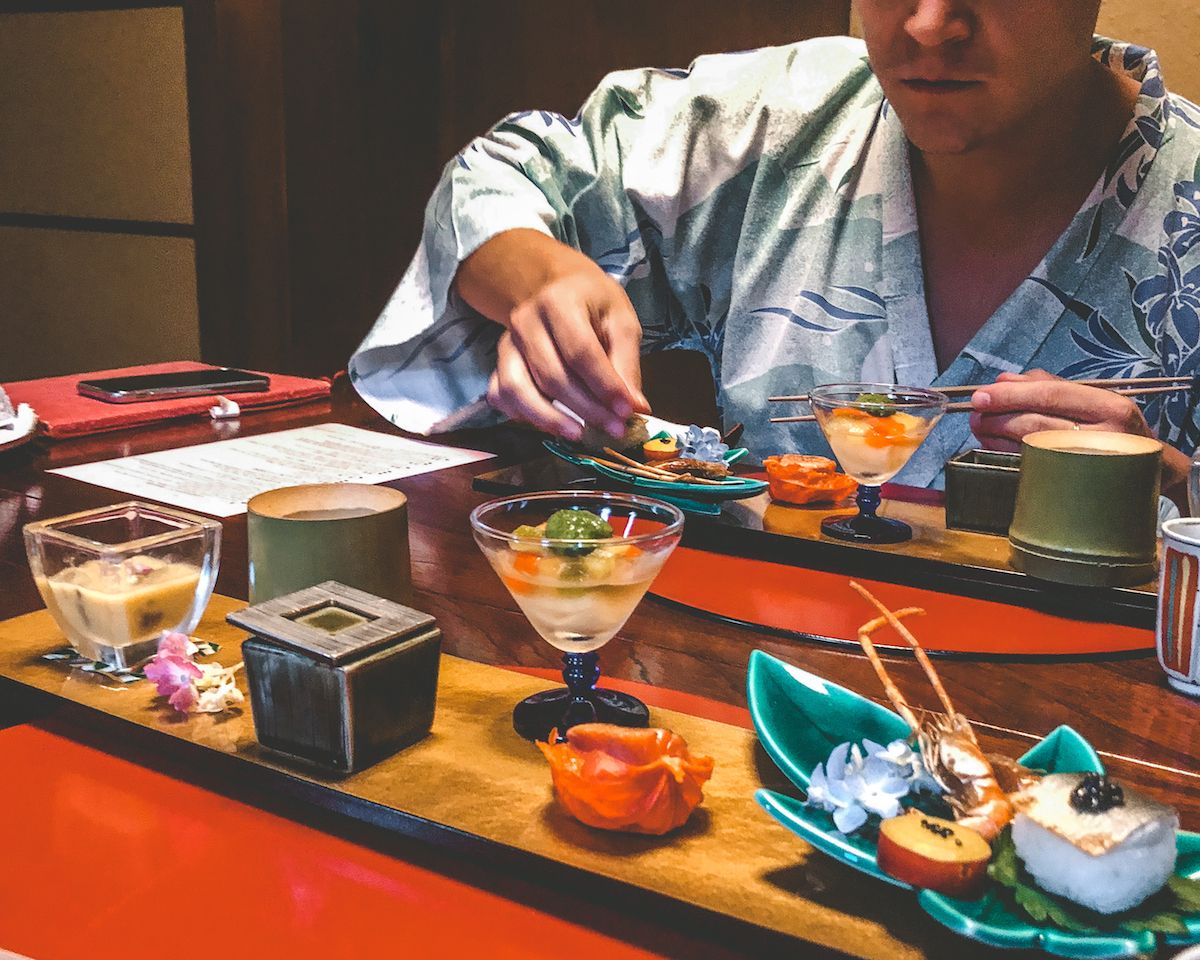 Staying in a ryokan, a traditional Japanese Inn, is a must try experience in Japan. You relax in a homey setting where you really get to be taken care of. Dinner is typically served to you in your room kaiseki style while you wear traditional yukata robes and sit on tatami mats.
Kaiseki is a traditional multi-course dinner where you are served between 6 - 15 courses. Each of these plates are defined by a particular Japanese cooking technique. This is different from omakase, since omakase can be tailored to the diner's reaction throughout the experience. Kaiseki is prepared in advance and is based on what produce is in season.
If you're looking for a relaxing Japanese gastronomic experience, this is the way to do it.
See our Japan itinerary, which includes a ryokan and kaiseki experience.
Mexico
15. Devour Al Pastor tacos in Mexico City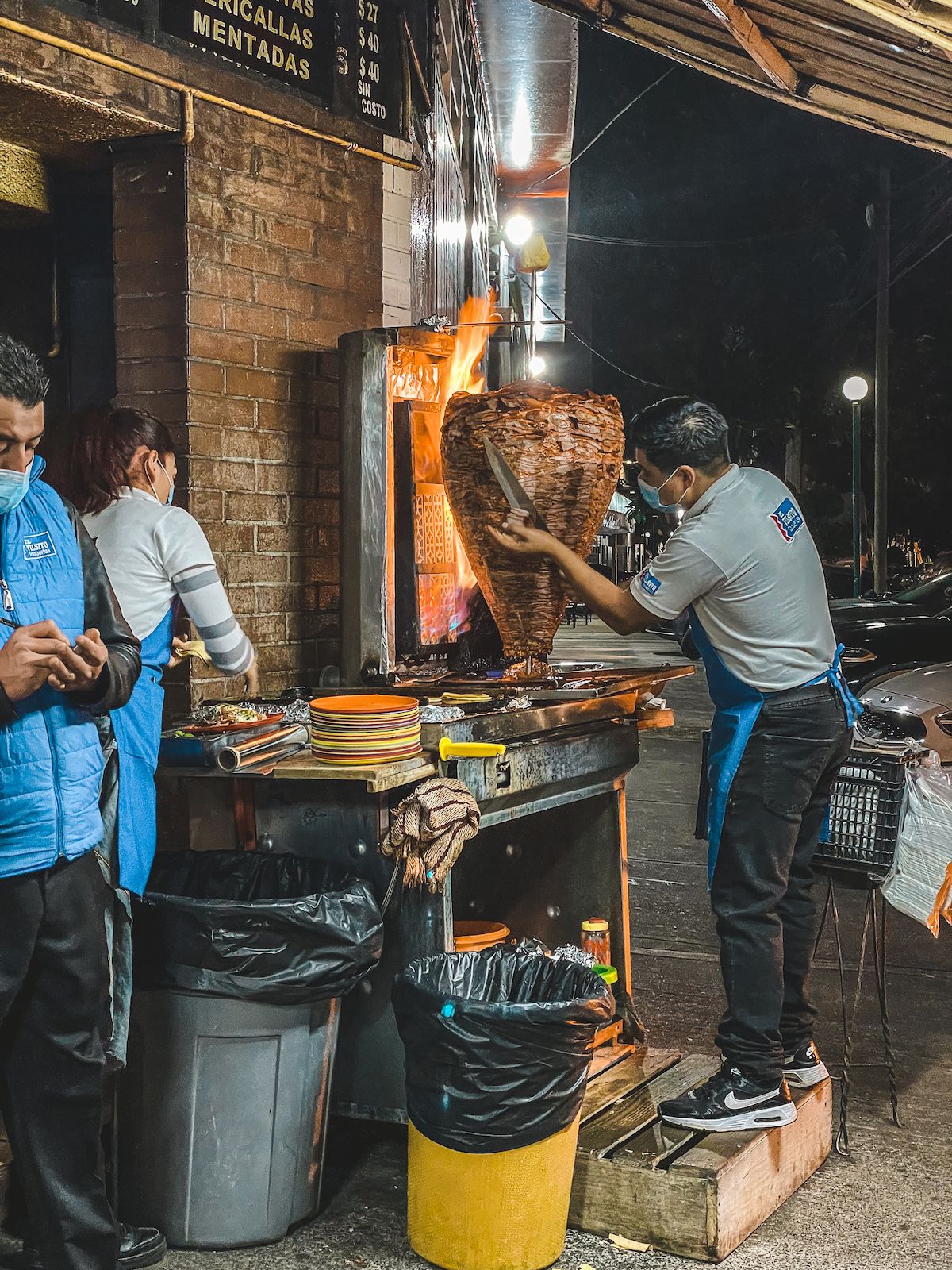 The concept of al pastor was introduced to Mexico by Lebanese immigrants in the 1930s. Spit roasted pork (like the spits you see at shawarma shops) is shaved onto a corn tortilla with onion, pineapple and cilantro. Each shop has their own unique spice rub on the pork, so al pastor is different everywhere you go. But, we find it's the sweet hit of pineapple that really makes them so tasty.
El Vilsito is our favourite street food shop in Mexico City. The car mechanic shop by day turns into one of the most iconic al pastor taquerias in the city. Stepping up to the open-air taqueria feels like a social affair, with locals and tourists standing at tables chatting and devouring mouthwatering tacos.
See our Mexico City itinerary and start planning your trip.
16. Eat mole, a rich sauce from pre-hispanic times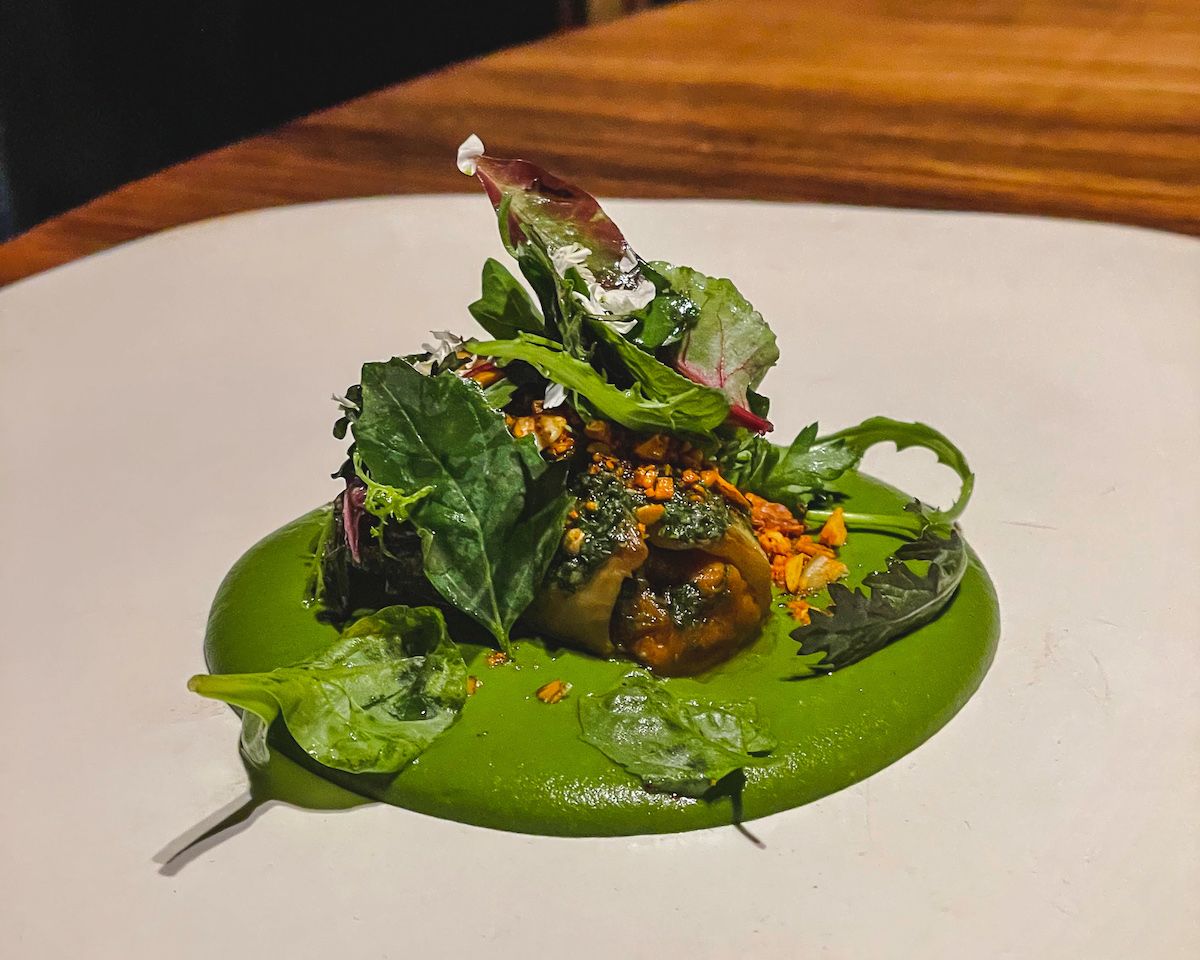 Mole is a rich sauce made with chocolate and chilli peppers that comes from pre-hispanic times. There are many variations to try, such as black, green and red mole.
For the ultimate culinary treat, dine at Pujol in Mexico City to try their famed mole madre that has been aged for more than 1,000 days. Pujol recently was ranked #5 in the World's 50 Best Restaurants list (2022). With Mexico's traditional cuisine listed on the UNESCO's Intangible Cultural Heritage List, it's no wonder you will find some of the best restaurants in the world here.
See our Mexico City itinerary and start planning your trip.
New Zealand
17. Prepare yourself for a feast at The Green Dragon in Hobbiton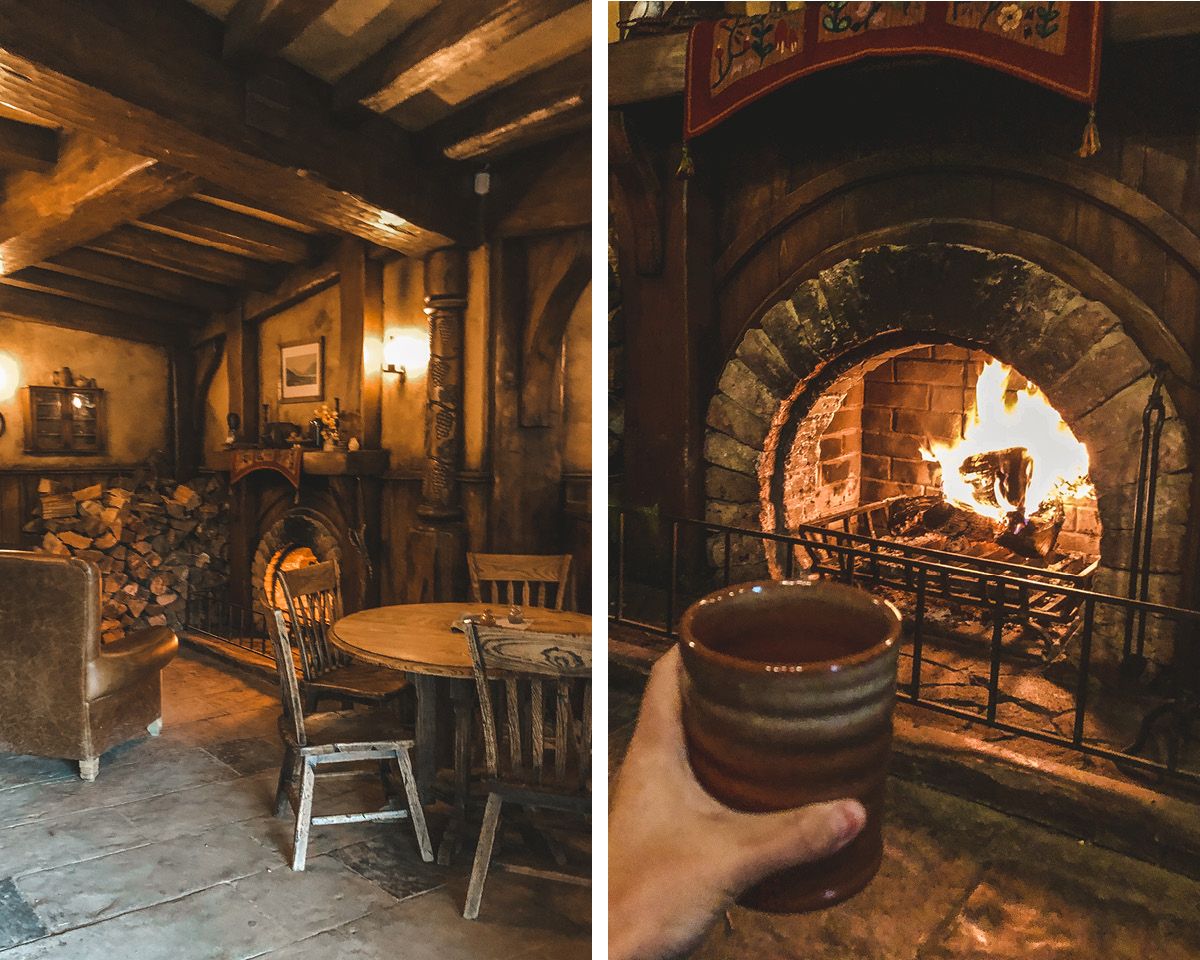 Dining at the Green Dragon in Hobbiton is the quintessential food experience for Lord of the Rings fans. The Hobbiton Banquet tour is the last of the day, meaning you have the entire grounds to yourself, during sunset, without other tour groups nearby.
And it doesn't stop there! After your tour through the movie set, you step into the Green Dragon to have a drink of craft beer by a crackling fire while you await for the feast. Next, you are invited to a large communal table where platters of delicious food, like chicken, fish, sausage, lamb shank, roast veggies, salad, mashed potatoes and gravy are served to you. Dig in! The music and the atmosphere makes it really feels like you're in the movie.
The banquet tour sells out far in advance so make sure to reserve your spot.
See our New Zealand itinerary and start planning your trip to this fun-filled country.
Singapore
18. Discover Michelin-starred street stalls in Singapore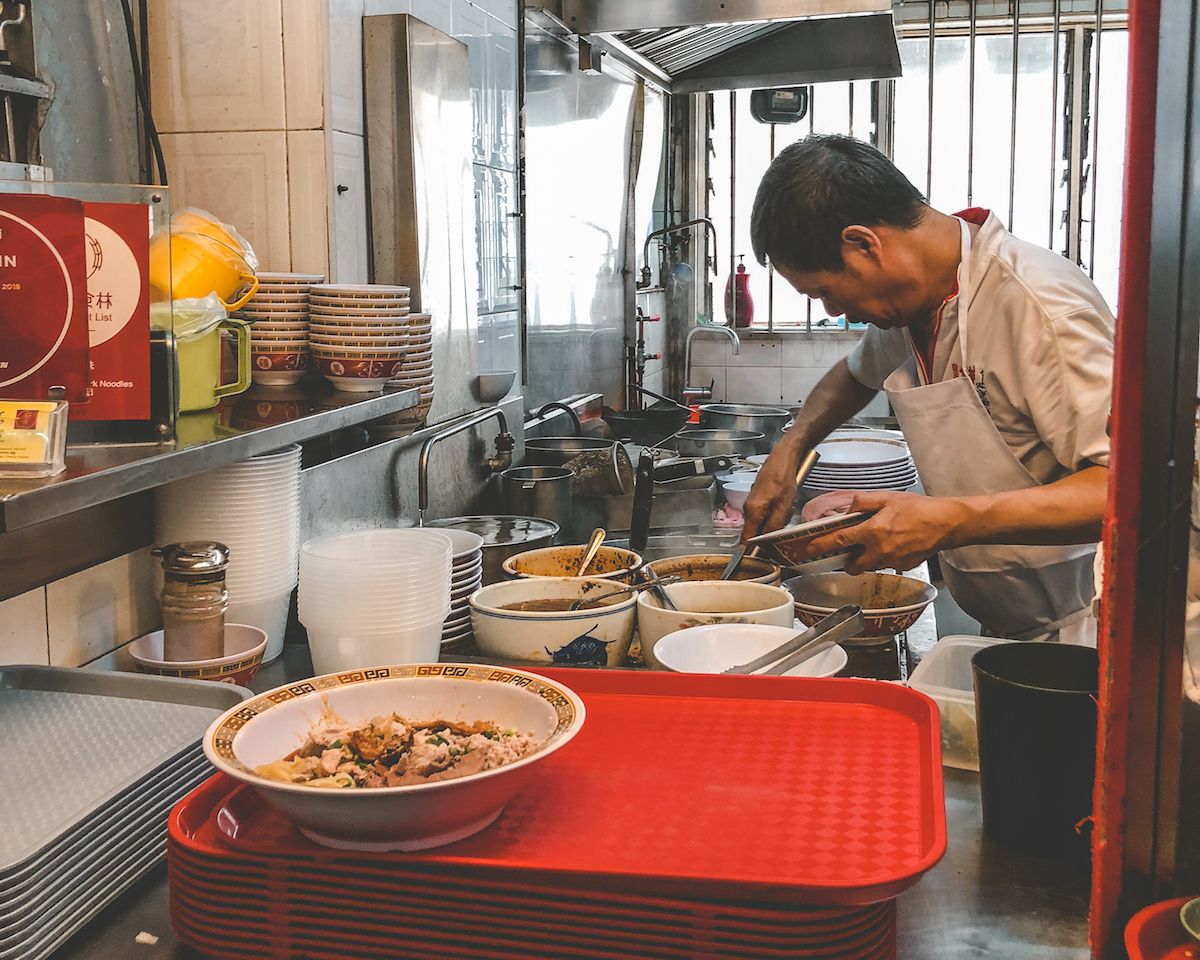 The hawker centres in Singapore aren't like your typical food courts. You will find hundreds of stalls in these open-air food markets cooking up authentic dishes from different cultures in China, India and Southeast Asia. The dishes coming out of these stalls are of such high quality some even have a Michelin star! It's an amazing place to try different kinds of dishes since they are inexpensive and you can easily come back for more (if you don't mind waiting in line again).
Our favourite food stall is called Hill Street Tai Hwa Pork Noodle, which has earned itself a Michelin star. It was worth the hour-long lineup for the perfectly savoury soup made with fresh homemade noodles and slices of tender pork.  
See our 2 day Singapore itinerary for a list of the most popular hawker centres.
South Korea
19. Experience Seoul's vast foodie scene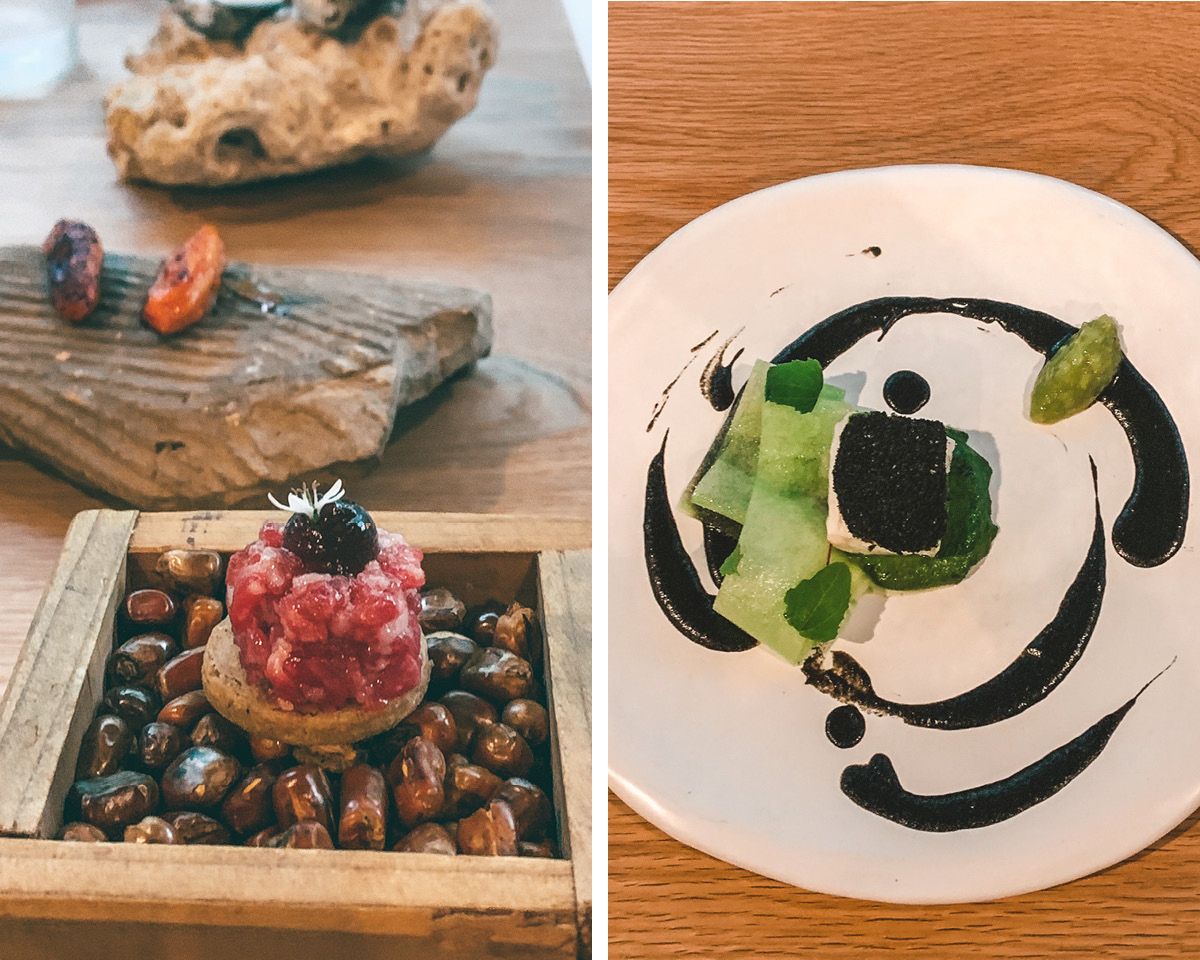 South Korea has a fascinating food culture with unique dishes for every kind of mood. In Seoul there is a plethora of places to choose from, from street food vendors to contemporary fine-dining restaurants. You will see streets lined with restaurants and outdoor seating where Koreans gather to socialize and eat.  
A must do gastronomic experience is going to a Korean BBQ restaurant and trying Hanwoo 1++ beef. It's South Korea's premium beef that that competes with A5 wagyu.
Our favourite comfort food is Korean cheese fondue called Dakgalbi where you are served a pan filled with melted cheese, chicken and veggies. It's delicious!
For street food, don't miss the satisfying gamsung, a deep fried pogo-style hot dog covered in bits of fries. YUM!
See our list of alternative things to do in Seoul for more foodie experiences.
Spain
20. Go on a pintxo bar crawl in San Sebastian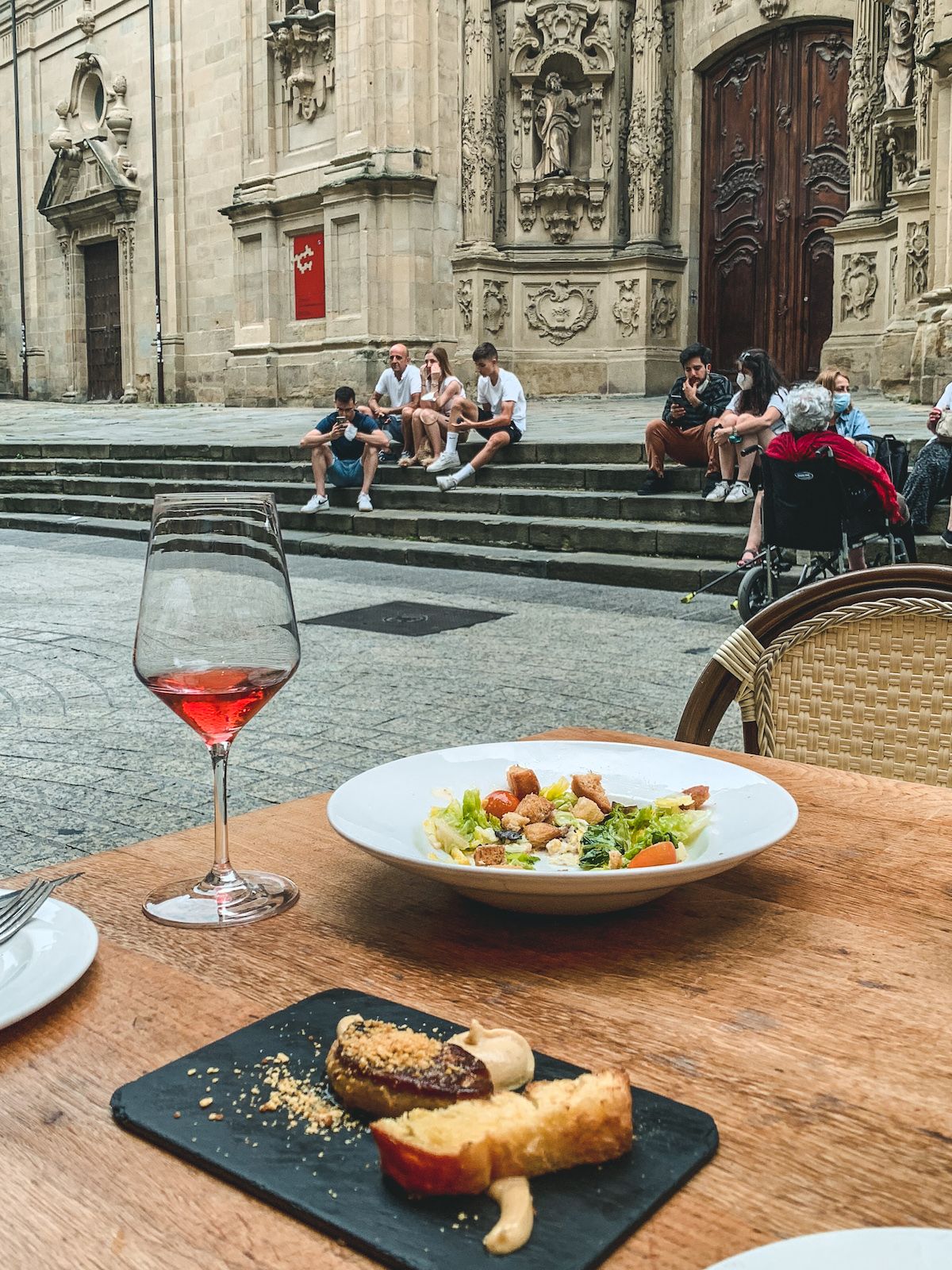 San Sebastian is a happening city in the northern Basque Country, where Europeans love to go for summer vacation. The Basques are one of the oldest ethnic groups in Europe and have a food culture like no other. This is reflected in almost anywhere you eat in the city. You'll find hundreds of pintxo bars serving cheap and delicious gourmet snacks, kind of like next level tapas, and Michelin-starred restaurants around almost every corner.
See our San Sebastian itinerary, which includes our favourite spot to eat pintxos.
Switzerland
21. Treat yourself to delicious Swiss cheese specialities in the Alps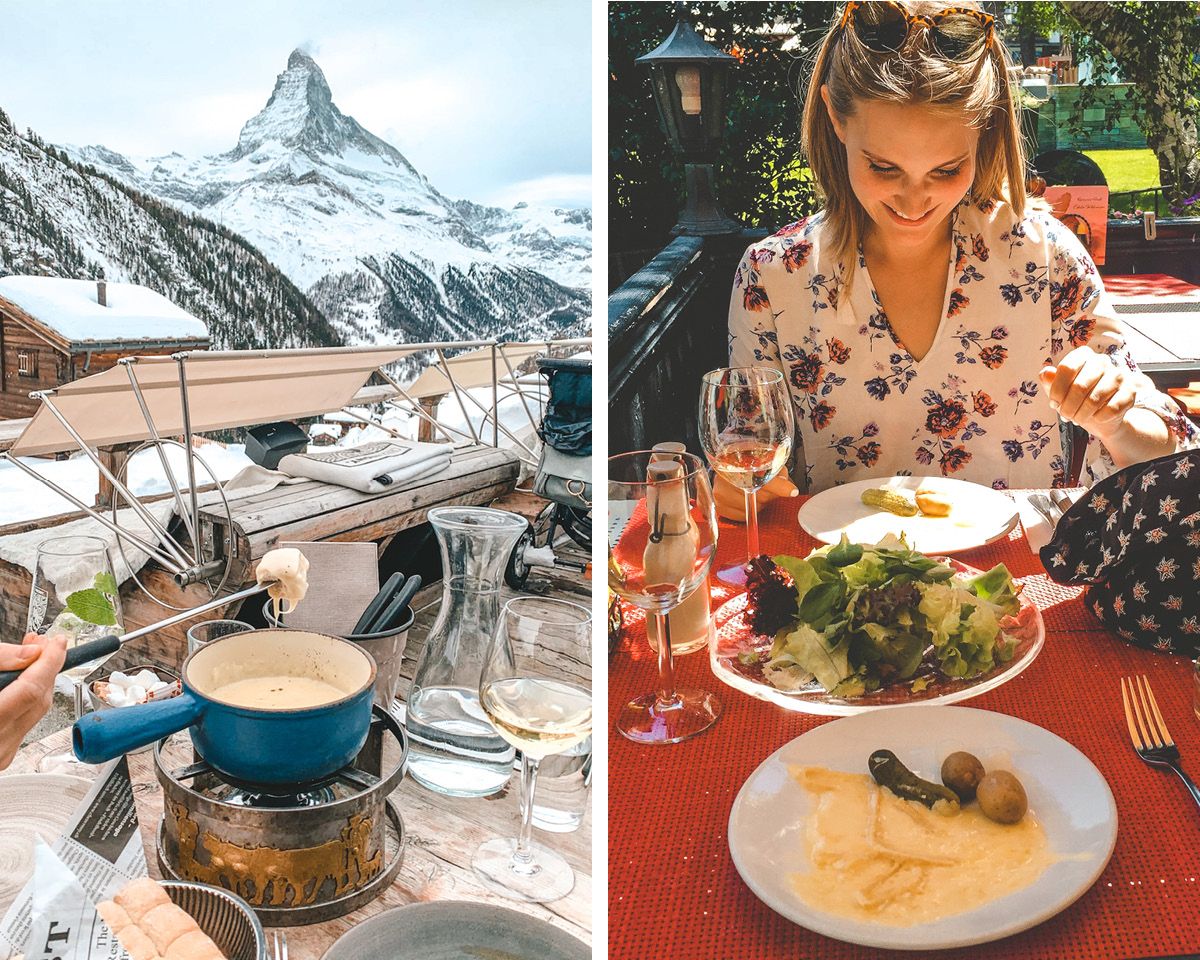 Switzerland is THE place for cheese lovers. When we travel to Switzerland one of the things we are most excited for is eating raclette and cheese fondue, two Swiss cheese specialties. When we try to order these dishes outside of the country it's just not the same!
Raclette is prepared by cutting a big wheel of Raclette cheese in half and heating the cut side under an element until the cheese is golden and bubbling. This gooey deliciousness is then scraped onto a small plate with baby potatoes, pickled onions and pickles. Melted cheese on a plate, what could be better than that!?
Cheese fondue is typically a blend of Emmental and Gruyère cheese with kirsch, white wine and garlic. Once it starts bubbling in the fondue pot, you dip your long fondue fork with a piece of bread into it and pick up as much cheese as you can. This is a fun dish to share with a group, just make sure you make a double order if required!
Both of these dishes pair perfectly with views of the Swiss Alps and local white wine. These meals are especially cozy during wintertime when you want to warm up.
See our list of fun things to do in Zermatt, which includes our favourite Swiss restaurants.
Drink
Jump to:
Argentina
|
Brazil
|
Chile
|
China
|
England
|
Georgia
|
Italy
|
New Zealand
|
Scotland
|
South Korea
Argentina
22. Drink Malbec wine and discover Mendoza, Argentina's mountainous wine region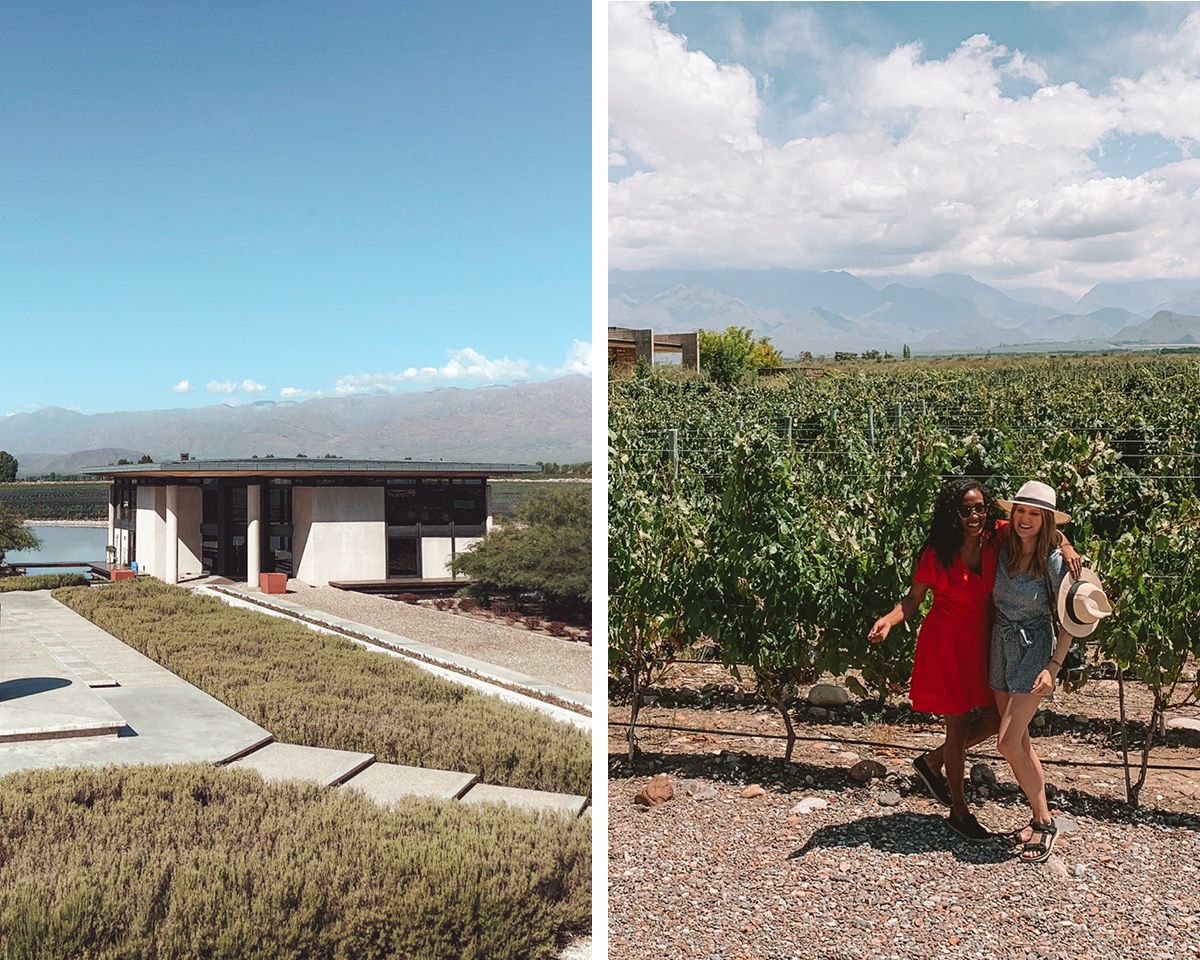 At the edge of the Andes you will find Mendoza, Argentina's largest wine region. The new-world wine region is famous for its Malbec grapes that produce a full-bodied wine with juicy, dark fruit characteristics. It's one of the six grape varieties allowed in a French Bordeaux wine and is a great alternative to Cabernet Sauvignon and Syrah wines.
Mendoza is an extraordinary place to relax and learn about wine. The region has over 1,500 wineries, delicious Argentine restaurants and boutique vineyard hotels with stunning views of the Andes mountains.
See our Argentina itinerary, which includes a stop in this beautiful wine region.
Brazil
23. Sip a refreshing caipirinha, Brazil's national cocktail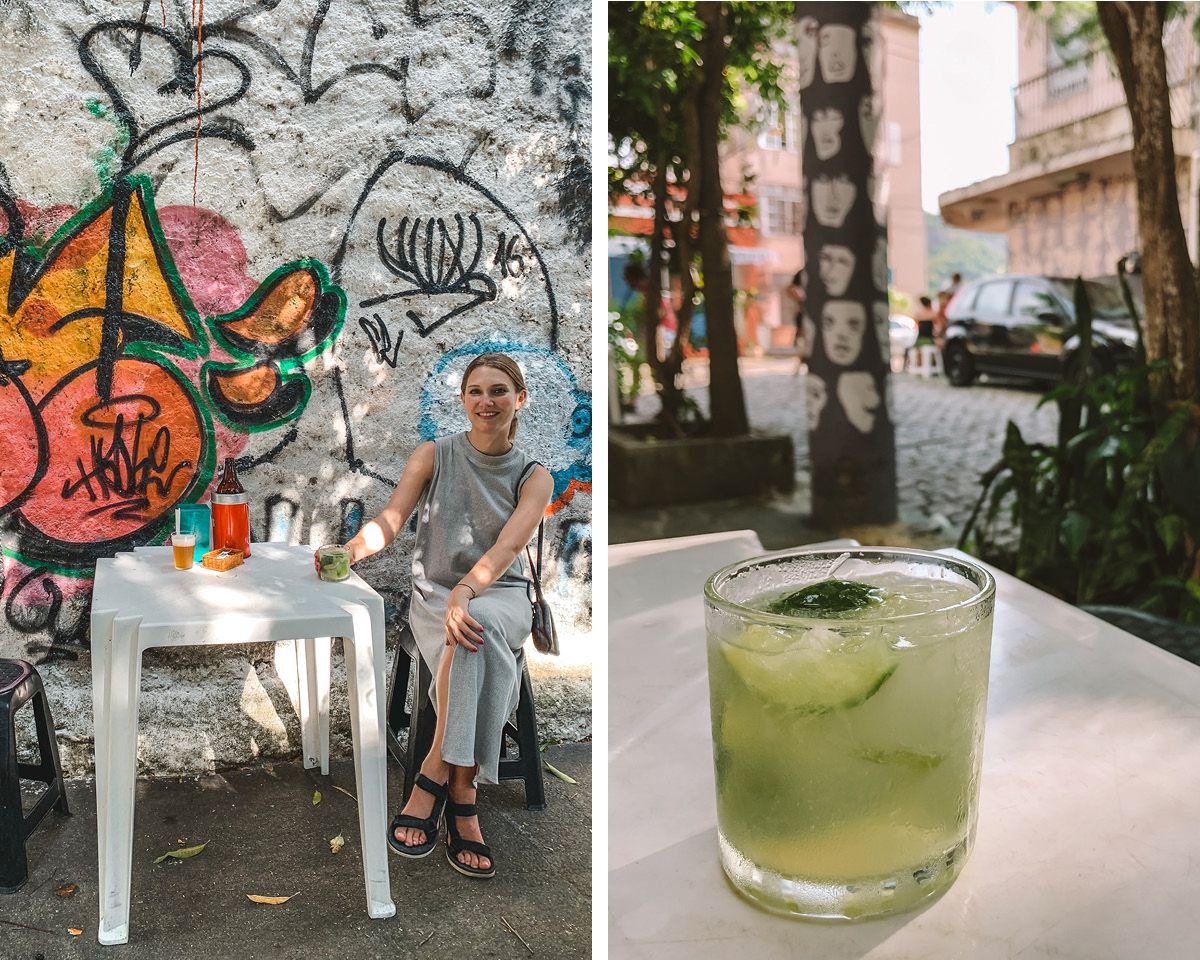 We discovered one of our favourite cocktails in Rio de Janeiro. We saw this cocktail everywhere we went and soon learned it was Brazil's national cocktail. Called the caipirinha, it simply contains 1 muddled lime, 1 spoon of sugar and cachaça, a liquor made from sugarcane.
Cachaça is the national spirit of the country, how tequila is to Mexico. The name cachaça can only be used if it's produced in Brazil, similar to that of champagne in France. A caipirinha pairs perfectly with a sunny day.
The best way to have a caipirinha is outside on a patio or at a bar with views of the beach. They are so refreshing that we even try to make them at home!
See our Rio De Janeiro guide for more fun things to do in the city.
Chile
24. Relax with a pisco sour in the mystical desert town of Pisco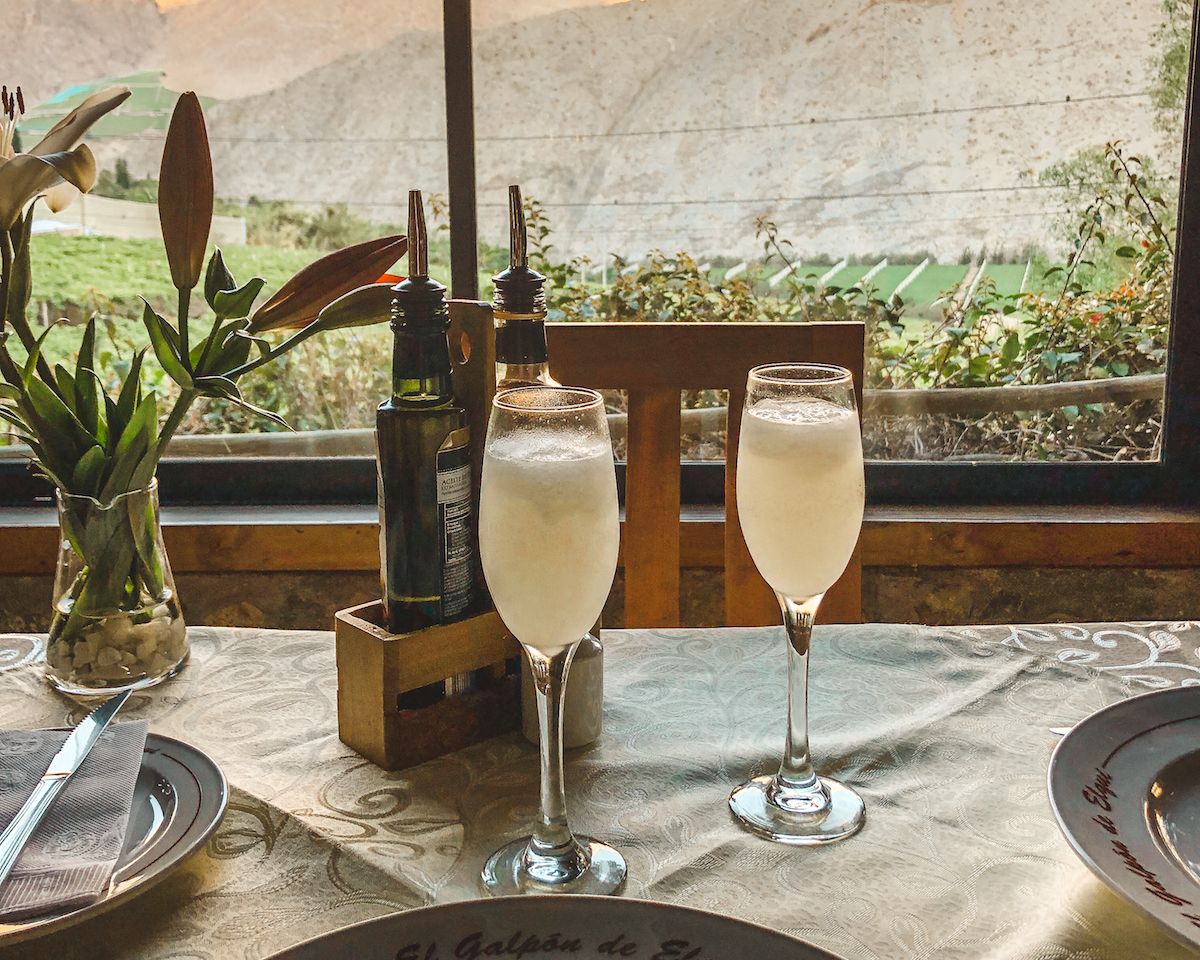 Pisco is a type of brandy made from distilling grapes. One of the best ways to discover Chilean pisco is in the town called Pisco itself. This free-spirited village is located in the mystical Elqui Valley, known for its amazing stargazing and mountainous desert. There are a few distilleries around the area where you can go for a pisco tasting and tour.
Peru and Chile have a longstanding feud with where pisco originally came from and you will notice different flavour profiles depending on where the pisco was produced. A part of this is because each country uses different grapes.
A pisco sour is another one of our favourite cocktails. To make a pisco sour you shake ice in a cocktail shaker with lemon juice, egg white, simple syrup and pisco. It's the perfect combination for a satisfying and tasty drink.  
See our Chile itinerary, which includes a stop in Pisco and a tour of a pisco distillery.
China
25. Sample Pu'erh tea at Da Ke Tang, a teahouse in a 1930s mansion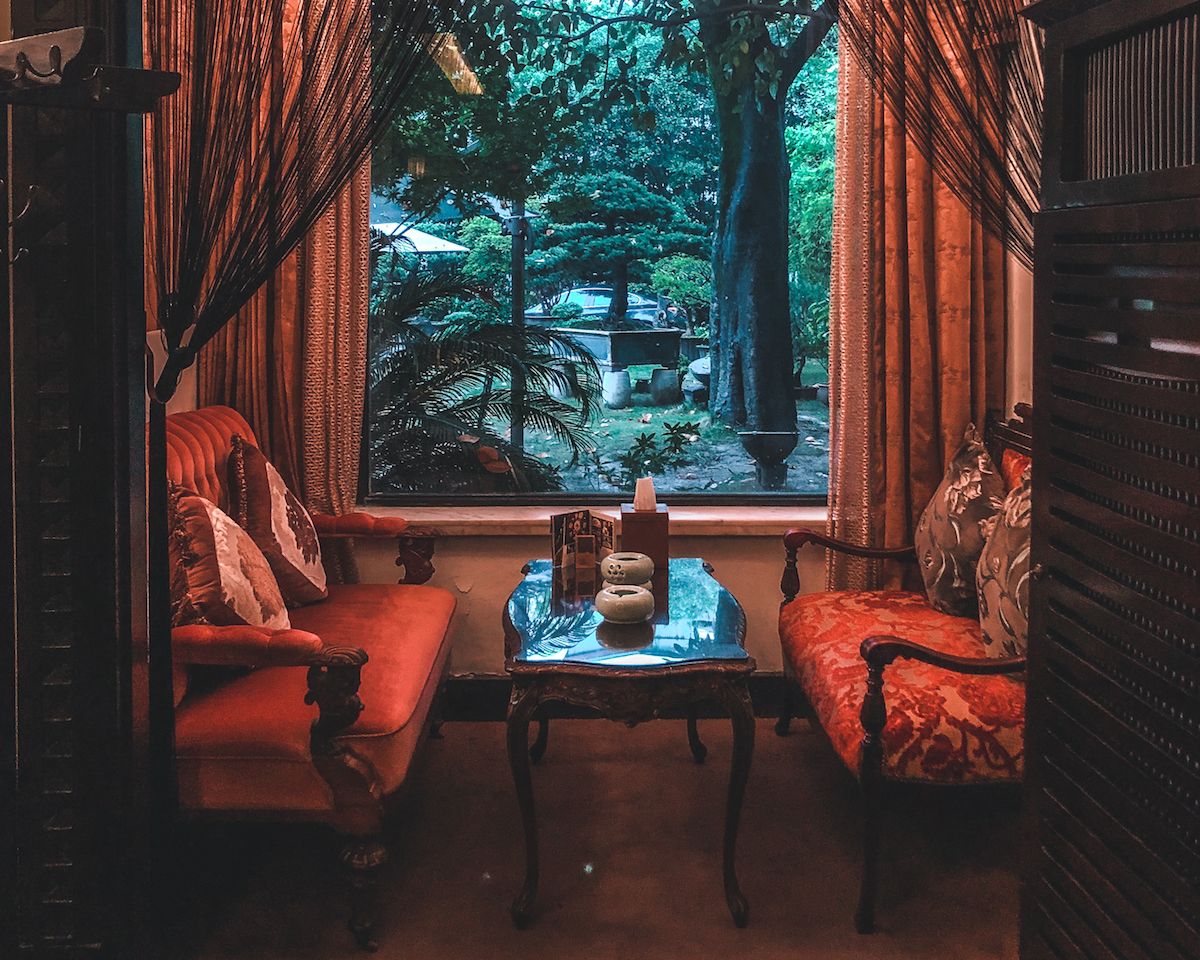 Pu'erh tea is a fermented tea from the Yunnan province that is compressed into round disks and stored for many years, aging like fine wine. The older the tea and the more recognized the producer, the more you can expect to pay.
In Shanghai you can sample Pu'erh tea in a 1930s mansion called Da Ke Tang. This glamorous spot is tucked away in the back streets and has historically been a hangout for intellectuals and Shanghai's elite. While you can purchase Pu-erh tea here for around $20, watch out for the expensive stuff that will set you back a few thousand dollars!
There are two types called raw and ripened Pu'erh. They look similar when dry, but once you steep them, they are completely different in taste and colour. Raw Pu'reh is usually more expensive than ripened Pu'erh, but it depends on where and when it was made. It's fun having a tasting to see which one you like better.
See our China itinerary, which includes at stop at this luxurious teahouse in Shanghai.
England
26. Enjoy a fabulous afternoon tea in London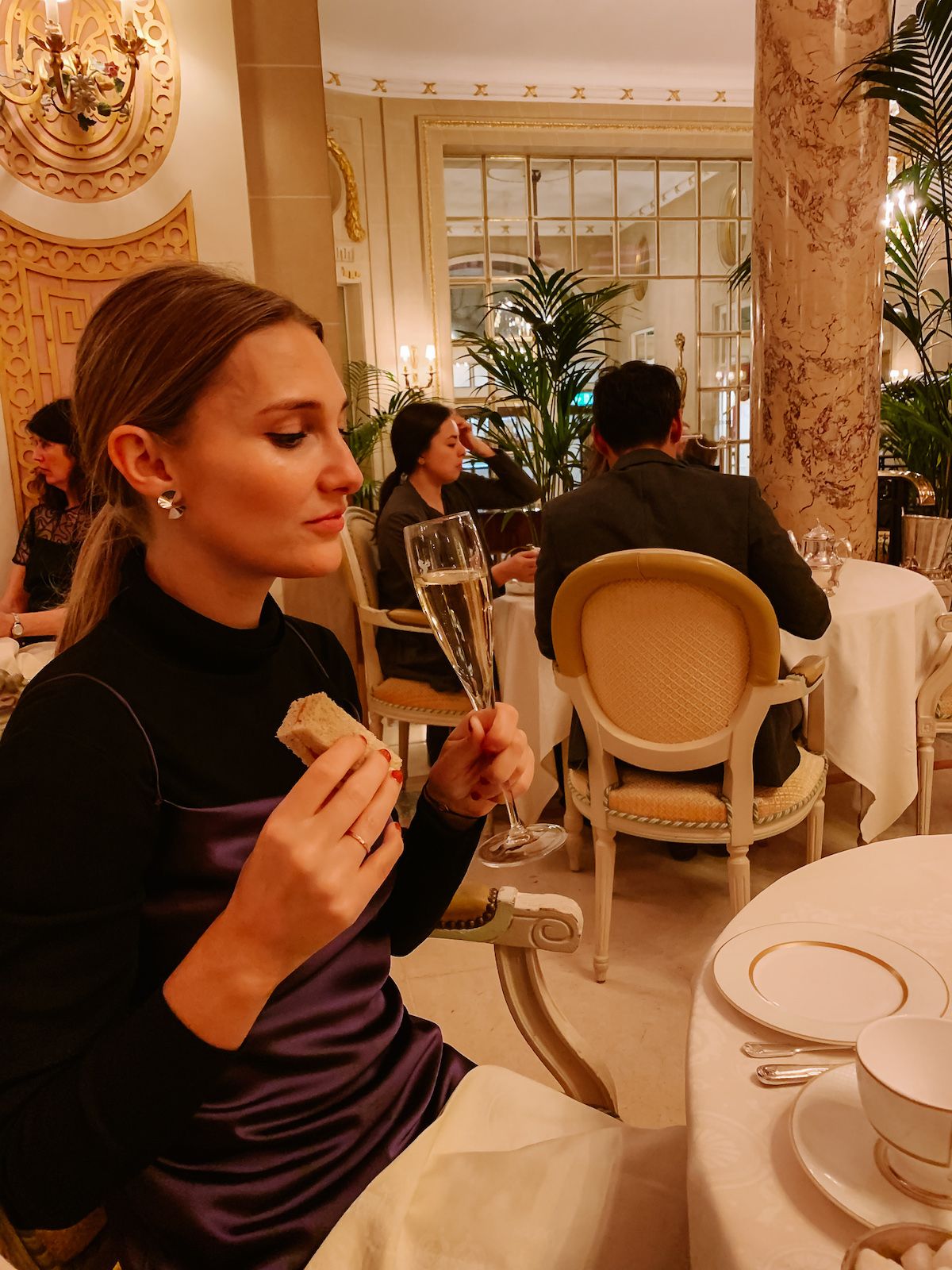 Afternoon tea is an English tradition dating all the way back to 1840, when Anna, the 7th duchess of Bedford, requested that tea, bread and cake be brought to her room around 4pm to satisfy her hunger before a late dinner. She eventually started inviting friends to this affair, and over time this afternoon ritual caught on with others. It transformed into a lavish event where upper-class women dressed up and met in the drawing room around 4pm to drink tea, eat finger sandwiches, pastries and scones, and of course gossip.
In London there are many glamorous places to enjoy afternoon tea. The Ritz has one of the best afternoon teas in the city, where you can take part in the posh lifestyle. Opening in 1906, it has become one of the most prestigious hotels in London, attracting celebrities and royal guests. It may be a bit stuffy, but it's all in the fun.
See our London itinerary and start planning your trip.
Georgia
27. Learn about the world's oldest winemaking technique in Signagi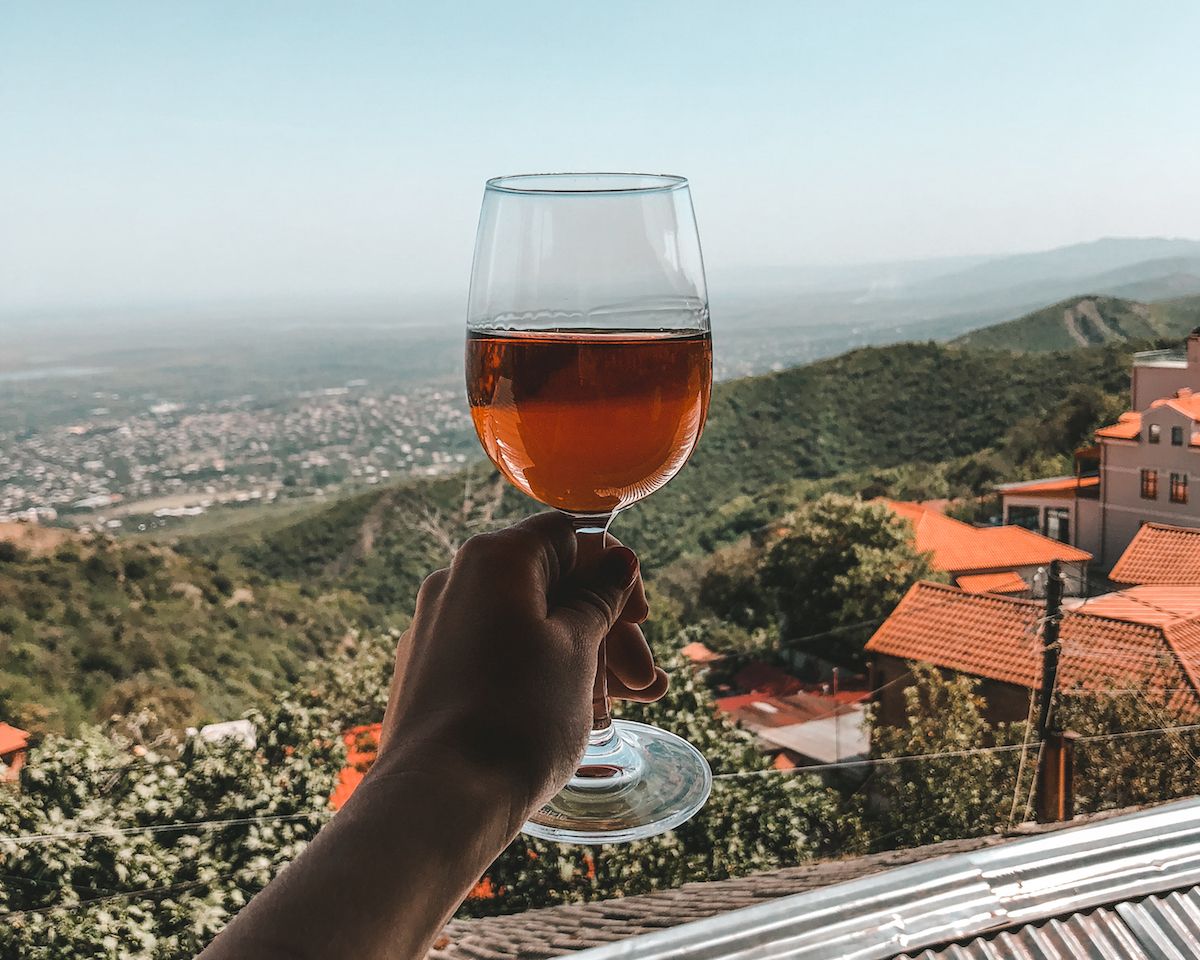 Signagi is the perfect place to learn about Georgian wines. Also known as the "city of love" by Georgians, this charming hilltop town has cobblestone streets, traditional houses with wooden porches and beautiful views of the Caucasus mountains. It's located in Kakheti, Georgia's most prominent wine region, and has many wineries to discover.
For over 8,000 years, Georgians have used egg-shaped earthenware vessels called qvevris to ferment their wine. These qvevris are buried in the ground, allowing for a relatively constant temperature. In 2013 this ancient Georgian winemaking technique was added by UNESCO to its Intangible Cultural Heritage list.
See our Signagi guide for the best wineries to visit.
Italy
28. Discover Sangiovese wines in Tuscany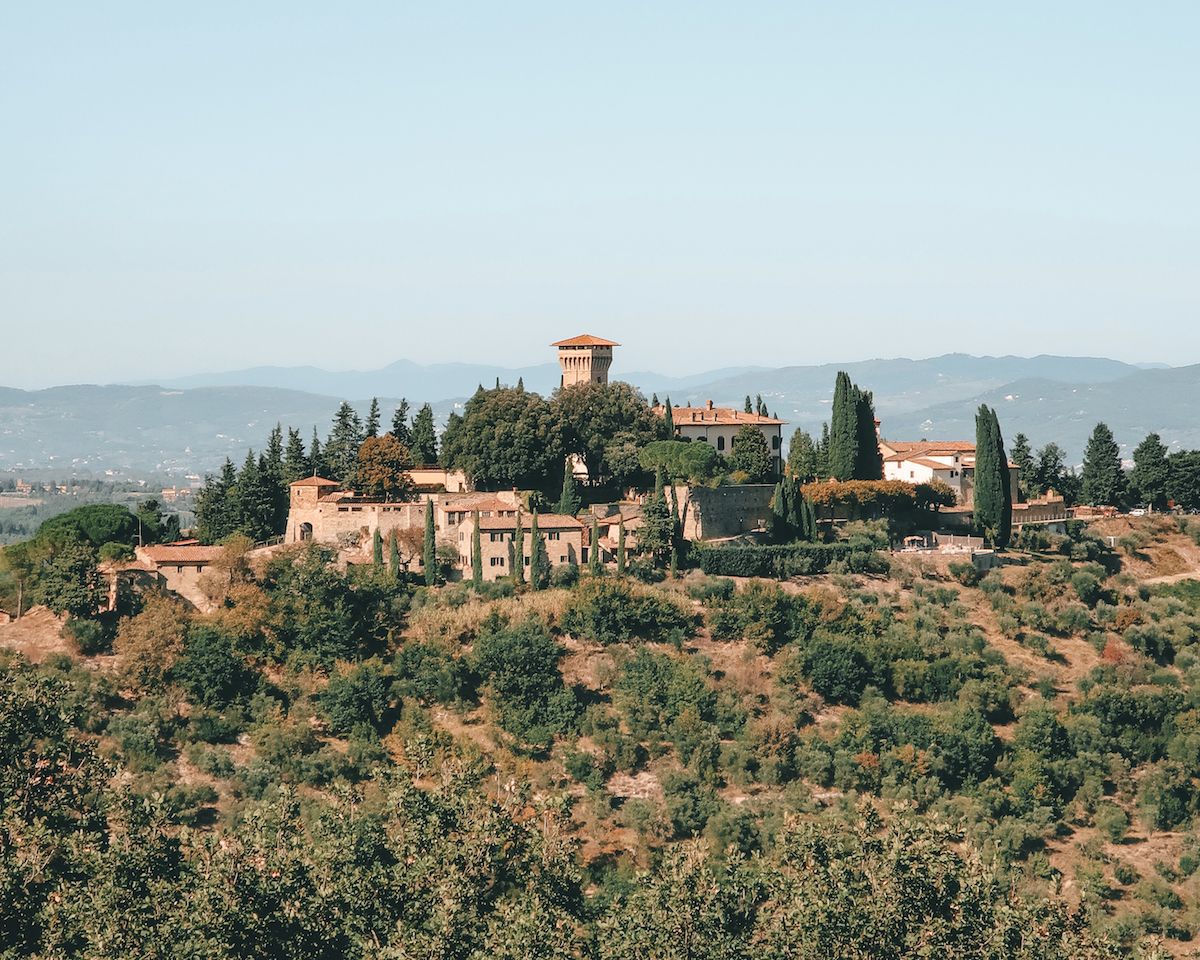 Take a road trip into the beautiful Tuscan countryside to discover Italy's famous wine regions. This area is known for its Sangiovese vines that produce a dry red wine. Sangiovese grapes make Italy's most distinguished wines, such as Vino Nobile di Montepulciano, Brunello di Montalcino and Chianti. It's a wine drinkers paradise!
The three main wine-growing areas in Tuscany are Chianti, Montalcino, Montepulciano, each having a considerable amount of wineries to discover. Driving through gorgeous hilltop towns and visiting these captivating wineries feels like you're in a classic Italian movie.
See our 2 week Italy itinerary, which includes a stop in Tuscany.
New Zealand
29. Winery hop by bike through the Marlborough wine region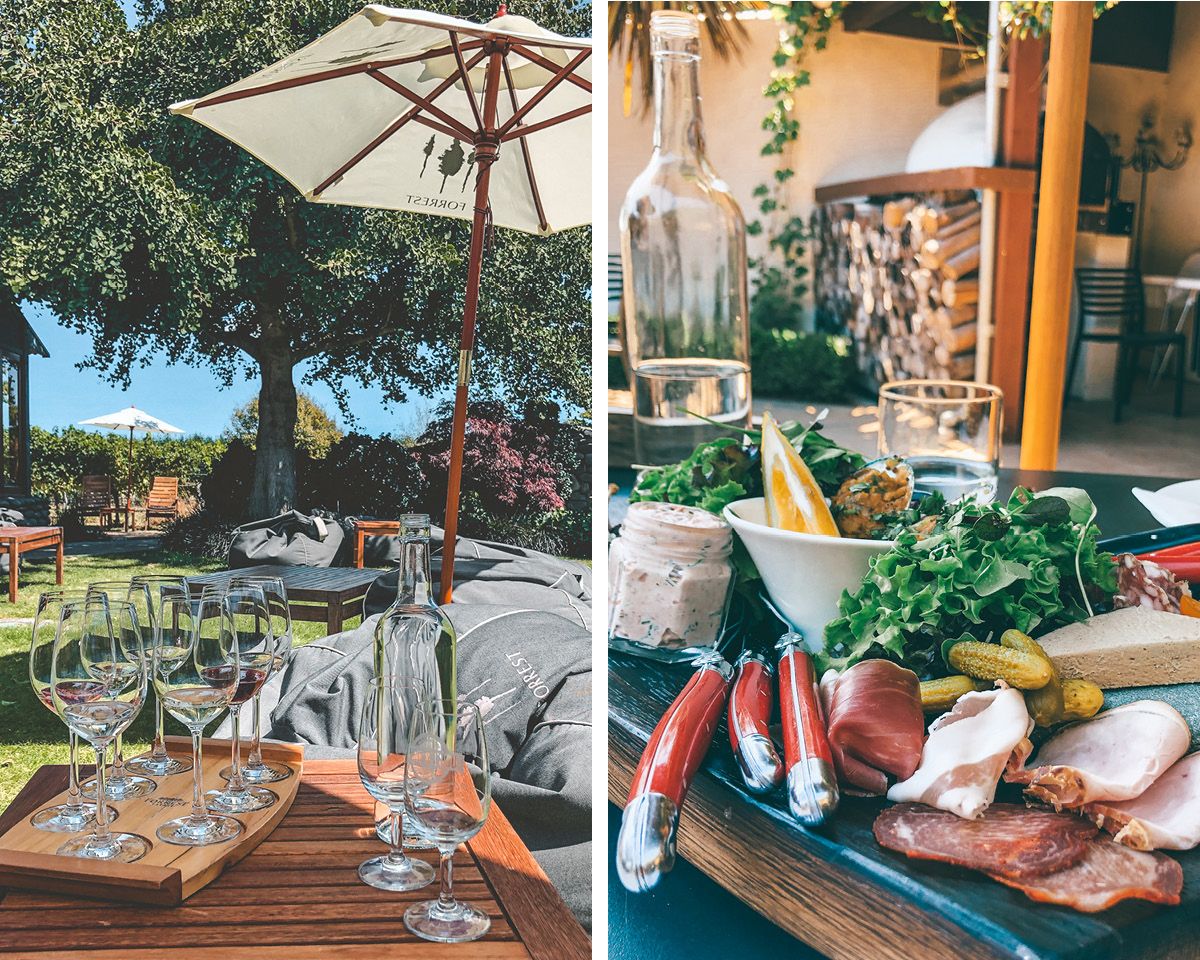 Take a break from your campervan and rent a bike to cycle the golden mile of wineries in Marlborough. The sunny, dry area is New Zealand's largest wine region and is well known for its Sauvignon Blanc wines.
The golden mile starts in the cute town of Renwick and takes you to nine wineries. The best part is that you don't need to make reservations in advance, so you can take your time bike hopping (or wobbling) from winery to winery. Many tastings are also free, which makes it a budget friendly activity. You're in for a relaxing day!
See our New Zealand itinerary, which includes a stop in the Marlborough wine region.
Scotland
30. Go on a Scotch sipping tour through Scotland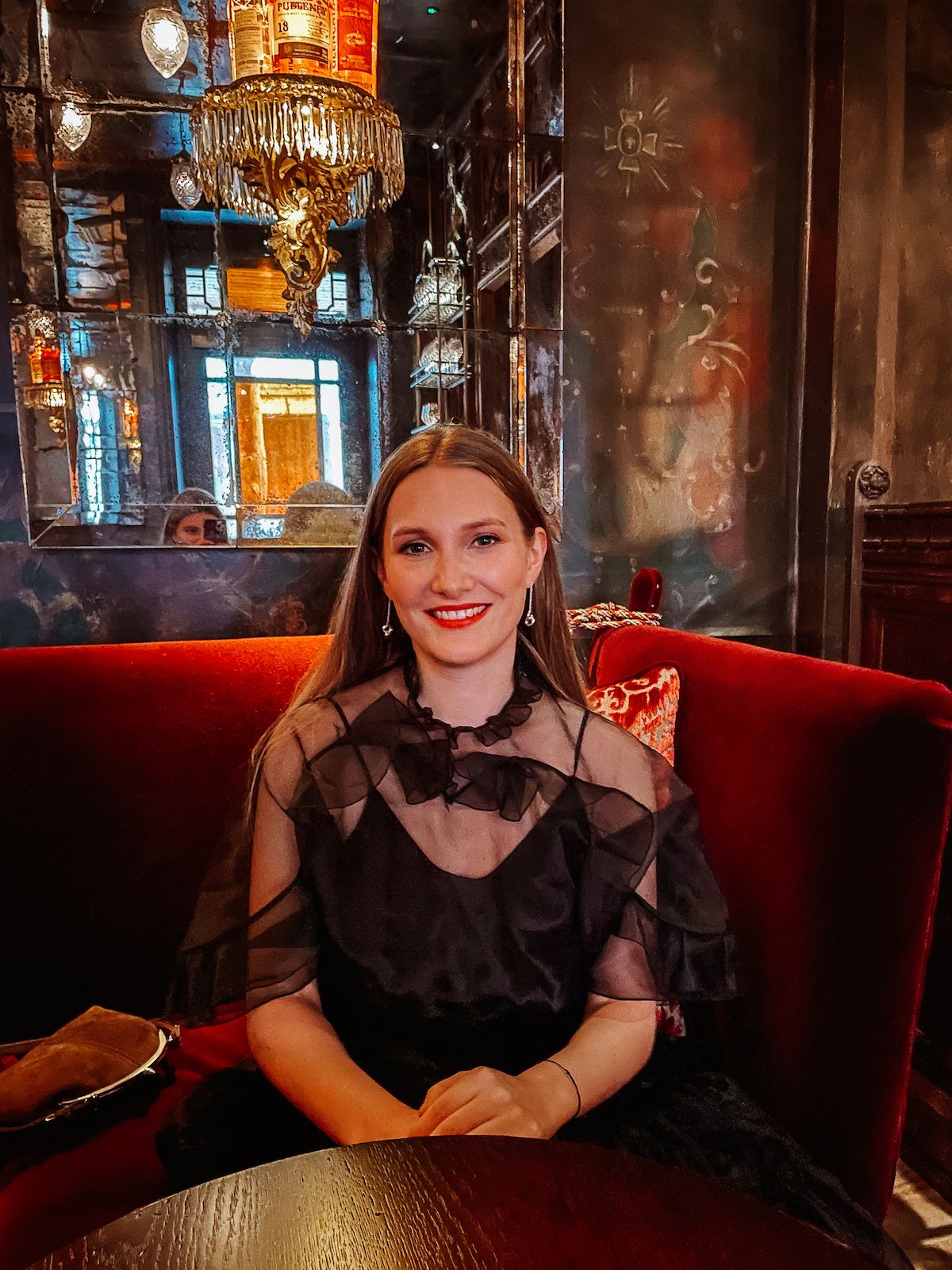 Scottish whisky is Scotland's national drink dating all the way back to the 15th century (and note that is whisky without an "e", unlike Ireland). For years, Scottish producers have been honing their craft, creating the highest quality of whisky. You can tell the country really takes pride in their whisky when you visit distilleries or even order a glass from the bartender. By law, to classify as "Scotch", the whisky has to be distilled and matured in oak casks for at least 3 years in Scotland and must be at least 40% abv in strength.
Go on a scotch sipping tour in Scotland by visiting award-winning distilleries like Talisker Whisky, or try a flight at Bertie's Whisky Bar, what we think may be the most glamorous whisky bar in the world.
See our Scotland itinerary, which includes stops at a distillery and whisky bars.
South Korea
31. Drink a green bottle outside a convenience store in Seoul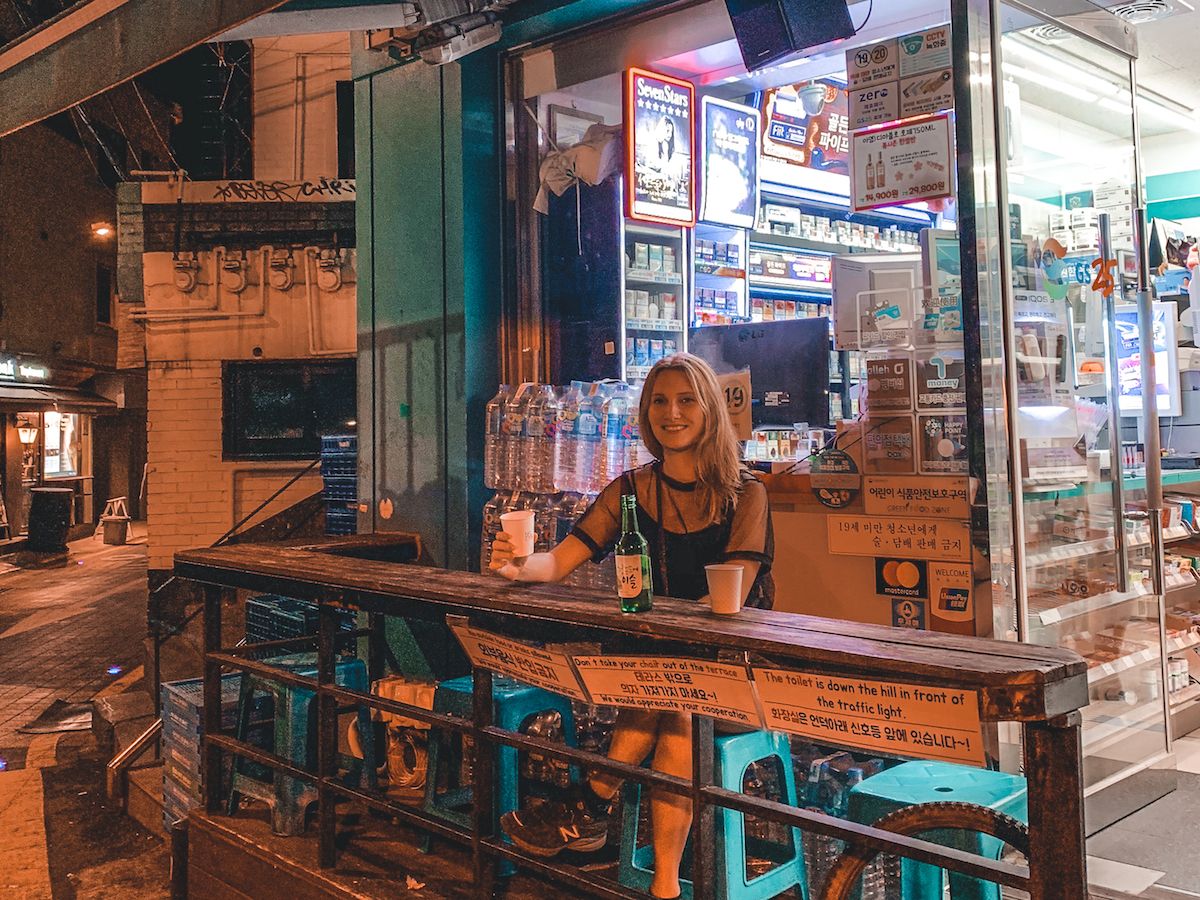 Drinking is a big part of South Korea's gastronomic culture and plays a big role in how Koreans socialize. During the evening you will see tons of tables outside filled with people mingling, eating and drinking soju. Soju is a clear spirit that comes from South Korea and tastes like a sweeter and milder version of vodka. The fruit flavoured versions are tasty and are meant to be taken straight without mix.
It's common to see locals pick up a green bottle (local term for soju) from a convenience store, pay 10 cents for a cup and sit down on plastic chairs in front of the store. There is also typically a microwave to heat up some convenience store style snacks. It's a great way to people watch and pre-drink before the club!
See our list of 13 alternative things to do in Seoul.
32. Experience Seoul's coffee culture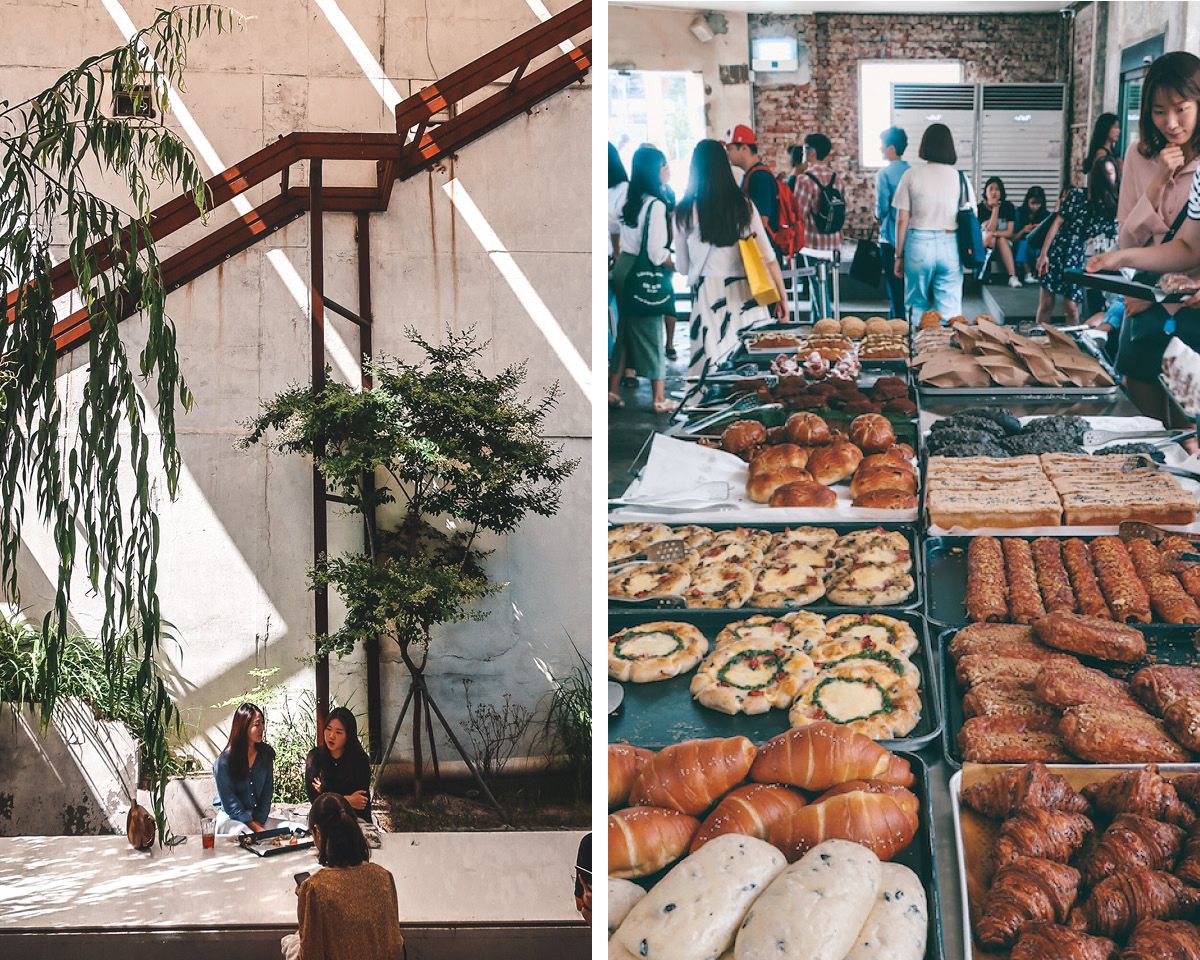 Seoul's coffee culture is like no other. Koreans are serious about their coffee, so much so that it has become the country's popular drink of choice.
Cafes in Seoul aren't your typical coffee joints where you get your caffeine fix and quietly do some remote work. They are social places where young people like to hang out and chat for hours on end. Special attention is placed on the aesthetic, vibe and music, giving each cafe a truly unique appeal. We found some incredible spots in former shoe factories, warehouses and artist workshops.
See our list of the 10 coolest cafes in Seoul.
We hope you enjoyed these unique gastronomic experiences and that they helped inspire your next trip!
Looking for more trip inspiration? Don't miss our list of other unique cultural experiences: