Santorini is a magnificent island. It was created by a volcanic eruption around 2000 BC and today is the edge of an ancient caldera sunk into the sea.
We set out to explore Oia, one of the most beautiful and famous cities in Santorini, known for its sunsets and white buildings. It is perfectly perched on the edge of the caldera and has marvellous views of the sea. However, with a place so spectacular comes a surge in price and mass of people.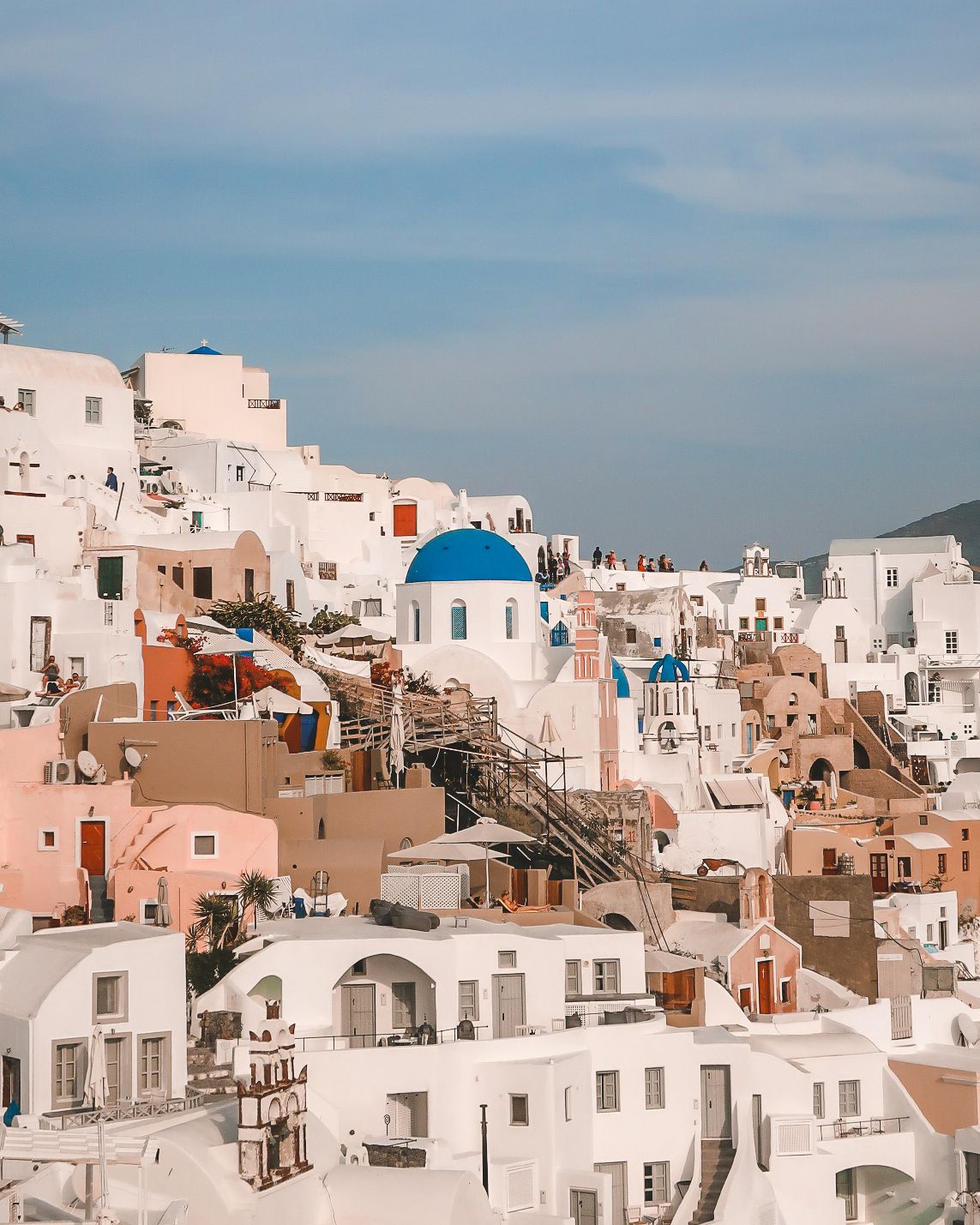 We list 5 helpful tips on how to do Santorini on a budget without giving up too many luxuries. Our tips also include ways to avoid the crowds. You're in the right place if you're looking to have a classic Santorini experience without breaking the bank!
5 tips to do Santorini on a budget
Disclosure: Some of the links below are affiliate links, meaning at no additional cost to you, we will earn a commission if you click through and make a purchase. Regardless, we only recommend products or services we have used or that we believe will add value to our readers.
1. Stay in Finikia in traditional cave houses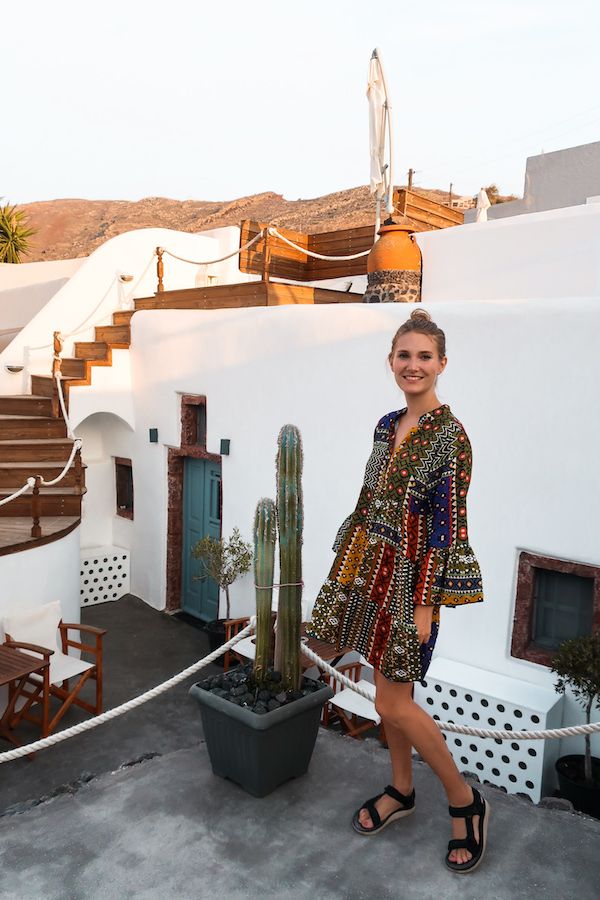 Finikia is a village filled with traditional cave houses and is located a 15-20 minute walking distance from Oia. Finikia is surrounded by vineyards with views of the sea. The budget that would have otherwise gotten us a lousy hotel room in Oia, got us a luxurious cave house with our own private hot tub!
The cave house we stayed in at Gemini Caves makes our list of top places we've ever stayed at.
The best part of staying in Finikia was being able to escape the hoards of picture taking tourists in Oia. We splurged on our cave house at $280 USD per night, but there are other cave houses you can stay at that are luxurious for $100 USD a night!
Best restaurants in Finikia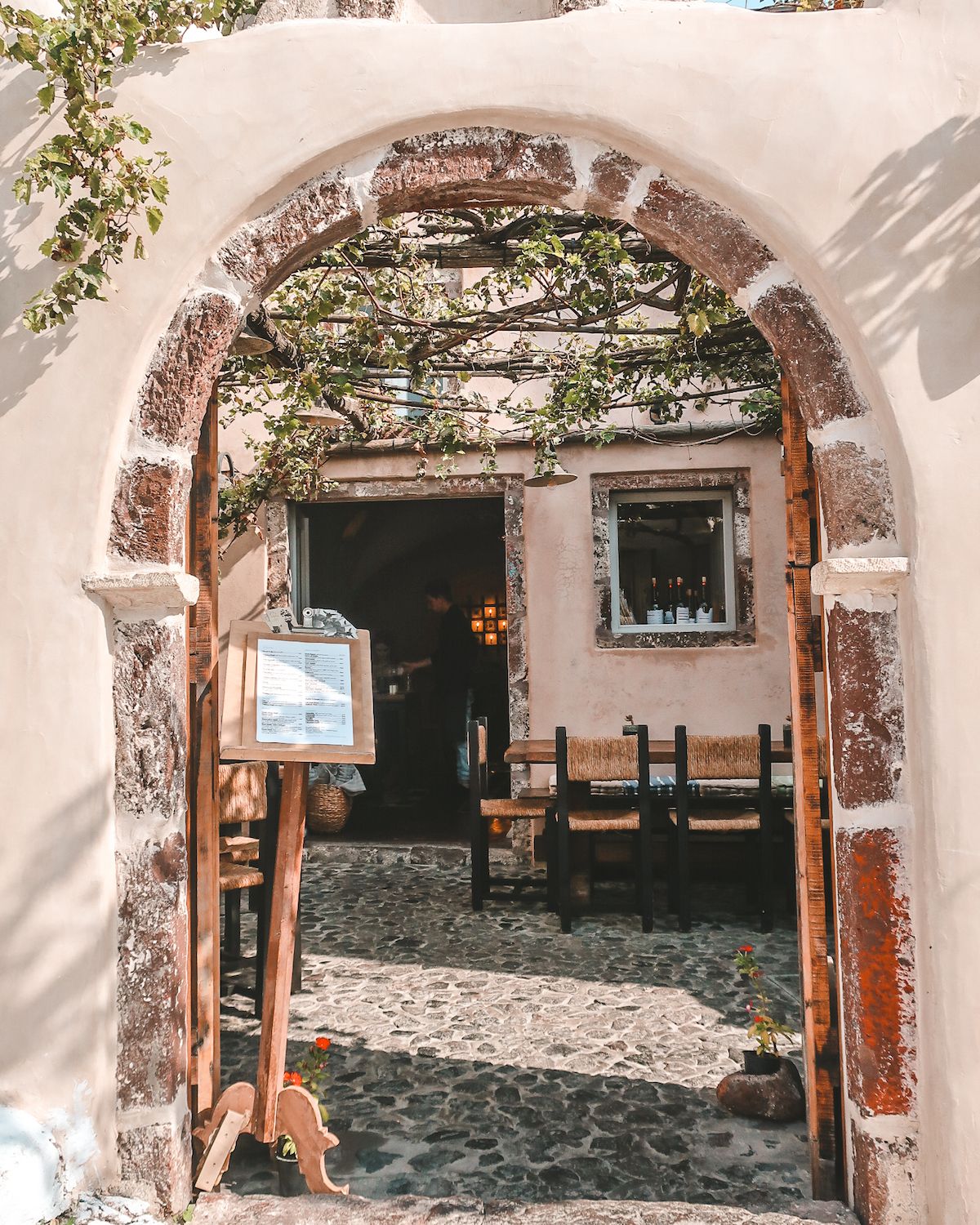 Finikia has top notch restaurants that serve up authentic Greek cuisine with a modern twist. There are three popular and well rated restaurants:
Lefkes (so good we went twice!)
Krinaki
Mezze Meze
2. Make breakfast in your B&B and save dinner budget for a caldera view restaurant in Oia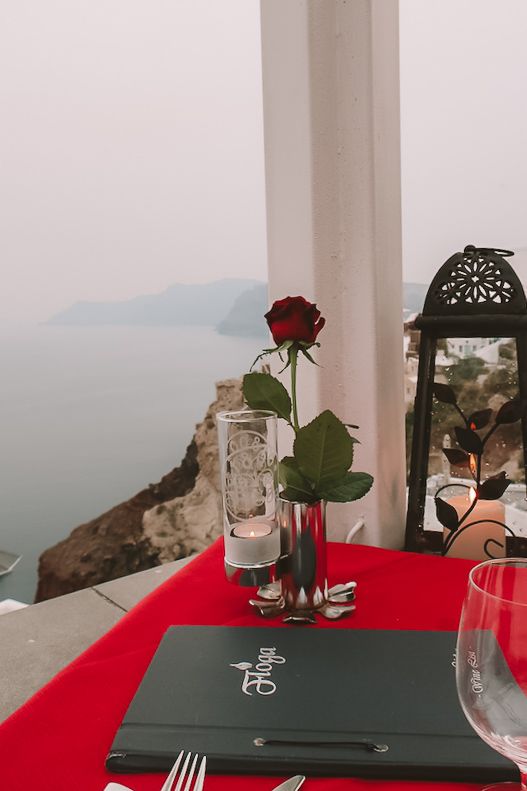 The catch with staying in Finikia is that you don't get the classic caldera view from your hotel. This was ok as we used some of our savings for a fine dining restaurant called 1800 in Oia, which had delectable dishes and one fabulous view! It was the perfect romantic evening. Make sure to book your table in advance.
3. Get a delicious authentic Greek lunch at Pitogyros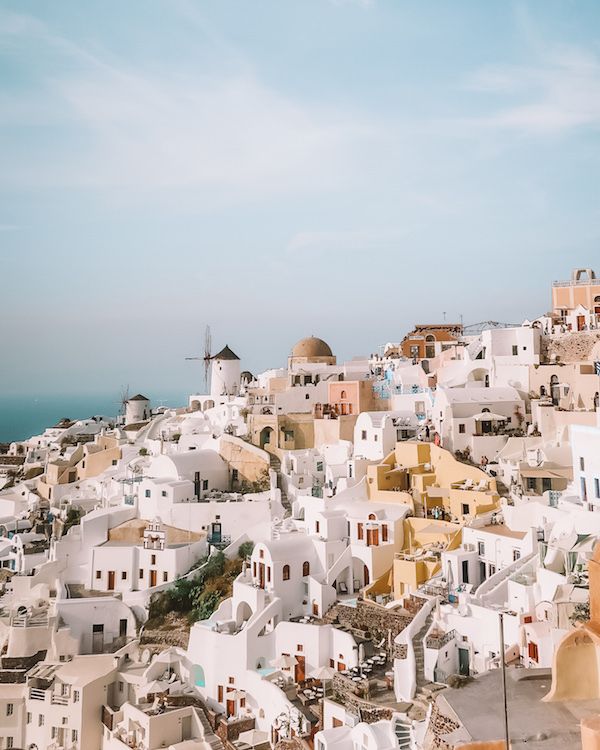 Restaurants and cafes in Oia can be very expensive, even for a coffee. You're paying for that caldera view! We luckily found an authentic and delicious Greek gyro shop, Pitogyros, on the side streets and it was one of our best meals in Santorini. It's 5 euros for a gyro and it fills you right up.
4. Get a first class sunset view without the crowds or an expensive tour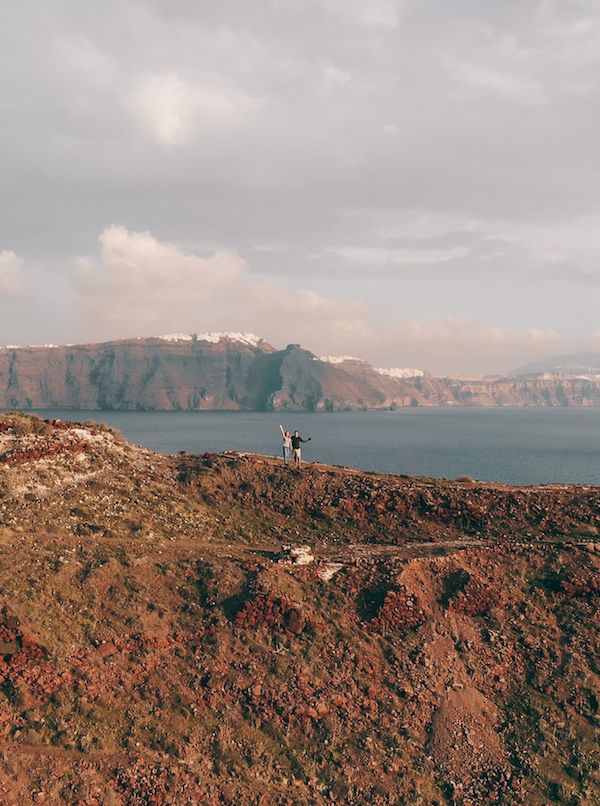 When sunset rolls around there is a mass of people all trying to get the perfect sunset shot in Oia. We walked on the path towards Amoudi Bay and noticed a rough unpaved trail off of the main sidewalk. To our surprise, it was the best view we saw in Oia and there was no one around. We have no idea why no one else discovered this gem of an area that evening like we did. Lucky us!
Best place to see sunset in Oia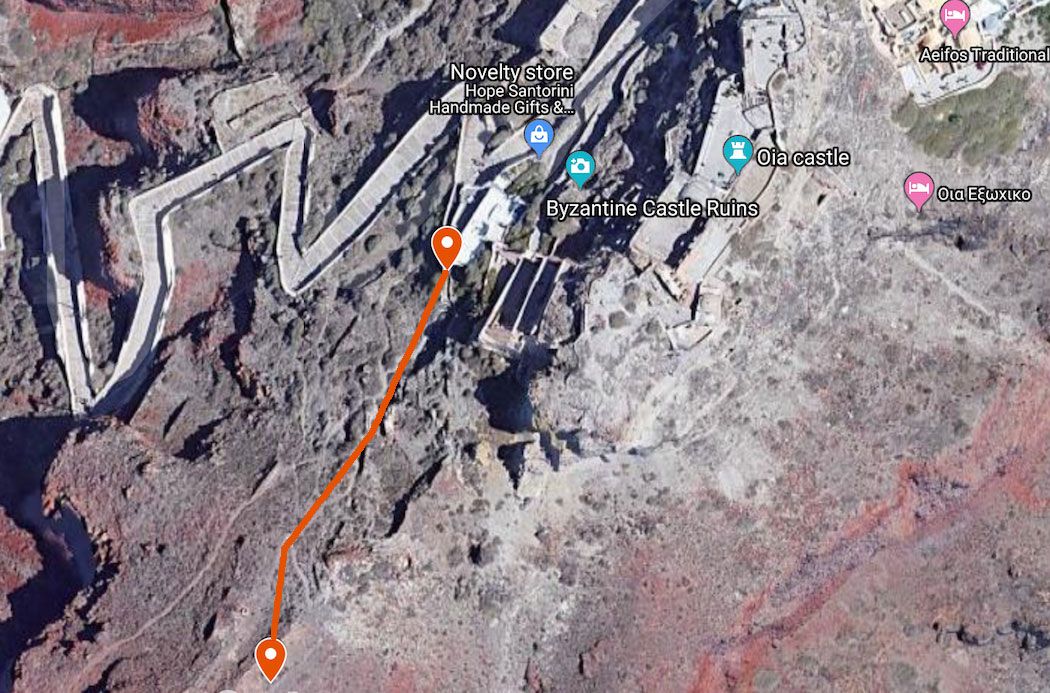 5. Have a wine tasting at Domaine Sigalas Winery
Domaine Sigalas Santorini is an award winning winery located a 15-minute walk from Finikia. The winery was listed in the 2018 Top 100 Wineries in the World by Wine & Spirits magazine and has a beautiful outdoor setting to relax and try the different types of wines.
The night life is pretty much non-existent in Santorini and drinks overpriced along the Oia strip. Have a wine tasting and bring back your favourite bottle to relax in your hot tub!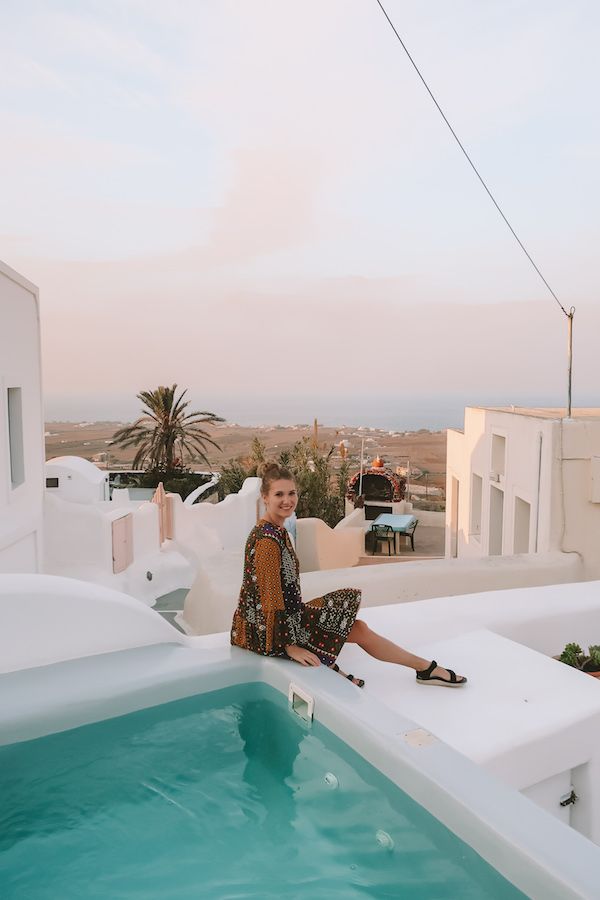 We hope you liked our budget friendly tips, but if waking up to the caldera view is what you're dreaming of, go for it!
---
Are you planning a romantic vacation to Europe? You may want consider adding Paris or Italy to your trip. See our travel guides to help with your planning:
---
See what it was like in our Santorini vlog:
Save and pin these tips on how to do Santorini on a budget for later: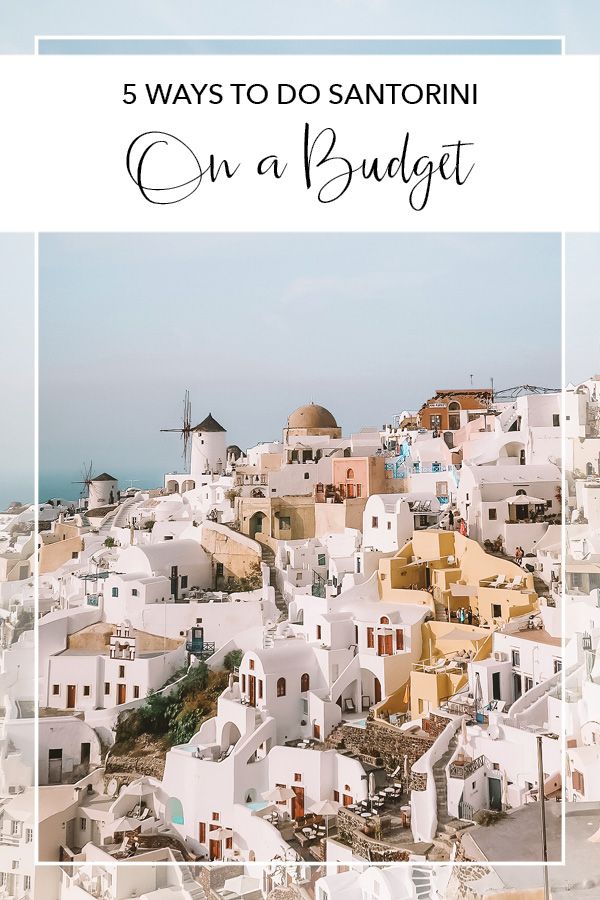 Looking for more travel inspiration? Check out our list of 20 Relaxing Travel Ideas to Clear Your Mind