The Terracotta Army is a must-see attraction if you travel to Xi-an. Each one of the 6,000 warriors is completely unique down to their facial expressions. Since it's one of the top sights in China, tour prices aren't cheap. We were looking at $260 USD for a two-person private tour including transport. We did some research and were able to create our own private tour for way cheaper! Our travel guide shows you how to do a Terracotta Warriors half day tour for a third of the price.
---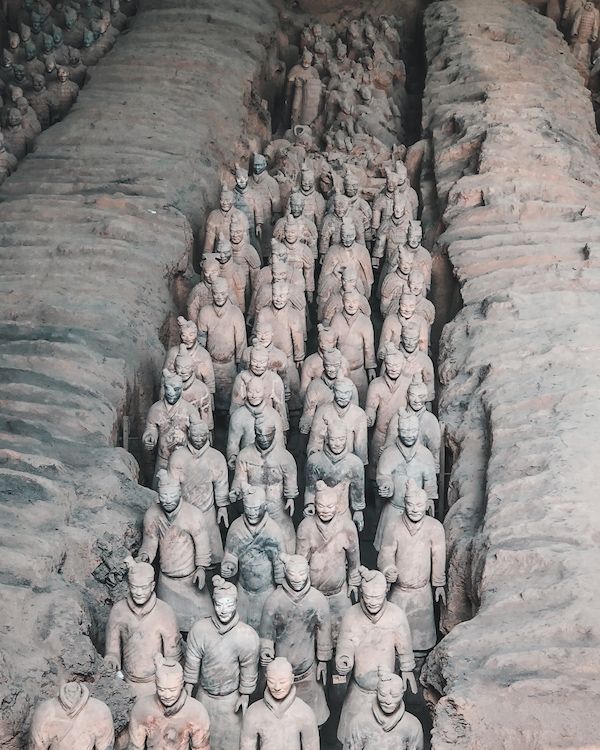 Terracotta Warriors Half Day Tour for a 1/3 of the Price
Here's how to do it:
1. Buy your Terracotta Warriors tickets at the museum, not online
Since foreigners can't buy online tickets from the official website, tickets from third party vendors go for around $50 USD per ticket. We arrived at the museum for 10AM and had no problems getting tickets on site. It was only $23 USD per ticket and that included an electronic English audio guide with headset!
2.  Instead of hiring a guide, opt for the English audio guide with headset
The headset was very easy to use and educational.  We were happy to explore the site on our own time instead of having to attentively listen to a guide over the loud mass of people. We also watched a YouTube documentary the night before to learn more about the history, which was very helpful going in.
3. Hail a taxi for your private transport rather than booking in advance
Getting from Xi'an to Terracotta Warriors is quite easy. Although the drive to the Terracotta Warriors Museum is one hour away from the centre of Xi'an, it was only $43 USD roundtrip to get a taxi! There are tons of taxis parked outside of the museum, so you'll have no problem hailing one from there. However, you'll have to negotiate with the taxi driver for your trip leaving the museum, since they try to charge more than the arrival trip.
The best way to pay for a taxi in China is with WeChat Pay. Read our guide on How to set up a WeChat Pay Wallet for Foreigners.  
Terracotta Warriors Price Summary
So there you have it, the Terracotta Warriors price for two people was $89 USD ($43 USD for transport + $46 USD for museum tickets and audio guide) instead of a whopping $260 USD!
Our top tips once you're at the Terracotta Army Museum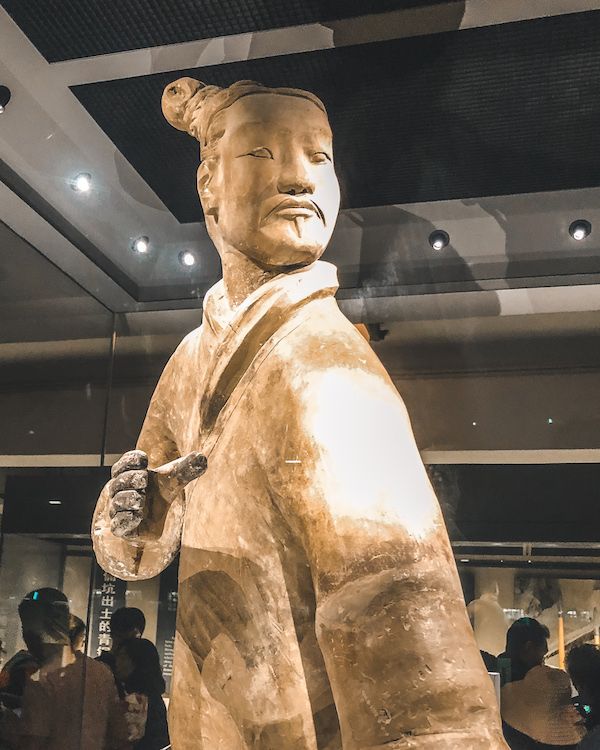 At building 1, where the famous pit of thousands of terracotta warriors are, the crowds are a little crazy with some people shoving to get a spot in front. Once you grab a spot, don't feel anxious to leave right away. Take your pics and have a moment to appreciate all of the detail of each warrior! It's a magnificent sight.
Stop in at the restaurant in the museum for a tea tasting or coffee. The service was great and it was nice taking a break from the crowds. They will try to sell you tea to take home, but it's easy to decline.
Wait to have lunch until you leave the museum. Just outside the exit, there are lots of restaurants and small vendors including western options like McDonalds and Starbucks.
Best time to visit Terracotta Warriors
Although the museum is indoors, you will be walking outside through a park to get there and between buildings. The best time to visit the Terracotta Warriors is in Spring (March - May) and Autumn (September-October) when the weather is not too hot or cold. Avoid going on Chinese holidays during this time (Labour day is May 1-3 and  Golden Week is October 1-7).
---
Planning a trip to China? Don't miss our 10 day China highlights itinerary and list of 6 alternative things to do in Xi'an.
---
Looking for more travel inspiration? Check out our list of Unique Cultural Travel Experiences to inspire your next trip.