Xi'an's off the beaten path location, small city size and rich culture make it one of our top locations in China. The historic capital feels very accessible and has many hot spots located within the ancient city walls.
We found it difficult doing prior research on alternative things to do in Xi'an, since information on Google is limited. However during our exploration of the city, we discovered some hidden gems that we are excited to share.
We list our top 6 unique things to do in Xi'an outside of seeing traditional sites. Some of the places don't exist on Google Maps when you search them, so we have included coordinate links in the Xi'an map below.
6 Alternative things to do in Xi'an
1. Listen to jazz at Meeting Jazz Club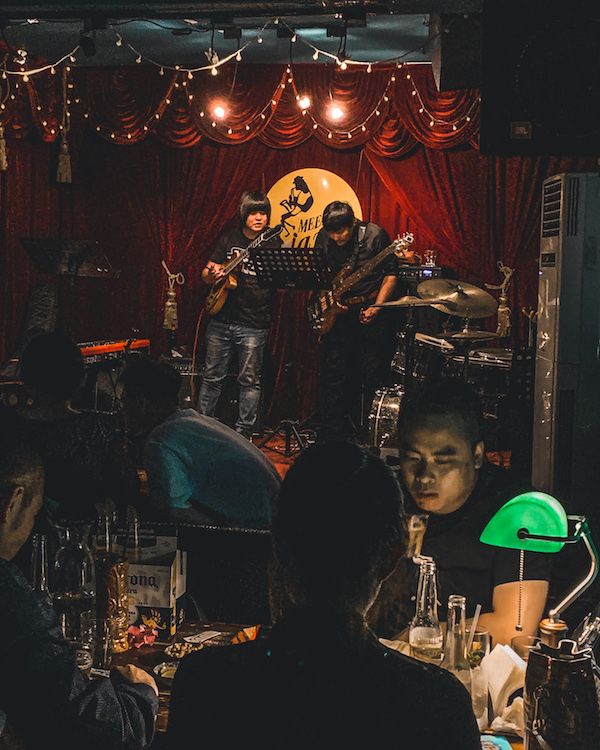 We couldn't believe that we found a legitimate jazz club in Xi'an. At first we were sceptical since there is a dance club right above playing very loud music. But, once inside, you find yourself in an intimate cocktail bar and music venue.
Live jazz is on weekly. Try the sushi and make sure to get a couple of their great cocktails!
2. Walk and eat in the Muslim Quarter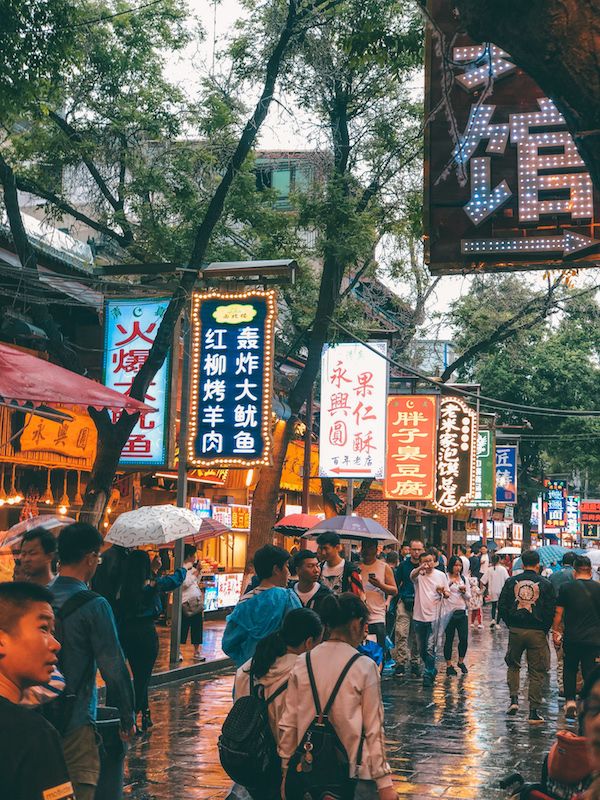 ‌Here you will find all sorts of bright signs and crazy foods. It's a joy to walk through in the evening when you're feeling peckish. One of our favourite treats was the rolled frozen yogurt. It's satisfying to watch being made and tastes velvety smooth. If you're brave try the grilled/fried creepy crawlies. The best street to walk up is Beiyaunmen Street starting at the intersection with West Street (behind the Bell Tower). There are tons of food stalls here and it's a walking street, so you won't have to watch out for speedy motorbikes driving by.
3. Eat a Chinese hamburger (Roujiamo)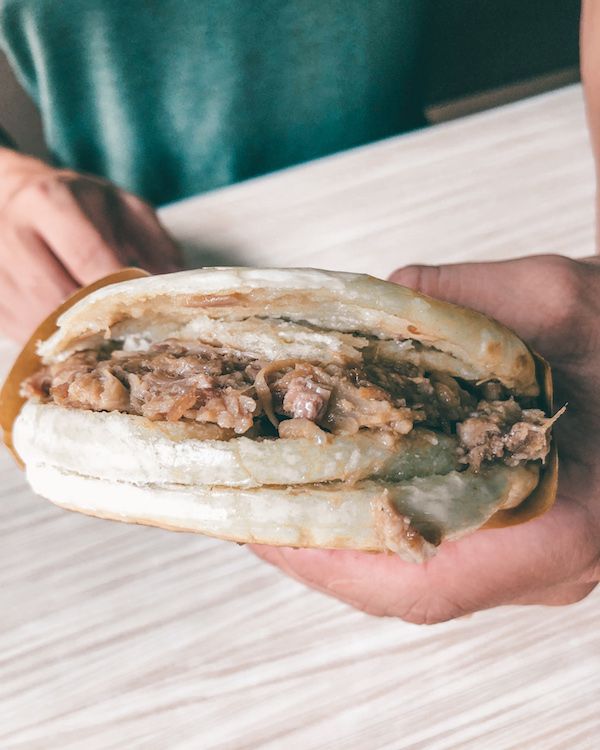 Legend has it that this was the first ever hamburger originating from a dynasty long ago. Although it's not quite like the American equivalent, it's a meat sandwich that is sure to satisfy.
The Chinese hamburger is made up of a dense pan fried bun, crispy on the outside and soft on the inside that is filled with succulent slow cooked pork. Make sure to complete the trifecta by getting a bowl of cold noodles and an orange pop called an Ice Peak. It's what the locals were doing.  
Our favourite Roujiamo by far was from Fanji Braised Meat (樊记腊汁肉). We went twice!
4. Sample aged pu'erh tea
This goes down as one of the best experiences on our whole trip. After reading about the history of a tea called Pu'erh, we were fascinated and intent on trying it. Pu'erh tea is compressed into round disks and stored for many years, aging like fine wine. They say, the older the better. Some teas have been stored since the early 1900s and can cost tens of thousands of dollars!
We stumbled into a nondescript tea shop named Tianming Tea Store that has been serving the community for 20 years. Communicating only with a voice translator, the owner convinced us to have a cup of tea with him. Typically there is an obligation to buy in that instance, but he insisted he would buy us a cup of tea and that is where our love for Chinese tea culture began.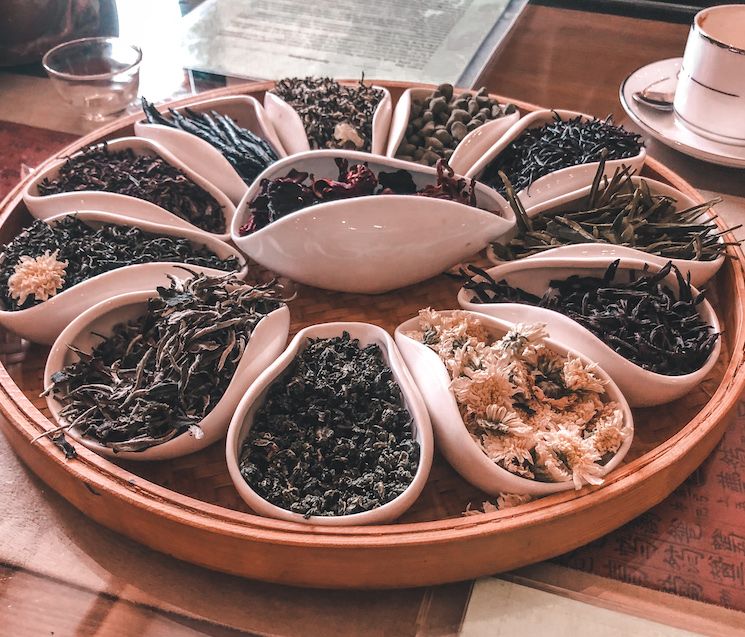 From there we spent one hour trying three different teas and watched him expertly wash, brew and pour small cups of tea for us while we learned. We left in high spirits and bought a disk of ripened (fermented) Pu'erh from 1992 and a raw (non-fermented) Pu'er from 2002.
There is a big difference between raw and ripened Pu'erh. They may look similar when dry, but once you steep them they are completely different in colour and taste. Ripened Pu'erh has a bold taste and is a darker reddy colour, since it goes through a piling process; raw Pu'erh taste mild and is a lighter yellow-ish colour, since doesn't go through a piling process. Raw Pu'reh is usually more expensive than ripened Pu'erh, but it also depends on the year and region it was made. Let your taste buds decide what one is right for you! I prefer raw, but Ari likes ripened.
Top Tip: You can travel out of China with tea in your baggage, however, you cannot ship it out of China.    
5. Shop the clothing boutiques on South Guanji Street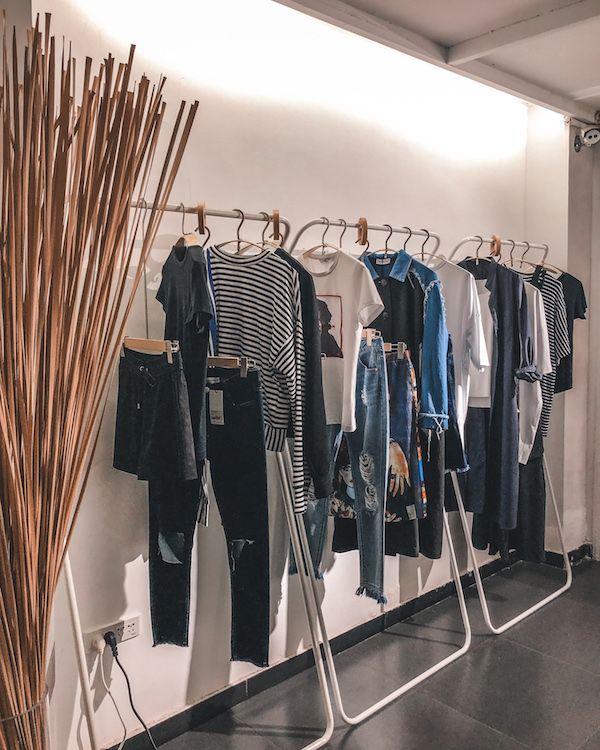 Inside the historic city walls, start your walk up South Guanji Street starting at the intersection with Wuyuemiaomen Street. Among the clothing stores, we were happy to find a gem called Leo Buyer, located at No. 11 South Guanji. The women working there curate their collection from Chinese fashion designers, such as Short Sentence based in Shanghai. They carry very unique pieces that I wouldn't have been able to find at home!
6. Hang out at Sculpting in Time Cafe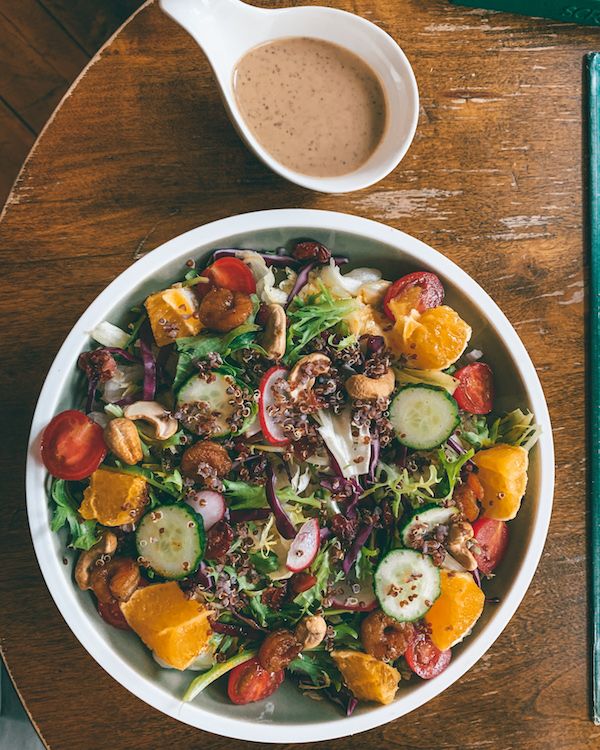 It's straight up difficult to find a green salad in China. We were so glad to find Sculpting in Time Cafe, a wonderful second floor location with eclectic decor, great drinks and healthy food! We spent a few hours playing our favourite travel board game, Scrabble.  
We hope you enjoy this vibrant and beautiful city and find some other great spots too!
Planning a trip to China? See our Ultimate 10 Day China Itinerary.
We also cover tips on visiting the Terracotta Warriors. See how to make your own private Terracotta Army tour for a third of the price.
Save and pin these unique things to do in Xi'an for later: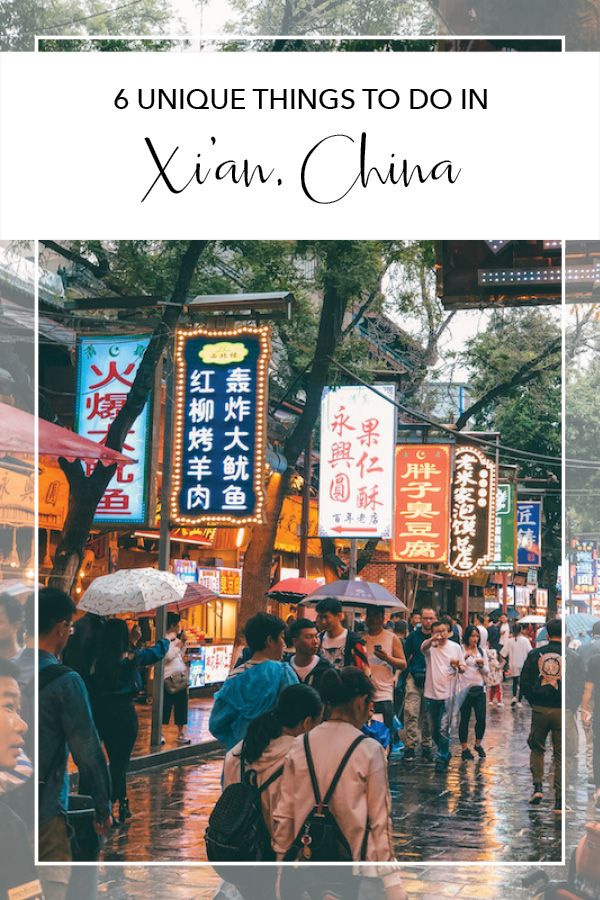 ---
Looking for more travel inspiration? Check out our list of Gastronomic Experiences Around the World to inspire your next trip.