The Gokyo Lakes trek in Nepal leads you to one of the most beautiful views in the world on top of Gokyo Ri at 5,357m altitude. At this height you get to see a 360 degree view of the highest peaks in the world, including Mount Everest.
The trek is an alternative to the popular Everest Base Camp (EBC) trek. We decided to book Gokyo Lakes instead of EBC because we heard that the views were nicer and the trail was less busy.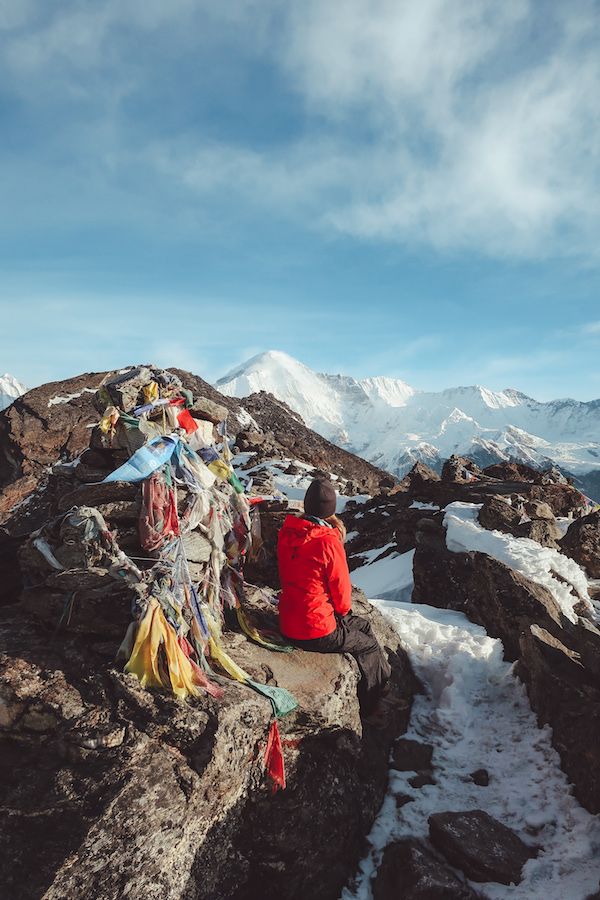 Our hunch to book Gokyo was correct. The trail was less busy and in our opinion, we think the view was the best. On the EBC trek you get to see Mount Everest from Kala Patthar peak. The panorama posters from this peak are all over Kathmandu and we think we got the best from Gokyo Ri because the view is so expansive.  
The memories we made along the way are something we'll never forget. Meeting locals, walking through Himalayan villages, bundling up in -20C sleeping bags, playing Nepali card games and drinking masala tea in cozy tea houses were all a part of this incredible experience.
Here's what we learned, loved, and didn't like.
Gokyo Ri and Gokyo Lakes Trek Guide
---
Gokyo Lakes trek itinerary in a nutshell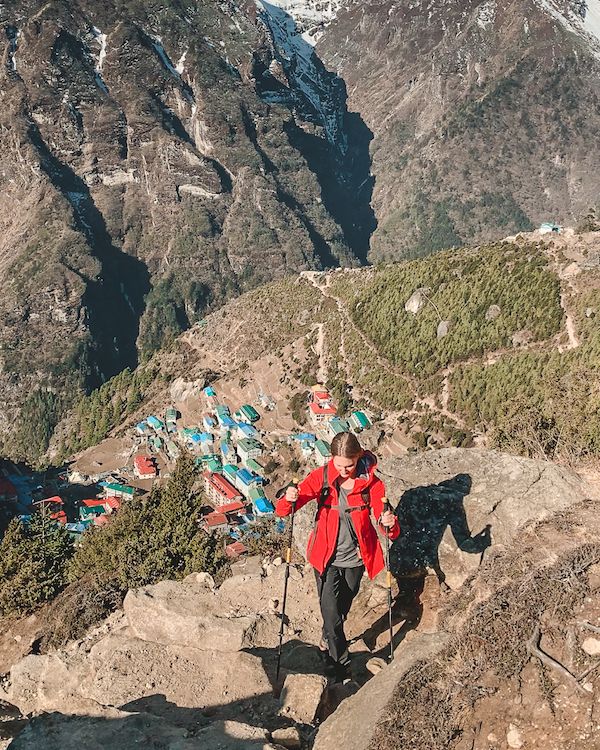 Here is an outline of what the 14 day Gokyo Ri and Gokyo Lakes trek itinerary entails:
Day 1: Arrive in Kathmandu
Day 2: Trek preperation in Kathmandu
Day 3: Fly to Lukla and trek 3-4 hours to Phakding (2610m)
Day 4: Hike 5-6 hours to Namche Bazaar (3440m)
Day 5: Acclimatization day in Namche Bazaar (2 hour hike up to Hotel Everest View and back down)
Day 6: Hike 5-6 hours to Phorse (3810m)
Day 7: Hike 5-6 hours to Machhermo (4470m)
Day 8: Hike 5-6 hours to Gokyo Lakes and Gokyo village (4,750)
Day 9: 4-6 hour final ascent up Gokyo Ri (5357m) and hike to the fifth lake
Day 10: Hike 3-4 hours back to Dole (4038m)
Day 11: Hike 4-5 hours to Namche Bazaar (3440m)
Day 12: Hike 6-8 hours to Lukla (2800m)
Day 13: Fly to Kathmandu
Day 14: Fly home
Best time to trek in Nepal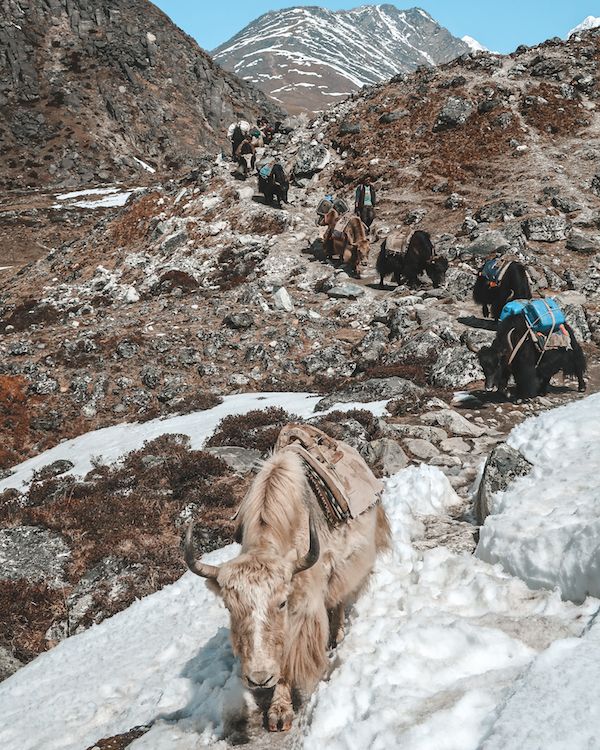 Nepal has two seasons that are best for trekking: autumn and spring.  This is because the weather is drier and milder. The best time to do the Gokyo Ri and Gokyo Lakes trek is from September - November and from March - May. You will have clearer skies and stabler weather. In spring however, the lakes may not be unfrozen yet, so you would miss the vibrant blue colour.
We did our Gokyo trekking at the beginning of April and they said that they had a longer winter than normal, so it was out of character that we had a snowstorm.
Good vs. Bad Guiding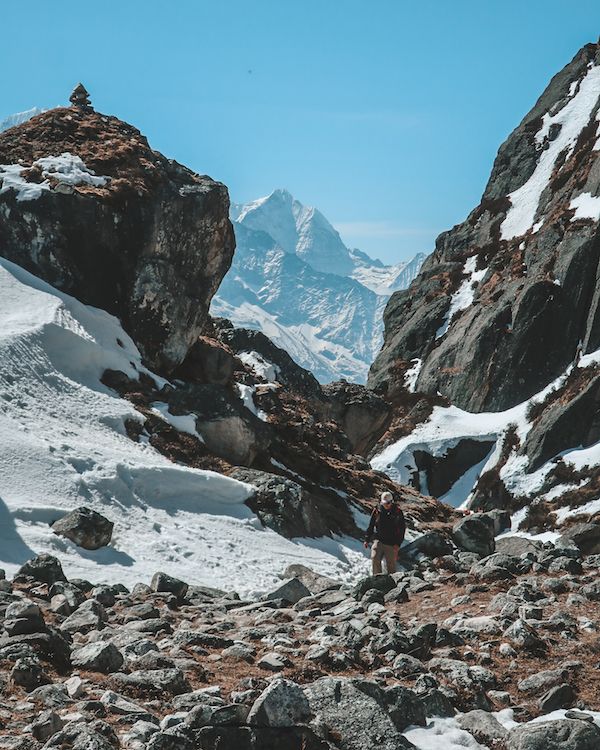 We saw examples of good and bad guiding on our trip, which we'll touch on in this article along the way. The key to a good guide is experience and wisdom. It's the guide's duty to take care of your well-being during the trek, arrange the accommodation and manage your itinerary.
You can do this route on your own, but there are certain times when a guide is not only nice to have but critical to your safety. We chose Himalayan Glacier because of their long history, amazing reviews and that they are a Nepali run company, not a foreign outfit. Their website explains the trek in detail and we were matched with an awesome guide and porter.
Our Gokyo Lakes and Gokyo Ri trek with Himalayan Glacier cost $2550 USD per person for the 14 days and included meals, accommodation, an English-speaking guide, porters, regional flights, entrance fees, sleeping bag and down jacket rental, a waterproof duffel bag and trekking permits.
Tea houses & accommodation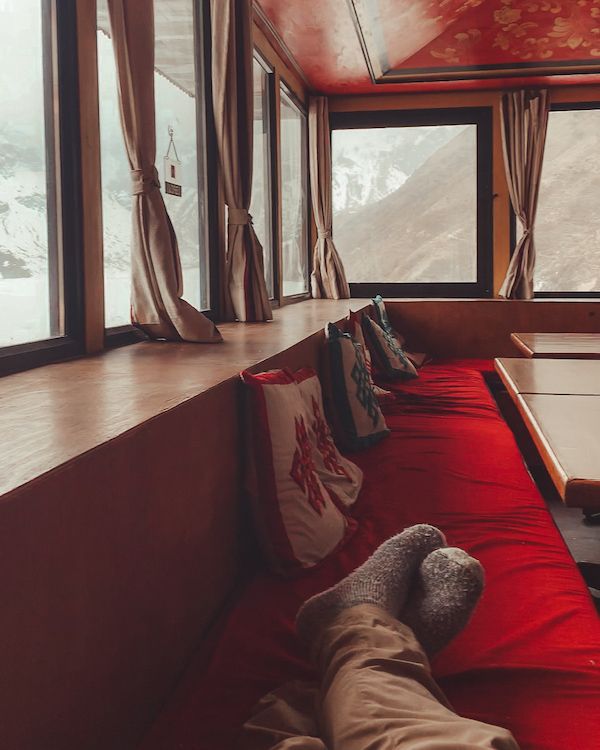 Tea houses are wonderful little refuges where you eat and stay overnight. They typically consist of private bedrooms and a main common eating area. These buildings are typically not heated so it gets cold in there. The main area may be heated with a central stove, but sometimes not. Bring warm clothes!
In every tea house common area, groups of trekkers all grab tables and drink tea, eat and play games. Guides and porters also hang out by the kitchen to chat, drink tea and play games.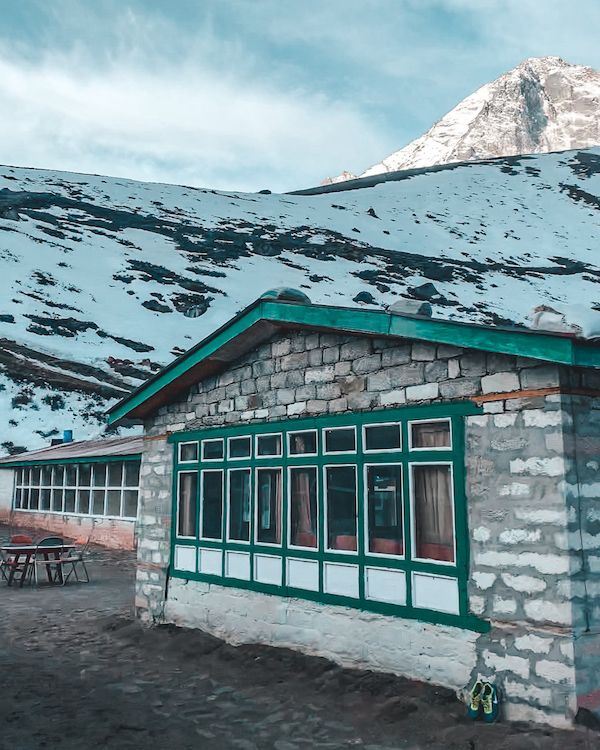 One of the best things we learned on our trek was a card game called "Dhumble" (pronounced toomble). Ask your guide to teach you; we played for hours! This was great because on days with just 3-4 hours of trekking there wasn't much to do. We also brought the game Scrabble with us and were very happy we did.
The Food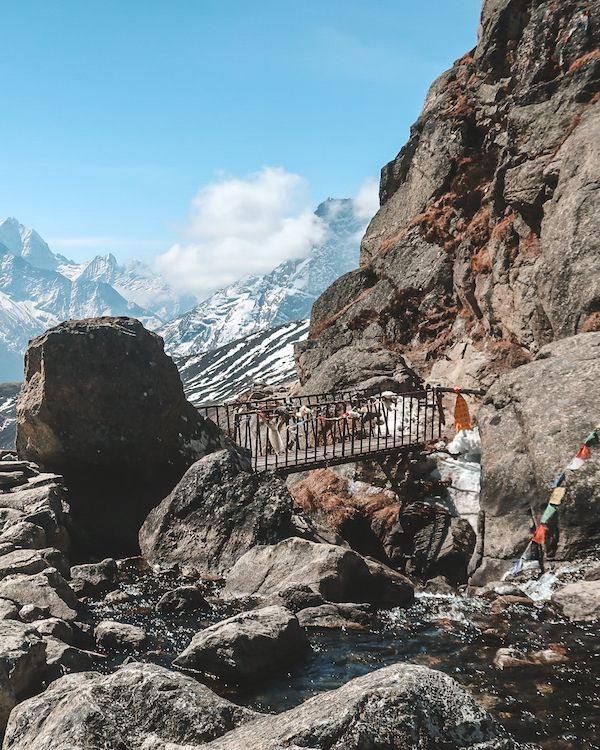 The tea houses all have menus with different kinds of food. Dumplings called momo, noodle soup, dal bhat (rice with curry and lentil soup), pasta, fried rice and sometimes sandwiches, meat and even pizza!
The thing is, it all starts tasting the same and the higher you ascend the worse it gets. One of the most important things to remember is not to eat meat after Namche Bazaar, the last major town before you head up into the real mountains. After that, our guide forbid us from ordering meat because it's not guaranteed to be fresh. We made the mistake of ordering some awful yak cheese pizza the night before our ascent that made us sick. We recommend eating only plain foods for the days after Namche leading up to your ascent. This includes dal bhat, noodles, fried rice and then for breakfast, chipati and omelet or toast.
That yak cheese pizza with shredded carrots on it almost came out several times as we were hiking up that morning.
Namche Bazaar - The gateway to Everest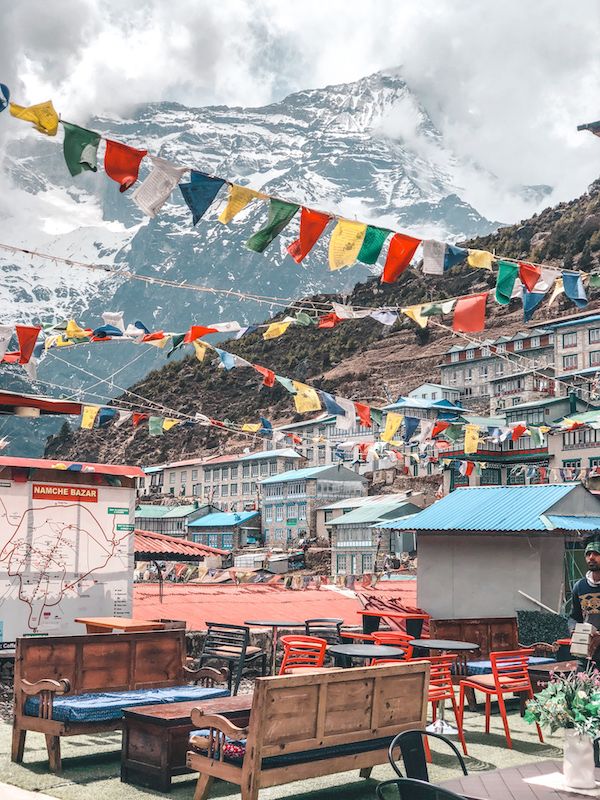 In Namche you can get everything you need, from proper espresso to a sauna. We gathered some supplies for the rest of our trek here, such as a buff for warmth, toilet paper, chocolate bars, and some shampoo. The accommodations in Namche are nice and Khumbu Lodge where we stayed had heated blankets!
You pass through Namche on the way up and back on the way down, so coming back feels like a tremendous success. The food is good and the beds are warm. Try to find chicken sizzlers (grilled chicken on a hot plate). We ate them many times and they were our favourite meal on the trek.
Altitude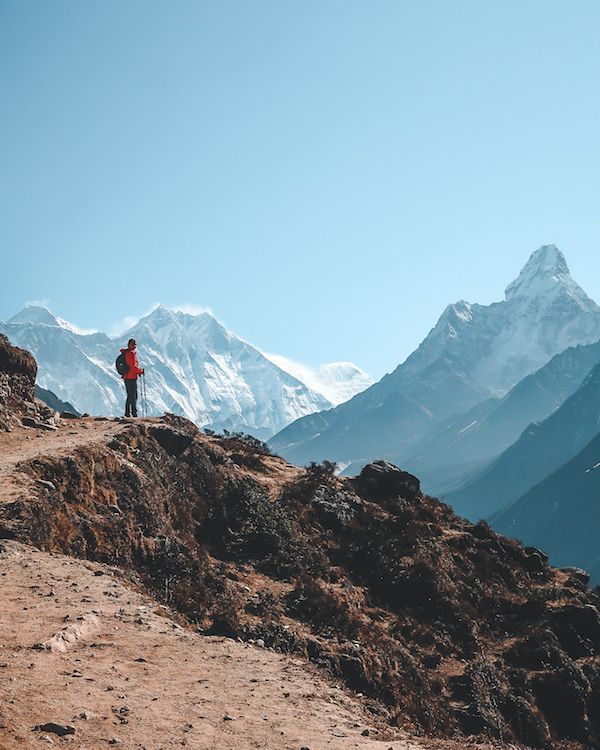 This trek takes you to a high altitude and you never know how your body will respond until you're there. Altitude sickness can come on as low as 2500m for some and can be very painful. It is important to understand the symptoms: headache (in the back of the head), vomiting, dizziness, shortness of breath. Put your ego aside and communicate with your guide if you start feeling these symptoms. The guide will make the decision if necessary to turn back. Unfortunately your trip ends there and you will have to descend.
When we arrived at the village of Gokyo the night before our ascent to Gokyo Ri, we saw a woman suffering with some potential signs of altitude sickness. A disorderly commotion began when a doctor from the village had seen her in distress and had come to her "rescue". Her guide was trying to treat her and give her oxygen. They got into a big argument with the uninvited doctor saying to the woman, her husband, and their guide "I'm a doctor do you want my help or not" several times.
Did her guide make her ascend too quickly and not take the appropriate steps to turn back early? Did the doctor want money for taking her into his care? We don't know who was in the right or wrong but in those situations it's best to have the wisdom of a good guide that you can trust.
The helicopter rescue finally came in and they were airlifted back to Kathmandu, where they'll have to sort out the $4,500USD rescue cost.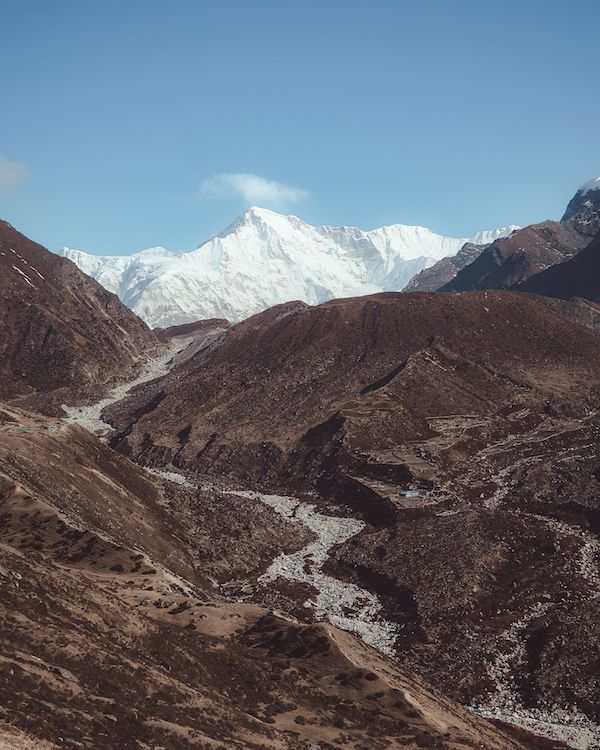 One of the best ways to combat altitude sickness is to get altitude pills (Acetazolamide) from your travel doctor. We have used these inexpensive pills daily in altitudes higher than 2500m in Peru, Kyrgyzstan and Nepal and have not had problems with altitude.
The second best way to combat altitude sickness is to drink 3L of water a day. That was really difficult, but the higher you get the more important it is to stick to it. Water is your friend. A headache from dehydration at 4900m really hurts and is avoidable.
The Final Ascent up Gokyo Ri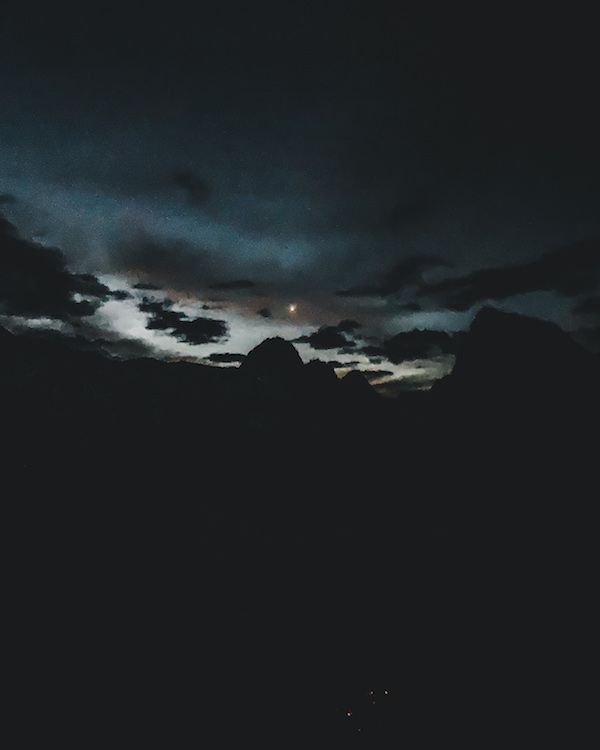 Our guide had noticed that the weather was shifting. The past days had been sunny and bright but the weather was moving in. The day before our ascent up Gokyo Ri, the weather forecast was showing snow and cloud the whole next day. This would mean no expansive view of the highest peaks in the world that we came there for! Luckily our guide had 12 years of experience and told us that our best chance of seeing anything would be to leave for the climb at 4:00 AM.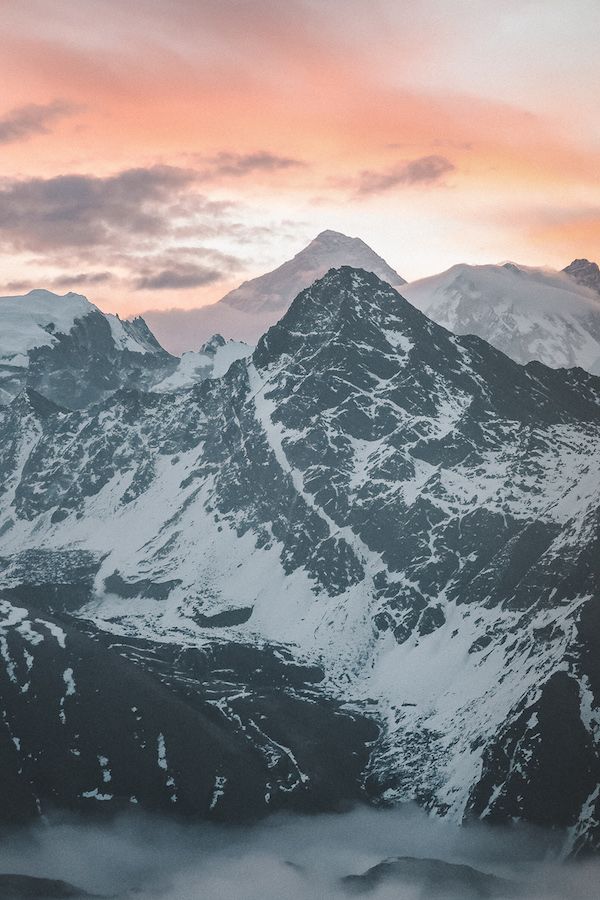 We woke up at 3:30 AM, grabbed our head lamps and hiked in the pitch black for an hour straight up the mountain. We were nervous about visibility due to lightning far away in the distance, but welcomed the first signs of sunlight. An hour later we reached the summit and were surprised to see blue skies and visible peaks! We were up there for a whole hour admiring the view. It really was the most incredible view we've ever seen.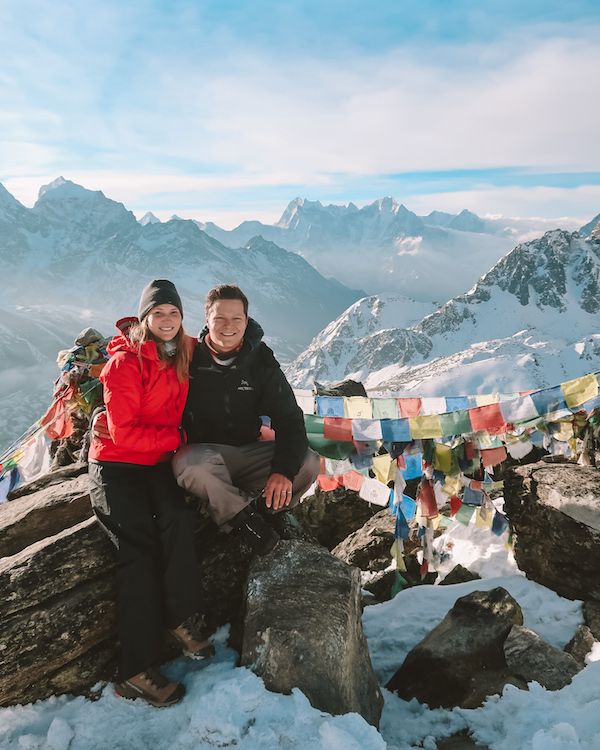 During our descent, the valley of clouds started to rise past us. That beautiful view was gone in a matter of minutes. We felt so bad as we made our way down watching people walk up in the fog hoping they would see the view they came there for. If we left just one hour later we would have missed it. The clouds soon turned heavy and there was a huge snow fall! We made it out of Gokyo just in time before the snowfall got too heavy. People were stuck there for a couple days since the trail became too dangerous.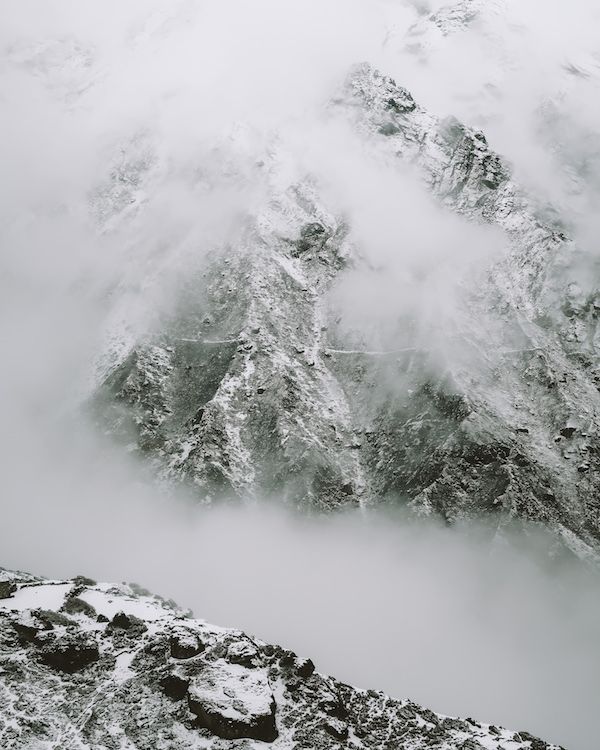 This is an example of why experienced guides are so important. On our way back down we saw inexperienced guides coming up with their clients who did not know the best time to leave that day. And sadly because of this, they did not get to see the view. We passed at least 30 people who would have departed at 6am or later. Make sure you leave for Gokyo Ri by 4am during spring time because clouds roll in early.
The Flight to Lukla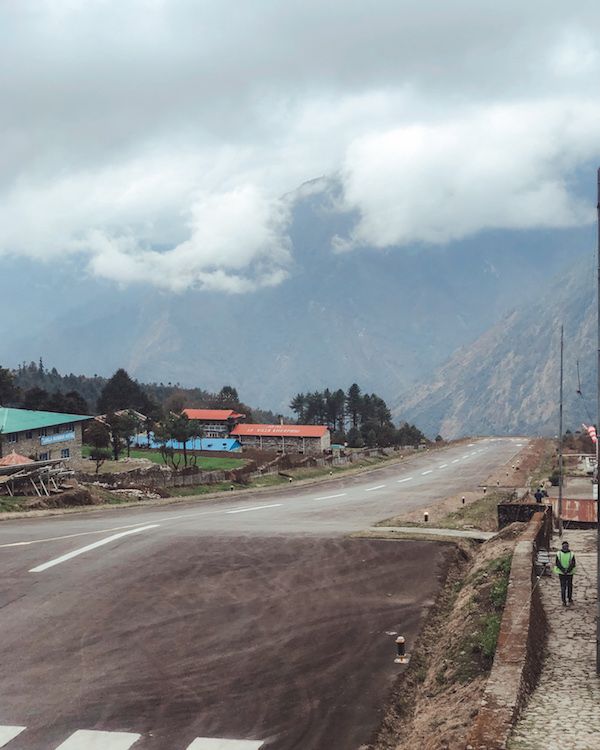 We took a 9 hour 4x4 car ride and hiked an extra 50km over three days to avoid flying into one of the world's most dangerous airports, Lukla Airport (aka Tenzing–Hillary Airport). When you get there you can see why. The inclined runway drops off a cliff, high altitude cloudy conditions make it tough to land and the airlines all have questionable safety ratings.  
It was nice to trek on a less travelled path, however it was very frustrating every time we heard or saw a plane headed to Lukla. We were also sharing the trail with 3000 pack mules in the region.  
We decided to fly out of Lukla because less accidents happen flying out than in. It was a harrowing experience, but we made it. As a crazy twist of fate, just two days later a plane crashed taking off from Lukla, killing 3. There were no passengers on board.
The thing is, hundreds of people fly every clear day to and from Lukla airport, so it's a matter of personal risk tolerance. In the past 10 years, Lukla airport has had 80,000- 124,000 passengers per year. In those 10 years, there have been six accidents resulting in fatalities. Two of those crashes happened before reaching the Lukla area and three of the six flights weren't carrying passengers.
To avoid the flight to Lukla:
If you do not want to fly to/from Lukla, this would be the best route: fly to and from Phablu airport and hike from there and back. You will however add an extra 100km and 6 days to your hike by doing so.
If you want to avoid flights all together, you will need to include a 9 hour drive to Salleri from Kathmandu. The drive gets bumpy/dusty on the dirt road for the last few hours. Adding the drive there and back, you will need an extra 8 days added to your hike.
See what it was like in our Gokyo Lakes and Gokyo Ri vlog!
Nepal Trekking Packing List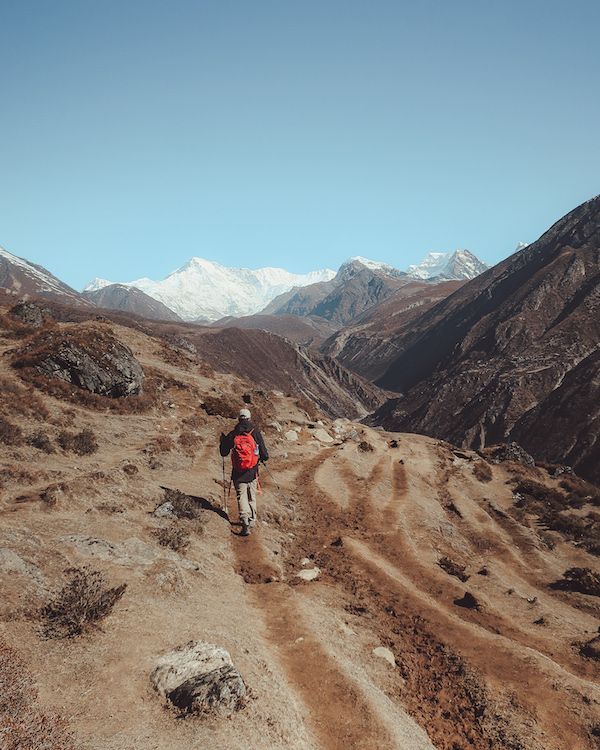 We had a day pack and an additional 8kg each of clothes, sleeping bags and other items with the porter in the waterproof duffle bag. Below is our list of what to pack for Nepal.
Clothing

3 Pairs Socks (two medium cushioning and one light cushioning)
2 pairs hiking pants
Three t-shirts
Waterproof rain pants (for rain/snow)
Warm camp slippers for tea houses
Waterproof Outershell Jacket
Down Jacket (good for -5)
Hiking Boots
Mitts (waterproof shell and warm liners)
Warm hat that covers ears
Sunglasses
Buff for dust/cold/snow
Merino wool long base layer (long sleeved shirt and leggings)
Cozy fleece midlayer for tea houses

Other Essentials

2 rolls toilet paper
Sleeping bag (if you aren't supplied one)
Sleeping bag liner
Waterproof dry bags for clothes/camera
Powerbank
Hiking poles (you can buy in Kathmandu for $15 USD)
Sunscreen
Hair elastics
Toiletries (shampoo, soap, conditioner, lotion, chapstick)
Bandaids for blisters
Numbing cream for knees/sore parts of body
Camera
1 litre water bottle or water bladder
Headlamp
Kindle or Books
Deck of cards
Scrabble or board game
Notepad and pen
Chocolate bars/candies
We hope you enjoyed this Gokyo Ri and Gokyo Lakes Trekking guide!
Save and pin this Gokyo Lakes and Gokyo Ri Trek guide for later: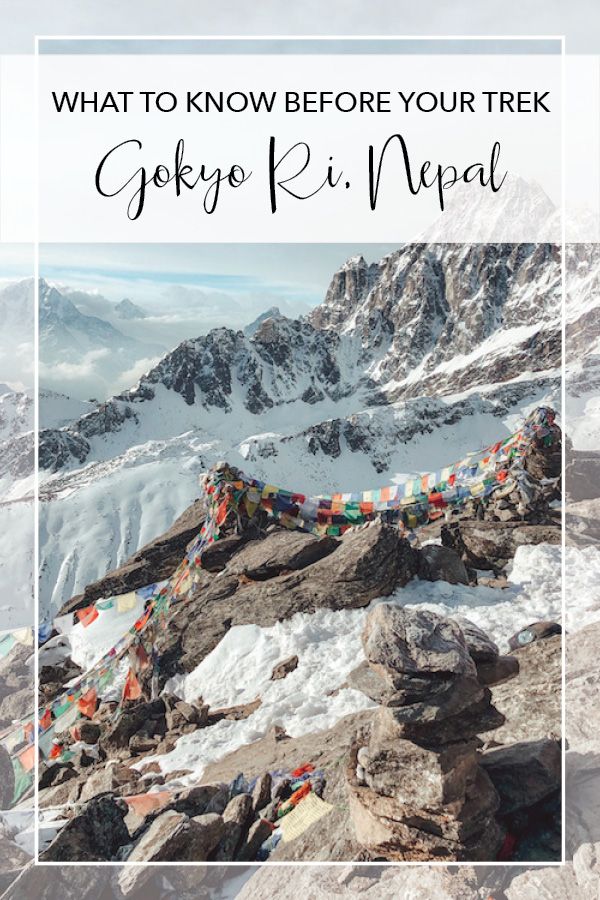 ---
Looking for more travel inspiration? Check out our list of fun adventure ideas for your next trip.