Bhutan is a country that felt very different to other countries we've traveled to. In Bhutan we didn't see much influence of Western culture. They measure their prosperity by Gross National Happiness, an index of psychological wellbeing. This is very different than Gross National Product, which bases its calculation on material wellbeing. We can see why the Buddhist country is referred to as "The last Shangri-La!" Bhutanese people are warm, laidback and genuinely seem content. You won't see anyone driving fast or in a hurry here.
The process of traveling in Bhutan is very different compared to other countries around the world. Our Bhutan travel blog covers how to travel to Bhutan, tips to tailor your trip so it's the right fit for you, Bhutan travel highlights and travel costs.
Overview: How to Plan a Trip to Bhutan
---
How traveling in Bhutan works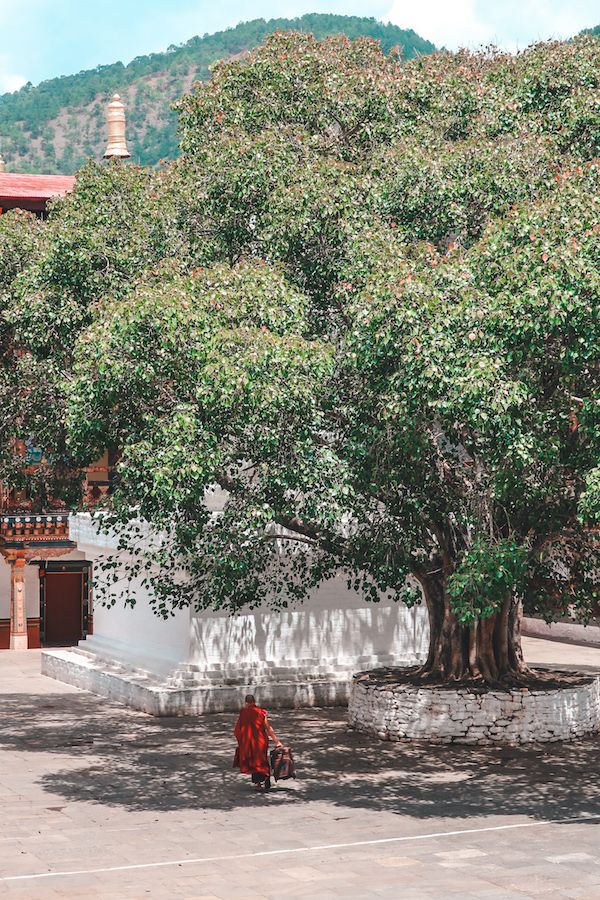 Tourism is controlled and you can only visit the country with an official guide (unless you're a passport holder of India, Bangladesh or the Maldives). We usually have a rough plan and go with the flow when exploring a country. But, in this instance, we had a packed itinerary of sightseeing that took some getting used to.
Although we didn't have much freedom to explore the country on our own, it wasn't like we were under constant watch. We were able to explore the cities and enjoy downtime at the zen hotels we stayed at. It was an amazing opportunity to be shown around such a beautiful and unique country with a guide. Especially in a place with such a deep culture.  
The process to travel to Bhutan can be easy with the right tour group. We chose Himalayan Glacier, since we booked our Gokyo Lakes trek in Nepal through them. It was easy to combine both of our trips. They handled all of our VISA work and our package included transportation, government approved A and B category hotels, attractions, food, a knowledgable guide from Bhutan and a driver.
Bhutan travel cost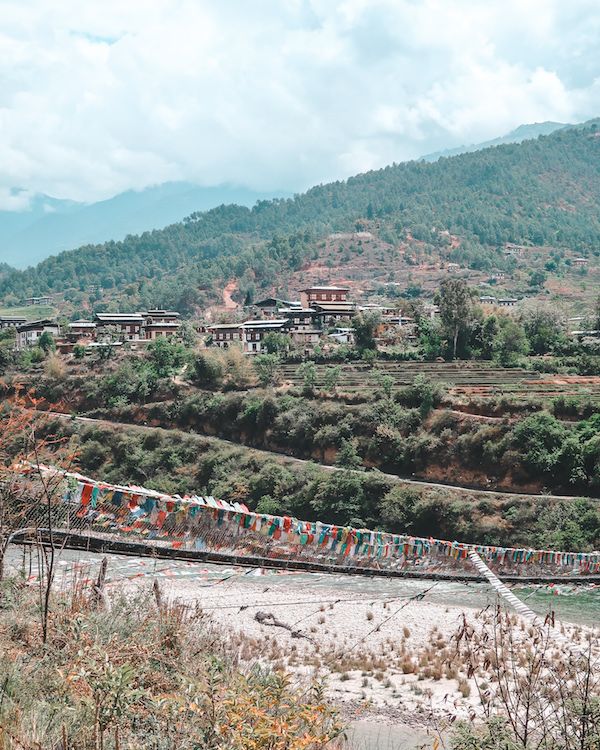 Travelling to Bhutan isn't cheap. The government requires tourists to pay between $200 USD - $250 USD per person/day depending on the season. This covers your guide, driver, attraction admission, transportation, meals and hotels. If you want to upgrade your hotels, you'll have to budget more money. We spent about $330 USD per person/day for our Himalayan Glacier tour and stayed at beautiful and unique hotels.
5 Bhutan travel tips to customize your trip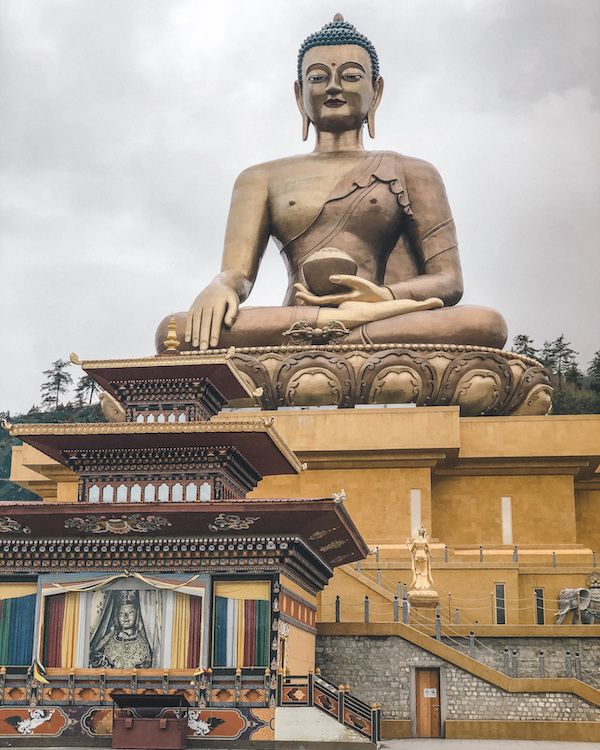 Although you won't have much freedom to explore the country on our own, there are ways you can customize your trip to make it the best fit for you. We we wish knew these tips to customize our trip beforehand!
1. You will see A LOT of temples & fortresses if you're not on a hiking tour, request some folk cultural activities to switch it up
The temples are beautiful. When you walk through the door you will see huge ornate and colourful statues. The fortresses are very well preserved, but are quite similar to each other. After a while, it can start to feel a little repetitive even though each place has a special meaning.
Request some folk cultural activities to switch it up. We were excited to have a hot stone bath and try archery, their national sport.  
2. Request to vary the restaurants during your trip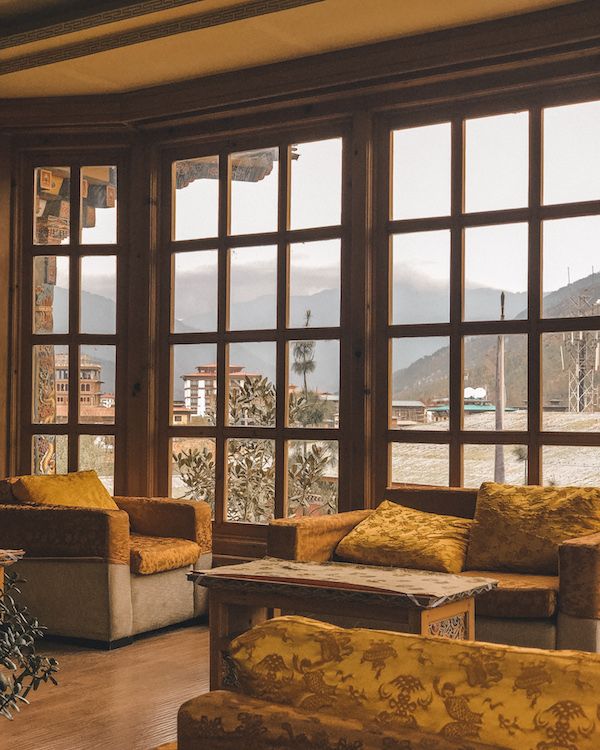 The food becomes quite repetitive, since each restaurant is designed for tourists and consists of a buffet with chicken, rice, vegetables, and occasionally fish. It was very similar for both lunch and dinner. In hindsight, we would have asked to switch up one of our buffet meals each day for a la carte, even if it increased our cost. Ask your tour company to include some restaurants with a menu.
3. Verify what hotels you are staying at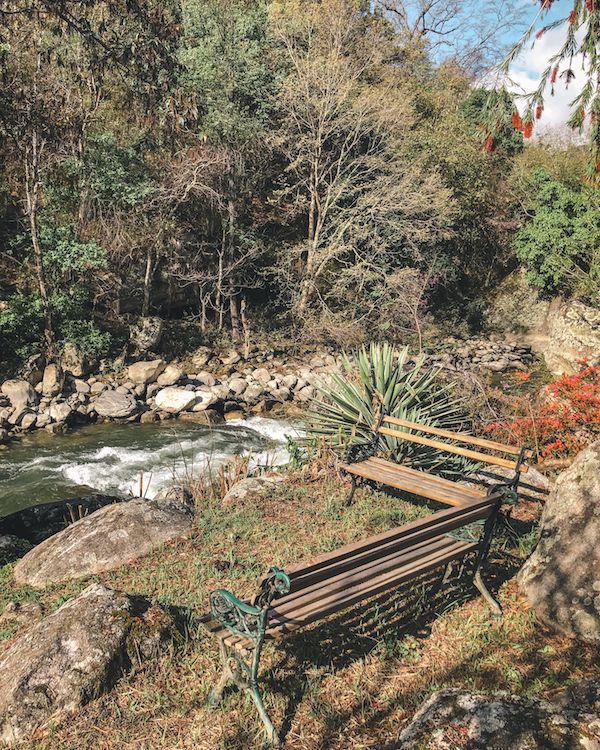 We stayed at Namgay Heritage Hotel in the capital city of Thimphu, Kichu Wangdu Resort by a remote river, and Gangtey Palace, a palace hotel in Paro. We luckily loved all of them and each provided a unique experience.
We liked our stay at Kichu Wangdu Resort so much, we we wished we had an extra day there to relax by the river and enjoy the scenery. We recommend taking a one day break from activities to relax and enjoy Bhutan's natural beauty. Try being like Siddhartha for the day and meditate by a tranquil river!
4. Ask which historical attractions and sights you will be seeing in advance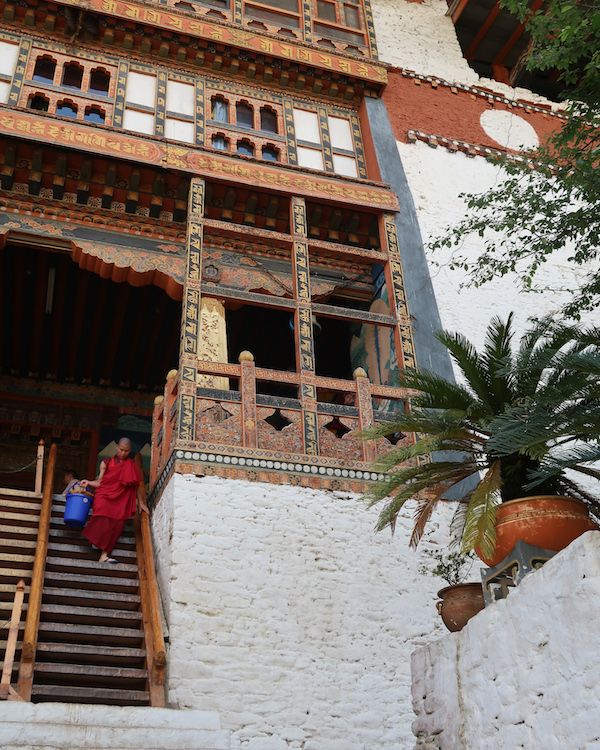 You will get the most out of your experience if you do some prior research and reading. Buddhism has a lot of history and information to digest. You will be better prepared and able to ask deeper questions if you have some previous knowledge. Bhutan is officially recognized as a Buddhist country, so reading the 'Teaching of Buddha' will also help prepare you for your visit. We wish we did!
5. Request free time to explore shops and markets
Check out the shops and the handicraft stores. There are also local food markets where you can see locals shopping for all the different types of produce. There is a lot of shopping to be had! Just be wary of the overpriced stores. If you see a souvenir you like, price check it at other stores. We bought a traditional wooden rice wine cask and the price varied from store to store.
Our top 3 Bhutan travel highlights
1. Tigers Nest Monastery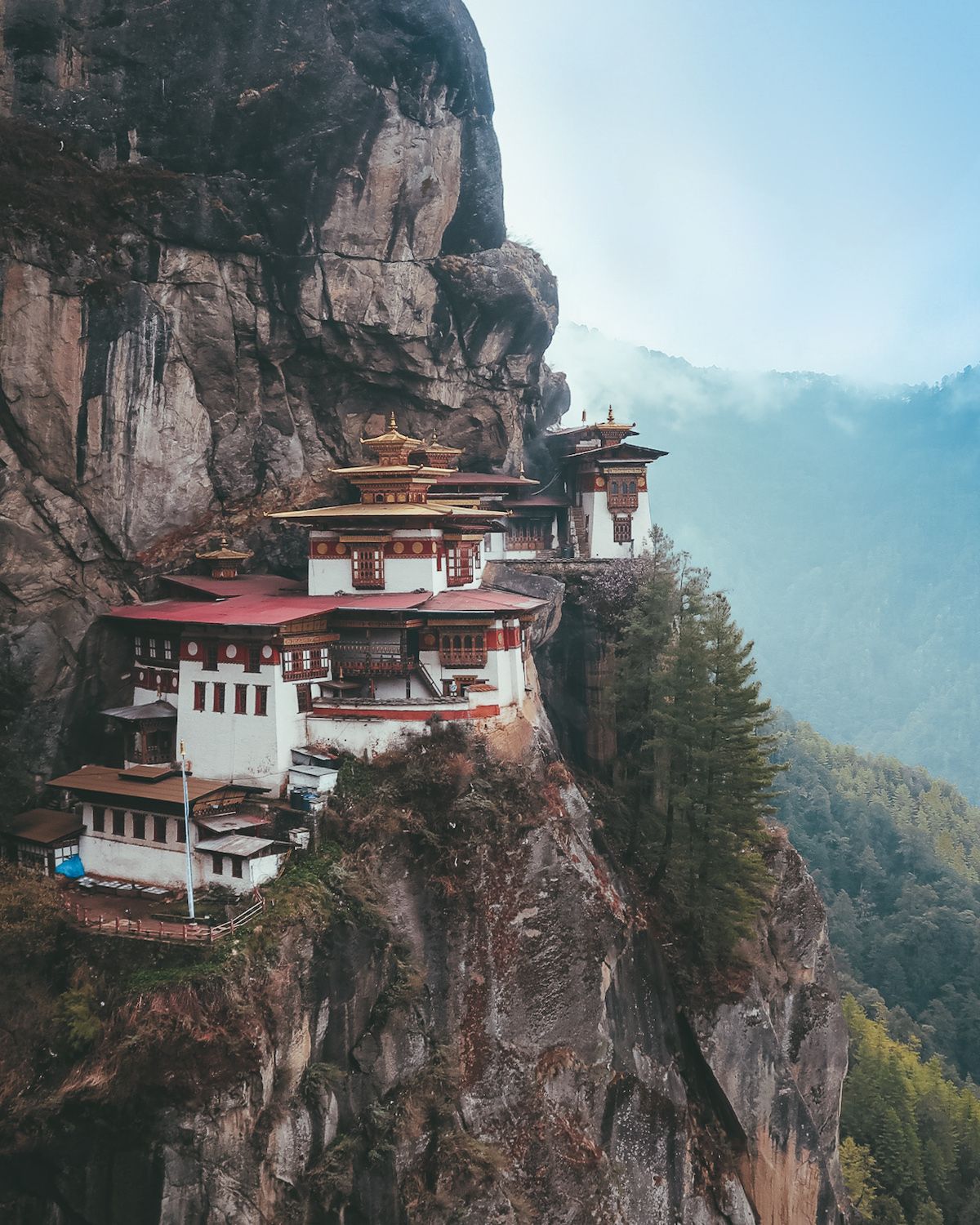 The most famous landmark in Bhutan, Tiger's Next Monastery, is perched cliffside at 3,120 meters elevation. It's a remarkable sight to see. To get to the monastery you'll need to ascend 518m up the mountain on a dirt path. The last section includes stairs that will take you to the entrance of the Tiger's Nest.
Start your hike early as it will be less crowded and not as hot.
2. Hot Stone Bath
Oo lala! A hot stone bath is a traditional healing treatment that's been used for ages in Bhutan. It was a very relaxing experience and a great way to wind down after a day of sightseeing. A hot stone bath is prepared by heating up river stones in a fire until they're red hot and placing them in your bath filled with fresh river water.
Artemesia leaves, which are known to have various health benefits, are scattered in the tub. It can get REALLY hot and you'll need to take some cooling down periods, so you don't faint in the tub (we heard that actually happened!). Hot stone baths are said to have healing properties from the release of the minerals into the water. Don't worry, the hot stones are separated in a wooden barrier, so you won't burn yourself!
3. Punakha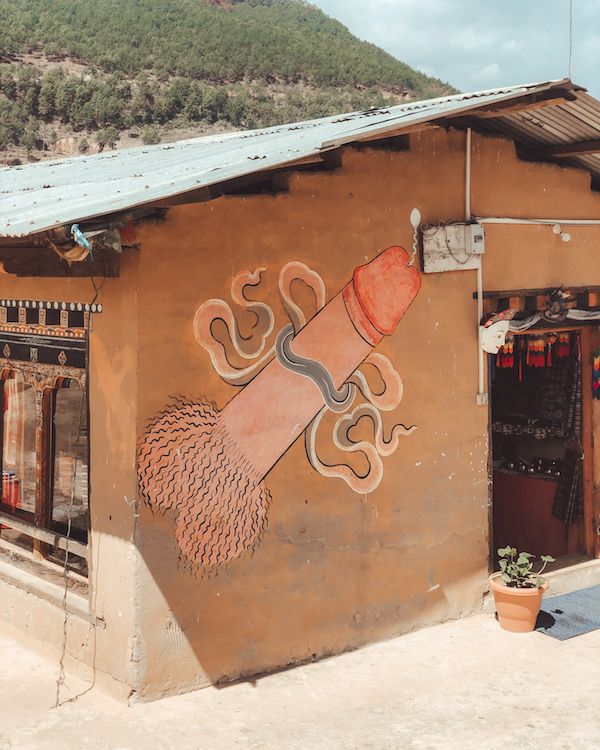 One our our favourite and unexpected historical attractions was Punakha, a town where you'll see decorated phalluses (penises) painted on walls and tons of phallus trinkets. It was surprising to see this in a traditional country, but these phalluses have a spiritual origin.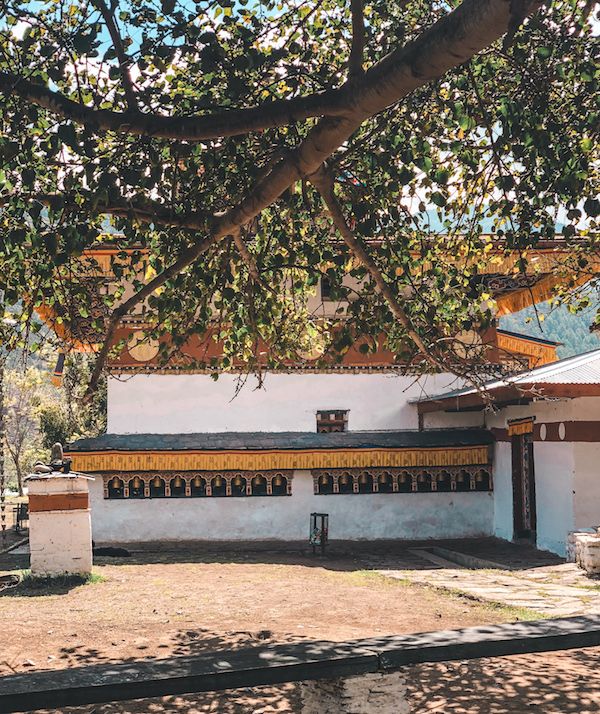 Lama Drukpa Kuenley was an enlightened Buddhist Master in the 1400s who used the phallus as a "flaming thunderbolt" weapon, symbolizing the discomfort that society experiences when facing the truth. Today Buddhists from all over the world come to the Chime Lhakhang temple to pray for the survival and the health of their children. Women who wish to have children walk around the temple at least three times carrying a huge wooden phallus.
It was a twist from the traditional sites we had seen. We highly recommend it!
Best season to visit Bhutan
There are two seasons that are the best to visit in Bhutan. The first is in fall from September to November, when temperatures are not too hot or cold and the skies are clear. Fall is the best season to go if you intend on doing lots of hiking.
The second best season to visit is during Spring from March - May. This is when you will see flowers bloom. The skies however won't be as clear and sunny as in Fall.
The worst season to visit Bhutan would be in its monsoon season from June -August. It will feel hot and the mountains will likely be covered by rain clouds. If you don't like the cold, avoid visiting in December-February, where you'll see lots of snow and temperatures drop below zero.
We hope you enjoy this wonderfully unique country as much as we did!
Save and pin this Bhutan travel guide for later: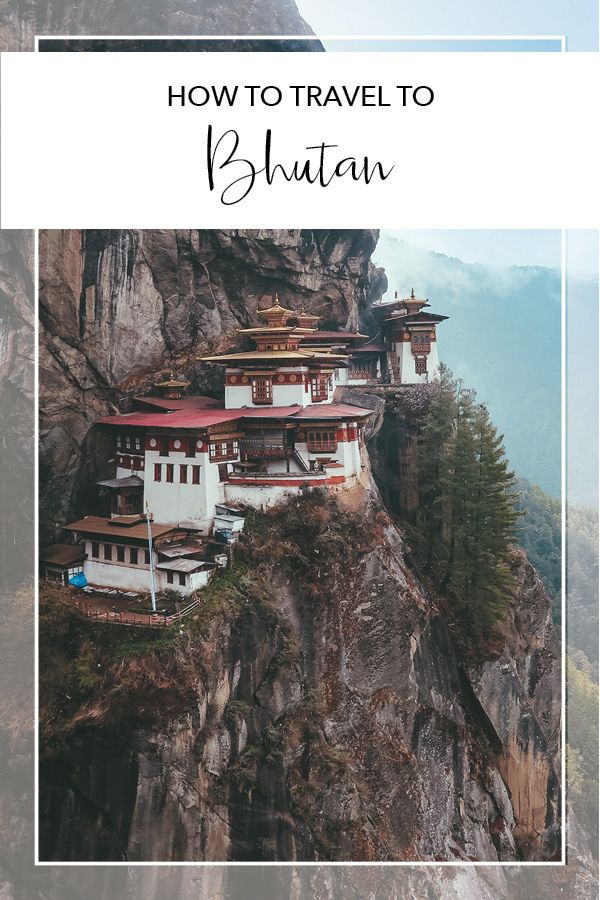 ---
Looking for more travel inspiration? Check out our list of Fun Adventure Ideas and list of Unique Cultural Experiences to inspire your next trip.