Scotland is one of the best places in the world to go on a road trip with its otherworldly landscapes, rich heritage, friendly locals and multitude of scenic roads. It's also one of the safest destinations to travel. I went on a 'sisters road trip' through northern Scotland and always felt safe and comfortable.
Our 10 day Scotland itinerary takes you in a loop through the Highlands to see some of the most scenic and iconic sights in the country. This route is for you if you're looking to drive through remote areas, go on awe-inspiring hikes, explore quaint villages, eat delicious food and experience Scotland's unique culture. Your 10 days in Scotland won't be rushed so you can enjoy each area at a relaxed pace.
Some highlights of our 10 day Scotland road trip itinerary include driving through a subarctic national park, drinking at one of the most glamorous whisky bars in the world, seeing a real life Picasso in a remote village, exploring Scotland's most famous island and swimming in crystal clear waterfall pools.  
If you're looking for a shorter road trip in Scotland, don't miss our 3 Day Isle of Skye road trip itinerary.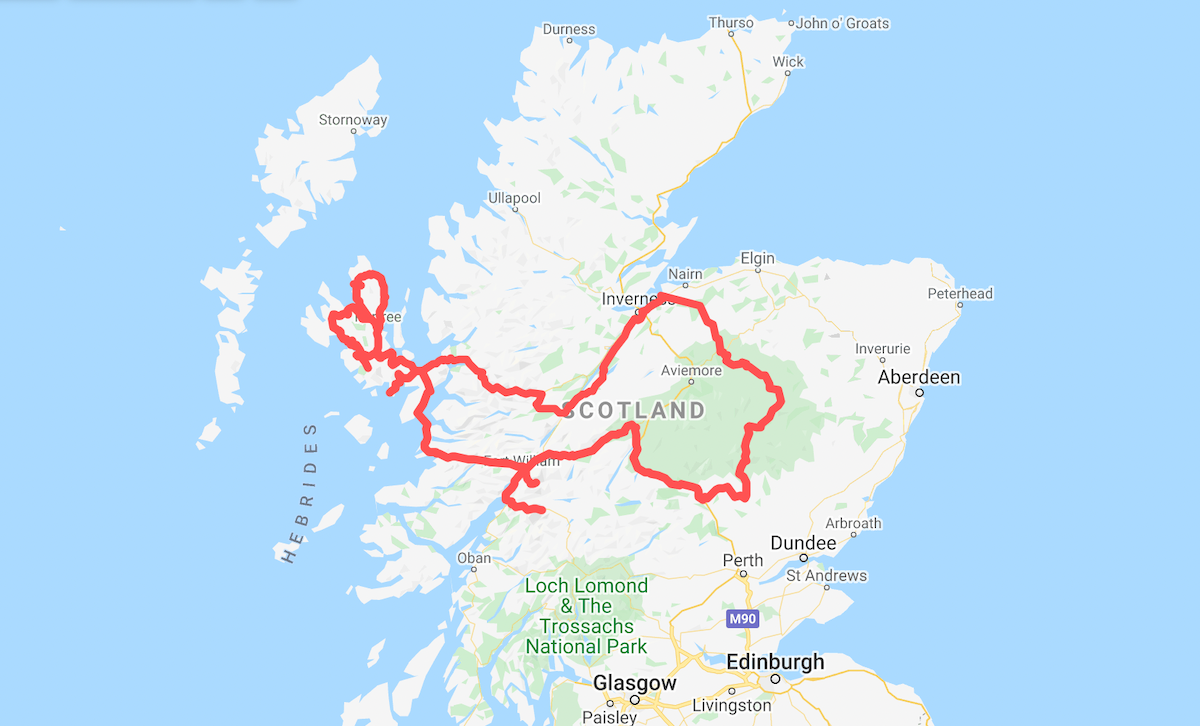 Outline: 10-Day Scotland Road Trip
Disclosure: Some of the links below are affiliate links, meaning at no additional cost to you, we will earn a commission if you click through and make a purchase. We only recommend products or services we have used or that we believe will add value to our readers. Thank you for supporting us!
Best month to visit Scotland for a road trip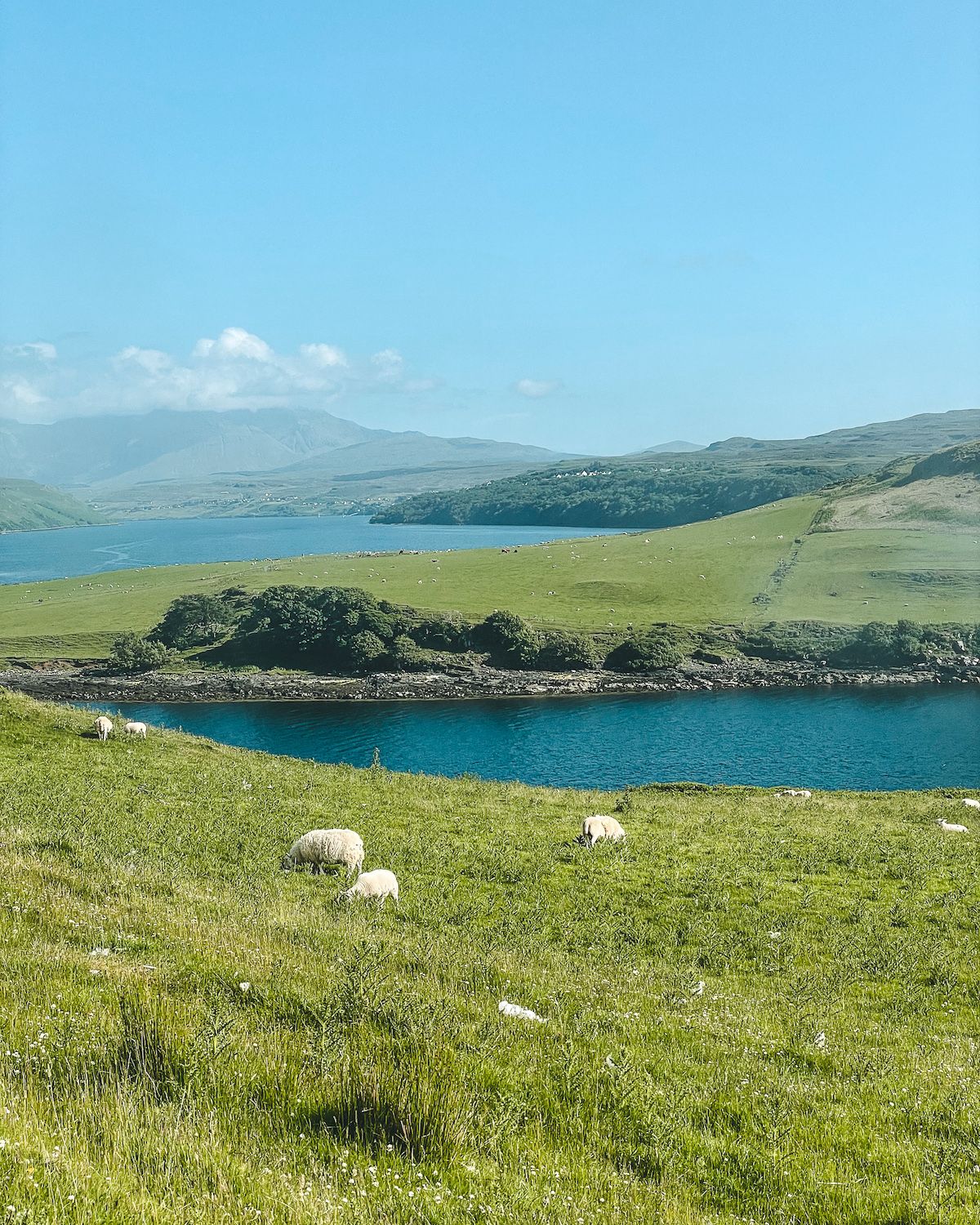 Northern Scotland gets an average of 250 rainy days per year. We should have bought a lottery ticket, because we had 7 straight days of sun in June! However, prepare for dynamic weather patterns as you never know how the weather will change, even in the summertime.
The best month to visit Scotland is in June for a few reasons:
You will beat the high season rush in July/August that sees more tourists and higher prices.
It's the warmest month after July/August - it's possible to swim outdoors without freezing.
It's the driest and sunniest month on average after May
June sees the longest daylight hours

Renting a car in Scotland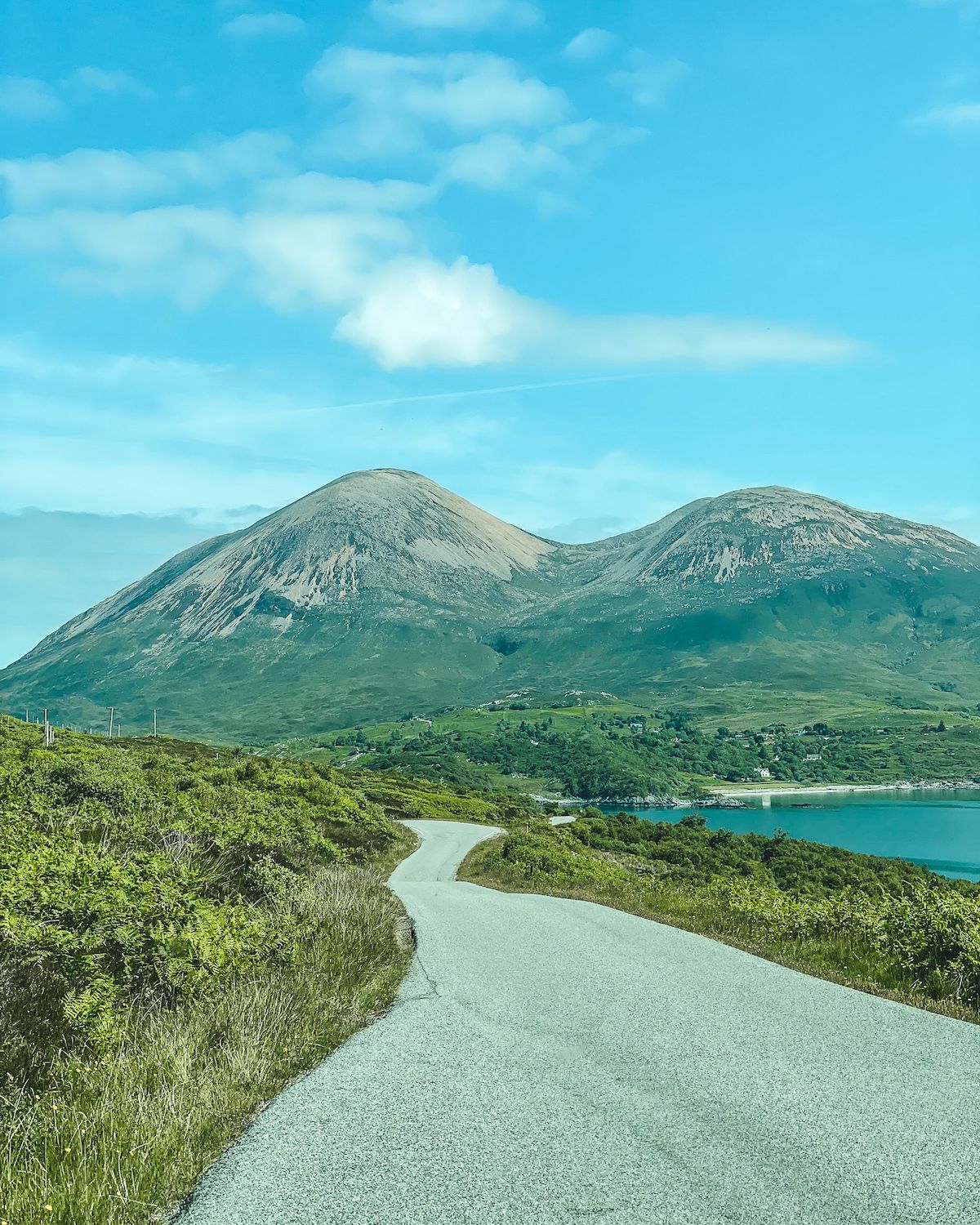 Your road trip starts in Inverness, the gateway to the Scottish Highlands. It's a breeze flying into the Inverness Airport and picking up your car rental from there. You can easily compare car rental rates across different companies with
Rentalcars.com
.
Scots drive on the left-hand side of the road. This may deter some right-hand side drivers, however this region of Scotland is a great place to try it out. You won't be driving through any major cities, the roads are paved and many of them are quiet.
Rent a small car! Some of the roads are narrow so you will be happy to have as much room as you can get.
Top tip for stick shift drivers: if you drive on the right-hand side of the road, we recommend not renting a stick shift (manual car) because you will have to shift with your left hand!
10 Day Scotland Road Trip Itinerary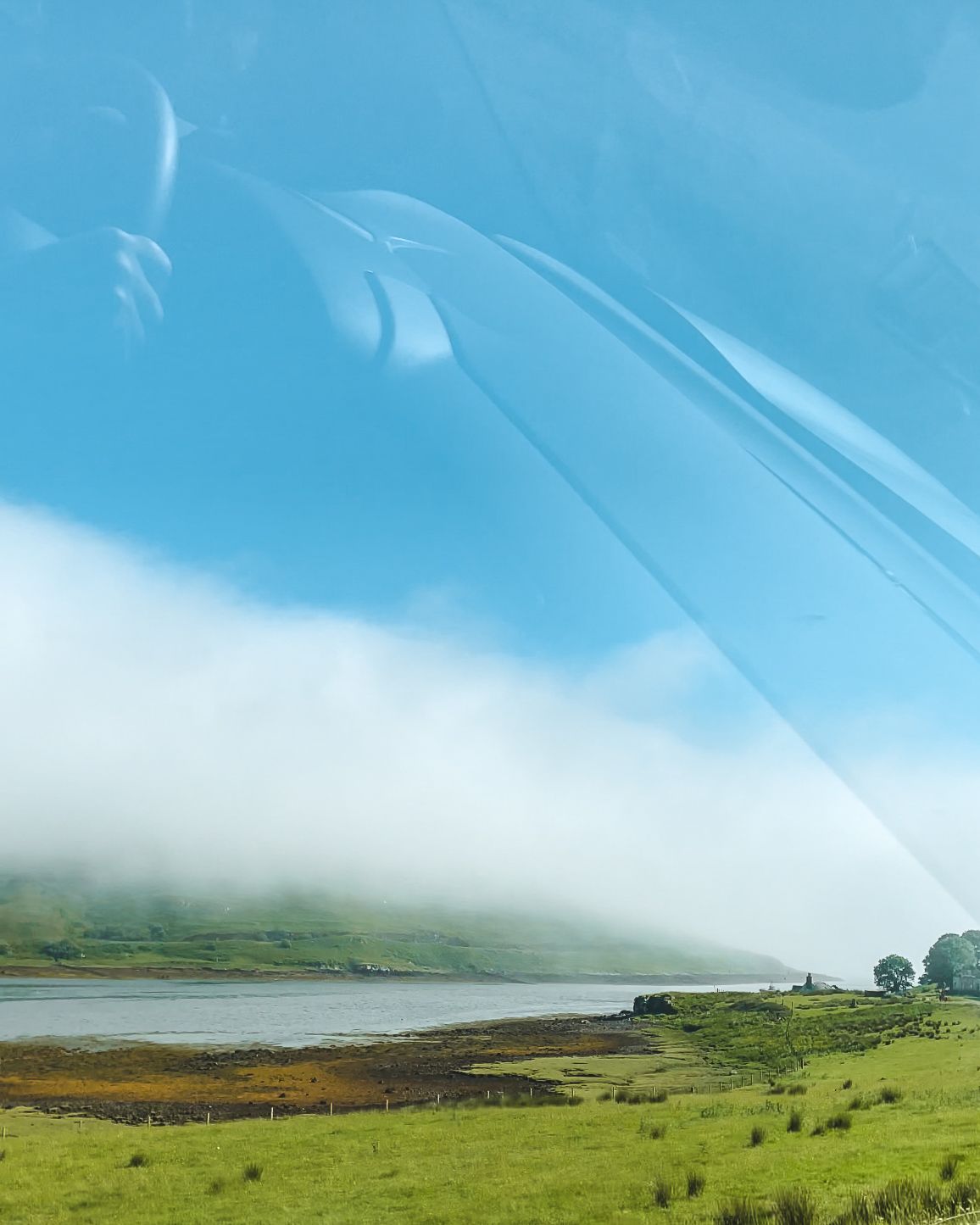 Days 1-2: Cairngorms National Park / Braemar village
Driving time: 2 hours
Today you will be driving through Cairngorms National Park, the largest park in the UK. As you drive through the mountain pass you will see dramatic views of the subarctic landscape. The granite mountains seen today were formed millions of years ago from magma rising below the surface and crystallizing into granite.
It was rainy our first day, but we loved the eerie and mysterious feel as we drove through the extraordinary landscape.
Note:
if your flight gets in late, there is an
awesome airport hotel
right beside the airport you can stay at your first night and then just stay one night in Braemar instead of two.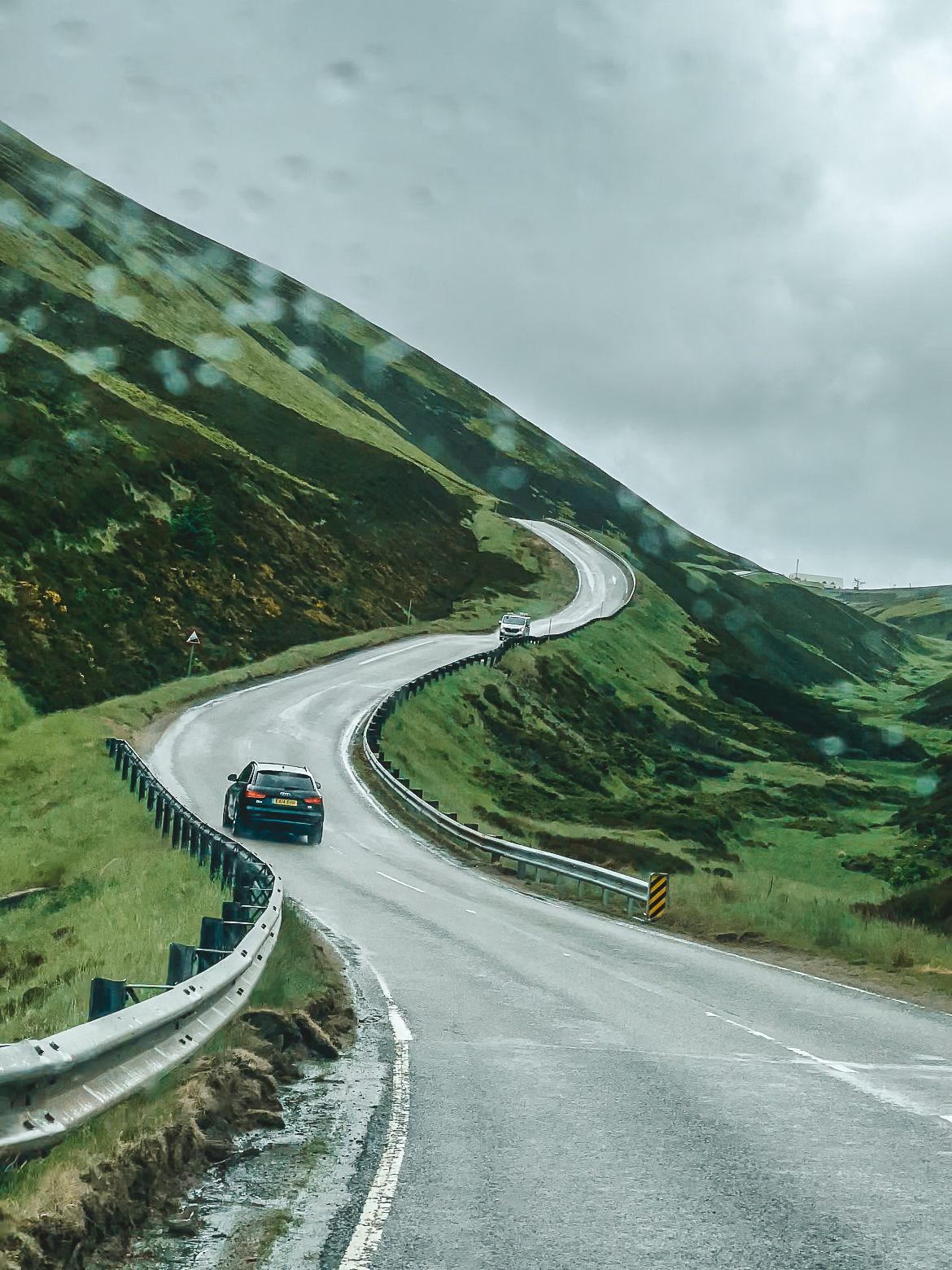 Your first destination is Braemar, a small village of only 800 people famed for hosting the Highland Games and attracting royalty.
Barmoral Castle, the Scottish home of the Royal Family, is only a 13 minute drive away. Braemar has also been put on the map for its luxury art hotel,
The Fife Arms
, owned by Hauser & Wirth that is worth a visit in itself.
Where to stay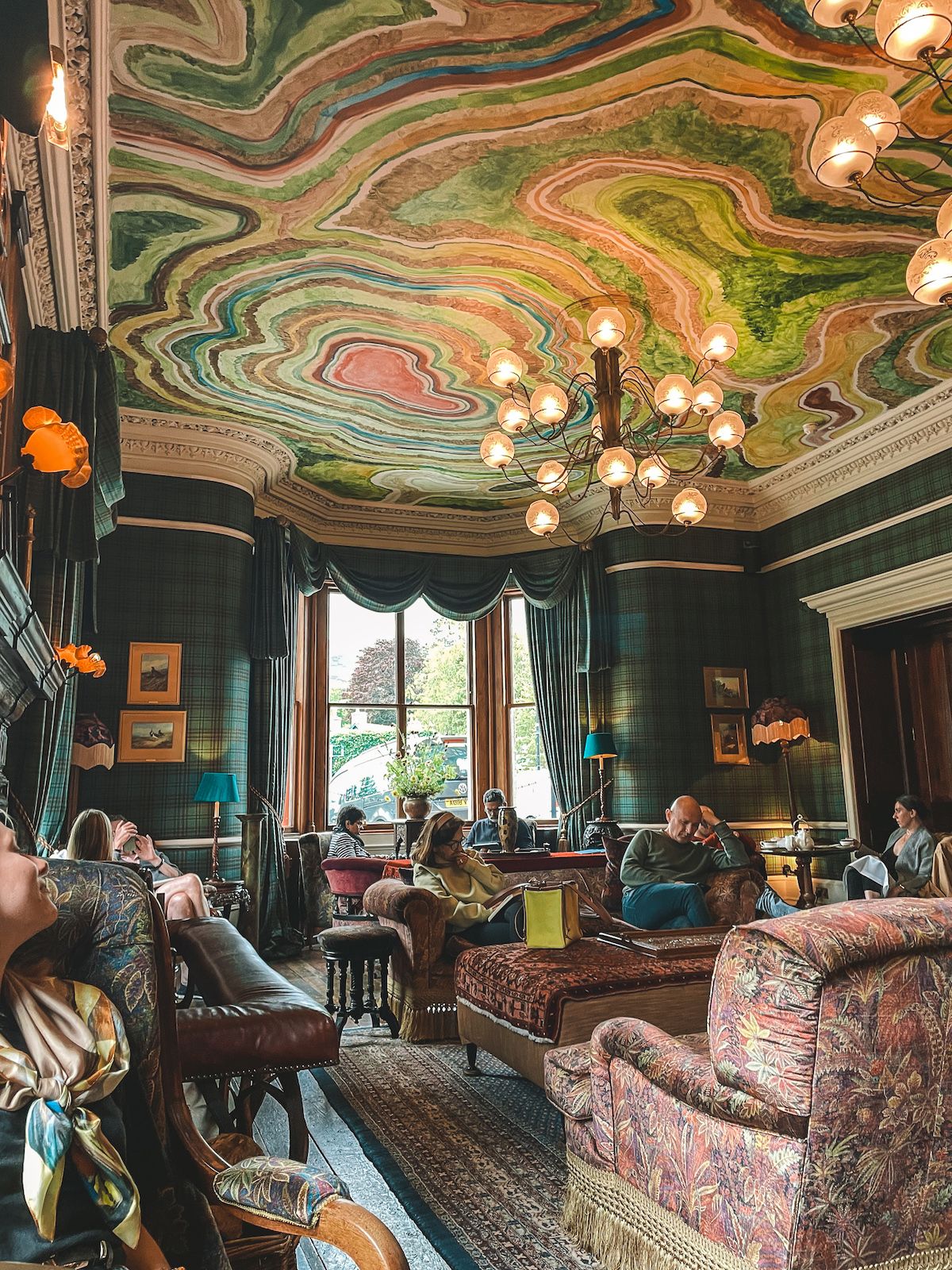 Our top luxury hotel pick: The Fife Arms
The
Fife Arms
is one of the most spectacular hotels we've ever been to. The 19th century coaching inn has been transformed into an art-filled hotel by passionate art dealers Hauser & Wirth, with over 14,000 artworks and antiques. From a colourful agate-inspired mural on the ceiling to a Picasso hanging in the reading room, you're sure to be amazed.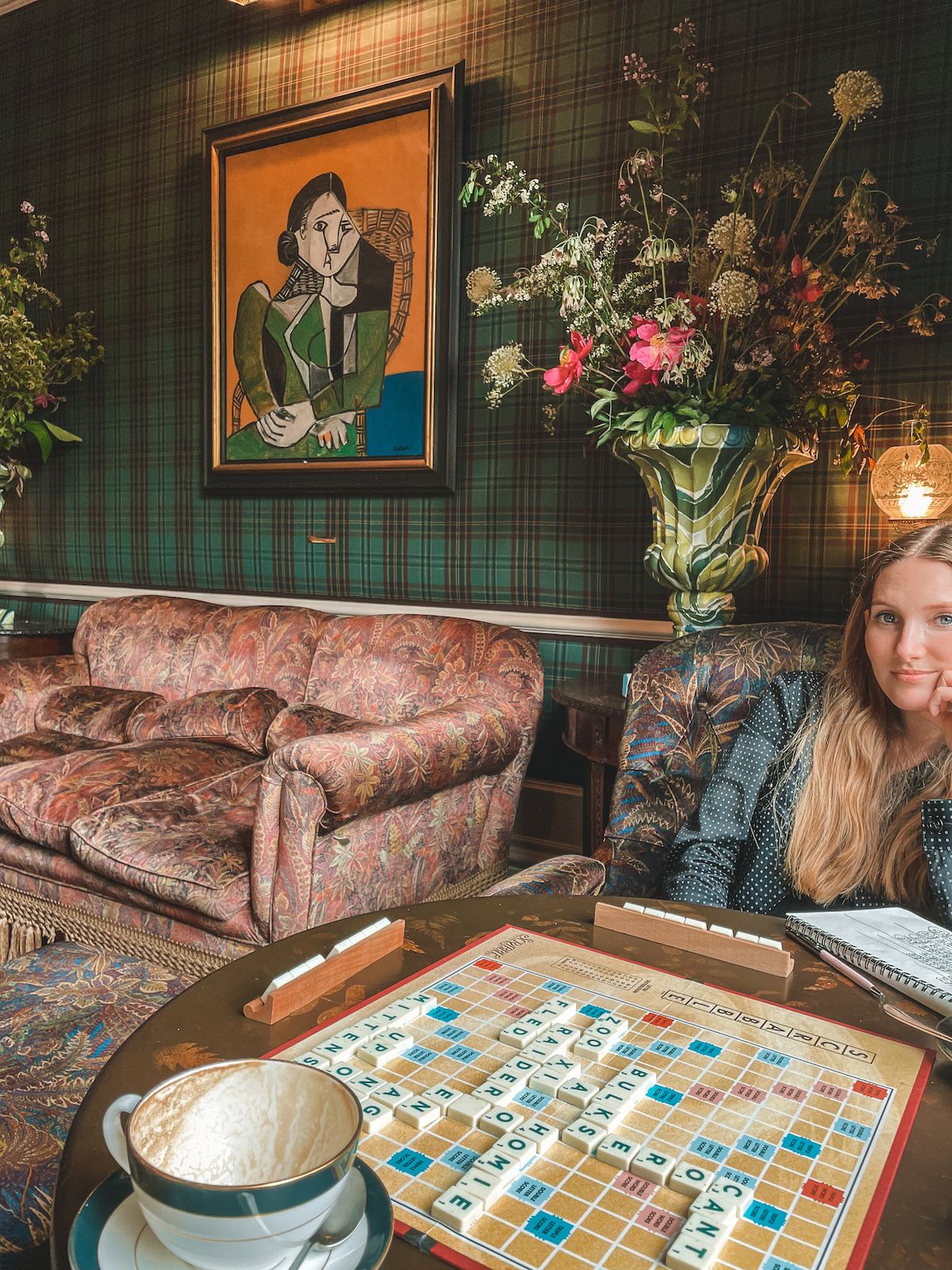 Each room has a theme - ours was called "Nature and Poetry". When we arrived, we were delighted to see colourful chocolate truffles in our room as a welcome amenity. We spent our time at the hotel looking at the unique artworks, playing board games in the gorgeous reading room and drinking at their glamorous whisky bar and cocktail bar inspired by Italian fashion designer Elsa Schiaparelli.
If you're up for the splurge, we highly recommend staying at the
Fife Arms
(rooms start at £392.80), however,
you don't have to stay here to experience the hotel since their restaurants and bars are open to non-guests.
Our top value hotel pick: Cranford Guesthouse
The
welcoming guesthouse
features cozy contemporary rooms and includes a hearty breakfast. The main strip is only a 5 minute walk away and Fife Arms a 7 minute walk away. Rooms start at £98.
Fun things to do in Braemar
Explore the village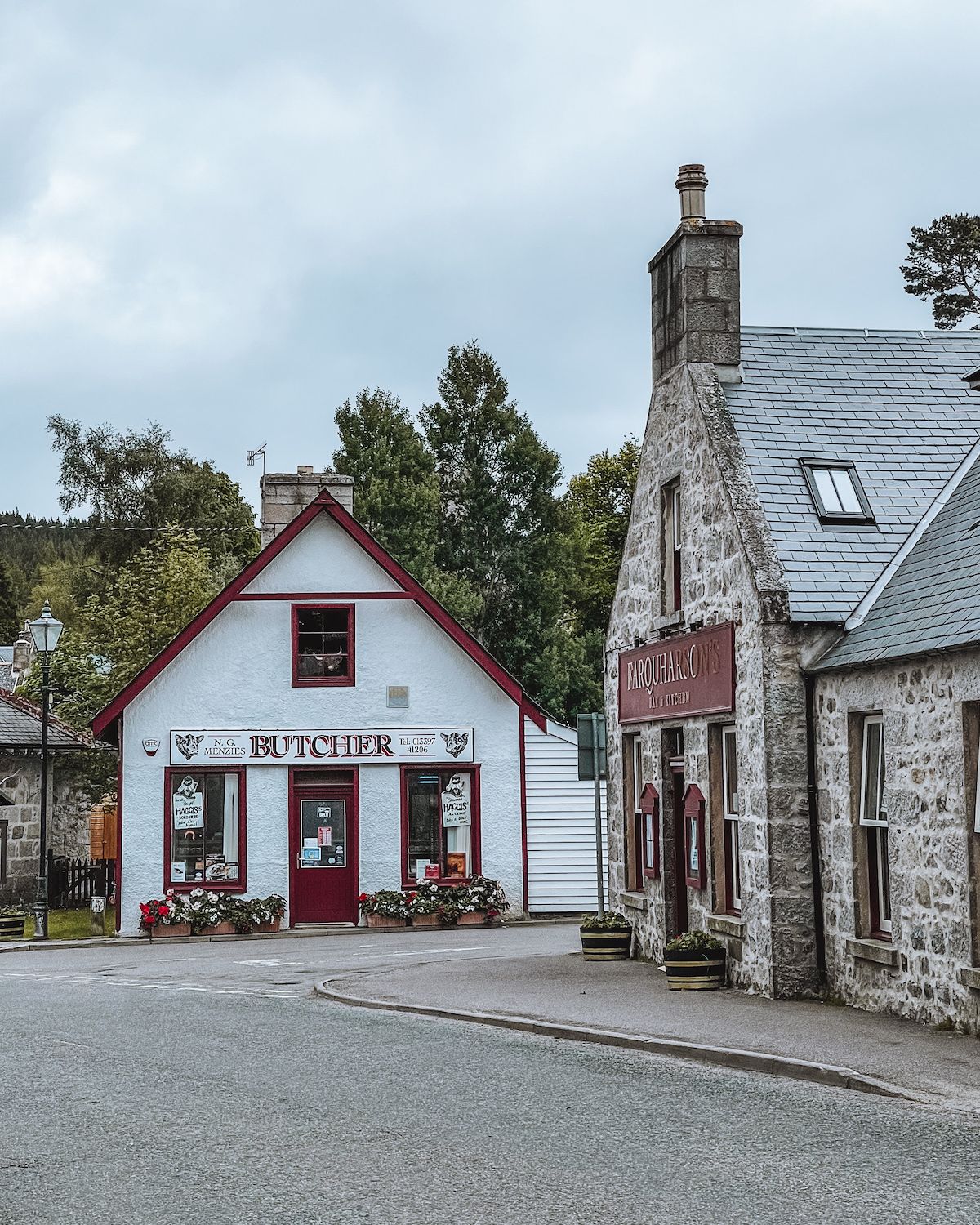 Braemar may be small, however it has cute little shops to discover. Our favourite store was the Horn Shop which sells kitchenware made with reindeer antlers. The artisan who makes them collects antlers that have been shed in the forest. Male reindeers drop their antlers every November and they start to grow back in February. So cool!
Visit the most glamorous whisky bar in Scotland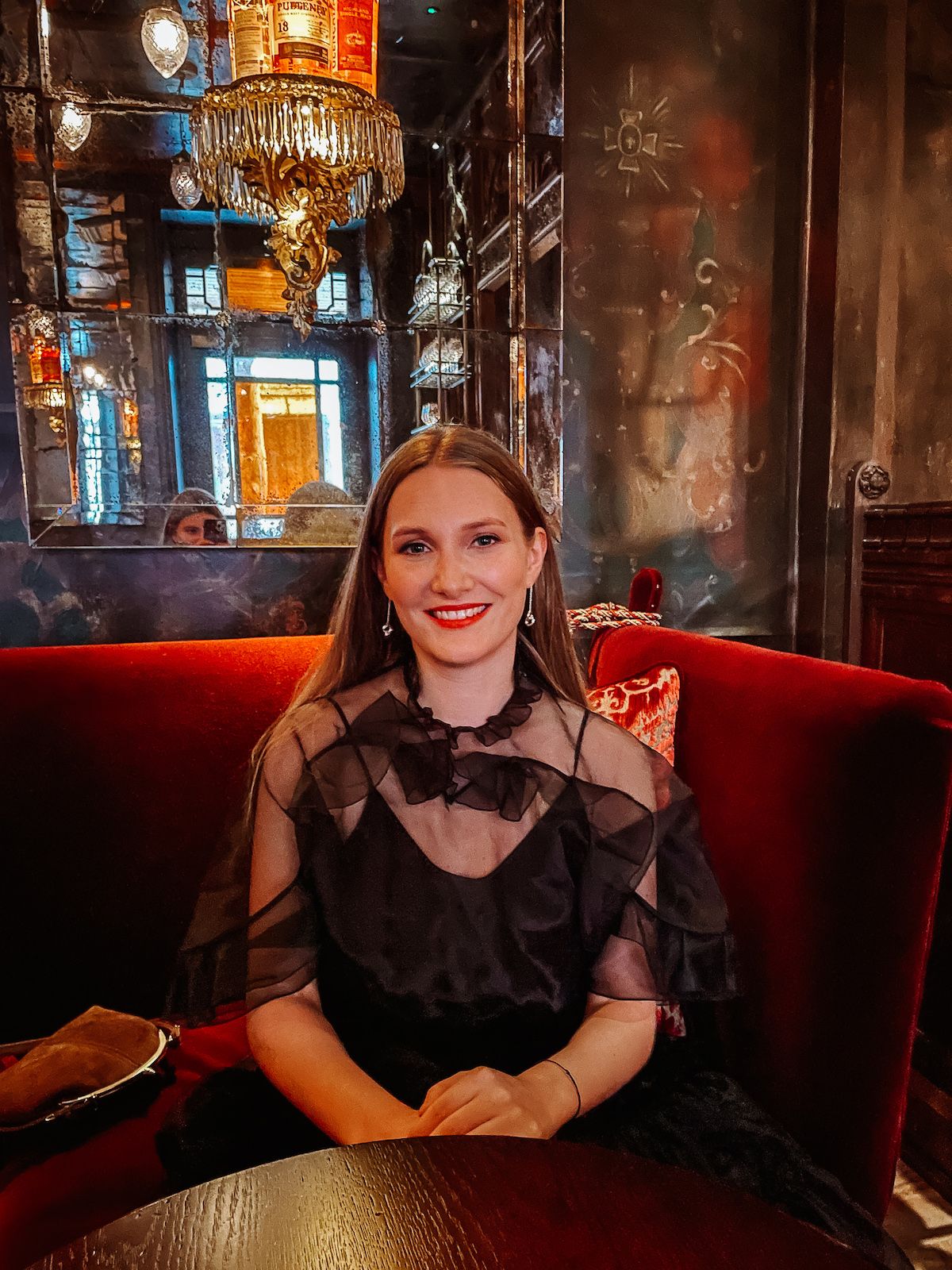 Bertie's Whisky Bar is hands down the most glamorous whisky bar we have ever seen. The lighting in the whisky bar is incredible. When you step inside it feels like you've entered an exclusive labyrinth with its red velvet seats and glowing bookshelves filled with whisky bottles. The whisky library has 365 whiskies that are sorted by their flavour profile - smoky, fruity, fragrant or rich. Put on your best outfit and sip your whisky of choice.
Go for afternoon tea at the Fife Arms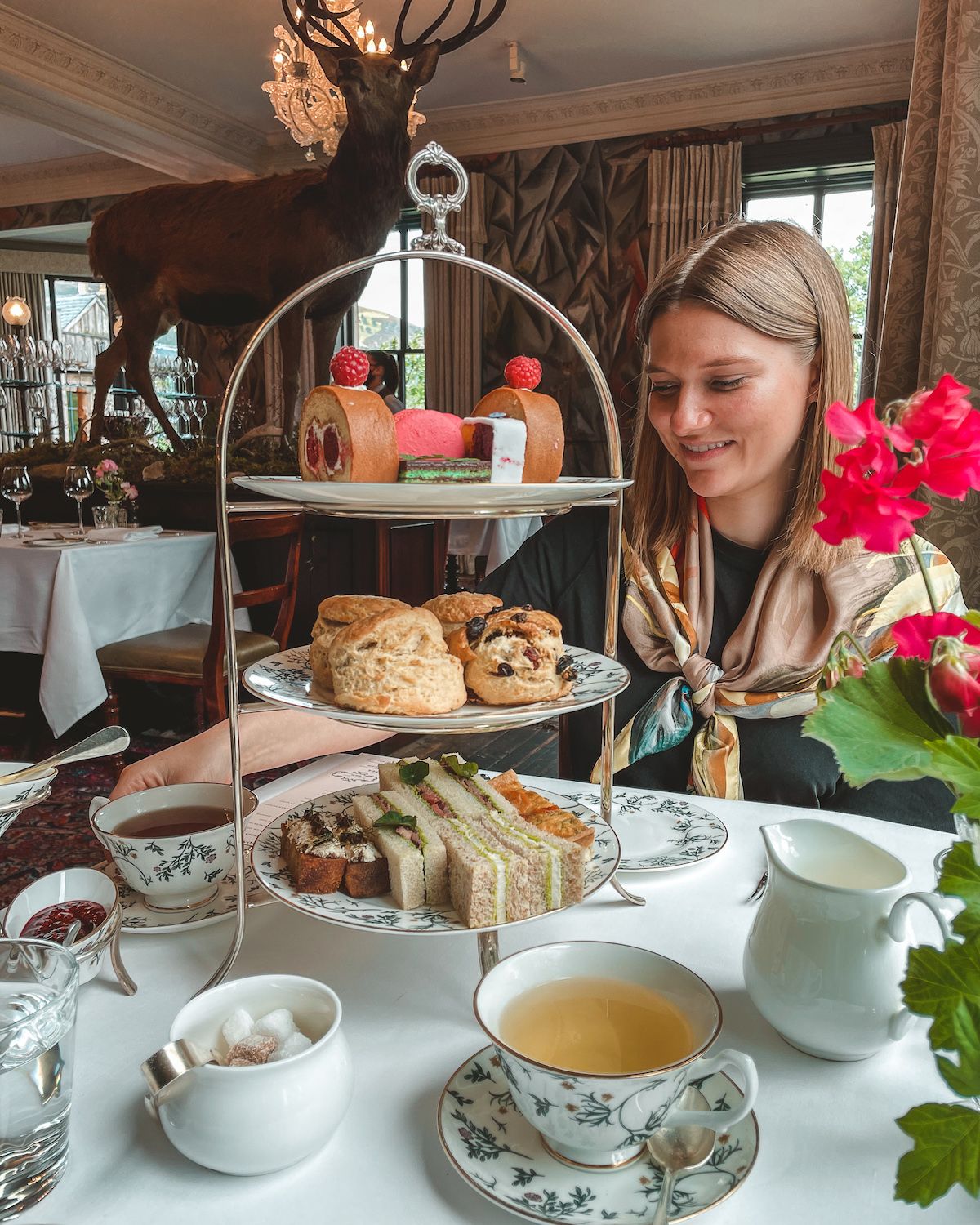 View the wondrous art of the
Fife Arms
by enjoying afternoon tea in their drawing room. Traditional Scottish afternoon tea comes with finger sandwiches, sweets and freshly baked scones with clotted cream. To make it extra fabulous, order a glass of champagne to start.
Eat at a Scottish pub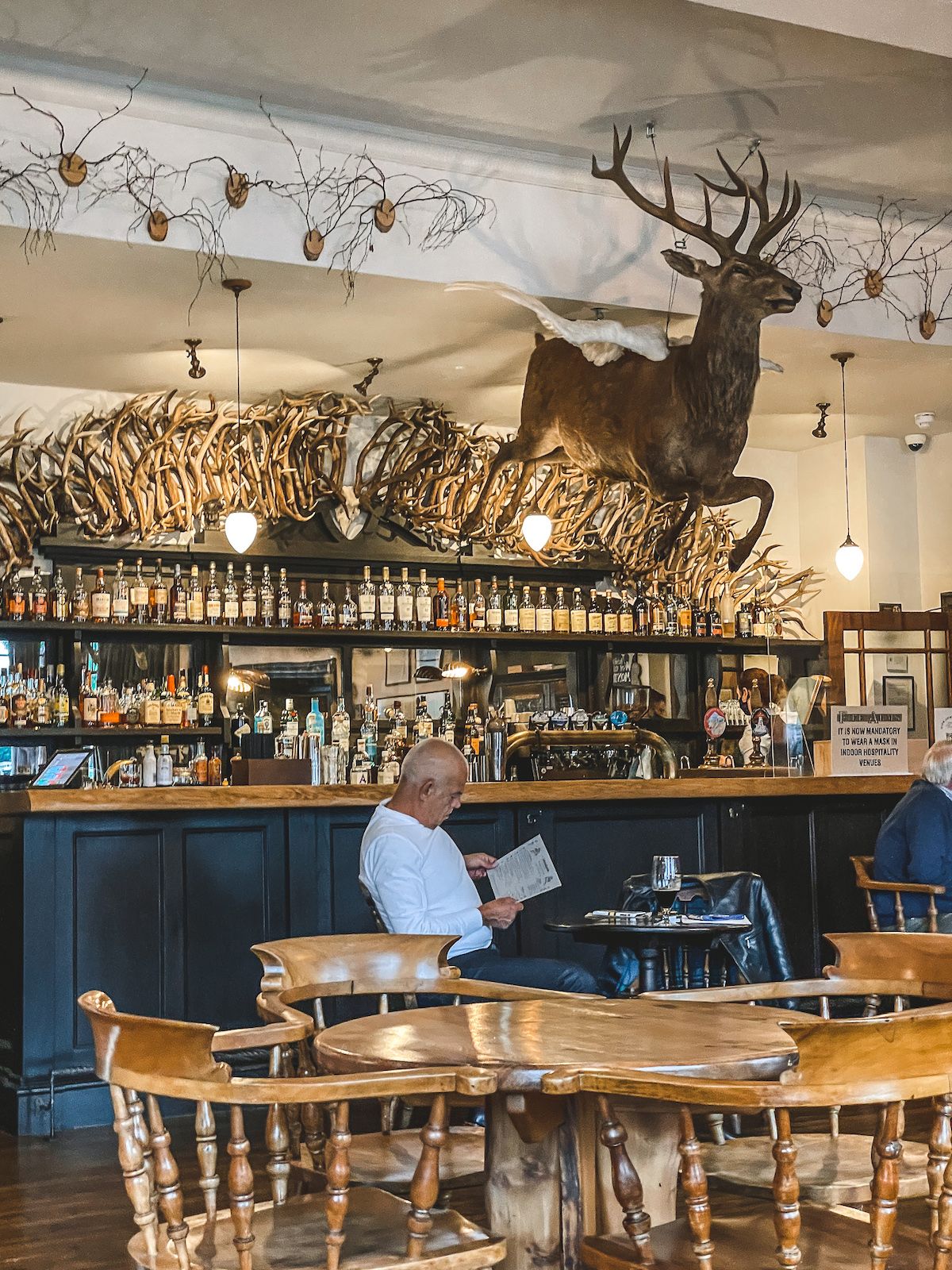 Enjoy dinner at one of Braemar's pubs serving Scottish comfort food, such as the cozy Farquharsons Bar and Kitchen or The Flying Stag, designed by renowned artist and naturalist James Prosek.
Days 3-5: Fort William / Glencoe
Your home base for the next three days will be Fort Willam, the outdoor capital of the UK. It's the hub for exploring Scotland's highest mountains formed millions of years ago by volcanic and glacial activity. From Fort William, it's easy to take day trips to Ben Nevis, Scotland's highest mountain, and Glen Coe, a striking valley with towering mountains.  
The area is so impressive it's been used as the setting for famous movies like Braveheart, Harry Potter and Skyfall!
Day 3: Braemar → Fort William
Driving time: 2.75 hours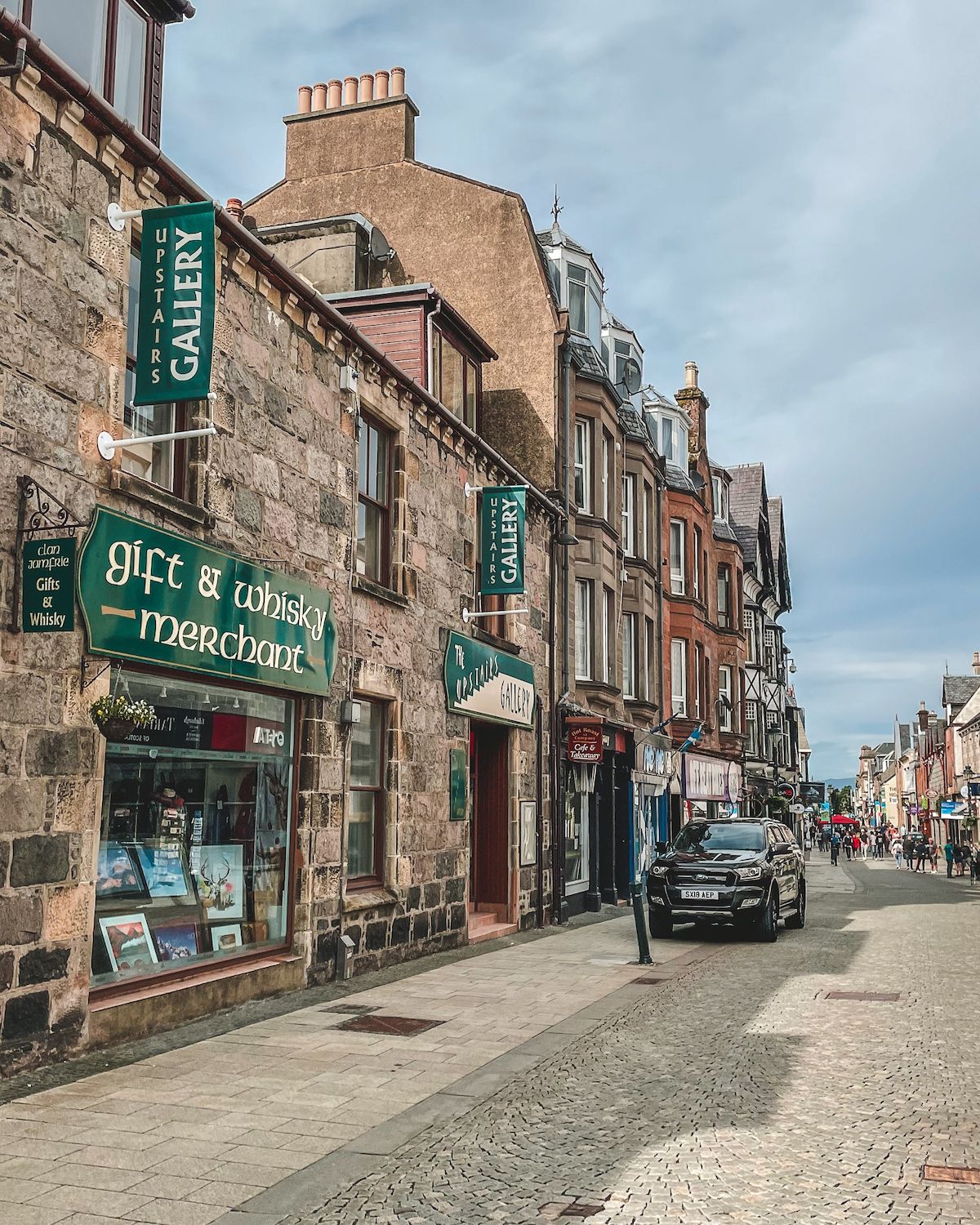 Today you will continue driving through the beautiful Cairngorms National Park towards Fort William. Fort William is a lively town with many pubs, restaurants and shops along its main strip called High Street. Check into your hotel and spend the rest of your day exploring the town.
We highly recommend eating dinner at The Geographer. This was by far our favourite restaurant we ate at in Fort William. The bistro serves street food-inspired cuisine influenced by their travels around the world. Arrive as early as you can as it's a popular spot that doesn't take reservations for groups under 5.
Where to stay in Fort William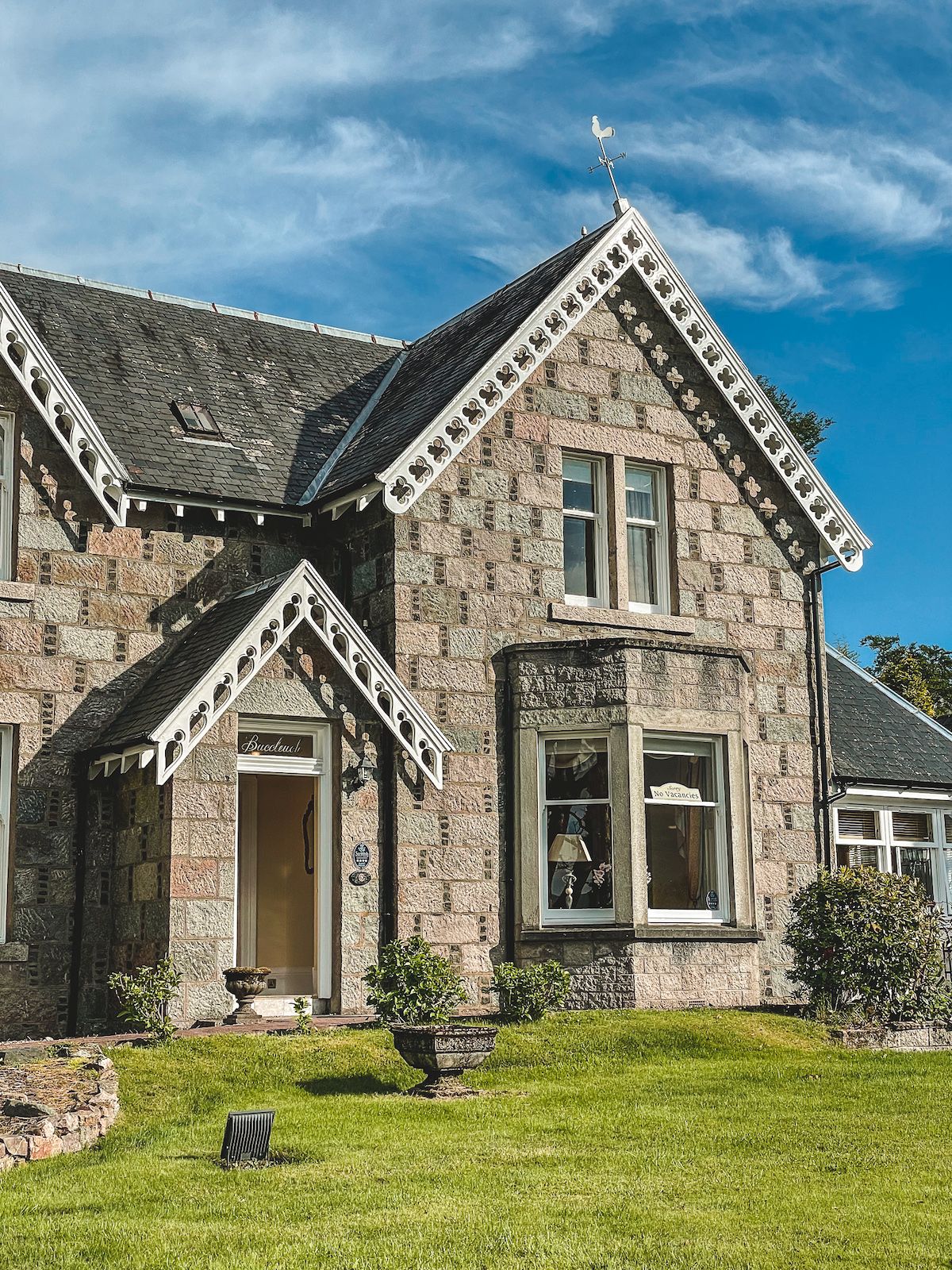 Look for a place within walking distance to High Street, the main strip of town.
We stayed at
Buccleuch Guest House
along Achintore Rd, which has lake views of Loch Linnhe and a paved path that takes you into the centre. There are many charming places along Achintore Rd you can choose from.
Our top hotel picks walking distance to High Street (all recommended stays are in 19th century Victorian villas with lots of character).
Day 4: Day trip to Steall Falls & Nevis Gorge
Driving time: 40 minutes round trip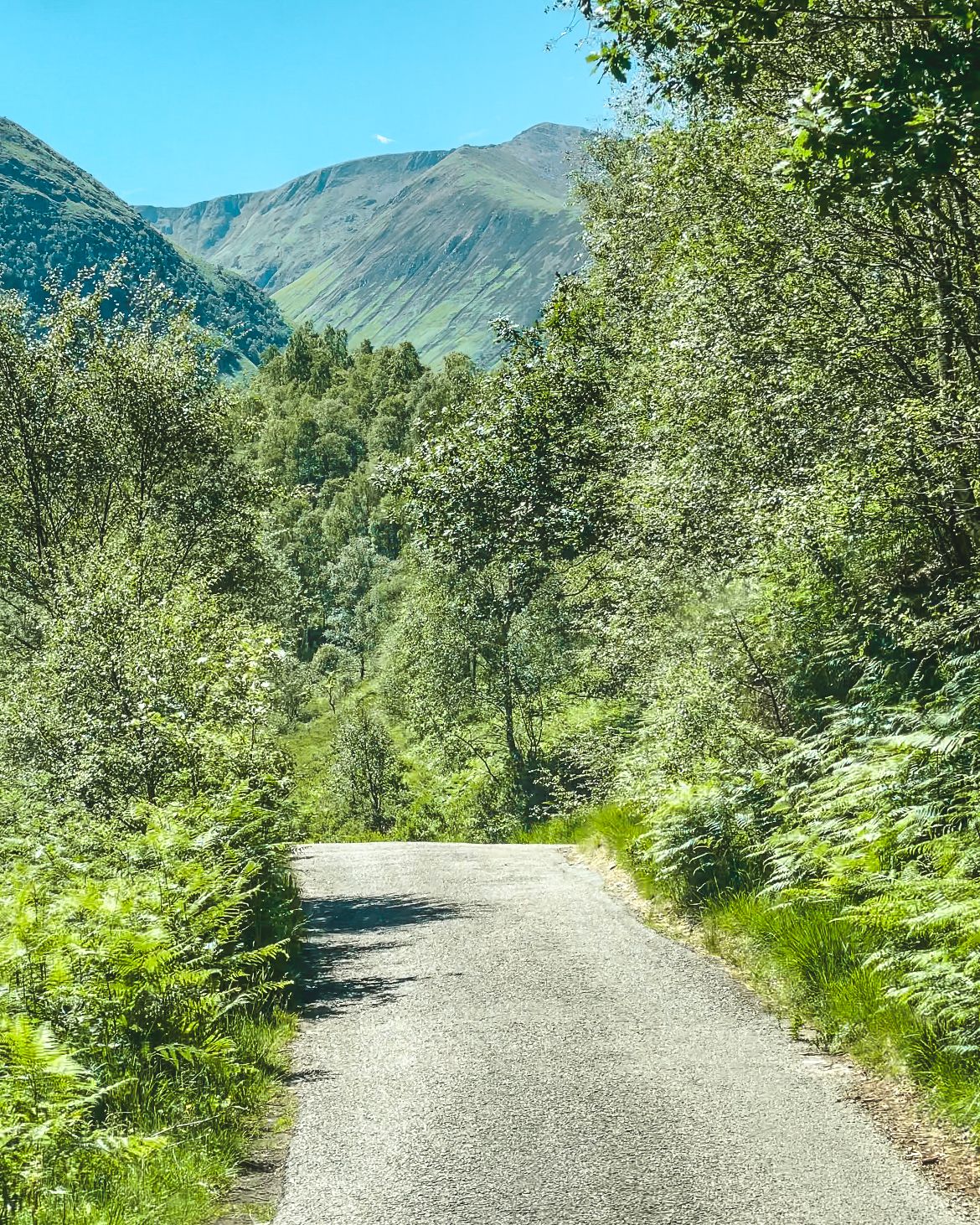 Begin your exploration of the mountainous region with a leisurely drive to the base of Ben Nevis for a short hike.
Hike through Nevis Gorge to Steall Falls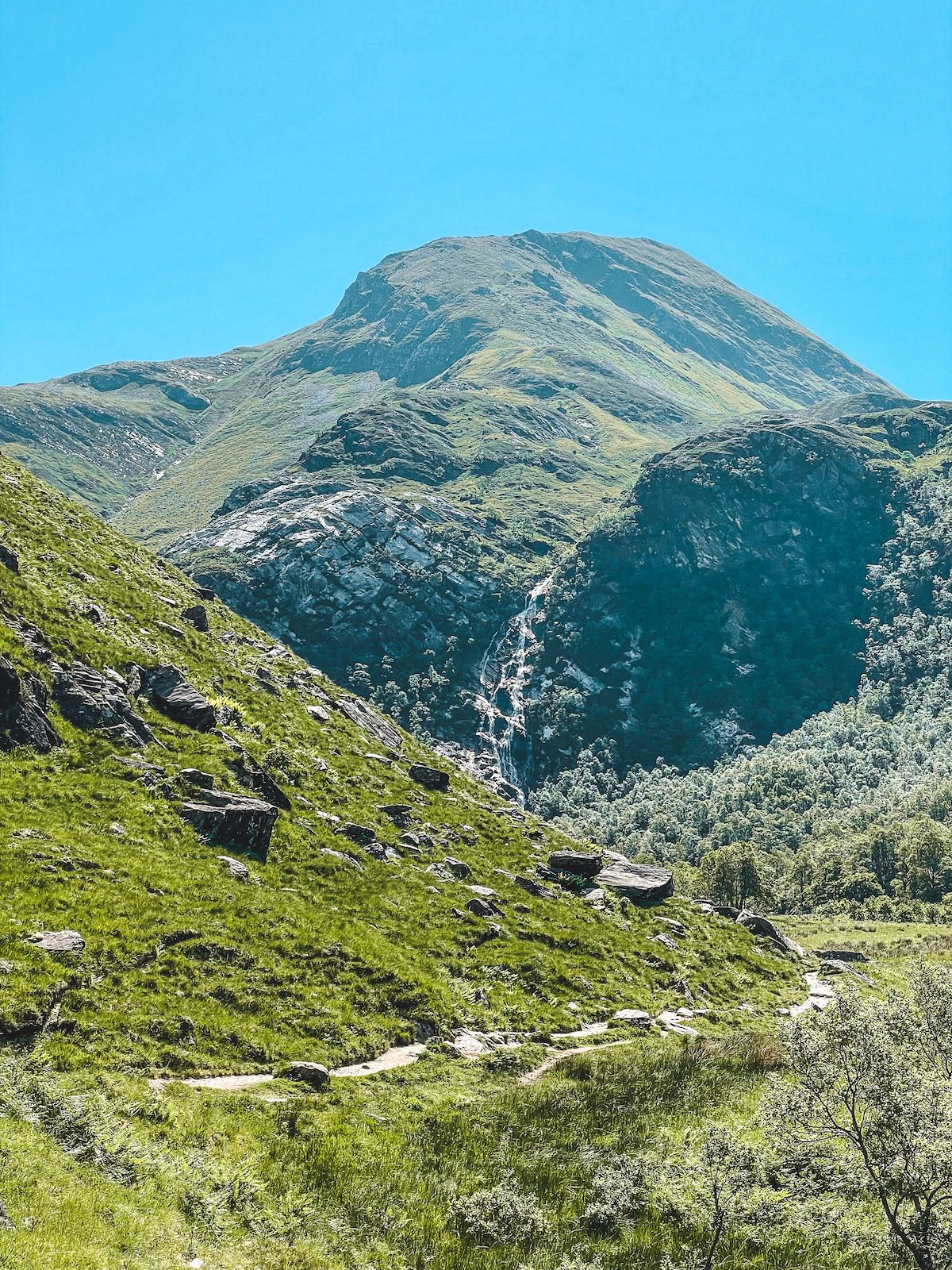 The drive from Fort William to the Upper Glen Nevis car park is magical. The vivid green trees, mountains and meadows feel like a fantasy. Once you start your hike to Steall Falls you'll soon realize that the incredible views have only just begun.
The 3.5 km hike to Steall Falls is not a demanding one. You first ascend 220 m through a rocky woodland along Nevis Gorge until you reach a sweeping green meadow with Steall Falls in the distance. Continue along the path until you arrive at the base of the waterfall where you can climb big boulders to get up close.
Our favourite part of the hike was dipping into the refreshing creek on the way back. It was truly a fairy tale experience! Enjoy a picnic by the creek for lunch and take in the idyllic views.
Watch a movie at the local cinema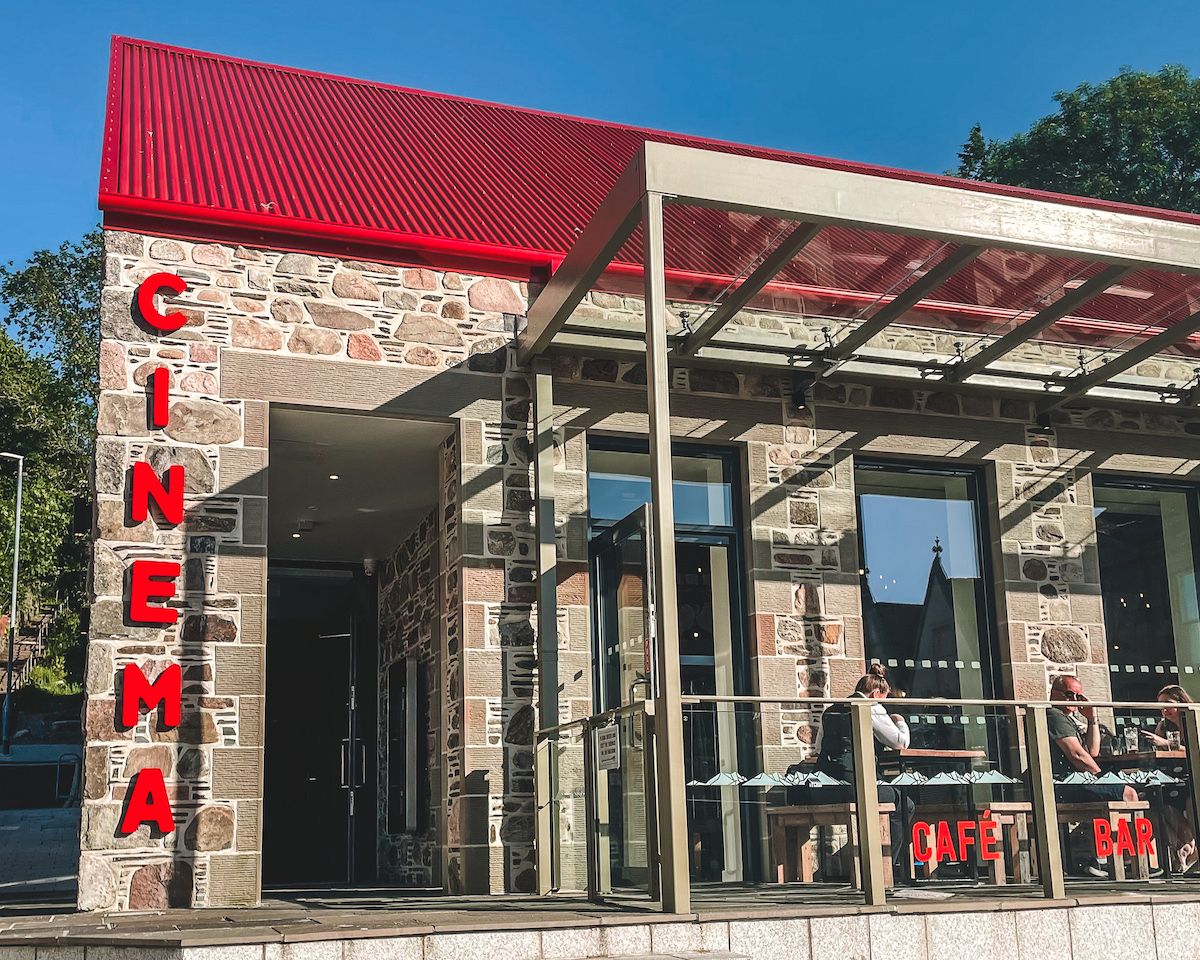 After some downtime at your hotel, entertain yourself with dinner and a movie at the local cinema. The cute Highland Cinema has a surprisingly excellent restaurant. We snacked on some pizza and cider in the cafe bar before grabbing some popcorn and treats for our movie, Cruella.
The theatre and restaurant was packed, so we recommend purchasing your movie tickets online in advance, especially if you want good seats.
Day 5: Day trip to Glen Coe & hike up Stob Dubh
Driving time: 1.25 hours round trip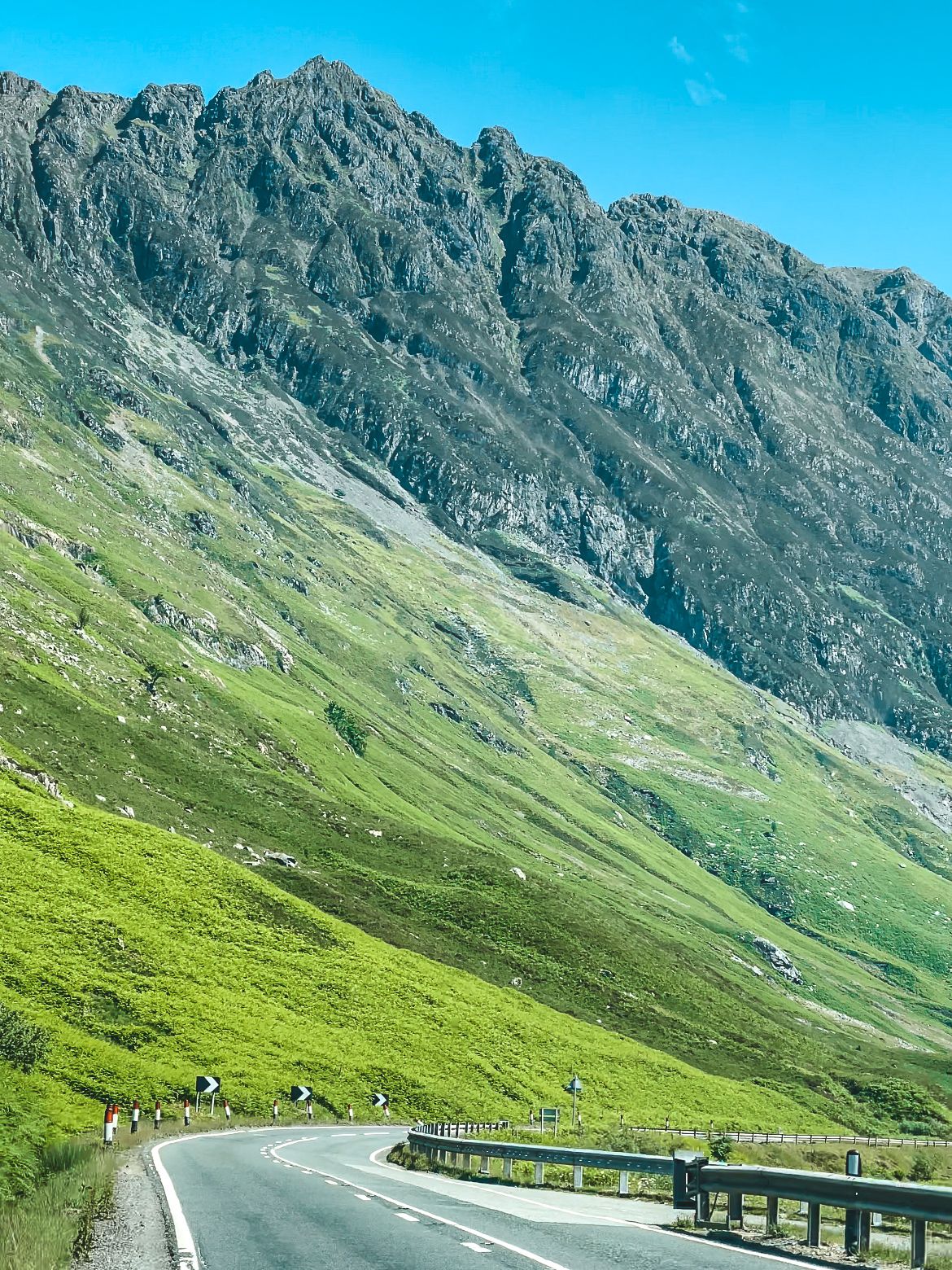 Next on the itinerary is a scenic drive through Glen Coe, a deep valley formed by glaciers and volcanic eruptions millions of years ago. This area is where you will find some of the most incredible mountains to summit in the country.
Pop into Glencoe Cafe for brunch
Make a stop into the lovely town of Glencoe for brunch at Glencoe Cafe. Energize yourself with coffee and a fresh sandwich or cup of soup. We loved their coronation chicken sandwich and left with some scones to take with us on our hike.
Note: Glencoe Cafe opens at 11 AM.
Hike up Stob Dubh for breathtaking panoramic sights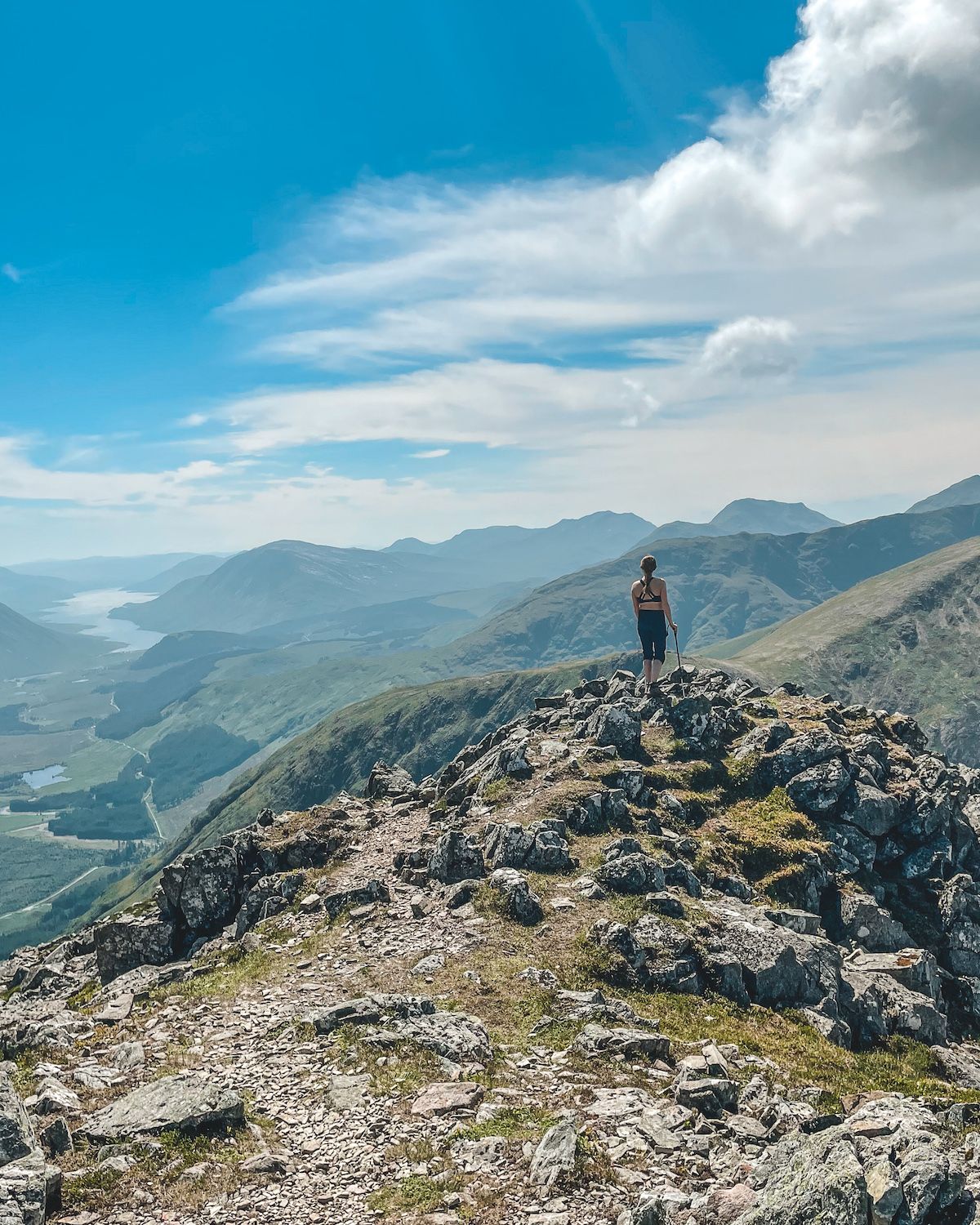 The hike to the summit of Stob Dubh (958 m elevation) is tough, however the jaw dropping views at the top are worth it. The total distance there and back is 7 km with a steep ascent of 713 m. Many of the summit hikes we saw in the area were over a 1,000 m ascent, so we were happy to find one around 700m!
Top tip: ensure to bring 2L of water per person, food, sunscreen and good hiking gear (we include an essentials packing list at the end of the article). Hiking poles are also highly recommended.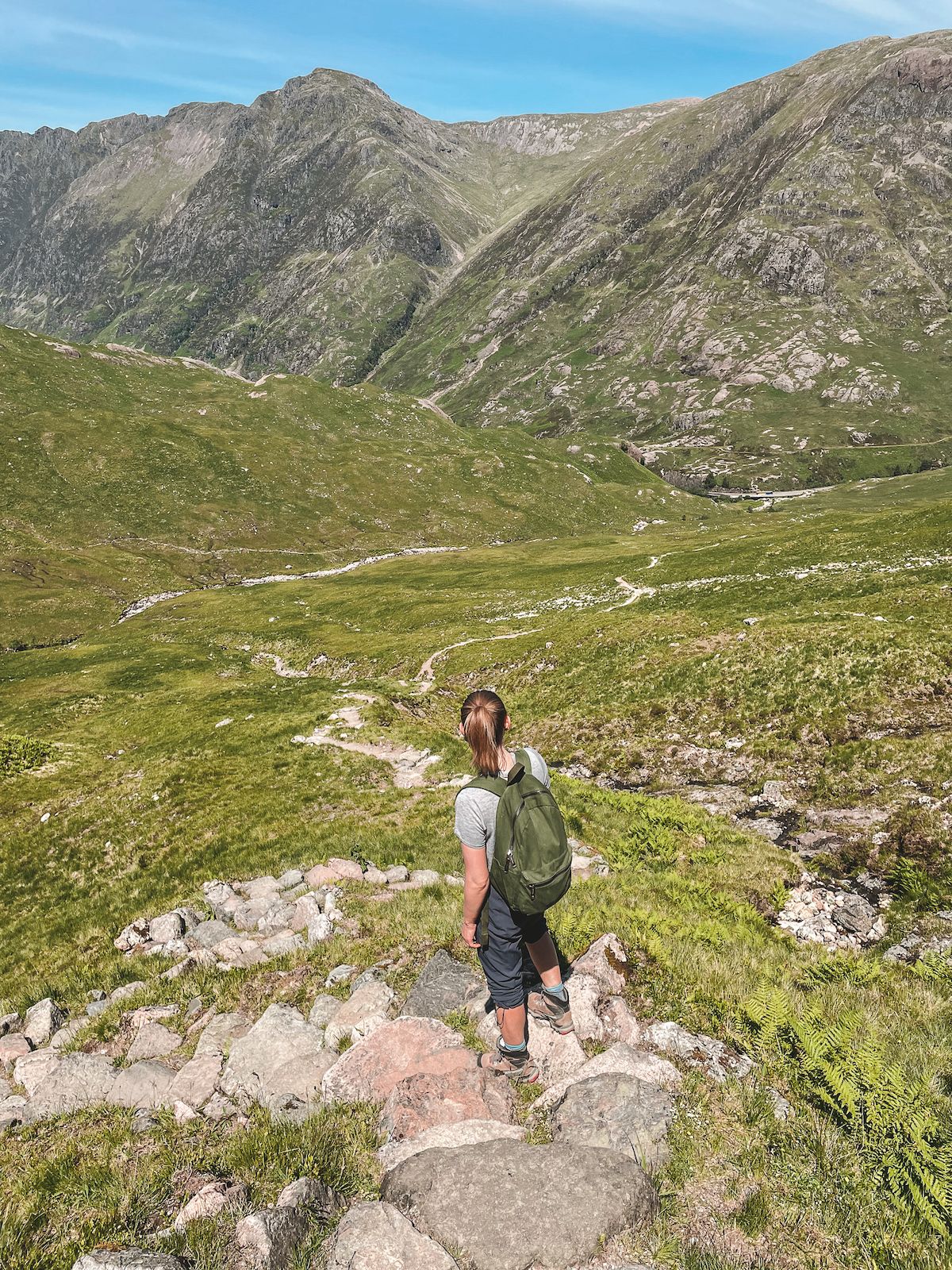 Your hike begins at the Buachaille Etive Beag car park off the A82. Follow the hiking path and keep left. You will slowly ascend until you reach steep rocky steps that take you up the side of the ridge.
At the top of the ridge, take a right towards the peak of Buachaille Etive Beag (the peak to your left is Stob Core Raineach). As you continue along the ridge to your first peak, you will start to see your destination, Stob Dubh, behind it. From the top of your first peak, Buachaille Etive Beag, Stob Dubh is just a short distance away. Once you've trudged up the final ascent, you will be rewarded with astonishing views of Loch Etive and Glen Coe's surrounding peaks. It's gorgeous up there!
After your descent, drive back to your hotel to enjoy some downtime and refuel with a hearty Scottish meal and beer along High Street.
Days 6-8: Isle of Skye
Now you're off to explore the Isle of Skye, Scotland's most famous island. The remote region is known for its otherworldly landscapes, remote fishing villages and artisan culture.  
Day 6: Fort William → Elgol
Driving time: 2.75 hours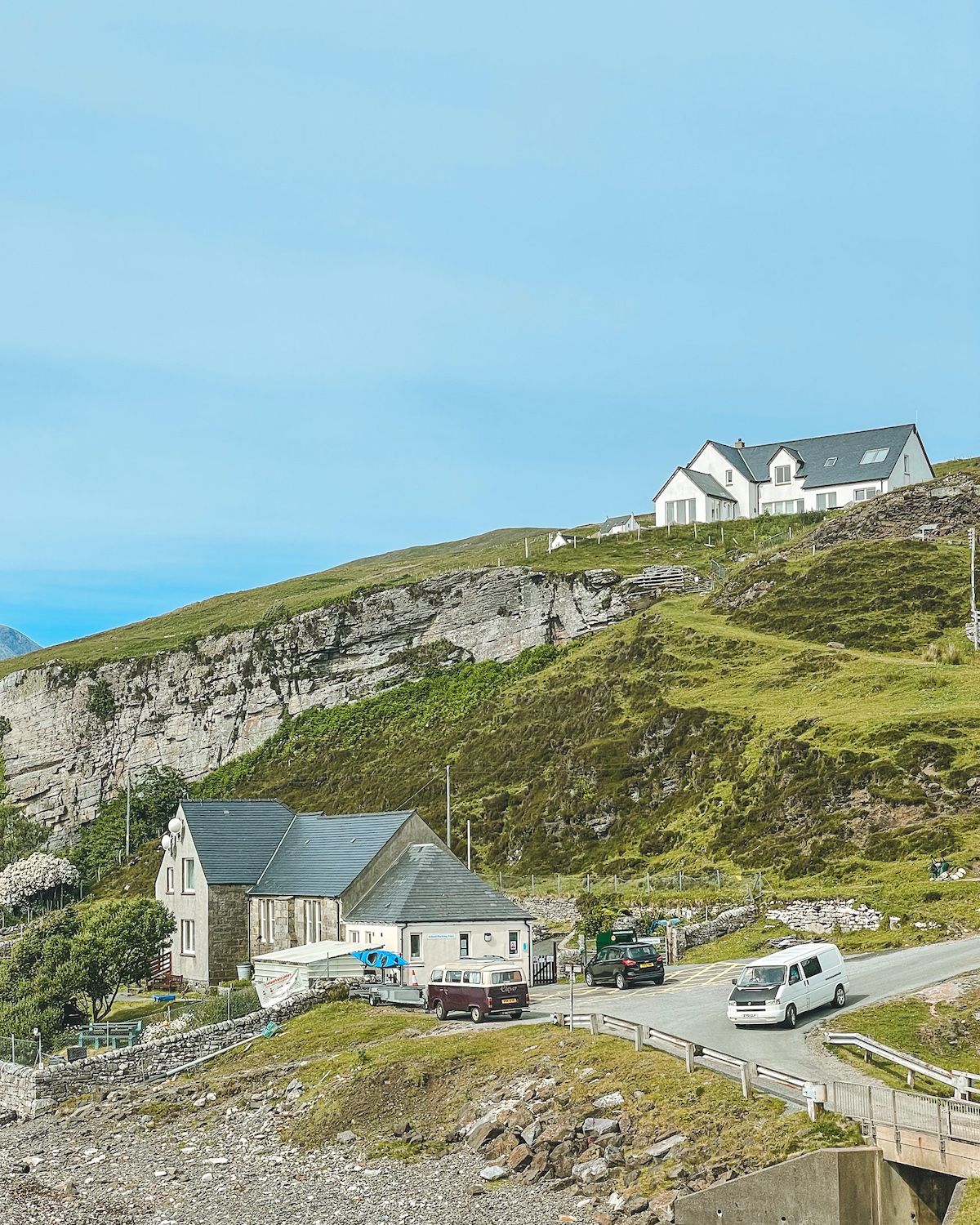 Your first destination on the Isle of Skye is Elgol, a cute fishing village off-the-beaten path. Its remote location offers some of the most striking views in Scotland.
Eat lunch in Mallaig and take the ferry to the Isle of Skye
Take the road less travelled (A830) from Fort William to Mallaig where you will catch the ferry to the Isle of Skye. We arrived in Mallaig with enough time before our ferry to walk around and eat some fresh seafood for lunch. The 40-minute ferry takes you to the village of Armadale where you will begin your adventure on the Skye.
We highly recommend reserving your ferry ticket online in advance since it can fill up. For two passengers and a car, it cost us £16.50 one way from Mallaig to Armadale.
Drive to Elgol Beach for a remarkable view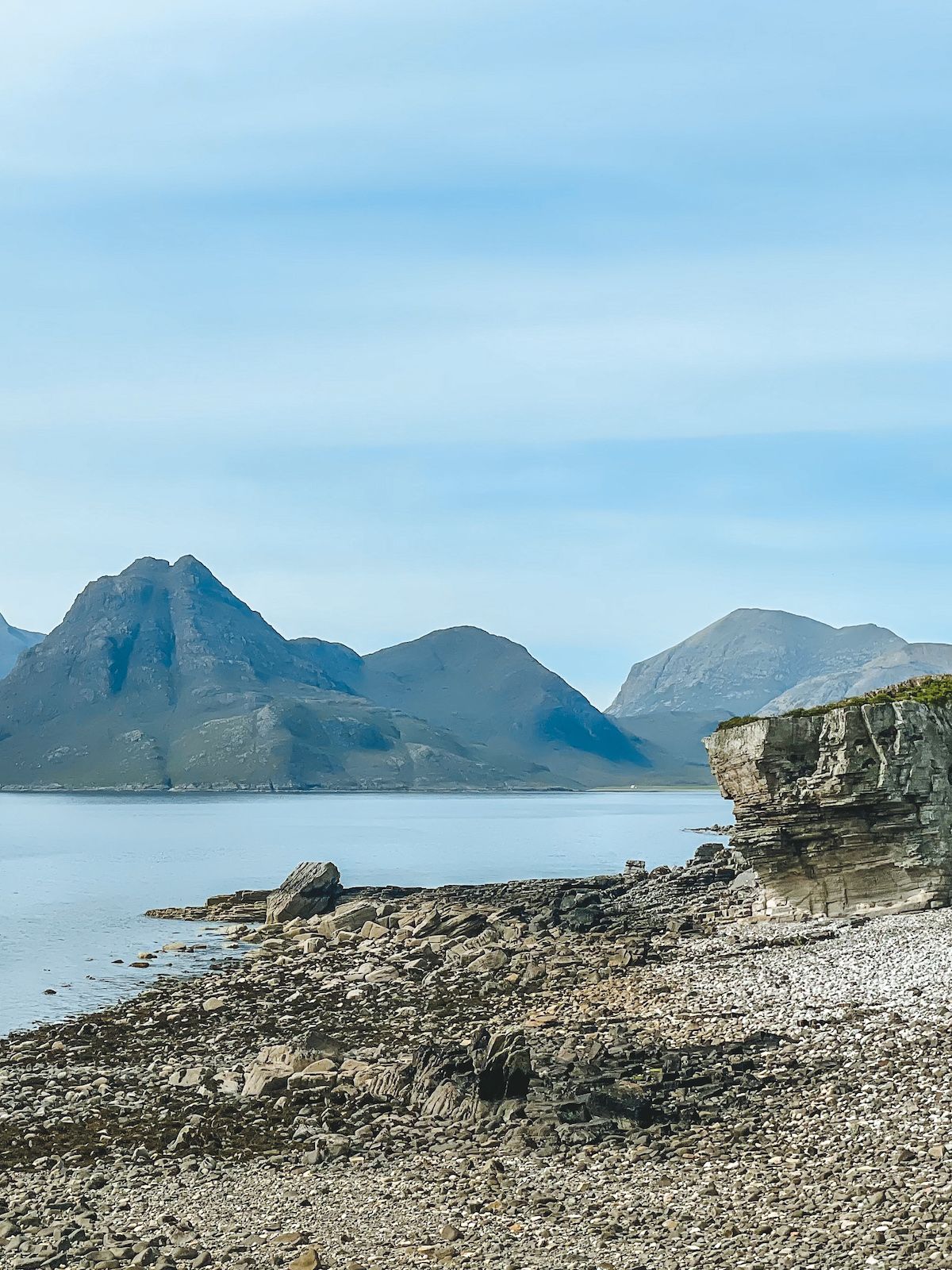 Once you arrive in Armadale it's under a 1 hour drive to Elgol. Take the calm road to Broadford and make a left onto the B8083. The B8083 meanders through the mountainous landscape and is one of the most beautiful drives in Scotland. We saw so many adorable sheep along the way.
Once you reach the quaint village of Elgol you will see a car park and a pier. Stop here for an ice cream cone and take in the marvellous views of the beach. It's a true hidden gem!
Stay at the charming Coruisk House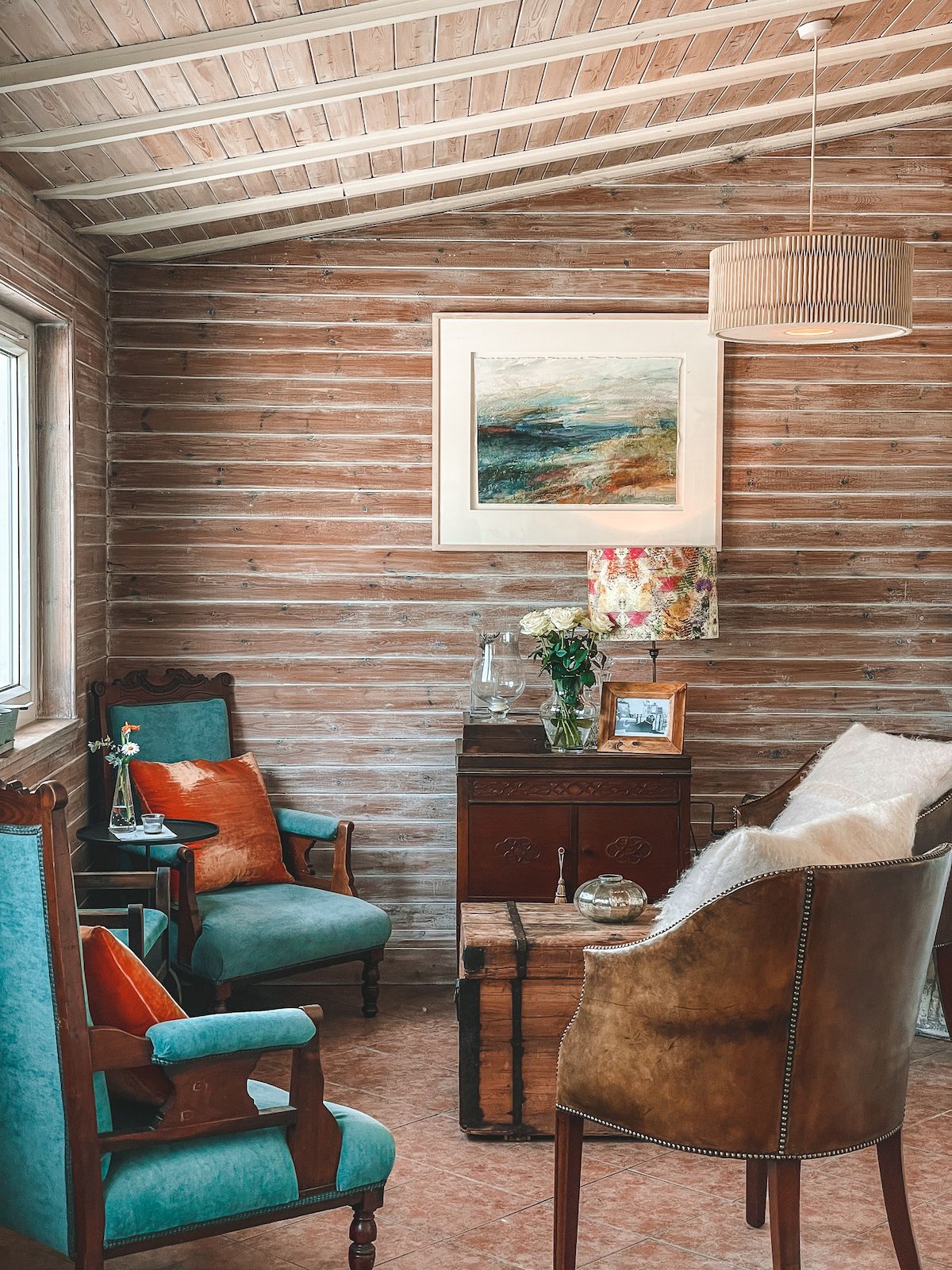 Spend a serene evening at
Coruisk House
, a traditional croft house that has one of the best restaurants on Skye. With its isolated location, it feels very peaceful here. Unwind in one of the four cozy-chic rooms and enjoy their set menu that focuses on using the freshest ingredients on the island.
Day 7: Elgol → Fairy pools  → Talisker Whisky → Edinbane
Driving time: 2.25 hours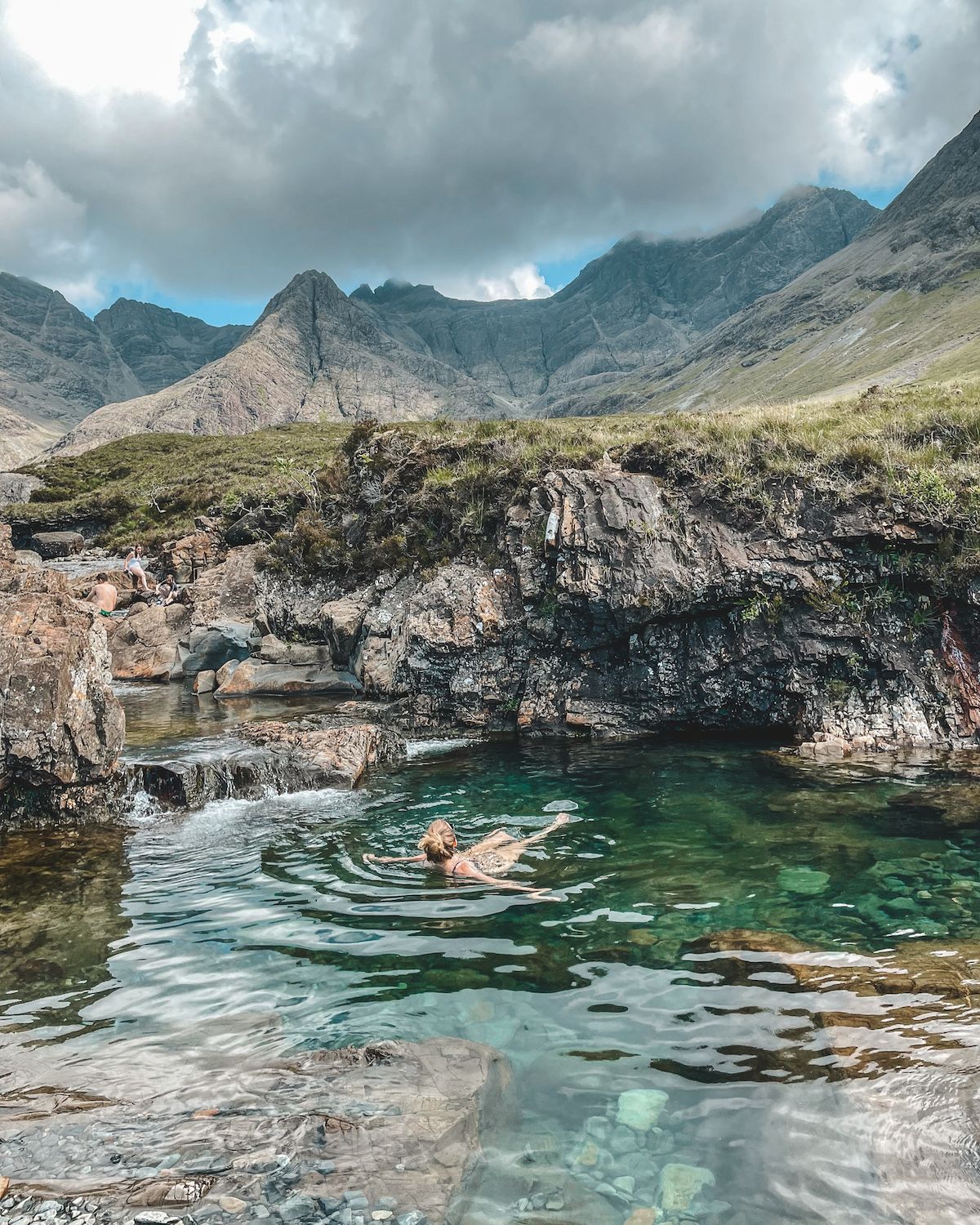 Today you will be exploring the western side of the Isle of Skye. Take the B8083 back towards Broadford for outstanding views of the Cuillins mountain range. From Broadford, it's a 45 minute drive to your first destination, the Fairy Pools.
Take a refreshing swim in the Fairy Pools
Take a dip in a series of crystal-clear pools formed by waterfalls coming off the mountain. This is a magical experience you don't want to miss and one of our favourite things we did in Scotland.
Parking costs £5 at the Fairy Pools parking lot. We paid with credit card, but bring some cash just in case the machine is down. From the parking lot, it's an easy 20-minute walk to the first pool. Don't stop here, keep going and pick out the swimming hole of your choice. We found ourselves a private one!
Top tip: bring a swimsuit, quick dry towel and water shoes for the rocky bottom.
Have a tasting at the Isle of Skye's oldest whisky distillery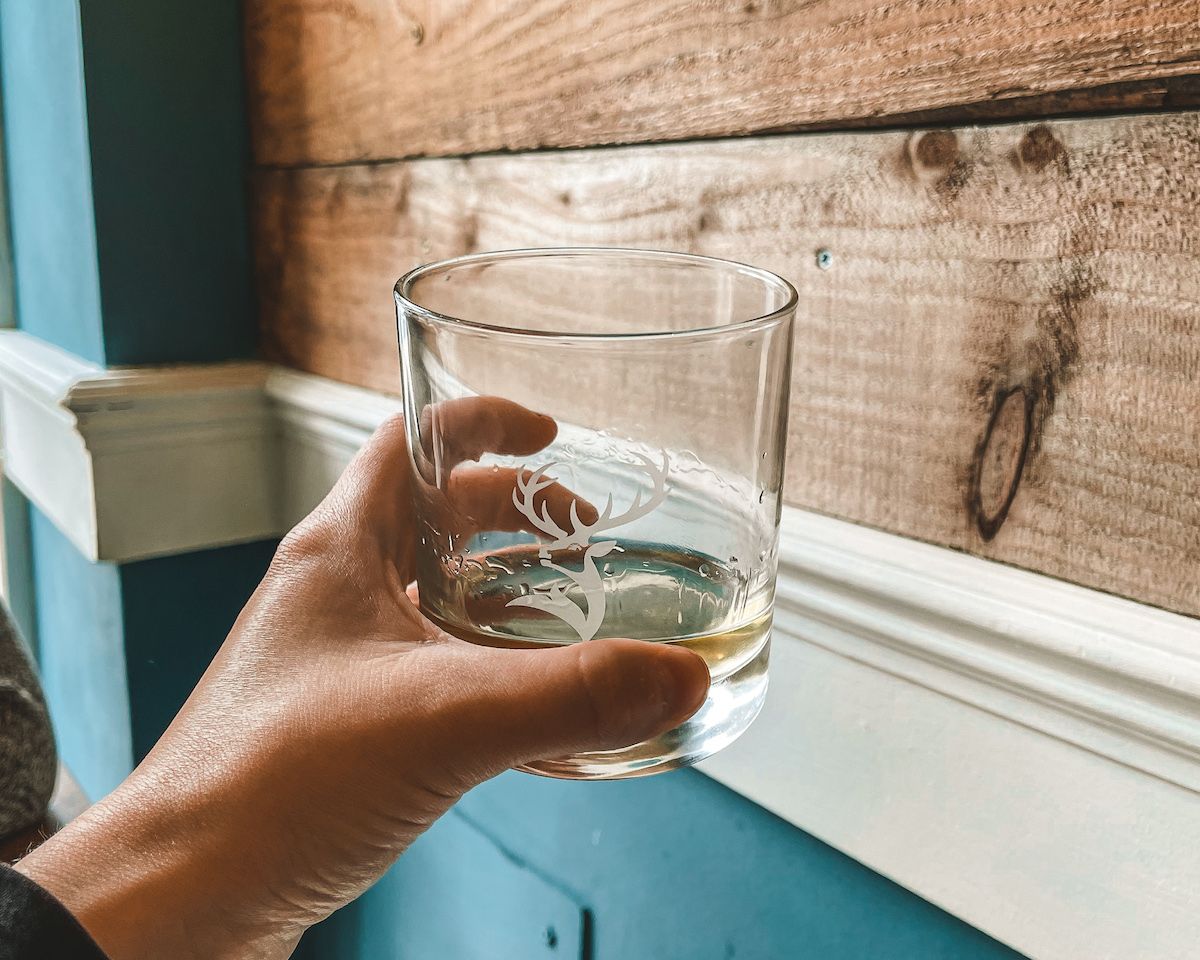 Just 15 minutes away from the Fairy Pools you will find Talisker Distillery, the oldest working distillery on the Skye. The award-winning distillery offers tours and tastings. Make sure you try their 10 year old single malt. We loved its earthiness and smokiness and brought a bottle home.
Check into a cozy hotel in Edinbane and enjoy a delicious meal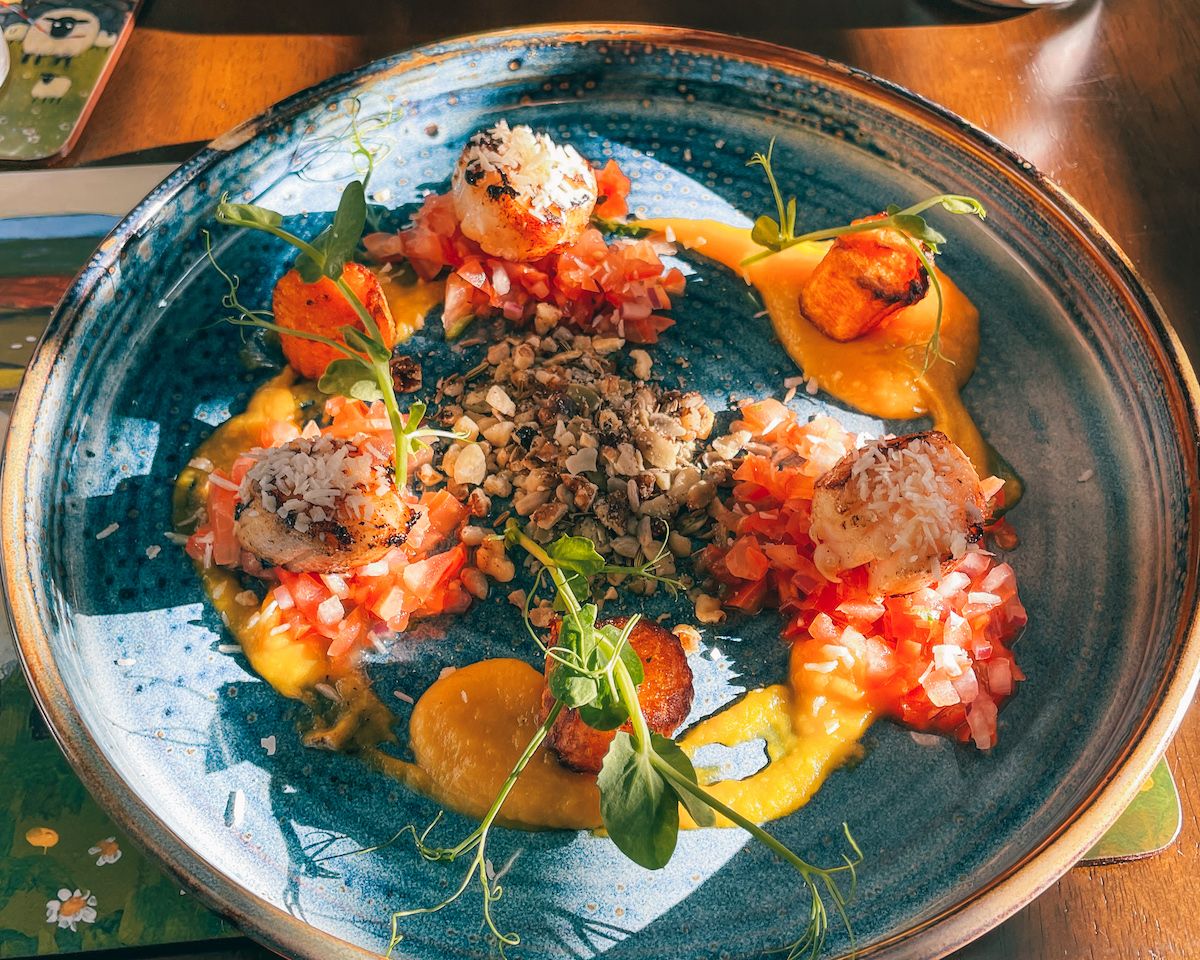 From the distillery, it's a scenic 45 minute drive to Edinbane village, a good home base for exploring the rest of the island. The sights are spectacular along the way, so prepare to make pitstops for pictures.
We stayed for two nights at Edinbane Inn, a former farmhouse with contemporary Scottish rooms.
The friendly inn is great value and has a superb pub downstairs. The pub is well priced and even listed in the Michelin Guide. They featured a fresh scallop appetizer that was so good I ordered it twice!
If you're looking for more luxurious accommodations, Edinbane Lodge is also nearby.
The 16th century hunting lodge is supposedly the oldest inn on Skye and its award-winning fine dining restaurant is one of the best on the island.
Day 8: Edinbane →  Fairy Glen → Quiraing → Portree → Edinbane
Driving time: 1.75 hours
Today you will driving a loop to explore the eastern side of the Isle of Skye that brings you back to Edinbane for the night. Bring your hiking gear with you because the loop includes two small hikes that take you to some of the most picturesque sights on the island.
Walk through the enchanting Fairy Glen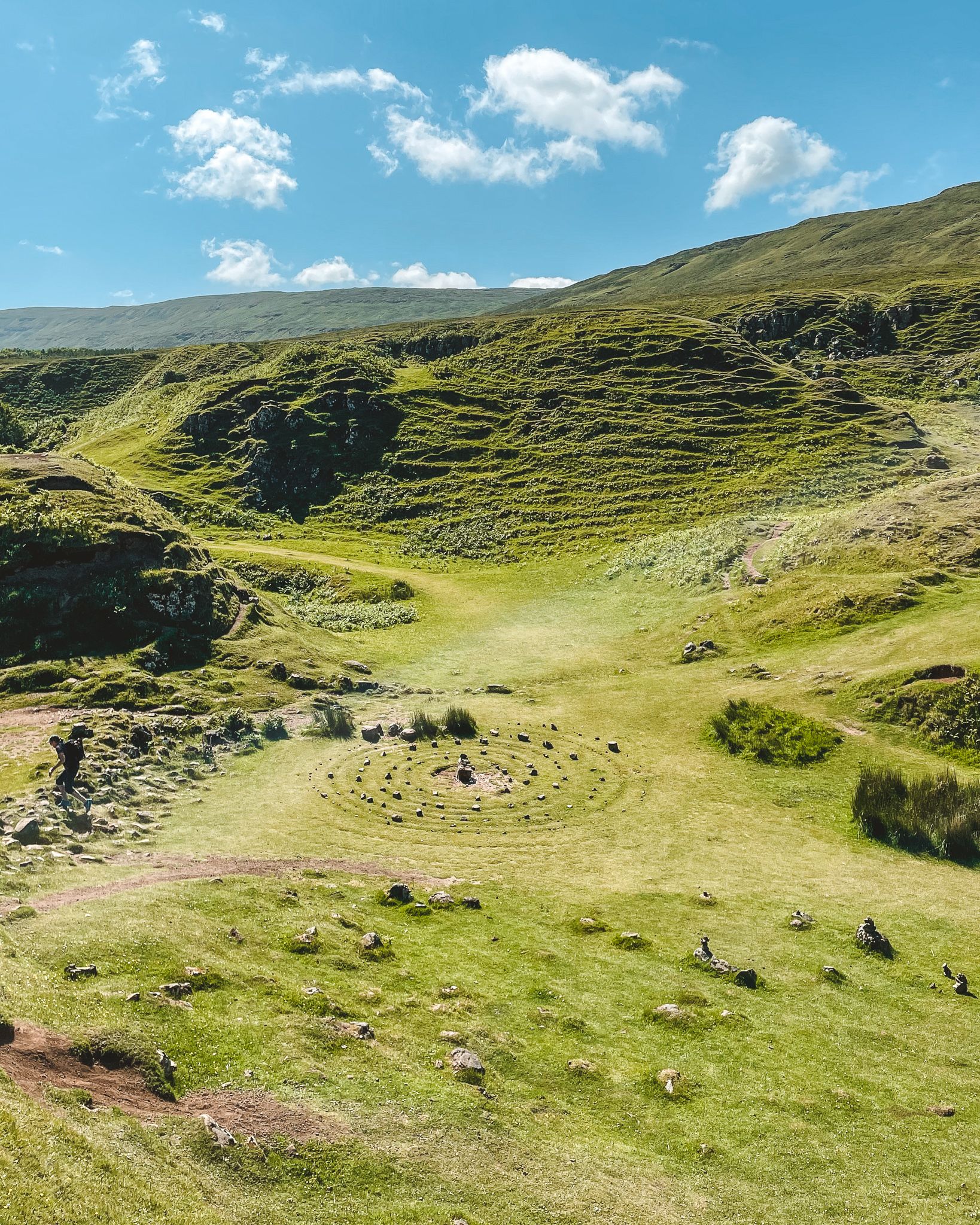 Your first stop is the Fairy Glen, a vibrant green landscape that looks like it's from a fairy tale. The short 2 km loop takes you through grassy cone-shaped hills to Castle Ewan, a natural rock formation that looks like a petrified fort. If you take a quick climb to the top you will be rewarded with a nice view.
Hike the Quiraing circuit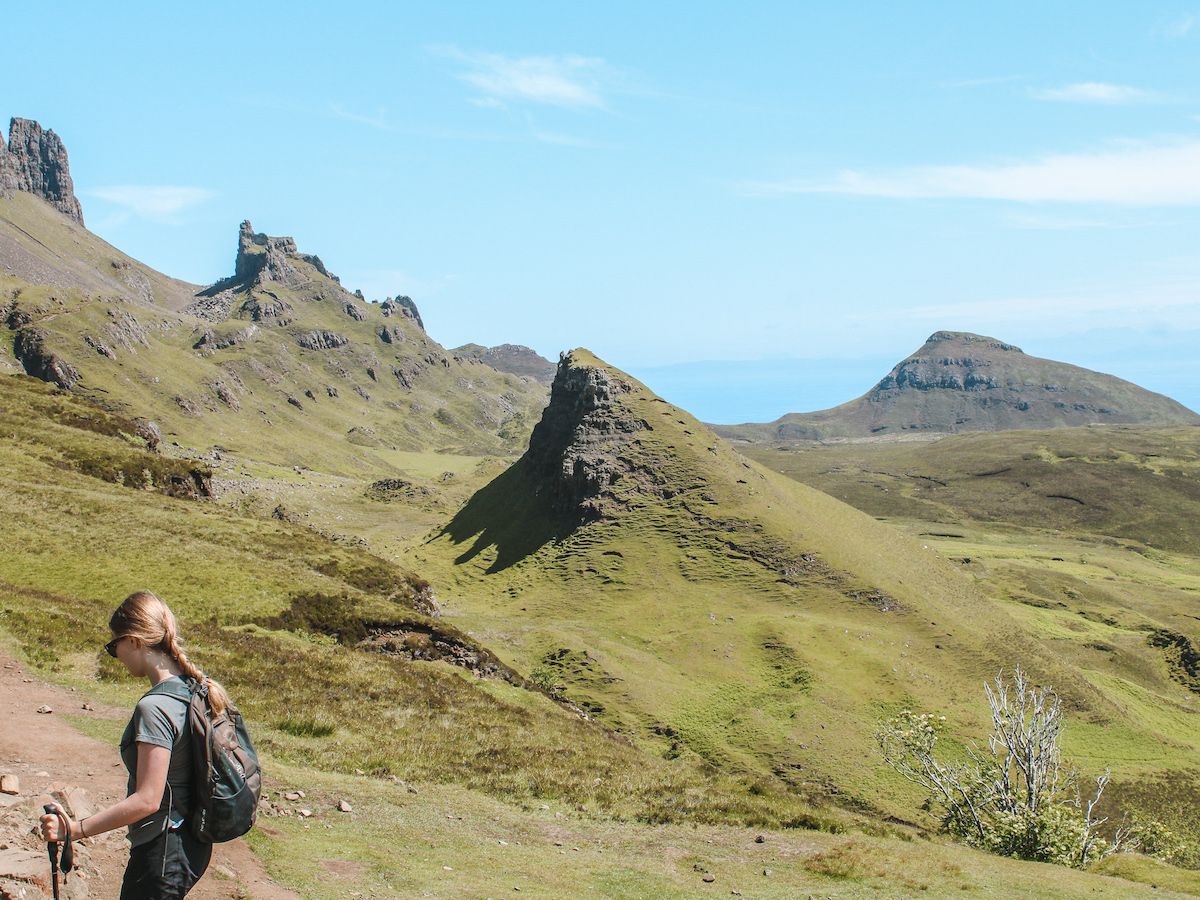 Your next stop is the Quiraing, an otherworldly looking landscape that is one the most famous viewpoints on the Isle of Skye.
The best way to take in these remarkable views is by doing the Quiraing Circuit. The 6.8km loop is one of the most impressive hikes in Scotland, taking you along ridges and up pinnacles to see panoramic views of the landscape. The hike is moderate with a total ascent of 374m.
Explore Portree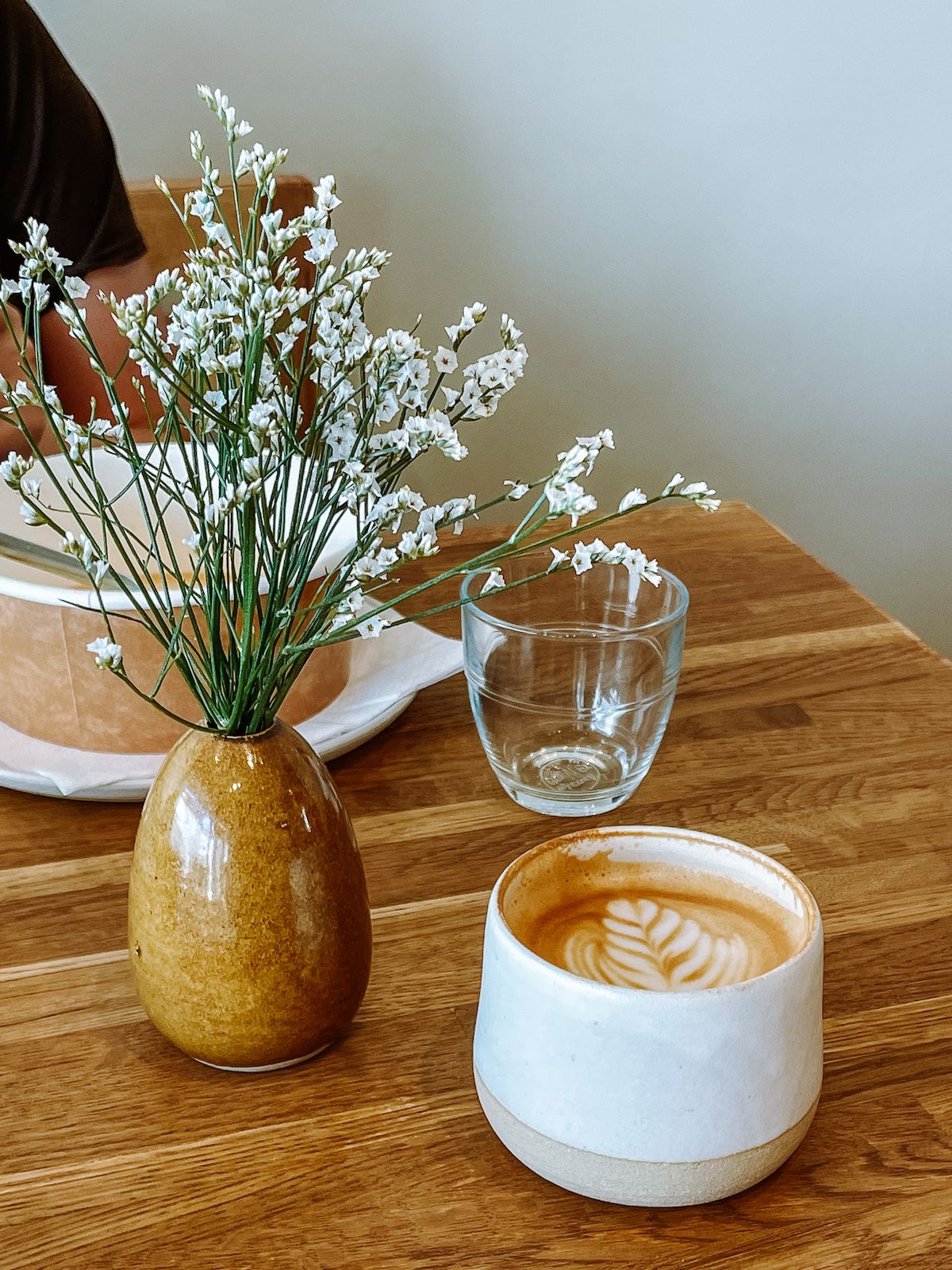 From the Quairang, it's a 40 minute drive to Portree, the Isle of Skye's largest town and capital. There are many boutiques, cafes and eateries to discover . First stop in at Birch, a vegan-friendly cafe that serves colourful salads, sandwiches and pastries.
After your lunch break, explore the streets and shop the unique boutiques. Don't miss Skyskynes, a sheepskin shop based on the Isle of Skye that has the softest sheepskins we've ever felt, and ÒR, a well-curated store of contemporary housewares, art and jewelry.
Finish your visit with a satisfying ice cream cone from the original Isle of Skye Ice Cream. Their ice cream is made on island with fresh Scottish cream and milk. It's worth the wait.
Top tip: On your way to Portree, stop in at the Old Man of Storr car park for a view of the iconic rock formation. You may recognize it from the movies The Wickerman (1973) or Prometheus. It's also one of the most famous hikes on Skye, however we found that it was a lot busier and underwhelming compared to the Quiraing circuit.
Days 9-10: Loch Ness / Fly home
Day 9: Edinbane → Foyers
Driving time: 2.75 hours
On your way back to Inverness Airport, spend the night along Loch Ness, a freshwater lake rumoured to be inhabited by a sea created called the Loch Ness Monster. Drive the scenic road less travelled (B852) on the southern side of the loch and stay near Foyers or Dores for the night.
We recommend staying at Foyers Lodge, named one of the 10 Best Hotels in the Scottish Highlands by The Guardian.
The restored 18th century Victorian retreat is uniquely designed with eclectic, yet elegant pieces and has expansive views of the loch.
Day 10: Fly home
Driving time: 45 minutes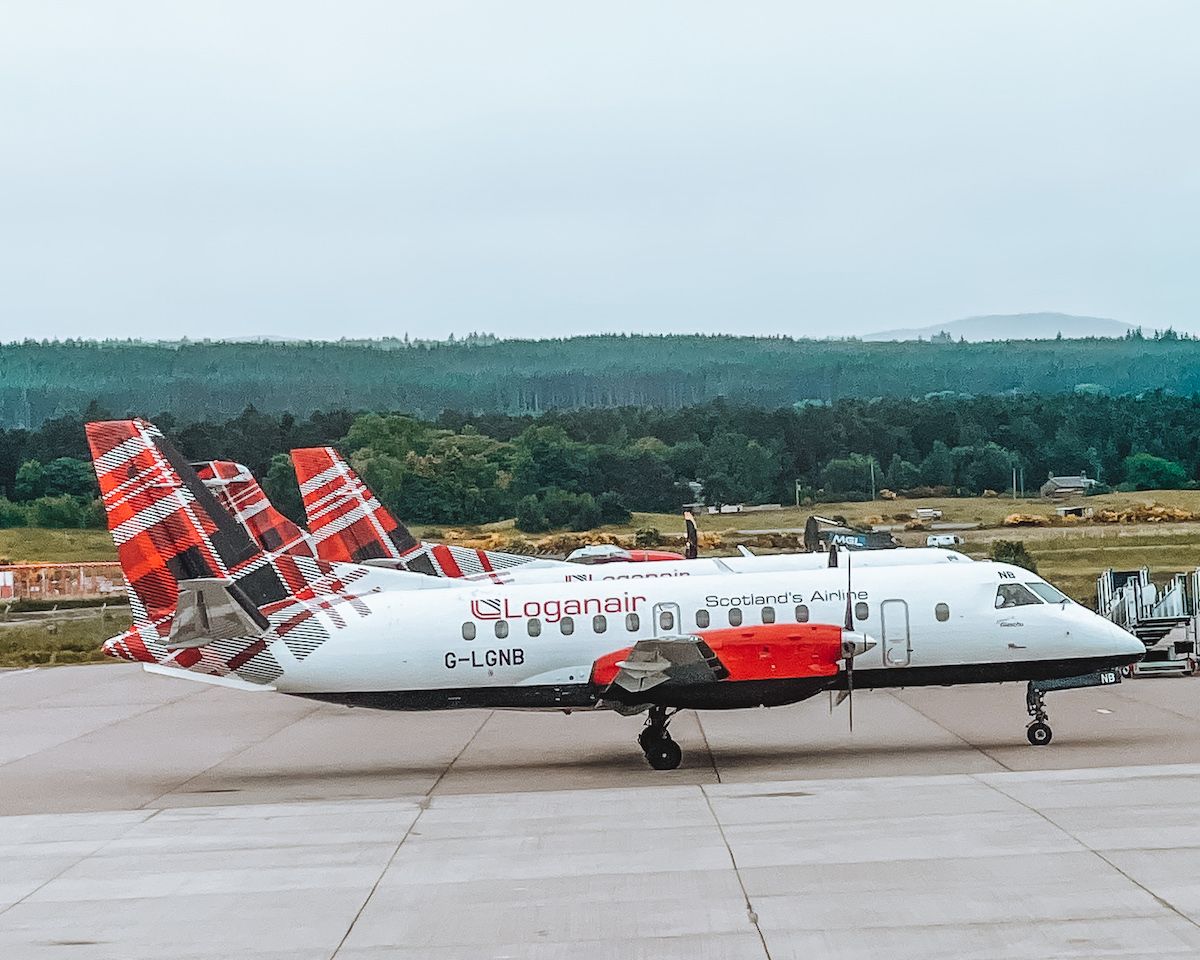 Time to catch your flight back home! The short driving distance from Loch Ness to Inverness Airport makes it easy to catch an early morning departure.
We hope you enjoy your adventurous 10 days in Scotland!
Essentials Packing List
Don't leave on your self drive tour of Scotland without these items! These were essential items we needed for our trip. Each item that is linked is what we own and highly recommend. We have used them over the years for numerous trips around the world (Patagonia, Nepal, Peru etc.).
Essential items

Hiking boots - highly recommend trying on diffrent brands to see what works for your feet
Water shoes for the Fairy Pools
Sunscreen
Midge spray
Swimsuit
Sunglasses
Start planning your Scotland Road Trip
---
Looking for a shorter road trip? Check out our 3 Day Isle of Skye itinerary.
Save and pin this 10 Day Scotland Road Trip Itinerary for later: