The Scottish Highlands are one of the most beautiful places in the world for a road trip. The remote region is known for its dramatic scenery with its rugged mountains, wild beaches, medieval castles, quaint villages, green meadows and shimmering lochs.
I went on a 10-day 'sisters road trip' to explore northern Scotland and every road we took had completely stunning views. If you only have a few days to visit the Scottish Highlands, we highly recommend doing a self-drive tour of the Isle of Skye, Scotland's most famous island. Within a few days you will see some of the most spectacular sights the country has to offer.
In your 3 day Isle of Skye road trip you will explore remote villages, swim in crystal-clear natural pools, hike through jaw-dropping landscapes, visit an award-winning whisky distillery, visit artisan shops and eat Scottish cuisine made with the freshest Highland ingredients.
Outline: Isle of Skye Road Trip
Disclosure: Some of the links below are affiliate links, meaning at no additional cost to you, we will earn a commission if you click through and make a purchase. We only recommend products or services we have used or that we believe will add value to our readers. Thank you for supporting us!
Best time to visit Isle of Skye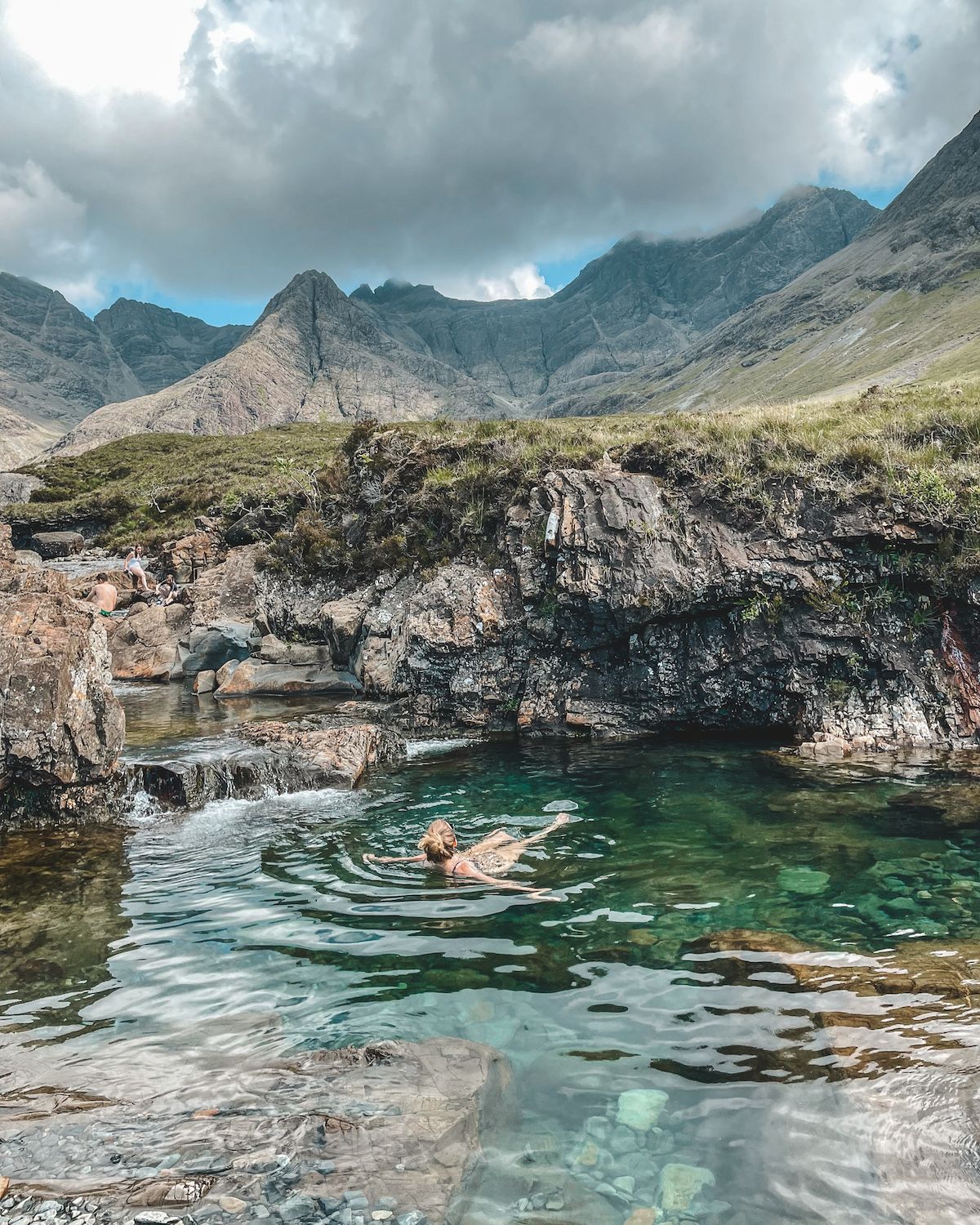 We were so lucky with the weather in Scotland. The Scottish Highlands get over 250 days of rainfall a year and we had 7 straight days of sun (a rarity). We visited at the end of June, however you never know what to expect.
The best time to visit the Isle of Skye is in June. There are a few reasons for this:
You will beat the high season rush in July/August that sees higher prices and more tourists.
The weather is pleasant (it's the warmest month after July/August) and it's possible to swim in the Fairy Pools without freezing!
It's the sunniest and driest month on average after May
How to get to the Isle of Skye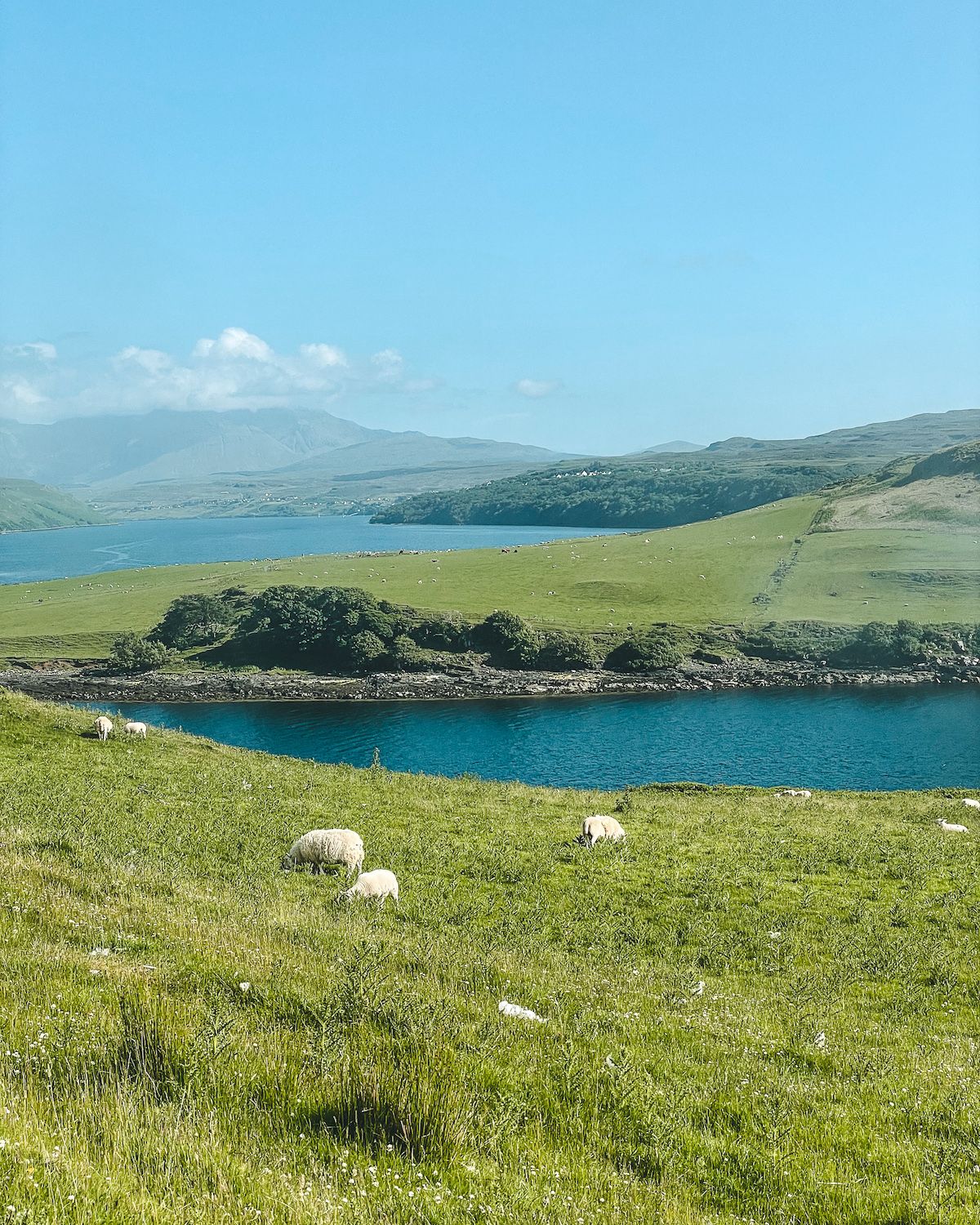 The easiest way to get to the Isle of Skye is by flying to Inverness Airport and starting your road trip from there. From Inverness Airport it's a 2 hour drive to the start of the island.
It's a breeze picking up your rental car right at the airport. You can easily compare car rental rates across different companies with
Rentalcars.com
.
Top tip: rent a small car! Some of the roads are quite narrow on the Isle of Skye and you will be happy to have as much room as you can get.
Isle of Skye Road Trip Map
Isle of Skye Road Trip Itinerary
Day 1: Inverness Airport → Elgol
Total driving time: 2.75 hours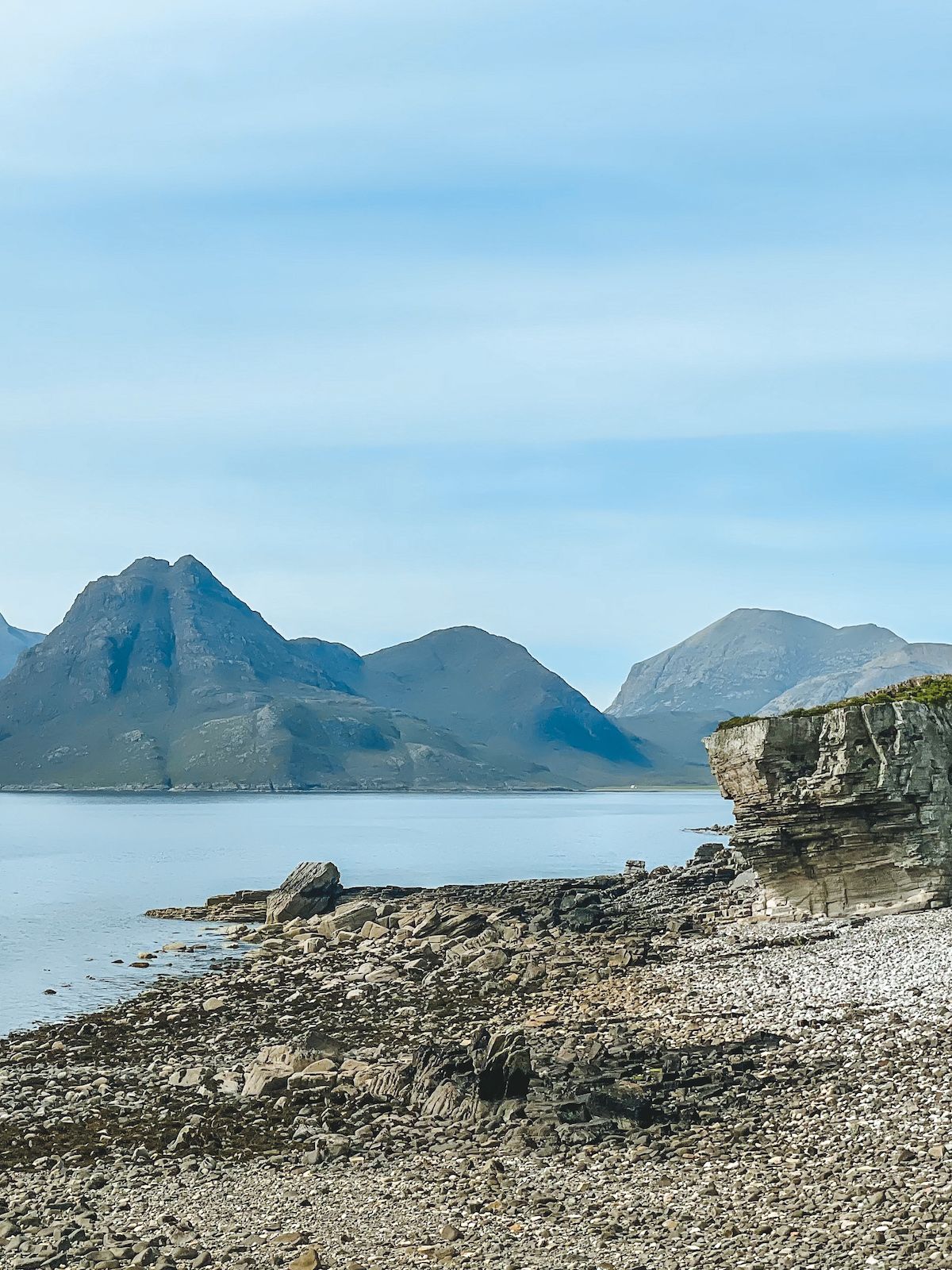 Your first day of driving will take you to Elgol, a tiny fishing village completely off the beaten path. Once you arrive on the Isle of Skye, keep driving down the main highway (A87) until you reach the town of Broadford. From Broadford take a left on B8083, a narrow road that is one of the most scenic drives in Scotland. The road meanders through the landscape with dramatic views of the Cuillin mountains. There were so many cute grazing sheep along the way!
Take in breathtaking views of Elgol Beach
Take the road to the very end until you reach the Elgol Beach viewpoint. Here, you will be rewarded with one of the best views in the country. Park your car, grab a soft serve ice cream cone and walk around Elgol Pier to take in the gorgeous sights.
Spend a peaceful evening at Coruisk House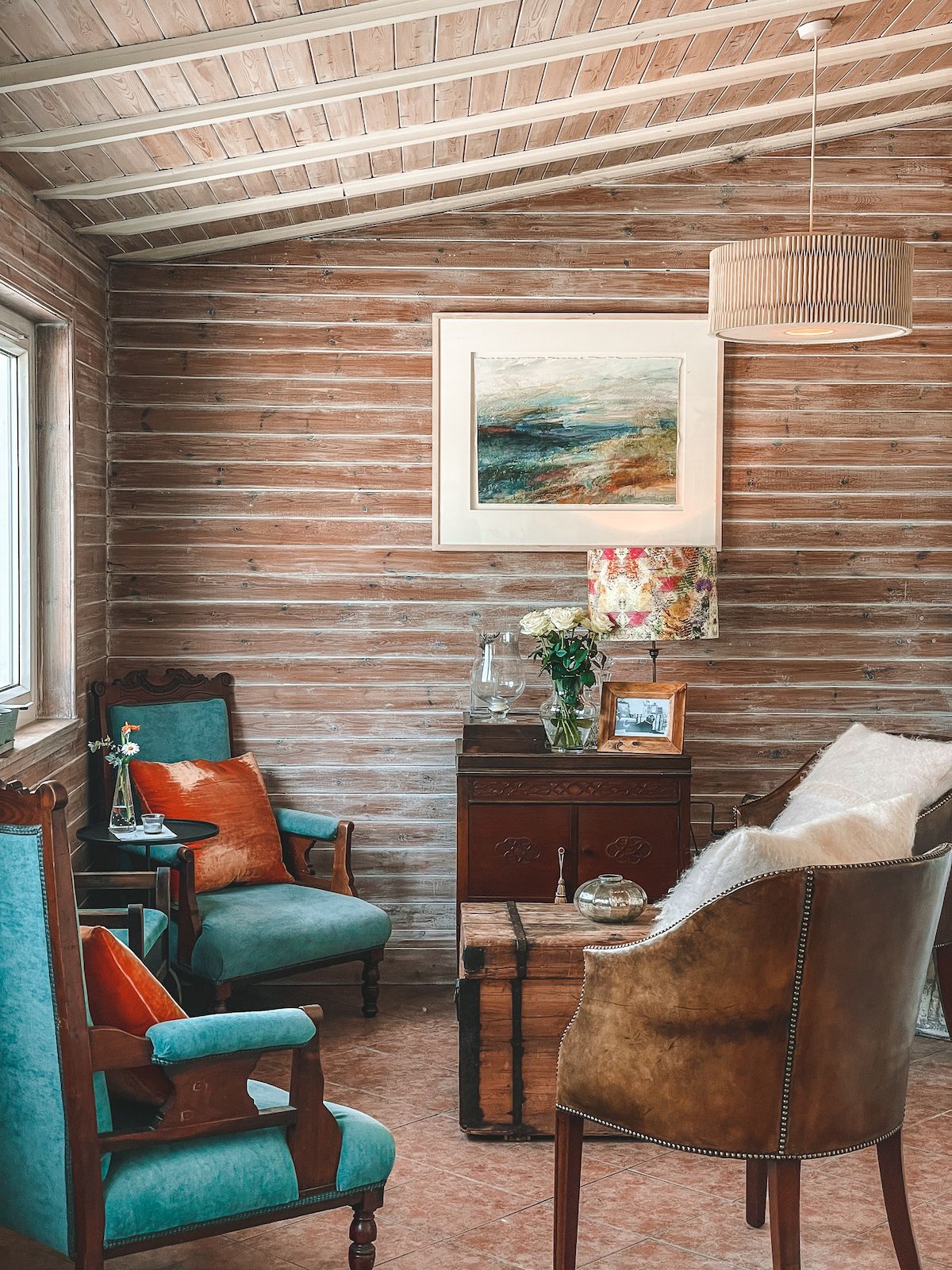 We stayed nearby at Coruisk House, a hidden gem that has one of the best restaurants on the Isle of Skye.
The owners are a husband and wife duo who left their careers as London lawyers behind to start this new venture. Although it's in a remote location, their restaurant has been recognized by the Michelin Guide. The setting was very serene and peaceful here.
With only four hotel rooms in the traditional croft house, be sure to book your stay far in advance to avoid disappointment.
Day 2: Elgol → Fairy Pools → Talisker Distillery → Edinbane
Total driving time: 2.25 hours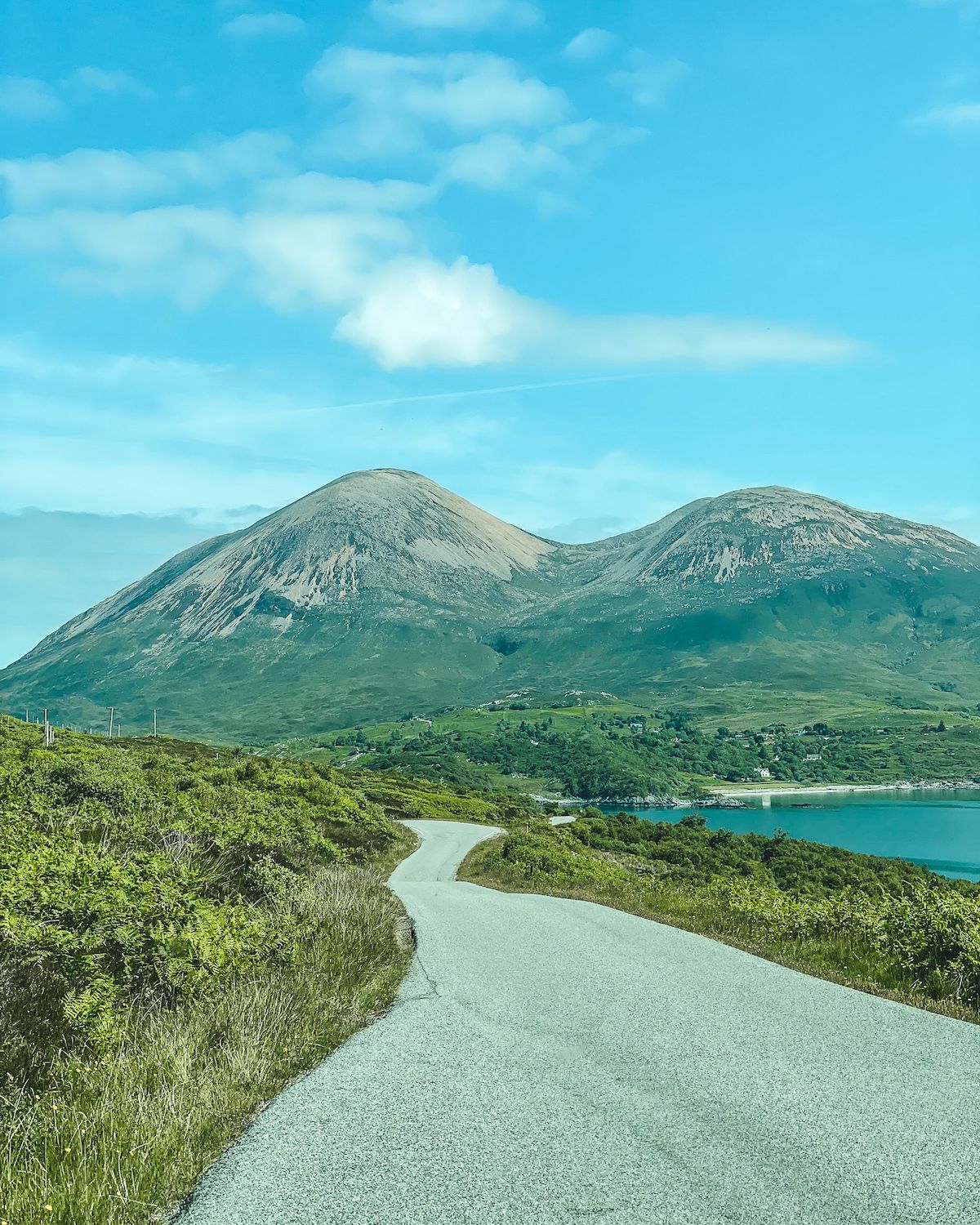 Today you will be exploring the western side of the Isle of Skye. On your drive back up the B8083 to the main highway you will have incredible views of the Cuillin mountain range. Once you reach Broadford, it's just a 45 minute drive to your first destination, the Fairy Pools.
Take a dip in the Fairy Pools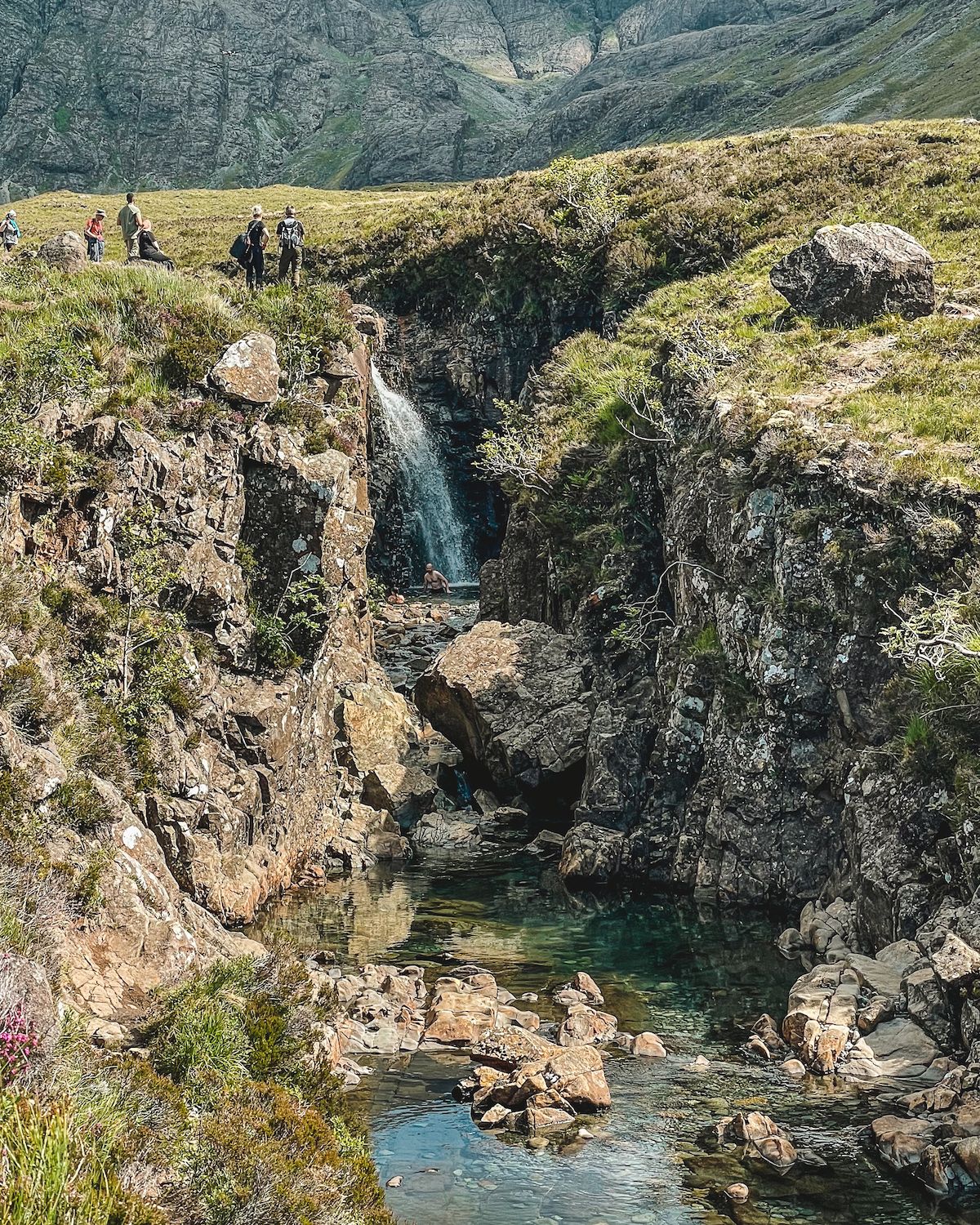 Swimming in the Fairy Pools was so refreshing and our favourite thing we did in the Skye. The crystal clear pools are formed by waterfalls that cascade down the Cuillin Mountains. It was magical!
When we first arrived we were anxious because the car parking lot was completely full and they weren't letting any cars in! We were instead directed by an attendant to keep driving. If this happens to you, don't worry. Keep driving to the end of the road and take a break at the the Grenbrittle Campsite & Cafe. We got a coffee and some pastries and played a game of Scrabble at a picnic table. After about an hour we drove back up to the parking lot and there were lots of spots available.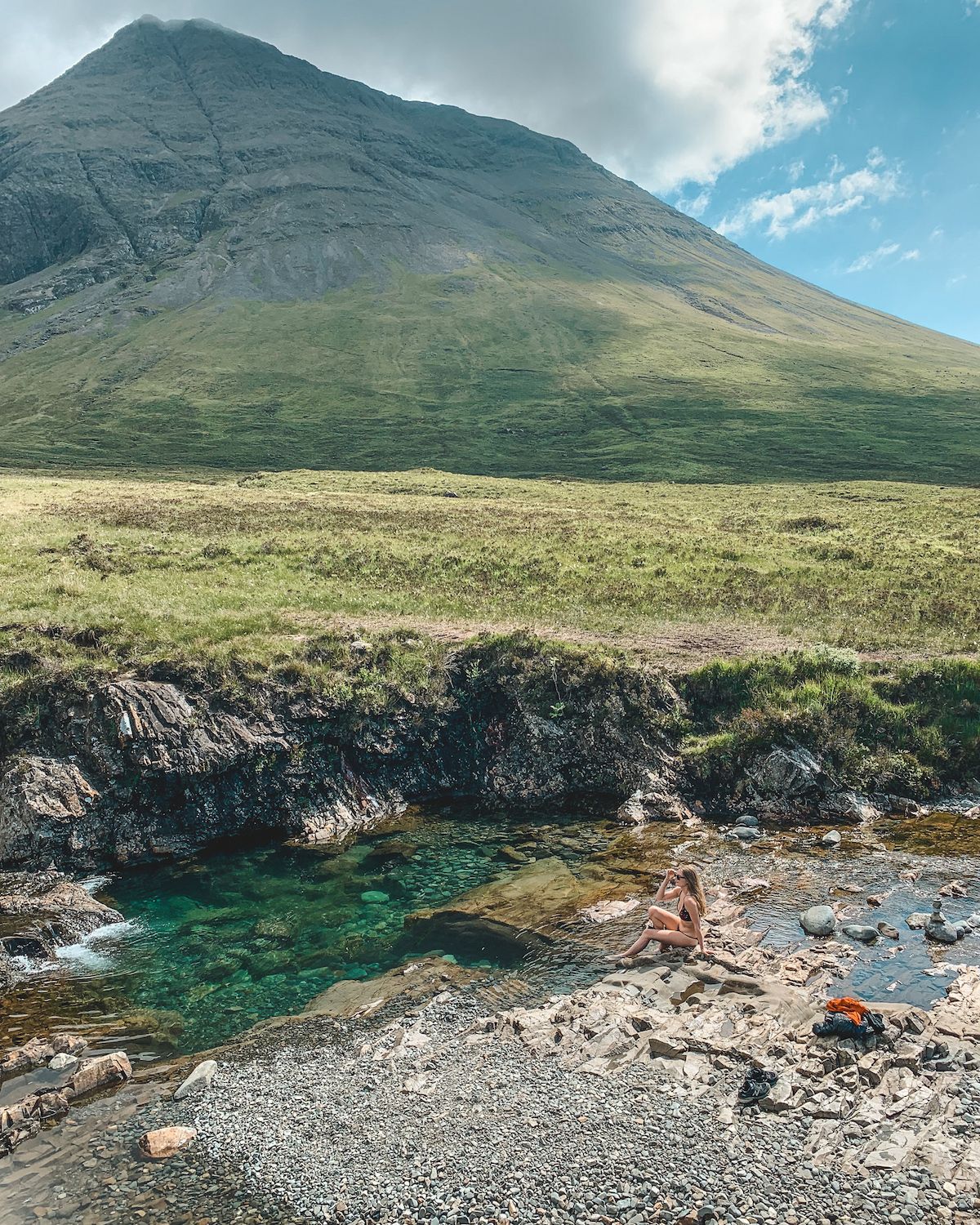 Parking costs £5 at the Fairy Pools parking lot. We paid with credit card, but bring some cash just in case the machine is down. From the parking lot it's an easy 20 minute walk to the first pool. Don't stop at the first one, keep walking along the trail to find more pools. After about 5-10 more minutes of walking we found ourselves a private little swimming hole.
Top tip: don't for get to bring your swimsuit and a quick dry towel. Water shoes also come in handy since it's a rocky bottom.
Have a whisky tasting at Talisker Distillery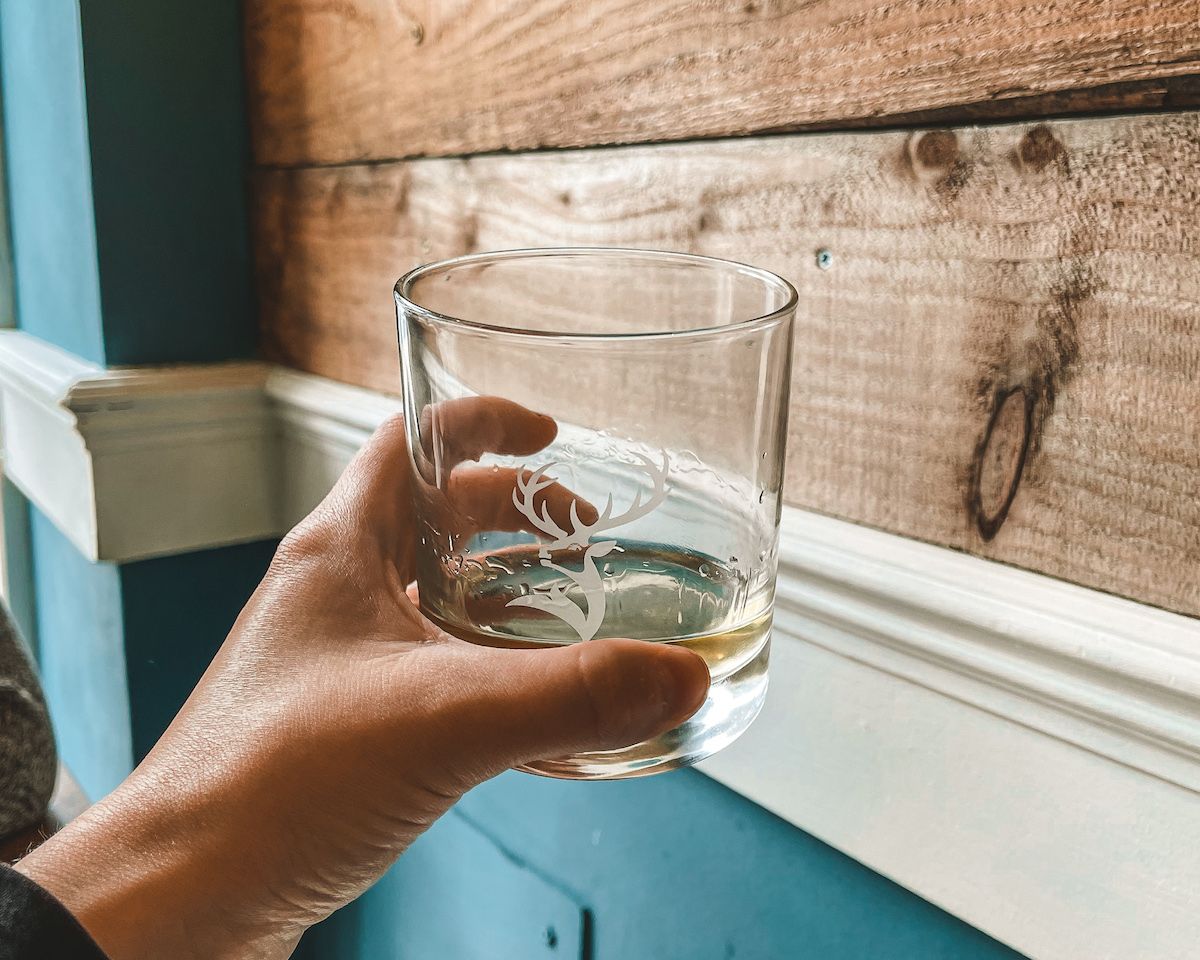 Scotland takes pride in their whisky (and note that's whisky without an "e", unlike Ireland). The award winning Talisker Whisky has the oldest working distillery on the Skye and is just a 15 minute drive away from the Fairy Pools.
We sadly were unable to go because it was temporarily closed due to the pandemic, but would have gone in a heartbeat. We were lucky to try their whisky a few times at restaurants and it was by far our favourite. We loved the earthiness and smokiness of the 10 year old single malt and bought a bottle to take home. Funny enough, I found out later it was my grandfather's favourite whisky brand!
Check into the cozy Edinbane Inn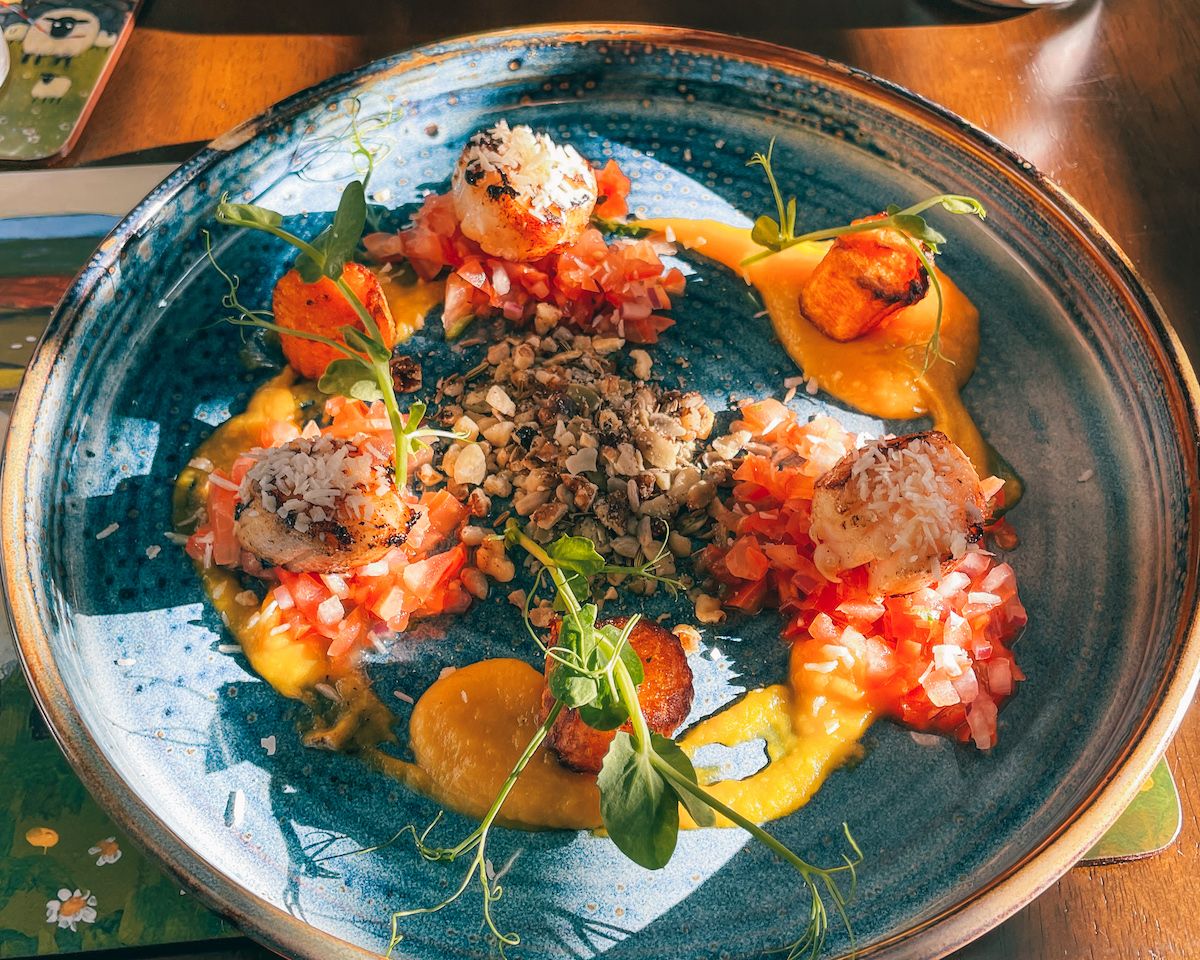 From Talisker Distillery, it's a scenic 45 minute drive along the west coast to the small village of Edinbane. Edinbane is a good home base for exploring the rest of Skye.
We stayed for two nights at Edinbane Inn, a former farmhouse with contemporary Scottish rooms.
The cozy and friendly inn is great value and has an excellent pub downstairs. The pub is well priced and even listed in the Michelin Guide. They had a fresh scallop appetizer on feature and it was so good I ordered it twice!
If you're looking for more luxurious accommodations, Edinbane Lodge is also nearby.
The 16th century hunting lodge is supposedly the oldest inn on Skye and its award-winning fine dining restaurant is one of the best on the island.
Day 3: Edinbane → Fairy Glen → Quiraing → Portree →Edinbane
Total driving time: 1.75 hours
Today you will explore the eastern side of the Isle of Skye in a loop that brings you back to Edinbane for the night. Bring your hiking gear with you, because this route includes a couple short hikes with some of the most incredible sights on the island.
Walk through the Fairy Glen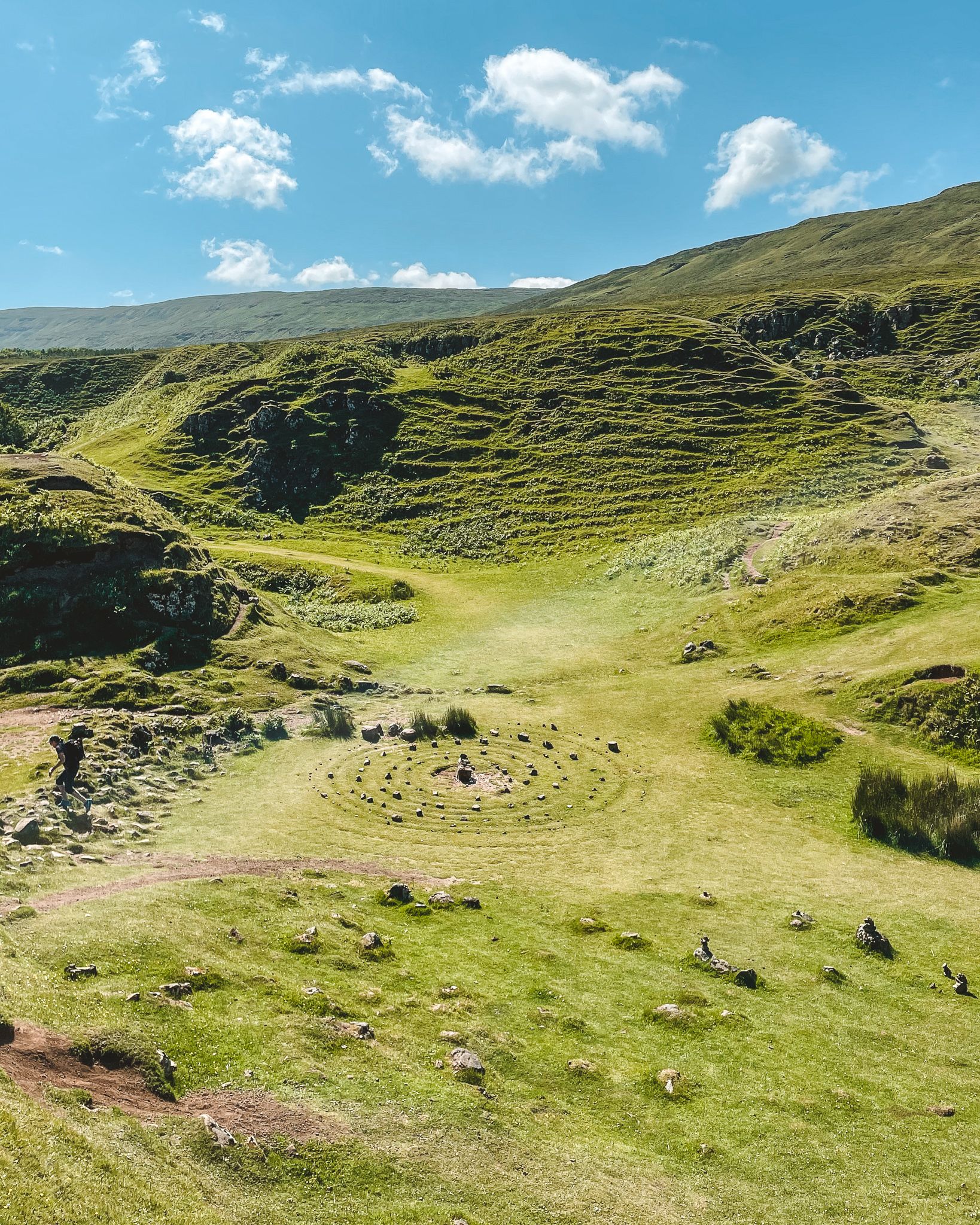 Your first stop is the Fairy Glen, an enchanting walk that takes you on a short 2km loop through grassy cone-shaped hills. The vibrant green colour of the area is like what you imagine in fairytales. If you take a quick climb to the top of the natural rock formation, Castle Ewan, you will be rewarded with a nice view.
Hike the Quirang Circuit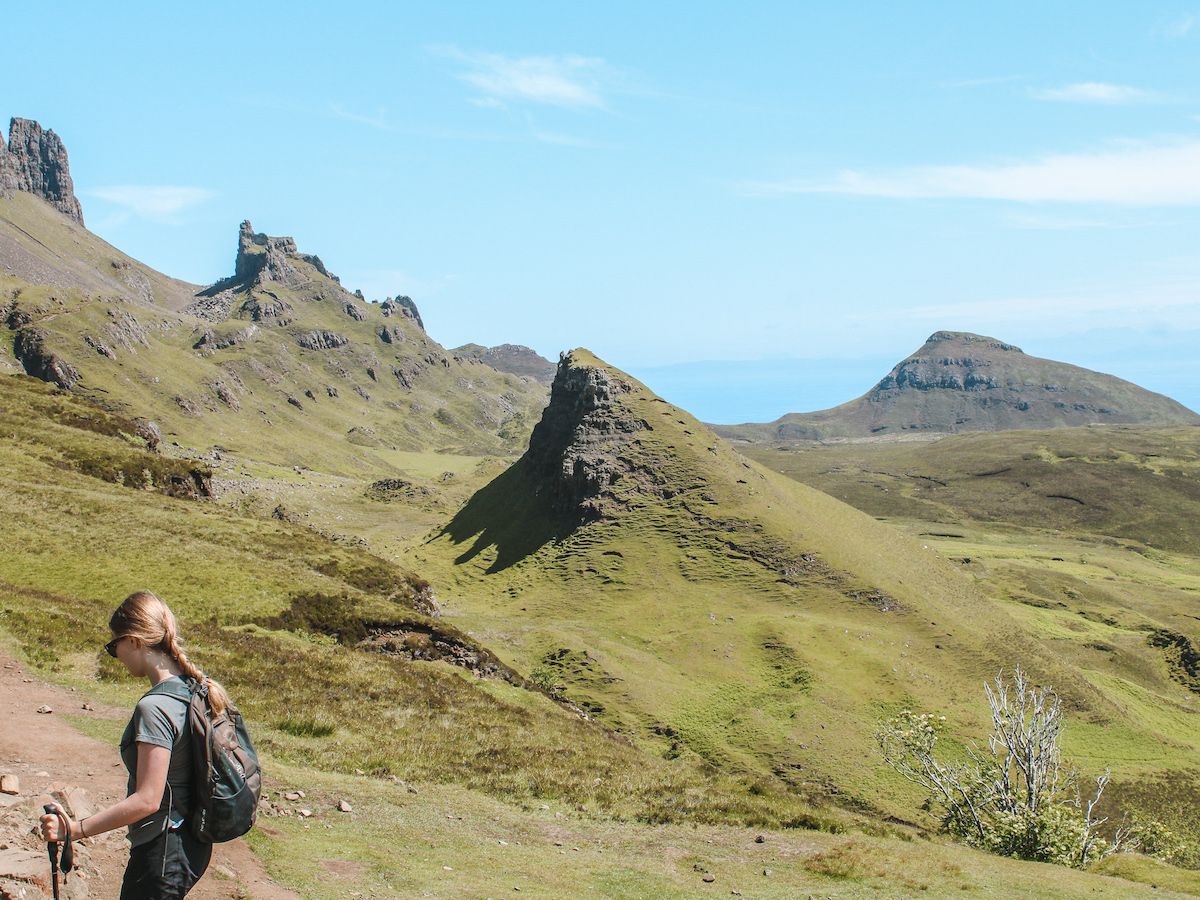 Your next stop is the Quiraing, one of the most famous viewpoints on the Isle of Skye. The area looks almost supernatural and has been used as a filming location in movies, such as Macbeth and Stardust.
The best way to take in these magnificent views is by doing the Quiraing Circuit. The 6.8km loop is one of the most beautiful hikes in Scotland, taking you along ridges and up pinnacles to see panoramic views of the area. The hike is moderate with a total ascent of 374m. Bring a good pair of hiking shoes or boots.
Explore Portree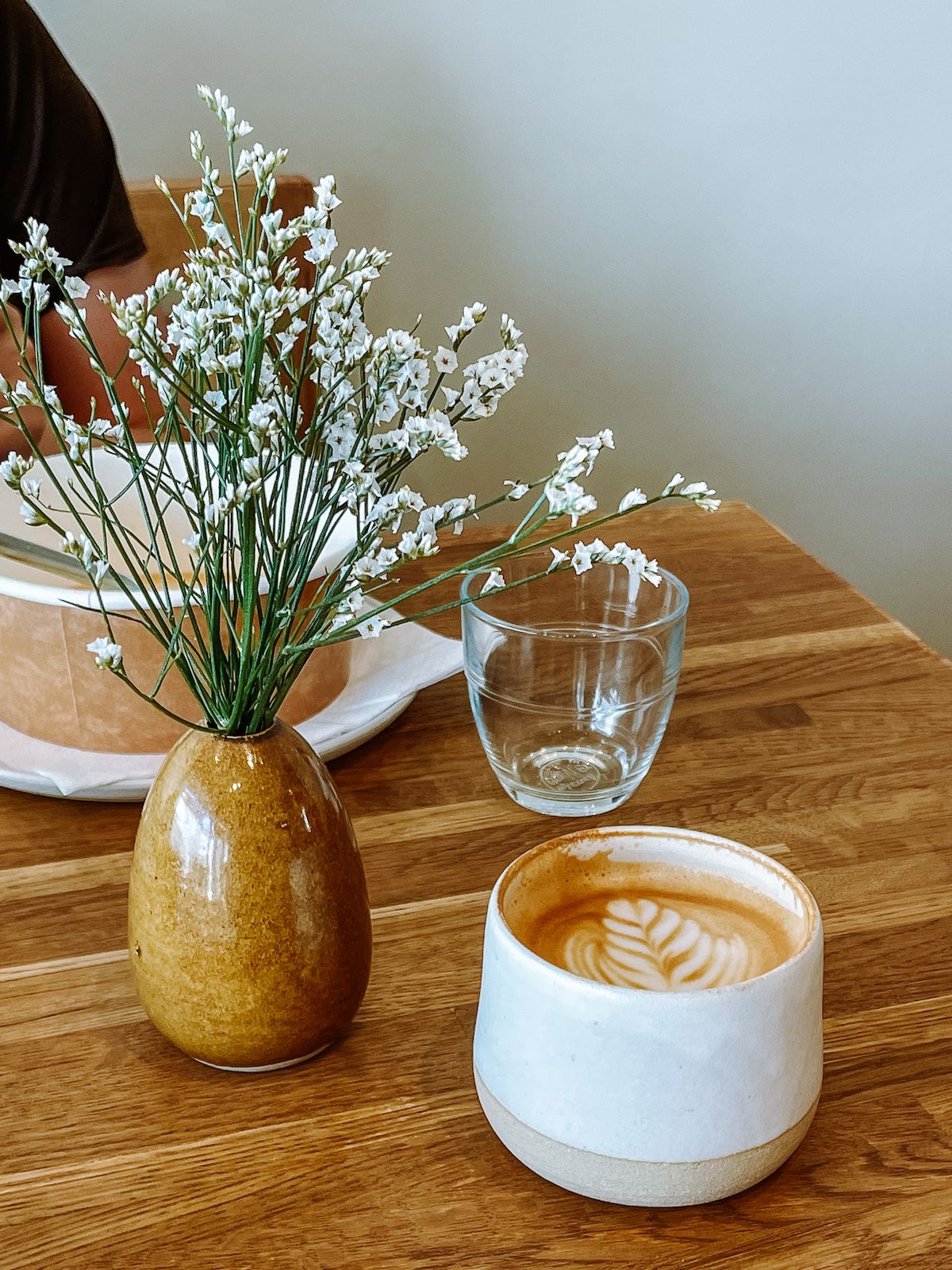 On your way to Portree, stop in at the Old Man of Storr car park for a view of the iconic rock formation. You may recognize it from the movies Prometheus or The Wickerman (1973). It's also one of the most famous hikes on Skye, however we found that it was a lot busier and underwhelming compared to the Quiraing circuit.
After taking a peek of the Storr, it's under a 15 minute drive to Portree, the largest town and capital of the Isle of Skye. The cute town is filled with boutique shops, cafes and eateries.
Before you set off shopping, take a coffee and lunch break at Birch, a vegan-friendly joint with amazing salads.
Our two favourite artisanal shops were Skyeskynes and ÒR:
Skyskynes is a sheepskin shop based on the Isle of Skye that has the softest sheepskins we've ever felt. I couldn't help buying a few for my place back home. The boutique shop also has a delightful cafe outside where you can sit on their sheep skins.
ÒR is well-curated shop of contemporary housewares, jewelry and art. It was one of those situations where we had to force ourselves to leave because we kept picking out stuff to buy!
Afterwards, finish your visit with a delicious ice cream cone from the original Isle of Skye Ice Cream. It's worth the wait. I chose the banana fudge flavour mmm.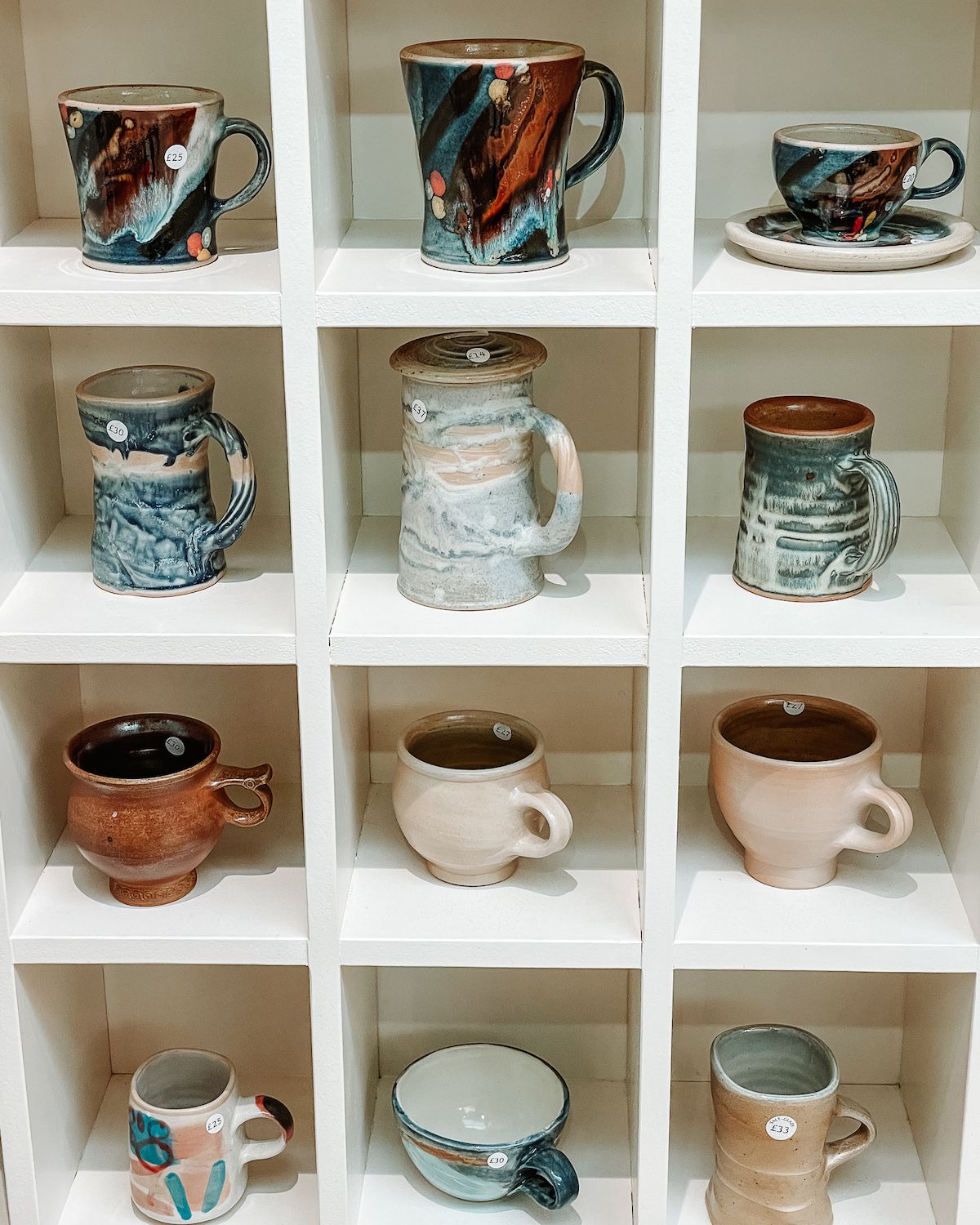 After spending time in Portree, it's about a 20 minute drive back to Edinbane. We liked staying two nights here because we didn't have to worry about packing up our bags in the morning and checking into a new place. We were free to roam for the day.
Don't miss browsing the Edinbane Pottery shop, located just a 1 minute walk away from Edinbane Inn. Each piece is handmade and uniquely decorated.
I loved how there were art studios spread throughout the Isle of Skye. It reminded me a lot of Salt Spring Island back home. Check out this brochure, which lists 42 artisanal studios and galleries on Skye and add some more to your route!
Day 4: Edinbane → Inverness Airport
Total driving time: 3 hours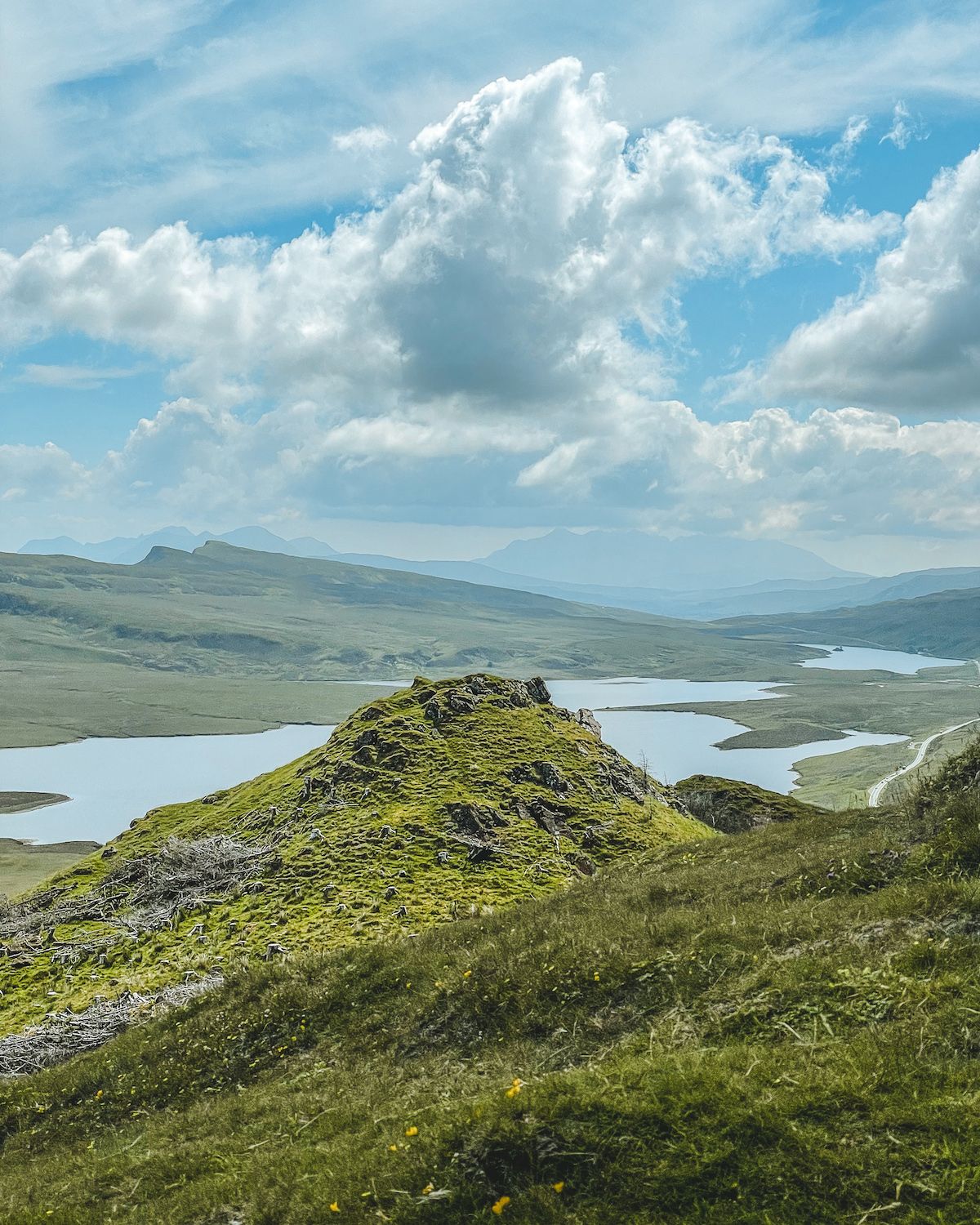 Today you will be driving back to Inverness Airport. Be sure to take the route along Loch Ness, a freshwater lake in the Scottish Highlands to change it up. A folktale is that a sea creature called the Loch Ness Monster lives in that lake.
Enjoy your adventure around the Isle of Skye!
Essentials packing list
Don't leave for your road trip without bringing these items! These were essential items we needed for our trip. Each item that is linked is what we own and highly recommend. We have used them over the years for numerous trips around the world (Patagonia, Nepal, Peru etc.).
Essential items

Hiking boots - highly recommend trying on diffrent brands to see what works for your feet
Water shoes for the Fairy Pools
Sunscreen
Midge spray
Swimsuit
Sunglasses
Start planning your Isle of Skye Road Trip
If you're looking for a longer road trip, don't miss our 10 Day Scotland Road Trip itinerary which includes the Isle of Skye.
---
Save and pin this Isle of Skye Road Trip for later: