Food, football, architecture and tango all form a European-like experience in the capital city. We list 11 unique things to do in Buenos Aires that you don't to miss.
Unique things to do in Buenos Aires
1. Be part of the crowd at a football match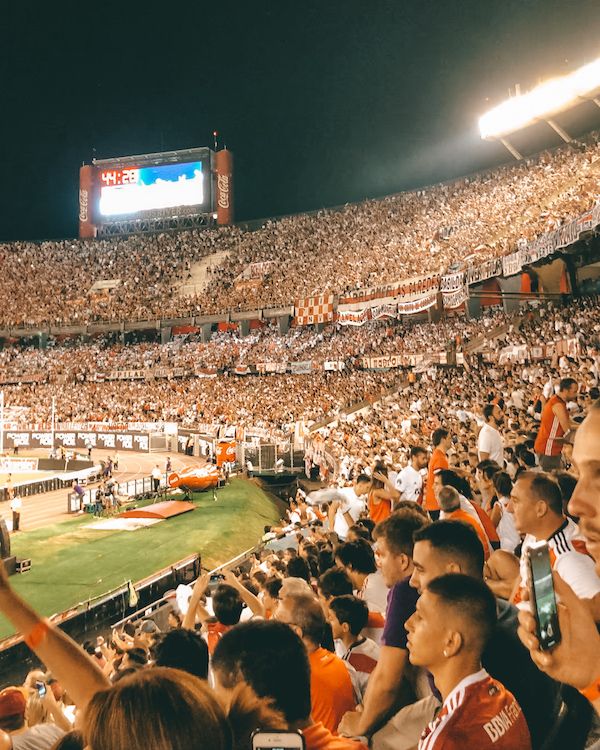 Football is like a religion for Argentinians. Packed stadiums and raving fans make for a memorable experience. However as a tourist, it's not as simple as buying a ticket online like you do in Europe or North America. These tickets are reserved for citizens or people with memberships. You will need to buy tickets through a reputable third party that takes you to and from the game.
We booked our tickets through LandingPadBA for a River Plate vs. Racing Club classico (rivalry game). They did a great job of sorting out our tickets and bringing us to the game and right to our seats. We never felt unsafe during the experience in contrast to stories online about violent fans. Make sure you book your football tour far in advance with them, especially if you want to see a rivalry game!
2. Prepare yourself for an Argentinian Steak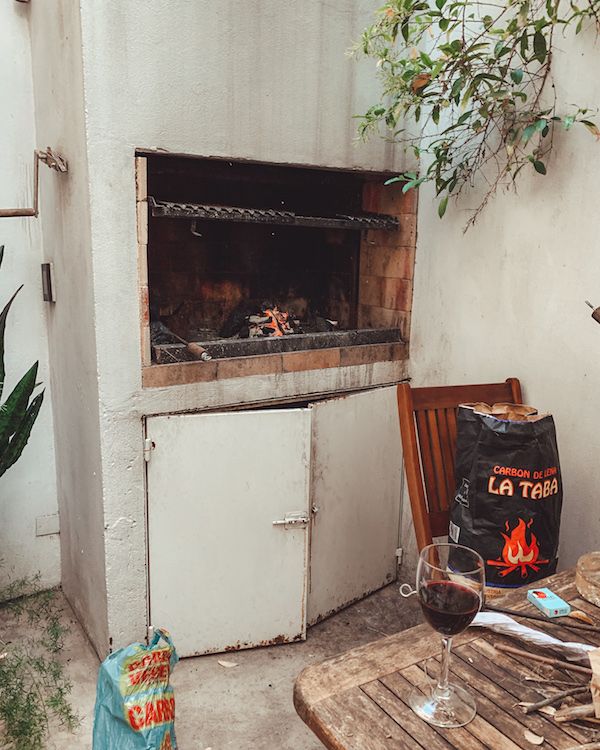 We were told more than once that asado (BBQ) is like a religion in Argentina and boy did we get our fill! For a guaranteed not to disappoint steak in Buenos Aires head to Don Julio, named the the world's 34th Best Restaurant in 2019. It's a must do in Buenos Aires. It is possible to walk in at lunch time but reservations are recommended for dinner. Steak portions in Argentina are huge, if you're going at lunch and you also have some wine, don't expect to have much energy for sight seeing after.
The Argentinians love grilling up steaks, pork, sausages and chicken from early in the afternoon until late in the evening. If you find yourself in wine country or at someone's home, bring a bottle of wine and enjoy the social event.
3. Explore the upscale Parisian-style Recoletta neighbourhood with afternoon tea and rooftop cocktails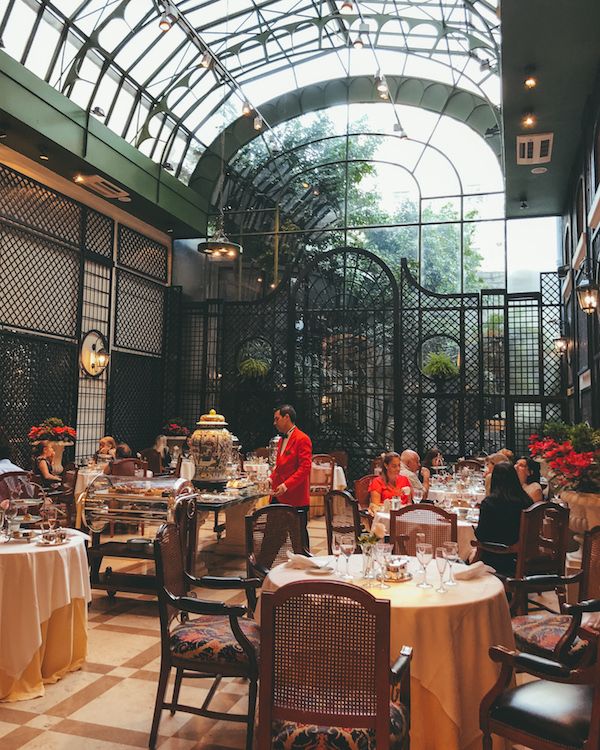 Parisian architecture shines throughout the Recoletta neighbourhood. A pleasant way to enjoy the lifestyle is with afternoon tea at L'Orangerie, located in the Alvear Palace Hotel. The specially blended house tea was our favourite.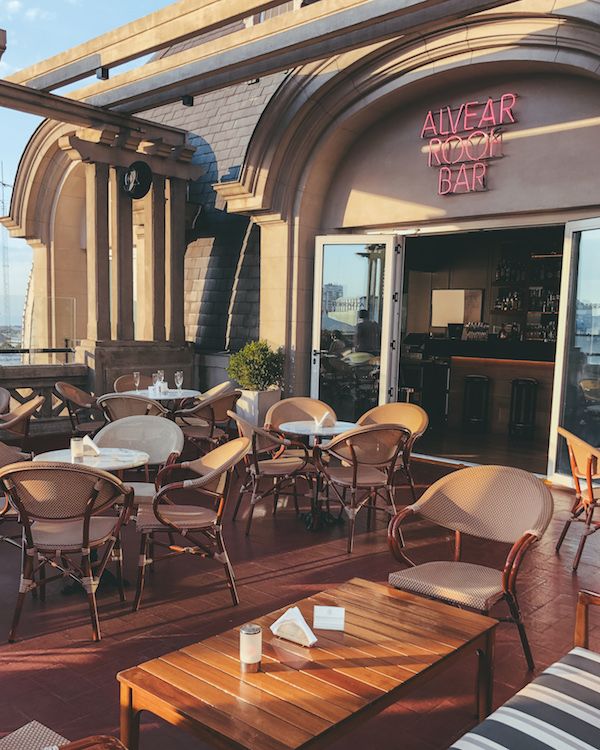 Afterwards, consider heading up to the Alvear rooftop bar for some tasty cocktails, people watching and a great sunset view!  
4. Eat at one of the Top 50 Latin American restaurants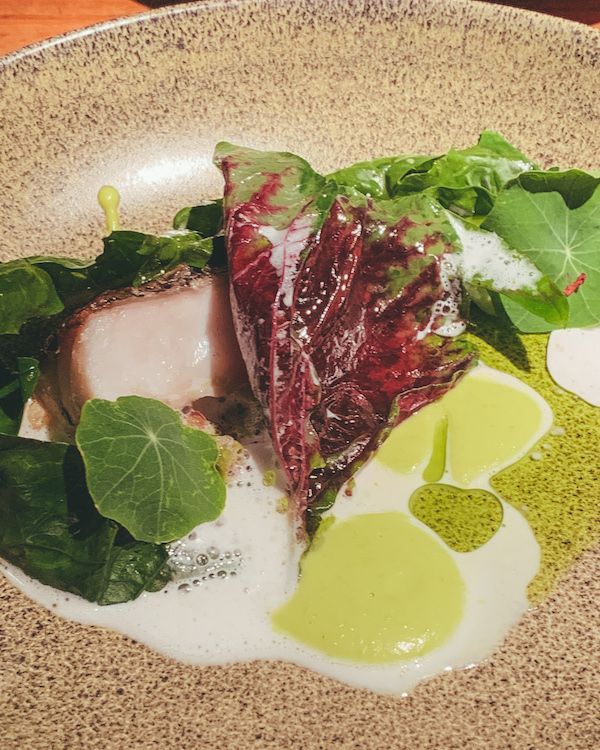 Buenos Aires food culture isn't just ribeye and tenderloin. We discovered two notable restaurants from Latin America's Top 50 Restaurants list that are worth trying out: Aramburu and Mishguene.
Aramburu has a 16 course tasting menu and has been in Latin America's Top 50 list since 2013. It's not too much food! The dishes were well thought out, innovative and the wine parings spot on. Don't be confused when you arrive at the restaurant, there is no big sign and it hides behind a closed shop facade. Ring the doorbell for entry.  
Mishguene, serving Argentine-Jewish cuisine is a nice change from the typical Argentinean meal experience. Shared plates large and small rule here. Don't be afraid to ask the server for suggestions. We constructed a nice meal by pairing a large main plate with small veggie dishes.
5. See a Tango Show at Rojo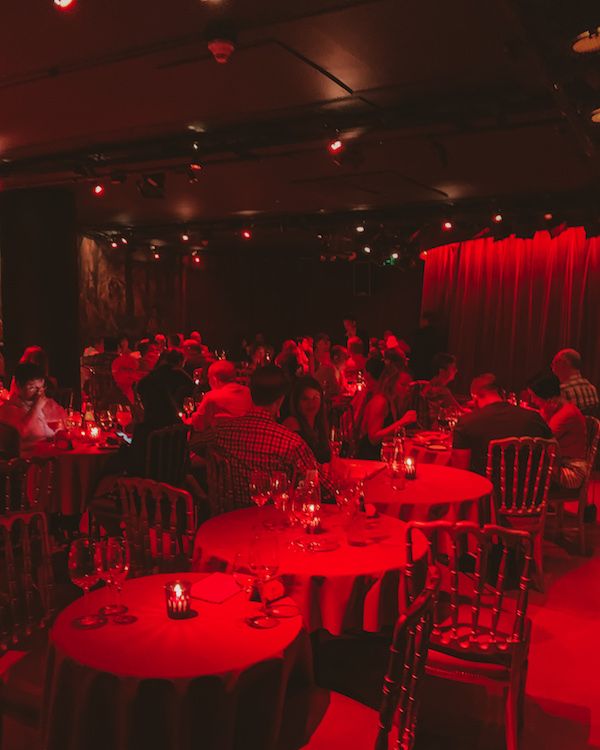 Argentina is the land of tango. Tango shows, tango dance venues and even tango in the streets! If you're not up for diving into a lesson or dancing at a milonga, consider seeing the pros at the Rojo tango show located in the beautiful Faena Hotel. A nice dinner accompanies expertly trained performers dancing up a storm to live music. Make sure to ask for a table with a good view in advance when you make the reservation.  
6. Take a tango dancing lesson and try out your new moves at an authentic milonga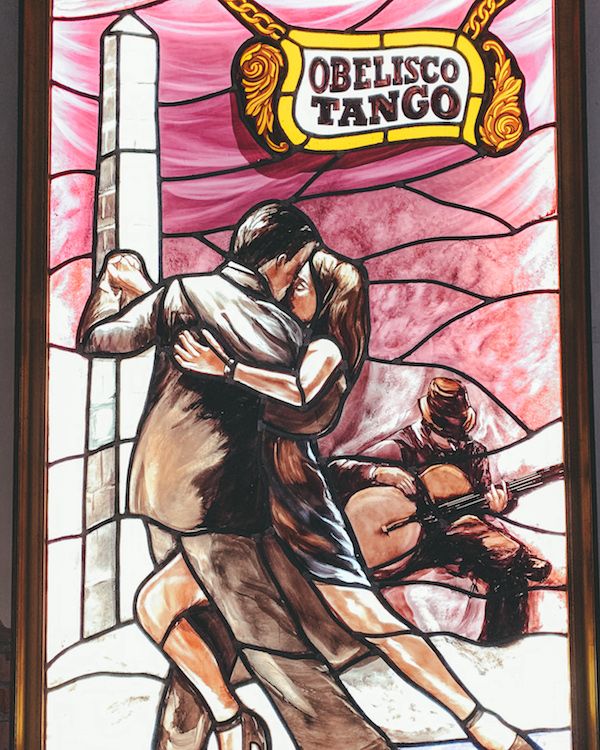 On any given night there could be up to 20 milongas (tango dance venues) running in Buenos Aires. There is a strict etiquette at these dances so it's best to go with a dance group like Tango Classes with Lucia and Gerry. We started with a one hour lesson and then headed to a milonga. After some drinks we were taught how to dance in the fascinating milonga environment. Some liquid confidence sure eased us into it!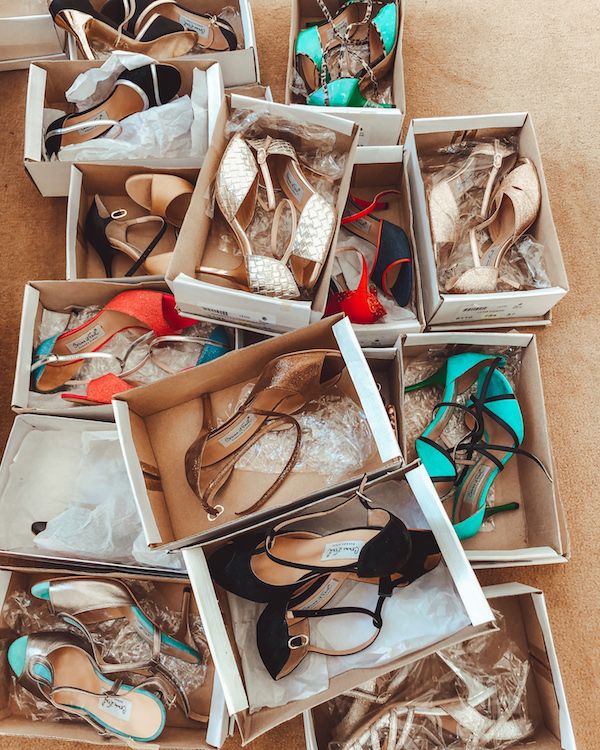 Consider checking out Comme Il Faut for an extravagant selection of Argentinean made tango shoes at great prices. You're sure to find something you like with their expert one-on-one service in their charming store.      
7. Explore the San Telmo Sunday market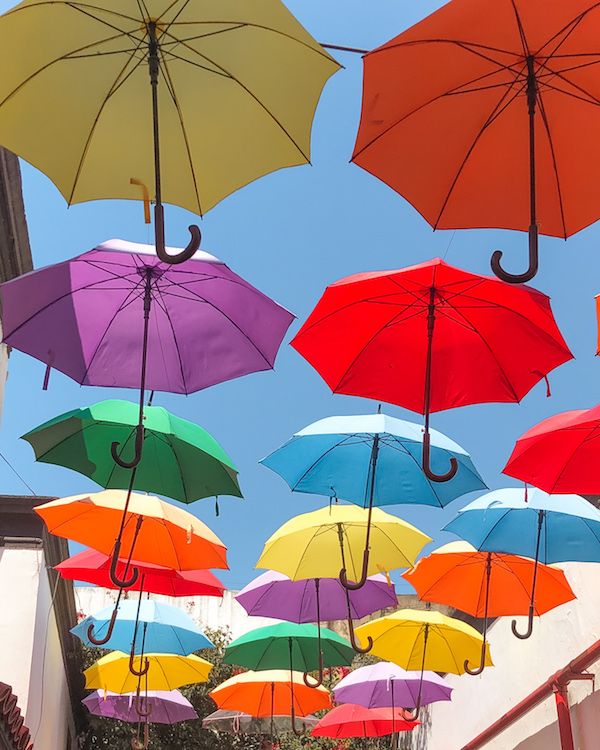 San Telmo is Buenos Aires' oldest neighbourhood and the capital of tango. The cobblestoned streets are filled with milongas, bars, antique shops and handmade crafts . Don't miss the Sunday Market where you'll see loads of vendor stalls and street performers.
We went back on a Monday and to our surprise the streets were dead and the umbrellas were even closed!
8. Chill on an outdoor patio for brunch in Palermo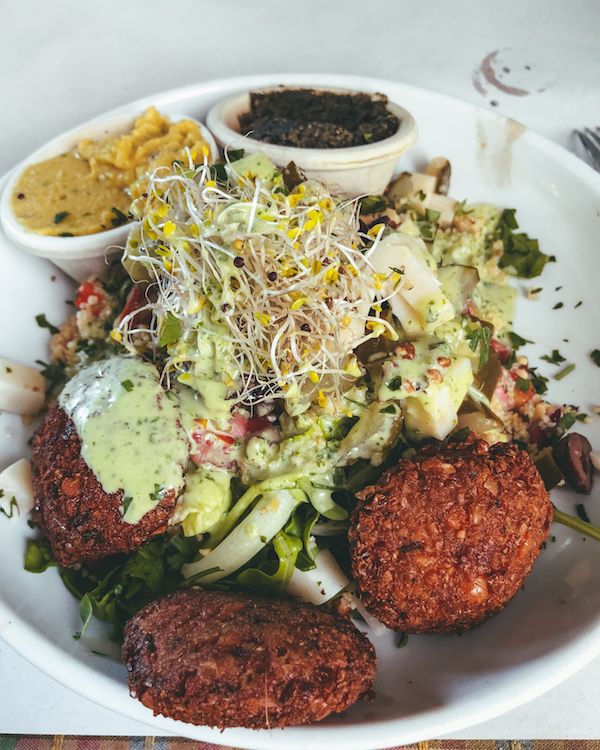 Palermo is a great neighbourhood to walk around in and explore. Filled with restaurants, bars and little shops you'll find lot's to do here. Enjoy a healthy and organic veggie lunch at Artemisia or sit back with an excellent coffee at Salvaje Bakery.  Both places are off the beaten path things to do in Buenos Aires.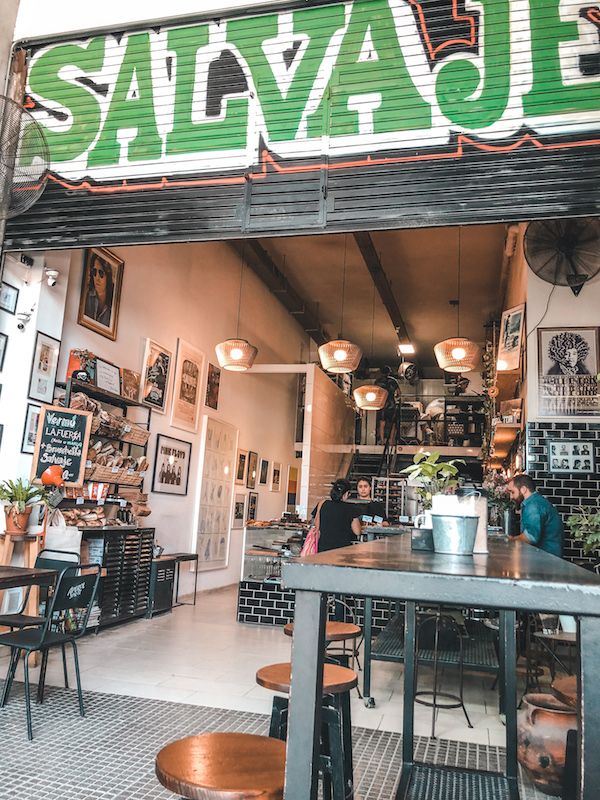 9. Read, sip wine and enjoy the wonderful architecture of Falena bookstore & wine bar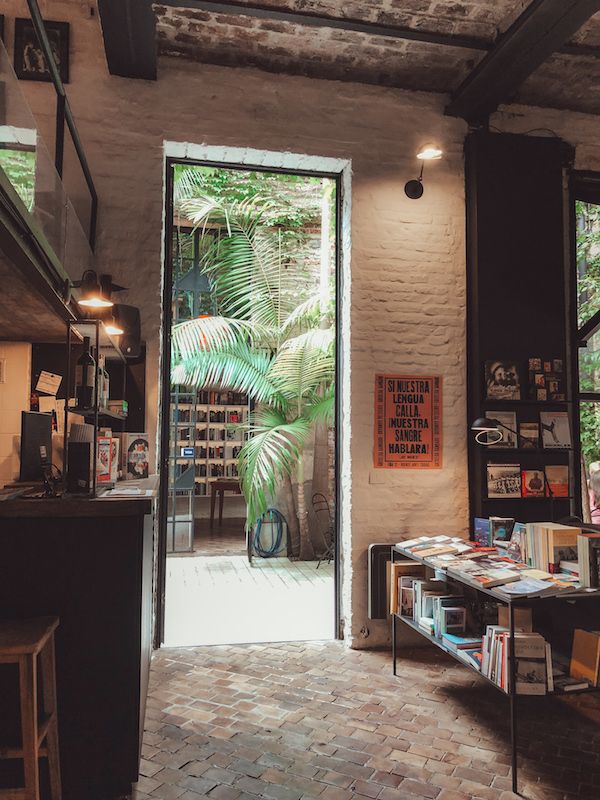 The moment you walk into the bookstore your eyes are taken by the wonderfully restored interior. Falena is a bookstore and wine lounge that has a wonderful rooftop patio. It's a hidden gem in Buenos Aires and the perfect setting for an intimate discussion or a day alone with a new book.
10. Chill poolside in the zen garden of Home Hotel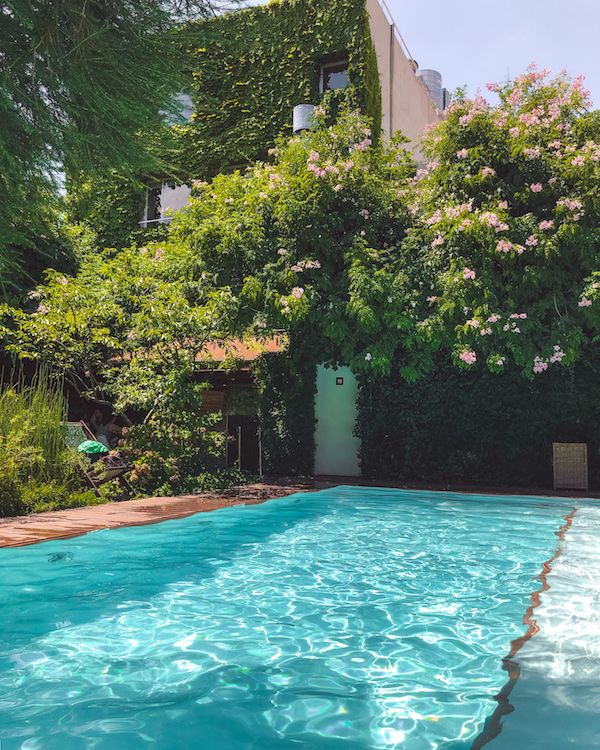 Home Hotel
was truly a home away from home for us. Their service is excellent and the garden and pool was the perfect place to relax.
11. Drink Mate
It's not just a drink, it's a lifestyle. Mate or Yerba Mate is a caffeine rich tea that you drink with a perforated metal straw out of an interesting cup made from a gourd. It's different than drinking tea or coffee because you typically drink it over a long period of time, filling up your cup with hot water from a thermos over and over. It's like the opposite of a shot of espresso.
While this bitter mixture was a too much to take in with our first cup, after a few days we really began liking the experience as the caffeine is not so jolting as coffee.
Planning a trip to Argentina? Make sure to check out our 1 week Argentina Itinerary for the food and wine lover.
Check out what it was like in our video!
---
Looking for more travel inspiration? Check out our list of Unique Cultural Experiences to Inspire Your Next Trip
Are you a food lover? Don't miss our list of Outstanding Extraordinary Gastronomic Experiences Around the World.
---
Save and pin these unique things to do in Buenos Aires for later: