Our 1 week Argentina itinerary takes you from the vibrant capital city to the beautiful countryside, where you'll discover one of the top wine regions in the world.
Your first stop is Buenos Aires, a European-like city known for its beautiful architecture and fun experiences. Next you will visit the Uco Valley, a unique spot within the Mendoza wine region that has incredible views of the Andes.  This itinerary is a great way to see the highlights of Argentina and its spectacular food and wine culture.
1 Week in Argentina
Day 1-4: Explore the vibrant city of Buenos Aires.
Day 5: Arrive in the Uco Valley of Mendoza, one of the top wine regions in the world.
Day 6: Go for two winery tours and enjoy a winery lunch.
Day 7: Discover more wines or relax at your scenic boutique hotel... with more wine
---
Best time to visit Argentina
If you're travelling to the Mendoza wine region and to Buenos Aires, the best time to visit is in spring between October - December. You will be in the wine region during the planting season and in Buenos Aires before it gets too hot in summer.  You will also avoid the peak tourist season in January and February.
Taking out Argentine Pesos
Due to a monetary crisis in Argentina, it is difficult to withdraw large sums of money. Many ATMs we tried also rejected our international cards. Cash is still king and bringing in and converting USD within Argentina is the best way to get Argentine Pesos.  
1 Week Argentina Itinerary
Disclosure: Some of the links below are affiliate links, meaning at no additional cost to you, we will earn a commission if you click through and make a purchase. Regardless, we only recommend products or services we have used or that we believe will add value to our readers.
Day 1 - 4: Explore the vibrant city of Buenos Aires
In Buenos Aires you can catch a football game as lively as premier league in England, see people dancing Argentine tango in the streets, and eat great food to your heart's content. This remarkably European feeling city is filled with beautiful architecture and lots of boho spots to hang out.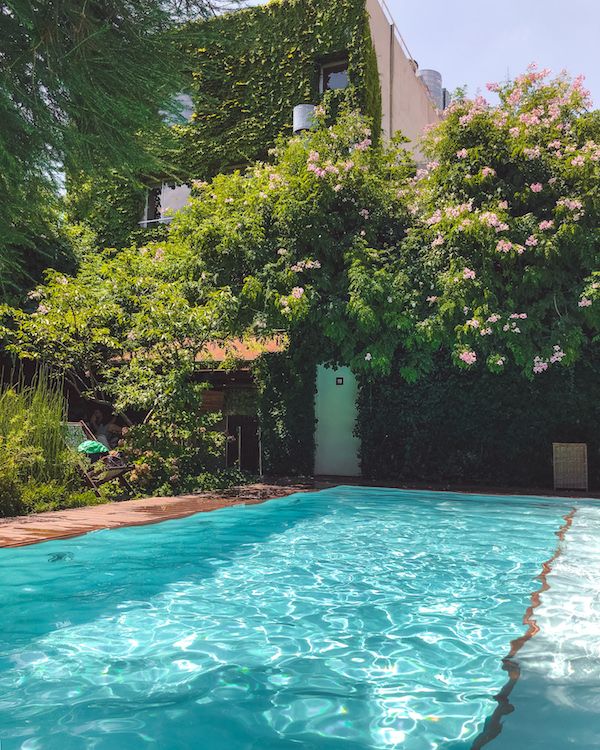 Where to stay in Buenos Aires
Home Hotel
was a great resting place for us. Their amazing garden was a pleasure to have breakfast in. In the afternoon you can take a refreshing dip in their pool while your lunch or cocktail is being made. The service at the hotel was excellent and the staff always willing to go the extra mile to help you out from booking transportation to receiving mail.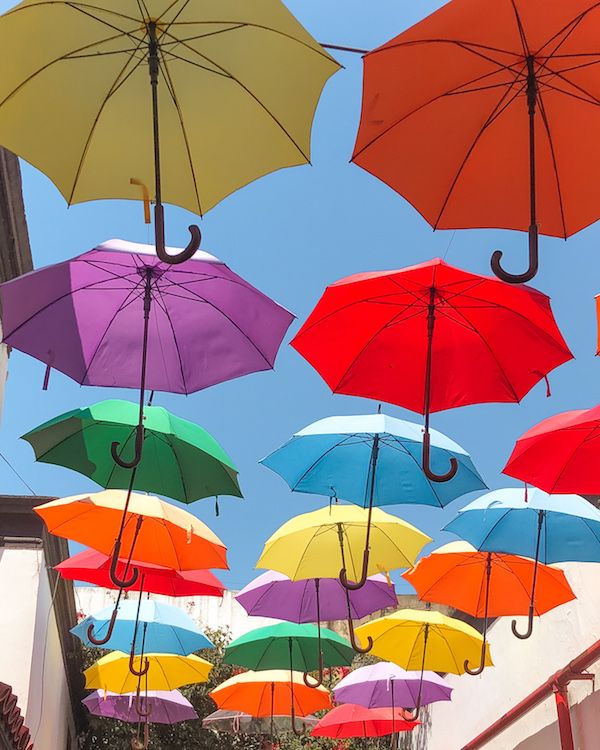 Coolest neighborhoods in Buenos Aires to explore:
Recoletta - stylish and elegant. Known as the Parisian neighbourhood of Buenos Aires.
San Telmo - the oldest neighbourhood and "capital of tango" in Buenos Aires. It also is considered the birthplace of tango.
Palermo - check out both Palermo Hollywood and Palermo Soho for buzzing restaurants and bars, quirky boutique shops and a boho feel.
Each neighbourhood was special in their own way and required a full day to explore.  
See our top 11 things to do in Buenos Aires.
Best restaurants in Buenos Aires
Best for steak: Don Julio
Best for fine dining: Aramuru
Best for share plates and a lively atmosphere: Mishiguene
Best for vegetarian: Artemisia
Best for afternoon tea: L'Orangerie
Best for a late-night bite: Perez-H (be careful here, this late night burger joint has an option to dip your fresh off the grill sandwich in cheese sauce! The fries with cheese and pancetta are also deadly).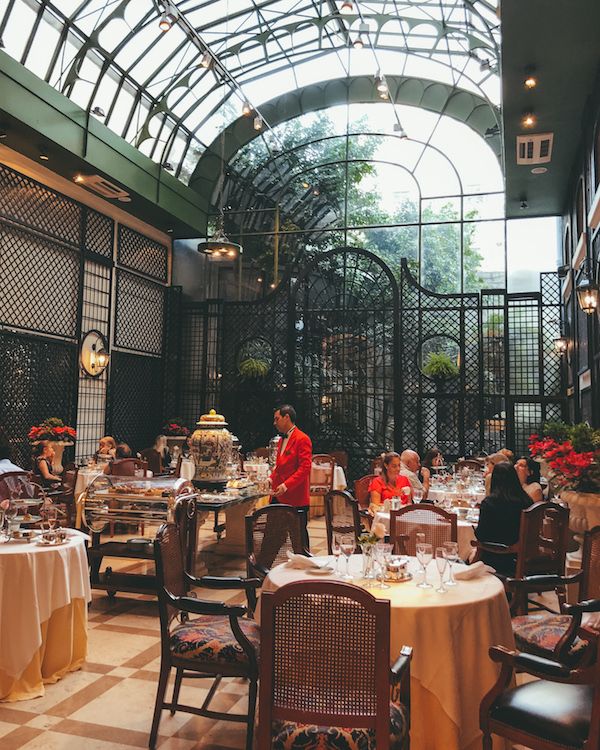 Best lounges in Buenos Aires
Falena: for a bookstore where you can order a glass of wine and find inspiration in the amazing interior design.
Alvear Rooftop: for tasty cocktails, people watching and sunset views.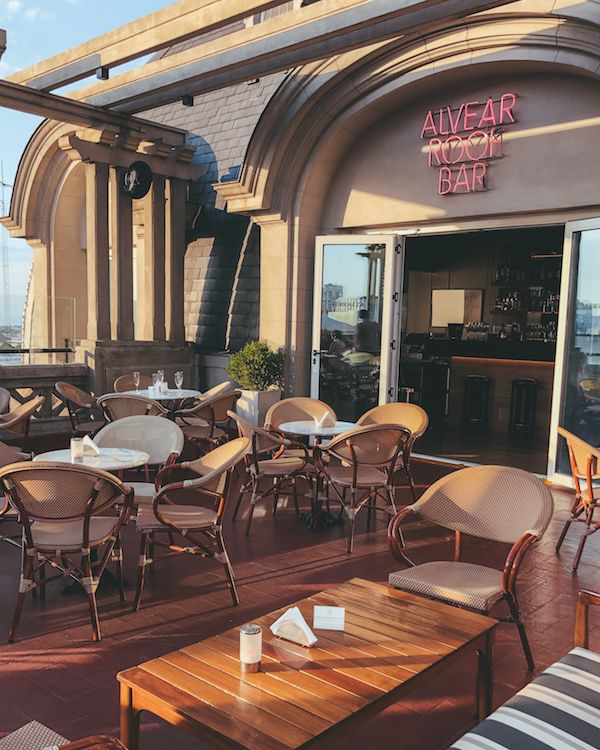 Day 5: Arrive in the Uco Valley, Mendoza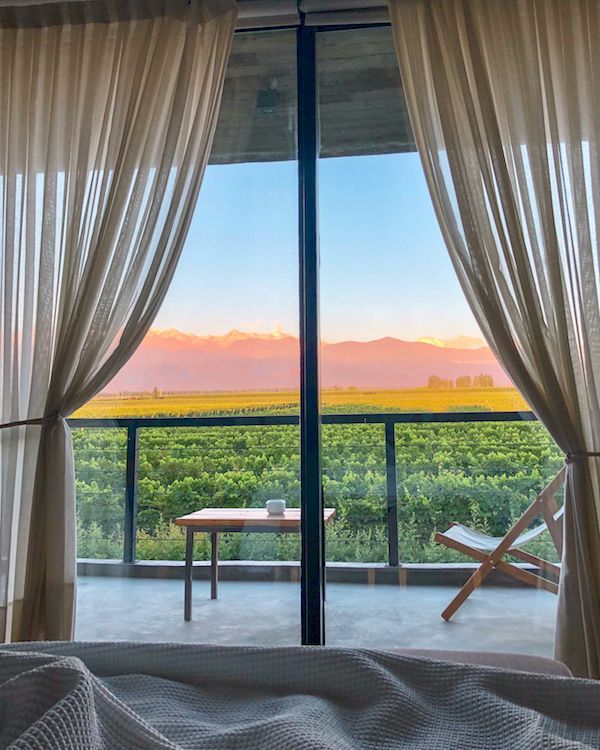 The Uco Valley is considered one of the best sub-regions of Mendoza for wine making. Located at a higher altitude, a unique alluvial terroir and extreme day/night temperature differences make for excellent grape growing conditions. Vast views of the Andean mountains and smaller crowd make this region perfect for exploring!  
How to get from Buenos Aires to Mendoza
The fastest and most convenient way to get to the Mendoza wine region from Buenos Aires is by flight. The flight time on the way there is 2 hours and on the way back is 1.5 hours. There are many direct flights each day with the airline Aerolineas Argentinas.
How to get around the Uco Valley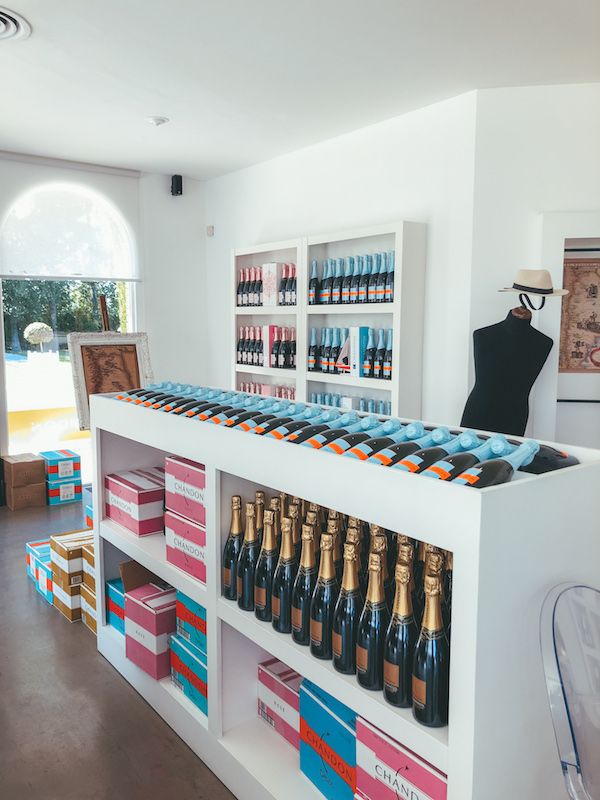 Since you're going to wine drinking heaven, consider hiring a private driver for airport transportation and to take you to your tastings. It's better not to drive! Mendoza Gostosa provided an amazing service for a great rate and was able to recommend and book tastings for us based on our preferences. Their five star TripAdvisor rating says it all! We used them for transfers to and from the airport and for two days of wine tours.
Consider stopping off at the Chandon winery on the way from the airport to your hotel for your first sips from the Mendoza region. It was the first Moët & Chandon company established outside of France.
Where to stay in Uco Valley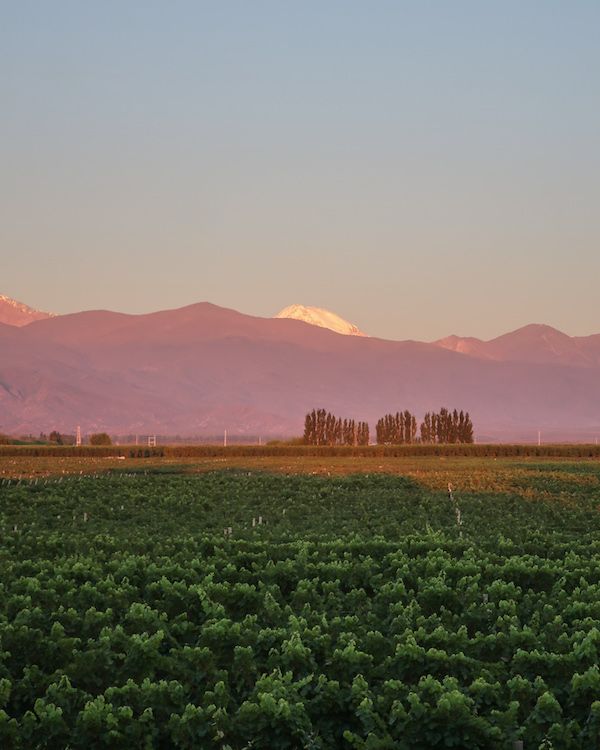 It was a treat to stay at
Casa de Huéspedes La Azul
, a boutique family-owned vineyard hotel that serves up tasty dinners paired with their excellent and plentiful wine. We had a different themed dinner every night and didn't feel the need to dine elsewhere. The grounds are very well kept and perfect for lounging around with their outdoor pool.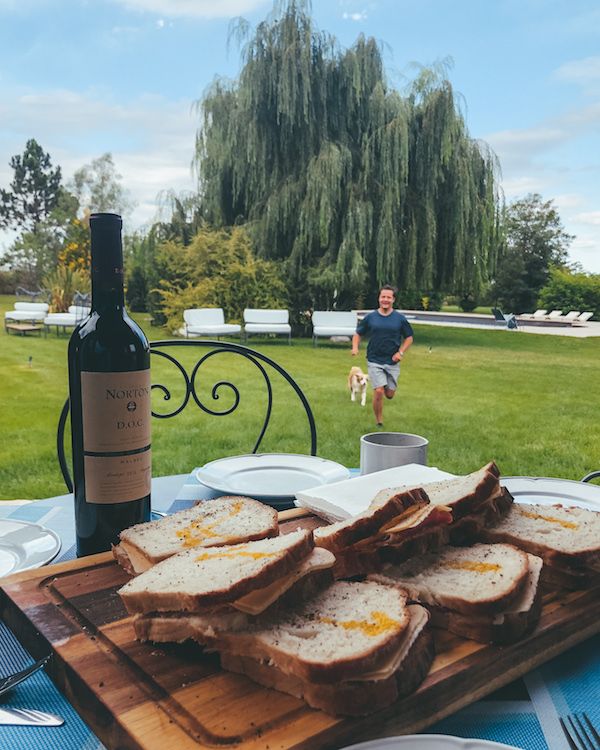 Top Tip: Book a room on the second floor so you have an incredible view of the vineyards and mountains.
Day 6: Go for two winery tours and enjoy a winery lunch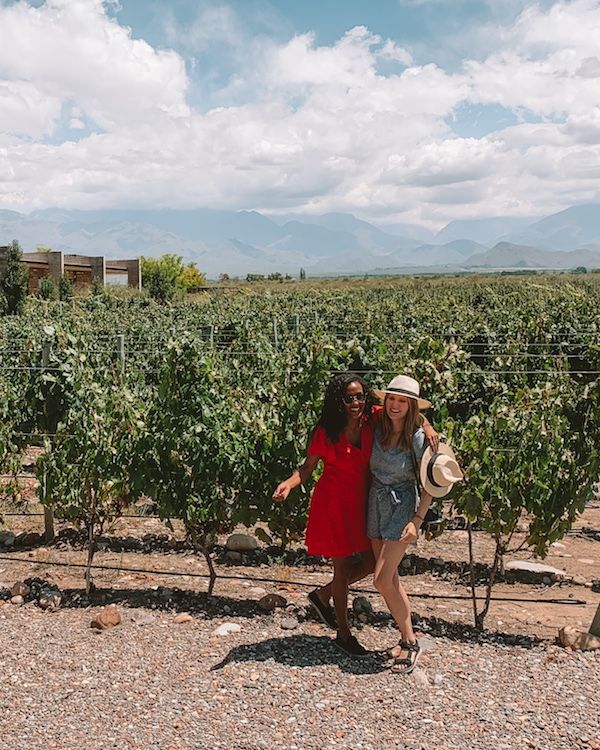 Wine tasting in Mendoza was a bit different than we were used to. You must book tastings in advance and depending on the winery you may be tasting alone or with a group of up to 10 people. You can book tastings, tours or just lunch (which comes with a selection of wines).
When you're having lunch you won't get the information on the wines that you would at a tasting but you get to drink a lot of it. It's up to you to ask questions on the winery's processes and for tasting notes at lunch if you're interested.  
Best wineries in Uco Valley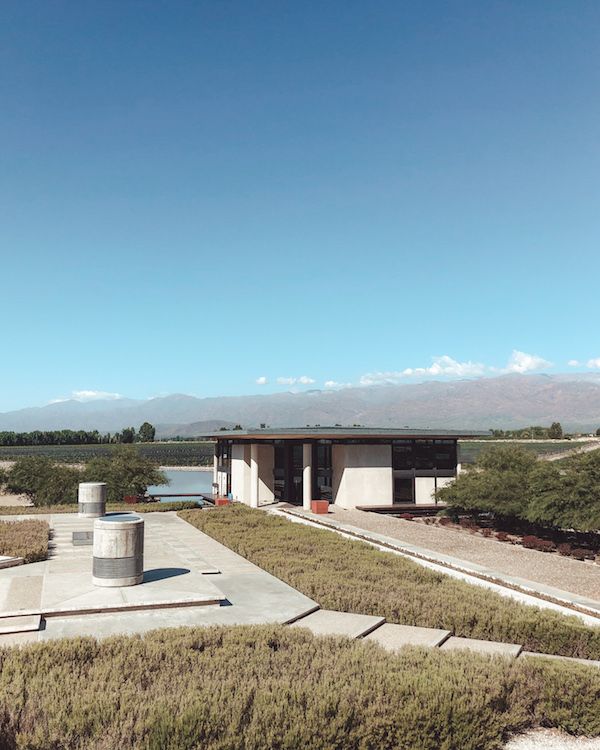 O. Fournier: Incredible architecture matched with the best label we tasted during our stay. Take a tour through a winery that looks straight out of a James Bond film and have a rich, private tasting. The O. Fournier Malbec (not for export) was our favourite wine of the region.
Corazon Del Sol: An intimate experience and a great education from a passionate grower. We learned a lot here about vines, growing grapes and optimizing harvests and enjoyed a diverse tasting in their cellar. Very well priced.
Best place for lunch: Bodega La Azul. Owned by the same family as the Finca La Azul hotel, this restaurant and winery has outstanding food, wine & service.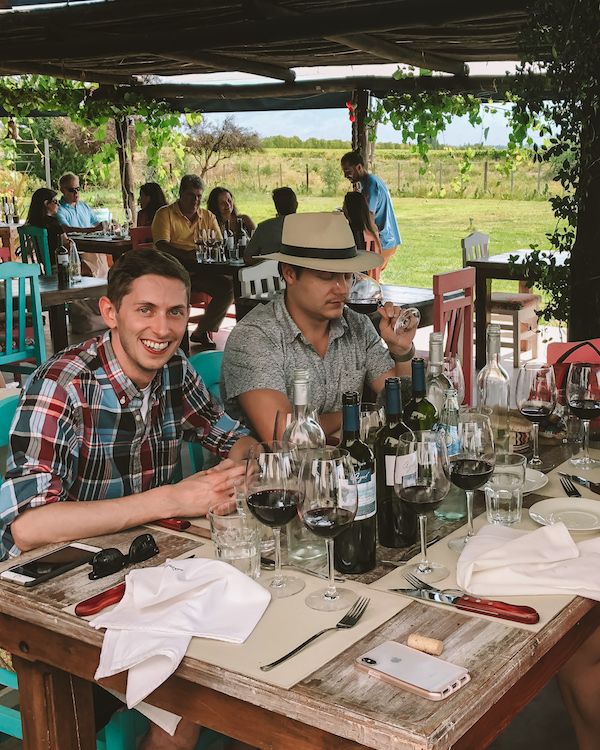 Top Tip: Lunches are HUGE and almost always have a steak course. Consider small breakfasts and starting your tours early so you can save room for dinner. You can also request a veggie meal to skip the steak that afternoon.  
Day 7: Discover more wines or relax... with more wine
Option 1: Book two new winery tours and tastings and a new lunch spot to get the most out of exploring the region.
Option 2: Relax by the hotel pool and enjoy the surroundings with a bottle you bought the day before.
If you can add time to your trip we would recommend adding it to Mendoza. We didn't want to leave since it was so relaxing and there are over 900 wineries to discover 👀!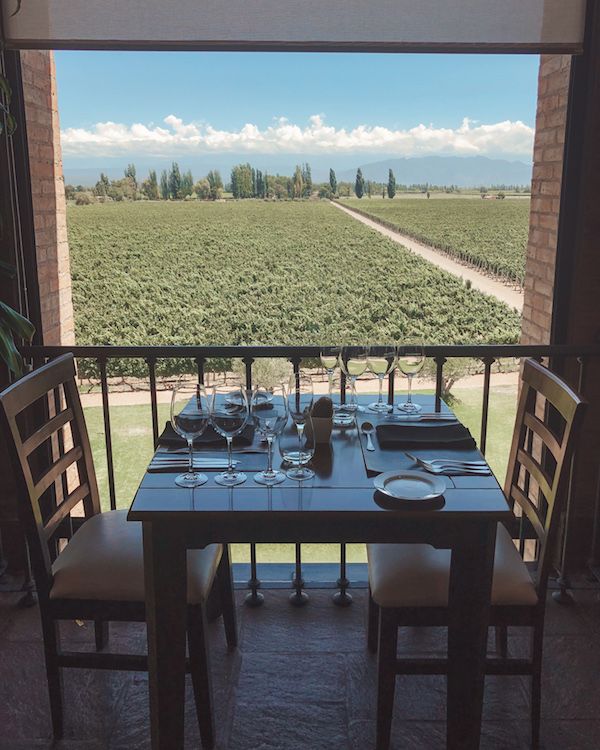 Travel day back home
If you have a later flight on your last day we recommend visiting the Spanish winery Belasco Baquedano and having their great lunch on your way to airport.
Top Tip: You can travel with wine bottles in your carry on when travelling domestically. Consider bringing a wine suitcase for bringing your favs back home. It is prohibitively expensive to ship wine due to the weak Argentine Peso.
---
Planning a tour of South America? Check out our other SA travel guides to help with your planning:
See what it was like in our Argentina vlog!
Save and pin this 1 week Argentina itinerary for later: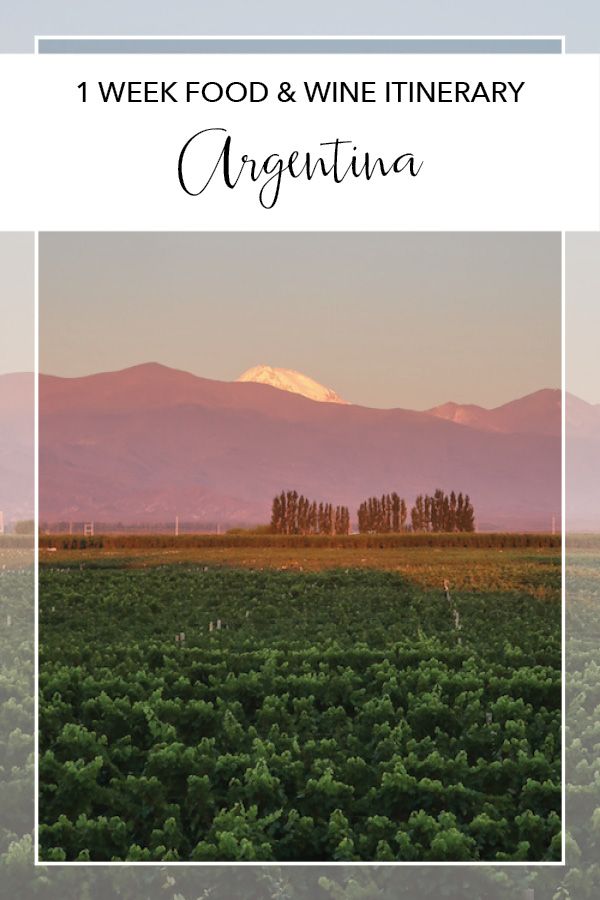 ---
Looking for more travel inspiration? Check out our list of 20 Relaxing Travel Ideas to Clear Your Mind
Are you a food lover? Don't miss our list of Outstanding Culinary Experiences Around the World.