If you step outside of Amsterdam's busy and touristic centre, you will find a plethora of hidden gems waiting to be discovered. Our 2 day Amsterdam itinerary was created in mind for those looking to immerse themselves into the local culture, away from typical tourist attractions. From exploring trendy neighbourhoods where locals hangout to partying in a hidden bunker, your 2 days in Amsterdam will be filled with fun experiences.
Disclosure: Some of the links below are affiliate links, meaning at no additional cost to you, we will earn a commission if you click through and make a purchase. We only recommend products or services we have used or that we believe will add value to our readers.
2 Days in Amsterdam
Day 1: Have breakfast at a quirky cafe, explore the Oud-West and Jordaan neighbourhoods and enjoy a movie at an old school cinema


Day 2: Rent bikes and have a picnic at Vondelpark, view the Moco Art Museum and hangout in a party bunker
---
Best time to go to Amsterdam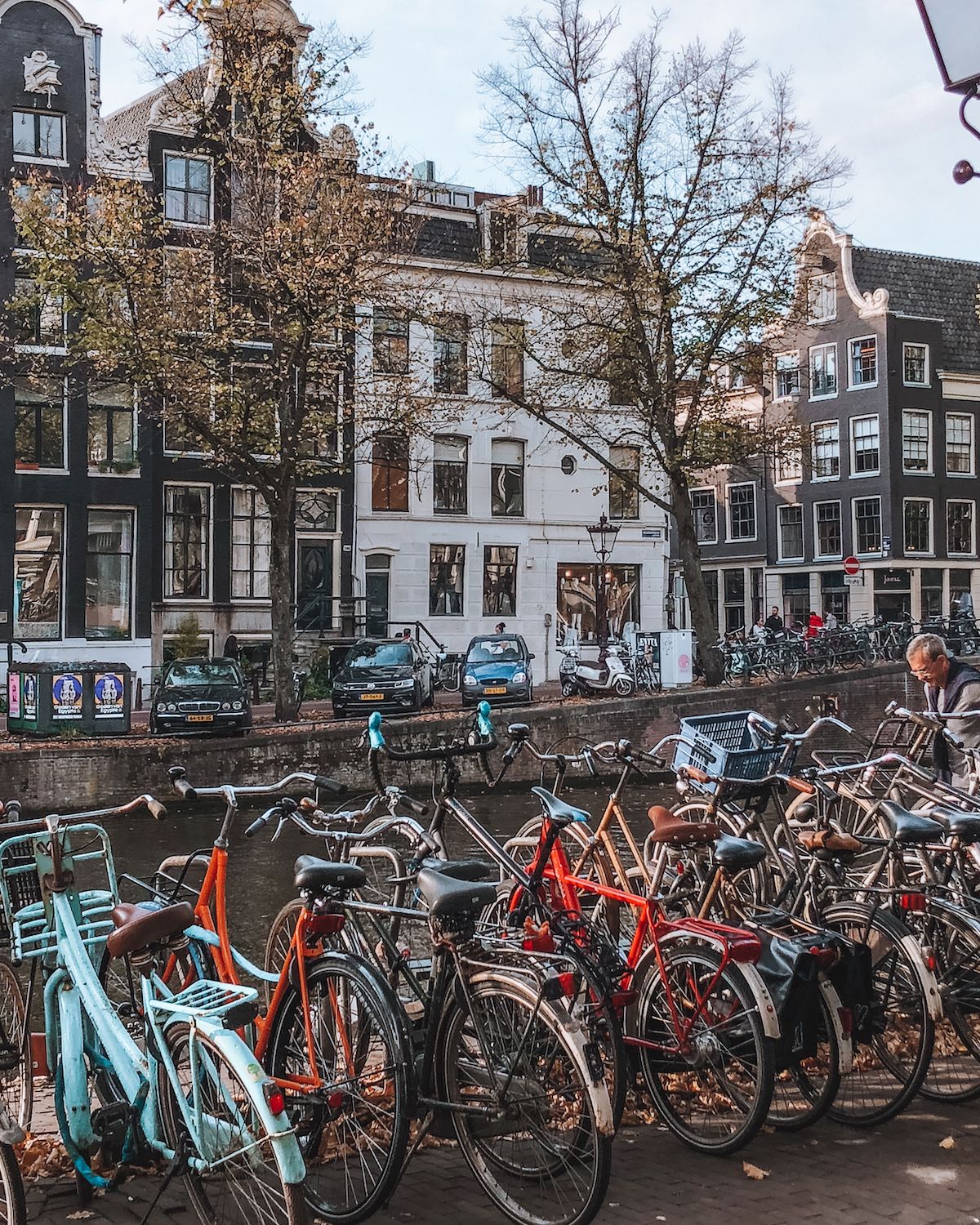 Skip the busiest and most expensive summer months of June-August. The best time to go to Amsterdam is in late spring (April -May) and early fall (September-October) when the weather is still pleasant, but way less crowded with tourists.
If you are an electronic music lover, Amsterdam Dance Event (ADE) occurs every year in mid-October and has plenty of shows going on in the city. Accommodation books up fast and can be more expensive at this time, so ensure you book your stay far in advance!
Where to stay in Amsterdam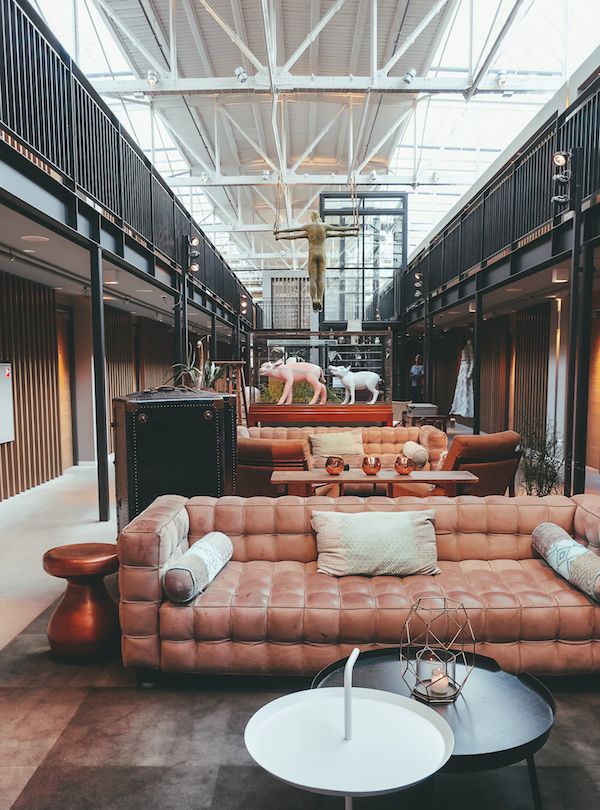 Stay off the central beaten path and in the trendy neighbourhood of Oud-West.
The neighbourhood is just on the outside of the central canal and filled with local hotspots. We stayed at the hip
Hotel De Hallen
, a boutique hotel which is part of the De Hallen indoor market and food hall complex. We found the location convenient to other parts of Amsterdam, as it's in walking distance from the central canals and Vondelpark. Another great option is to stay at an
apartment through Vrbo
if you're on a budget or want to experience the local way of life.
2 Day Amsterdam Itinerary
Day 1
Daytime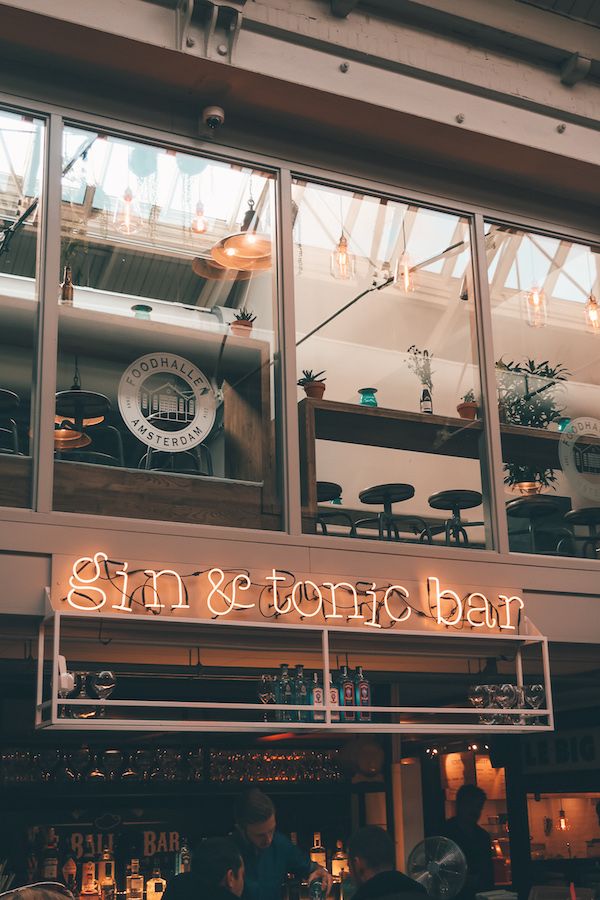 Explore the trendy Oud-West neighbourhood
Start your day with a healthy breakfast at one of the quirky cafes in the Oud-West area. Half of the fun is deciding which one to go to. Many of the cafes have outdoor seating, so you can drink coffee and people watch.
Next, shop the boutique stores and don't miss the De Hallen market. The complex is a must-see with cafes, unique design boutiques, bars, and top-grade street food. I bought a pair of tortoiseshell hooped earrings that I love. Stop in at the De Hallen food hall for lunch. There are a variety of food stations and it's hard to pick which one to go to! We settled on tacos and they were delicious.
Walk through the charming Jordaan neighbourhood
From Oud-West, take a leisurely stroll along the narrow canals to the Jordaan neighbourhood. The streets are quiet and enjoyable, with trendy eateries, cozy pubs, coffeeshops and cafes along the way.  A "coffeeshop" in Amsterdam is code for a weed cafe, whereas a place labelled "café" is your typical morning beverage spot.
Evening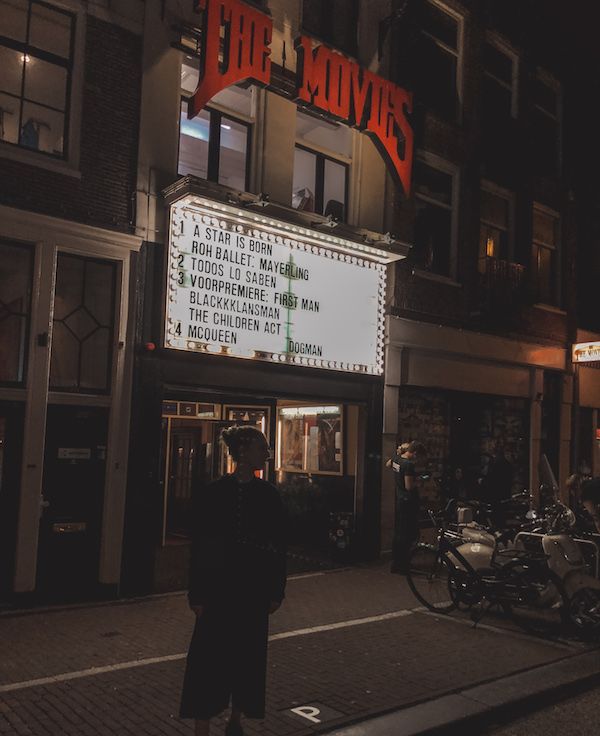 Dine and watch a movie in the oldest movie theatre in Amsterdam
There's something enticing about going to the cinema in another country, especially when it's an old school theatre with a laid back atmosphere. The Movies, which is located on the border of the Jordaan district is the oldest movie theatre in Amsterdam with an art deco interior. It showcases award winning and independent films. Lucky for us there was a movie in English with Dutch subtitles!
Before the movie we enjoyed the Indonesian restaurant inside the theatre that is run by an Indonesian chef. It was tasty! After dinner we ordered a few drinks and treats to bring into the theatre with us.
Day 2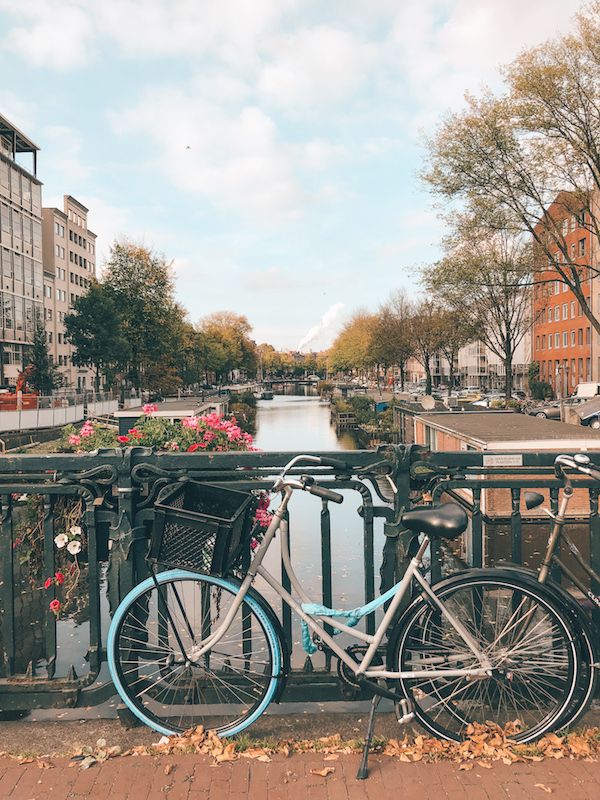 Daytime
Rent bikes and have a picnic in Vondelpark
Amsterdam is the biking capital of the world, with almost 40% of all trips being made by bike in the city. Rent bikes from your hotel or a nearby bike shop and bike to Vondelpark for a picnic. It is the largest park in Amsterdam at 47 hectares and is filled with grassy places to sprawl out and enjoy a picnic in the sun.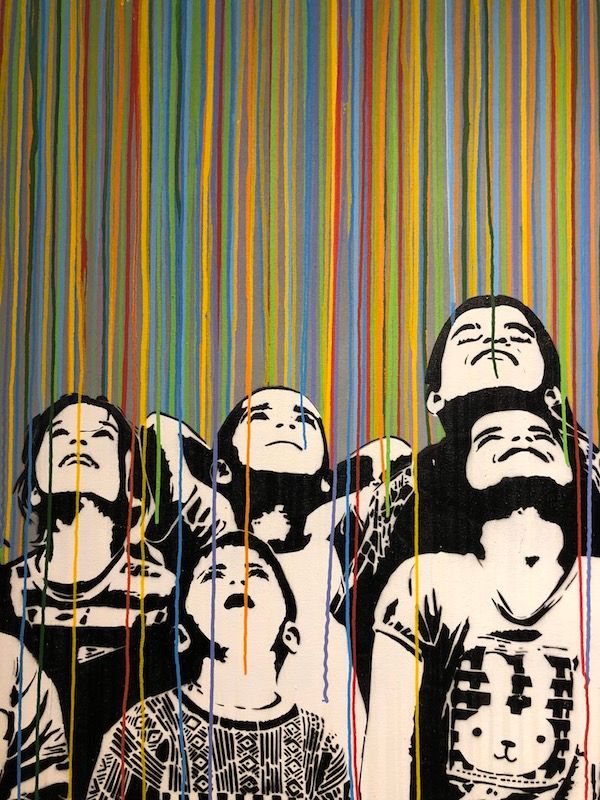 Visit the contemporary Moco Art Museum
Next, head over to the Moco Art Museum, featuring modern art, street art, and contemporary art. We saw an excellent exhibition showcasing Icy & Sot, Banksy and Roy Lichstenstein's works.  You can see which exhibitions are currently being showcased online here.
Evening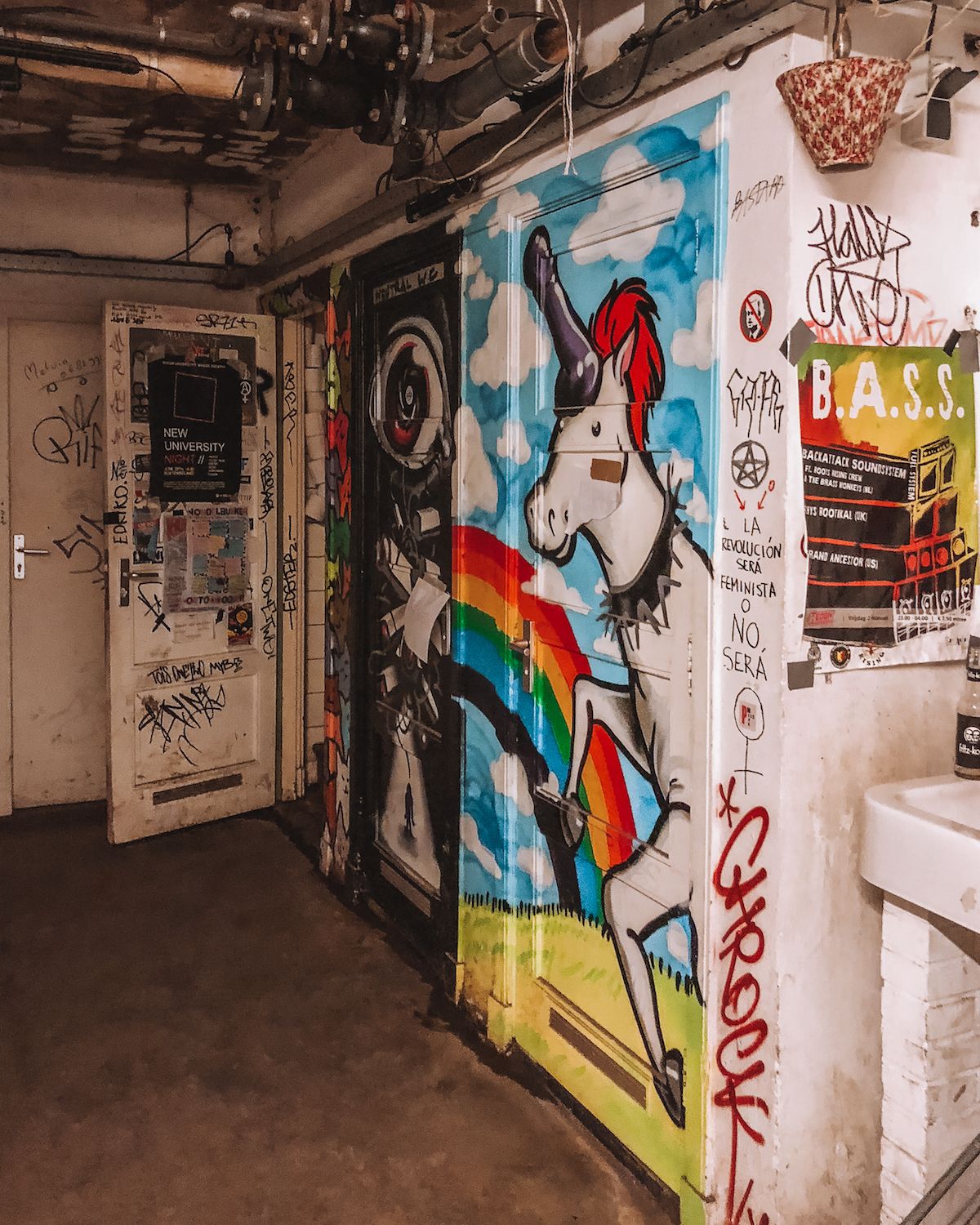 Dine for Indian at Balraj
When we were at The Movies the night before we noticed an Indian restaurant across the street called Balraj filled with people. Turns out it is the oldest Indian restaurant in Amsterdam. We decided to go the next night and are we ever glad we did. It was so good! If you love Indian food.. go!
Party in a bunker underneath Vondelpark Bridge
Afterwards, party in a bunker underneath the Vondelpark bridge called Vondelbunker. Inside you'll find friendly locals, travellers, drinks, and groovy tunes to dance to! They have different types of events going on each week, so check out their event calendar in advance.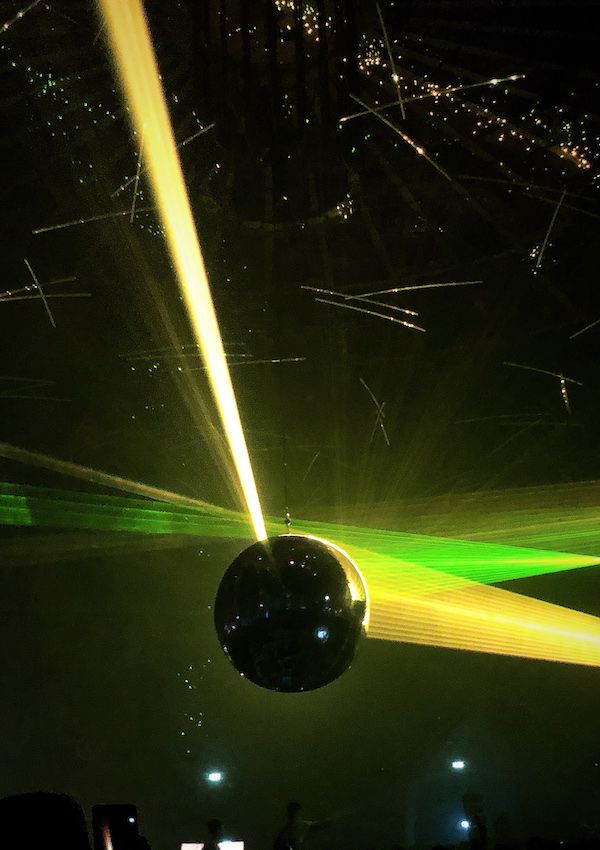 If you happen to be in Amsterdam during ADE or Awakenings festival, you don't want to miss partying at Gashouder, a huge round silo turned nightclub. It's a giant techno event with lasers, hard techno and a huge disco ball in the middle of the dance floor. Warning: it gets really sweaty in there.
Enjoy your two days in Amsterdam!
Planning a trip to Europe? If you liked this itinerary, you may also like the alternative and creative capitals of Berlin, Tbilisi, Helsinki or Budapest:
---
Looking for more travel inspiration? Check out our list of Unique Cultural Travel Experiences to inspire your next trip.