Berlin is an energetic city continually undergoing cultural change. The city has much to offer in terms of alternative experiences that are hard to find anywhere else.
Explore eclectic graffiti-filled neighbourhoods, discover the experimental art scene, have a sunset picnic at an abandoned WWII airport, or dive into the "no photos allowed" techno clubbing scene. We list 10 unique things to do in Berlin that you don't want to miss.
10 unique things to do in Berlin
1. Hunt for bargains and treasures at the Mauer Park Flea Market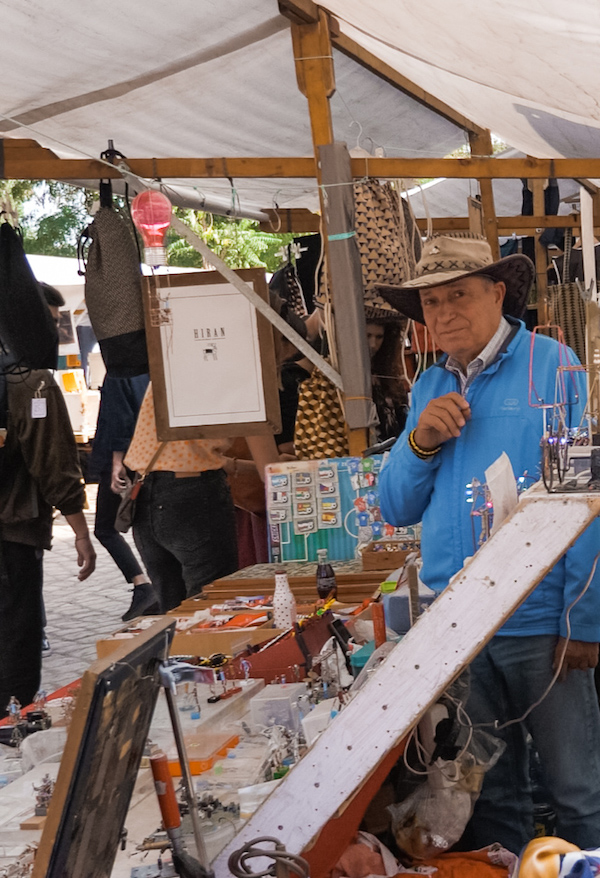 We think Mauer Park Market is the best flea market in Berlin. If you happen to be in Berlin on a Sunday you can enjoy the outdoors and explore hundreds of vendors selling second hand goods and unique local products. I purchased a vintage Adidas jacket, a beach blanket, a pair of earrings and Ari an 80s jean jacket and watch with a stone and rust face. There are many food trucks, so you can grab a bite to eat or a beer while you scour the aisles. The flea market is located in the hip and vibrant Prenzauler Berg neighbourhood.
2. Enjoy a picnic and watch the sunset at Tempelhofer Feld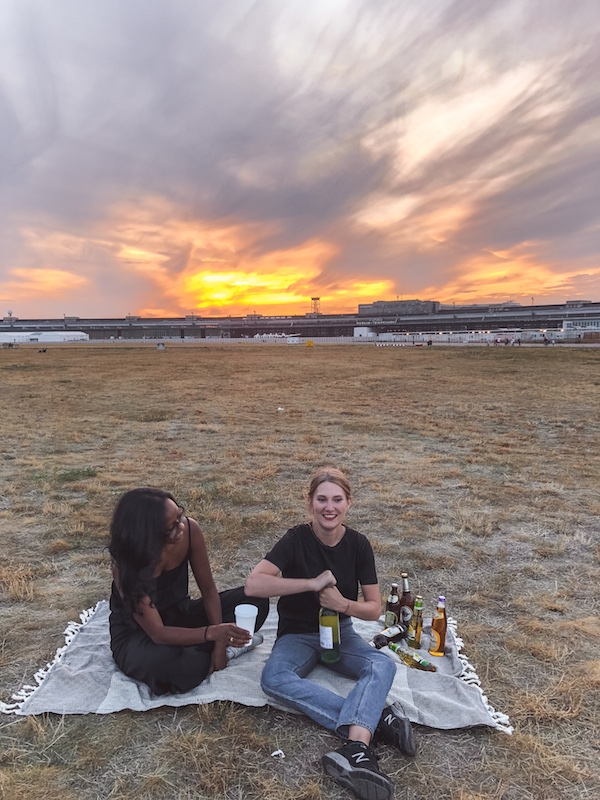 Tempelhofer Feld is an abandoned WWII airport turned recreational park close to the artistic and trendy neighbourhood of Neukölln. Over time the airport served as an airline factory, power symbol of the Nazis, a concentration camp, a U.S. military base during the Cold War and now a recreational park and shelter for refugees. It takes 40 minutes to walk across the former runways.
We brought our picnic food, a few drinks and a blanket from the flea market to watch the sun go down. It felt surreal sitting in the warm autumn evening in an area with so much history. We visited Tempelhofer three times during our stay!
3. Dance into the late hours of the morning
We are both techno fans and were thrilled to be in the techno capital of the world. Berlin has an incredible night scene with some clubs opening Friday at 11:55pm and closing Monday at 12pm. Kudos to anyone who has actually partied non-stop that long. The best we managed was a night out until 7:30am the next day. Once inside you're given stickers to place on the camera of your phone. No Photos Allowed! We love this rule. The club is a safe space inside to let loose and dance like a freak if you want to ;)  
There are door politics in Berlin and tourists are regularly denied entrance to Berlin's top clubs. Make sure you know the name of the event you're going to and the headlining artist. Try speaking in German the best you can, even if it's just hello. Berliners tend to wear dark relaxed clothes and regular shoes you can dance in, no heels and no collared shirts! Most clubs open at midnight and don't get busy until 2am.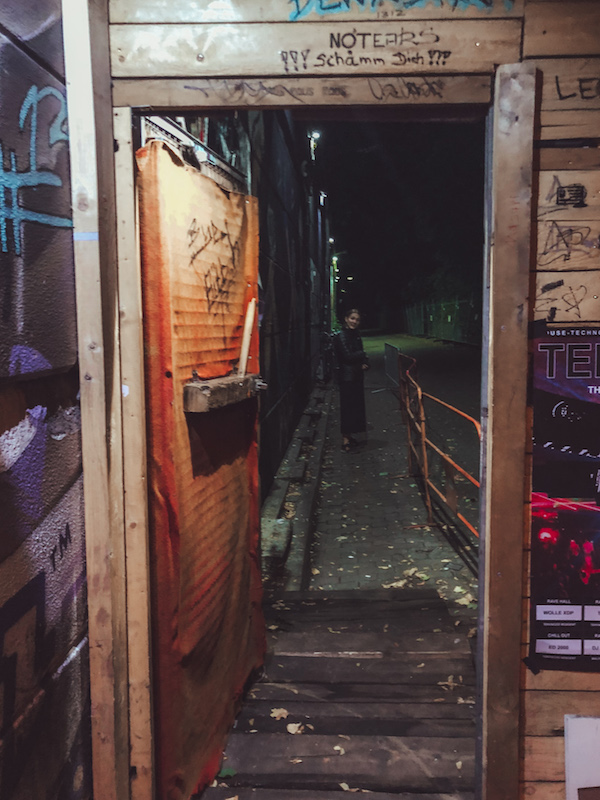 Our favourite club for the party: Salon Zur Wilden Renate
Located in Friedrichshain, the run down apartment building is a play haven with multiple levels and dance floors. Here you'll find a broader range of music and a wild and euphoric atmosphere. The club holds some of the longest parties in the city and feels like the coolest house party on earth. There is a courtyard outside where you can cool off from sweating on the dance floor.
Our favourite club for the music: Griessmuehle [Closed]
Located in Neukölln, the former grain mill has a main dance floor, a dance floor in the dungeon (our favourite), and a large outdoor area with benches and wooden structures including a treehouse! The DJ played the room and it was some of the best music we've ever heard. The environment, people and music came together and felt like a true art form. The sound system there was the best we heard in Berlin. On Tuesdays you can catch a game of ping pong while listening to reggae beats.
[Unfortunately Griessmuehle closed on February 3, 2020 due to the property owners not extending the lease because of redevelopment plans. A piece of Berlin club culture has sadly disappeared. Another amazing techno club with great music you can try is ://about blank.]
Didn't make it into Berghain? Check out our opinion on Berlin's underground club culture.
4. Take a dip in a floating swimming pool on the Spree River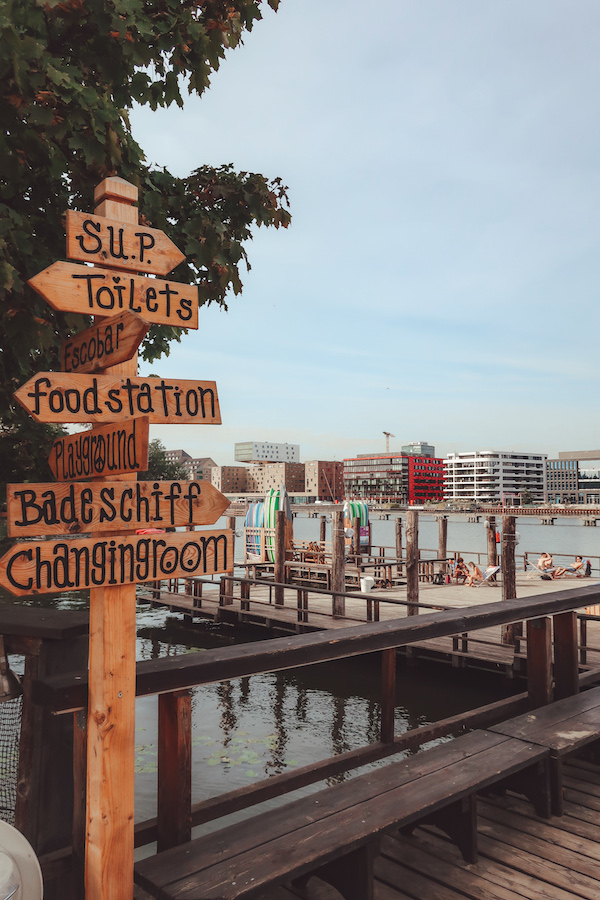 Badeschiff is a sandy beach bar with beach chairs, good tunes, and a floating pool in the middle of the river open during summertime. The pool wasn't open when we were there in mid-September, but we enjoyed relaxing in the beach chairs and feeling the sand between our toes. If you're lucky you can grab a spot in one of the few hammocks.  
5. Refuel at one of Berlin's cozy and delicious brunch spots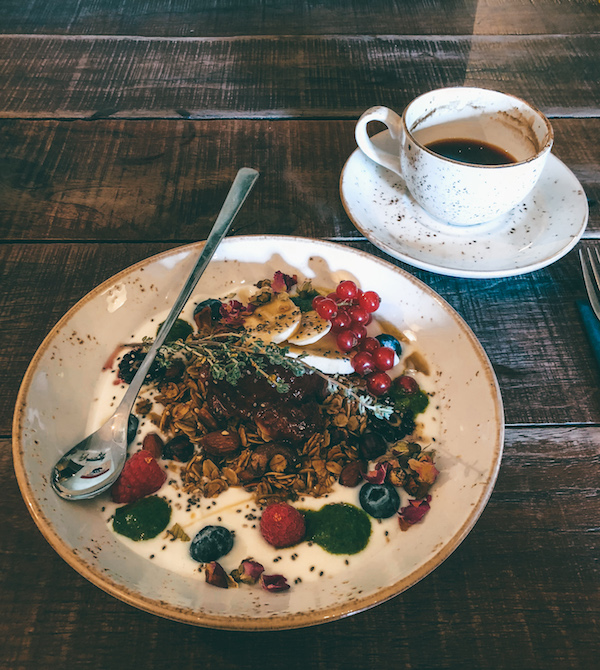 Berlin has wonderful cafes with plenty of heathy and vegetarian options. Brunch is served late into the day, so don't stress about getting out of bed early after a big night out! We regularly had avocado and hummus toasts, bagels, breakfast bowls, good coffee and smoothies.
See our list of 7 quirky cafes for a Berlin brunch.
6. Bike the East Side Gallery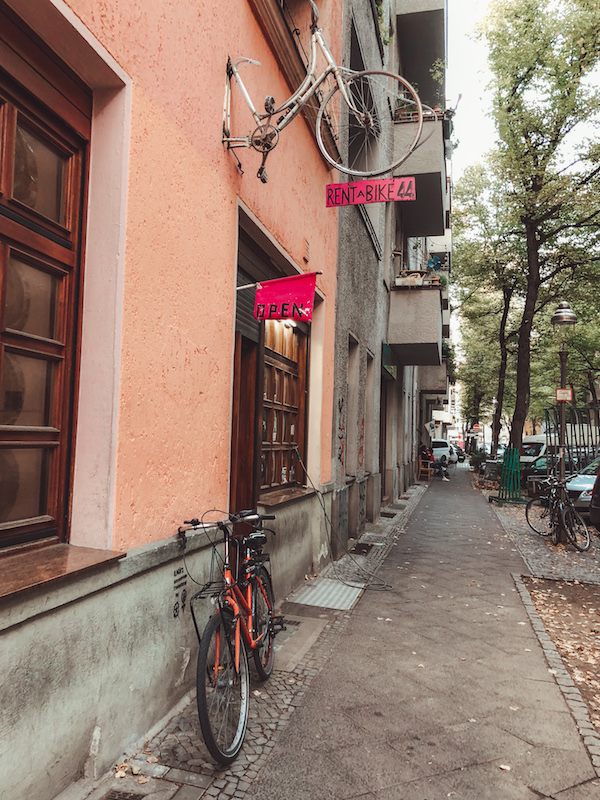 We rented our bikes from Rent a Bike 44 located in in Neukölln, where a daily bike rental only costs you four euros! The sustainable bike shop restores old bikes and saves them from going in the garbage. The bikes we rode had a lot of character, but shifted well and did the job. You'll feel like a Berliner riding around the city on one of these.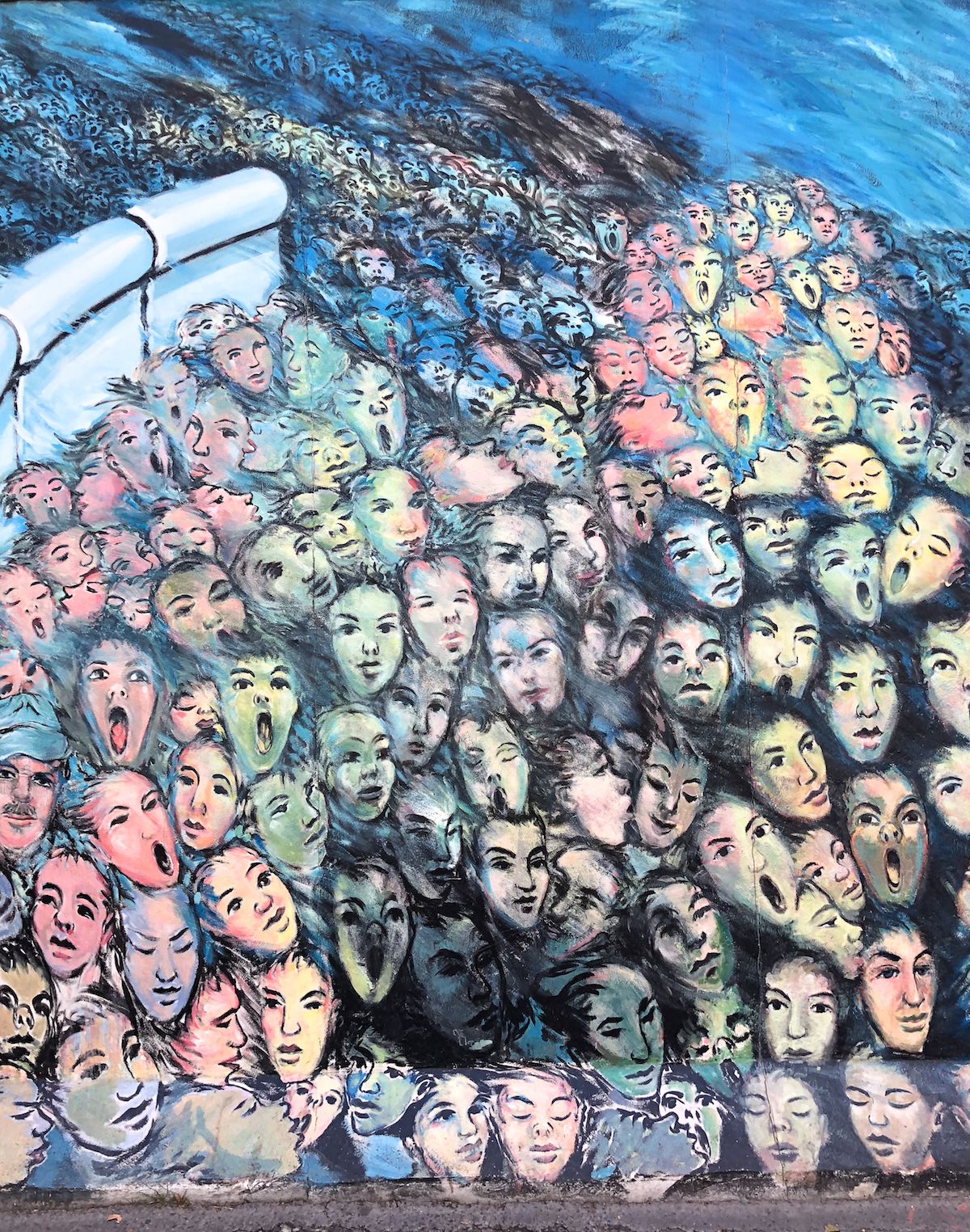 From the bike shop, we took our bikes up through Tempelhofer Feld and the neighbourhood of Kreuzberg to reach the the East Side Gallery in Friedrichshain. The gallery has over 1 km of murals painted by artists on the remains of the Berlin Wall. We walked with our bikes for most of it to spend time looking at each mural.
We then rode our bikes to Treptower park to relax. There are food vendors near the river where you can rest and get a bite to eat. We ordered a beer and spatzle and then enjoyed the sunset on our ride home.
7. Explore the artistic neighbourhood of Neukölln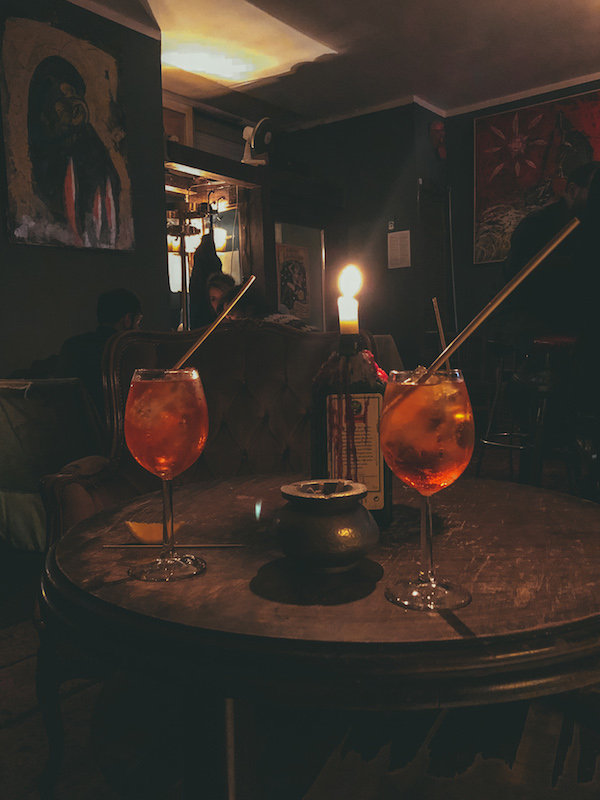 We spent 12 nights in Neukölln and absolutely loved staying in the area. Traditionally known as the Turkish quarter, the area has transformed into an artistic neighbourhood filled with cafes, restaurants, bars and some nightclubs. The drastic change came as a spill over from gentrification and rising costs in the former artistic neighbourhood, Kreuzberg. We were surprised at how many quirky places we saw when walking through the streets. Grab a drink and observe life in this eclectic neighbourhood!
Best bars in Neukolln
Best "locals" bar: Fuk;s Bar
Best bar for the view: Klunkerkranich
Best alternative bar: Syndikat
Best bar for the cocktails: TiER
Best bar for the budget: Any convenience store with a table outside. If you're looking for a non alcoholic boost try a Club-Mate, a tea type energy drink popular with the locals.
8. See the Boros Art Exhibition in a WWII Bunker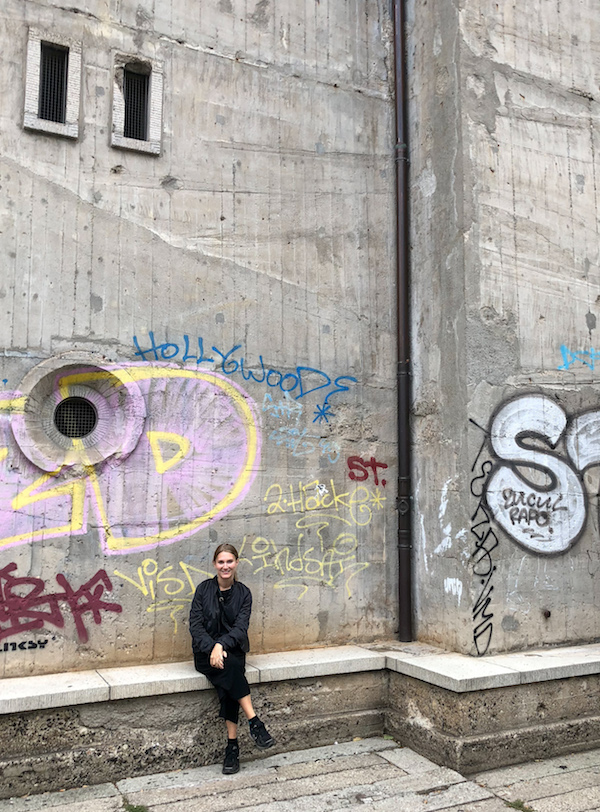 The private Boros contemporary art exhibition is a must see both for the art inside and the building itself. The bunker played many roles in history. It was a Nazi-era raid bunker, a Red Army prisoner of war camp, a storage centre for tropical fruits, and the "hardest club on earth" for its iconic techno, fetish, and fantasy parties.
Purchased by Christian Boros in 2003, his first collection opened in 2008 and now contains 700 pieces of contemporary art mostly focusing on local artists. The tour was informative and the stories behind the pieces were fascinating. Make sure to book your tour in advance.
9. Visit the Berlin Wall Memorial
We didn't know what to expect when visiting the Berlin Wall Memorial. If you don't know your history (like us) you might even think that a wall in Berlin separated the country - it didn't. To get caught up on what actually happened in Berlin we watched a few history documentaries and checked out this google map of the old wall. It was crazy to think that people lived so closely but so differently up until 1989. We had to go see it and continued to wonder how it shaped the peoples' lives in Berlin today.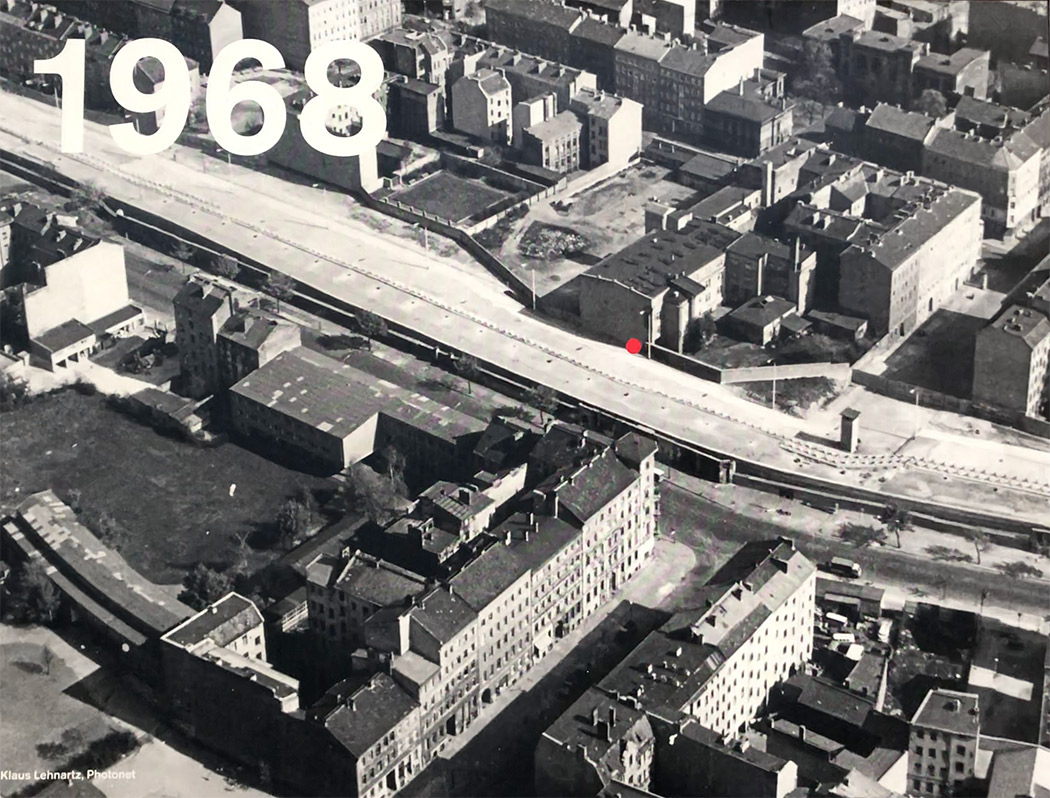 The open air exhibition is really neat. Giant steel columns, wall segments, memorials for the fallen and guard towers paired with large format photos from the time show you exactly how it would have been on that very street. You could place yourself right there beside the existing buildings and imagine the wall in front of you.  
10. Eat dinner along the canal banks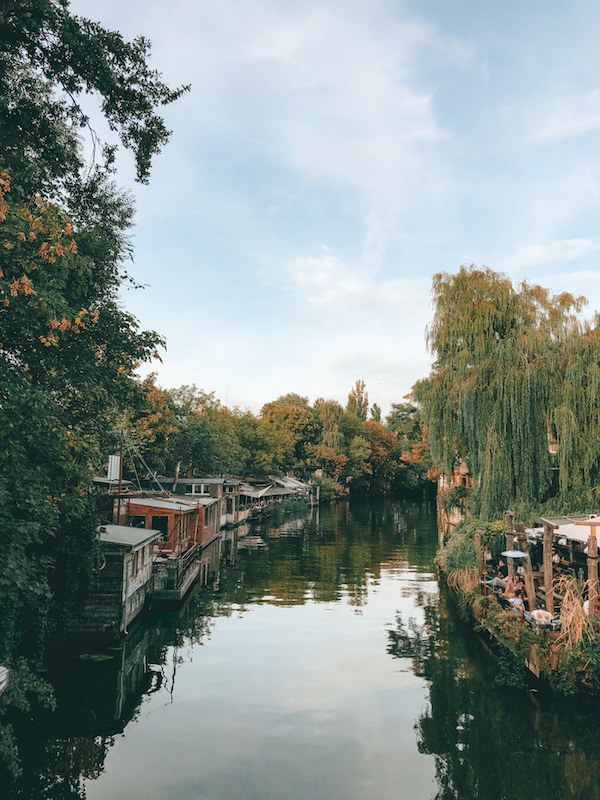 We walked along the beautiful canals and stopped in at The Freischswimmer, a restaurant right along the forested waterway. We enjoyed the nature and ordered some drinks, flatbreads and roasted pork. There are many restaurants along the canal bank to choose from and two day/nightclubs called IPSE and Club Der Visionaere. Make sure you know the name of the event or who's playing!
Check Out Our Berlin Video!
Planning a trip to Europe? If you liked these unique things to do in Berlin, you may also like the alternative and creative capitals of Amsterdam, Tbilisi, Budapest or Helsinki:
---
Looking for more travel inspiration? Check out our list of Unique Cultural Experiences to Inspire Your Next Trip
---
Save and pin this Berlin travel guide for later: