Tbilisi is a historic city filled with wonderful colours, patterns, food, architecture, and music. The city is at an interesting economic developmental stage where young people are manifesting an opposition to the "old ways", by making incredibly creative and inclusive places to hang out.
Over a third of the Georgian population lives in the capital of Tbilisi. You will find unique art cafes, creatives spaces, delicious Georgian cuisine, designer fashion boutiques and cool parties. We recommend staying at least 5 nights in the city to explore the best places.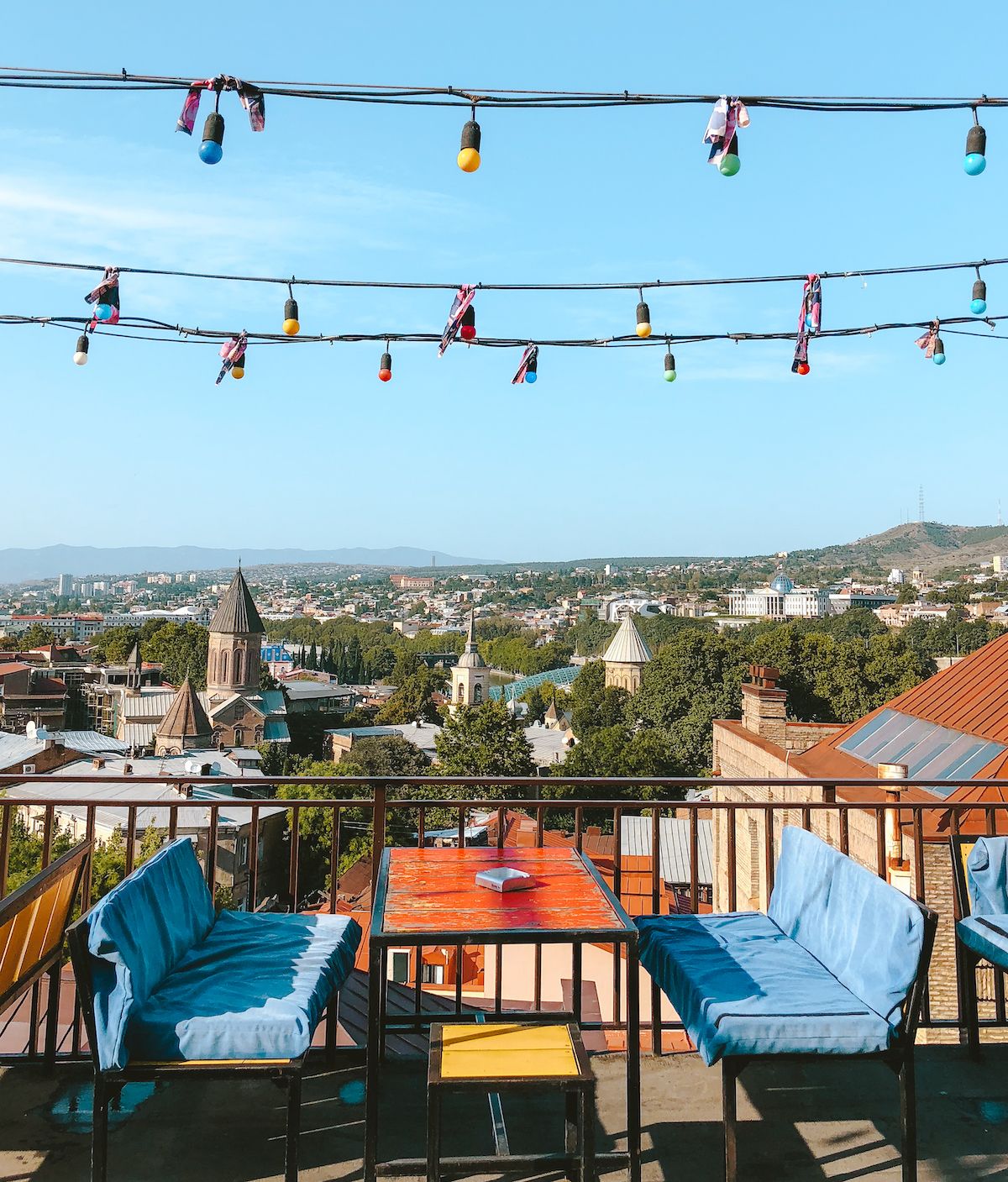 We spent two weeks searching for awesome spots and are excited to share our list of 13 cool things to do in Tbilisi - hidden gems included.
13 Cool Things to do in Tbilisi Georgia
Disclosure: Some of the links below are affiliate links, meaning at no additional cost to you, we will earn a commission if you click through and make a purchase. Regardless, we only recommend products or services we have used or that we believe will add value to our readers. Thank you for supporting us!
1. Hang out in a former factory turned creative space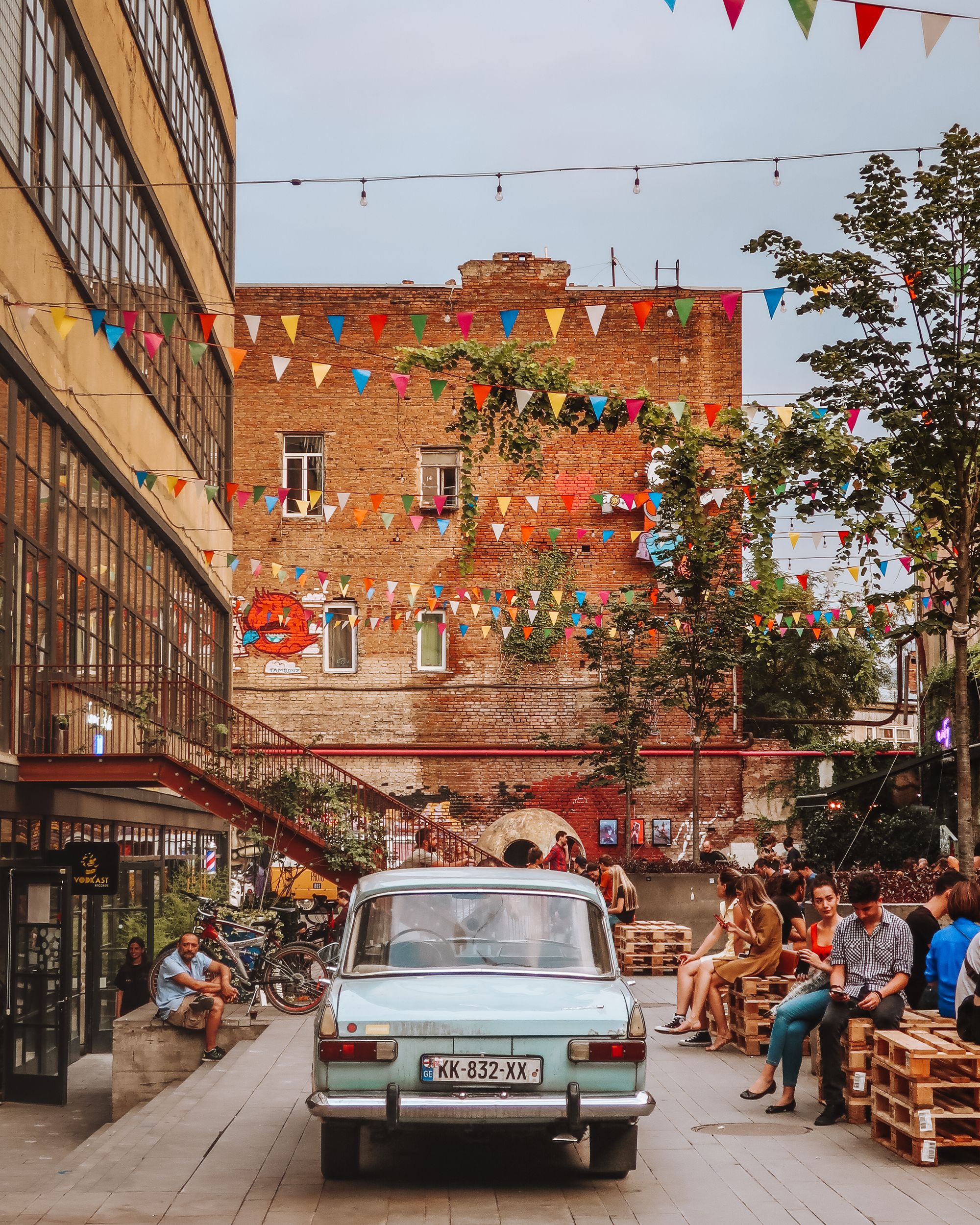 Even as Tbilisi develops and gentrification becomes an issue, certain property developers have made great efforts to preserve the architectural heritage of the city.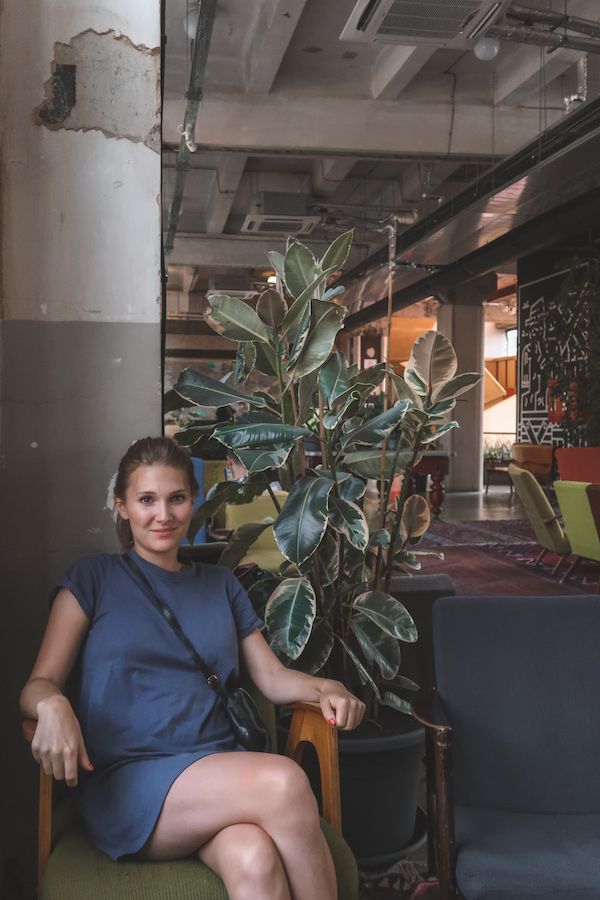 Fabrika is a beautiful example of what can be done in a renovation/restoration project. The former Soviet sewing factory has been turned into the coolest hostel in the world. Luckily, even if you are not staying overnight, there is a large public space in the hostel to hangout, a cafe and a restaurant. It's the perfect place to spend a few hours with coffee or a cocktail while working on your laptop or reading a book. There is always some funky music playing in the background that makes a nice atmosphere.
In the back there is a large courtyard with restaurants, fashion boutiques, bars and shops. It gets very lively at night!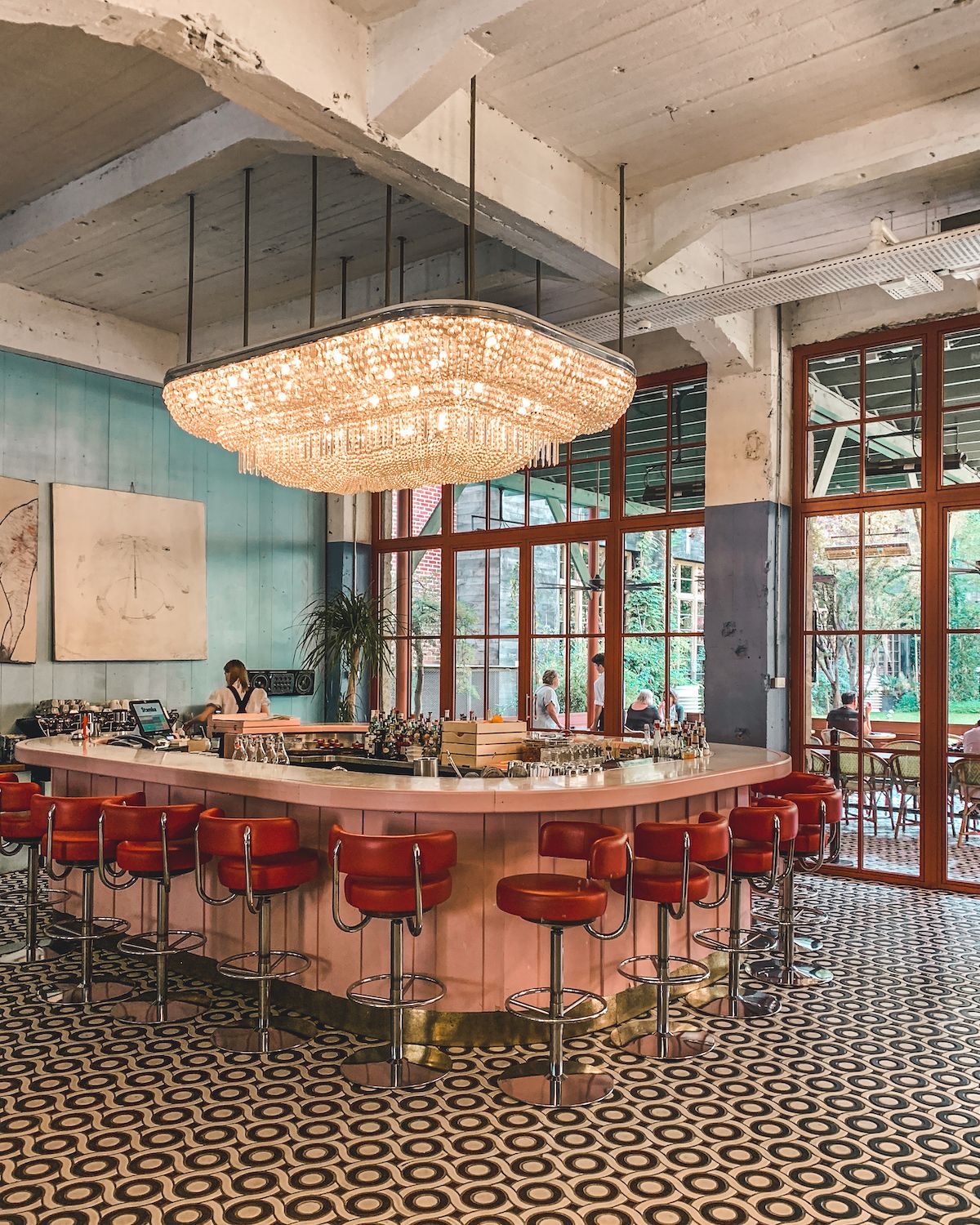 Another stunning conversion can be found in the STAMBA hotel and cafe. This converted newsprint factory showcases original giant concrete pillars that support rusted conveyors that snake overhead. The cafe is absolutely gorgeous and has an awesome patio. STAMBA is more upscale than Fabrika and the crowd reflects that.
Address: Fabrika (8 Egnate Ninoshvili St.); STAMBA (14, 0108 Merab Kostava St.)
2. Stay in an eclectic Airbnb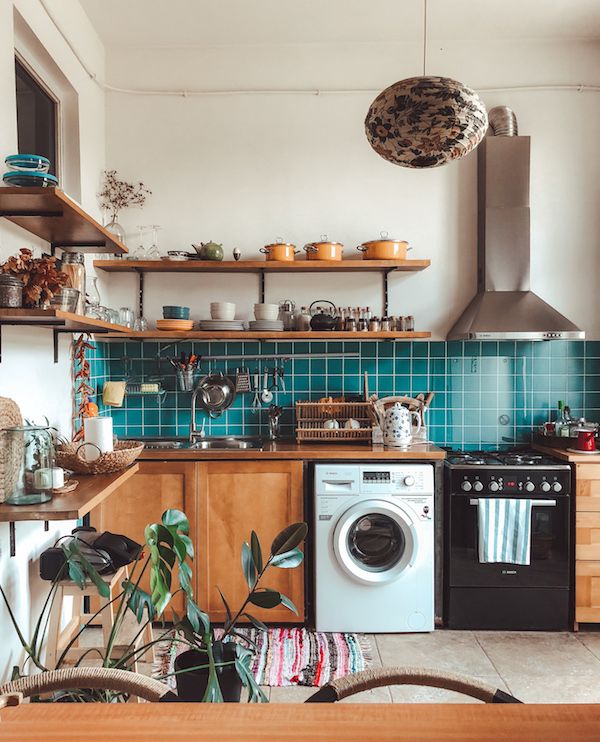 When planning your stay, consider an eclectic
Airbnb in a less touristy part of town
. We find Georgian apartments to be very inspiring places to stay.
We have stayed in the Marjanishvili area twice and prefer its local flavour.
Walking the streets in the morning is rewarding. Shop for some groceries from the small produce stalls, grab bread from a bakery and soak in the local culture.
Our favourite
airbnb we stayed at
had a quirky style with three beautiful french balconies overlooking the city and river. It is located in a Soviet building and was a house for actors and cinematographers. The lady who owns the apartment inherited it from her Grandma, who was a very famous actress!
3. Shop for Georgian designer clothes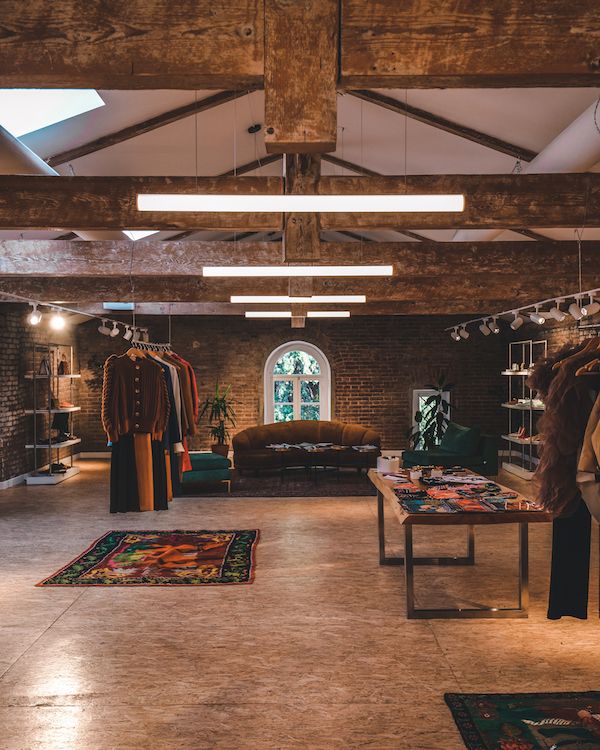 Tbilisi is known as the next fashion "hotspot" according to Highsnobiety and has been highlighted as a new fashion hub by New York Times, Vogue and Forbes. Georgia has a long history with textiles and sewing. In Tbilisi you will find many designer stores with completely unique pieces for your collection. Our favourite was the newly opened IERI concept store. Their curation is exceptional.
Other Tbilisi fashion boutiques worth checking out:
Commodus (40 Irakli Abashidze St.): Clothing and pottery.
Nikolo Brega (50 Irakli Abashidze St.): Handmade wooden sunglasses.
Art-Café Home (13 Betlemi St.): A new clothing store has opened inside the 2nd floor.
Flying Painter (8 Egnate Ninoshvili St.): Clothing as art, located in the Fabrika courtyard.
Tamar Chovelidze Street: You will find a handful of boutiques on this street near Lolita Cafe and Cafe Stamba.
4. Party at an art cafe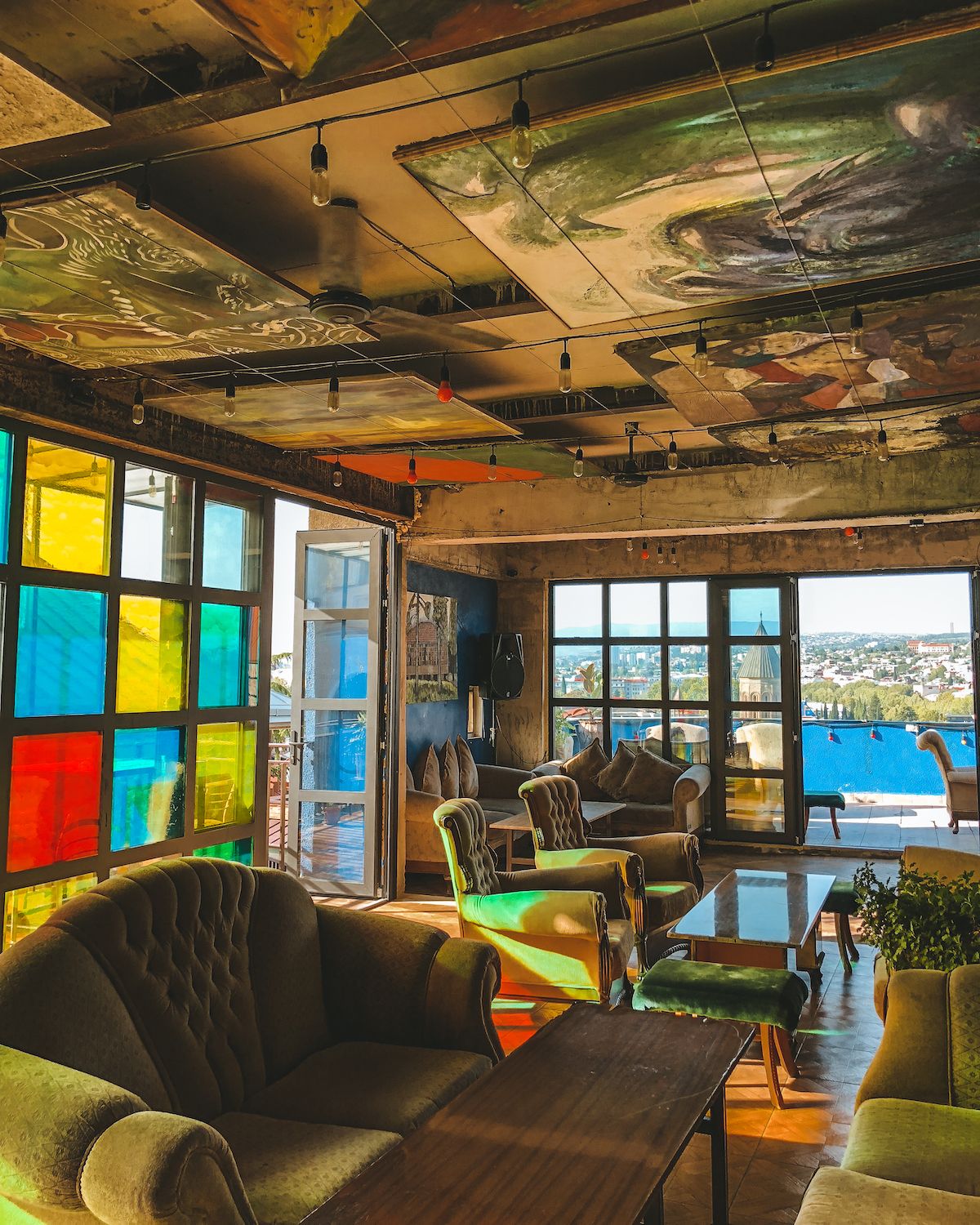 Cafes that serve up coffees during the day and turn into dance parties at night make up a really cool part of Tbilisi culture. Our favourite is Art-Cafe Home. This three-story playground has amazing views from their rooftop patio. Inside, there are two dance floors, couches and art hanging from the walls and ceiling. At night, a DJ hits the decks and locals begin filling the space.
Another great but lesser known art cafe is Cafe-Gallery. Head there around midday when you're finished shopping on Rustaveli street to listen to some cool music and have a nice coffee. Go there in the evening to dance.
Address: Art-Cafe Home (13 Betlemi St.); Cafe Gallery (34 Alexander Griboedov St.)
5. Enjoy coffee or lunch at an eclectic cafe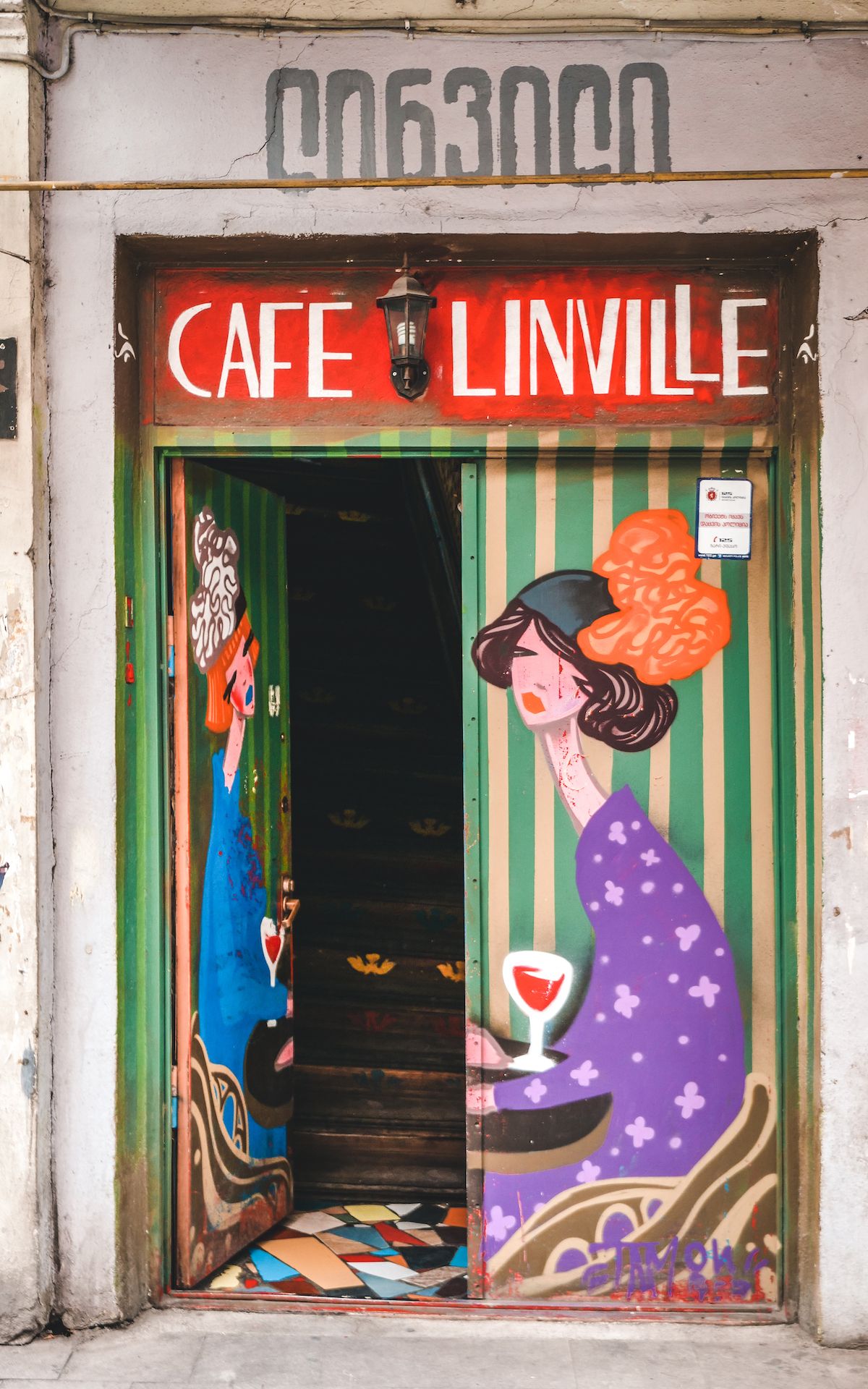 Of course, not all art cafés in Tblisi turn into dance parties. Try a coffee or lunch at one of these more traditional and beautiful cafes:
Linville (11 Kote Afkhazi St.): a great spot in the backstreets near Liberty Square. Walk up the crooked steps into what looks like a wallpaper shop owner's apartment. It's a lovely place for a rest when exploring the area.
Entrée: a French café chain that has loads of healthy food and the best coffee in the city. You can also find a copy of The Financial here to read up on Georgian economics news.
For more cafes like this, see our list of unique cafes and restaurants in Tbilisi.
6. Enjoy a night at one of the world's best techno clubs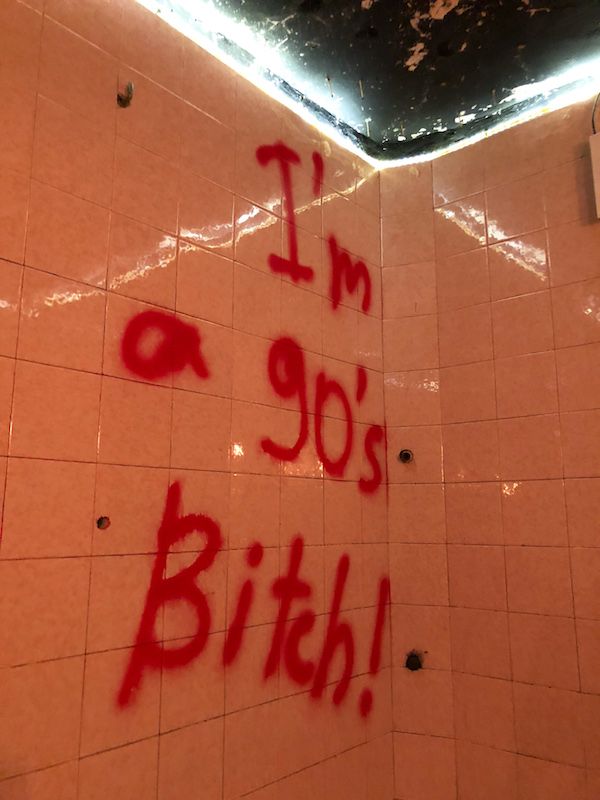 In Georgia, techno has become somewhat of a political statement for freedom of expression, against the traditional orthodox ways. On May 12, 2018, the now world renowned Bassiani night club became a political battleground between the young left and the old right in the country. That night, armed SWAT police raided the club making several arrests. The next day, thousands protested by dancing in the streets in Liberty square.
When visiting Bassiani you can feel the appreciation people have for the inclusive, no judgement environment where you have the freedom to be who you want to be. It is unlike most other clubs in the world. There are no bottle service booths, people dance respectfully on the dance floor, great cheers erupt at peaks in the music and the sound system is perfectly tuned so you won't need ear plugs.
Bassiani is only open one night a week (typically Friday or Saturday) and they take a break in August. They have a strict door policy to protect the community.
Top Tip: register on their website far in advance with your Facebook account to become a member and unlock the ability to buy tickets online. Also, you can always check what DJs are playing in the city on Tbilisi's Resident Advisor listing.
7. Eat Georgian cuisine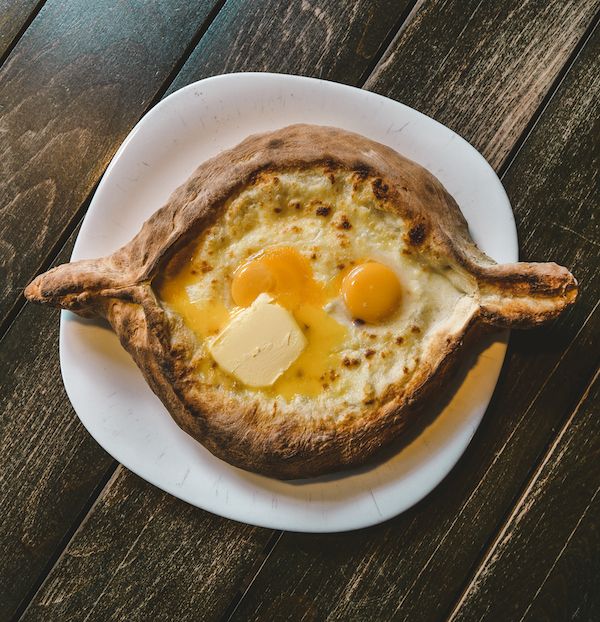 Georgian cuisine is very unique and the traditional food scene dominates Tbilisi. Georgians love their food, so most of the restaurants are Georgian. It seems as though every cook has their own version of a recipe, which is exciting because each dish is a new experience. For example, the west Georgian walnut sauce called Badzhe (BAJEH) can vary in consistency and flavour wherever you go. Two of our favourite dishes are Ajarulian Katchapuri (the cheese boat) and Khinkali, a meat filled dumpling you eat with your hands.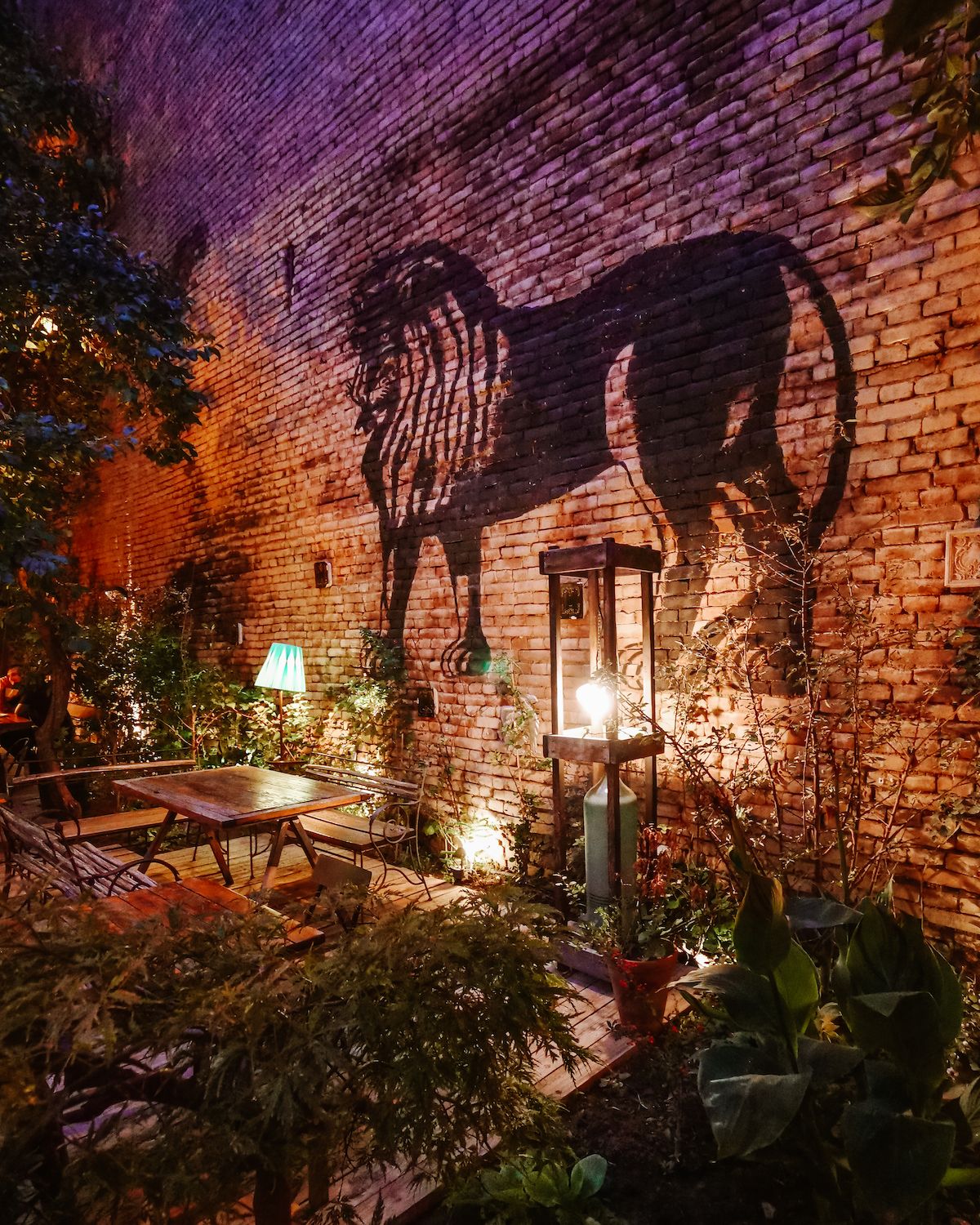 If there is one restaurant to go to when you're in Tbilisi, it's Shavi Lomi. Although it's becoming more popular, this restaurant is still frequented by locals sitting at long tables merrily eating, drinking and toasting. Their garden is an enchanting secluded oasis in the Marjanishvili area of the city. Try the off-menu item called Gobe. It is their way of doing Pikhali (Georgian dips). It's best to make a reservation in advance.
We also loved Mapshalia, an authentic and busy restaurant that provides a very local experience. It's the kind of place where they only serve house wine and you hear people singing and toasting. You will be shocked at value. Don't be afraid to signal to your server for service. We filled up for 20 GEL (~$6.50 USD)!
Address: Shavi Lomi (28 Zurab Kvlividze St.); Mapshalia (137 Davit Aghmashenebeli Ave.)
8. Treasure hunt at the Dry Bridge flea market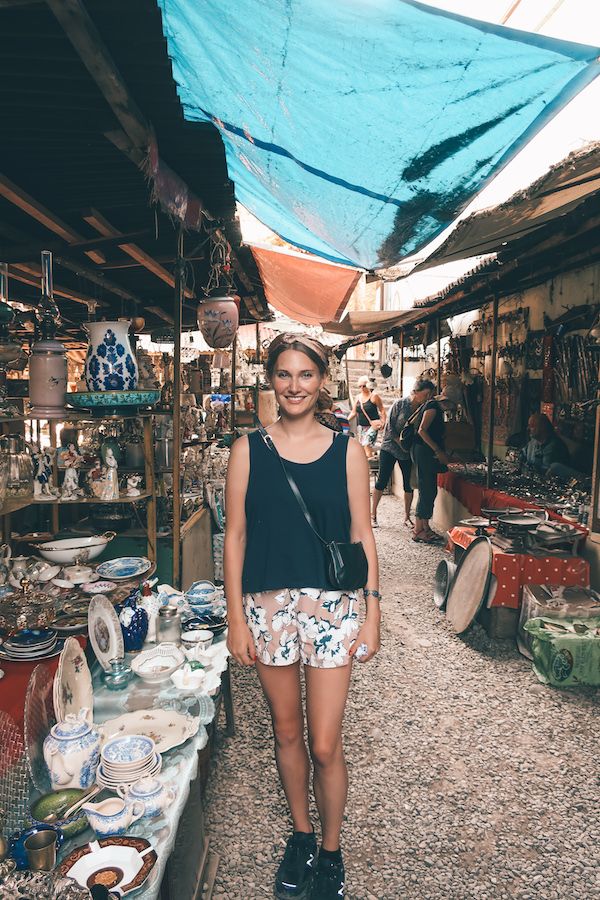 There are a lot of cool treasures to find in this flea market from traditional handmade jewelry to obscure Russian war memorabilia and Georgian drinking horns (called Kantsi). The market sprawls out of Dedaena Park into the streets so make sure to walk the perimeter.
If you visit in the late afternoon, head to Bahaus located in the park for a drink and to take inventory of your finds.
Top Tip: Make sure you bargain with the vendors. You will always be able to get a deal. Walk away if you're not satisfied with the price and if the vendor calls you back you can bring the price down. The cheap sunglasses can be brought down to 10-15 GEL.
9. Take a Bolt taxi to Turtle Lake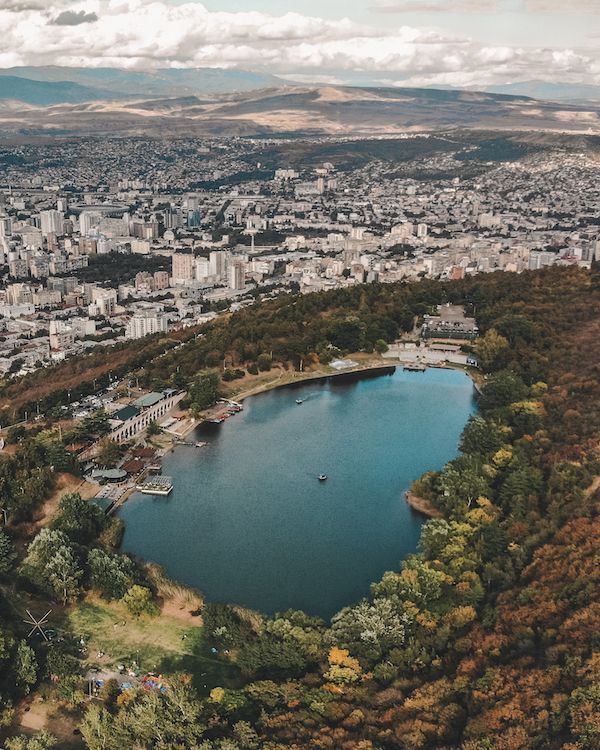 Turtle Lake is a little hidden gem in Tbilisi. This small lake sits in the clean air atop Mtatsminda mountain on the western side of the city. A bonus of the 15-minute Bolt (like Uber) ride, is the chance to see the more residential part of the city. The trip will cost you around 10 GEL (~$3 USD) one way from the city centre. Bring cash for your ride back as you may have to get a taxi from the top.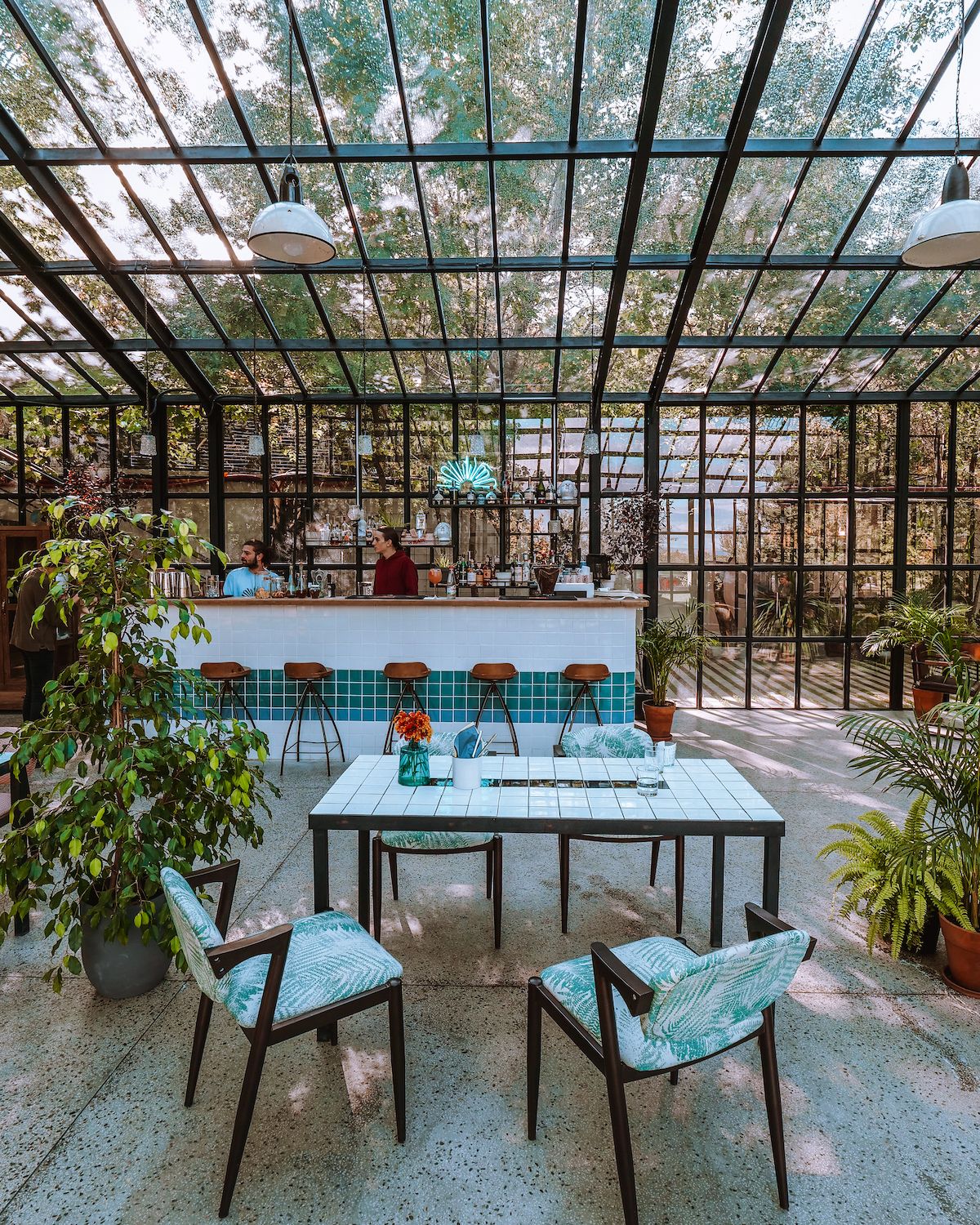 The walking loop is 1km around the lake on a paved path. Skip the main restaurants at the park entrance and have coffee or lunch at the trendy garden cafe, Tsiskari. You can also bring a picnic and sit in the grass or on the small beach. There are dance parties in the summer time hosted in the space near the Tsiskari cafe.
10. Relax at a thermal bath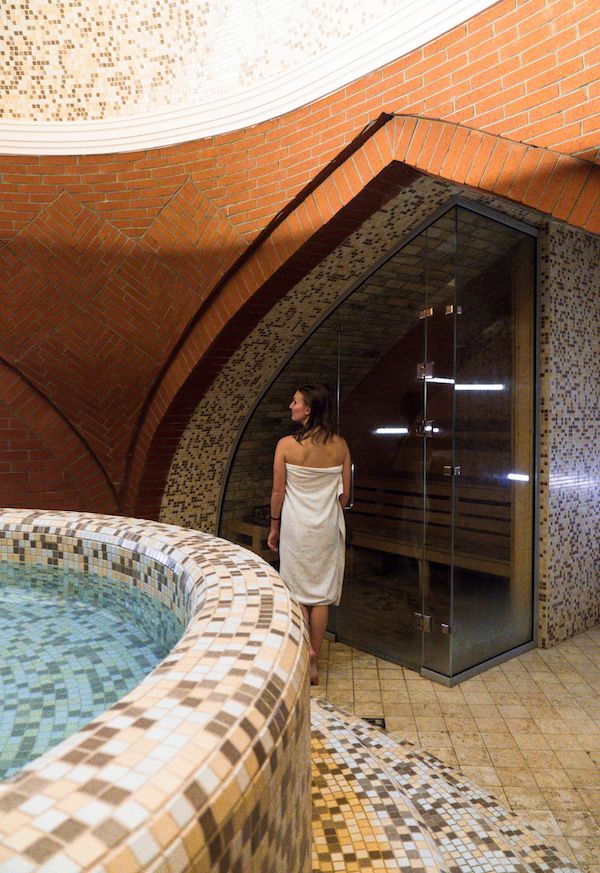 Tbilisi literally translated means "a warm place". There is a longstanding tradition for Georgians to sweat out a hangover in the city's sulphur baths. Head over to the Abanotubani bath district, where you'll find different bathhouses all with private or public sulphur rich baths.
We highly recommend Chreli Abano because they have a reservation system and private rooms. Book well in advance especially if you're going on a weekend. Room #1 is by far the best and we recommend 2 hours to fully relax. You can skip out on the traditional "massage/rub down"… it's not so enjoyable.
Top Tip: If you're still feeling wobbly after the bath you can try one of two other Georgian hangover cures. Walk to Culinarium Khasheria and grab a Georgian/Vietnamese "Hangover Cure" soup that tastes like Pho or head over to Passanuri and eat copious amounts of Kinkhali (Georgian dumplings).
Address: Culinarium Khasheria (23, Abano St.); Passanuri (1 Vakhtang Gorgasali St.)
11. Drink Georgian wine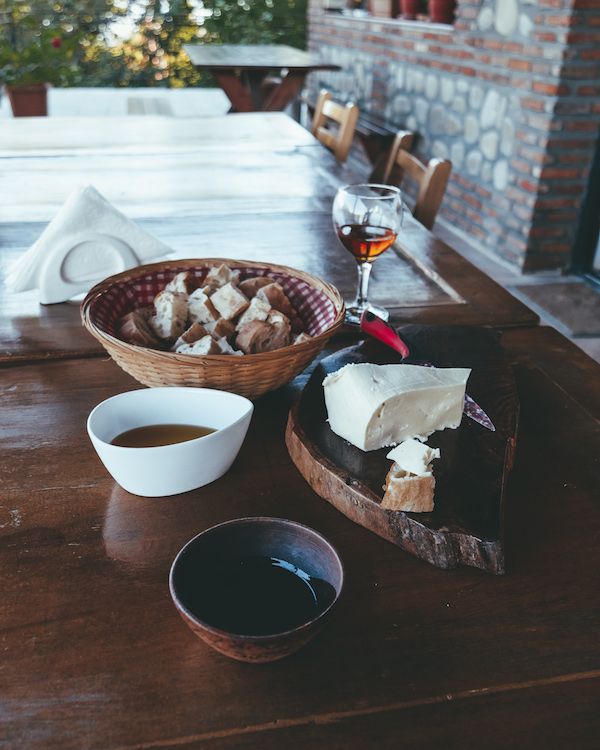 The oldest known wine making technique originated in Georgia over 8000 years ago! Winemakers to this day ferment grapes in earthenware vessels called a Qvevri (pronounced kway-vree). Georgia is also known to have once had 528 varieties of grapes. Unfortunately, during the communist era many of the vineyards that grew more exotic varietals were changed out to supply only the basic few. Variety was certainly not seen as the spice of life in that era.
You may be shocked at the taste of Qveveri wines since they are much sharper and funkier than the barrel aged wines we are accustomed to drinking. It may take some getting used to, but we find the more you taste, the more you will figure out which ones you like.
The most popular red grape is Sapaeravi, the most popular white grape is Rkatsateli and there is a delicious amber wine called Kisi which goes very well with salty meat dishes like shashlik.
Our favourite Georgian winemakers are:
9 Oaks Estate: try their Kisi wine with some Shashlik
Pheasants Tears
Solmnishvili: their 2008 Saperavi (Qveveri & Barrel aged) was so good we brought a case of 12 home with us!
8000 Vintages: Not a wine maker but an incredible store with very knowledgeable staff. They can point you in the right direction and give you a tasting!
Top Tip: If you're struggling with the funky flavours, try a barrel aged Qvevri wine. The barrel aging takes the edge off. You could also try a Georgian grape like Saperavi, but made in the classical non-Qveveri method if you want to compare grapes to grapes.
12. Enjoy a mix of historic, Soviet and modern architecture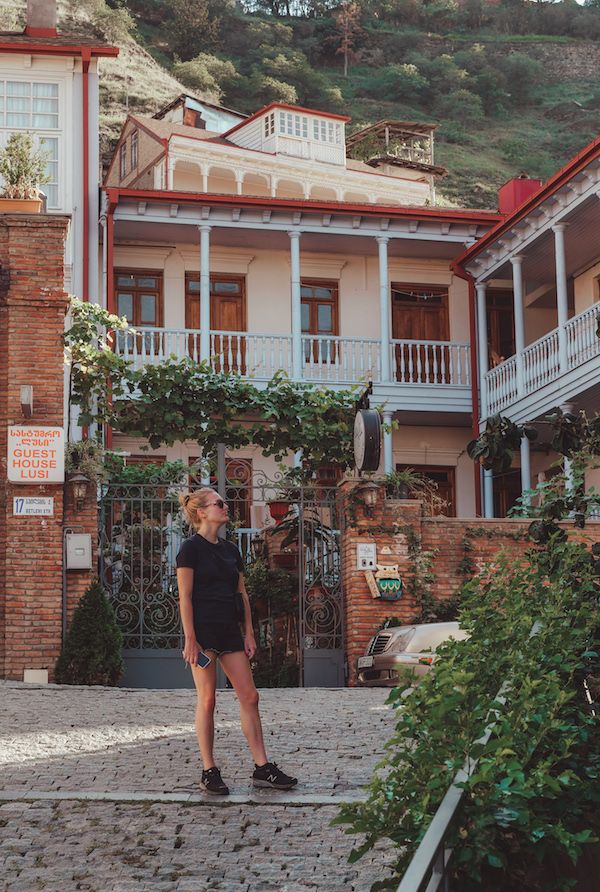 The varying architecture in Tbilisi serves as a living memory of its vast history. From iconic wooden balconies and decaying soviet brutalist buildings to recent modernist buildings, each style represents an era. This is a pleasure you don't see very often in other capitals.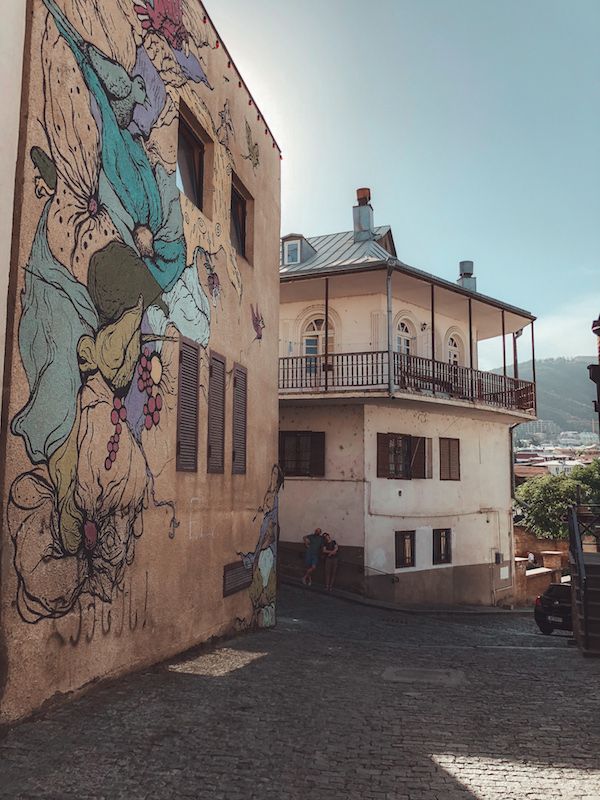 Tbilisi lies at an early developmental stage compared to western capitals. The city has not experienced the rapid growth that leads to land value increases and subsequent destruction of heritage buildings. Rather, it is at a point where new buildings are developing in more open lands and it is still practical for renovations to take place in more historic corners.
13. Eat from a Georgian bakery
You can find bakeries just about everywhere in Tbilisi. They typically serve right out of the front door or window. You can try a variety of pastries filled with cheese, potato, beans or meat and fresh bread made in a traditional oven for just 1 GEL. Baked goods are a great snack to grab as you are walking around. Chances are nothing will be labeled in English so just point, ask and eat.
We hope you enjoyed these cool things to do in Tbilisi!
You should also consider spending time in the romantic town of Signagi, located in most prominent wine region of Georgia.
---
Bonus: Our top hotel picks in Tbilisi
🛏️ Browse more stays on
Booking.com
---
Start planning your trip to Georgia
---
Looking for more travel inspiration? Check out our list of Unique Cultural Experiences to Inspire Your Next Trip
---
Save and pin this Tbilisi guide for later: