Los Angeles is one of our favourite cities in the world. Since America's second largest city is packed with so many famous places and happening spots, it can feel overwhelming choosing what to do. Our mission was to find iconic places worth the hype as well as unique spots that make the city feel special.
Our 5 Day Los Angeles itinerary includes a mix of celebrity hot spots, fabulous landmarks, scenic Californian sights, and cool joints in the city's up-and-coming neighbourhoods.
Your 5 days in LA will be filled with fun experiences.
Overview: 5 Days in Los Angeles
Day 1: Beverly Hills/West Hollywood - experience Hollywood's celebrity culture

Day 2: Venice Beach/Santa Monica/West Hollywood - take in LA's free-spirited side and finish the day with a dose of entertainment

Day 3: Arts Distric - explore LA's alternative side

Day 4: Malibu/Los Feliz - take a scenic day trip to Malibu and spend the evening in the up-and-coming Los Feliz neighbourhood

Day 5: Hollywood Hills/Hollywood - visit fabulous landmarks that make the city so special
Disclosure: Some of the links below are affiliate links, meaning at no additional cost to you, we will earn a commission if you click through and make a purchase. We only recommend products or services we have used or that we believe will add value to our readers. Thank you for supporting us!
Best time to go to Los Angeles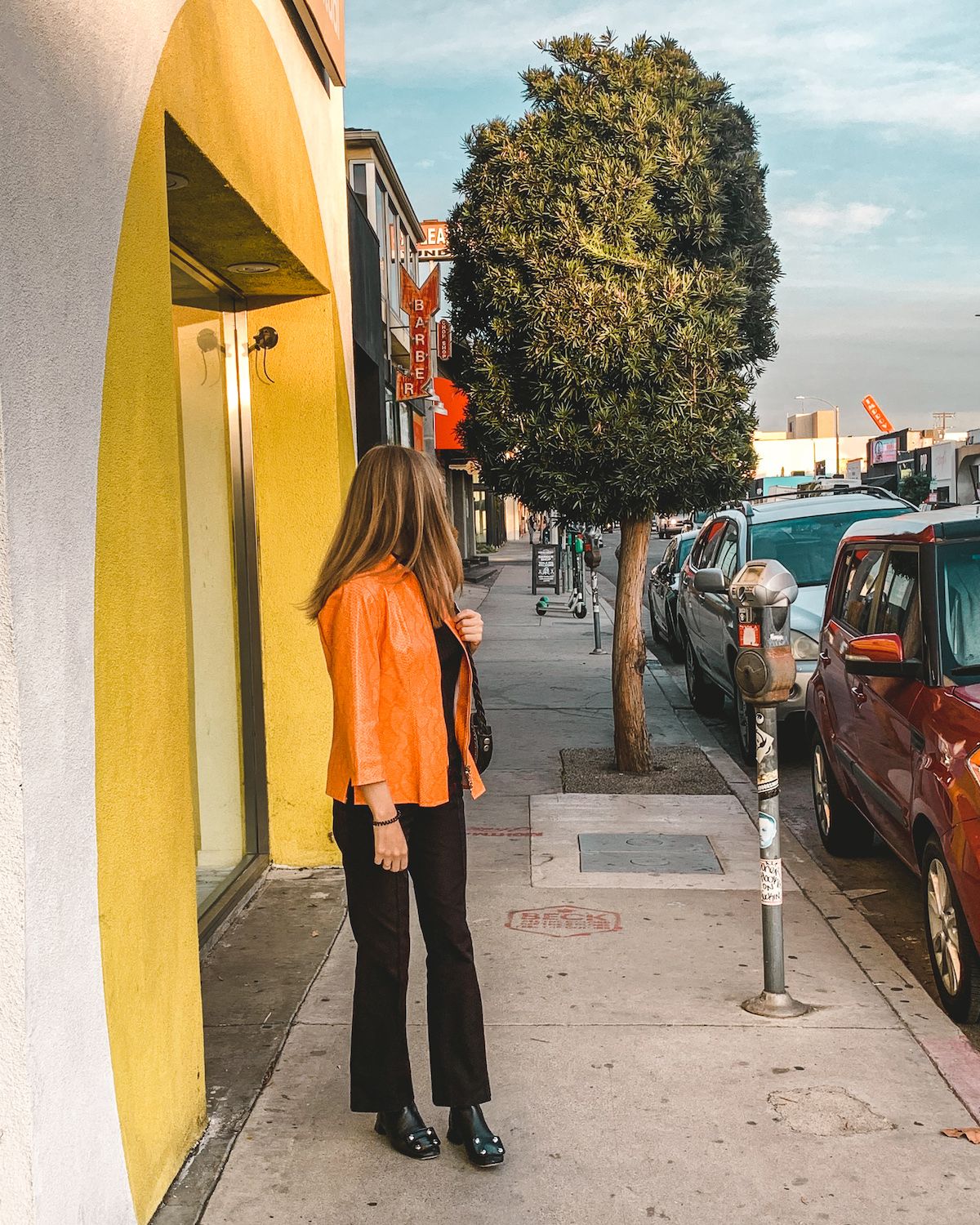 The best time to go to Los Angeles is in Spring (April-May) and Fall (September-November) for a few reasons:
You will avoid the crowds over summer and winter break
You will avoid the coldest months of December - February
You will avoid the rainiest months of January & February
These are the best months for pleasant weather and less crowds.
Top Tip: If you don't want to stick out like a tourist, dress accordingly to the season. That means no summery outfits like shorts during winter or colder shoulder seasons. It gets chilly in the evening, so bring a jacket!
Getting Around LA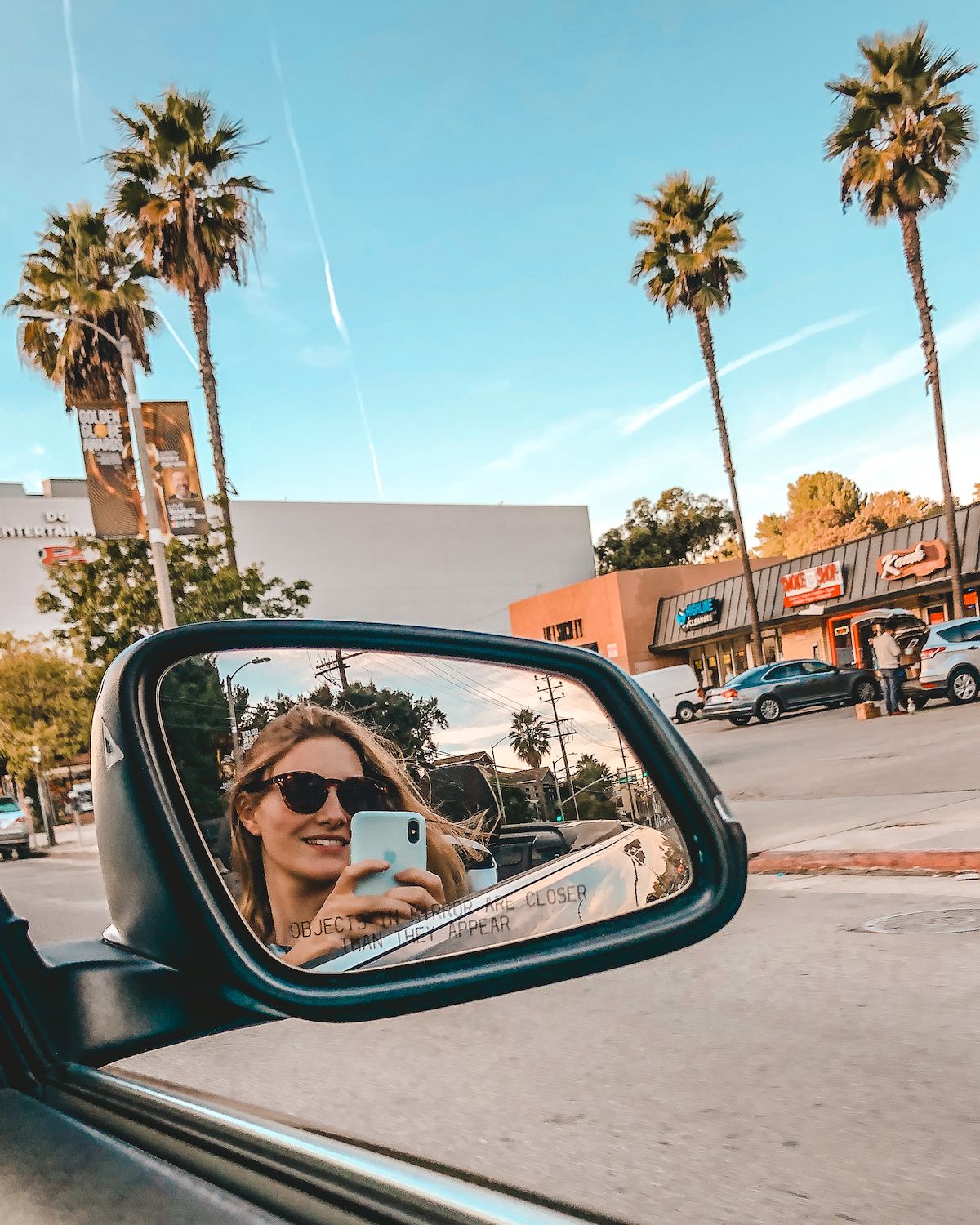 Traffic in LA can be awful at times, so it's best to plan driving outside of rush hour. During weekdays, rush hour is around 7 AM - 10 AM and 4 PM - 7PM.
Thanks to ride sharing apps like Uber and Lyft, you can take the pressure off driving and rely on a local to drive you. This is especially handy for places where it's difficult to find parking or if you want to go out for a few drinks. Electric scooters also make it easier to get around. You can find them everywhere! Easily rent one by using Uber, Lyft or the Bird app.
We recommend renting a car for this itinerary since it includes a day trip to Malibu, however you could get away with ride sharing for the days you're in LA and just renting a car for your day trip to Malibu.
🚗
Compare car rental rates in LA with Rentalcars.com
Where to stay in Los Angeles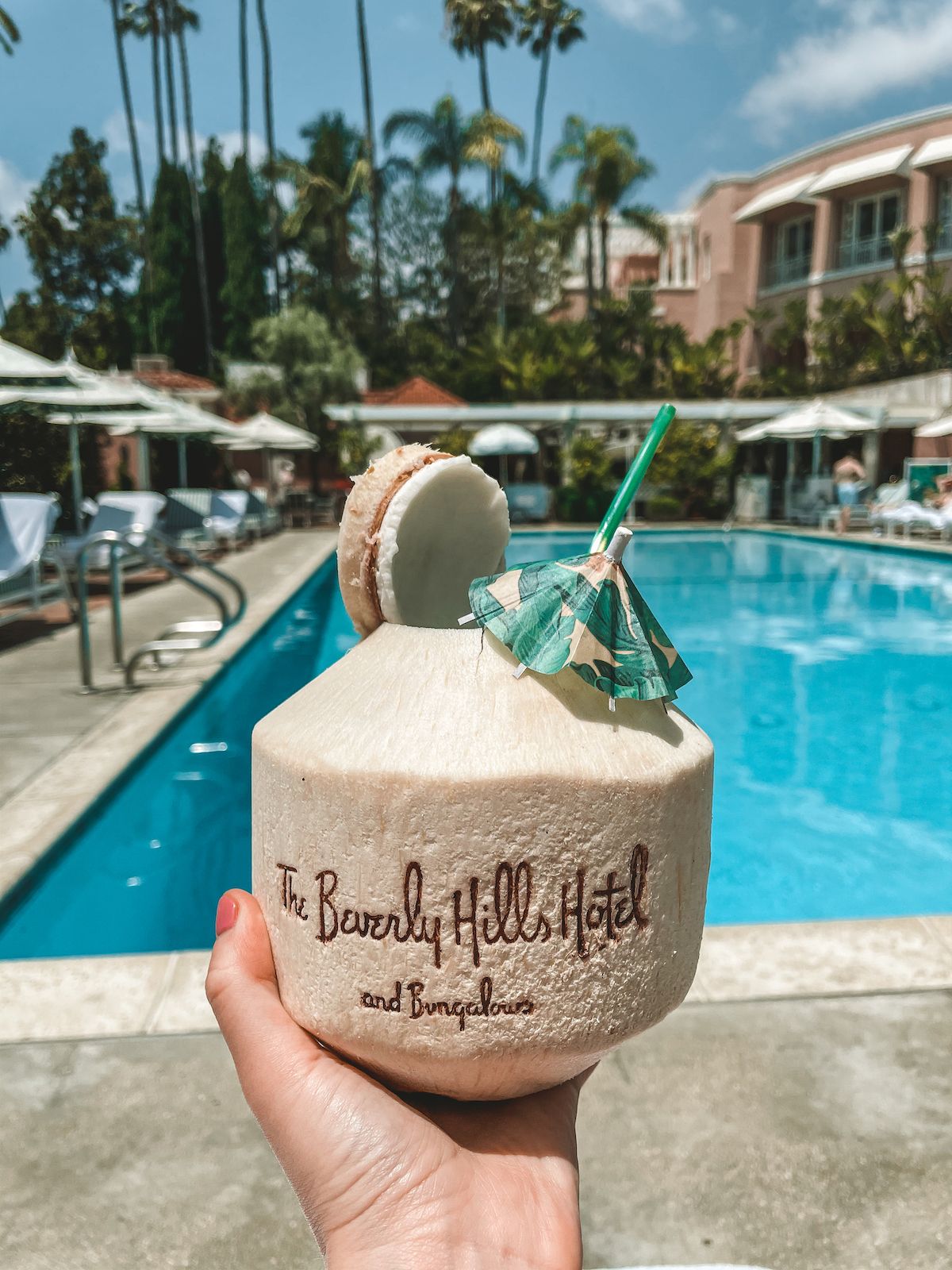 When choosing a hotel, location is key. LA is huge and traffic can be crazy when traveling from neighbourhood to neighbourhood. We recommend staying around West Hollywood, because of its central location and fun atmosphere with trendy shops, restaurants and bars around just every corner.
You will find cheaper places to stay downtown and around Venice Beach, however traveling to and from these neighbourhoods to explore other parts of the city becomes frustrating with the traffic.
Our top hotel picks: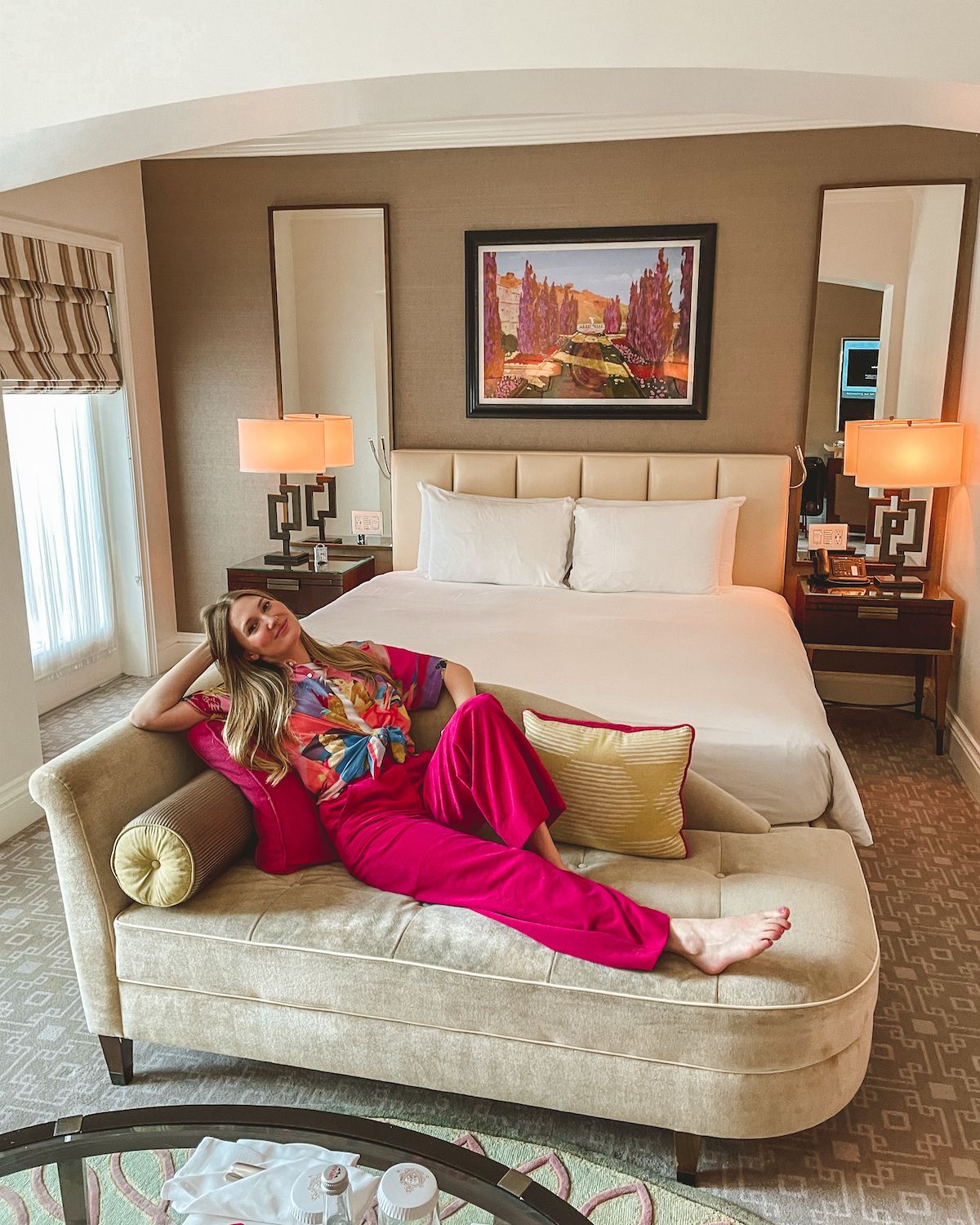 Best for an iconic Hollywood experience: The Beverly Hills Hotel ($$$$):
To experience the best of Hollywood's celebrity culture, look no further than the legendary
Beverly Hills Hotel
. It's an incredible experience staying here if you're up for the splurge. Pulling up to the front of the pink hotel feels like you're pulling up to a movie premiere with its red carpet and green and white striped ceiling that leads you inside. You're almost guaranteed to run into a celebrity. We saw Rebel Wilson!
The California-style rooms are plush and glamorous, but you won't want to stay in your room for long when you have access to the exclusive pool area that overlooks Cabana Cafe. We sunbathed on striped pool loungers while refreshing cocktails and satisfying bites were brought to us by our friendly server. Another perk is the concierge who can assist you in making hard-to-get dinner reservations. If you want to experience Hollywood's celebrity culture, this is the way to do it!
Compare rates for The Beverly Hills Hotel.
Best for a chic escape: Petit Ermitage ($$$):
Tucked away in the middle of West Hollywood,
Petit Ermitage
provides a bohemian-chic haven away from the bustling city. The antiques, artworks, and foliage give the hotel a unique atmosphere. Order a craft cocktail at the Butterfly Bar or lounge pool side at their rooftop sanctuary.
Compare rates for Petit Ermitage.
This boutique hotel combines old Hollywood glamour with colourful elegance. Each room was uniquely designed by Martyn Lawrence Bullard who has styled mega-celebrity's homes, like Elton John and Cher. Its location is in the outskirts of Hollywood's best neighbourhoods, but they are easily reached in 10-15 minutes by car.
Compare rates for The Prospect Hollywood.
🛏️ 🌝
Browse more hotels in Hollywood with Booking.com.
We like to sort by best reviewed.
Fun Filled 5 Day Los Angeles Itinerary
Day 1 - Beverly Hills / West Hollywood
Experience Hollywood's celebrity culture
Daytime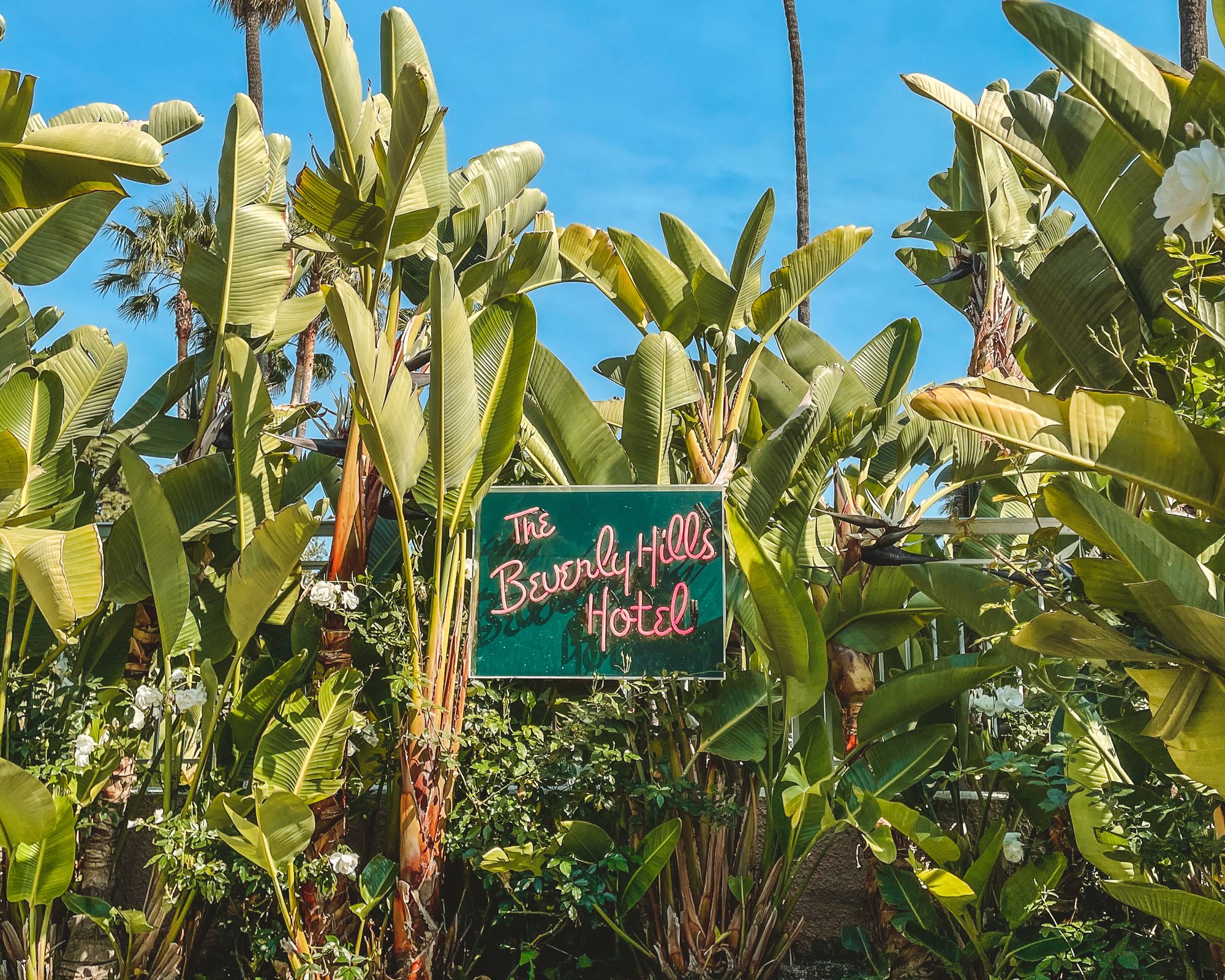 Eat brunch at Cabana Cafe in the iconic Beverly Hills Hotel
Enjoy an al-fresco brunch at the
famous hotel where Marylyn Monroe regularly stayed in Bungalow 1 and where Liz Taylor had 6 of her 8 honeymoons.
Cabana Cafe is open to non-hotel guests for breakfast and lunch. Just make sure you reserve a table far in advance. We saw online that we missed Hailey and Justin Bieber here by one day!
Shop for a fabulous outfit on Melrose Avenue
Give yourself the celebrity treatment by going on a shopping spree down Melrose Avenue. Your mission: to find a fabulous outfit for your evening out. You will find plenty of boutique shops and vintage stores down Melrose Ave, which runs from Beverly Hills to West Hollywood.
The shopping route:
Don't miss Wasteland for high-end vintage clothing, Reformation for sustainable women's clothing, Jonathan Adler for funky home decor pieces and Melrose Market, a happening Sunday market with tons of vendors selling vintage clothing, antiques, accessories and local artisanal products.
Get done up on the Sunset Strip
Outfit ✔️. Now it's time to get done up for your evening out on the town. Give yourself a break from doing your hair and get a blowout at drybar on Sunset Strip. It was mine (and Ari's!) first time getting one. Our hair was washed, blowdried and styled to our liking. It felt so soft and bouncy after! We are now hooked.
Afterwards I got a mani/pedi at Jessica The Clinic, a nail salon just one minute walk down the street from drybar. Across the street you can see the Oppenheim Group office from Selling Sunset.
Evening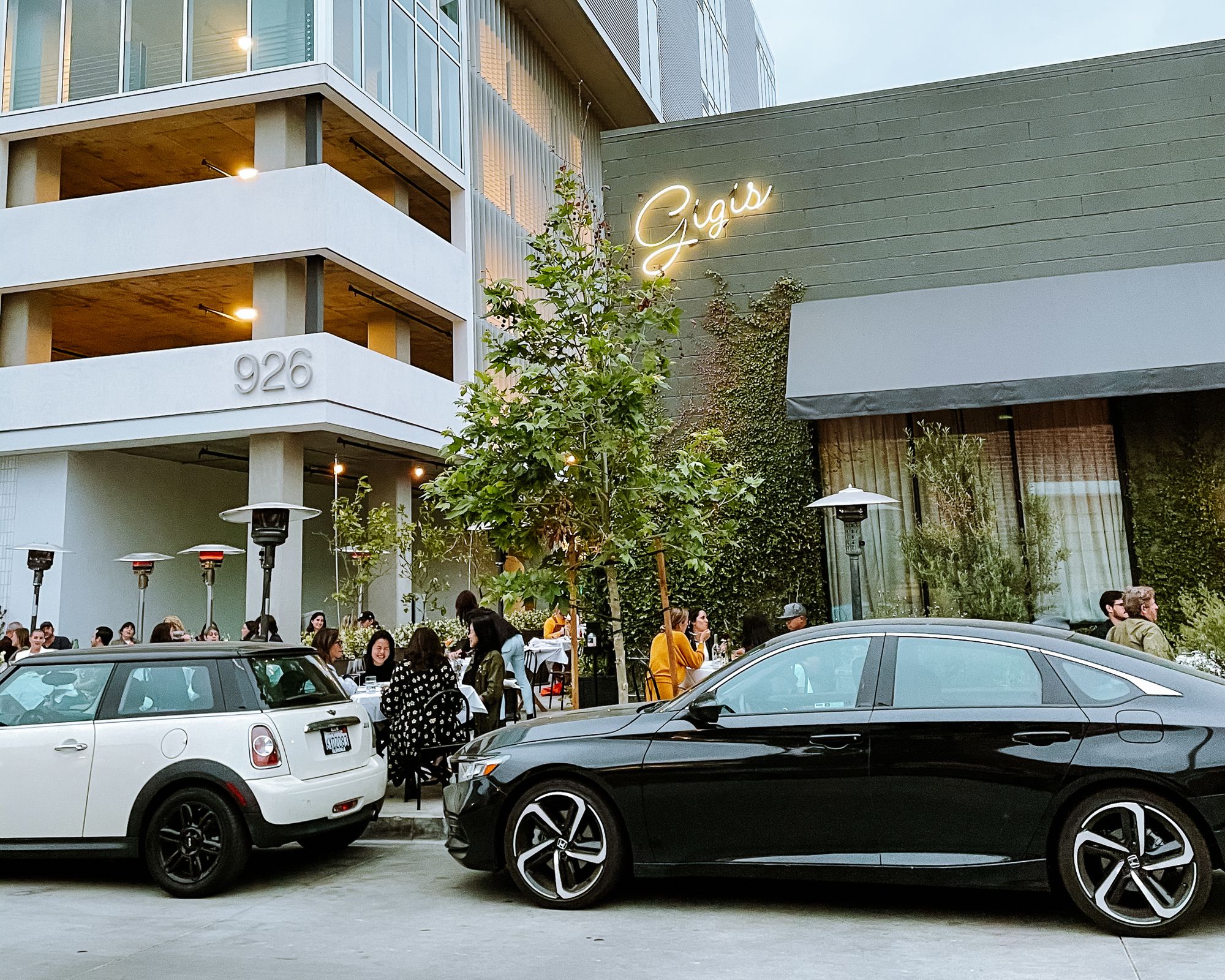 Dine out in Hollywood
Some restaurants may have a lot of hype because of celebrity sightings, but the food is not worth the price. After spending a month in LA, we found restaurants that stood out not just for the ambience, but for the food as well. Choose from one of these seven happening restaurants in Hollywood that have it all:
Nobu ($$$$): arguably LA's most famous celeb-filled restaurant chain. Getting a reservation in Malibu is almost impossible, but getting one in Hollywood is possible if done far enough in advance. The Japanese-Peruvian dishes are expensive, but excellent.
Horses ($$$): Horses is one of the hardest restaurants to get a reservation at right now. The newly opened spot is in the former Hollywood watering hole, Ye Coach and Horses, and offers standout contemporary dishes and cocktails. It has a cool vibe, but is unpretentious with its friendly and passionate servers. You can't beat the ambience here.
Osteria Mozza ($$$): earning itself one-Michelin star, the Italian osteria serves handmade pastas and even has its own mozza bar. You can order al-la-carte rather than pre-fixe, which is a rarity for a Michelin-starred restaurant.
Gigi's ($$$): one of the sexiest new spots in Hollywood. Sitting on a quiet street, the restaurant is anything but quiet with fashionable diners spilling outside onto the patio. The art-deco interior is dark and glamorous and the Californian-French fare is fresh. Chrissy Teigan and John Legend were recently spotted on a date night here.
Mother Wolf ($$$): One of the buzziest restaurants in LA, Mother Wolf serves Roman-inspired cuisine, including traditional handmade pasta and pizza with the thinnest crust we've ever seen. Located on the ground floor of the art-deco Hollywood Citizen news building, the inside is swanky and opulent, but in a tasteful way. It's the perfect place to dress up.
Found Oyster ($$): Found Oyster is the most casual spot of the bunch listed, with hip locals spilling onto the outdoor patio of the lively, yet intimate space. From here you can see the oddly-blue coloured Scientology building in the distance. The seafood restaurant doesn't take reservations, but the wait is all part of the fun. Once you get your name on the list, you can wait outside with a glass of wine, or you can even order a bottle with your friends (they bring you a floor stand for it!). It's easily added to your tab.
Saffy's ($$). Across the street from Found Oyster, you'll find Saffy's, the newest spot from the owners of Bestia and Bavel (two of LA's best restaurants) serving Middle Eastern cuisine. We had our dinner reservation at 5:45pm and couldn't believe the whole restaurant was packed like it was peak hour. Saffy's surprisingly had the best people watching of the bunch. We ate on the happening outdoor terrace as we watched actor-types check in at the front. James Franco, his brother Dave Franco, and Alison Brie (Trudy from Mad Men) sat next to our table.
Day 2 - Venice Beach / Santa Monica / West Hollywood
Take in LA's free-spirited side and finish the day with a dose of entertainment
Daytime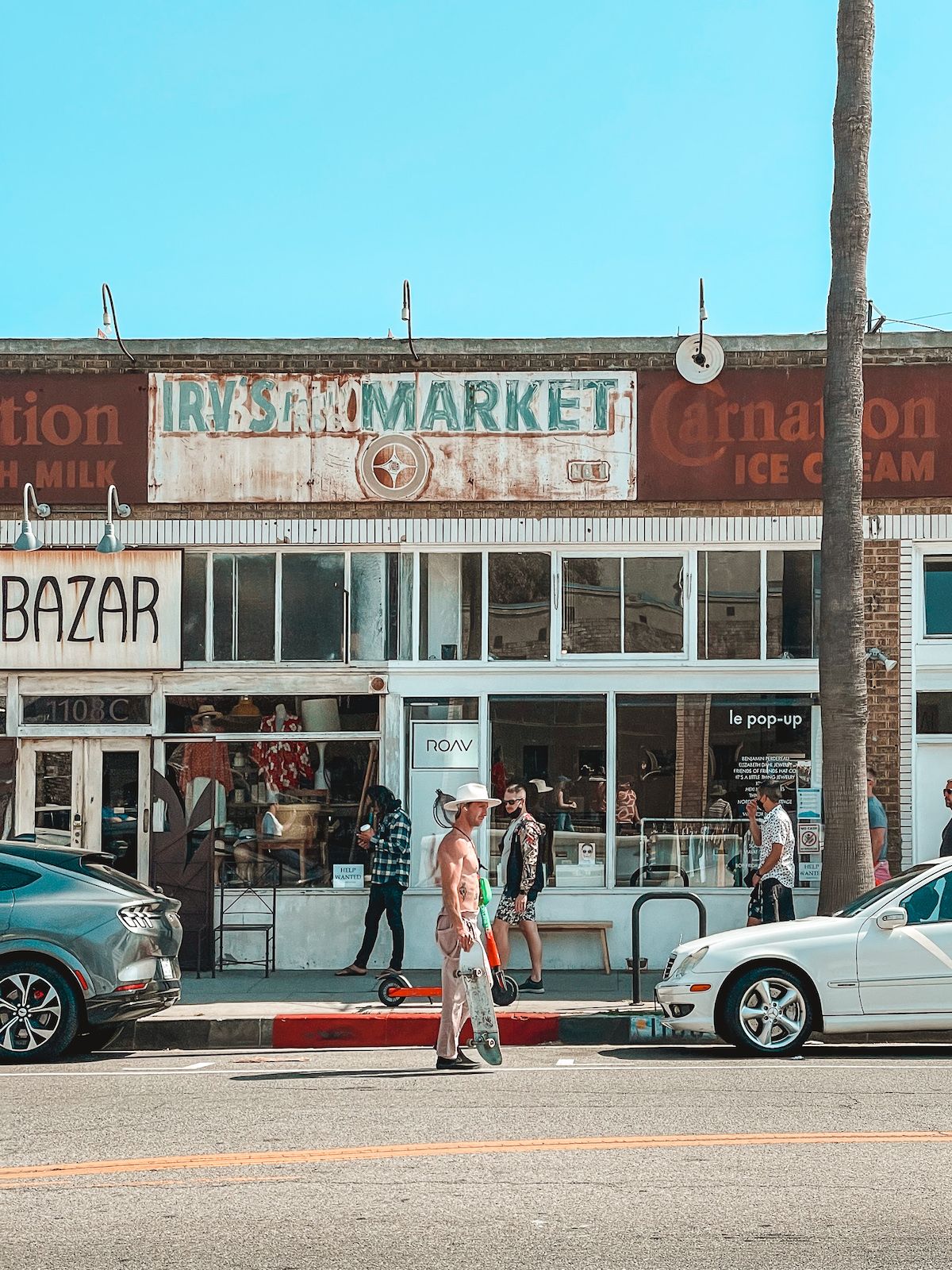 Walk down Abbott Kinney Boulevard
Start your day with a walk down Abbott Kinney Boulevard, a mile-long street lined with quirky boutiques, restaurants and galleries. The former artist enclave has transformed into an eclectic street with hip restaurants and boho shops. Choose from one of the outdoor cafes for brunch and continue down the street for some shopping.
Relax at Venice Beach & play at the Santa Monica Pier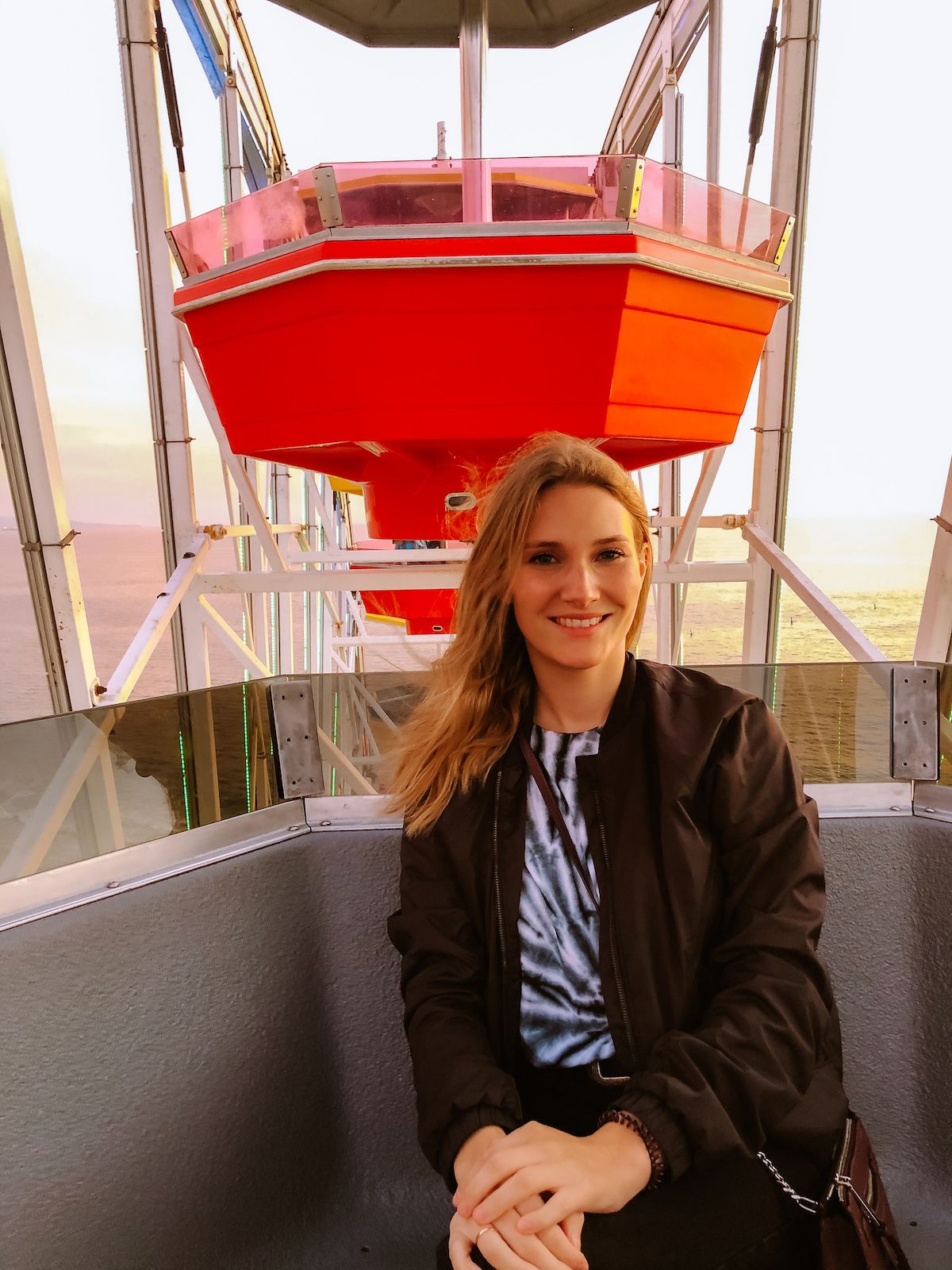 Next, take in the bohemian vibes at Venice Beach, a representation of LA's free-spirited side. Although it's becoming gentrified, the boardwalk along the Pacific Ocean, funky shops and street performers are a must see.
Start at Muscle Beach in Venice and work your way along the boardwalk to the Original Muscle Beach and Santa Monica Pier. The Original Muscle Beach is the beachside gym that started the US fitness boom in 1934.
Along the way, pick a nice spot on the sandy beach to sunbathe and go for a dip in the ocean. Also save time for the retro ocean-front amusement park on Santa Monica Pier. Take a ride on the ferris wheel for gorgeous sunset views. The whole walk takes under an hour excluding stops.
Evening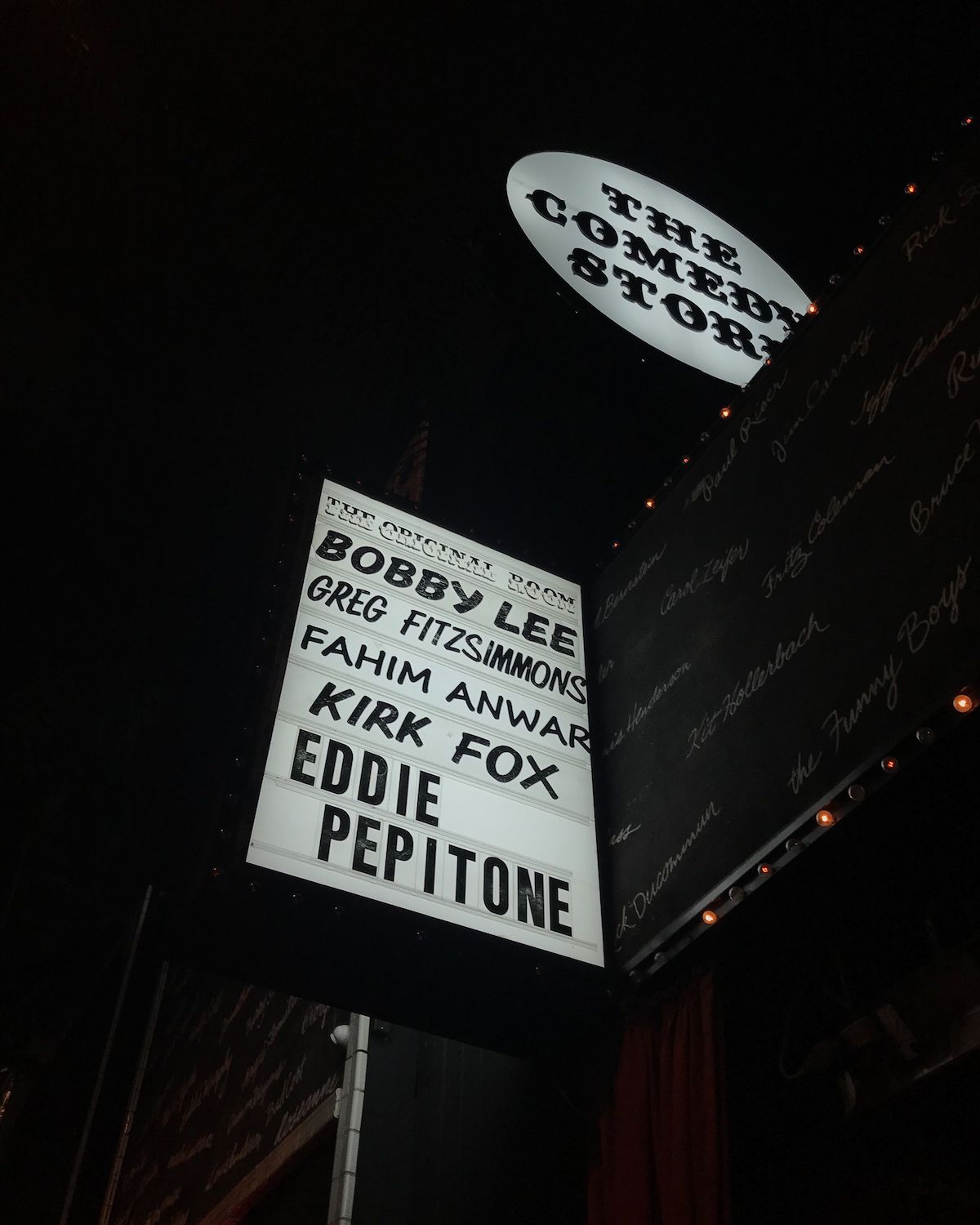 Eat at Mel's Drive-in, a classic American diner
This evening is about the entertainment side of LA. After your day on the beach, make your way back to Sunset Boulevard to dine at Mel's Drive-In. The retro diner chain dates back to 1947 and has all the best comfort food you could ask for.
See stand-up comedy at the historic Comedy Store
Just a 6 minute walk away from Mel's Drive-in is The Comedy Store, an iconic comedy club in West Hollywood. Here you will find the best of stand-up comedy with a mix of emerging comedians, hot headliners and secret guests, like Chris Rock, trying out their latest material.
We loved the energetic atmosphere and couldn't stop laughing the whole show. If you've never been to a comedy show, we highly recommend it! Check out The Comedy Store's events online and purchase your tickets.
Day 3: Arts District
Explore LA's alternative side
Daytime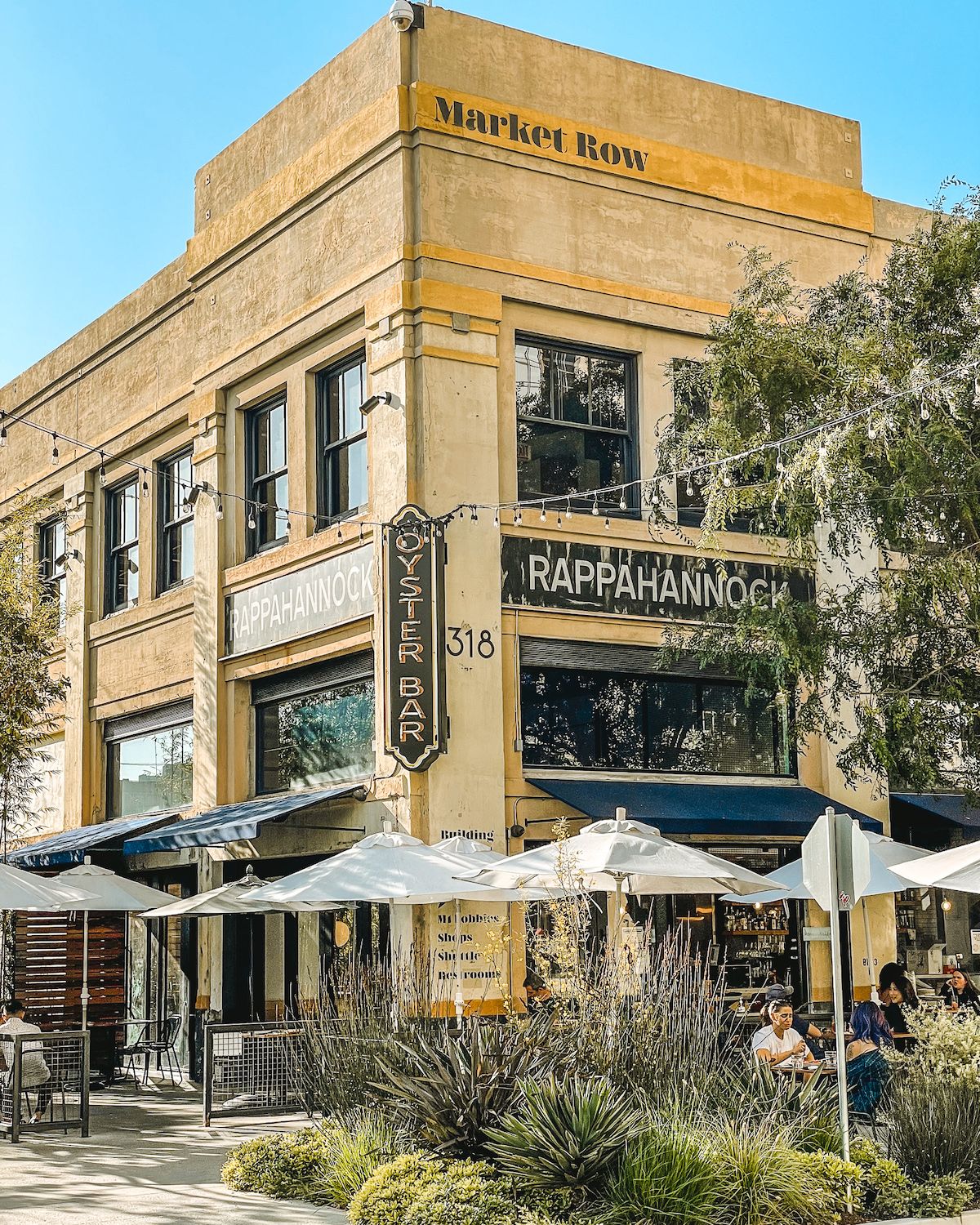 The Arts District is becoming one of LA's hottest neighbourhoods where creatives work and play. The former industrial area has an edgy appeal with unique boutiques, studios and restaurants opening in warehouse spaces.
Hang out in Row DTLA, a former warehouse turned creative magnet
The former American Apparel warehouse has transformed into a creative district with many boutique shops, restaurants, bars, studios and event spaces. The complex is huge and has a cool industrial feel.  Grab a coffee at go get em tiger and browse the shops.
For lunch, stop at Pikunico for Japanese comfort food. Their chicken karage-style sandwich is a must.
Don't miss: Still Life Ceramics, a studio where you can buy handmade ceramics by LA artists. Coast by Coast, a swim lifestyle boutique out of Brooklyn that curates emerging designers. KINTO, a showroom of exquisite Japanese tableware and Flask & Field, a lifestyle shop of indie wines and spirits.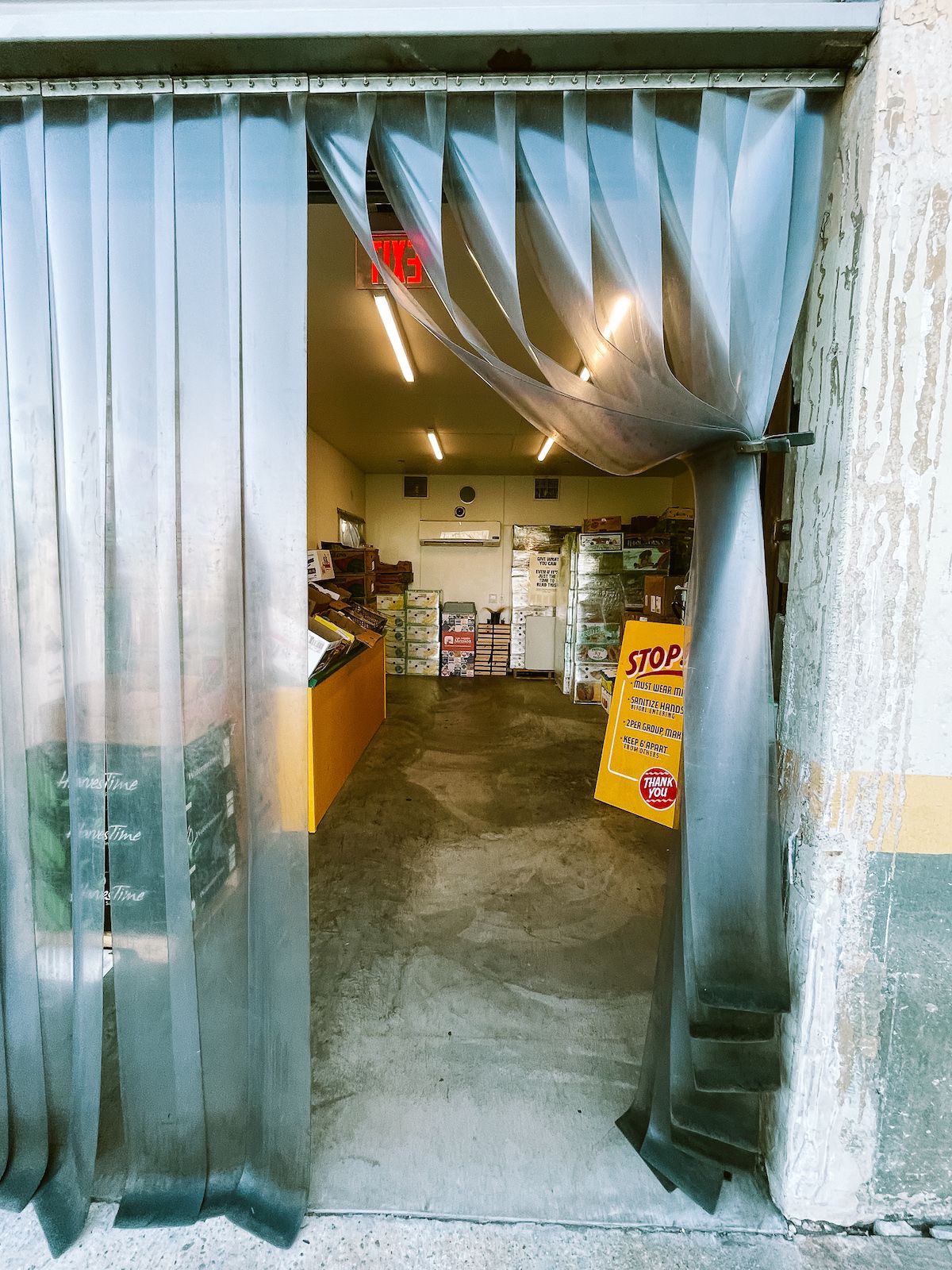 The coolest store we found was Bodega, a hidden gem (actually hidden in what looks like the back of a produce shop) that carries hard to find footwear and clothing brands, including limited edition sneakers. Ari got a pair of Converse x Keith Haring sneakers. Sadly there weren't any women shoe sizes when I was there, but luckily I fit a size 5 in mens.  
Have an aperitif at the funky Everson Royce Bar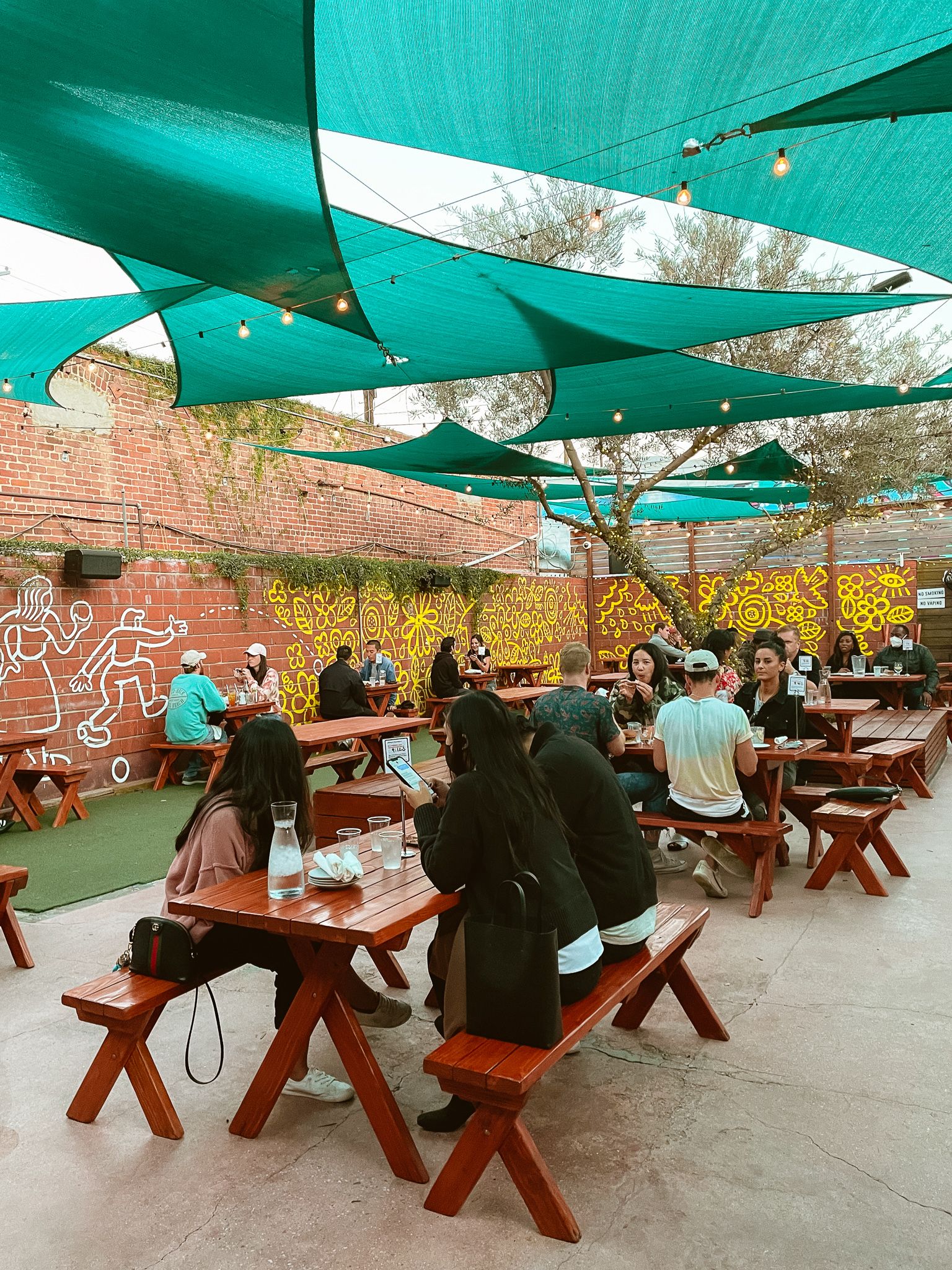 After shopping, have a pre-dinner cocktail on the patio of Everson Royce, a funky neighbourhood bar with a cool crowd. It has a fun vibe with locals meeting up for after work drinks or to hang out with friends.  
Once inside the nondescript entrance, walk down the narrow bar to the back to find a huge patio with picnic tables, hanging lights and graffitied brick walls. Order a refreshing cocktail and a gourmet bar snack if peckish, just save room for dinner!
Everson Royce Bar opens at 4pm and gets busy, so reservations are recommended.
Evening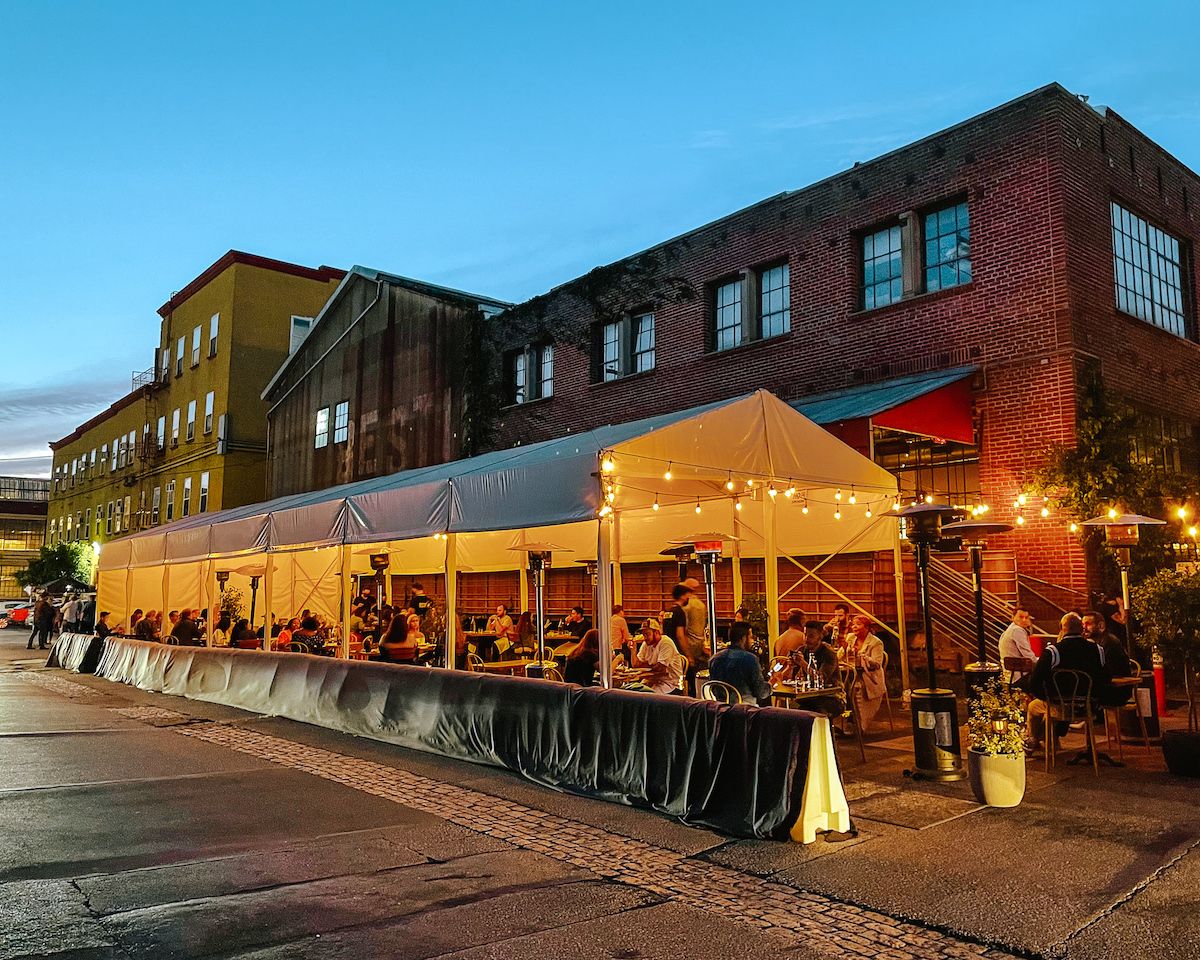 Dine in a former warehouse turned award-winning restaurant
The Arts District is home to some of the best restaurants in LA, some even listed in the Michelin guide. What makes them so special is how they have been transformed from warehouse spaces to impeccably-designed restaurants, all while preserving their cool industrial feel.
Choose from one of these two stellar restaurants listed in the Michelin guide:
Bestia: the contemporary warehouse space serves Italian cuisine, including wood-fired pizza, handmade pastas and fresh seafood. The scallop appetizer was exceptional!
Bavel: the open-air garden space serves Middle Eastern cuisine, including specialties from Yemen, Israel and Tunisia. It's hard to pick just a few from the list!
You'll need to make a reservation far in advance for these spots!
Sip cocktails in a hidden speakeasy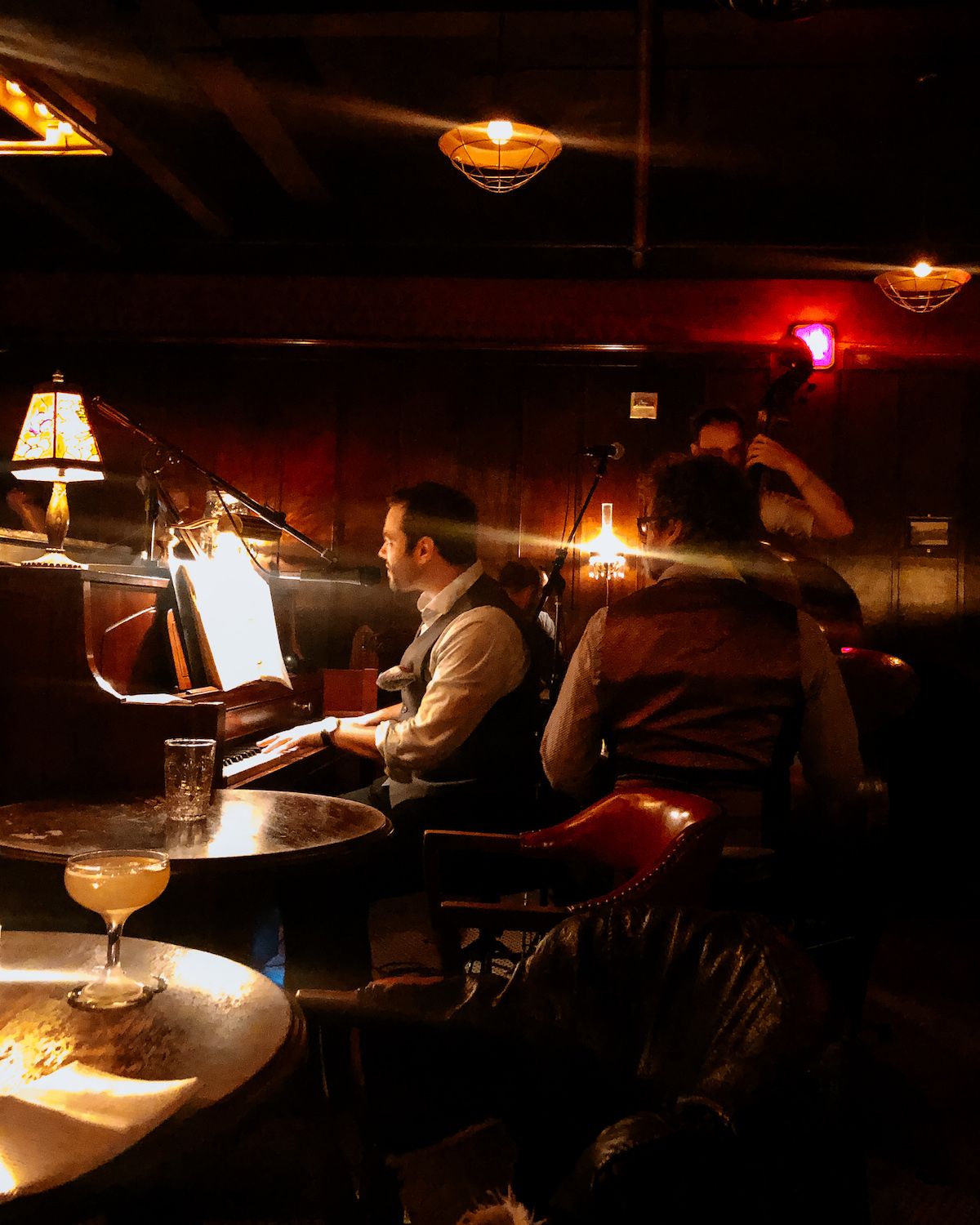 After dinner, keep the night going at The Varnish, a hidden speakeasy with expertly-mixed cocktails in the back of Coles French Dip saloon. Behind the door in the back you'll enter an intimate, dimly-lit space inspired by 1920s speakeasies. The ambience is 10/10. It's moody and a bit swanky, but not pretentious.
We were lucky to be there for a jazz ensemble, including piano and upright bass. They have live music Sunday-Tuesday and run on a first-come-first served basis.
Just around the corner is the infamous Cecil Hotel if you want to take a peek. You may have heard of it from the Netflix documentary, The Vanishing at the Cecil Hotel. It's eerie just looking at it from the outside!
Day 4 - Malibu / Los Feliz
Take a scenic day trip to Malibu and spend the evening in the up-and-coming Los Feliz neighbourhood
Daytime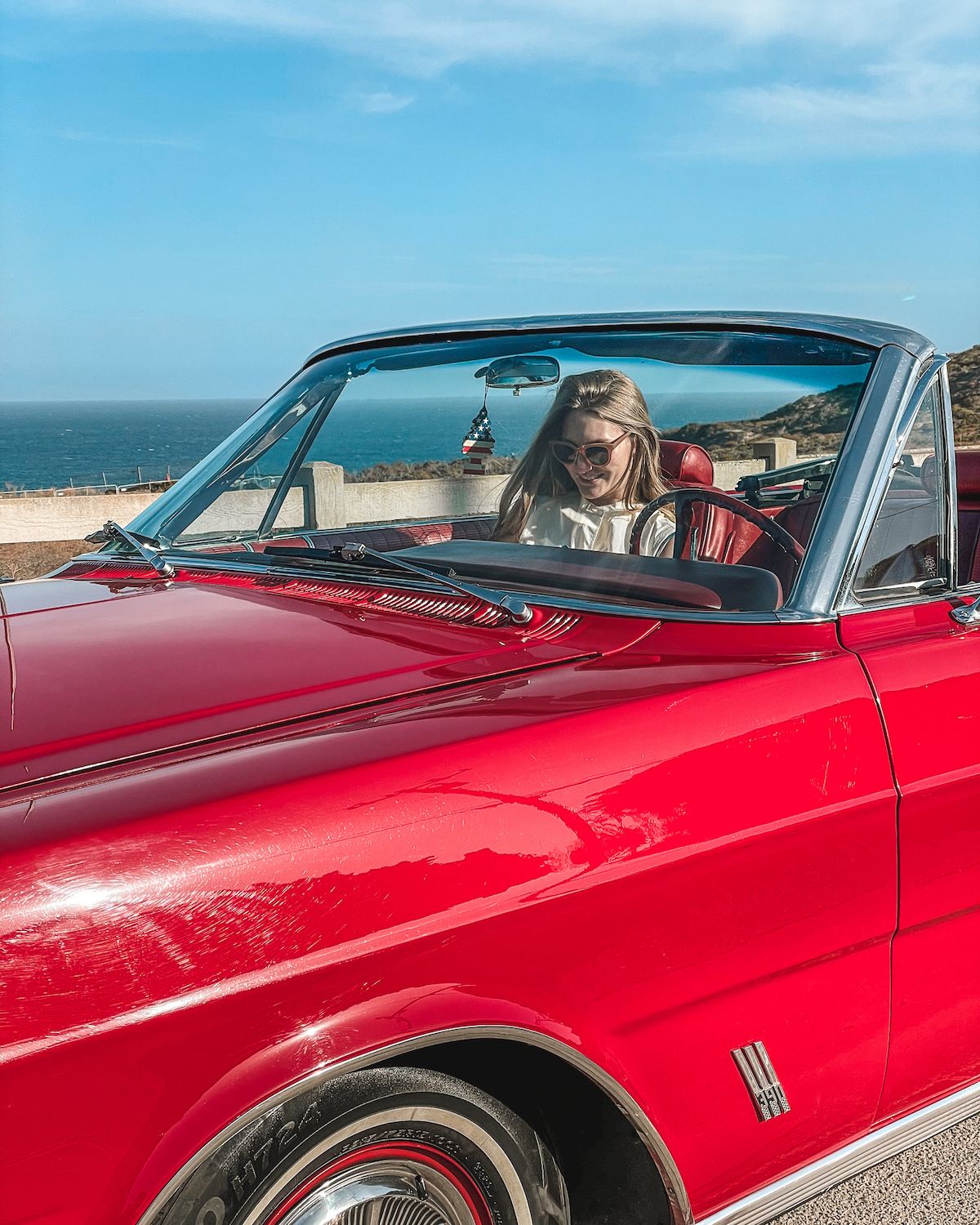 Drive along the sunny California 1 to Malibu
Take the scenic coastal drive along the California 1 (Pacific Coast Highway) to Malibu. With the top down on your convertible, it's what Californian dreams are made of. Malibu is an iconic beachside city known for its mega-celebrity homes, surfing and perfect sandy white beaches.
The drive to Malibu should take you 40 minutes-1.5 hours depending on traffic. Try your best to avoid rush hour.
🚘
Compare car rental rates in LA
- go for the convertible if you can! 😉
Eat lunch at Broad Street Oyster Company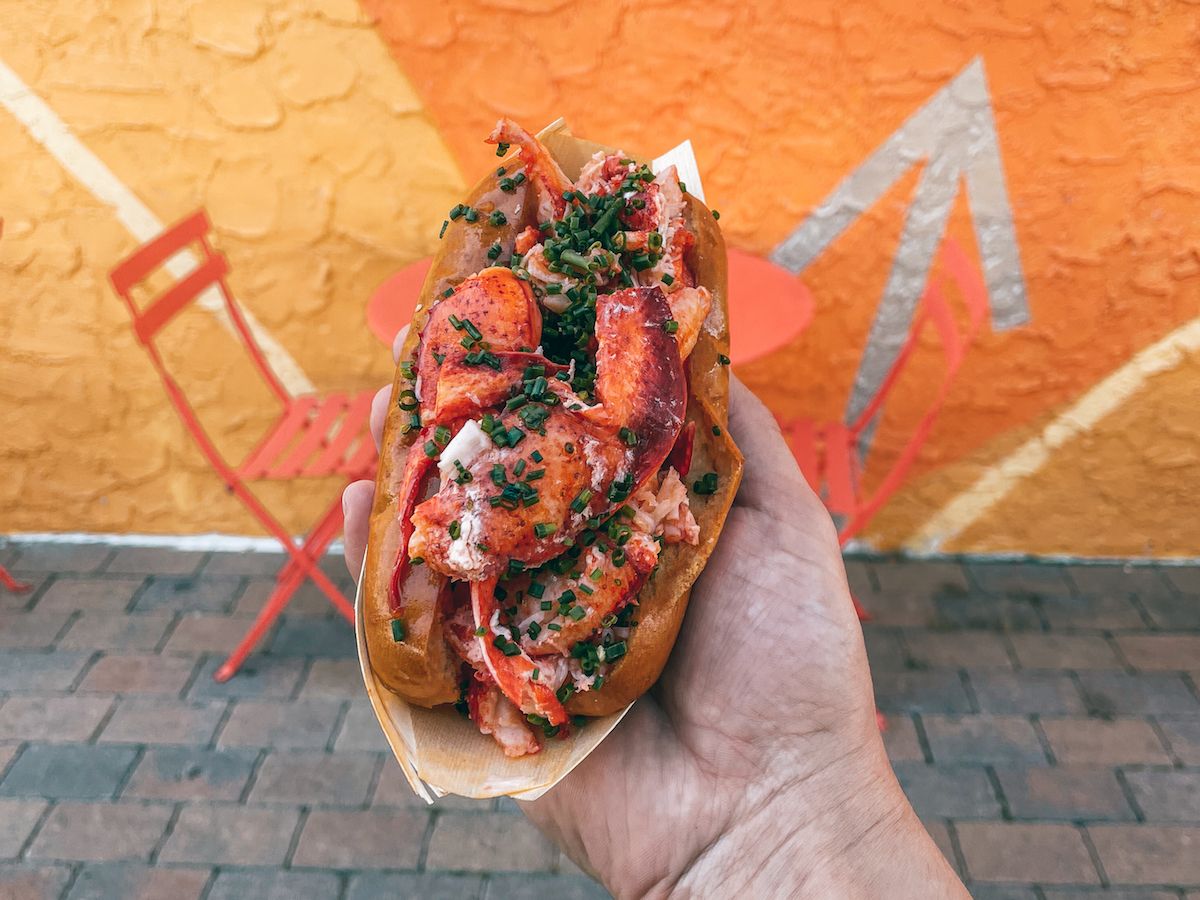 Once you make it to Malibu, stop in for lunch at Broad Street Oyster Company, a fun seafood shack known for its lobster rolls and fresh seafood. You can even go all out and add caviar or uni (sea urchin) to your lobster roll.
The restaurant is tucked away in the back of Malibu Village and has picnic table seating. Ari had the Lobster Roll and I had the Shrimp Baja Tacos. It was one of our favourite meals we had in California. Loading up your lobster roll with extra lobster is worth it.
Afterwards, walk around Malibu Village to check out the shops.
Relax at Carbon Beach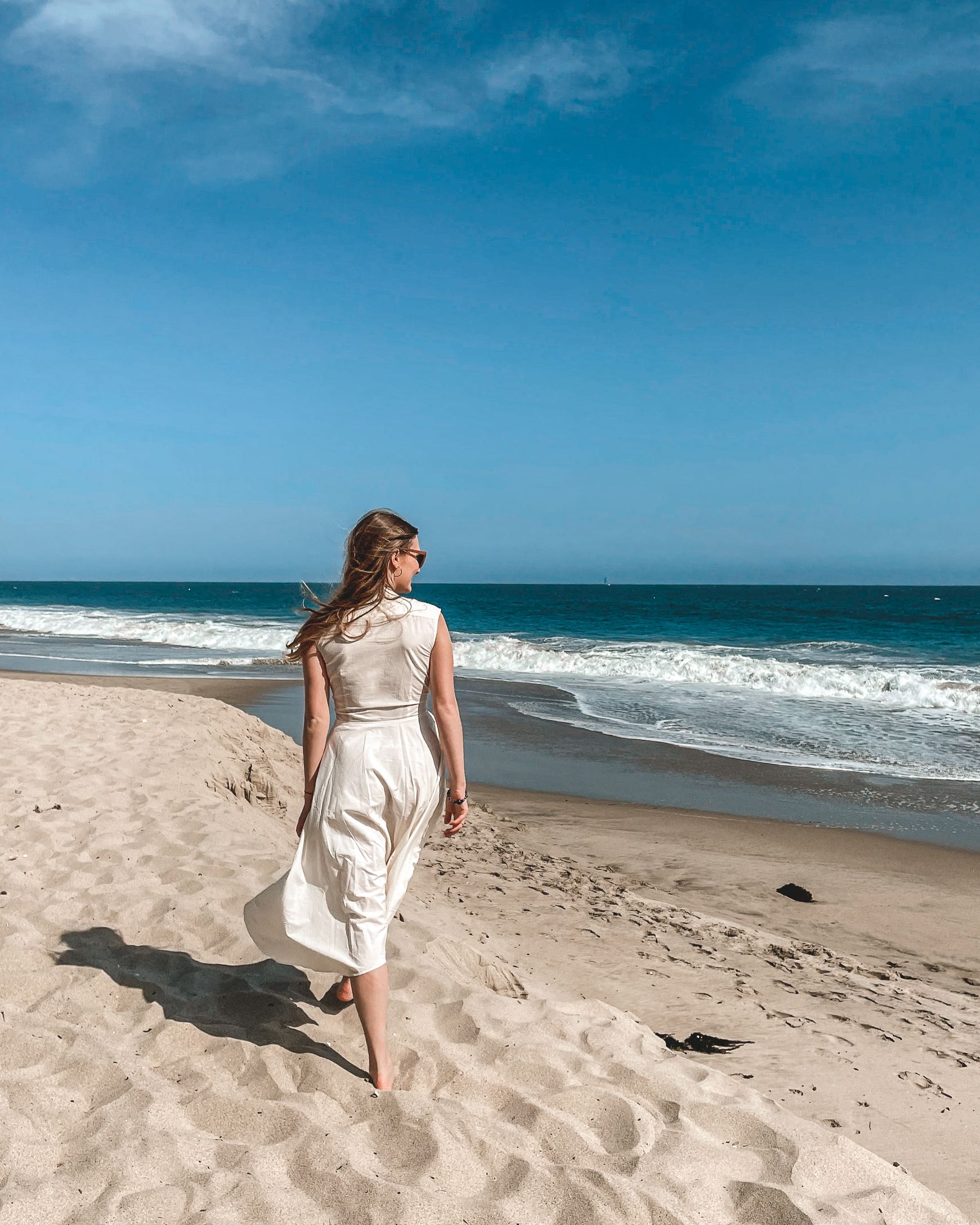 Next stop, the beach! Carbon Beach is a beautiful sandy beach in Malibu also known as "Billionaire's Beach" for its ultra expensive beachfront homes owed by business tycoons and celebrities. Oracle CEO Larry Ellison owns 10 properties on this beach! Walking the coastline and taking in the ocean is just as fun as looking at these lavish houses right on the sand.
Park your car at Caffe Luxxe and grab an iced coffee. From there, walk 5 minutes to 'Malibu Public Access Beach' on Google Maps and you will find a pathway that takes you down to the beach.
Drive to the lookout at Point Dume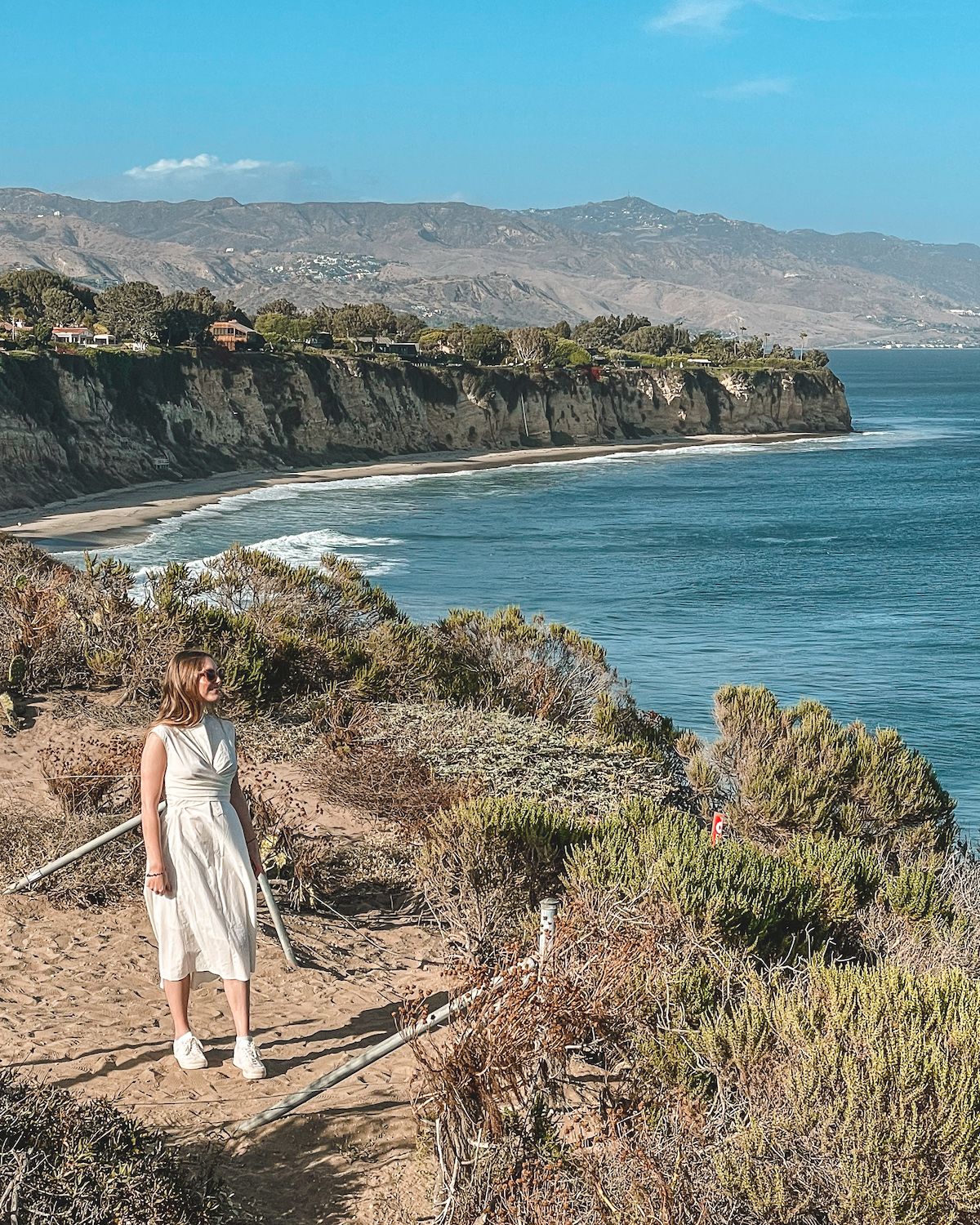 Get back on the road and drive to Point Dume, a rocky headland projecting into the Pacific Ocean. A short walk up the headland brings scenic views of Malibu and the coastline. Look closely and you will see surfers catching waves below.
Evening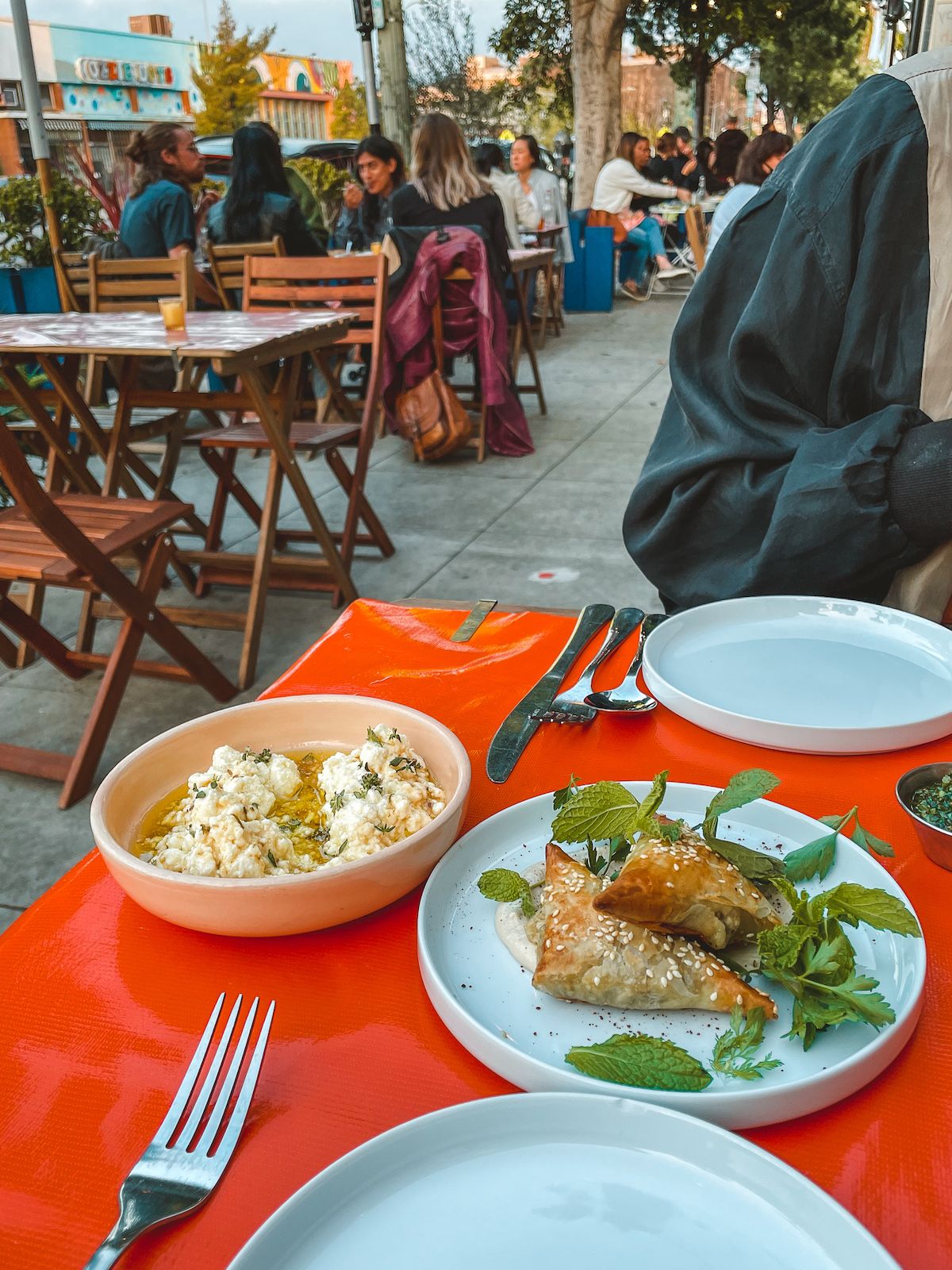 Dine at Kismet in the up-and-coming Los Feliz neighbourhood
After your drive back to LA from Malibu, head to Los Feliz, a charming neighbourhood with a burgeoning culinary scene and good local vibe. This is an area you won't see many tourists in.
Dine at Kismet, a hip neighbourhood restaurant serving standout Mediterranean-Middle Eastern cuisine made from locally-sourced ingredients. You will know you've arrived when you see creative types spilling outside onto the sidewalk hoping to snag a table. It was one of our best meals in LA. Reservations are highly recommended.
Day 5 - Hollywood Hills / West Hollywood
Visit fabulous landmarks that make the city so special
Daytime
Start your morning with a hike to the Hollywood Sign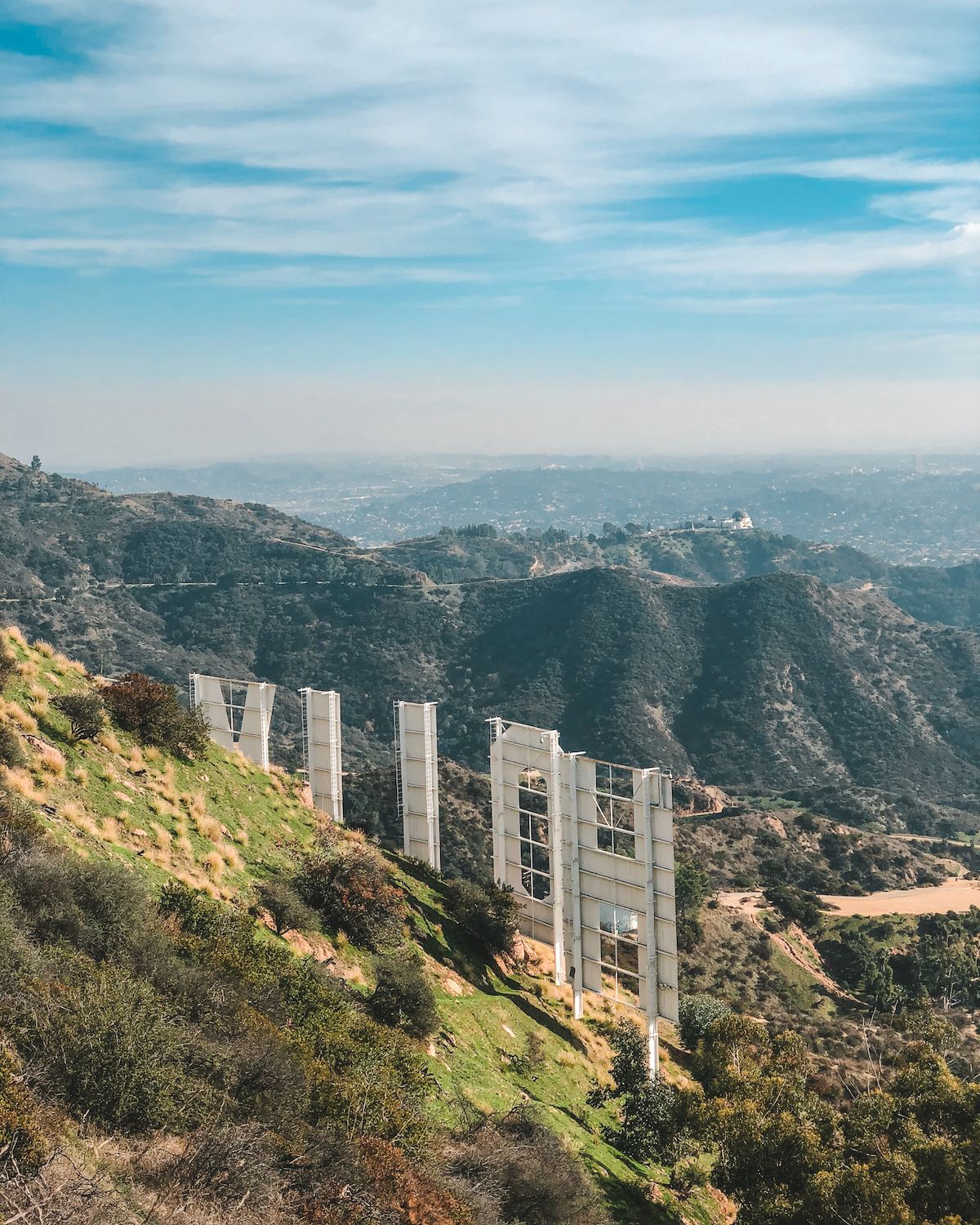 Thanks to a local tip, we found an awesome hike that takes you to a viewpoint behind the Hollywood Sign as well as a lookout in front. It's a cool perspective from the top. Most people only hike underneath the letters, so it was nice doing a quieter trail. The best part is that it's free.
The Route: Burbank Peak to Hollywood Sign to Upper Lake Hollywood Loop
8.2 km (5.1 miles) | 350m elevation gain | ~ 2.75 hours roundtrip
Take an Uber to the Wonder View Trailhead. If you are driving you can park on Lake Hollywood Drive. From the Wonder View Trailhead you will ascend behind the Hollywood Sign and then descend down Mt. Lee Dr. to a viewpoint in front of the sign. From there, you will walk through quiet residential streets while making your way back up to the Wonder View Trailhead.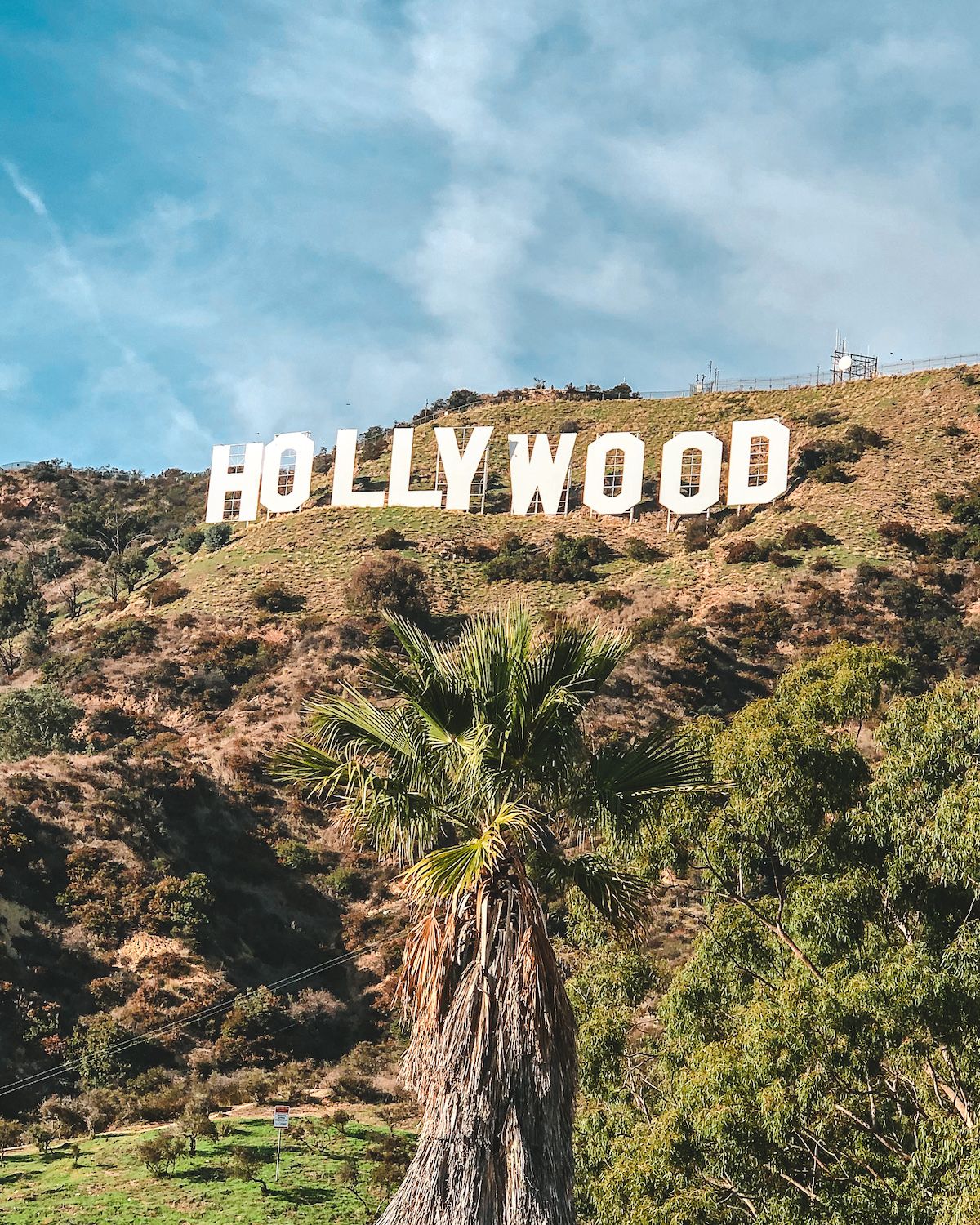 If you're not driving, you can shorten the hike by calling an Uber once you get down to Deronda Dr.
See the detailed route on All Trails.
Refuel with a tasty brunch at Petit Tois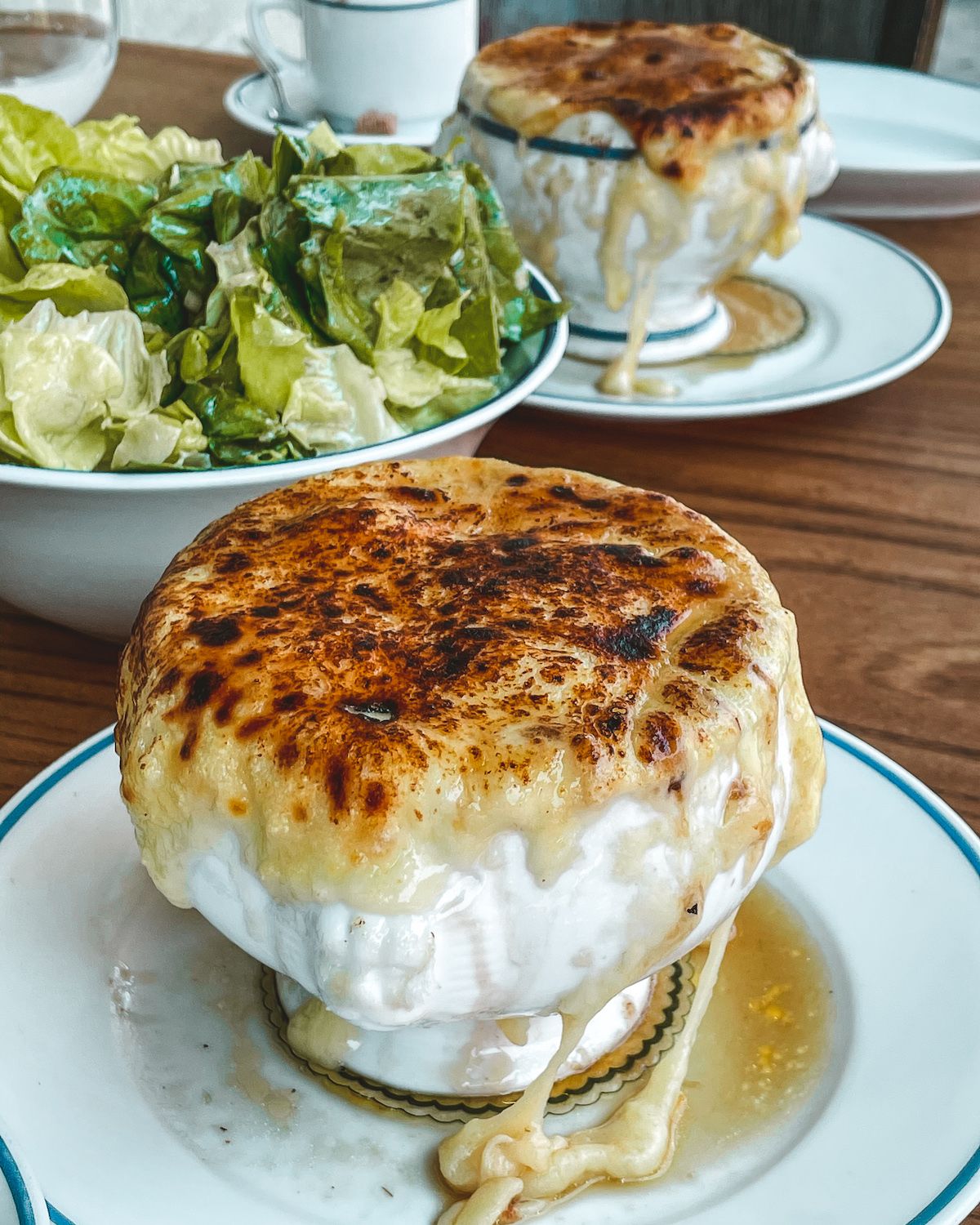 Indulge yourself at this intimate French bistro famous for its decadent Big Mec burger with bordelaise sauce. We also ordered the French Onion soup which is the cheesiest and best we've ever had.
Go on an architectural tour of one of LA's masterpieces
Stahl House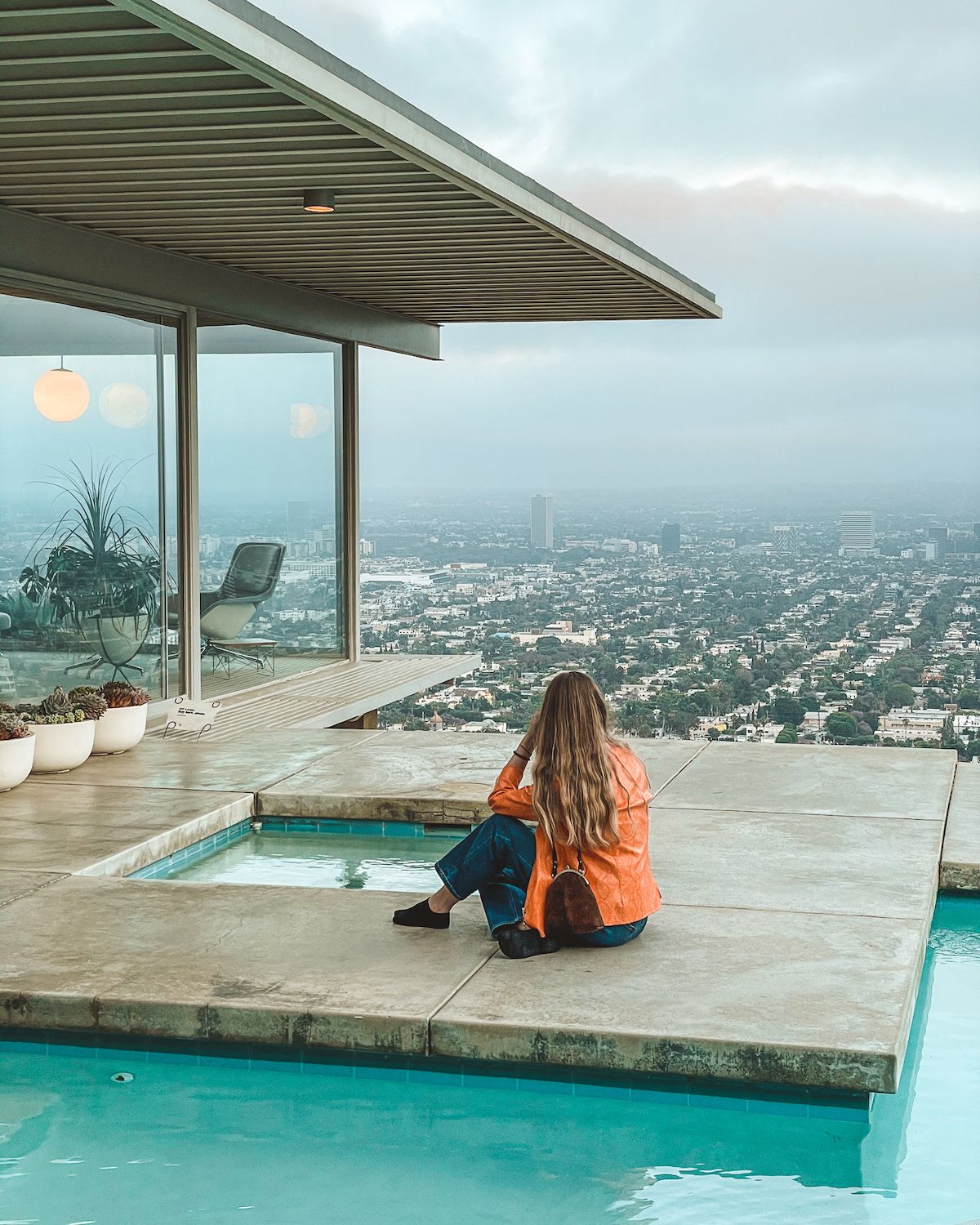 Perched on a cliff in the Hollywood Hills, this iconic midcentury modern home is so remarkable, it's been used as a filming location in Hollywood movies. I recognized it immediately as the main protagonist's (Tim Allen's) home in Galaxy Quest.
Designed by architect Pierre Koenig in 1959, the story of how it came to be is fascinating. What better way to learn about its history than on a guided tour of the home?!
If you love midcentury modern architecture you don't want to miss this tour. When you drive up the Hollywood Hills to the house, play our "midcentury modern" Spotify playlist to set the mood. 😄
Top tip: Tickets sell out months in advance, so book early! There is an afternoon tour, late afternoon tour and evening tour. What is special about the evening tour is that you get to watch the sunset and see how the house transitions from day to night.
Hollyhock House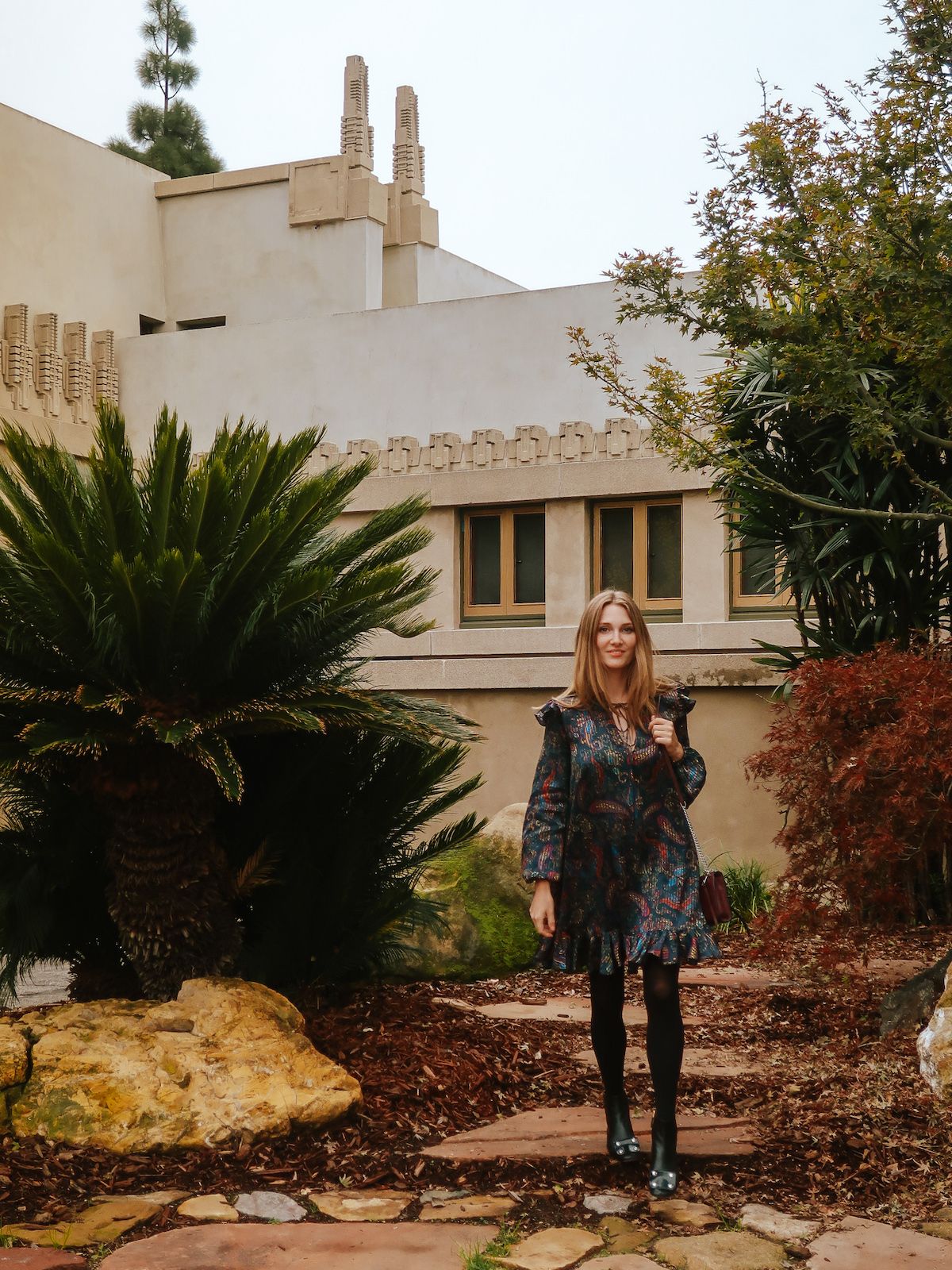 Located in East Hollywood, Hollyhock House was designed by Frank Lloyd Wright, arguably America's greatest architect. The UNESCO World Heritage Site built in 1921 was once the residence of an oil heiress, and is now open to the public for tours. We were blown away with how Wright designed the interior with his compression/expansion techniques and his use of warm, inviting tones. It's one of the most inspiring architectural tours we've ever been on.
Evening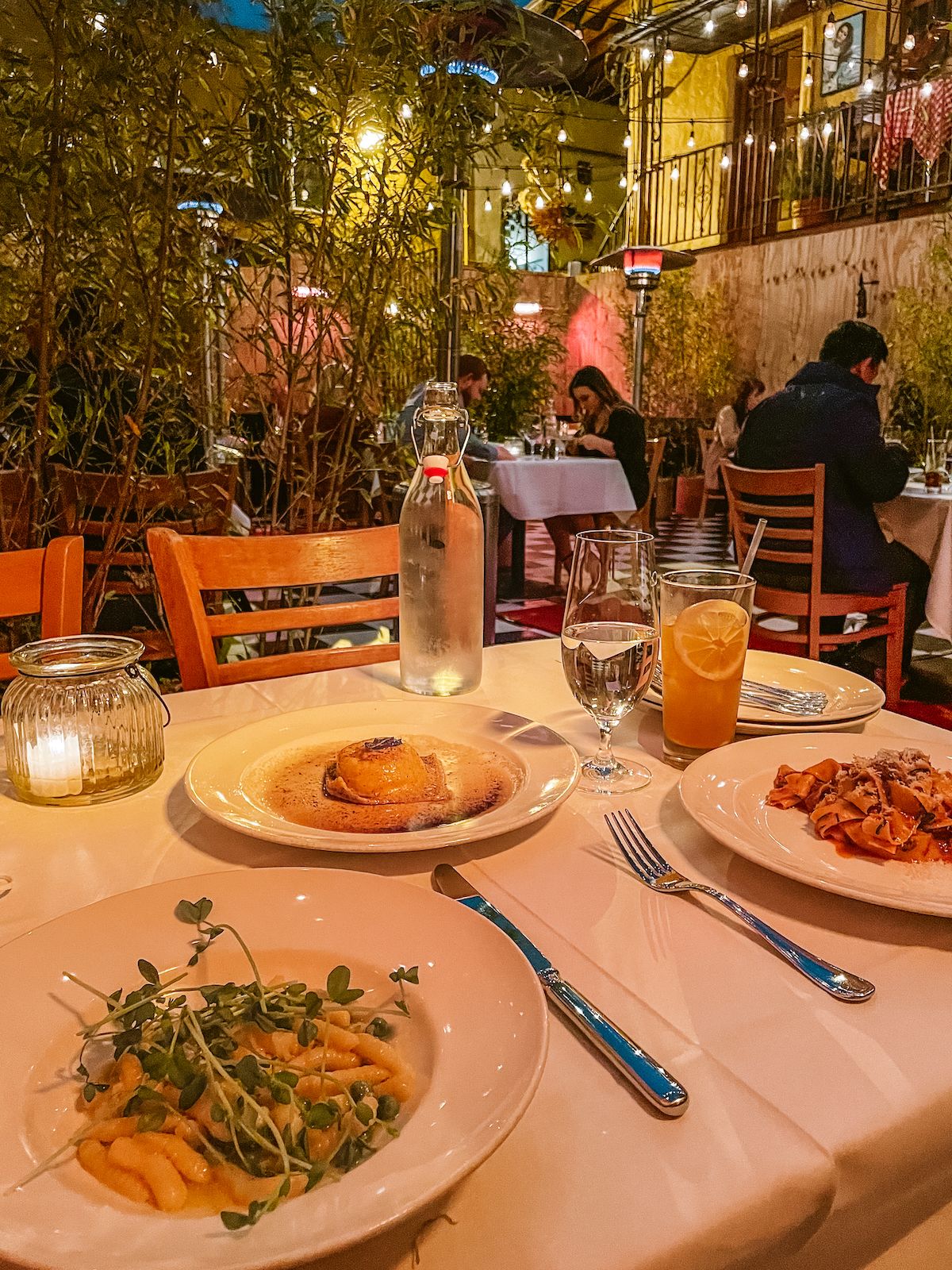 Dine at another LA hotspot:
For your last night in LA, choose from one of these dining spots you didn't make it to:
Nobu: famous celebrity hotspot serving Japanese-Peruvian dishes.
Osteria Mozza: Italian osteria serving handmade pastas and tasty dishes from its mozza bar.
Gigi's: trendy new spot with a sexy art-deco interior that serves Californian-French fare.
Bavel: lively open-air garden space serving Middle Eastern cuisine
Bestia: contemporary warehouse space serving wood-fired pizzas, handmade pastas and fresh seafood.
Horses: one of the hardest restaurants to get a reservation at right now, come for the cool ambience and standout contemporary dishes.
Mother Wolf: swanky and opulent, this buzzy restaurant serving Roman-inspired cuisine is the perfect place to dress up.
Found Oyster: an intimate, yet lively space where cool locals eat fresh sustainably-sourced seafood and drink wine with friends
Saffy's: the newest spot from the owners of Bestia and Bavel serving Middle Eastern cuisine. For us, this was the best people watching spot of the bunch.
Enjoy your time in this spirited city!
For a shorter version of this itinerary, check out our 2 Day LA itinerary with celebrity hot spots.
---
Start planning your trip to LA
---
Combine LA with a trip to Santa Barbara, a spirited city on the American Riviera known for its burgeoning wine and culinary scene:
If you want to get away from the big city, check out Los Alamos, a hidden gem nestled in the Santa Ynez mountains.
---
Save and pin this 5 Day Los Angeles Itinerary for later: