Only 12 minutes a way from the more popular wine town of Los Olivos, you will find Los Alamos, a funky Old West heritage town founded in 1876. This tiny Californian town has an intriguing wine and culinary scene that won't stay under the radar for long.
Down the six block main strip you will find a unique identity at each location. There is an artsy vibe to the laidback town and you can feel the creative expression in each spot you visit. Owners are passionate about their business and have put a lot of time into the details.
There are so many fun things to do in Los Alamos CA, from visiting wine tasting rooms to staying at a wonderfully restored iconic midcentury motel. Los Alamos is a magical place worth visiting even if it's just one night.
Outline: Los Alamos Travel Guide
Best time to visit Los Alamos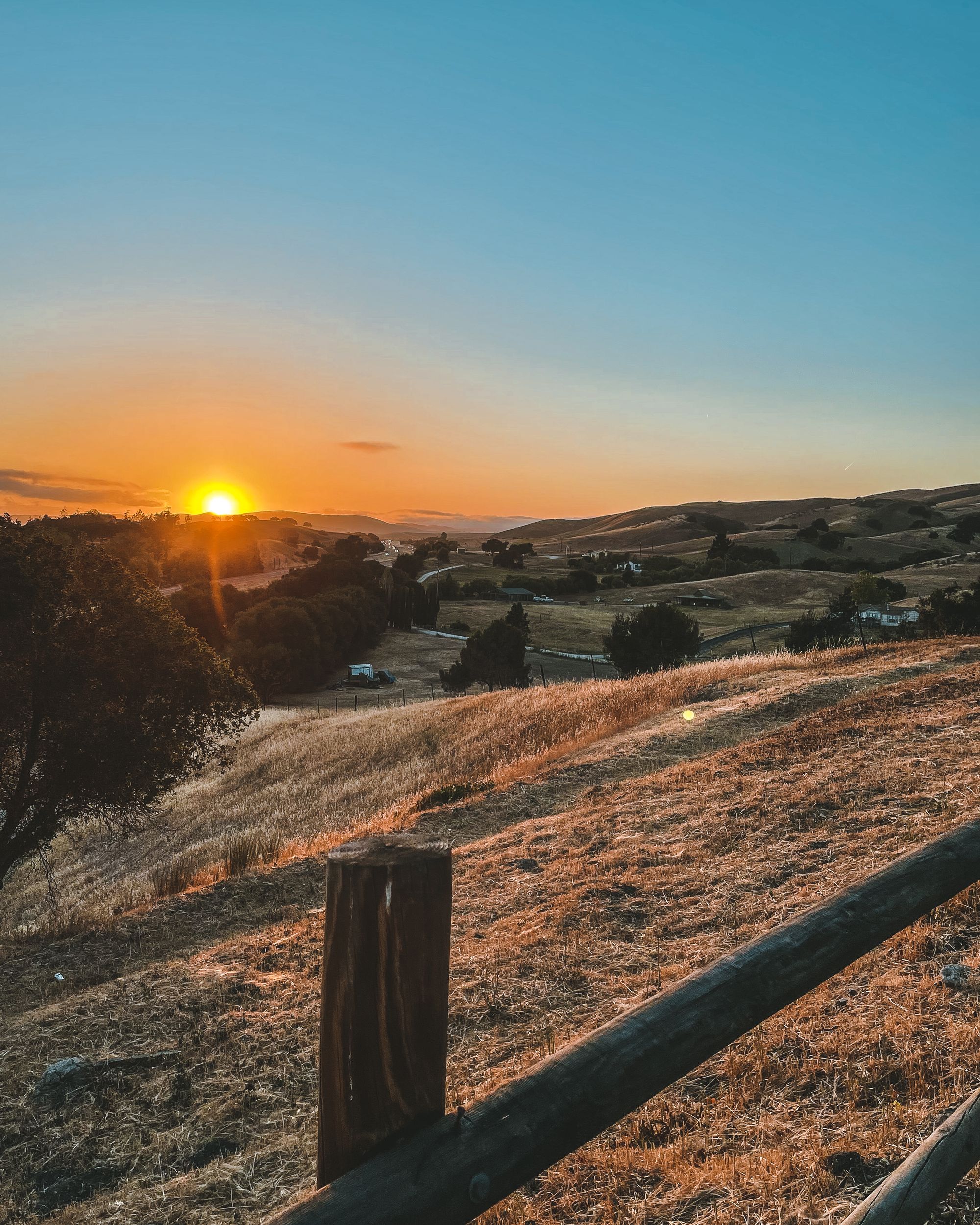 The best time of year to visit Los Alamos is when the weather is pleasant from April - November. From December - March you will see highs around 18°C (65°F) and it can get a bit chilly in the evening.
You should plan your stay during a weekend, since some of the best wine tasting rooms are only open from Thursdays-Sundays and some restaurants are closed mid week. Avoid traveling from Monday-Wednesday since many places are closed.
How to get to Los Alamos
Los Alamos is located in the Santa Ynez Valley and is only a 12 minute drive away from the popular wine town of Los Olivos. Driving through the Santa Ynez mountains is a treat. From Los Angeles it's a 2.5 hour drive.
Los Alamos is a great place to add onto a trip to Santa Barbara, since it's less than an hour away. See our Santa Barbara road trip itinerary here.
8 Best Things to do in Los Alamos CA
Disclosure: Some of the links below are affiliate links, meaning at no additional cost to you, we will earn a commission if you click through and make a purchase. We only recommend products or services we have used or that we believe will add value to our readers. Thank you for supporting us!
1. Stay in an iconic 1950s roadside motel turned retro luxury retreat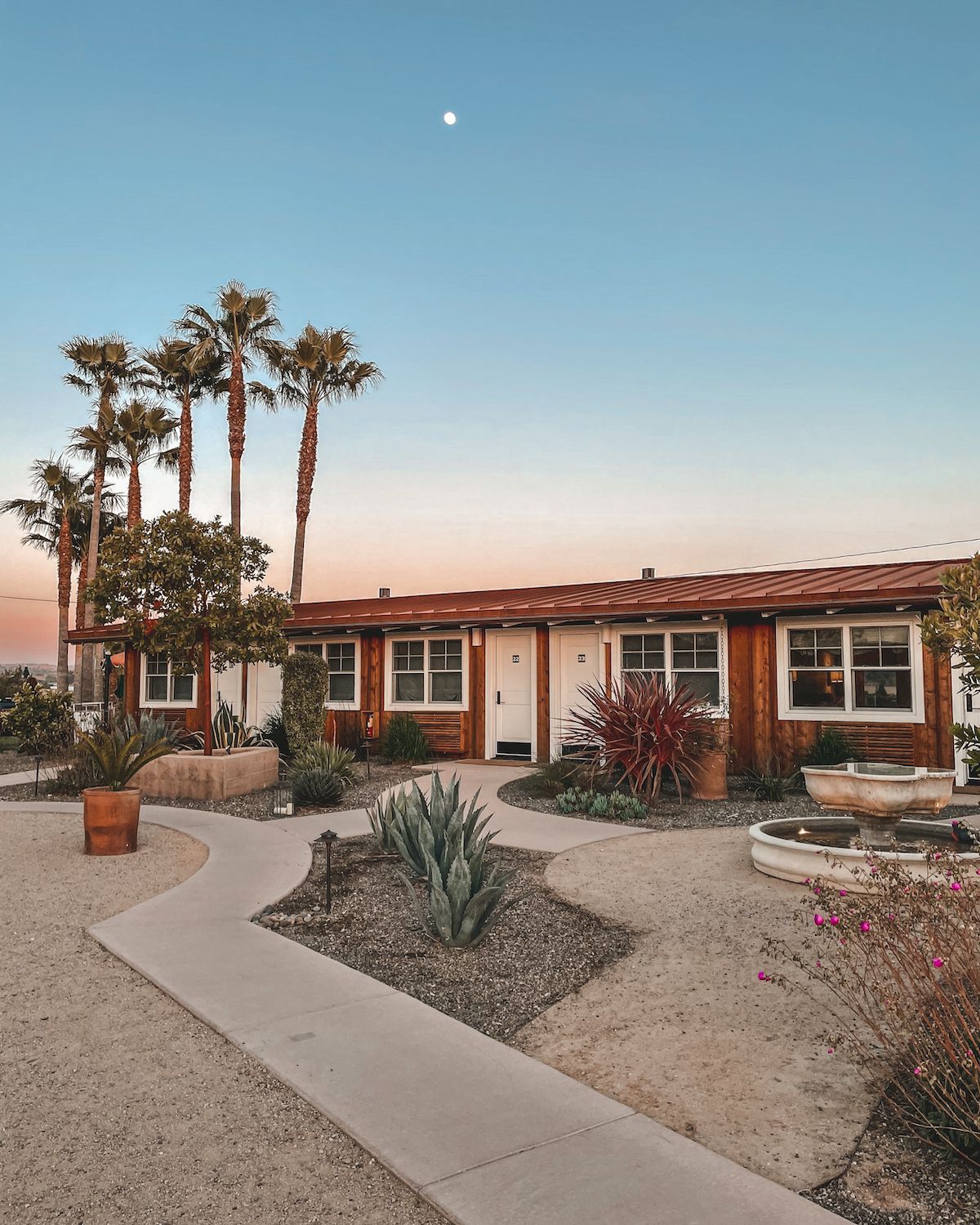 Atop a hill overlooking Los Alamos you will find
Skyview Los Alamos
, a midcentury roadside motel that has undergone a multi-million dollar renovation.
The historic 1950s motel has been beautifully restored to preserve its vintage feel, but has been updated with modern amenities and decor.
Rumour has it that The Beatles spent the night in room 33 and that The Mama's and The Papa's wrote their song Monday Monday in the motel in 1966.
Staying at this motel feels like a retro luxury retreat. The tastefully decorated rooms have marble-clad bathrooms and hardwood floors. Even the small details feel luxurious like the down duvets and Nespresso machines in each room. We recommend spending extra on a room with a private patio so you can take in the stunning views of the surrounding area.
Outside you will find a heated pool with the giant bright yellow motel sign in view. There is a trendy onsite restaurant called Normans (named after Norman Bates from Psycho) which is also a good place for cocktails.
The motel is in the outskirts of town, but their free bike rentals make it really easy to get around.
Compare rates for Skyview Los Alamos.
2. Bike down Bell Street and explore the quirky town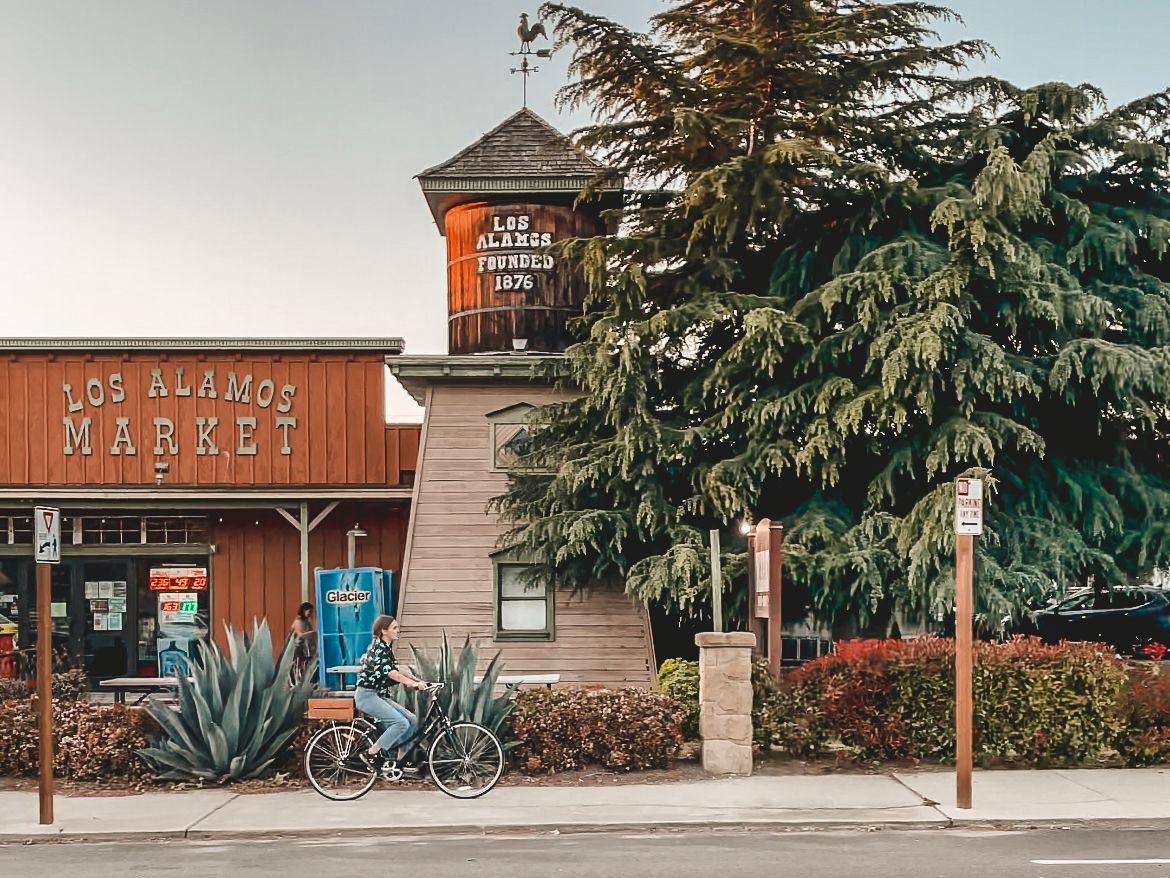 Los Alamos has a population of just 1,600 people. Grab your rental bikes and ride down the town's main strip called Bell Street. This is where you will find all of the antique shops, restaurants and wine tasting rooms. From there, take some quiet side streets to imagine what life is like living in this unique town.
3. Discover new wines at wine tasting rooms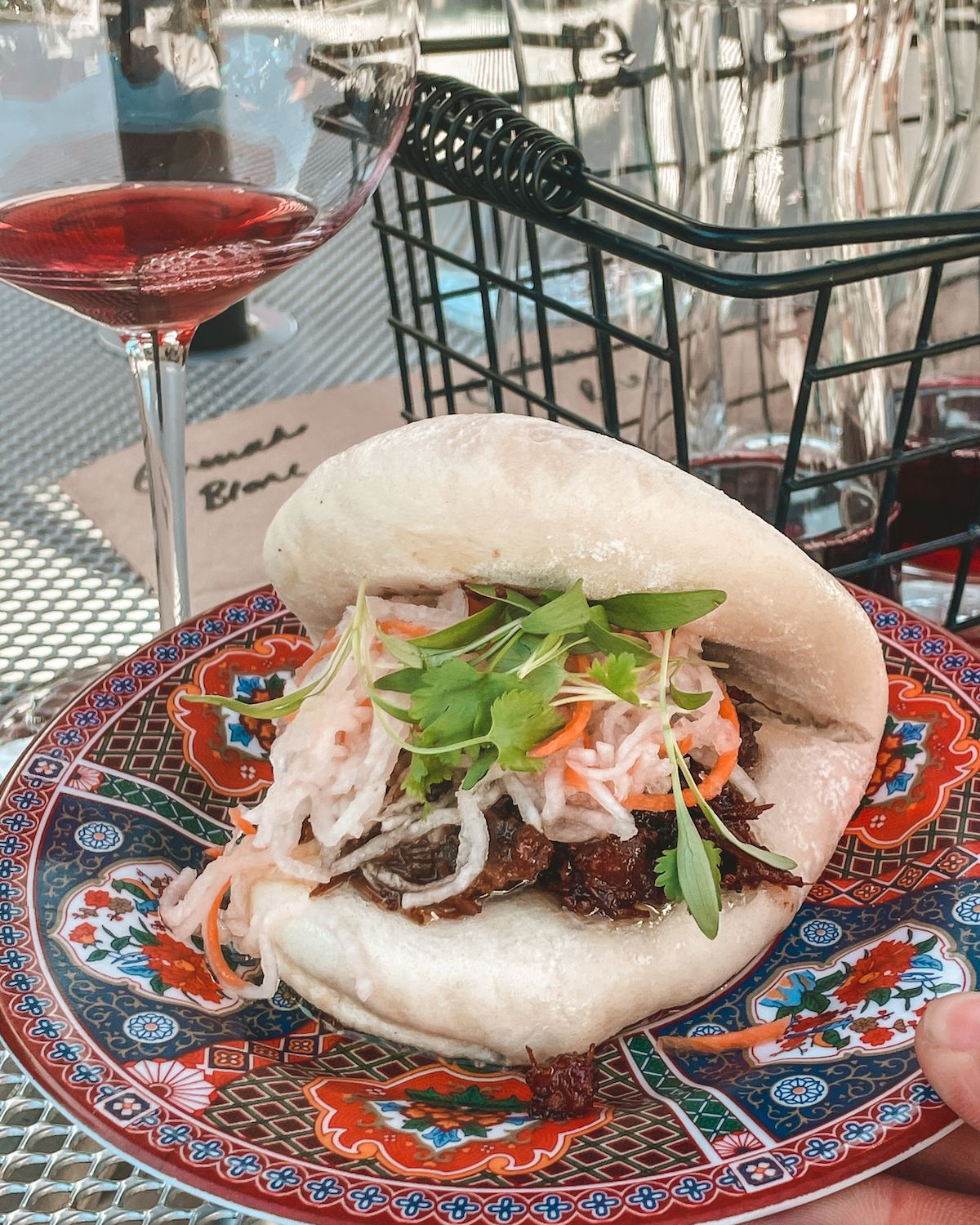 With over 120 wineries in Santa Ynez Valley, it's no wonder this tiny town has some wine tasting rooms of its own. The region is known for its Chardonnay, Syrah and Pinot Noir wines, but you will find other varietals as well. Start at one end of Bell Street and make your way down the six funky blocks to discover the unique wine tasting rooms.
We recommend sharing a tasting so you can try more wine tasting rooms. It will also cut your tasting cost in half!
Best Los Alamos wine tasting rooms:
Best for an intimate experience: Bedford Winery
Bedford Winery was our favourite wine tasting room we visited. We sat in the outdoor courtyard and tasted wines while jazz music filled the air. We were lucky to have the winemaker pour and explain our wines. Our favourite wine was the 2012 Old Man Red, a blend of Cabernet Franc with some Bordeaux varietals. We bought a bottle!
Open daily from 11 AM - 5 PM.
Best for the vibe: Lo-fi wines
Lo-fi Wines was founded by two lifelong friends who have a passion for music and wine. In fact, their motto is "Life is like wine and music. Both are filled with resonance, distortion, simplicity, modesty, intimacy and ingenious integrity of the natural processes."
When you walk inside you will be greeted by their vinyl collection and turntable. Sample their hand-crafted natural wines and listen to some good tunes.
Open Friday - Sunday
Best for the food: Casa Dumetz Wines
Casa Dumetz is a fun and friendly wine tasting room that specializes in Grenache wines. Their most recent label called The Feminist Party recognizes the fabulous women and men who have supported the owner along the way. You can even buy merch like t-shirts, hats and masks that say "The Feminist Party".
I personally don't like Grenache wines so I can't rate their wines, but their food is fantastic. They serve delicious dim sum bites like pork buns and shrimp dumplings. It's a nice change from the typical charcuterie bites you see at other wine tasting rooms.
If you're not a big wine drinker, they share the space with Babi's Beer Emporium. Try their beer or cider instead!
Open Thursday - Monday.
4. Treat yourself to delicious organic pizza from Full of Life Flatbread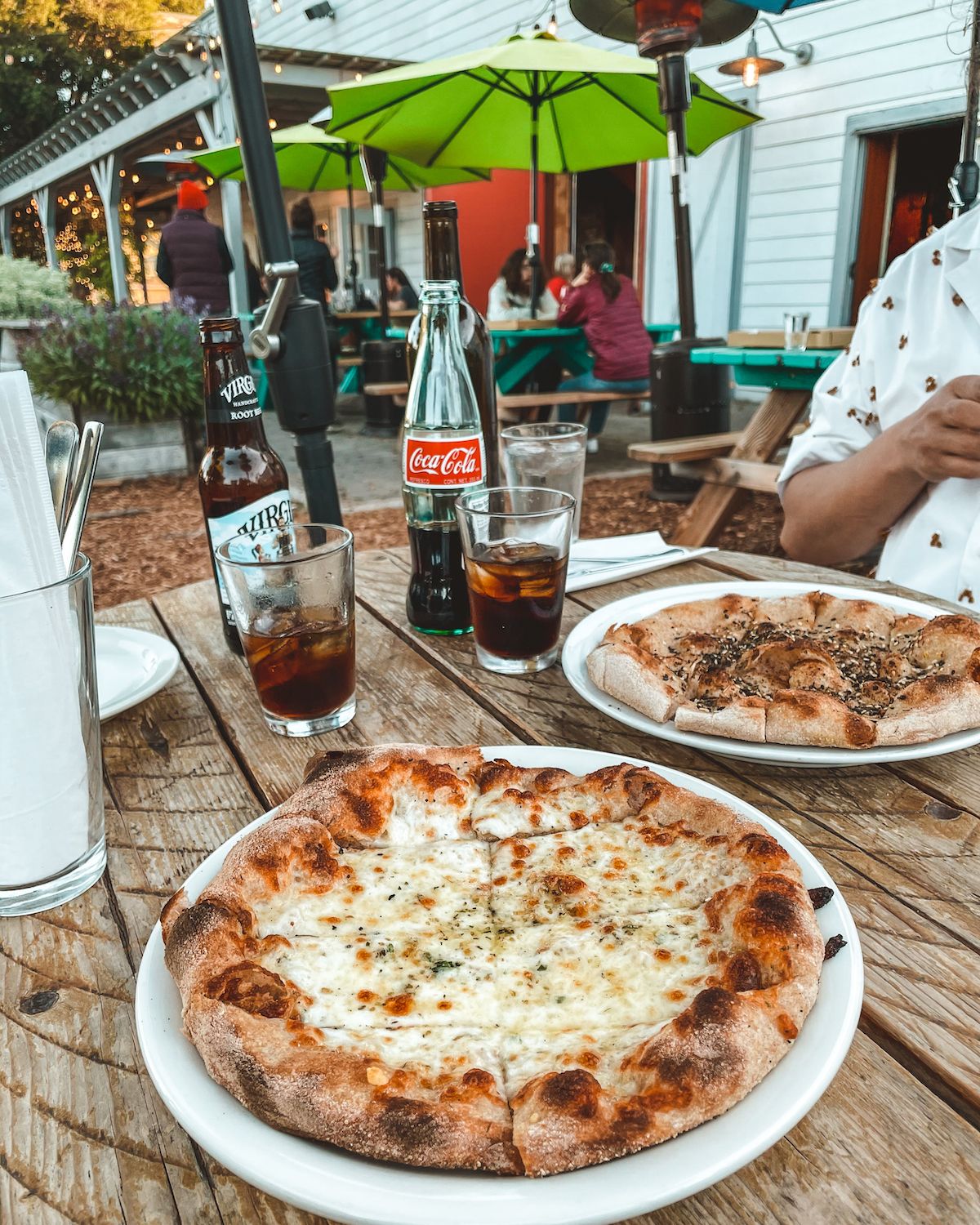 The pizzas at Full of Life Flatbread are handmade with locally sourced ingredients and are cooked in a 20-ton stone oven. They don't take reservations so you will most likely have to put your name on a waiting list, but they will text you when your table is ready. The delicious bubbling pies are worth the wait. They also have good vegan options.
5. Grab a pint at Charlies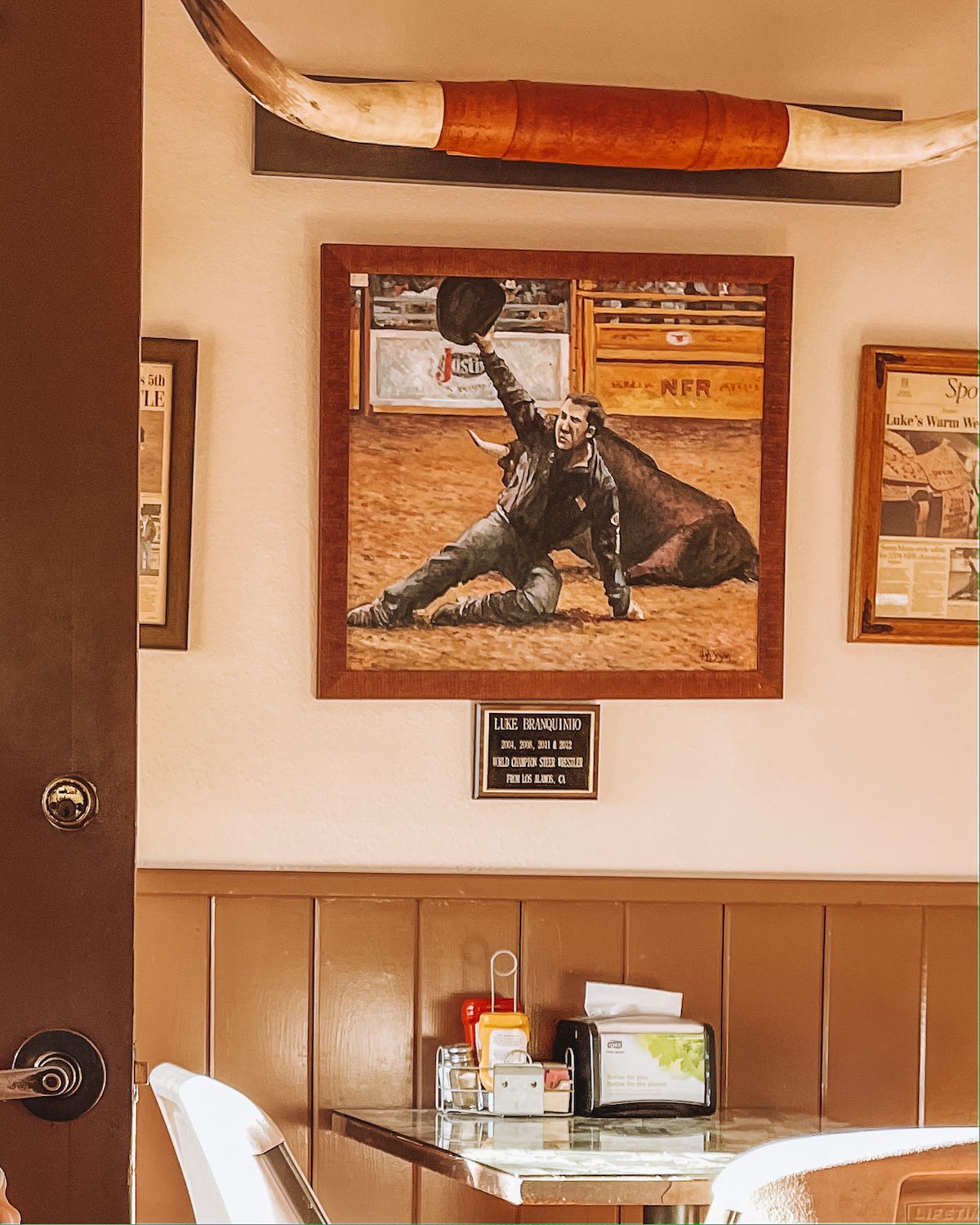 We had a 40-minute wait at Full of Life Flatbread next door so thought we would check out Charlie's next door while we wait. We were happy we did! The restaurant opened in 1978 and is a classic American joint where locals go. Ari ordered a beer and we couldn't resist getting their chilli cheese fries to share. If you're looking for comfort food, this diner is the place to go.
6. Relax in the garden at Bodega Los Alamos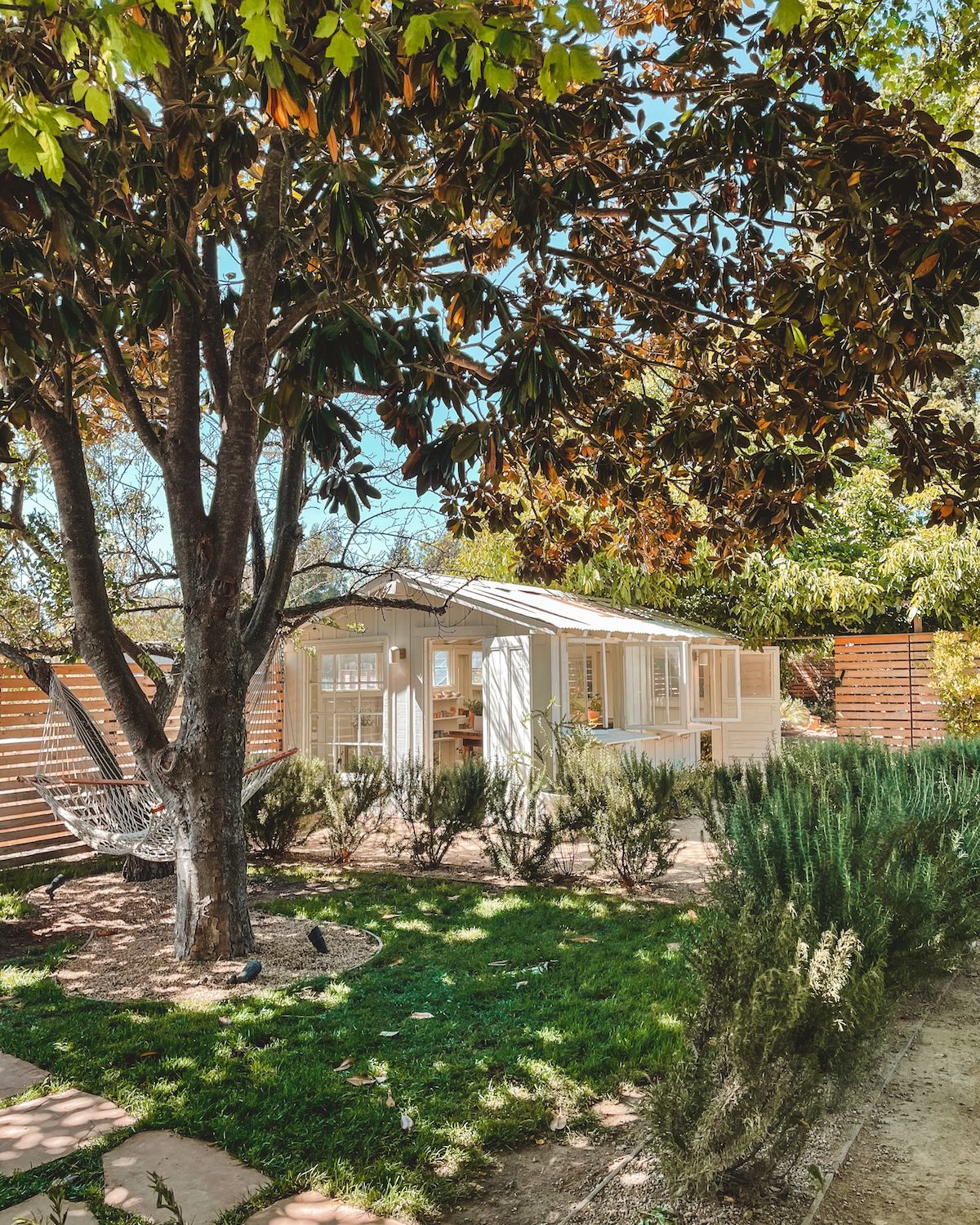 Bodega Los Alamos is an open-air beer and wine garden with a relaxed setting. Drink a glass of organic wine at one of their picnic tables, lay in the hammock or browse their curated shop of goods.  
You can also bring your own food there and have a picnic while you try their unique wines, beers or ciders. It's a great option if Full of Life Flatbread is packed. Just order your pizza to go and take it to Bodega nearby.
7. Eat at Bell's, a French-inspired bistro in the Michelin guide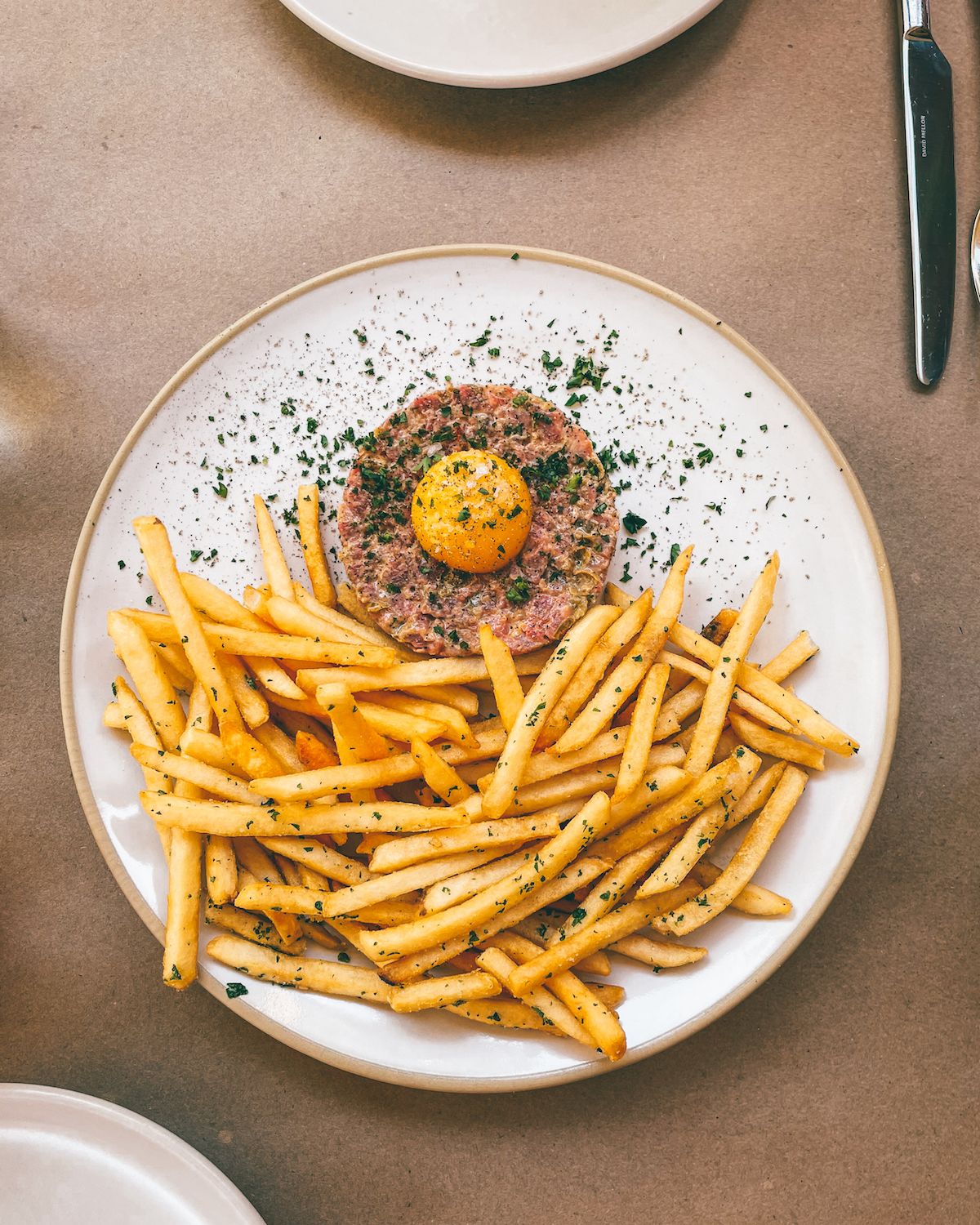 Bell's is a French bistro owned by a husband and wife duo who moved to Los Alamos to escape the hustle and bustle of NYC. The acclaimed restaurant opened in 2018 and serves what they call "Franch" cuisine, a mix of French and Santa Barbara rancho cooking. Our favourite dish was the steak tartare.
Owner and chef Daisy Ryan was recently named one of the 10 best new chefs in the US by Food & Wine magazine and the restaurant is featured in the Michelin guide. Make reservations in advance.
8. Have drinks in a relic of the Wild West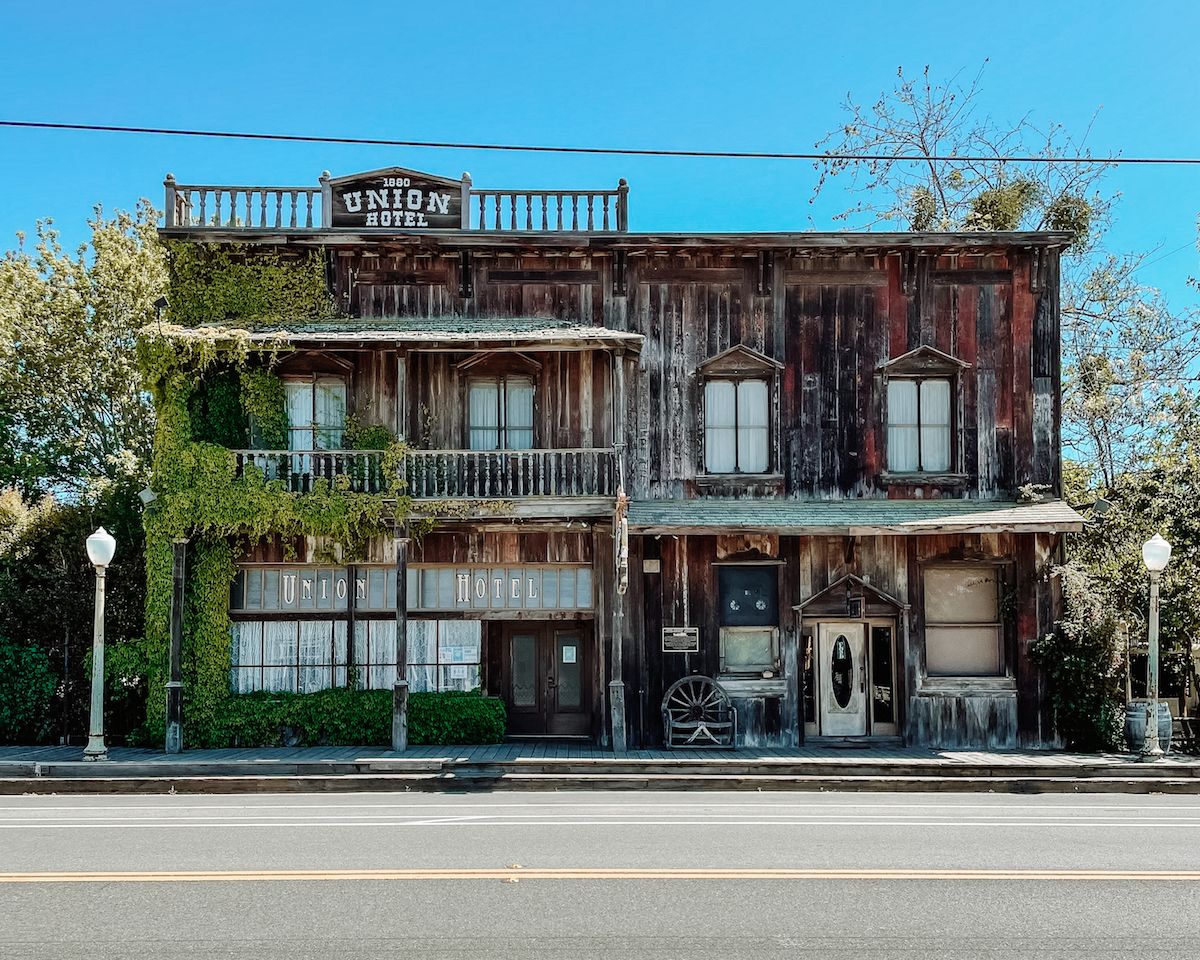 It's easy to feel the charm of the Old West in Los Alamos. A folktale is that Joaquin Murrieta (known as the real life Zorro) hid in Los Alamos while on the run from the law in the 1850s.
Step into the historic 1880 Union Hotel, a former stagecoach stop built by Wells Fargo in 1880. The building actually burned down in 1893 and was rebuilt in 1915 as a hotel and saloon. The dark wooden interior makes it feel like you're in a classic Western movie. Grab a pint and try not to end up in the sheriff's drunk tank.
Enjoy your time in this funky town!
---
Starting planning your trip to Los Alamos
---
Trip Extension Options
Don't miss our Santa Barbara road trip itinerary, which is a fun stop to add onto your trip to Los Alamos.
Extend your itinerary and stay a few days in LA: