This exciting road trip to Santa Barbara takes you on the scenic route from LA. Cruise down the legendary and sunlit California 1 through Santa Monica, Malibu and alongside impressive beaches until you reach Highway 101. From there it's a quick drive to the picturesque city of Santa Barbara, placed beautifully between the Santa Ynez mountains and Pacific Ocean.
Santa Barbara is a spirited city on the American Riviera known for its Mediterranean-like climate, budding food and wine scene and beautiful Spanish Colonial Revival architecture. We recommend spending at least 2 days in Santa Barbara so you can enjoy the best of the city at a relaxing pace.
Our Santa Barbara guide includes unique places to stay, must-eat restaurants, fun things to do in the city and our ranking of 8 wine tasting rooms.
Outline: Santa Barbara Road Trip
---
Disclosure: Some of the links below are affiliate links, meaning at no additional cost to you, we will earn a commission if you click through and make a purchase. Regardless, we only recommend products or services we have used or that we believe will add value to our readers. Thank you for supporting us!
Best time to visit Santa Barbara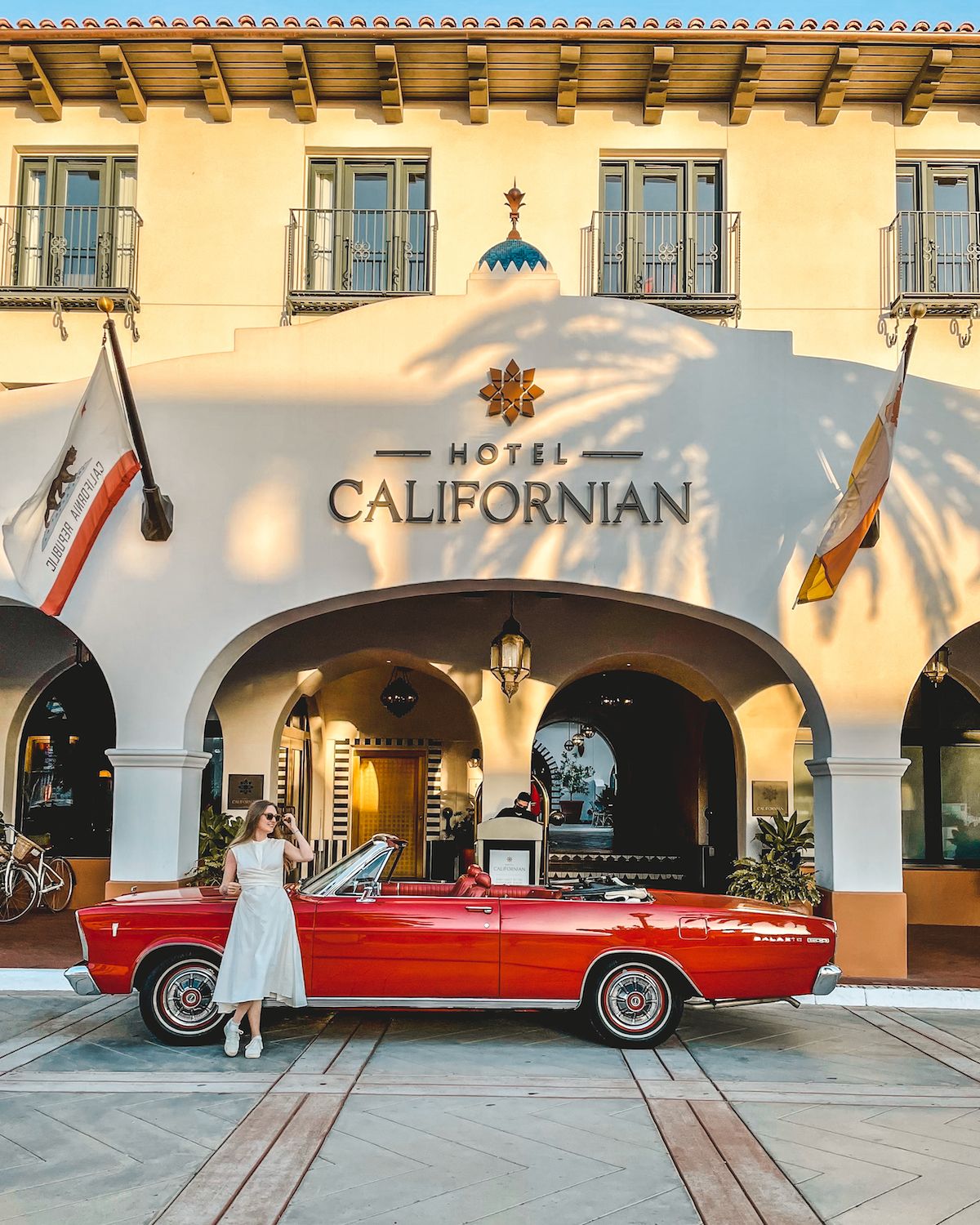 The best time of year to visit Santa Barbara is in spring (March - May) and fall (September - November) and the best time of the week to go is from Sundays-Thursdays. There are a couple reasons for this:
You will avoid jacked up hotel prices during summertime and weekends
You will avoid big crowds
Renting a Car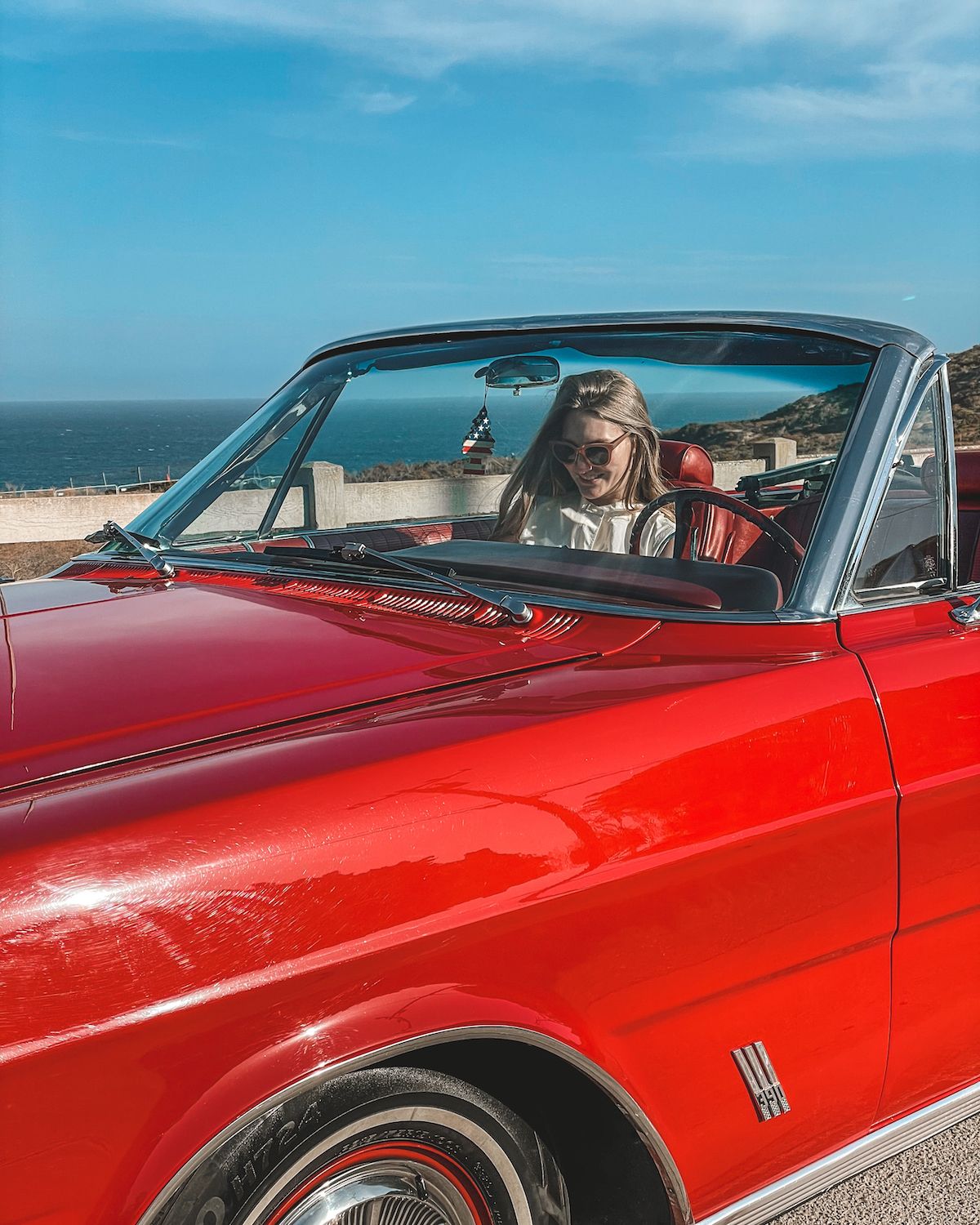 Your scenic drive from LA to Santa Barbara will take you through Malibu and alongside pretty beaches on the Pacific Ocean. We recommend renting a convertible. What better way to enjoy the California 1 than driving with the top down?!
You can easily compare rental company prices with
Rentalcars.com
. Or if you want to drive something really special, consider renting a super car or classic car on
Turo
, the car rental equivalent of Airbnb.
That time our car rental caught on fire on the highway...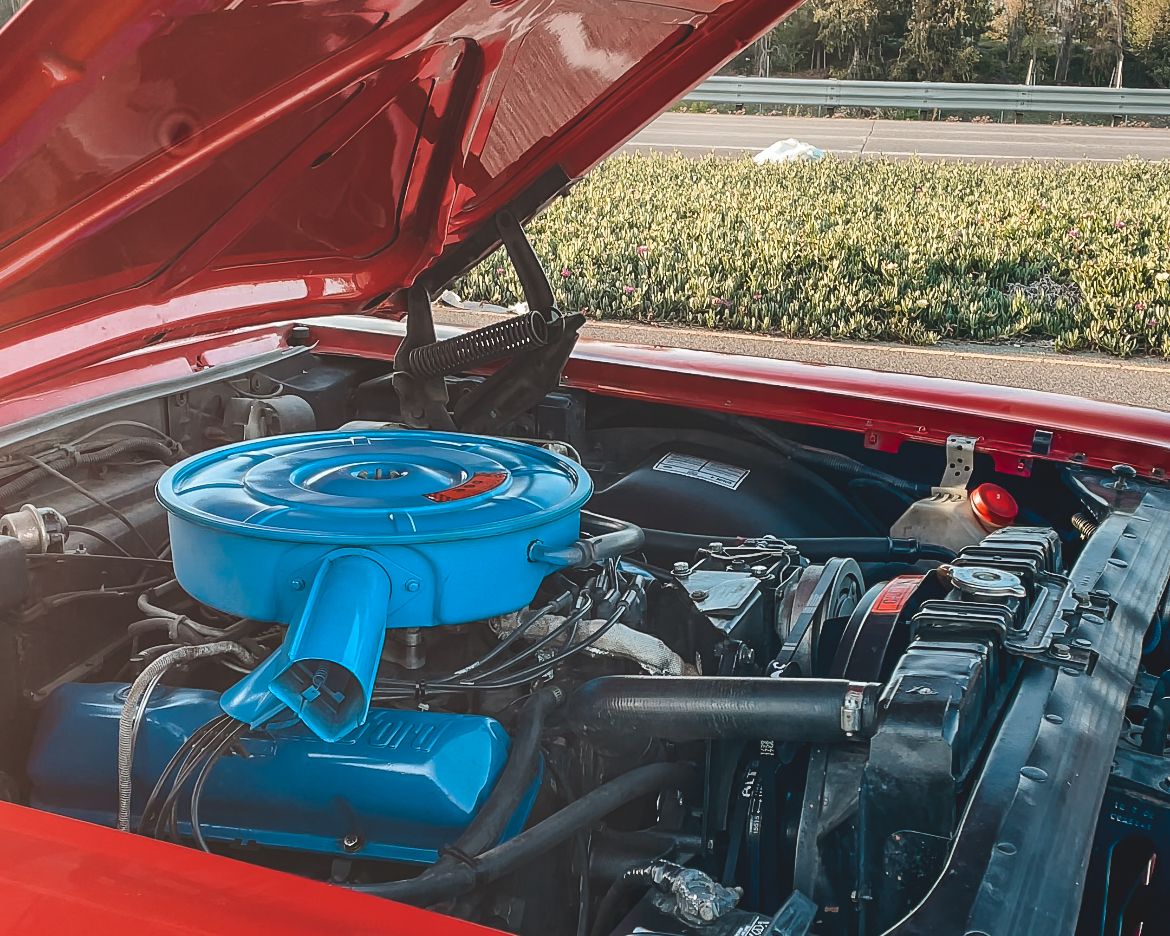 We rented a 1966 Ford Galaxie red convertible, an old American classic. It was the perfect car for the drive. However, be warned that sometimes you can run into issues with these old cars. After our stay in Santa Barbara ended, the car would not start... unfortunately the starter motor failed. What a let down, driving top down across the Santa Ynez mountains to our next destination was going to be a treat.
We had a tow truck pick up the car and take it to the repair shop, however since it was Sunday they weren't open so we wouldn't get Old Red back until Monday. Now in a panic, trying not to lose a precious travel day, we had to find another car rental to take us to our next stop, Los Alamos.
On our way back from Los Alamos we dropped off our rental car and picked up Old Red at the shop. We were happy to have it back. However, about an hour into our drive back to Los Angeles, we noticed a smell and smoke started to fill the entire car while we were doing 70 mi/hr on the highway. The engine was on fire!  
We quickly pulled over and popped the hood. Ari was able to snuff out the flames with a duster that he found in the trunk. Luckily, it was just an electrical fire caused by putting the heater on so we were able to continue driving home. What an experience! But the kicker was: when we were just 2 miles from home gassing up and grabbing a bite it had turned dark.... and that's when we realized the fire had burnt though the headlight cables. When you get an old car, there is a chance things can go awry even if it's well taken care of.
Los Angeles to Santa Barbara scenic route
The drive is beautiful along the sunny California 1 from from Los Angeles to Santa Barbara. You will pass through free-spirited Santa Monica, celebrity-filled Malibu and surfing hotspot, Ventura.
First take the California 1 through Santa Monica, Malibu and past Oxnard until you meet up with HWY 101. From there, take HWY 101 N to Santa Barbara.
Distance between Santa Barbara and Los Angeles: ~ 95 miles
Driving time: 2-2.5 hours depending on traffic
Fun road trip stops
Don't miss these must-do road trip stops along the way. Start your drive early to ensure you have enough time to explore!
Carbon Beach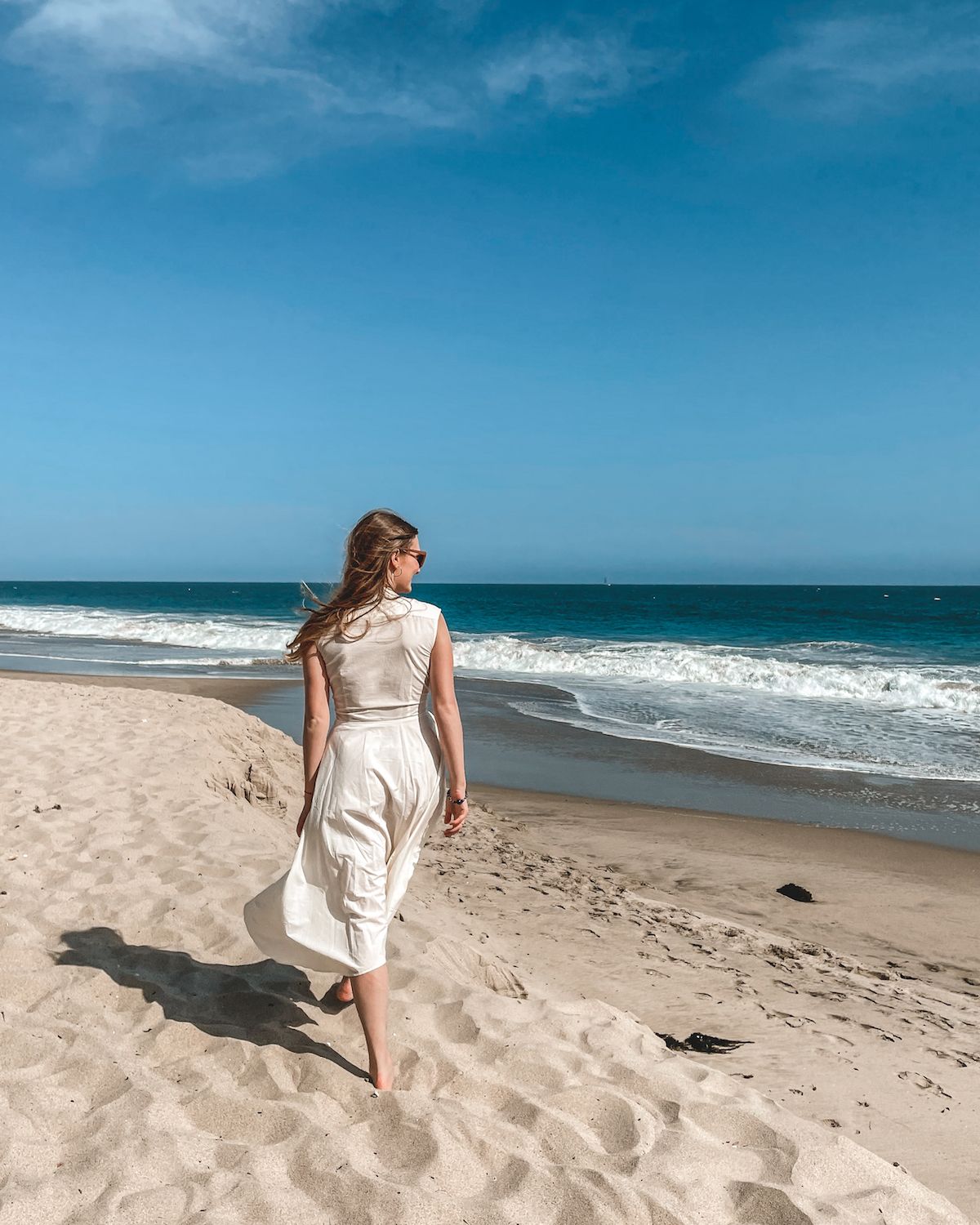 Carbon Beach is a beautiful sandy beach in Eastern Malibu also known as "Billionaire's Beach" for its ultra expensive beachfront homes owed by celebrities and business tycoons. Oracle CEO Larry Ellison owns 10 properties on this beach! Walking the coastline and taking in the ocean is just as fun as looking at these lavish houses right on the sand.
Park your car at Caffe Luxxe and grab an iced coffee. From there, walk 5 minutes to 'Malibu Public Access Beach' on Google Maps and you will find a pathway that leads you down to the beach.
Broad Street Oyster Company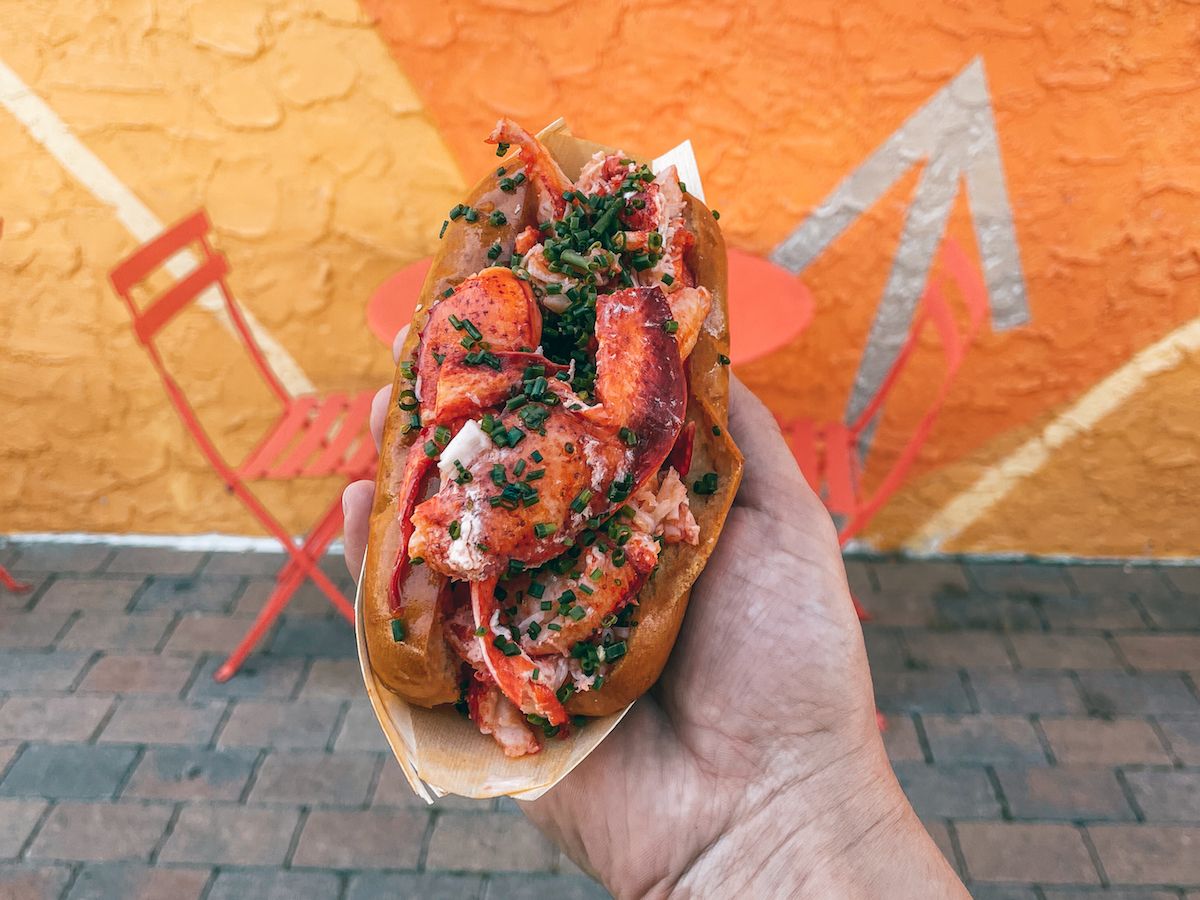 Next stop, lunch! After your stroll along the beach, stop in at Broad Street Oyster Company, a fun seafood shack well known for its lobster rolls and fresh seafood. You can even go all out and add caviar or uni (sea urchin) to your lobster roll.  
The restaurant is tucked away in the back of Malibu Village and has picnic table seating. Ari had the Lobster Roll and I the Shrimp Baja Tacos. It was one of our favourite meals we had in California.
Point Dume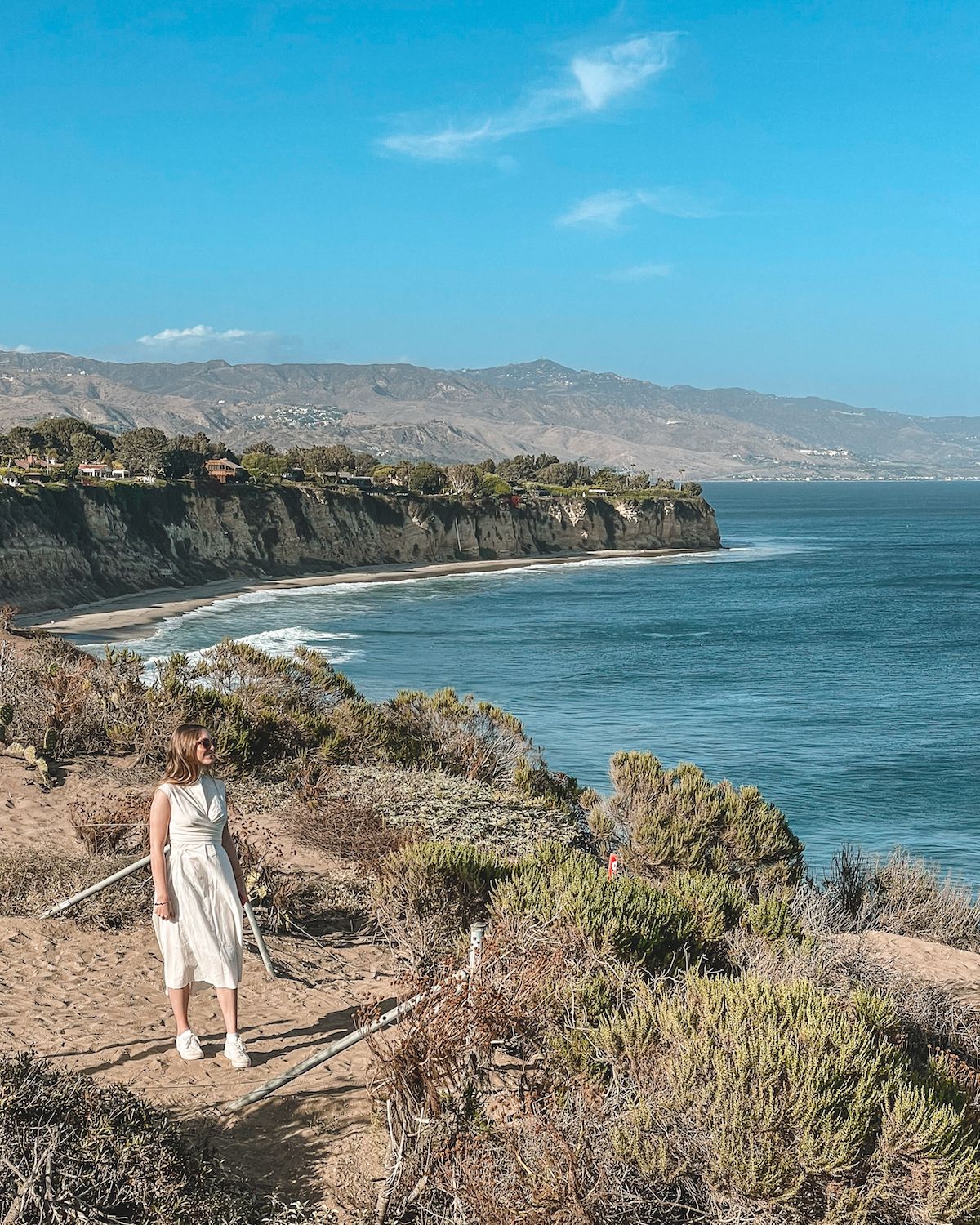 After filling your belly with fresh seafood, get back on the road and drive to Point Dume, a rocky headland projecting into the Pacific Ocean. It's a short walk up the headland where you will be rewarded with scenic views of Malibu and the coastline. Look closely and you will see surfers catching waves below.
2 Days in Santa Barbara
We recommend staying at least 2 days in Santa Barbara to explore the city's happening spots at a relaxing pace. This section covers our top hotel and restaurant picks and unique things to do in the city.
Unique places to stay in Santa Barbara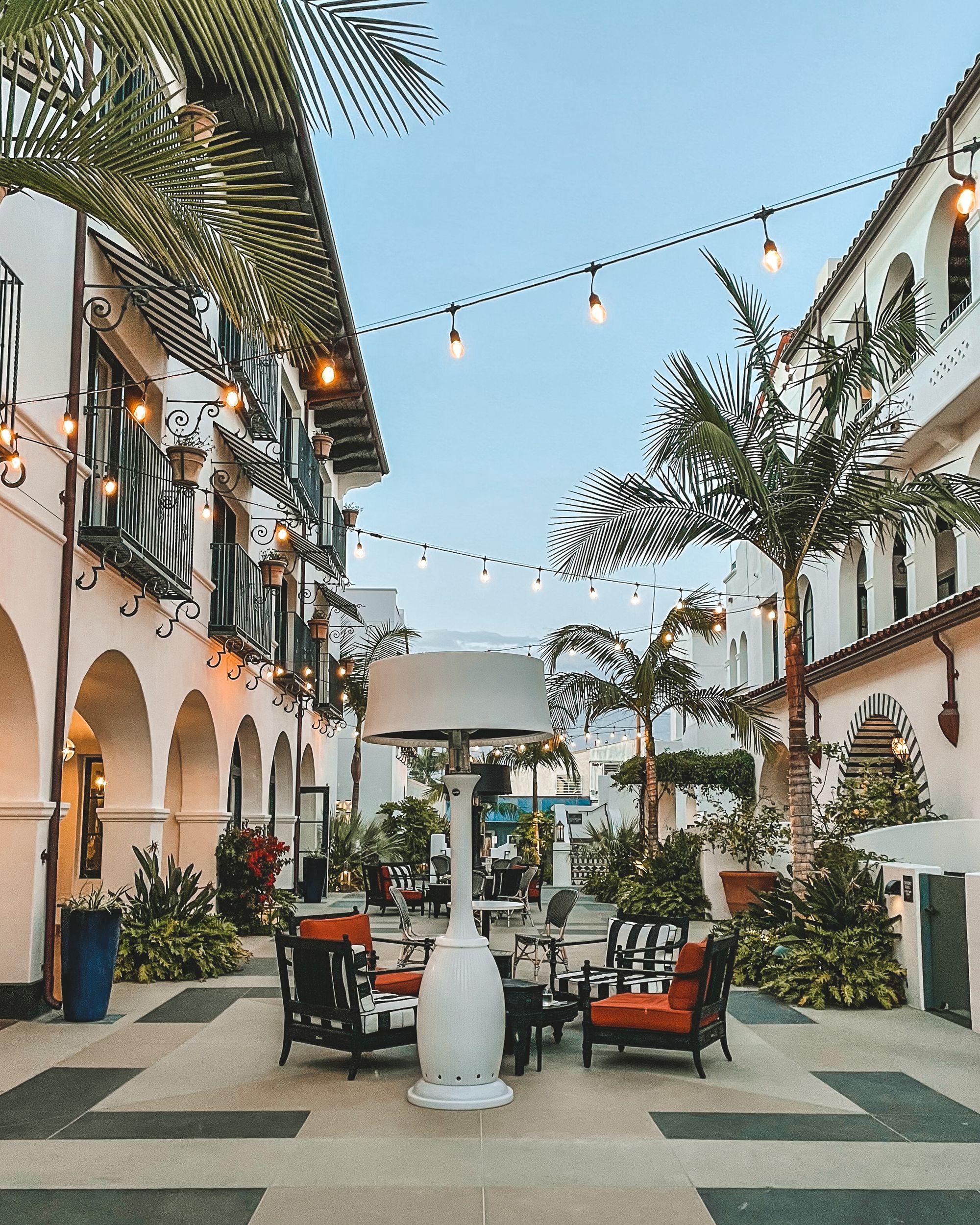 Best in the Funk Zone: Hotel Californian
Hotel Californian
is located right in the centre of the hip and happening Funk Zone where you will find plenty of wine tasting rooms, restaurants and boutiques.
What makes the hotel special is Martyn Lawrence Bullard's work of mixing Moroccan-inspired interiors with the Spanish Colonial Revival architecture.
Rooms are spacious and have unique custom furnishings.
The hotel features a cafe, a craft cocktail bar with a Moroccan twist and a dimly lit restaurant with art-deco features. In the second building you will find the city's only rooftop pool, which offers poolside dining at your sun lounger.
Our negative about the hotel was that the service level was not up to par for a 5-star hotel, making it feel overpriced. The staff were very friendly, however it seemed understaffed when we were there. For example, we arrived at 6PM and there was only one person working who was in charge of doing valet service and taking up your bags. They seemed stressed out. We felt uncomfortable leaving our bags unattended in the front as they took our car to the garage, so we took them up ourselves. Rooms from $492 USD.
The next two hotels we haven't stayed at, but have heard great things about them.
Best for the beachfront: Santa Barbara Inn
Santa Barbara Inn is a Mediterranean-inspired boutique hotel with beautiful coastal views of the ocean and mountains.
The Funk Zone is a 20-minute walk away, however you get to take the scenic oceanfront pathway to get there. The hotel features an Italian restaurant, bar and outdoor swimming pool. Each Spanish-Mediterranean styled room has a private balcony with views of the ocean or mountains.
Rooms from $289 USD.
Best value: The Eagle Inn
The Eagle Inn
is a family-owned boutique hotel located in the peaceful West Beach neighbourhood near the waterfront and The Funk Zone.
The waterfront is just a 3 minute walk away and The Funk Zone a 7 minute walk.
Each night's stay includes a hot breakfast.
Rooms from $129 USD.
Best things to do in Santa Barbara
We've rounded up some of the best things to do during your time Santa Barbara.
Go boutique shopping in The Funk Zone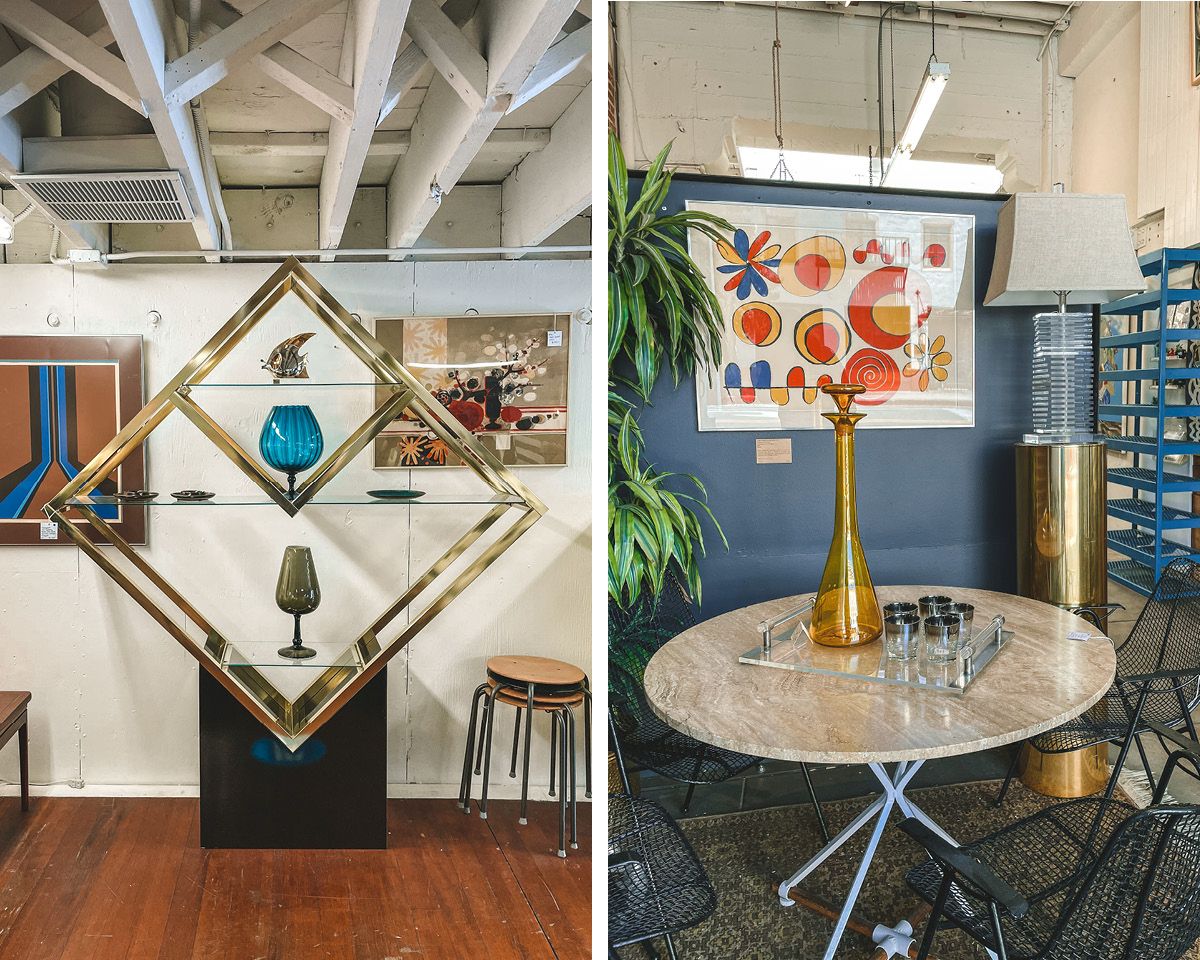 Shop unique boutiques in the trendy Funk Zone, a former warehouse district that been transformed into a happening area with vintage stores, galleries, surf shops, wine tasting rooms, breweries, cafes and restaurants. The Funk Zone has historically been a creative hub for artists, allowing for a unique culture to develop.
Don't miss these two amazing boutiques:
Blue Door: the three-story home boutique has an extraordinary curated selection of vintage items and eclectic modern pieces, such as mid-century modern furniture, paintings and authentic designer goods. We bought a lot of stuff here!
Stabiles: The artisanal boutique has a collection of high quality products from creatives and designers around the world. We loved their Japanese mugs and kitchen utensils, like their yellow soy sauce dispenser and pizza cutter. Stabiles has a mobile artisanal truck that they park in the Funk Zone. See where they are parking this weekend here. They also have a brick and mortar location at 527 State Street.
Go bike riding along the waterfront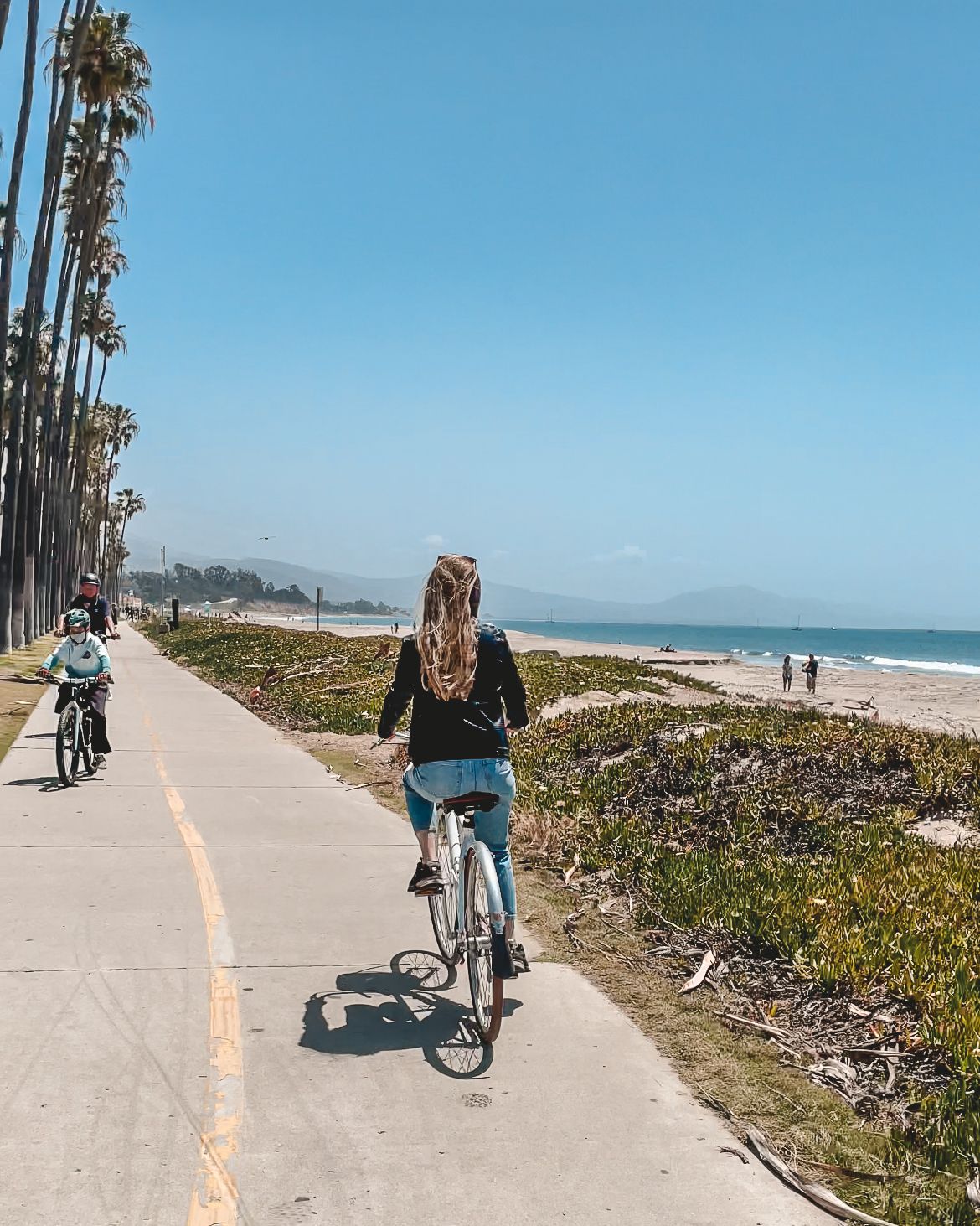 Take in gorgeous ocean views as you bike along Santa Barbara's paved waterfront path. The 4.6 mile (7.4 km) Carbillo path starts at Leadbetter Beach and ends at Butterfly Beach in Montecito. It's an easy breezy ride since it's flat.
Some hotels, such as Hotel Californian, include free bike rentals. If your hotel doesn't, check out Wheel Fun Rentals conveniently located one block away from the waterfront and Stearns Wharf.
Take a stroll up Santa Barbara Pier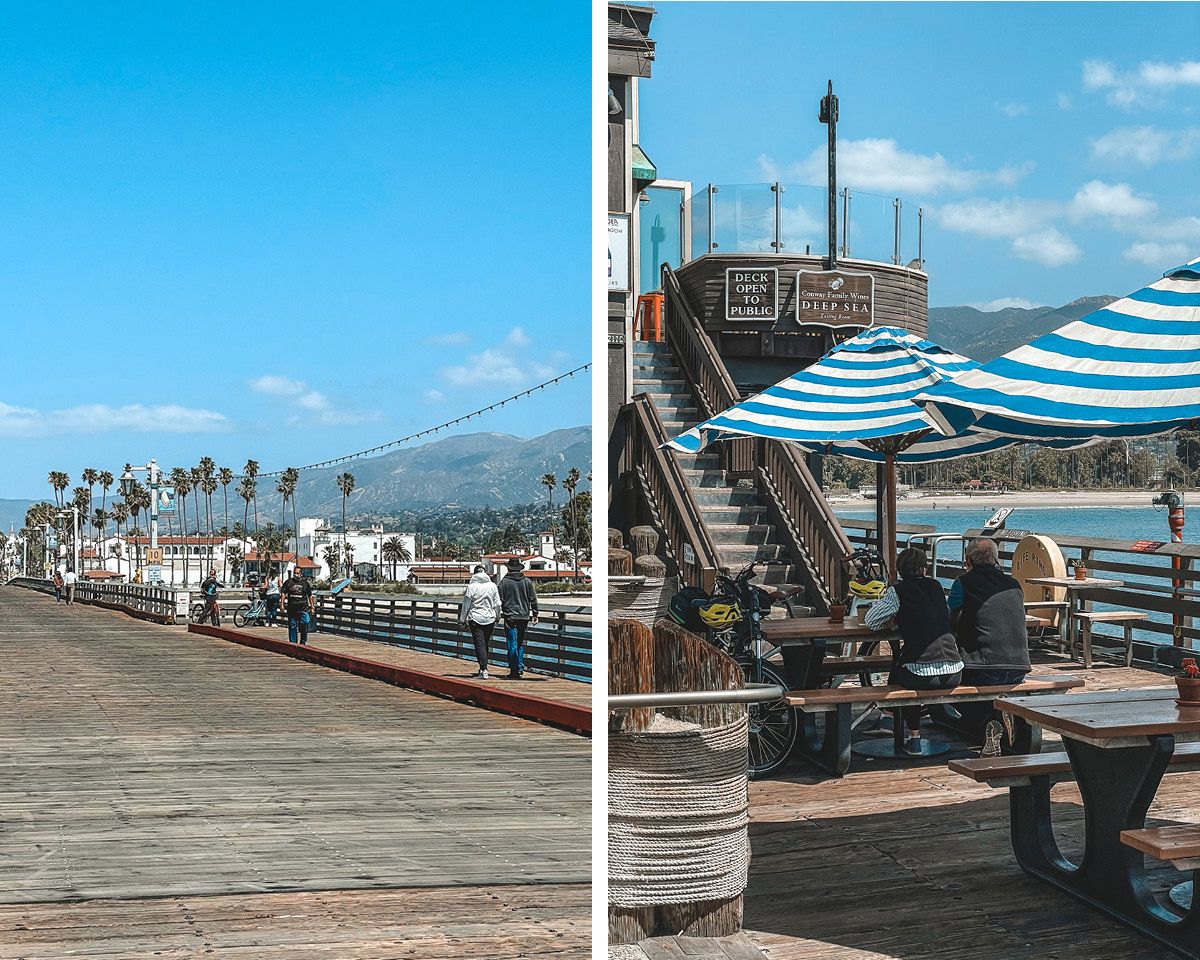 Walk the palm-treelined path along the waterfront to Santa Barbara Pier and Stearns Wharf, the oldest working wooden wharf in California. On the wooden pier you will find a few speciality shops and eateries. Stop in at Mother Stearns Candy Co. and browse their vintage candies for that nostalgic feeling.
Eat charcuterie bites at Margerum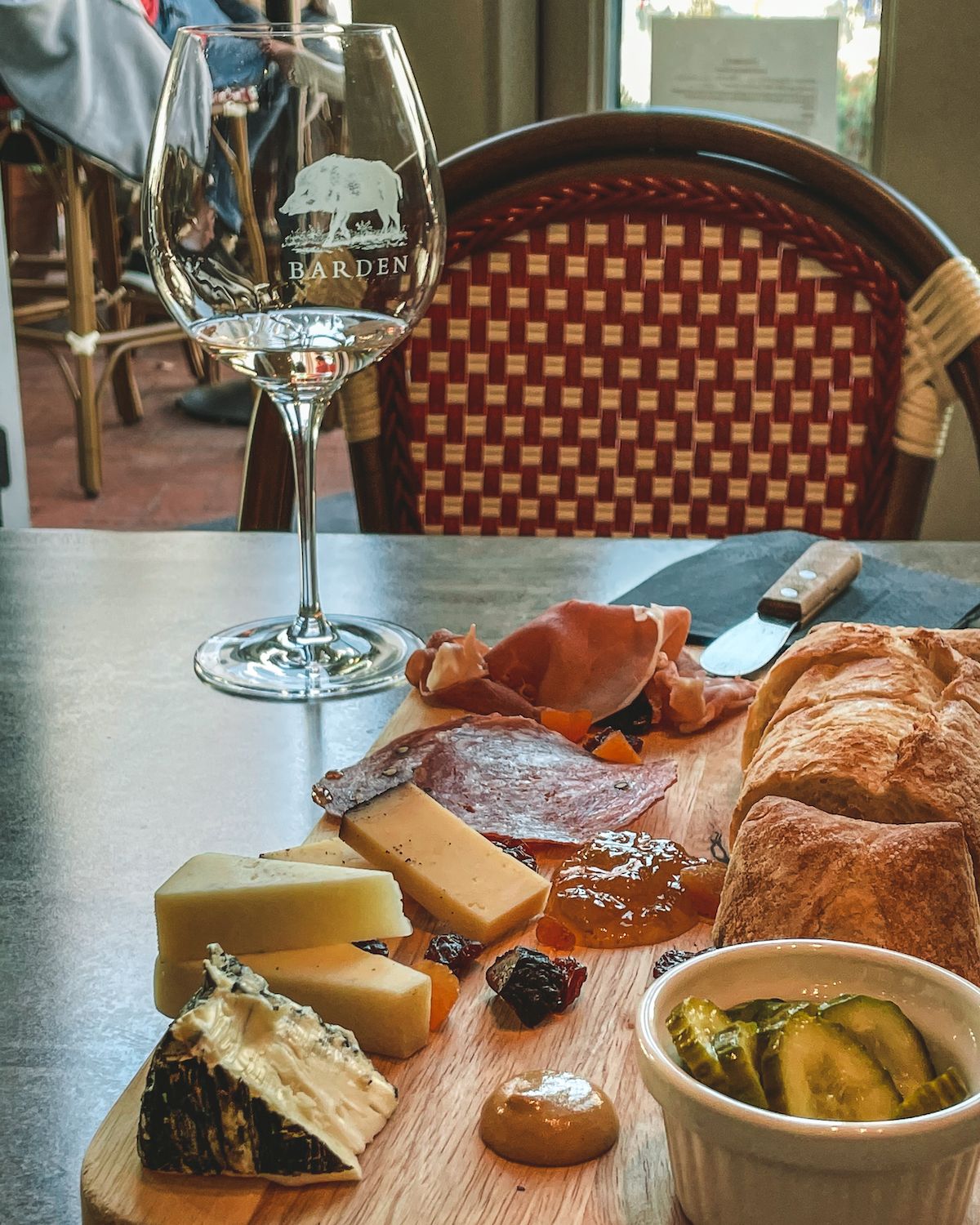 Margerum is a hip wine tasting room with delicious charcuteries bites. They offer a charcuterie board, cheese board, or cheese/charcuterie combo. We choose their combo board which came with three delicious cheeses, prosciutto parma, soppressata salami, baguette and accoutrements. We weren't fans of their wines since they are on the sweeter side, so if you like your wine dry come for the food and skip the tasting.
Watch the sunset from the Miramar Beach Bar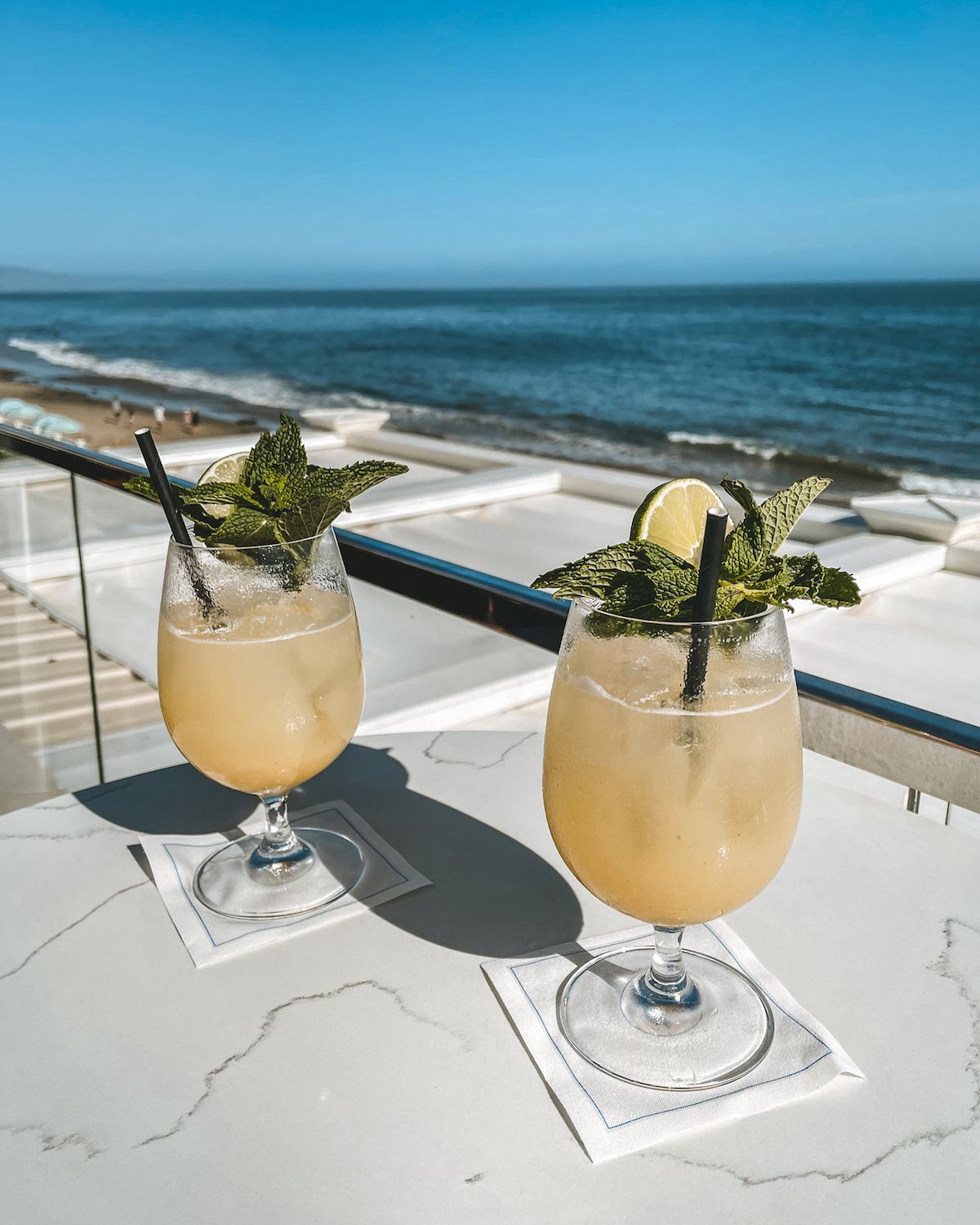 Montecito is a ritzy community in Santa Barbara where celebrities like Oprah Winfrey, Meghan Markle and Ariana Grande have a home. Take a glimpse at the Montecito lifestyle and enjoy a few drinks at the beach bar of the luxurious Rosewood Miramar Beach hotel. The beach bar has nice views of the oceanfront. If you want a break from drinking cocktails, order their refreshing non-alcoholic mocktails instead.
Listen to live music at Waterline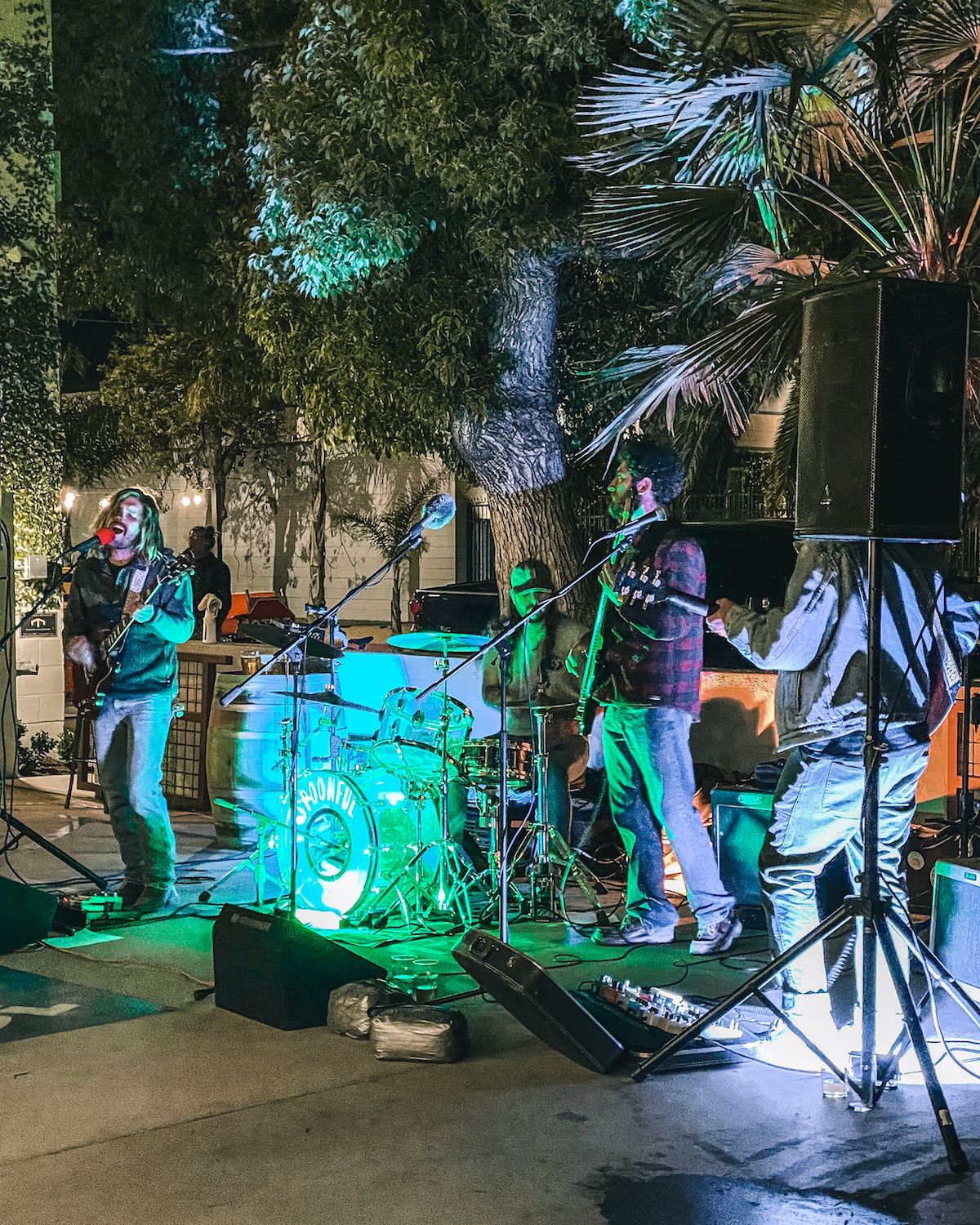 The Waterline is an industrial warehouse located off the beaten path in The Funk Zone and is the perfect stop after the tasting rooms close. The compound is home to Fox Wine co., Topa Topa Brewery, Lama Dog and The Nook Eatery. Inside you will find a big space with couches for seating where a DJ plays. Outside there is a large outdoor patio where you can listen to live music. When we were there on a Friday, live music started at 8 PM. We ordered a mouthwatering bratwurst hotdog and tater tots. Mmm!
Go bar hopping on State Street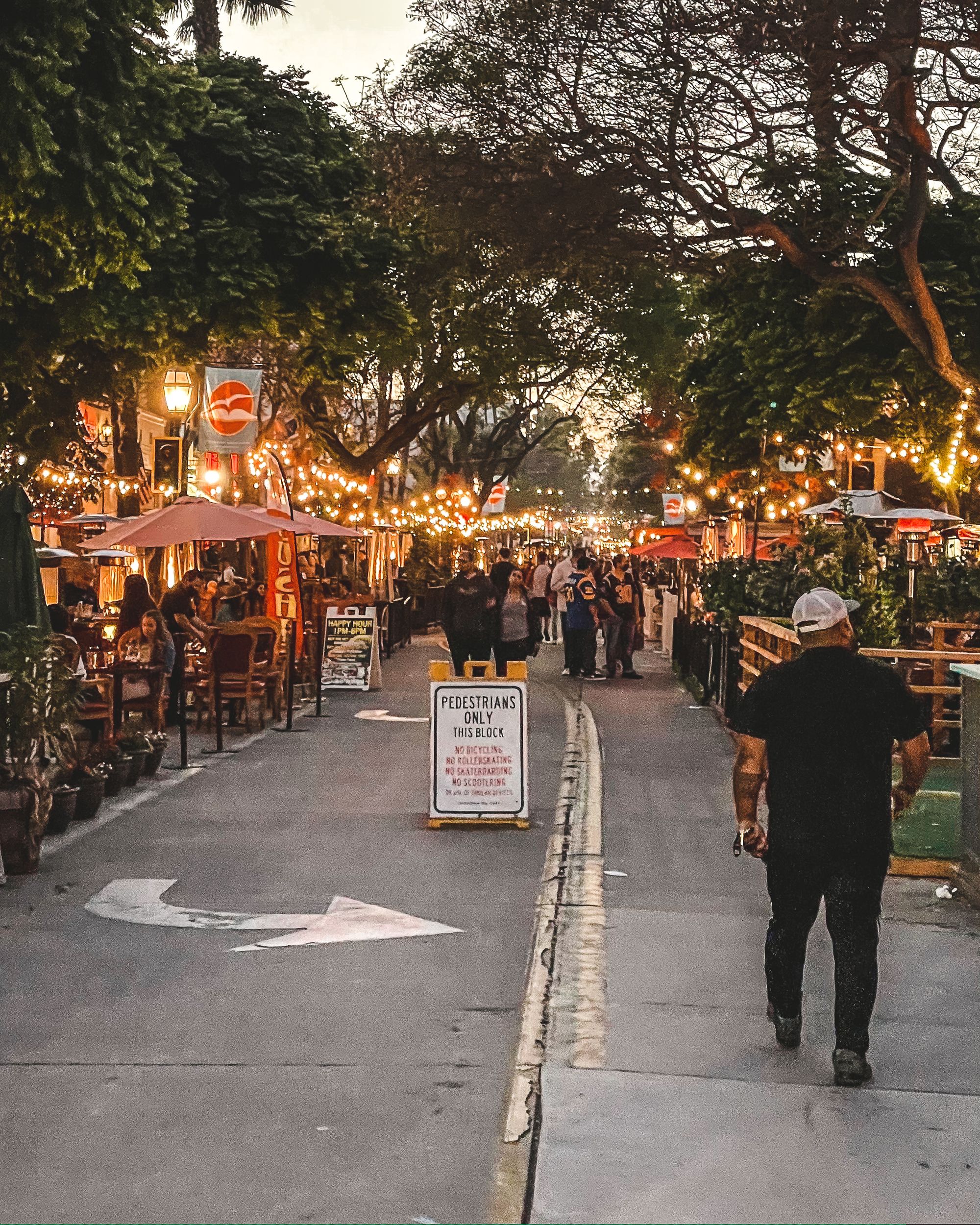 State Street is a great spot for a big night out. If you walk northwest on State Street from the Funk Zone into the downtown core, it eventually becomes a lively pedestrian street lined with restaurants, bars and outdoor patios. Choose a fun spot and start your night crawl!
Discover new wines at wine tasting rooms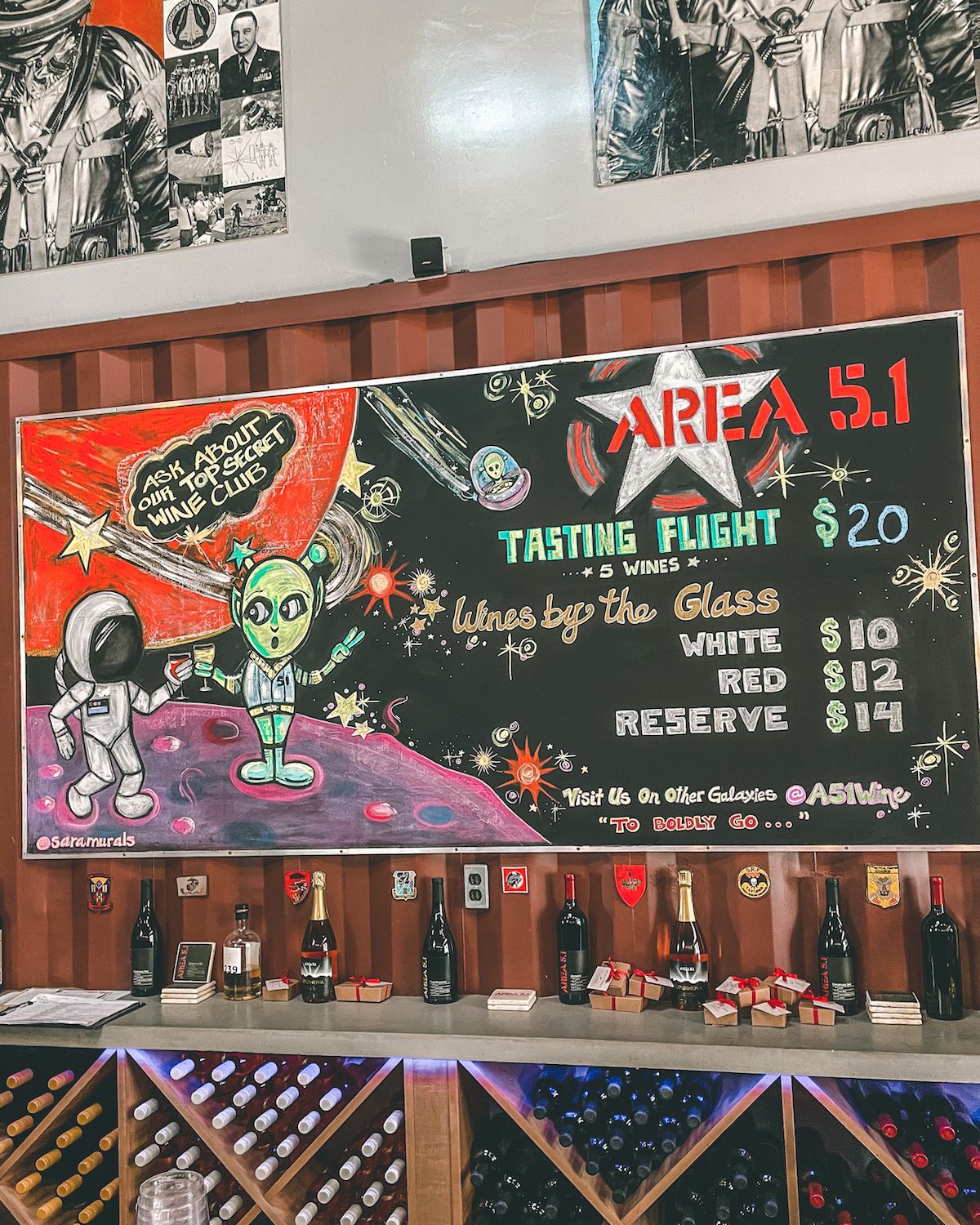 There are a plethora of wine tasting rooms to choose from in Santa Barbara. The Funk Zone has a great selection of wine tasting rooms and it's easy to hop from one to the next. The two main grape varietals in the region are pinot noir and chardonnay, but you will also find lots of viognier and grenache.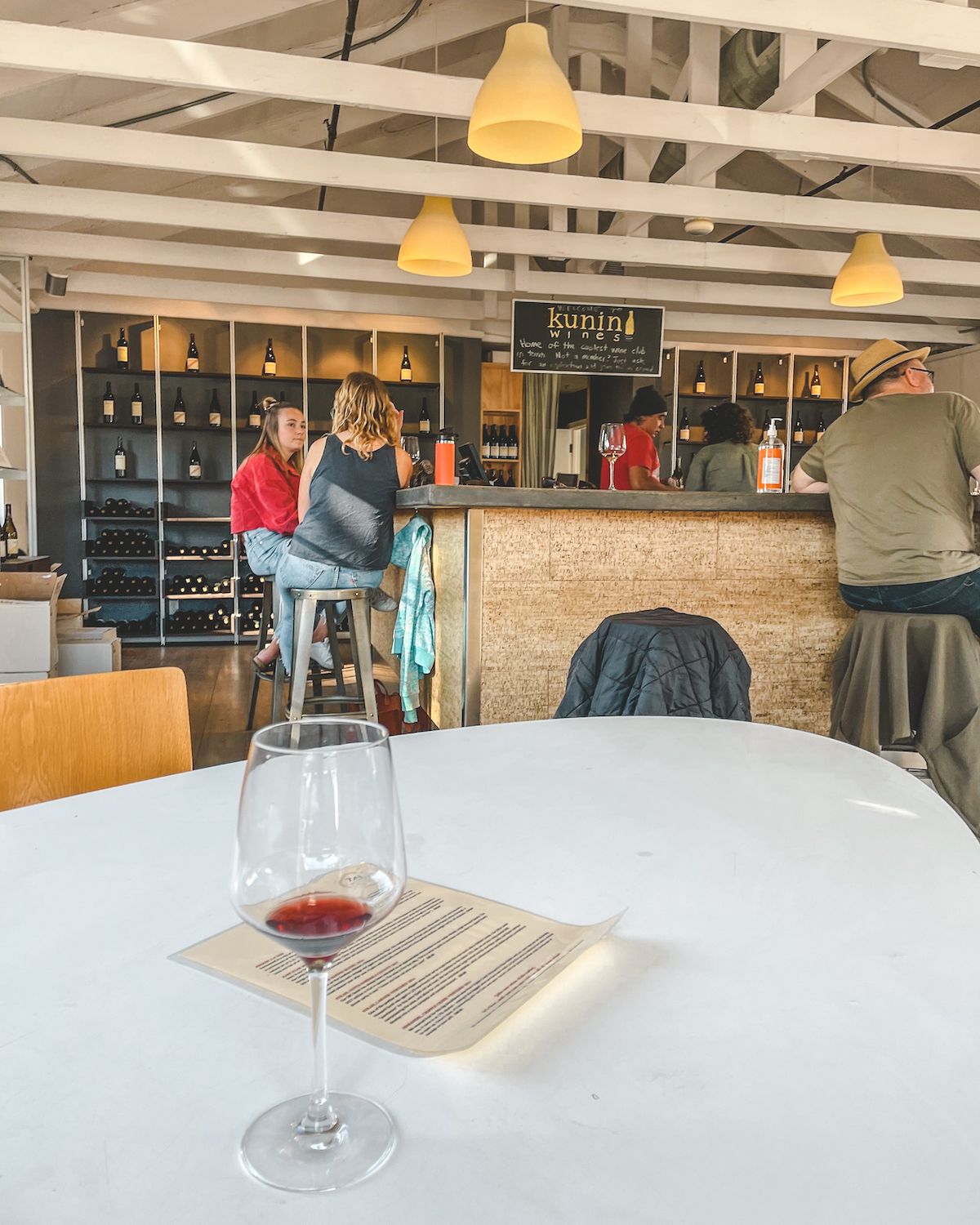 Wine tastings are on the expensive side in Santa Barbara. It typically costs $20 USD for a regular tasting and $30 USD for a premium tasting. We recommend sharing a tasting with someone so you don't get too tipsy and can visit more wine tasting rooms. It will also split your wine tasting cost in half. Most wine tasting rooms close at 5:00.
We visited 8 wine tasting rooms in Santa Barbara's funk zone. Here is how we rank them:
Funk Zone tasting rooms ranked and rated
Riverbench (5/5): known for their sparkling wines, excellent service and you can get your bottle sparkled in silver, gold or rainbow colours.
Fox Wine Co. (5/5): a unique wine bar in a funky industrial compound with an eatery and large outdoor patio with live music.
Kunin Wines (4/5): Awesome tunes, good wines and a cool atmosphere in a shotgun house.
Area 5.1 (4/5): retro Area 51/UFO themed tasting room with a fun vibe and unconventional blends.
Corks n' Crowns (4/5): lively atmosphere in a wooden house with wine and craft beer tastings, they also curate very highly ranked wines by Robert Parker (RP 97-99!!) you can buy bottles of.
Melville (3/5): chill and relaxed vibe, a good spot to start off your wine tasting tour.
Margerum (3/5): good charcuterie boards and atmosphere, skip the wine tasting if you don't like sweeter/floral wines.
Paradise Springs (1/5): disappointing service, five warm wines plopped down beside you in plastic cups with no explanations.
Trendy restaurants in Santa Barbara
Santa Barbara is known for its burgeoning food scene with its trendy eateries and farm-to-table restaurants. In fact, 11 restaurants in the city have been listed in the Michelin guide.
Brunch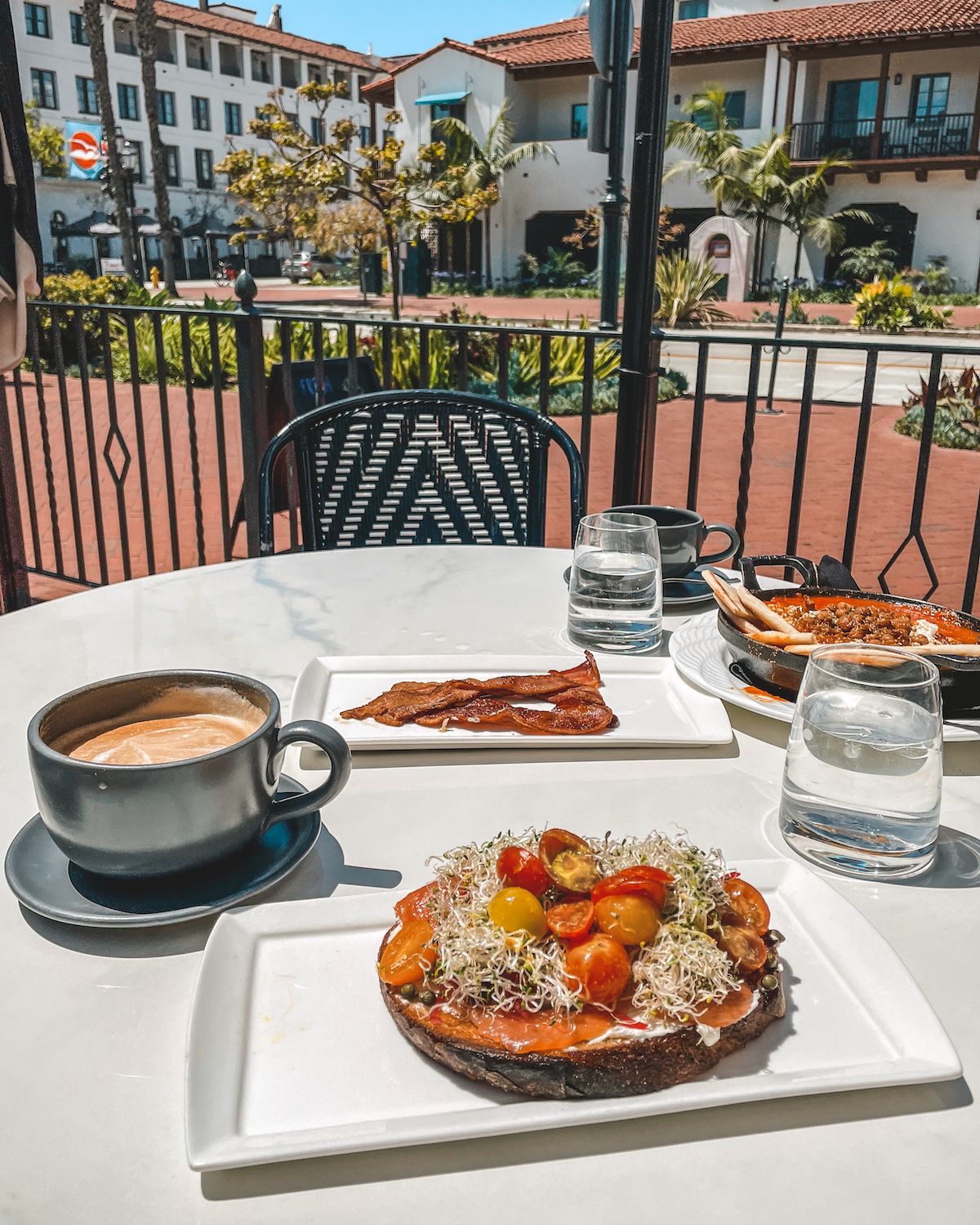 Best for baked goods: Helena Avenue Bakery. Enjoy the bakery's seasonal pastries made from scratch and sandwiches made with fresh organic bread.
Best for an al fresco brunch: Goat Tree. Soak in the Mediterranean-like climate on Goat Tree's outdoor patio. The restaurant has a good selection of gourmet toasts, like smoked salmon toast or avocado toast.
Dinner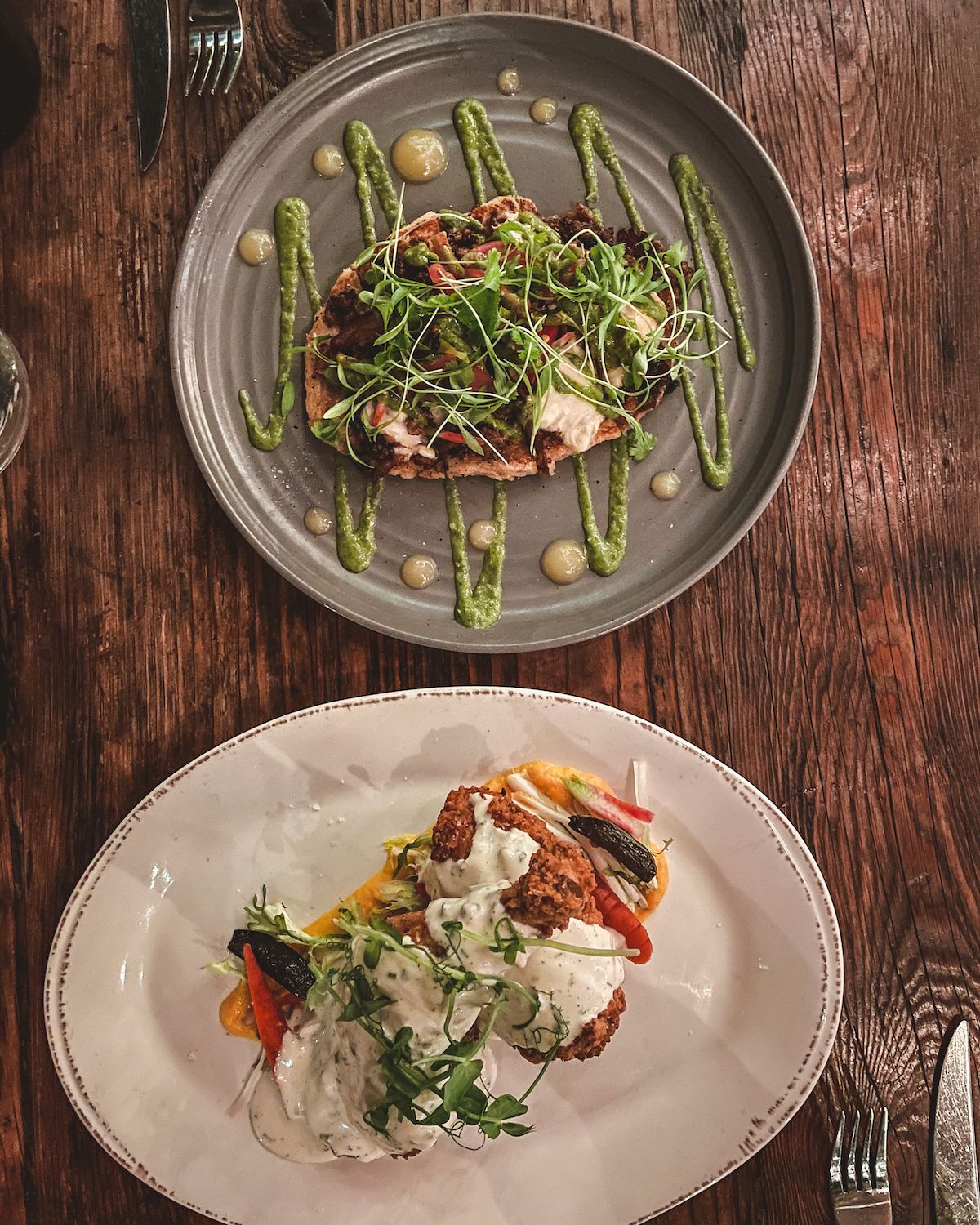 Best for farm-to-table: Barbareno. Located off-the-beaten path in a charming neighbourhood, this farm-to-fork restaurant features high-quality dishes centred around its outside smoker and grill. The small plates are meant to be shared, so you can try many different things on the menu.
Must try: Lamb al pastor on fermented masa flatbread and the lavender ricotta/butternut squash ravioli.
Best in The Funk Zone: The Lark. The former fish market has turned into one of Santa Barbara's coolest restaurants. The Lark serves Californian fare and uses seasonal, locally sourced ingredients. The large portions are meant to be shared.
Must try: crispy brussels sprouts with sesame, medjool dates, garam and lime.
Best for cocktails: Blackbird. Located in the Hotel Californian, Blackbird is known for its inventive cocktails created by acclaimed mixologist Devon Espinosa. The alluring dimly lit space with art deco features is perfect for an after dinner drink.
Enjoy your fun road trip to Santa Barbara!
If you're short on time, check out our ultimate day trip to Santa Barbara instead.
Trip Extension Options
Extend your itinerary and stay a few days in LA:
Keep your road trip going and add Los Alamos - California's quirky wine town to your route.