Spend a relaxing day on the American Riviera in Santa Barbara, a vibrant city known for its Spanish Colonial Revival architecture, Mediterranean-like climate and buzzing food and wine scene. The city sits on the Pacific Coast with the Santa Ynez mountains as its backdrop.
Your day trip to Santa Barbara will be filled with fun experiences. All in one day you can walk the palm-tree lined waterfront and visit the trendy wine tasting rooms, boutiques and restaurants that pervade the Funk Zone. This itinerary has a relaxing pace that will allow you to unwind and enjoy the spirited city.
Disclosure: Some of the links below are affiliate links, meaning at no additional cost to you, we will earn a commission if you click through and make a purchase. We only recommend products or services we have used or that we believe will add value to our readers. Thank you for supporting us!
Outline: One Day in Santa Barbara
Morning: travel to Santa Barbara and start your day with an al-fresco brunch in the Funk Zone.


Daytime: shop unique boutiques, visit two wine tasting rooms, have charcuteries bites, take a stroll along the waterfront and up the pier.

Evening: visit one more wine tasting room, eat at one of the city's hot spots, take the train or drive back home.
How to get to Santa Barbara
The best way to get to Santa Barbara from LA is either by train or car. Each method has its advantages and disadvantages which we outline below:
Taking the train from LA to Santa Barbara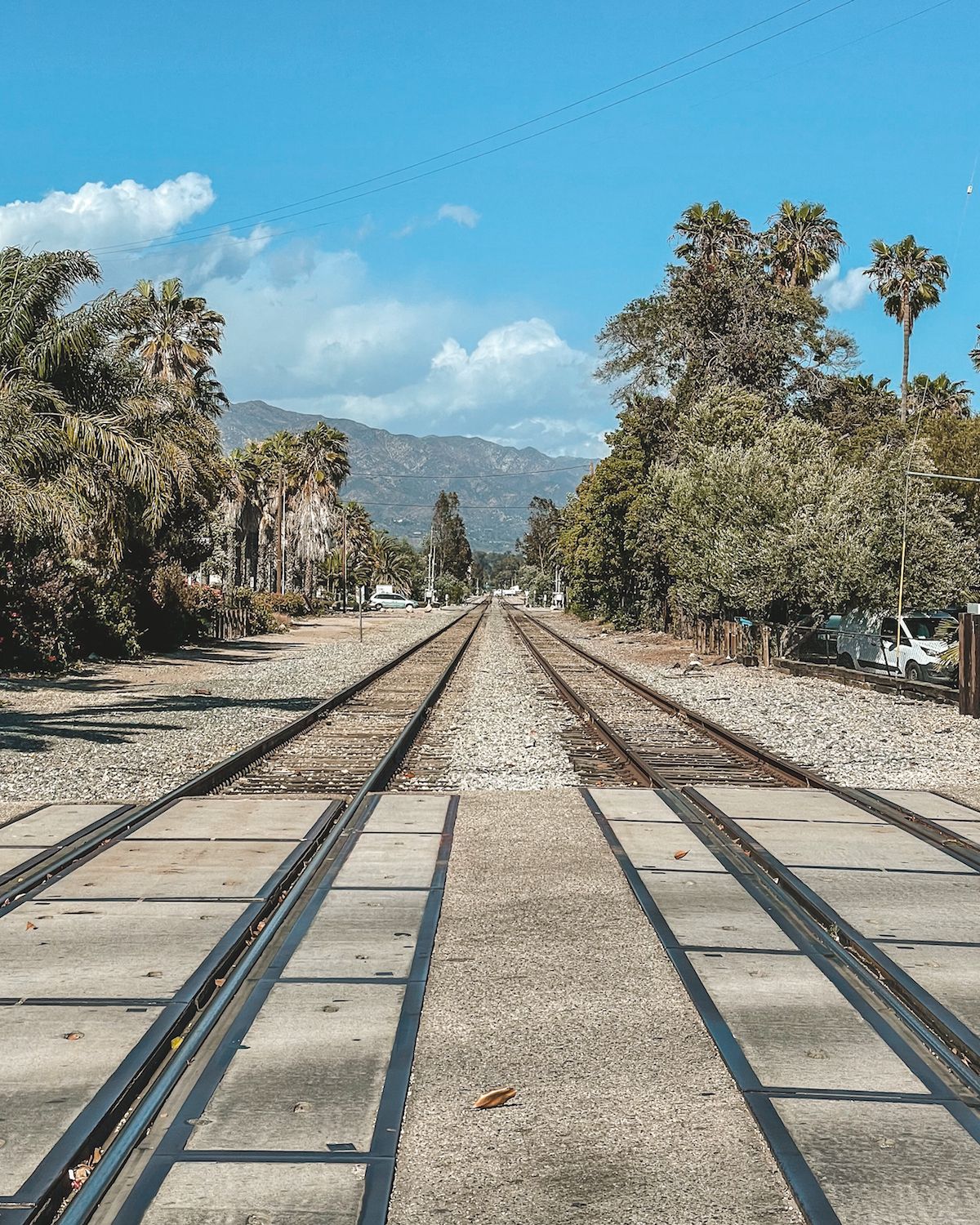 Taking the train is handy if you want to visit multiple wine tasting rooms and don't have a designated driver. It also drops you off right in the middle of the action, so you won't have to worry about getting Ubers or paying for parking.
Taking the train will add more time to your trip. The train ride is 2.5 hours each way plus waiting time at the train station. You will also be on a tighter schedule since you have specific departure times to make.
If you wish to buy bottles of wine or go shopping, it may be a pain to carry your goodies around with you and take them home on the train.
Timing: taking the 9:11 AM morning train will give you over 9 hours in Santa Barbara until you have to catch your 9:15 PM evening train back to LA.  There are additional train departure times you can choose from.
Train cost estimate: round-trip train tickets are $50-$62 USD per person with Amtrak
The drive from LA to Santa Barbara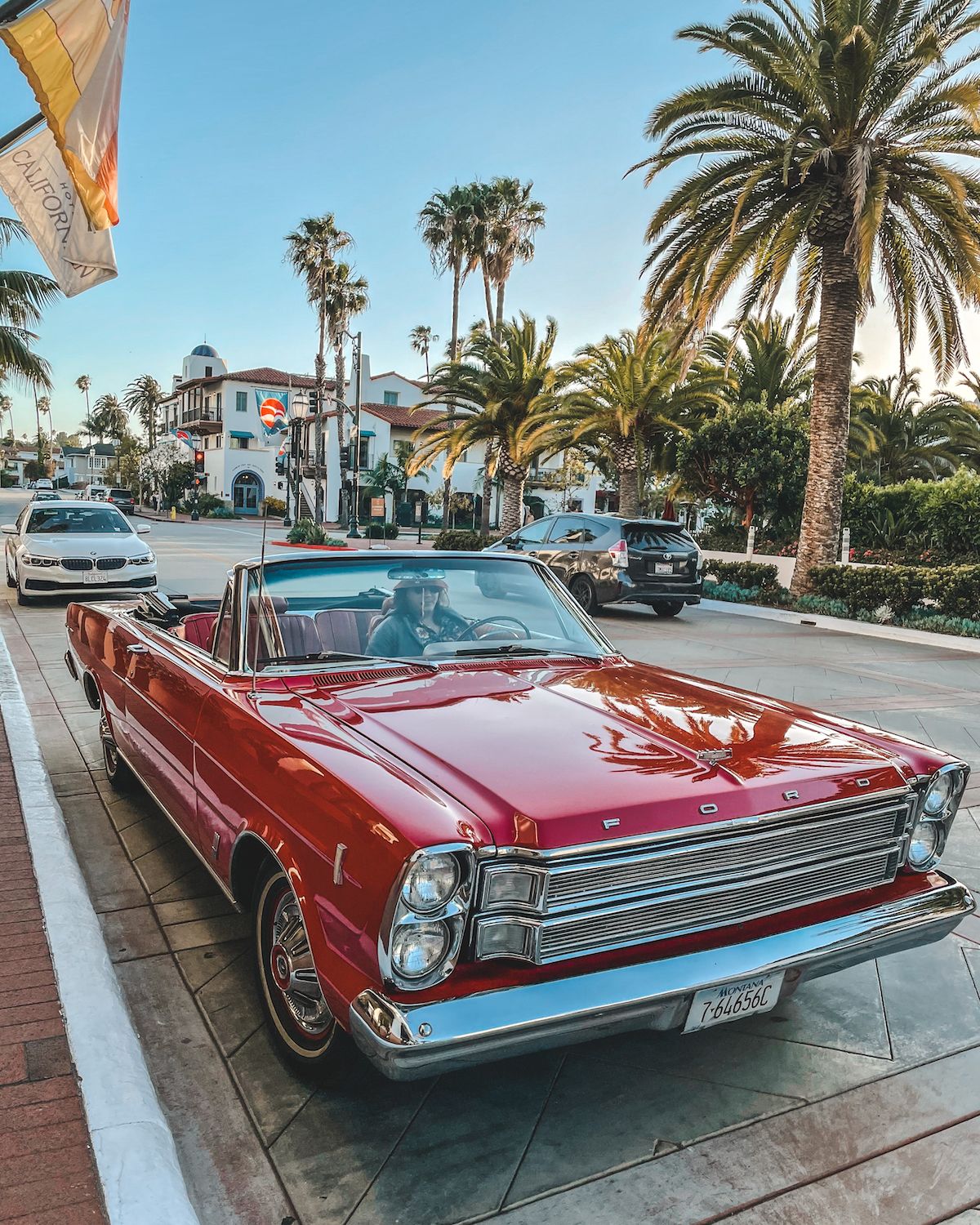 Driving from LA to Santa Barbara is about 1.75-2 hours each way. It's more time efficient than taking the train, however you will have to limit the amount of wine tasting rooms you visit if you don't have a designated driver.
Driving allows you to have more time flexibility. You can drive back home whenever you like. No worrying about missing the train! If you shop around it's also easy to load up your car.
Driving cost estimate: driving is more cost efficient than taking the train if you are traveling with two or more friends.
Fuel: $20-$30 USD round trip
Car Rental: $100 USD+ (compare rental company prices through Kayak).
Parking in Santa Barbara: $1.50/hr (first 75 minutes free).
Getting around Santa Barbara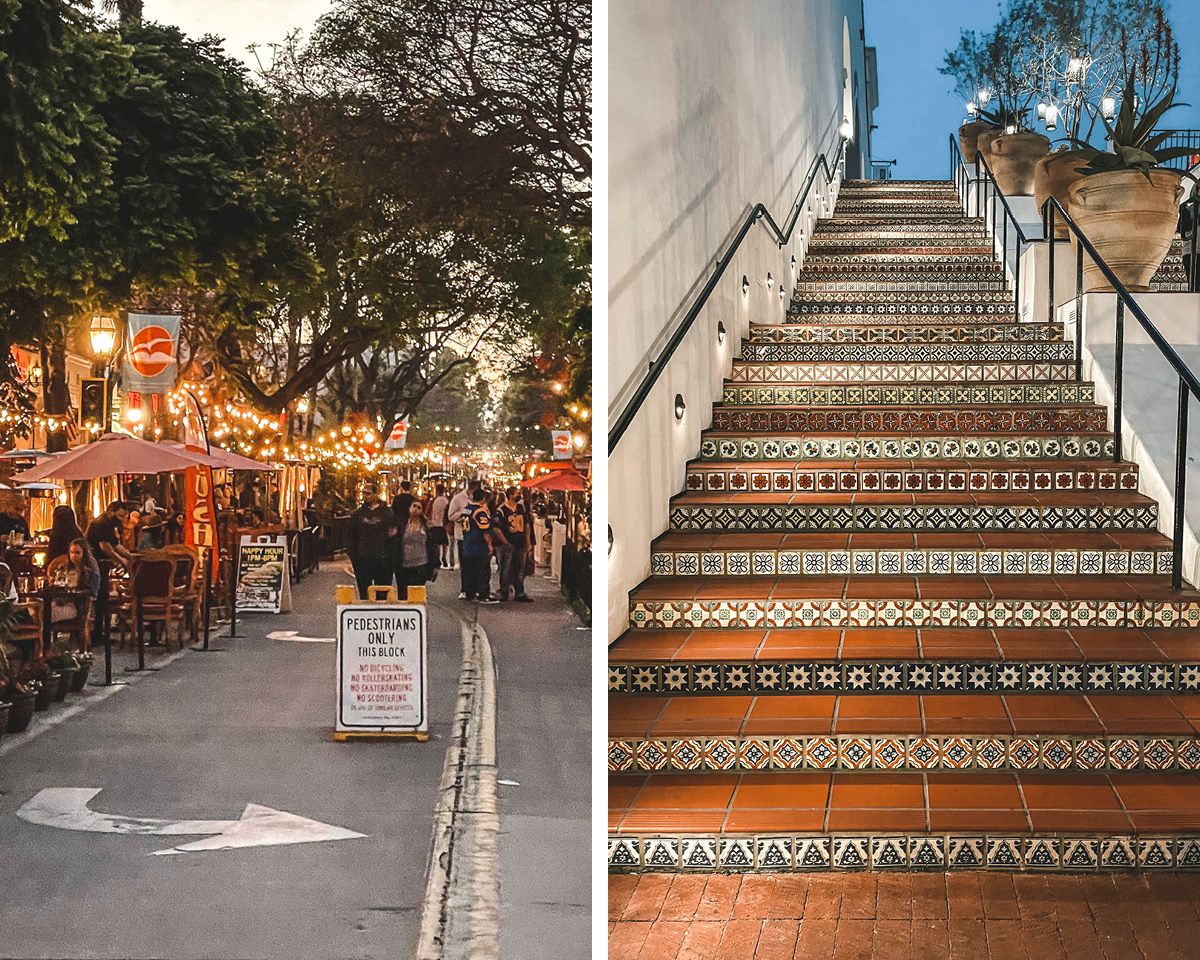 One of the most convenient things about Santa Barbara is that almost all the happening spots are within walking distance. The hip and trendy Funk Zone is located across the street from the waterfront and is adjacent to the Amtrak station. It's where you will find tons of wine tasting rooms, boutiques, bars and restaurants.
State Street is more lively and a great spot for a big night out. If you continue down State Street into the downtown core, it eventually turns into a nice pedestrian street lined with restaurants, bars and outdoor patios.
Renting bikes is a great way to get around the city and to explore the palm-tree lined waterfront.
Santa Barbara day trip itinerary
Morning
Start your day with an al fresco brunch at Goat Tree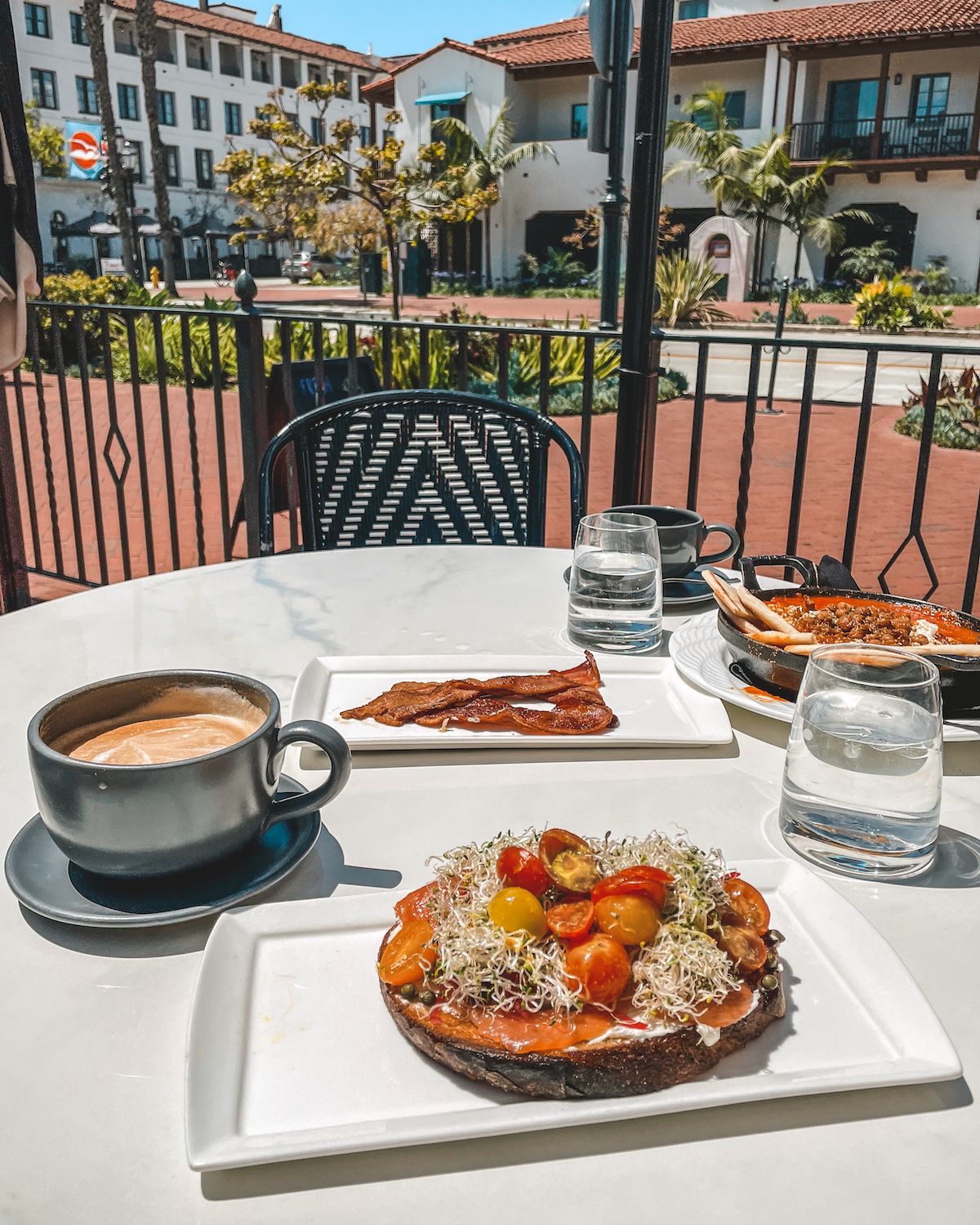 After your journey to Santa Barbara, start your day with a delicious brunch at Goat Tree, an al fresco dining spot located across the beautifully revived Hotel Californian. Soak in the Mediterranean-like climate on the outdoor patio with a cappuccino and choose from their selection of fresh pastries or gourmet toasts, like avocado toast and smoked salmon toast.
It's worth taking a quick peek inside the hotel and courtyard of Hotel Californian to see celebrity designer Martyn Lawrence Bullard's work of mixing Moroccan-inspired interiors with the Spanish Colonial Revival architecture.
Daytime
Shop cute boutiques in the Funk Zone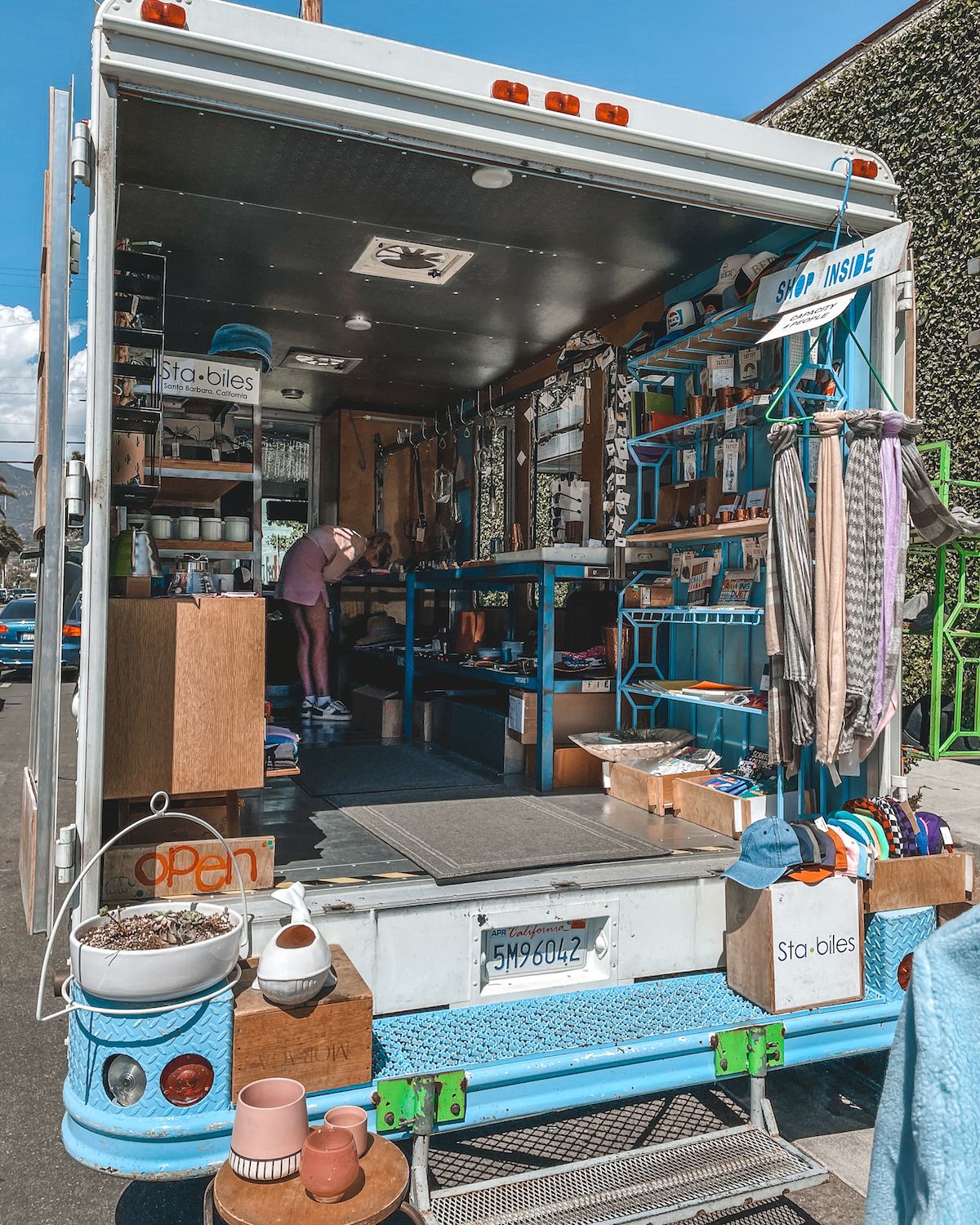 The Funk Zone is a former warehouse district that has been transformed into a vibrant area with boutiques, vintage stores, surf shops, galleries, wine tasting rooms, breweries, cafes and some of the city's best restaurants. The area has a creative feel to it since it has historically been a hub for artists.
Before you set off for your wine tasting, check out some of the cute shops in the area. There are two must-visit boutiques: Blue Door and the Stabiles mobile artisanal truck.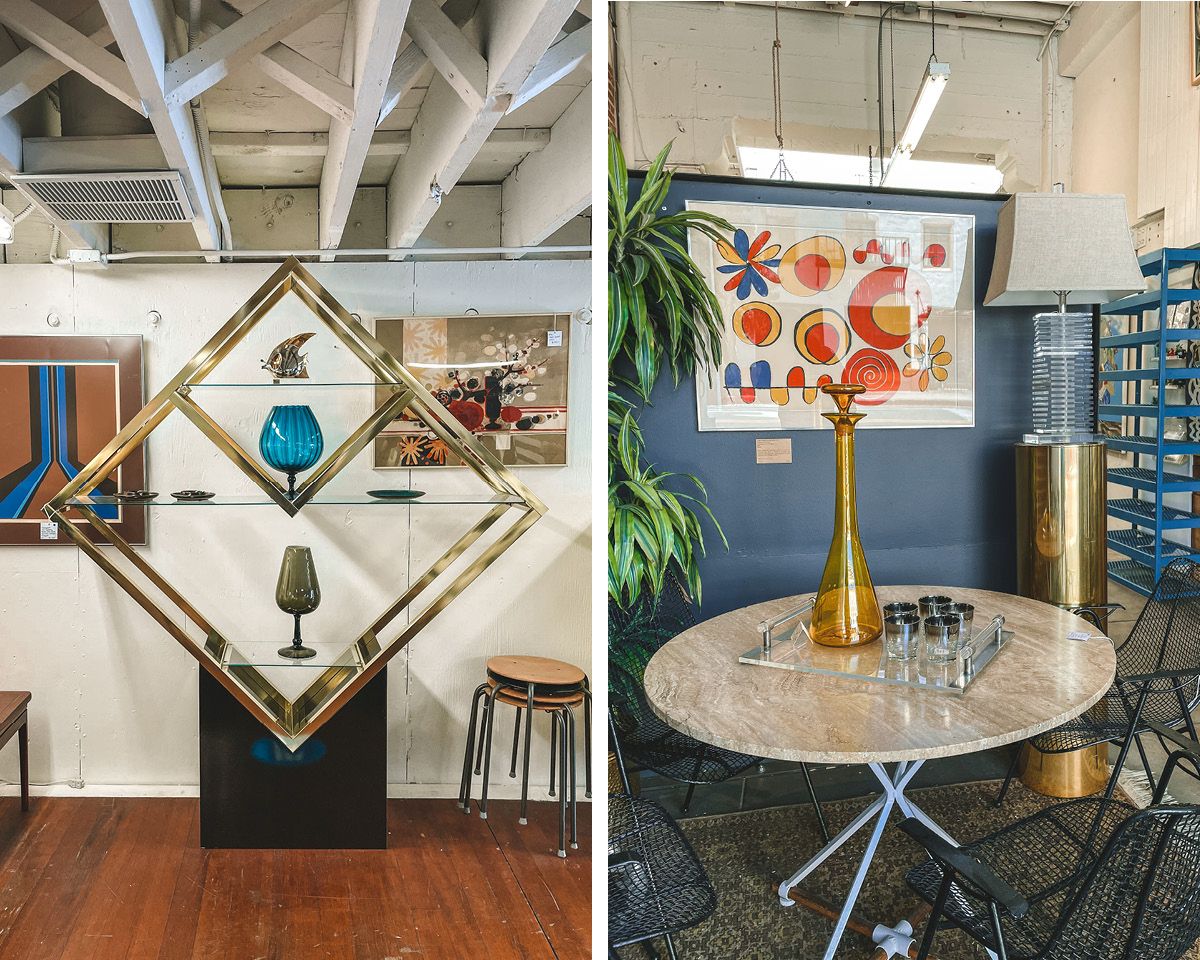 Blue Door may be the reason why you want to take a car and not the train. The three-story home boutique has an incredibly well curated selection of vintage items and eclectic modern pieces, such as mid-century modern furniture, paintings and authentic designer goods. We bought a lot of stuff here and were happy we had a car!
Stabiles has a collection of high quality artisanal products from designers and creatives around the world. We especially loved their Japanese mugs and kitchen utensils. Stabiles has a brick and mortar location at 527 State Street as well as a mobile artisanal truck that they park in the Funk Zone. See where they are parking this weekend here.  
Have a wine tasting at Riverbench and Area 5.1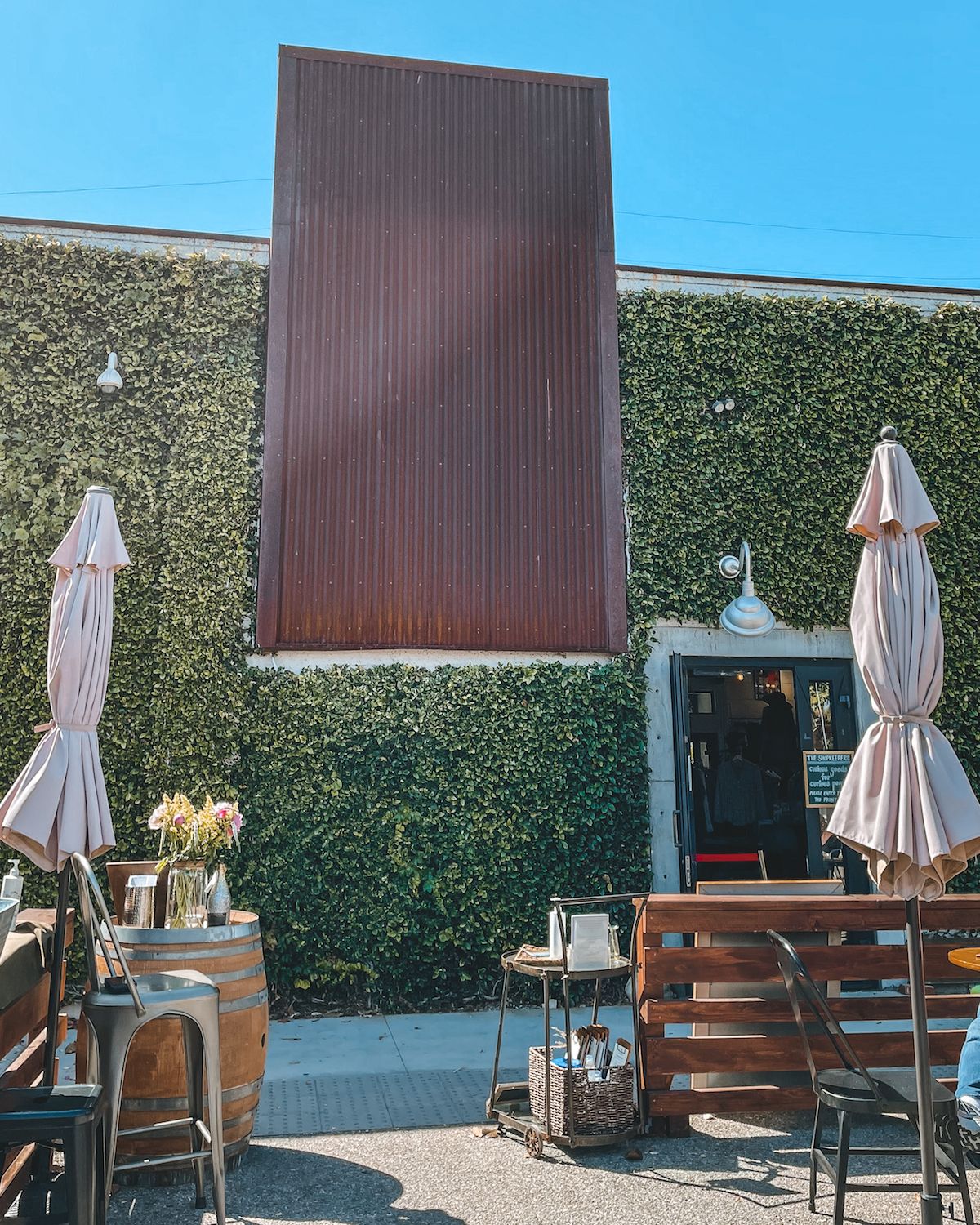 Your head will be spinning just trying to figure out which one of the wine tasting rooms to visit. We visited 8 tasting rooms and our top 3 favourites were Riverbench, Area 5.1 and Kunin Wines. The two main varietals in the region are pinot noir and chardonnay, but you will also find lots of grenache and viognier as well.
One thing we learned about wine tastings in Santa Barbara and the Santa Ynez Valley is that they are on the expensive side. It costs $20 USD for a regular tasting or $30 for a premium tasting at most places. We highly recommend sharing a tasting with your friend or partner, so you don't get too tipsy and can visit more tasting rooms. It will also cut your wine tasting cost in half!
See how we rank all 8 of the wine tasting rooms we visited here.
Riverbench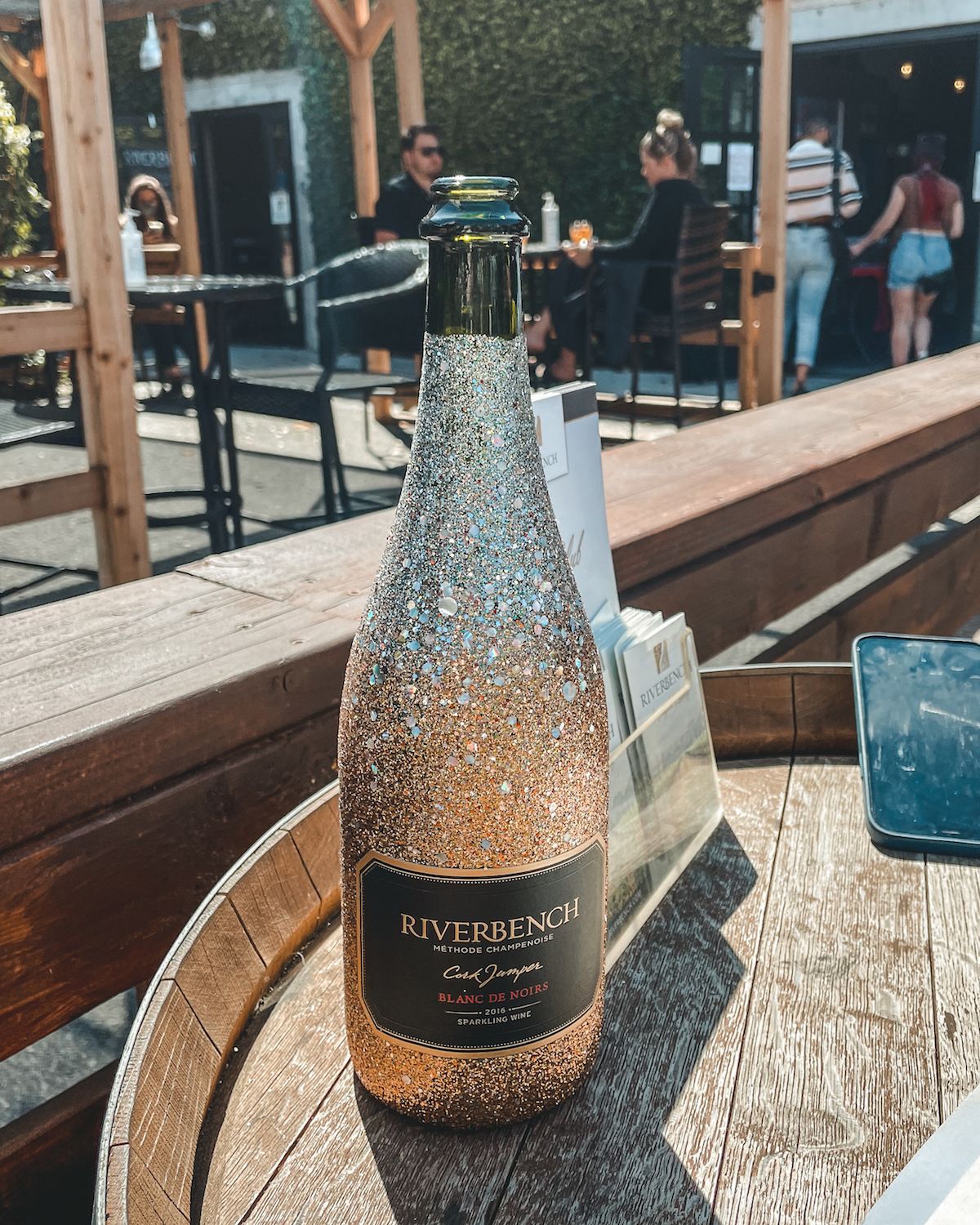 Riverbench is a boutique winery known for its sparkling, pinot noir and chardonnay wines. It was our favourite wine tasting room and had the best service by far. The staff was very enthusiastic about explaining their wine and we were even given free bottles of water which was a bonus.
The coolest thing about this wine tasting room is that if you purchase a bottle you can get it sparkled for an additional $10 USD. We bought a bottle and got them to sparkle it for us in silver to look like a disco ball. You can choose gold or even rainbow colours. It's a great idea for a gift!
Area 5.1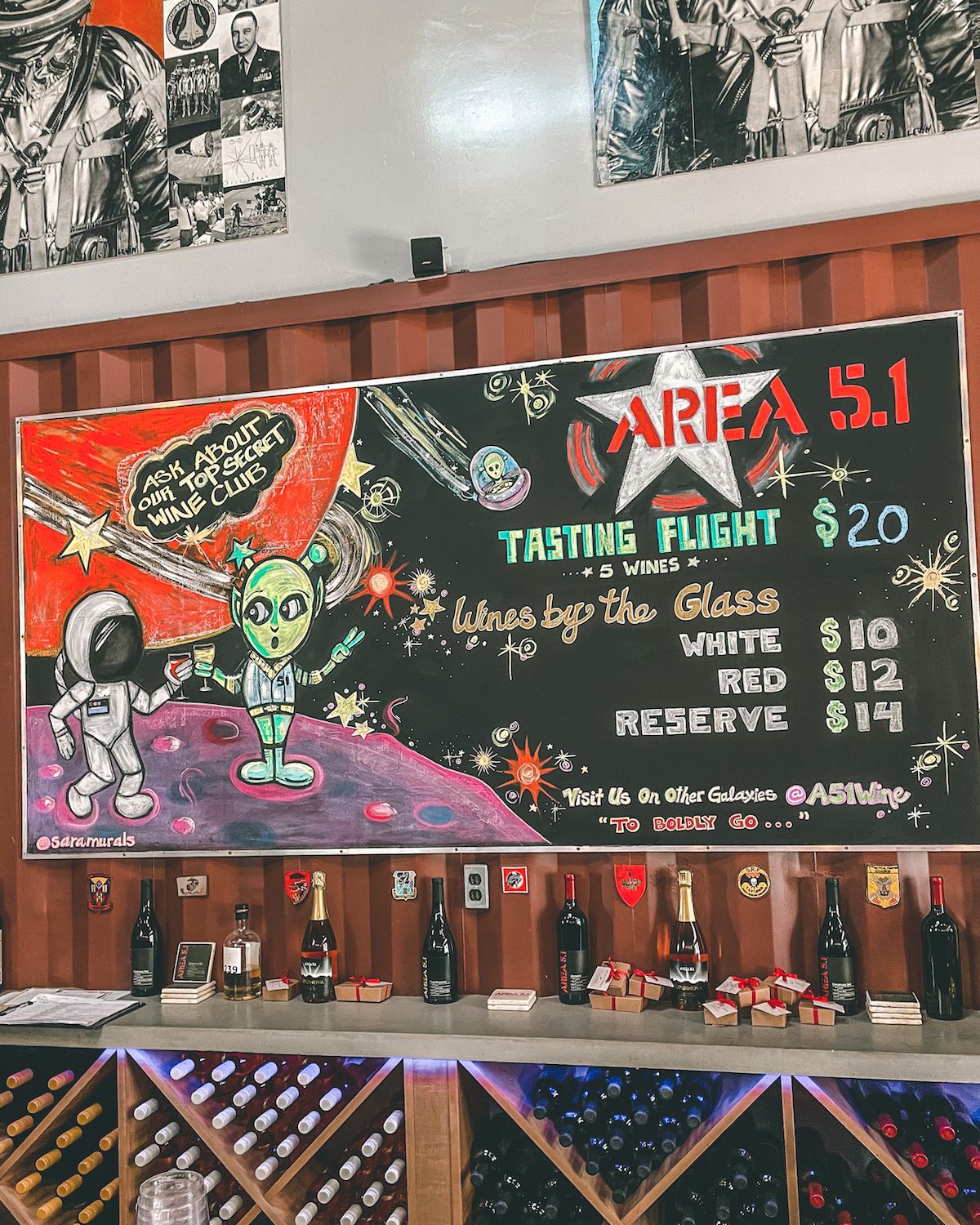 Area 5.1 is located beside Riverbench and has fun concept. The retro Area 51/UFO themed tasting room takes pride in their unconventional blends, like their Grenache Blanc/Roussanne/Loureira and Cab/Malbec/Syrah. We really enjoyed tasting these wines and bought a bottle of their Close Encounter white blend. The wines are good value compared to other tasting rooms.
🥔💨 Burnt Potato: Paradise Springs. If you happen to consider this wine tasting room, we highly recommend skipping it. After paying for your $20-$30 USD tasting, they just plop all five wines down beside you in plastic cups. No explanations or stories here. The wines were also on the sickly warm side.
Enjoy charcuterie bites at Margerum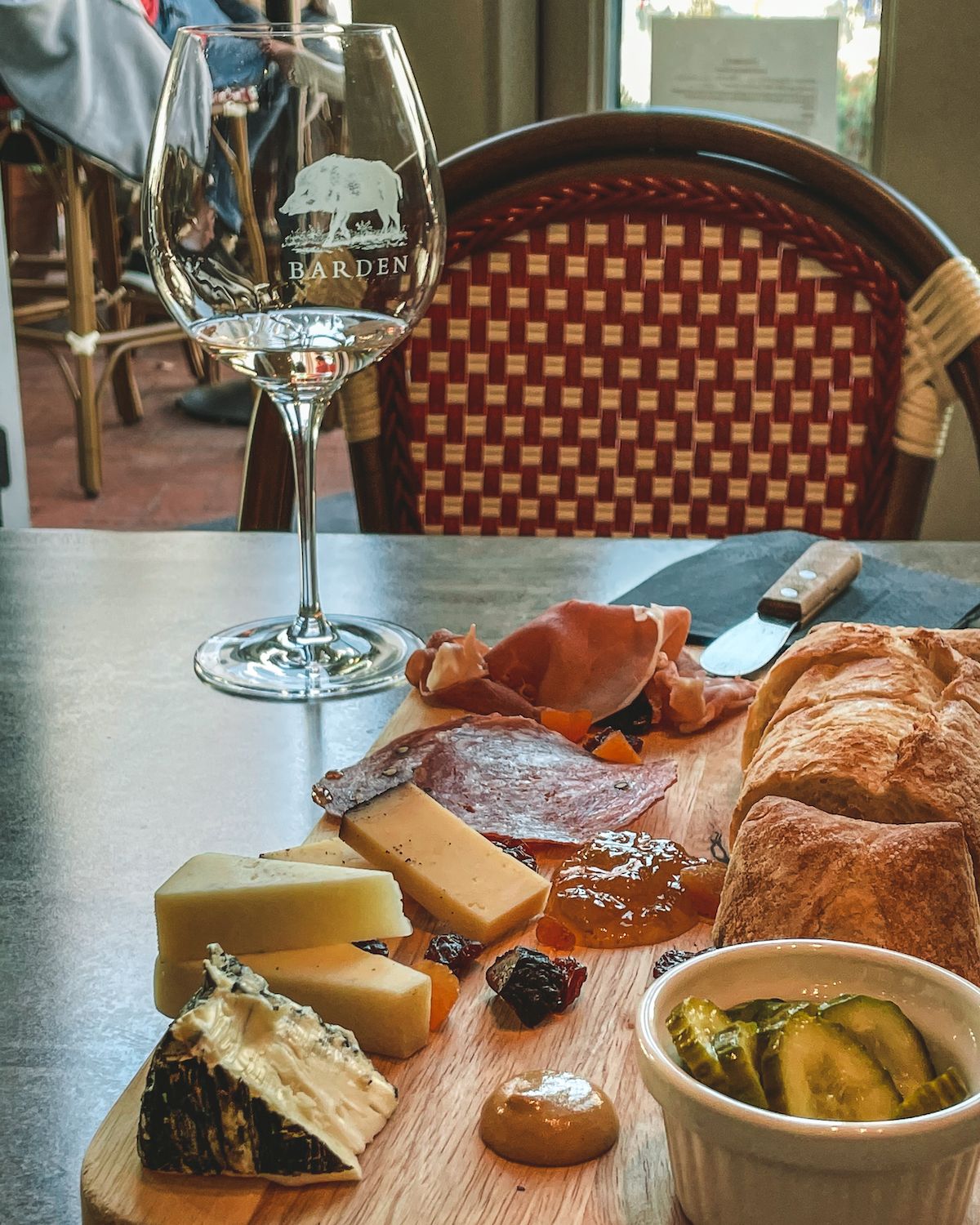 Margerum is a wine tasting room with a hip vibe, however we weren't fans of the wine since they are on the sweeter side. If you like your wine dry, come for the food and skip the tasting. Their charcuterie boards are fabulous and a must eat!
They offer a cheese board, charcuterie board or cheese/charcuterie combo. We choose their combo board which came with three delicious cheeses, soppressata salami, prosciutto parma, baguette and accoutrements.
Take a stroll along the waterfront and up the pier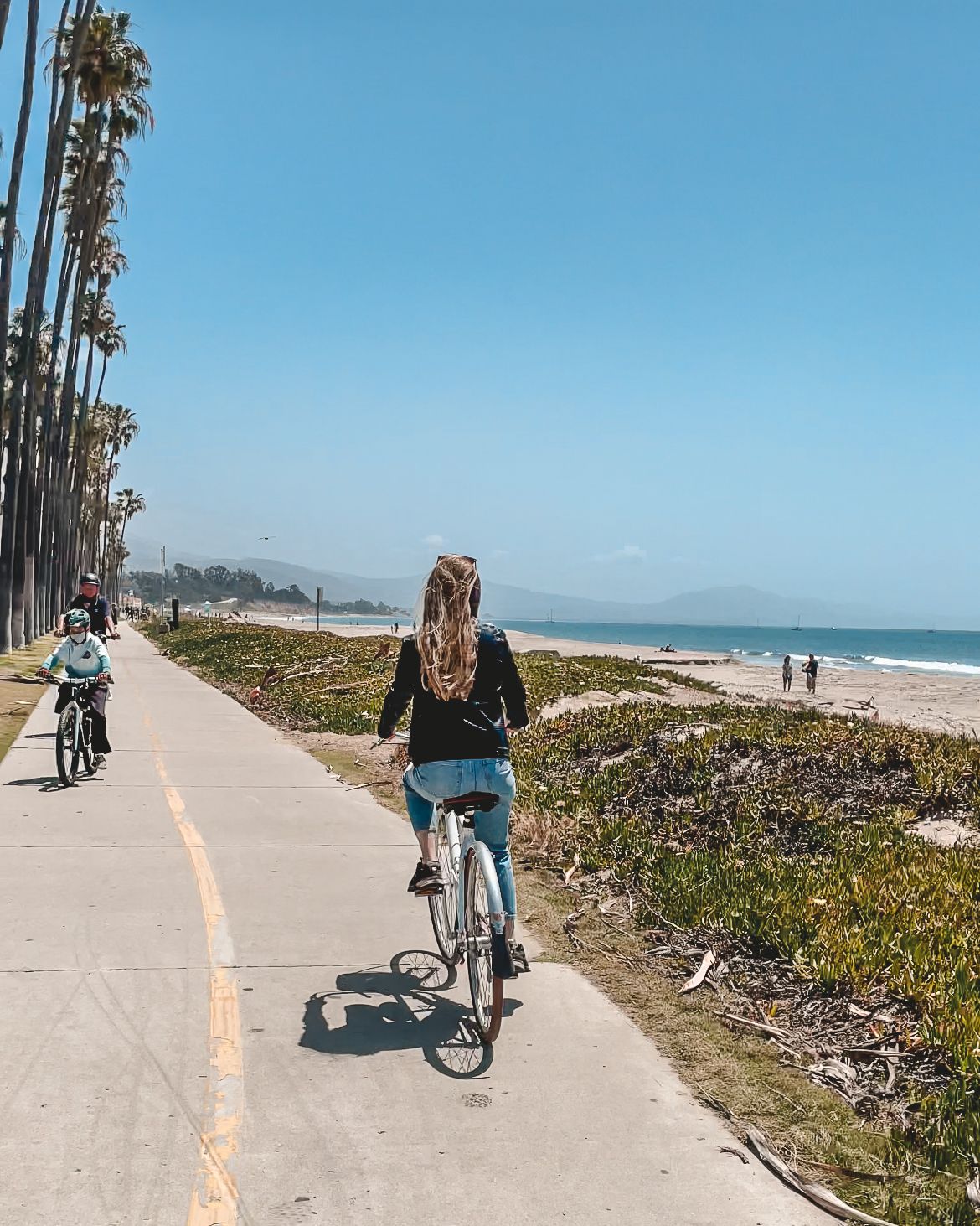 The ocean is located just steps away from the Funk Zone. Take a stroll down the palm tree-lined waterfront and breath in the salty ocean air.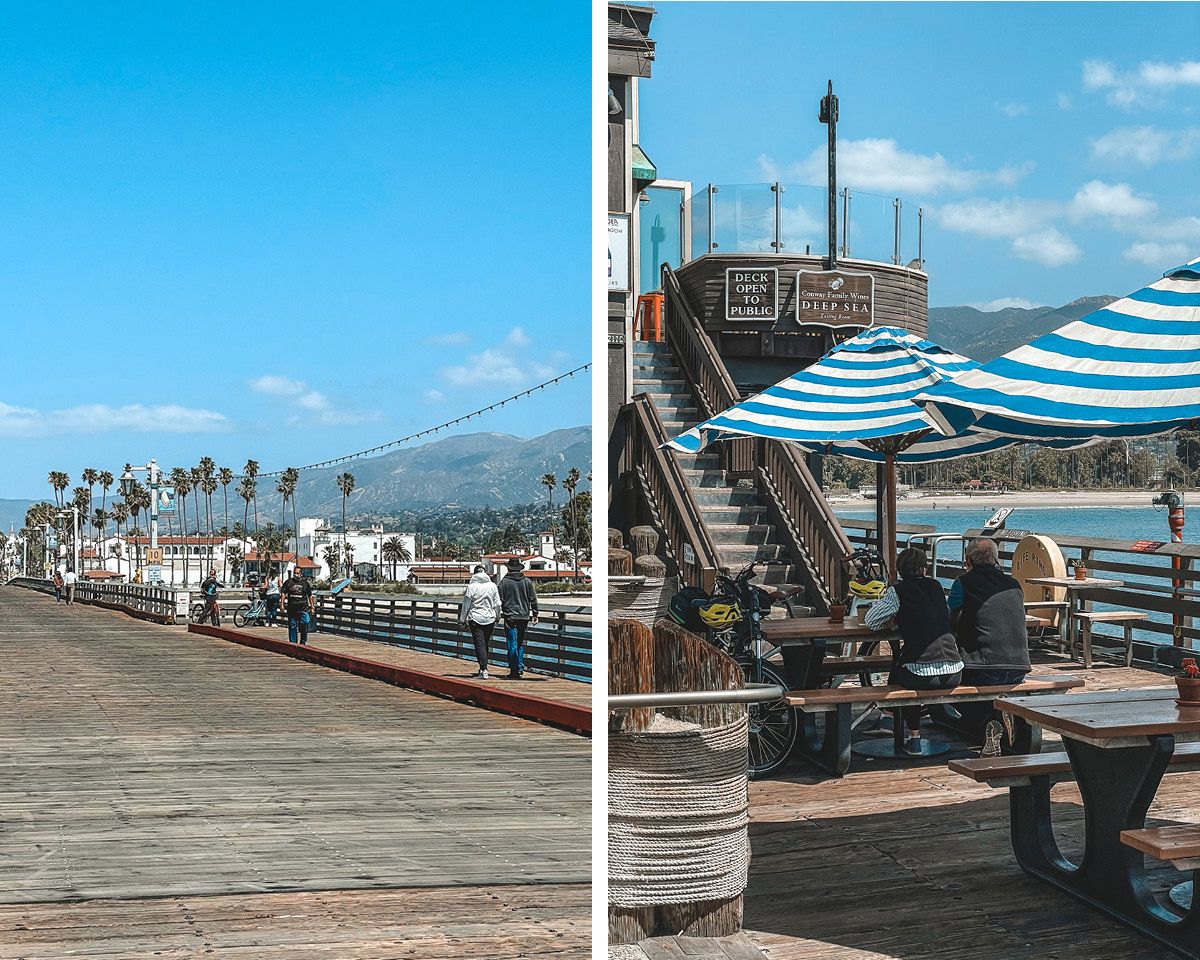 Take the paved path to Santa Barbara Pier, where you will find the historic Stearns Wharf with a few speciality shops and eateries. It's the oldest working wooden wharf in California. Don't miss Mother Stearns Candy Co., a  tiny candy shop with vintage candies, fudge and popcorn for that nostalgic feeling.
Evening
Have a wine tasting at Kunin Wines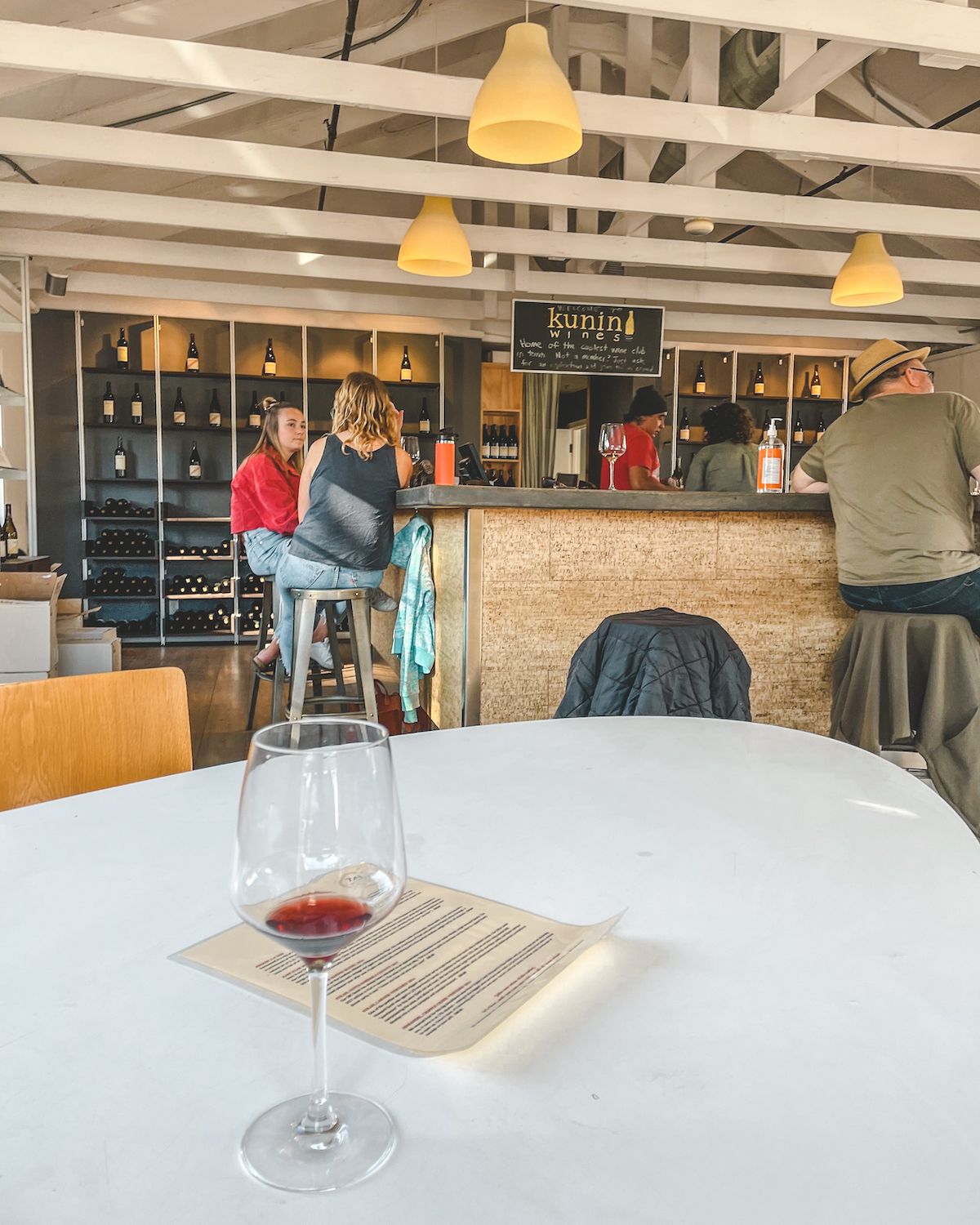 After your relaxing walk along the ocean, it's time for another wine tasting. Kunin Wines has a cool atmosphere and is located in a more industrial part of the Funk Zone. We enjoyed their wines and the chillhop music that played in the shotgun style house. Their wine tasting pours were also more generous here. Kunin focuses on Syrah, Zinfandel and Viognier wines.
Enjoy Californian cuisine at one of Santa Barbara's culinary hot spots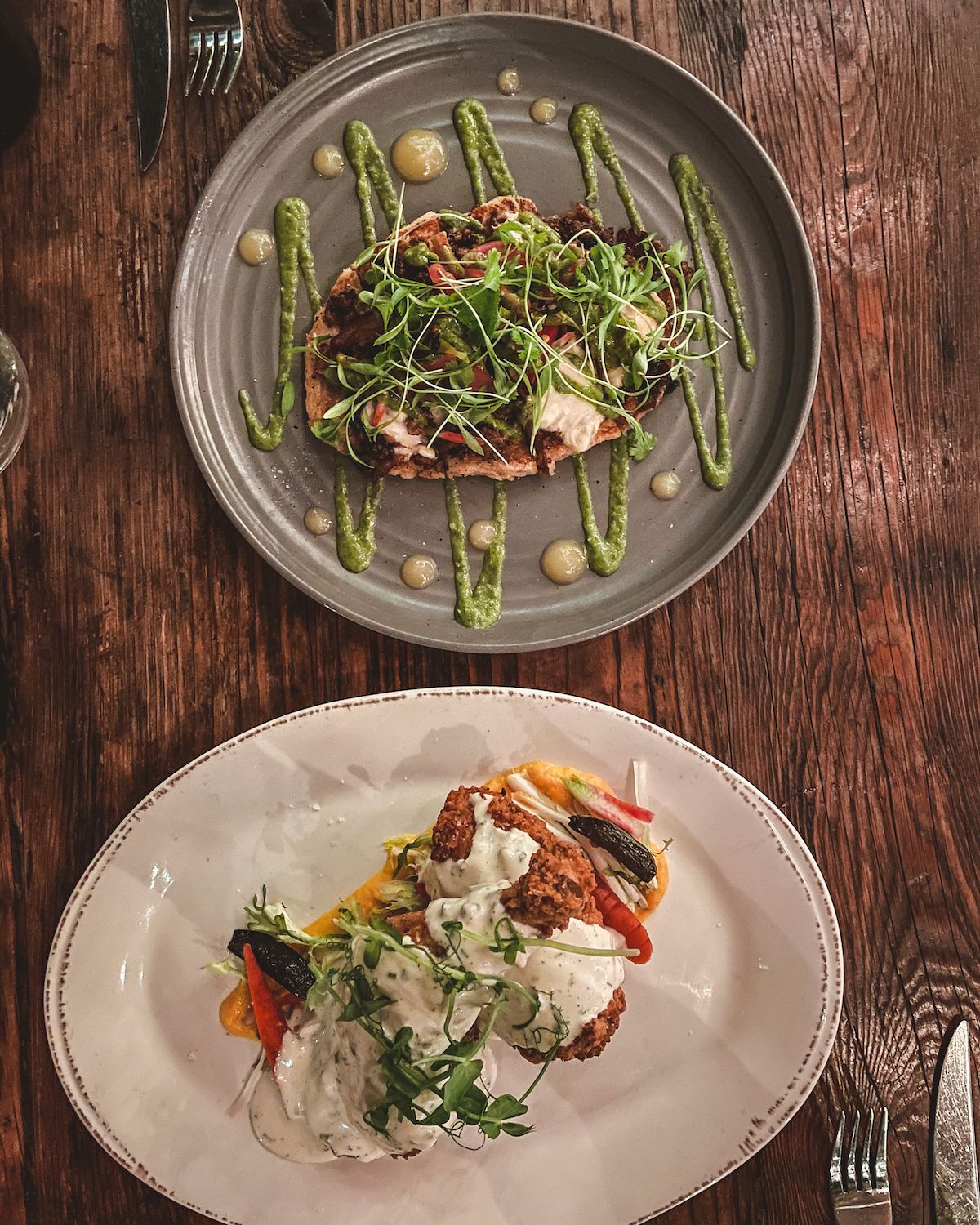 Santa Barbara is known for its vibrant culinary scene brimming with trendy eateries and farm-to-table restaurants. In fact, 11 restaurants in the city have been listed in the Michelin guide.
Finish off your day at one of Santa Barbara's happening dining spots. We highly recommend eating at Barbareno or The Lark. You can't go wrong with both. Just make sure to make your reservation far in advance!
The Lark
The Lark is located in the centre of the Funk Zone, so it's easy to get to after your wine tastings. The former fish market has turned into one of Santa Barbara's hottest restaurants. The Lark serves Californian fare and uses seasonal, locally sourced ingredients. The portions are large and are meant to be shared.
Our favourite dish was the crispy brussels sprouts with sesame, medjool dates, garum and lime. We loved this dish so much that we bought their cookbook to try to make it at home.
Barbareno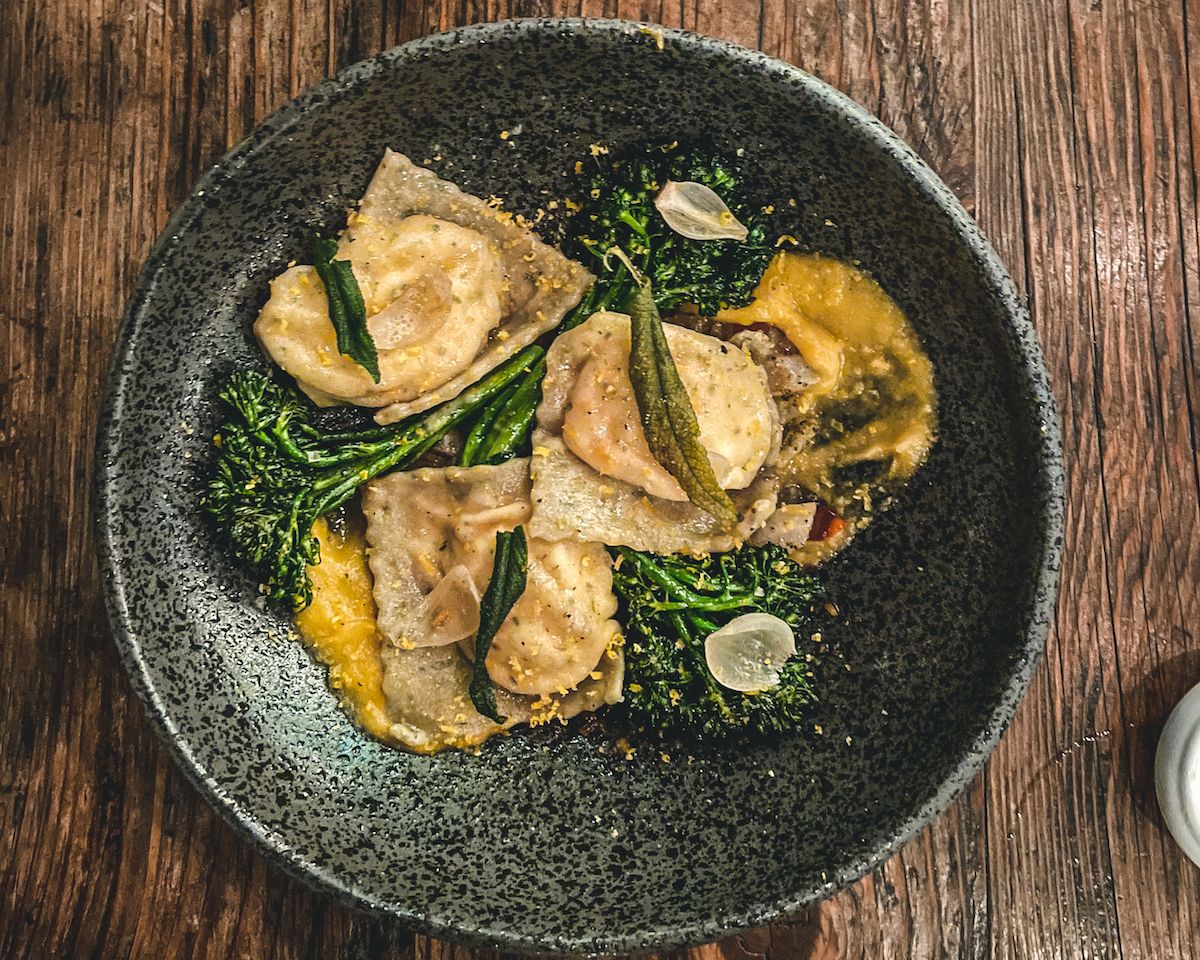 Barbareno is located off-the-beaten path and has a charming neighbourhood vibe. The farm-to-fork restaurant features high-quality dishes centred around its outside smoker and grill. The small plates are meant to be shared, so you can try many different things on the menu. Our favourite dishes were the Especial (lamb al pastor on fermented masa flatbread with shishito peppers, goat gouda and salsa verde) and the lavender ricotta/butternut squash ravioli.  
From the Funk Zone it's a 20 minute walk to the restaurant, but it goes by fast since you get to walk up the lively pedestrian State Street.
Considering spending the night instead? Here are our top 3 hotel picks in Santa Barbara: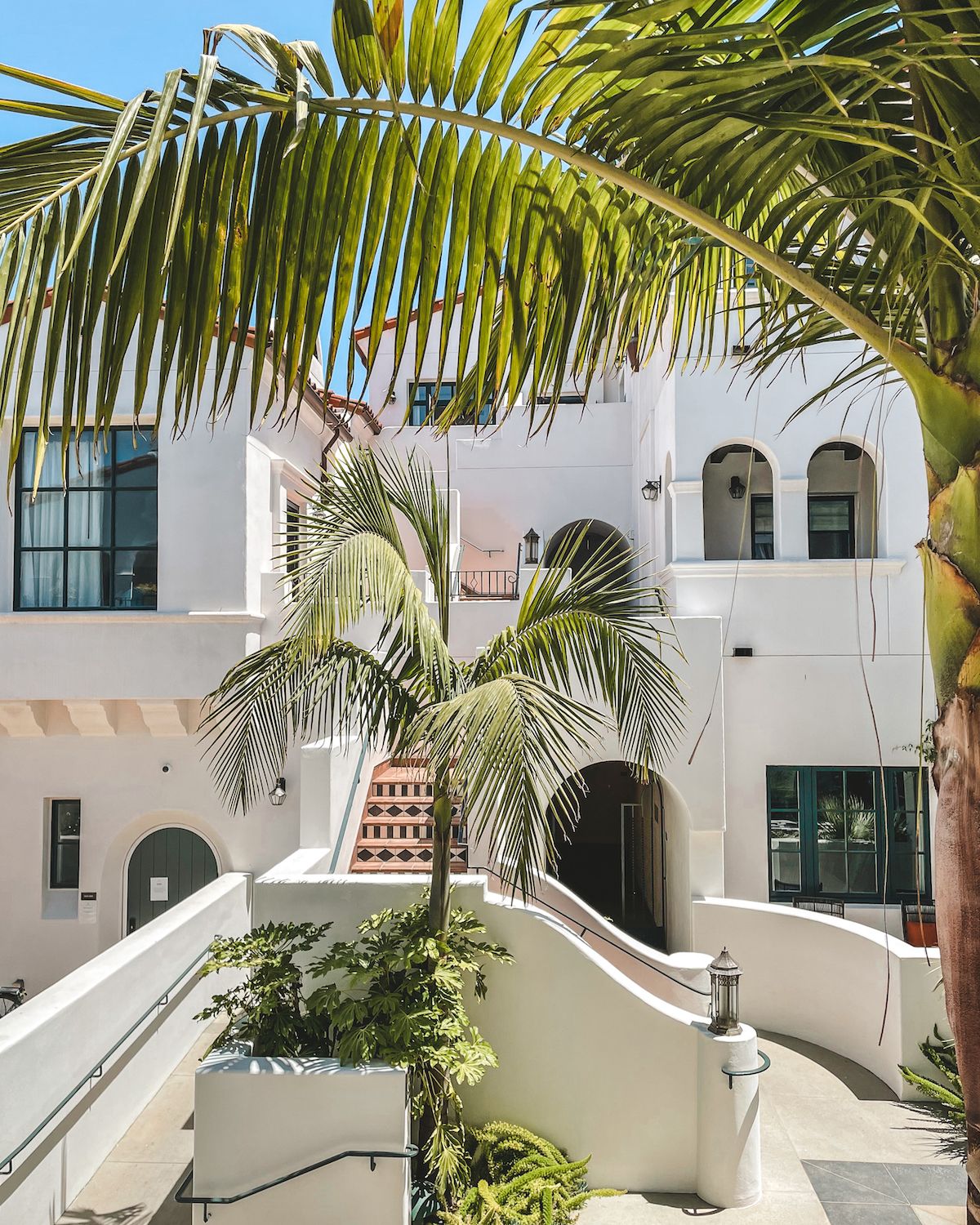 Best in the Funk Zone: Hotel Californian. Located in the heart of the Funk Zone, the beautiful Moroccan inspired Spanish Colonial Revival hotel is just steps away from wine tasting rooms, boutiques and restaurants.
Best for the beachfront: Santa Barbara Inn. Take in beautiful coastal views of the ocean and mountains at this Mediterranean-inspired boutique hotel. The Funk Zone is a 20 minute walk away, but you take the scenic waterfront pathway to get there.
Best value: The Eagle Inn. The cute family-owned boutique hotel is located in a quiet neighbourhood and is only a 7 minute walk to the Funk zone and a 3 minute walk to the beach.
And that's a wrap! We hope you enjoy your fun-filled day trip to Santa Barbara.
Trip Extension Options
If you're thinking of staying longer in Santa Barbara, see our more comprehensive 2 day Santa Barbara itinerary with fun road trip stops along the way from LA.
Don't miss our Los Angeles itineraries: