While visiting our camp near Lake Superior, we heard of a little island with a natural swimming hole that you could walk out to on the shoreline of Lake Superior. We set off to find it.
We left on a warm sunny day in early October and couldn't believe the gorgeous fall colours as we drove north on the Trans-Canada highway. After an hour, the sun suddenly disappeared and we drove into a dense fog. The lake is so big it can cause local changes in the weather, called the 'lake-effect'. The warm fall air must have been condensing as it passed over the cold water of the lake.
We didn't know if it would still be worth it to find Bathtub Island, but it turned out to be absolutely stunning, even in the fog! We cannot wait to come back next year to see it when the sun is out. It's a magical place.
Our Bathtub Island guide covers how to get there and what to know before visiting this hidden gem.
Outline: Visiting Bathtub Island on Lake Superior
Disclosure: Some of the links below are affiliate links, meaning at no additional cost to you, we will earn a commission if you click through and make a purchase. We only recommend products or services we have used or that we believe will add value to our readers. Thank you for supporting us!
Where is Bathtub Island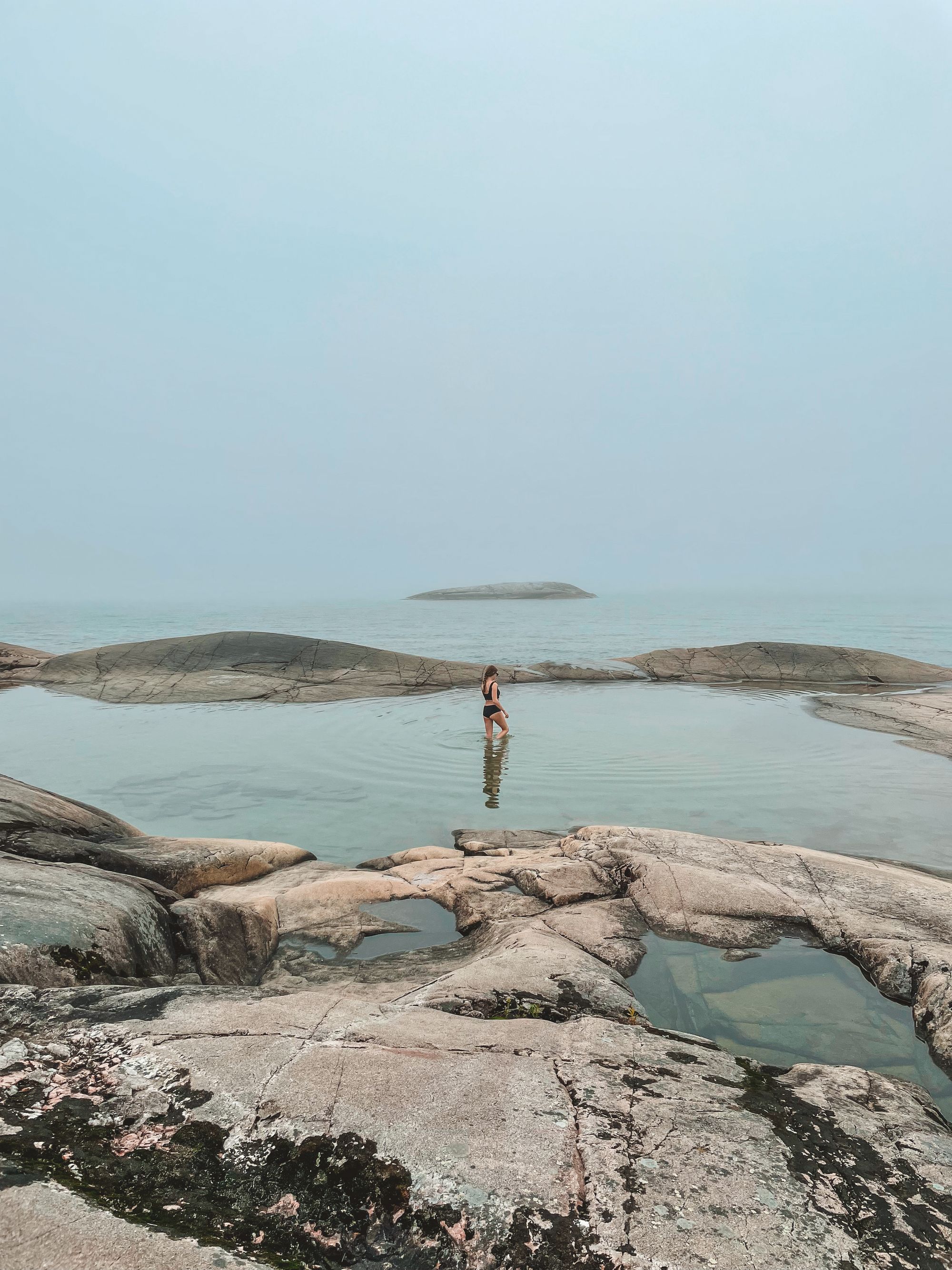 Bathtub Island is located in Lake Superior Provincial Park about 150 km from Sault Ste. Marie on the Canadian side.
How far is Bathtub Island from Sault Ste Marie:
To get to Bathtub Island from Sault Ste Marie you will need to drive about 1 hour and 40 minutes north on the Trans Canada Highway until you reach the parking lot at Katherine Cove. Just search Katherine Cove Picnic Area on Google Maps and it's a breeze to find.
If you don't have a car, you can easily compare rental rates in Sault Ste. Marie through
Rentalcars.com
.
Best time to visit Lake Superior Provincial Park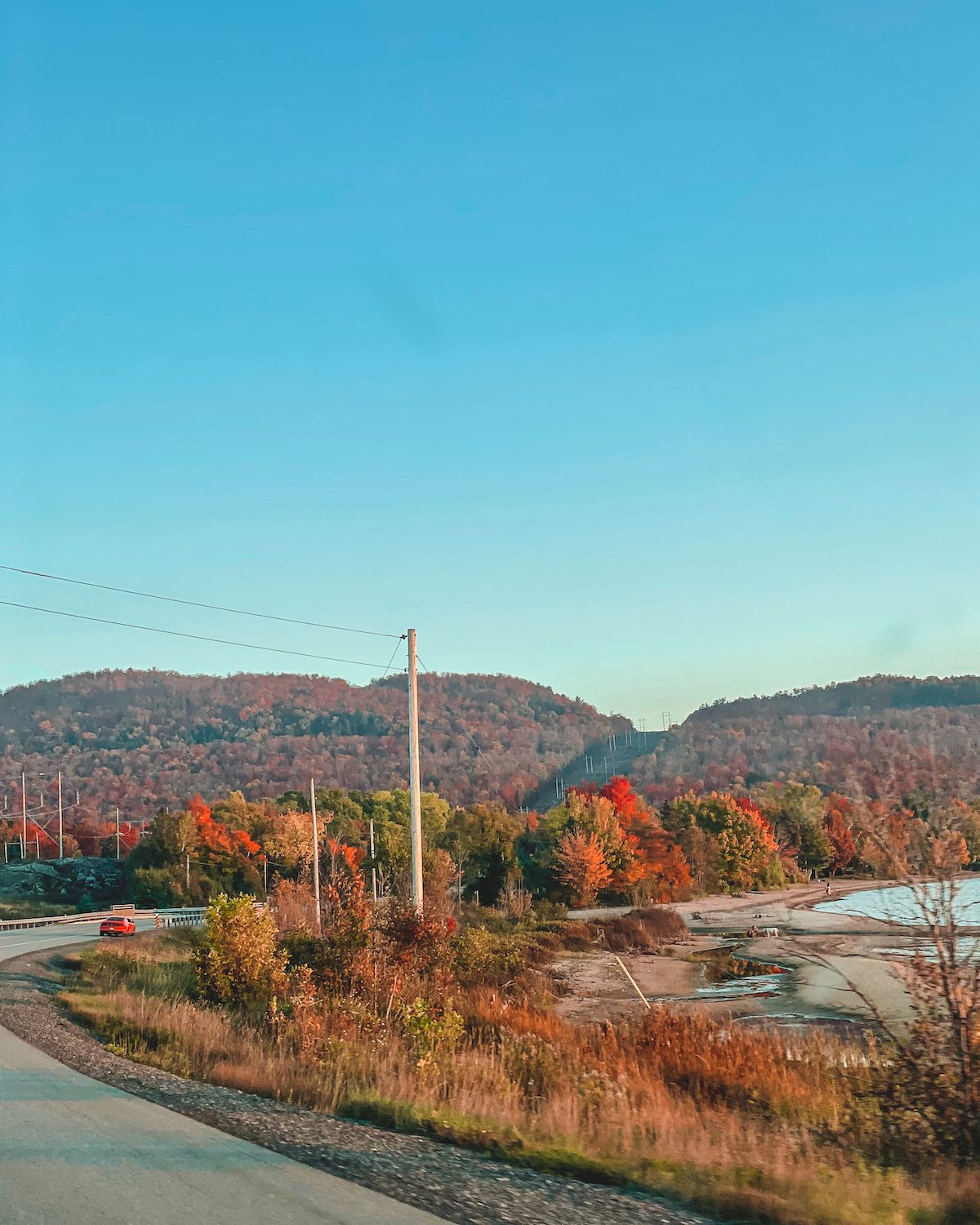 The most beautiful time to visit
The most beautiful time to visit Lake Superior Provincial Park is the last week of September to the first week of October. It's the prime time to see the leaves turn vibrant colours of orange, red and yellow. It's a sight in itself you don't want to miss!
There are a few other benefits when visiting during this time:
You will avoid the rush of summer tourists. We were the only ones at Bathtub Island!
The weather is still pleasant at this time and can reach highs of the low 20s.
September is one of the warmest months for lake temperature since it's the end of summer.
Best time to visit for beach weather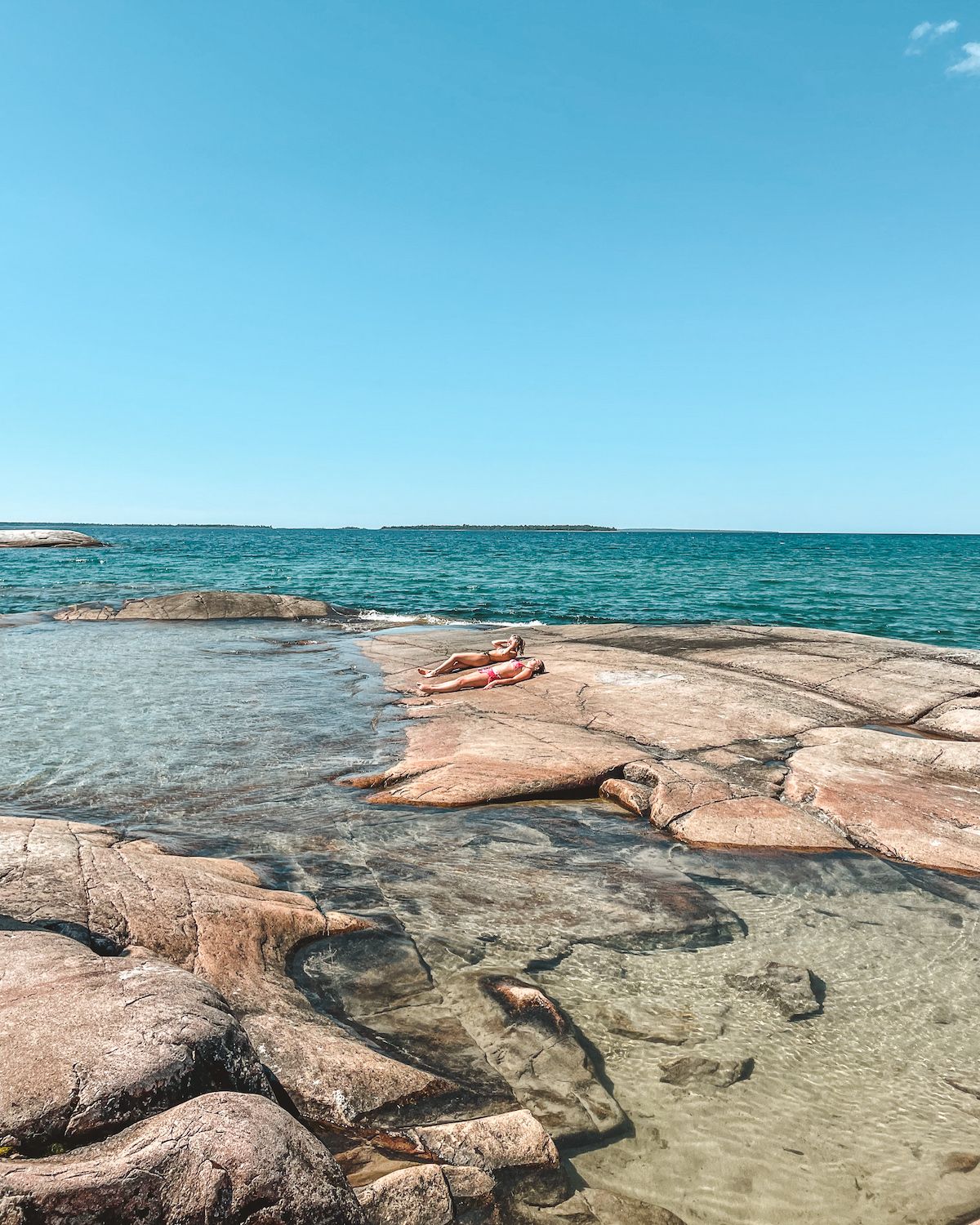 If you have your sights set on sunbathing and swimming on Bathtub Island, the best time to visit is during the hot summer months of July and August on a weekday. There will still be lots of people there since it's summertime, but you'll avoid the crazy weekend rush.
We visited Bathtub Island for our second time in August and it was the perfect beach day! We went on a Tuesday.
Note: Keep in mind that you can have a dense fog cover the lake anytime between late spring to late fall. Check the weather report for updates on when the fog is expected to dissipate. We wish we knew this beforehand! Even if you have fog however, it's still gorgeous and worth visiting.
Lake Superior Provincial Park Fees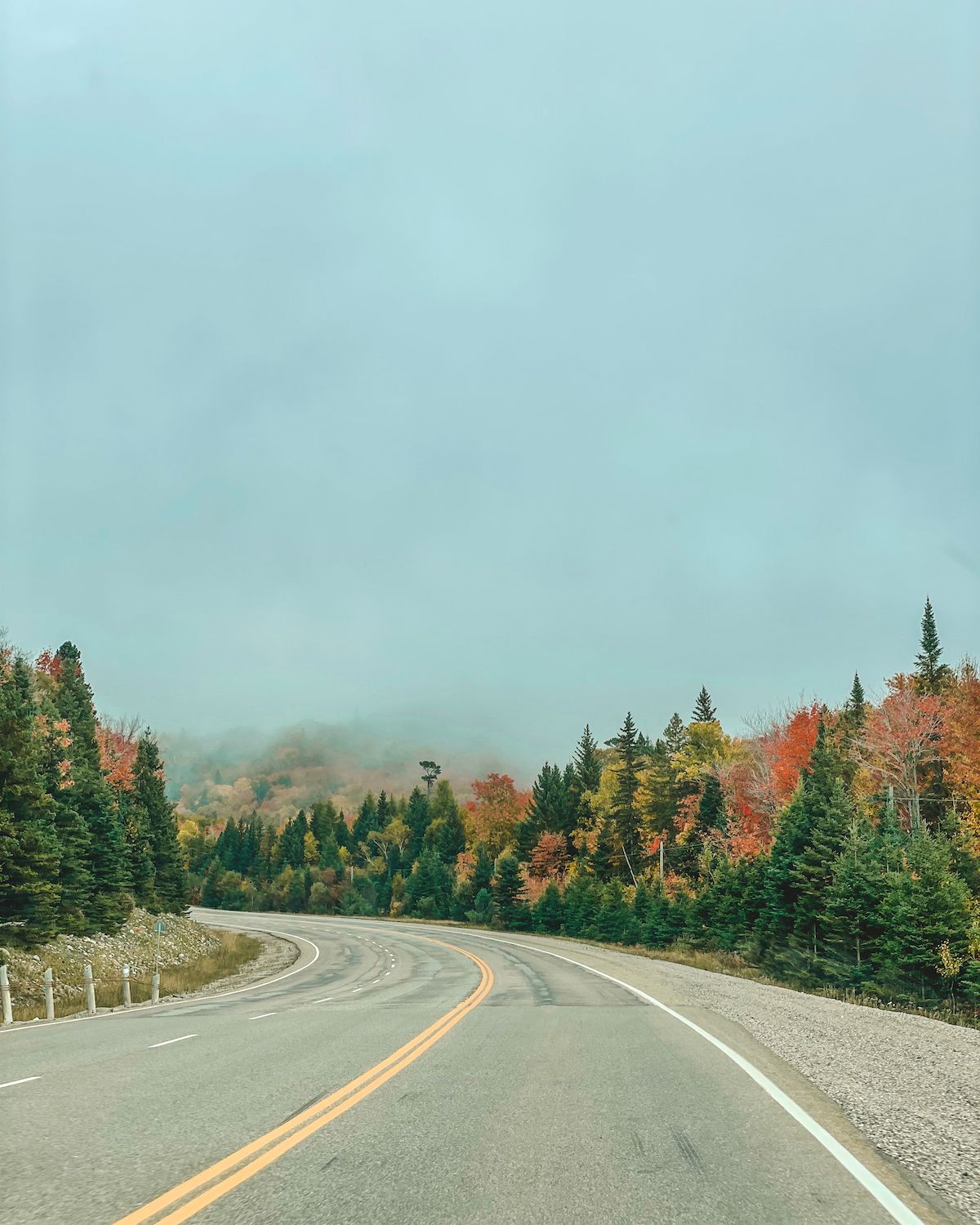 When you spend time at Lake Superior Provincial Park and aren't just driving through, you need to purchase a day pass. Stop in at the Lake Superior Provincial Park Visitors Centre or buy your pass online in advance. It costs $15.50 CAD per day per vehicle.
Note: If the park is very busy, they may limit entry. You can reserve your daily vehicle permit up to 5 days in advance to ensure you get a spot. We didn't have any issues buying our pass at the visitor centre when we traveled on a weekday in summer.
Park Rules
Familiarize yourself with these Lake Superior Provincial Park rules for Bathtub Island to maintain its ecological integrity:
Stay on marked trails and off of dunes and dune grasses. Minimizing foot traffic is necessary to protect the sensitive area.
This is not a day use area. There are no toilets or garbage bins at the site. Practice backcountry etiquette by packing out whatever you bring in, including used toilet paper.
Adhere to park rules regarding camping, cans, bottles, and fires, which are all prohibited.
How to get to Bathtub Island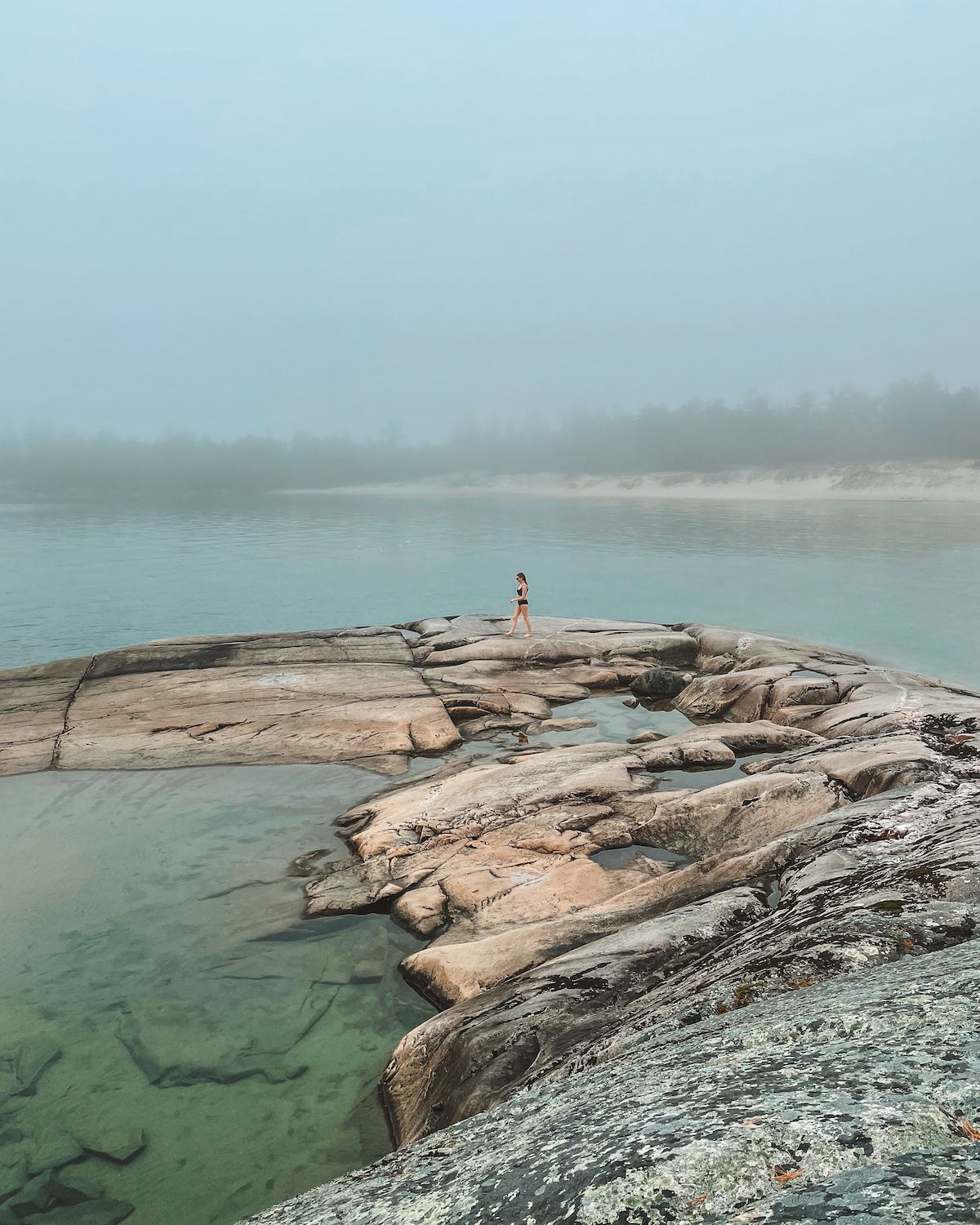 Once you arrive at the Katherine Cove Picnic Area, there are two ways you can get to Bathtub Island. The first is the scenic route that takes you on a 30 minute hike along the Lake Superior Coastal Trail. The second route is a faster 15 minute walk along the highway to the trailhead that takes you directly to Bathtub Island.
Note: There is no parking lot beside the trailhead that takes you directly to Bathtub Island. You may see some cars parked along the highway, but this is prohibited due to safety.  There have been reports of these vehicles getting tickets.
Option 1: Scenic route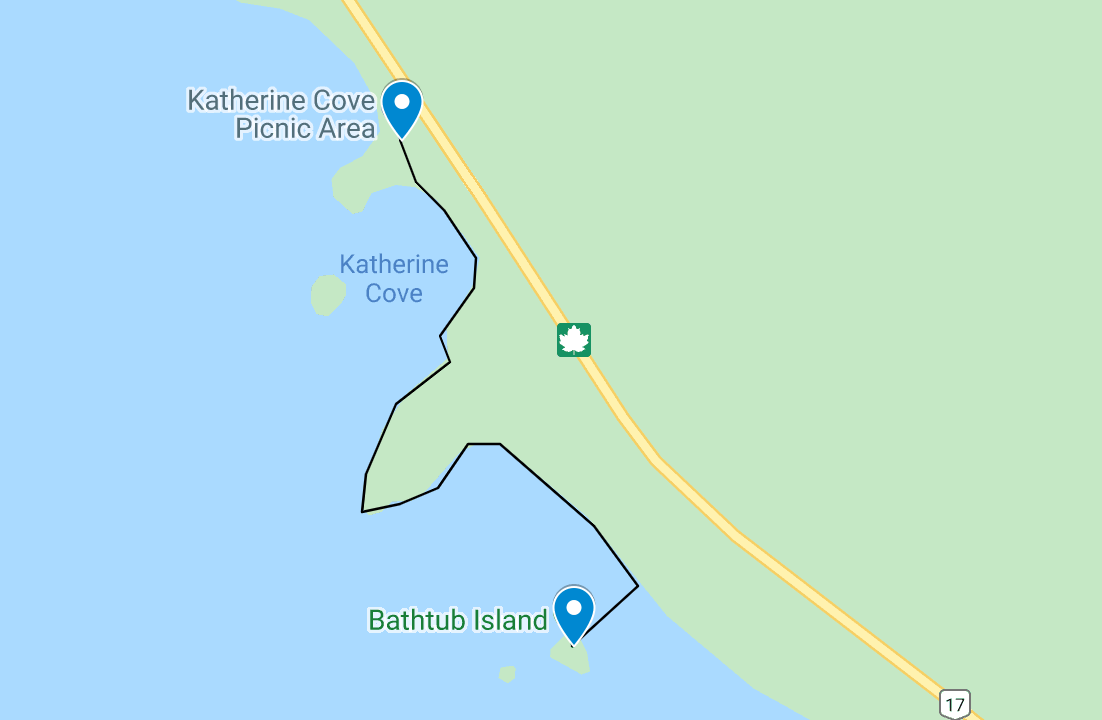 Once you have parked your car at the Katherine Cove Picnic Area start walking south along Katherine Cove. Once you get to the other side of the beach follow the blue walking man signs posted on trees. From this point the route can get a bit technical, so proper hiking shoes or hiking boots are highly recommended.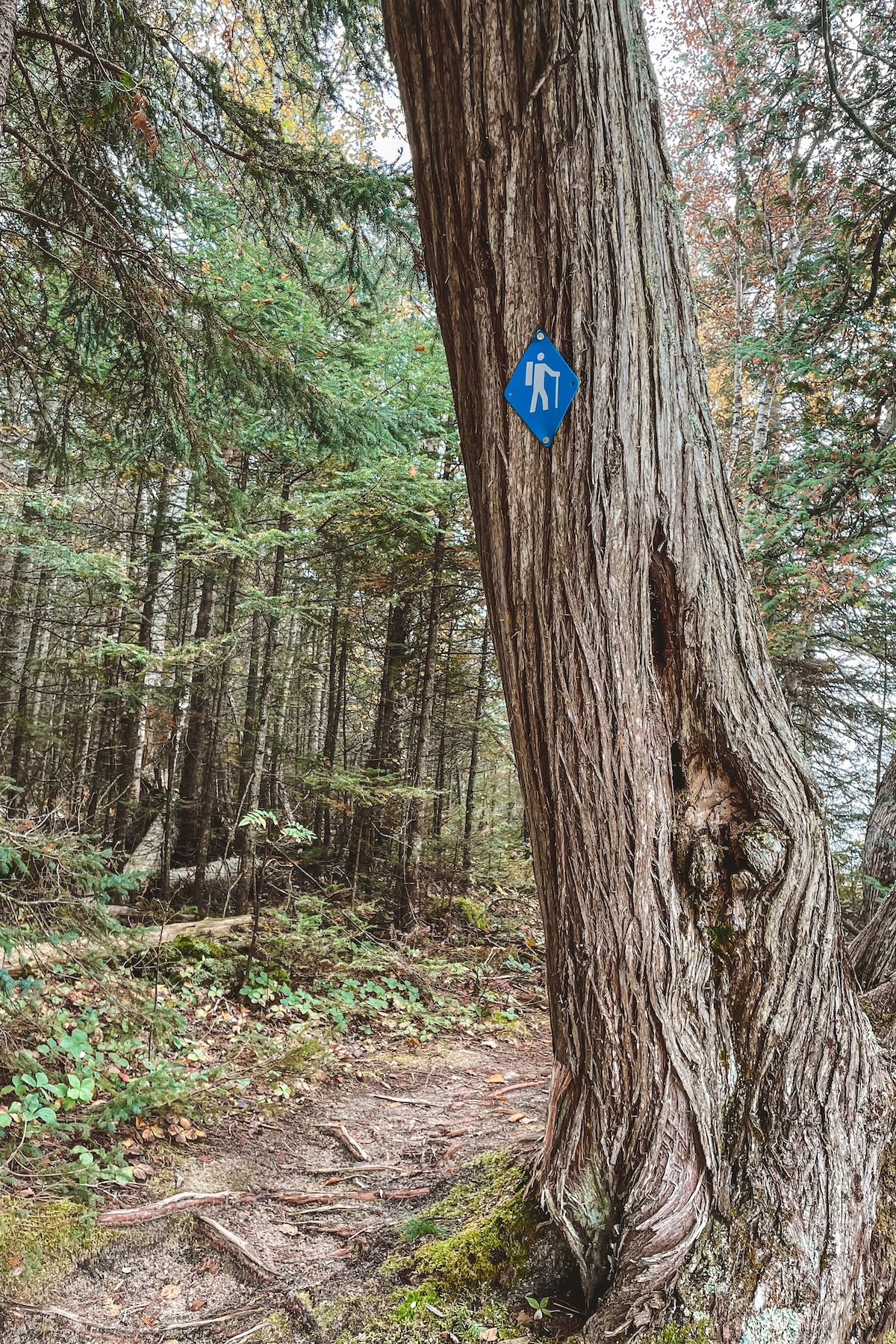 You will continue along the trail over rocks, large boulders and through dirt paths in the forest until you reach another sandy beach where you can see Bathtub Island in the distance.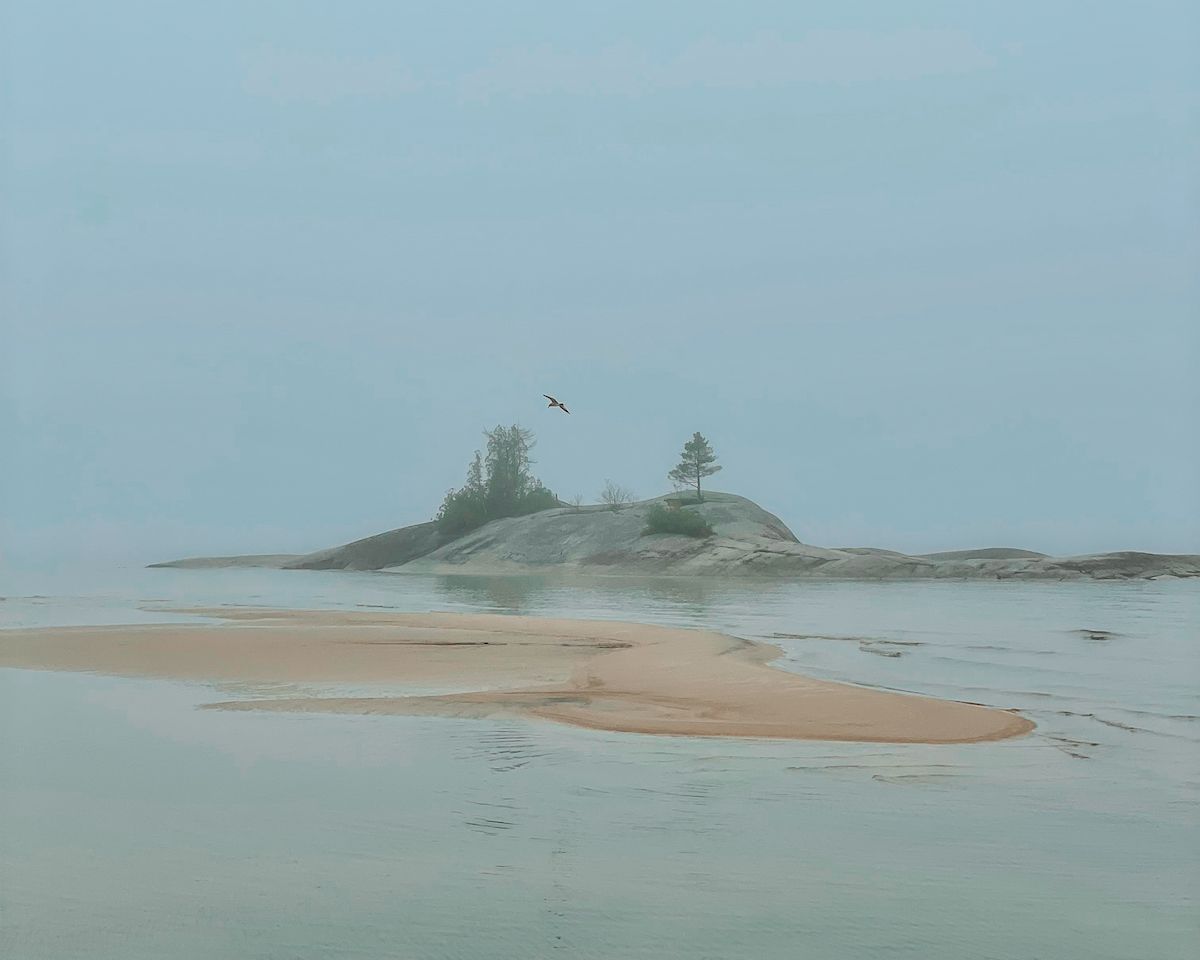 Walk along the beach until you are directly in front of Bathtub Island and take off your shoes and socks. We left our shoes on the beach and walked through the water to the tiny island. I changed into Crocs, but Ari just walked in his bare feet since it's a sandy bottom. The water is shallow and only went up to my knees (I'm 5'4").
After we were done spending time at the swimming hole we took the trailhead on the beach that led us towards the faster highway route (see option 2 below for details).
Option 2: Faster highway route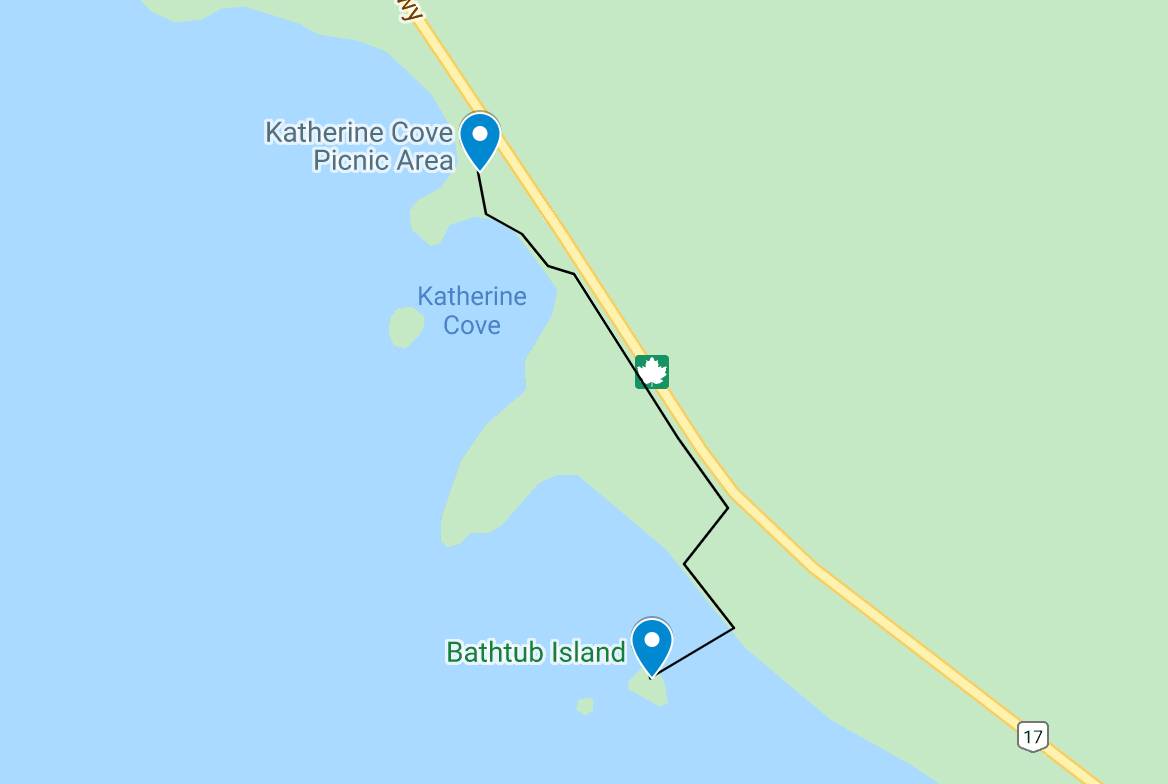 If you want to get to Bathtub Island as fast as possible, there is another route which cuts the time in half. Once you park at the Katherine Cove Picnic Area, walk along Katherine Cove and make your way towards the highway. From the highway walk south. This path isn't as pretty, but it's safe since there is a wide walking area beside the road. From the path beside the highway you will see a trailhead to the right that takes you towards the beach.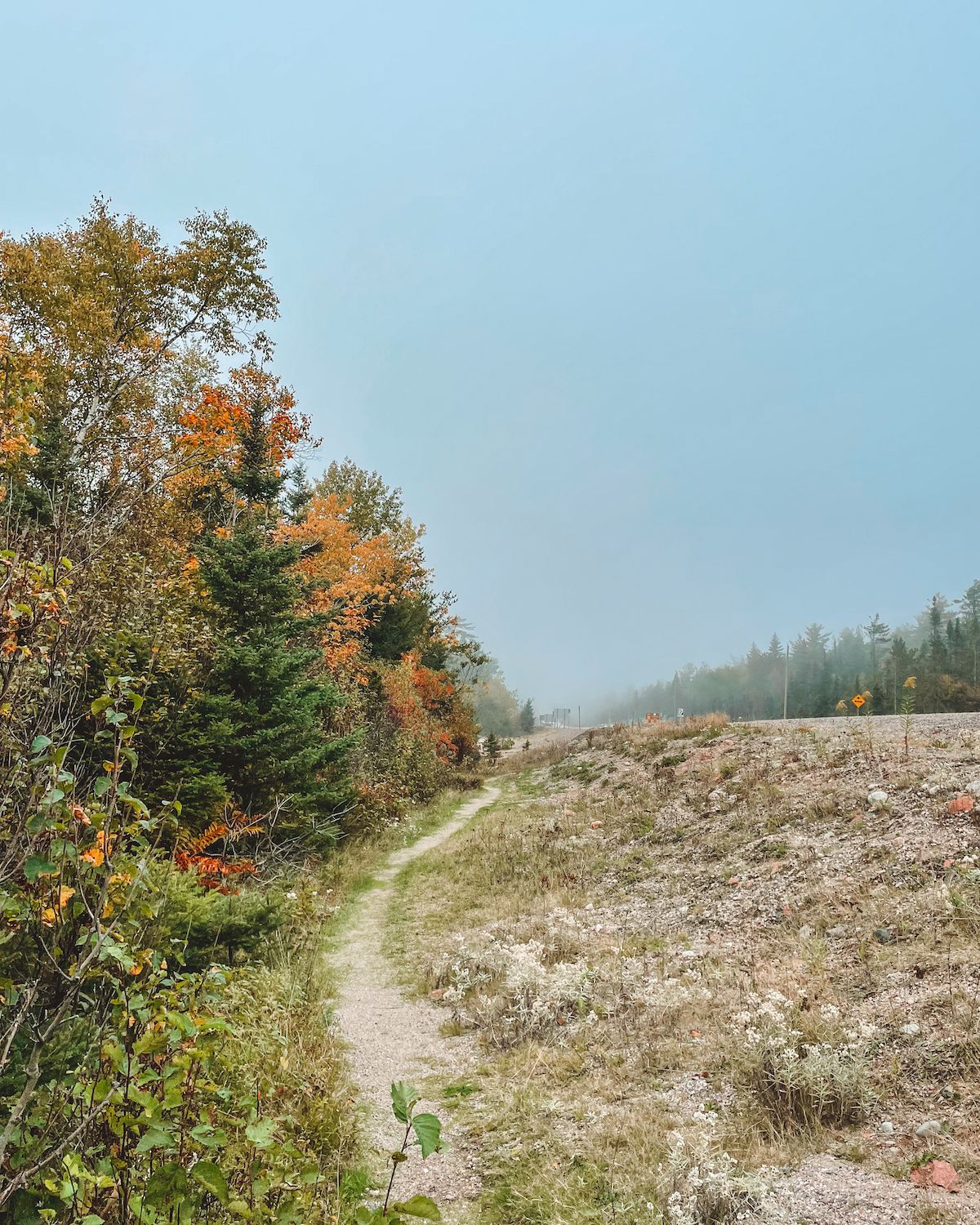 Once you arrive at the beach you will see Bathtub Island straight ahead. Take off your shoes and socks and walk through the water to the tiny island. I changed into crocs, but Ari just walked in his bare feet since it's a sandy bottom. The water is shallow and only went up to my knees (I'm 5'4").
Note: Once you arrive on Bathtub Island be careful walking on the rocks that are submerged in water. They can get very, very slippery since they are so smooth! I almost fell a few times on parts that seemed flat.
What to bring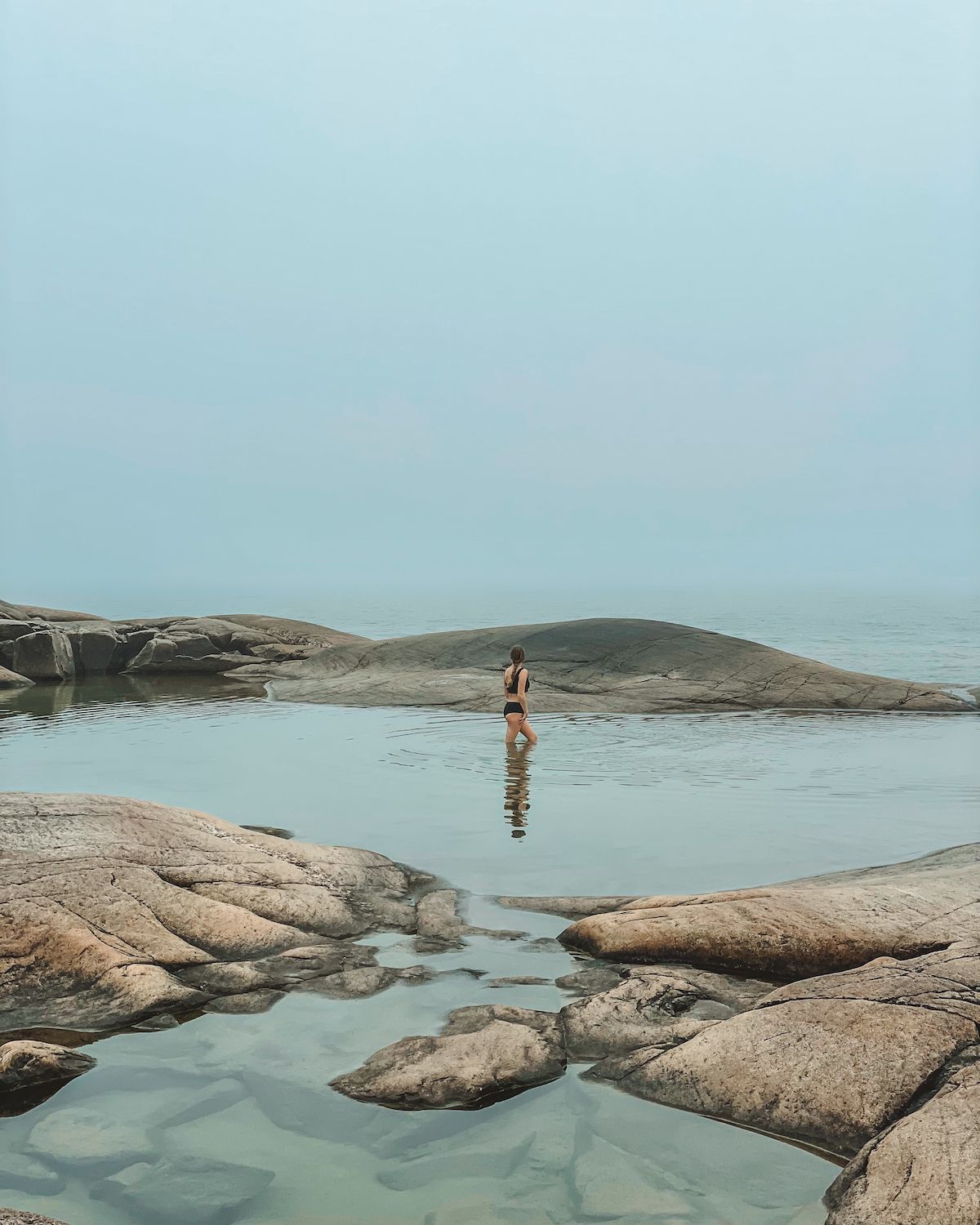 Here is a list of what to bring for your adventure to Bathtub Island:
Sunscreen
Swimsuit
Towel
Flip flops or Crocs that you can easily take in the water
Hiking shoes or hiking boots (if you do the scenic hike to the island)
Hair tie
Snacks if you want to have a picnic (don't forget to bring a small garbage bag to pack out all of your garbage after)
Fun Road Trip Stops along the way to Bathtub Island
The drive to Bathtub Island is half of the fun! Here are a few must-do road trip stops along the way.
Explore Frontier Village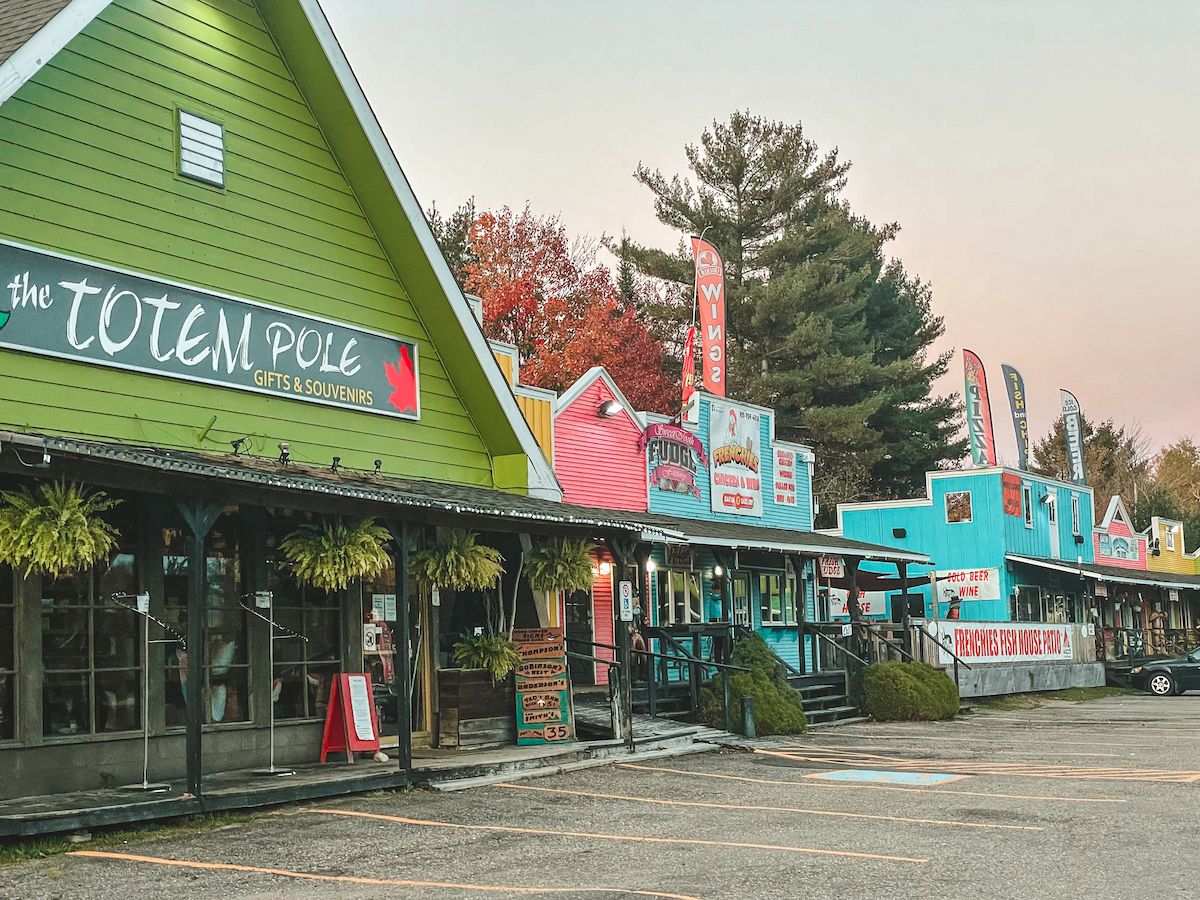 Just as you're about to leave Sault Ste Marie you will see the colourful Frontier Village on the righthand side. It's a tourist attraction with 8 locally owned businesses in Frontier-inspired buildings. Shop at the Totem Pole for fair trade artisanal products and grab an ice cream cone at the Big Moose Ice Cream Parlour.
Get freshly baked apple fritters from Voyageurs Lodge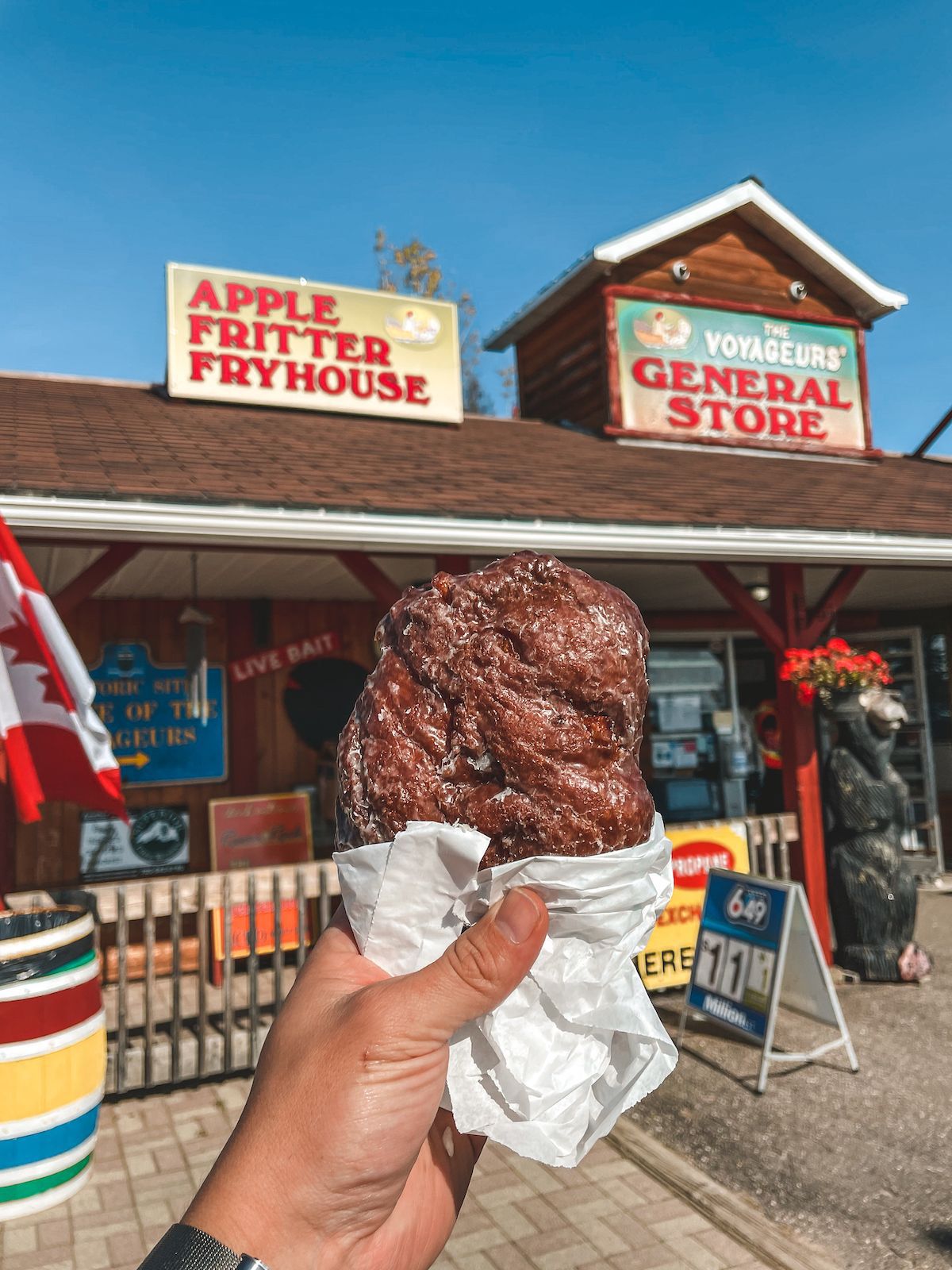 Oh so doughy and fresh, you won't regret getting your hands on these famous homemade apple fritters. They sell tens of thousands of them each summer! The lodge is located in Batchawana Bay about an hour south of Bathtub Island.
Shop at Agawa Crafts & The Canadian Carver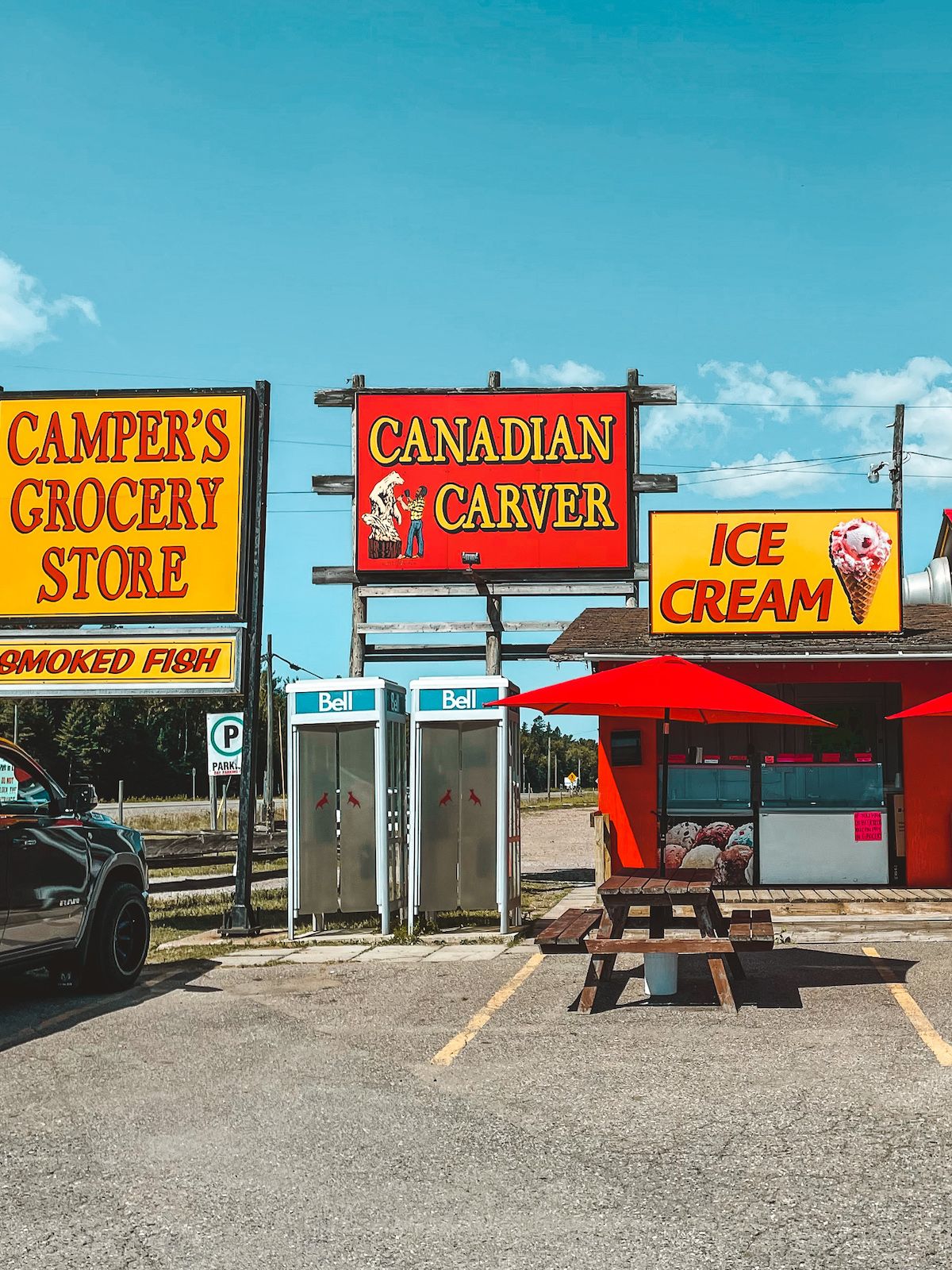 About 50 minutes south of Bathtub Island you will want to make a stop at Agawa Crafts and The Canadian Carver. At the Canadian Carver you will find wooden home decor pieces and indigenous art. We bought a beautiful print for our cabin! At Agawa Crafts you will find Native Canadian pieces, like jewelry, furs and moccasins. We picked up a pair of moccasins to keep our feet warm at camp for winter.
Eat the freshest fish from the Agawa Fish & Chip stand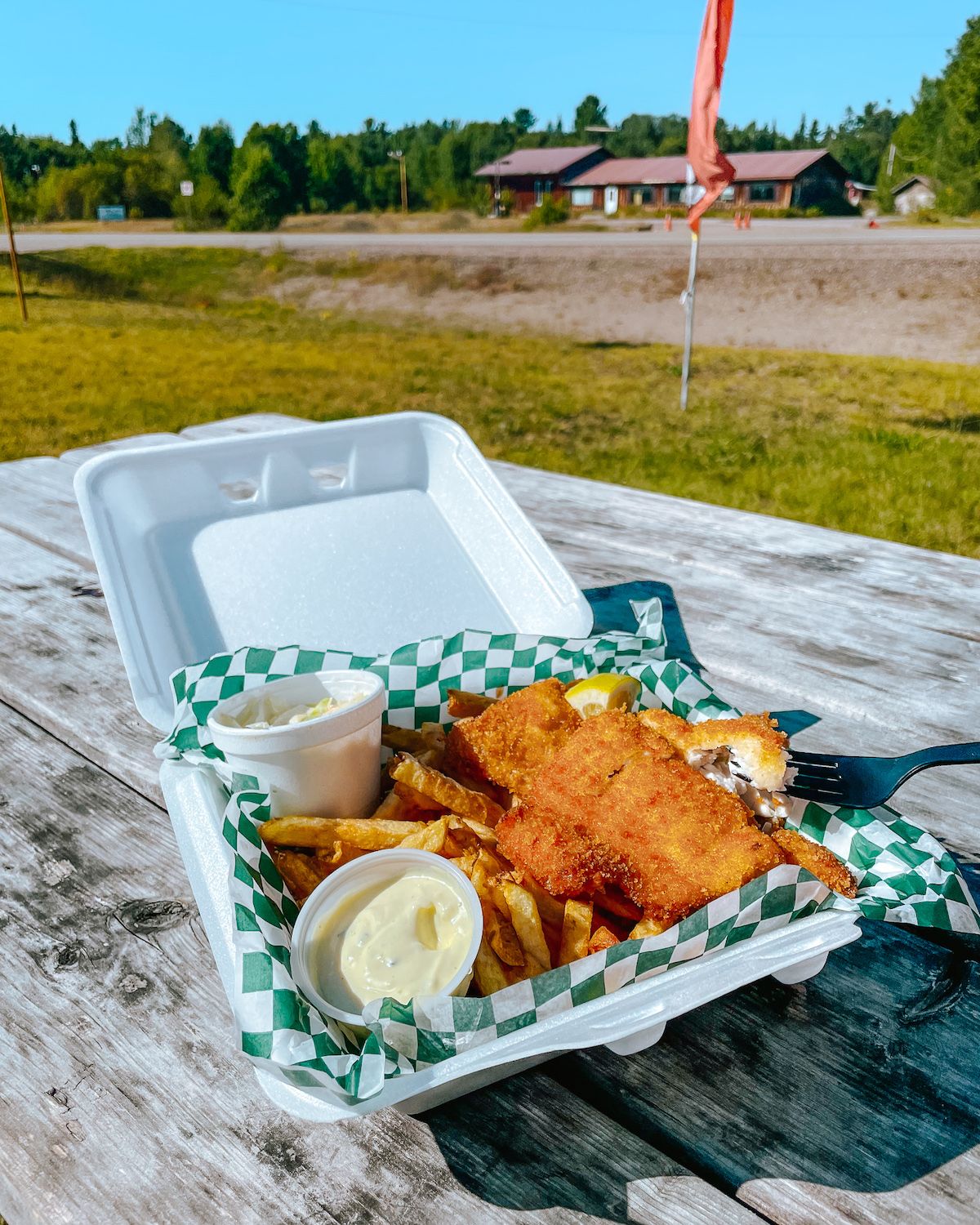 After a day at Bathtub Island, we love filling up on the hand-breaded whitefish from Agawa Fish & Chips. It's located just across the highway from the Canadian Carver and Agawa Crafts.
Note: Agawa Fish & Chips is only open from May Long Weekend to September Labour Day
Where to stay near Lake Superior Provincial Park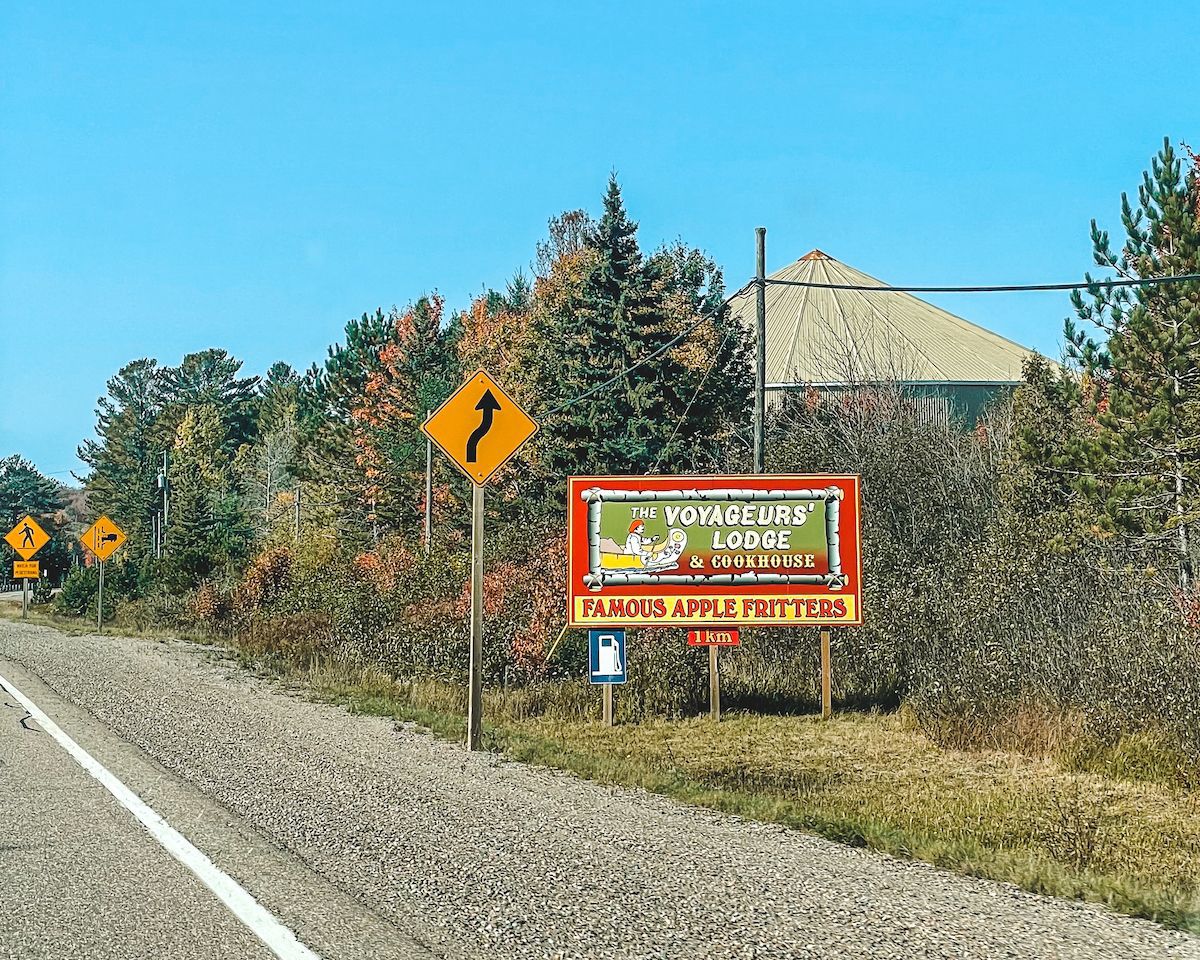 Although visiting Bathtub Island can be done as a day trip from Sault Ste. Marie, you may want to consider spending the night near the lake to spend more time in nature. You could either stay in one of the retro motels along the way or in a B&B.
Recommended motel: Voyageurs' Lodge.
The cute motel is located just across the street from Lake Superior in Batchawana Bay. Rooms are a great value, starting at $119 CAD per night. They have a good restaurant/cafe and you're steps away from their famous apple fritters!
You could also check out Airbnb or VRBO for listings around the Lake Superior area.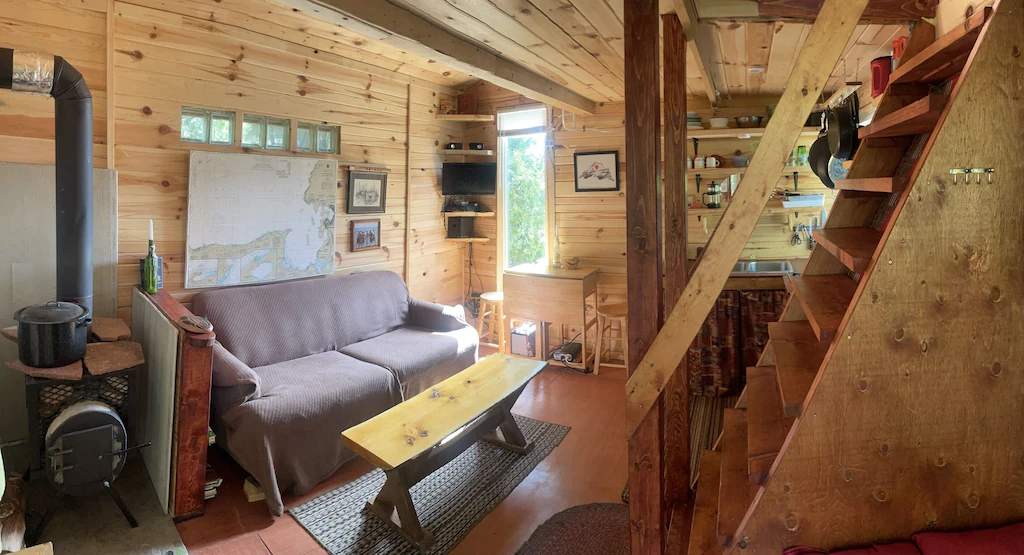 We spotted a newly listed
off-grid cabin
on the shore of Lake Superior in the Batchawana area. It looks like an amazing experience. If anyone stays there, let us know how it is!
We hope you have an amazing trip to Bathtub Island!
---
Start planning your trip to Bathtub Island
---
Looking for more travel destinations in Ontario? Don't miss our list of the 7 best couple's getaways in Ontario and 5 relaxing things to to do in Elora, Ontario.