Ontario has a variety of romantic getaways to enjoy with your partner. There are many unique places to discover, such as quaint villages, scenic gastronomic regions, luxury destinations and off-the-grid cabins.
Are you looking for a relaxing nature escape, a spa retreat or a gastronomic experience? We have got you covered! We list the 9 best couples getaways in Ontario, each for a unique reason.
We also include our top hotel and B&B picks to make planning your trip as easy as possible.
Top 9 Romantic Getaways in Ontario
---
9 Best Couples Getaways in Ontario
Disclosure: Some of the links below are affiliate links, meaning at no additional cost to you, we will earn a commission if you click through and make a purchase. We only recommend products or services we have used or that we believe will add value to our readers. Thank you for supporting us!
1. Langdon Hall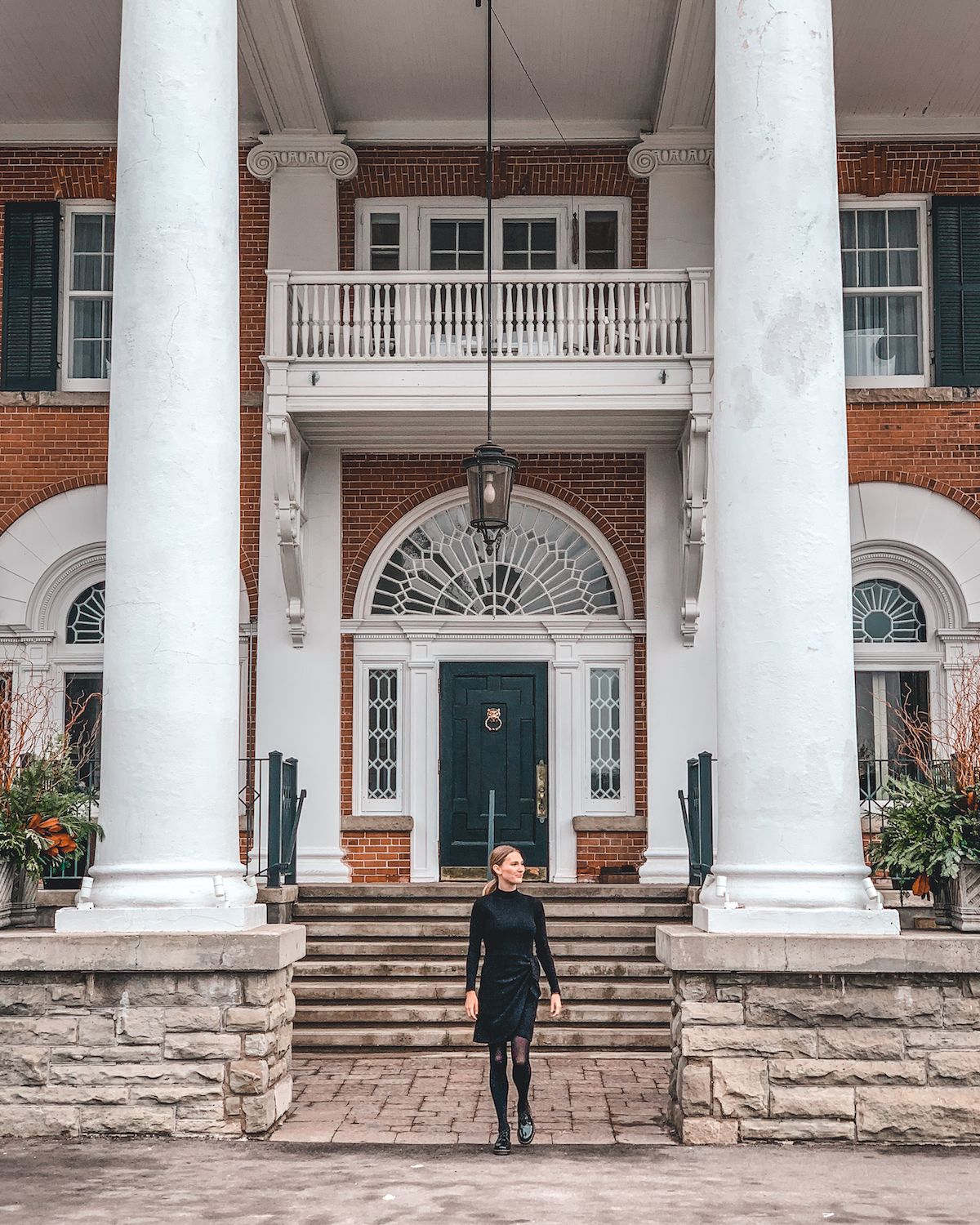 Best for: a luxurious romantic escape
Langdon Hall
is a beautiful countryside estate built over 100 years ago that was first a summer home to a wealthy Englishman. The manor has a federal-revival architecture and contains 60 spacious guest rooms in the main house, stables and cloister wing. Langdon Hall is part of the Relais & Chateau luxury brand, known for its selection of first-class landmark hotels and restaurants from around the world.
Their fine-dining restaurant ranks in the top ten of Canada's 100 Best Restaurants List
with dishes featuring ingredients from its garden and nearby forest.
Unwind at Langdon Hall's spa and book a couple's massage or body treatment.
Afterwards, enjoy a hot tea on their outdoor terrace. The hotel also has 12km of walking trails through their gardens and the forest. Our favourite part was cozying up in front of our wood-burning fireplace in the evening. It's the ultimate romantic getaway in Ontario.
Fun fact: An image of Drake walking a dog in front of Langdon Hall was featured in his album, Views.
Best time to go: mid-week for the best prices
Distance from Toronto: 1.25 hrs - 2 hrs depending on traffic
2. Elm Hurst Inn & Spa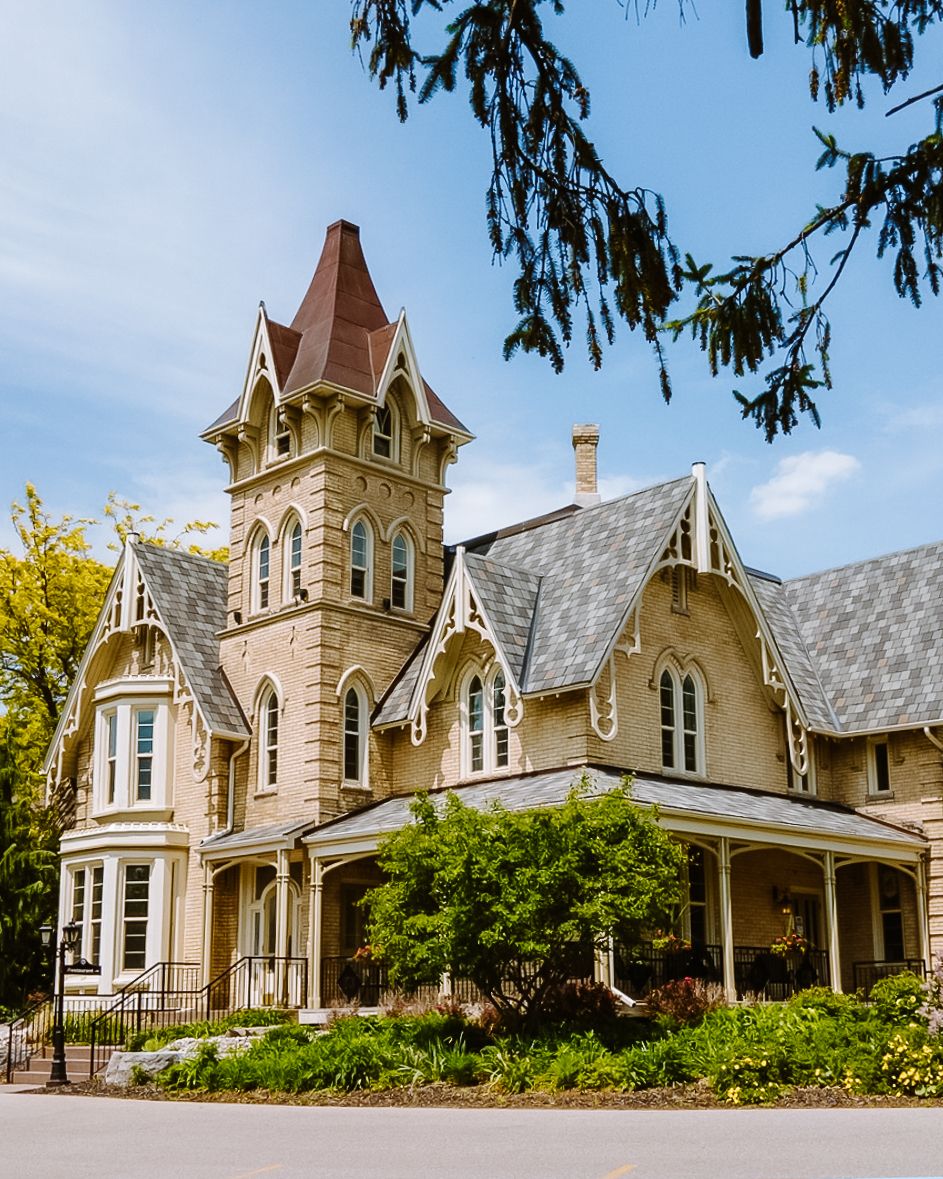 Best for: an elegant escape in nature at a great value
If you're looking for a romantic escape at a lower price point, then
Elm Hurst Inn & Spa
is a great choice.
The former cheese factory and 1872 gothic revival mansion have been transformed into a historic hotel with a fine dining restaurant and full-service spa.
The elegant hotel is located in the small town of Ingersoll and is surrounded by tall trees and beautiful grounds. It's all about romance and relaxation here, with its natural setting, cozy rooms, spa treatments and locally-inspired dishes served in a Victorian mansion. Rooms start at ~$199 CAD per night.
See rates for Elmhurst Inn & Spa
✔️ Top tip: Enjoy a movie date at the Mustang Drive-In Theatre, located just a 15 minute drive away from the Elmhurst Inn & Spa.
Best time to go: Autumn when the leaves change colour
Distance from Toronto: 1.5 hrs - 3 hrs depending on traffic
3. Prince Edward County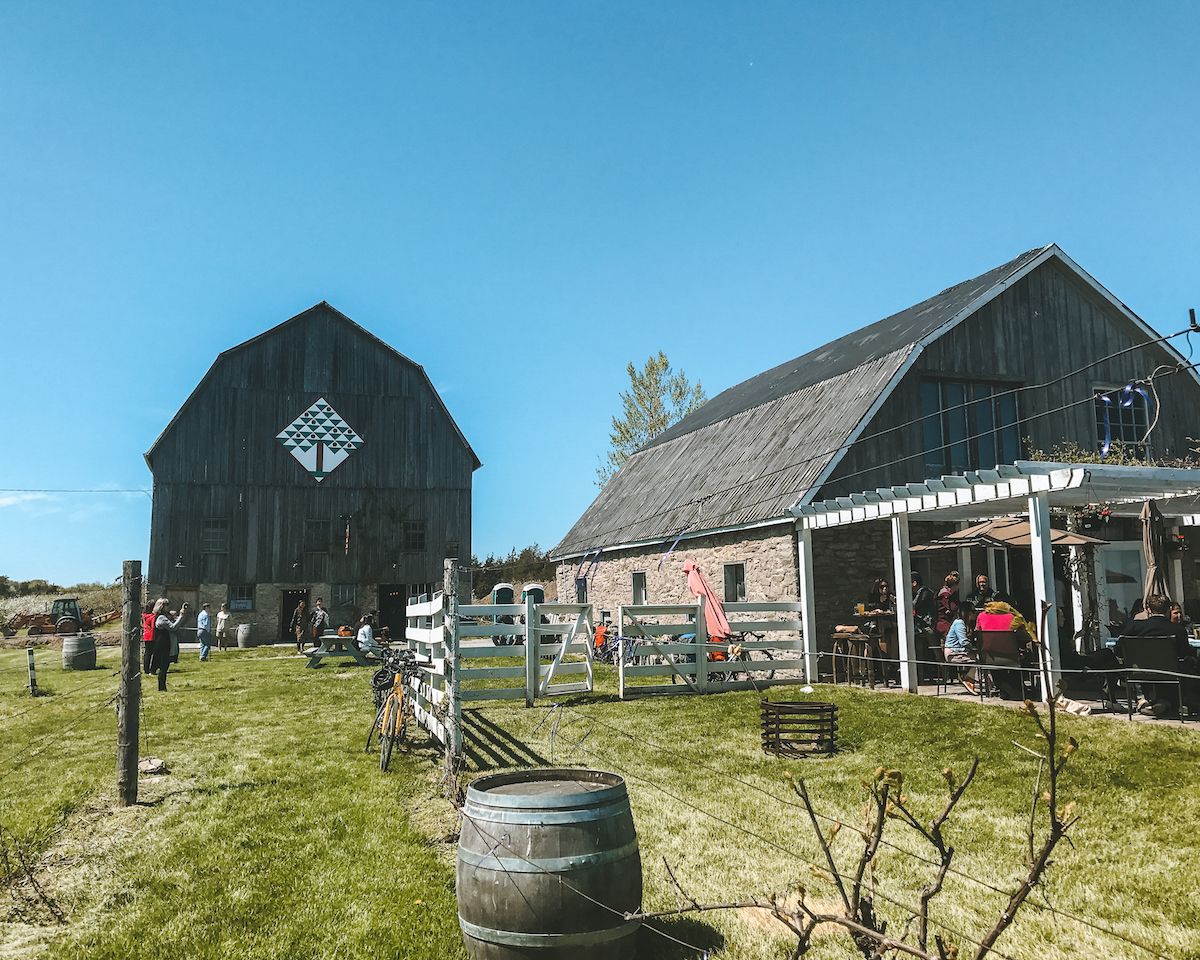 Best for: visiting wineries & cideries in a relaxed setting
Prince Edward County is known as the gastronomic capital of Ontario for its wineries, cideries, breweries and farm-to-table cuisine. It's also the fastest growing wine region in Canada with about 40 wineries. One of the best things to do is rent a bike from Ideal Bike in the town of Wellington and winery hop. Bike rentals start at $40 CAD for 8 hours or $70 for 24 hours.
Here are some of the best wineries for wine tastings in Prince Edward County near Wellington:
Sandbanks Estate Winery - fun and relaxing winery known for its award winning wines and food pairings
Karlos Estates - vegan certified winery in a barn over 200 years old
Hinterland Wine Company - winery in a former dairy barn known for its sparkling wine
Clossen Chase Vineyards - sustainable winery in a purple barn
Rosehall Run Vineyards - terroir-driven winery that was formerly a tomato farm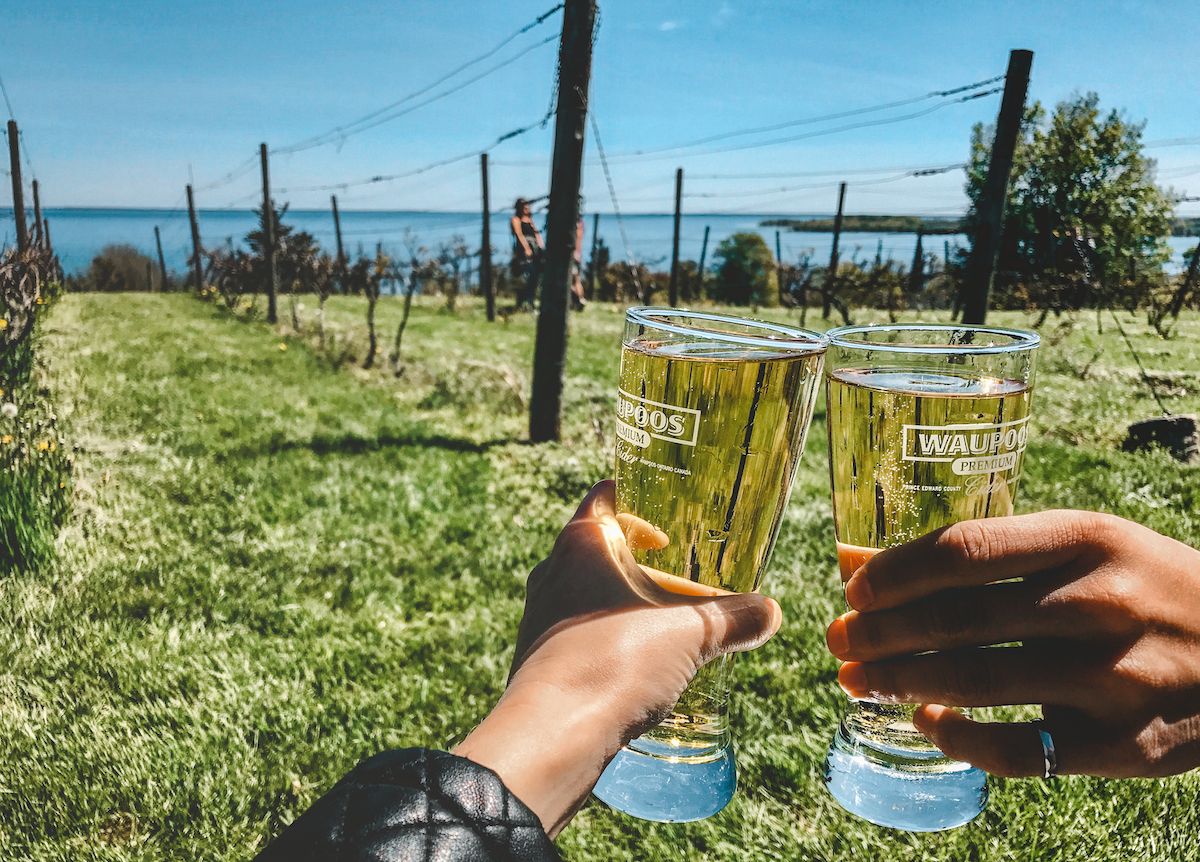 Another must-see spot isn't a winery, but a cidery called The County Cider Company. The craft cider house sits up high and has pretty views of Prince Edward Bay. Go for an orchard tour, a cider tasting, or enjoy some pizza for lunch at their outdoor patio restaurant.
For a romantic evening activity, watch a movie at the Regent Theatre, an old-school film and live theatre that opened in 1918 in the charming town of Picton.
Best time to go: summertime for warm bike rides to the wineries
Distance from Toronto: 2 hrs- 3.25 hrs depending on traffic
Where to stay in Prince Edward County
Prince Edward County has many quirky boutique hotels and charming B&Bs to stay at. Here are some of our top hotel and B&B picks from a hip retro motel to a beautifully restored 1840s farmhouse.
Best hotels in Prince Edward County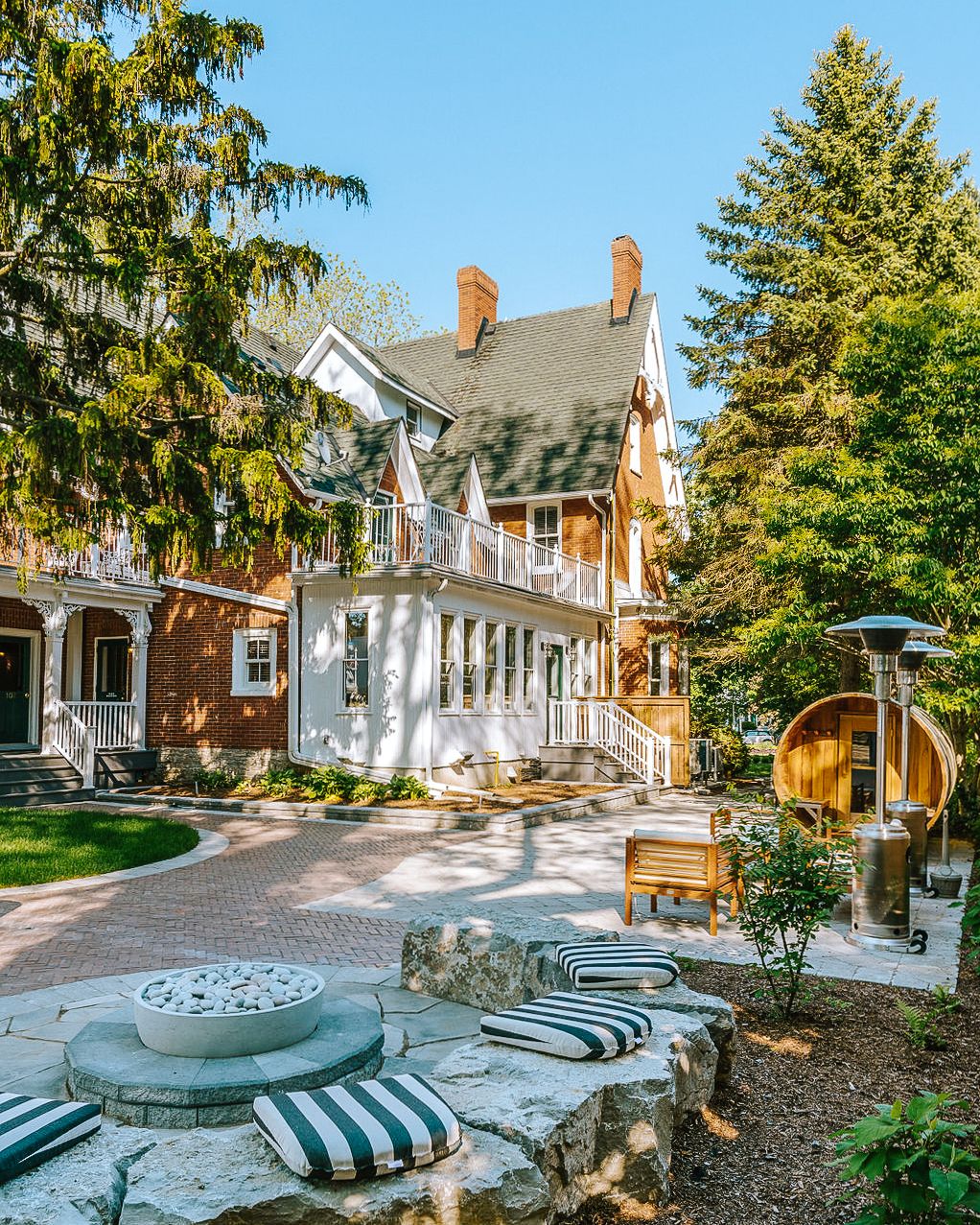 Best luxury boutique hotel: Merrill House. Built in 1878, the gothic-revival mansion mixes old-world charm with contemporary elements. Walk through the gorgeous gardens, relax in the wood-barrelled sauna, eat at the French fine dining restaurant or drink cocktails in the conservatory bar. The hotel has been featured in Fashion Magazine and House & Home Magazine. See rates.
The coolest hotel: Drake Motor Inn. Located in the heart of Wellington, the retro and midcentury themed motel was named one of the Best New Affordable Hotels in the World by Conde Nast in 2020. The hip hotel has only 12 guest rooms and features quirky vending machines and vintage polaroids you can use to capture memories. See rates.
Most Instagrammable hotel: June Motel. The boutique hotel with Millennial pink and sea foam colours and neon signs give 1960s motel vibes. The cute hotel also features a stylish lobby bar and outdoor campfire. Located just a 4 minute drive from Picton. See rates.
Best B&Bs in Prince Edward County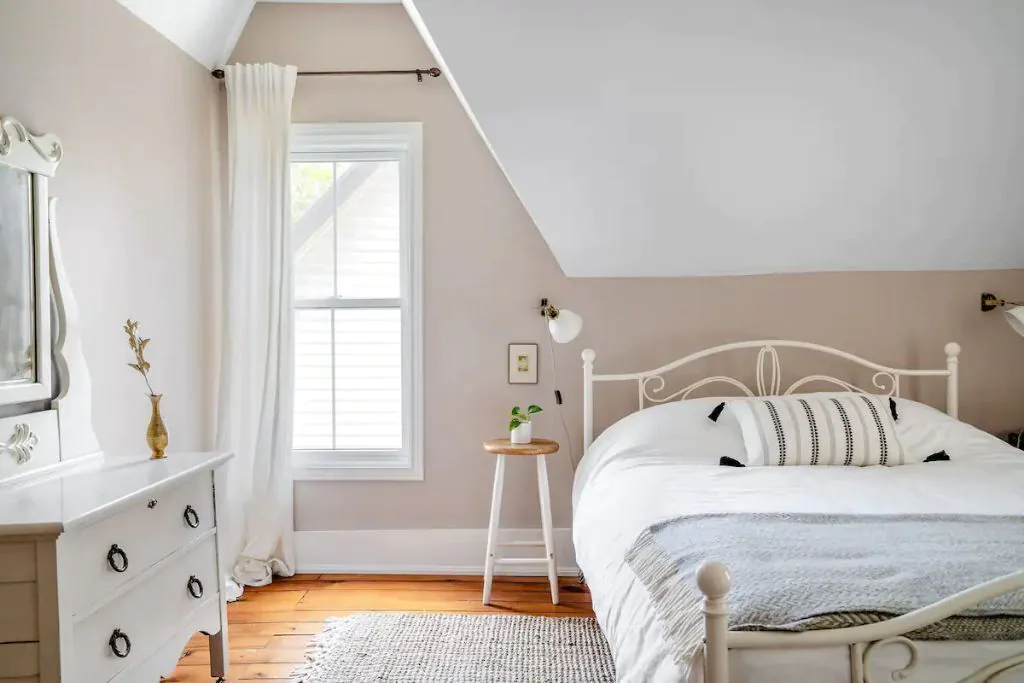 Best B&B for wine lovers: Historic Farmhouse. Unwind in the beautifully restored 1867 farmhouse sitting on 100 acres. The boho-chic decor blends nicely with the the farmhouse's historic features, like its stained glass windows from the 1800s and original clawfoot bathtub. During the day, rent some bikes and visit the quirky wineries in the surrounding area. In the evening, cook up a romantic meal in the spacious kitchen.
Best B&B in the heart of Picton: The Nestled Inn. A charming restored century home that has been beautifully decorated. It features a large private backyard and BBQ, and you are just steps away from Picton's cute cafes and farm-to-fork restaurants.
Best B&B on the lake: Lakeside PEC. Enjoy unobstructed views of Lake Ontario from the spacious 3 bedroom/2 bathroom home. Its renovated kitchen, BBQ, large deck and firepit make it a great place to stay if you're traveling with kids or with other couples. It's also close to Wellington, a hub for wineries and local restaurants.
🛏️ See more stays in Prince Edward County.
We like to sort by top reviewed.
4. Elora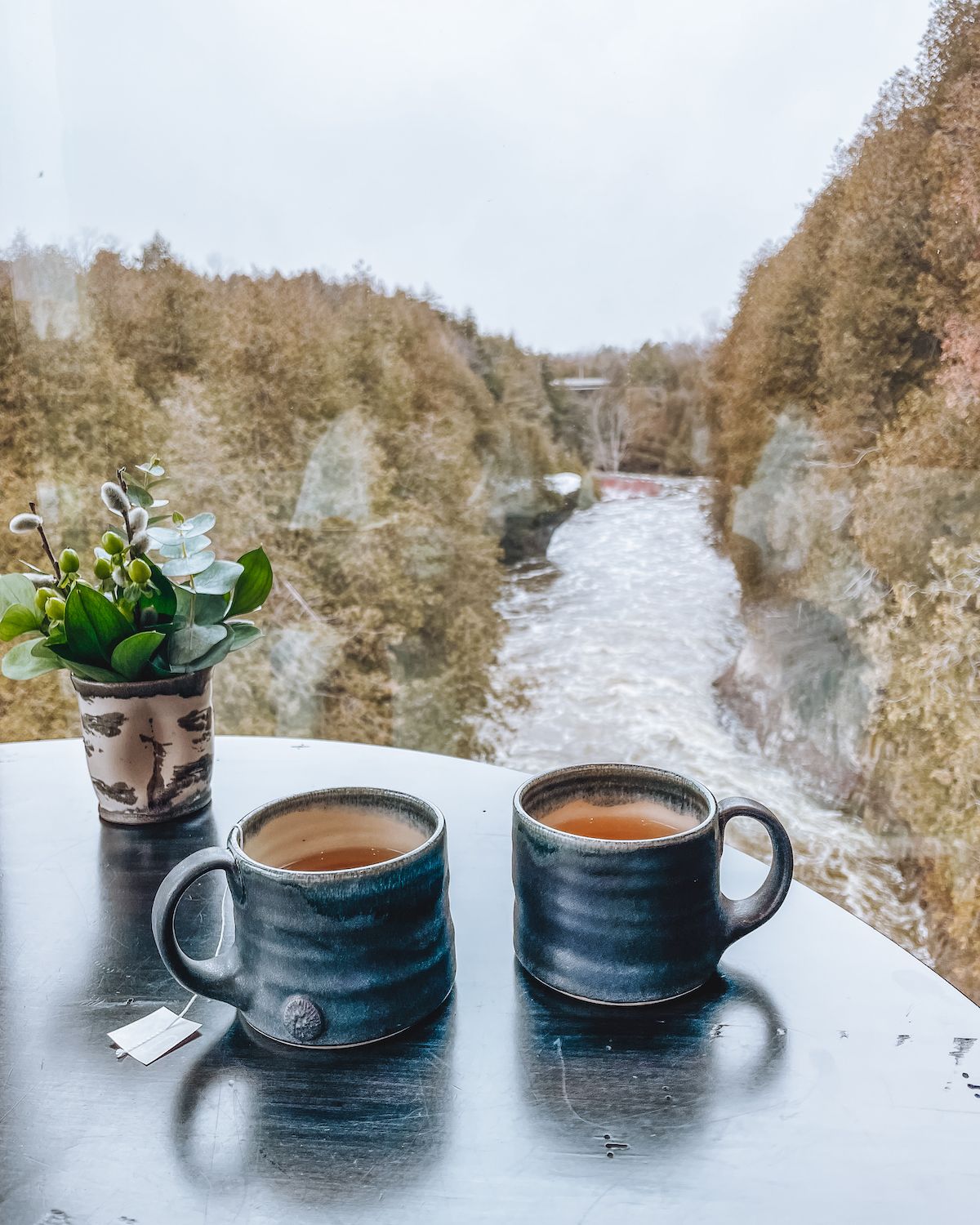 Best for: romantic strolls through a quaint village
Discover cute boutique stores, quaint restaurants and art galleries in the romantic village of Elora. The small town is located along the Grand River and has many 19th century brick and stone buildings.
Best time to go: Elora can be visited year round and is a cozy romantic getaway in winter. However, if you want to swim in the gorge, visit during summertime.
Distance from Toronto: 1.5 hrs- 2.25 hrs depending on traffic
What to do in Elora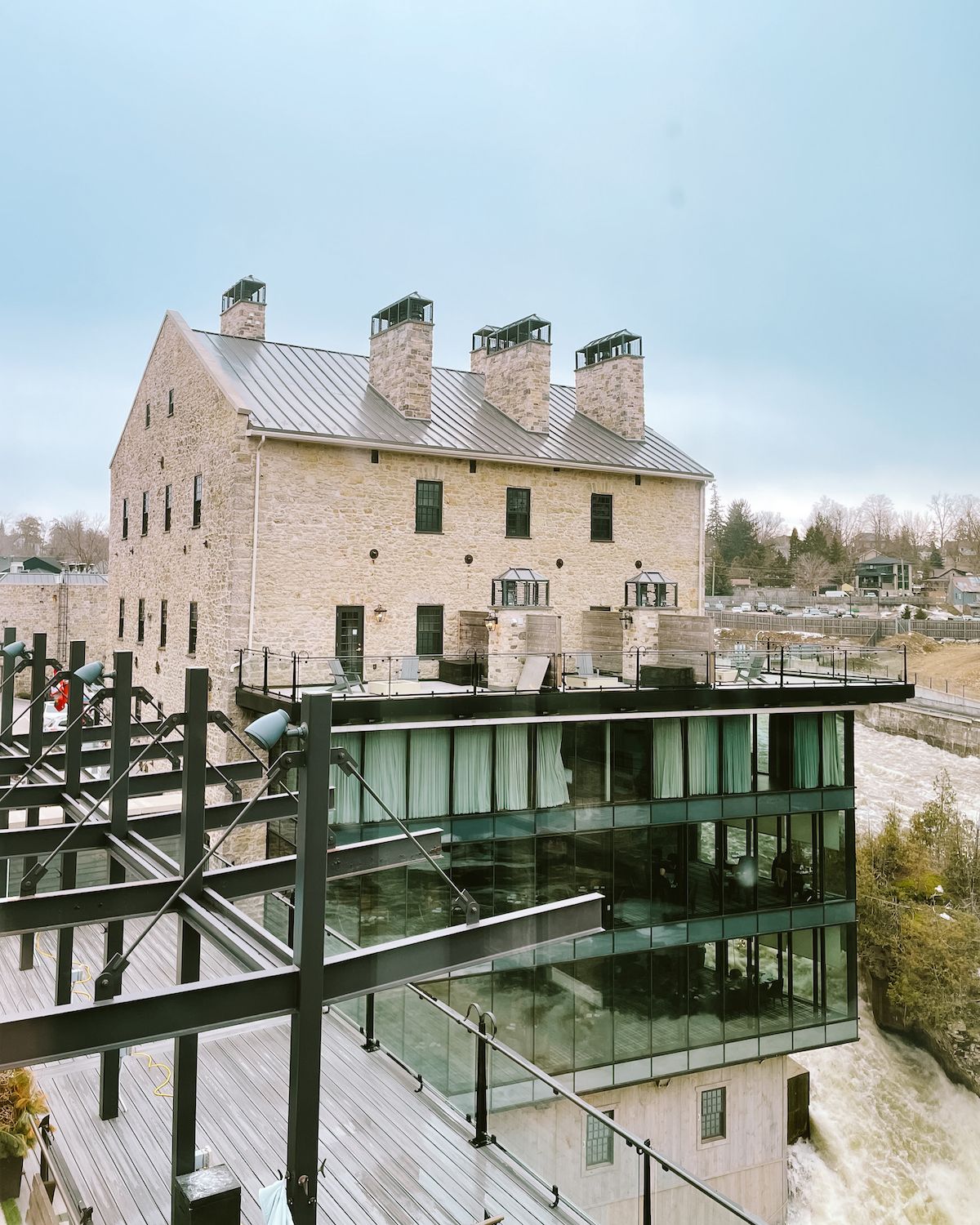 Walk down Mill Street and north up Metcalfe street to find plenty of quirky shops and boutique stores.
Stop at Sweet Distractions, a small candy shop for some ice cream, try beer at the Elora Brewing Company, or go for a swim at the Elora Quarry, a swimming hole enclosed by cliffs. It's refreshing on on a hot summer's day!
✨ Top Tip: you don't have to stay at Elora Mill Hotel & Spa to experience its luxurious amenities.
If you book a spa treatment, you get 2 hours of access to their fabulous outdoor pool, hot tub and tea room. We felt completely pampered during our time there. Afterwards, we dined at Elora Mill's restaurant overlooking the rushing gorge.
See our list of 5 relaxing things to do in Elora
Where to stay in Elora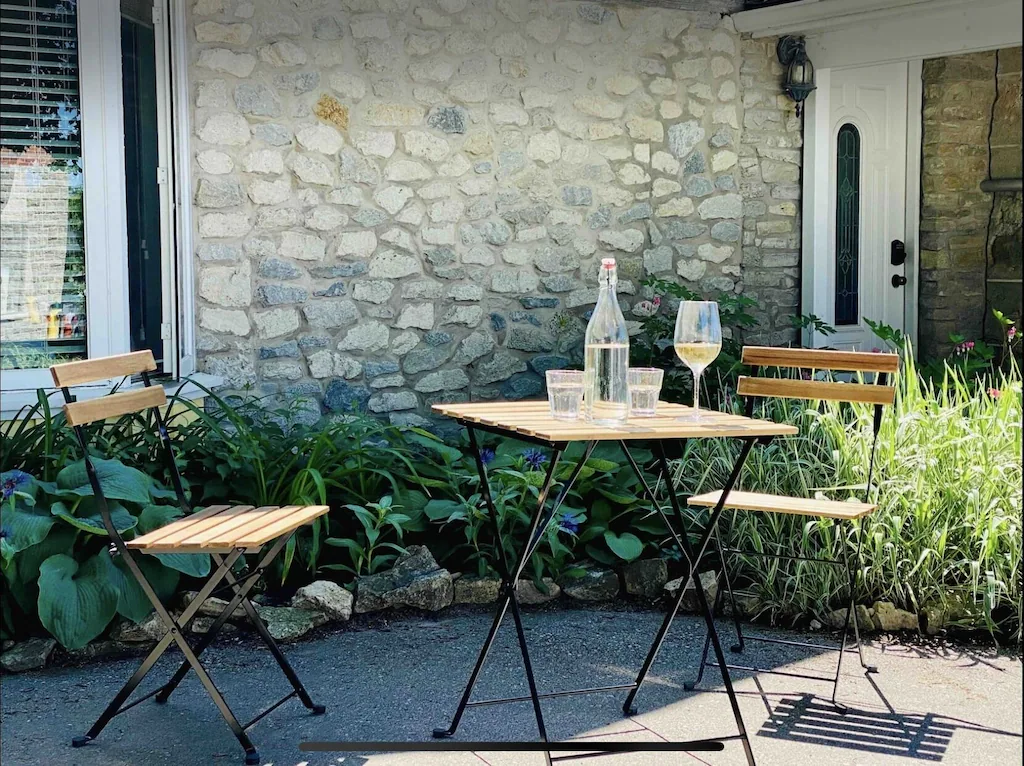 Fully-loaded experience 🥔✨: Elora Mill Hotel & Spa. A former 19th century mill turned luxury boutique hotel, which recently went through a 27 million dollar renovation. The hotel sits along the Grand River with a view of the falls spilling into the gorge below. The world-class spa has a steam room, an outdoor pool, hot tub, and a reading room overlooking the river with floor-to-ceiling windows. Rooms are pricy and start at $550 CAD per night.
Coziest B&B: Victoria Street Retreat. The charming one-bedroom apartment is perfect for a romantic getaway. It's quietly tucked away near the Grand River and is a short walk to Elora's main strip. The B&B has thoughtful touches and is good value with its king-sized bed, fully equipped kitchen and electric fireplace. See rates.
Best in the heart of Elora: Etherington Suites. Although you're just steps away from Elora's happening main strip, you will find solitude at your contemporary suite with peaceful views of the Grand River. The King Suite with Balcony is the most stylish room with its high ceilings, gas fireplace and trendy decor. See rates.
🛏️ See more stays in Elora.
5. Niagara Falls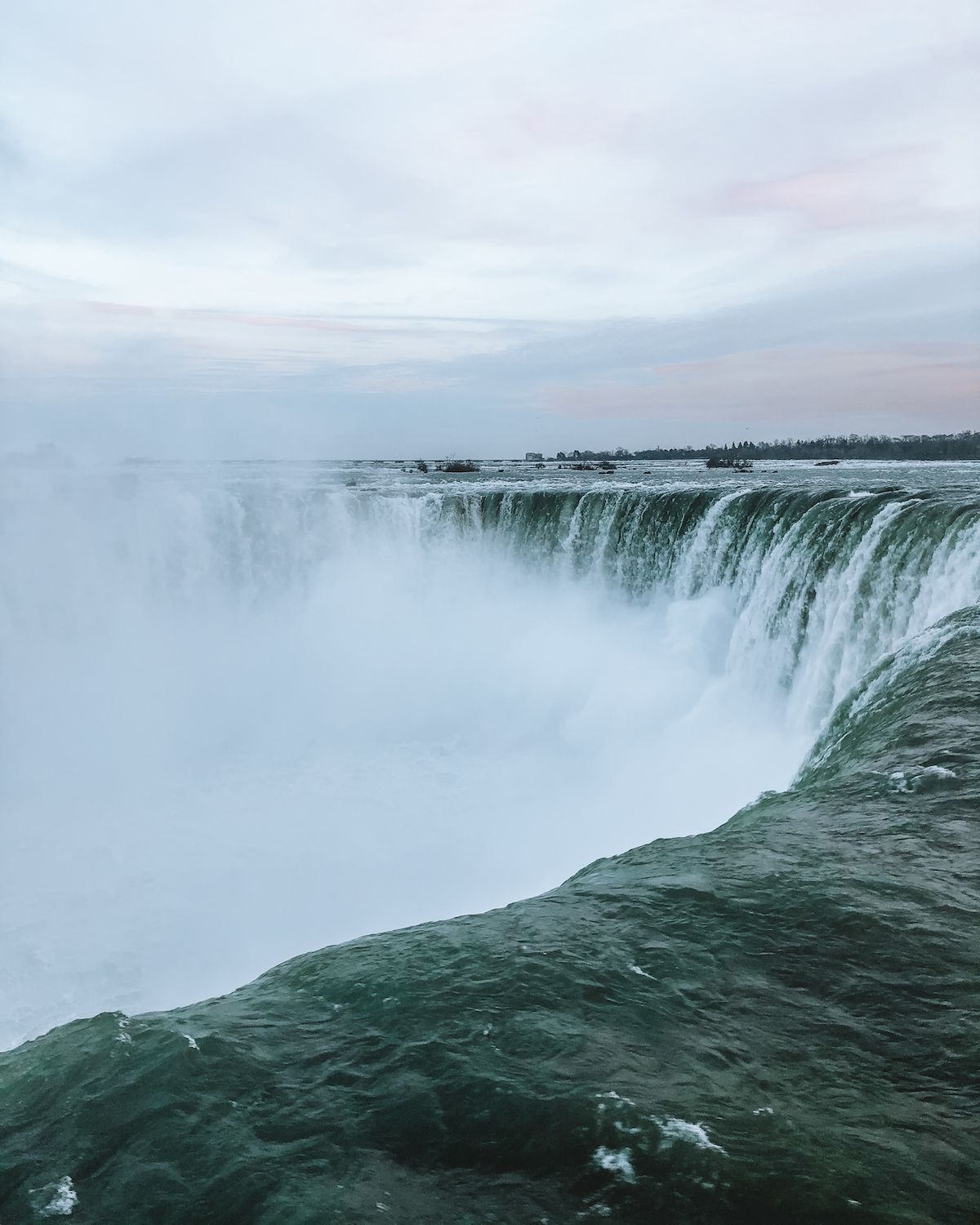 Best for: a fun & high energy weekend
Niagara Falls is a lively and entertaining city that could be seen as the mini Las Vegas of Canada with its casinos, neon lit strip filled with wacky attractions, American restaurants, towering hotels and impressive ferris wheel giving panoramic views.
The real draw to Niagara however are its magnificent larger-than-life waterfalls, which are some of the biggest in the world. The Canadian horseshoe shaped falls is the most impressive and famous. You can get so close to the edge of the falls it feels like you can almost touch it.
There are many ways to experience the falls:
From the edge
Take the Hornblower Niagara Funiclular down to the pathway and take a stroll along the cliff of the waterfall. This is where you can get up close to where the falls go over the edge.
Up close
From above:
Niagara Falls was actually the first place Ari and I ever traveled to for a date when we were in university. It was a fun couples getaway in Ontario since there were so many things to do. Walk the main strip called Clifton Hill to find wacky and somewhat tacky attractions like haunted houses, Ripley's Believe or Not, mazes and arcade games. Afterwards go for a ride on the ferris wheel or press your luck at the Fallsview Casino Resort.
Best time to go: November - March and weekdays for the best prices; for warm weather the best months to go are June and September. Avoid the tourist heavy season of July/August.
Distance from Toronto: 1.5 hours to 3 hours depending on traffic.
Where to stay in Niagara Falls
Niagara Falls is known for its skyscraper like hotels offering panoramic views of the falls from your room. Don't be tricked into booking a place that has photoshopped the falls right behind it! Some of the pictures make it look like the falls are super close, when you actually don't get a falls view at all.
Hotels with the best view of Niagara Falls
🛏️ See more stays in Niagara Falls.
6. Nature escape near Blue Mountain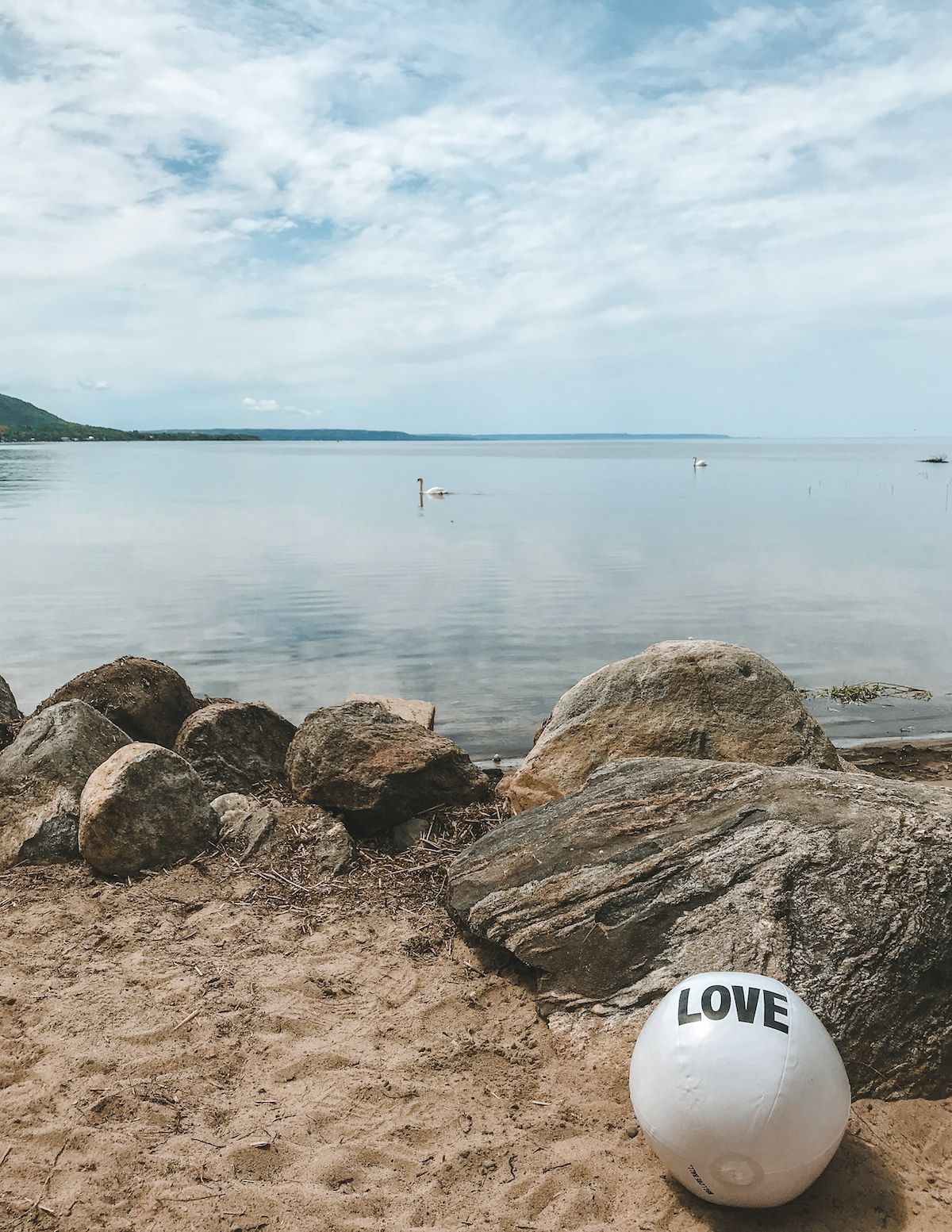 Best for: an off-the-grid experience in a unique B&B
Blue Mountain is a lively town popular with tourists for weekend getaways, skiing and bachelor/bachelorette parties. But once you drive outside of the resort town, it quickly turns into the scenic countryside with remote villages offering quirky off-the-grid experiences.
We list our top 3 unique B&Bs near Blue Mountain, from glamping in a geodesic dome to a cozying up in a 1840s pioneer cabin. It's a great option if you're looking for a unique romantic getaway in Ontario.
Distance from Toronto: 1.75 hrs - 3 hrs depending on traffic
Best time to go: all year round
Unique B&Bs for a nature escape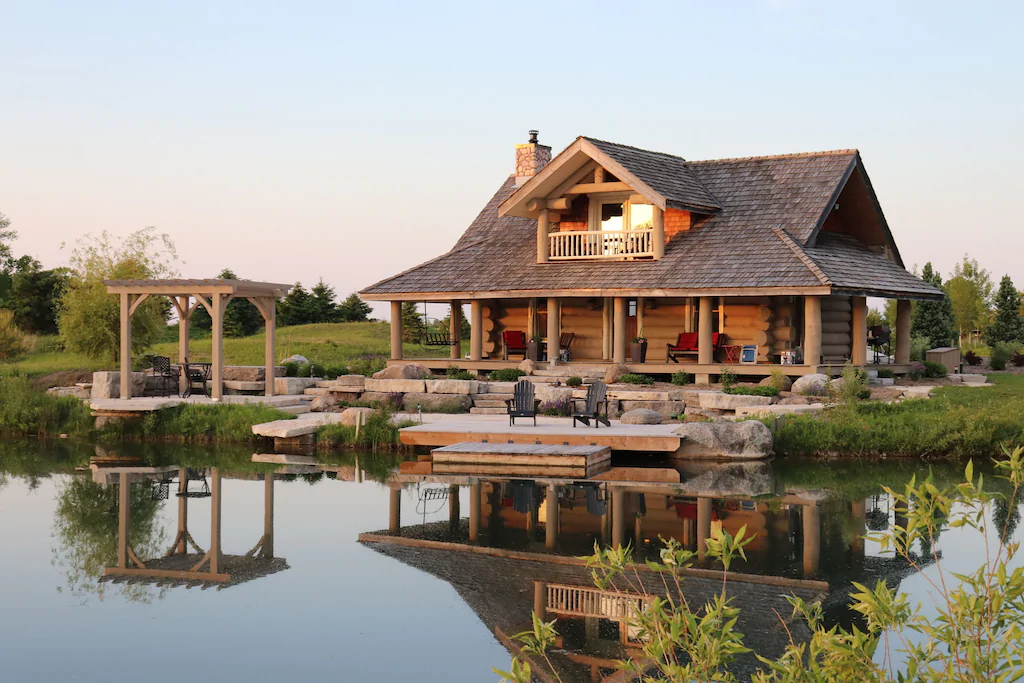 What makes this B&B special:
The
Exquisite Log Cabin Retreat
is a custom-crafted log cabin tucked away in a tranquil setting. The cozy cabin overlooks a spring-fed pond and is the idyllic place to unwind and recharge. The cabin has one bedroom, one bathroom and a full kitchen, making it ideal for a couple. Have your morning coffee overlooking the pond, enjoy dinner on the dock, drink some wine on the balcony overlooking the Blue Mountains or cuddle up by the stone fireplace.
⭐ rating: 5 (200+ reviews)
Minimum stay: 3 night minimum
See rates for Exquisite Log Cabin Retreat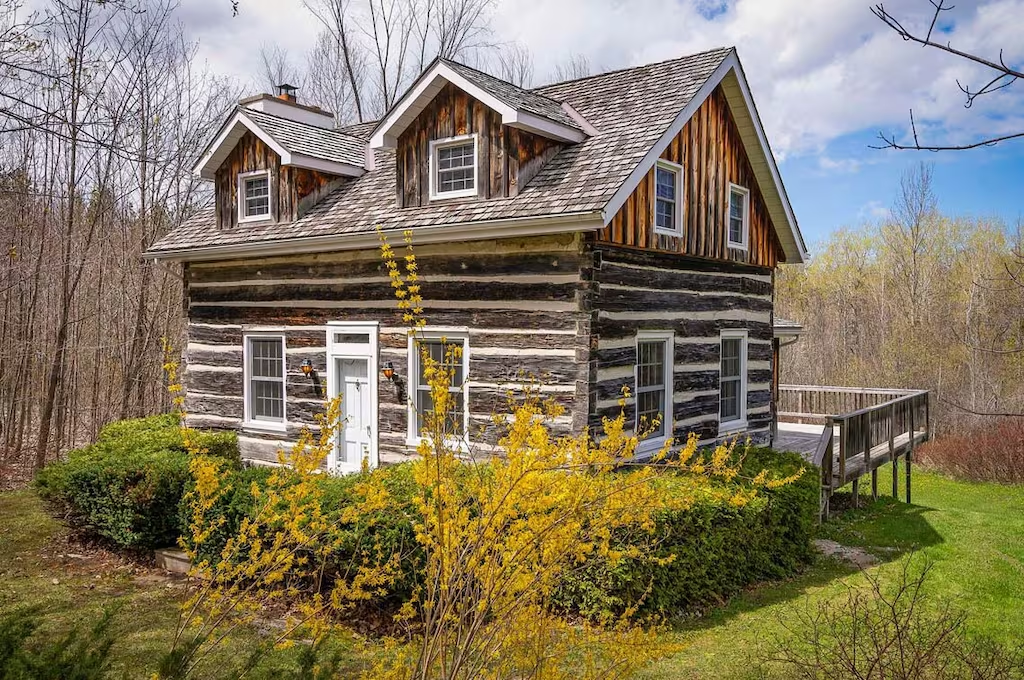 What makes this B&B special:
The
1840s pioneer cabin
gives a country livin' vibe with its wooden deck and rustic features. Cozy up inside with a book, BBQ outside on the large patio, or soak in the outdoor hot tub. With 3 bedrooms, this cabin is a great choice if you're traveling with kids or another couple.
Minimum stay: 3 night minimum
Check out rates for the Cozy Cabin with Hot Tub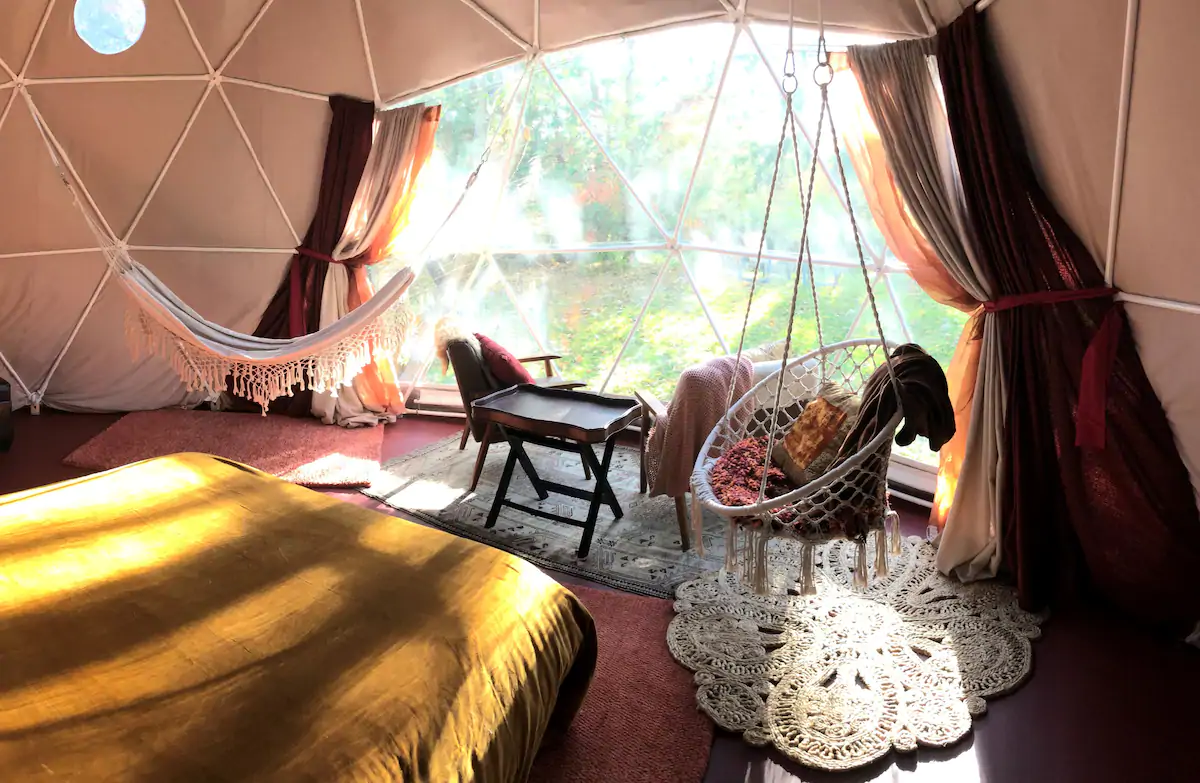 What makes this B&B special:
The
geodesic dome
is a magical glamping experience with its bohemian decor and large window overlooking a grassy forest. The 20' dome also features an indoor hammock and a gas fireplace, making it cozy during wintertime. Outside you will find a firepit and a lovely creek. Note there is a private outhouse outside.
⭐ rating: 4.95 (200+ reviews)
Minimum stay: 1 night minimum
Check out rates for One-of-a-kind Dome Stay
7. Road trip to Bathtub Island on Lake Superior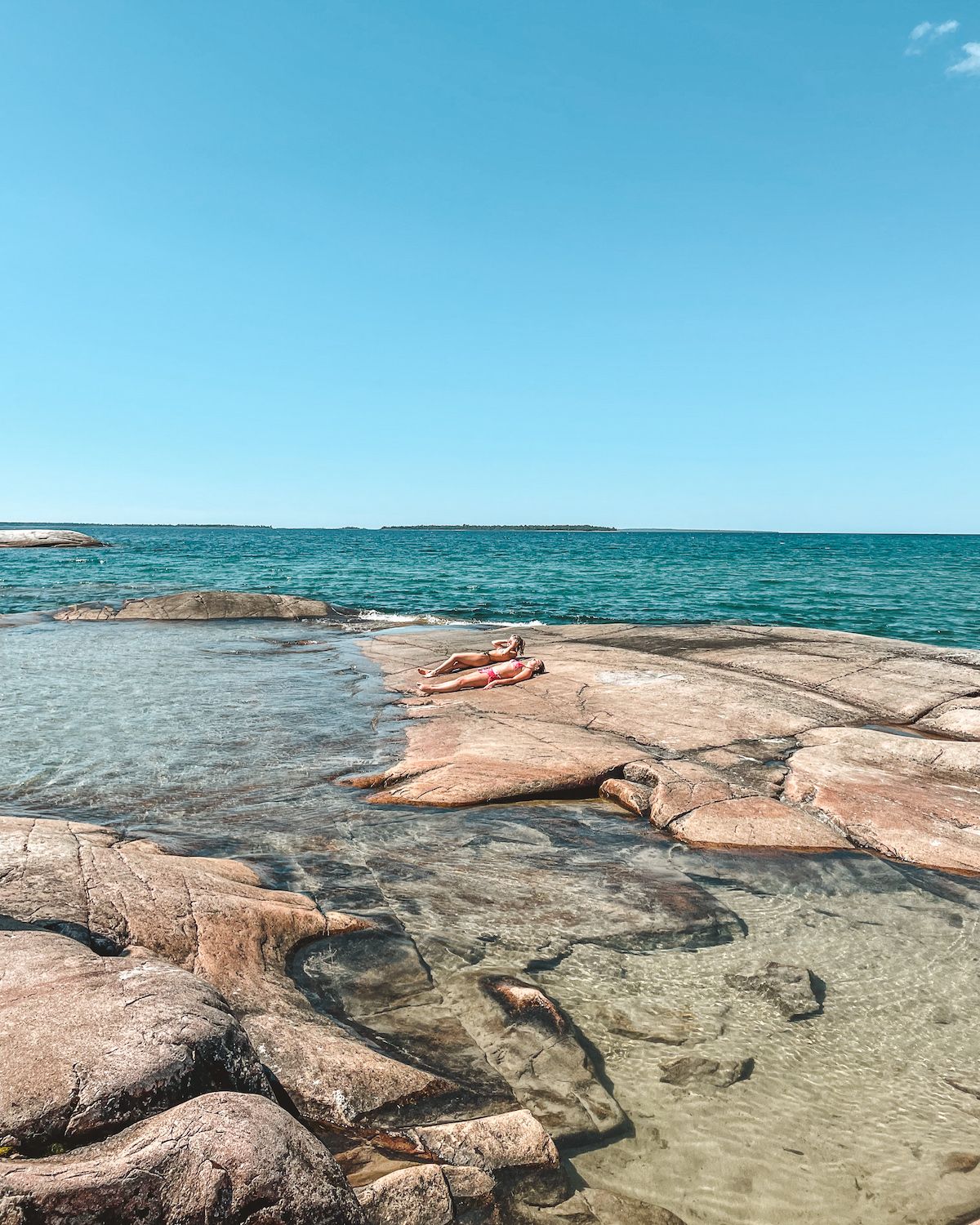 Best for: a scenic road trip with fun stops along the way
Go on a fun road trip with your loved one to find Bathtub Island, a hidden swimming hole on Lake Superior. The drive to the lake is gorgeous, especially during the last week of September when trees turn a vibrant red, yellow and orange colour. There are many cute stops to make along the way that add to the adventurous, yet romantic journey.
Best time to go: summertime for swimming and last week of September for Fall colours.
Distance from Toronto: 1 hr 20 min flight to Sault Ste. Marie followed by a 2 hour drive to Bathtub Island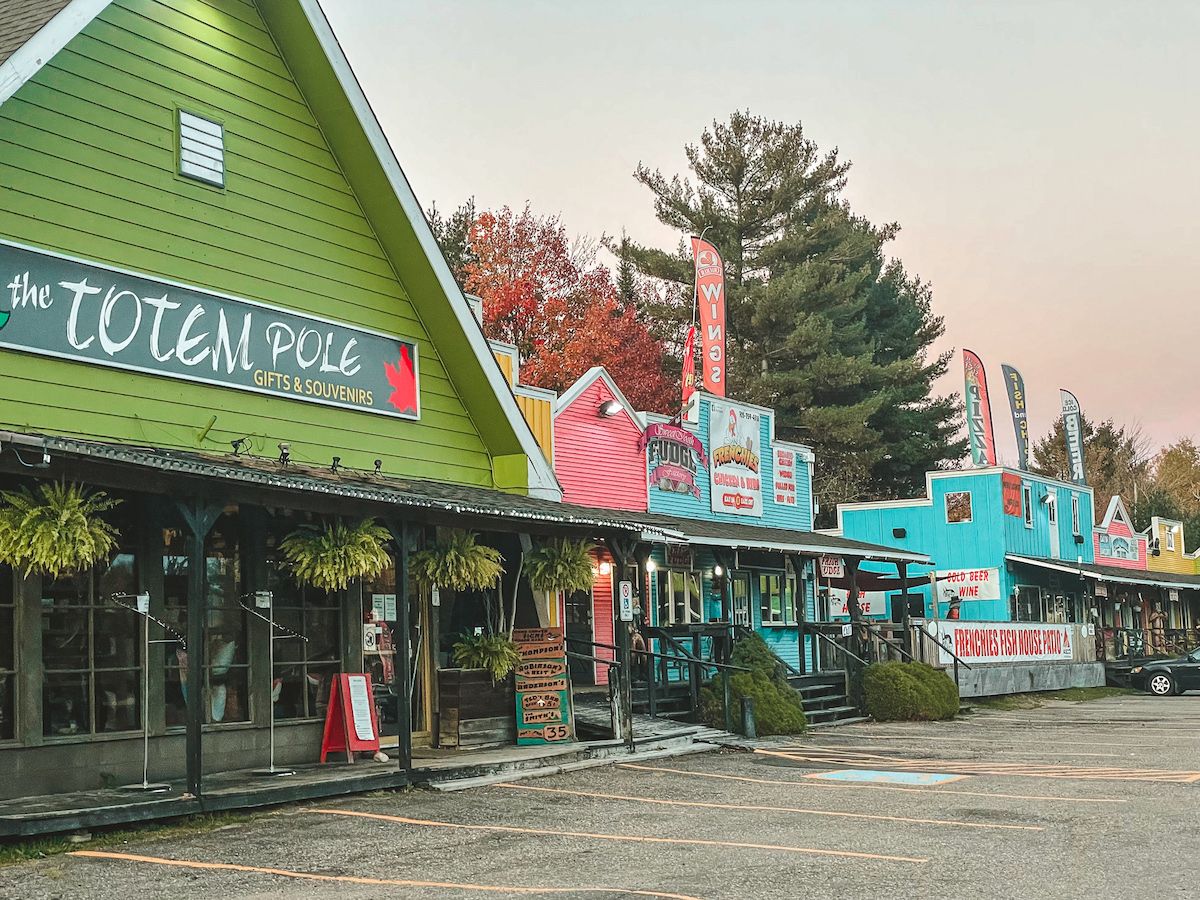 Pick up your
rental car from Sault Ste. Marie
and make your way north along the Trans Canada Highway.
First, stop at Frontier Village, where you will find locally owned businesses in colourful Frontier-inspired buildings.
Browse the
Totem Pole
for fair trade artisanal products and grab an ice cream cone from
Big Moose Ice Cream Parlour
for the road.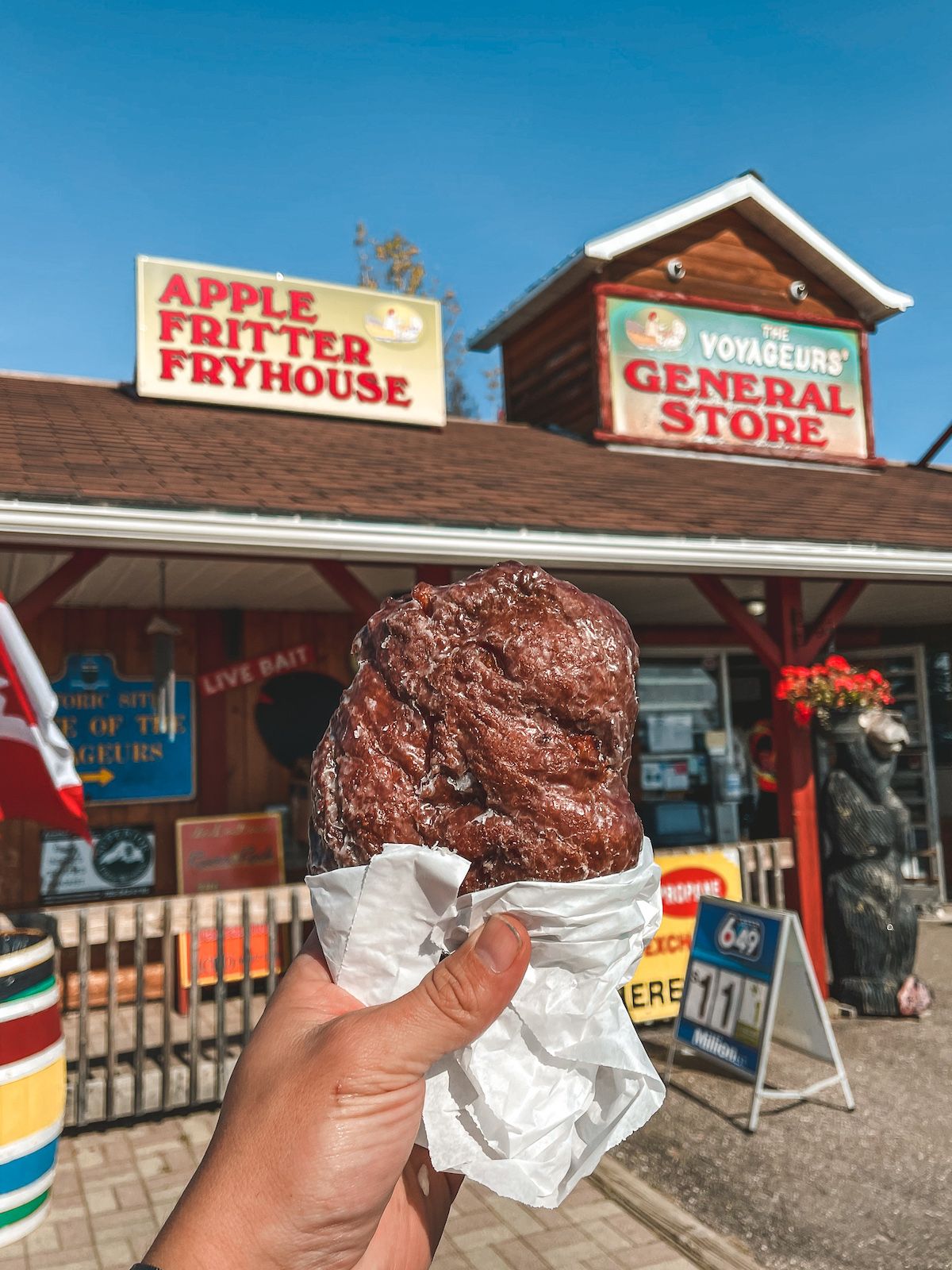 About a 40 minute drive north, pop into Voyageur's Lodge in Batchawana Bay to get your hands on their famous homemade apple fritters. They are so doughy and delicious! About five minutes up the road, there are also two shops you don't want to miss called Agawa Crafts & The Canadian Carver, which sell Native Canadian housewares, clothing, jewelry, and art.
From Batchawana Bay, you are just 50 minutes away from Katherine Cove, where you will begin your small coastal hike to Bathtub Island, a true hidden gem.
See our full guide on how to get to Bathtub Island for everything you need to know.
Where to stay near Lake Superior
After spending time at the stunning swimming hole, spend a cozy evening in Bathchawana Bay at the
cute Voyageurs Lodge.
8. Toronto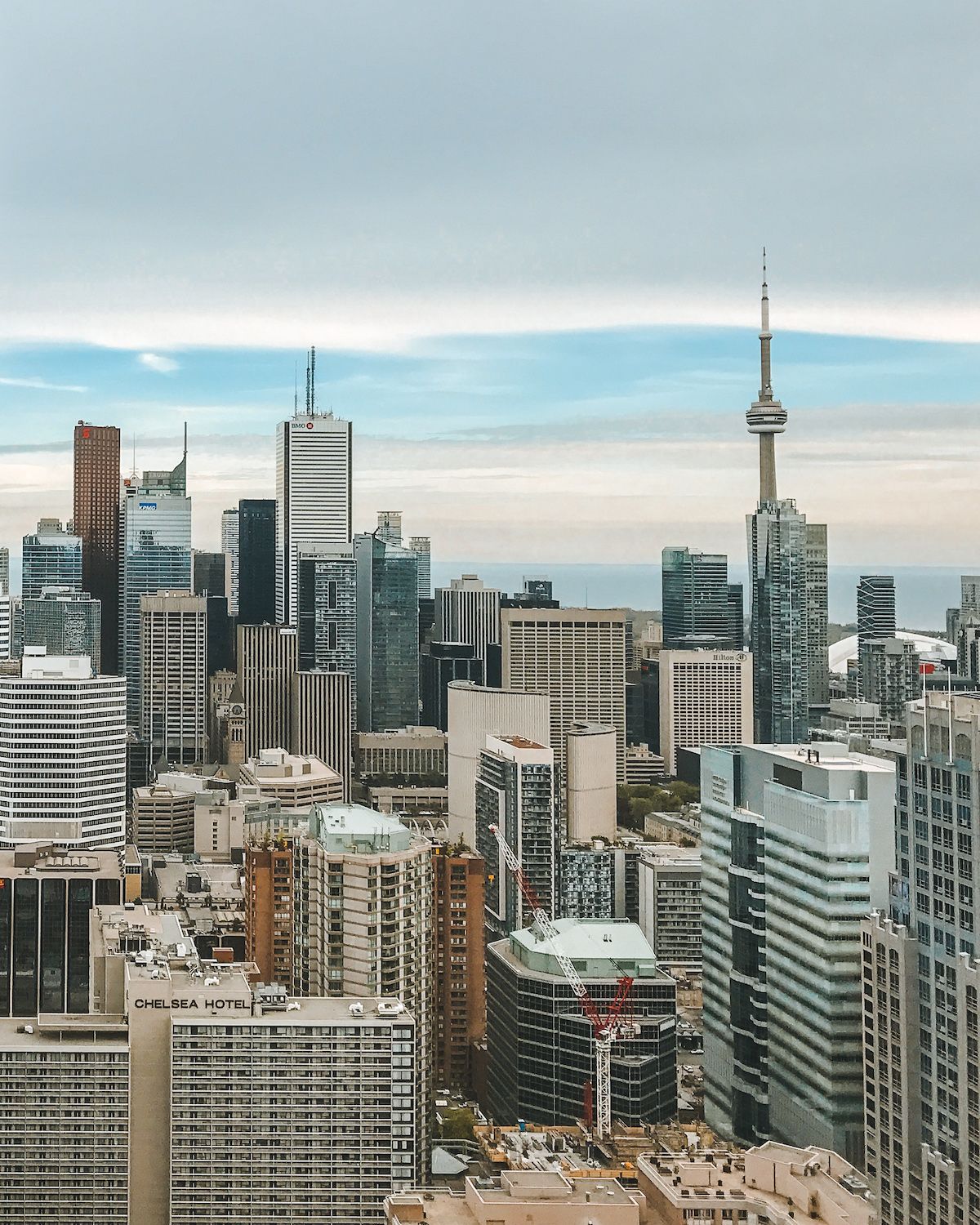 Best for: food lovers and dressing up
If you and your loved one are food enthusiasts, spend a romantic weekend getaway in the 6ix dining at some of Canada's best restaurants.
Toronto has 18 restaurants in the 2023 Canada's 100 Best Restaurants list. Treat yourself to one of these hotspots and make sure to reserve a table in advance. We dined at Giulietta (#32 on the list) and it was fantastic. The innovative Italian dishes paired perfectly with restaurant's cool ambience and fashionable crowd.
Spend the day shopping for a fabulous outfit on Queen Street West for your evening out, and
splurge on one of the city's design-forward hotels with a rooftop pool, like 1 Hotel or Bisha.
🛏️
See more hotels downtown Toronto on Booking.com.
We like to sort by top reviewed.
9. Sandbanks Provincial Park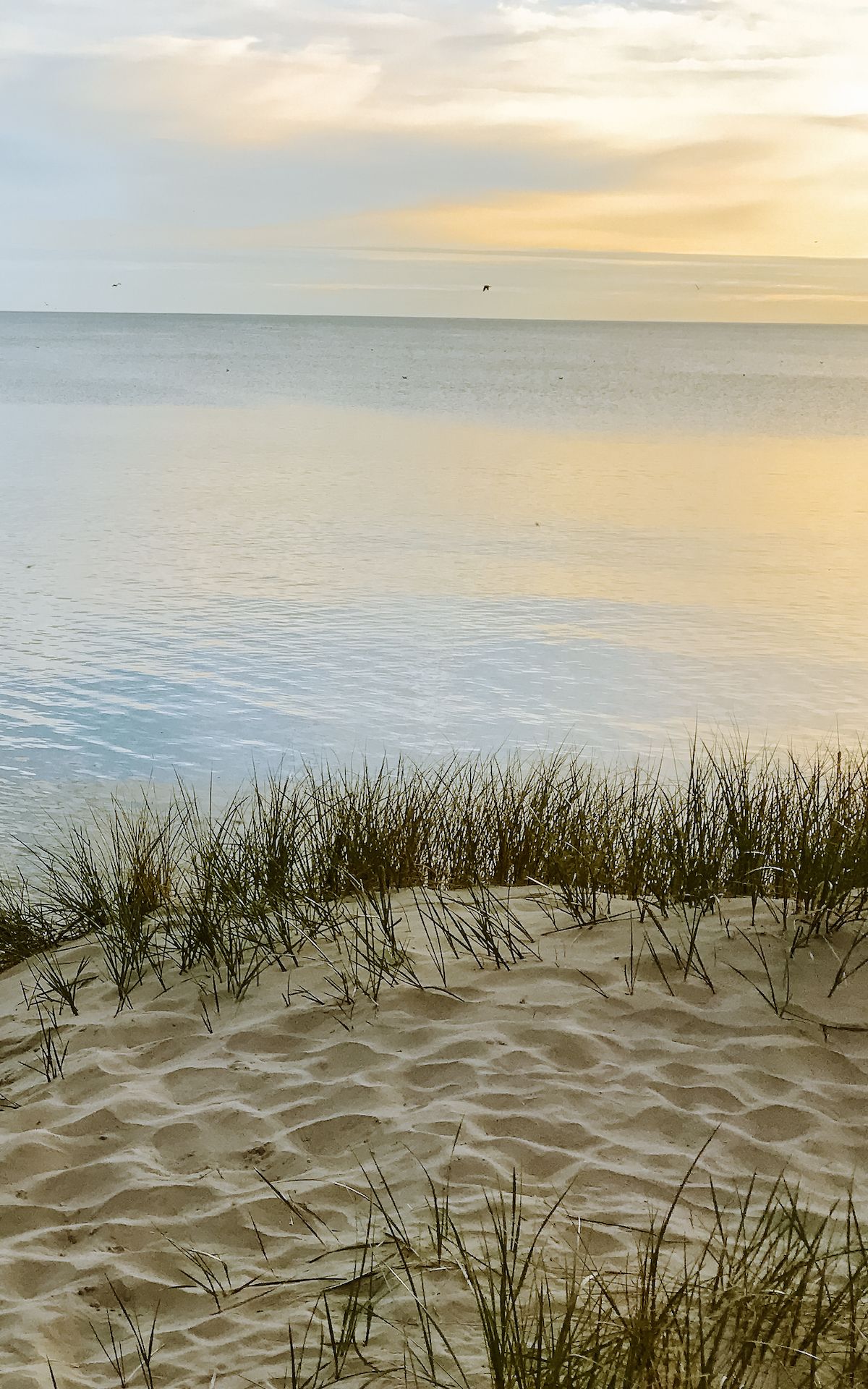 Best for: a romantic camping trip near a lake
Looking for a cheap couples getaway in Ontario? Camping is one of the best ways to do it.
Nestled along the shores of Lake Ontario, Sandbank Provincial Park's sandy dunes and scenic lake views set the stage for a romantic adventure. Take a refreshing swim in the lake, cook a hearty camping meal together, make S'mores around the campfire and enjoy the starry night sky.
A perk of camping at Sandbanks Provincial Park is that you're just a 15 minute drive away from the historic town of Picton and about a 20 minute drive away from the wineries surrounding Wellington. Camping at Sandbanks is a great way to combine a trip to the outdoors with the fun activities that Prince Edward County has to offer.
⛺ Reserve your camping spot online with Ontario Parks.
Best time to go: summertime when the weather is nice for swimming
Distance from Toronto: 2.5 hrs - 4 hrs depending on traffic
We hope you enjoyed these romantic couples getaways in Ontario!
---
Start planning your romantic getaway in Ontario
🧳 Book your accommodation: Booking.com is our go-to for finding places to stay. Sort by top reviewed.
🚗 Car rental: see Rentalcars.com to compare car rental prices across different companies.
---
Want to explore more of Canada?
Check out these BC & Alberta travel guides:
---
Save and pin these romantic getaways in Ontario for later: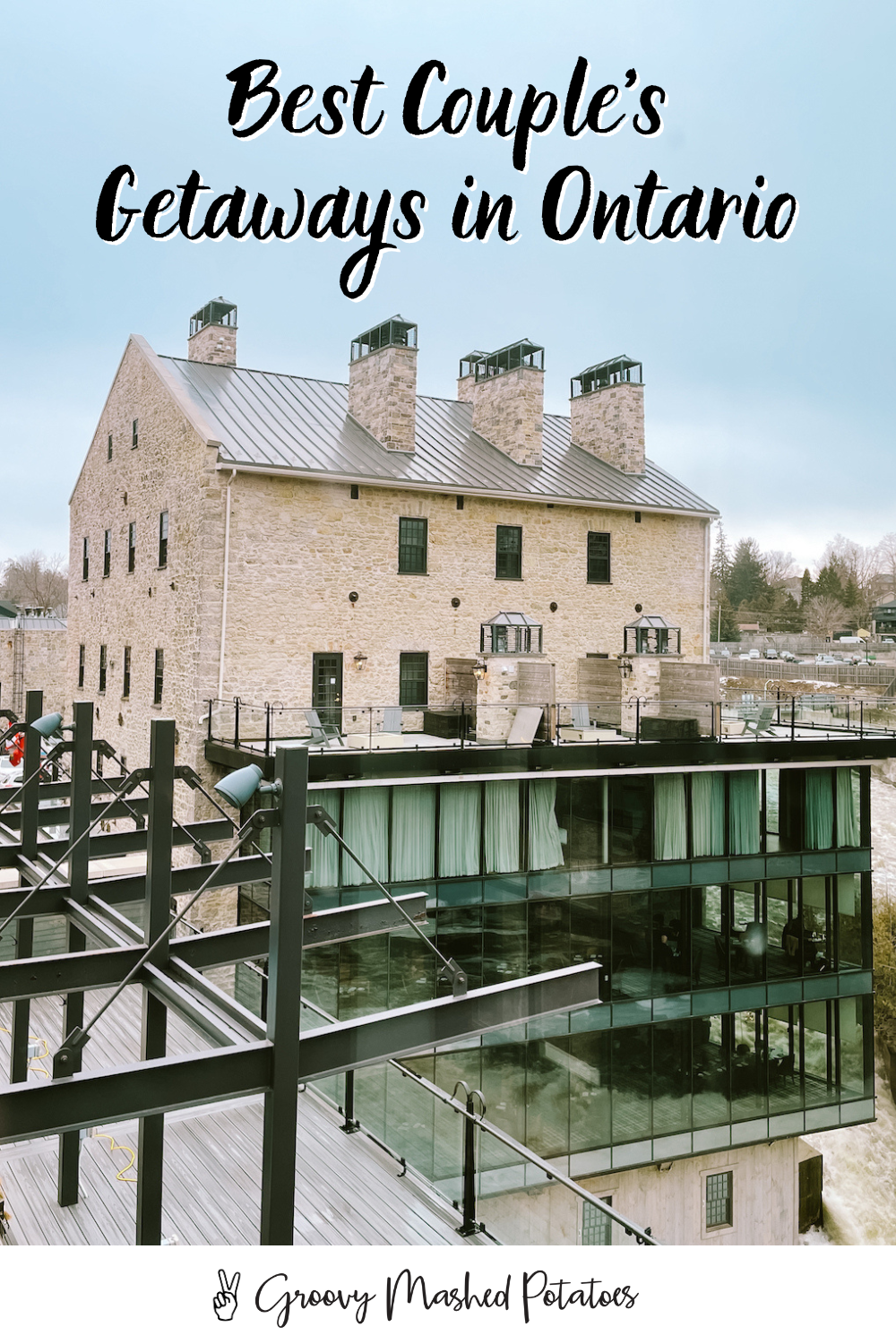 ---
You might also like: