From nature escapes to food and wine destinations, we list the best short road trips from Toronto. Some of these road trips are perfect for a weekend getaway or even a one night break. We define short road trips from Toronto as a max of 3.5-4 hours with heavy traffic.
7 Short Road Trips From Toronto
Disclosure: Some of the links below are affiliate links, meaning at no additional cost to you, we will earn a commission if you click through and make a purchase. We only recommend products or services we have used or that we believe will add value to our readers. Thank you for supporting us!
7 Quick and Fun Road Trips from Toronto
1. Road trip to Elora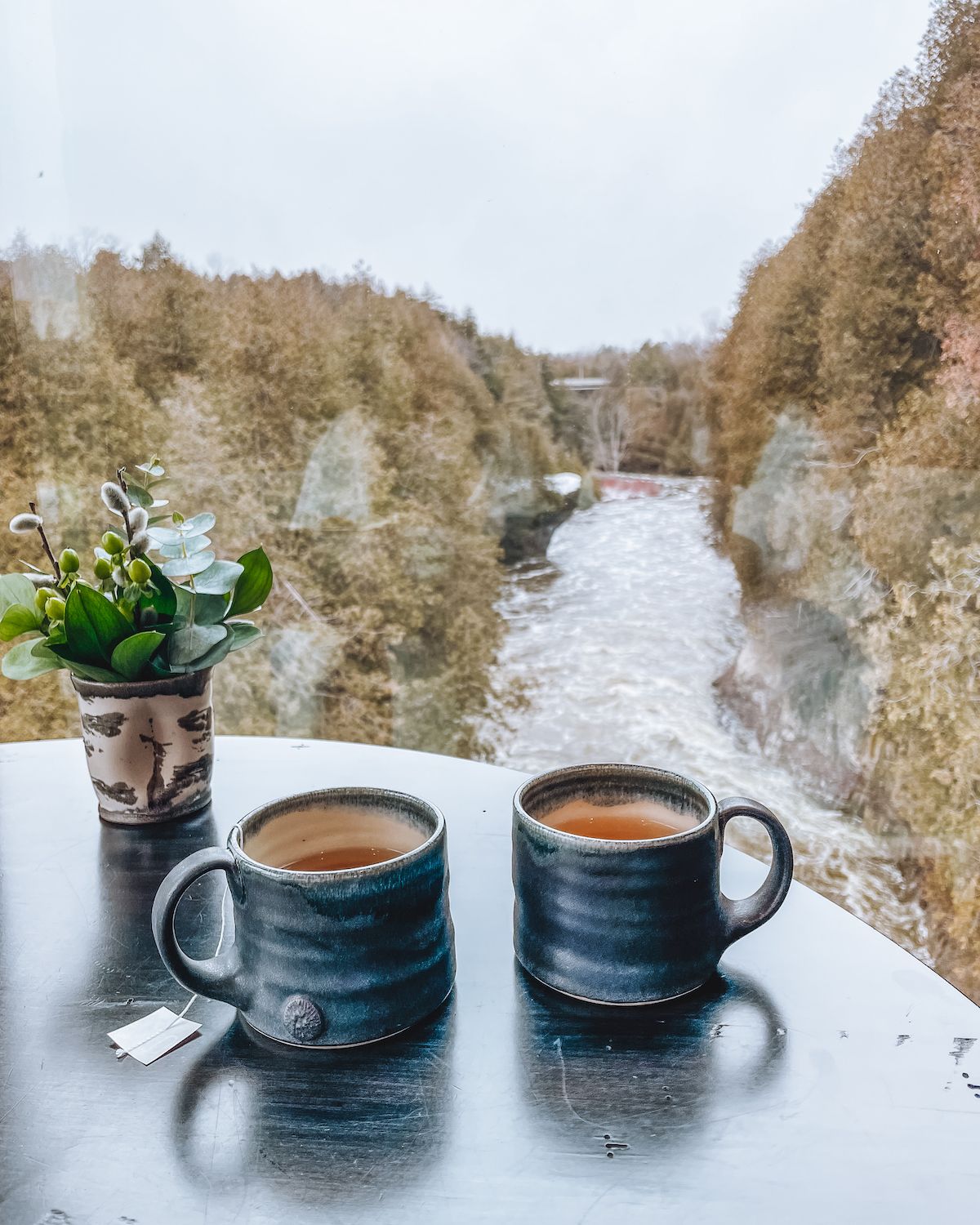 Best for exploring a charming historic village
Drive to the charming village of Elora to discover 19th-century brick and stone buildings home to quirky boutique stores, quaint restaurants and art galleries. Nestled along the Grand River, this small town offers a beautiful setting and many fun things to do.
🛍️ Stroll down Mill Street and head north on Metcalfe Street to uncover an array of quirky shops and boutique stores.
🍦 Stop for ice cream at Sweet Distractions
🍻 Grab a pint of beer at Elora Brewing Company
☀️ On a hot summer's day, take a refreshing swim at the Elora Quarry, a secluded swimming spot surrounded by towering cliffs.
🍽️ Dine at Elora Mill for riverside views from your table
See more relaxing things to do in Elora
Our top hotel picks in Elora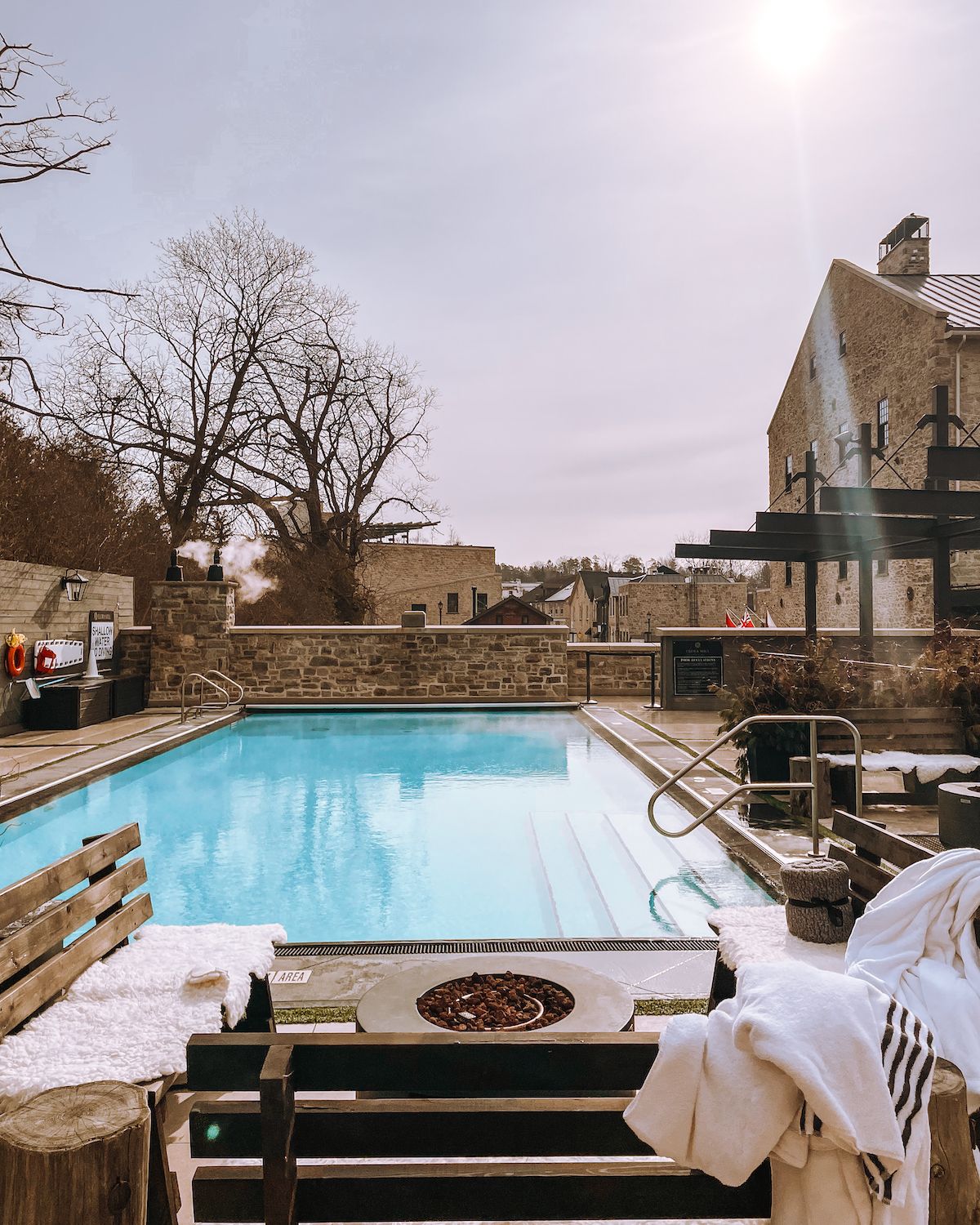 Best for luxury: Elora Mill Hotel & Spa - for a fully-loaded experience 🥔✨, stay in this former 19th century mill turned luxury boutique hotel perched over the Grand River.
Best cozy B&B: Victoria Street Retreat - the charming one-bedroom apartment is tucked away near the Grand River and is just a short walk from Elora's main strip.
Best in the heart of Elora: Etherington Suites - though you're only steps away from Elora's main strip, you'll find solitude in your contemporary suite with peaceful views of the Grand River.
🛏️ See more stays in Elora.
✔️
Top Tip:
You don't have to be a guest at the Elora Mill Hotel & Spa to enjoy its luxurious amenities. Booking a spa treatment grants you two hours of access to their relaxing outdoor pool, hot tub and tea room. Afterwards, dine at Elora Mill's restaurant that has a remarkable view of the rushing gorge from your table.
🛣️ Best time to go: Elora is a year-round destination, offering a cozy getaway even in winter. If you're keen on swimming in the gorge however, plan your visit for summertime.
🚗 Driving time from Toronto: approximately 1.5 to 2.25 hours, depending on traffic. It's one of the best short weekend trips from Toronto.
2. Road trip to Langdon Hall in Cambridge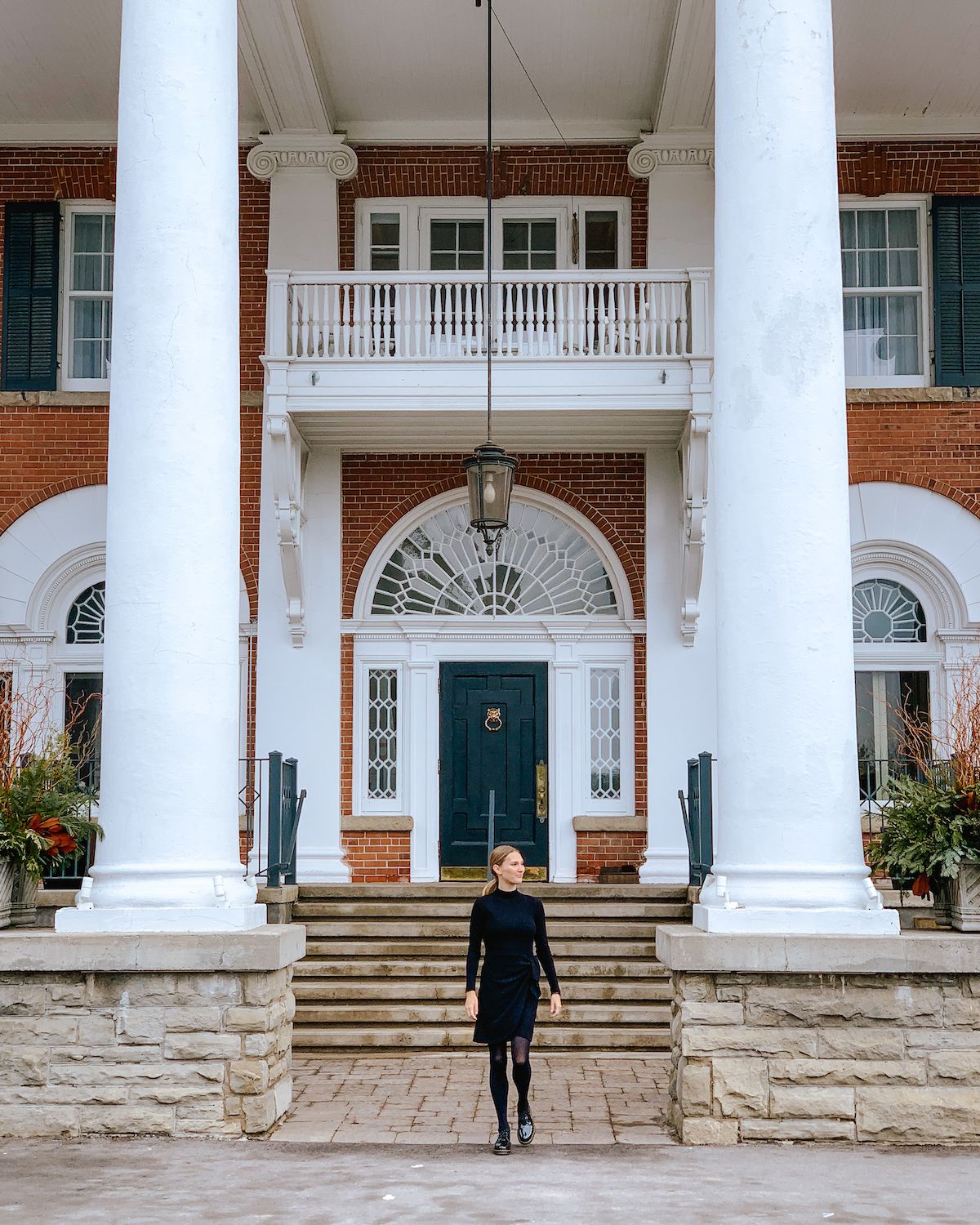 Best for a luxurious stay
Langdon Hall, a stunning countryside estate with a century-old history, offers a luxurious escape for road trippers coming from Toronto.
The Federal-Revival style manor was originally the summer residence of a wealthy Englishman, and now features 60 spacious guest rooms spread across its main house, stables, and cloister wing.
Langdon Hall is part of the Relais & Châteaux luxury brand,
world-renowned for its exceptional collection of landmark hotels and restaurants from around the world.
During your stay, unwind at the spa, indulge in a massage, sip hot tea on their inviting outdoor terrace and go for a scenic walk on 12 km of trails through their gardens and woodlands.
In the evening, treat yourself to dinner at their fine-dining restaurant that consistently ranks in the top ten of Canada's 100 Best Restaurants List. They source their ingredients from their own garden and nearby forest. Afterwards, cozy up by the wood-burning fireplace in your room.
🔍 Fun fact: Langdon Hall made a cameo in Drake's album, Views, with an image of the artist walking a dog in front of the estate.
🛣️ Best time to go: For the best deals and a quieter atmosphere, plan your visit during mid-week.
🚗 Driving time from Toronto: located in the outskirts of Cambridge, Langdon Hall has a travel time of about 1.25-2 hours depending on traffic.
3. Road trip to Elm Hurst Inn & Spa in Ingersoll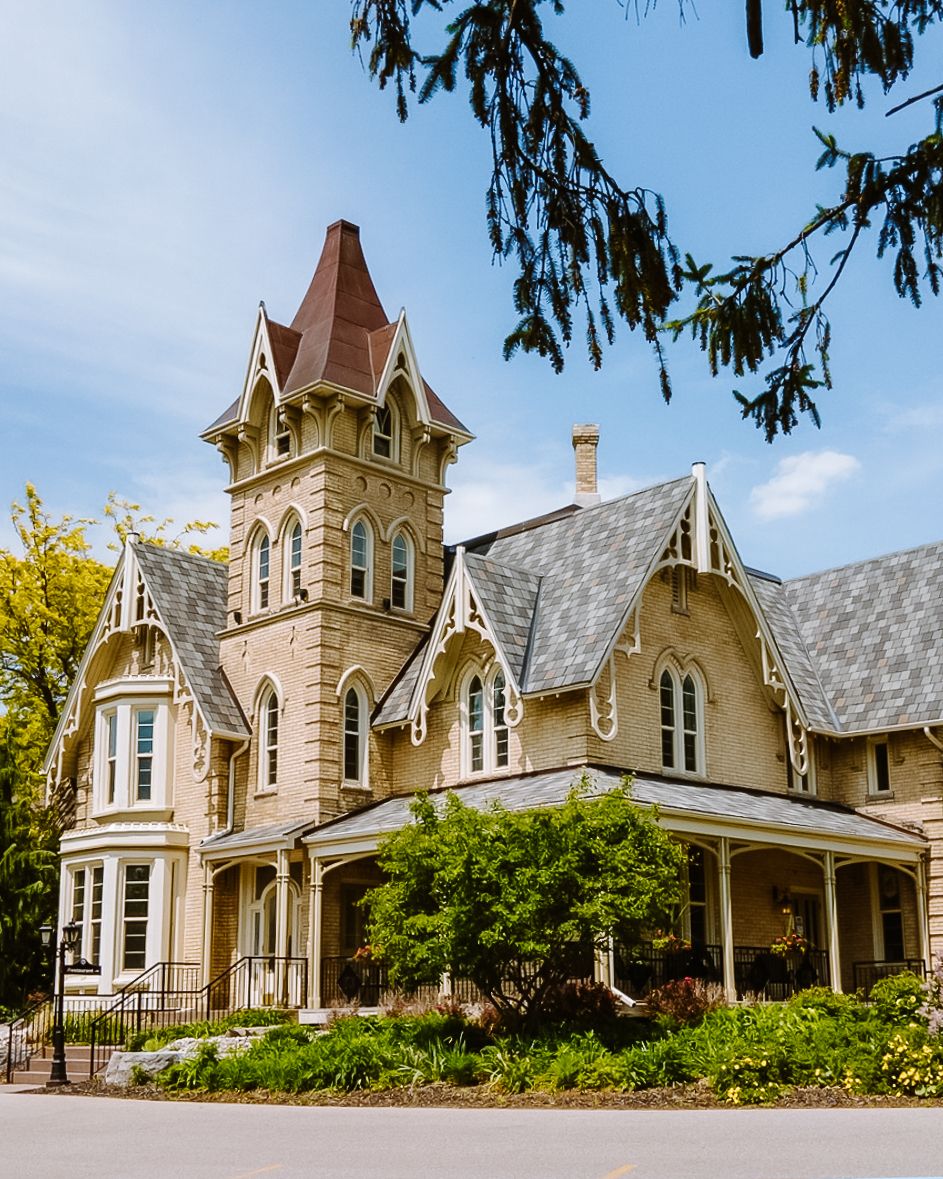 Best for a romantic date
For a romantic getaway surrounded by nature, Elm Hurst Inn & Spa is an excellent choice.
This charming retreat, formerly a cheese factory and 1872 gothic revival mansion, has been beautifully converted into a historic hotel that features a fine-dining restaurant and a full-service spa. Tucked away in the quaint town of Ingersoll, the hotel is enveloped by towering trees and picturesque grounds. It's the perfect road trip to do as a date.
With room rates starting at around $199 CAD per night, it's a great value for a serene escape. See rates.
✔️ Top tip: For a unique experience, watch a movie at the Mustang Drive-In Theatre, just a short 15-minute drive from Elm Hurst Inn & Spa.
🚗 Driving time from Toronto: around 1.5 - 3 hours, depending on traffic.
🛣️ Best time to go: Autumn, when the foliage is painted with vibrant colours.
See more romantic getaways in Ontario
4. Road trip to Prince Edward County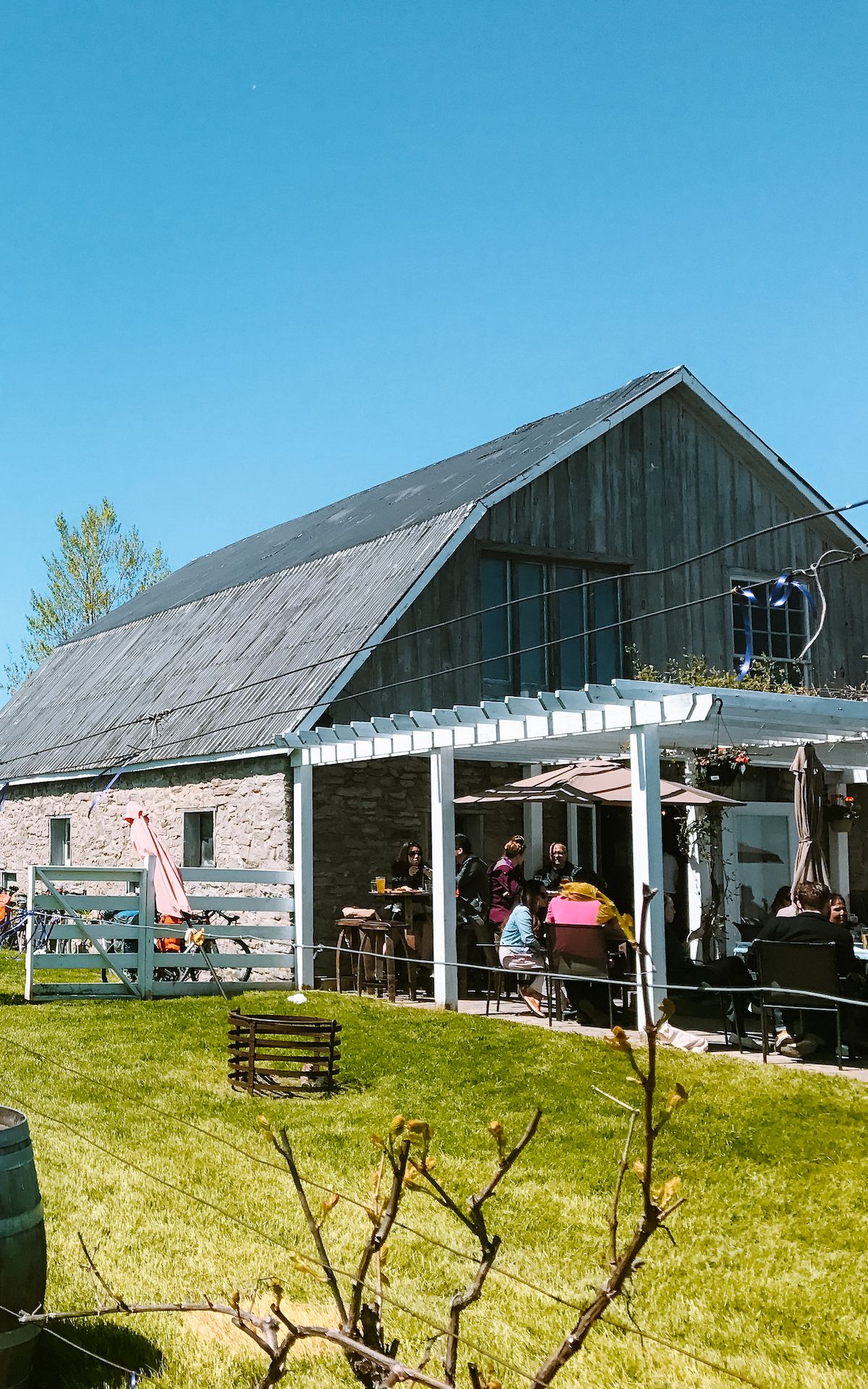 Best for farm-to-table dining & wine tastings
Take a road trip to Prince Edward County and wind through farm roads with vineyards, orchards, quirky barns, quaint towns and pastoral views as your backdrop.
Prince Edward County is renowned as Ontario's gastronomic hub and celebrated for its wineries, cideries, breweries and farm-to-table cuisine. It also happens to be the fastest-growing wine region in Canada, with about 40 wineries.
🍷 Here are some standout wineries in Prince Edward County for wine tastings:
Sandbanks Estate Winery: a relaxing winery known for its award-winning wines and delectable food pairings.
Hinterland Wine Company: a winery set in a former dairy barn, renowned for its sparkling wines.
Karlos Estates: a unique, vegan-certified winery housed in a 200-year-old barn.
Closson Chase Vineyards: a sustainable winery located in a vibrant purple barn.
Rosehall Run Vineyards: a terroir-driven winery that once served as a tomato farm.
🍎🍺 Don't miss The County Cider Company with views overlooking Prince Edward Bay. Take their orchard tour, sample ciders or enjoy a pizza lunch on their outdoor patio.
🎬🍿 In the evening, catch a movie at the Regent Theatre, an old-school cinema and live theatre that opened its doors in 1918 in the charming town of Picton.
Our top accommodation picks in Prince Edward County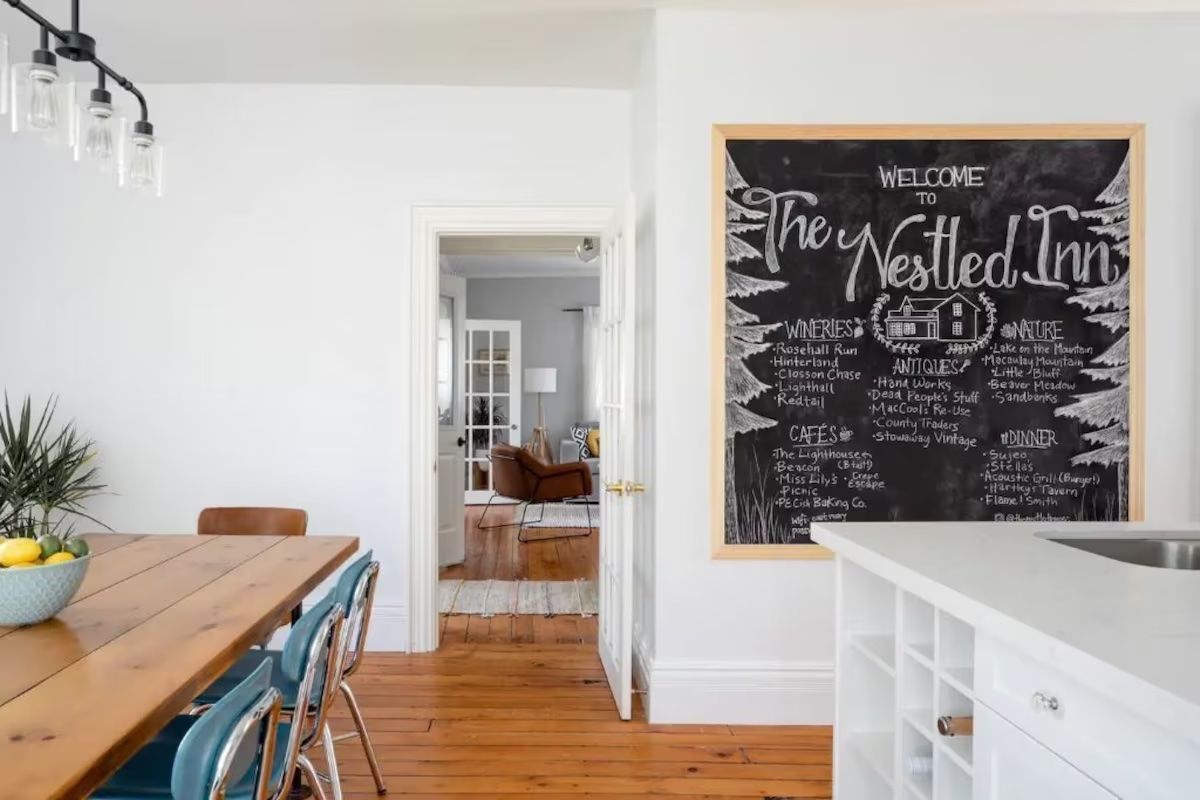 Prince Edward County offers a variety of quirky boutique hotels and charming B&Bs.
Best luxury boutique hotel: Merrill House - this gothic-revival mansion, built in 1878, seamlessly blends old-world charm with contemporary elements.
Best on the lake in Wellington: Lakeside PEC - enjoy unobstructed views of Lake Ontario from the spacious 3 bedroom/2 bathroom home, perfect for traveling with kids or other couples. From Wellington you can easily bike to wineries.
Best in the heart of Picton: The Nestled Inn - a charming restored century home featuring a large private backyard and BBQ
🛏️ Browse more stays in Prince Edward County.
We like to sort by top reviewed.
🚗 Driving time from Toronto: around 2 to 3.25 hours, depending on traffic.
🛣️ Best time to go: summer and autumn when the weather is warm for bike rides to the wineries. Prince Edward County is best done as a 3 day road trip from Toronto, so you have time to see all the sights.
5. Road trip to Sandbanks Provincial Park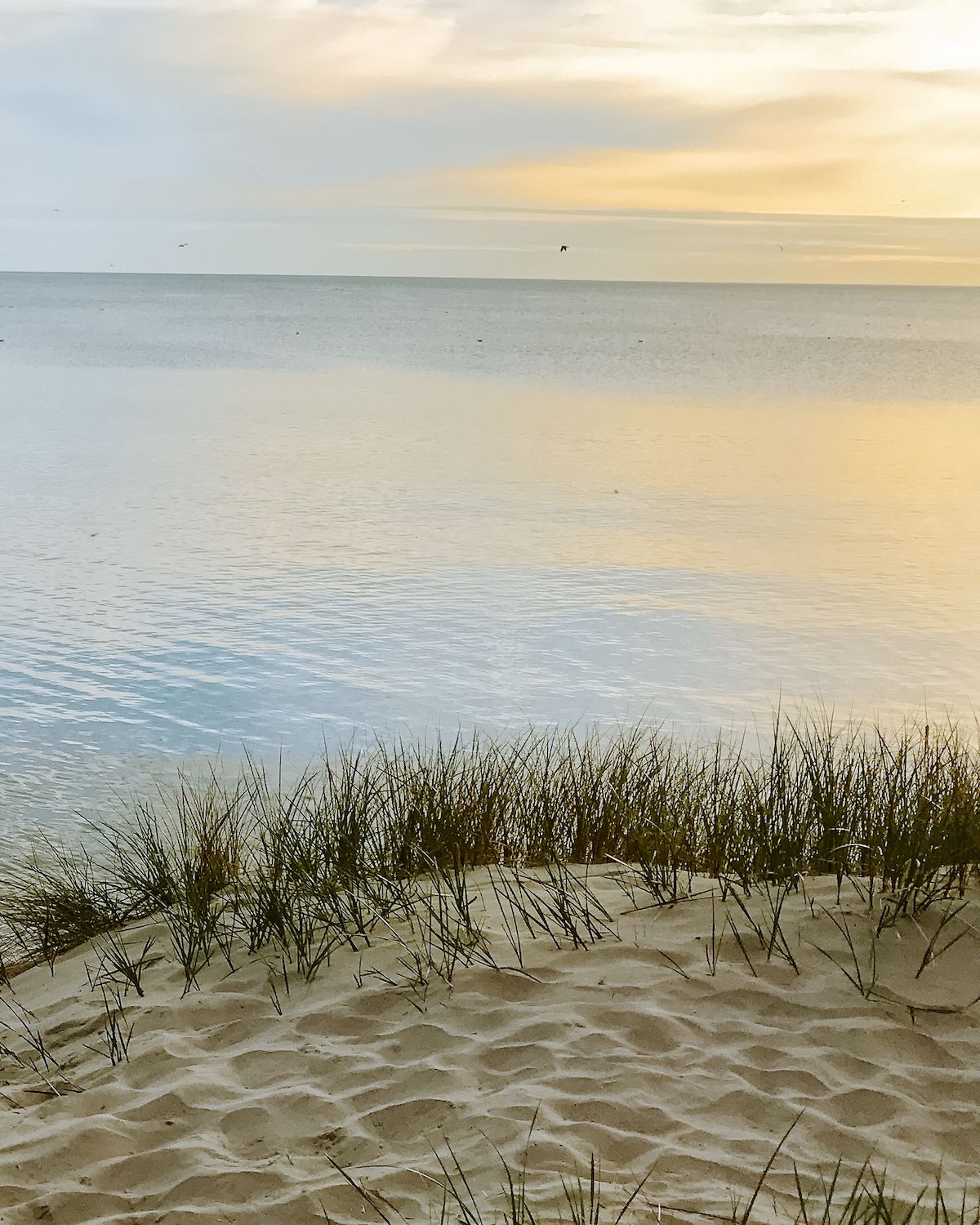 Best for camping near a lake
If you're seeking an affordable road trip from Toronto, consider going car camping at a fun destination. Nestled alongside the shores of Lake Ontario, Sandbanks Provincial Park offers a tranquil atmosphere for your stay. Here, you can take refreshing swims in the lake, roast marshmallows by the fire and gaze at the star-studded night sky.
The best part about camping here is that you are close to the historic town of Picton and the wineries surrounding Wellington. Camping at Sandbanks seamlessly combines an outdoor adventure with the enjoyable activities that Prince Edward County has to offer.
⛺ Reserve your camping spot online with Ontario Parks.
🛣️ Best time to go: summertime, when the weather is perfect for swimming in the lake
🚗 Driving time from Toronto: plan for a 2.5 to 4-hour drive, depending on traffic.
6. Road trip to the countryside near Blue Mountain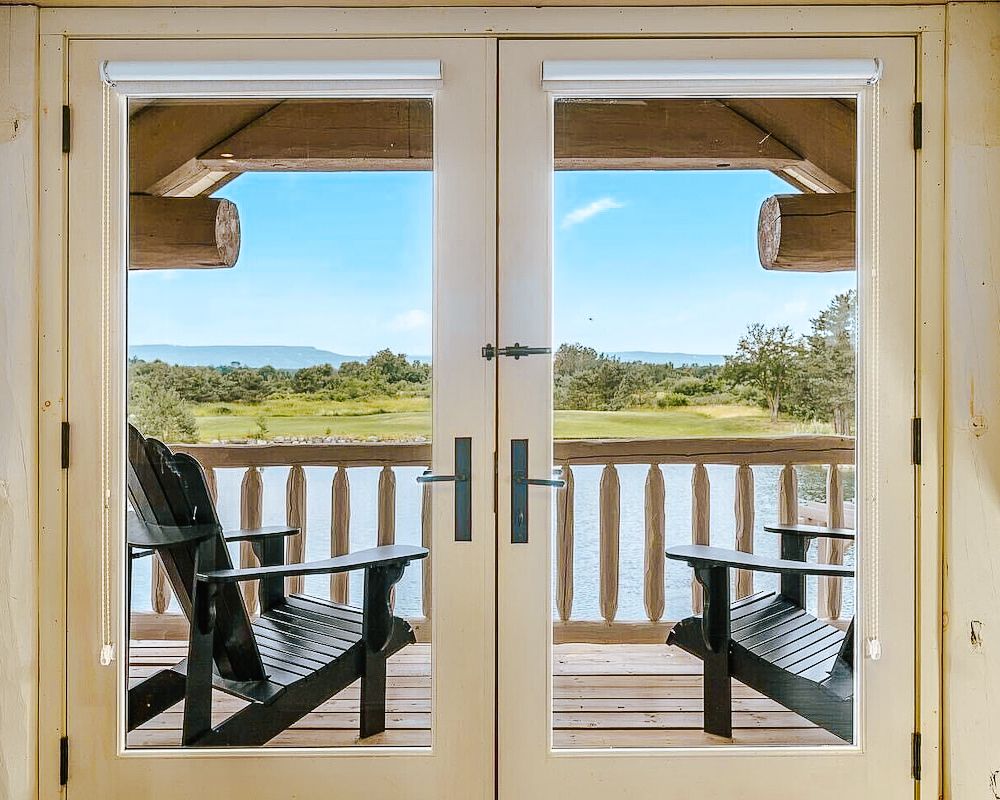 Best for a nature escape in a unique space
While Blue Mountain bustles with tourists on weekend getaways, ski trips and celebratory parties, venturing beyond the resort town quickly reveals a serene countryside with quaint villages and off-the-grid adventures. It's a quick road trip from Toronto to reconnect with nature.
Here are our top 3 unique b&b picks near Blue Mountain, from glamping in a geodesic dome to cozying up in a pioneer cabin from the 1840s.
Best cabin stay for a couple: Exquisite Log Cabin Retreat - a custom-crafted log cabin tucked away in a peaceful location, offering views of a spring-fed pond. It's the idyllic setting for relaxation and rejuvenation.
Best cabin stay for families or travelling with friends: Cozy Cabin with Hot Tub - the three-bedroom 1840s pioneer cabin is the rustic escape you're looking for to share with family or friends. Its spacious patio outside invites you to enjoy BBQ meals and there's even an outdoor hot tub to unwind in.
Best for a unique stay: One-of-a-kind Dome Stay - the geodesic dome offers a magical glamping experience, with its bohemian decor and forest views.
🛣️ Best time to go: all year round
🚗 Driving time from Toronto: 1.75 hrs - 3 hrs, depending on traffic
7. Road trip to Niagara Falls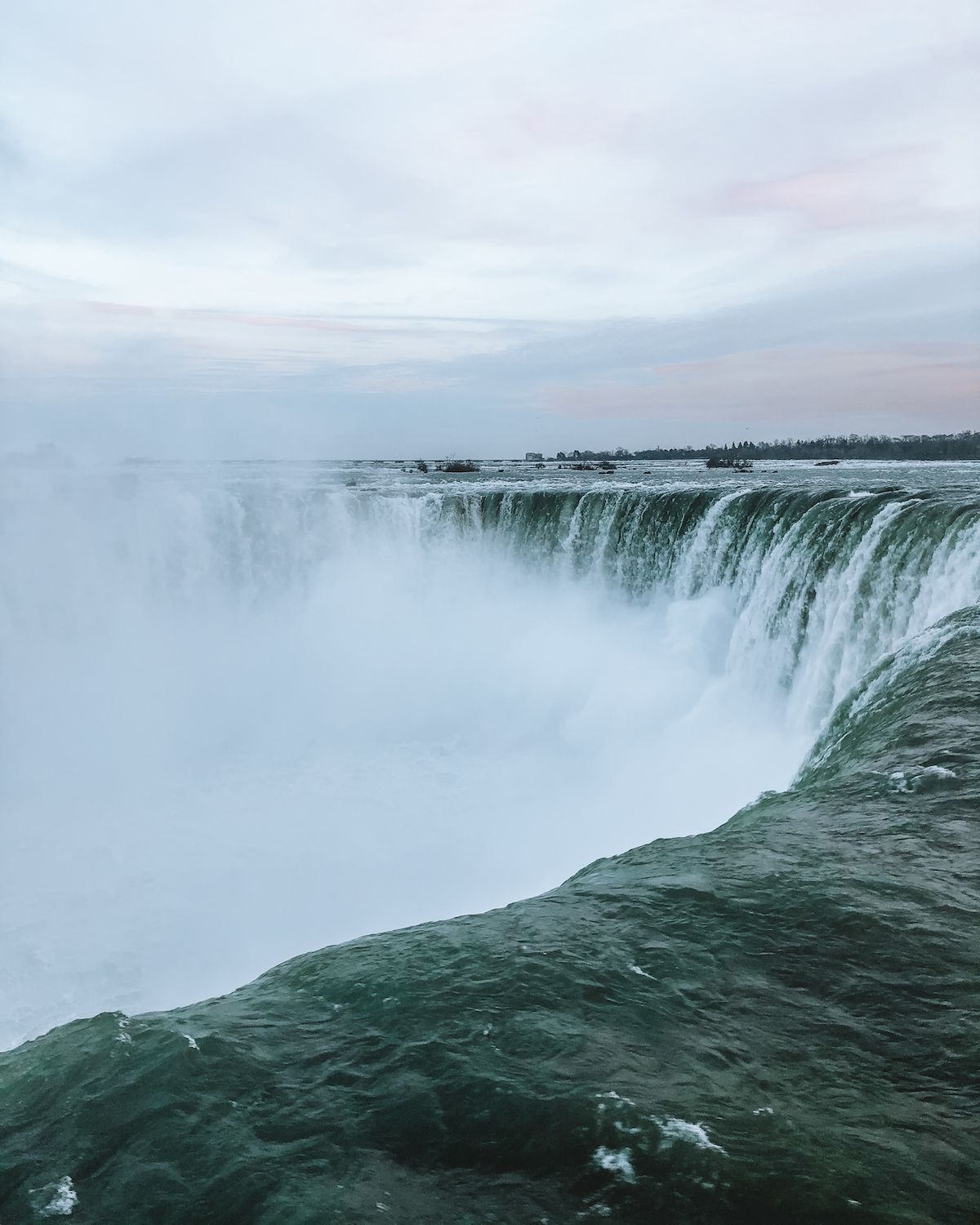 Best for entertainment
Niagara Falls is an exhilarating city, often likened to Canada's own mini Las Vegas, with its neon-lit strip adorned with quirky attractions, bustling casinos, American-style restaurants, towering hotels and ferris wheel. It's a fun road trip from Toronto filled with entertainment.
Have some fun along Clifton Hill, the main strip, where you'll encounter a range of quirky and slightly kitschy attractions like haunted houses, Ripley's Believe It or Not, mazes and arcade games.
Cap off the experience with a ride on the ferris wheel or try your luck at the Fallsview Casino Resort.
However, the undeniable star of Niagara is its awe-inspiring, larger-than-life waterfalls, some of the largest on the planet. The Canadian Horseshoe Falls, in particular, stands out as the most impressive and renowned. Here, you can get astonishingly close to the edge, almost feeling like you could reach out and touch the cascading waters.
There are several ways to experience the falls:
From the edge:
You can take the Hornblower Niagara Funicular to the pathway, where a cliffside stroll provides up-close views of the falls as they plunge over the cliff.
Up close:
For an immersive experience, get a ticket for the
Journey Behind the Falls
. Alternatively, get wet on the
Maid of the Mist
boat tour, which takes you to the base of the falls.
From above:
visit the
Skylon Tower Observation Deck
for a bird's-eye view of the falls. Another thrilling option is a
scenic helicopter flight
over this natural wonder.
Our top hotel picks with a falls view: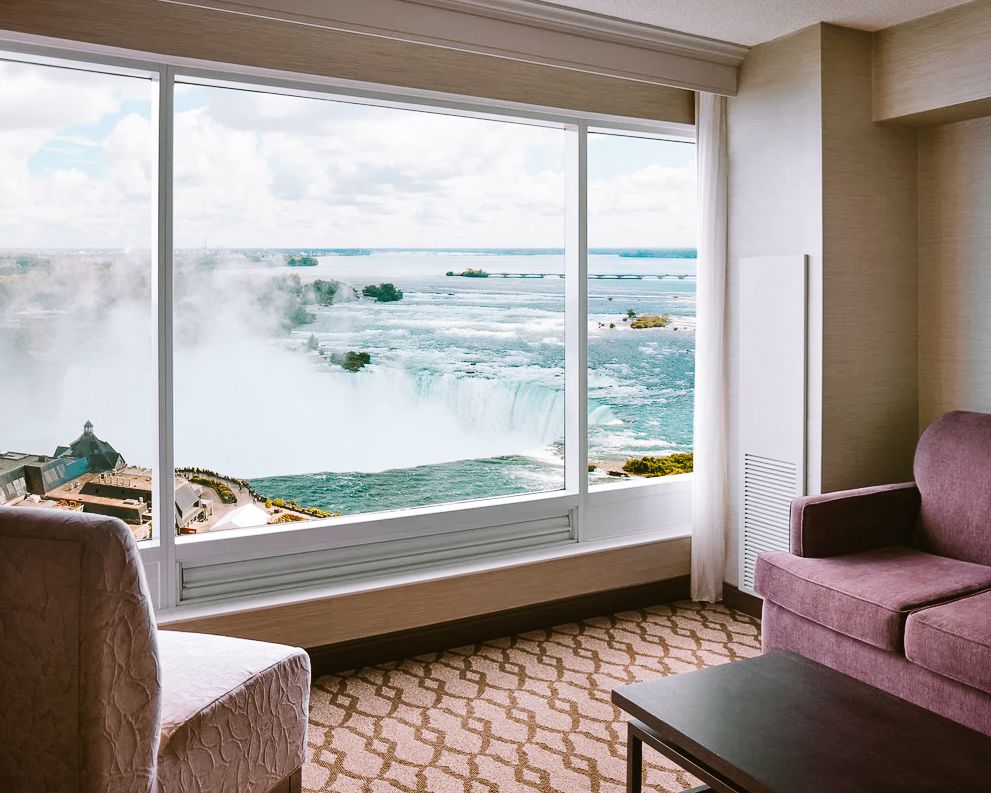 Niagara Falls is renowned for its skyscraper-like hotels that offer breathtaking views of the falls from your room.
✔️ Top tip: watch out for misleading photos that make you think the hotel is right by the falls, when it's not.
🛣️ Best time to go: for the best prices and fewer crowds, consider November - March, particularly on weekdays. If you prefer warmer weather, June and September are great choices. We recommend avoiding peak tourist season in July and August.
🚗 Driving time from Toronto: approximately 1.5 to 3 hours, depending on traffic
We hope you enjoyed these short road trips from Toronto!
Don't miss our other Ontario travel guides:
---
Start planning your fun road trip from Toronto
🧳 Book your accommodation: Booking.com is our go-to for finding places to stay. Sort by top reviewed.
🚗 Car rental: see Rentalcars.com to compare car rental prices across different companies.
---
Save and pin these quick road trips from Toronto for later