Bangkok is the best place in the world to have a luxury weekend. Why? Excellent value and a vast selection of experiences to indulge yourself in. The selection of five star hotels, rooftop bars, Michelin star restaurants, unimaginable shopping malls and lavish spas are almost too much to choose from. But, best of all, experiences here come in at very reasonable prices when compared to other major cities like Tokyo, New York and London. Our 3 day Bangkok itinerary is sure to spoil.
Renowned with wild nights, kind of like Las Vegas, our visions of the city are inspired by Murray Head's song One Night In Bangkok. I think that hit record may have played a part in inspiring travellers from over the world to visit and have their own "one night". So, after living off beans and toast in a hippie van in New Zealand for 20 days, we resolved to spoil ourselves.
We planned to stay at the exquisite Peninsula hotel, shop for dinner outfits, dine at 2-star Michelin restaurant, drink cocktails at glamorous rooftop bars, and spend a day at the Mandarin Oriental Spa. It was time for us to have our night in Bangkok.
An extravagant 3 days in Bangkok
Day 1: Settle in and enjoy your luxurious stay at The Peninsula
Day 2: Shop for the perfect outfit, dine at a 2-star Michelin restaurant and drink cocktails at rooftop bars with world-class views
Day 3: Have a relaxing spa day in a private suite at the Mandarin Oriental spa
---
3 Day Bangkok Itinerary
Disclosure: Some of the links below are affiliate links, meaning at no additional cost to you, we will earn a commission if you click through and make a purchase. Regardless, we only recommend products or services we have used or that we believe will add value to our readers.
Day 1- Settle in and enjoy your luxurious stay at The Peninsula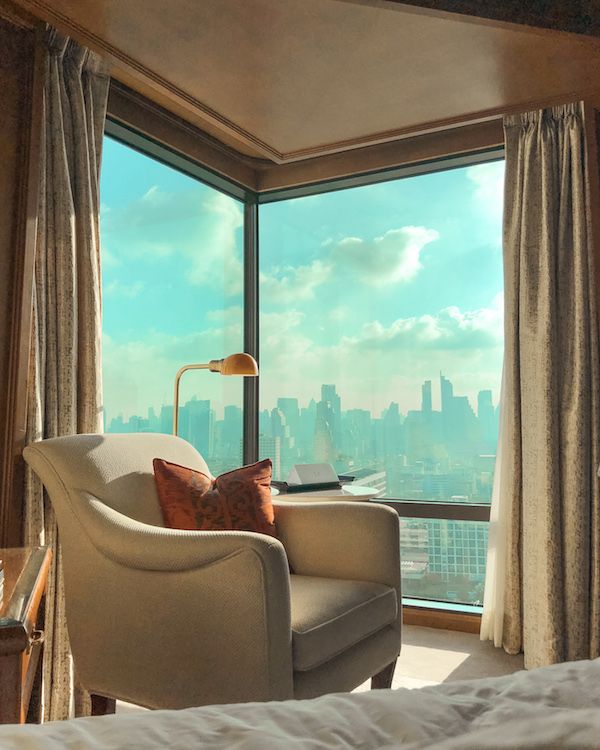 Your stay already started when you booked your room at
The Peninsula
. The concierge, always quick responding, is ready to take any request. To amp up your arrival you can order one of the hotel's BMW 7 Series cars to pick you up at the airport. You will enjoy the comforts of the luxury vehicle as you wait in Bangkok's notorious traffic. Hotel to airport transfer can take between 40 minutes to an hour.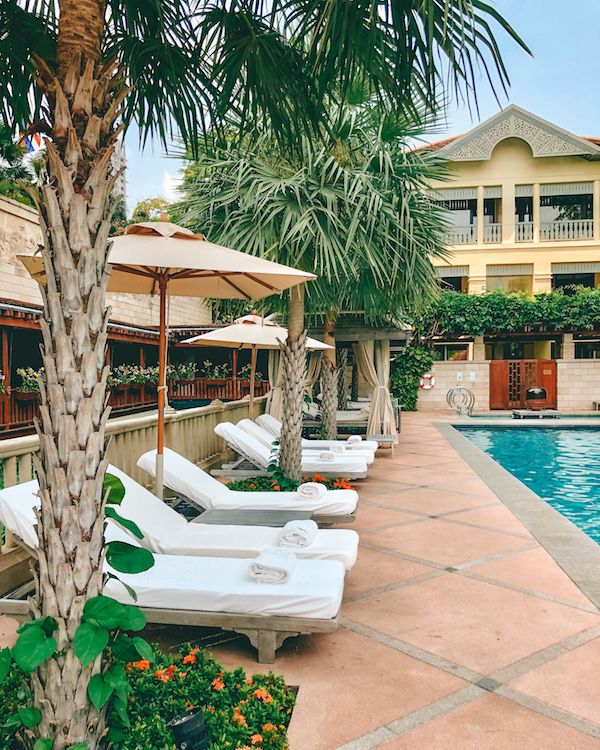 There is no need to leave the hotel today. It's time to make the most out of the amenities like the beautiful outdoor pool where you can order unlimited iced teas to keep you cool . The sushi box was excellent, light and refreshing.
We also recommend going to The Peninsula's renowned afternoon tea located at The Lobby. You will see a nice view of the Chao Phraya river from the large windows.
Fun tip: Celebrating something special? Ask the concierge to have a bottle of bubbly waiting in your room on arrival.
Day 2 - Shop for the perfect outfit and go out for fine dining and rooftop cocktails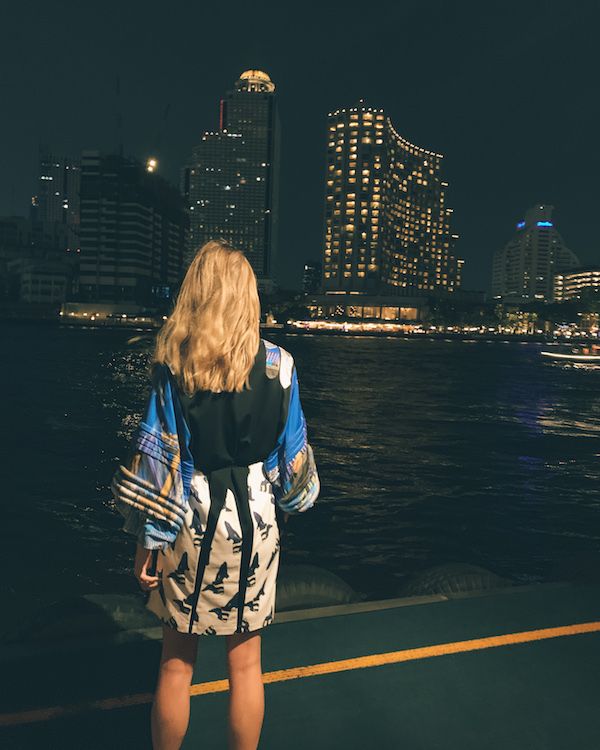 Start your morning with the lavish buffet at the Peninsula. Sit back and watch life float by on the Chao-Phraya river as you enjoy fresh smoothies, dim sum and a plate of yummy bacon.
Today is the day to explore the great retail wonderland of Bangkok. Deciding on what mall to go to may be more difficult than deciding on what you're going to wear for dinner that evening. But, never fear! We've picked some great options for all budgets.
Start by hopping on the free, private Peninsula taxi boat to ICONSIAM, Bangkok's newest luxury mall. On the ground floor there is an authentic local market selling all sorts of local goods and street food. There are plenty of shops here and the place was almost empty when we went.
MBK Center and Siam Paragon are two malls that have just about everything you can imagine. Crossing on foot between them you will find a plethora of local vendors selling unique items at great prices. The area is called Little Siam. You're going to need a long afternoon for all of this browsing! If you can only stop at one spot skip ICONSIAM and head to the malls and Little Siam.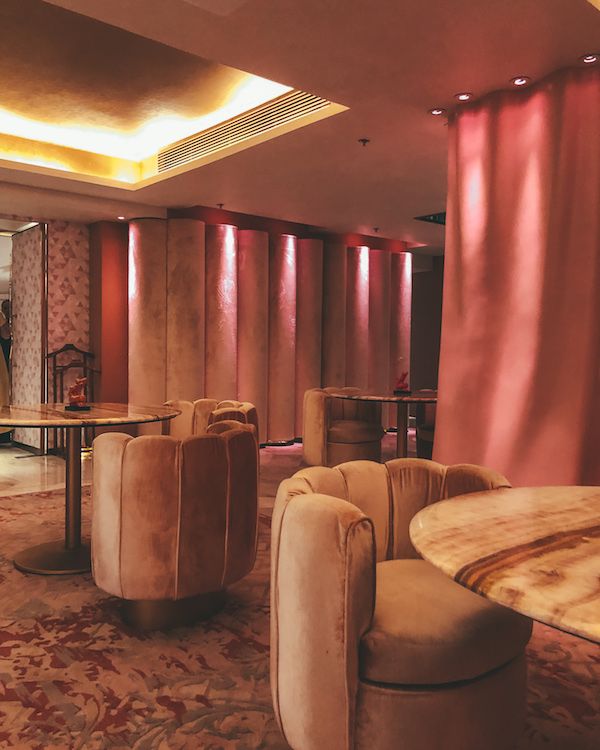 It's time to get dressed and head for your big night out! Grab the ever so handy Peninsula water taxi and cross the river, it's a short walk to the Lebua hotel. Dubbed "the world first vertical destination", you could spend several evenings at any one of their 13 restaurants and bars or do as we did; hop around most of them after dinner.
On our way up the elevator to eat at Mezzaluna we were whisked away to their newest addition, Pink Bar. Marvel at the 1950s design and the view from the 61st floor. Careful here, prices are by the glass not the bottle. One glass can set you back $100 and we made that mistake. Oh well, it wouldn't be one night in Bangkok without some surprises.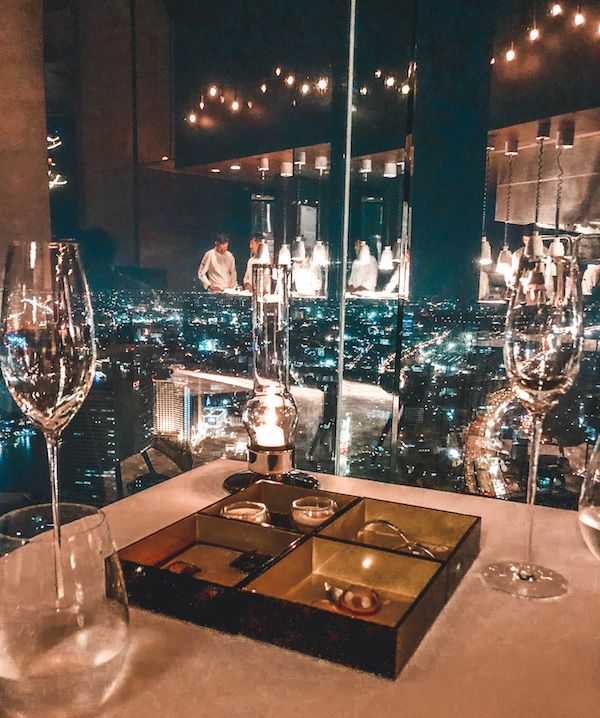 You will be escorted up to Mezzaluna on the 65th floor, dinner with a view. YES! Expectations were running high for our first Michelin two-star establishment. Chef Ryuki Kawasaki's menu smashed our expectations, many times as a matter of fact. I couldn't believe the attention to detail and the new flavours. We learned how they source their ingredients, from the A5 wagu beef from Ryuki's home town to the painstakingly chosen chocolate grower. This is a meal to remember.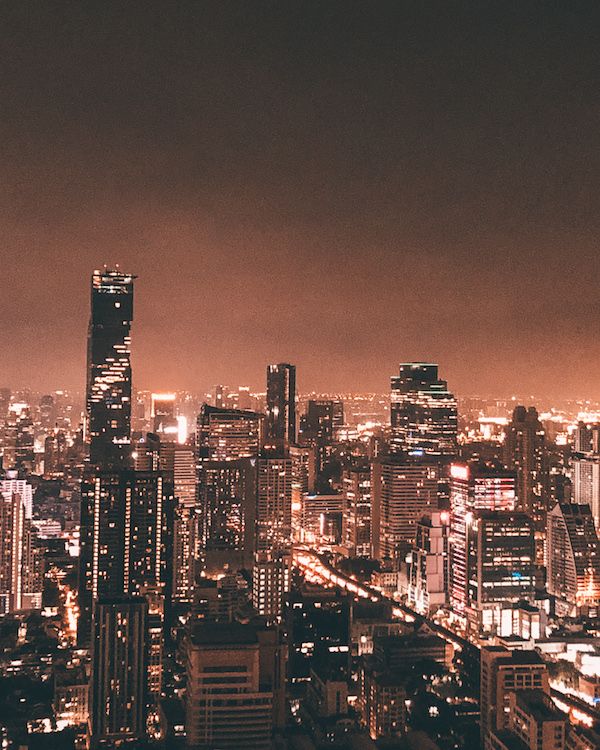 If you can manage it, it's time to turn up the energy and continue your night at some of the hotel's glamourous rooftop bars. One is the famous Sky Bar that was featured in The Hangover 2 movie. Unfortunately, Sky Bar was not impressive. The bar has a beautiful view but everyone's there to grab a selfie. There was no vibe and the music was cheesy.
Of the bars we visited, the one that had the best ambiance and made us feel like, yes we're in Bangkok, was Alfresco 64. They played great music and the whisky cocktails were delicious. The perfect mood.  
Day 3 - Unwind and relax at the Mandarin Oriental Spa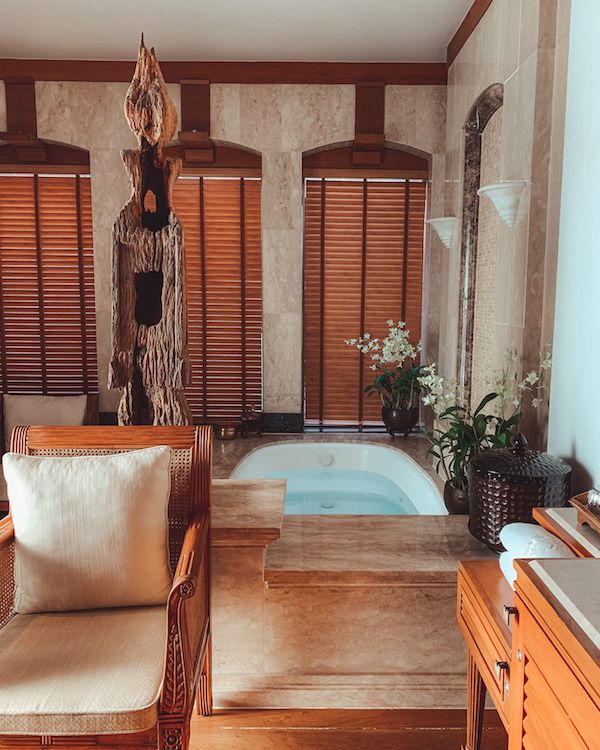 Don't be ashamed if you wake up past breakfast time. If you got the wine pairing last night and headed to the Lebua bars you have earned, ROOM SERVICE! The Peninsula room service is just excellent, it's like eating at a restaurant in your own room, hot, fresh and plenty of options. If you feel like venturing outside your room, go for an afternoon tea in the lobby bar.
Unwind and enjoy yourself. Today, your only task is to take the river taxi to the Mandarin Oriental spa.  
The Peninsula spa was booked the entire weekend so the concierge graciously booked our treatments at the Mandarin Oriental Spa next door. Ari had the best massage of his life and was glowing for days after. We made sure to get the Oriental Suite for our treatments. This was a real bonus because we were both treated together in the same room and we also got to relax for 30 minutes in the jacuzzi tub and steam shower to detox before we got our massages.
Enjoy your last evening. It was back to a hostel for us the next day and then onward to Koh Lipe, Thailand's secret island paradise.
🥔✨ Fully Loaded Experience: Order a helicopter to pick you up or drop you off on The Peninsula hotel rooftop helipad! It's the fastest and most scenic way to the airport.
To Do List
Save and pin this luxurious 3 day Bangkok itinerary for later: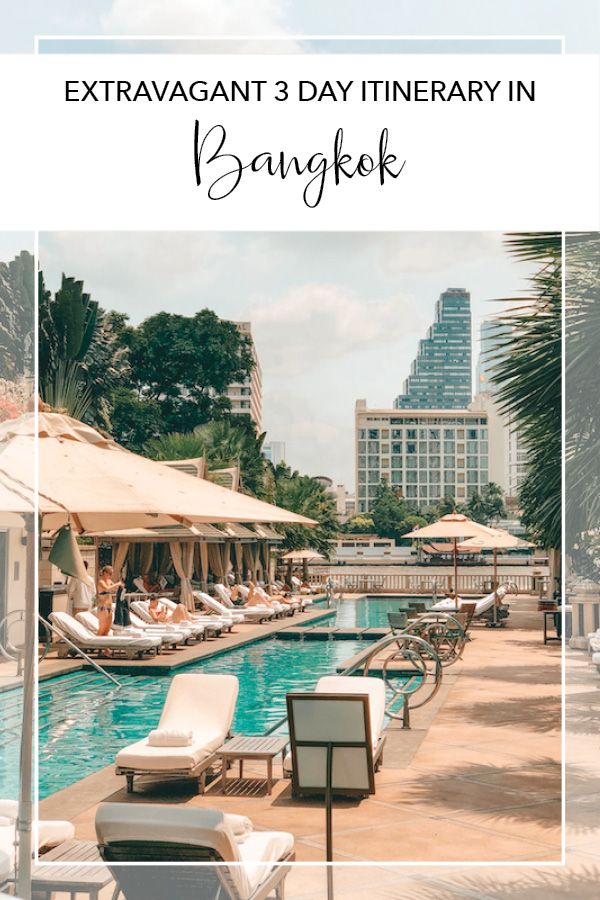 ---
Looking for more travel inspiration? Check out our list of 20 Dreamy Relaxation Trip Ideas