The serene and mountainous region of Munduk is the perfect addition to your trip to Bali. Just 1.5 hours north of Ubud, a completely different landscape from the south awaits you.
In Munduk Bali you'll find amazing waterfalls you can swim in, gorgeous lakes, stunning temples without as many tourists and a glimpse of Bali's authentic countryside with rice terraces and coffee plantations. We loved how beautiful and quiet it was in this region!
Munduk Bali Itinerary
---
Disclosure: Some of the links below are affiliate links, meaning at no additional cost to you, we will earn a commission if you click through and make a purchase. Regardless, we only recommend products or services we have used or that we believe will add value to our readers.
Best Time to Visit Munduk Bali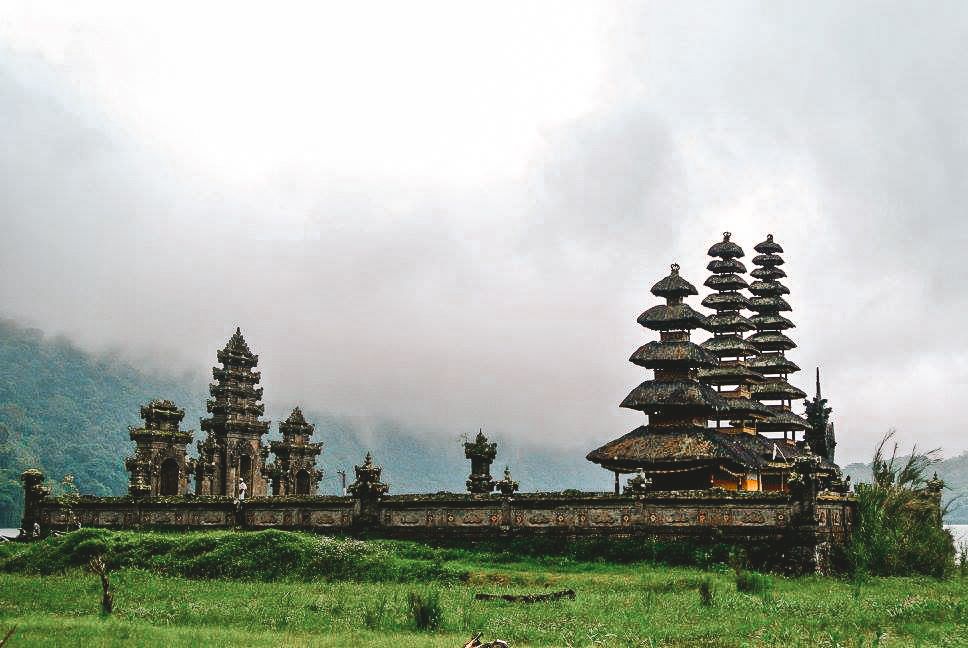 Because Munduk is located up in the mountains at an altitude of 800m, the climate is cooler, less humid and rainier than the south. The best time of year to visit is between May-October, during Bali's dry season. We were there in December and it rained quite a bit.
Although the temperature is warm throughout the year, it can get chilly at night, so bring a light rain jacket!
How to get around Munduk Bali
The cheapest and most fun way to get around Munduk is by renting a scooter. It will cost you around 100,000 IDR ($7 USD) per day. You can usually rent scooters directly from your hotel.
If you're uncomfortable driving a scooter, the easiest way to get around the region is by hiring a private driver. You can either book directly from your hotel (which is usually pricier) or contact a third party for quotes. We usually contact our favourite private driver, John Coffee (Whatsapp +62-813-3844-4945), who sets us up with drivers from the area.  The price is fair and our drivers always arrive on time with clean professional vehicles. It should be around 500,000 IDR (~$35 USD) for a full day of sight-seeing.
Where to stay in Munduk Bali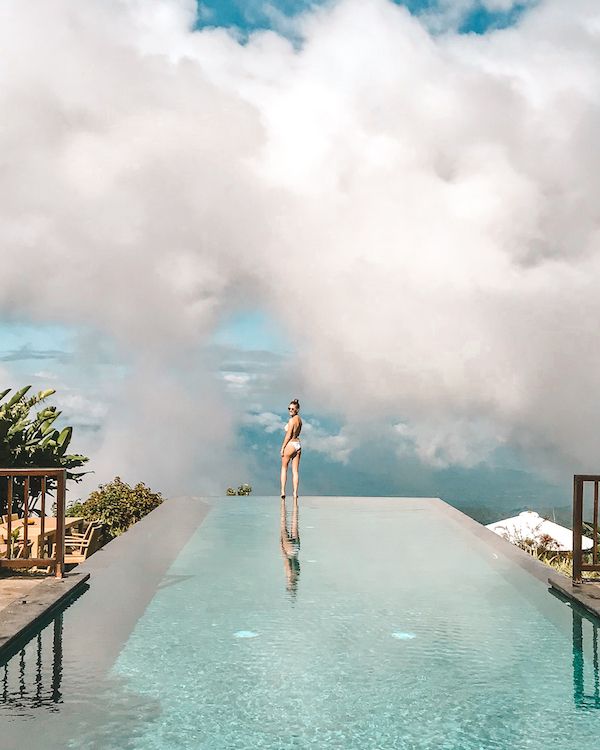 There are lovely hotels and homestays in the region to choose from, but we couldn't resist the infinity pool at
Munduk Moding Plantation Nature Resort & Spa
. It feels like you're on the edge of the world, floating in the clouds!
It's the ultimate bucket list hotel to stay at in the region.
The mountain-top eco-luxury resort is nestled within an organic coffee plantation and has two large infinity pools, a hot tub and a restaurant. Major attractions of the region are only a 5-15 minute drive away.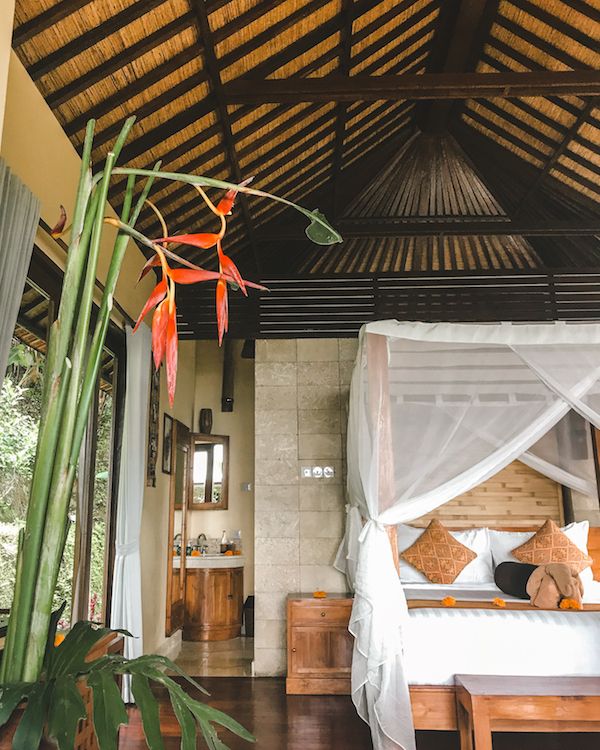 When we first arrived at
Munduk Moding Plantation Nature Resort & Spa
, we were ecstatic when we were told we were given a free upgrade! Our private bungalow located a bit down the hill was very spacious, with an unobstructed view of the rainforest.
The hotel has been renovated and some of the luxury villas now include their own private infinity pool or hot tub. The boutique hotel is very popular, so make sure you book in advance to avoid disappointment.
Rooms start at $185 USD -$215 USD per night for two people depending on the time of year you travel. For a luxury villa with a pool, prices range around $378-$519 USD per night, depending on when you travel.9
2 Day Munduk Bali Itinerary
Day 1 in Munduk
Today will be about settling into your hotel and enjoying the surroundings. With under two days in Munduk, make sure to fit in some quality time to relax and take in the nature around you.
Settle into your beautiful private villa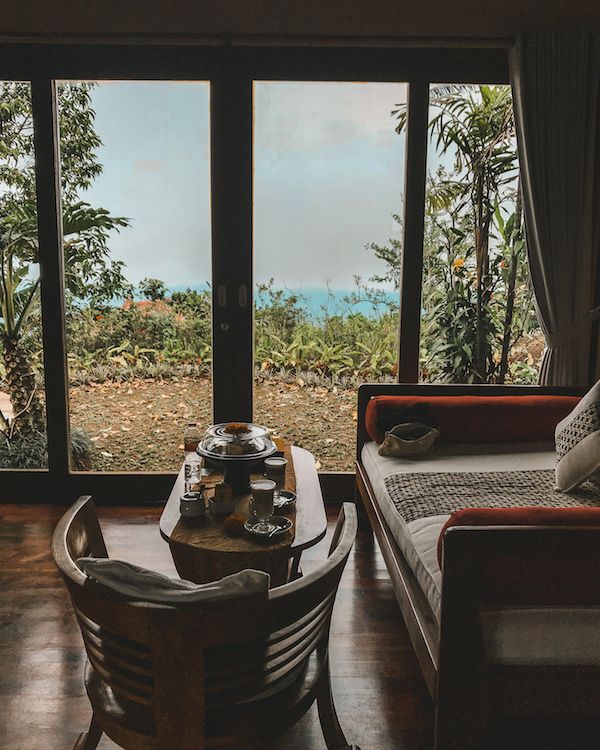 You've arrived at your own private villa! Get acquainted with your new home and take in those breathtaking views. Enjoy the peace and quiet.
Have a Munduk coffee tasting
Munduk used to be one of the most productive places to grow coffee until the coffee market crashed in the 1990s and farmers deserted the area to make different crops. In 2009, a European and Balinese team planted Arabica seeds in the area and created the Munduk Moding Plantation and Resort to preserve the history of Bali's high-quality coffee in the region. It created many jobs and helped revive the region.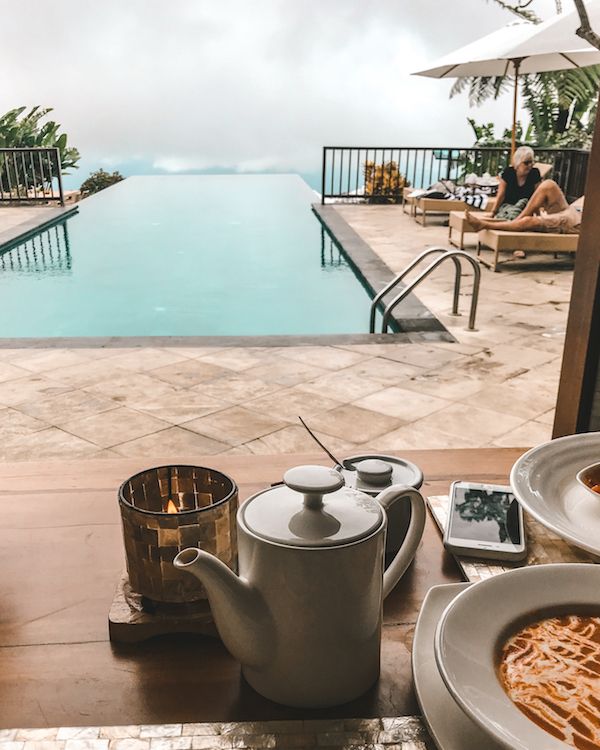 Grab some lunch at the hotel and have a tasting of the Kintamani Arabica coffee made in the Munduk coffee plantation.
Relax at the infinity pool and hot tub: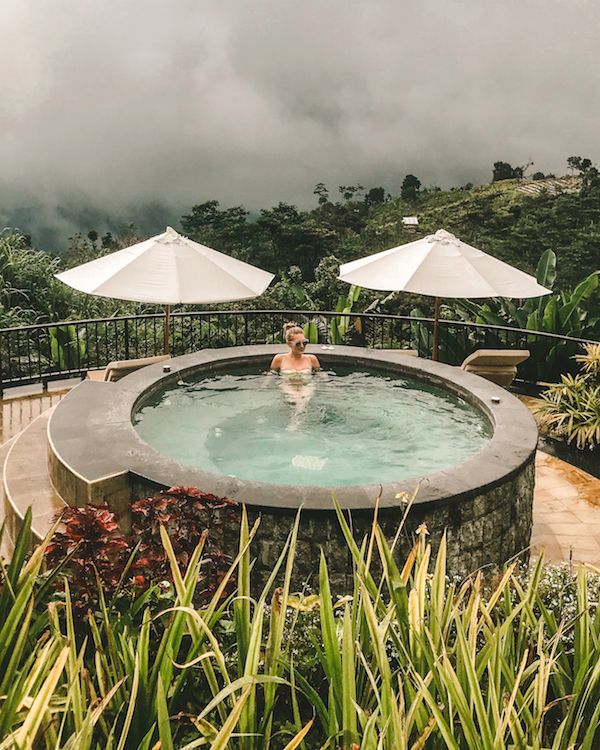 Now it's time to utilize the awesome amenities at your hotel. Relax and swim in the two infinity pools, take a dip in the hot tub, or have dinner and watch the sunset. The seclusion in nature feels wonderful!
If you want to take a short walk around the area, it's just a 15-minute trek to Munduk Waterfall.
Munduk Moding Plantation Nature Resort & Spa also has a MMP Experience Program, where they have unique activities each day, such as making Balinese offerings or Balinese kites. They have daily yoga classes from  5pm-6pm.
Day 2 in Munduk
Rather than hiring a private driver for the day, we organized a private tour with our hotel that included a hike to Banyumala Waterfall, a visit to two temples, and a canoe ride on Lake Tamblingan. We had an excellent and knowledgable guide who spoke perfect English.
Hike to the Banyumala Twin Waterfalls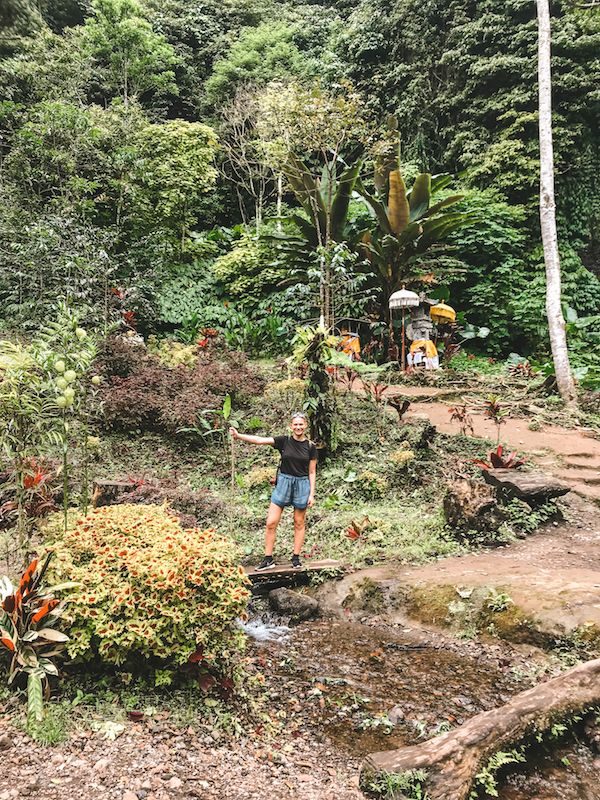 We started the easy two-hour hike from our hotel, which first took us through the countryside. Our guide pointed out different fruits trees and explained the local farmers' way of life. The countryside then turned into a beautiful rainforest. While hiking we were able to stop at a few panoramic vistas before reaching the magnificent Banyumala twin waterfalls.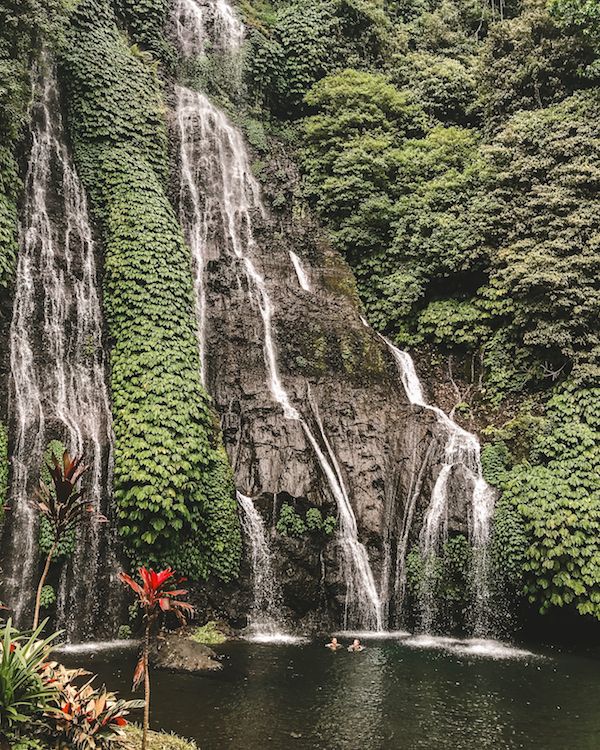 At the bottom of some steep steps, you reach the Banyumala Twin Waterfalls. The waterfall has a vertical drop of about 25 meters and fills a natural pool of clean water. It was so refreshing to swim in after our hike and there were only two other people there!
About a 10-minute walk from Banyumala Waterfall our driver came to pick us up. Next stop: Beratan and Tamblingan to see temples!
Visit Ulun Danu Bratan Temple and Ulun Danu Tamblingan Temple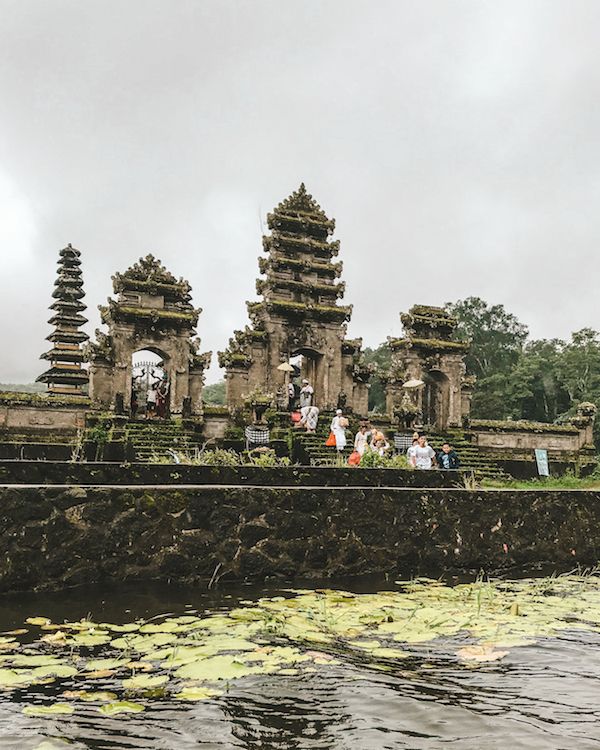 Tamblingan and Bratan have some of the most beautiful temples in Bali. They are each located on a lake and surrounded by mountains. The setting is absolutely majestic. Since the temples are sacred, ensure to bring a shirt that covers your shoulders, and pants, a skirt or sarong to cover your legs.
Bratan Temple is about a 25-minute drive away from Banyumala Waterfall. The entrance fee costs 50,000 IDR per person to access the area which has sacred temples devoted to Hindu gods.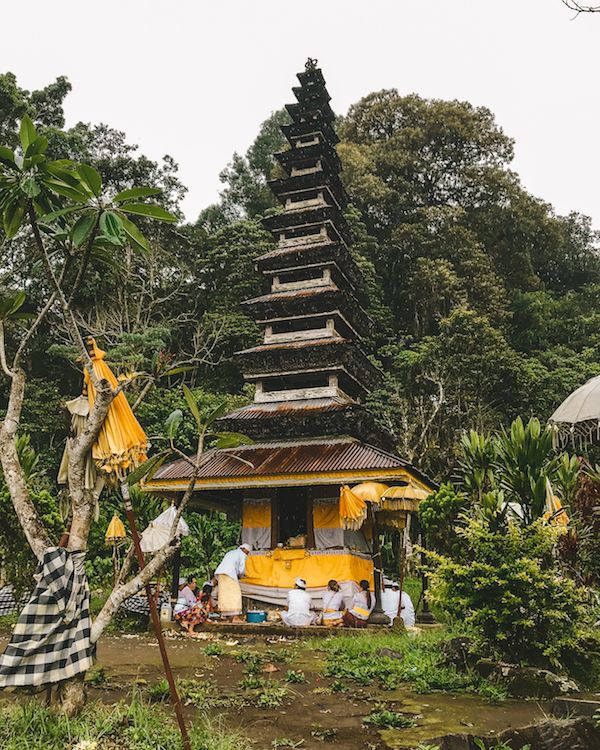 Next you will drive another 25 minutes to Ulun Danu Tamblingan Temple, a quieter location with several temples surrounding the lake. It felt very local here since four villages are established around the lake. We were even lucky enough to see a Hindu celebration that day.  
Canoe on Tamblingan Lake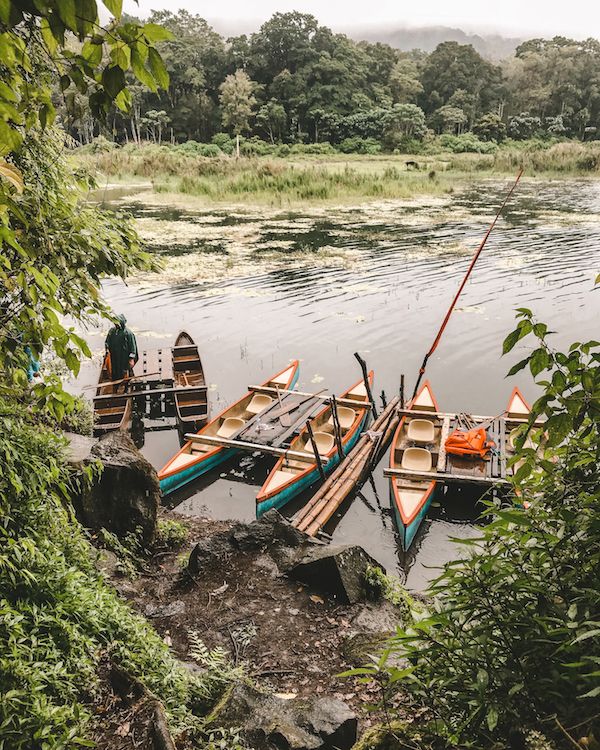 Once you arrive at Tamblingan, you will see a temple right on the lake, but there are more to discover! We canoed with our guide across the lake to take in the scenery and find more of the hidden temples in the forest.
Have some downtime at your hotel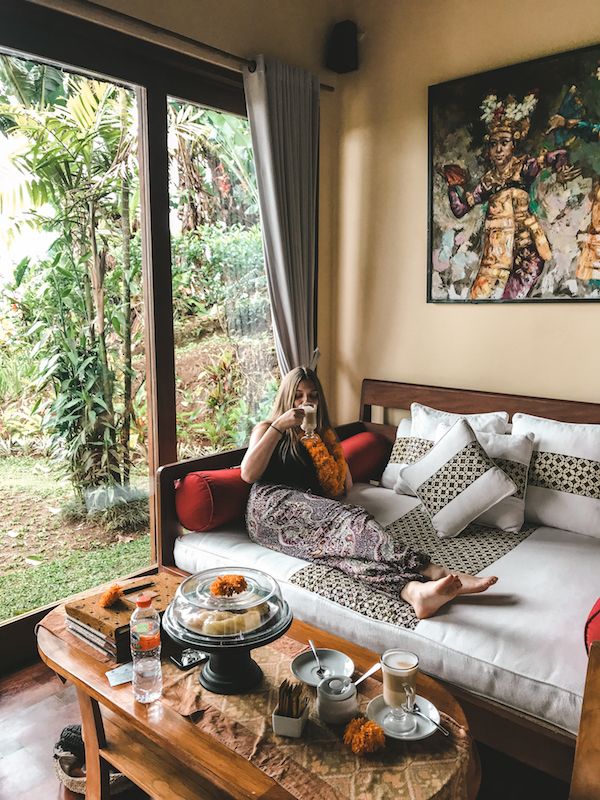 It is only a 15-minute drive to get back to your hotel. After your day filled with sightseeing, relax at your villa and order in room service to have a private dinner!
Enjoy your time in this majestic region!
To discover more of Indonesia's amazing spots, read our ultimate one-week itinerary in Bali or our guide to boating the Komodo Islands to see the magnificent Komodo Dragons.
Pin this Munduk Bali itinerary to save for later: