This is a one week itinerary to see the highlights of Bali. Picking locations can be difficult since there are tons of scenic and trendy places not just on the island, but on neighbouring islands like Lembongan, Nusa Penida, Komodo, Lombok and the Gili islands. We have travelled to Bali and its neighbouring islands three times and still haven't seen most of it!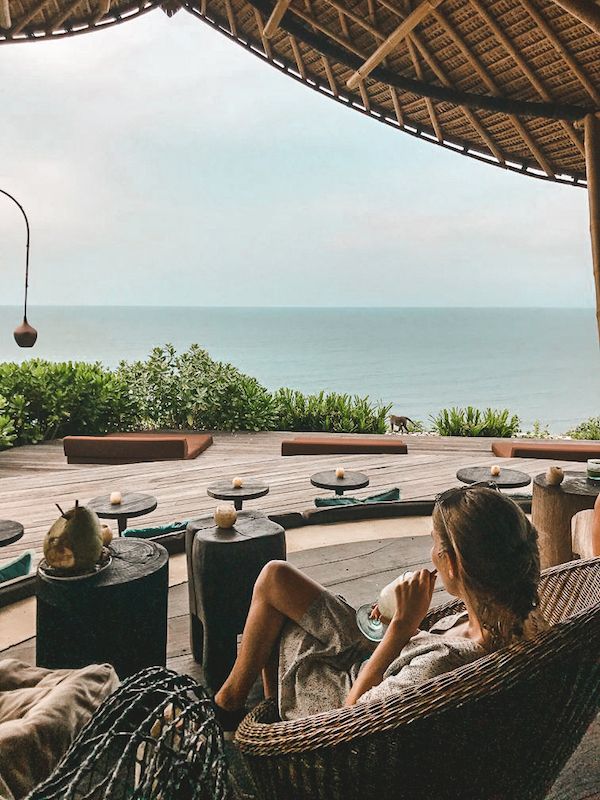 Our 7 day Bali itinerary will first take you to Bali's southern Bukit Peninsula where you'll find idyllic beaches and surfer vibes. Your next stop will be in the rainforest, where you'll discover the cultural and natural wellness side of Bali.
It can be tempting to squeeze in as many places as you can, but we highly recommend focussing on these two areas, as they represent a diverse cross section of Balinese culture and nature.  You will be able to fully relax and soak in each area, rather than spending most of your time on transport.
Also included are the best and worst times to visit Bali, best ways to get around the island and places to avoid in Bali, which will be especially helpful during your first visit.
7 Days in Bali
Day 1-4: Uluwatu/Padang Padang - located on the western side of the Bukit Peninsula where you'll find idyllic beaches, fun parties and surfer vibes
Day 5-7: Ubud - the spiritual and natural wellness capital of Bali surrounded by terraced rice paddies and the rainforest
---
Best time of year to visit Bali
Bali has a rainy season and a dry season. The rainy season runs from October- April and the dry season runs from May - September. We have visited Bali during December, March, and July.
Bali Rainy Season - Pros & Cons:
If you're looking to travel on a budget, accommodation is cheaper during the rainy season. It is also a quieter time to visit with not as many tourists.
In March, although it was the rainy season, most of the days were sunny with blue skies and there were a couple downpours usually at night time. In December when we visited, there were more days with grey skies and a few downpours during the daytime. The biggest downfall of travelling in the rainy season is the humidity. It felt very hot outside.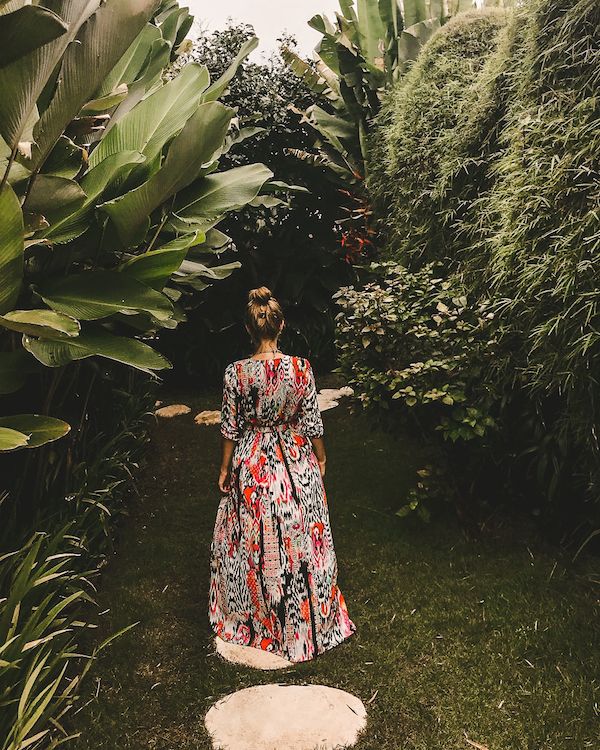 Bali Dry Season - Pros & Cons:
When we were in Bali in July, it wasn't as humid and the temperature felt perfect. Every day had blue skies and we barely saw any rain. It was busier with tourists compared to when we went in March during the rainy season. Accommodation is also more expensive during this time.
Another consideration is that if you're planning to visit other South Eastern countries, such as Myanmar or Thailand, June-October is one of the worst times to go as they are having their monsoon season.
Worst time to go to Bali
In our opinion the worst time to go is over Christmas/New Year holidays in December and the beginning of January. Not only are you there during rainy season, but there are tons of tourists and accommodation is more expensive. If you can, I would avoid going during this time.
Getting Around Bali
The best way to get around Bali is by taxi, by hiring a private driver, or by motorbike. Using taxis or private drivers may sound expensive to get around, but it is cheap compared to other countries. For example, to hire a private driver for a 2 hour drive from the southern peninsula of Bali to Ubud costs around 500,000 IDR ($35 USD). If you're traveling with others you can split this cost as well.
You can't count on public transportation and the driving is a bit crazy. I wouldn't recommend renting a car, since the roads are small and you can't zip around traffic jams like you can with a motorbike.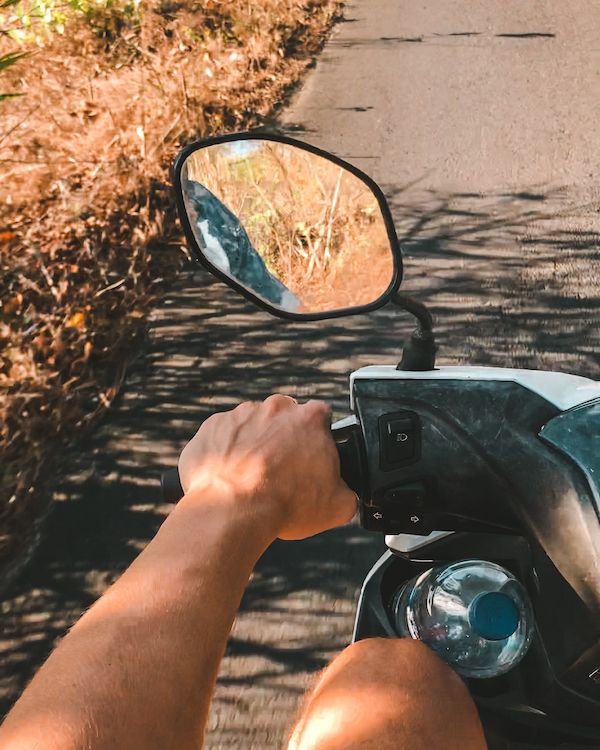 Taxis in Bali
Most taxi drivers will try to overcharge you. When I arrived at the airport a taxi driver told me that it would cost $15 USD to Kuta, when it actually only costs about $2 USD with a metered Blue Bird taxi.
Make sure you use Blue Bird Taxi since they actually use the meter properly. Some other taxi companies have a meter and try to look like a Blue Bird taxi, but they will add additional fees at the end. This happened to us once. The taxi driver said there was a 30% extra surcharge, though we argued ourselves out of it. If you can't find a Blue Bird taxi, just make sure you are upfront about the costs at the beginning and you should be fine.
Hiring a private driver in Bali
Hiring a private driver is the easiest way to travel around in Bali. When we were travelling in the south of Bali we met a taxi driver that goes by the name John Coffee (Whatsapp is +62-813-3844-4945). He was the first taxi driver we met that gave us a fair price right off the bat. We ended up using him as our private driver and he set us up with other private drivers once we were in the north of Bali. It was easy to set up our schedule through Whatsapp and the drivers were never late for their pick up time. Two years later we texted John and his service was just as great!
Having a private driver is also handy if you leave anything behind. Ari left his debit card at an ATM in Padang Padang and they actually went and found it and we paid for them to drive it up to us in Ubud.
You can also organize a driver with your hotel, but we find it's a bit pricier. The only time we organized a driver with our hotel was before we arrived at the airport to avoid the hassle of negotiating after a long flight.
Scooters in Bali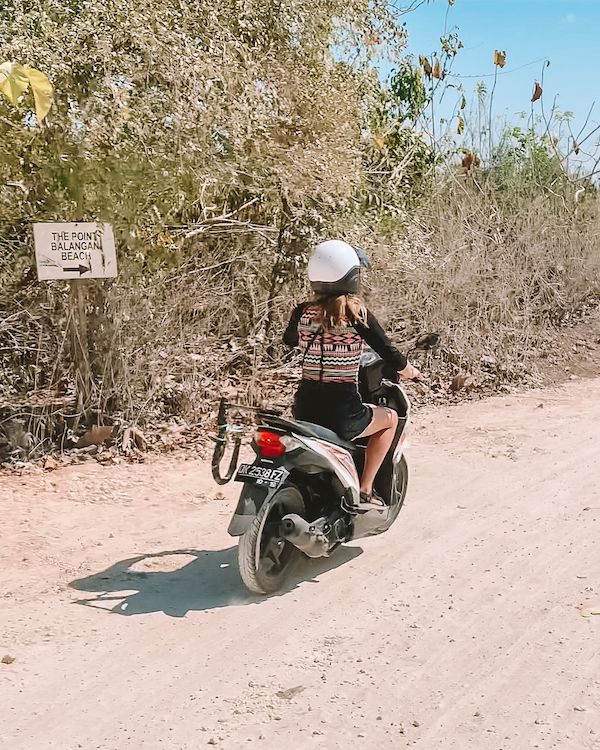 Renting a scooter is the most fun way to get around in Bali! The southern peninsula of Bali is generally a safe place to bike around, since the roads are quieter. It's the perfect location to get a feel for the road. However, beware that in busier cities, police officers may stop and fine you if you don't have an international license. Rentals are inexpensive and cost around 50,000-100,000 IDR per day (~$3.5 - $7 USD). You can usually rent one from your hotel or homestay.
Disclosure: Some of the links below are affiliate links, meaning at no additional cost to you, we will earn a commission if you click through and make a purchase. Regardless, we only recommend products or services we have used or that we believe will add value to our readers.
7 Day Bali Itinerary
Days 1-4: Uluwatu and Padang Padang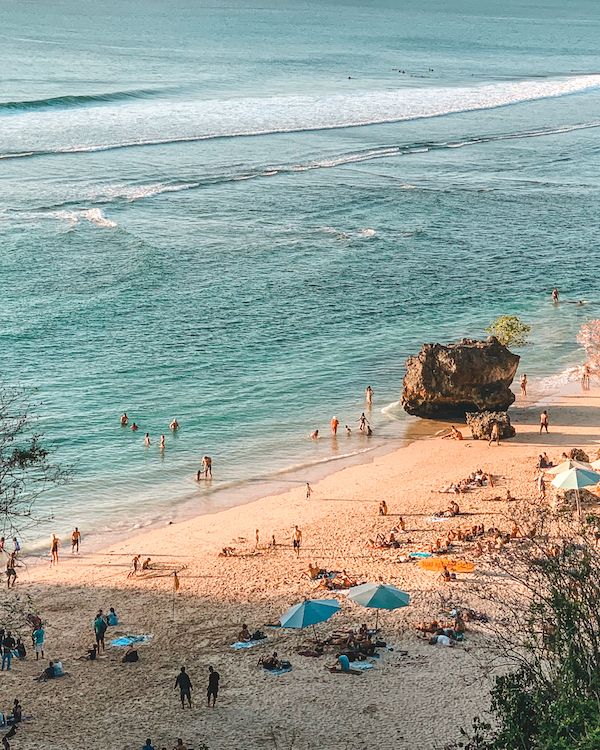 On the western side of Bali's Bukit Peninsula, you'll find amazing beaches, good surfing, gorgeous sunsets, quirky restaurants, fun bars and a relaxed lifestyle. This area of Bali has total surfer vibes and you'll see many surfers zipping around on their scooters with their surfboard attached.
The best place to stay in Bali's Bukit Peninsula is around the Padang Padang and Uluwatu area. You will have close access to beaches, restaurants, bars, and shops.  
If you're comfortable riding a scooter it's so much fun to drive around and explore the quieter south.
Where to stay in Uluwatu and Padang Padang area
Mule Malu ($$)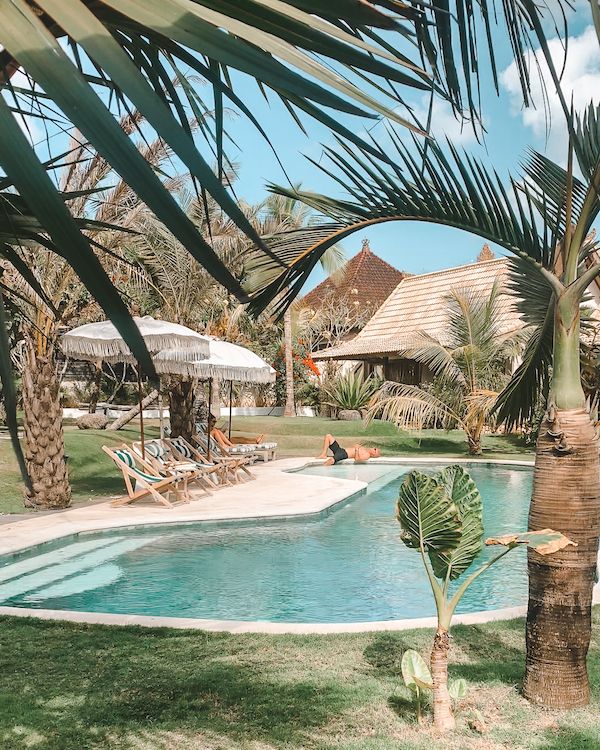 Mule Malu
is a quaint boutique hotel with stylish private bungalows. The Mediterranean-Balinese styled hotel has a relaxing atmosphere and is quiet. We loved lounging by the pool and snacking on healthy menu items. It felt like our own little oasis. You can also get breakfast served to your private terrace which is a bonus. The hotel is walking distance to shops, restaurants, and beaches. The price per night for 2 people is around $70-$75 USD depending on what time of year you travel.
Gravity ($$$)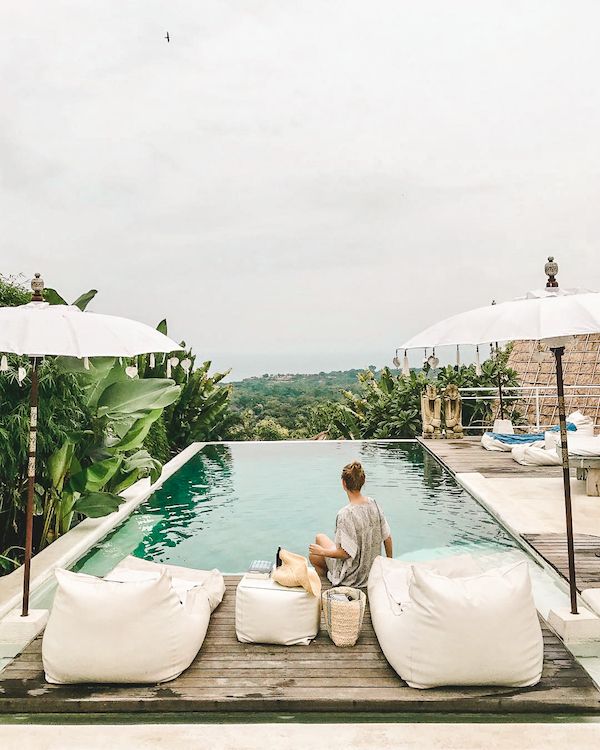 Gravity
is a higher end boutique hotel with private bungalows. Its architecture and white Indonesian design make it stand out.
It's one of the most beautiful boutique hotels we've seen.
The hotel has marvellous ocean views from the infinity pool and lounge area since it sits up high in the hills. Breakfast is included and is served to your private terrace each morning.
The hotel is a bit farther away from shops, restaurants, and beaches, so we wouldn't recommend staying here if you're uncomfortable with riding a scooter to get around. It's a hassle to get taxis for short stops around the area and there aren't sidewalks for a portion of the road into the town.
The price per night for 2 people is around $100 USD -$200 USD depending on the size of suite you get and time of year you travel. Their suite, the Passion Room, has its own private hot tub and sauna!
Suarga Padang Padang ($$$$): Fully Loaded Experience 🥔✨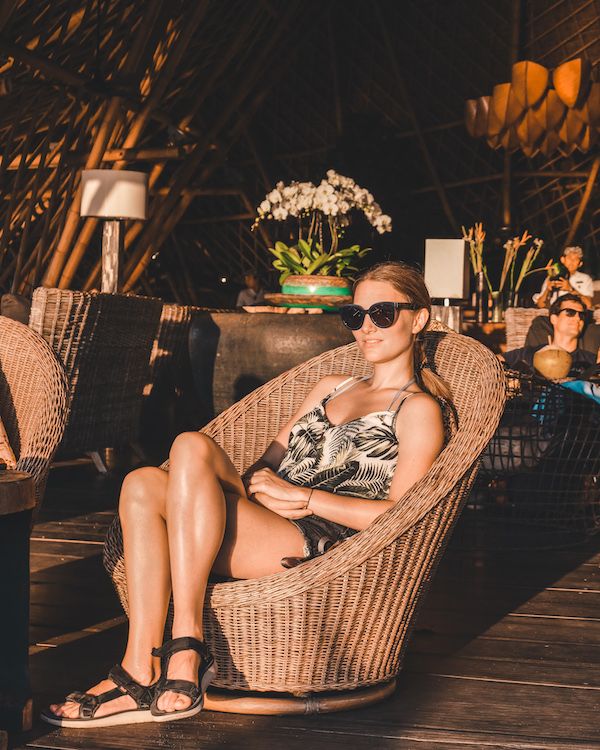 If you're looking to splurge on high-end accommodation, skip the resorts and stay at the sustainably-minded luxury boutique hotel,
Suarga Padang Padang
.
When you step inside the lobby, the Balinese architecture will blow you away.
You can't beat the hotel's location, perched on a 220-meter cliff overlooking Padang Padang Beach. The open air lobby and restaurant overlook the ocean and you can see Bali's iconic sunsets while taking a dip in the pool or when enjoying some bites and cocktails at the bar.
Suarga Padang Padang
is walking distance to the beach and to many shops and restaurants. Rooms start at $280 USD - $400 USD per night for 2 people depending on the time of year you travel.
Top Things to do in Uluwatu and Padang Padang
Below are some must-do experiences in Bali's southern peninsula.
Have a beach day at Padang Padang Beach: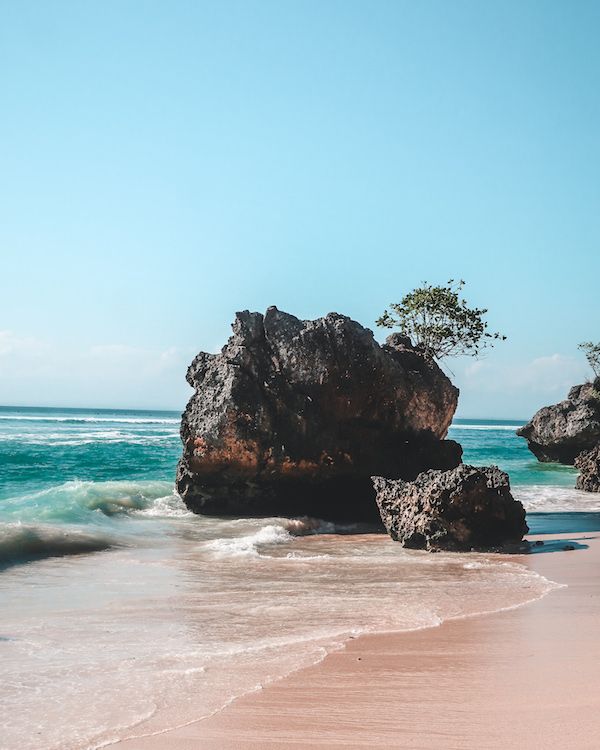 Walk down the stone steps to the shoreline and pick a spot to relax in the sand. We loved swimming at this picturesque beach. Look out for the ladies selling beautiful colourful sarongs that you can use as a beach blanket. We always make sure to grab a couple of them to take back home each time we go. They are a good price here. We can usually get them for 50,000 IDR (~3.50 USD) each.
If you like surfing, you can rent surfboards at Padang Padang Beach for 100,000 IDR (~7 USD) an hour. Beware of the sharp coral at low tide though.  
The entrance fee to go to the beach is 10,000 IDR (~$0.70 USD) per person and the car park is 5,000 IDR (~$0.35).
Drink bubbly and watch the sunset at Suarga Padang Padang: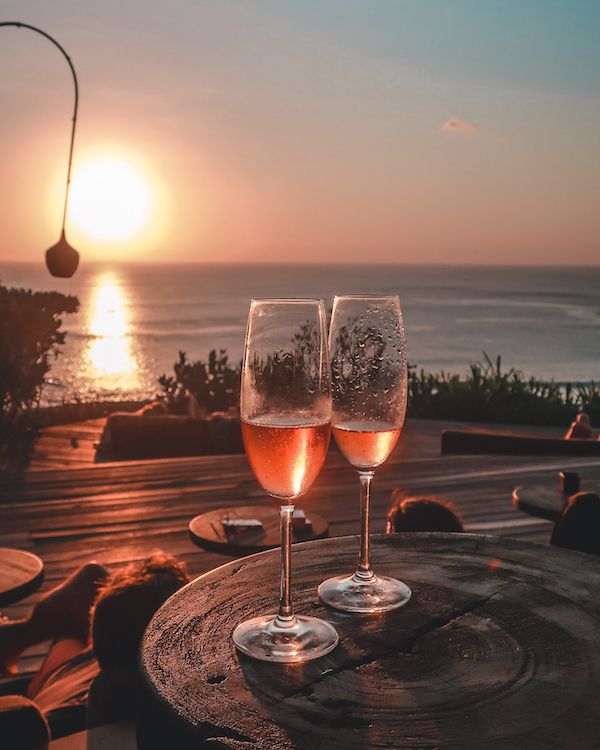 You don't have to be a guest at the luxury hotel to get food and drinks in their open-air restaurant and bar. This is one of the best spots to watch the sunset in Bali. Go there an hour before sunset so that you can get the best seat. Watching the sunset over the surfers was a blissful moment.
Go Surfing at Balangan Beach: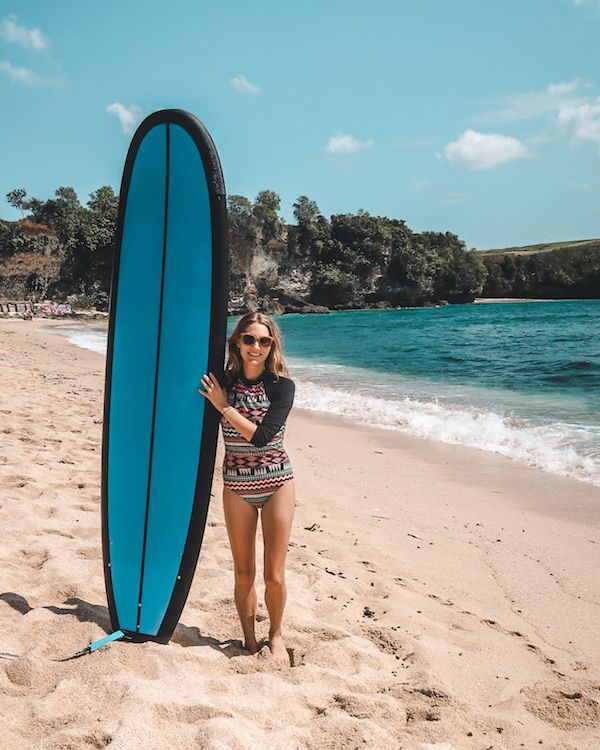 Balangan Beach is off the beaten path and feels wilder than other popular beaches. The scenic white-sand beach is located between two limestone cliffs and has chilled surfer vibes. There are a few cafes and you can rent surfing boards for 100,000 IDR (~7 USD) an hour.
The waves are choppier here so it's not the best swimming beach, but it's great for beginner or advanced surfing. The first set of waves farthest from the beach are larger for advanced surfers, and the second set closer to the beach are smaller for beginners. If you're a beginner, make sure to go closer to high tide so you can avoid hurting yourself on the reef bottom. Beginner waves are 3-5 feet.
Drink banana smoothies and watch expert surfers at Uluwatu Beach: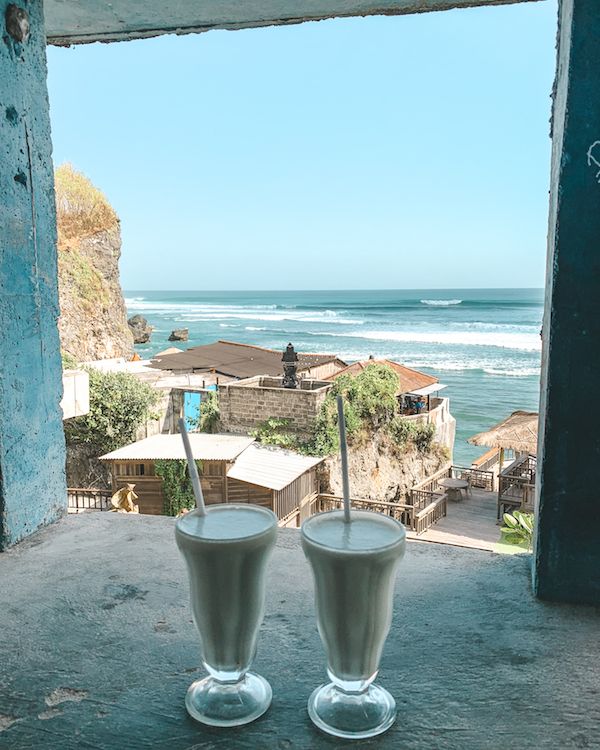 Uluwatu Beach has cliffside cafes, restaurants and small shops overlooking the ocean. We love drinking banana smoothies and watching expert surfers surf the large waves.
Walk to a secret beach and see a shipwreck: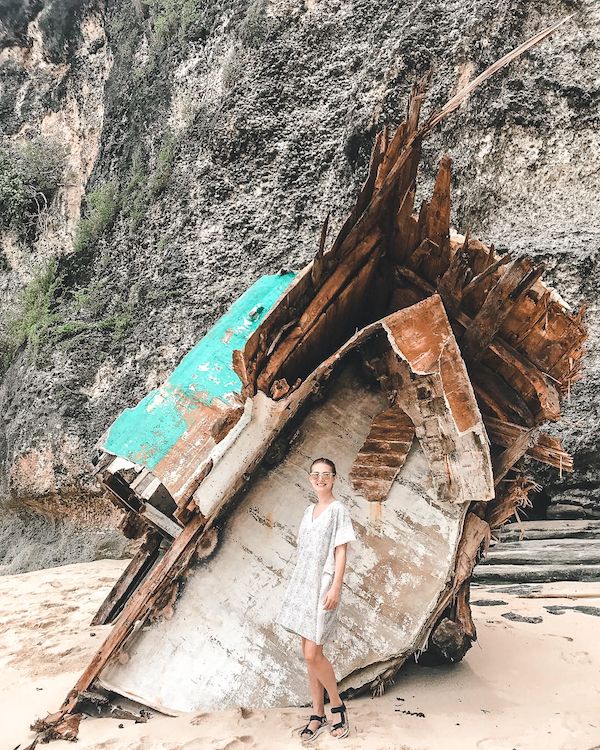 To the left of Uluwatu Beach you can walk down stoned steps to access the coves and caves of Suluban Beach. Make sure you go at low tide to be able to access the beach. Once you get down the stairs there is a hidden beach located under a cove to the left. Walk underneath the cove you will see a pretty beach with a colorful shipwreck washed up on shore.
Make sure you leave the hidden beach before high tide makes it too difficult to get back under the cove!
Watch the sunset at the Uluwatu temple: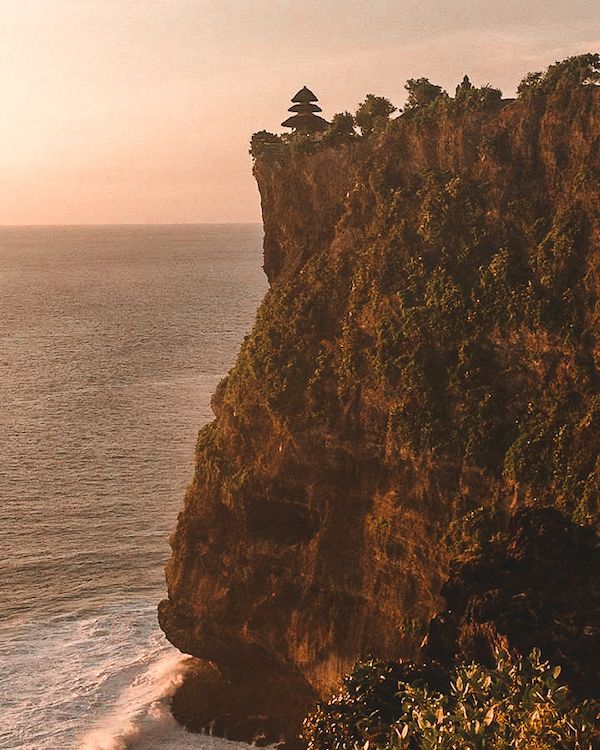 Uluwatu temple is a gorgeous sight and the perfect place to watch the sunset. The Balinese Hindu sea temple is perched on a rock that overlooks the magnificent ocean.
Don't purchase a tour package to see the Uluwatu Temple because it's very overpriced. The best way to see the temple is by taking a motorbike or taxi and paying the entrance fee of 30,000 IDR (~$2.00 USD) to visit yourself.
When entering the religious site, dress modestly with a shirt that covers your shoulders and a skirt, pants or sarong to cover you legs.  The monkeys around the temple are really cute, but make sure you don't leave your stuff out or they might try to steal it!
Eat at quirky and delicious restaurants: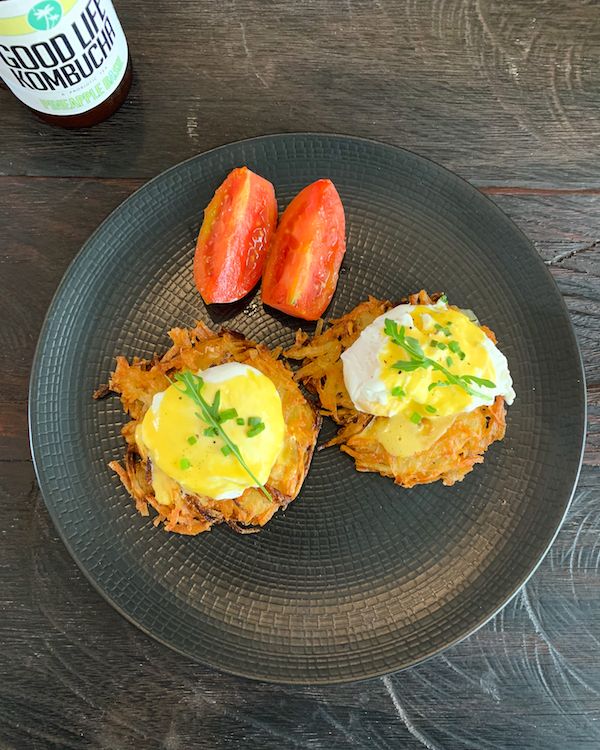 There are many quirky restaurants along Jl. Labuansait road in the south of Bali. Our favourite restaurant is called The Place with No Name. They specialize in pescatarian and vegetarian cuisine. Everything we tried on their menu was outstanding with the Surf'n Tacos being our favourite. The interior of the restaurant is bright and well designed and the service is excellent.  The restaurant's 5-star rating on TripAdvisor says enough!
For Italian, our favourite spot is Rolling Fork. The restaurant has a cozy and romantic ambience. We enjoyed their pasta and pizza and their service was excellent.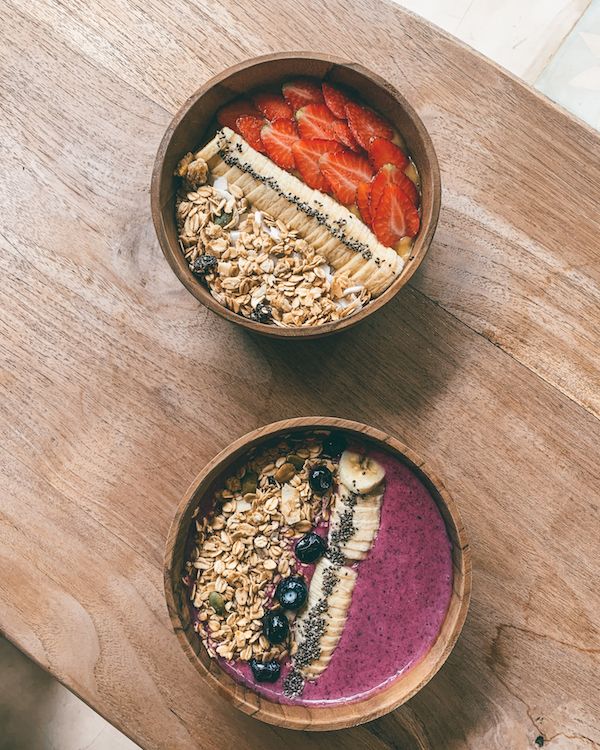 We love Bali's healthy smoothie bowls and you can find lots of them in the area. If you haven't heard of a smoothie bowl, it's a smoothie in a bowl with toppings such as  fresh fruit, nuts, seeds, granola, nut butters, or coconut. We ordered smoothie bowls at our hotel each morning. Another great spot for smoothie bowls is Drifter Cafe.
Party in the south's hot spots: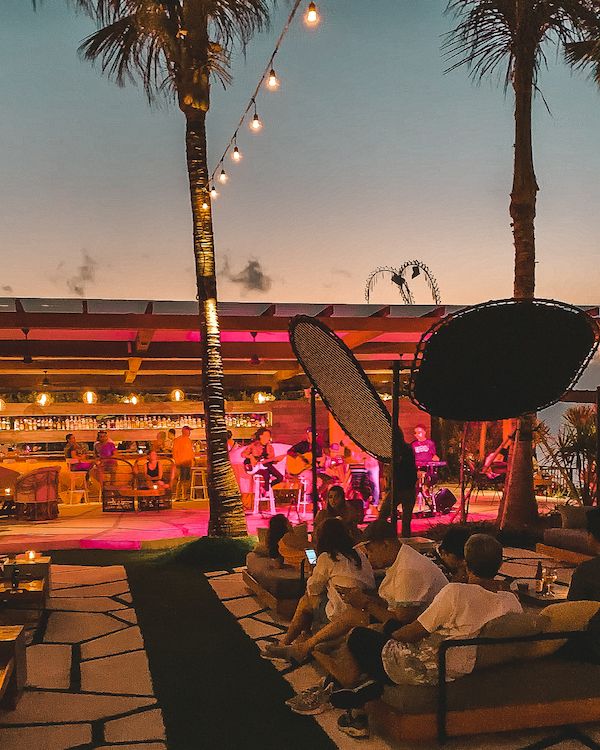 The Bukit Peninsula is known for its fun outdoor parties. Unlike Kuta where there is a commercial Top-40 like clubbing scene, the vibe in the south is more carefree and free-spirited.
For a beautiful outdoor beach club with DJs and live music, try Ulu Cliffhouse. The beach club is located on a cliff with an expansive view of the ocean and has a 25-meter infinity pool. Check out their website to see their daily and evening events going on. On Friday evenings drinks are half price.
Cashew Tree is a favourite with Thursday parties featuring live music or DJs. The vibe is chill with a good crowd.
Hatch is another entertaining bar with good music, ping pong, N64, foosball and tasty cocktails.  When we were there they played old school hip hop.
Have some downtime at your hotel: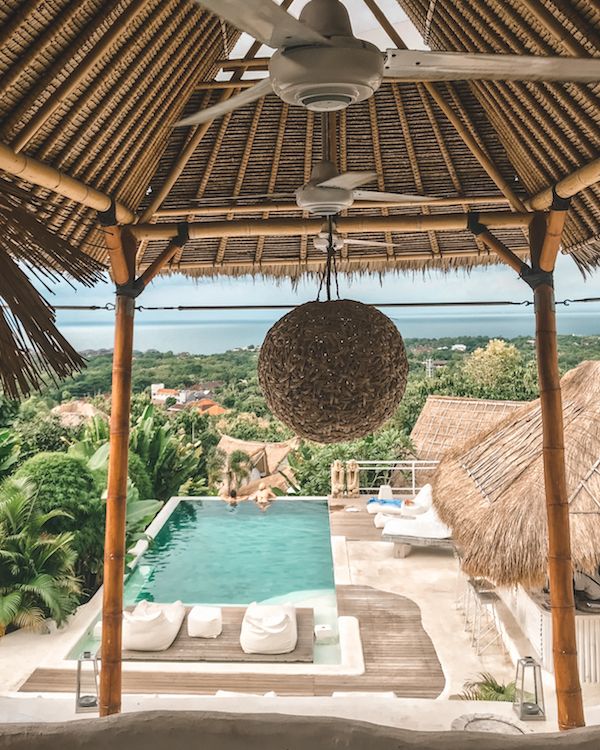 Bali is known for having peaceful boutique hotels or homestays that promote a sense of wellbeing. We enjoyed hanging out at our bungalow or at the pool and reading for a couple hours.
Have a relaxing spa treatment:
There are a variety of spas you can pick from, but an issue we have with some inexpensive spas is that while you get your massage, the therapists will constantly chat or whisper to each other. Not very relaxing!  
If you're looking for a spa with good value and professional services try Esthetic Spa or Laniakea Spa.
Days 5-7:  Ubud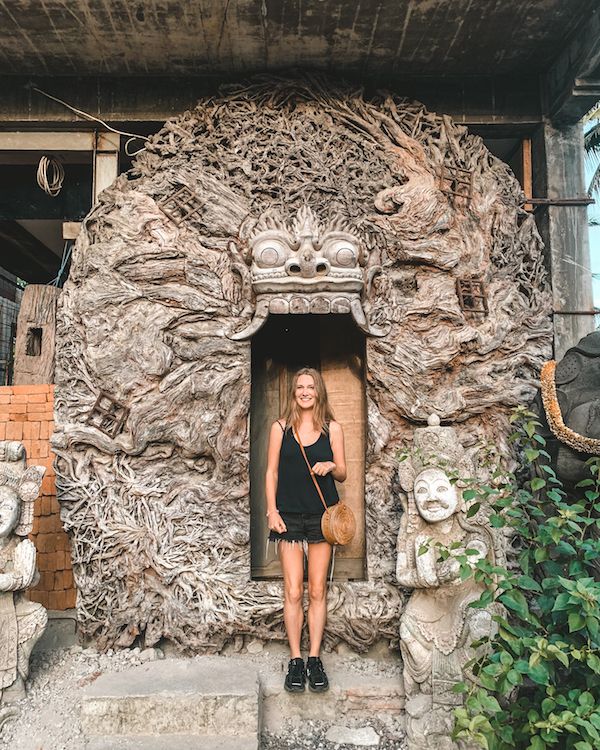 Your next stop is the cultural and wellness city of Bali tucked away in the middle of the jungle. You'll find lots of Hindu sites and temples, terraced-rice fields, yoga studios, wellness shops, spas, markets, cafes and restaurants.
From the Bukit Peninsula to Ubud, the drive will take about 1.5-2 hours depending on traffic. The easiest and quickest way to get there is by hiring a driver. It cost us 500,000 IDR (~$33 USD) for the private car. If there are two or more of you, you can split the cost!
Where to stay in Ubud
There are so many amazing places to stay in Ubud at different price points. Where you stay will depend on your interests. Are you looking to stay more central in the city to see the cultural sites and shop the markets? Or maybe you're looking for a nature escape and want to stay in the outskirts overlooking the rainforest? Or, perhaps you're looking for a wellness retreat. Ubud has a lot to offer! We like to use
Booking.com
to find good spots. We sort from best reviewed and filter places with a location rating of 8 or higher.
We've stayed in the center of the city and off the beaten path overlooking the rainforest. We loved each stay for different reasons. Below are some awesome spots we recommend.
Suparsa's Homestay ($)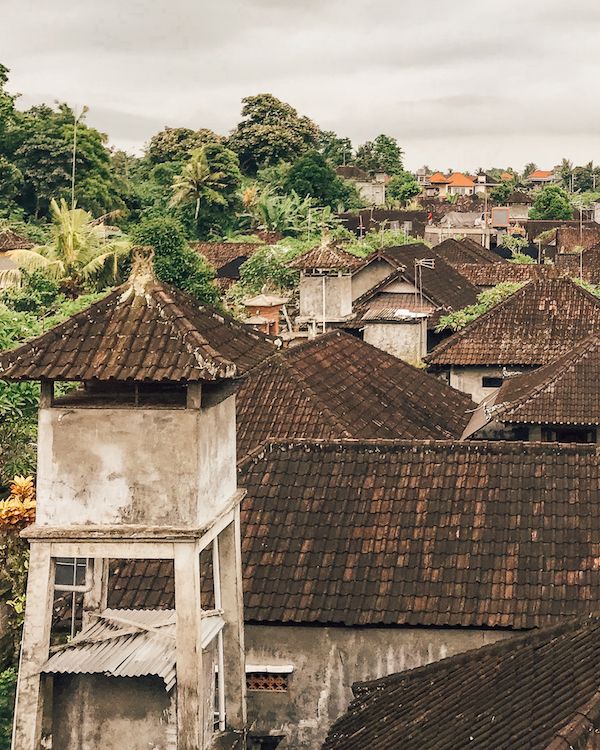 Located in the centre of Ubud,
Suparsa's Homestay
is great value with rooms starting from $27 USD per night for two people. At this price point it even includes air-conditioning, a terrace and free breakfast! The rooms are a traditional Balinese style and the staff are friendly. We enjoyed staying on the second floor since there was a nice view of Ubud. On a clear day we could even see the volcano, Mount Agung, in the distance.
It is a 10-minute walk to the Art Market and to cultural sites such as Saraswati Temple. Plenty of restaurants are also nearby within a 5-minute walking distance.
Taman Amartha Hotel ($$)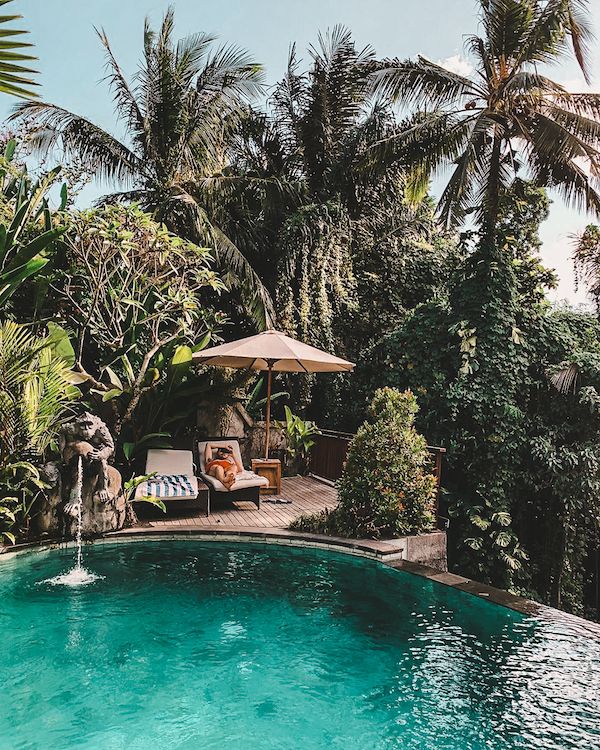 Taman Amartha
is a peaceful and relaxing boutique hotel with two pools overlooking the jungle valley below. It's a 15-minute enjoyable walk from the hotel to the city centre. One evening we passed by a Hindu cultural ceremony and got to witness authentic Balinese traditions underway. The hotel also rents out motorbikes for cheap. It's fun to zip around in the nearby jungle, where the roads are much quieter than in the city.
Rooms start from around $60 USD per night for two people and breakfast is included.
Villa Kalisat ($$$)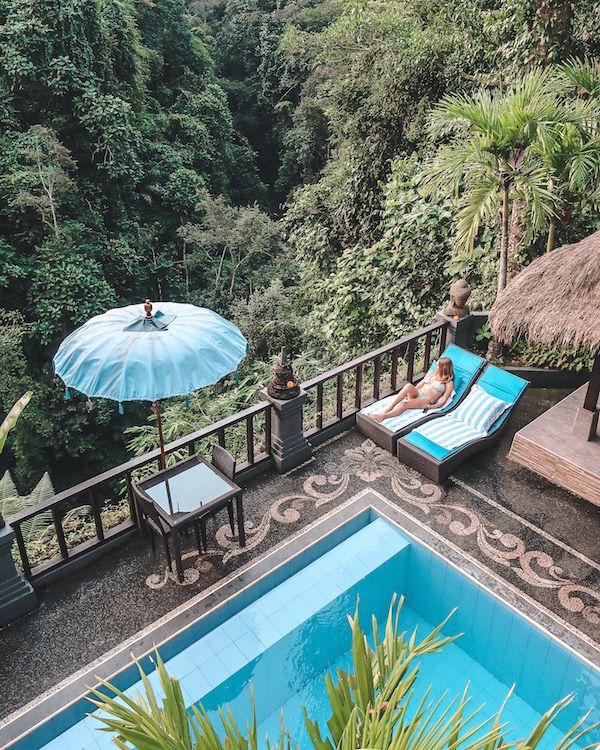 If you're looking to splurge, the boutique hotel Villa Kalisat is a rare gem.
We stayed here for our 8th year anniversary and it exceeded our expectations. The hotel is located behind an authentic Balinese village, which they have healthy partnership with. If you're looking for a location in nature, this is the place to be. The hotel is perched on a cliff overlooking the rainforest and you can even hear the river flowing at the bottom. It is a 10-minute drive to the center of Ubud.
You will feel pampered at
Villa Kalisat
, with two outdoor pools, a private spa, and delicious cuisine that can be ordered to your room. The breakfast was superb! Our modern and traditional Balinese styled room was so beautifully decorated we didn't want to leave! Another perk is the private pathway down to the river you can walk. It's steep, but you'll reward yourself with a refreshing swim.
Rooms start from $137-$163 USD per night for 2 people depending on the time of year you travel. It is also a minimum stay of two nights.
Top Things to do in Ubud
There are so many things to do in Ubud. Below are our top experiences.
Walk the Campuhan Ridge: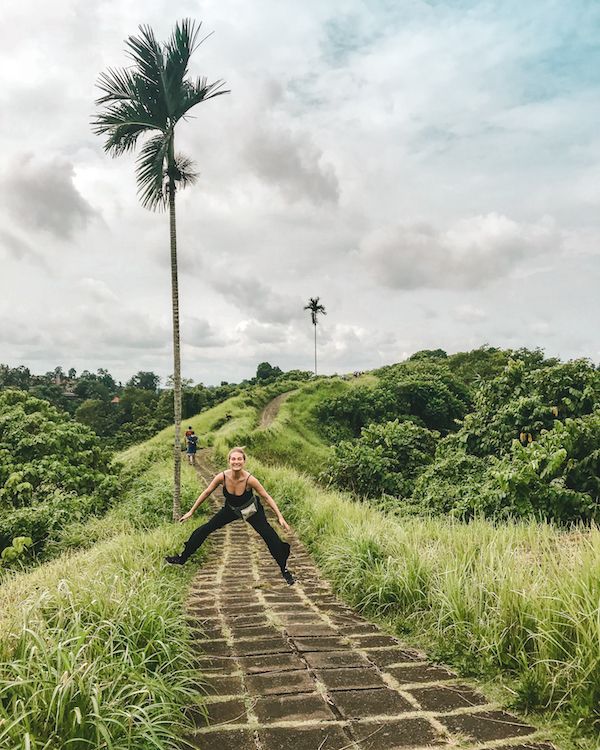 About a 10-minute walk from the center of Ubud, there is an easy 1.5 km hiking trail along the Campuhan ridge. The beautiful hike has views of the rainforest and rice paddies on both sides of you.  You will also see some of the famous Bali swings that are all over Instagram.  The journey should take under 30-minutes one way and leads you to one of our favourite spots in Ubud, next on the list below!
Have a spa day at Karsa Spa: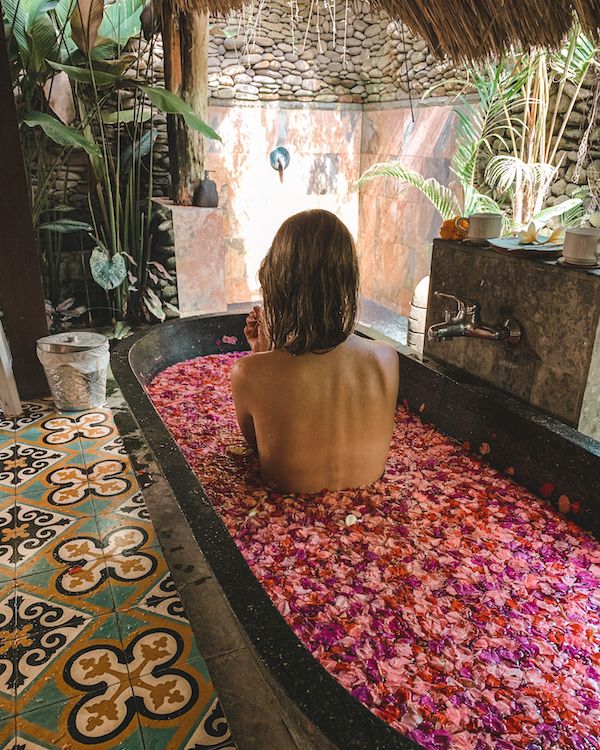 At the end of the Campuhan ridge walk is one of the best spas we've ever been to in our lives! Karsa Spa is like heaven on earth. It is incredible value for the quality of treatments you get. It has a 5-star rating on TripAdvisor with over 2,000 reviews!
We decided to go a little crazy and reserved a customized 4-hour spa package. When we first walked through the garden to the entrance we heard birds chirping and saw colourful butterflies fluttering around. We were given a form to fill out with our massage preferences and different essential oils to choose from. We were then taken into the back to our own private open-air bungalow.
First we had an hour body scrub with a flower bath. So many flowers! Next was the 90-minute Intuitive Heart Massage, which combines Reiki, Balinese, Swedish, Lomi-Lomi, Shiatsu and deep tissue techniques. We were in la-la land after this massage. We were then taken to another room for our hair creambath, which included a scalp massage that almost put us to sleep. Lastly, we had a 30-minute foot massage to finish off our spa day.
How much did our luxurious 4-hour spa day cost? Only 1,030,000 IDR (~70 USD) per person! It's hard to get just a one-hour massage for that price in North America.
Because this spa is so popular, make sure to book your treatments in advance. If you time your spa day to end just before sunset, you can catch the gorgeous sunset on your way back over the Campuhan Ridge.
Explore the city on foot and admire the Balinese architecture, cultural sites and Hindu temples: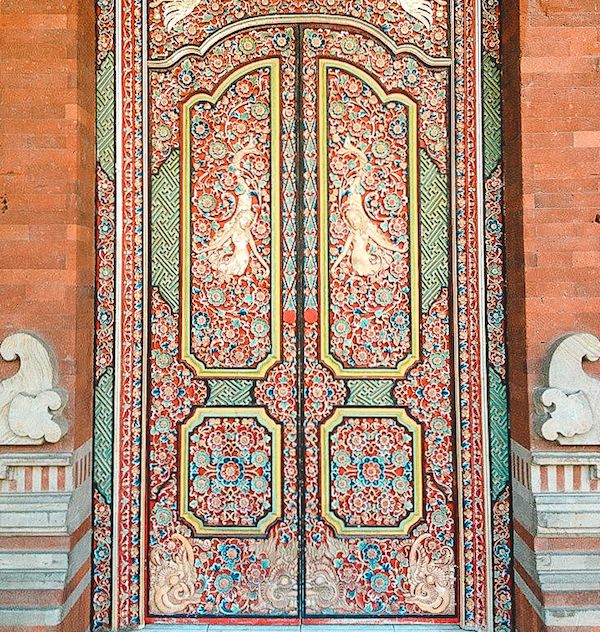 Ubud is the capital of culture in Bali. Take a walk through the backstreets to get a glimpse of local life and the beautiful Balinese architecture. If you're lucky you may even see a Hindu celebration in the streets! Some notable historic sites are the stunning Saraswati Temple and the Agung Rai Museum of Art.
Shop at the Art Market: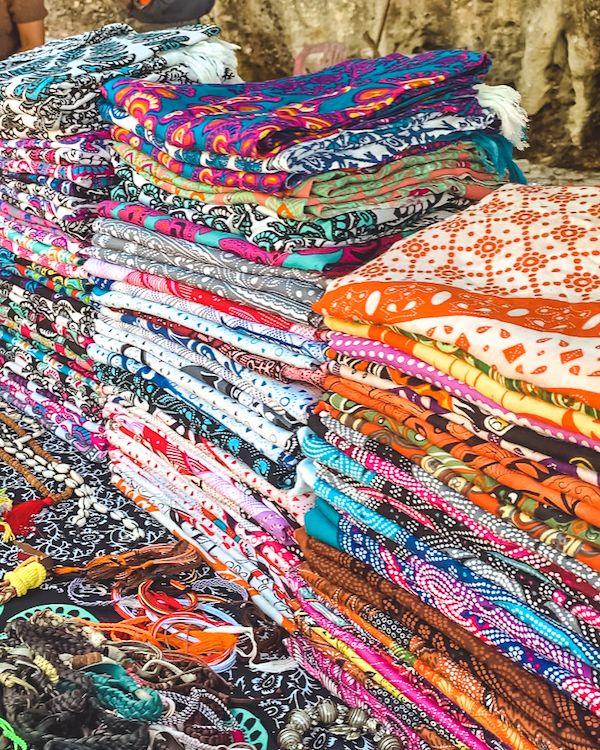 Ubud is known for its artisanal crafts. Check out the Art Market in the centre of the city to find a plethora of stalls with vibrant clothing, colourful sarongs, Balinese statues, woven purses, jewelry and housewares.
Eat outstanding cuisine at Locavore or Pica South American Kitchen: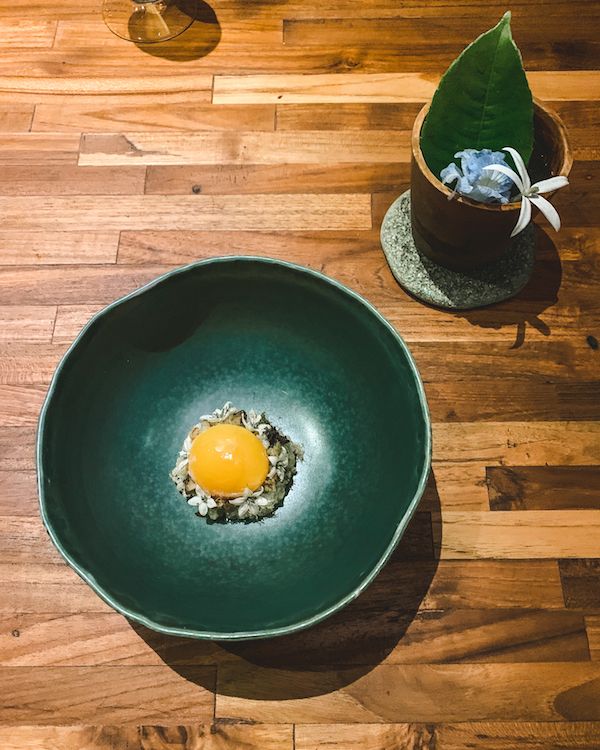 We couldn't believe it when we heard a restaurant in Ubud made Asia's Top 50 Restaurants list. That restaurant is Locavore, a Balinese-European culinary adventure that comes as a pre-fixe tasting menu. Locavore focuses on sustainable and local Balinese ingredients. You can either pick the seafood and veggie forward Locavore option or just the vegetarian option. We also got the excellent Indonesian-cocktail pairing to accompany our tasing menu. The dishes and cocktails were beautifully presented and unique.
To get a table you will have to make a reservation months in advance. The tasting menu costs 1,250,000 IDR (~80 USD) and optional cocktail pairing 650,000 ID (~$42 USD).  It is worth it!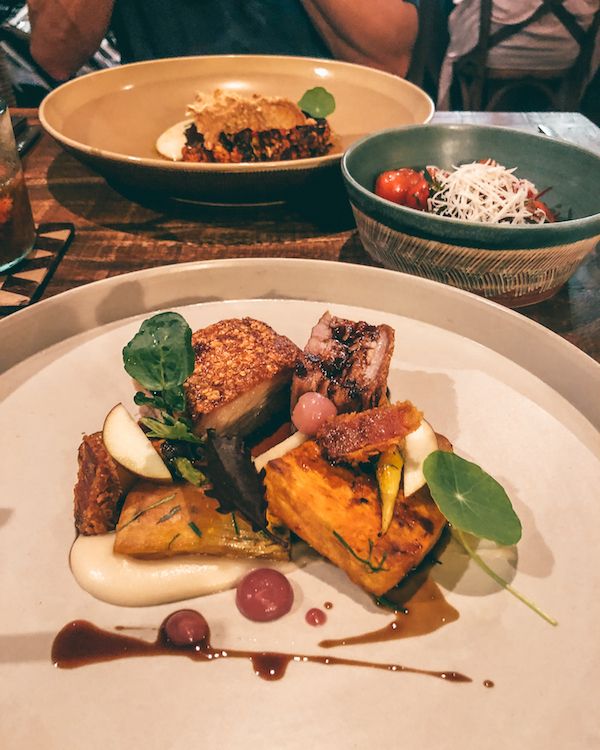 Our other favourite restaurant in Ubud is Pica South America Kitchen owned by a Chilean chef. This modern Peruvian eatery has terrific food and its small size gives it an intimate and cozy vibe. We have travelled to Peru, Chile, Ecuador, Brazil and Argentina and this was some of the best South American food we have tasted. Our favourite dishes were the empanadas and the pork belly. What a treat it was!
Hangout at a peaceful cafe overlooking the rice fields: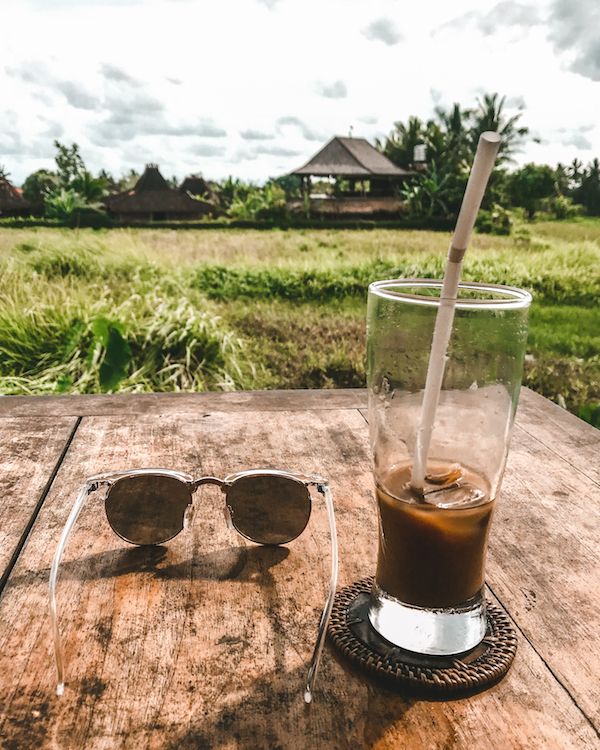 There are tons of quirky cafes in Ubud to discover, but our favourites are calm places a bit off the beaten path overlooking the rice fields. It's so peaceful having a coffee or smoothie while overlooking the rice paddies in the distance.
Cafe Pomegranate is located in a circular open air hut in the middle of the rice paddies. It's the perfect place to hang out and grab a drink or to work remotely. Our other favourite is Karsa Cafe just next door to Karsa Spa. It's a great setting to grab a drink in one of their private cabanas overlooking the fish ponds and rice terraces.
Top Tip: These cafes are great for the setting and drinks, but we recommend getting food elsewhere.
Try a Balinese Cooking class: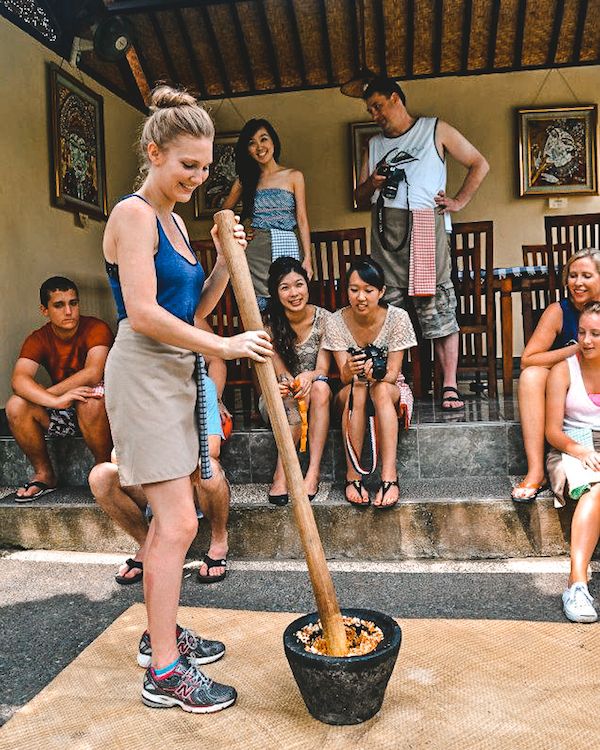 We took a cooking class at Paon Bali and weren't prepared for the unforgettable experience it was going to be. We aren't surprised the cooking class has 5 stars on TripAdvisor and over 4,000 reviews!
We were picked up from our hotel and driven to the marketplace where we learned about traditional Balinese ingredients. Next, we were taken to our host Puspa's beautiful family home where we learned about Balinese family home traditions before starting our cooking class.
The cooking portion of the tour was well organized and we made a variety of delicious authentic dishes. We were also given a recipe book of what we made to take home with us. My favourite dish was the chicken satay. The staff were lovely and we were stuffed by the end!
Chill out at XL Shisha Lounge: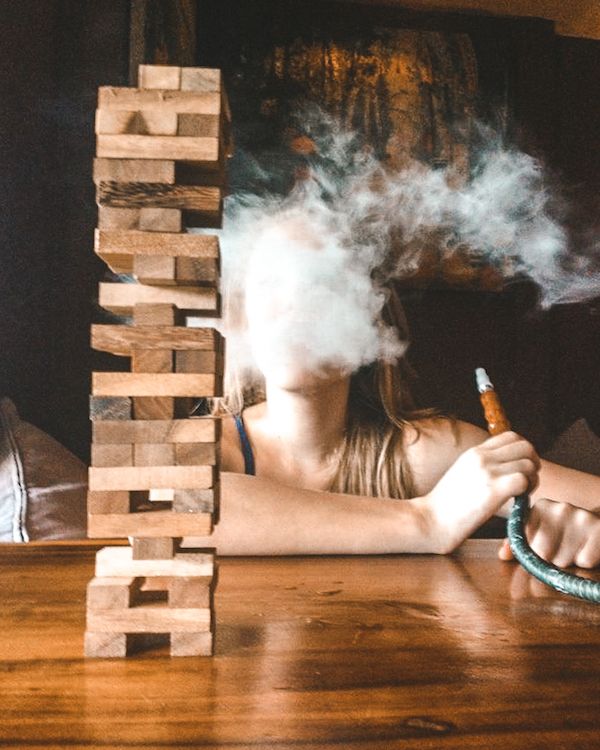 XL Shisha Lounge is one of our favourite spots to chill out at in either the daytime or night time. The ambient space has low tables with pillow seating and good music. While smoking shisha you can play board games, such as Jenga. The vibe at night is fun and they have excellent live music. Every time we visit we end up staying for hours!
Drop in for a yoga or meditation class:
If you love yoga or are intrigued by yoga, Ubud will be your yoga utopia. Yogis from all over the world come here to improve their practice, become yoga instructors or for other spiritual practices, such as meditation. There are tons of spiritual retreats and yoga studios in Ubud.
The Yoga Barn is a great place to drop in for a class or a workshop. They are open 7 days a week and have around 19 classes to choose from each day. They also offer workshops outside of yoga, such as sound healing, chakra & aura meditation and dance.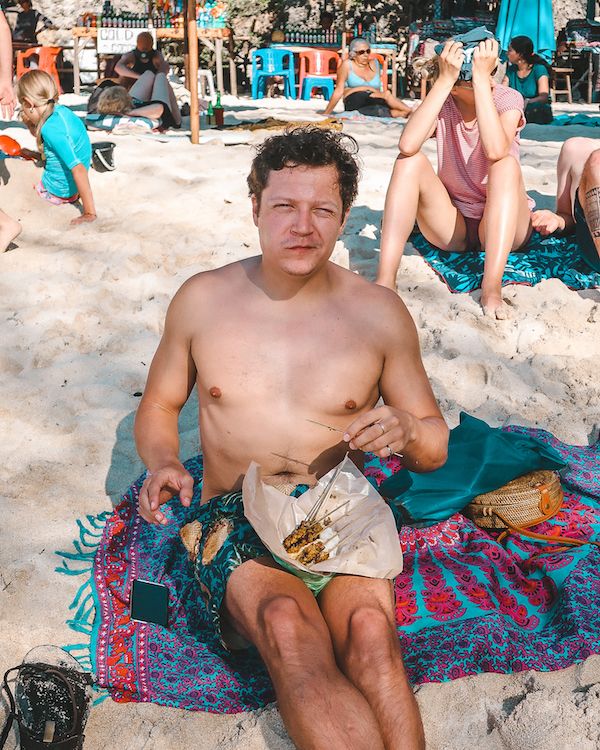 Places to Avoid in Bali
We recommend avoiding Kuta, Seminyak and Legian as they are very touristy, loud and more commercial feeling with their nightclubs and hotels. It felt like every 10 seconds in Kuta and Legian a local would ask us if we needed a taxi or if we wanted to buy something. Some people were verbally aggressive when trying to get us into their store. Also, on Kuta Beach we noticed quite a bit of garbage and locals would come up to us every few minutes asking us to buy something. Not the relaxing beach setting you would imagine! There are better areas in Bali to focus your time on.
Itinerary Extension Options:
If you're able to add a few days onto your trip, consider visiting the serene and mountainous Munduk region or boating through the Komodo Islands to see Komodo Dragons and a pink sand beach.
We hope you enjoy your time exploring this beautiful island!
Pin this 1 week Bali itinerary to save for later: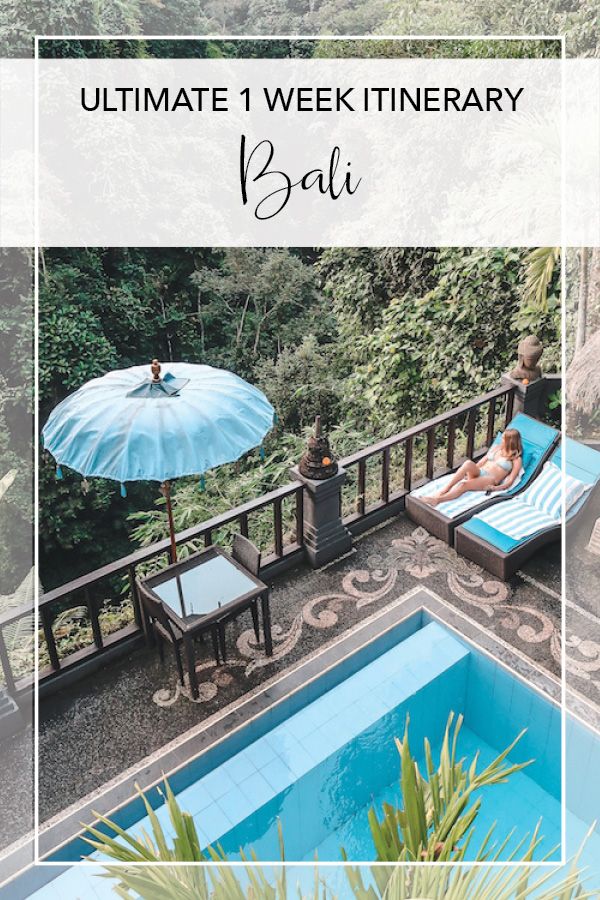 ---
Looking for more travel inspiration? Check out our list of 20 Relaxing Travel Ideas to Clear Your Mind
Other tropical beach destinations you may like: