We thought of no better opportunity than to plan a special ceremony during our trip around the world. We chose to have an Andean wedding, an ancient tradition of the Andes where two souls are powerfully connected by the forces of nature and protected for a life of happiness and abundance. Our desire for this spiritual type of union was rooted in our beliefs and experiences collected over our last 7 years together. It was very meaningful to us as we are nature lovers.
On December 11 in a natural setting at 3900m altitude, we had our wonderful wedding in Peru alongside Salkantay Mountain. We were surrounded by the four elements, earth, water, air and fire, which played an important role in our union. Our Peruvian wedding concluded with cake, drinks and dancing, but our ceremony continued for the next five days on the 71km hike through the mountains to Machu Picchu. It was magical!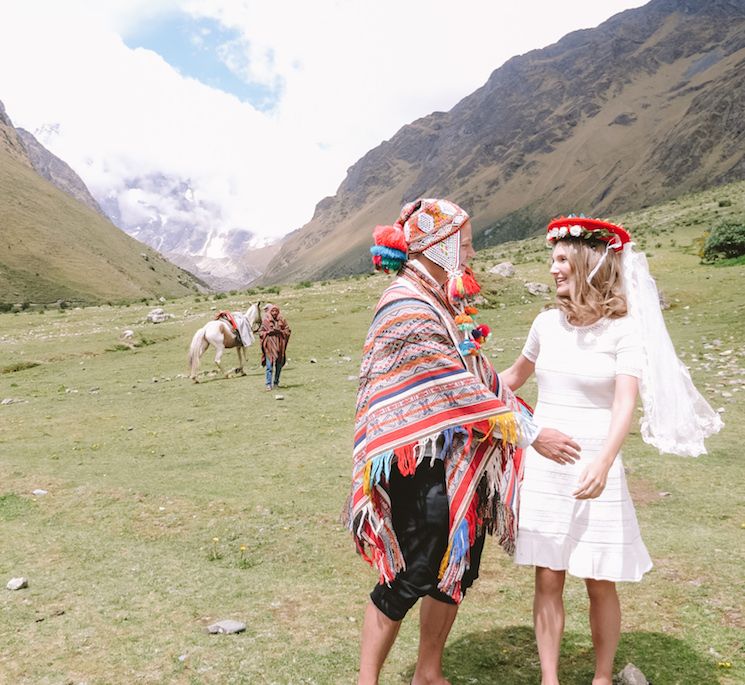 It was a tough decision, but we decided to have the ceremony alone, just the two of us with an Andean priest and musicians. We wanted to focus on each other the whole day. If it rained, it would be ok! Because our family members and loved ones would not be there, we decided that we would throw a wedding party when we get back from our trip to celebrate.
We want to share our Peruvian wedding experience because it is a great option for those looking for alternative wedding ideas or for beautiful outdoor wedding locations. We also found it difficult to find information about Andean weddings online.
The Setting in the Peruvian Mountains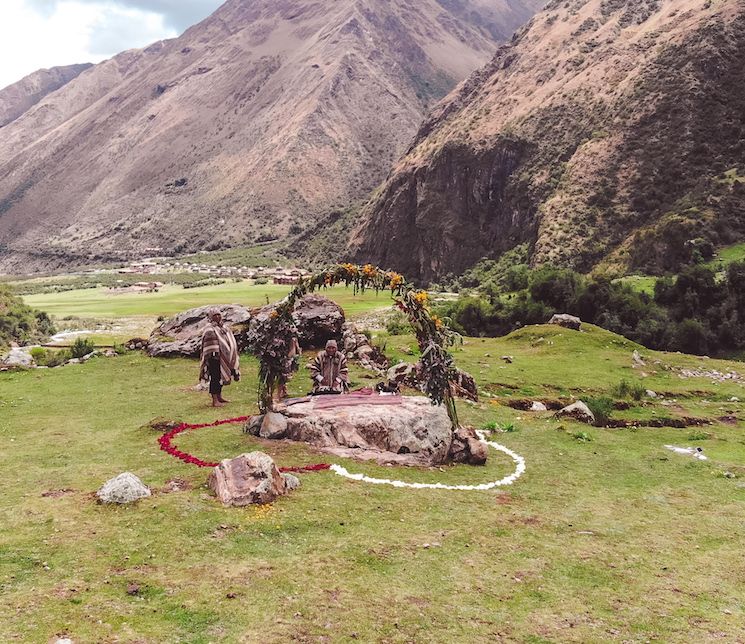 The Peruvian mountains are filled with gorgeous scenery. The culture there is rich and steeped in Inca traditions. It was necessary that the ceremony be held in view of Mount Salkantay, colloquially known as Apu Salkantay meaning protector. Beautiful flowers adorned an arch and red and white flower petals were spread in a heart shape around the altar. We decided to be barefoot so that we could feel the connection with the Earth, known as Pachamama (Mother Earth) in the Andean language.
In the early afternoon we noticed the crew setting up our ceremonial altar in a not so ideal place: the middle of our camp amongst the sleeping domes. They set it up there as it had a good view of Mount Salkantay. We were not at all content with the idea of having people watch our ceremony or be so close to modern objects. When we let them know, they went above and beyond in finding us an amazing spot far away from the camp with an even better view of Mount Salkantay. We are so happy we expressed our concerns. If you ever decide to have an Andean wedding in Peru, make sure you're happy with your location as your connection to nature plays a significant role in the ceremony!
The Ceremony &  Peruvian Wedding Traditions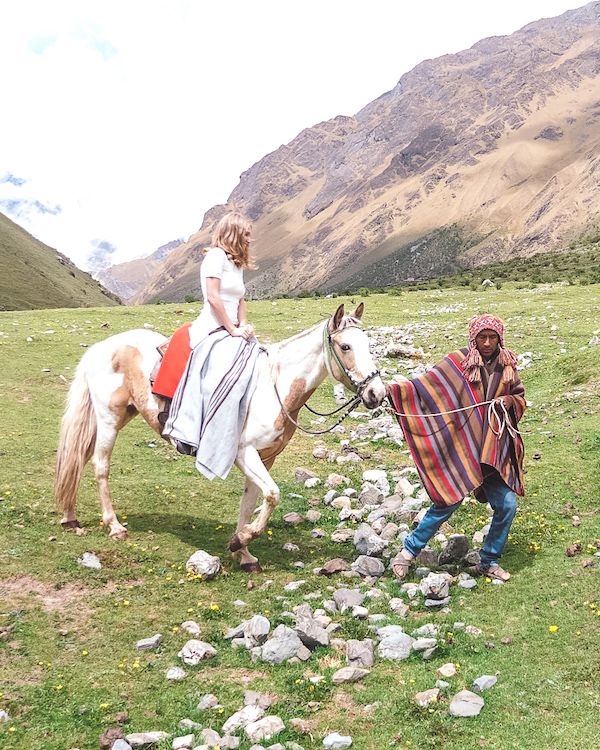 Purification & Flowering Ritual
A purification and flowering ritual was conducted by the Andean priest before our official ceremony started. Once finished, Ari walked over to the valley where the altar was set up and I was later taken there by horse. We had our 'first look' and then walked into the ceremonial circle and over to the flower adorned arch in the centre. I walked in on the side with the red flowers and Ari the side with the white flowers. Red represents the feminine and white the masculine.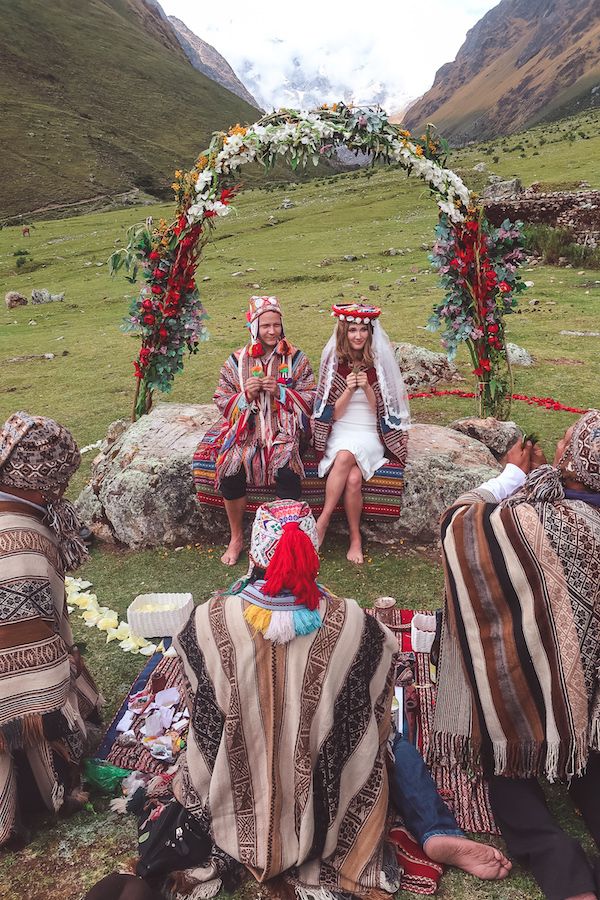 Four Elements of Nature
The Andean priest sat in front of us with two helpers and performed the ceremony. The first part was dedicated to the four elements: earth, fire, air, water. He lit a small fire of palo santo so all four elements were present.
Offering to Pachamama (Mother Earth)
Next there was a colourful offering to the Pachamama (Mother Earth) using items such as, tobacco, flowers, coca leaves and candies, which were arranged symbolically on the alter in front of us. The Andean priest also quietly chanted prayers during this time as we watched the offering come together.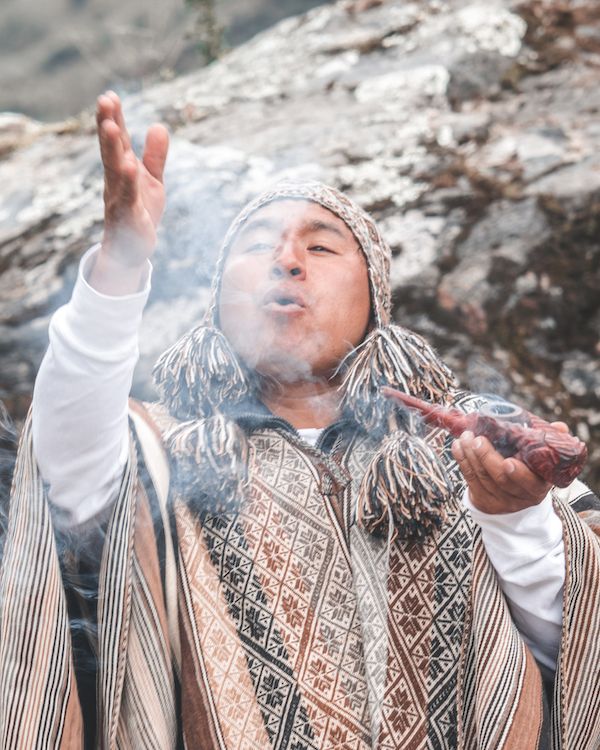 Wisdom from the Andean Priest
The priest then explained the deep meaning of the sacred union and gave us wisdom for our marriage and commitment to each other. We were there with an open heart. The Andean priest said "in the universe before birth we both existed together, to be born separately to find each other in life and become one again through this union." He also explained how love is not conditional on commitment.
Offering to Each Other (Kintu)
Next was an offering that we made to each other known as "Kintu" using three coca leaves placed between our thumbs and fingers.  We were given a moment of silence to say our thoughts for the other person. Then we offered the coca leaves to each other representing our exchange of promises in marriage. Next, we were given a belt to tie around each other's waist. The belt is tied with a wish for strength to be able to overcome any challenges that would arise in our lives. Ari's barely fit.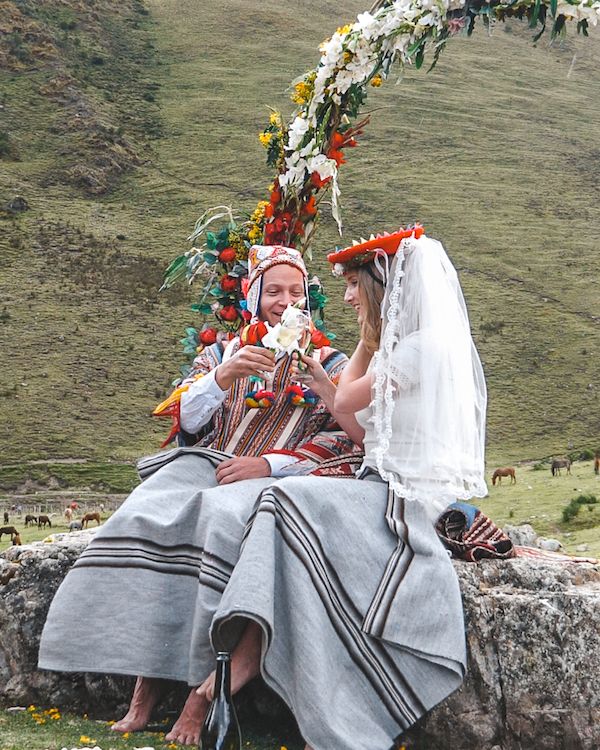 A Toast (Tinkkaska)
The ceremony finished with the exchange of our rings, a "tinkaska" (toast) of sparkling wine, Peruvian wedding cake, and dancing to Andean music! We made it just in time as the rain started coming in just as we finished. We ran back to the camp and enjoyed a delicious buffet to celebrate.
Rings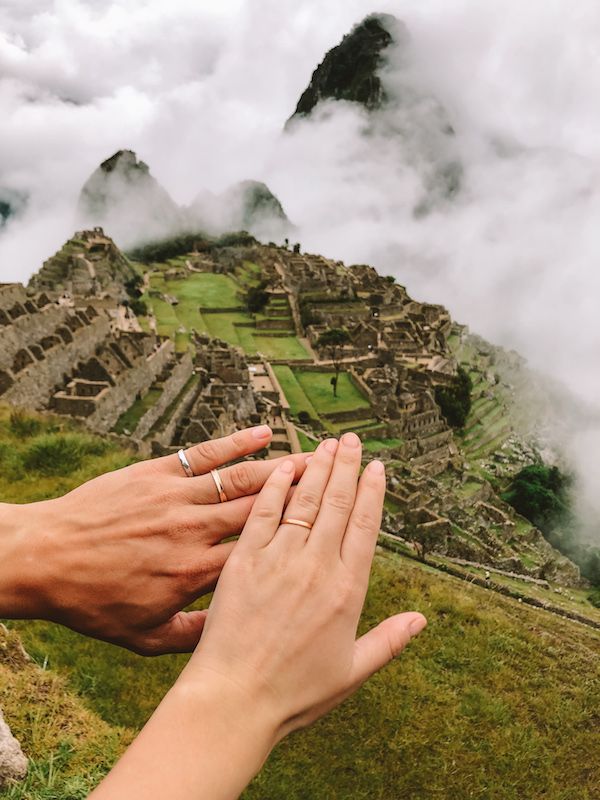 In an Andean wedding in Peru they traditionally exchange gold or silver wedding bands. We decided to only exchange gold rings and purchased them at JEM (Jewelry Ethically Minded) in Paris. It was important to us that the gold was fairly mined and ethically sourced. Surprisingly, brands like that are very hard to find! For the two weeks leading up to ceremony we wore each other's gold wedding bands chains around our necks. When the Andean priest saw the rings coming from around our necks, he said it was very meaningful because our rings were given from the heart.
Clothing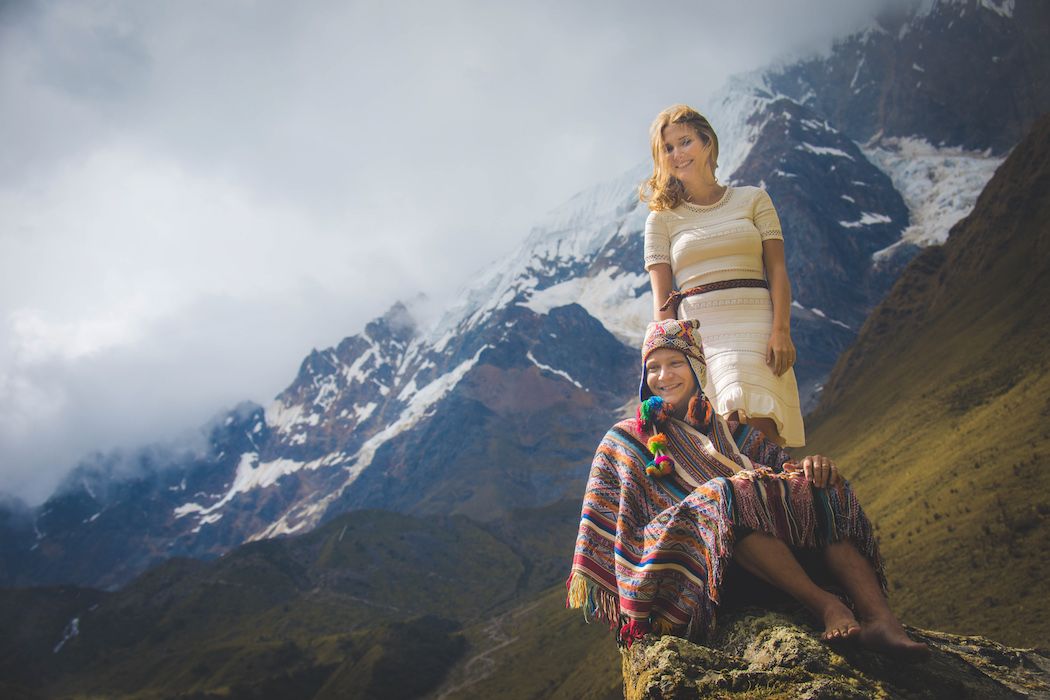 You may be wondering how I brought my wedding dress on the trek and wore it wrinkle free! Luckily the wedding is performed on the first day of the Salkantay trek to Machu Picchu, so you're able to bring your dress to the first camp without it getting wrinkled. Since I've been travelling around with a backpack, I bought a woven dress that doesn't wrinkle. You can do your hair that morning in your hotel before you leave. There were also mirrors at the camp in the washroom where you can do your makeup.
I was provided optional Andean clothing, a traditional veil and a 'one size fits all' Peruvian wedding dress, but I chose to wear my own dress. Ari was also given traditional Peruvian clothing: a colourful poncho and hat. In classic Ari style, he wore it all.
Andean Music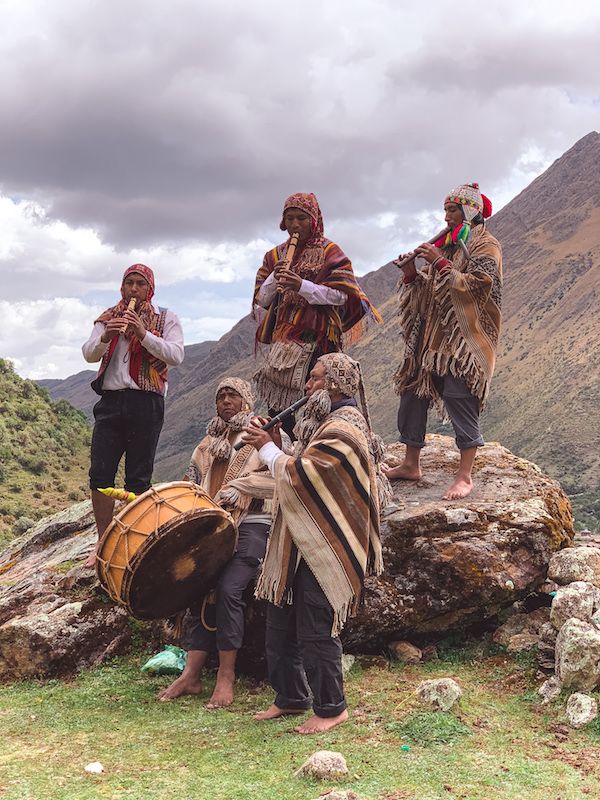 During the ceremony there were four Andean flutes and a drum that played traditional Andean songs.
The Tour Company We Chose
We chose Salkantay Trekking as they are one of the leading tour operators (5 stars on TripAdvisor) and their focus is on treks to Machu Picchu. Everything was well organized and our meals were outstanding. They arrange an Andean Priest and crew to conduct your ceremony the first day.
If you're not into hiking there are other companies in Peru you can book your Andean wedding with. You could also do a two-day tour with Salkantay Trekking by having your wedding the first day and then hiking up to the stunning Humantay Glacier the next day, which is only a 300 meter ascent and descent.
Photos & Video
If photos or video are important to you, you may want to hire a photographer separately to ensure you get the exact shots you want. We gave our camera and video camera to the Andean wedding crew and our guide, so we have personal pictures. Also part of the Andean wedding crew had nice cameras that we got footage from as well. We had no idea it was included in the price! They brought a drone to take video, so let them know ahead of time if you don't want a drone buzzing around during your ceremony.
Note: Salkantay Trekking couldn't send us a hard drive with all the content due to a Peruvian data export rule.
The Salkantay Trek to Machu Picchu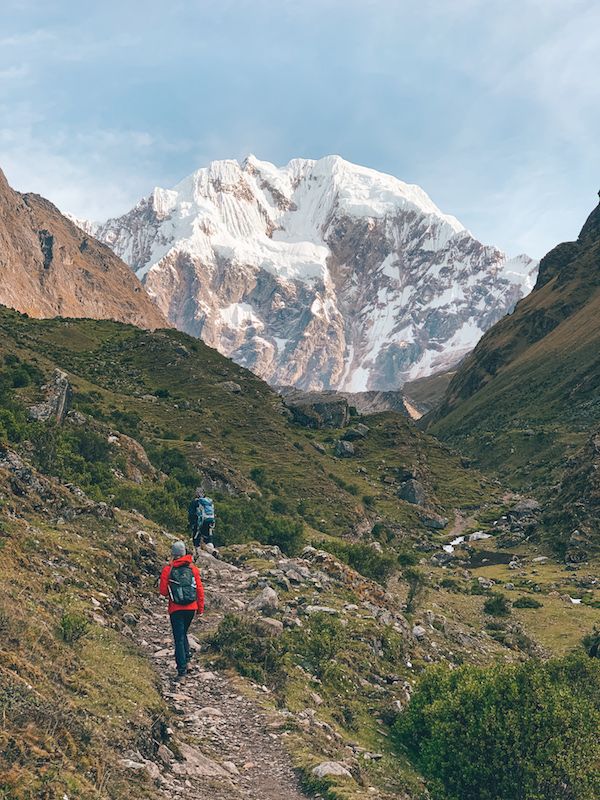 You do not need to include the trek, but we highly recommend it. It was an amazing continuation of our official ceremony and we had gruelling 22 km days that tested our resolve and further strengthened our appreciation of our natural surroundings. We continued to learn about Andean culture with the end reward being a marvellous visit to Machu Picchu.
Check out: What to Expect on the 5 Day Salkantay Trek to Machu Picchu With a Tour
Does this mean you will be legally married back home?
I can't speak for all countries, but this type of wedding is not recognized in Canada. If you desire to have your country legally recognize you as being married you will have to obtain a marriage license and certificate.
Personally for us, we are happy having a common law union back home, since our Andean wedding is our true representation of our marriage.
Costs
Weddings can be VERY expensive and we were shocked that the average price in Canada for a wedding was $30,000 CAD ($22,725USD) in 2015. The total cost for our Andean wedding ceremony, trek to Machu Picchu, wedding dress, photos, & wedding bands was: $5,028 CAD ($3,808 USD). With roundtrip flights from North America to Peru you're looking at an additional $1,600 CAD ($1,212USD), bringing the total cost to $6,628 CAD ($5,021 USD) for two people. Consider using the left over money to travel for a few months :D
Best time of year to have a wedding in Machu Picchu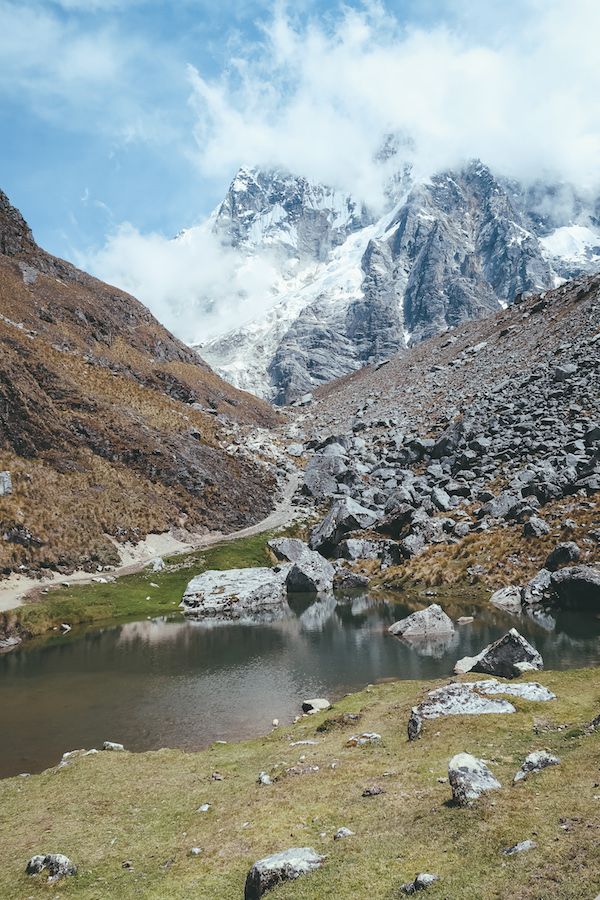 With our around the world trip schedule it worked out that we had to do our trek and wedding ceremony during the rainy season in December. Lucky for us, the weather cleared up on our wedding day and we even had some sun!  
The dry season in Peru is during May-September and will give you a better probability of having sunny days with no rain. However, it will be slightly colder since the dry season is in winter.
After the arduous trek to Machu Picchu, treat yourself to a luxurious honeymoon with your wedding savings ;)
🥔✨Fully Loaded the Experience: we stayed at The Best Honeymoon Destination, Sol y Luna in the Sacred Valley.
---
Check out the video from our trip to Peru!
---
Looking for more travel inspiration? Check out our list of Unique Cultural Experiences to Inspire Your Next Trip
---
Save and pin this Andean wedding in Peru guide for later: